Last updated on March 31, 2020
Looking for the best quality sectional sofa for your money? Our top-rated picks will get you the right sectional of the exact type you need. Read on!
The sectional sofa is a compelling piece of furniture to get for your living room. Who doesn't want to create a lounge area that calls you to chill and relax? And with a sectional (even a small one) you can do that by getting a single unit. What's not to like?
For a long time, there has been a big caveat. You have to go back to the last two decades of the previous century to remember the ugliness that sectionals brought to the room. Bulky, round, devoid of any form or design consideration. They made them for comfort but not the looks. Luckily that has changed.
Indeed, we now have so many attractive options for sectional couches – you only have to choose and find your ideal match for your decor. To do that, first, let's go over the quick anatomy of the sectional.
What is a sectional sofa?
It's a sofa with a chaise that forms an L-shape. It can also be double-chaise and have a U-shape. Thus it provides more seating and lounging space at minimal cost in space-estate. It's worth noting that the chaise can be reversible, meaning you can place it on either side to match the layout of your room.
Like any sofa, sectional can come in many designs, upholstery, and additional features. So when choosing you have to consider all of them.
How to choose the right sectional sofa?
Considering these points will help:
The size of the room and thus the sectional.
The shape – L or U?
Reversible chaise options.
Extra features, such as reclining seats or a sleeper.
Upholstery material.
Leather – faux or real?
Seating depth.
The type of cushions.
Firmness.
The design and style to match your decor.
Once you're done with your initial considerations, let's see the picks we've made. The above checklist is basically our guidelines for the choices of best sectional sofa types. These are only the best quality and top-rated couches. Note that we might be compensated for qualifying purchases by Amazon at no expense to you (tagged #ad).
Which sectional will make your lounger?
What's Inside
Small Sectional Sofa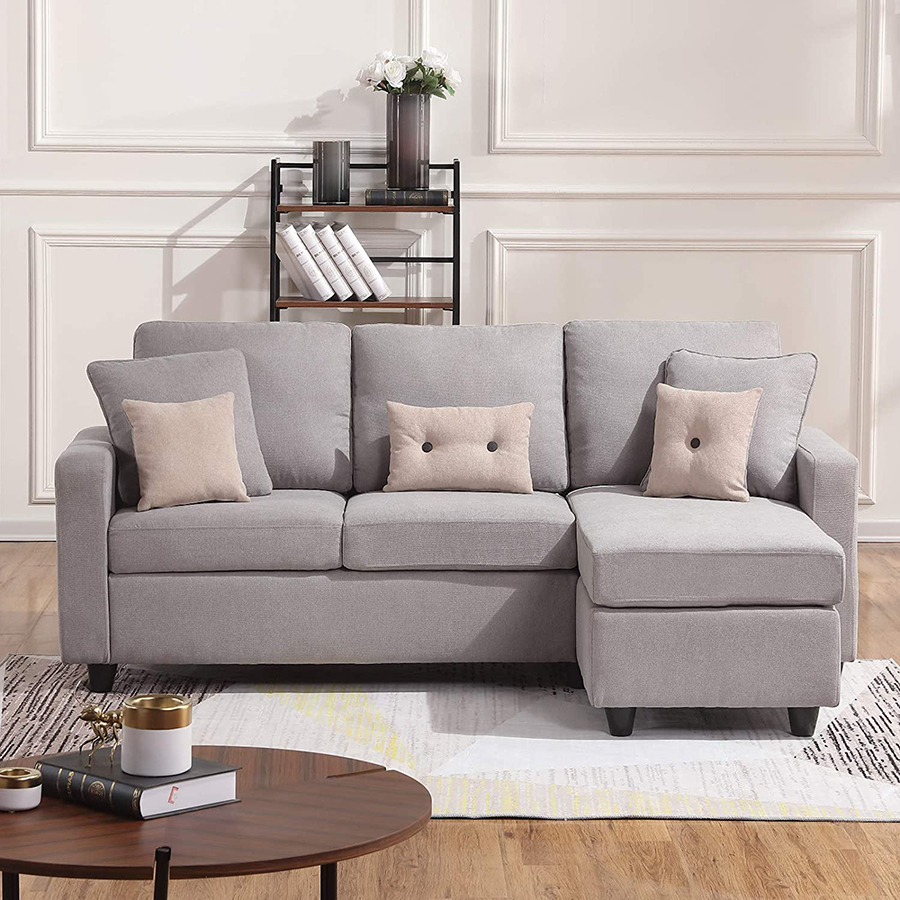 It's small but it's sectional – just enough room even for small spaces. It can be placed in the corner or in the middle of the living room. Being small it doesn't compromise on comfort.
Pros: firm and very comfortable; no tools needed and easy-to-follow instructions to assemble; perfect couch for small spaces; features a curved back which supports your back; covers are removable.
Cons: it has gaps in some areas (these can be covered up with a pillow though).
L-shaped Couch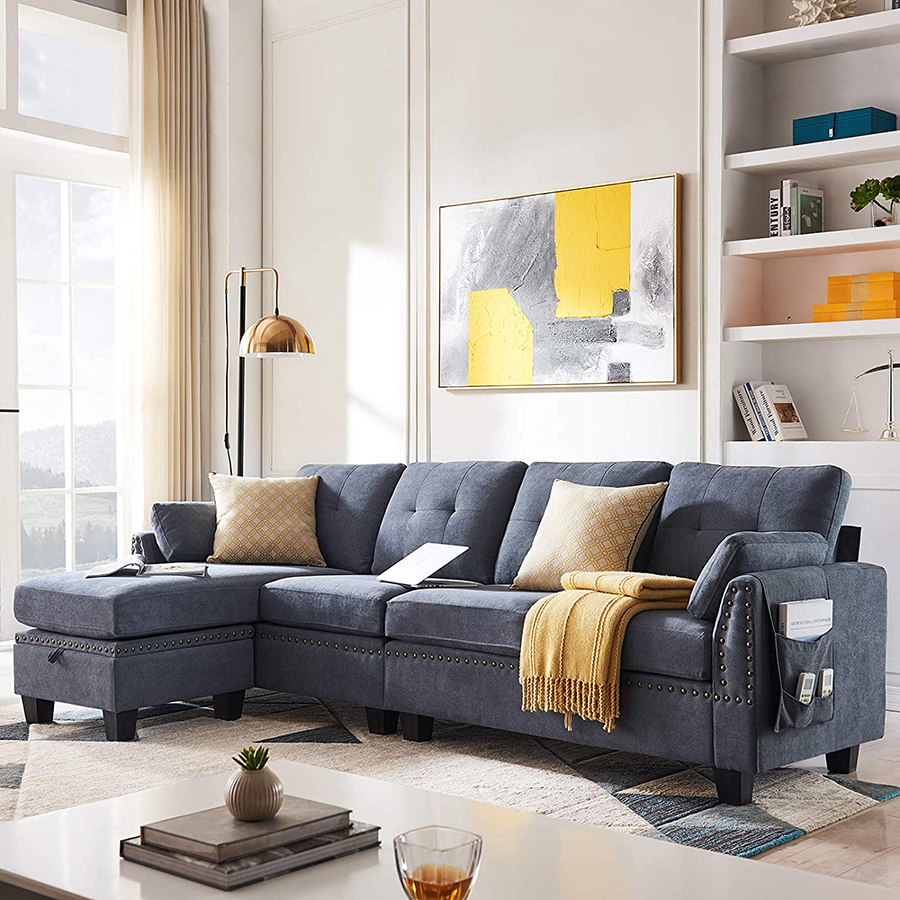 The L-shape couch typically features one long section (3 seats or more). This configuration enables so much more seating space. Granted, it takes more space, especially in small living rooms. But it helps that it's a reversible couch.
Pros: fabric is breathable, soft, durable, non-pilling; L-shaped sofa has a storage bag and storage ottoman; comfortable cushion along with its modern design sectional couch; can easily fit into any size of the living room.
Cons: the couch sits a bit too low.
Sleeper Sectional Sofa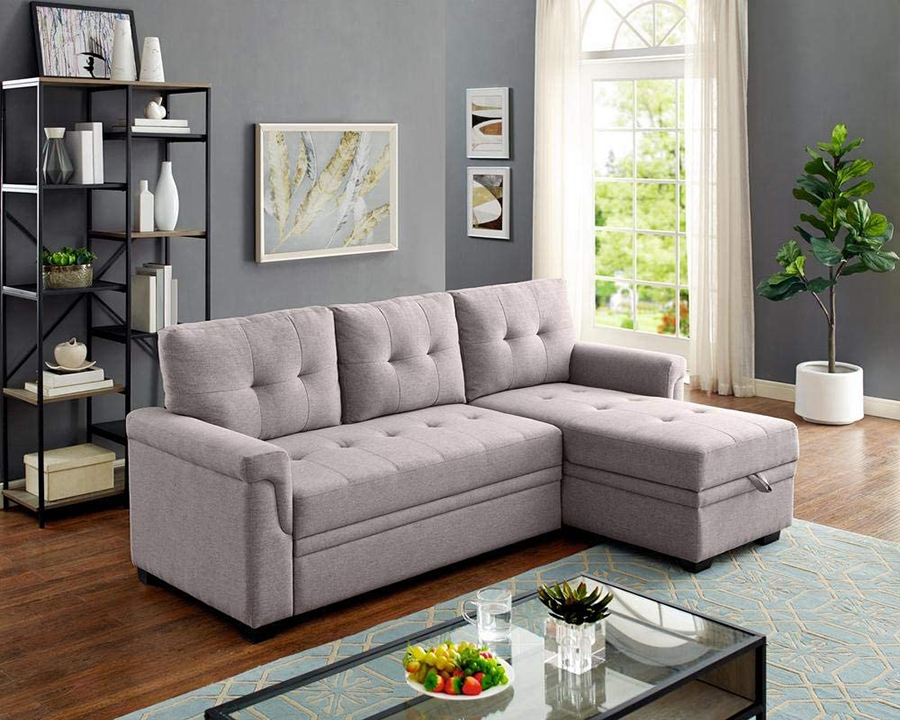 If you want a piece of furniture with more function than seating, choose a sleeper sofa. This sectional does that. And it's reversible too.
Pros: easy to put together; the pull-out bed is very easy to take out and put away; great for support; perfect for small spaces; the extra storage space is convenient to access and is useful.
Cons: seats are too short; not very comfortable to sleep on.
Leather Sectional Couch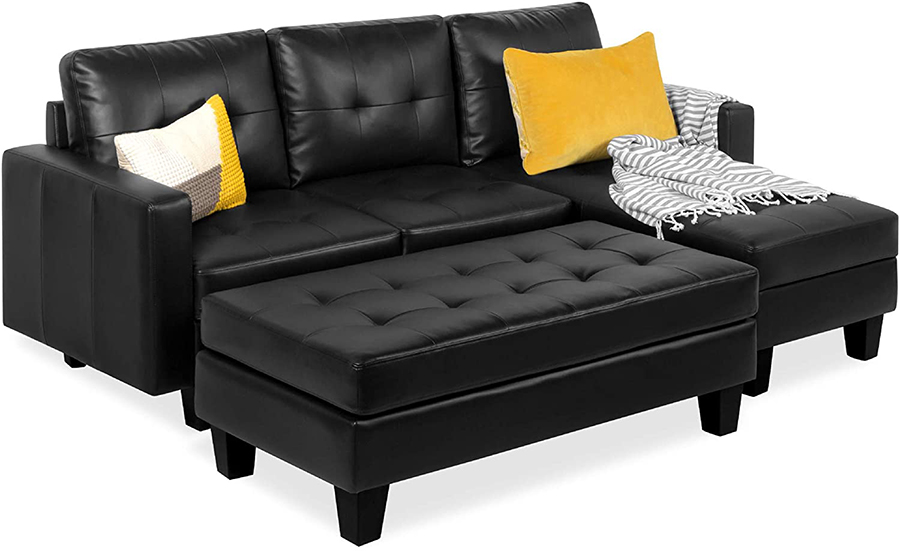 Want the leather look for your living room design. Choose a leather sectional with real or faux leather (to save money). Don't cut back on function too.
Pros: made with a modern-contemporary style in mind; a faux leather design that will complement any living space; easy to clean; the right firmness and is very comfortable to sleep on; very functional.
Cons: has a color variation and quite hard to put together.
Chaise Sofa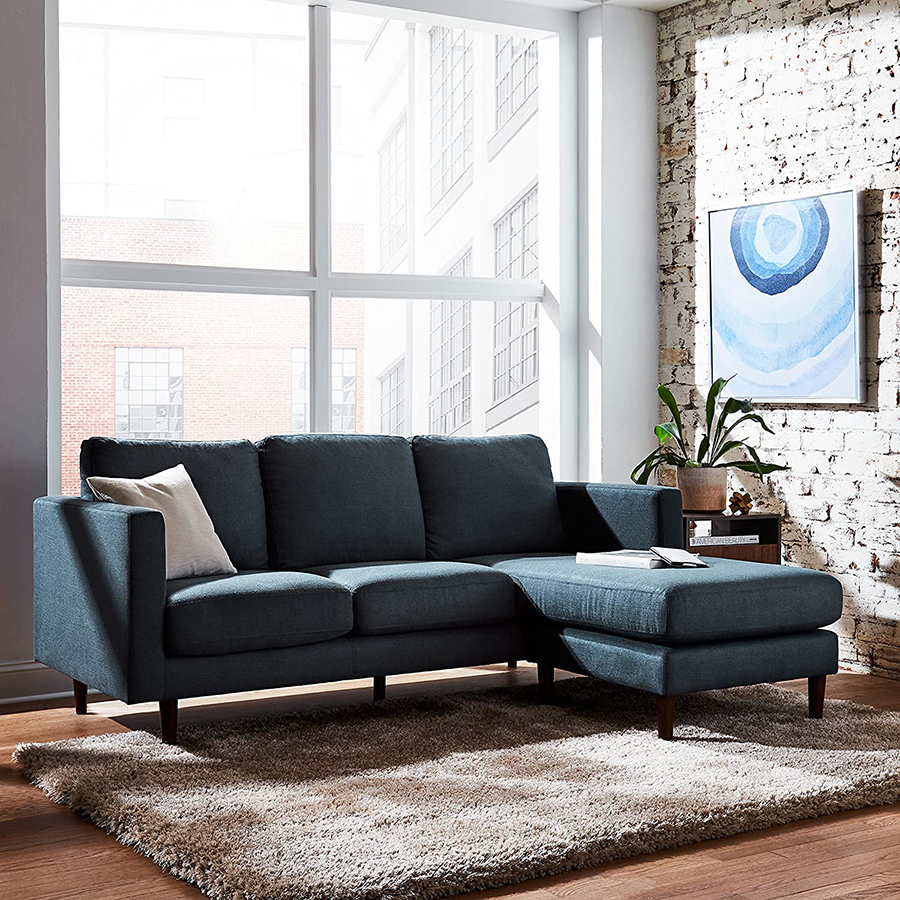 The chaise is the sectional part of the sofa that makes its signature L-shape. If you choose a couch with one, make sure it's reversible so you can put it on either side.
Pros: an attractive modern sectional sofa design; sturdy hardwood frame and solid beech wood legs; simple assembly; the fabric is also soft to touch (not plush or suede); a great material and perfect size for studios.
Cons: pretty firm.
Deep Sofa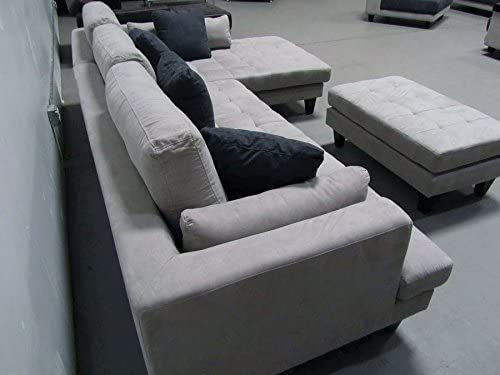 A deep sofa will provide you with extra room to lounge in. It's not the most comfortable seating option but it's definitely so for a lounger or sleeper.
Pros: a solid all-wood frame; with removable cushions; it is firm and extremely comfortable; set up is pretty quick and easy; definitely big enough to roll around, sleep, and do computer work on.
Cons: too firm; it is very lightweight which really isn't ideal for a sectional.
U-shaped Couch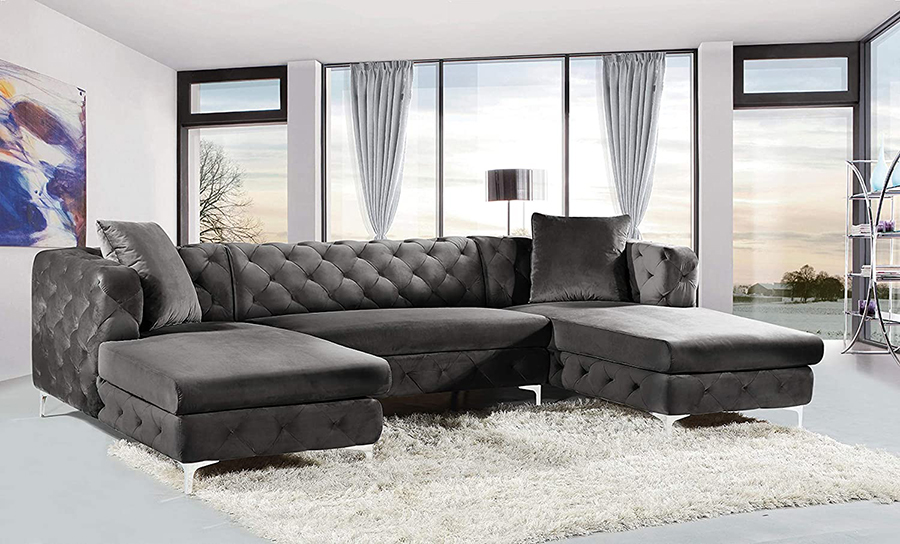 The U-shaped is a three-part sectional which forms the "U" shape. It's bigger than most couches thus providing so much more seating for larger gatherings.
Pros: a double chaise sectional with included throw pillows; the upholstery is made from velvet and simply luxurious to the touch; deep tufting all over the backs and sides; cat claw resistant and easy to clean.
Cons: firm couch (not suitable to people who don't like firm couches.)
Reclining Sectional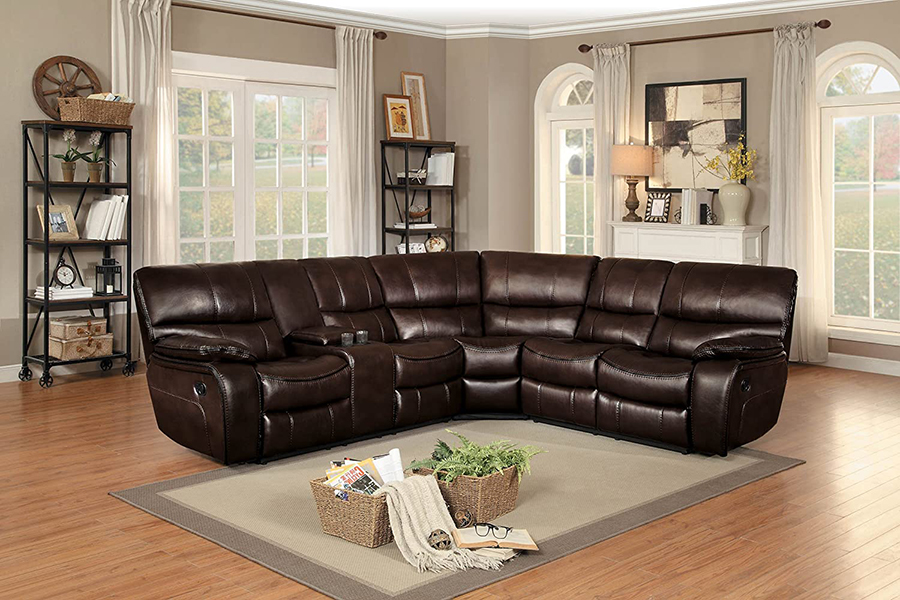 If you want even more function, get a recliner sectional sofa. It's basically a set of recliners built into an L-shape for tons of comfort (or your mini home theater.)
Pros: features durable smooth high-performance leather gel match; very easy to clean; crafted in high-quality design; easy to use reclining system extending seats to a fully reclined position for added comfort.
Cons: the leather gel is not genuine leather and does not contain real leather.
Modern Sectional Sofa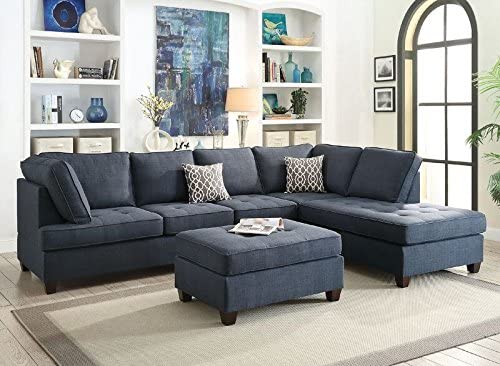 We could have chosen any good quality sectional sofa for a modern piece of furniture, but this model has caught our eye. It's very stylish and attractive with deep button tufted cushions for living room decor. The fabric color is what's trending right now.
Pros: loose back pillow and seat cushions; easy to assemble; has included tools for assembly; the chaise can go either way; no sinking, it holds weight without changing shape afterward.
Cons: a little stiff at first; it's more of a slim design.
Large Sectional Sofa
A sectional is supposed to be large but sometimes you just can't get enough of it. If you have a fairly large living room you should not compromise on seating space. This large sofa will fulfill your needs.
Pros: the series features rounded arms and tailored box seat cushions; if you're looking for a large couch this is your sofa that fits 6 comfortably; very comfortable and stylish.
Cons: the cushions tend to slide down a little.
Continue reading: