Last updated on January 12, 2021
So you're renovating or rearranging your living room. You have a new TV to boot. But where is the right place to put it? We explore 5 strategic places. Read on!
The living room is the most important room in the house. While it allows all family to sit together, have a laugh, and share snacks, and have talks and discussions, it does add a lot more value if it can easily accommodate a TV.
A living room with a TV has become a bit of a norm, and a TV with a storage unit is becoming more of a tradition. Owing to its storage ability and the entertainment factor, it's a great option for people who live in tight spaces and cannot afford to have a separate TV lounge for enjoying their favorite shows. 
Putting hours and hours of time in choosing the right TV for your home can go all in vain if the TV lacks the proper space and the setting in your living room. Having a TV unit with storage is great, but your living room must be able to accommodate it without burdening the rest of the interior. It is important to find the right place for your TV in the living room for which you will have to consider a few aspects.
Make sure that you choose the best suggestion available given here for putting the TV in the living room in the right place.
What's Inside
A Smaller Traditional Living Room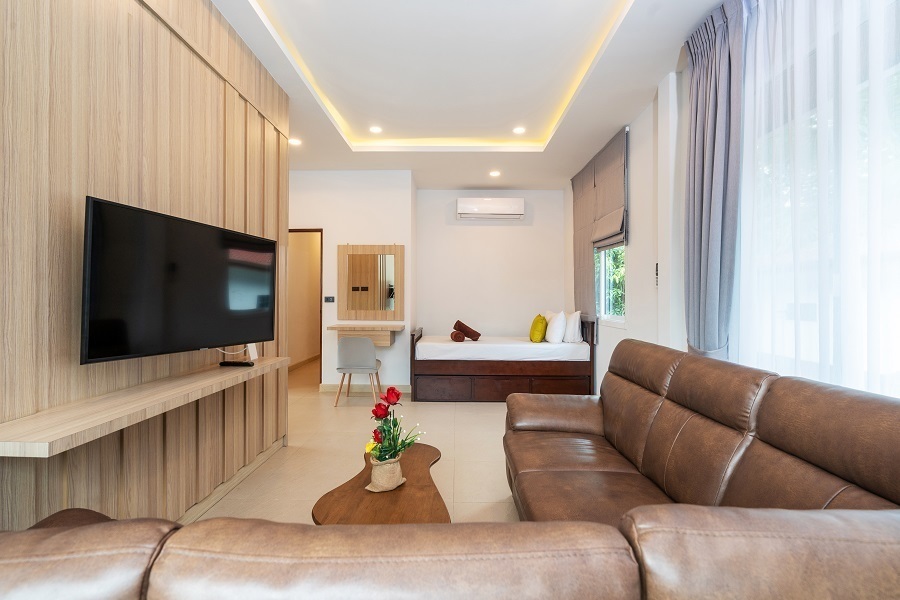 It is important to make sure that you understand the limitations your living room has if it is small in dimensions. If you have a traditional living room with a small area, you are more than confined in a defined area and space which means that your living room is not combined with your dining area or kitchen.
So it means that you will be only in your living room to watch TV and it cannot be viewed from any other room. You will have a definite seating space.
If you have a lot more wall space across the sofas, your TV placement would not be a big issue. If there is no glare from any indoor light or a window providing natural light directly to the TV, you can use a fixed mount right against the sofas on the wall.
You can use the TV unit with storage to accommodate your things while having a good view at the TV.
A fixed mount or stand can also be used as long as it suits the entire setting of the living room.
Corner Walls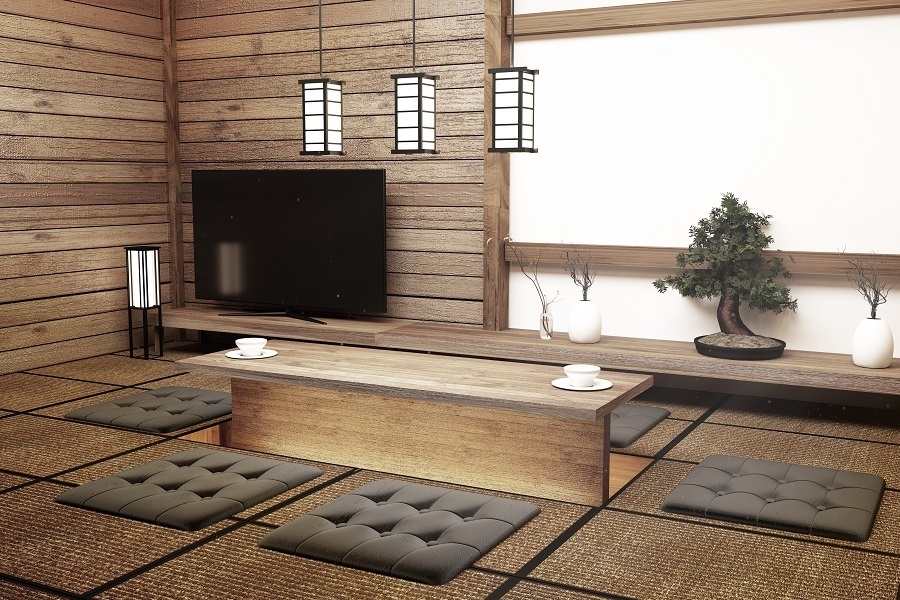 If your living room is based on the traditional setting with cut-up walls, the storage units might not be the best idea. You can then accommodate your TV in the already established setting of the living room by choosing the corner mounting method.
You can use the corner mount with a moveable mount so you can move the TV as per the seating of the room or your own seating in the living room.
You can also get a customized TV unit with storage in a corner setting designed of your space.
A Fireplace and TV debate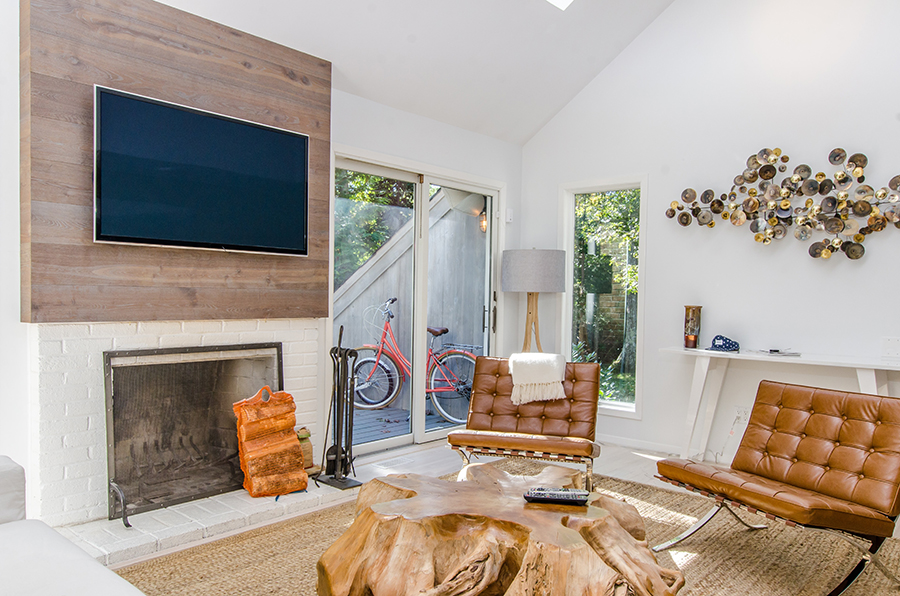 If you have a fireplace in the living room, you might consider the various options for putting the TV in the room. There are tons of layouts with fireplace and TV available which you can choose for your TV.
You can either put it above a safe mantle height over the fireplace. It will be a great way to get the heat while sipping coffee and watching your favorite TV show all in the same direction.
You can also opt for the side mounting or TV unit with storage option as well. The corner mounting is also an option if you are not aiming to disturb the setup around the fireplace.
A Lot of Windows Cannot Always Be Good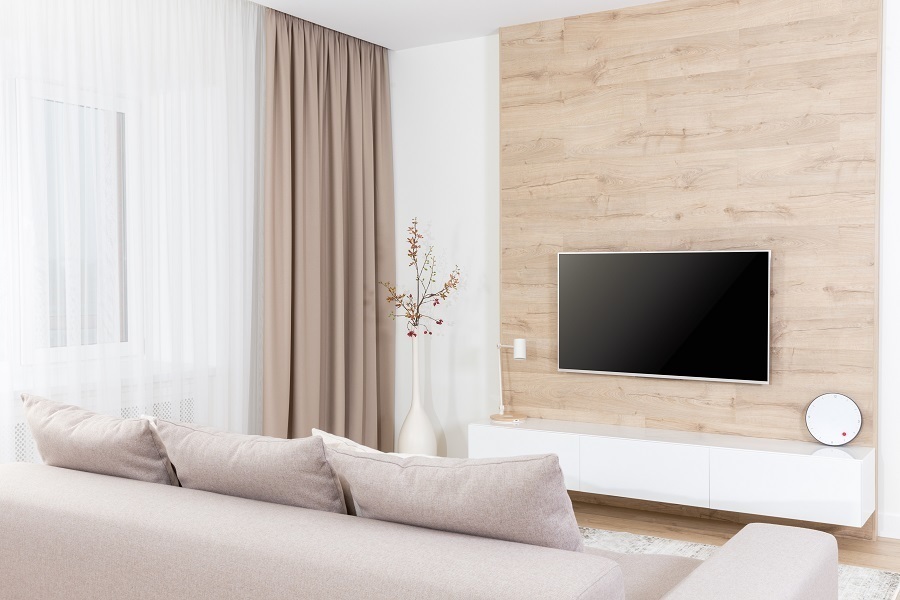 A living room having many windows is great since you can have lots of natural light which can cut down your cost on artificial lighting. However, the abundance of anything is not good at all. While natural light would be perfect, the TV placement will become a lot more difficult and full of hassle. All you will be figuring out will be to find enough wall space to accommodate a TV that can be in a perfect position to watch but also has no issues of glare at all.
If you want to place your TV between the short strips of the wall between windows, you are more likely pressuring yourself to choose a TV that goes best with your interior as well as your space limitations.
A win-win situation can be created if you chose the mounting option. The TV unit with storage cannot be accommodated here owing to space limitations.
Mounting will eliminate the requirement to find the TV size which suits the furniture in the room since it will be mounted and will also help in addressing the glare issues as well.
Storage Unit or Built-in Storage Shelves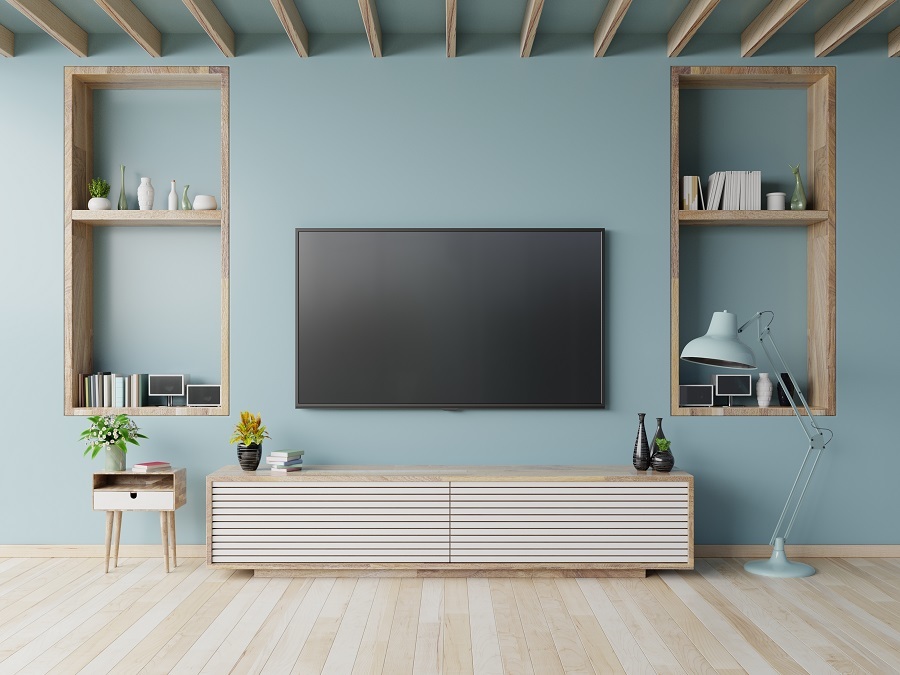 If you have built-in storage shelves, you already have the storage units which were talked about earlier. TV units with storage go well since they complete each other. You can give the entire space an artistic effect with paintings and decoration pieces in the storage unit.
The TV will be based in the center to have the most importance. This way not only will it be accommodated perfectly in the living room, but it also will not put everything out for its accommodation.
While mounting the TV or using the TV units with storage are the main options that you can choose from, the suggestions above will allow you to consider the variations of a TV placement in the living room. This will allow you to use your space and your creativity in the best way possible.
You can always opt for the minimalist look for the living room with a mounted TV on a wall with sideboards which will be a way to add more sense to the area. Make sure that you choose the best setting for your TV in your living room.
Continue reading: