Last updated on August 13, 2023
Yes, you can have all drawers in the kitchen. It's a new trend, and people swear by it. This layout gives the kitchen a new look.
Whether it's a good setup for kitchen storage is a matter of organization. In this article, we will delve deeper to learn about this setup and how to make the best use of it.
Having all drawers in the kitchen has its pros and cons, so you have to find a balance and decide whether it's a good idea for your kitchen. For one, people who embrace it claim drawers provide them with the best organization possible, save for a larger pantry to store big items that otherwise won't fit in a drawer.
So what's this all-drawer thing about? Let's dig into it.
What's Inside
Can You Have All Drawers in the Kitchen and No Cabinet Doors?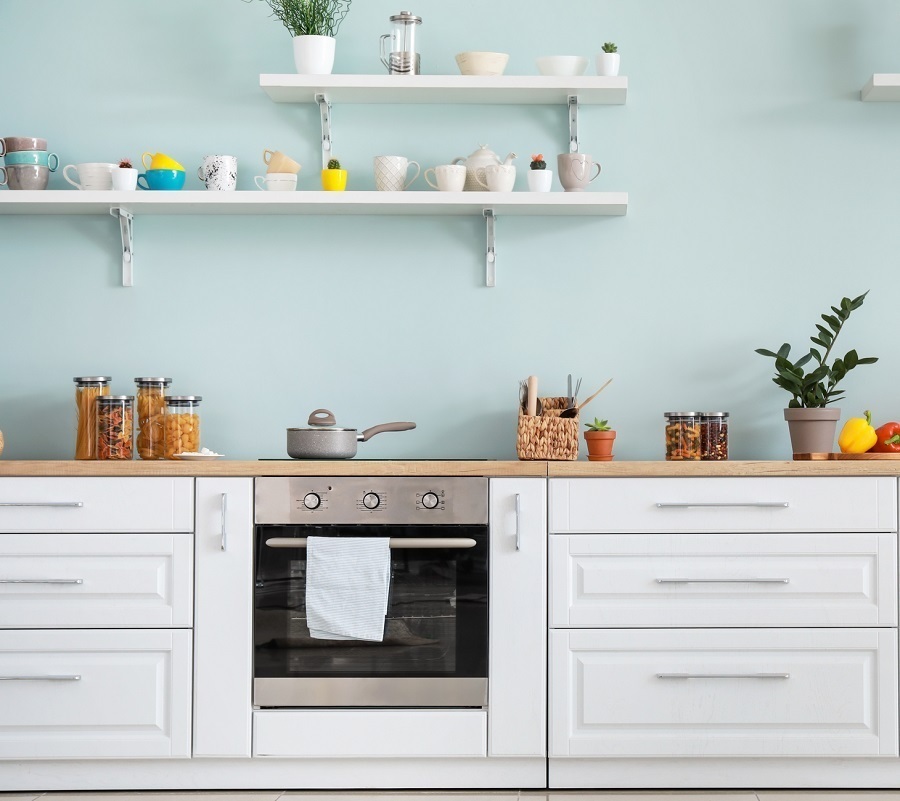 Kitchens require a lot of storage space to keep utensils, cookware, baking ware, and a wide range of other items needed in the kitchen. Shelves, cabinets, drawers, and wall-mounted hooks can provide the required storage space. While traditional kitchen cabinets have doors, this does not necessarily have to be the case.
There is a new trend in kitchen designs where homeowners are going for all drawers in the kitchen. The question is, can you have an all-drawers kitchen in your home? The answer is yes.
However, there are some places where cabinet doors will still be required. This includes the cabinet under the kitchen sink, wall-mounted overhead cabinets, and corner cabinets. All other cabinets in the kitchen can have drawers.
What About the Upper Cabinets?
Having drawers for upper cabinets is of course not practical. Having all drawers for base cabinets gives you so much storage space that you will most likely not need upper cabinets at all. Keep open shelves over the countertops to open up the kitchen space and make it look brighter and bigger.
Most people who go all-drawers ditch the upper cabinets too. You might keep a cabinet or two over the fridge and other places that are challenging to access.
Pros of Having All Kitchen Drawers
You may be wondering why someone would want to replace all the doors on the kitchen cabinets with drawers. Well, there are some advantages of having kitchen drawers. For starters, drawers increase the amount of storage space within a cabinet. Several drawers will have to be installed in the cabinet to make the entire space useful. As a result, you can store twice or thrice as many items in the same cabinet space.
Secondly, drawers can help you organize the kitchen more effectively. Instead of having just one large space to store pans and cooking pots, you can have multiple drawers of different sizes to store different items based on their size or type.
Thirdly, drawers can save you a lot of time. When you need an item, you just need to pull out the drawer, and there it is. With more drawers in your kitchen, gone are the days when you had to dig around the kitchen to find whatever you were looking for.
Lastly, the vast majority of older homes have cabinet doors. If you want to create a modern kitchen with an updated look, consider using drawers instead of cabinet doors.
How to Keep the Drawers Organized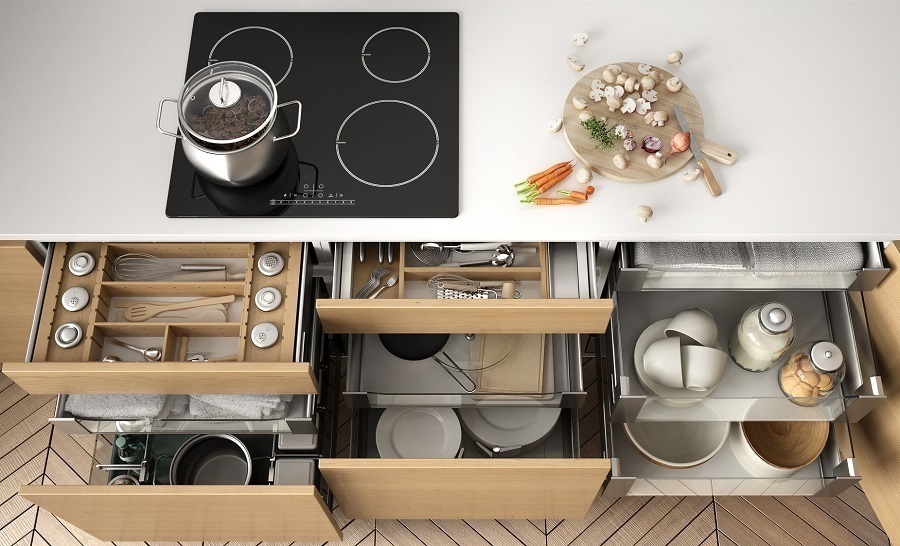 The beauty of installing drawers is that you can have multiple drawers in the same space. This means that you can store different types of items in different drawers. This is the key to organizing your kitchen drawers. However, you should also think about buying drawer organizers. They come in different shapes and sizes, so you can buy a number of them for the types of drawers you have.
With a cutlery drawer organizer, for instance, you can separate different types of spoons and forks and keep knives in one place. In fact, you can buy a knife drawer organizer to keep knives safely in one place. When buying drawer organizers, be sure to take the internal dimensions of your drawers to ensure they can fit perfectly inside the drawers.
Where to Store Big Items
Oversized and heavy items should be stored in the lower drawers for safety and convenience. This includes large serving dishes, mixing bowls, and heavy pans, among others. During drawer installation, the lower drawers are usually designed to be larger and stronger than the upper drawers, so keep this in mind when organizing your kitchen.
Kitchen Cabinets with Deep Drawers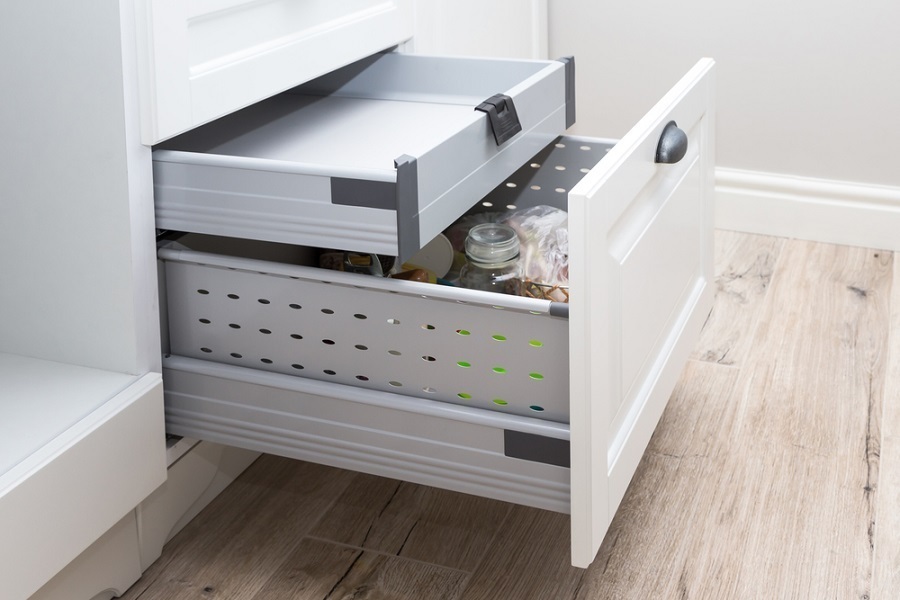 Drawers are great for storing kitchen items because they can be pulled out to reveal all the items stored in the drawer. This saves time and makes the kitchen convenient to use. However, deep drawers can have the same shortcoming as traditional kitchen cabinets because many items can be kept in deep drawers, making it challenging to find the items you require.
The best way to organize items in a deep drawer is to use a drawer divider. Be sure to stack similar items, one on top of the other. For instance, plates can be stacked on top of each other, but only if they match perfectly. Be sure to set the limit to about four plates per stack.
Pull-out Shelves
Aside from drawers, there are other options for improving storage space efficiency in the kitchen. One of the best options is to install pull-out shelves inside and cupboards. The cupboard, or cabinet, will still have a door, which must be opened fully for the shelves to be pulled out. It is important to note that these shelves slide on the railing, so they are easy to pull out and pull back in. You can keep all your cookware and bakeware on these shelves.
How Many Drawers Should You Have in the Kitchen?
No rule dictates the maximum amount of drawers you can have in your kitchen. You can decide to have just a couple of drawers or dozens of drawers in your kitchen. It will all depend on you. Consider using pull-up shelves together with the kitchen drawers for best results.
Please note that there are different drawers and pull-up shelves, so be sure to do your research before installing. Similarly, it is important you shop around for the best drawer dividers and organizers on the market. These items can go a long way in helping you organize your kitchen.
How Do You Layout Kitchen Drawers?
Kitchen drawers should be well organized to ensure maximum efficiency. Before the kitchen renovation project commences, you must ask your contractor about the different types of kitchen drawer layouts. The contractor will show you pictures of the different types of layouts and explain the pros and cons of each layout. This information will help you make the right decision. After settling on a particular layout, you'll also have to pick the preferred drawer colors and handles.
The standard layout is to have the largest drawers, also known as deep drawers, at the bottom and medium-sized drawers on top. Having a stack of three drawers is considered the industry standard. Please note that you can have two half-sized drawers in the middle or upper stack instead of just one drawer. They will improve the efficiency of your kitchen storage.
Continue reading: