Here are 29 types of kitchen backsplashes that are trendy and popular in 2022. Use these ideas to make your best choice. Read on!
Did you know that the first kitchen backsplashes were barely 4-inch tall? Their only purpose was to protect the walls from splatter. Early backsplashes were these strips of ceramic tile installed just above the sink and stove. It wasn't until the 1950s that they have become a decorative element as well.
Today, a kitchen backsplash is a functional and decorative element to a kitchen. Still, its primary purpose is to protect the wall behind your cooktop or countertop. It can also add color, texture, and visual interest to an otherwise dull space. Using a backsplash that is different than the wall color creates a visually appealing design. This is a common design element that you can find in a wide variety of interior styles.
The key is to choose a backsplash that complements your kitchen's overall theme. You should also remember that it will be exposed to daily use, so it should be durable enough to withstand wear and tear.
Below we set out a list of all types of kitchen backsplashes relevant today (ideas and trends). You will find the material and style that you're looking for. We have included links that illustrate the ideas (we earn a commission at no expense to you.)
What's Inside
Peel and Stick Tiles
When installing a new backsplash in the kitchen, homeowners trying to spend under budget should use peel and stick tile.
You will also save money by not purchasing other products for the installation, meaning the overall cost will be lower. Using this tile on a backsplash offers various advantages, such as how simple it is to install. A single step is needed to lay the tile: cut it, peel the back, and add it to the wall.
While it is possible to install this type of tile without first prepping the wall where you will be setting it, it is a good idea to guarantee that the wall is smooth before installation. If they are not affixed correctly, the tiles will not look professional.
Since there are so many different designs and colors of peel and stick tiles, you can quickly refresh your kitchen by having a new tile to better your home's appearance. Before continuing, the wall must be in excellent condition.
Mirror Tiles
In smaller kitchens, where it is necessary to view a larger portion of the room, mirrors are a good option. Since mirrors absorb light and bounce around the room, they are very dramatic and eye-catching when used as a backsplash. In general, keeping the mirror clean is not a difficult job. But, the more fingerprints you have, the more time you will spend cleaning the mirror. Mirrors should be placed carefully while children will be in the kitchen, as they will leave tons of fingerprints on the surface.
Backsplash Wallpaper
Backsplashes in the kitchen are a standard option among homeowners and renters. However, this wall covering does not provide the security you need in this messy portion of your home. For tenants that are not permitted to make significant cosmetic improvements to the house, peel and stick removable wallpaper is a great option. However, the humidity and heat in the kitchen may cause the wallpaper to begin to peel prematurely.
Your wallpaper looks beautiful during installation, but once it starts to peel, you'll need to take care of it. Removing stains and splashes from wallpaper can be challenging, depending on the type of wallpaper used. Foods can leave permanent stains on the wallpaper.
Stainless Steel Backsplash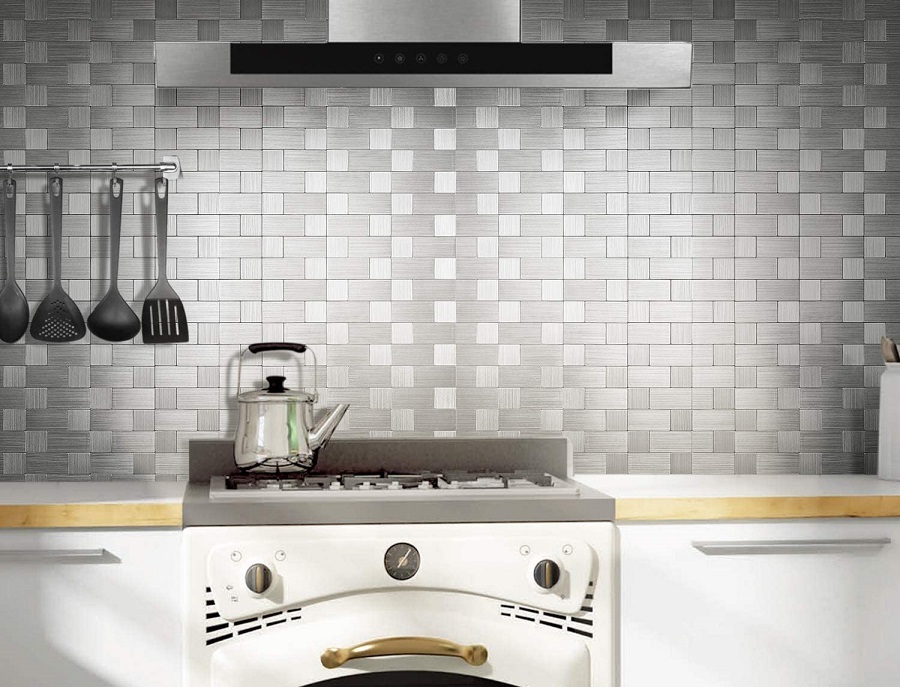 A sleek and modern look in your kitchen is possible with stainless steel, perfect for being easy to clean, robust, and resistant to high temperatures. Besides matching your kitchen decor, this will also join all of your other decor accents, particularly if you have stainless steel appliances in your kitchen.
In addition to being costly, other issues of using stainless steel as your backsplash include the fact that acidic foods will damage the material and cause the finish to be damaged if the splatters are not cleaned away immediately.
Wall Panels
You can produce a significant, dramatic effect with little effort using wall panels. Since wall panels come in such a wide variety of colors, designs, and types, it is straightforward to locate one that complements your kitchen's design and decor. It is essential to make sure that you can properly wash your wall panel. Alternatively, your wall panel will look unsightly, and you will leave your kitchen looking dirty.
Glass Tile
Modern and fashionable homes also use glass tiles for kitchen backsplashes. This tile has a reflective and bright surface, making it light up even in a small kitchen. Even if you use harsh cleaning solutions on your tile, the color of glass tiles will never disappear.
Glass is a non-porous substance and therefore doesn't require sealing. Though, another drawback of this style of tile is that it can quickly become out-of-date and kitschy. Before you apply your glass tile as a backsplash, you should be entirely sure that you love it.
Ceramic and Porcelain Tile
Porcelain and ceramic tile are excellent options when you want to have a lot of decoration in your kitchen. It could be identical to the pattern on your wall, or it could have a look that mimics natural stone. So you can easily pick tiles that fit the decor and color scheme in the house. It's relatively easy too. Easy-to-find tile edge treatments and accessories are available since ceramic and porcelain tiles are among the most common backsplash choices.
Even if they are splashed, tiles that can stand up to water have excellent resistance to damage. Depending on your budget, you may choose a lower-cost tile option, or you may have the opportunity to spend more on your kitchen remodel.
A common issue with installing ceramic or porcelain tile is that people are prone to make mistakes on their DIY backsplash, so you may need skilled installation.
Natural Stone
Using natural stone for your kitchen backsplash adds to your kitchen's beauty without investing a lot of money. It's a great way to create a cozy rustic backsplash too. There is a wide range of natural stones; thus, your kitchen will have a unique look. You can be sure you're improving your kitchen when you add natural stone to your backsplash. Furthermore, this is a substantially cheaper option compared to other similar options.
Since it is too common for dirt to accumulate in the grout grooves and the natural stone pits, you will have to work a little harder when cleaning your natural stone backsplash. You can stain your stone if you use such cleaning chemicals.
You should re-seal natural stone regularly to preserve the stone's dignity and keep it looking and smelling fresh. However, if you want the in-store sample to look exactly like your new backsplash, you should know that the natural stone color and markings might differ significantly from your chosen piece.
Marble Backsplash
One of the advantages of marble backsplashes is that countertops can also be made of marble. It looks like the countertop and backsplash are united with this style. Nevertheless, it has a price.
It is relatively easy to clean and wipe down if you seal the tile every couple of weeks and obey the manufacturer's directions, but this is a costly material to use for your backsplash. Marble tile is not only prone to staining, chipping, and cracking but also stains, chips, and breaks very quickly, so you might have to redo your entire installation to maintain your new backsplash under heavy use.
Travertine Backsplash
Travertine is a form of limestone that is often used as a building material for countertops, floors, walls, and kitchen backsplashes. It's a popular choice for these purposes because it's durable, easy to care for, and available in several gorgeous colors.
The natural stone tile is comparatively light and simpler to mount since it has stone embedded inside it. Since tiles as large as 18″ x 18″ are available, they can create an unusual appearance for your backsplash.
Travertine tile is made of limestone, which is frequently riddled with pits. Thus, they have been filled and sanded to reduce the number of pits. It is not an inexpensive or straightforward installation project for most homeowners because it requires a lot of money and time.
You must re-seal your travertine tiles to keep them looking their best. In terms of total costs, this would increase the maintenance cost of your backsplash.
Engineered Stone Tile
Engineered stone is created from various materials, including natural stone like granite, marble, or slate. These materials are crushed into a fine powder and mixed with resins and other ingredients to form concrete.
A stone backsplash looks appealing, adds to the decor, and even improves the asking price of your house. However, it is tough to cut and mount. Many people turn to engineered or processed stone veneer when they're after the natural look instead of natural stone for this reason.
If you use engineered stone for your backsplash, it will absorb oil and food splatters, resulting in stained surfaces. If this dries, it will easily stain your backsplash and make it very difficult to clean. Since it is heavier than regular stone, engineered stone is challenging to adhere to the wall, though it is less costly to install.
Selecting this material instead of a real stone means that the installation process doesn't have to be sealed, speeding things up.
Mosaic Tile
A mosaic backsplash is a beautiful alternative to the standard tile-based backsplash. While this style has been around for years, it has recently become trendy and is now one of the most common kitchen backsplash styles. The idea behind it is that instead of using one large piece of stone or tile, you use many smaller ones. The small pieces create many different colors and give the kitchen an almost tie-dyed look.
While you can buy prefabricated mosaic backsplashes from various retailers, it's cheaper and more fun to do the work yourself. You have tons of options to choose from, from sea life to geometric shapes to the traditional arts and crafts style when it comes to mosaics.
Hexagon Tile
If you're looking for a kitchen backsplash that's a little different from traditional subway tile, hexagon tile might be what you're looking for. This classic design has been around for years, and it's still just as popular today as it was back then. These tiles feature a hexagonal pattern made up of three different colored tiles, and they come in three different sizes: small, medium, and large. The size you select depends on the overall look and feel you want to achieve to get creative. If you're looking for an elegant focal point for your kitchen, you can choose large hexagon tiles or pair them with smaller tiles to create a more subtle.
Triangular Tile
It's hard not to be awed by the creativity of some of the kitchen tile backsplash installations we've seen., the one that really caught our attention was the triangular backsplashes we saw popping up on Pinterest, like this one. What is it about this shape that makes it so appealing? Maybe it's the clean, modern aesthetic, or the way it brings the colors of the surrounding kitchen into the backsplash, or maybe it's the way it uses the space between the cabinets as an extra area for tile.
Subway Tile
Subway tile is a classic backsplash tile for kitchens. It is often used in this application because it's inexpensive and easy to install and comes in a wide range of colors. In fact, subway tile can be used behind any stove, sink, or other kitchen appliance. It also comes in a variety of finishes, including matte, glazed, and textured.
Even though they have fallen out of favor in the past few years, grey subway tiles are still common today. Dark grout and darker tiles are best when combined with light grey-toned tiles. You can use white grout to add contrast and visual play.
A plain subway tile backsplash combined with similarly-hued appliances looks fantastic on both white and gray kitchens: awesome cabinets and a matching backsplash complete this kitchen's decorative flair.
Shiplap Backsplash
Although inexpensive shiplap is no longer entirely uncommon thanks to its minimal appearance and streamlined design, it's trendy when it comes to a white kitchen backsplash unique in appearance.
Herringbone Tile
Even if the kitchen only has a simple, straightforward design, arranging the tiles in a herringbone pattern immediately enhances the appearance by giving it a more well-judged look as the tiles increase the depth and visual appeal. Instead of using light gray grout to accentuate the herringbone design and bring attention to your kitchen tiles' distinctive style, use a darker gray color to draw attention to the herringbone design. Herringbone tiles work well in Art-Deco and minimal design styles because they are subtle enough to make a statement.
Moroccan Tile
Moroccan tiles' rich texture, color, and patterns are guaranteed to instantly add a vibrant pop of color, print, and vibrancy to any kitchen design. They are wonderful when utilized to elevate the monotonous, everyday experience to a stunning focal point. For a custom feel in your kitchen, you can find Moroccan tiles in endless colors and patterns to fit your tastes.
Brick Tile
Only a brick-inspired kitchen backsplash will serve as an essential design accent for anyone who likes industrial design. Since they are so timeless, they are even more realistic. Plus, they are inexpensive, easy to clean, and readily accessible.
Granite Backsplash
Homeowners admire granite for its visual and physical characteristics. Not only are you guaranteed to find something that will complement your home's theme, but you can also expect to find granite in a variety of colors and design choices. Finishing a kitchen design, incorporating a granite backsplash with granite kitchen countertops is an excellent idea. A granite backsplash is a perfect choice for adding attention to the kitchen because it demands attention.
Stunning granite countertops are ideal for making a gorgeous backsplash. As far as this natural stone goes, you have plenty of choices to choose from, ranging from light to dark. Most materials cannot equal the effect of a granite slab's visual impact.
Since granite is among the most robust and most durable natural stone materials, it makes a perfect choice. It will last longer and need less maintenance than the other options. The only maintenance required for granite is to keep it clean, re-seal it periodically, and polish it. Granite needs to be taken care of, and you can keep it in excellent condition for a long time.
Quartz Backsplash
Unlike natural stone, quartzite is produced by combining 90% ground natural quartz with 10% polyresin. Depending on the brand, the percentages would be in the same region. People have come to favor quartz in their homes because of its many advantages.
When it comes to quartz backsplashes, you have a fantastic amount of color and design choices at your disposal, whether you want something that looks like granite or marble or something that is eye-catching and offers a distinctive look. In your kitchen, the color scheme will not be a concern.

Quartz is a robust substance. You should take good care of it, and it will stay in good condition. Quartz has many distinct advantages over natural stone when it comes to sealing. The surfaces are non-porous since they are engineered. To prevent exposing quartz to unnecessary heat, please do not leave your hot pots unattended, as leaving them will result in molten resin, which will leave a burn mark on the surface.
Slate Backsplash
Slate is precisely what you search for if you look for a darker-colored, long-lasting natural stone for your new backsplash. Slate backsplash, which is common in modern kitchens, will complete a kitchen remodels visual appearance.
Because of the limited number of color and design choices, slate is unsuitable for those seeking many variances. However, if you are genuinely committed to having a striking, darker stone, the slate may be just the option. You can find variations in grey shades, some of which feature hints of blue.
Slate is a natural, tough stone that is stain and heat resistant and is antibacterial as well. Slate is among the most forgiving products for maintaining its good looks for years to come. Several variables can influence the cost of a Slate. As a general rule, you should expect to pay from $50 to $200 per square foot for the stone.
Limestone Backsplash
Choosing to use limestone in your home is an excellent way to connect light and life's pleasant emotions. You may add a limestone kitchen backsplash, but it is not commonly used in the kitchen. Clean spills and splatters instantly.
Lighter shades, such as golds and greys, can be found in the spectrum of limestone. There are varying shades of light grey and dark grey to choose from.
Even though limestone is not inherently the most durable material for a backsplash and can last for several years if taken care of, for more excellent protection, exercise extreme caution if you want to work with limestone. You will be rewarded with the beauty of the material for years to come if you do.
Gemstone Backsplash
A gemstone is a natural mineral found on the earth. A gemstone backsplash in your kitchen is available among the rarest materials in the world. Even if you will have to put in extra effort to keep it in good shape, it's impossible to deny the luxurious appearance that gemstones bring to your room.
A wide variety of color and pattern choices exist for gemstones. If you're in the market for a unique backsplash, you should consider looking into gemstone.
It is heat-resistant and easy to clean. It is essential to be especially careful around this stone, but it is certainly worth the effort to keep it in excellent condition.
One of the biggest obstacles to using gemstones is their price. A square foot of material can cost about $100 to buy.
Thermoplastic (Faux Metal) Backsplash
The least complicated sort of material to build is a plastic backsplash. You may use a pair of scissors to cut it and use double-sided tape to secure it to the wall. Real metal tiles are less likely to bind well to tape than plastic tiles, but the tape is reliable because the panels are so light.
Faux metal panels are fairly large for smoother mounting during installation. The J-trim around the edges and the inside corner trim strips are made from plastic. Although they are labeled as Class A fire retardants, the panels will warp and bend if put in contact with heat above 140 degrees Fahrenheit, which means they cannot be mounted behind cooking stoves.
Chalkboard Paint
Chalkboard paint is a lower-cost choice for homeowners who need to upgrade their backsplash but cannot afford tiles. There are some advantages as well as a range of issues with this pick. This inexpensive backsplash alternative is quick to use, and it does the job in a short amount of time. It doesn't leave a mess, so you won't have to make any effort to clean up after it's done.
The people who use chalkboard paint on their backsplash enjoy the simplicity of using chalk and then erasing it until they have a clean slate. This is a convenient workspace for people who want to jot down different ideas, notes, or sketches and create menus, to-do lists, and recipes.
To be aware of any negative aspects of chalkboard paint, it is essential to understand that this paint makes your kitchen feel smaller because it is darker. Since this option needs only modest lighting in your kitchen, it is a good idea to use it only if you have light to space in your kitchen. Tile paint is water-resistant, while chalkboard paint is not.
Ceiling Tiles
If you want tile functionality and long-lasting elegance, but you want a little visual pizzazz, consider installing antique ceiling tiles. This style works incredibly well in a country kitchen because it protects walls from water and spills and freshening up the look of the room. Tiling the kitchen's ceiling tiles provides a striking, textured look that acts as visual appeal and an anchor for all other decor ideas. Owing to these tiles' texture and age, it can be a little challenging to keep them clean.
Ceiling-Height Backsplash
One of the first ideas that pop into mind when you consider backsplash tile is the paint, pattern, and texture that appeals to you. The area is located between the underside of the wall cabinetry and the countertop. In the absence of wall cabinetry above the countertop, placing tile in the same position across was popular. Instinct and tradition can explain this. However, it is time to set aside convention and use the tile in every possible place on the wall.
If more and more homeowners abandon wall-mounted cabinetry in favor of open shelves or windows, we should expect this trend to continue. A backsplash with a ceiling height may make traditional tile look fresh and modern by creating a focal point, emphasizing an area, or giving the patterned tile a chance to stand out.
Installing higher backsplashes would improve the room's overall appearance by uniting all aspects of it and brightening the space by mirroring the tile's reflective qualities. Even if you are using white subway tiles, this is a great idea. Furthermore, tile can also act as a visual break from all the cabinetry, enabling the kitchen to appear more accessible, creating a brilliant working climate.
Window Backsplash
You are connected to the outdoors with the window kitchen backsplash, and you are encouraged to make nutritious meals. In general, a home needs to have enough natural lighting, and making compromises to fit big windows is an indication that sacrifices need to be made. If you want a multifunctional style, you should consider installing a window backsplash in your kitchen regardless of its type and size. It acts as both a backsplash and a window. Simply, it's the kind of kitchen that will offer diners the impression of space, light, and warmth. Most architects and designers believe this.
An appealing and unanticipated window backsplash will make all kitchens brighter. Full-height windows, low-profile windows, or extended rows of glass can make your kitchen appear much more open and bright.
Continue reading: