Last updated on October 7, 2023
There are 13 types of range hoods for the kitchen and different situations and needs. Yes, that many. This guide will help you make the right choice.
It's easy to get confused when something as unassuming as a range hood has so many different types. But when you think about all the uses for it, there's no surprise that you would have a dozen of options. Making the right choice is then a matter of being aware of all those options.
And here they are all covered. This is part of our range hood guides that help you choose a specific type. It ties them all together. It is important to note that your choices will narrow down based on your kitchen setup. For example, having upper cabinets over the stove limits the choice of the hood down to just a couple of models. Likewise, you will have no more choice if you need a range hood for the kitchen island stove.
All of these types have most of the same features:
Air filters (charcoal filter is the most popular).
Extractor fans (and their airflow measured in CFM).
Fan speed control.
Duct connection.
Lighting.
The majority of them are made of stainless steel.
So without further ado, let's get started. Let's explore the world of kitchen range hoods. We have included links to illustrate with product where available (typically these earn us a commission with no expense to you.)
What's Inside
Wall Mount Range Hoods
If you are looking to install a stove exhaust fan, then consider the different types. Wall mount range hoods are one of the most common types of range hoods. This type will be mounted on the wall in your kitchen above the stove and will either come with a back panel extension depending on your cabinet depth. Ideally, it should be placed roughly 9 to 24 inches away from the cooking surface, but remember kitchen installation measurements can vary greatly from house to house.
Under Cabinet Range Hoods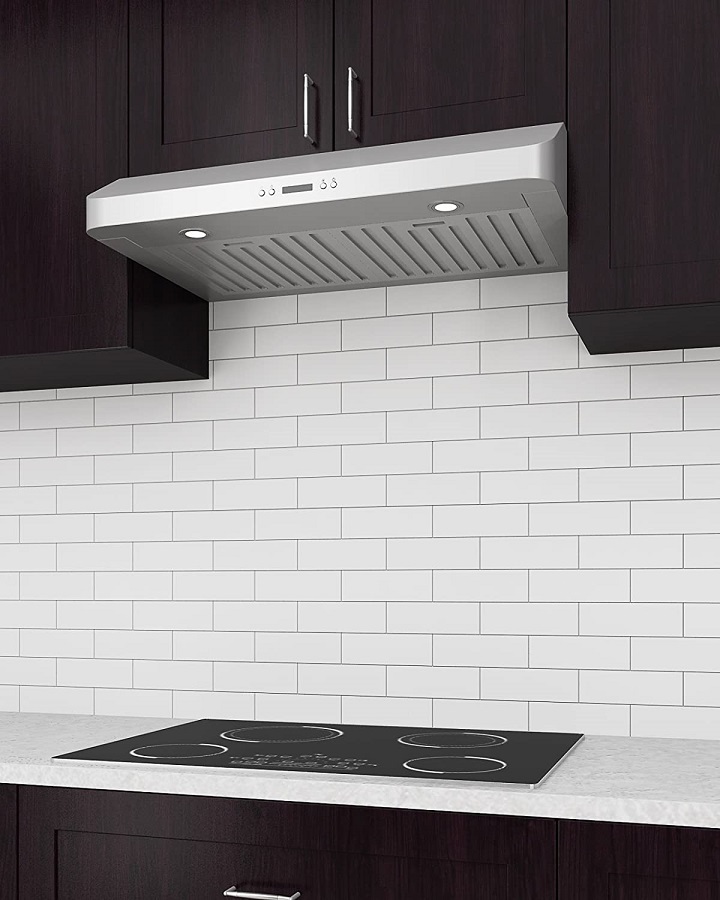 Check Out the Top 10 Best Under Cabinet Range Hoods
If you have cabinets over your range hood, it is called an under cabinet range hood. Separately, you might have a wall-mounted range hood which can serve as an under-cabinet as well. There are two designs in this category: the "Deductible Range Hood" and the "Built-In Range Hood." Whether off-set or straight, Deductible Range Hoods work best when there are cabinetry above them to shield them from drafts.
Range Hoods for Gas Stoves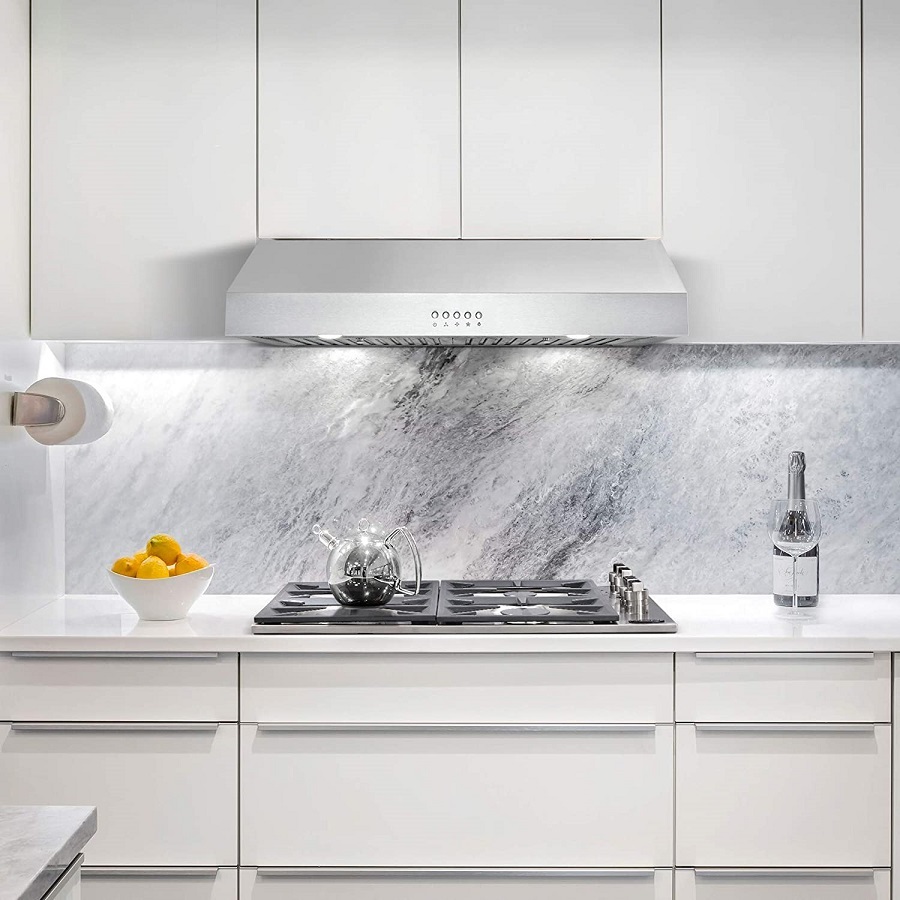 Check Out the Top 10 Best Range Hoods for Gas Stoves
This type of range hood is mostly the same as any other type, except that it has to have a higher CFM. This effectively rules out downdraft hoods and some ductless range hoods. Otherwise, it can take any shape listed in this article.
Kitchen Island Range Hoods
Island range hoods can be installed on the outside or inside of a kitchen area, but many people prefer them as it balances out airflow in the room. The volume flow rate (CFM) doesn't need to be as high with island range hoods because they cover more surface area.
An island range hood is hooked up to the ceiling over an island stove. There are different types of ducts and features for these type of appliances that you should be aware of when looking for one to purchase.
Range Hood Inserts
Kitchen hood inserts are specially designed for a custom cabinet. Range hood inserts are usually hidden but can be built into the custom cabinet above the cooktop or stovetop as well. They can also convert a premade cabinet to functioning as a range hood.
Some people may want to use a custom carved range hood for their kitchen in order to fit the theme of their home. There are many different custom built inserts that you can choose from depending on what your particular needs are in the space and how creative you would like to get when designing your kitchen. It is easier and cheaper than ever for someone who would like to DIY build a range hood insert because there is an abundance of information available online with step-by-step directions on how to be creative and make use of an insert into your new design.
Commercial Grade Range Hoods
A commercial range hood is any vent exhaust that comes with an airflow output of 900+ CFM. This is considered to be a high output.
Downdraft Range Hoods
A downdraft hood isn't as effective at getting dirty smells and smoke out of your home for a couple of reasons. If you cook anything with an open flame or create a lot of smoke, the smell will travel up, which is easier to capture than trying to divert it sideways or down. Also, this variety doesn't work either because shorter people may not be able to reach the vent on top in their kitchen, so they would have to lean over something.
The maximum power of a kitchen downdraft range hood is around 1,000 CFM. You can buy island hoods that produce up to 2,000 CFM. Most people do not need this much power as using the lower settings on the range hood are sufficient most of the time, and during emergencies, you can turn it up for use.
The downdraft range hood only has enough area to capture off some of the smoke and steam from a cooktop or other heat source. This prevents the downdraft range hood from being able to capture all of these elements along with other residual chemicals that may be present in your kitchen.
This type of range hood is used when other types are impossible to install.
Microwave Range Hoods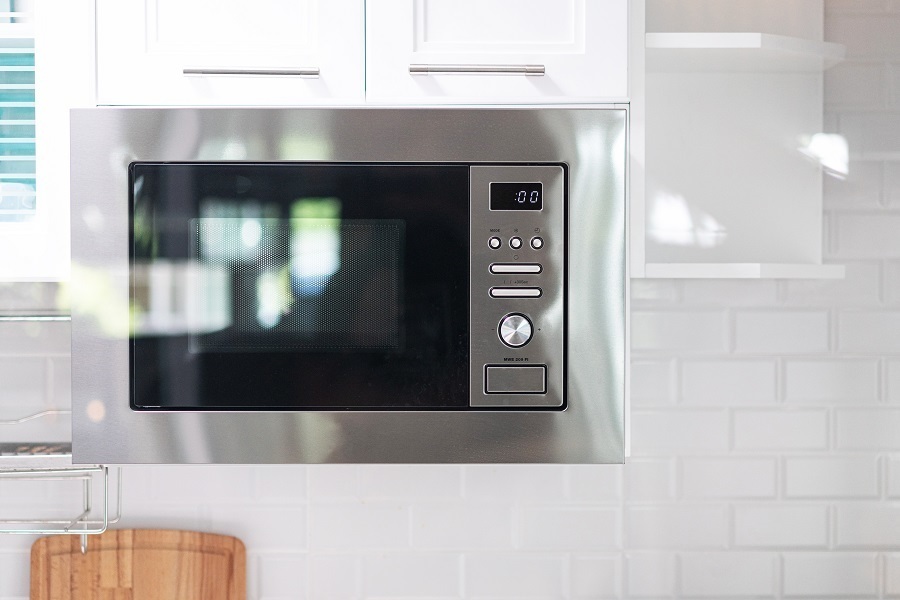 A kitchen microwave with vent hood is ductless, or recirculating. It takes the air in through vents, then exhausts it back into your home. This is less efficient than a stand-alone range hood that vents outside of your home, but it's less expensive and space-saving.
Ductless Range Hoods
A ductless range hood is an appliance which cleans the air in your kitchen without sending it outside. It filters the air with a filter that can be charcoal or any other kind. Other versions of this product are less effective when compared to their ducted counterparts, probably because they do not have as much surface area for the extraction process as well as lack in effective filtering system.
Ducted Range Hoods
A ducted range hood is a type of hood that removes contaminated air, such as gases and grease, to the outside of your home.
Chimney Range Hoods
Wall-chimney hoods work where there are no cabinets over the range and vent to the outside.
Convertible Range Hoods
There are ductless or "convertible" range hoods that have an output that is meant for both non-ducted and ducted setups. The convertible feature means you can configure it in 2 different ways. One way you can set it up is with one vent going through the back of the unit and one vent going up into the roof. It also has charcoal air filters when converting from a ductless to a ducted installation. This was developed with the changing weather conditions in mind, as cold weather makes running a vented system less energy efficient.
Wall Extractor Fans
Check Out the Top 10 Best Extractor Fans for the Kitchen
Some homeowners might choose to install a kitchen wall extractor fan instead of a range hood. While a ventilator system may help where the ventilation is poor, it may not work as well when odors and fumes should be cleared out from your kitchen quickly. Keep in mind that if you skip the step of teaming up your stove with the right size and style of the exhaust hood, then bits of grease might accumulate on your walls and could also increase the chances of small grease fires spreading throughout your home.
Range Hood Features
A kitchen exhaust hood has qualities affecting the speed of smoke removal (airflow). However, these qualities are not guaranteed to be better with excess CFM capacity. An exhaust hood's effectiveness should also not be determined by CFM figures when other factors such as smoke capture ability and noise can affect its efficiency.
A good kitchen range hood features at least two speeds. A high-speed setting for cooking and low speed to clean the air after the cooking is done. More fan speeds may be available for better customization, but as anyone who has spent a long time in the kitchen cooking, you only need two (and maybe the third super speed for when you burn something.)
Some models of kitchen range hoods feature features such as built-in temperature sensors. If the range gets too hot, some microwaves will switch on an exhaust fan. The exhaust fan pulls away from the hot air and cools things down. Some kitchen range hoods are designed with features such as built-in heat-sensing devices to measure the rate at which heat is radiated from a stove. When a specified level exceeds the set threshold, electric fans turn on to pull heated air through ducts from below and to pull in cooler air from other sources within
Continue reading: