Last updated on August 13, 2023
Let us help you organize your kitchen once and for all. These are 13 steps to do it by tackling every aspect of the kitchen. Read on!
My mom is a professional chef, so I grew up following strict rules of organizing the kitchen. And while that wasn't much fun when I was a kid, it pays its dividends now. I have a thing or two to tell about organizing the kitchen and keeping it that way.
We all know that an organized kitchen requires a lot of work and planning. In fact, if you don't plan out your kitchen properly, chances are your kitchen space is going to be cramped, cluttered, and hard to maneuver. To avoid this, there are a few things you'll want to consider before beginning an organizing project. Below are some helpful tips for planning out your kitchen, so you can create a space that is functional and pleasing to look at while keeping clutter to a minimum.
Kitchen organization can be a tricky subject – there are so many things to consider! How much space will you have to work with? What exactly needs to be organized? How can you make your kitchen easier to use and more efficient? There are so many ways to organize your kitchen, and so many tools available to help. Here we have some great kitchen organization tips to help you get started.
The key to a successful organizing project is to divide the kitchen into areas and tackle them one by one. There are 13 of these areas (you can come up with more if you need them). So we will go over every one of them to give you valuable advice on how to best approach it.
We have included some helpful links to illustrate what products help with organizing each area of the kitchen. These links may earn us a commission but at no expense to you.
What's Inside
Cooking Utensils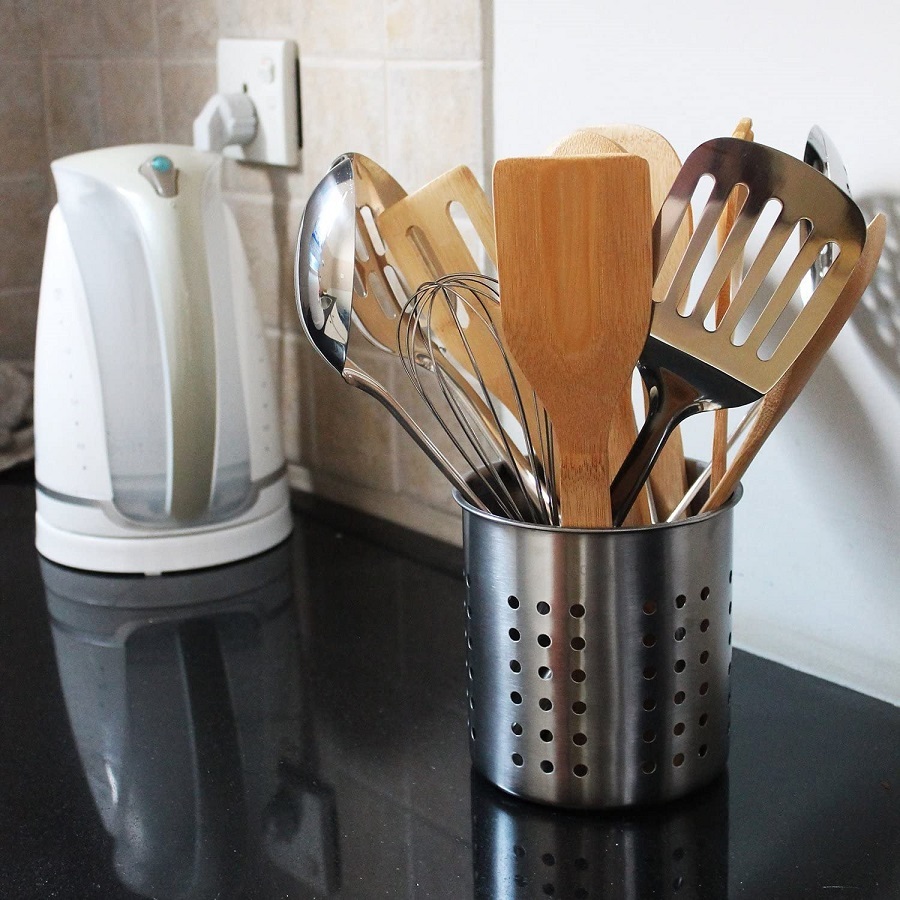 Check Out the Top 10 Best Kitchen Utensil Holders
When setting up a kitchen, you start by the stove. The stove is where most time is spent in the kitchen while cooking. If you are right-handed, your spatula and slotted spoons should be on the right side of the stove's drawer. All other utensils that are used regularly should be in a utensil holder either to the left or right of the stove according to your dominant hand (if you're right-handed, put it on the right side; if not, follow logically).
More peculiar additional tools, including a can opener, garlic press, and avocado press, should be placed on the opposite side of the top shelf for easy grabbing when needed. These could not be considered "regularly used" in an average kitchen environment but rather for occasional use.
Use cookware organizers (drawer organizers) to help you with this, and they work as a kitchen drawer alternative too.
Spices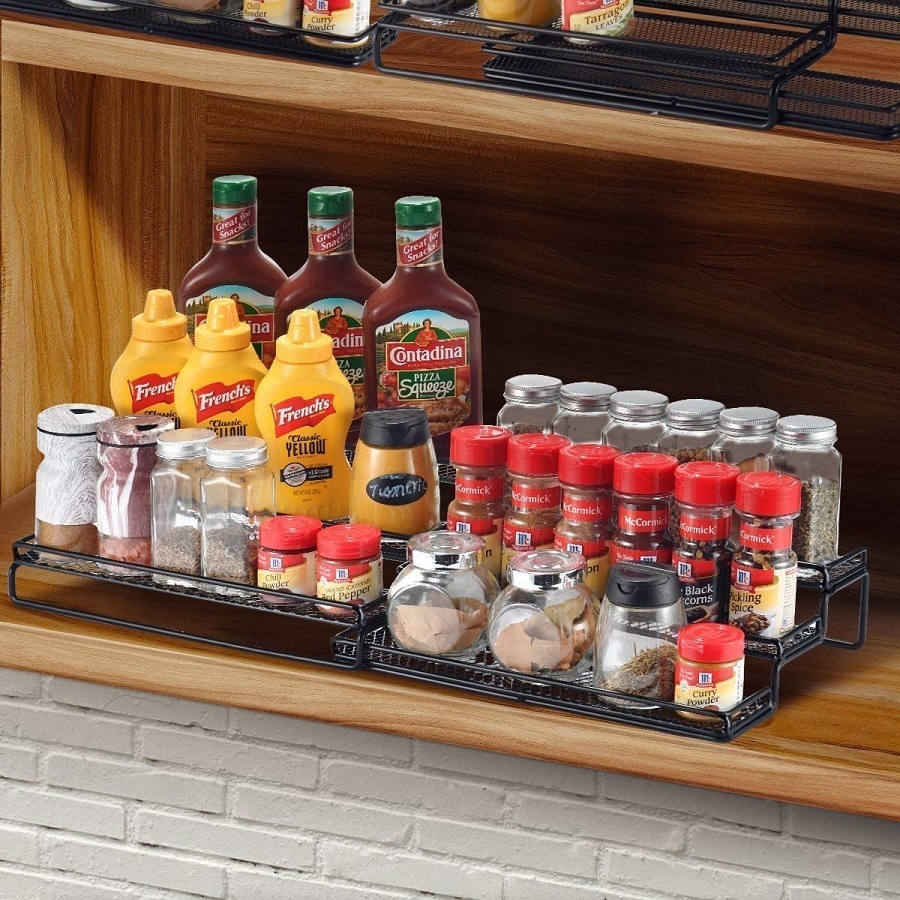 Check Out the Top 10 Best Spice Racks
We suggest that you keep the most used spices commonly close by the stove. This way, you will not have to walk to get them, and it can save time and energy when prepping food. Don't forget to label them too.
Get a spice rack, especially if you're organizing spices in a small space. Store less used spices in the pantry.
Cookware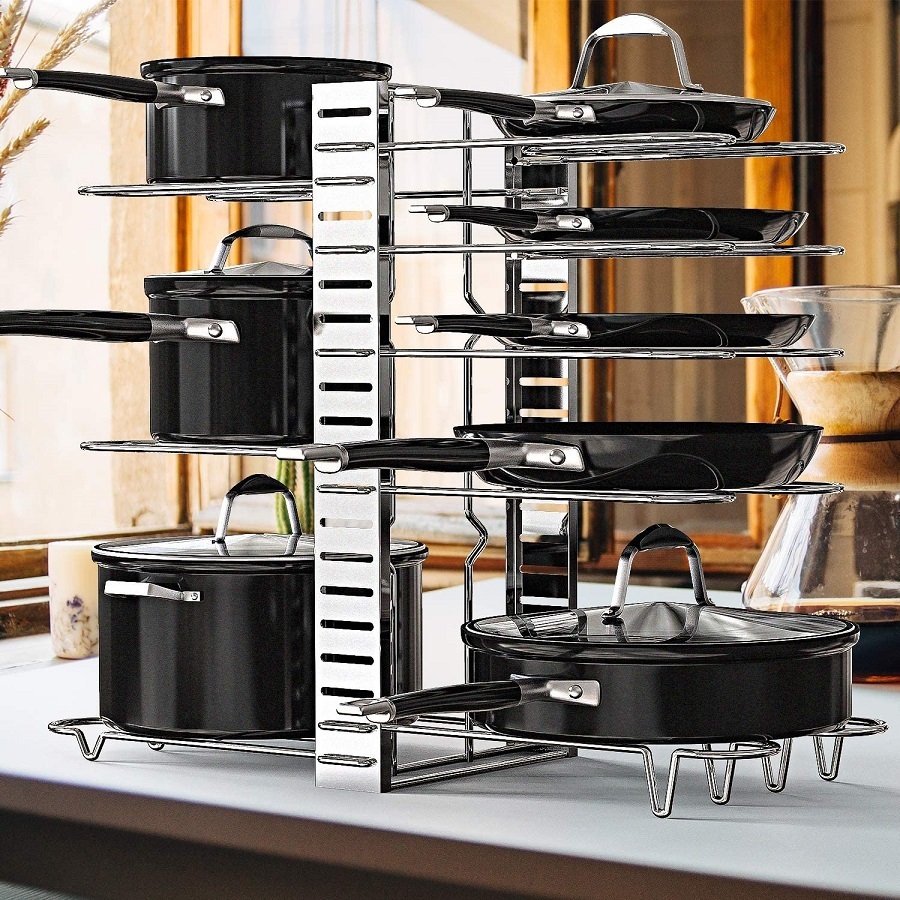 Check Out the Top 10 Best Pot and Pan Organizers
Efficiency should be incorporated and pots and pans can be on either the right or left side depending on whether you are right or left-handed. We suggest putting baking trays near the stove, taking into account that pots and pans are also often stored in these areas when they are not in use. We recommend keeping all vital cooking tools on an open counter so it does not create unwanted clutter.
Get a rack to store all our cookware and kitchen devices.
Dishes and Silverware
Organizing kitchen dishes and silverware can be a hectic task (simple because there are many). Proper organization requires much trial and error. As you think about how your dishes are most often used you may decide that mugs should go near the coffee maker, glasses next to the fridge, or bowls by the pantry. Consider how things like storage containers, plastic wrap, and tinfoil are used frequently so that they can be within easy reach of the table or counter for use as well.
Get drawer organizers for silverware.
Pantry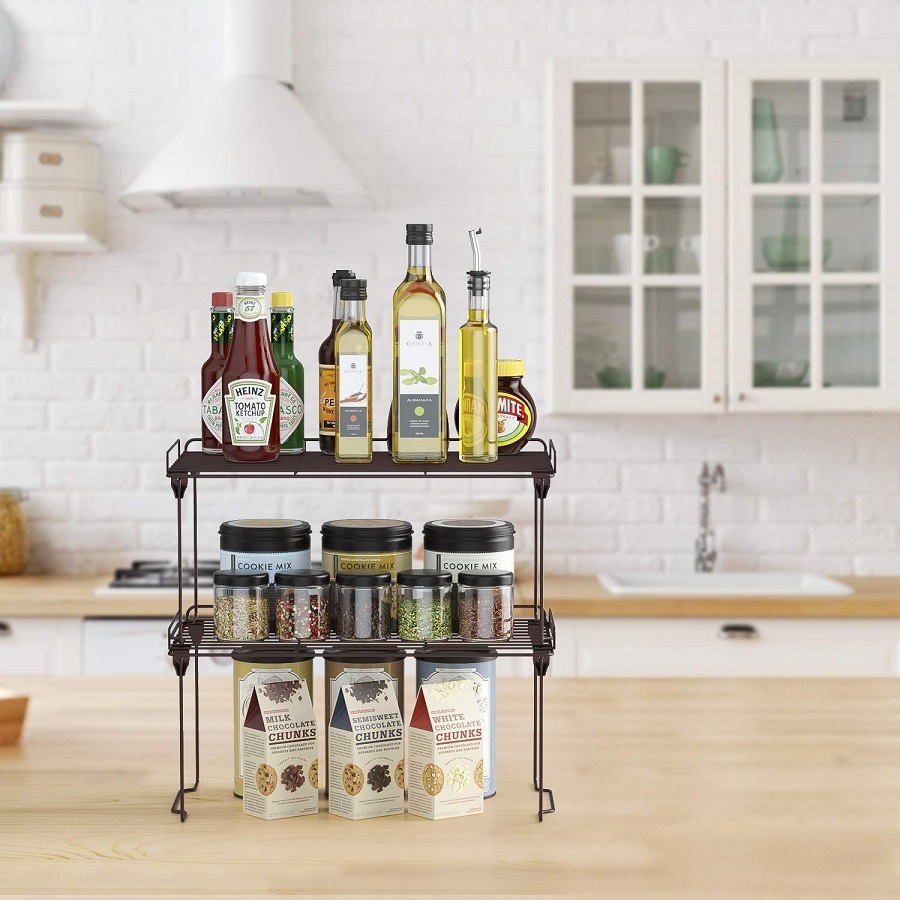 Check Out the Top 10 Best Pantry Organizers
We have found that it is useful to organize foods by the shelf in the pantry and take a picture of our pantry before going grocery shopping so you can immediately know what you need more. As any avid eater can attest to, organizing food and cabinet space can prove challenging. Fortunately, there are some key principles which will help you make the process comparatively simplistic.
Consider the kitchen counter space, as this is where common dishes should be stored for ease of access and general hygiene purpose. For example, store dry greens like rice or pasta on top of your cabinets (or wherever you are storing the baking ingredients) near your oven for quick convenience without worrying about the food inside too much.
Additionally, when choosing what foods to stock in your cupboards balance convenience over flavor; stuffing yourself when possible with high nutritional foods with an extended shelf life.
Get additional pantry organizers for your cupboards.
Fridge
When organizing your fridge, try to order the items starting from what people are most likely to go back for and work backward: canned goods, condiments, drinks, veggies/fruit, then the milk products and meats, putting things that would be soon going bad at the front of each drawer. That way, you know where everything is, and you don't forget about things. This decreases food waste because you won't buy two of something if it's all in one spot or lose things that have stayed too much or gone off, especially when deciding which food should stay in the fridge for leftovers.
Get more plastic containers for the fridge. Keeping everything in containers helps keeping the fridge clean and odor-free.
Coffee and Tea
In order to avoid clutter in the kitchen, you should put your coffee and tea brewing items near where these end up, and whenever possible, make functional items pretty.
Put your coffee near the coffee machine, tea near the kettle. You can make pretty displays with tea if you use clear plastic containers for it.
Get more of these containers and racks for your tea and coffee station.
Trash Bins and Cleaning Supplies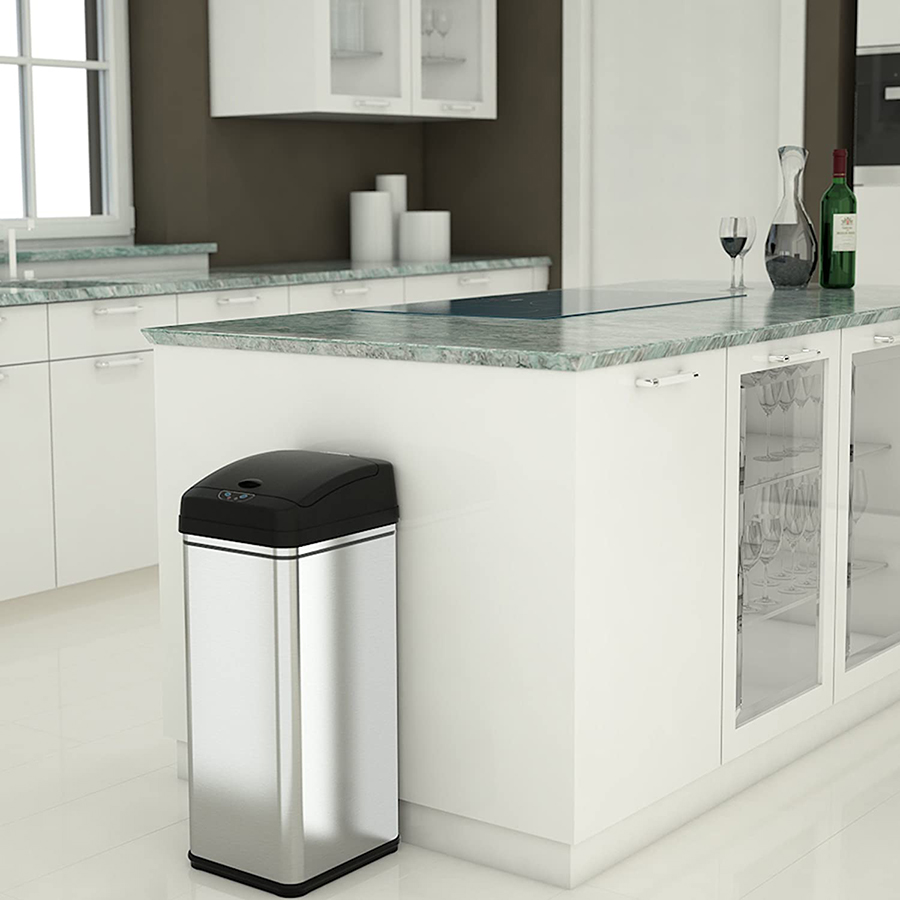 Check Out the Top 10 Best Trash Cans for Kitchen
Organizing the kitchen is one of the most important parts of keeping it clean. Start by organizing the trash bins and recycle bins, dish soap, and any cleaner liquids that need to be in a spray bottle for countertops (only these kinds go under the kitchen sink). These things can be kept together in one cabinet (usually located under the sink.)
Kitchen storage closets outside of the sink can store other kinds of liquids for home cleaning. Don't forget to put a dishcloth or towels inside a nearby drawer for convenience.
To organize your kitchen, start by finding where you keep trash bins, dish soap (use a good dish soap dispenser), along with any chemicals you would use on counters like bleach tablets (these only live under your sink). Cleaners and other household goods should live in closets situated out of the way of food products.
Get an automatic trash bin that can live outside the cabinets and doesn't ruin your decor.
Kitchen Island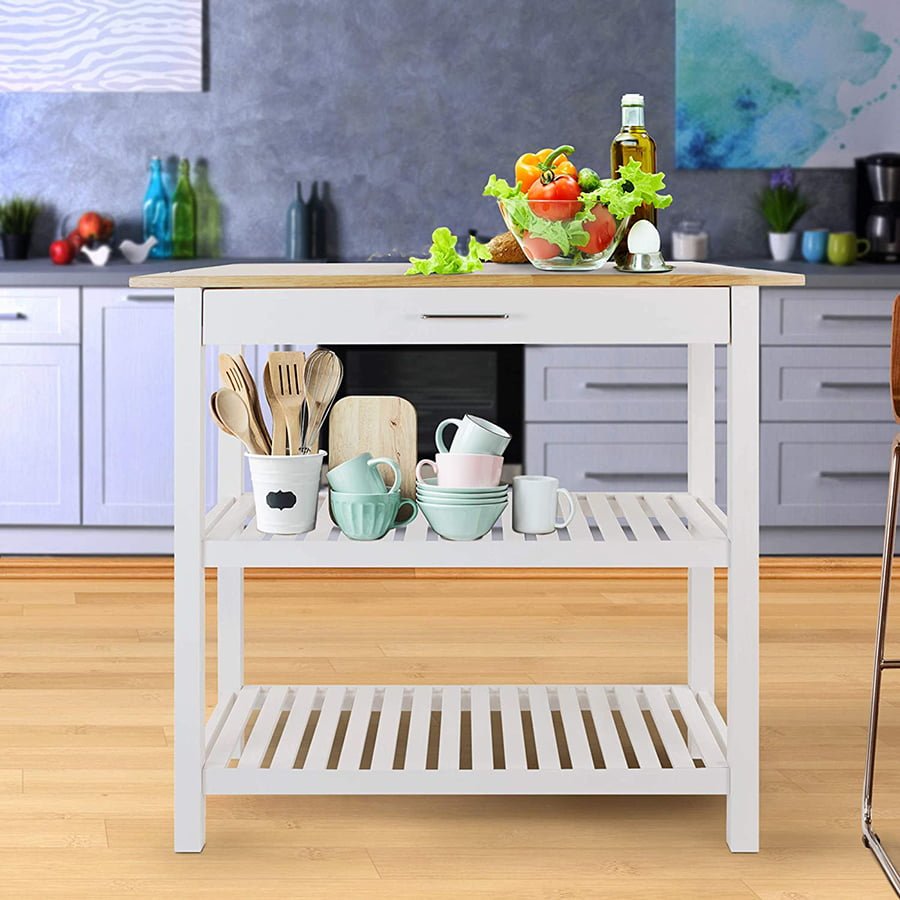 Check Out the Top 10 Best Kitchen Islands for Small Spaces
One way to save space in your kitchen is to use carts or buffets to create a small kitchen island, serving space, or space for additional appliances (like a microwave or a coffee station). That way, you can move them out of the way and still find them useful.
Kitchen Cabinet Rollouts
You can increase storage space with rolling cabinets and a lazy susan that move so you'll have more room and can find your items easier. These can add useful extra storage space to far and awkward corners of the cabinets. You can also add Pull-out shelves to narrow gaps between the cabinets and appliances.
Storage and Organization Cart
Kitchen carts are the next best option for giving you food prep space and filling shelves. Pick a butcher block, steel, or plastic laminate top. Just watch out for those glossy finishes that might be tempting but not environmentally sustainable. These carts also come in several wood finishes that might match what you already have or give you an interesting mix with metal or painted toppings.
Vertical Space
It is important to organize your kitchen and give it more space. Use hooks and racks for storing items that are usually in your cabinets such as silverware, glasses, pots and pans, oven mitts, and more. Hang these items from inside of the cabinets, a cabinet door, or ceilings to increase storage space even more.
Drawer Organizers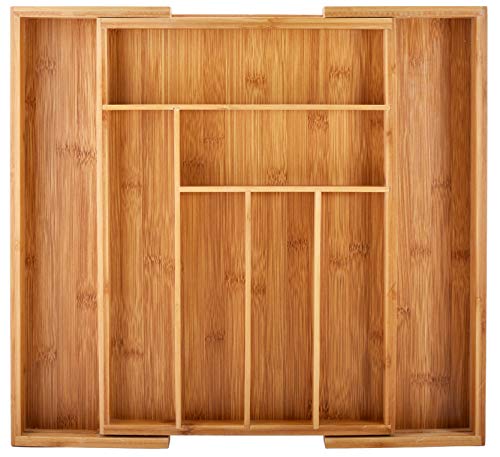 Check Out the Top 10 Best Drawer Organizers for the Kitchen
A drawer divider is a great help in organizing a kitchen drawer. The junk drawer is usually split into different sections to create space for that junk – and this way, you will know where everything is located. They generally get broken both vertically and horizontally to make more room within them.
FAQ
How do you decide where to put things in kitchen cabinets?
The best way to organize your kitchen cabinets is by grouping the items by use. Use additional containers to do that. Keep often used items in the front, and rarely used non-perishables at the back. Group everything by the type of cuisine. So you would put everything for Asian food into one basket, and use another one for Mexican.
How do you organize a cluttered kitchen?
To organize a cluttered kitchen, start by getting rid of everything that is past its use-by date, or anything you haven't used for the past 6-12 months. Get as many storage containers as you can possibly fit in the pantry, cabinets, fridge. Organize everything that fits into containers (use free shelves for everything else) by purpose and use. Keep often used items closer to the stove and counters.
Continue reading: