Last updated on August 13, 2023
This guide will show you all the types of kitchen faucets (we've counted 17) so you can make the right choice. Read on — it's fascinating!
Kitchen faucets come in many different types (there are many brands): what you choose will depend on what you need. A single-handle faucet is simple and easy to use since you only need to turn the lever to change the water flow, temperature, and direction. This makes it well-suited for younger children and those with limited dexterity. On the other hand, a two-handle faucet is more complex; it allows you to choose a steady stream, a spray, or a combination of the two. And that's just the tip of an iceberg.
While all faucets share pretty much the same basic anatomy, it's useful to know its basic parts. So here they are (top to bottom):
The aerator is an insert at the tip of the faucet's spout that breaks up the water flow (no all faucets have it.)
The spout (neck) – the most noticeable part of the faucet that defines its style. The popular spout designs are straight, goose-neck, high-arc, Shepard's crook or bridge, pot-filler.
The handle (lever) is what controls the water flow and temperature. A faucet can have one or two of them. Dual handles are usually mounted beside the faucet, while the single handle is part of the neck.
The body is where the water is mixed to get the desired temperature. This is where the valve is.
The valve is not a visible part of the faucet, but it's an important one – it's what actually controls the water temperature and flow. The valve, in turn, can be a cartridge faucet or a ball faucet. (Compression faucets can still be found in older homes that use a simple but expensive valve.)
Mount type decides how the faucet is mounted into the kitchen sink or countertop. These vary by type (that will be covered later.)
Regardless of the type, a kitchen faucet can come in any of the following materials and finishes: stainless steel, copper, zinc alloy, bronze, brushed nickel, plastic.
They can also have additional features, such as a spray head, soap dispenser, a separate spout for drinking water, a built-in filter, touch-sensitive and motion control, smart features, etc.
Let's explore every type of kitchen faucet. We have included shopping links to illustrate specific models for your convenience. These links earn us a commission at no expense to you.
What's Inside
Single Hole Faucet
If there is only one hole in your sink, that means that the only type of faucet that will fit your home is a 1-hole faucet. Most 1-hole faucets are easy to install and often come with only a single spout, making them easier to use and has less chance of water spilling over. There are many pros for this style – they are easy to use, easy to install, come in many styles, and it's less likely you'll have water spilling over. However, this type lacks additional features like being able to control the temperature and pressure (with one handle).
3-Hole Faucet
A three-hole faucet is a more traditional kind, common in older houses. These come with two side holes linked to the handles and one hole for the spout. There are two different varieties of three-hole faucets that are distinguished by how far apart they're mounted: the spacing could either be 4 or 8 inches wider on a 3/4″ thread mount system. If it is 4″, you need that size faucet, and if it is 8″, it is an example of a widespread.
Centerset (Deck Plate Mounted) Faucet
This faucet is good for installation with 4″ separation between mounting holes.
Widespread Faucet
If your mounting holes are 8-inches apart, this is the faucet for you. The mounting part and controls are separate from handles and spout, which means that you can easily mount these faucets directly on counters or sinks. According to my experience, faucets with two temperature control most likely have at least 12 parts and will require more skills than a standard 3 hole faucet. Both kinds of 3-hole faucets are considered family-friendly because two temperature controls that you can modify very specifically mean less chance of burnt hands.
Pros: Cheap, easy to install (slightly harder due to accessories).
Cons: Will need modification for additional features.
4-Hole Faucet
4-hole faucets have all the advantages of their predecessor, 3-hole faucets, with a bonus. Unlike a 3-hole faucet that offers handles and spout options, the 4-hole faucets allow for one new feature. Depending on how your kitchen is used, some firms supply dedicated kitchen sprayer that makes applying to fruit and vegetables significantly simpler; others like soap dispensers so they can maintain good hygiene practices while cooking different meats.
Pros of this setup:
It is a spacious kitchen because it has more space with its larger area and sink (some people enjoy huge sinks).
The ability to select the best fitting design for their individual needs.
Clear temperature control (standard thermostatic mixer gives the user the control to set water temp).
Pull-Down Faucet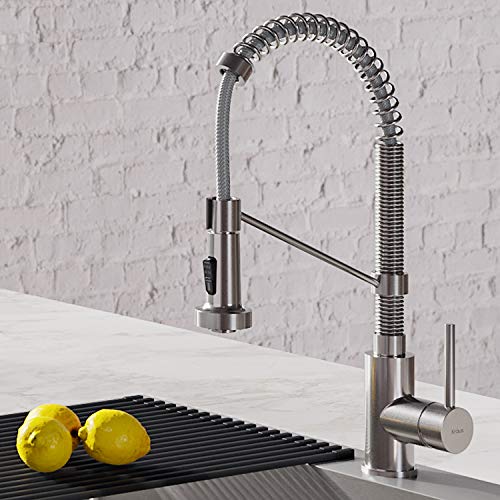 Check Out the Top 10 Best Pull-Down Kitchen Faucets
You can use pull-down kitchen faucets for cleaning dishes, as well as when you have a messy puppy in need of a shower. Typically this faucet has a built-in sprayer that you can pull down with its spout.
Pull-Out Faucet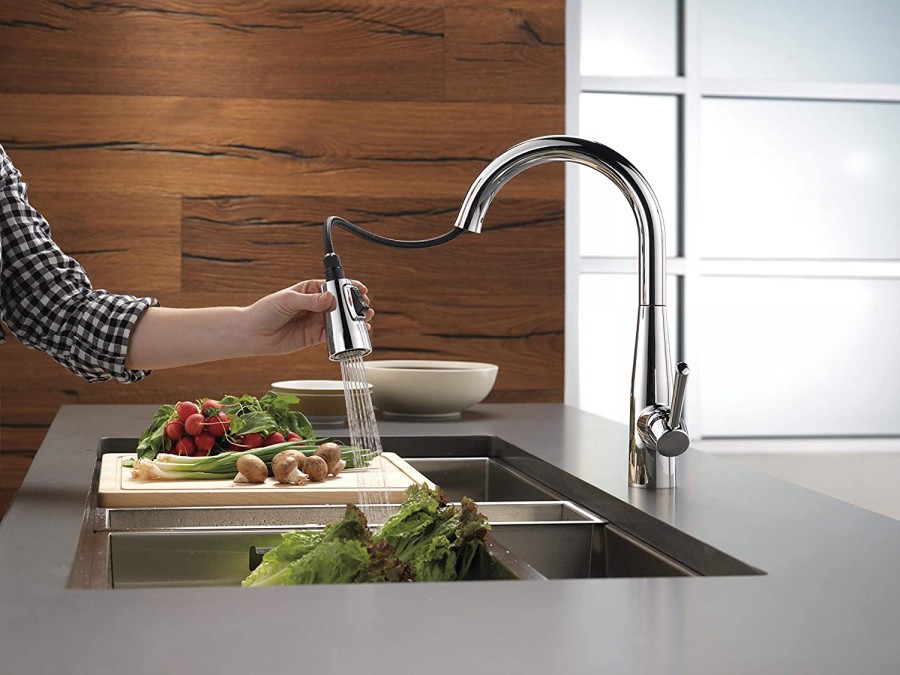 Check Out the Top 10 Best Pull-Out Kitchen Faucets
Unlike the pull-down faucet, the pull-out faucet stays in the fixed position, and only the sprayer head moves (with a hose.) this gives the faucet more flexibility in how you can use it. This type of faucet also takes up much less space. It is therefore ideal in small kitchens with smaller sinks (although not limited to it.)
Single Handle Faucet
A single handle faucet controls water flow and temperature with a single lever on its body. Turning the lever will control the water pressure, while turning it will control the temperature. Streams of room temperature or cold water are not offered in this type of faucet. This is the most basic kitchen faucet and may last the longest owing to fewer points of failure.
Double Handle Faucet
A dual-handle option has two separate handles which each control a different type of water. In one case, the handle can be attached to one central piece, but they can be spaced apart from each other in other cases. Whichever the case might be, it should always have these two handles on the right and left sides of the main tap. When you turn the handles, there are a variety of outcomes for high-pressure or low-pressure water flow.
Commercial Grade Faucet
A commercial grade faucet is more heavy duty and gives that more modern design for kitchens. These faucets have a distinct look packed with features, and they are usually pulldown types.
Faucet with Sprayer
There are two main types of these kitchen faucets: the pull-out/pull-down faucet and a regular faucet with a spray nozzle and a faucet with a side sprayer. For low-use households or households with limited space around the sink, we recommend installing a traditional pull-out or pull-down faucet with either an integral single handle operation or separate handles with one handle controlling temperature selection and the other controlling volume control on tap.
Pot Filler Faucet
Experienced chefs often enjoy a pot-filler faucet because it shortens the distance between the pot on your stove and the sink. We often want to use it when we are cooking soups. As it is larger, we can cook more without running out of room in our pots and pans.
Some common types are just basic, straightforward water-efficient models; these typically have thermostatic hot water controls for this reason. A few other general choices have options between pullout or deck mounted; those always include an extra option for adding overhead spray units outside of the main pipe.
The most unusual models in this family can be found with pullout units that combine two different sinks into one space through dual handles on lightweight pedestals with nonremovable spray heads or inflowing hose faucets that involve rotating outer knobs to fill however many pots you need at once offshore from countertops when there is no connection dispenser near at hand.
Wall Mounted Faucet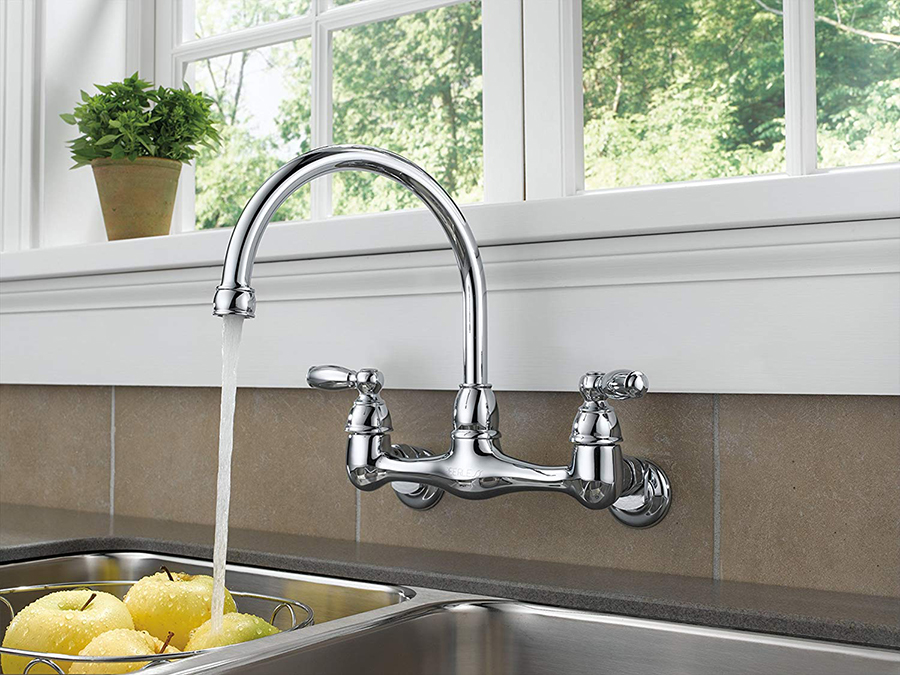 Check Out the Top 10 Best Wall Mounted Kitchen Faucets
Wall-mounted faucets are installed on the wall rather than inside the sink. This is great for living in a small home or having otherwise limited counter space, as it clears up lots of room. They're available in many colors, sizes, styles, and types of flow systems, so you can find one that matches your decor. They need special valves or pipes put inside the wall during installation, so it's not something an amateur should do themselves without being knowledgeable in plumbing.
Faucets with Water Filters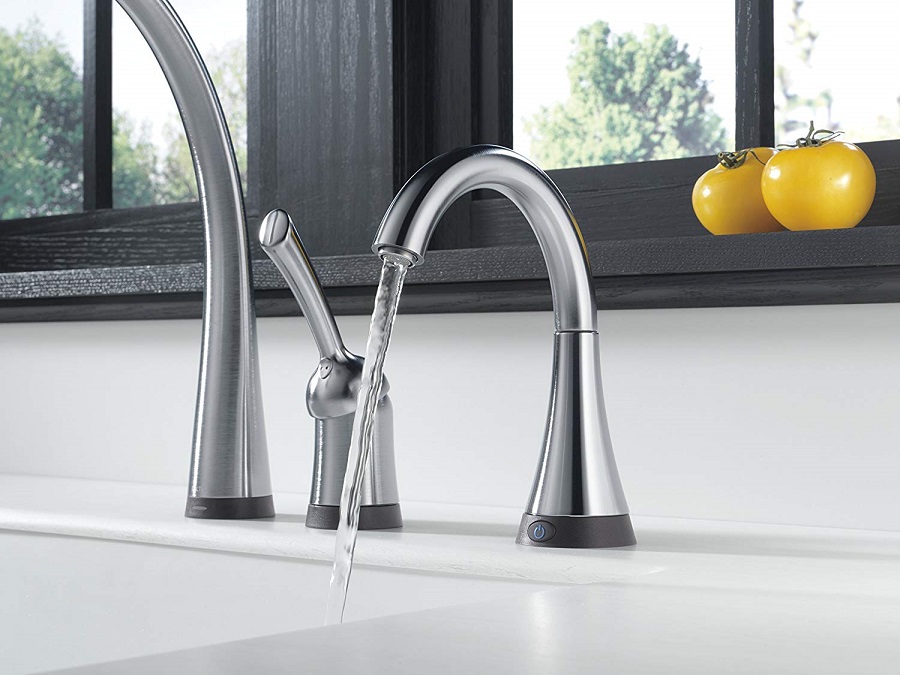 Check Out the Top 10 Best Kitchen Faucets for Hard Water
You should choose a type of kitchen faucet that comes with a filter so that you can drink water you know is safe and prevent limescale buildup. Not only are these filters catching the bad things like copper, cadmium, and even lead, but they also come in a variety of other good qualities, such as being stainless steel or enriched with minerals.
There are lots to choose from, including ones made out of trendy materials like copper and stainless steel to meet your specific kitchen style needs. Special designs make it perfect for any style kitchen in your home, ranging from more modern rooms to homes decorated in vintage styles – there's something sure to suit each taste! They work well with kitchen sinks for hard water.
Touch Faucet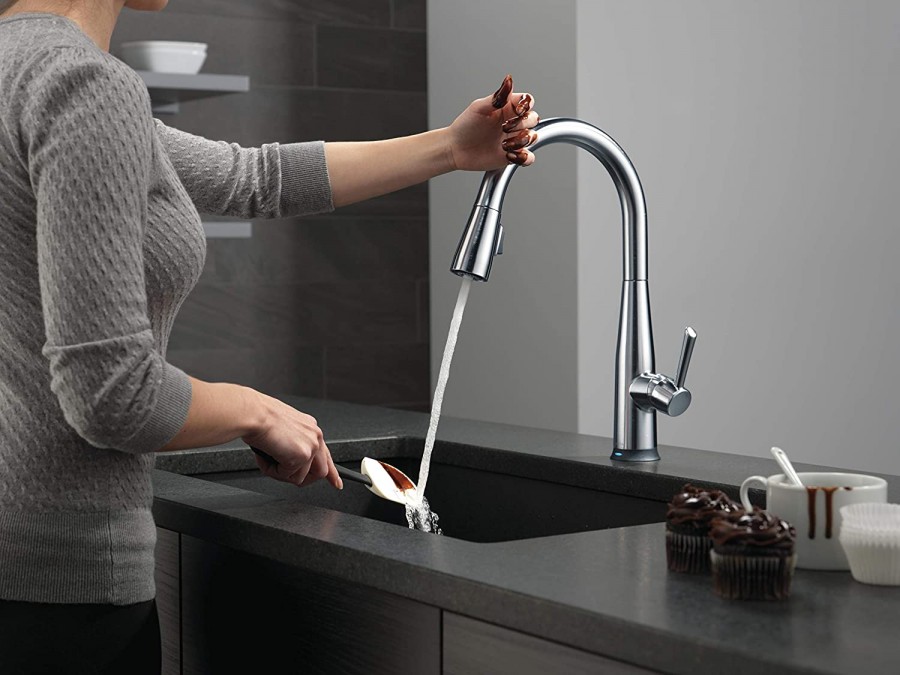 Check Out the Top 10 Best Touch On Kitchen Faucets
A touch-sensitive faucet is controlled by touching it with your hands.
Touchless Faucet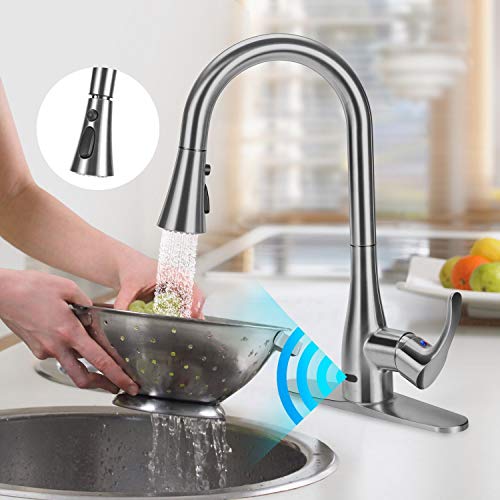 Check Out the Top 10 Best Touchless Kitchen Faucets
Motion sensing faucets respond to your hand with touchless technology. You can activate them by placing your hand over a sensor in the middle of the faucet below the handle. Some people argue whether touch and touchless kitchen faucets are reliable.
Smart Faucet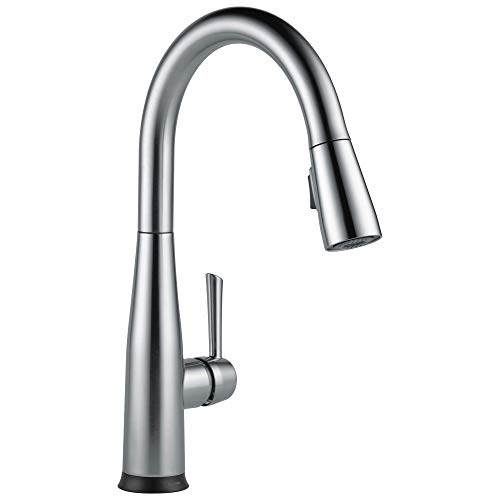 Check Out the Top 10 Best Smart Kitchen Faucets
Some kitchen faucets on the market are smart. They are highly advanced, have a lot of features including, being water and time efficient. These types of products allow for hands-free operation and may be expensive to fix when having these repairs done by a professional. There's a slight difference between smart, touch, and touchless faucets.
FAQ
Are all kitchen faucets universal?
Kitchen faucets aren't universal. Just as there are many types of sinks, there are several mounting types. There are a few standards of these. You should check how many mounting holes a faucet requires and measure distances between them.
Why are kitchen faucets so expensive?
Not all kitchen faucets are expensive, as you can find very affordable models. But the price tends to quickly go up with the number of features, the materials used to manufacture, and the popularity (reputation) of the brand.
Which is better pulldown or pull out kitchen faucet?
At home, a pull-out kitchen faucet is better. It looks basically the same on the outside as traditional faucets. The difference is in its construction. So it doesn't take up more space and doesn't have a distinct look. Pulldown faucets have a more specific look and are usually used in commercial settings where the function is preferred over style and space use.
Can you paint a faucet?
You can paint most faucets to change the look and style. Use spray paint for metal or plastic, depending on the faucet's material. Make sure to clean it well, use the primer, and let the paint dry properly before using the faucet again.
Continue reading: