Last updated on November 20, 2023
Basement bar tops can transform your space into the ultimate hangout spot, because these carefully curated bar top ideas match every design preference and budget.
These are my unique design concepts made using design tools. I hope you find them inspiring!
We all love a good basement bar, don't we? That cozy, intimate space where we can unwind, entertain and make lasting memories. A critical element significantly influencing the overall aesthetics and functionality of it is the bar top.
Perhaps, you've scoured the internet, read numerous articles, and explored Pinterest for ideas but you're yearning for something unique. You're in luck! The thing about basement bar top is that there's always room for creativity.
While we acknowledge and respect the brilliance of existing ideas (you'll find resources to the notable ones at the end of the article), this article promises something more – a repository of fresh takes and unique perspectives on basement bar tops.
Let's raise a virtual glass to innovative ideas and fresh inspiration! Remember, your basement bar should be the best reflection of your personal style and taste. Now, let's dive right in, shall we?
Remember, this start-off is just the prelude. As we go further in, you'll experience a splash of uniqueness swirled with practicality – all aimed at putting together an exceptional bar top for your basement.
What's Inside
Basement Bar With Strip Lighting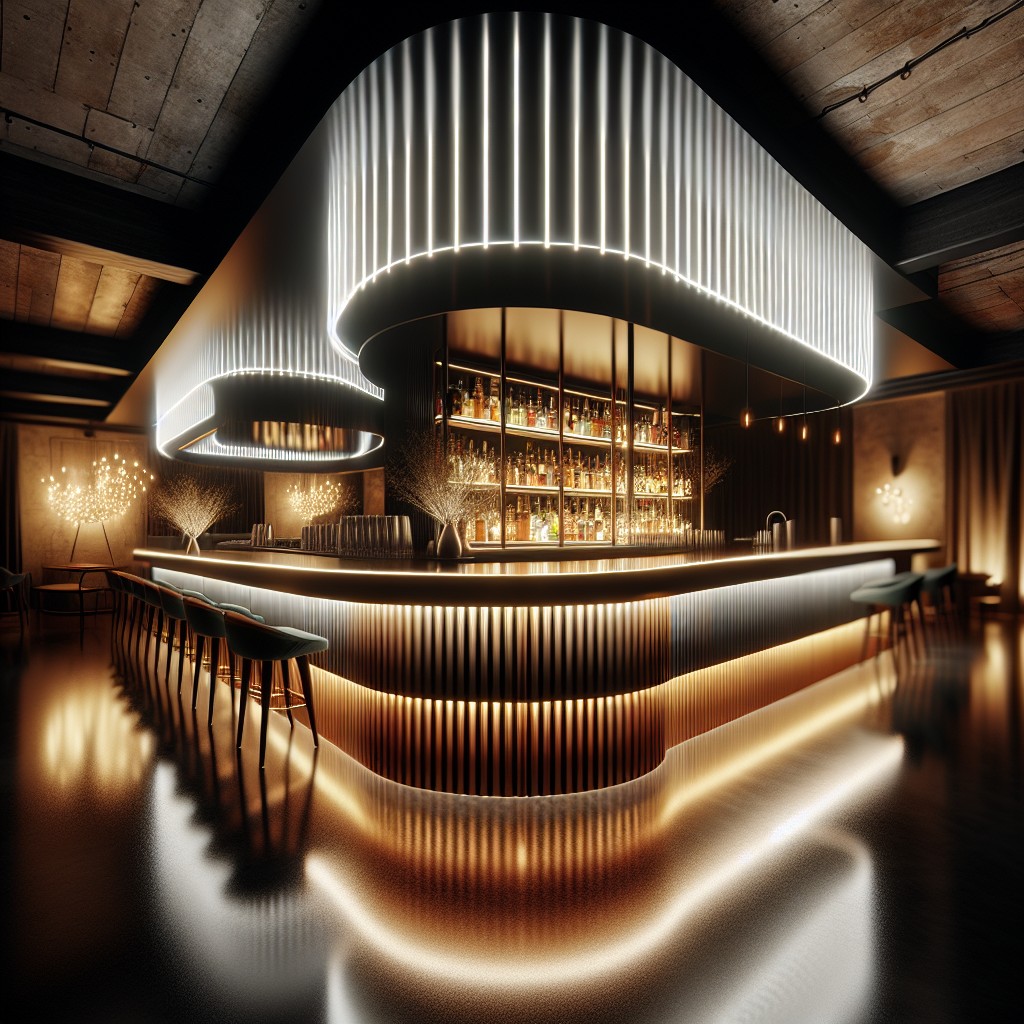 Strip lighting offers a remarkable way to transform your basement bar area. Tucked under countertops or tucked beneath the bottle rack amplifies the overall ambiance.
Opt for color-changing LED strips to set the mood or go for warm white to adopt a cozy yet upscale feel.
Another contemporary method involves lining the footrest or bar stools with light strips for an inviting glow.
For durability and a professional look, encase your LED lights in aluminum channels.
Lastly, consider motion sensor strip lights for convenience.
Without a doubt, these flexible lights can be tailored to complement any bar theme, design or mood for an enchanting evening setting.
Go Monochrome for Elegance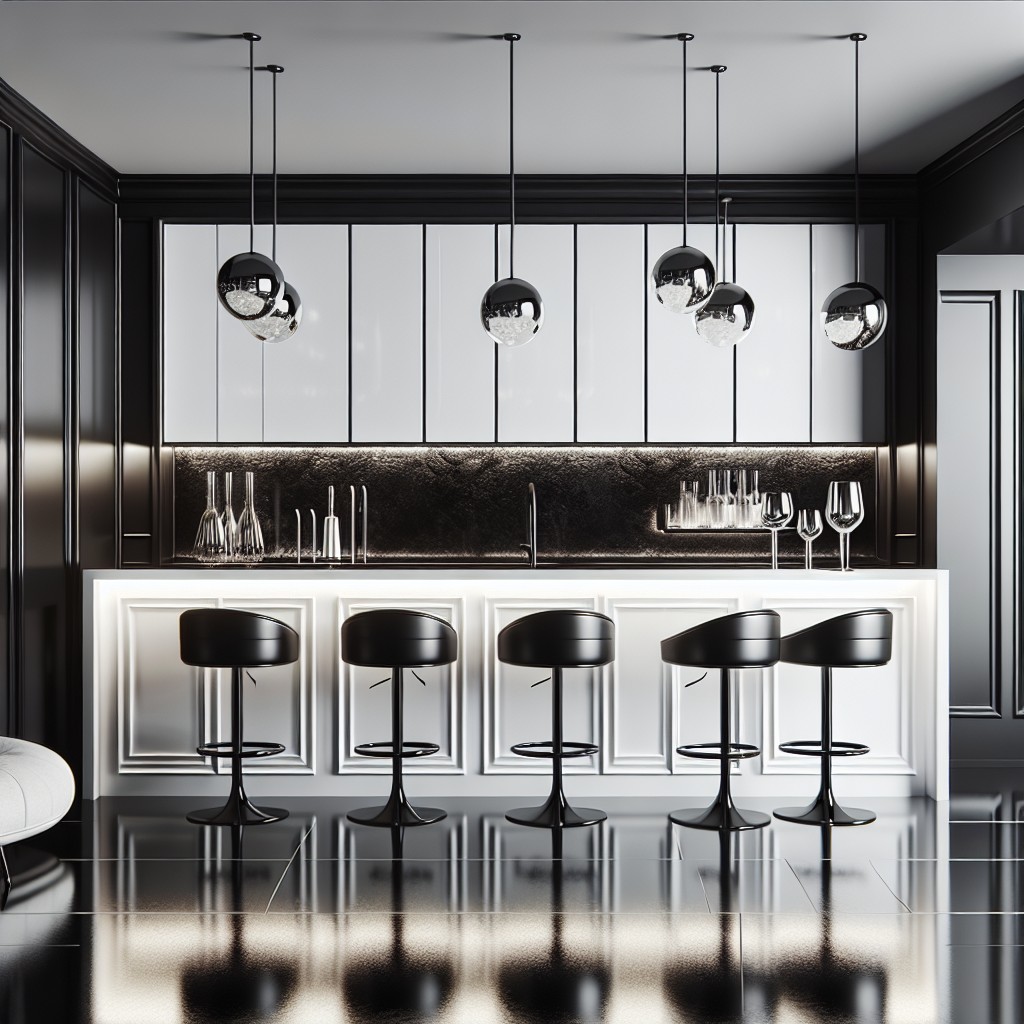 Transforming your basement bar into a monochrome haven can bestow an extremely chic, refined ambiance suitable for sophisticated soirees or relaxed evening drinks. Here's how.
1. Select a Singular Hue: Opt for a single color, usually black, white, or grey, to set the elegant tone. You could introduce your chosen color on cabinet fronts, bar stools, or bar mats.
2. Maintain Hue Consistency: Ensuring consistency is key. Match the color of the bar top to the dominant hue for a seamless, stylish look.
3. Add Textural Contrast: Although the color palette remains the same, textural contrasts via matte or glossy finishes, patterned tiles, granite countertops, or embellished fabrics prevent monotony.
4. Play with Lighting: Introduce an attractive lighting scheme that highlights the elegance of your monochrome bar rather than washing it out. Use of pendant lamps or under-counter lights could project a cozy, intimate feel.
By thoughtfully implementing these points, your monochrome basement bar can exude understated elegance and timeless appeal, perfect for charming nights in. Keep it simple, tasteful, and watch the magic unfold.
Illuminate With Neon Signs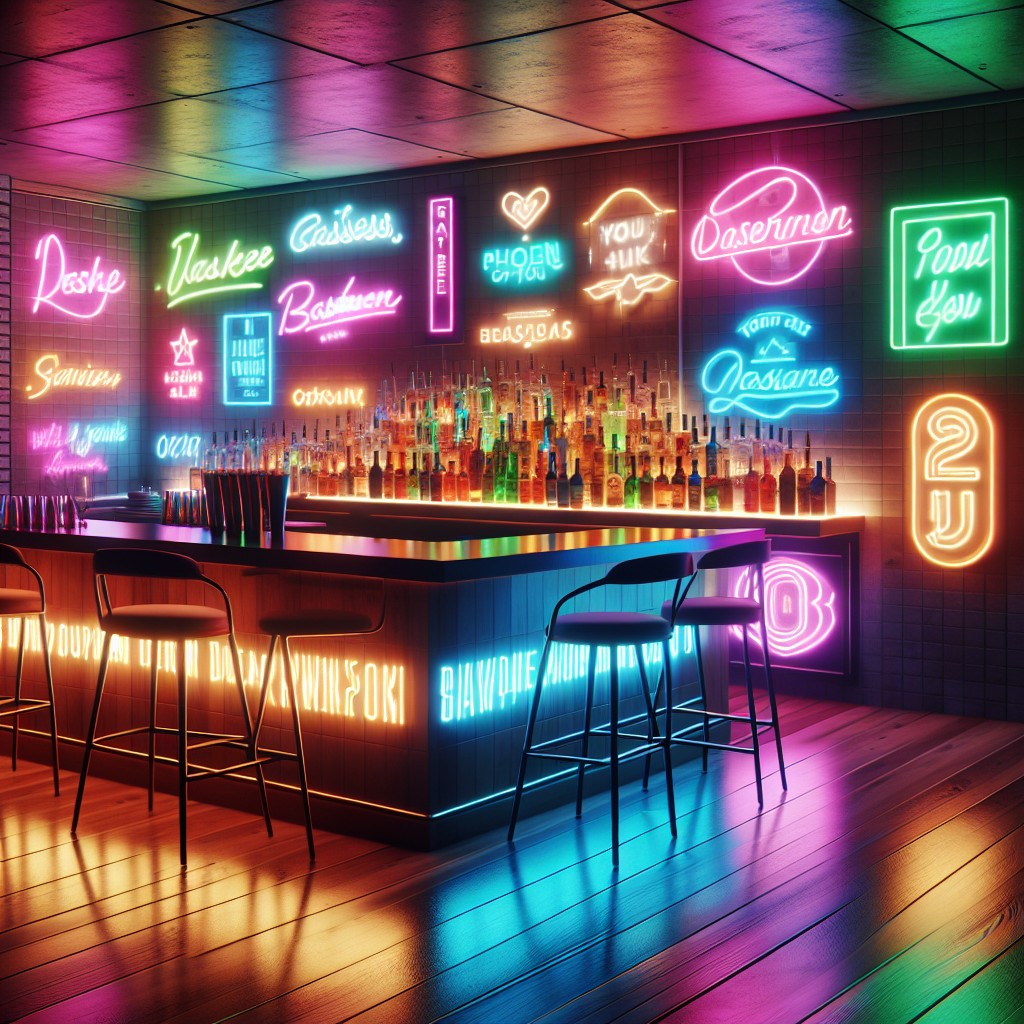 Neon signs are a fantastic way to create a vibrant, buzzing atmosphere within your basement bar. They are not only visually striking, but also diverse in terms of shapes, sizes, colors, and designs. A tailored neon sign with a fun quote or a martini glass silhouette gives the space its character.
In addition, neon bar signs have practical advantages too. They save on electrical costs as neon lights are energy efficient. Moreover, they serve as a softer alternative to harsh overhead lights.
Remember, moderation is key. Too many neon elements might convert your cozy basement bar into a garish spectacle. Therefore, use neon signage intelligently to complement other design elements in your setting.
Add an Old Fashioned Soda Bar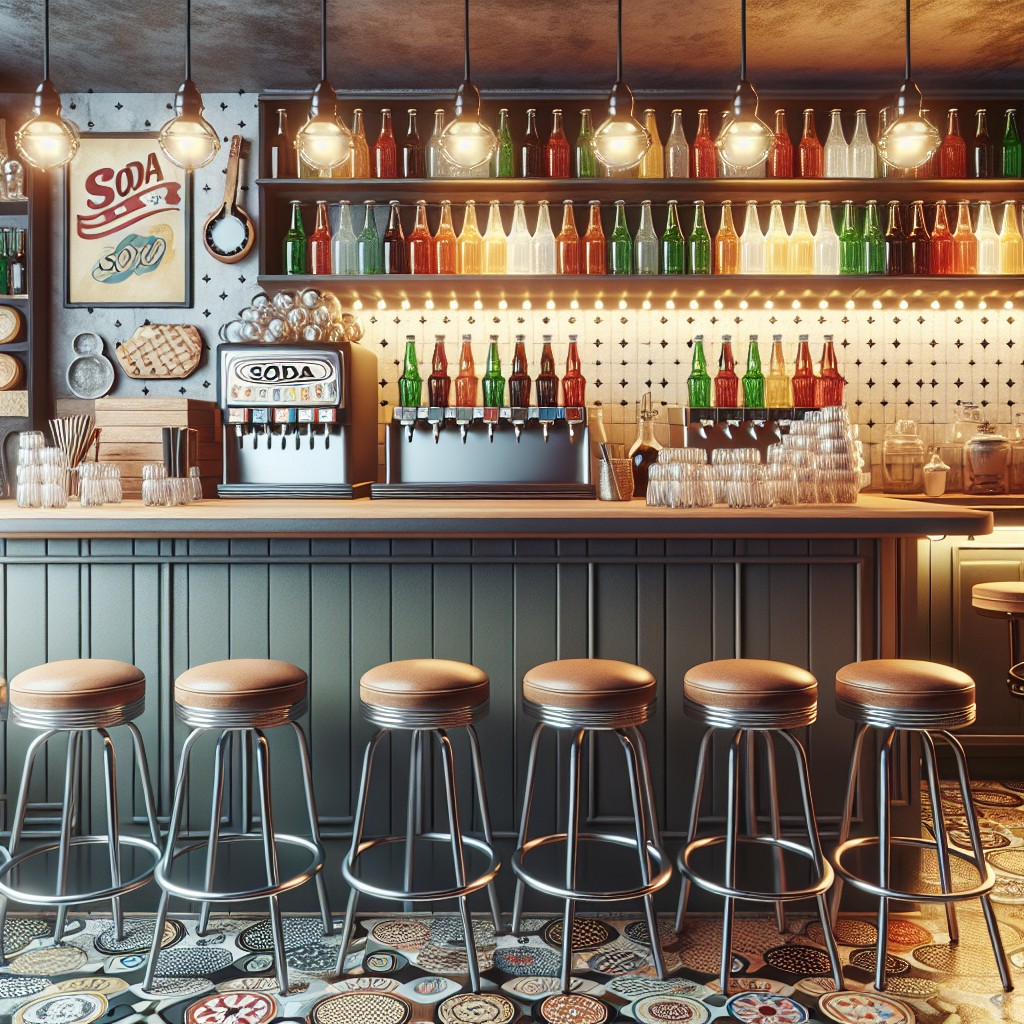 To give your basement a unique touch, consider adding a nostalgic element with an old-fashioned soda bar. Not only does it serve as a functional element providing refreshments, but it also imbues a playful, vintage atmosphere.
For a truly authentic feel, install a soda dispenser with a few classic flavors, such as root beer and cream soda.
Enhance the soda bar character with vintage décor. Think retro signs, stools, and even nostalgic glass bottles displayed on open shelving. Also, use traditional materials like stained wood for the counter which will lend an air of authenticity.
This idea is a fun and interactive addition that's sure to get both adults and kids excited.
Remember: to care for the soda machine properly. Regular cleaning and maintenance are required to ensure its longevity.
Install a Basement Whiskey Barrel Bar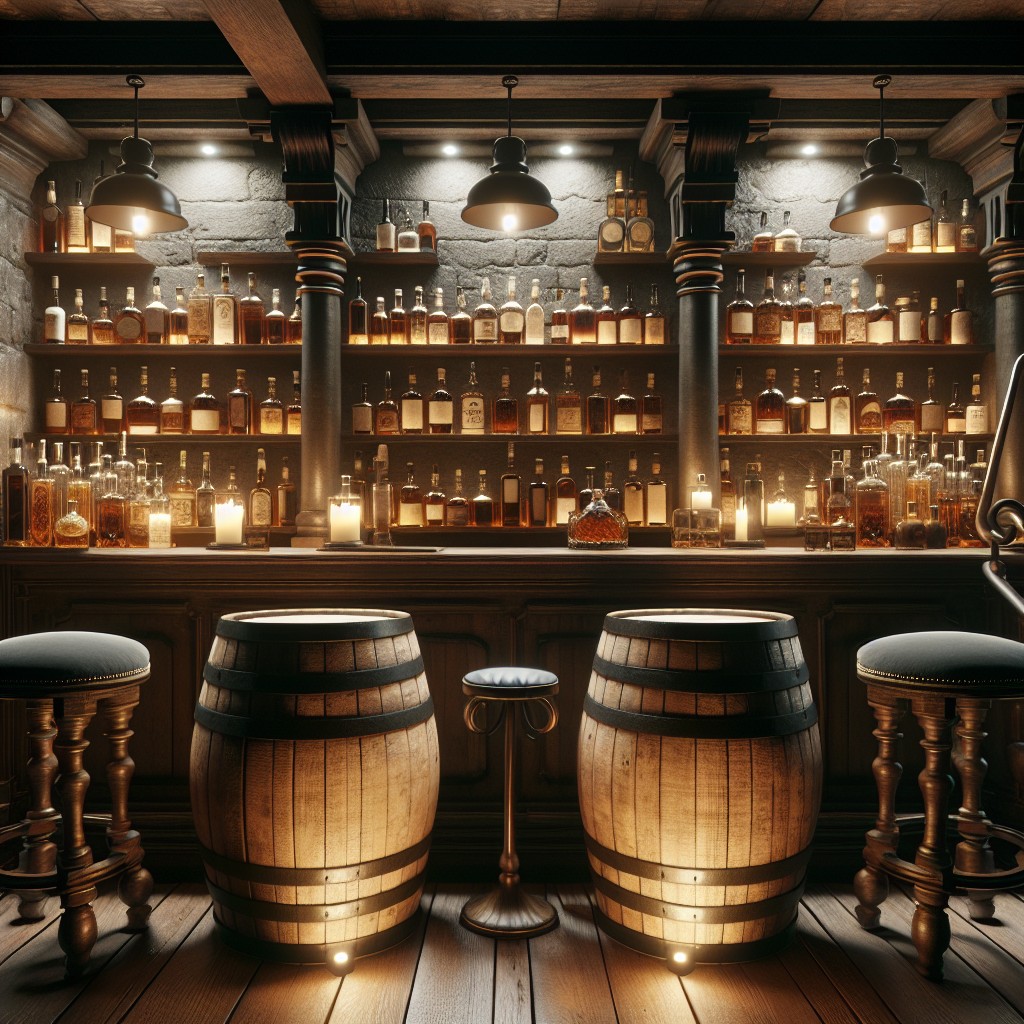 This unique concept creatively repurposes whiskey barrels for a rustic charm. To start, half-cut barrels form the foundations of the bar, with a flat top- ideally salvaged wood- completing the unit. When selecting barrels, consider those with a history or story for added interest. Remember, the top should be finished and sealed properly to ensure it's liquid-resistant.
For additional functionality, install shelves on the inner sides of the barrels to hold glasses or bottles. But, a great complement to this setup is wall-mounted wine racks or overhead stemware holders, maintaining the rustic feel. Simply adding bar stools or high chairs that match or contrast the aesthetic can complete this warm, appealing setup. So, it's not just a conversion, but a conversation starter as well.
Basement Bar With Glass Countertops
Transparent and sleek, glass countertops are a perfect choice for your basement bar. They boast a modern approach and offer an element of sophistication that's hard to match.
Equip the bar area with clear bar stools and complementing accessories to create an 'invisible' vibe. One remarkable attribute of glass is its reflective nature – use strategic lighting to amplify this for a dramatic effect.
Layering glass countertops above wood or solid color material can also create an interesting visual depth. Furthermore, the durable nature of tempered glass makes it resistant to chips, heat, and stains, making maintenance a breeze.
Your choice of glass could range from clear to tinted, etched, or even textured styles, adding a personal touch to your basement bar.
Minimalist Scandi-Style Bar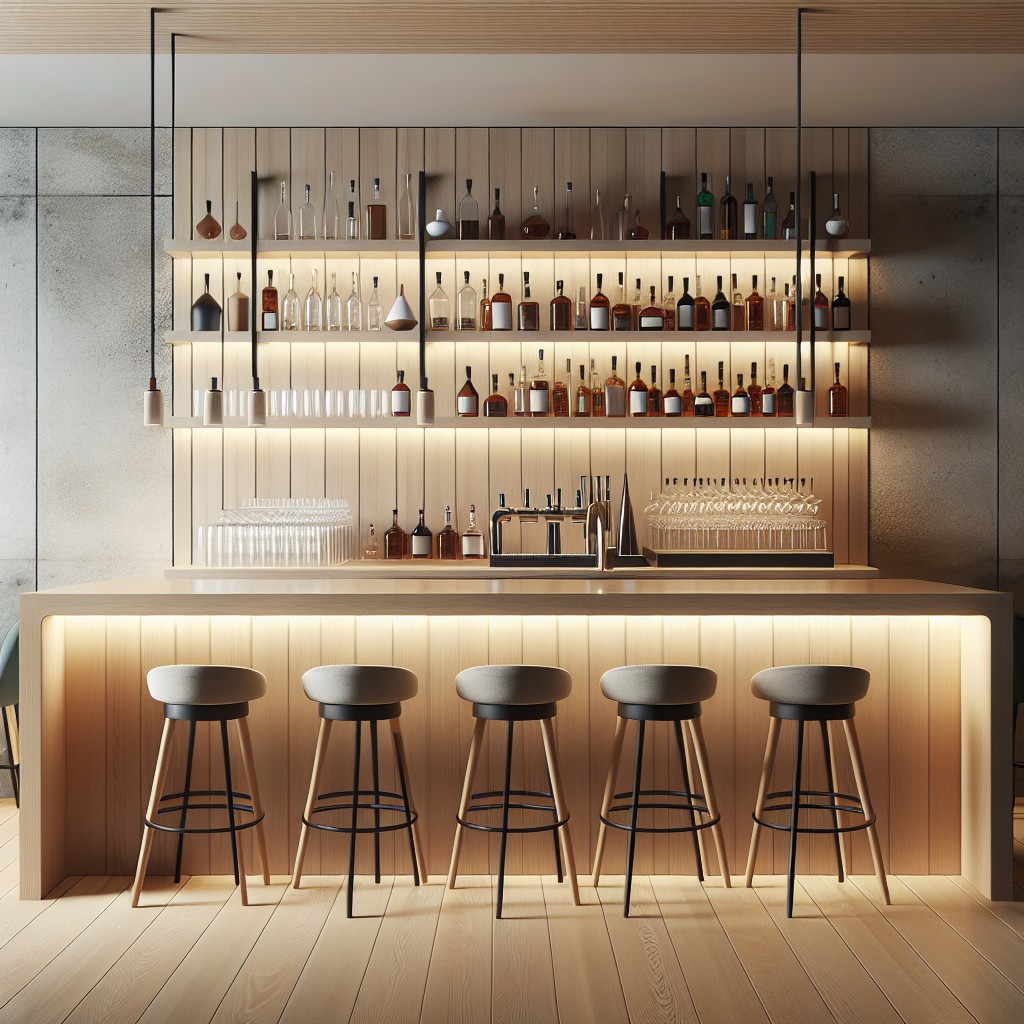 In creating this design, the focus is on simplicity, functionality, and the use of minimal color. Natural light, light-colored wooden finishes, and minimal clutter are a must.
Introduce sleek, clean-lined bar furniture, with bar stools showcasing natural oak or birch finishes. Choose a simple, open style for shelving, stripped back to bare essentials, allowing your neat rows of bottles and glasses to become part of the décor.
Lighting should be evenly diffused and soft. You may opt for pendant lights with an understated design or install hidden LED strips for a smoother glow.
For the counters, stick to light-grained wood or white quartz, avoiding any complex patterns. Remember, the aim is to create a warm, inviting, and relaxing atmosphere while keeping the design clean, uncluttered, and easy on the eye.
Basement Tiki Bar Concept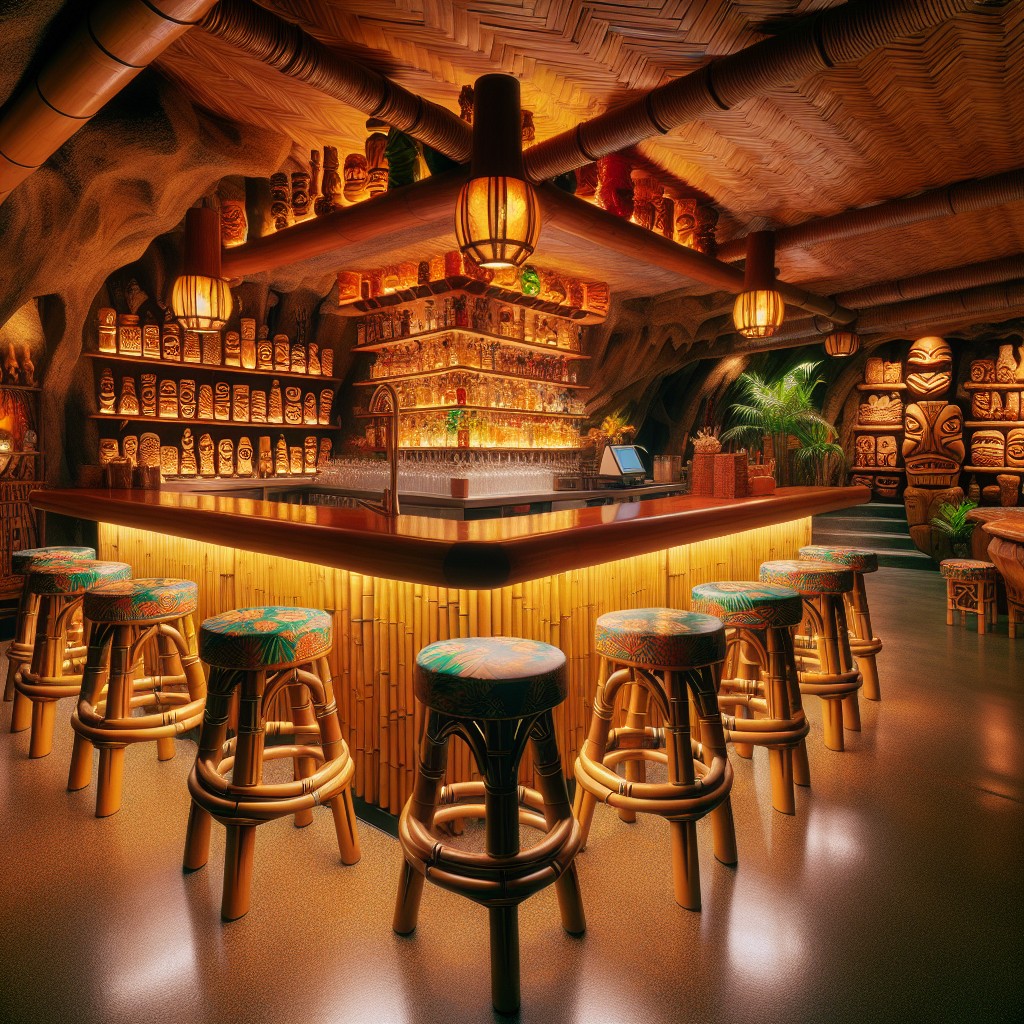 To capture the Tiki bar concept in your basement, start by focusing on the bar top. Bamboo, a signature Tiki material, is an excellent choice for this. Pair it with grass cloth or palm leaf wallpaper to add an authentic Tiki texture to the surroundings.
A corrugated metal front gives your bar an adventurous edge, and don't shy away from a vibrant color palette that mirrors those tropical sunsets.
Consider bar stools made from natural materials like rattan or seagrass, which blend effortlessly within the Tiki aesthetic. Thatch roof accents provide a remarkable finishing touch, replicating a beachfront experience right in your basement.
Accessories like tropical plants, torch-style lighting, and Tiki masks can truly make the space come alive. Remember, the trick is to maintain balance, so as to transport you to a tropical island without overwhelming your senses.
Space-Saving Slide-Out Bar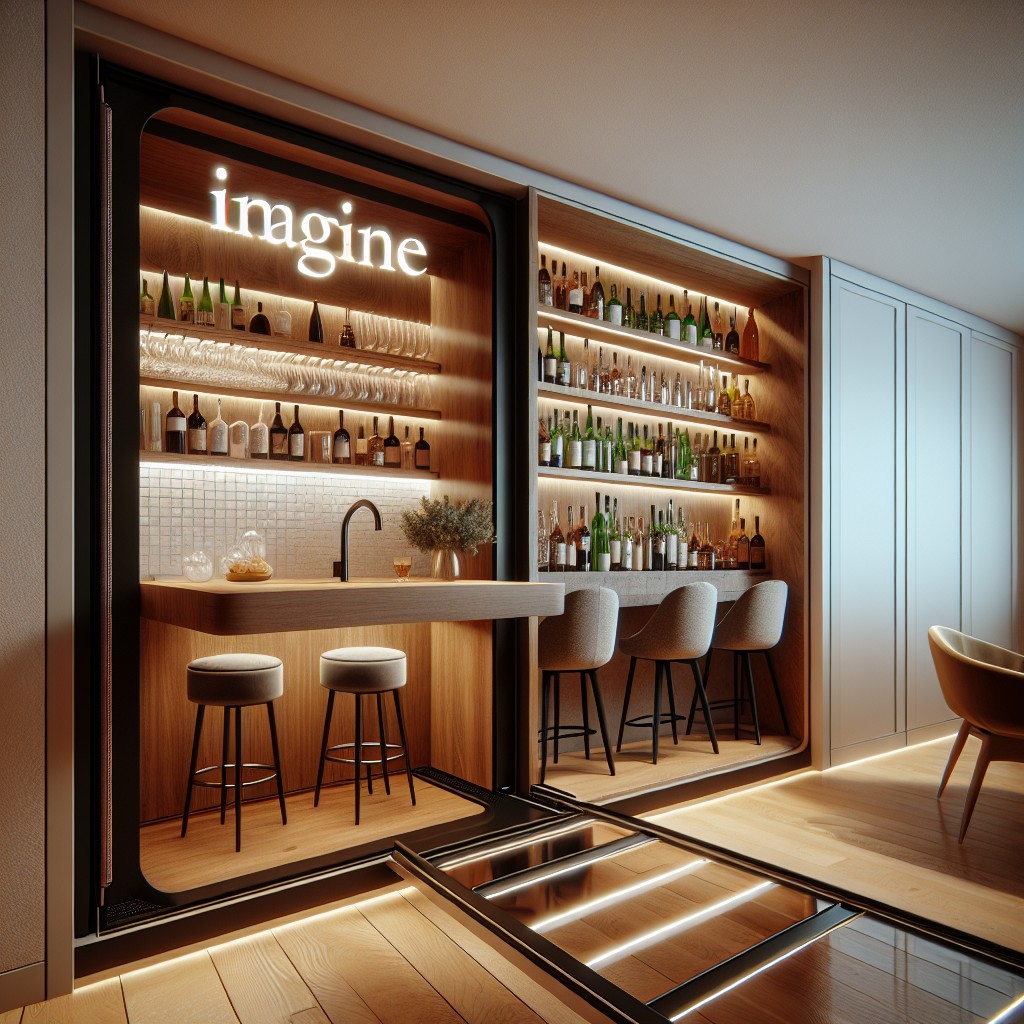 Ideal for those with limited space, this clever design utilizes typically unused areas by integrating a slide-out mechanism into cabinetry or shelving. Essential components such as a mini fridge, a storage area for beverages, and a small counter for mixing drinks can be hidden away when not in use.
This innovative concept allows for maximum efficiency in small basements, ensuring you needn't compromise on your desire for a home bar due to space constraints.
Mixed Metal Sheen Bar Top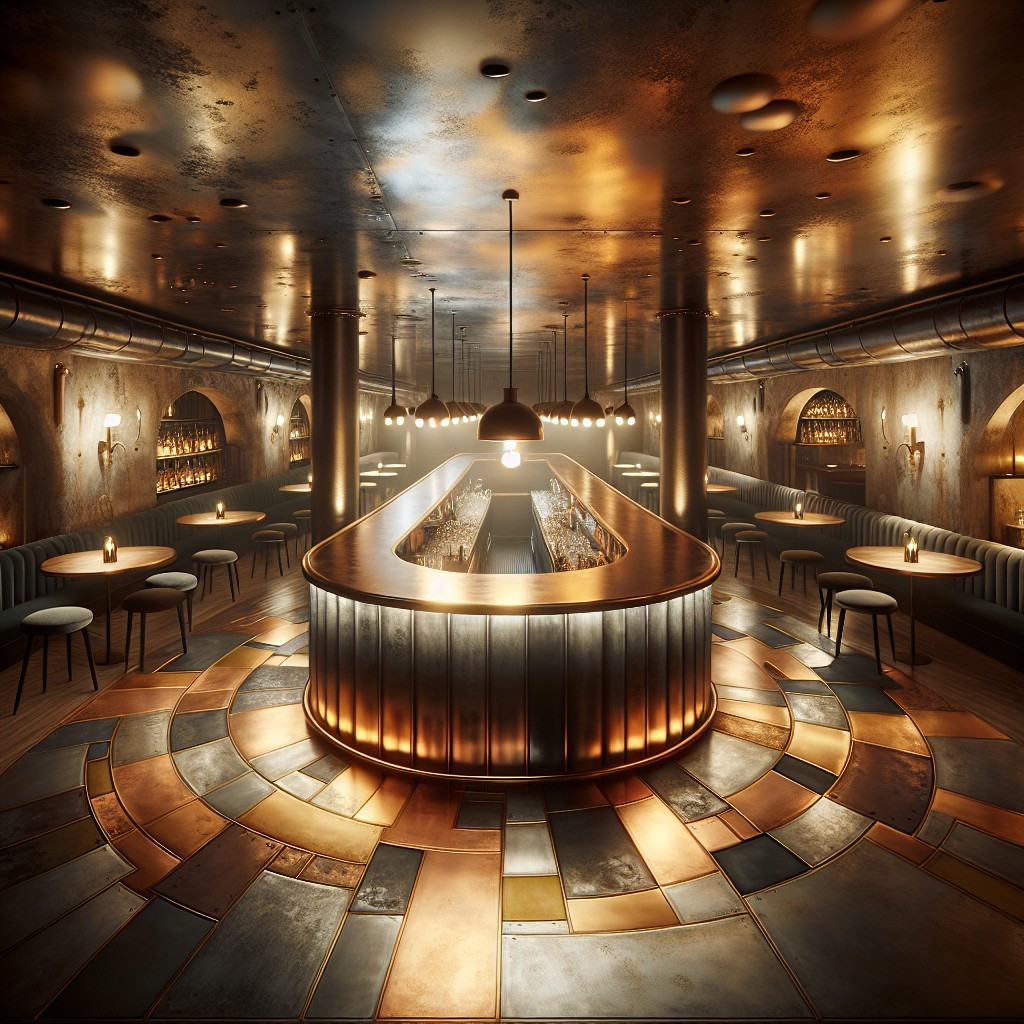 Mixed Metal Sheen offers a timeless yet effortlessly modern look for your basement bar. The blend of various metals like brass, copper, silver, and hammered nickel carries a unique aesthetic, which can effectively elevate your bar's entire appearance.
Here are a few crucial points about this style:
Variety: Utilizing different metals adds an intriguing depth to a bar top's design. Copper and brass complement each other exceptionally well.
Patina: Over time, certain metals, like copper, develop a unique patina, evolving the look of your bar as it ages.
Character: Metal bar tops are more than just stylish. They're also incredibly durable, and can withstand a great deal of wear and tear.
Practical and Functional: Besides being stunning, metal is a great conductor, which means your drinks will stay colder for longer.
Cleaning: Another advantage is the ease of maintenance. Most metal counters only require mild soap and water for cleaning.
Overall, incorporating Mixed Metal Sheen into your basement bar top will assert a stylish flair, infusing sophistication into your entertainment area.
Science Lab-Style Bar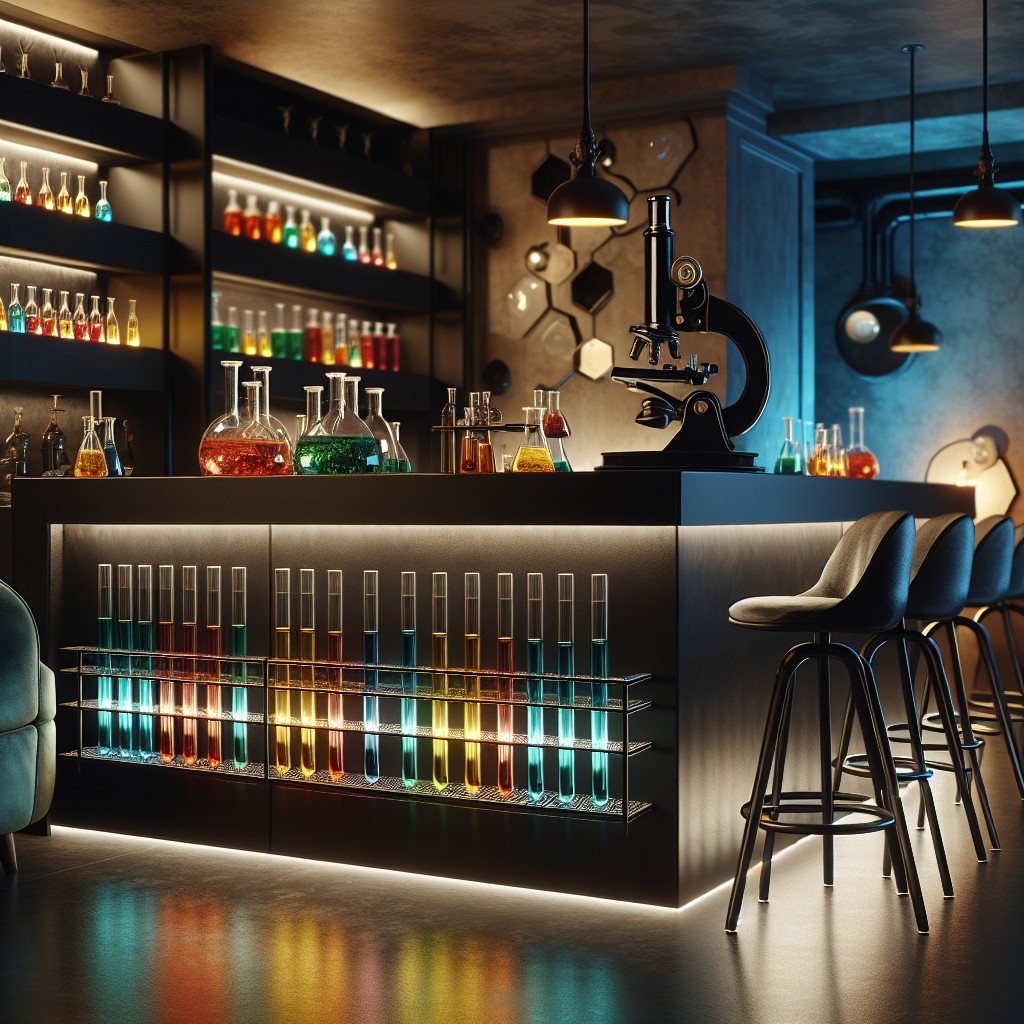 The concept of the Science Lab-Style Bar draws inspiration from a modern scientific laboratory. Clear, concise lines and clinical lighting contribute to an ultra-modern look.
1. Translucent, glass-top counters imitate the pristine workspaces of a lab.
2. Sleek metal bar stools add stern, purposeful accents.
3. Innovatively designed taps and faucet fixtures provide a futuristic look reminiscent of scientific equipment.
4. Walls done in chalkboard paint allow for fun and casual scientific doodles or drink menu displays.
5. Interactive elements such as floating magnetic racks for bar tools or magnetically levitating drink holders can add a science 'fun lab' vibe.
6. Using lab tools, like beakers and test tubes, as makeshift drinkware enforces the theme even more.
Remember, the key to this theme is precise, angular architecture paired with fun, interactive, and scientific elements.
Basement Bar With Aquarium Backdrop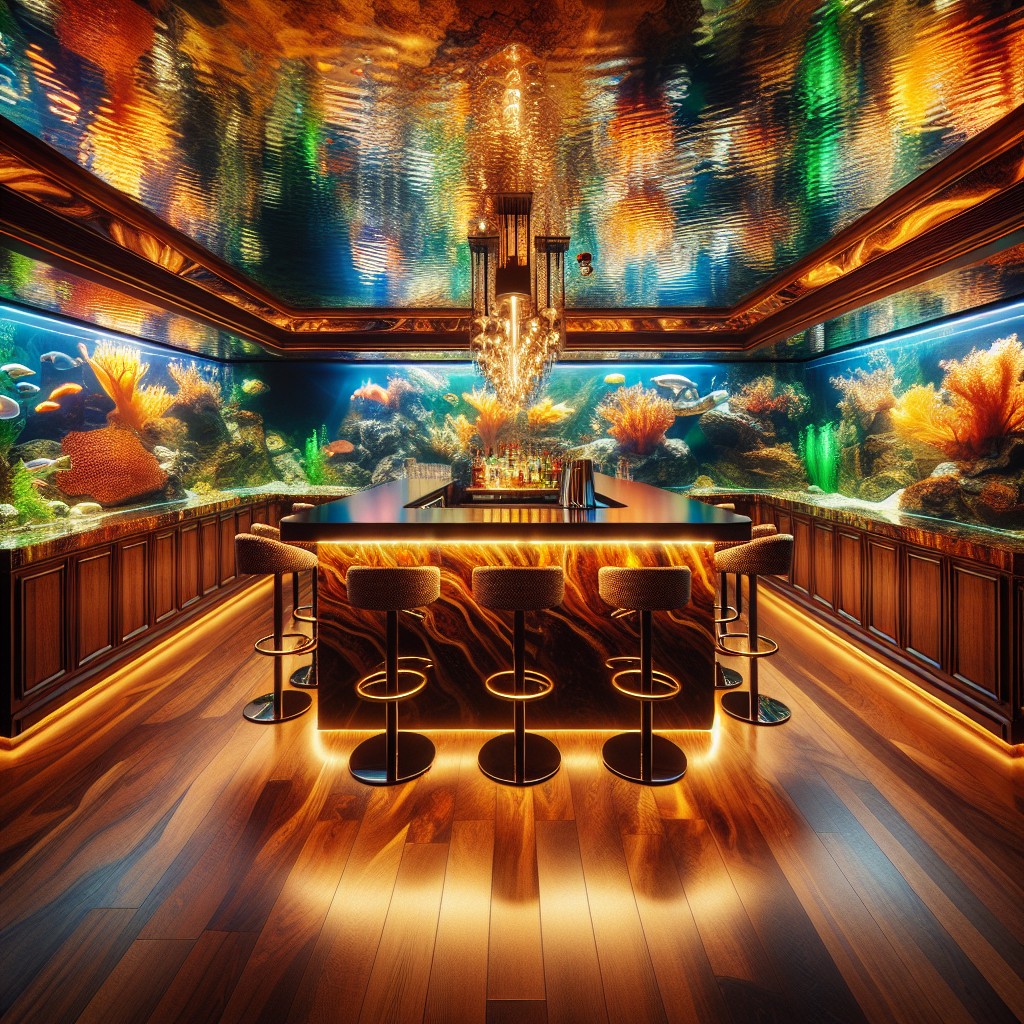 Diving straight into it, an aquatic backdrop can turn a basement bar into an enchanting undersea oasis. This design can integrate a varying array of tropical freshwater or saltwater fish species to add life and color to the space.
It's suggested to opt for custom-made aquarium tanks, adhering to the exact length and breadth of the bar counter for a seamless look. Using LED lights can further illuminate the setup, while ensuring visibility for the aquatic residents. Feel free to customize its bottom with a selection of exotic seashells, pebbles, and aquatic plants.
You could even introduce driftwood or mini sculptures to mimic the natural marine environment. Though remember, caring for live creatures does require regular maintenance and a supportive environmental setup, such as filters, heaters and more. This isn't just decor, it's a commitment to a vibrant live ecosystem in your very own basement bar!
Retro Arcade Bar Theme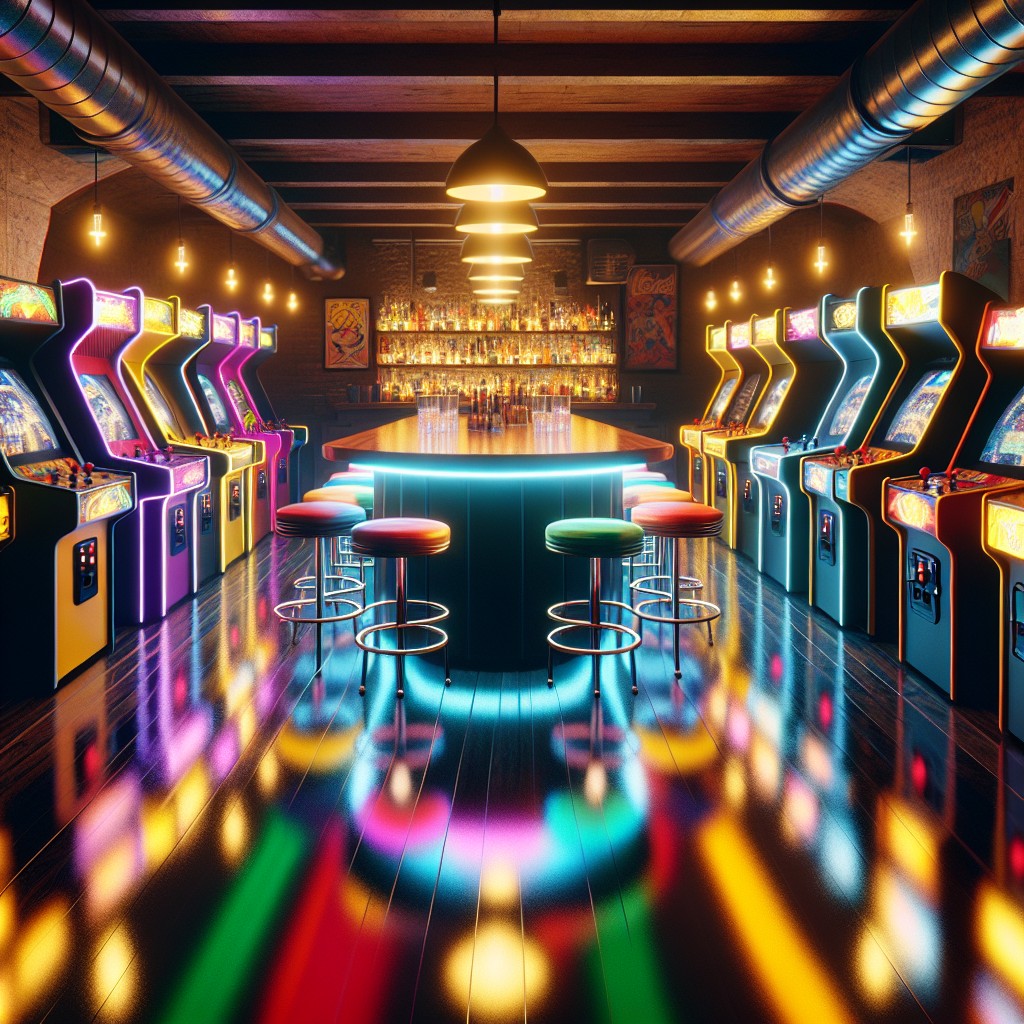 Taking the spirit of 80s video game culture into the basements, stylistic choices center on the classic retro games, starting from Pac man-themed wall hangings to Space Invaders LED modules.
The bar top can adopt a bold color palette of the era, accentuated with joystick knobs and buttons. Setting up the cocktail arcade cabinet as a part of the bar could add functionality and style simultaneously.
Pops of neon signage would not just illuminate the area but also enhance the overall vintage arcade feel. Adding slot machines or pinball machines could certainly elevate the level of engagement and entertainment, effectively transforming a simple bar area into a fun, vibrant hangout spot.
Consider using pendant lights made from converted game cartridges for an extra touch of originality. Keep your bar stocked with popular beverages of the 80s such as Tab, Snapple, and classic Coca-Cola bottles for an immersive experience.
Bar With Holographic Countertop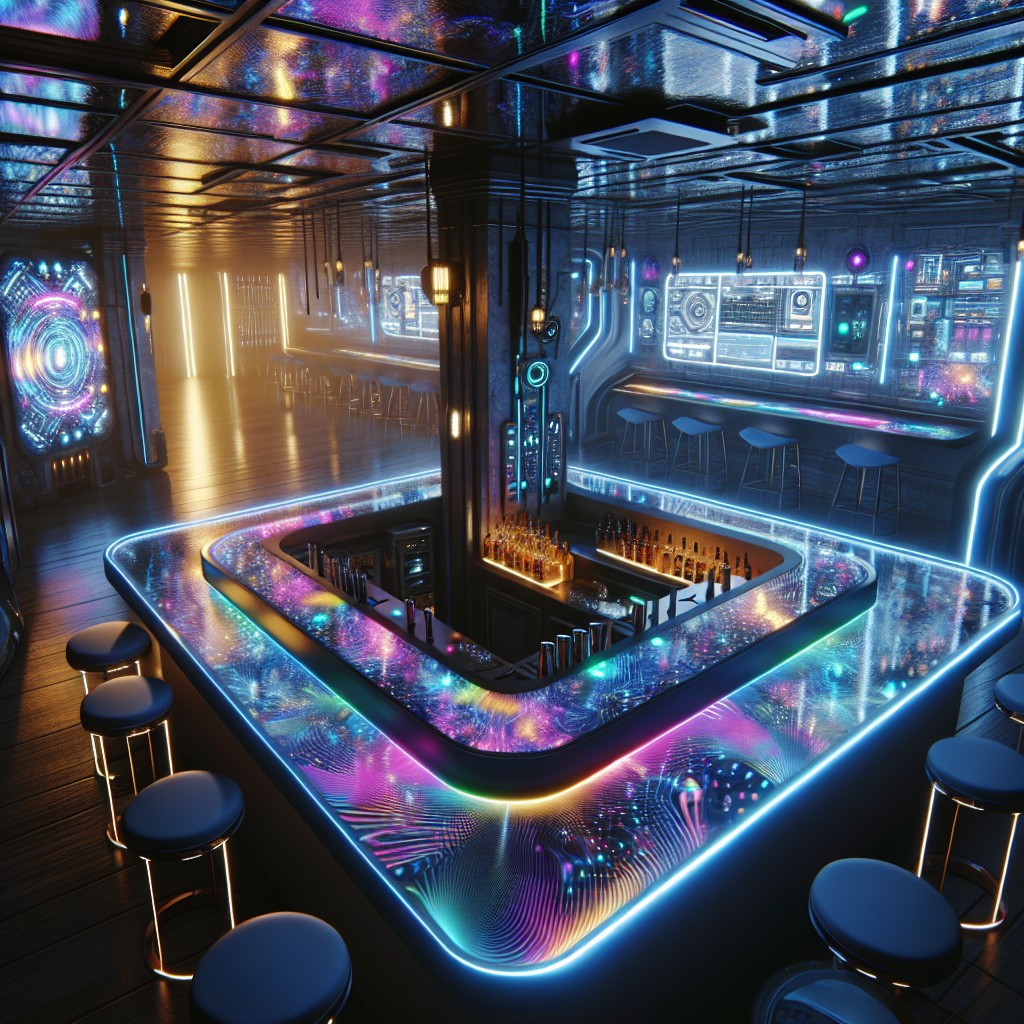 To truly elevate your entertainment space, holographic countertops offer a unique and futuristic appeal. Comprised of a sleek metallic surface, holographic countertops create a mesmerizing color-changing effect as the viewing angle shifts – a guaranteed conversation starter at your next gathering.
When accessorizing your holographic bar, consider stainless steel barware and translucent glassware to enhance the effect. Don't forget efficient under-bar lighting, as this will intensify the colors and create an intimate but exciting ambiance. To ensure this feature doesn't overwhelm the space, pair it with neutral palettes in the room and simple seating.
By keeping the surrounding decor subdued, your holographic countertop will confidently play the leading role in your basement bar. Maintaining it isn't a laborious task either. Regular wiping with non-abrasive cleaner keeps it sparkly and new, ensuring that the countertop shines at its best, enlivening your basement bar experience.
Brushed Copper Basement Bar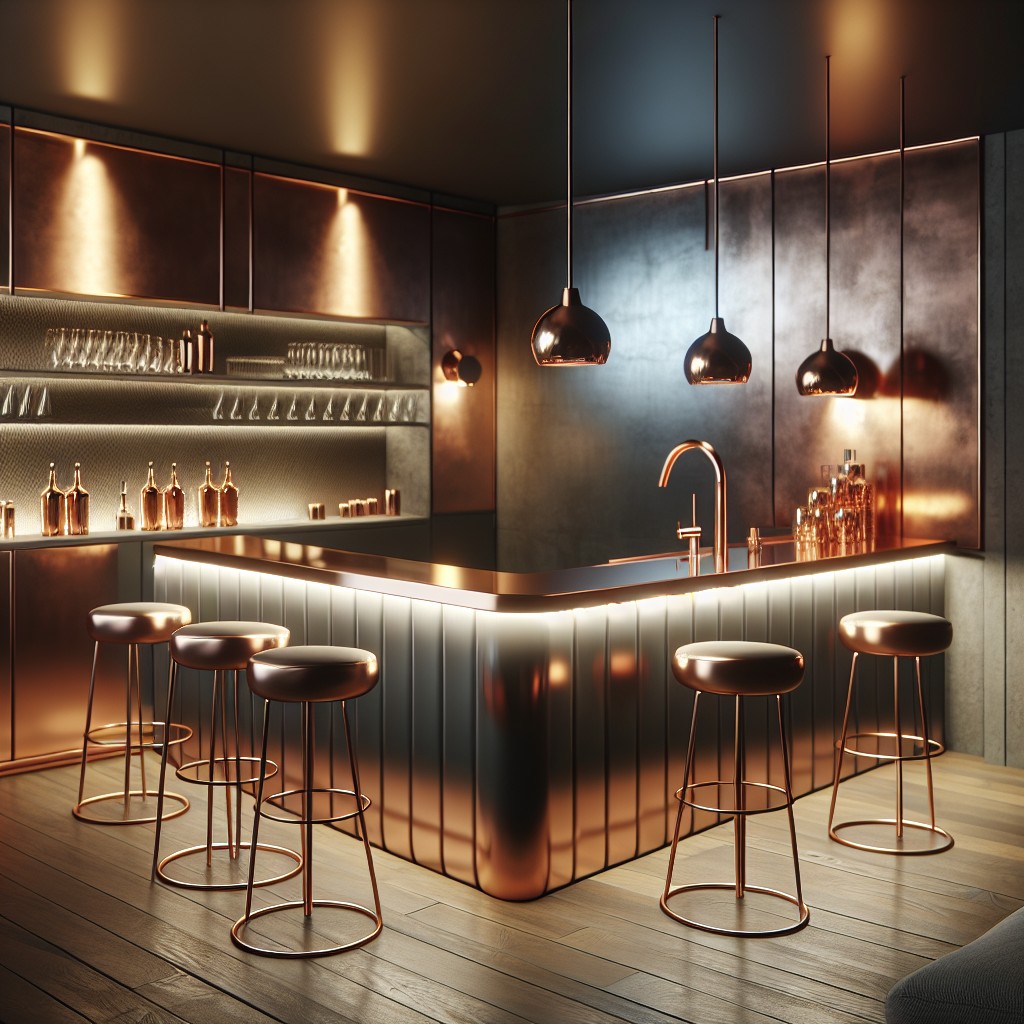 Incorporating brushed copper into your basement bar design infuses a vintage yet refined aesthetic. Using this material for your countertop or even for the bar's shell exudes a warm, inviting look, reminiscent of old taverns.
1. Striking Appearance – This aesthetic combines rustic charm with modern sensibilities for an eye-catching bar setup.
2. Durability – Copper is robust, resistant to scratches and can handle the rigours of a well-used bar.
3. Aging Gracefully – Unlike other metals, copper develops a natural patina over time, adding character to your bar.
4. Easy Maintenance – Regular cleaning with mild, non-acidic soap and warm water helps maintain its lustre.
Bear in mind that while copper is more expensive than other materials, its durability and timeless appeal make it a worthwhile investment for your basement bar.
Same Space Wine and Coffee Bar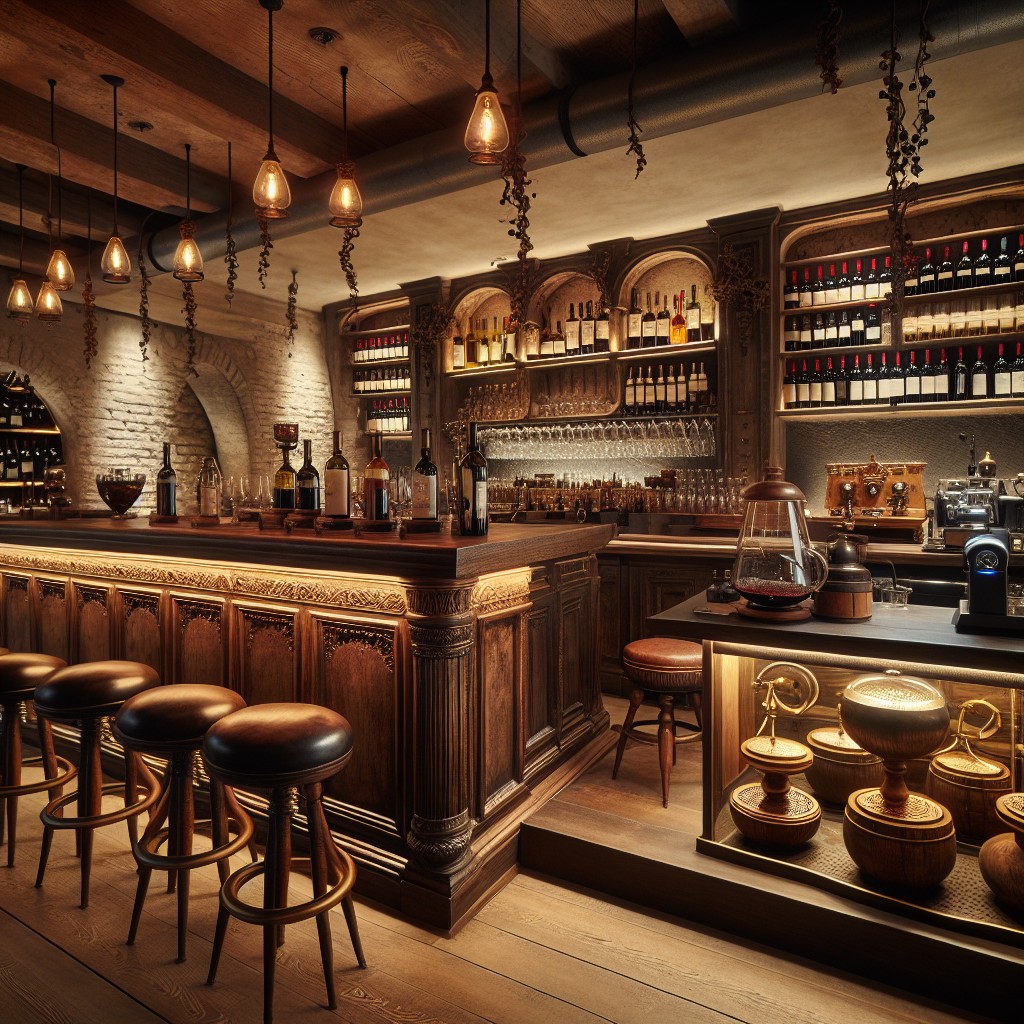 Having a dual-purpose setup allows you to enjoy a cup of java during the day and an indulgent glass of wine in the evening. The key concept is to combine elements that cater to both interests.
Utilize one section for the espresso machine, coffee grinder, and other coffee making essentials. Consider some accent lighting underneath cabinetry to illuminate this portion. Coffee mugs and accessories can have a dedicated area, perhaps with overhead suspended racks for a bistro vibe.
The other section could be devoted to your wine collection. Consider installing a wine cooler for proper temperature regulation. Shelves or wine racks can be used to showcase your array and boost the aesthetic appeal.
Finally, tailored seating such as bar stools or a cozy armchair near a small table can enhance the comforting aura for your coffee time while stylish bar stools will provide the ambience for after-hours relaxation. Remember, use materials and accessories that merge seamlessly with the overall home decor style for a cohesive look.
LED Lit Plexiglass Bar Top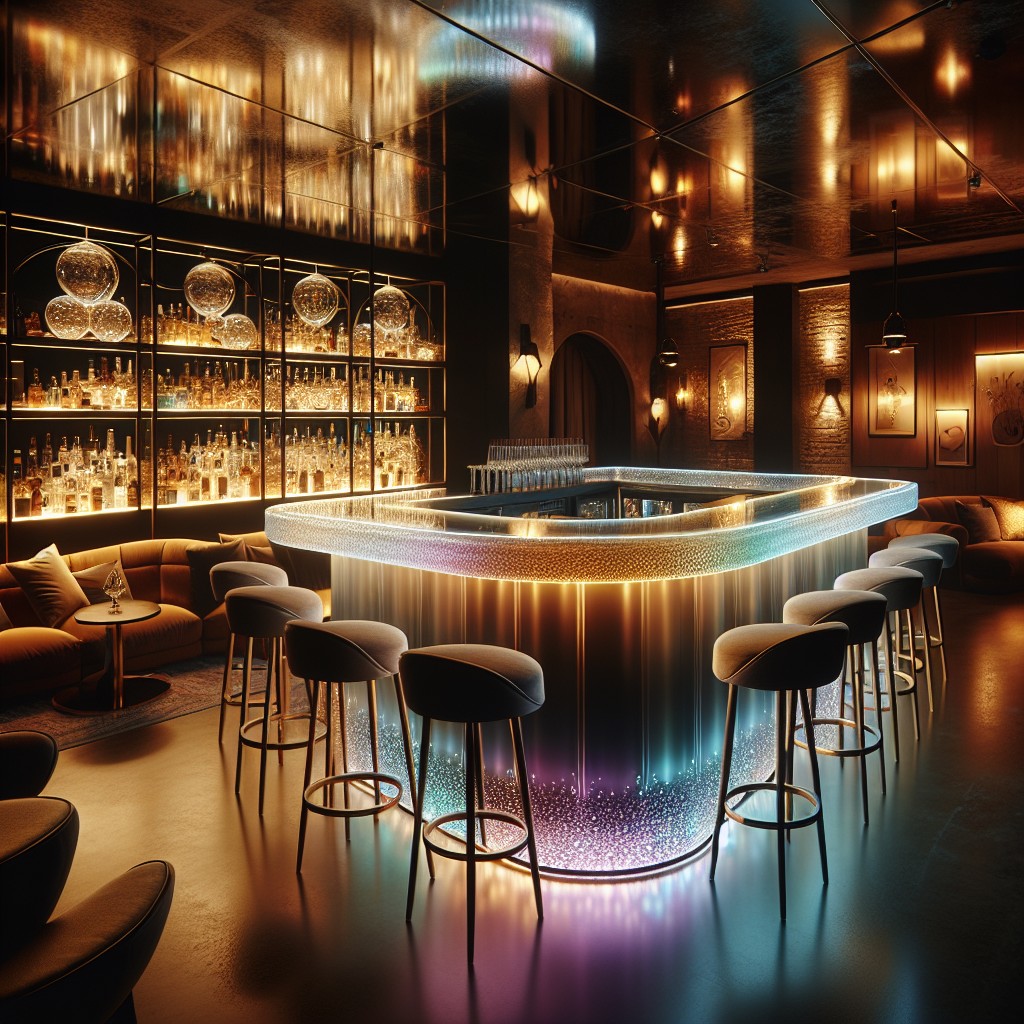 As an avant-garde design, it combines modern technology with unique aesthetics. Producing an ambient glow, the LED lights dramatically highlight the translucency and edges of the plexiglass. This lighting helps to accentuate the texture and variations within the material, creating an unexpected visual depth that adds a dynamic touch to your basement setting.
Explore different colors: Going beyond standard white light sets, a spectrum of LEDs is at your disposal. From tranquil blues, radiant reds, to multicolor blending, each can set a different mood and ambiance.
Focus on maintenance: Plexiglass is not only stylish but highly practical. It's easy to clean and highly resistant to spills, making it ideal for bar usage. Additionally, LEDs have an extensive lifespan, minimizing the need for frequent replacements.
Add personalized touches: Incorporating engraved designs or patterns on the plexiglass surface can further elevate the artistic appeal of this bar top.
Remember, lighting regulation is key: Equip the LED lights with controls for brightness modification, allowing for lighting adaptation to different times and social scenarios, from vibrant parties to quiet romantic evenings.
Consider professional installation: Though it might seem like a DIY project, implementing an LED lit plexiglass bar top could require professional installation to ensure secure wiring and light placement. Nonetheless, the final result can differentiate your basement bar from the norm while offering a visually arresting conversation starter.
Rooftop Terrace Inspired Bar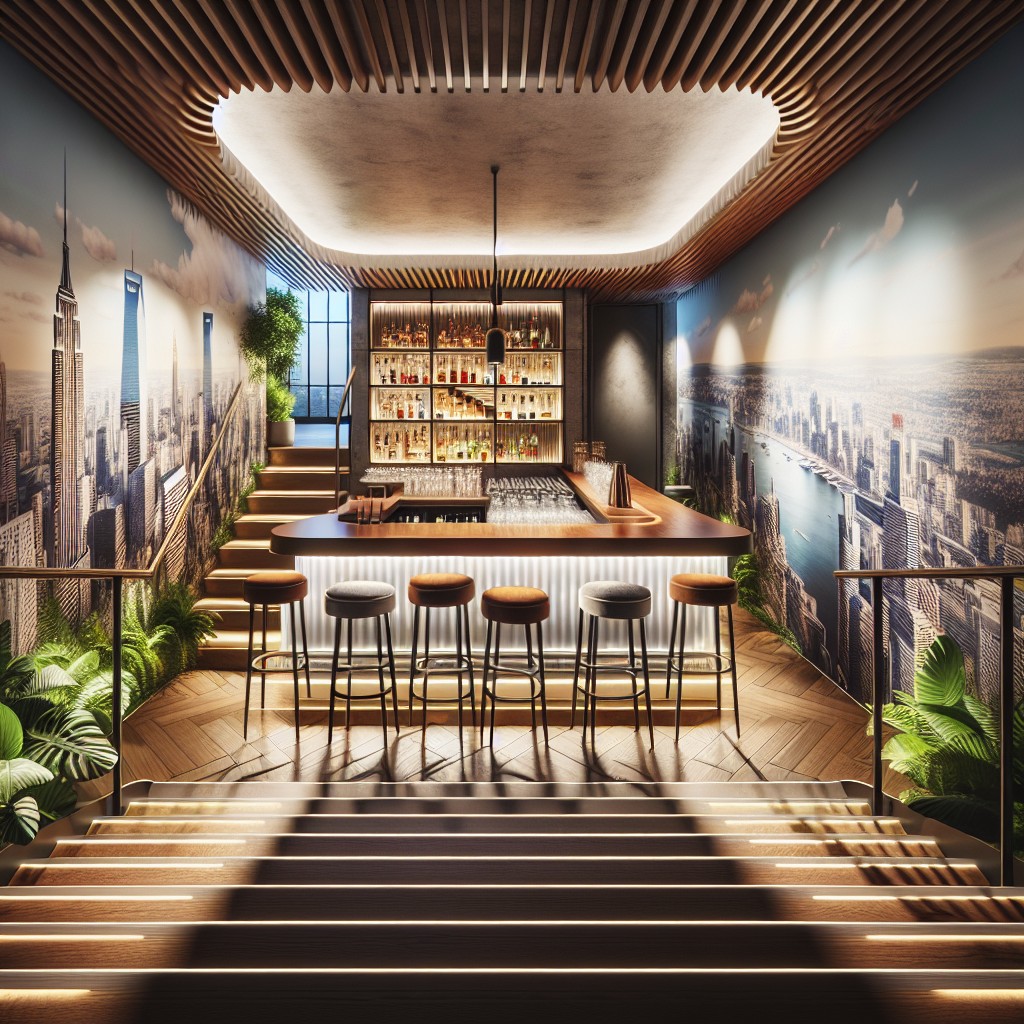 Embrace the beauty of alfresco dining right in your basement by incorporating elements often found in rooftop bars. Start with an open shelving system to mimic the feel of unrestricted outdoor spaces.
Use outdoor-friendly materials such as weather-resistant wood, stainless steel, or concrete for your bar countertops for longevity and authentic vibes.
A chalkboard menu, string lights, and high bar stools can add the final touch, effectively transforming your basement into your private urban hot spot.
Remember to consider adequate ventilation and heating options for year-round comfort.
Use Crystal Quartz Countertops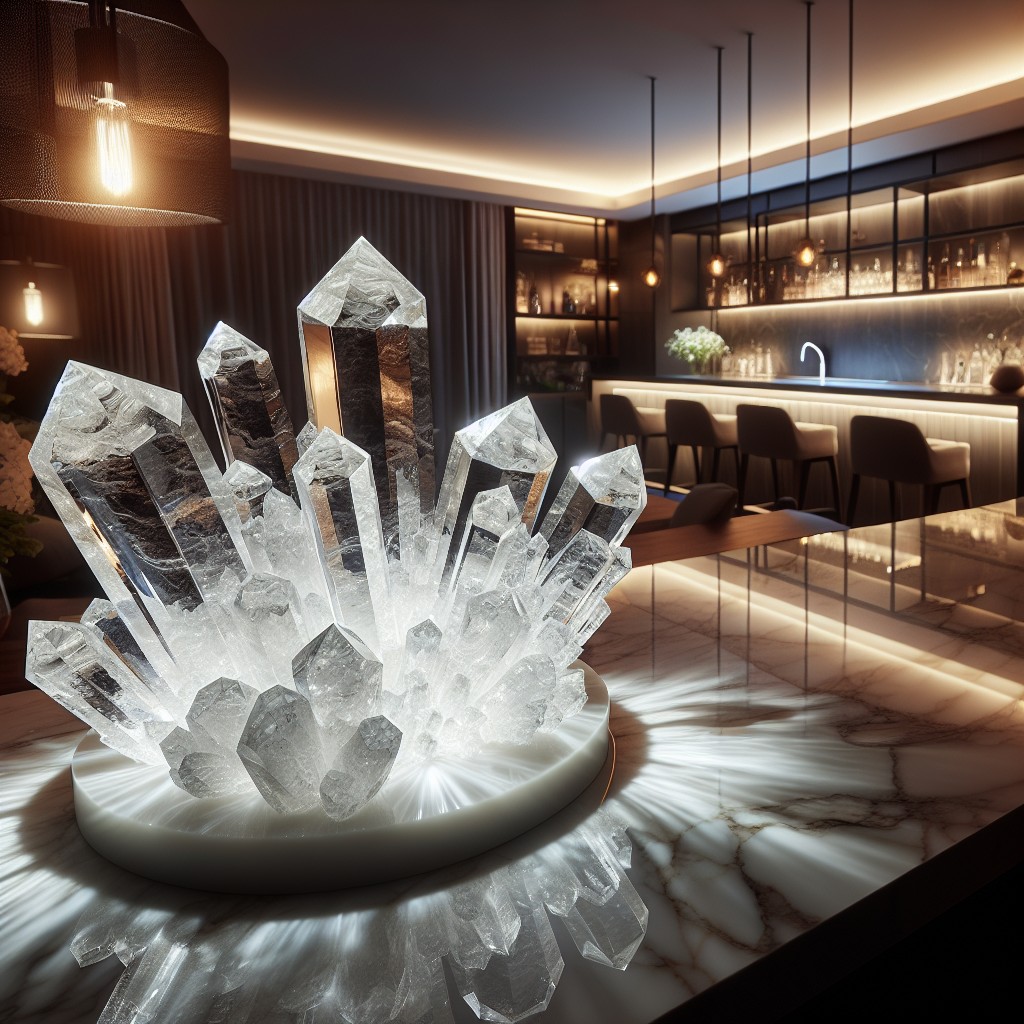 Crystal quartz countertops are a captivating option when designing your basement bar. Known for its durability and beauty, this natural stone infuses a touch of luxury into your décor.
With its wide variety of shades and designs, it can match virtually any style, from modern minimalist to rustic chic.
The benefits don't end with aesthetics, as the countertop also offers excellent resistance to scratches and stains, and need minimal maintenance.
Furthermore, quartz's non-porous surface makes it an excellent choice for a bar, as it's unsuitable for bacterial growth, ensuring hygiene.
Accentuate it with the right lighting, and the countertop can even become the centerpiece of your bar.
Opt for LED lights under the counter for a subtle glow that highlights the quartz's natural patterns and colors.
Bar With Built-In Fish Tank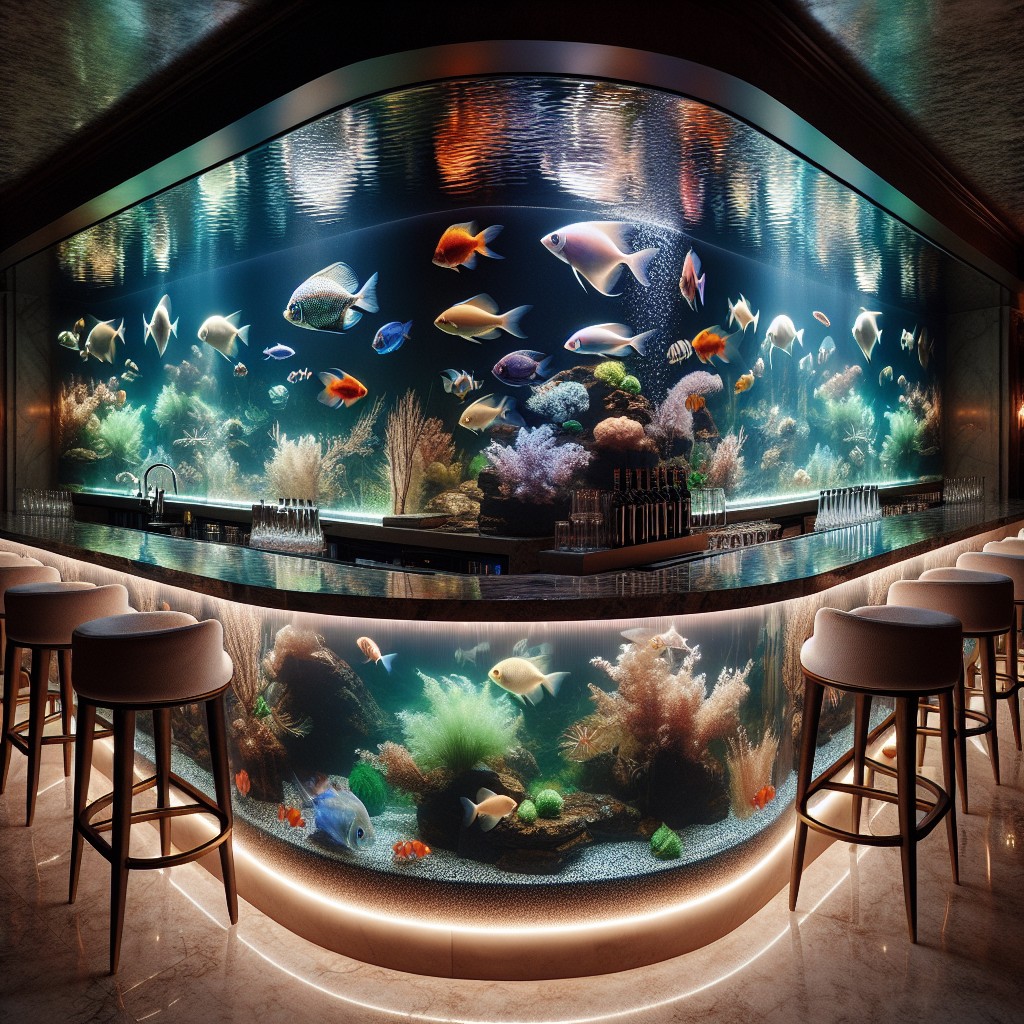 Creating a lively and dynamic atmosphere is easily achieved by integrating a massive fish tank into the bar top design. One cohesive unit combining an aquarium with functional countertop space results in a unique, stunning feature. Use clear, durable materials like acrylic or tempered glass to offer unobstructed views of the colorful marine life.
Proper installation and maintenance are crucial to keeping both the fish and bar patrons happy. Ensure waterproof seals and an accessible feeding and cleaning area to promote the well-being of the aquatic residents.
In terms of aesthetics, go for unconventional tank decorations that match the rest of the bar's theme for a seamless blend.
Lighting is equally significant; besides illuminating the fish tank, it's instrumental in setting the desired ambiance. Opt for adjustable LED lights that can mirror the changes in the room's mood.
Lastly, stay mindful of size considerations. Ensure the bar-fish tank combination suits the basement's overall proportions to prevent it from overwhelming the room or appearing too minuscule.
Ideas Elsewhere
Continue reading: