Last updated on August 13, 2023
Who doesn't want to cook healthy? To do that, you need the best appliances for healthy cooking. Here they are.
Most of us spend a lot of time in the kitchen every week, preparing various dishes and experimenting with recipes. But no matter how time-consuming this activity is, it's also extremely enjoyable.
If you are an experienced cook, you probably know that some kitchen appliances can bring meal-making to another level. Adding them to your kitchen is an excellent way to enjoy cooking even more while saving some time.
Additionally, with your kitchen tools' help, you can prepare meals that were previously outside the range of your possibilities. You can also get creative and work with more original recipes.
However, how can one ensure that the appliance they are using is the best? The following article is here to help you answer that question. Below, you'll find the list of kitchen appliances that will help you prepare healthier and more delicious meals for you and your family.
The shopping links earn us a commission at no expense to you.
What's Inside
Ninja Foodi OP300UK
It is super easy to use, and its intuitive design is easily understandable, even for an inexperienced cook. In fact, with the Ninja Foodi, cooking has never been easier, as instead of using multiple pans, you can focus on one device that does a little bit of everything.
Set your cast iron pan aside, let your regular oven rest, and enjoy your new cooker-steamer. Moreover, since it allows you to prepare your meal in one pot, cooking high-quality and healthy dishes becomes much more manageable and enjoyable.
Much like the famous Instant Pot, the Ninja Foodi OP300UK can be a slow cooker, pressure cooker, or air fryer according to your needs. With it, you will be able to prepare more healthy food than you can imagine.
Try every option this tool gives you. Do not be afraid to experiment with your ideas. Many people have already fallen in love with it, and so can you.
Cuisinart Smart Stick Hand Blender
If you love healthy eating, having a blender amongst your gadgets is a great option. And there aren't many blenders better than Cuisinart Smart Stick Hand. It will help you make a multitude of foods, making your diet healthier and more diverse.
Although lacking the turbo button present in other blenders, it still offers an array of speed options. Having an opportunity to go slow at the start of blending is an excellent way to save yourself some cleaning.
Additionally, its ergonomic grip makes using the blender more comfortable and safe. Another crucial advantage is that the rest of the Cuisinart Smart Stick Hand is made of top quality stainless steel.
If you are looking for an affordable hand blender that is super easy to clean and reliable, choose this one. You will not regret it.
OXO Good Grips Salad Spinner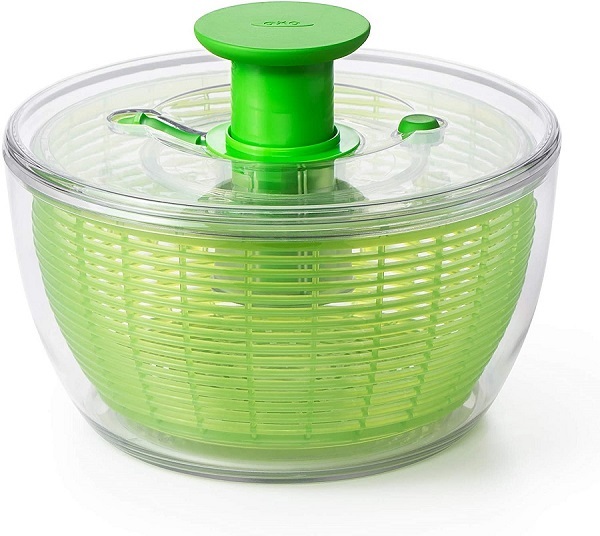 Eating more salads is a great way to maintain a healthy weight and take care of your health. The problem is, though, salad making requires time, and not everybody has a lot of it to spare.
To save yourself a ton of work and make your salads more diverse and delicious, we recommend you use the OXO Good Grips Salad Spinner.
With this high-quality item, you do not have to rinse and pat your greens dry by hand. Use the function that this product provides you with instead.
You can get OXO Good Grips Salad Spinner for around $30. A small price to pay if you want the best cooking experience available.
Zyliss Easy Pull Manual Food Processor
This food processor requires no electricity to work, and as such, it is perfect for preparing healthy food without increasing your electricity bills. You only pay the price for the device, and you are good to go.
What's more, if you plan to go on camping, it can be a lifesaver, allowing you to enjoy healthy and delicious food even when you're far from civilization.
Moreover, it is pretty straightforward to use. With only a few pulls of a handle, you can chop your vegetables for salsa and other dishes. Additionally, the clean up after your work is not a painful chore.
Overall, if you are a health-oriented person but don't want to spend too much on kitchen appliances, Zyliss's Manual Food Processor is an excellent option.
The Takeaway
Making your diet healthier and more diverse has never been easier. With a little help from the right kitchen appliances, you'll be able to prepare meals that are more delicious and better for your overall well-being.
However, keep in mind that getting the equipment is not enough. You also have to use the right ingredients. Make sure you eat plenty of fruits and vegetables and that you drink enough water.
Kitchen appliances are here to make your life easier, but it's up to you to make it healthier. Getting the tools we've mentioned above will help you with both.
Continue reading: