Last updated on May 4, 2021
These are the best drawer organizers for the kitchen that you can use to organize even the messiest drawer. Here are our picks.
Which organizer is the best of them all? We think its this Bamboo Kitchen Drawer Organizer.
Everyone has that catch-all drawer in the kitchen that they aren't proud of. Things end up in it after every cleanup and kitchen organizing attempt. It's not pretty but it works. However, it only means that you drawers lack a decent organizer.
Kitchen drawers are not the most exciting tools in the kitchen (that would be the countertop), but they are the perfect place to store your kitchen gadgets, utensils, baking sheets, and whatever other food preparation tools you may have. But if your drawers are a mess, you may never find that spatula or that rolling pin—and that is a tragedy.
Luckily, there are many kitchen drawer organizers on the market, which help you organize your drawers while also making sure you can find what you need when you need them. Here are a few of the best.
We have included shopping links that earn us a commission (no extra cost to you) and makes it easy to find the products we talk about.
What's Inside
Bamboo Kitchen Drawer Organizer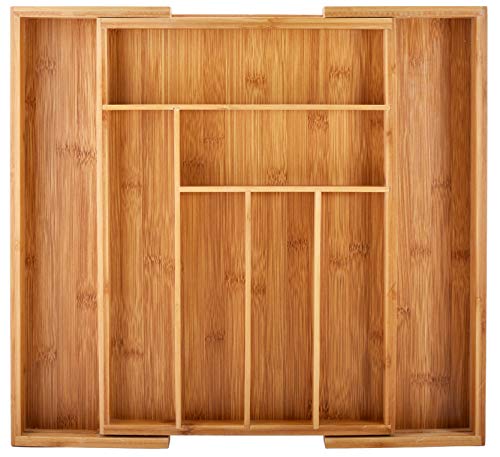 We choose this organizer as our editor's pick for its eco-friendly and versatile design.
A kitchen drawer organizer insert that expands for custom fit storage space. It is 17.5" x 18.75" x 2" in dimensions and made of sturdy and low-maintenance wood (bamboo). It has eight compartments, which is more than enough space for most flatware storage needs.
It can store knives, flatware, cutlery, cooking utensils, and a wide variety of items. It has a beautifully simple design and is made from eco-friendly materials. Great for holding all small kitchen items.
Quick facts:
Made of bamboo.
Adjustable option for compartments.
17.5" long x 18.75" wide x 2" high.
While this organizer is great for most intents and purposes of kitchen drawer organizing, we encourage you to check out the rest of our picks. These may work great for more specific tasks.
Umbra Peggy Kitchen Cupboard Drawer Organizer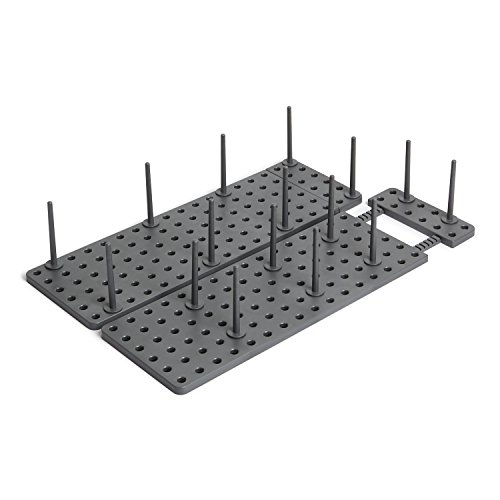 Peggy is a kitchen drawer organizer with an adjustable divider to adjust to the size of your particular kitchen space. It offers a solution for storing dishes and pans by keeping them within arms reach in the same drawer. This rack will best fit into a standard size kitchen drawer making it an ideal addition for everyone's home you want to declutter and keep all of your items organized. This kitchen drawer organizer has multiple medium-sized pegs that run on side rails supporting this plate, bowl, and pan organizer.
The instructions and descriptions of steps to install this elastic, multi-function organizer in a drawer is quite clear and easy to understand. As listed on the page, here is an outline of what you would need in order to install the organizer. Some tools will be needed for installation, such as a drill that can operate on low or high speed range with a center drill and 3mm drill bit, screwdriver kit, including Phillips & Slotted screwdrivers bits driver (flat head two slot),
Overall, it's a kitchen drawer organizer that can store many kitchen items. It has a bottom which is made of non-slip feet, which will stay in place no matter what surface it stands on, and you're able to choose from many different configurations.
Quick facts:
Adjustable design.
Great for deep drawers.
Dimensions: 21.38 x 11.88 x 4 inches.
Lynk Professional 4-tier Spice Rack Tray Insert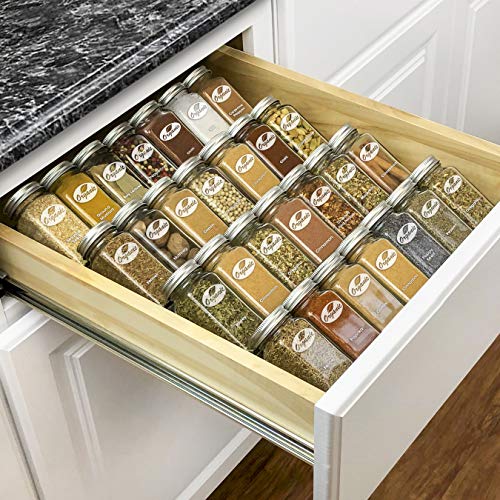 A four-tiered organizer where the user can store spices, essential oils, vitamins, and more. There are two items that the user needs to have when organizing their kitchen with this; the item and a drawer. The item is made of heavy-duty steel with a smart metallic finish since it won't wear off, splinter, or crack as plastic items do. It comes in size 13.25 inches wide by 16.5 inches in length and 1.5 inches high so it will fit anyone's cabinet.
Quick facts:
Made of stainless steel.
Dimensions: 16.5 x 13.25 x 1.5 inches.
Great for storing small jars in a drawer (such as spices.)
Mebbay 19 Pack Drawer Organizers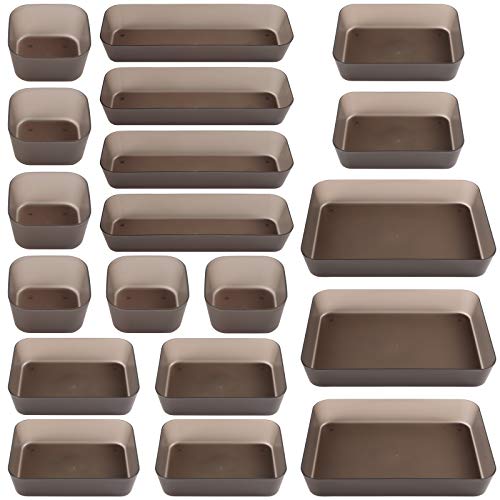 The kitchen drawer organizer is made up of rectangular boxes. The largest long box is 10.2″ x 3.5″ x 1.7″. It has 19 total individual compartments for storing items convenient to fit ones' needs based on the size classification of a tiny rectangle box.
It is made of plastic, durable, easy to clean, and has different space-saving sizes. This product is composed of the high-quality plastic small square, rectangular and long boxes with many different sizes.
Quick facts:
Made of plastic.
A set of varied size drawer organizer boxes.
Versatile use in the kitchen as well as other places around the house.
Smart Design Drawer Organizer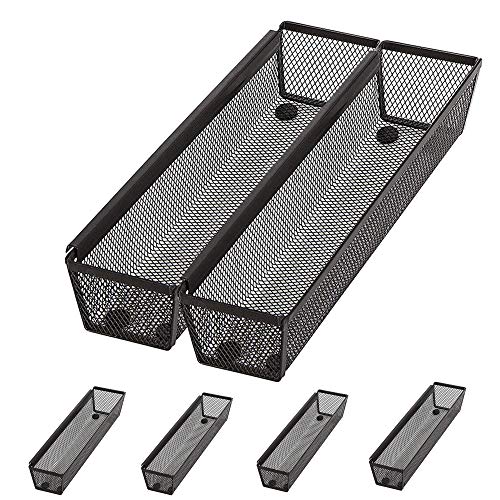 Steel Drawer or for organizing your kitchen's storage. They are 12×3 Inches and 2 Inches high. There is a set of six in order. The material can be steel mesh with rubber foot stoppers, to prevent sliding. From the product's smart design quality has gone through stringent control and been made from quality steel or mesh materials of construction, which is perfect as a storage organization organizer for your kitchen.
A kitchen drawer organizer is an item consisting of several sections that help to move items like utensils or appliances to the front of a cluttered drawer. The organizer is made out of steel and it organized different sizes for different slots.
Quick facts:
Made of steel mesh.
Interlocking design.
Comes in 6 units.
Dimensions: 12 x 3 x 2 inches per unit.
Faridabio Kitchen Drawer Organizer 2-tier Tray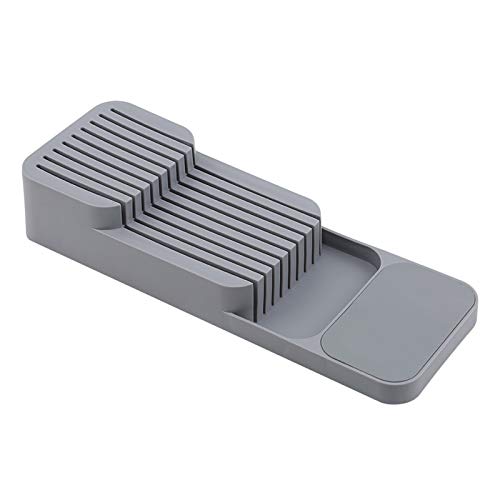 The Faridabio knife organizer is made of a safe and durable material. The organizer is made of plastic that is BPA-Free. There are nine holes to store kitchen knives depending on the size of the knife, with each hole holding no more than one knife for optimal use.
The dimensions are length 15.6 inches, width 5.4 inches, and height 2.9 inches. It is safe for the environment because it is BPA-Free, and soft-grip lining prevents slipping and sliding which also helps to keep items inside of it from shaking or getting lost.
Quick facts:
Made of plastic.
Stores 9 knives.
Dimensions: 15.6 inch length, 5.4 inch width, 2.9 inch height.
Kootek 6-piece Bamboo Kitchen Drawer Organizer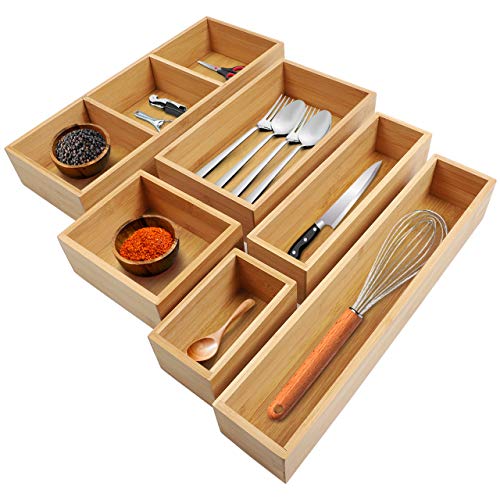 A versatile kitchen drawer organizer is made of bamboo and can organize different-sized cutlery. The drawer organizer can have anywhere from 2 to 8 compartments so it can be adjusted according to customer needs. The largest has 2 dividers that allow the organizer enough space to store cutlery and silverware, etc.
Quick facts:
Made of bamboo.
6 different sized compartments that can be arranged any way you like.
The height of all compartments is 2.48".
Practical Comfort Adjustable Drawer Organizer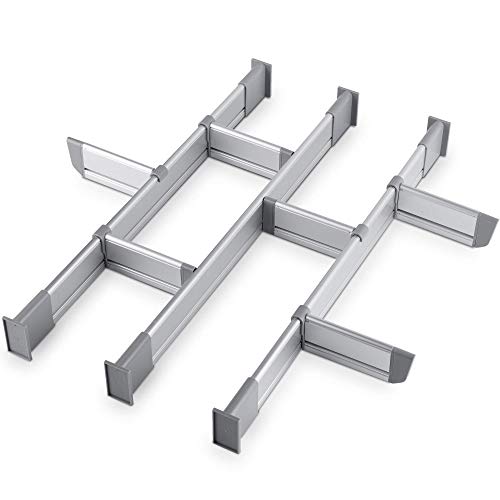 This insert is made from brushed aluminum for easy installation. It goes in a drawer and can be used to store different kitchen items. This organizer includes different compartments to store many items in the drawer and help you find the utensils you need when you need them easily.
This divided organizer for a kitchen drawer has these features. It stores items of varying sizes and is made of durable material. It measures the depth line from the front all the way to the end (enough to fit various shapes) and has 6 lanes that divide up flatware and other kitchen utensils.
Quick facts:
Dimensions: 3 x 1.8 x 17.9 inches.
Made of aluminum.
Adjustable organizer design.
Impirilux Stackable Acrylic Kitchen Organizer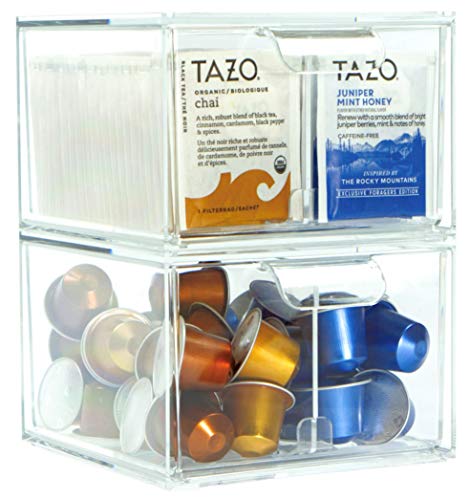 A clear acrylic design. It can store smaller items like condiments and coffee pods. You are able to stack these or use individual drawers and they are made with strong durable material.
Depending on the size of the drawer you want, each drawer is per-cut to fit a certain size. It can also be used as an individual space or stacked together. In the parts that all dividers are not in use, it can house kitchen items such as coffee pods, tea bags, condiments and so on.
Quick facts:
Made of clear acrylic.
Set of two drawers that can be stacked.
Closetmaid Two Tier Kitchen Cabinet Rack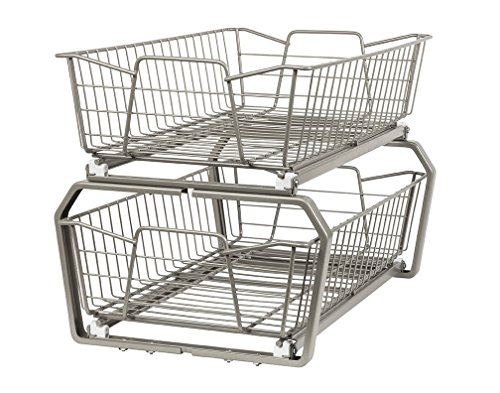 This organizer is intended for use in a cabinet that has a 12 inch or wider opening. It's made for easy, hassle-free organization and slides independently of one another. This ensures you'll have an easy time reaching whatever you want to use in the future when putting them back in order. It measures 12.08 inches by 12.22 inches by 20 inches assembled with all hardware needed for installation included therein; it is made of epoxy coated steel.
The baskets slide independently. The innovative design also includes an easy glide system for a great organization in your kitchen cabinets as well! This great helper also comes with all the hardware.
Quick facts:
Made of epoxy coated steel.
Sliding design.
Continue reading:
Disclosure: As an Amazon Associate we earn from qualifying purchases.