Last updated on April 18, 2021
Looking for the best plant stand for indoors? These are our top picks for the plant stands that will improve your indoor garden. Read on!
The best pick: this Adjustable Plant Stand.
You would think that something as unassuming as a plant stand wouldn't be a big deal to choose. Don't you simply need it to be sturdy enough and look good? Those are the key qualities, but there's more. That's why this story was so fun to write — we turn trivial choices into elaborate ponderings.
So what do you need from an indoor plant stand?
Yes, it definitely has to be stable and hold the weight of your potted plants.
It has to prettify your indoor garden or a green corner.
But it can also be a multi-tier and multi-functional rack.
It can be adjustable to fit your exact needs.
The material isn't an afterthought either because it can be durable and eco-friendly.
So what picks have we made? The list follows next. You will find the links that earn us a commission (no expense to you), so you can easily check them out.
We like these plant stands. Do you?
What's Inside
Adjustable Plant Stand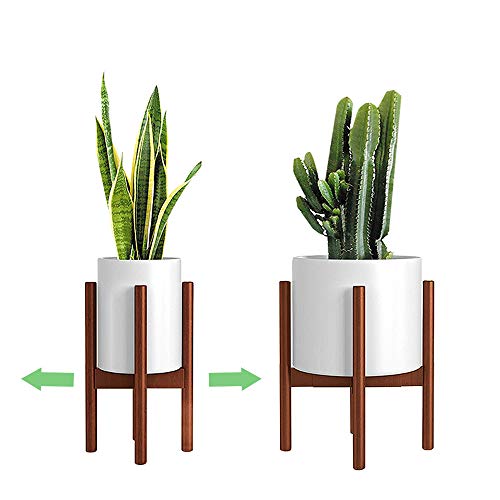 This is our editor's choice.
Great for: varied size plant pots.
It is made of 50% bamboo, wood, and metal. It suits indoor plant needs because it can hold different-sized plants or pots. We highly recommend purchasing one if you have more than one plant to care for or if you need a centerpiece for a large space.
The plant stand has a plug that you can slide up depending on the size of the pot you have. The best materials this indoor are made of are bamboo wood with a finish in many colors, from linen to nickel. You can use this plant stand to support pots of different sizes, and you can fit it into any space.
Pros:
Adjustable diameter 8 to 12 inches.
Made of bamboo.
Height of 15 inches.
Cons:
Legs look like dowels.
The product description shows 2 plant stand (it illustrates the adjustable size), but only one stand is sold. It's not a con per se, but a common mistake people make about this product.
3-tier Plant Stand for Indoors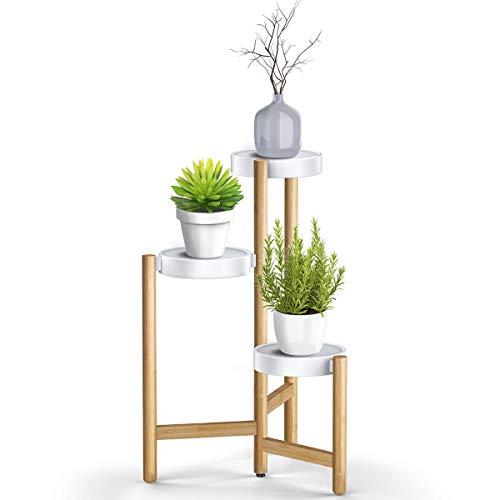 Great for: corners.
This indoor plant stand is made of bamboo. It can hold up to 3 plants on its sturdy steel trays and allows space for one more plant near the top for free-standing taller plants. With a unique, contemporary style, this plant stand would brighten any room while keeping your potted plants visible without taking up floor space or blocking the necessary functions of a room.
Since my freshman year, I've always wanted a plant but never knew what kind to get until the day I walked into a friend's room and saw this incredible-looking stand with multiple plants on it. The white trays contrast beautifully with all of the plants on the stand. 3 trays hold up to 18 lbs of small plants alike that sit nicely together due to their sturdy construction.
The ADOVEL Home Plant Stand is organic-looking and made of pine, bamboo, steel. You can display it on your porch or apartment hallway, as the rectangular white trays fit nearly any space and size of the room. The tray's ring shape remains stable on the ground or furniture, so there is no chance of prevention to each other even with three pots.
Pros:
Capacity for 3 plants.
Made of bamboo wood.
The tiered design doesn't block sunlight between trays.
Cons:
Can't adjust the positioning of the trays and bars.
Instructions aren't very clear and some people find it hard to put it together.
5-tier Indoor Wood Plant Stand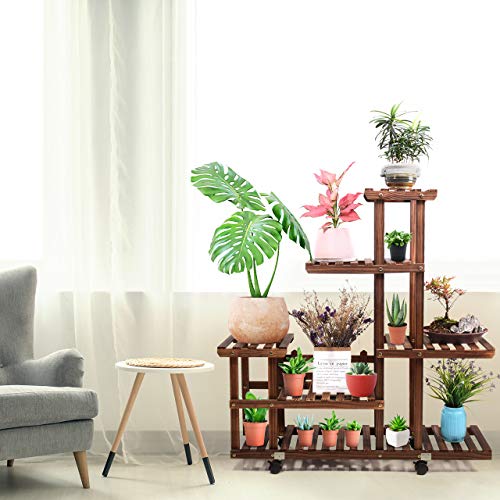 Great for: indoor mini garden.
This plant holder is made of renewable pine wood and can hold up to 14 pots. It is available in 5 tiers, so 2 large pots can fit each rack, one placed on top of the other. When using the shelf for indoor plants, consider layering heights and spacing light-duty plants at the top to heavier and larger containers further down. Doing so will stabilize the stand for your mini garden.
The pieces are strong enough to withstand the weight (up to 110lbs) and will not be toppled over like other wooden stands. This plant stand is made great since it doesn't use any metals at all which helps eliminate rusting over time.
This plant stand is convenient. The board can hold up to 11 to 14 pots, and you can place it at a really high or low place which it cannot break easily. We recommend this for indoor plants as it will reduce the floor area taken up.
Pros:
Fits up to 14 plants.
5-tier design.
Made of natural pine wood.
Cons:
Flimsier than expected.
Takes a while to put together.
4 Tier Plant Stand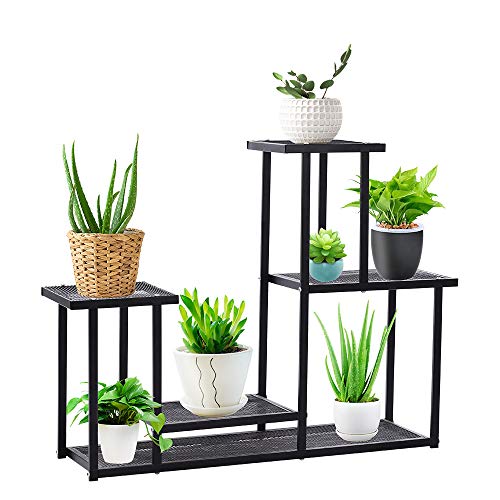 Great for: decorative displays.
This plant stand for indoors is made of metal with novel iron paint. The thick frame makes it load-bearing up to your need making the shelf sturdy. You can have this plant stand indoor that it is suitable also for outdoor use in a longs season as well which means you can line-up 7 of your beautiful flower plants on it especially in the winter because what better thing than to enjoy a chill winter decorated by flowers or else use this plant shelf in your room.
The material of the plant stand is steel, which is resistant to corrosion. It is ideal for a corner space because it takes up less floor space than a tree. The plant stands for indoor plants features an eye-catching design with carving supported by a sturdy frame. It has attractively carved corners.
Many people choose to place a flower and plant pots on a squat metal plant stand indoors. You can utilize track lighting along with the ceiling to highlight this attractive piece of decor. This updated accent will not only provide your home's interior with styling flare but also space-saving benefits.
Pros:
Made of stainless steel.
Black finish.
4 tiers and up to 7 plants.
You can use it to display other decorative items.
Cons:
The shelf mesh doesn't stay completely flat under heavy items.
A bit expensive.
6-Tier Potted Plant Stand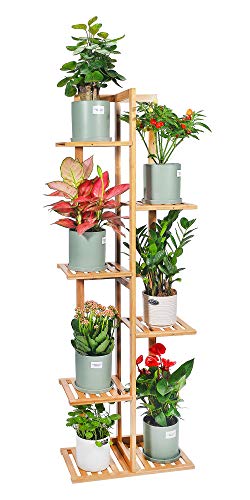 Great for: succulents.
The plant stand is made from bamboo and covered in two layers of varnish. This product can hold up to 7 plants. Use it for succulents indoors to save counter space. The various colors of the leaves allow all types of flowers to be seen with the leaves removed, while the stand also has a convenient height for varietal observation.
This plant stand is very sturdy and helps you save more on space because it's a 6 layers shelf. The top layer is varnished to make sure the plants won't easily be affected by mold or insects. And could also be used as a decoration that can hold photos, trophies, or wine bottles.
Pros:
Made of bamboo.
6 tiers to hold up to 7 potted plants.
Very space-saving.
Cons:
Included screws are poor quality (it's better to use your own screws from a hardware store.)
You must put something heavy on the bottom shelf for stability.
6-tier Potted Metal Plant Stand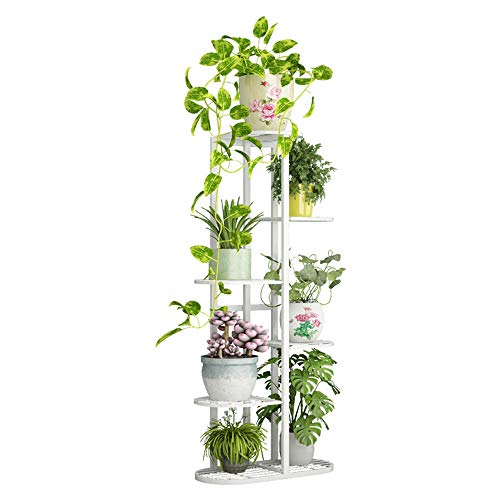 Great for: stacking up heavy planters vertically.
This plant stand for indoors is very sturdy and firm, because it is made of wrought iron. It can be used in many ways: as a flower stand, bookshelf, or storage rack. This product can hold up to 7 flower pots. We like the size of this stand too because it isn't massive, but just enough to do the job.
This plant stand is a great place to show off and display your gorgeous flowers in some fresh, new pots. This sleek, modern-looking stand will be sure to please with its simple design and multiple features for increased happiness.
Pros:
Made of wrought iron.
White finish.
6 tiers to hold up to 7 potted plants.
Cons:
You need to distribute the weight of the potted plants evenly for it to be stable.
Rolling Plant Stand for Indoor Plants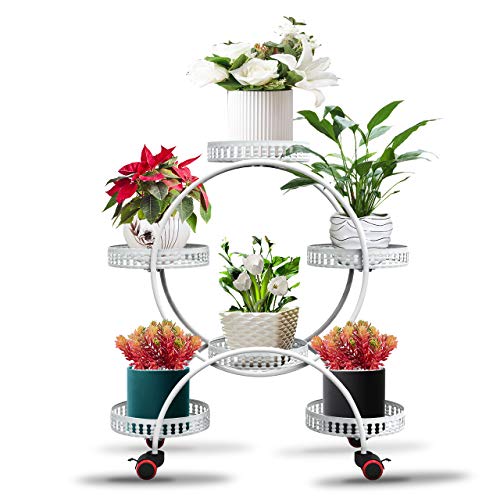 Great for: cases when you need to move your plants frequently.
This indoor plant rack will hold up to six small-medium plants and has slots to put on each level. The plant stand is made from iron pipes that you can customize to fit nicely with the decor and style of various homes or gardens, making your plants easy to see and carry without any trouble of running out of space.
This is a plant stand that stands both vertically and horizontally, perfect for saving space and collecting all of your beautiful plants in one spot. This material is scratch-proof and has no rust or corrosion possible.
Pros:
Made of iron pipes.
Corrosion proof finish.
Roller wheels with 360 rotation.
Cons:
Metal Potted Plant Stand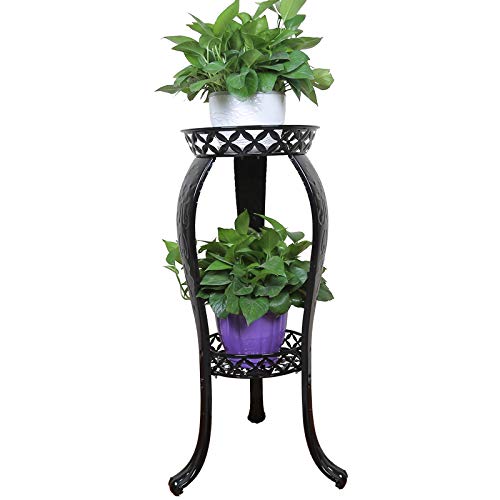 Great for: decorating corners.
Black painted metal plant stand for inside that stands 32" tall and 12" in diameter. It can hold a healthy amount of plants on it. If you can place it inside, place it in your front door or window to allow guests to easily take notice of your growing plants without needing to search all over the house for them. Could also work on a covered porch, balcony, or small space with four walls. It's great for gifting due to its original metal design.
The plant stand for indoors is a beautiful and large metal table. The top is round like the bottom and has three slanted legs sturdy it up nicely and making sure it doesn't wobble too much when whatever is in it moves around. Overall this pot stand is great for indoor home décor or even to give as a gift.
Pros:
Made of metal.
2 tiers.
Decorative design.
Cons:
You must tighten the screws really well for stability.
Screws aren't the same colors as the stand.
Durable Metal Potted Plant Stand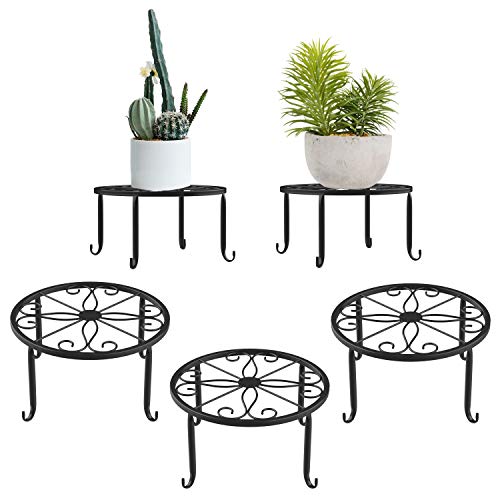 Great for: heavy potted plants.
This is a set of three plant stands for indoors. We find them very sturdy as metal conducts heat fairly well, so they should retain their temperature fairly well during hot days or cold days. The stands keep plants off the ground and hold up to 100 pounds for each potted plant with a 5-8 inches potholder weight capacity. They are made with sturdy and strong rust-proofed metal material while the surface has been smoothed to provide protection and avoid scratching furniture or the floor.
This plant stand is well made, and the metal can hold heavy pots without bending. These are worth their price because they look stylish and won't rust, and they have an excellent weight capacity.
Pros:
Made of durable iron.
Black finish.
Comes in a 3-pack.
Holds up to 100 lbs.
Cons:
Glossy finish.
Lightweight.
Mid-century Modern Plant Stand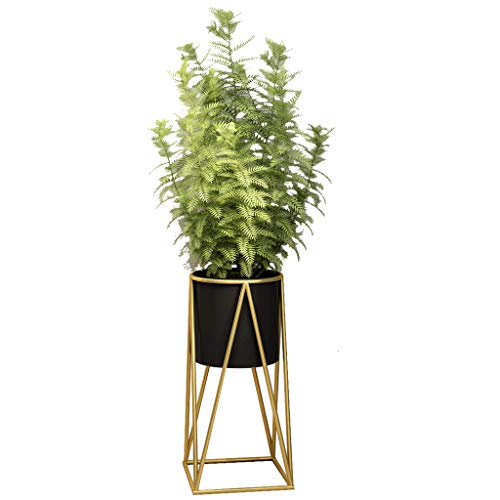 Great for: when you want to raise the potted plant, and to add mid-century modern decor accent.
The plant stand can support big or heavy plants, and it has an adorable design. It has a great square-shaped base formed by thick iron pipes stable and firm for supporting the plant. You need to put the bucket on top of it to have a perfect container and an easy planning divider. This product can hold weight up to 45lbs, so you don't have to worry about your plants becoming unsteady or wobbly.
You can place this on the floor, the kitchen counter, balcony, or in your garden, and the width for any level can accommodate any size plants or a planter.
Pros:
Made of thick iron pipes.
Mid-century modern design.
Stable.
Cons:
FAQ
What do you put under plant pots indoors?
Large saucers with pebbles work best.
Continue reading:
Disclosure: As an Amazon Associate we earn from qualifying purchases.