Last updated on November 30, 2023
Explore flat cabinet crown molding ideas in this article because these stylish and practical solutions can transform the look of your kitchen or bathroom cabinets with panache.
As the creator of these 20 stylish flat cabinet crown molding designs, I am thrilled to share my unique ideas with you, hoping you find them as inspirational and enjoyable as I did creating them.
Flat cabinet crown molding can dramatically enhance the aesthetic appeal of your kitchen or bathroom cabinets. This article provides a plethora of innovative ideas to transform your flat cabinets into a visual delight using crown molding. Whether you're looking for a modern, minimalist design or a more ornate, traditional style, there's a molding idea for every taste. You'll also find practical advice on choosing the right type of molding, installation tips, and ways to ensure a seamless blend with your existing decor.
Dive in to explore these ideas in detail and elevate your flat cabinets to a whole new level of sophistication.
What's Inside
White Painted Molding for a Clean Finish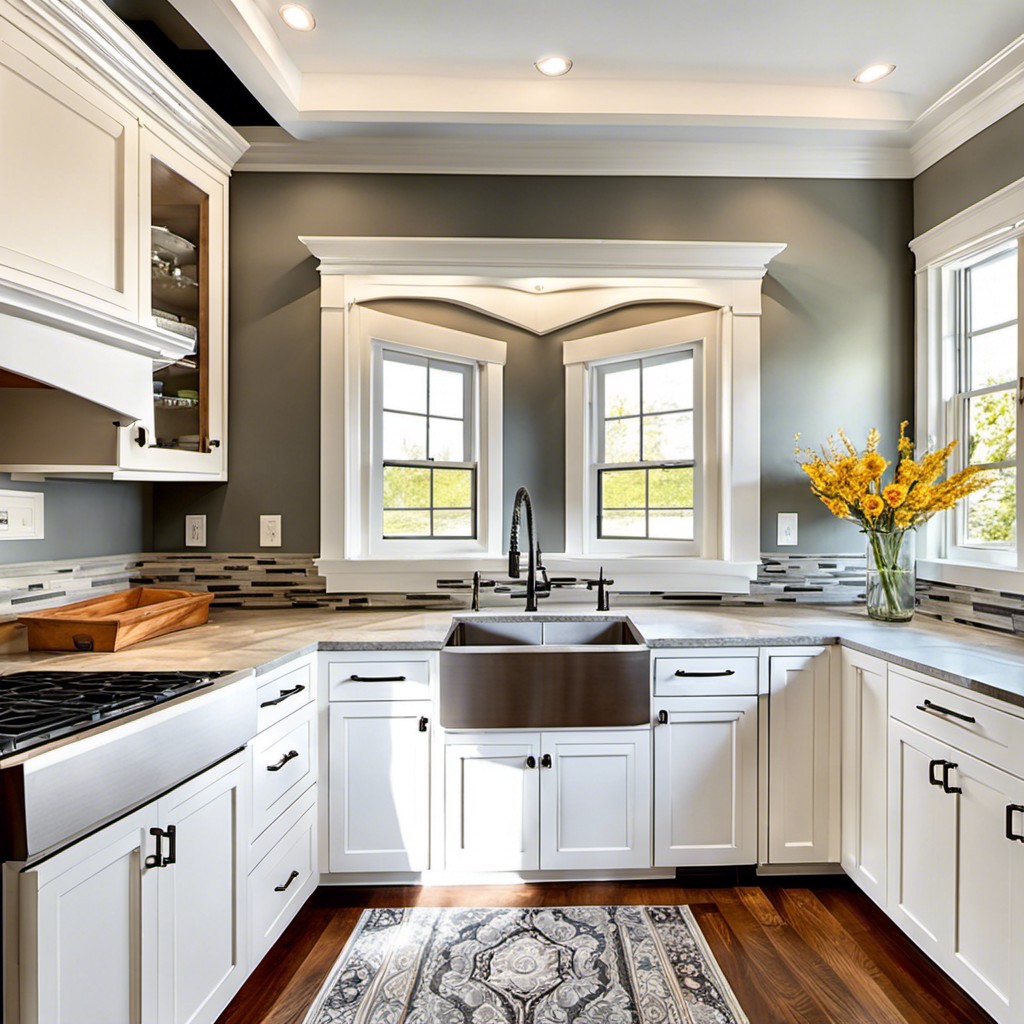 Incorporating white painted molding on your flat cabinets can provide a crisp, clean finish that easily meshes with any design scheme. This option is particularly beneficial in kitchens and bathrooms, where it enhances the perception of cleanliness – a priority in these spaces.
Furthermore, it's an excellent way to illuminate dim areas, reflecting light and adding a sense of spaciousness. More importantly, white molding stands the test of time, never falling out of trend.
Lastly, should you decide to amp up the color game or introduce patterned elements in the future, the neutrality of white will blend seamlessly, making transitions less daunting and more enjoyable. Thus, with a refreshing and adaptable aura, white painted molding is surely an attractive consideration for your flat cabinet upgrades.
Stained Wood Molding for a Rustic Look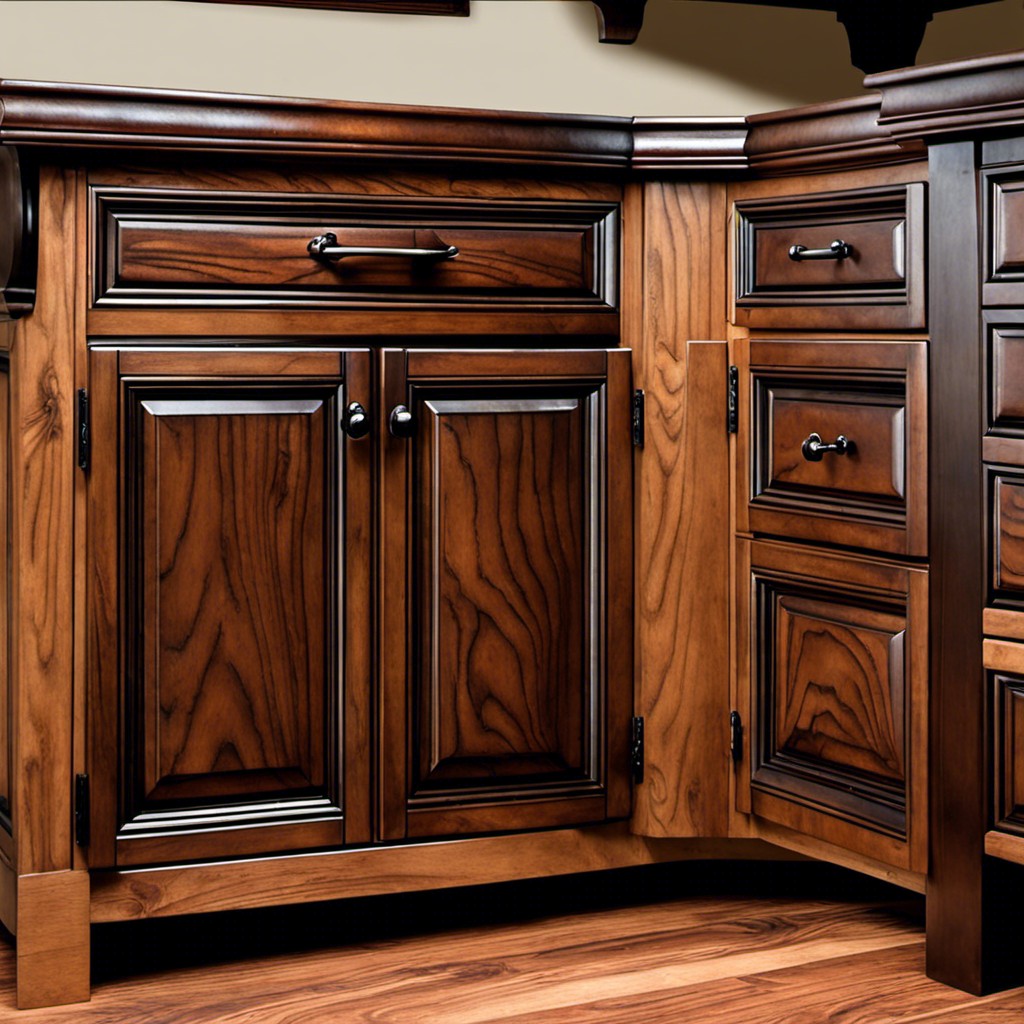 To achieve a rustic, earthy ambience, consider the charm of stained wood. This type of molding effortlessly harmonizes with various interiors, especially those leaning towards farmhouse or cottage styles. The unique grain patterns inherent to this material make it a standout choice, lending authenticity and warmth to your cabinets.
Here are keypoints to consider:
Choice of Wood: Opt for species such as oak, hickory or walnut that showcase distinct grain patterns. These intensify the rustic effect when stained.
Stain Selection: Pick from a range of stains – lighter hues can create a shabby chic atmosphere, while darker stains exude robust warmth.
Distressing Techniques: If desired, techniques like sanding or antiquing further enhance the rustic appeal.
Protective Finish: Apply a necessary finish to ensure longevity of the molding. Satin or semi-gloss varnishes are great options.
Harmonizing Decor: Pair with complementary decor. Exposed beam ceilings, brick accents, or wrought iron fixtures match well with the stained wood aesthetic.
Intricate Carved Design for an Antique Look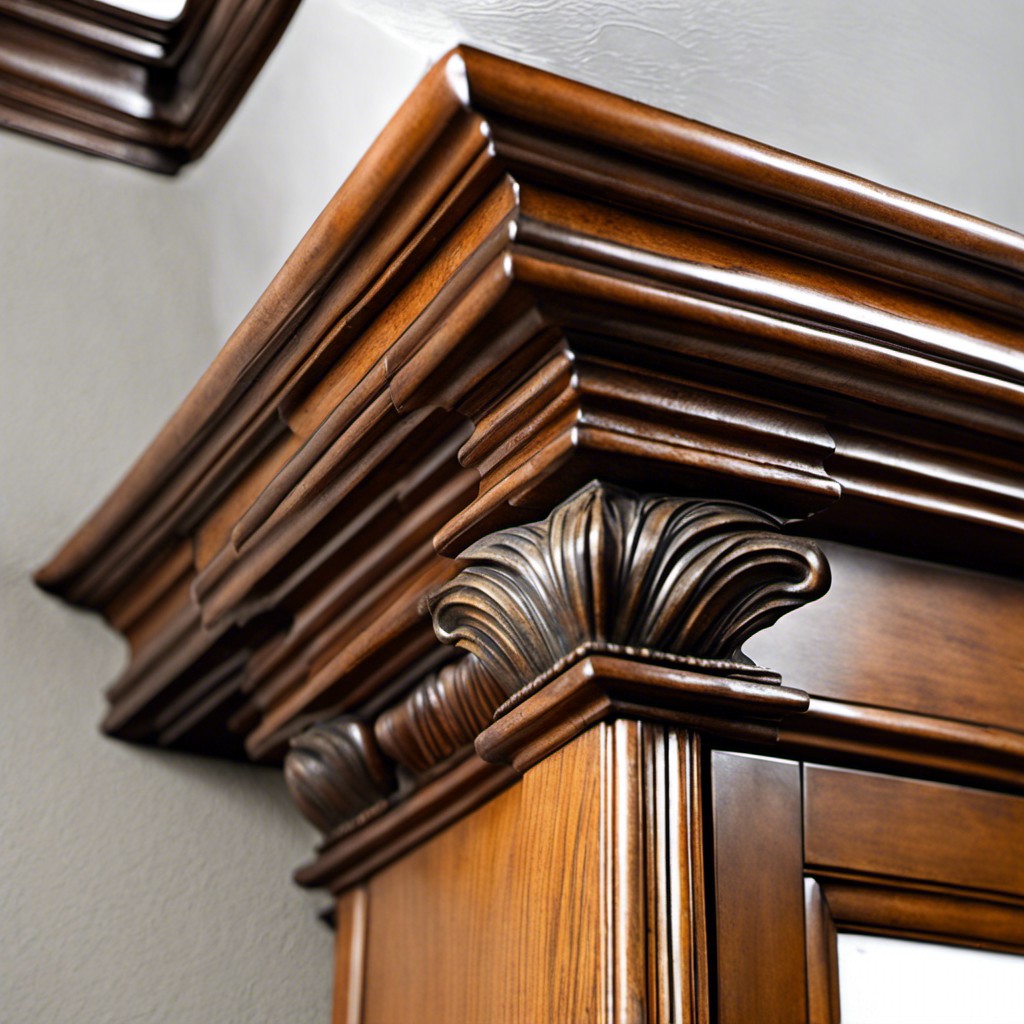 Opting for this technique is a nod to masterful craftsmanship of yesteryears. The craftsmanship behind carving intricate patterns into wood is a bet on the perfect blend of artistry and symmetry.
Here are some thoughts to guide your decision.
1. Intricacy Matters: The level of complexity in your design can range from simple geometric patterns to elaborate floral motifs. The key is balance.
2. Wood Choice: Hardwoods like oak or maple are ideal for complex, precise cuts. They offer durability and a beautiful finish.
3. Stain or Paint: To highlight the detail in the craftsmanship, consider staining instead of painting. Stains allow the wood grain and carved details to be the star.
4. Expert Installers: Due to the detail involved, it's recommended to hire a professional for installation. This ensures all intricate patterns align perfectly for a cohesive look.
Remember, this design choice makes a statement, turning your cabinets from purely functional to artwork.
Gold or Silver Painted Molding for a Luxurious Feel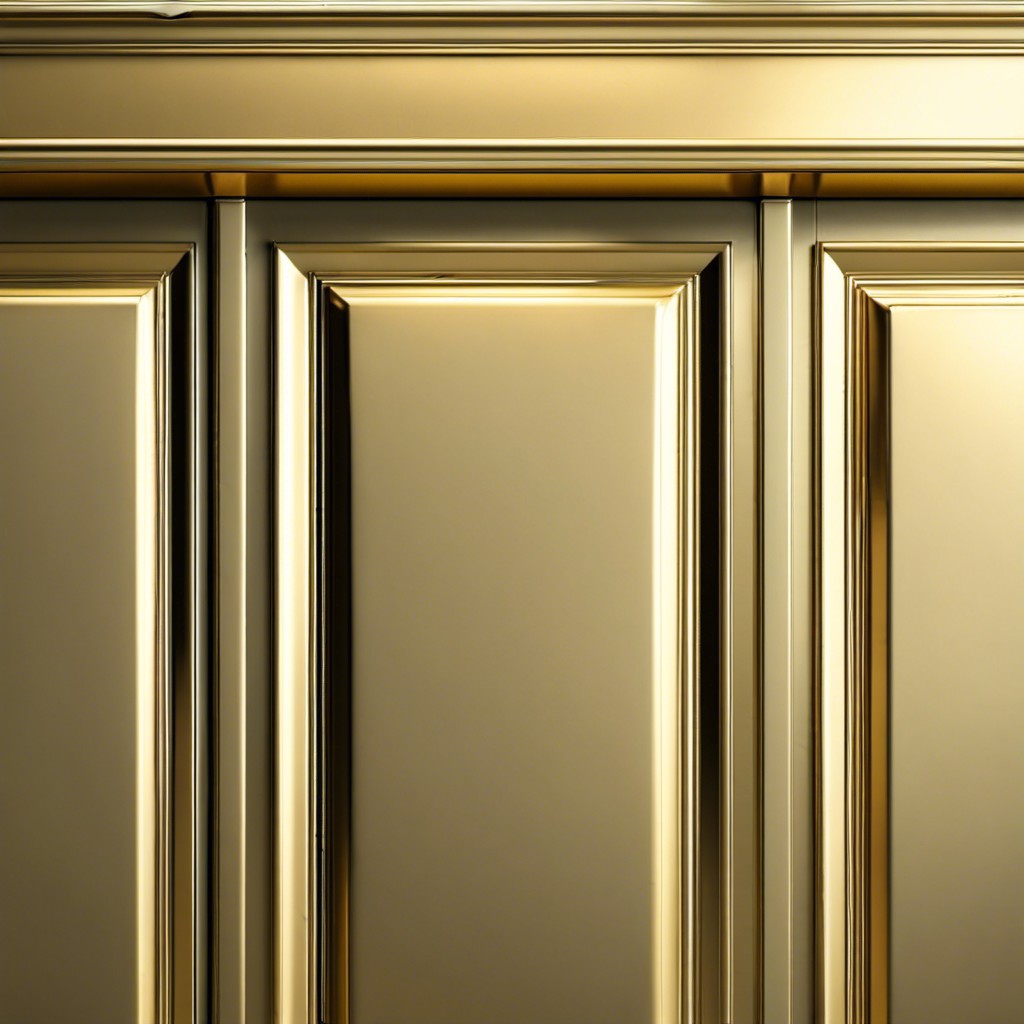 Choosing metallic paints can instantly elevate your flat cabinet. Here are three points to consider:
1. Gold evokes a sense of opulence and warm luxury. It matches impeccably with shades of white, cream, and earthy tones enhancing the richness and depth of color in your space.
2. Silver, on the other hand, exudes coolness and a modern edge. It's outstanding when paired with darker cabinets or monochromatic themes, efficiently brightening up the area.
3. When opting for metallic paints, bear in mind that attention to detail is key. Use high-quality brushes or sprayers for even distribution and a smooth finish. It's equally important to finish with a clear topcoat designed for metallic paints to maintain the luster and durability.
Two-tiered Crown Molding for Depth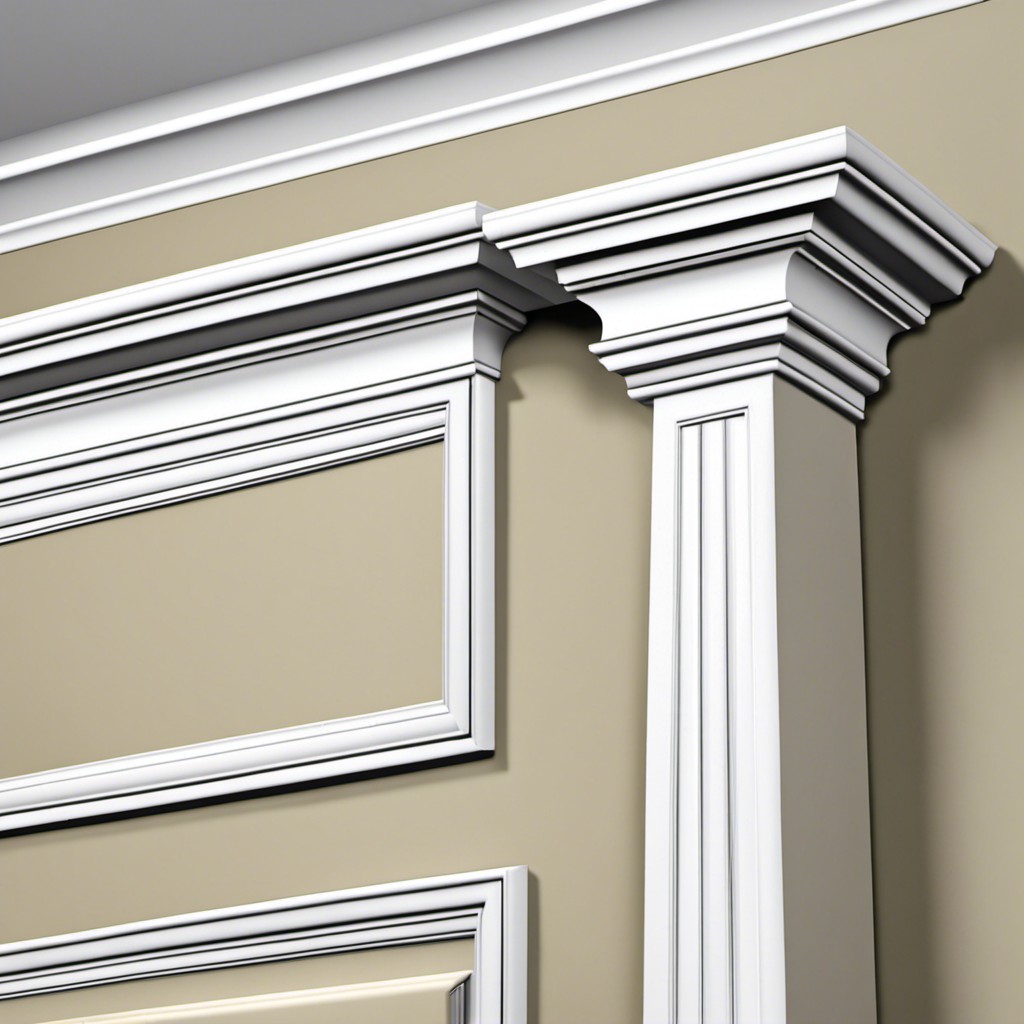 Delving into this unique profile, two-tiered molding offers a dramatic, attention-grabbing aesthetic. This hefty counterpart to standard molding constructs depth and visual interest. Two tiers, regardless of their intricate designs or large forms, create a palpable perception of a larger, higher space.
When choosing a color scheme, consider your cabinet color. Harmonizing the hues or opting for stunning contrast can both accent your two-tiered design perfectly. If subtlety is key, use similar tones. For a more dynamic impact, don't shy away from audacious color differential.
Consider ambient lighting. Couple lower level molding with light fixtures for theatric shadow play. This adds another layer to the depth of your crown, highlighting your cabinetry as an indispensable part of your decor.
Keep the styling of your home in mind. For a minimalistic modern style, opt for simple designs of each tier. Traditional or rustic homes can benefit from a more ornate tier design, adding a historical or timeless feel. With astute choice of design and color, two-tiered molding can transform your flat cabinet to an artistic expression of your personal style.
Color Matched Molding for a Seamless Look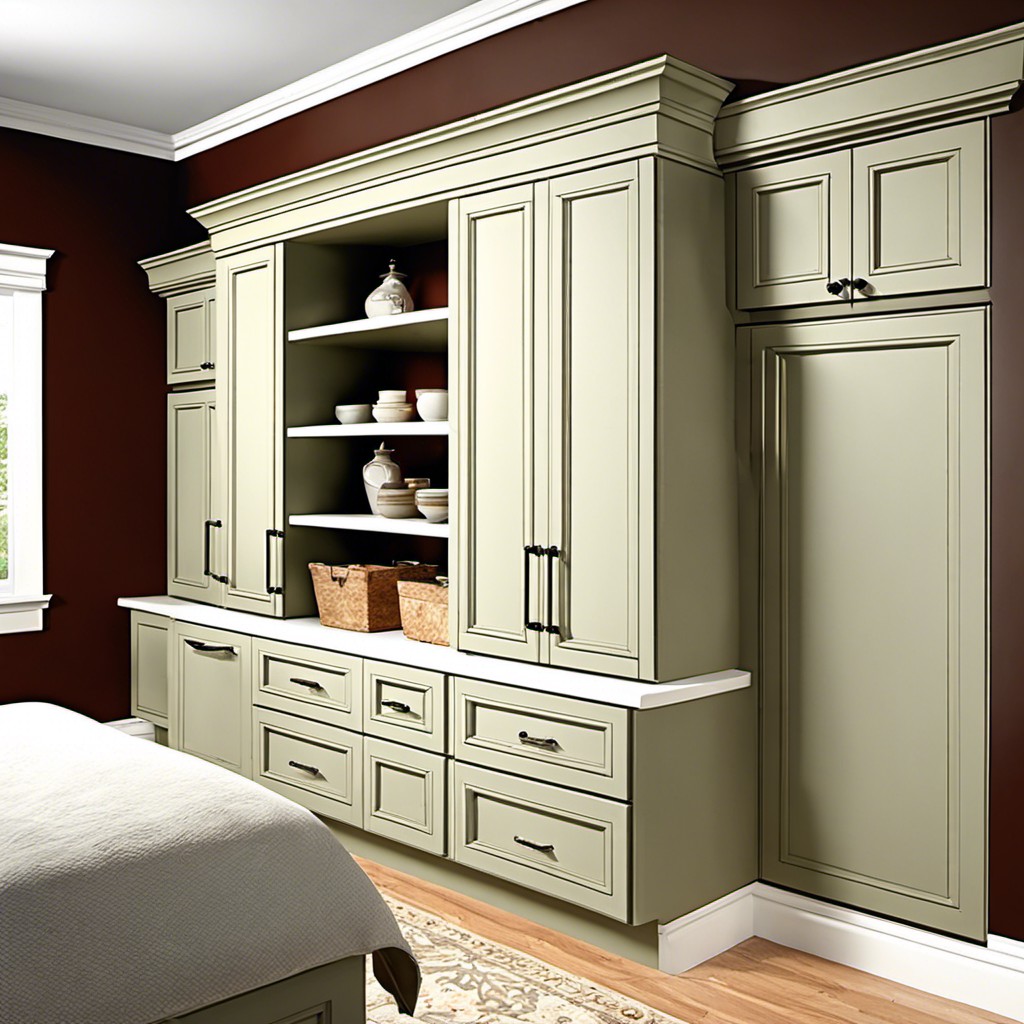 Choosing the same color for your crown molding as your cabinets can create a harmonious, cohesive look. It's a design trick that works especially well in small kitchens, where it helps to give the illusion of a larger space.
1. Color matching can be achieved by using the identical paint or stain.
2. For a subtler effect, consider using a shade that's a bit lighter or darker.
3. A glossier finish on the molding compared to the cabinets can add a subtle contrast and reflect light beautifully in the space.
4. Consider the kitchen lighting; it can dramatically affect the appearance of the color.
5. Use color swatches to help determine the best match to existing cabinet color, prior to purchasing or custom ordering your crown molding.
Remember, color matched molding involves meticulous color selection to ensure both elements blend perfectly, enhancing the seamless look. It's a simple way to elevate the design aesthetic while maintaining a streamlined, sophisticated style in your kitchen.
Minimalist Square Molding for a Modern Style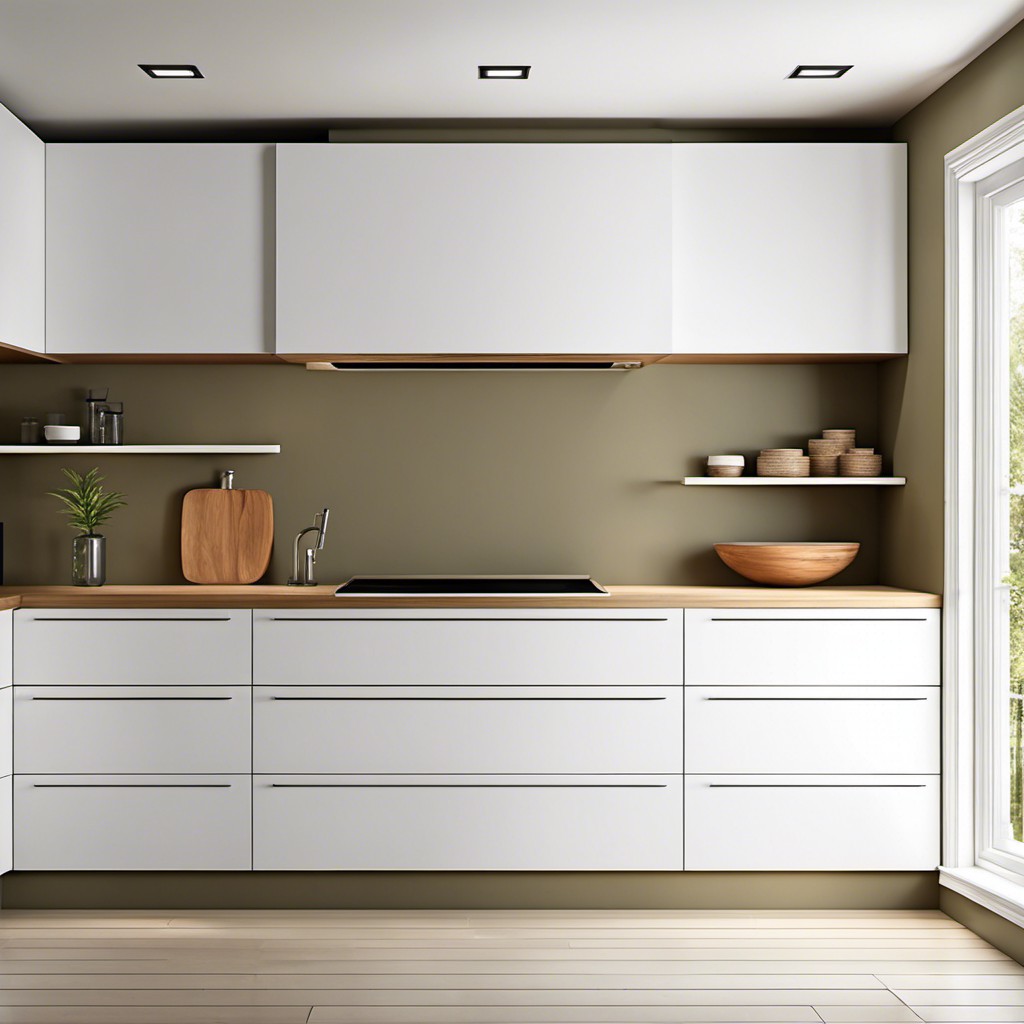 Adopting a streamlined, uncluttered look takes center stage with this design. Less truly is more here, making this selection ideal for a modern, urban ambiance.
Focused on simplicity, it features clear lines and square edges that enhance the cabinet's architecture rather than outshine it.
It's also a perfect fit for smaller kitchens, helping the space feel organized and larger. The lack of intricate detailing makes it easy to maintain, adding another practical advantage.
High-quality materials show off their natural beauty, giving a sophisticated feel, with neutral colors like white, grey, or black being popular choices for a clean, crisp finish.
This approachable design is a subtle but distinctive way to elevate your kitchen's aesthetic.
Dark Painted Molding for a Contrasting Effect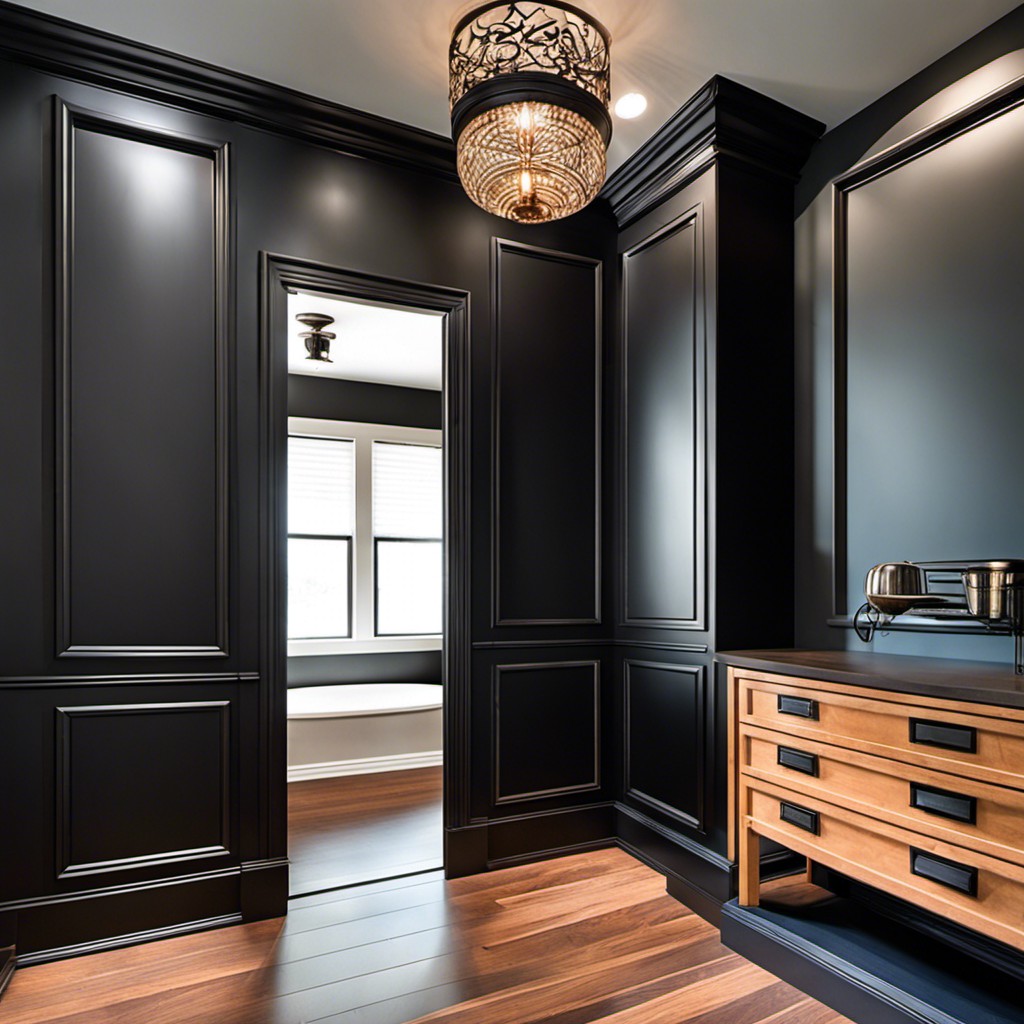 Opting for a dark hue provides a bold counterbalance to lighter cabinetry. Black, deep blues, or rich charcoals are popular choices that inject an element of drama into the kitchen space. While they make a strong statement, these shades also serve to accentuate the details in the molding design. An even bigger advantage? The darker color conveniently masks any potential dirt or smudge, offering a practical edge.
Consider pairing your choice of dark molding with metallic or glossy finishes on fixtures or cabinet hardware for an even greater visual impact.
Nautical Theme Molding With Boat or Sea Motifs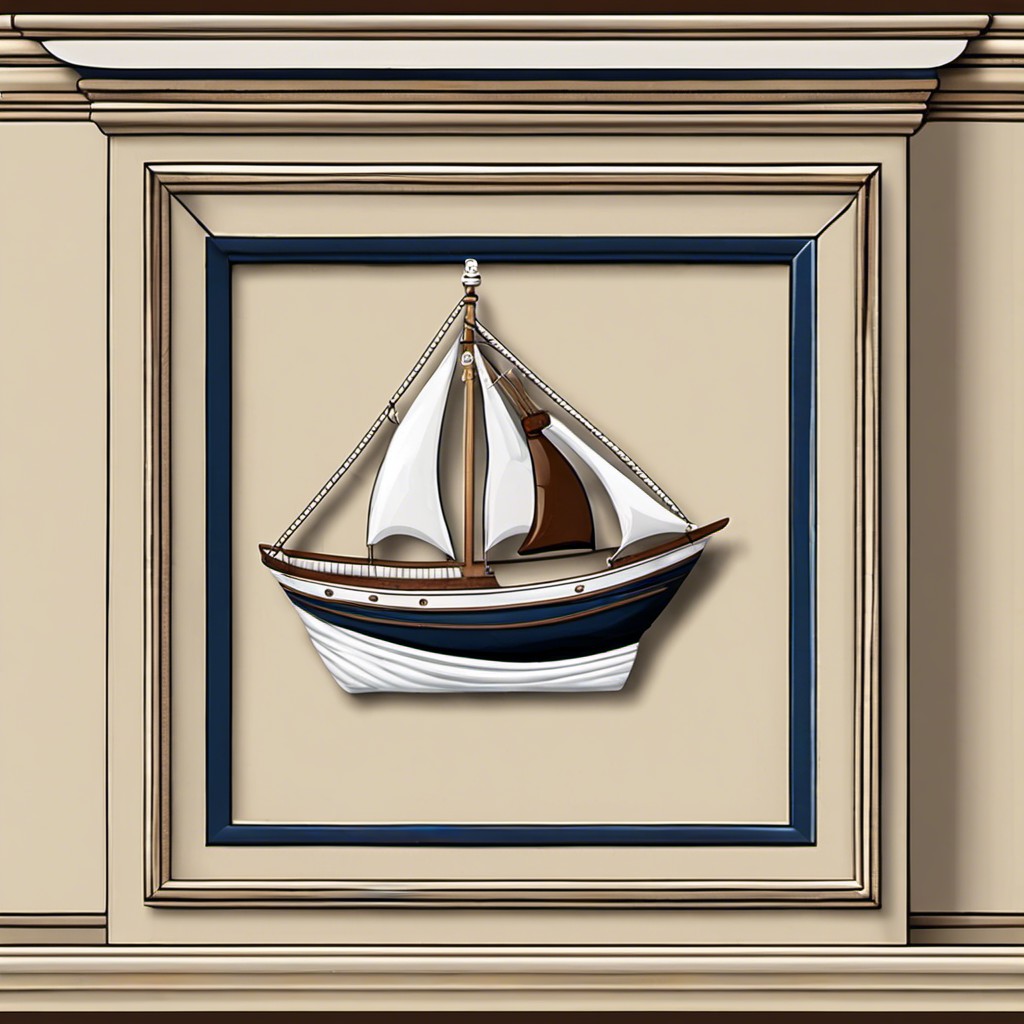 Incorporating this style can instantly infuse a charming coastal atmosphere into your kitchen. The key element lies in choosing moldings with delicate engravings of anchors, sailboats, shells, or even lighthouses. Light or distressed finishes complement this look, mimicking the weathered aesthetic often associated with seaside landscapes.
To ensure a balanced appearance, you may opt to keep the rest of your kitchen elements subtle, perhaps in white or soft pastel colors. Utilize accessories in blue and aqua hues, reminiscent of the sea, to accentuate the theme. Furthermore, natural fiber decor items like jute or rattan provide a wonderful textural contrast, enhancing the maritime ambiance.
Seamlessly tying in the nautical motif with other decor elements not only ensures your cabinets don't look out of place but also contributes to an overall harmonious interior.
Beaded Look Molding for an Ornate Style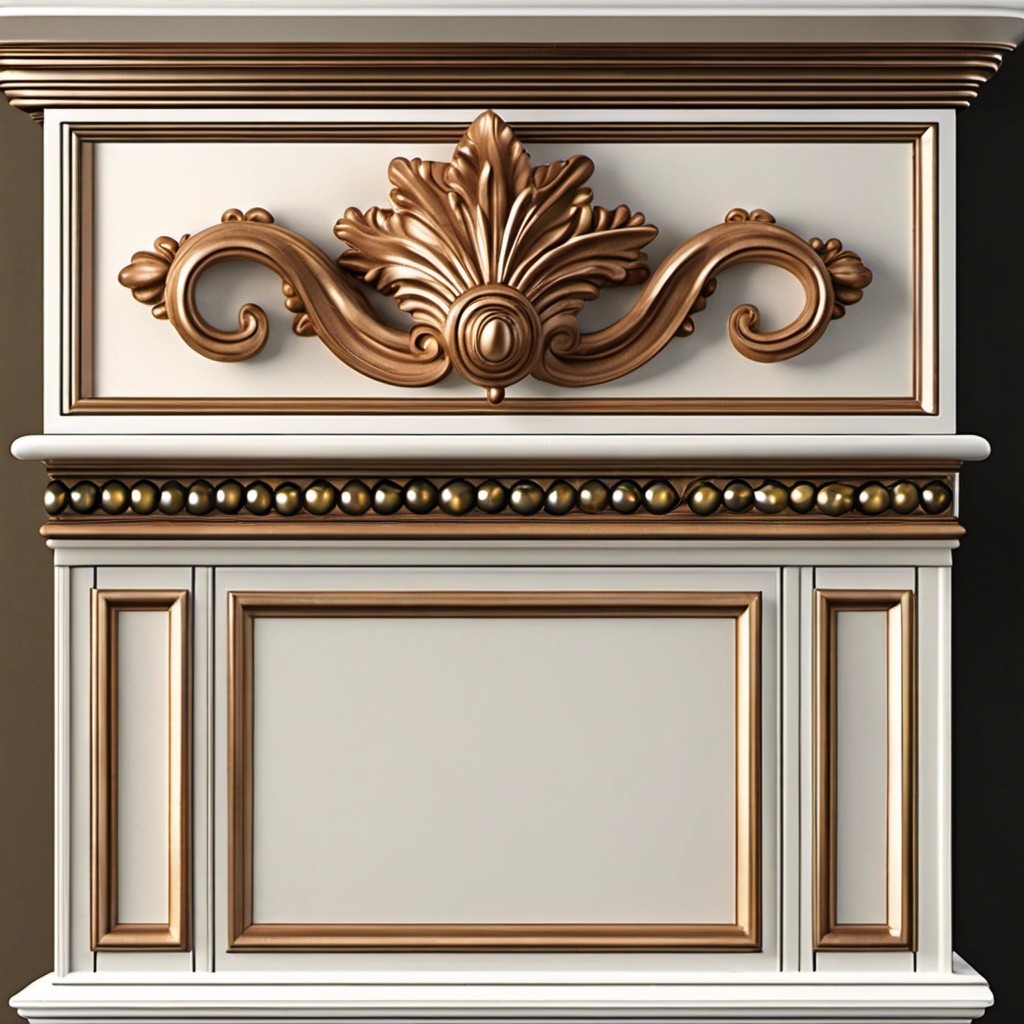 Offering a delicate balance between simplicity and detail, beaded crown moldings add a layer of sophistication to any cabinet design.
First and foremost, this unique style incorporates round, symmetrical beads, adding a layer of texture that draws the eye. Plus, the consistent beading pattern can create a sense of balance and symmetry, which might appeal particularly to homeowners who prefer ordered designs.
Surprisingly versatile, beaded crown moldings hold their own in diverse kitchen styles. They can blend seamlessly into a traditional kitchen setting, enhancing the old-world charm, but they can also give a dash of unexpected elegance to a modern kitchen.
When paired with the right color scheme, this molding style can truly shine. For instance, dark-hued moldings on a lighter cabinet can create an intriguing contrast.
Creativity doesn't stop at color and style. Different bead sizes can drastically alter the look of the molding. Smaller beads give off a subtler elegance, while larger ones make a bolder statement.
Ultimately, beaded crown molding offers a unique approach to cabinet decoration. It dances on the line between subtle and statement, giving homeowners the chance to express their style in a distinct way.
Light Colored Molding to Create a Spacious Feel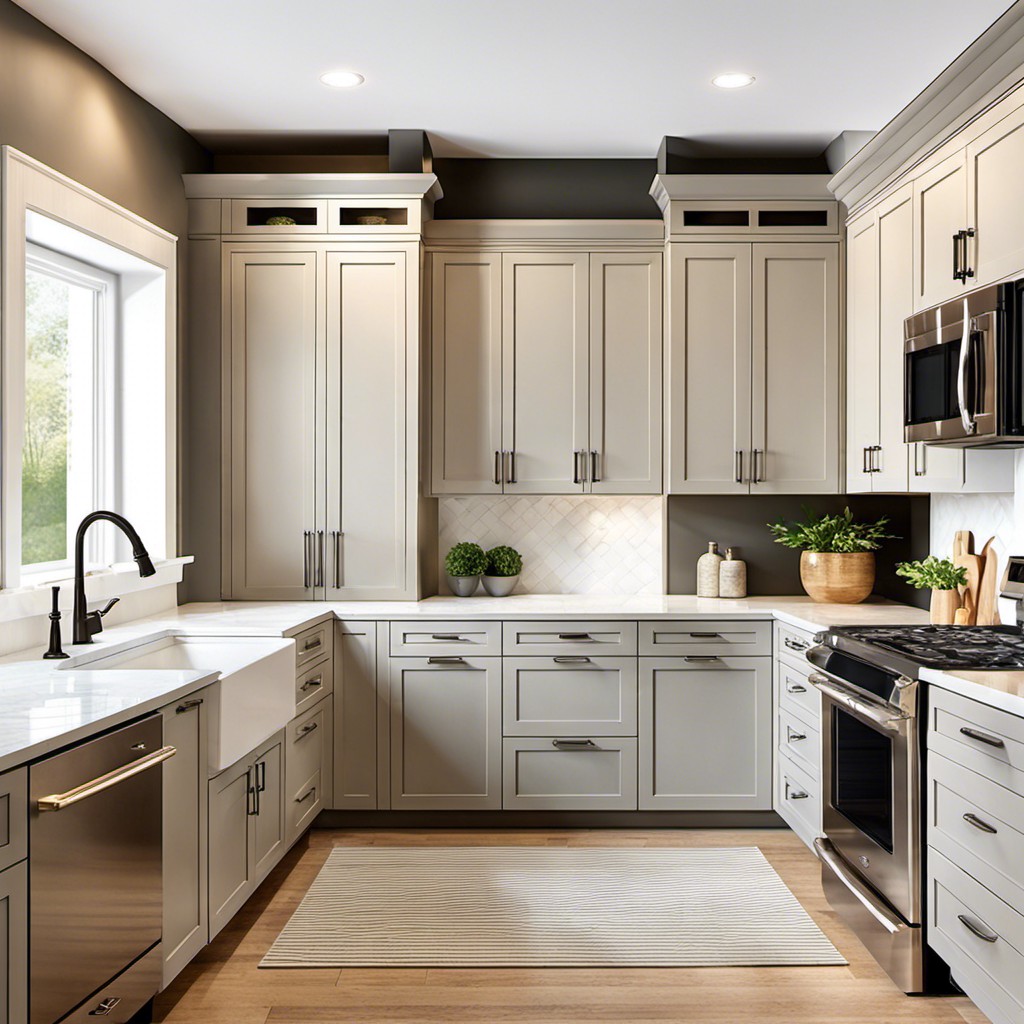 Opting for a light-hued crown molding on your flat cabinet can visually expand the space. Particularly ideal for smaller kitchens, it brilliantly reflects natural and artificial light, diffusing brightness throughout the room.
1. Choose shades like off-white, beige, or light gray which are universally appealing. These can easily complement most color schemes.
2. For cabinets in darker shades, a light color creates striking contrast and emphasizes the cabinet details.
3. Consider gloss or semi-gloss finishes. They provide an additional light-reflecting effect, amplifying the spacious vibe.
4. Pair it with light-colored walls and countertops for a more unified, airy aesthetic.
This light molding technique is not only an exceptional decor trick but also a smart play on perception, effortlessly creating an illusion of a larger, more inviting space.
Matte Finish Molding for a Trendy Look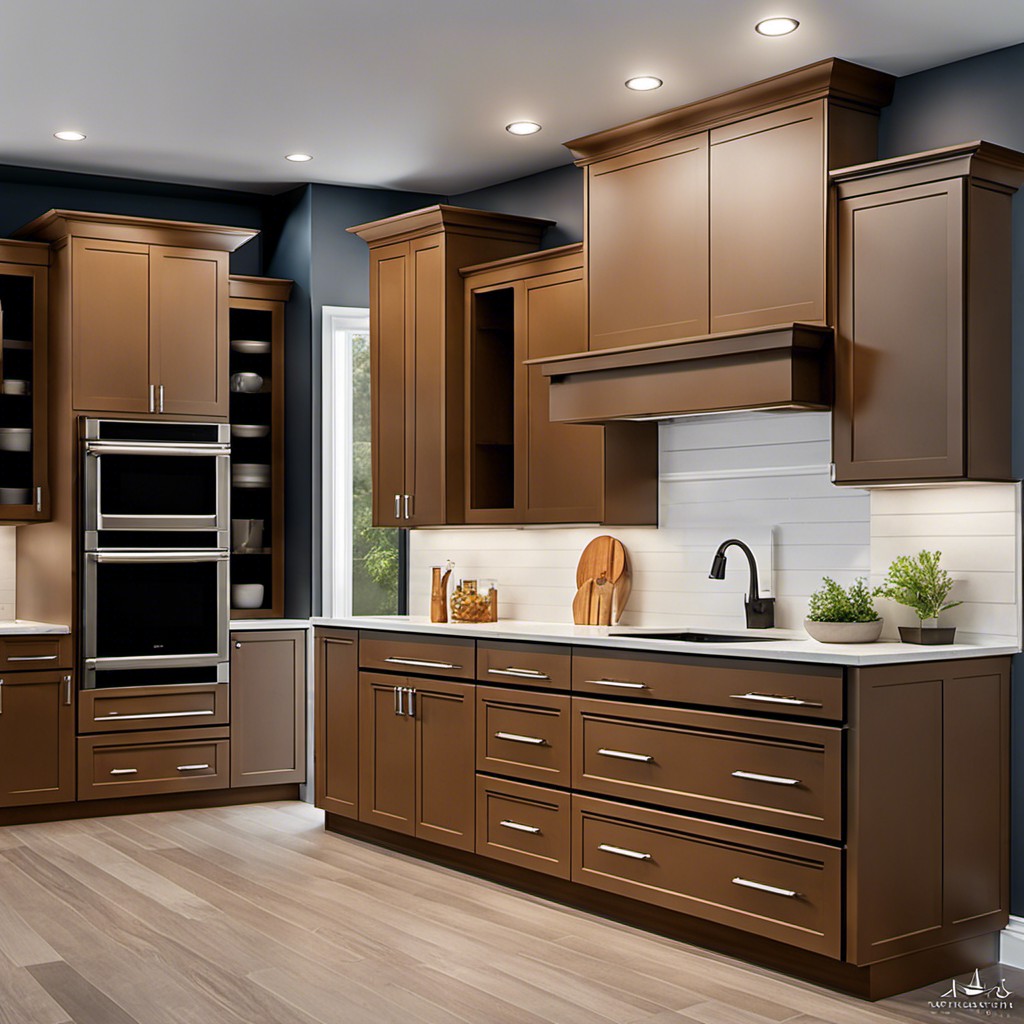 Matte finishes are currently the favorite child in the interior design world. By choosing this style, you are giving your kitchen cabinets an instantly trendy, modern edge. The appeal of matte finish lies in its ability to absorb light, this gives your cabinets a smooth, non-reflective surface which is perfect for masking minor scratches and dents that are common in a busy cooking area.
Despite its trendy outlook, matte finish crown molding also carries a timeless elegance that doesn't go out of style. It pairs well with a wide range of color schemes and styles, from monochrome to more eclectic and vibrant tones, providing versatility and ensuring it complements your overall interior design. So, whether you're shooting for a sleek minimalist vibe or a more traditional ambience, matte finish molding can deliver.
Matte finish molding may require extra care, however. Particularly dark matte surfaces can show fingerprints and streaks more than glossy ones, so regular maintenance will be needed to keep them looking pristine. But, with their ability to hide imperfections and deliver sophisticated aesthetics, the extra care is a small price to pay for their unique charm. This finish is a testament to the saying that "beauty lies in simplicity."
Curved or Wave Patterned Molding for Uniqueness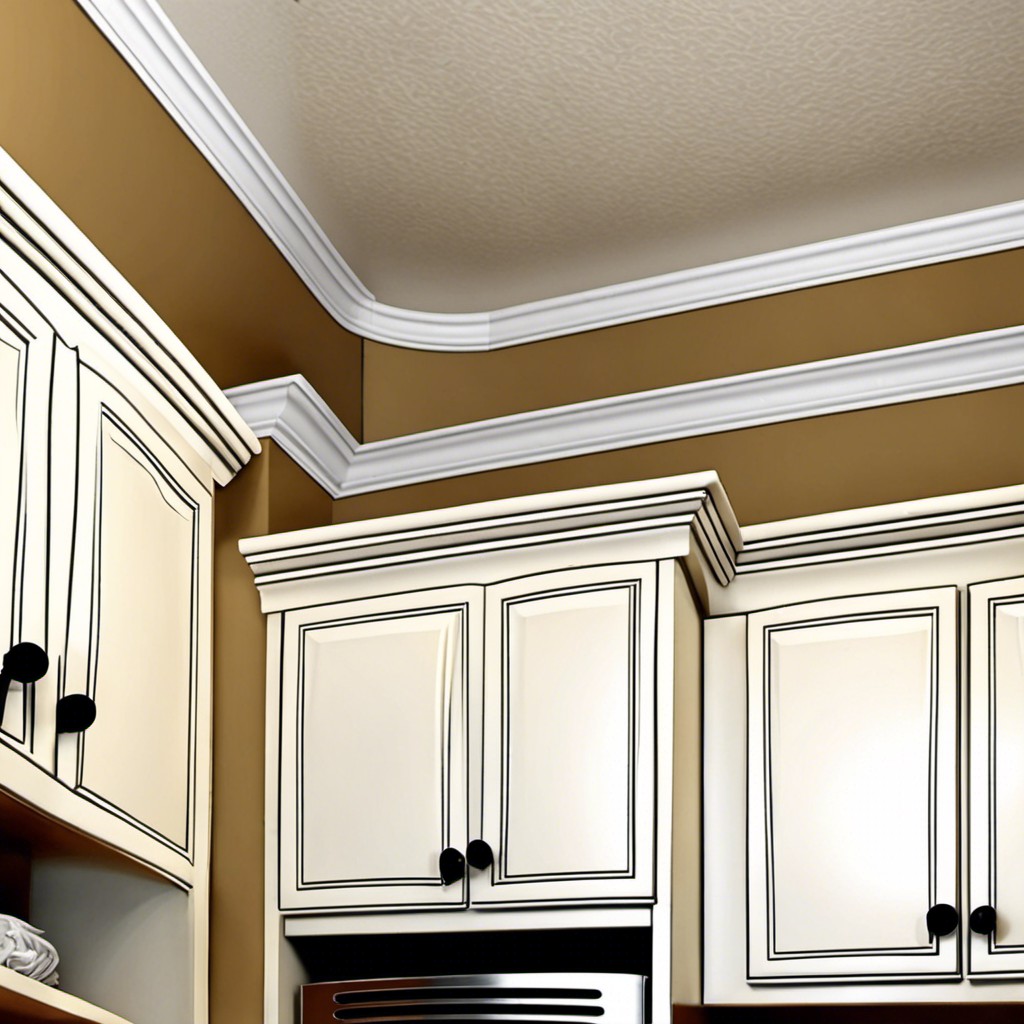 Infusing some dynamic character into your cabinetry is achievable with curved or wave-patterned moldings. This design breaks from the norm, creating a soft, flowing aesthetic that's memorable and visually fascinating. It comes in a multitude of materials, from wood to plastic, giving flexibility in matching any existing décor.
Primarily, this choice showcases a free-spirited and innovative approach to decorating, as it strays from more conventional styles. It's particularly stunning when applied in kitchens or bathrooms with maritime or beach-inspired themes, tying the space together.
Manufacturing advancements also ensure precise patterns, without sacrificing the overall strength and structural integrity of the molding. An interesting point to note is that the level of curve or wave can charge the ambiance of the room, a subtle wave gives a gentle vibe, while a more aggressive pattern might offer a bold, dramatic flair.
Finally, this style requires careful installation to ensure smooth transition in the wave pattern, ensuring a consistent, harmonious flow. Skilled professionals are recommended for the installation of curved or wave-patterned moldings, to best achieve the unique and engaging aesthetic they bring.
Country-style Carved Molding for a Warm, Traditional Feel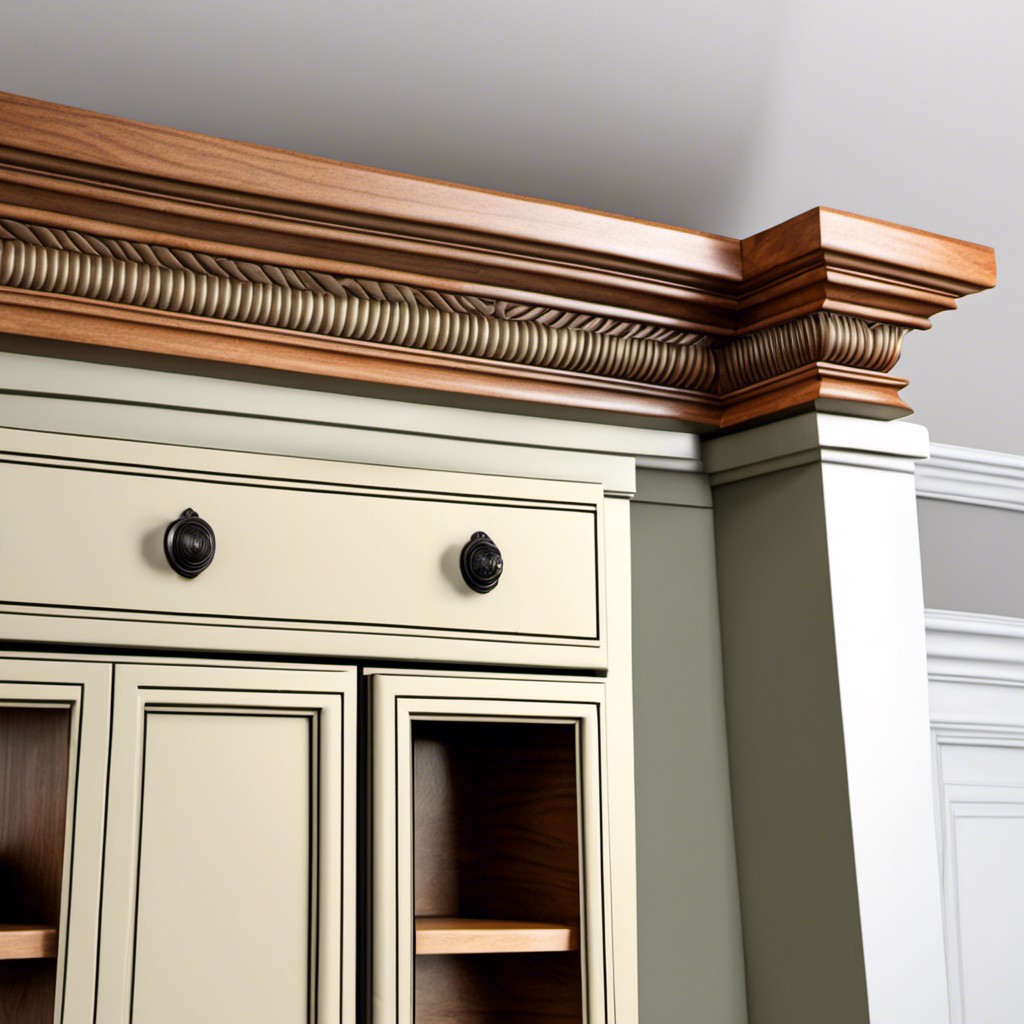 Paying tribute to old-world charm, this design boasts intricate cuts and carvings, often inspired by nature or folk art. The patterns typically exhibit heartwarming features like flowers, vines or farm motifs, establishing an inviting ambiance.
The warm stains or muted paint shades utilized usually complement the traditional aesthetics. Shades like honey, maple, and cherry, or paints in white, cream, or muted blues are popular.
The depth and shadow effects created by the detailed carvings enhance the cabinet's visual interest, offering a unique tactile element as well.
The application process requires precision and patience; however, it elevates the overall kitchen design, making it a worthwhile endeavor. Opting for pre-carved pieces would expedite the installation process. Whether handmade or factory-made, these moldings bring an authentic, vintage appeal to the home, evoking a sense of nostalgia.
Pair this design with knobs and fixtures that mirror its rustic aesthetic to bind the kitchen's decor. Remember, coordination is key to achieve harmony in design.
High-gloss Finish Molding for a Polished Look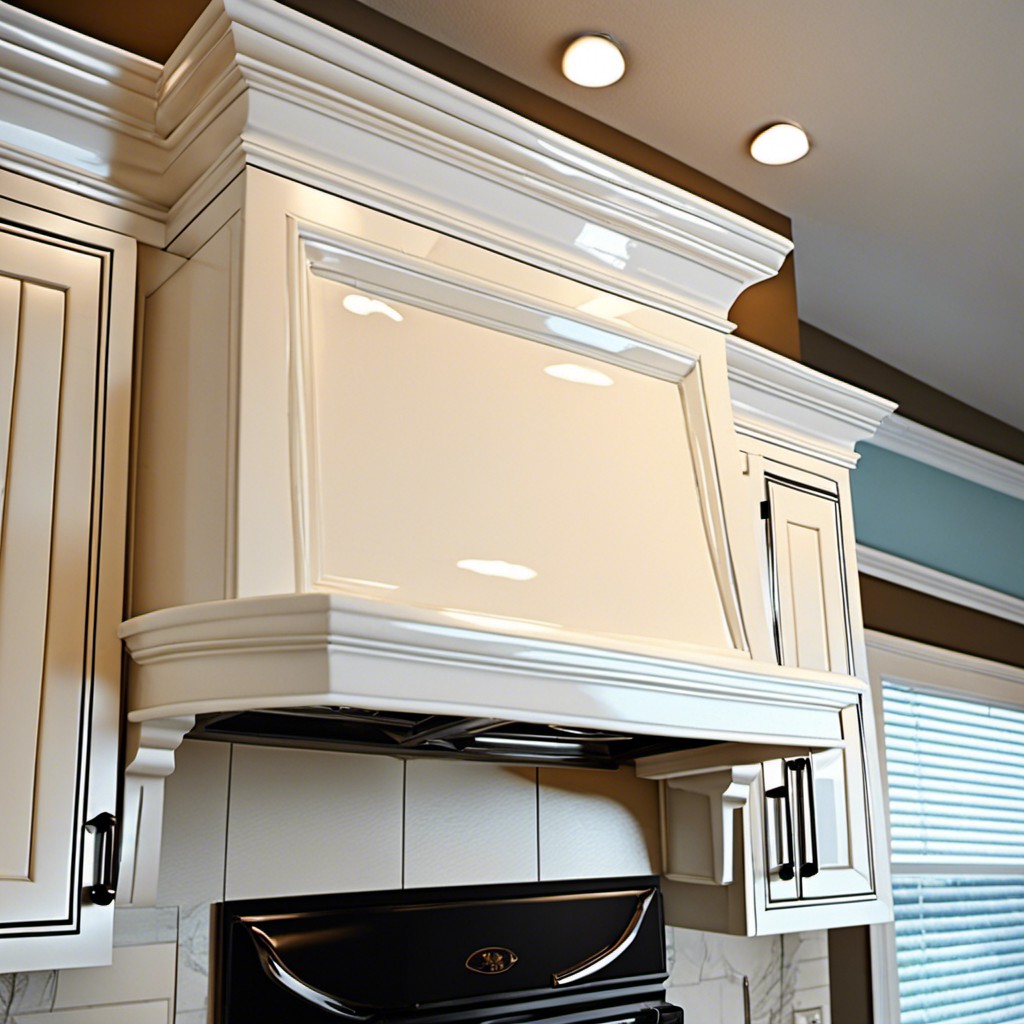 High-gloss finish brings a certain finesse to cabinet crown moldings that is hard to parallel. It's the luminous attribute of this finish that adds a dose of luster and makes the room appear more radiant.
Besides boosting the level of sheen, it's also incredibly wonderous at highlighting rich details in the molding pattern, enhancing its aesthetic value.
Furthermore, high-gloss finish sets the stage for easy maintenance. Dirt, dust, or grime can be quickly wiped away, keeping the molding looking fresh and pristine.
Additionally, its resilient nature helps it stand up to moisture or steam, a key point if your cabinets are located in the bathroom or kitchen. Being a homeowner, these factors add up to a great advantage.
Lastly, the versatile nature of this finish works beautifully with a broad spectrum of colors. From vibrant hues to more subtle shades, it brings out the chroma intensity, adding depth and character to your interiors.
Whether you gravitate towards a luxe vibe or seek a minimalistic charm with an edge of refinement, high-gloss finish provides that polished look you need.
Veneered Molding for an Eco-friendly Option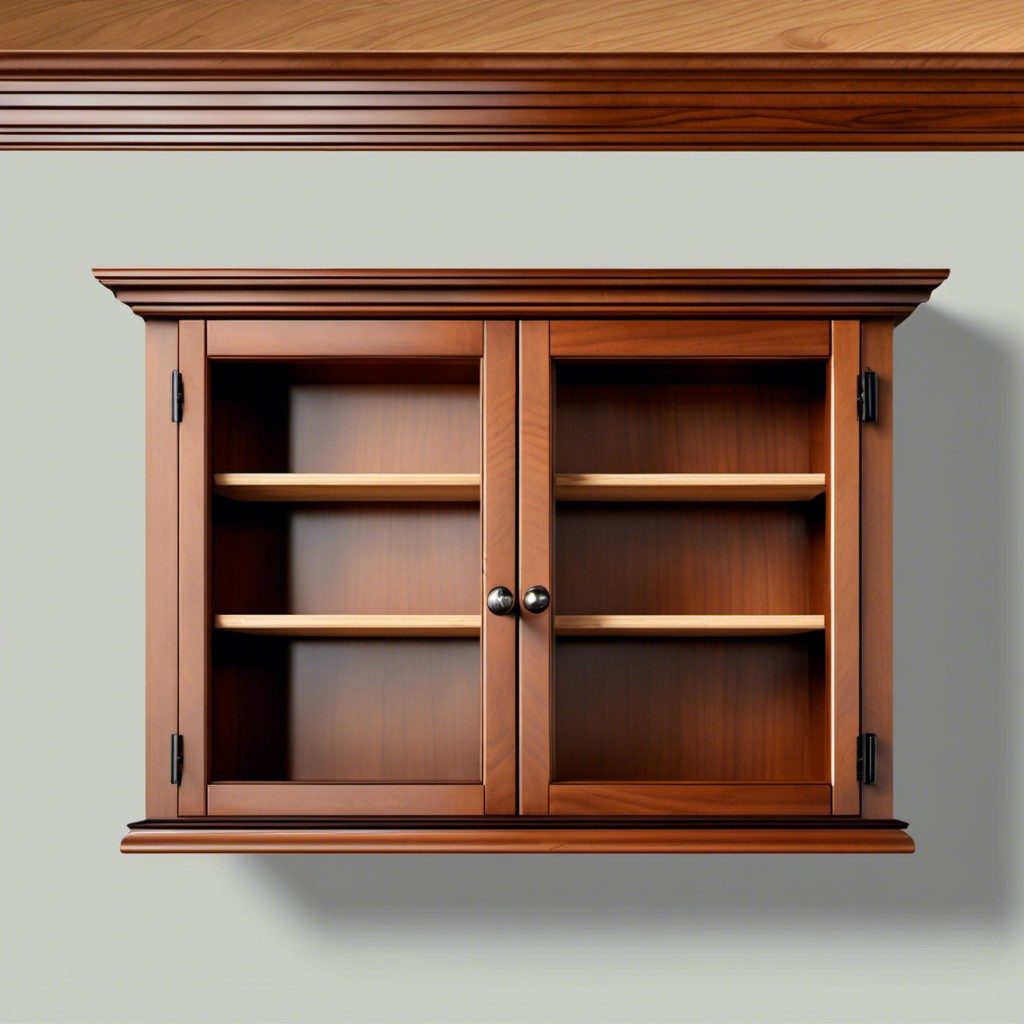 Veneered molding offers a beautiful aesthetic without compromising environmental responsibility. Crafted from thin slices of real wood adhered to a less expensive surface, such as plywood, these products are not only cost-effective but also sustainable, reducing the demand for solid wood and consequently limiting deforestation.
Elegantly replicating the appearance of various wood species, the veneering process allows flexibility for designs enabling homeowners to achieve diverse looks, from rustic to sleek modern styles. Besides, veneered molding is known for its resistance to warping and splitting, ensuring longevity. Opting for this choice encourages more sustainable manufacturing practices without needing to sacrifice quality, style, or durability.
Caring for veneered molding is also straightforward, requiring only regular dusting and occasional polishing to maintain its appeal. These attributes combined make it a viable eco-friendly choice for those looking to add style and character to their cabinetry while being mindful of environmental impact.
Faux Metal Finish Molding for an Industrial Feel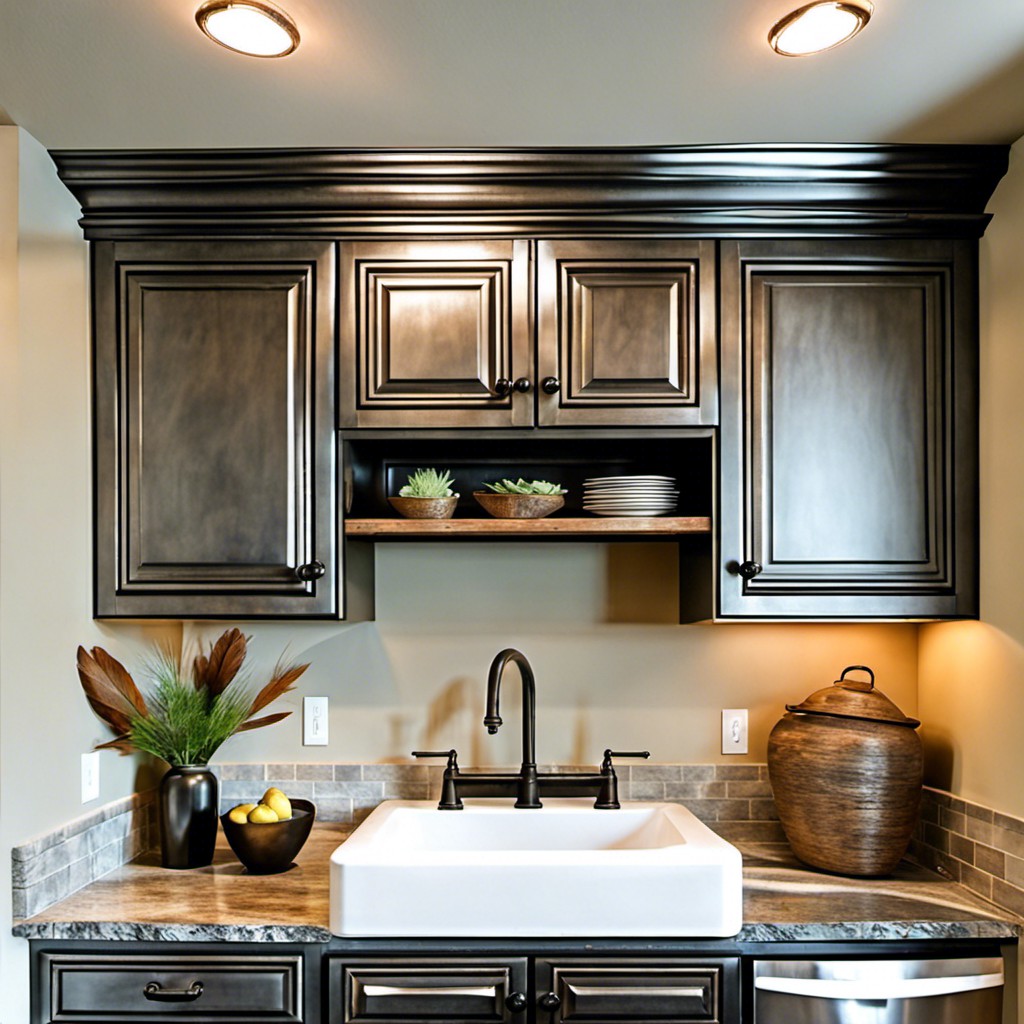 Stepping towards the edgier side of home décor, a faux metal finish on crown molding can inject a cool industrial vibe into your kitchen. Here's how:
1. Mimics Authentic Metal: This molding style convincingly mirrors the look of authentic metals like iron, steel, or aged copper, bringing an urban feel right into your cabinet space.
2. Versatility: The faux finish gives you the freedom to replicate a vast spectrum of metals, capable of harmonizing with an array of color schemes and designs.
3. Durability: Just like real metal, this type of molding is robust and long-lasting, adding not just aesthetics but functionality to your cabinets.
4. Cost-Effective: This trend offers the industrial look without the heavy price tag of real metal, making it a budget-friendly option.
5. Easy to Maintain: Unlike actual metal that may rust or tarnish over time and require painstaking maintenance, a faux finish is easier to manage and clean.
6. Subtle Drama: The faux metal finish offers a chic, understated alternative to infuse a unique, textural sophistication to your cabinets without overpowering other elements in the room.
Remember, the success of a faux metal finish greatly depends on the quality of the application. Therefore, hiring a professional or practicing your DIY skills thoroughly before attempting, is highly recommended.
Monochromatic Molding for Sleek Style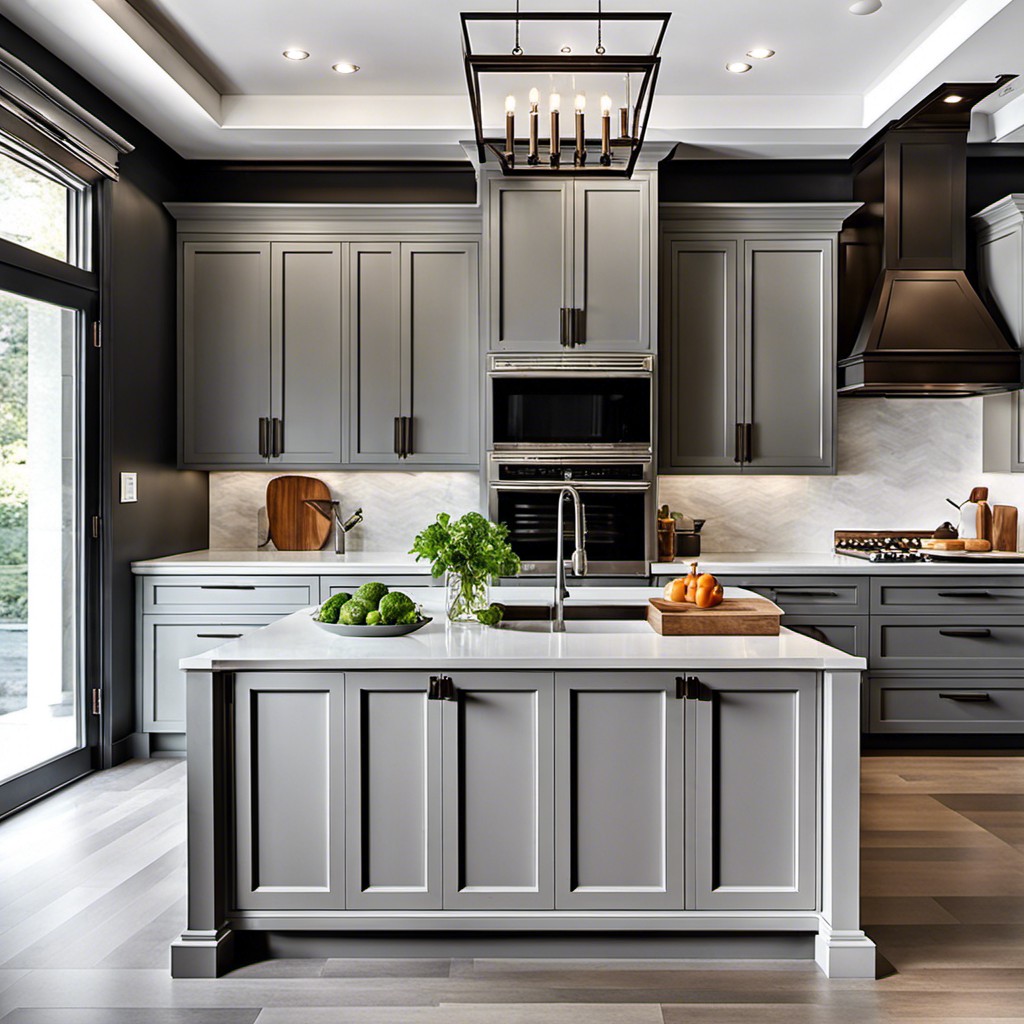 A singular color scheme captures the essence of a monochromatic design, adding an understated elegance to your flat cabinet crown molding. Key to this approach is continuity of shade, empowering your kitchen with a streamlined and cohesive appeal. Diverse hues in the same color family, from soft ivories to deep charcoals, can be utilized to suit your personal style.
This decor technique effortlessly ties together adjacent components like counters, walls and appliances. The unity forge by the harmonic color palette promotes an ambiance of tranquility and expansiveness – a brilliant solution for compact spaces, making them appear larger.
Next, consider the sheen. While a glossy finish offers a reflective, modern aesthetic, a matte one conveys a subdued, sophisticated grace. Remember, though, that stain resistance and ease of cleaning are factors affected by the selection of finish, alongside the pure aesthetics.
Lastly, always take natural and artificial lighting into account when choosing your colors, as these can significantly influence the perceived hue. Monkey numbers, whites, or light grays often optimize the light, especially in kitchen spaces that lack an abundance of natural illumination. Consider also how the color will appear at various times of the day, guaranteeing your molding complements your kitchen regardless of the hour.
Remember, the monochrome look is about simplicity and cohesion – allowing the quality and craftsmanship of your flat cabinet crown molding to truly shine.
Embossed Molding for Added Texture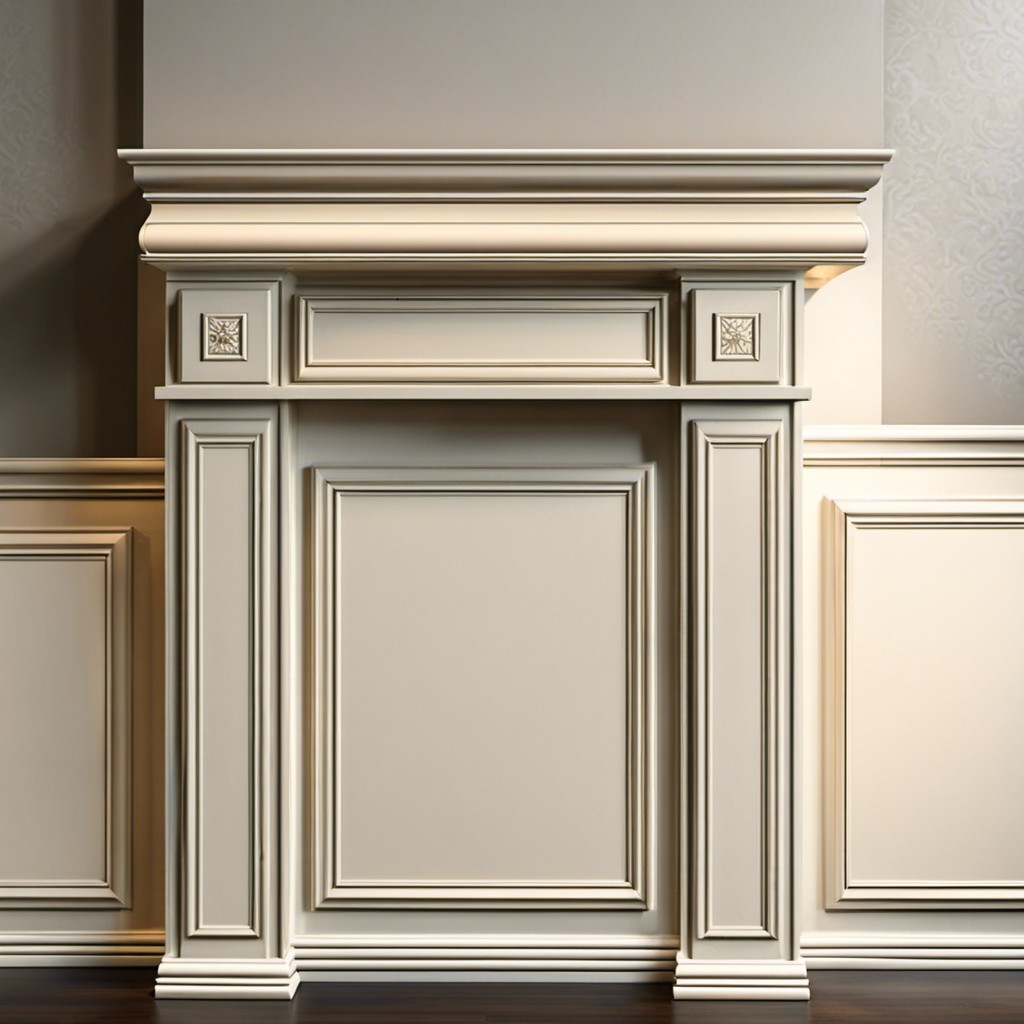 Offering a tactile experience unlike any other, embossed molding provides a creative spin on traditional flat cabinet crown molding. Here are some key points to consider:
Unique character: The raised designs create depth, making your cabinets stand out.
Variety: From intricate floral motifs to simple geometric patterns, the options here are virtually limitless.
Consideration for lighting: The embossed patterns cast shadows, providing an engaging, dynamic look as light changes throughout the day.
Material selection: Opt for materials such as carved wood or thermoplastic. Both these materials allow for intricate designs that capture light beautifully.
Compatibility: While it adds texture, this molding still coordinates well with various design styles, whether that be traditional, rustic, or contemporary.
Practicality: Despite its sophisticated appearance, it's surprisingly easy to clean, making it a stylish yet practical choice.
Abstract Shaped Molding for a Contemporary Twist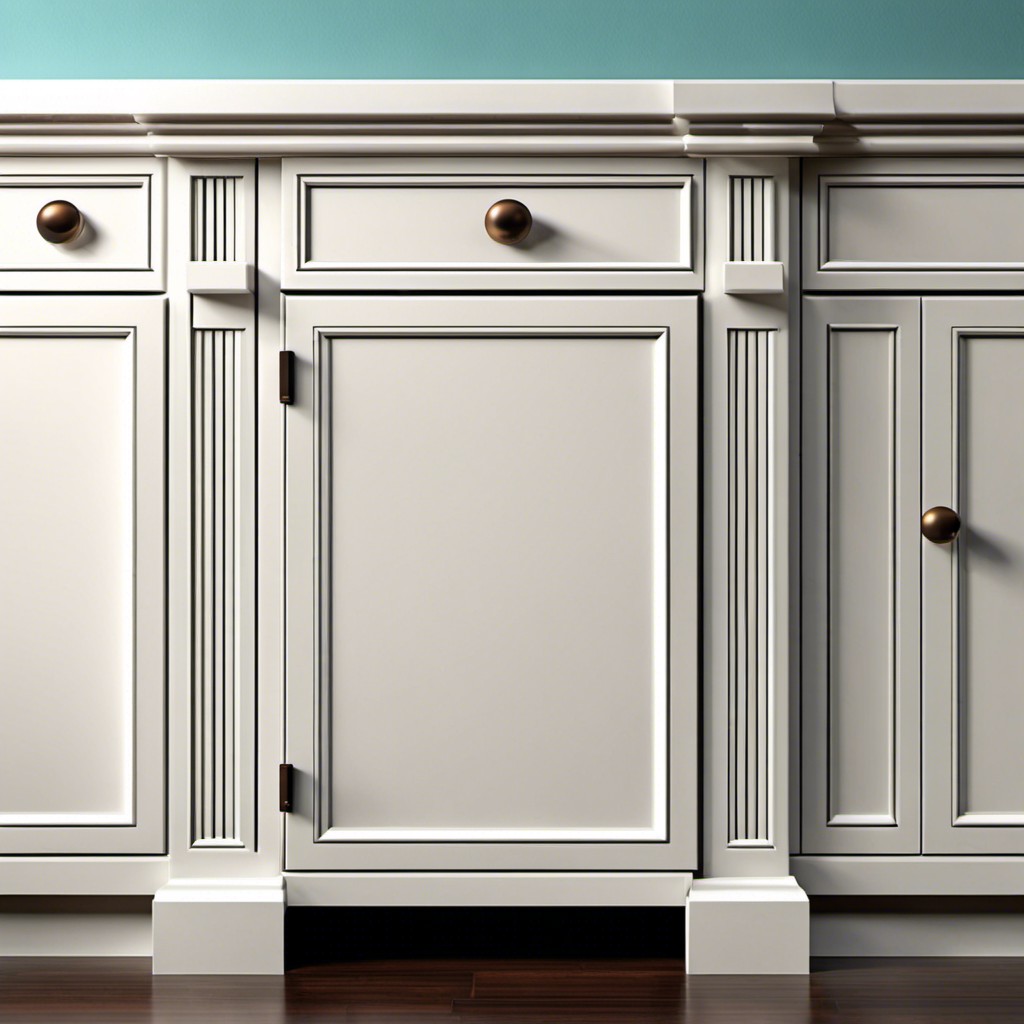 Delving into this aesthetic, abstract shapes are not about following the traditional lines or conforming to regular patterns. These moldings are designed to break away from traditionally symmetrical patterns to give a unique persona to the cabinets.
1. Unpredictable Shapes: Each piece may feature different, irregular shapes, creating an astonishing visual play once installed.
2. Free-Flowing Design: As opposed to geometric or symmetrical designs, the free-flowing abstract patterns endow an artistic touch.
3. Creative Freedom: This option allows homeowners to go beyond the standard offerings and truly express their individual style.
4. Array of Materials: Materials could range from wood, metal to recycled goods, for a range of finishes and feels.
5. Focal Point Creation: Abstract molding often creates an eye-catching focal point, enhancing the overall design scheme.
While unconventional, this choice secures your cabinet a sure spot in the trend game and adds an interesting dynamic to your interiors.
Continue reading: