Last updated on September 25, 2023
Discover spooktacular ways to transform your kitchen into a hauntingly delightful space this Halloween with these creative decorating tips.
It's that time of the year again when spooky decorations and jack-o'-lanterns fill every corner of the neighborhood. Halloween is just around the corner, and it's time to get into the spirit of things.
While decorating your front yard with cobwebs and skeletons is a given, have you thought about sprucing up your kitchen for Halloween? With a few simple yet creative ideas, you can transform your kitchen into a haunted haven that will impress all your guests. In this article, we will guide you through some easy ways to decorate your kitchen for Halloween that are sure to inspire some ghoulish fun!
Key takeaways:
Add spooky kitchen accessories: ghostly towels, skeleton utensils.
Incorporate haunted tableware: ghost plates, spiderweb coasters.
Create a haunting ambiance with lighting and candles.
Hang eerie wall decor: creepy portraits, spiderweb wallpaper.
Use frightful window clings for a creepy touch.
What's Inside
Spooky Kitchen Accessories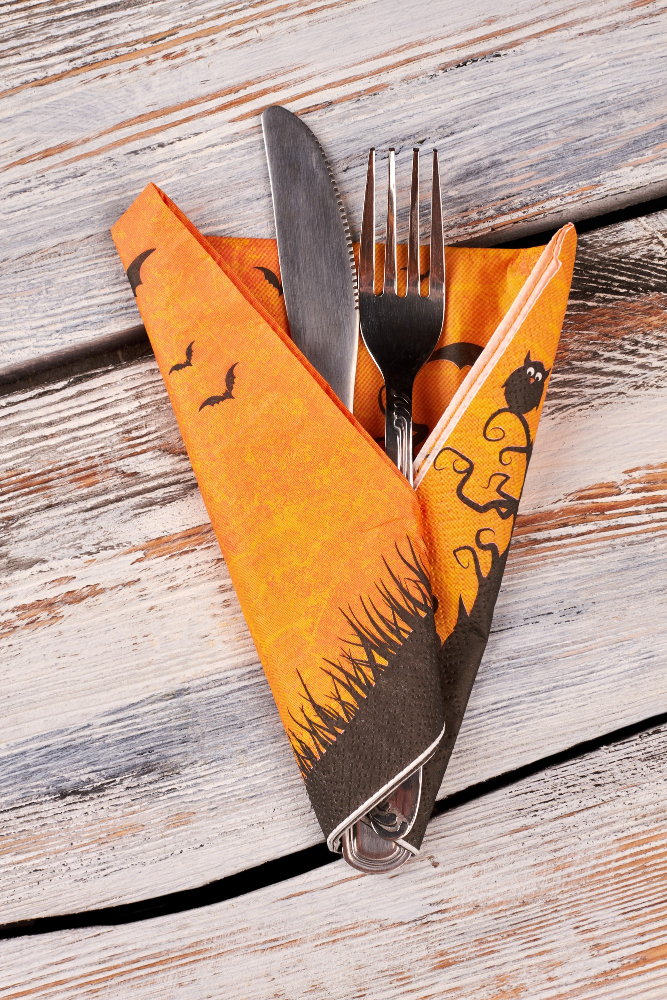 One of the easiest ways to add a touch of Halloween to your kitchen is by incorporating spooky accessories. From ghostly salt and pepper shakers to creepy dish towels, there are plenty of options available that can instantly transform your space into a haunted haven.
Consider adding some eerie hand towels with spider web designs or pumpkin prints. You can also swap out regular utensils for skeleton-hand serving spoons or bat-shaped measuring cups.
These small touches will make all the difference in creating an overall spooky atmosphere.
Another great option is using Halloween-themed oven mitts and pot holders when cooking up some festive treats for your guests. Not only do they look cute, but they also serve as functional items in the kitchen.
Haunted Tableware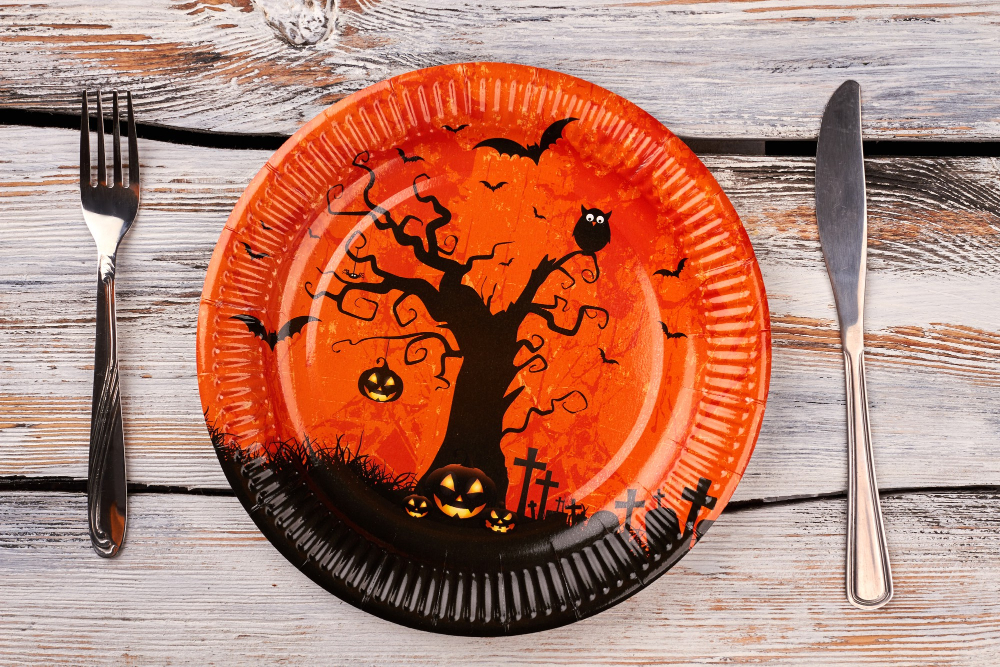 From ghostly plates and bowls to eerie cups and saucers, there are plenty of options available that will make your Halloween-themed meals even more memorable. You can also opt for skull-shaped glasses or spiderweb-patterned coasters for an extra creepy effect.
If you're feeling crafty, consider painting some plain white dishes with black bats or orange pumpkins using ceramic paint markers – it's an easy DIY project that will give your table setting a unique touch.
To complete the look, pair these hauntingly beautiful pieces with dark-colored linens such as black napkins or deep purple placemats. Don't forget about silverware too! Black flatware sets are becoming increasingly popular during Halloween season and can be found at most home decor stores.
Lighting and Ambiance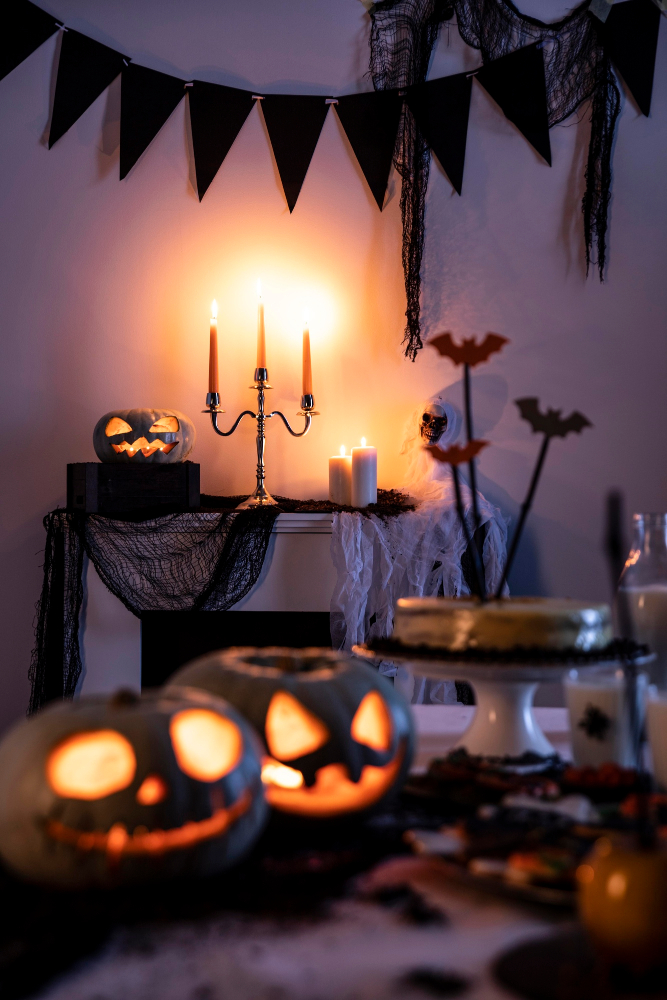 Dimming the lights or using candles can instantly transform your space into a haunted haven. You can also use colored light bulbs, such as orange or purple, to add an eerie glow to your kitchen.
If you have pendant lights above your island or dining table, consider swapping out the shades for something more Halloween-themed like black spiderweb shades.
Another way to set the mood is by adding flickering LED candles on shelves and countertops. These are safe alternatives that still provide that creepy candlelight effect without any fire hazards.
Don't forget about music! Playing some haunting tunes in the background will complete this spine-chilling ambiance you're trying to achieve.
Eerie Wall Decor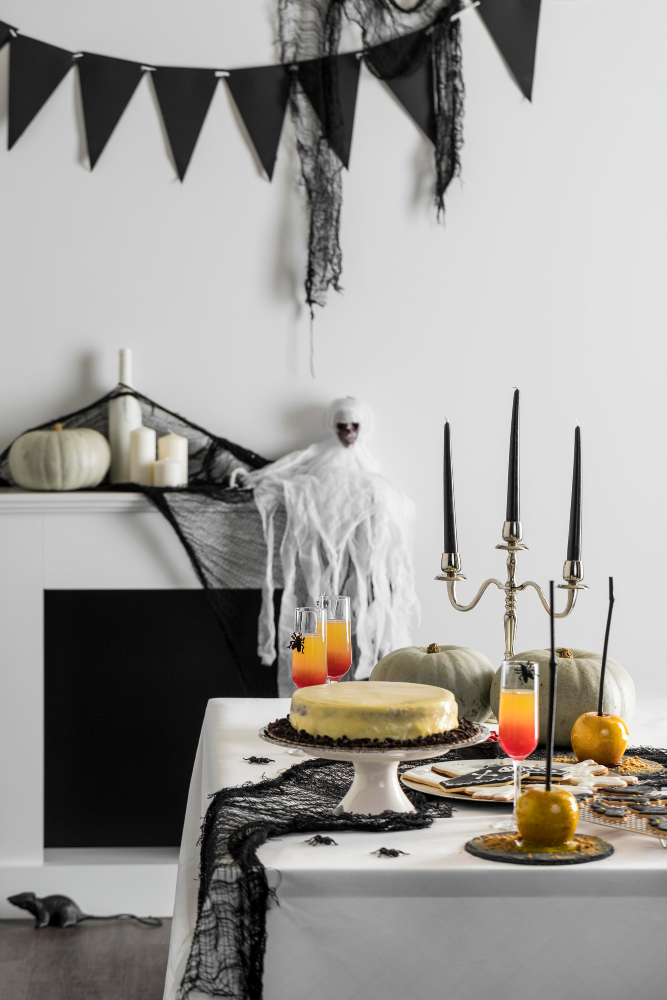 You can create an instant Halloween vibe with just a few simple touches. Consider hanging up some creepy portraits or paintings, such as witches, ghosts, or skeletons.
Alternatively, you could opt for spooky wallpaper that features bats or spiders crawling across it.
Another idea is to hang up black and white photos of old haunted houses or abandoned buildings on your walls. This will give your kitchen an eerie atmosphere that's perfect for Halloween.
If you're feeling particularly crafty, why not make your own DIY wall decorations? Cut out silhouettes of bats from black construction paper and stick them onto the walls using double-sided tape. Or create ghostly apparitions by draping white sheets over chairs and tables in front of the walls.
Frightful Window Clings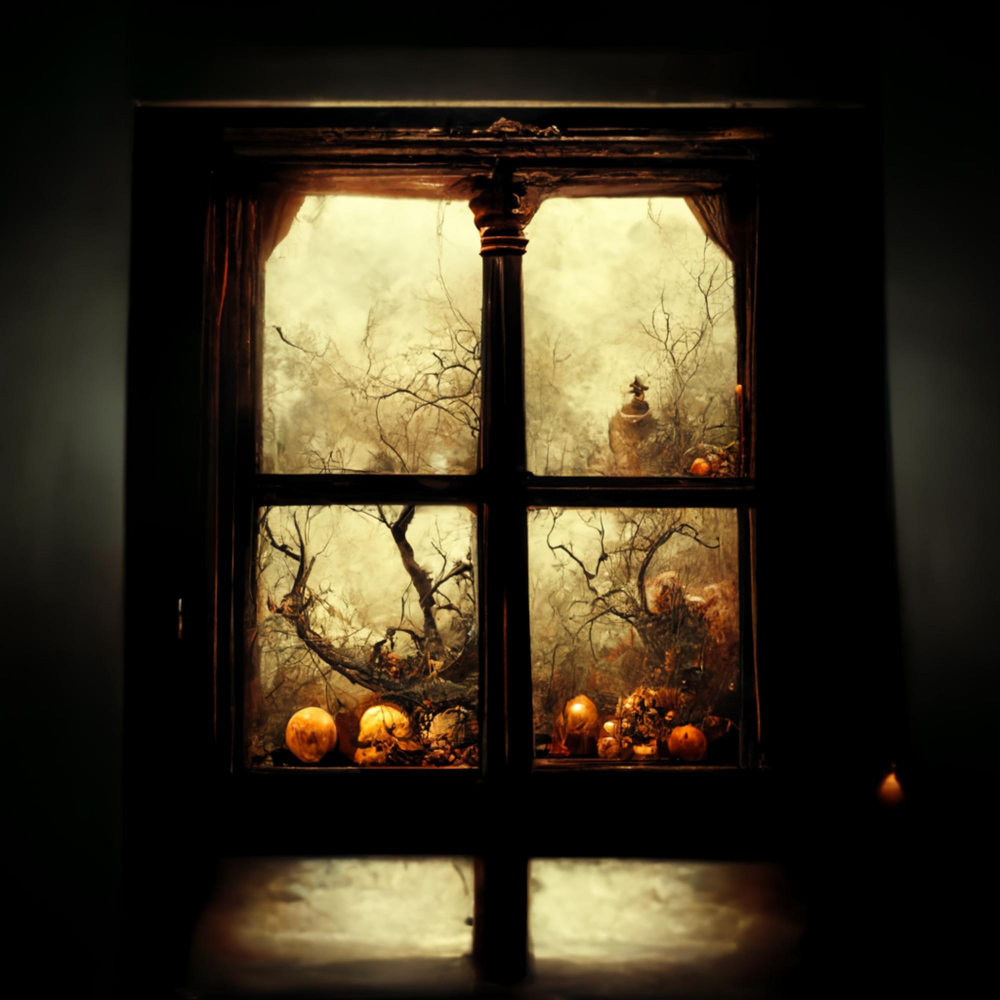 These are inexpensive, easy-to-use decorations that can be removed and reused year after year. You can find them in various designs such as ghosts, bats, spiders or pumpkins.
To create an eerie atmosphere in your kitchen with window clings, start by cleaning the windows thoroughly so that they stick well. Then choose a design that fits your Halloween theme and place it on the glass surface of your windows.
You could also use different colors for added effect; black or white will give you a classic look while orange adds some pop of color to brighten up space.
Window clings are perfect for adding some frightful fun without going overboard with decorations.
Ghoulish Door Decorations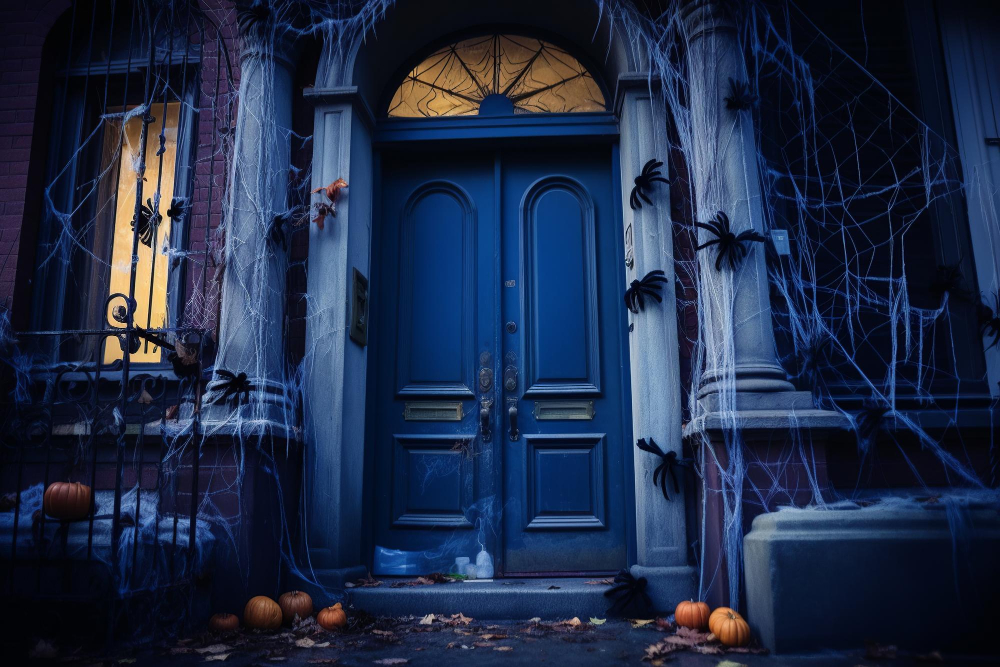 It's the first thing your guests will see when they enter, so make sure it sets the tone for what's inside. You can hang a creepy wreath made of black feathers or spider webs and add some plastic spiders or bats for an extra eerie touch.
Another idea is to create a "monster" door by covering it with green streamers and adding large googly eyes made from paper plates. Or you could turn your door into a mummy by wrapping it in white gauze and attaching two big googly eyes at the top.
If you want something more classic, go for a jack-o'-lantern theme on your front door. Cut out pumpkin shapes from orange construction paper, stick them onto black cardboard sheets, then attach them to the front of your kitchen door using double-sided tape.
Creepy Kitchen Towels
Creepy kitchen towels are an affordable and practical way to decorate your space while also serving their intended purpose. You can find them in various designs, from ghostly prints and spider webs to pumpkin patterns and witch hats.
To take it up a notch, consider DIY-ing some creepy kitchen towels with fabric paint or markers. Draw on ghosts, bats, or any other Halloween-inspired design you like! These personalized touches will make for great conversation starters during dinner parties.
When choosing creepy kitchen towels, opt for darker colors such as black or dark purple that will complement the rest of your decor. Hang them over the oven handle or fold them neatly on display in a basket on the counter – either way they'll add just enough spookiness without going overboard.
Ghostly Centerpieces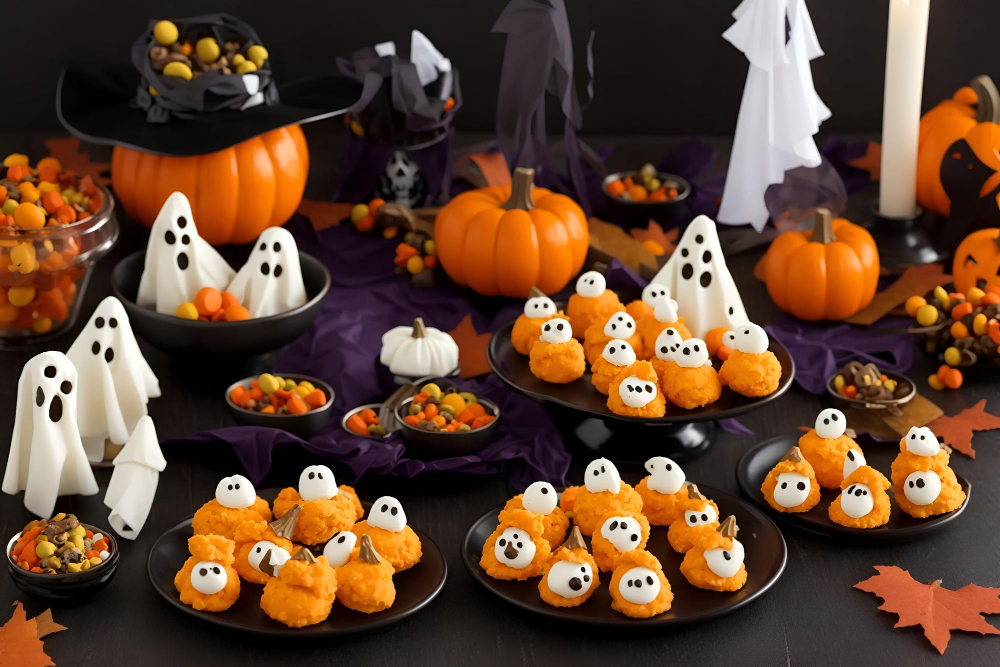 These can be made using simple materials such as white sheets, balloons, and string lights. To make a ghost centerpiece, take an old white sheet and drape it over a balloon filled with helium gas.
Tie the bottom of the sheet around the base of the balloon so that it forms a headless figure. You can then use black markers or cut-out paper eyes and mouth to create facial features on your ghosts.
For added effect, place these ghostly figures in glass jars or vases filled with water for an eerie floating effect. Alternatively, you could also hang them from above using fishing line or string lights for an ethereal look.
Terrifying Treat Displays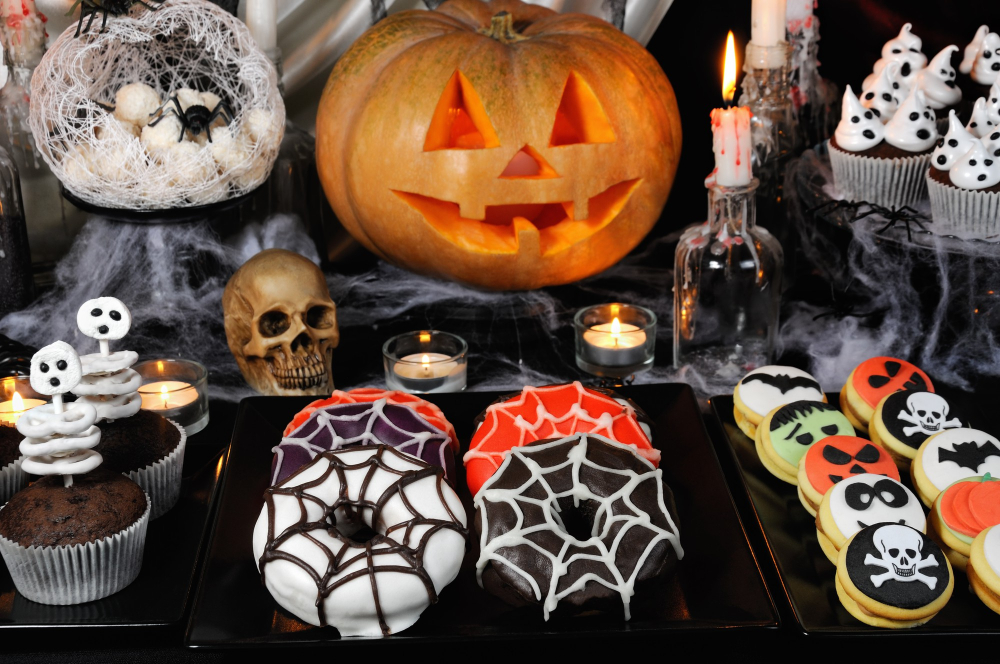 From candy corn to caramel apples, there's no shortage of spooky snacks that you can serve up in your kitchen. But why not take things up a notch and create an eye-catching display for your treats? A terrifying treat display is sure to impress all your guests and add some extra spookiness to the occasion.
To create a terrifying treat display, start by choosing a theme that fits with the rest of your kitchen decor. For example, if you're going for an eerie graveyard vibe in the rest of the room, consider creating tombstone-shaped cookies or cupcakes decorated with skeletons or ghosts.
Next, choose containers that fit with your theme – think cauldrons for witches' brews or glass jars filled with "eyeballs" (grapes) and "fingers" (carrots). Arrange these containers on trays at different heights using cake stands or overturned bowls covered in black cloth.
Cobweb Accents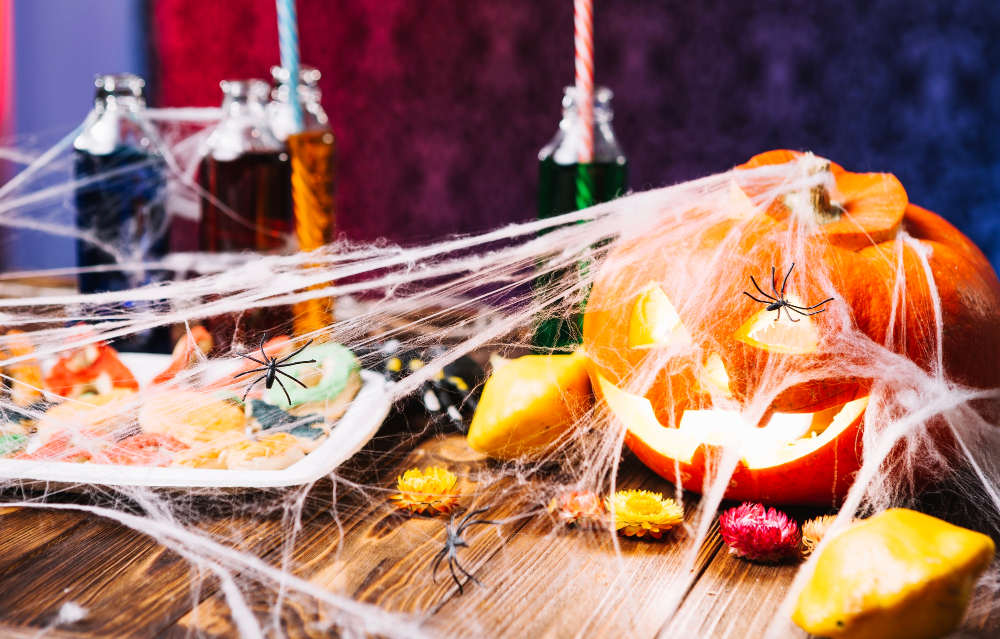 These creepy-crawlies can be draped over cabinets, hung from light fixtures, or even used as table runners. You can purchase fake spider webs at any Halloween store or make them yourself with cotton balls or cheesecloth.
To create an eerie atmosphere in your kitchen, start by draping cobwebs over your cabinets and countertops. This will give the impression that spiders have taken up residence in your home! For added effect, place some plastic spiders on top of the webs.
You can also use cobwebs as a table runner for a haunted dinner party. Simply stretch out some webbing across the center of your dining table and scatter plastic spiders around it for an extra creepy touch.
Jack-o-Lantern Touches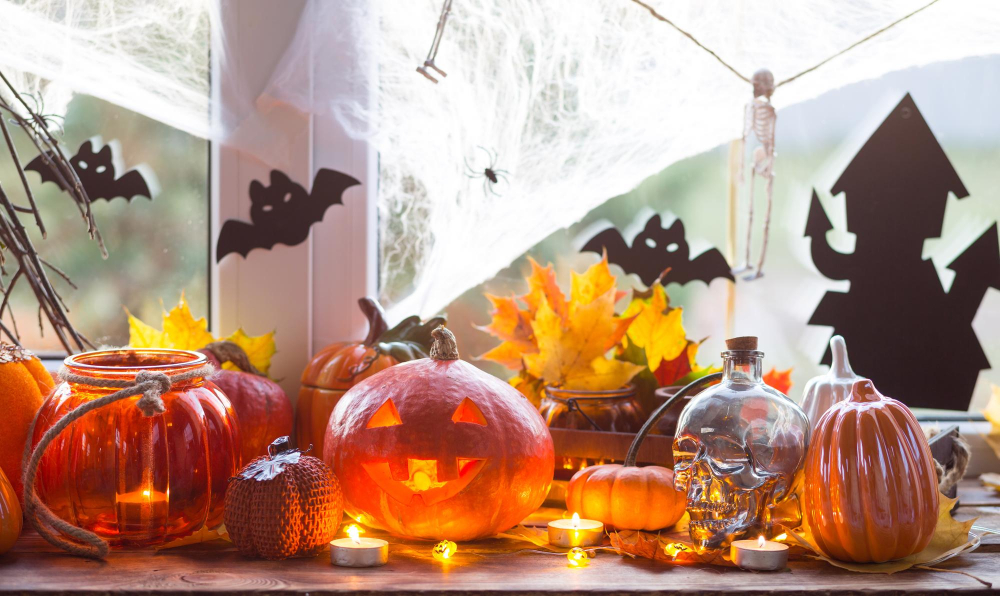 You don't have to go all out with carving pumpkins; instead, you can incorporate jack-o-lantern touches in subtle ways. For instance, you could use pumpkin-shaped salt and pepper shakers or place small decorative pumpkins on your kitchen shelves or windowsills.
If you want something more elaborate, consider painting mini-pumpkins with black paint for an eerie effect.
Another way to incorporate jack-o-lantern touches is by using pumpkin-themed dishware such as plates and bowls that feature carved pumpkin designs. These dishes will not only add some festive flair but also make mealtime more fun for the whole family.
If you're feeling crafty, try making DIY Jack-O-Lantern tea light holders by carving out small holes in orange-colored mason jars or glass votives and placing battery-operated tea lights inside them. This simple yet effective decoration will create an eerie ambiance perfect for Halloween night.
Witchy Appliance Covers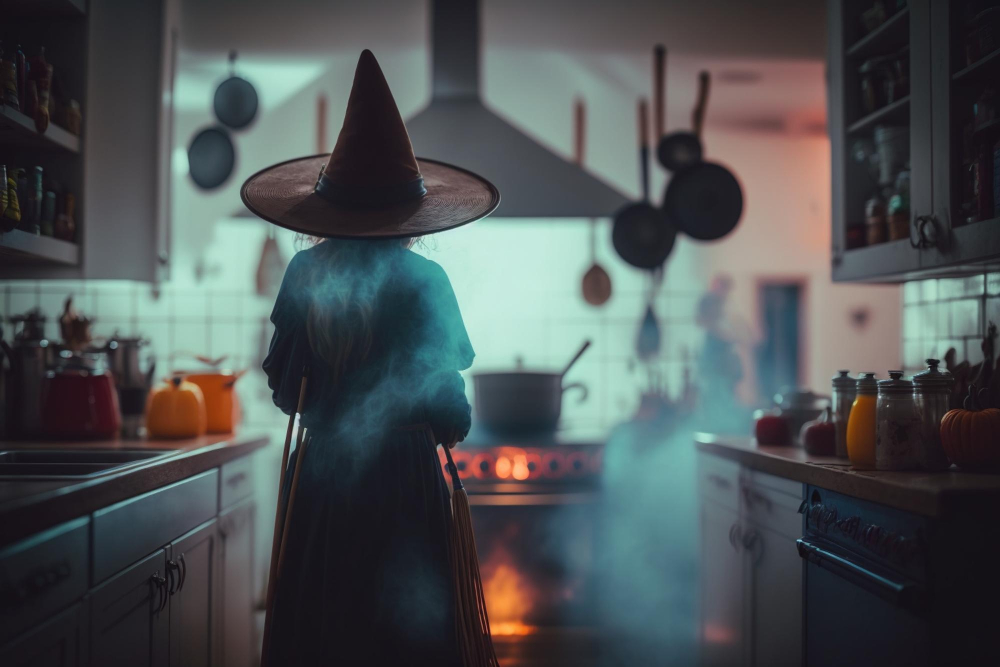 These covers come in a variety of designs, from spooky witches on broomsticks to black cats and cauldrons. They are an affordable way to transform your appliances into Halloween-themed decor without having to buy new ones.
You can find these appliance covers online or at most home goods stores during the Halloween season. They are typically made of durable fabric that is machine washable, making them easy to clean after the holiday is over.
To really make your kitchen feel like a witch's lair, pair these appliance covers with other spooky decorations such as cobwebs and potion bottles. You could even set up a cauldron on top of your stove for added effect!
Sinister Seating Solutions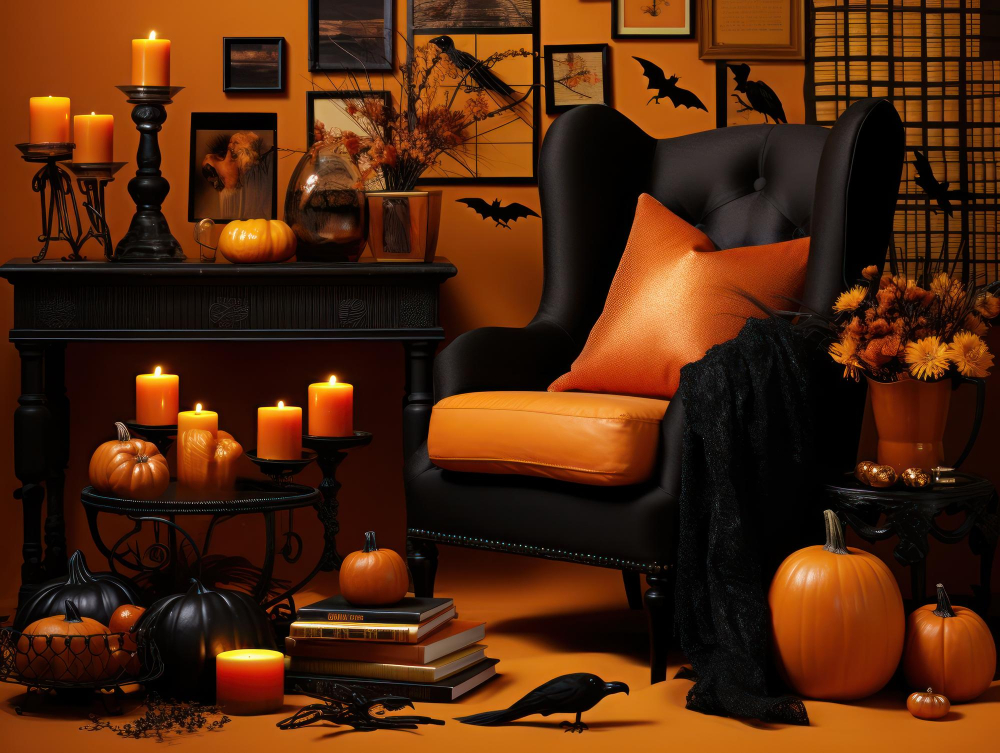 Adding some spooky touches to your chairs and stools can make a big difference in creating an eerie atmosphere. Consider covering your chairs with black or orange fabric and adding spider web accents or bat-shaped cushions.
You could also drape creepy cloth over the backs of the seats for a ghostly effect.
If you have bar stools, consider wrapping them in white gauze bandages to create a mummy-inspired look. Add some fake blood stains for extra creepiness! Alternatively, you could cover them with burlap sacks and add painted-on skull faces.
For those who want something more subtle but still on-theme, try swapping out regular chair pads with ones that feature Halloween motifs like pumpkins or ghosts.
Monstrous Mug Displays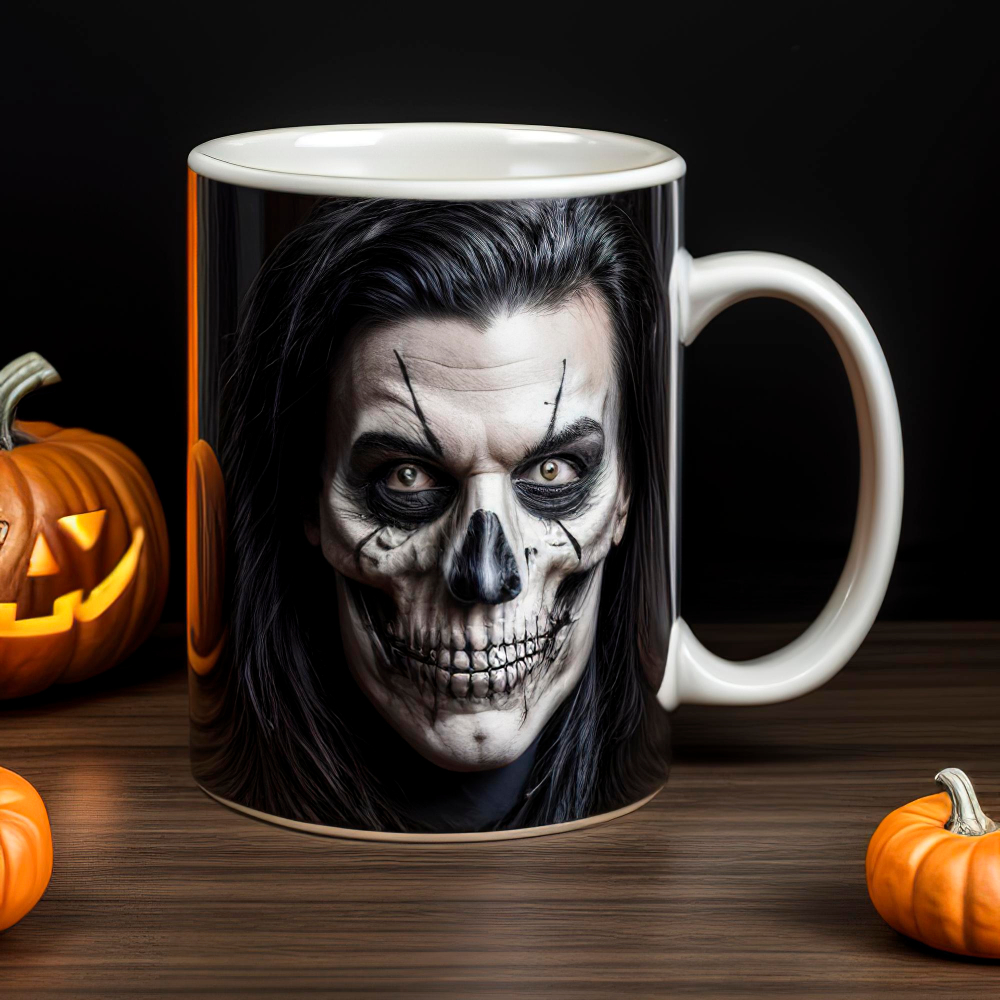 Create a monstrous mug display that will add some Halloween flair to your kitchen counter. Start by selecting mugs with spooky designs like ghosts, witches, and pumpkins.
You can also use plain white mugs and decorate them yourself using permanent markers or paint.
Once you have your collection of creepy cups ready, it's time to create the display. Find a tray or platter that fits the theme of your kitchen decor and arrange the mugs on top in an eye-catching way.
To take things up a notch, consider adding some eerie elements around the mug display such as fake spider webs or plastic spiders crawling out from between them.
Bloodcurdling Bottle Decor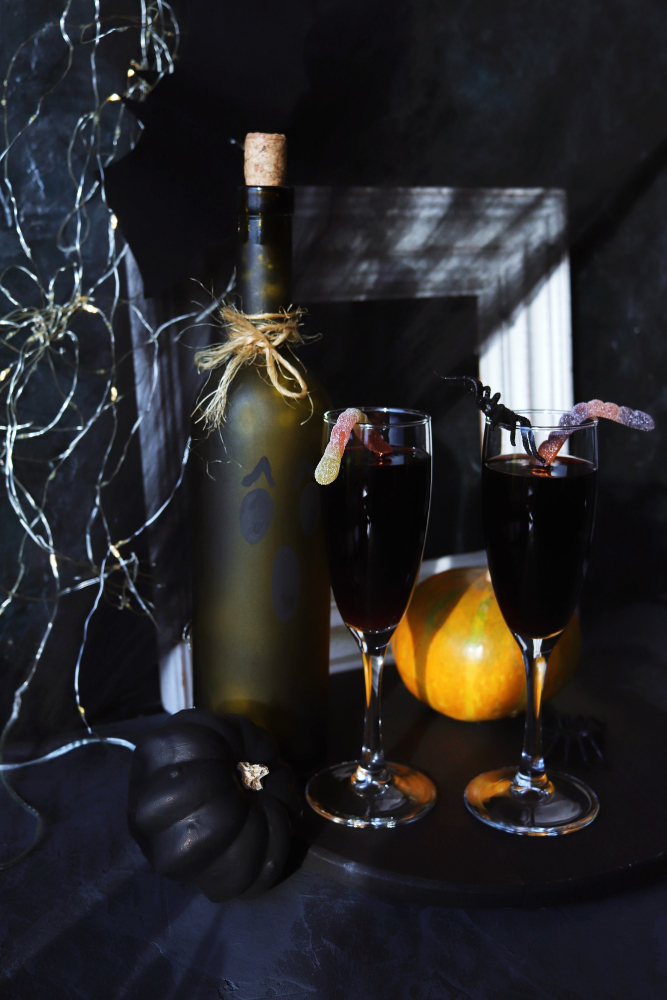 You can use empty wine or liquor bottles and transform them into eerie decorations that will give your kitchen an instant Halloween vibe.
To create bloodcurdling bottle decor, start by cleaning out any labels or residue from the bottles. Then, you can paint them with black matte spray paint for a sleek look.
Once dry, you can add creepy labels using printable templates found online or handwrite spooky messages on each bottle with white chalk markers.
For an extra touch of spookiness, fill some of the bottles with red-tinted water and place fake spiders inside for a creepy effect. You could also wrap twine around some other ones and glue plastic eyeballs onto it for another chilling decoration idea.
Scary Storage Solutions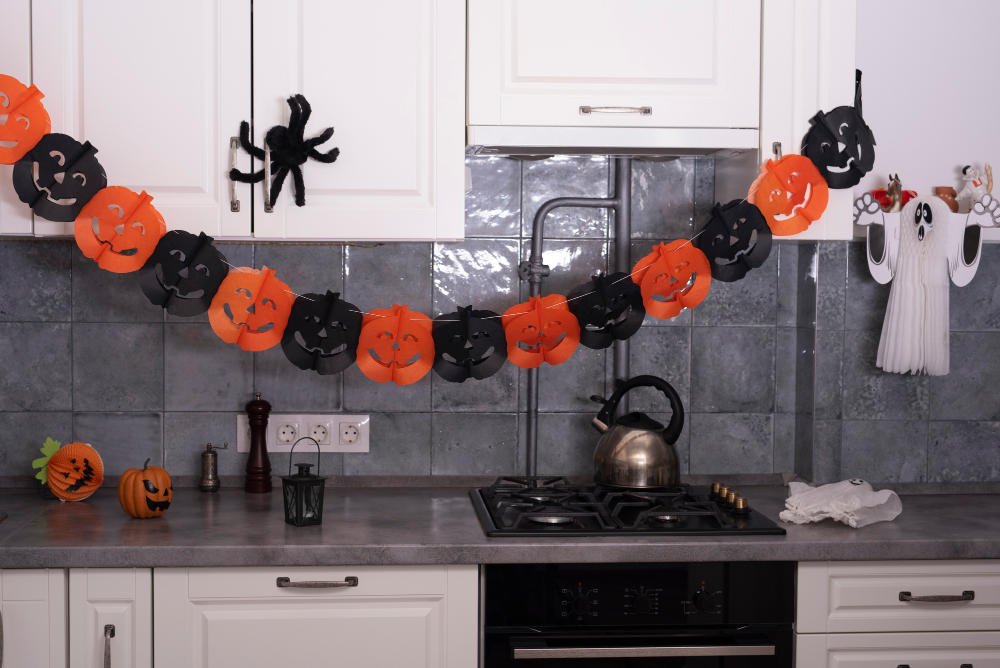 There are plenty of ways to add a spooky touch to your cabinets and pantry. One easy way is by using Halloween-themed containers for storing snacks, cereals, and other dry goods.
You can also swap out regular drawer knobs with creepy ones like spiderwebs or skulls.
Another idea is to use black fabric or contact paper on the inside of glass-fronted cabinets for an eerie effect that will make any stored items look more sinister. If you have open shelving in your kitchen, consider adding some fake cobwebs or spiders crawling around the edges.
For those who want a more subtle approach, try swapping out regular baskets with woven ones in darker colors like black or brown for a rustic yet spooky vibe.
Halloween Snack Station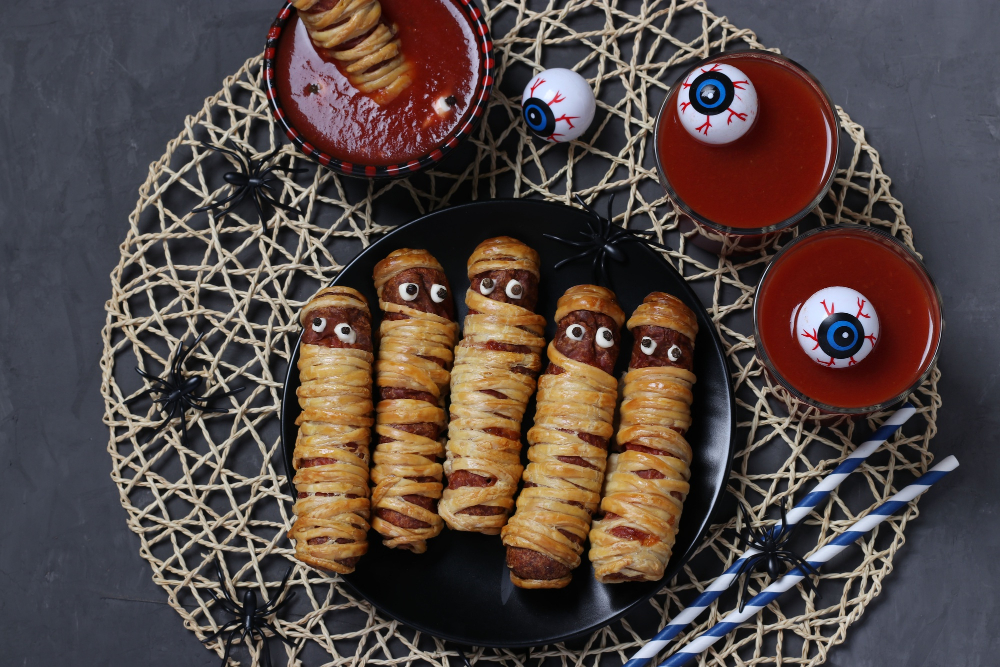 A snack station can be as simple or elaborate as you want it to be, depending on your budget and time constraints. You can set up a table with bowls of candy corn, popcorn balls, and other Halloween treats or create themed snacks that are both delicious and creepy.
For example, you could make "witch's brew" punch by mixing green-colored lemon-lime soda with pineapple juice. Add some dry ice for an eerie fog effect that will impress all your guests! Another idea is to serve "mummy dogs," which are hot dogs wrapped in strips of crescent roll dough to look like mummies.
Don't forget about presentation when creating your snack station! Use black tablecloths or spiderweb-patterned fabric as the base for displaying snacks. Add some fake spiders crawling around the edges for extra creepiness.
Spooky DIY Kitchen Decorations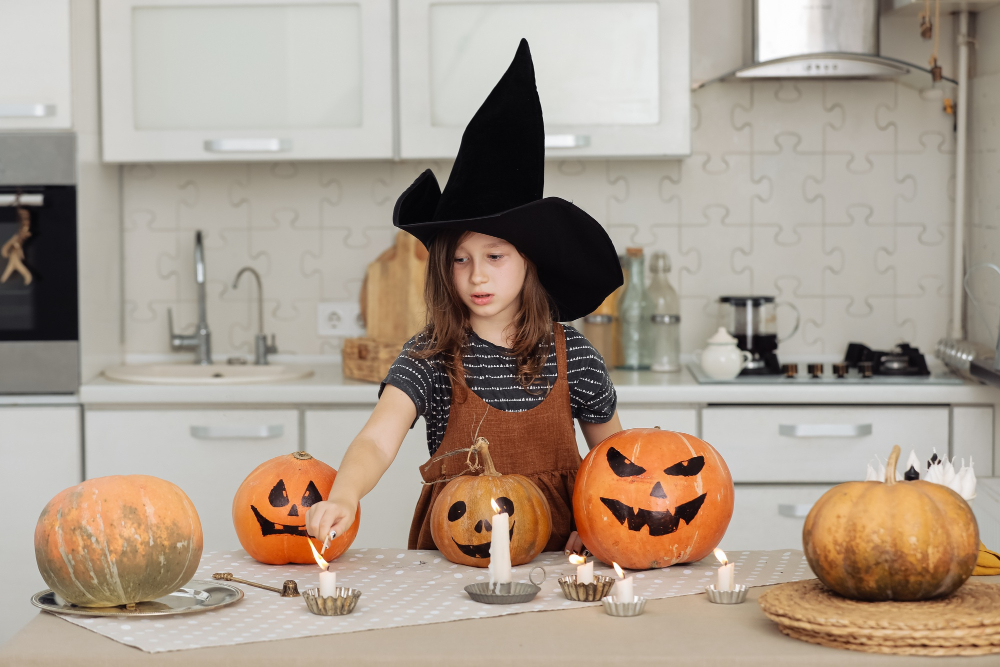 Not only do they add a unique flair to your space, but they also allow you to get creative and have fun with the process. One easy idea is creating spooky potion bottles by repurposing old glass jars and adding creepy labels using printable templates or hand-drawn designs.
You can also make spiderweb placemats by cutting out black felt into circular shapes and weaving white yarn in a web-like pattern on top of them.
Another simple yet effective DIY decoration is making ghostly tea light holders using empty toilet paper rolls painted white with cut-out eyes and mouths that emit an eerie glow when lit from within. For those who love baking, try making Halloween-themed cookie cutters out of aluminum foil or cardboard for some festive treats.
Gothic Kitchen Accessories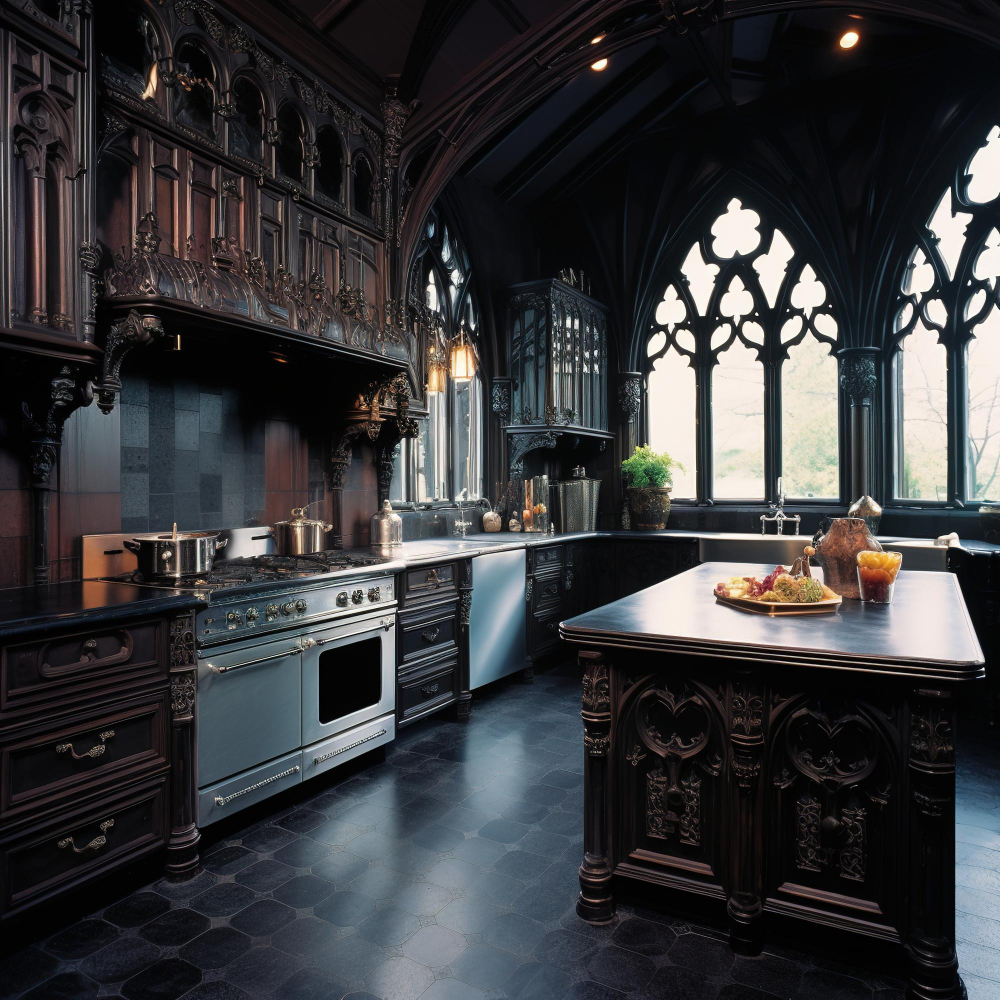 Think black lace table runners, ornate candelabras, and skull-shaped salt and pepper shakers. These accessories will give your kitchen an eerie yet sophisticated vibe that's perfect for the season.
To create a truly gothic ambiance in your kitchen, focus on adding touches of black and metallic accents throughout the space. Consider swapping out bright dish towels for ones with darker hues or adding wrought iron hooks to hang pots and pans from.
For those who want something more subtle but still spooky enough for Halloween decor, try using vintage apothecary jars as storage containers or displaying antique silverware on a velvet-lined tray.
Witch-Inspired Kitchen Decor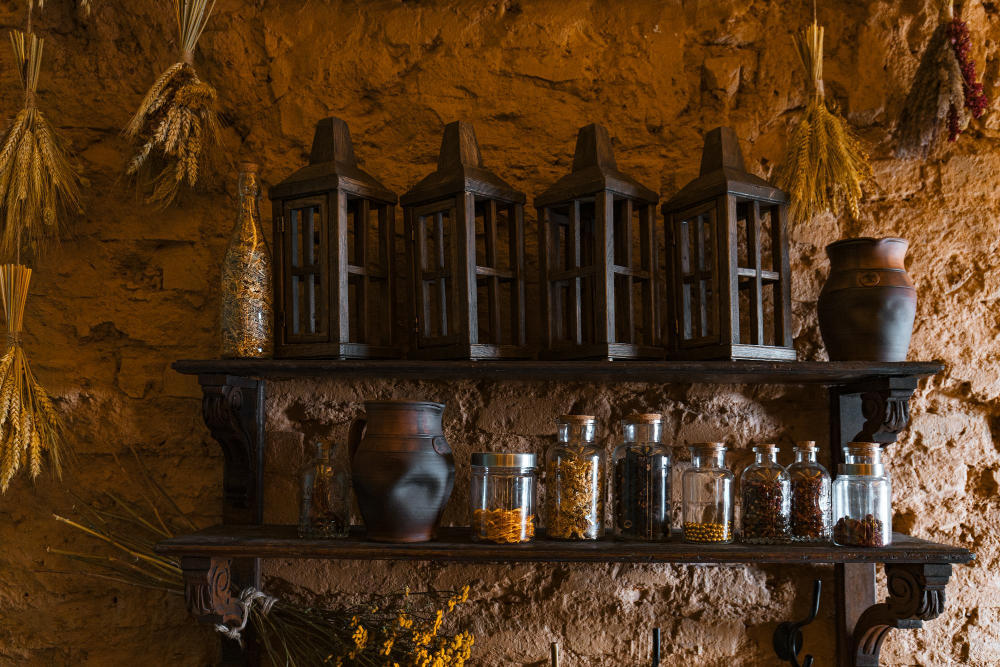 You can create an enchanting atmosphere by incorporating witchy elements into your kitchen design. Start with black and purple color schemes, which are reminiscent of witches' robes and hats.
Add some cauldrons, broomsticks, potion bottles or spell books as decorative accents on shelves or countertops. You can also hang a witch's hat on the wall for an eerie touch.
Another idea is to use spider webs as table runners or placemats for a creepy effect that will make any meal feel like it's being served in a haunted forest clearing.
To complete the look, consider adding some witch-themed dishware such as plates with images of witches flying across the moonlit sky or mugs adorned with black cats and bats.
With these simple touches inspired by witches' lore you'll have created an unforgettable Halloween ambiance in your kitchen that will leave all who enter under its spell!
FAQ
What are some Halloween-themed color schemes and decorations to match your kitchen's existing style?
Halloween-themed color schemes and decorations suitable for kitchen styles include orange and black, purple and green, spooky accents, and pumpkin and ghost motifs.
How can you create a spooky ambiance in your kitchen using lighting and additional Halloween props?
To create a spooky ambiance in your kitchen, use dim or colored lighting and incorporate Halloween props such as fake cobwebs, carved pumpkins, and hanging skeletons.
What DIY projects can you undertake to craft unique Halloween kitchen decorations?
One can craft unique Halloween kitchen decorations by undertaking DIY projects like creating spooky mason jar lanterns, pumpkin utensil holders, and cobweb coasters.
Continue reading: