Last updated on October 24, 2023
Discover innovative kitchen clock ideas because they not only help you keep track of time during cooking, but also add a dash of style and personality to your space.
I hope you find inspiration and enjoyment in these unique kitchen clock designs, which I had the utmost pleasure and fun in creating for you.
Kitchen clocks can be a stylish and functional addition to your cooking space. Whether you're seeking a vintage appeal, a modern touch, or a whimsical theme, there are countless kitchen clock ideas to suit your style and needs.
This article will explore a variety of kitchen clock designs, from wall clocks to tabletop pieces, and provide valuable tips on choosing the right clock for your kitchen. It will also delve into the importance of placement and size, ensuring your chosen timepiece enhances your kitchen's aesthetic rather than detracting from it.
So, if you're ready to add a touch of personality and practicality to your kitchen, keep reading to discover the perfect clock for your space.
What's Inside
Retro Diner-style Clock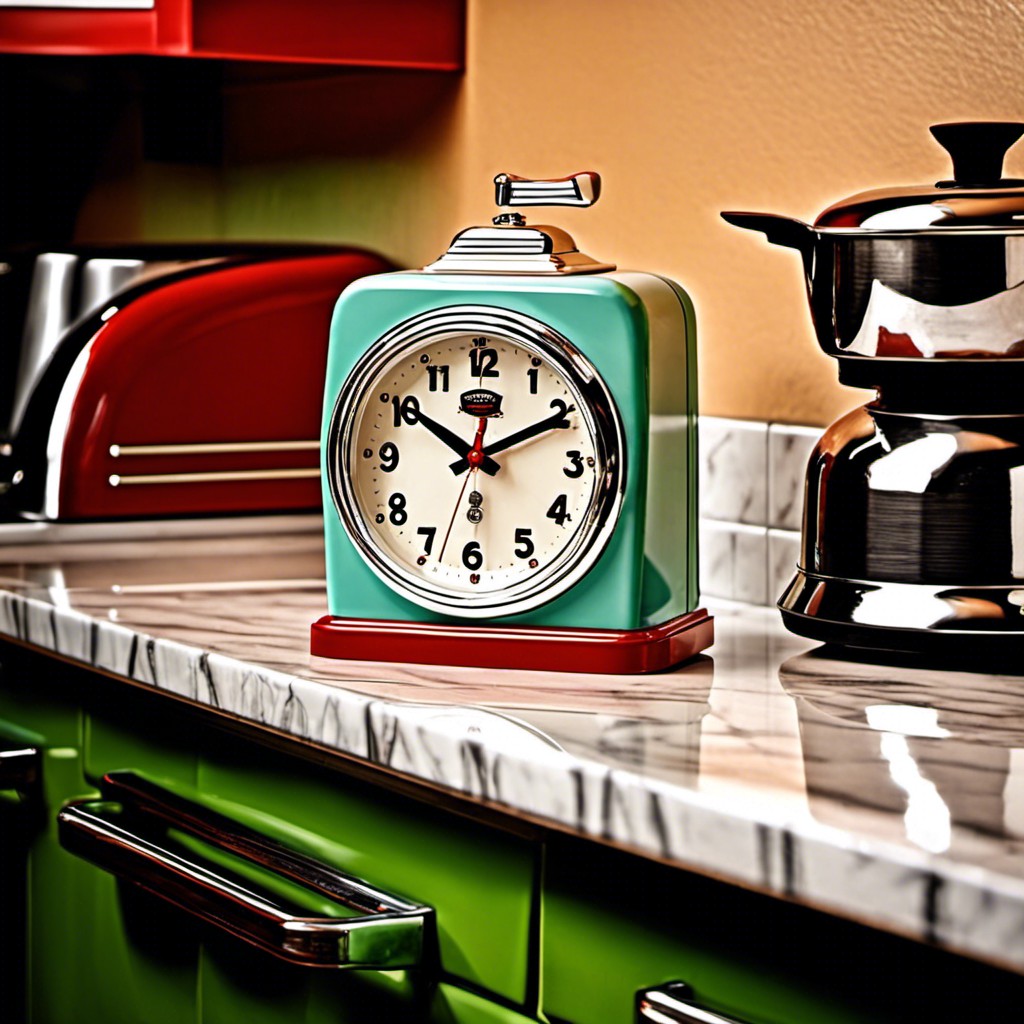 Displaying a hint of nostalgia, this timepiece exhibits bright saturated colors, often accented by chrome finishings. They often have distinctive hour markers and attractive bold fonts, mirroring iconic mid-century American diners.
Perfect for a vintage kitchen, these clocks inject personality and liven up the space, serving as a statement piece in itself. Some feature beloved pop culture icons, while others can simply showcase appealing stripes or patterns.
The fun aesthetics of these designs often incorporate curved glass, capturing the essence of the bygone era. The perfect blend of form and function, they not just tell you the time but also stir up conversation, reminiscing the times of diners, jukeboxes, and milkshakes.
Minimalist Wall Clock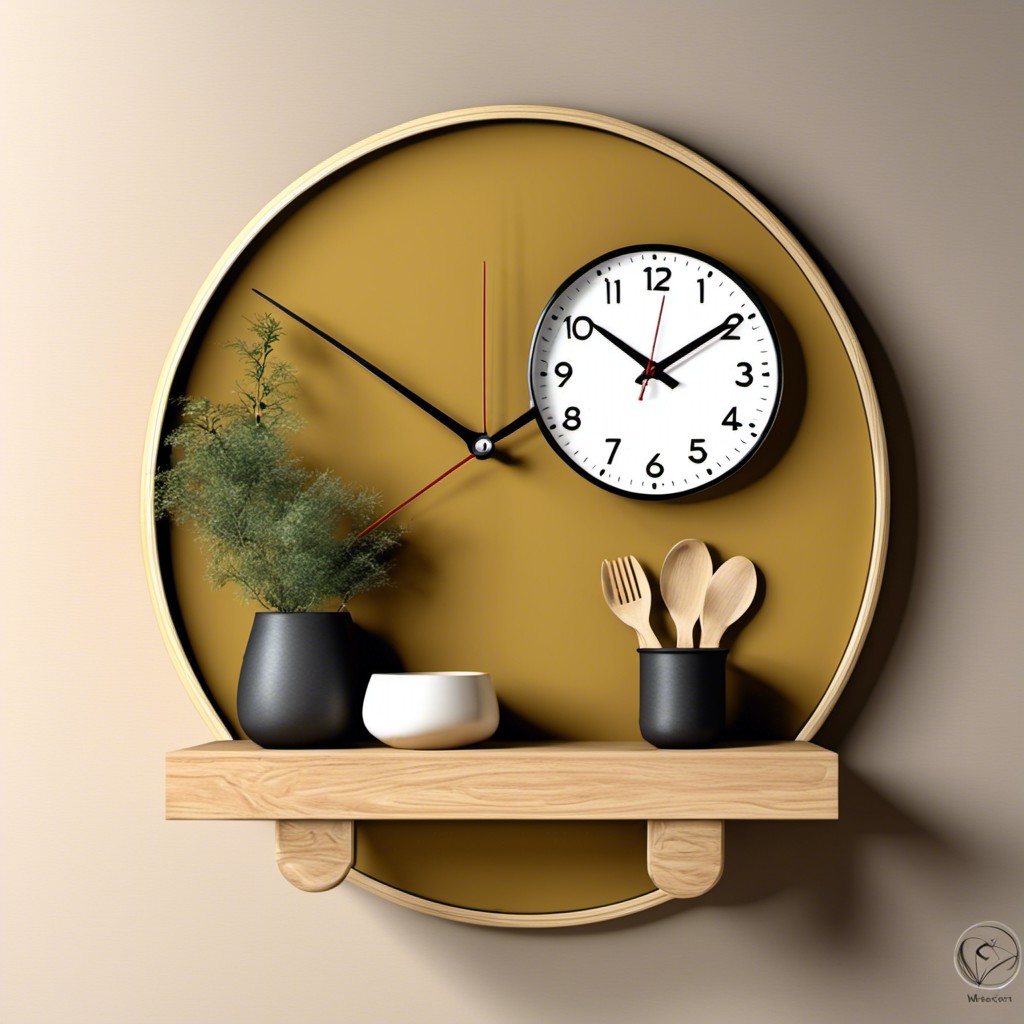 Finding the perfect blend of elegance and simplicity can be a challenge. But with a minimalist wall clock, it's a breeze. This design focuses on presenting time in the most straightforward and clean way possible, with zero unnecessary elements. For those seeking a pared-down aesthetic, this is an excellent choice.
Some key descriptors of this style include:
Basic Geometry: Shapes like circles, squares, or rectangles dominate. Nothing fancy, just simple lines.
Monochrome Colors: The color scheme is usually limited to one or two hues. Black and white are traditional choices.
Sans Serif Numerals: Fonts are clear, readable, and without extra decorative strokes. Sometimes, there may be no numerals at all.
Simple Hands: Typically, a minimalist clock would have unadorned stick-like hands, again emphasizing simplicity.
Remember, the beauty of minimalist wall clock design lies in its simplicity. This clock style can add a sleek and contemporary vibe to any kitchen space.
Fresco Vegetable-themed Clock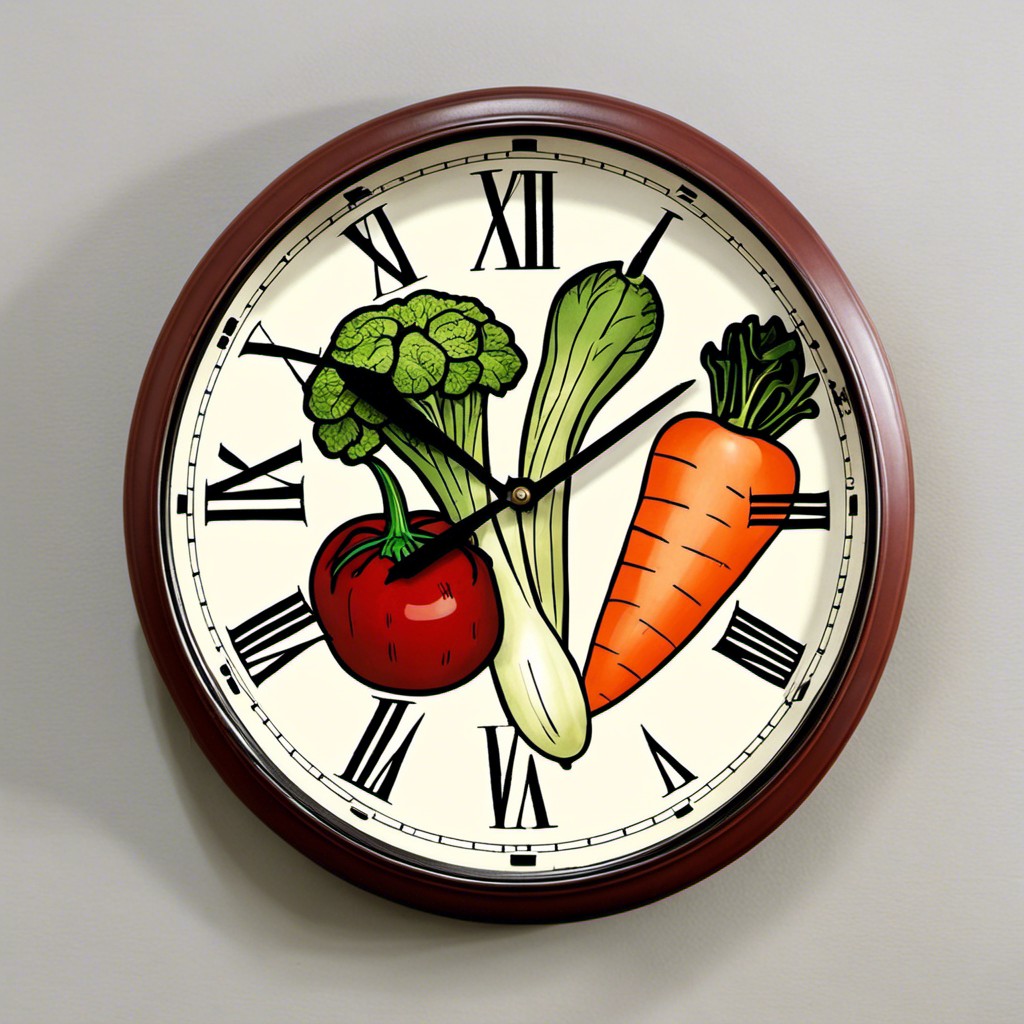 A Fresco vegetable-themed clock, exhibiting vibrantly painted vegetables on its faceplate, infuses a lively, farm-fresh aesthetic into your kitchen. It serves as a vibrant homage to the myriad flavors you create daily, adding an artistic and gastronomic potency to your kitchen's ambiance.
1. Versatile Aesthetic: Pairs well with multiple color schemes, giving a fun accent to both neutral and vibrant kitchen palettes.
2. Healthy Reminder: Besides telling time, it serves as a delightful visual reminder of the importance of a balanced diet filled with vegetables.
3. Piece of Art: Each vegetable etched on the clock face serves as a testimony of the artisan's attention to detail, making it a functioning piece of art.
4. Easy to Read: Large numbers contrast against the colorful vegetables, making timekeeping effortless.
5. Easy Installation: Comes ready to hang, saving you any cumbersome installation process.
Equipping your kitchen with this decorative timepiece is a beautiful way to blend functionality and style, reflecting your love for fresh produce and your impeccable eye for design.
Sunflower Pattern Clock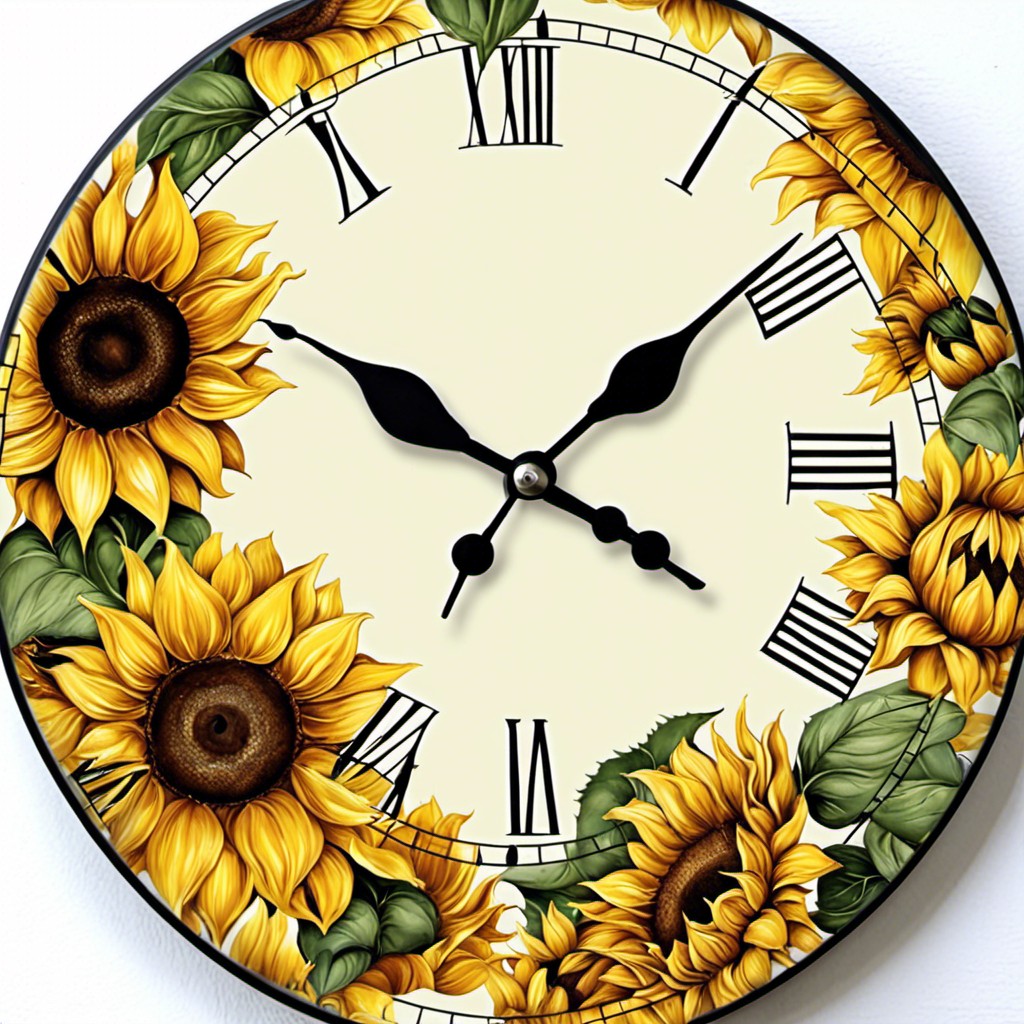 Brightening your kitchen with an element of nature, sunflower pattern clocks lift the mood with their cheerful yellow hues. They successfully merge functionality and beauty.
While providing accurate timekeeping, they add a pop of color and breath of fresh air. These clocks harmonize well with both traditional and modern kitchen styles. They're especially fitting for summer or countryside-themed decors.
Their vibrant design can be a focal point, instantly drawing attention. They come in various sizes and shapes, offering flexibility in placement and can even serve as a thoughtful gift for gardening enthusiasts, making them a versatile and appealing kitchen decor choice.
Rustic Wooden Kitchen Clock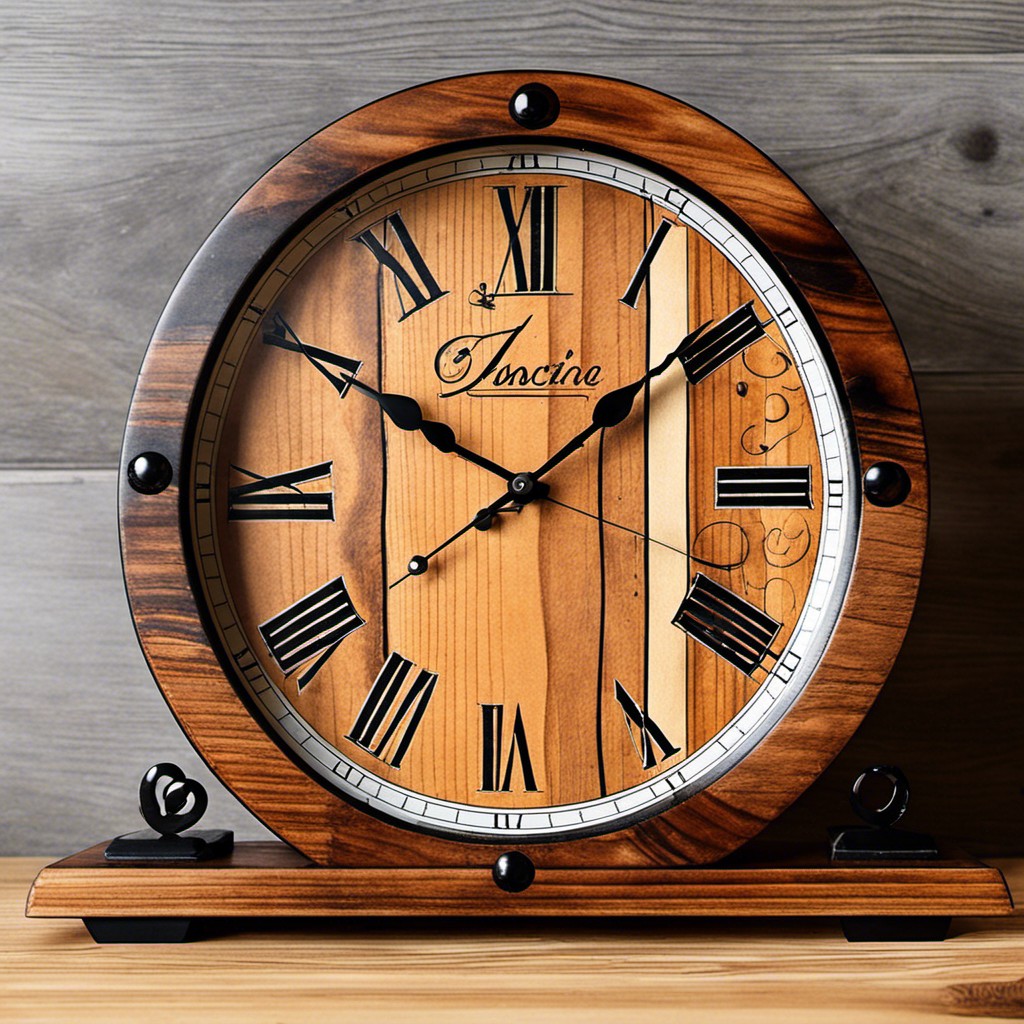 Incorporating an element of raw, traditional charm, a rustic wooden kitchen clock can become a focal point in your space. This style complements wood-paneled walls or a farmhouse aesthetic perfectly. An antique finish often enhances the appeal, creating a sense of nostalgia and warmth.
Remember to consider the size and shape of the clock in relation to your kitchen wall space. Complement it with other wooden elements in your decor to create a harmonious flow. Many designs also incorporate an interesting play on numerals and hands, from oversized numbers to vintage-style hands, to add more character.
This type of clock is not just a timepiece, but also a statement piece, subtly showcasing your unique taste and love for timeless pieces. It embodies the concept of taking the old and new and blending them together seamlessly. You can find various models with unlimited design capabilities, from wood-carved details to ones embedded with metal work.
Coffee Mug-shaped Clock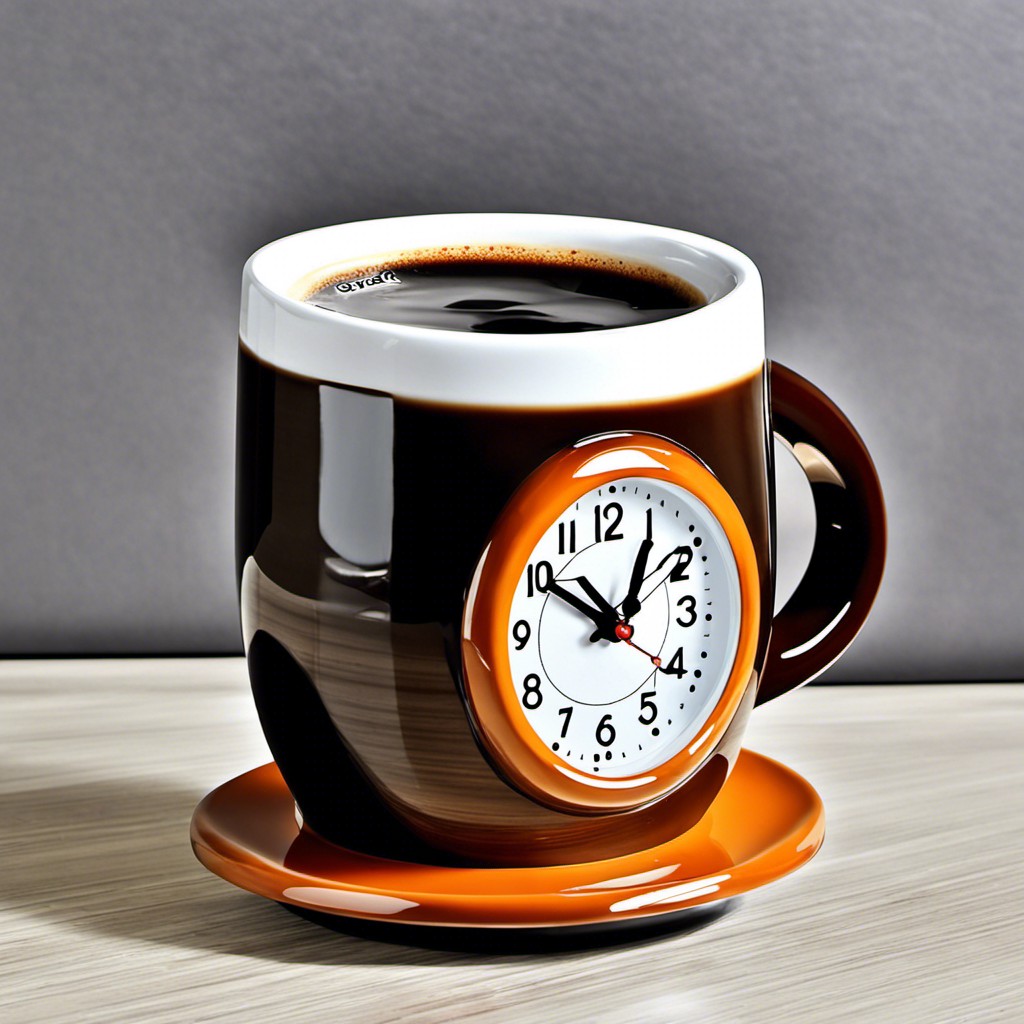 Providing a bonus of visual charm and caffeine jolts, this unique timekeeping piece mirrors your love for a good brew. It's more than a talking piece, with each tick echoing your appreciation for a good java. The shape and design reflect the warm, soothing rhythm of morning routines, blending effortlessly into any kitchen décor.
1. It can capture a casual or formal vibe – glossy porcelain for a refined look, or quirky, vibrant color patterns for a relaxed ambience.
2. Ideal for small spaces. Occupying minimal wall area, it's a great choice for little kitchens.
3. Customizable. You can find designs with your favorite coffee brand or type displayed, or even customize one with a personal photograph.
4. Easy to read. The contrast between a white mug and darker hour and minute hands ensures simplicity in time checking.
5. Versatile. A coffee mug clock doesn't exclusively belong in the kitchen. If you enjoy coffee throughout the day, it could also find a sweet spot in a home office or lounge area.
Stainless Steel Modern Clock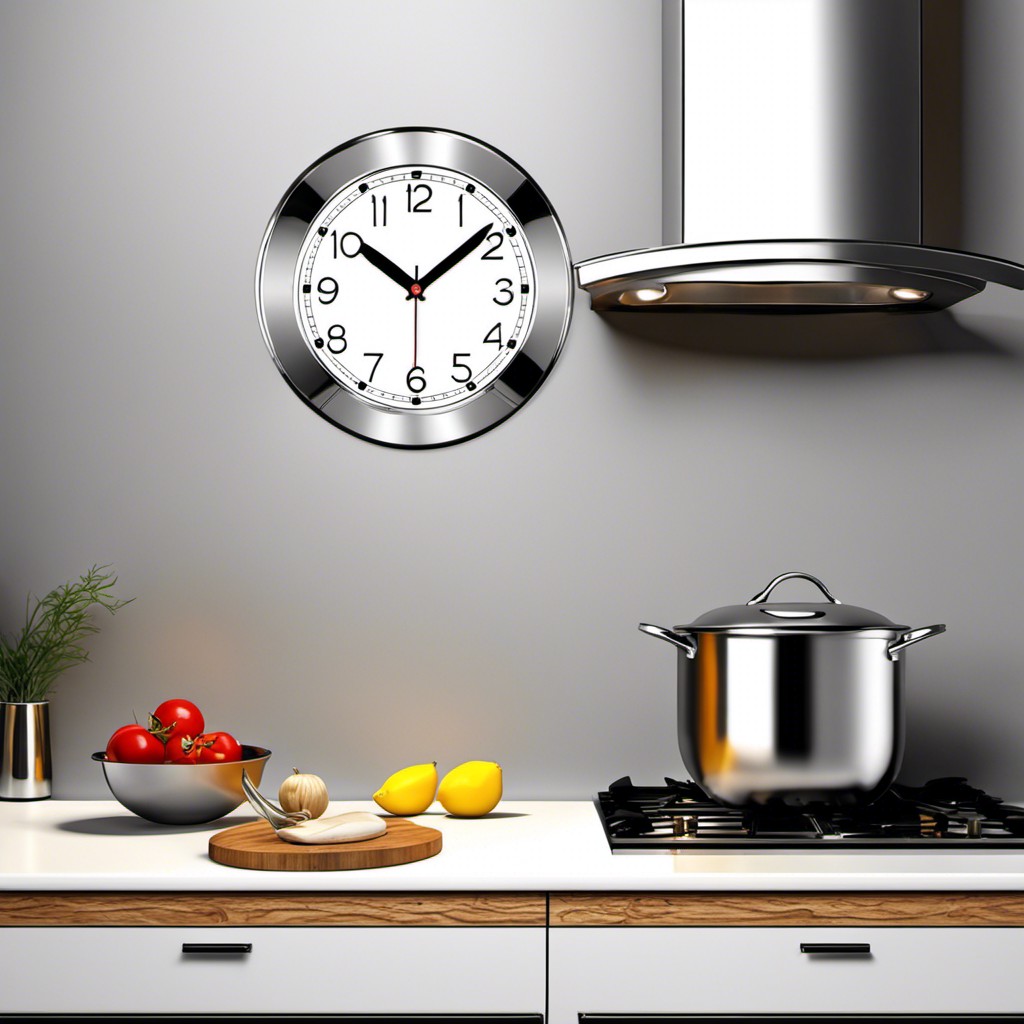 Crafted from high-quality material, these clocks feature a sleek and clean look — a perfect match for contemporary kitchens. The metallic gleam compliments appliances and fixtures, creating a seamless aesthetic.
A variety of shapes and sizes are available, from the traditional round face to unusual geometric shapes.
The utilitarian design doesn't shirk functionality. Most models boast visible, easy-to-read numerals or simple, uncluttered hour markers that add to their minimalist appeal. Features often extend beyond simply telling the time, some models incorporate a date function or even a timer – a handy extra for the cooks!
Its durability stands out, rust-resistant and easy to clean, these clocks are built to last. Their silent, smooth sweep movement is a bonus, creating a calm and quiet environment. With a stainless steel modern clock, both functionality and design are in perfect harmony.
Antique Pendulum Clock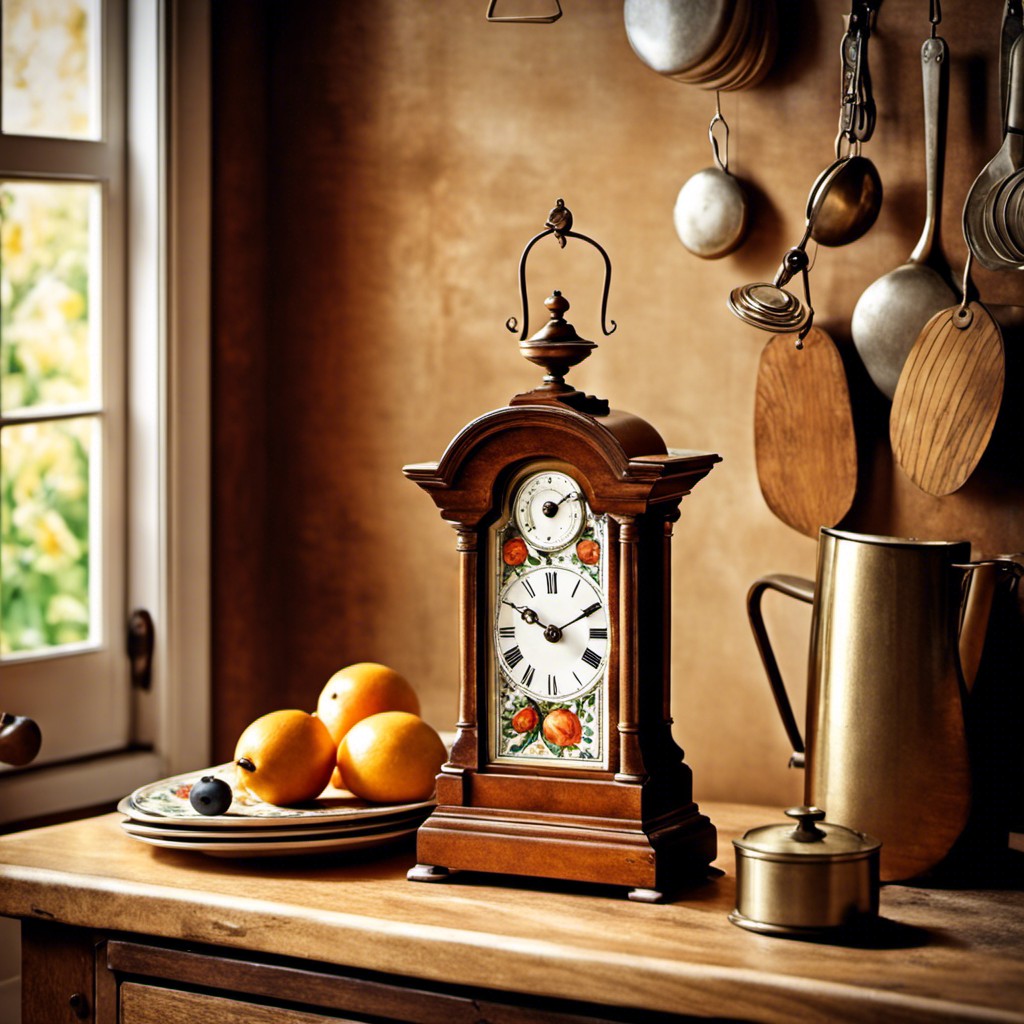 This timeless piece adds elegance to any kitchen with its intricate craftsmanship and unique, nostalgic appeal. Traditionally crafted in a grandfather clock style, it springs to life with the movement of a swinging pendulum.
A noteworthy selection for larger kitchens to create a statement, it also works well in small spaces depending on the dimensions. The charming tick-tock sound often associated with a pendulum clock brings a comforting rhythm to the kitchen environment. It's an ideal choice for those fond of classic décor touches, evoking an atmosphere reminiscent of bygone eras.
However, maintain its functionality and preserve the authenticity, regular winding and careful cleaning are necessary.
Teapot Design Wall Clock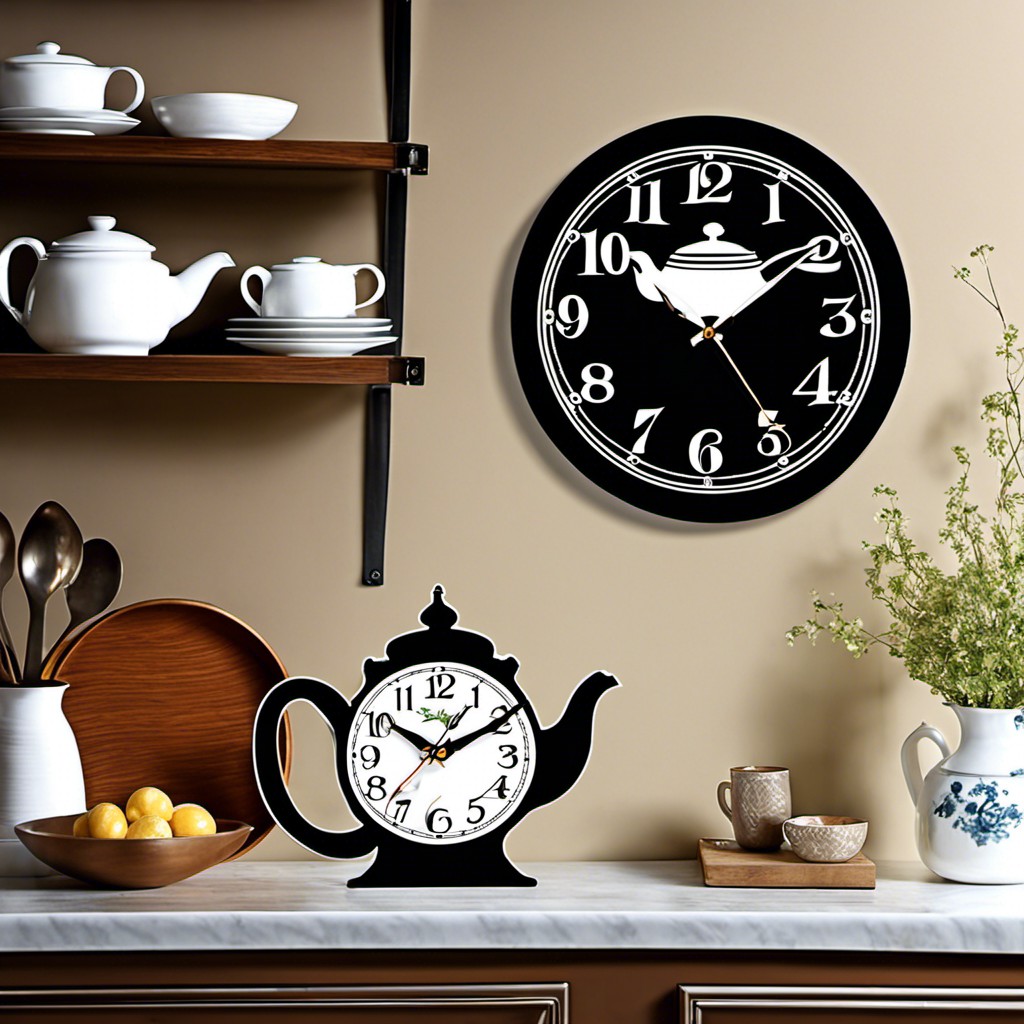 Celebrating the heart of our kitchens, teapot design wall clocks offer a cozy charm. With a nod towards traditional kitchens, these timepieces provide fun functionality. Their quaint aesthetics lend well to a variety of styles, from vintage to country and even modern.
1. Versatile Designs: Countless varieties of teapot clocks are available. Different colors, patterns, and materials cater to your personal style.
2. Statement Pieces: Displaying a teapot clock proudly bolsters your kitchen's ambience. Its whimsical theme can spark conversations and smiles.
3. Customizable: You can choose clock hands, numbers, and other elements that match your kitchen's decor. Many feature detailed 3D designs adding extra interest.
4. Easy Installation: Hanging a teapot clock is usually as simple as hammering a nail in the wall or using an adhesive hook.
5. Functional Art: A teapot clock is not just a timepiece. It's an art that balances your decorator's eye with a necessity.
To sum it up, a teapot design wall clock puts a time-honored tradition on display in the most practical way possible.
Salt and Pepper Shaker-themed Clock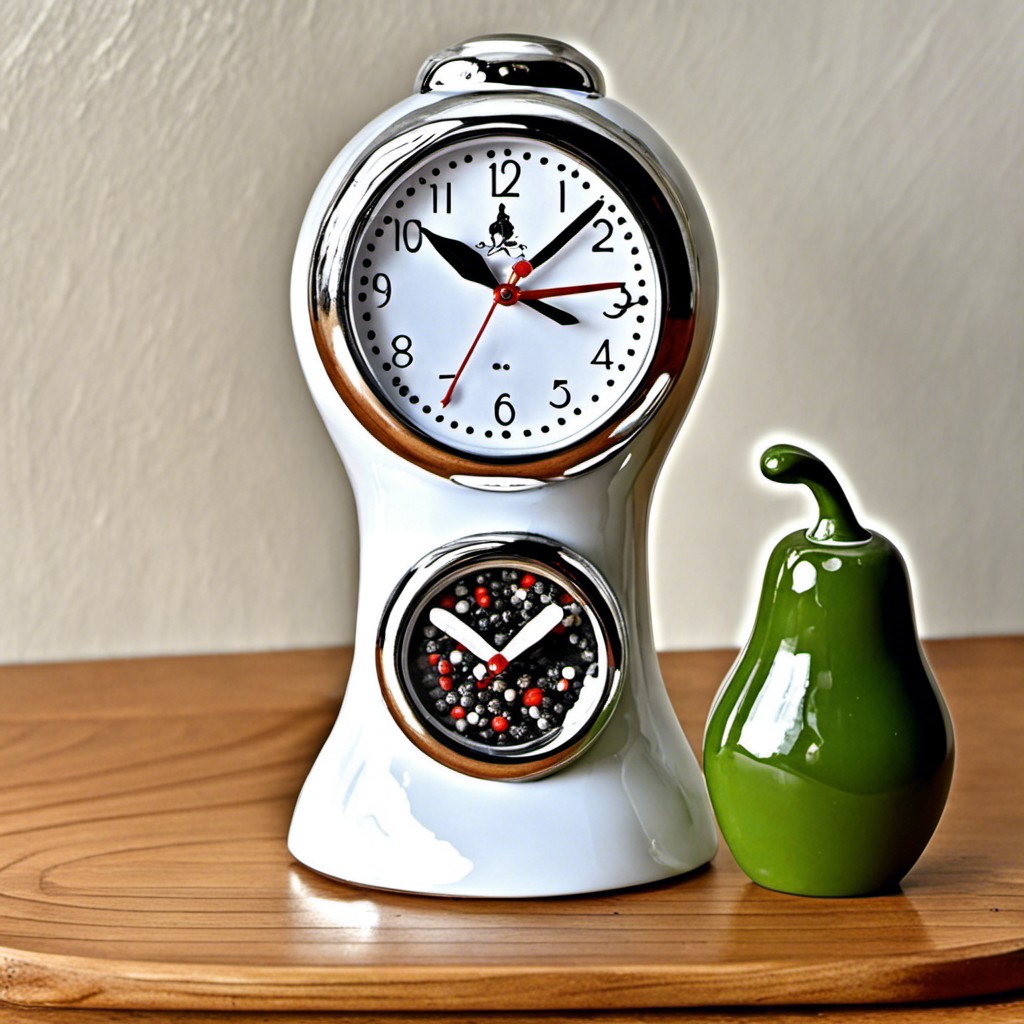 True to its name, this unique piece depicts the classic duo found in every respectable kitchen globally – salt and pepper. It's a nod to culinary arts and adds a distinct vintage flavor to your decor.
This themed clock often has a pair of salt and pepper shakers as its hour and minute hands. The fascinating part? Their sizes can vary, from petite ones for a minimalist space to larger versions that serve as statement pieces.
For those keen on injecting a playful touch, models with vibrant colors and quirky shaker designs are ideal. If your kitchen embraces a more antique or rustic aesthetic, options featuring signs of weathering or antiqued finishes are a winning choice.
Remember, as this clock takes center stage, ensure it complements rather than competes with your existing color scheme.
Chalkboard Wall Clock
A unique fusion of utility and creativity, the chalkboard wall clock adds a personalized charm to your kitchen. Here are some points that might kindle interest in this design:
1. Dual Functionality: This type of clock fulfills two purposes. It allows you to keep track of time and also provides a space for jotting down quick notes, grocery items, or quirky doodles.
2. DIY Aspect: If you're into craft projects, creating your own chalkboard wall clock could provide hours of entertainment. Experiment with shapes and sizes according to your preference.
3. Environmental Friendliness: By opting for chalk to note down your reminders, you're not only saving paper but also contributing to the environment.
4. Design Flexibility: Available in various sizes, styles, and even colors of the chalkboard material, these clocks offer many aesthetic options to complement your kitchen design.
5. Child-Friendly: It also acts as an engaging tool for children to learn and tell time, improving their cognitive skills while also keeping them occupied.
Remember to check the chalk readability against the clock hands so it doesn't affect the visibility of time.
Wine Barrel Inspired Clock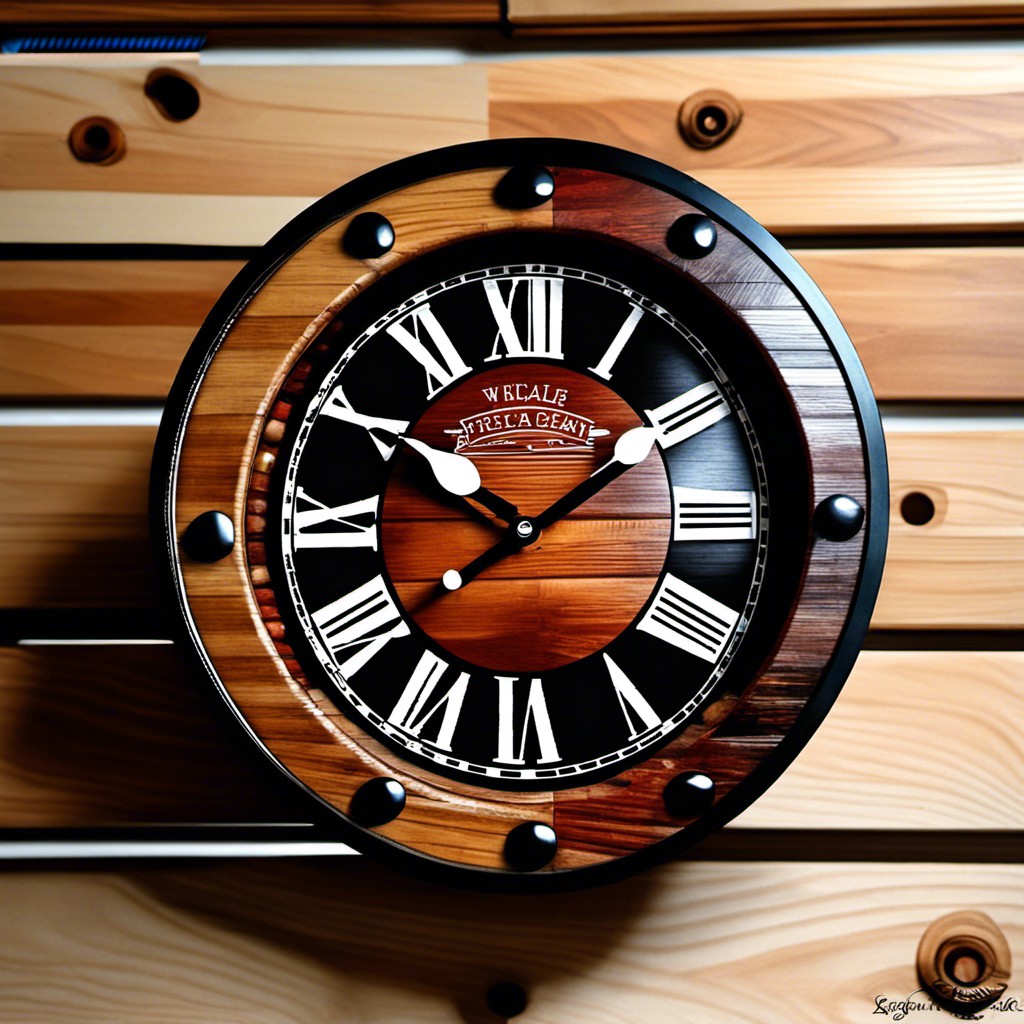 Crafted to pay homage to viticulture, these timepieces add a warm, rustic touch to your kitchen decor. With stave markings and the cooper's brands visible, they are a nod to authenticity and heritage.
Available in various diameters, you can choose one that best suits your space. Some models come with Roman numerals and others have standard numbers, allowing you to select based on your preference.
The distressed wooden finish paired with metal accents offers a balance between traditional and industrial aesthetics. A great bonus for wine lovers, this piece helps bring atmosphere and character to your kitchen. Its unique design serves not only function but also as a conversation starter.
Oversized Industrial Kitchen Clock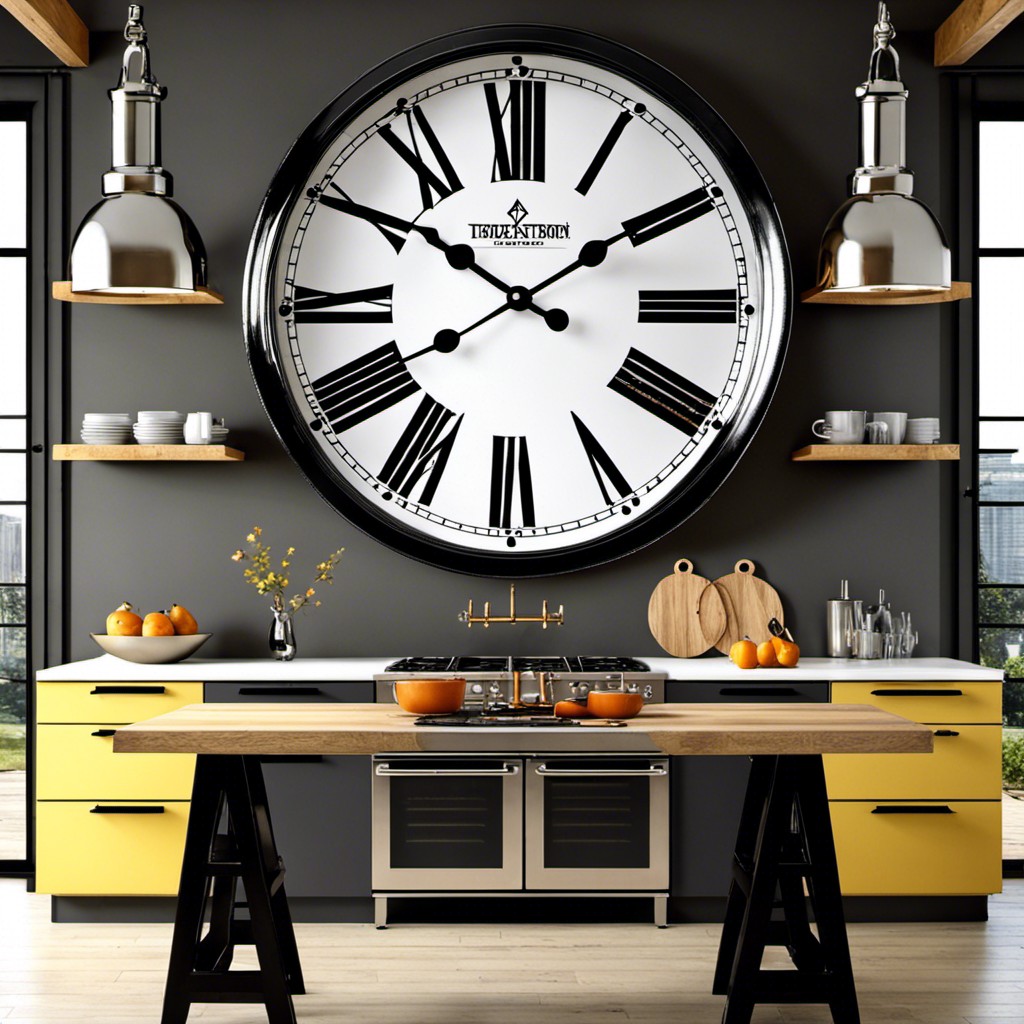 Large gears, bold roman numerals, and muted metallic colors are quintessential attributes of this style. With a distinct feel of a bygone era, these pieces inject character and a touch of rugged charm into your kitchen. They are perfect for spacious kitchens as they fill an empty wall and become a focal point.
Functionality is key, with clear numbers and easy-to-read hands. Despite their bold look, these clocks seamlessly blend with different decor styles, be it rustic, traditional or modern. Always consider the clock's size vis-a-vis the wall space, to ensure a harmonious look.
Their durability, owing to the usage of sturdy materials like metal and wood, is a notable advantage. For those keen to create an edgy statement, there's no looking past these imposing kitchen timekeepers. Remember, the balance between style and practicality is the essence here.
Magnetic Refrigerator Clock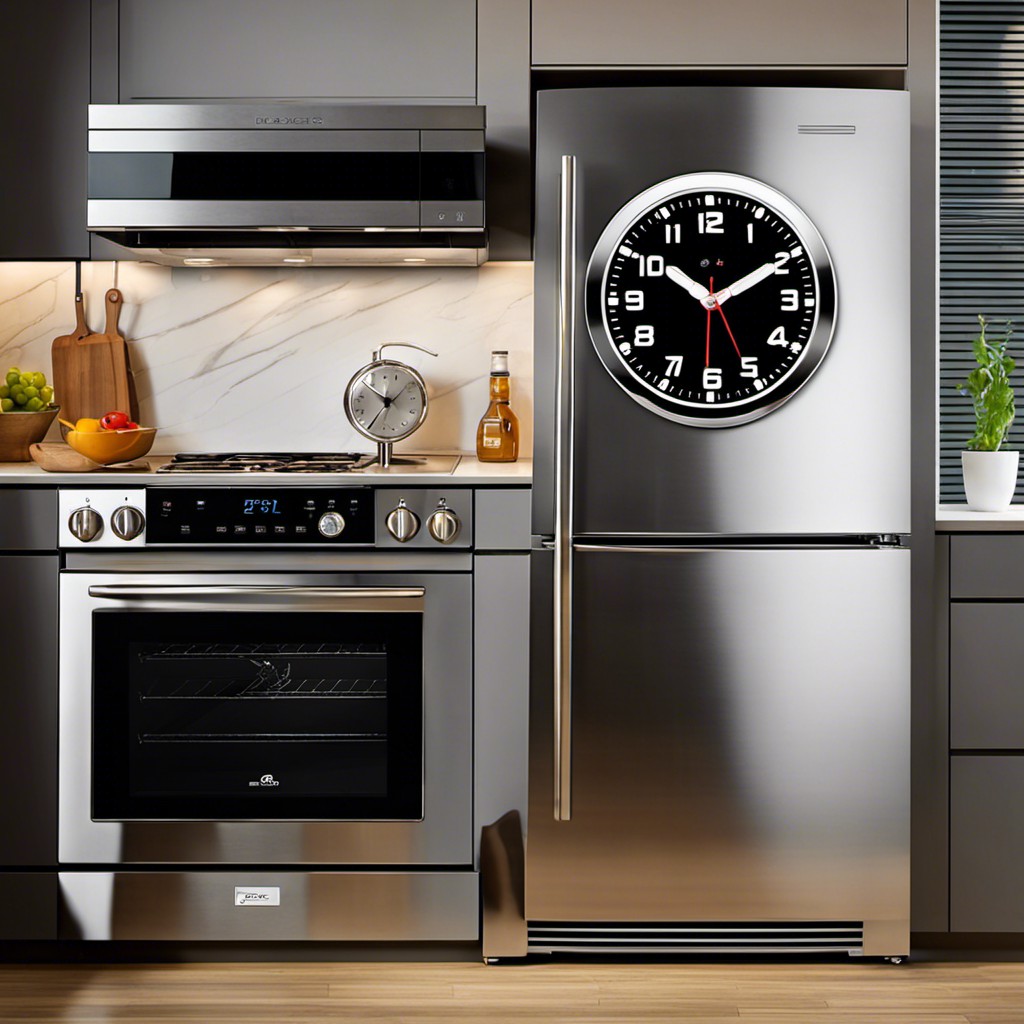 Equipping your kitchen with a magnetic refrigerator clock introduces a wonderful blend of utility and style. This option stands out as it doesn't require wall space and is conveniently accessible.
Highlights:
Practicality: Easily change its position or remove it when not required.
Varieties: They come in assorted designs and sizes to complement your kitchen decor.
Space-saving: Brilliant for smaller kitchens or if wall space is limited.
Visibility: Usually placed at eye level, it's ideal for time-keeping while cooking or baking.
Ease of Installation: No drilling or mounting necessary – it attaches directly to the refrigerator.
Relocate at will, match your theme, and keep time efficiently with a magnetic refrigerator clock. Now, your beloved kitchen companion serves multi-dimensional functions.
Cutlery-themed Kitchen Clock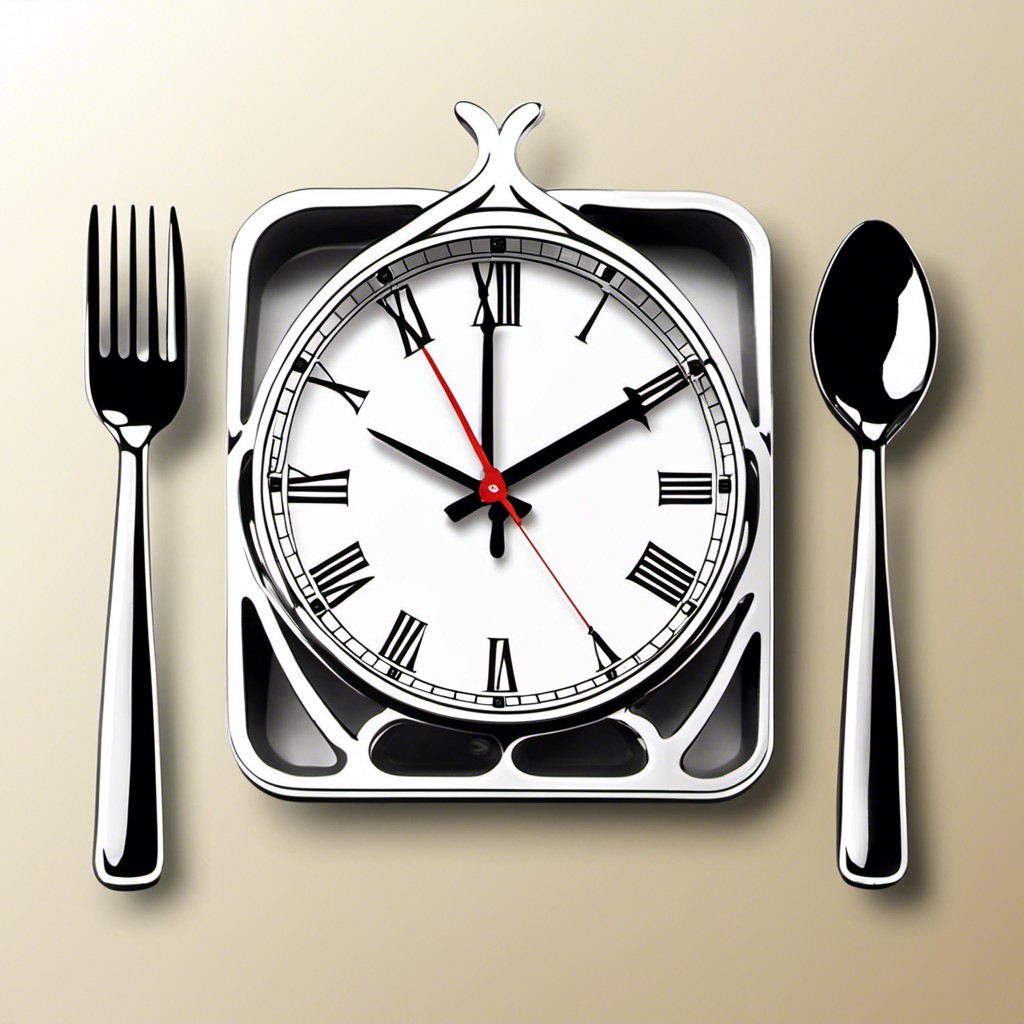 A cutlery-themed kitchen clock is a whimsical addition to your culinary space. It's an excellent blend of function and aesthetics, akin to turning your utensils into art.
Here are the appealing aspects you'd enjoy with this choice:
Variety: It offers an array of designs, from forks, spoons, to chef's knives, soups ladles and more.
Size Flexibility: It's available in different sizes, catering to both small and large kitchen areas.
Artistic Appeal: It serves as an artwork piece, spicing up the visual interest of your kitchen walls.
Material Choices: They can be made from stainless steel, wood, or plastic, catering to different tastes and kitchen decor schemes.
Easy to Match: Due to their related theme, these clocks are effortless to match with your existing kitchen decor, equipment, and utensils.
Statement Piece: This clock type often serves as a conversation starter due to its unique design and relevance to the kitchen setting.
Overall, it's a fun, functional, and decor-enhancing choice for anyone looking to spice up their kitchen aesthetics.
Clock With 60-minute Timer Feature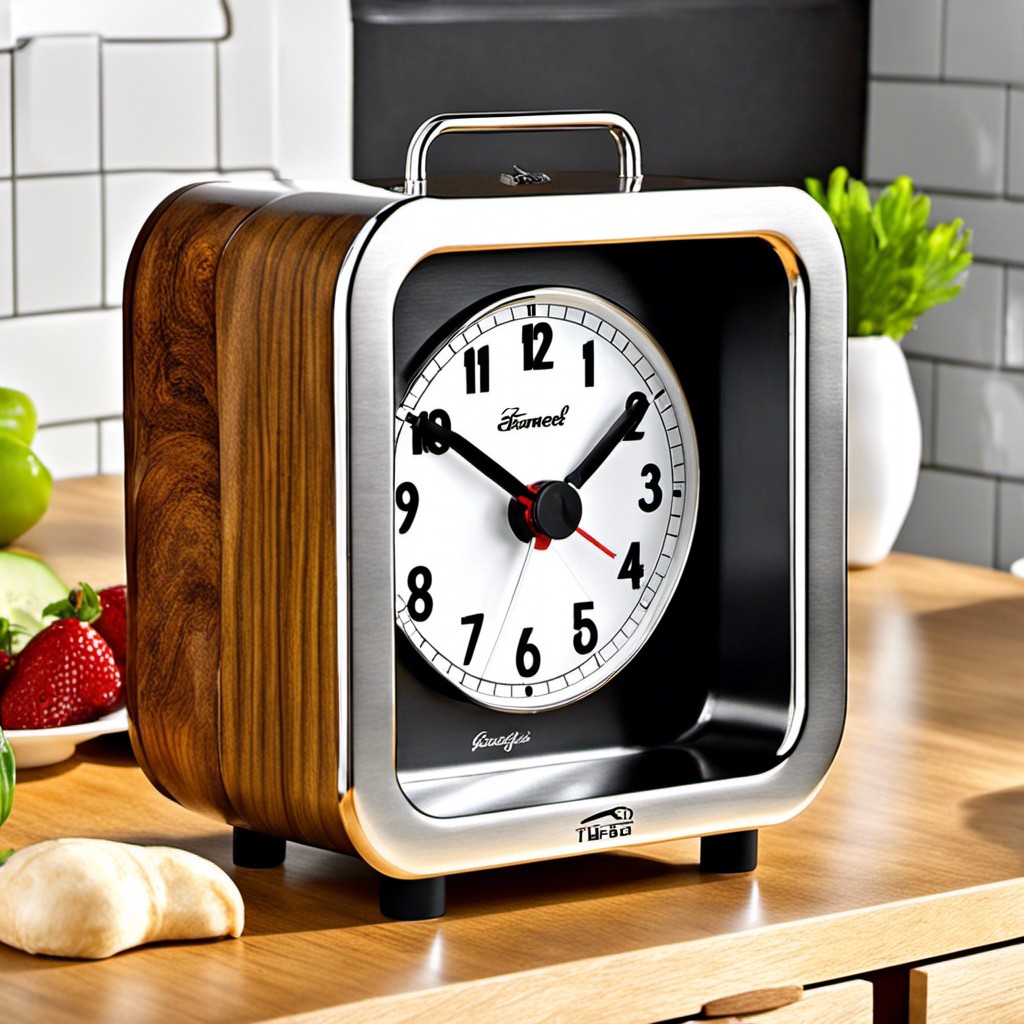 An ingenious addition to your culinary space is undoubtedly one that combines functionality with aesthetics. One such design features a built-in 60-minute timer – a visual reminder ticking away in plain sight.
1. Handy Interface: Intuitive to use, this clock allows simple adjustments to maintain an exact cooking duration.
2. Multipurpose: It doubles as a typical wall clock, managing your time in and out of meal preparation.
3. Saves Space: The clock removes the need for separate timers in your already crowded kitchen.
4. Design Variations: Available in many styles – from classic beautifully carved models to sleek contemporary designs.
5. Value addition: Beyond aesthetics, the clock also significantly aids in efficient meal preparation.
Fruit-themed Kitchen Clock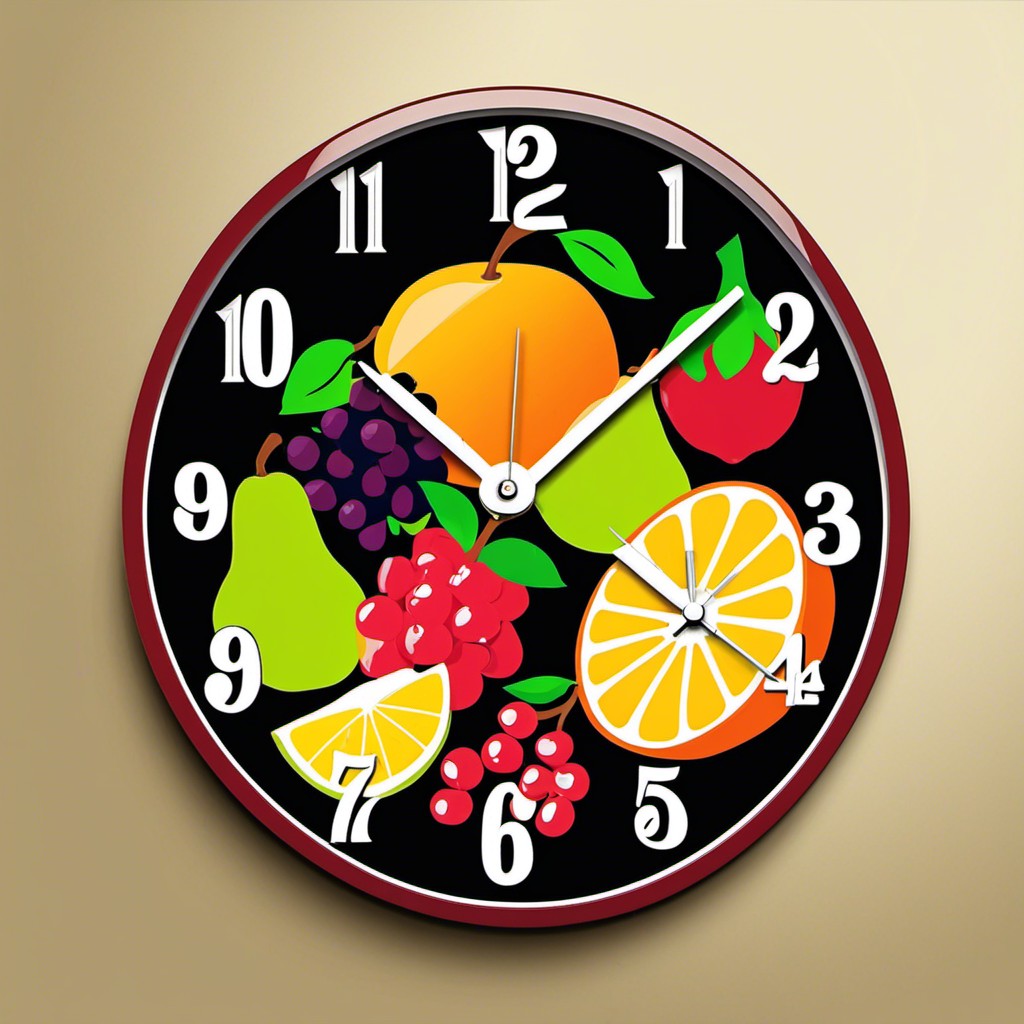 Adding a zest of vibrancy, these timepieces are embellished with colorful images of fruits, instantly fostering a lively ambiance. Opt for an array of citrus slices, a single apple or a mixed-fruit medley – the options are plentiful. Their fun aesthetic makes them an appealing choice for families with children.
The rich, colorful hues can effortlessly tie into the overall theme of the kitchen or shine as a bold, independent piece. They pair well with both modern and rustic kitchen themes, offering versatile aesthetic appeal.
Fruit-themed kitchen clocks also serve as a wonderful conversation starter when you're hosting. The fruity backdrop can evoke the joys of summer garden parties or vibrant outdoor picnics, making them not just functional timekeepers, but also interesting art pieces.
Pendulum Wall Clock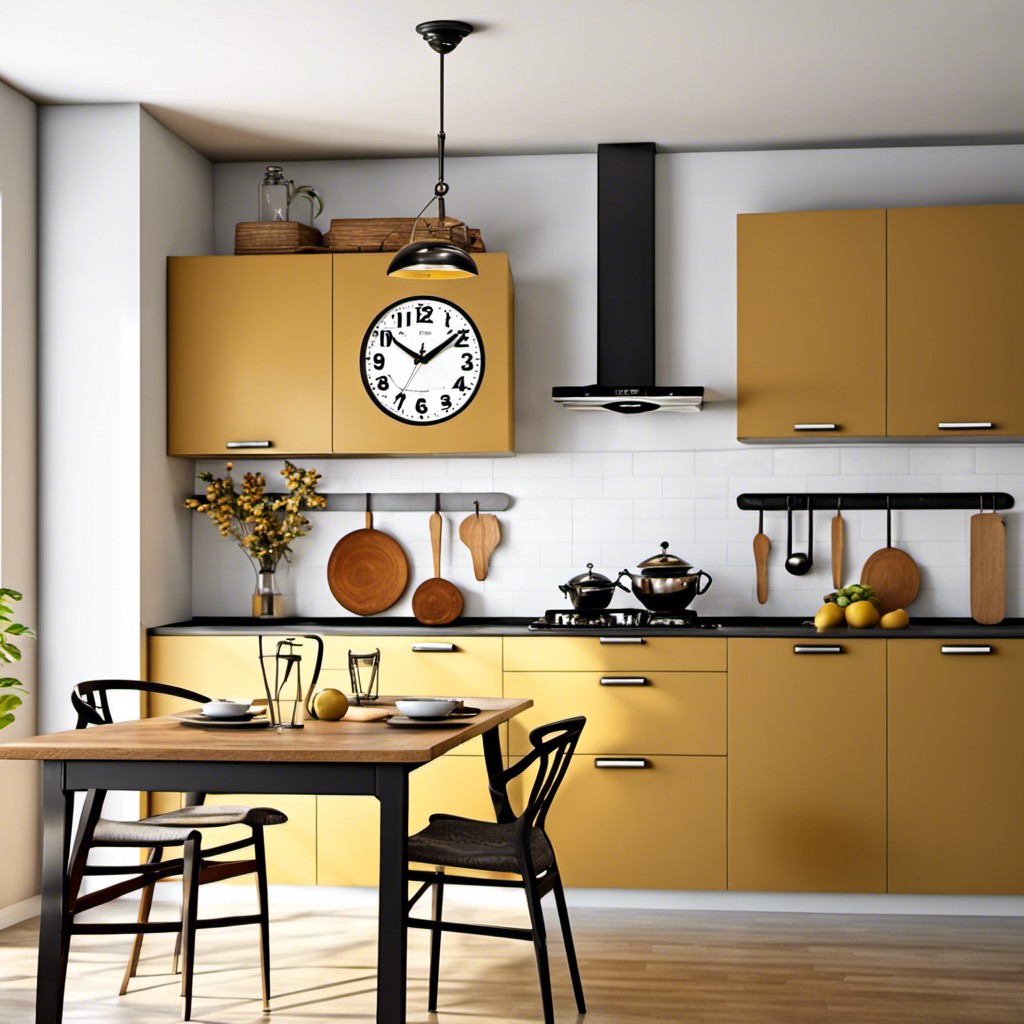 A standout option with timeless charm, the pendulum wall clock imparts an old-world elegance to your kitchen decor. It's inspired by traditional grandfather clocks, with a swinging pendulum often providing the piece its character.
When selecting a style, remember to opt for a design that complements the existing kitchen decor. Whether it's a vintage-inspired wooden model or a sleek, contemporary metallic version, make sure it blends seamlessly.
Size is another critical factor for the pendulum wall clock. These clocks can vary in dimensions, from compact versions to larger statement pieces. Ensure the size doesn't dominate the space, but rather balance with other accessories and fixtures.
Another desirable feature is the prominence of the clock-face. Easy readability under various lighting conditions is a typical requirement. Hence, choose one with distinct numerals and a noticeable contrast between the clock hands and the background.
Durable materials and reliable movement mechanisms such as quartz are other factors ensuring longevity.
Lastly, remember to mount the clock securely. The pendulum's continuous movement can create strain on the hanging apparatus over time, so a sturdy attachment is vital. With the pendulum wall clock, your kitchen will exude a distinguished appeal that seamlessly merges functionality with style.
Digital Kitchen Wall Clock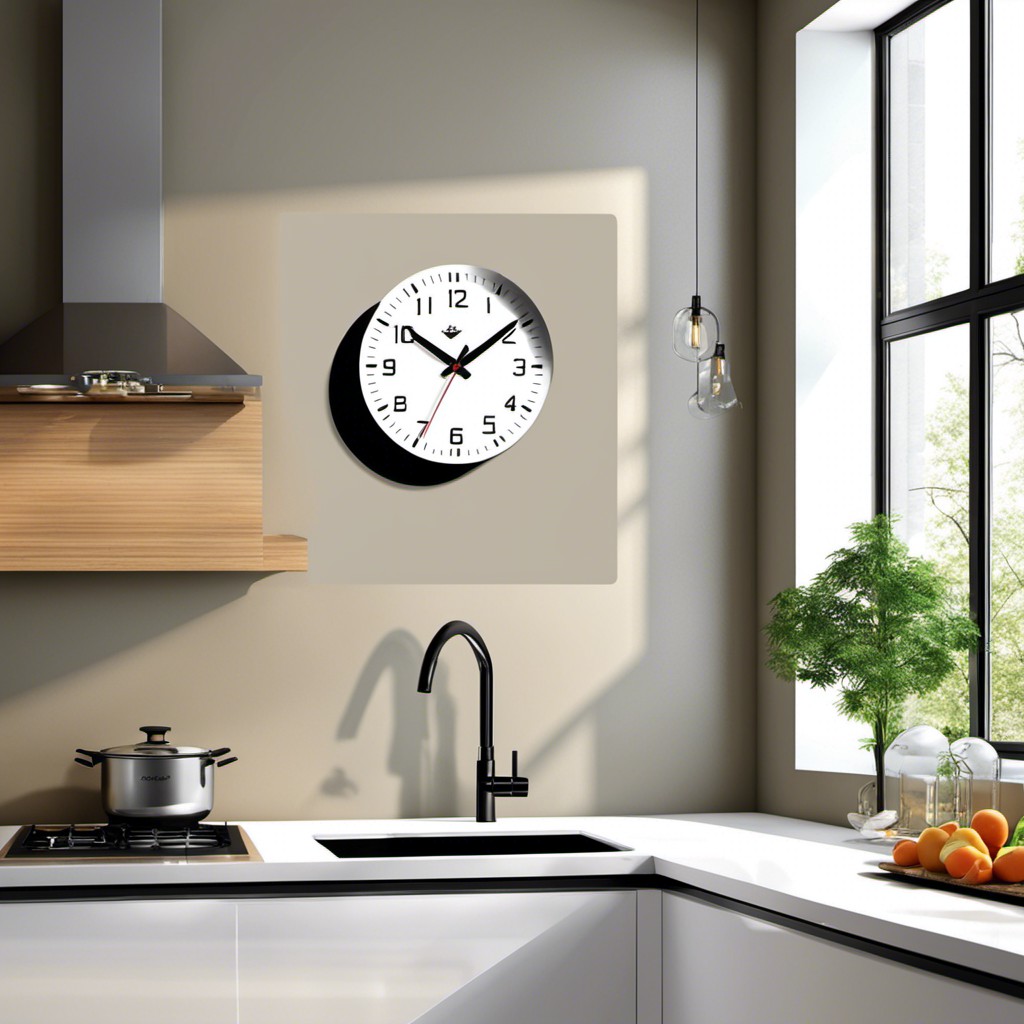 Digital wall clocks add a modern flair to the kitchen, marrying functionality with contemporary design. They come in a wide array of styles and sizes, ensuring there's a perfect fit for every kitchen.
1. User-friendly: They typically feature large, clear numbers that are easy to read from a distance. This makes them incredibly user-friendly, particularly for those with visual impairments.
2. High accuracy: Digital clocks also offer high accuracy and reliability.
3. Advanced features: Many come with additional features like timers, alarms, and temperature displays, which can be useful tools in the kitchen.
4. Battery-powered: Most digital wall clocks are battery-operated, meaning they can be conveniently placed anywhere without worrying about access to plug sockets.
Selecting a digital wall clock for your kitchen can help keep you on track while adding a sleek, modern touch to your decor. Not only do they provide precise timekeeping, but the wide variety of designs available ensures easy integration with other kitchen appliances and fixtures.
Stove-top Inspired Kitchen Clock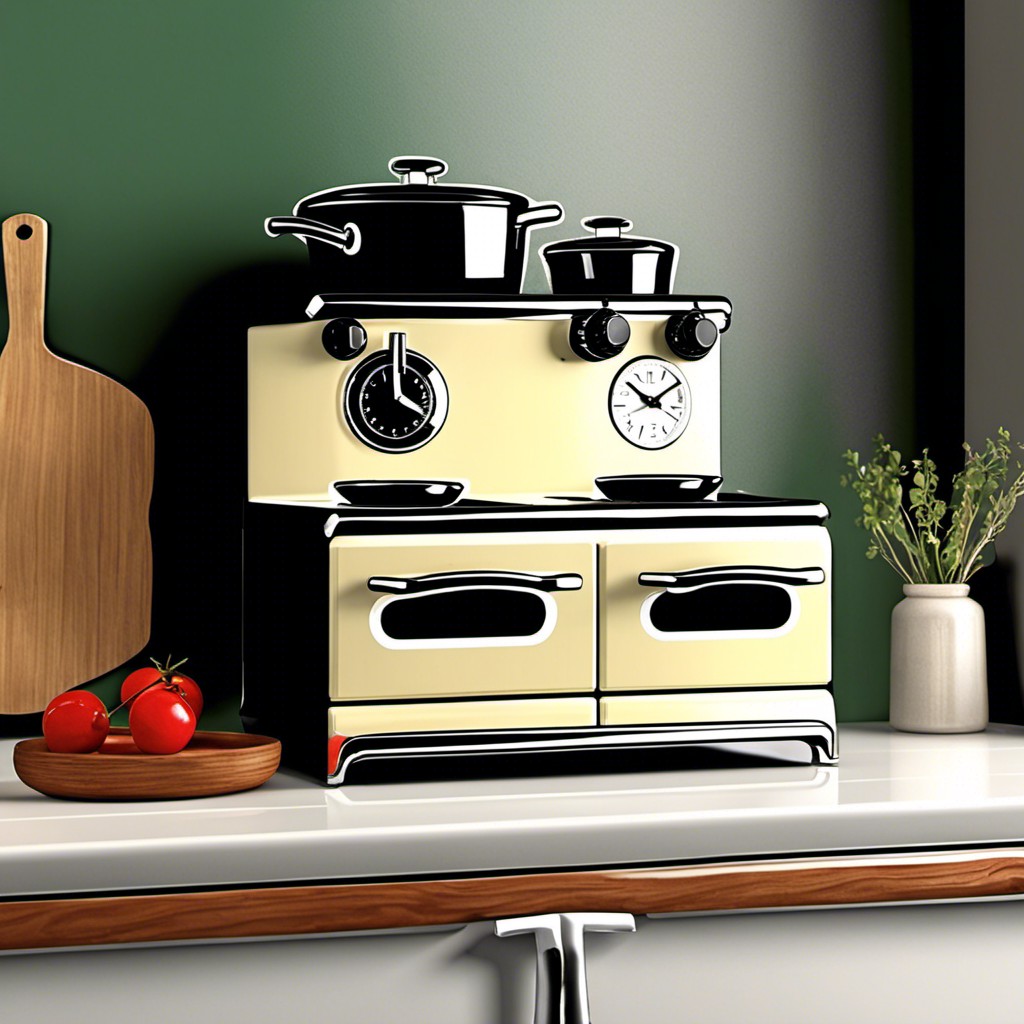 A delightfully unique design invokes memories of comforting home-cooked meals and homemade delicacies. Displayed over the stove, on a nearby wall, or even on a countertop, this brings a retro ambience to your cooking space, making the kitchen feel more homely.
This clock style employs elements like burners, knobs, and oven doors, mimicking an actual stove top. Crafted from high-quality, sturdy materials such as steel or iron, it often sports a vintage finish, blending seamlessly with both contemporary and traditional kitchen decor.
Incorporating a touch of whimsy, stove-top inspired clocks often feature quaint charms such as miniature pots, pans, or teapot pendulums that swing in rhythm with time. Highlighting intricate details, they serve as conversation starters while keeping the essential function of time-keeping.
Most importantly, easy-to-read numerals and tick marks ensure a practical time-display. Sometimes, the clock hands portray utensils like a fork and a knife, adding an extra dash of novelty to the design. Such a clock can make time spent in the kitchen a fun, engaging experience.
Continue reading: