Last updated on December 7, 2023
Imagine stepping into your backyard and feeling like you've been transported to your own private oasis. A place designed not just with aesthetics in mind, but also to cater to your recreational needs. A place where you can create countless memories with family and friends, enjoy the beauty of nature, and find serenity after a day's work.
This is the power of an outdoor space thoughtfully curated with the right features. From cozy fire pits to lush gardens, the perfect backyard can truly be a sanctuary that enhances your living experience. Let's explore some must-have outdoor features to create your dream backyard.
What's Inside
Outdoor Kitchen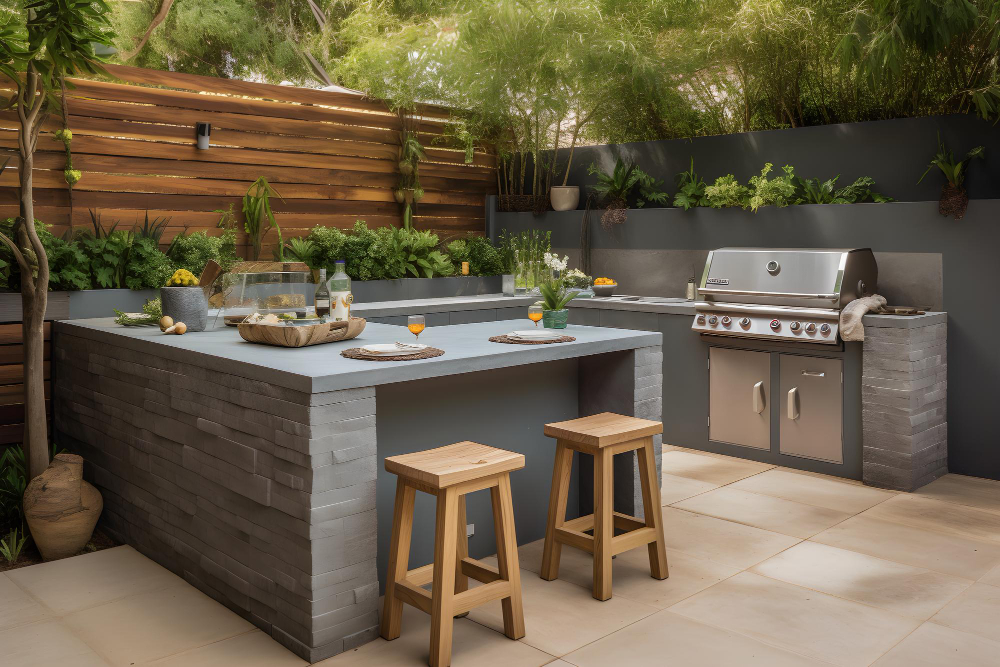 An outdoor kitchen serves as the focal point of a backyard designed for entertainment. It elevates the traditional barbeque experience, enabling seamless meal preparation while keeping you engaged with your guests.
With features like a grill, smokehouse, pizza oven, or even a fully stocked bar, an outdoor kitchen reflects your culinary style and becomes a stunning focal point in your backyard. Not only does it enhance functionality, but it also adds significant value to your home, making it a wise investment.
For example, you could add a built-in smoker and treat your guests to mouth-watering ribs or smoked brisket. Alternatively, install a pizza oven and get creative with different toppings, creating an interactive experience for everyone. An outdoor kitchen offers endless possibilities and transforms your backyard into a true outdoor living space.
Add a Pergola for Functionality and Aesthetic Appeal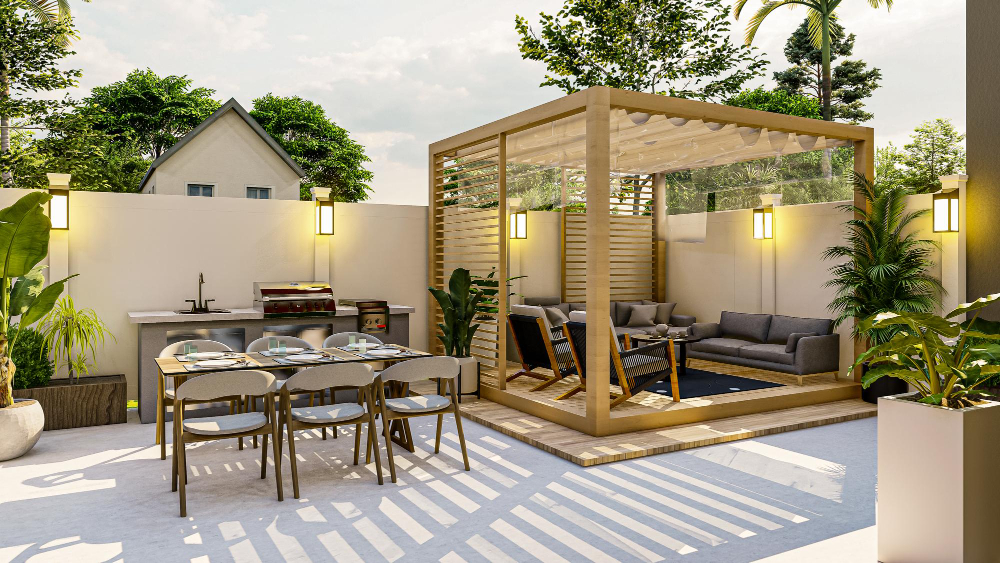 A pergola is a versatile addition to your backyard that perfectly balances functionality and aesthetic appeal. As a semi-open structure, a pergola offers shade on hot summer days, acting as a refuge where you can unwind outdoors without worrying about direct sun exposure. Meanwhile, its lattice design can be adorned with climbing plants, creating a living canopy that adds a touch of nature to your space.
This feature not only exudes charm but also provides an ideal setting for outdoor dining or relaxation. Furthermore, a pergola can serve as a defined area for outdoor activities, creating a sense of enclosure without sacrificing the view of your garden or the sky above. This blend of practicality and beauty makes a pergola a must-have feature for any dream backyard.
Fire Pit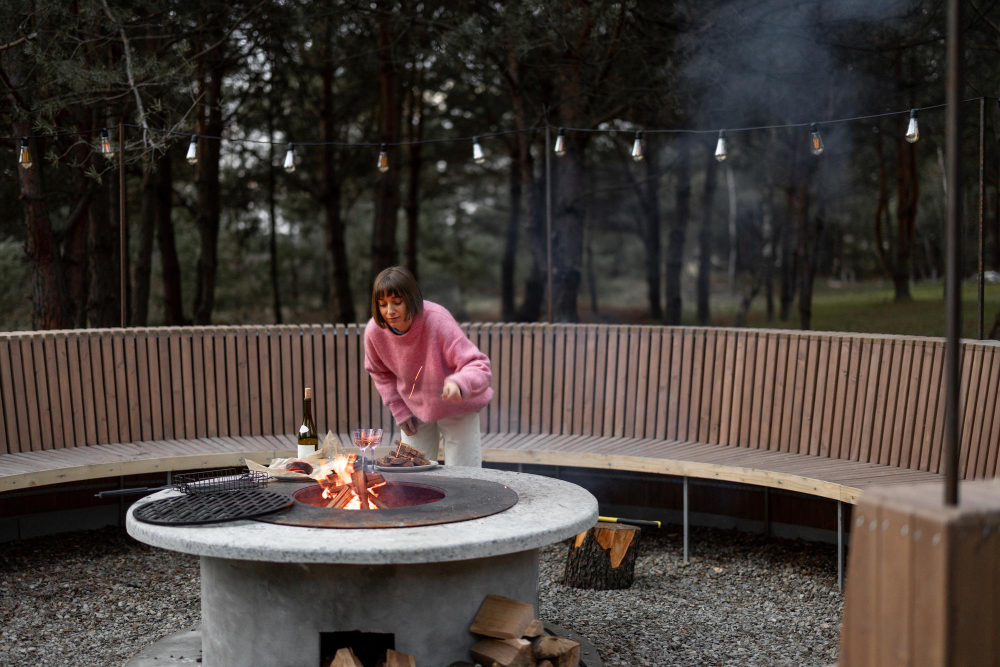 A fire pit adds warmth, charm, and ambiance to any backyard and is perfect for those cooler evenings. It serves as an inviting gathering spot, where stories are shared, marshmallows are roasted, and memories are made. Whether you opt for a simple wood-burning pit or a more elaborate gas-powered one, it will add character to your outdoor space.
You could also consider incorporating seating around the fire pit, such as built-in benches or comfortable chairs. This not only enhances the overall look but also creates a cozy atmosphere for everyone to relax and enjoy.
Water Feature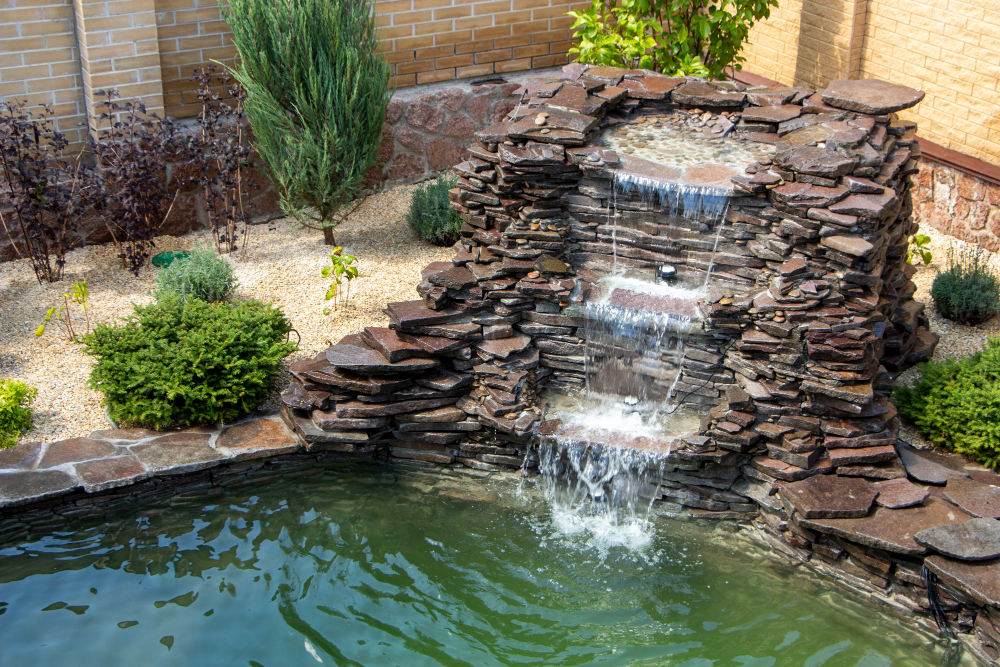 The presence of water can effortlessly establish a serene atmosphere in your backyard. Whether it's a modest fountain or a more elaborate pond with a cascading waterfall, incorporating a water feature has the power to metamorphose your outdoor space into a veritable oasis. Not only does it impart a sense of tranquility, but it also allures wildlife and contributes to the inherent natural beauty of your backyard.
Moreover, a water feature can serve as a captivating focal point for your backyard, particularly when strategically positioned. For instance, situating a modest fountain or pond near an outdoor seating area can create a serene backdrop for meaningful conversations and moments of relaxation.
Lush Garden and Landscaping
Last but certainly not least is the importance of a lush garden and well-designed landscaping in creating the perfect backyard. Not only does it add color, texture, and natural beauty to your space, but it also contributes to the overall atmosphere of relaxation.
Consider incorporating native plants that are low maintenance, attract pollinators, and can thrive in your local climate. Also, pay attention to the layout and design of your garden, using elements like paths, stone walls, or even outdoor lighting to create a cohesive and inviting space.
Comfortable and Versatile Seating Areas
Creating a comfortable and versatile seating area is key to making your backyard a favorite retreat for family and friends. Outdoor furniture should be chosen with both comfort and durability in mind.
Consider incorporating a variety of seating options, such as lounge chairs, hammocks, or even a swing, to cater to different activities and moods. A thoughtfully crafted seating area beckons you to engage in conversation, unwind, and savor the delights of your outdoor sanctuary.
Whether you're entertaining lively gatherings, relishing a tranquil morning with a steaming cup of coffee, or immersing yourself in leisurely reading, a cozy seating arrangement elevates the functionality and pleasure of your backyard oasis.
From an outdoor kitchen that facilitates delightful gastronomic experiences, to a pergola that adds a touch of elegance, a fire pit that radiates warmth, a water feature that cultivates tranquility, lush landscaping that breathes life, and comfortable seating spaces that invite relaxation, each feature contributes to the charm and functionality of your outdoor space.
As you embark on this thrilling endeavor of transforming your backyard, it is crucial to let your personal preferences and lifestyle serve as guiding factors in making decisions. A well-designed backyard not only enhances your home's aesthetic appeal and value but also enriches your life, offering a unique blend of nature's tranquility and home comfort right at your doorstep.
Continue reading: