Last updated on October 27, 2023
Explore the charm and sophistication of navy blue cabinets with wood countertops because they offer an unexpectedly harmonious blend of elegance and coziness, effortlessly elevating any kitchen design.
I am proud to present these 20 unique kitchen styles featuring navy blue cabinets with wood countertops, all designed by myself; I hope you'll find them as inspiring and fun as I have found creating them.
Navy blue cabinets paired with wood countertops can create a striking and sophisticated look in any kitchen. This combination brings together the depth and richness of the navy blue with the warmth and natural appeal of wood, resulting in a balanced and inviting space.
This article will delve into various ideas and tips on how to best utilize this color and material combination, from choosing the right shade of navy blue and type of wood, to selecting the best hardware and accessories.
Whether you're aiming for a sleek contemporary look or a cozy rustic vibe, the versatility of navy blue cabinets and wood countertops will provide numerous design possibilities.
What's Inside
Navy Blue Shaker-style Cabinets With Walnut Countertops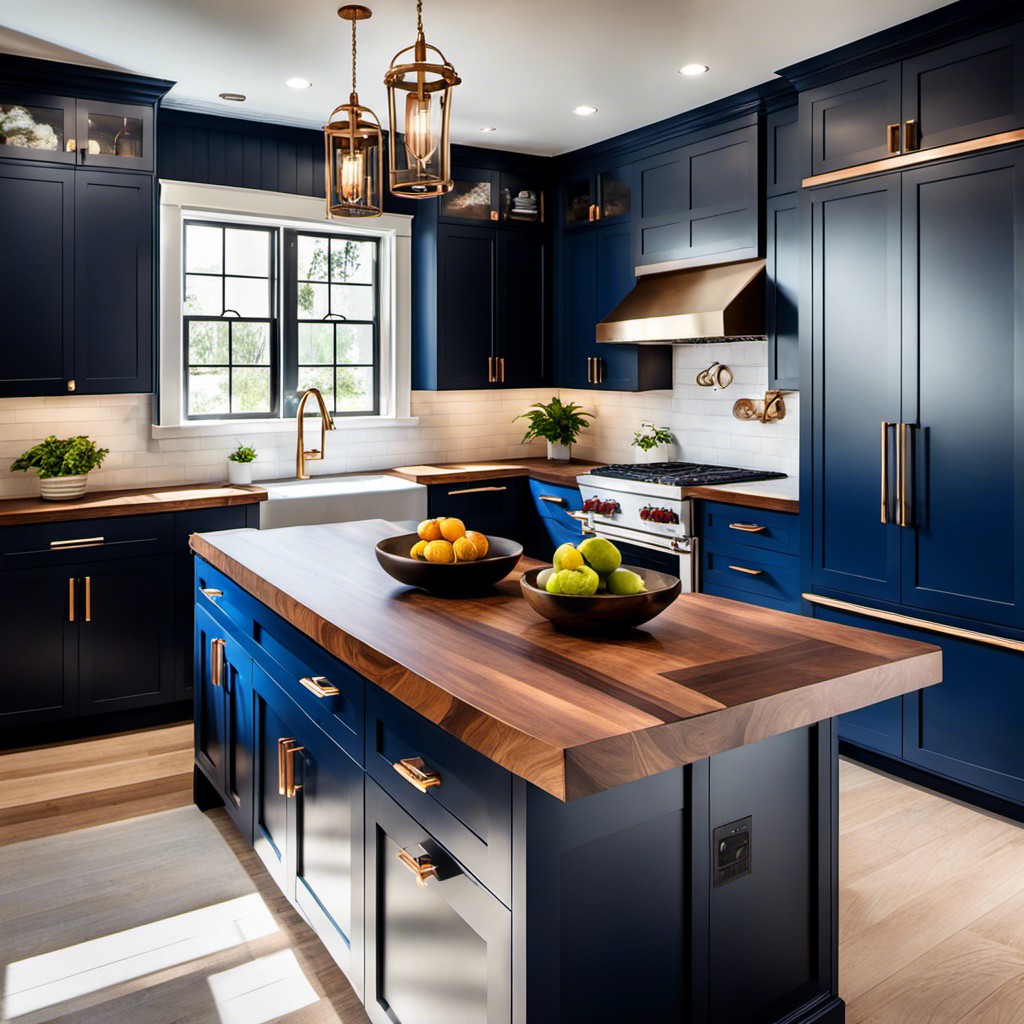 This combination boasts both luxury and contemporary aesthetic. The simplicity of shaker-style cabinets offers a neat, orderly appeal, while the navy blue imbues a touch of elegance and sophistication. It beautifully offsets the rich, warm tones of walnut countertops, creating a stunning visual contrast.
Combining these elements creates a more balanced look in your kitchen:
The understated design of shaker cabinets allows the boldness of the navy blue to truly shine.
Walnut, known for its durability, makes a countertop that is not just visually appealing but practical, resisting scratches and damage from daily use.
The darkness of the navy blue cabinets allows the grain and color variances in the walnut to really pop, highlighting its beauty.
With both navy blue and walnut being highly versatile, they can easily complement a variety of styles and color schemes.
Navy Blue Island Cabinets Paired With a Maple Butcher Block Countertop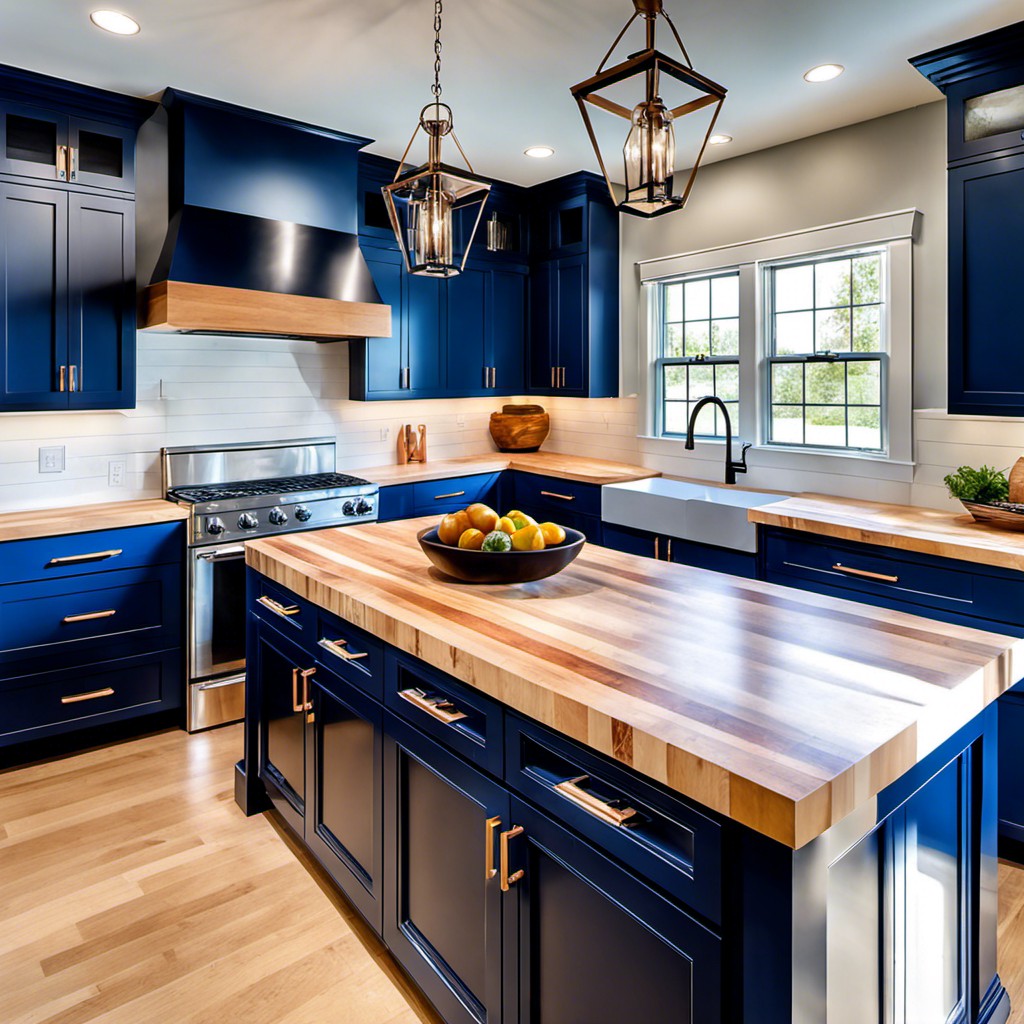 Pairing maple butcher block countertops with navy blue island cabinets yields a kitchen centerpiece that's not just visually striking, but also incredibly practical. Here are some concepts behind this design choice:
1. The Warmth of Wood: The soft, warm undertones of maple contrast beautifully with the cool, deep blue of the cabinets, creating a harmonious balance of colors.
2. Relaxed Modernity: While navy blue lends a modern edge, the traditional butcher block keeps the overall feel relaxed and welcoming.
3. Practical Brilliance: Butcher's blocks aren't just about aesthetics – they're also remarkably practical. Perfect for prep work, it's like having a built-in cutting board right at the center of your kitchen.
4. Durability: Maple is a hardwearing material, making it an excellent choice in active kitchens. Paired with the durability of properly painted and sealed cabinets, you've got a combination that can withstand the rigours of everyday use.
5. Customization: You may choose to oil or seal your butcher block for a shinier finish, or leave it in its natural state for a more rustic look. Either way, it pairs well with navy blue cabinetry, allowing creative flexibility.
6. Contrast: The light maple top and dark cabinets underscore each other, offering a delightful contrast that catches the eye.
7. Cost-Effective: Despite its high-end look, this pairing is a cost-effective way to elevate your kitchen's appearance. Money well spent for a mix of beauty and functionality.
Lacquered Navy Blue Cabinets With a Contrasting Teak Countertop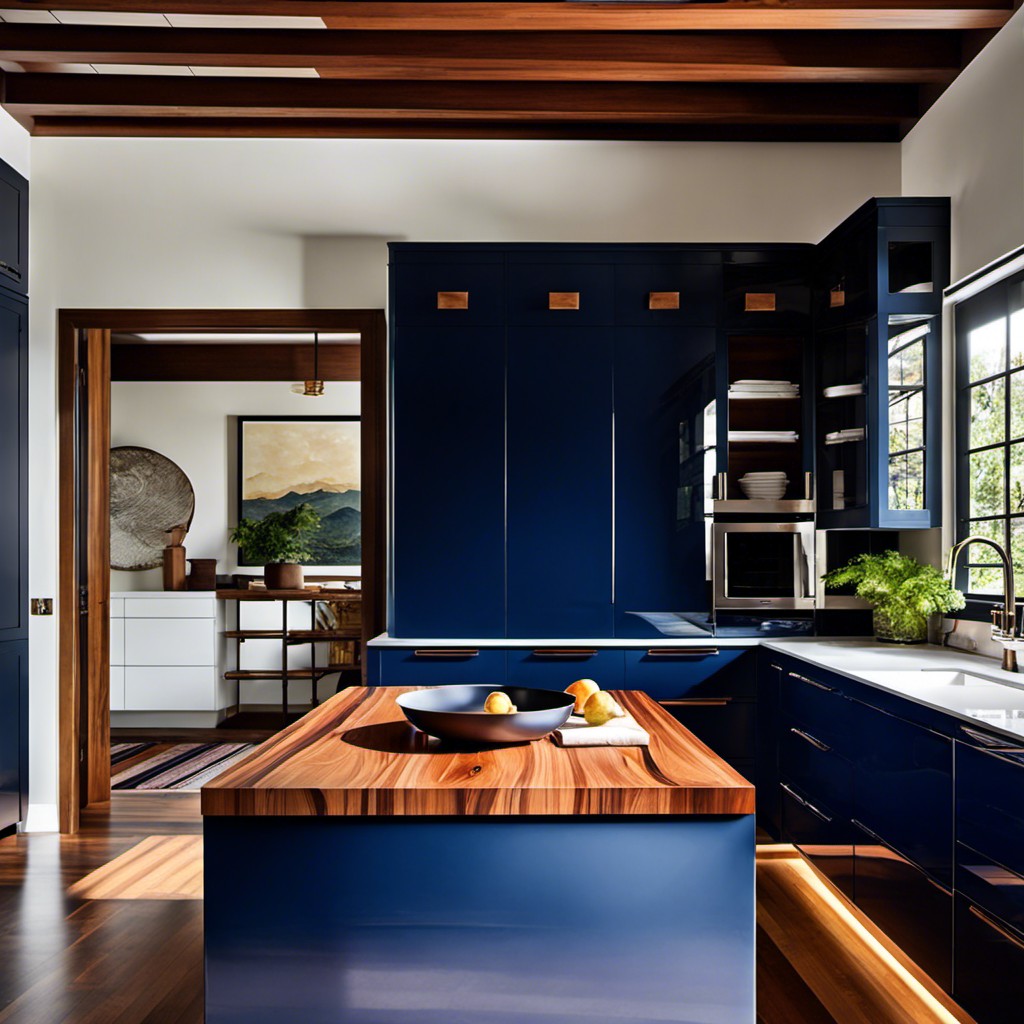 The glossy finish of lacquer brings a glamorous charm to your navy blue cabinets, enhancing the depth of the color whilst providing a hardy, time-resistant surface. On the other hand, teak countertops offer a warm balance to the cool tones of the navy blue, thanks to the woods' golden hues and intricate grains. If you're aiming for a design that oozes sophistication, this combo will not disappoint.
1. Lacquer creates long-lasting cabinets as it's significantly resistant to damages which kitchen units often incur, such as water, heat, and acidic compounds.
2. The inherent rich color of the teak gives off a natural organic appeal, providing a nice contrast to the polished navy blue cabinets.
3. The navy blue-teak duo can work with various design styles – be it modern, traditional, or Scandinavian.
4. With proper care, teak countertops can last for years, much like lacquer cabinets.
5. The contrasting colors create a focal point in the kitchen, subtly directing guests' attention.
Whitewashed Wood Countertop On Navy Blue Cabinets for a Coastal Look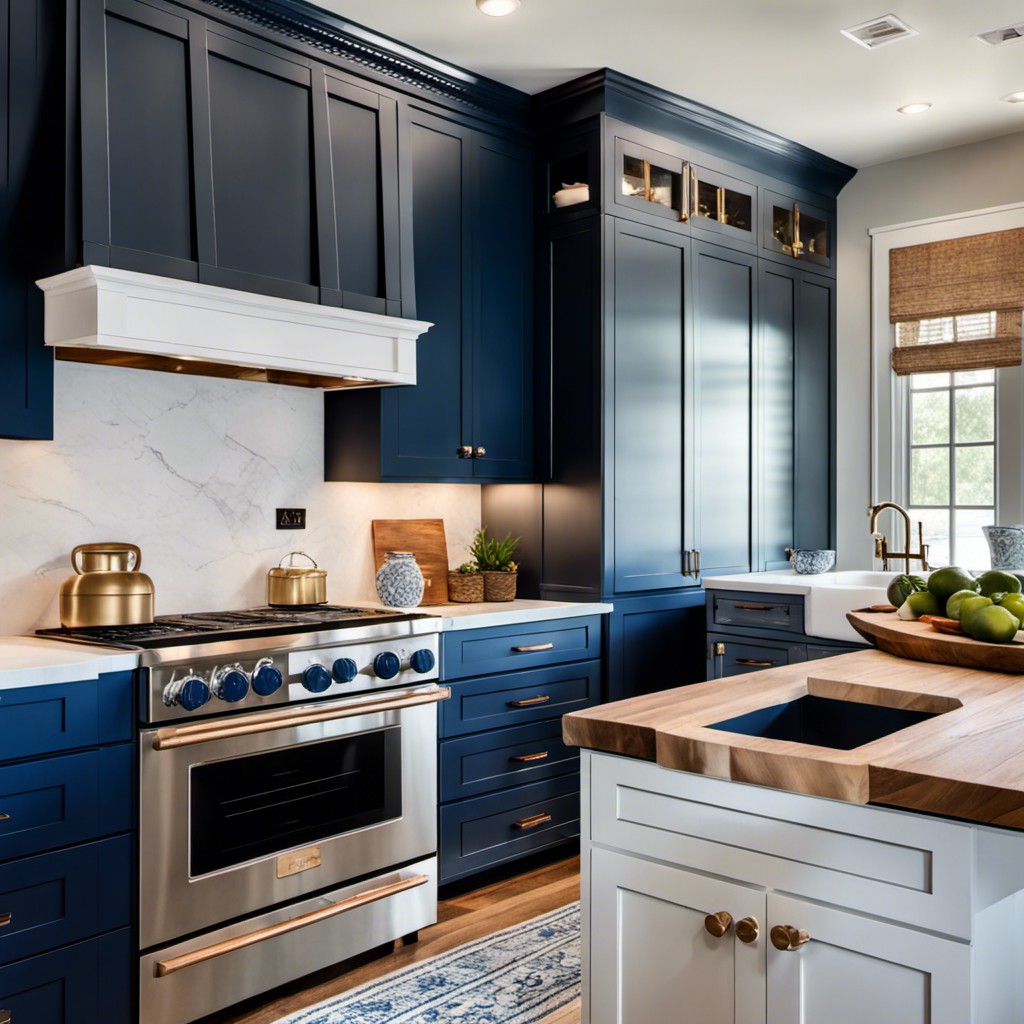 For those hankering after a beach-inspired aesthetic, this combination provides the perfect palate. Picture the crisp navy blue cabinetry imitating the deep ocean against a whitewashed countertop, inspired by sun-bleached driftwood.
Choosing a whitewashed countertop comes with several advantages. It brightens the space, provides a timeless appeal, and works brilliantly to emphasize the grain structure of the wood. Also, these countertops are usually sealed with a food-safe coating ensuring they are as practical as they are stylish.
To really enhance that coastal vibe, look to incorporate maritime-themed accessories, such as rope drawer pulls or seashell knobs. Stainless steel appliances will add a modern touch and look especially appealing against navy blue. Consider adding pendant lights with a nautical theme to create a warm glow, further instilling that waterside serenity.
Remember, the beauty of this combination lies in its ability to effortlessly bring together natural elements, modern touches, and serene oceanic hues.
Navy Blue Modular Cabinets With Reclaimed Wood Countertops for an Eco-friendly Touch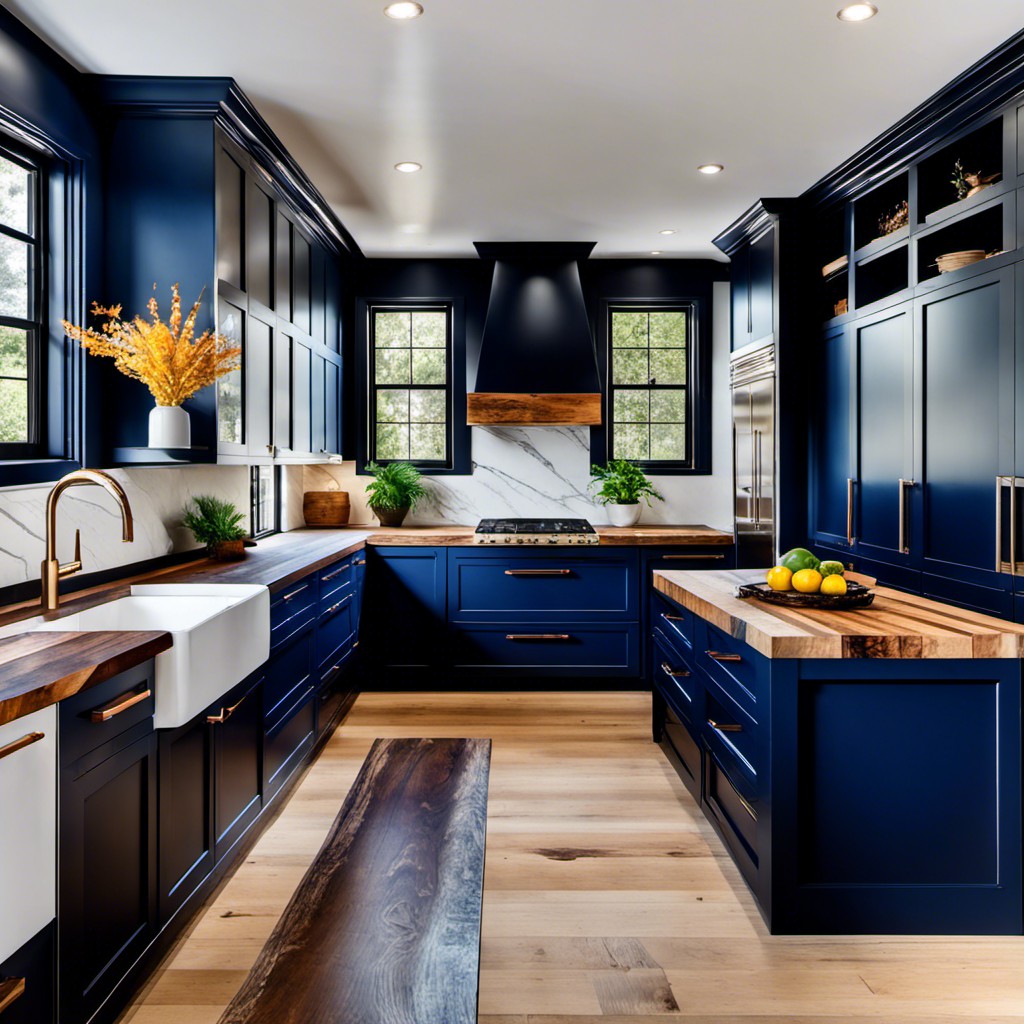 Opting for reclaimed wood serves a dual purpose – it adds a character to the kitchen while promoting sustainable living. Each piece is unique, offering a distinctive pattern and an aged look to the countertops. The combination of this weathered surface with the uniformity of navy blue enhances the visual interest considerably.
Recycled wood suits a variety of kitchen styles, from rustic to contemporary. Pair it with sleek modular cabinets for a modern edge. Play around with different finishes on your navy blue cabinets to either match the countertop's rustic charm or provide a sleek contrast.
To keep an eco-friendly mindset, consider low VOC paint for the cabinets. It's less harmful to the environment and the air quality in your space. When accessorizing, think about incorporating green plants or a recycle bin section. Remember, hardware like handles and knobs can be sourced sustainably too.
Needless to say, care for the reclaimed wood countertop is essential to maintain its appeal. Regular oiling and sealing help enhance its longevity and resist water damage. Keep hot pots and sharp objects off the surface to prevent scars on the precious recycled wood. This setup combines style, eco-thoughtfulness, and a touch of history in your kitchen.
High-gloss Navy Blue Cabinets With a Cherry Wood Countertop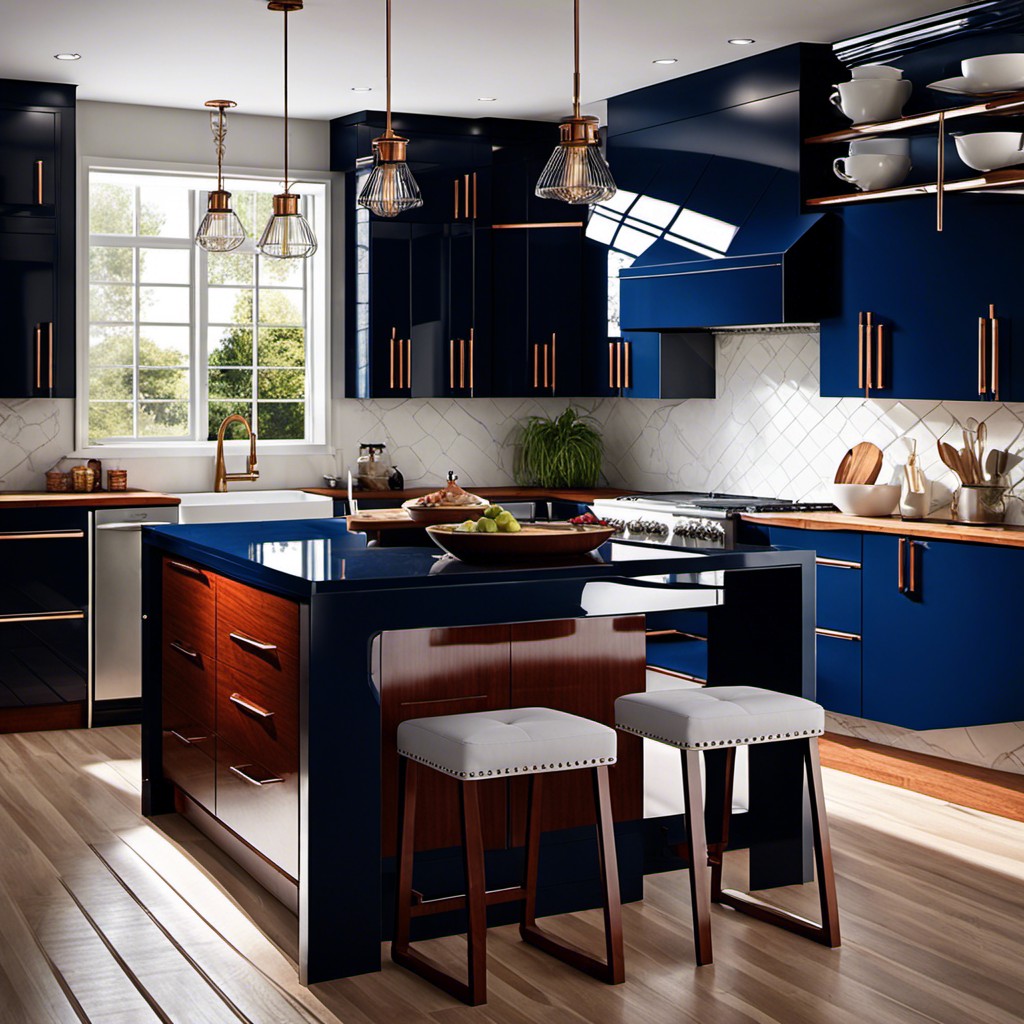 High-gloss finishes lend an air of sophistication, making the navy blue tone pop beautifully against cherry wood countertops. This combination reaps rewards in both contemporary and traditional kitchen designs.
To balance the look, consider these points:
1. Underpin with light. This combination benefits from plenty of natural light or ambient lighting, as the gloss finish beautifully reflects light, increasing depth and dimension.
2. Highlight wood grain. Cherry wood countertops are renowned for their rich and intricate grain. The glossy navy blue cabinets make an excellent backdrop for these countertops to shine.
3. Hardware contrast. Opt for brass or copper hardware to create an elegant contrast against the deep navy hue of the cabinets.
4. Complementary colors. Consider using soft grays, whites, or creams as your wall colors, as they offset both the glossiness of the navy blue and the warmth of the cherry wood.
5. Add texture. Balance out the high-gloss cabinets with a textured backsplash, creating an appealing contrast within your kitchen space.
Distressed Navy Cabinets With a Lightly Stained Oak Countertop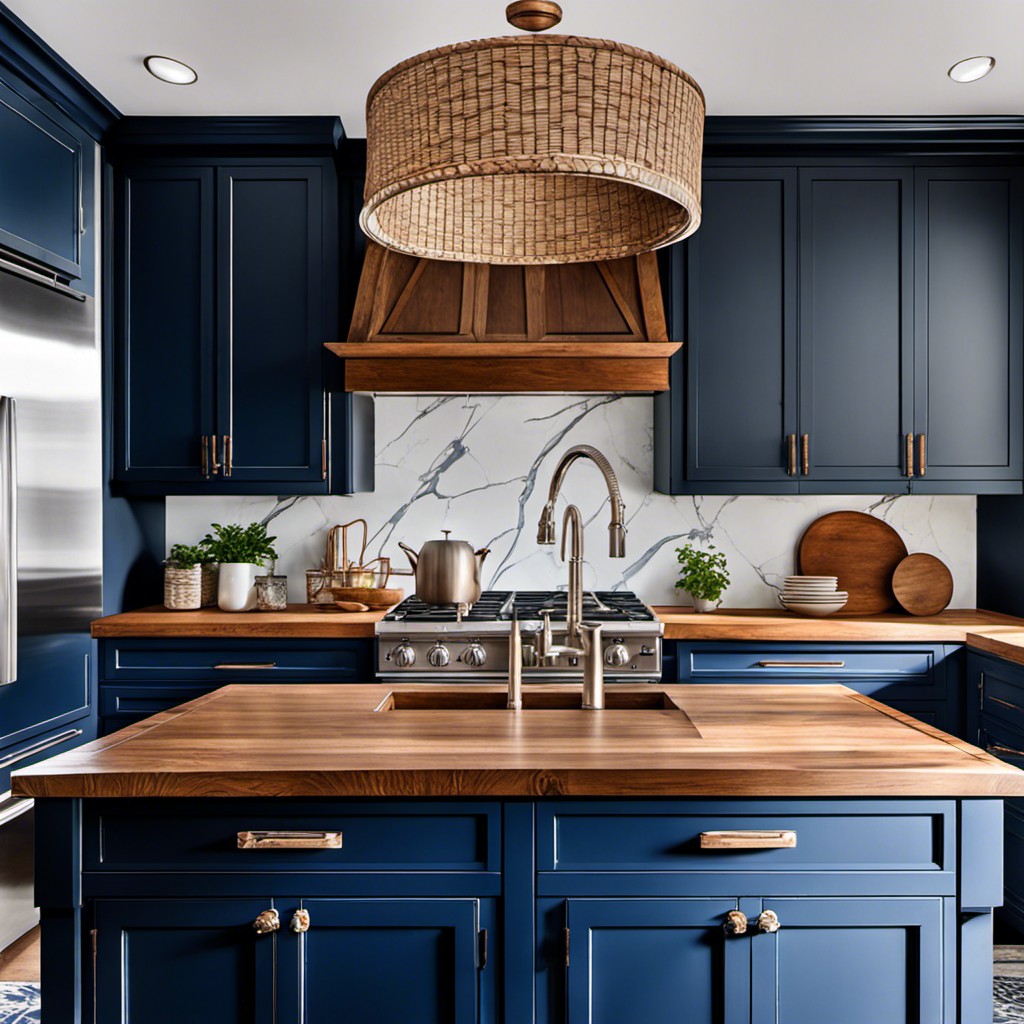 Embracing imperfections can add unique aesthetics to a kitchen, which is what distressed navy cabinets bring to the table. The intentional signs of wear and antiquing techniques give them a time-weathered look, perfectly fitting in with both classic and shabby chic interior designs.
Pair these with a lightly stained oak countertop. Oak offers durability and a fine grain pattern that adds texture. Opting for a light stain allows the natural wood characteristics to shine through, providing a warming contrast to the cool navy.
Here are some essential points to consider while going for this look:
Choose a matte finish for the navy blue cabinets to lend them an aged look.
Pick an oak countertop in either white or red oak, depending on your color preference.
Accentuate the grain of the oak countertop with a light stain, allowing its natural beauty to be the star.
Incorporate vintage or rustic hardware, such as iron drawer pulls or distressed bronze knobs, to complement the cabinets.
Opt for open shelving where possible as it provides an opportunity to display vintage dishware or antiques that enhance the distressed look.
Navy Blue Frame Floor Cabinets With a Hickory Live-edge Countertop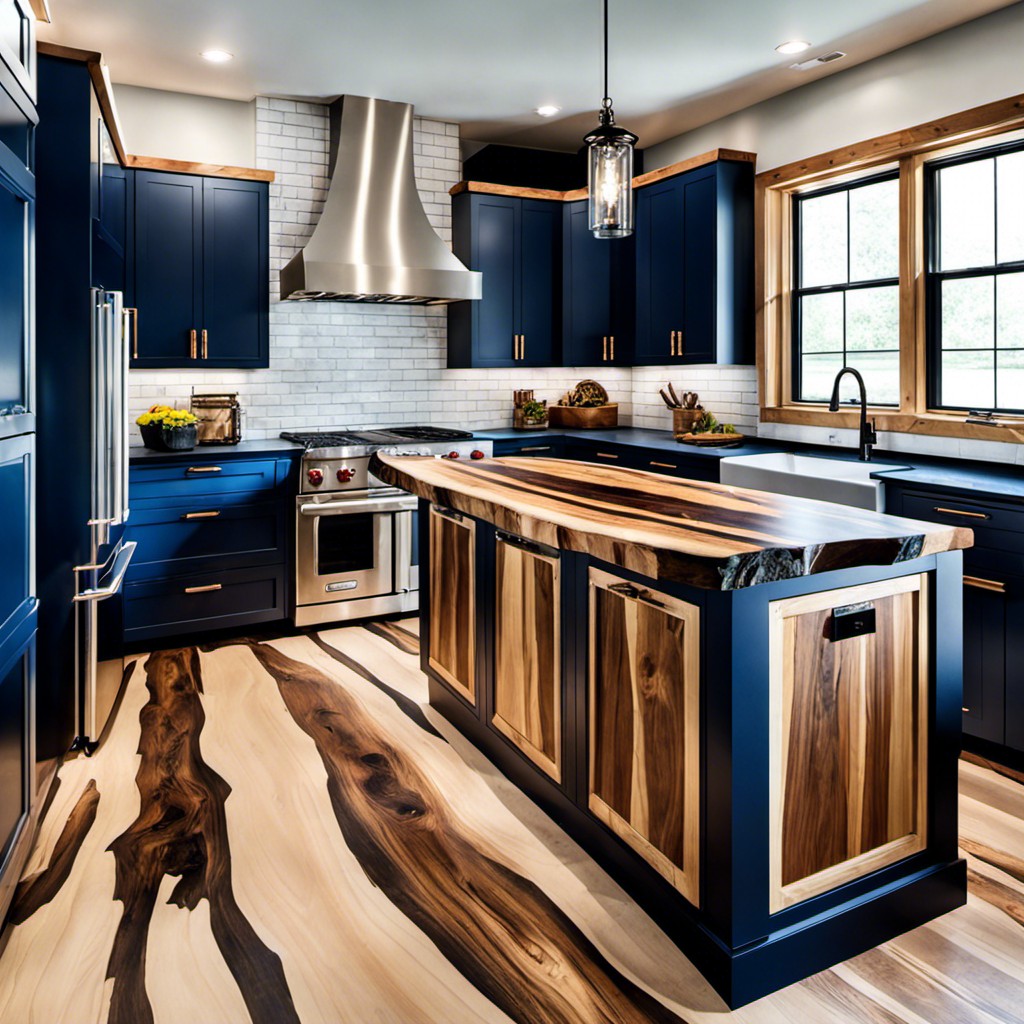 Deeply rooted in a love for nature and contemporary design, this style blend brings warmth and authenticity to your kitchen. Hickory countertops, known for their unique grain pattern and incredible strength, make a robust and visually stunning work surface. The live edge reflects the natural contours of the tree, creating a rustic yet sophisticated look.
Frame floor cabinets are celebrated for their traditional craftsmanship. Their navy blue finish in this duo, however, provides a modern twist. The dark, cool tone wonderfully balances with the warm, earthy hue of the hickory surface, offering the right blend of old-world charm and modern aesthetics.
Let's delve into key practicalities to consider:
Regular sealing of the hickory countertop will help preserve its natural beauty and durability.
Installing under-cabinet lighting would enhance the navy blue's richness and highlight the countertop's unique features.
Combining these cabinets with brass or gold hardware can add a bit of glamor to the space.
Accenting with light-colored walls or backsplash keeps the room from feeling too dark or heavy.
Using open shelves instead of upper cabinets allows the stunning countertops more visibility.
The union of navy blue frame floor cabinets with hickory live-edge countertop can be your secret weapon to materialize an inviting kitchen that strikes a perfect chord between timeless grace and modern panache. Remember, the devil's in the details!
Navy Blue Antique-style Cabinets With a Polished Mahogany Countertop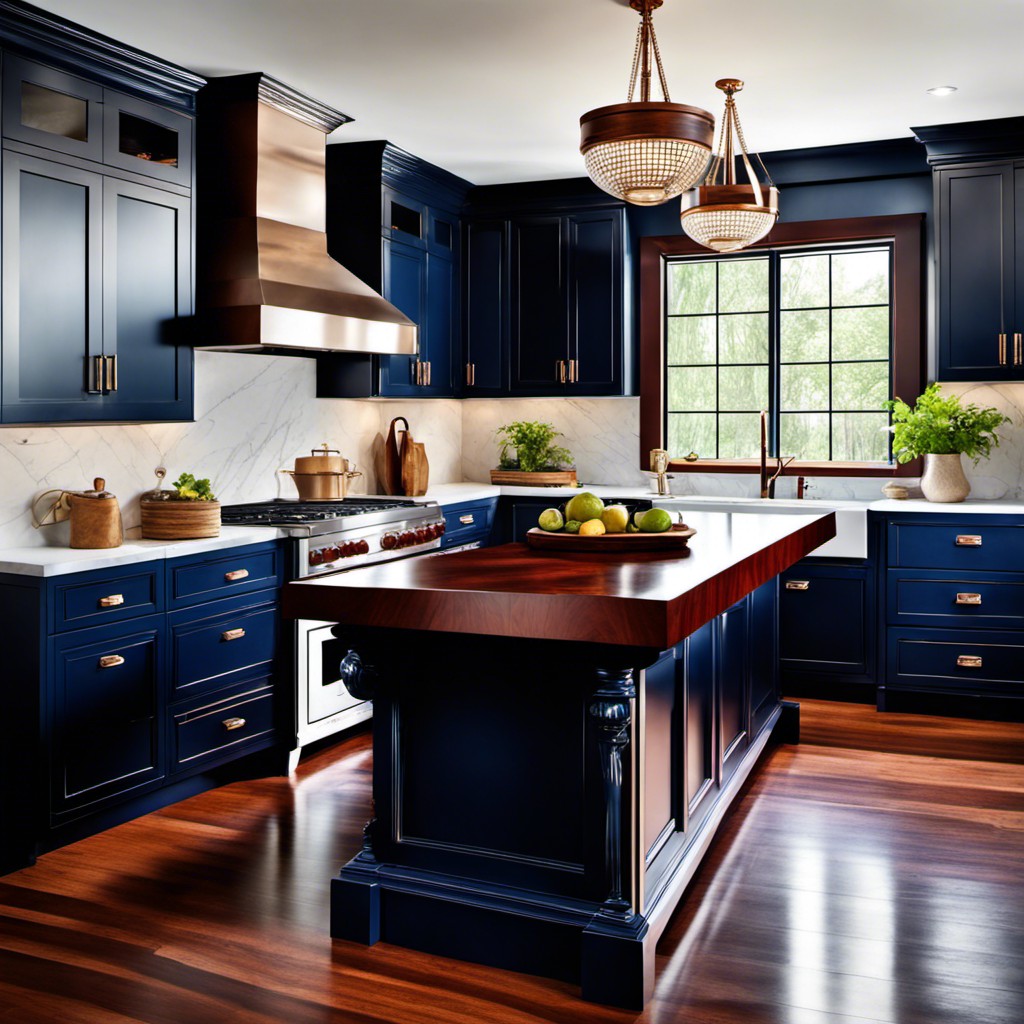 Pairing an antique-style cabinet with a polished mahogany countertop results in a refined, timeless look. The rich, deep navy blue finish of the cabinets augments the elegance of antique designs, such as intricate carving or period door handles.
A countertop made from polished mahogany adds a level of sophistication, its polished surface emphasizing the wood's natural attributes.
In addition to aesthetics, this combo brings practical benefits. Antique-style cabinets are often characterized by robust construction, echoing the old world's attention to detail. Mahogany, a durable hardwood, is famous for its resistance to water and wear, promising a long lifespan.
This makes the combo an intelligent choice for those desiring long-lasting, elegant kitchens.
For added visual interest, consider brass or bronze hardware. Such metallic finishes contrast beautifully with navy blue and echo the sophistication of polished mahogany. Lighting, too, plays a key role; under-cabinet lights can highlight the counter's attributes, while a vintage chandelier or reclaimed lantern could underscore the antique styling.
Finally, for the finishing touch, install a classic white backsplash or opt for white walls. This timeless color can truly pop against the navy blue cabinets, enhancing the kitchen's brightness and appearing as a clean canvas that allows the beautiful cabinets and countertop to shine.
It'll ensure just the right balance, letting your eyes savor the sophistication that this combination offers.
Matte-finished Navy Blue Cabinets With a Caramel Bamboo Countertop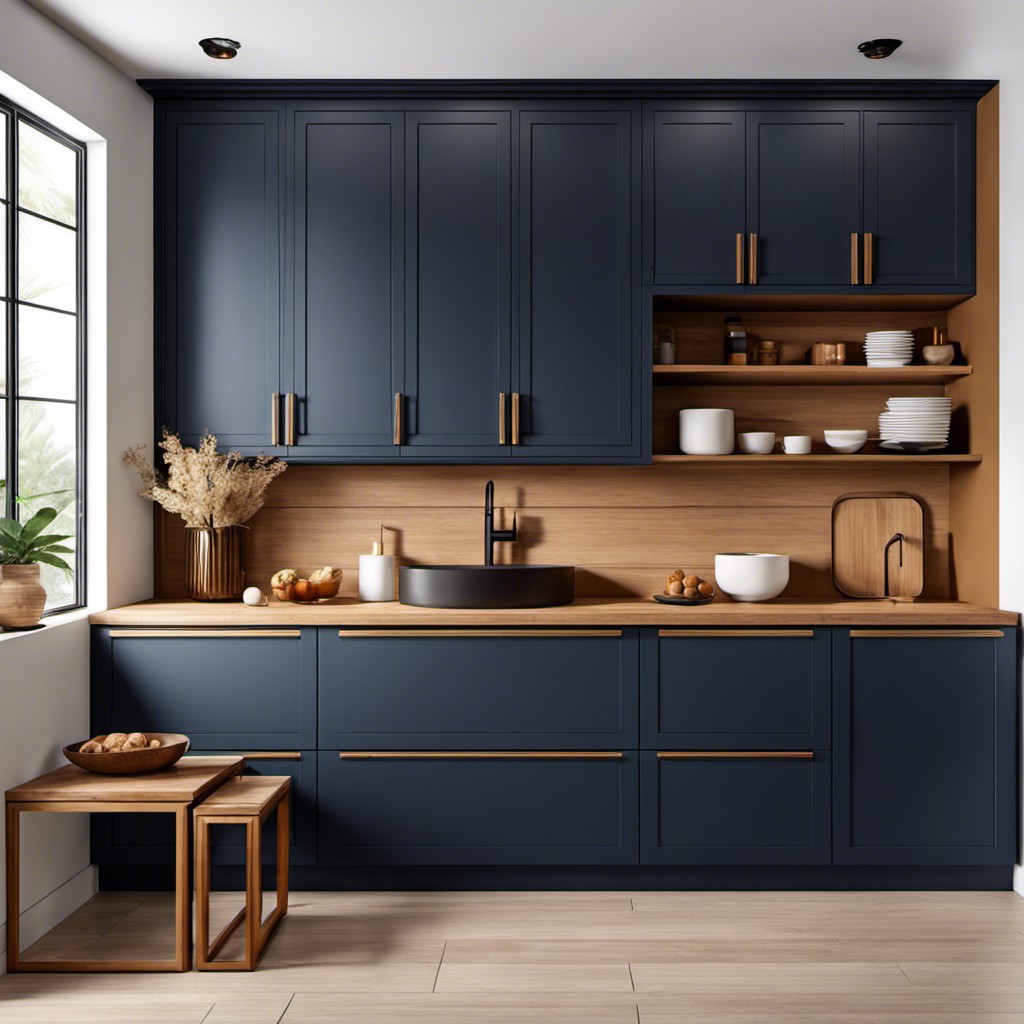 Matte finishes, loved for their non-reflective brilliance, pair beautifully with the warmth and sustainability of a caramel bamboo countertop. Bamboo, an excellent choice for eco-conscious decorators, packs charm with a lighter carbon footprint.
1. Highlighting Character: The matte finish reduces glare, highlighting navy blue's depth and richness. The caramel bamboo countertop provides a warm, earthy contrast that breathes life into your kitchen's aesthetics.
2. Durable and Sustainable: Bamboo is notably sturdy and renewable. It resists warping and cracking, ensuring a long-lasting countertop. Moreover, it grows faster than hardwoods, making it a more sustainable choice.
3. Striking Balance: Matte Navy Blue Cabinets bring a sophisticated, contemporary vibe, while the caramel bamboo has a more organic feel. This juxtaposition strikes an interesting balance – modern and yet grounded.
4. Homely Appeal: The blend of these two elements provides a clean, serene environment with a welcoming ambiance. The deep navy colour, whose charm only amplifies in daytime, blends well with the caramel countertop's natural feel.
Remember, while hardware like knobs and faucets can add extra layers of contrast, strip lighting under the cabinets can softly highlight the gleaming bamboo. A likewise coloured wood floor can also enhance the overall harmony and comfort.
Navy Blue Freestanding Cabinets With Unfinished Pine Countertops for a Rustic Look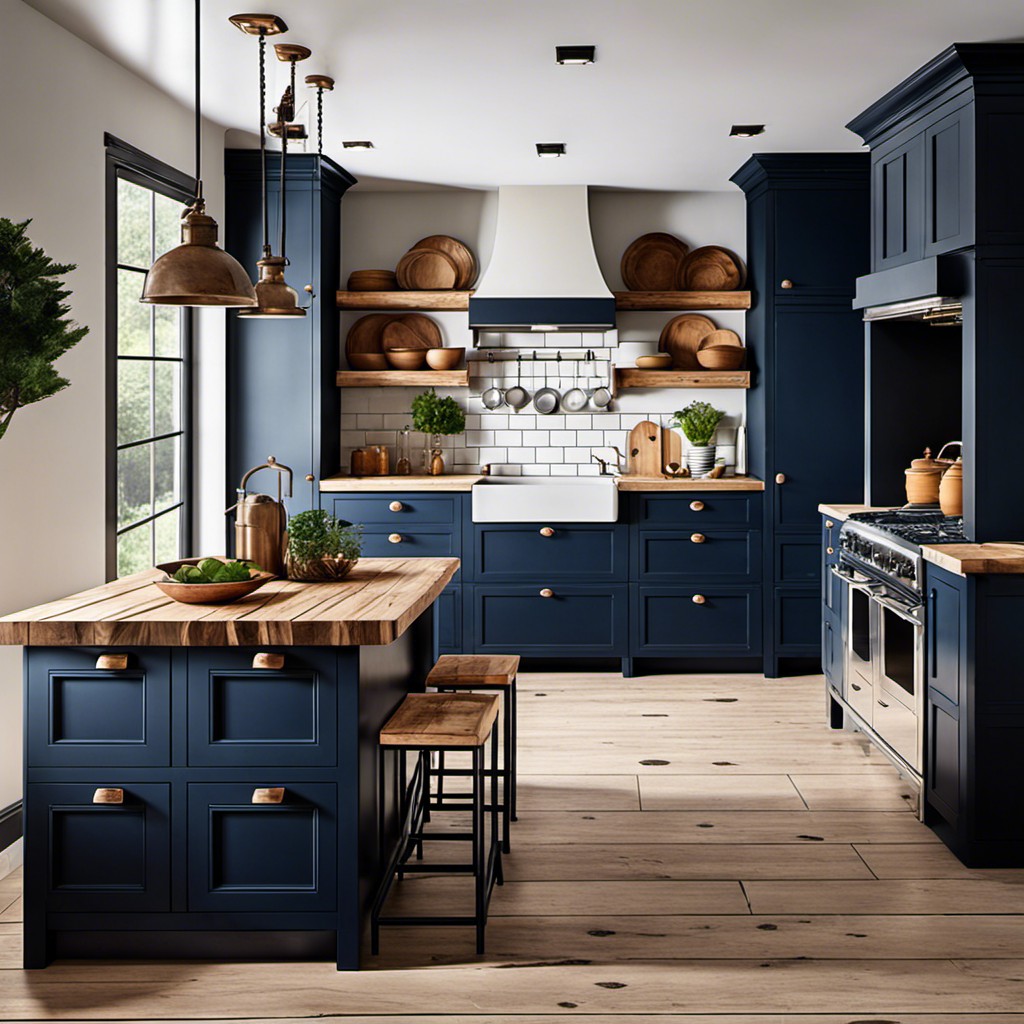 The rustic charm of unfinished pine countertops harmonizes stunningly with the richness of navy blue freestanding cabinets. The raw, unfinished texture of pine is significantly compatible with an understated rural or cabin-like setting. The navy blue hue of the cabinets enhances this aesthetic, anchoring the entire room with its depth and tranquility.
1. Shades: The dark blue hue is a great contrast to the lighter tone of the unfinished pine, which can be further accentuated by adding nautical themed decor elements or textiles.
2. Natural Textures: The unfinished texture of the pine countertops is complemented by the smoothness of the freestanding navy cabinets.
3. Durability: Pine is incredibly durable and resilient, making it an ideal choice for countertops. When paired with solidly-built freestanding cabinets, this setup ensures longevity.
4. Eco-Friendly: Choosing pine for countertops is an eco-friendly option, especially when sourced responsibly.
5. Easy Maintenance: Unfinished pine countertops are relatively easy to clean and maintain, adding to their appeal when combined with the low-maintenance nature of painted cabinets.
6. Versatility: This pairing suits a wide range of interiors, from a rustic cabin, farmhouse aesthetic to coastal-themed rooms, the combination fits surprisingly well.
Dual-toned Navy Cabinets With a Grey-tinged Ash Wood Countertop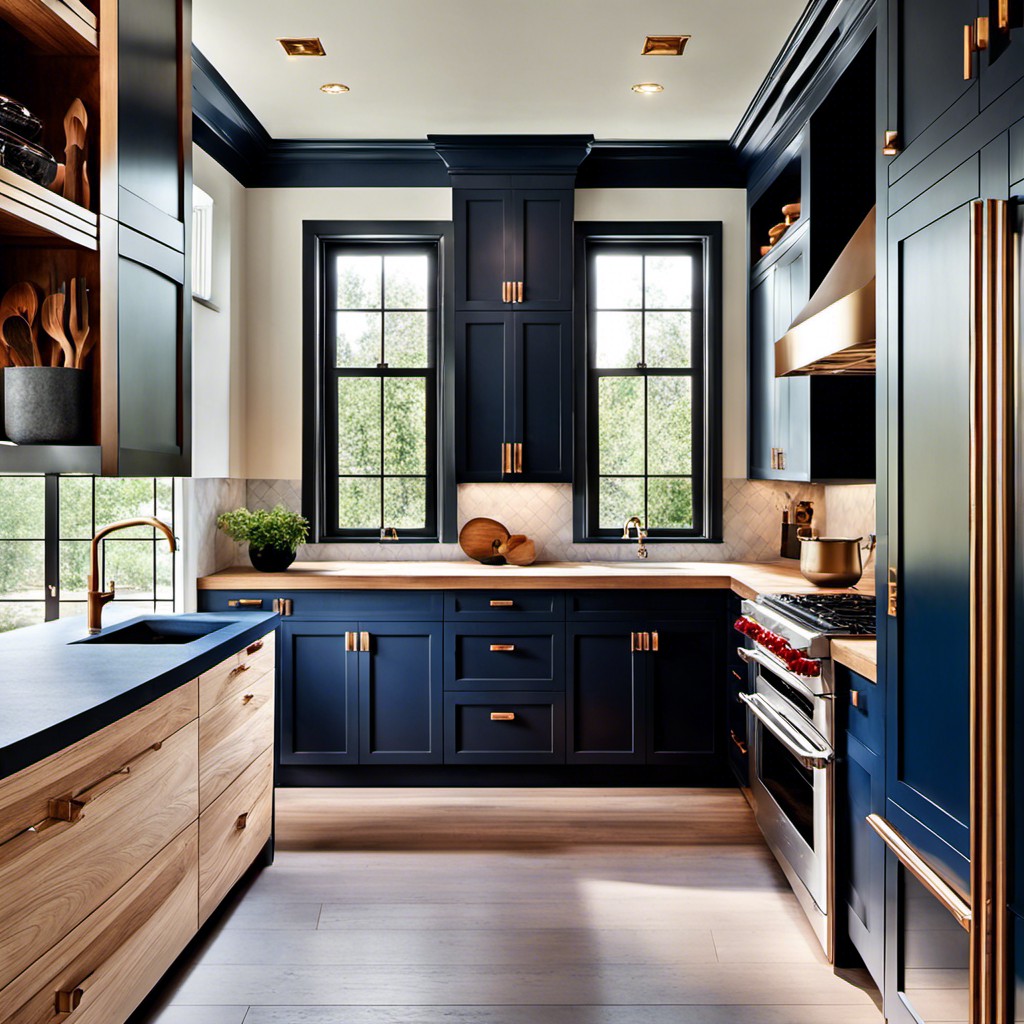 Creating a compelling and dynamic visual contrast is key in a dual-toned cabinet design. The darker navy hue is often found on the bottom cabinets, grounding the design, while a lighter shade or another color entirely graces the top cabinets. This adds dimension and interest to your kitchen design.
The choice of grey-tinged ash wood as the countertop brings a subtle yet noteworthy contrast. This particular wood type has a natural grey undertone, which complements the deep blue shades beautifully. The wood's unique grain pattern also adds an extra element of texture and depth, preventing the design from feeling flat.
To further enhance this pairing, consider the finish on your cabinetry. A matte or satin finish would contribute to a more modern and sleek look, while a glossy finish gives a more traditional, somewhat luxurious touch. Ultimately, the finish should coordinate with the overall style of your kitchen.
When it comes to hardware, brushed nickel or stainless steel choices would add a modern flair, while something softer, like brushed gold, could provide a warmer aesthetic. Balance with the style of your appliances and fixtures for harmonious design.
Remember, with dual-toned cabinets, lighting can make a significant difference. Under-cabinet lighting or strategic spotlights can highlight the unique contrasts and bring out the beauty of the ash wood countertop. Don't forget to pay attention to natural light too, which can dramatically alter the perception of colors throughout the day.
Navy Blue Base Cabinets and White Uppers With a Mixed Species Wood Countertop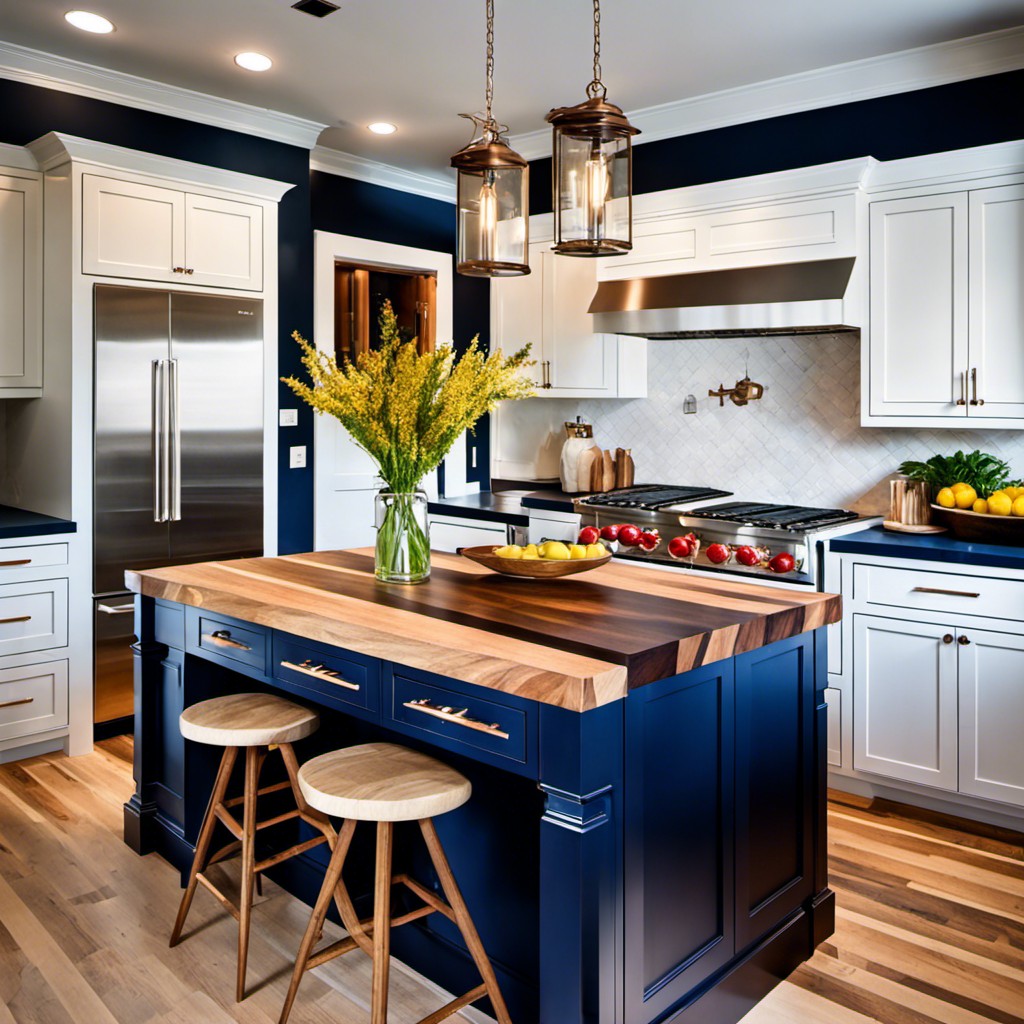 A seamless union of timeless elegance and modern appeal, this design harnesses the perfect blend of navy and white to create a fresh and stunning visual aesthetic. With the upper cabinets donned in a luminous white, the contrast against the dark navy base cabinets brings about a dynamic depth to your kitchen.
Delving into the choice of countertop, a mixed species wood injects an extra dose of charm. It incorporates various types of wood crafted together, making every inch an incredible melange of hues, grains, and patterns. This adds an enchanting touch of natural beauty and character that proves a striking, yet harmonious counterpart to the navy and white cabinets.
Let's examine the key aspects to consider when integrating this design into your kitchen:
Enhanced Spatial Perception: The navy blue base with lighter uppers helps to extend the perceived height of your kitchen, making it look more spacious.
Balance of Warmth and Cool Tones: A mixed species wood countertop breaks the coldness of the navy blue color, imparting a comforting warmth to your kitchen.
Variety of Wood Types: You can opt for a combination of oak, cherry, walnut, or any other types of wood you prefer for your countertop. This adds a bespoke touch to your kitchen.
Styling Flexibility: This setup complements a plethora of accessory choices. Brass, stainless steel, or matte black hardware can all beautifully accentuate these cabinets.
Comparable Maintenance: Both navy blue and white cabinets require similar care routines. Regular wiping with a mild cleaner keeps them looking fresh, avoiding any harsh substances or scrubbers to maintain their finish.
By understanding these points, creating a kitchen with navy blue base cabinets, white uppers, and a mixed species wood countertop becomes an achievable and exciting endeavor.
Navy Blue Cabinets With Intricate Molding and Walnut Butcher Block Countertops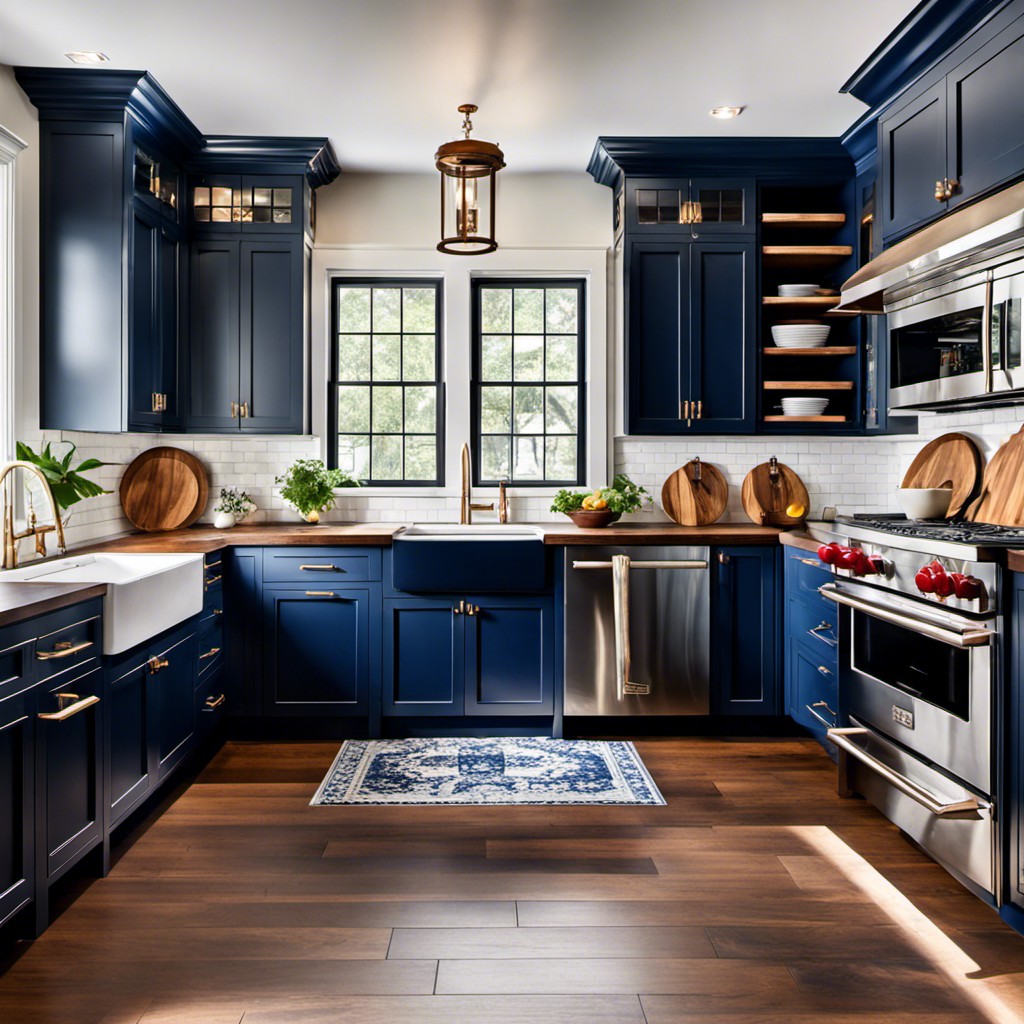 Emphasizing the intricacy of the cabinet mouldings brings depth and architectural interest to any kitchen. The elaborate carvings of the navy blue cabinets offer a dose of sophistication and luxury. This detailing can range from a simple bead or groove detail to complex foliage or geometric patterns. The dark blue color further highlights these details, letting them take center stage.
Opting for walnut as your butcher block countertop choice contributes a warm, timeless appeal to the kitchen. The wood's rich tones and distinctive grain patterns offer a nice contrast to the coolness of navy blue. The butcher block format, known for its strength and durability, also brings a practical ease to your food preparation space.
To maintain balance, pair these with simple, unobtrusive hardware. Brushed nickel or gold pulls work well, adding an elegant finishing touch without stealing attention from the cabinets' ornate mouldings. Subtle lighting also enhances the cabinet details and makes the walnut countertop glow.
For floors, consider lighter shades of wood, tile, or stone. This allows the intricate navy cabinets and walnut countertop to remain in focus. If possible, incorporate natural light to bring out the warm colors of the walnut against the navy cabinetry.
Remember, keeping other elements slightly minimalist will give your navy blue cabinets with intricate moldings and walnut butcher block countertops the spotlight they deserve.
Navy Blue Open Shelving Cabinets With a Slab-style Cedar Countertop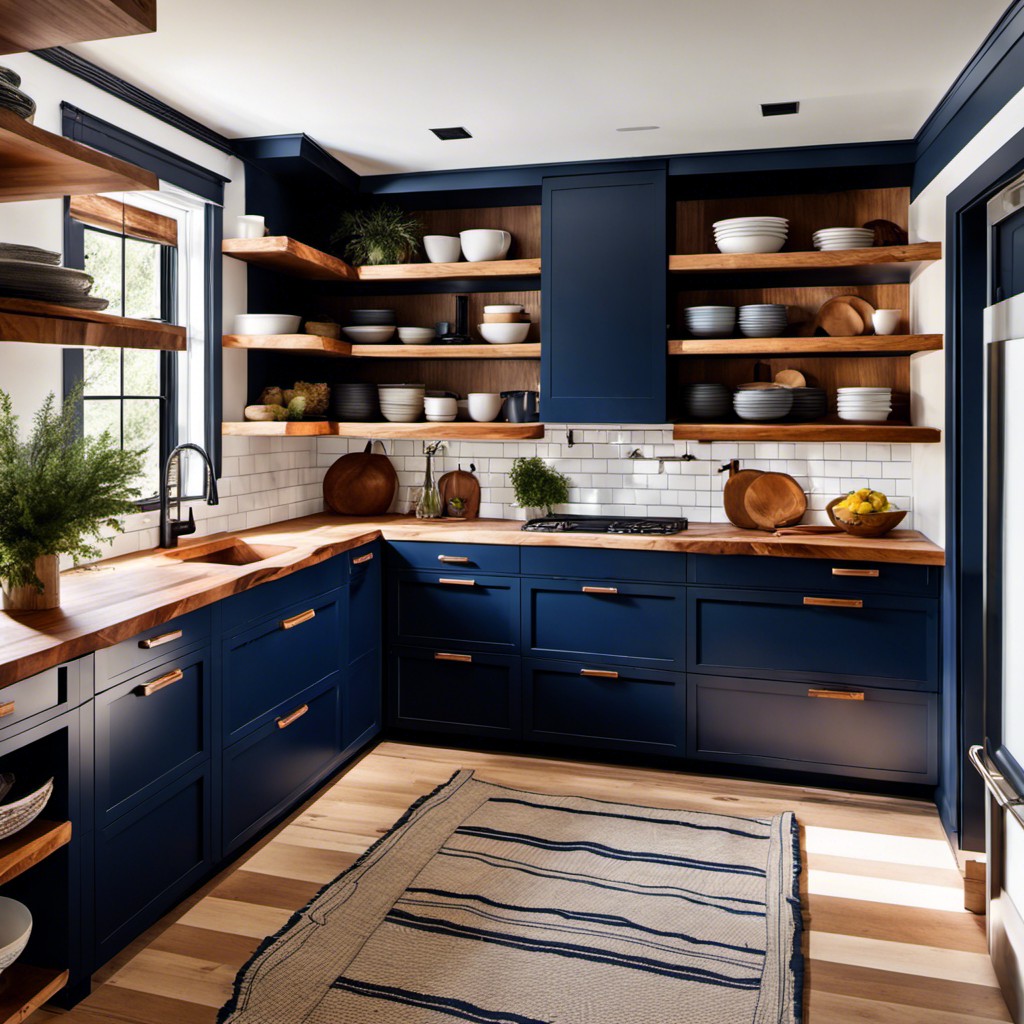 Open shelves in navy blue exude a refined yet relaxed aesthetic that uncovers a refreshing take on modern farmhouse charm. The cedar countertop, with its warm undertones and unique grain pattern, not only provides a pleasant contrast but also brings an element of warmth and nature to the kitchen.
Opting for slab-style cedar reinforces the organic feel of the space. Natural variations and imperfections in the wood become focal points, adding character and personality to the kitchen.
Let's delve into some key points about this pairing:
1. The slab-style countertop's raw edge presents a rustic appeal that seamlessly blends with the modernity of navy blue.
2. Open shelving ensures easy accessibility and offers the opportunity to showcase decorative items or curated dishware.
3. The natural oils in cedar ward off insects and decay. It's also resistant to moisture, making it especially practical in a kitchen setting.
4. Using navy blue for open cabinets creates a dramatic backdrop, making items stored on the shelves pop.
5. Wood and navy are a timeless combination – versatile enough to work with various color schemes and styles.
Fine-grain cedar countertops are easy to maintain and, when coupled with navy blue open cabinets, provide a perfect balance of functional and aesthetic value. It's a surefire way to add a stylish twist to your kitchen without deviating from a cozy, inviting ambiance.
Navy Blue Cabinets With a Contrasting Wood and Marble Countertop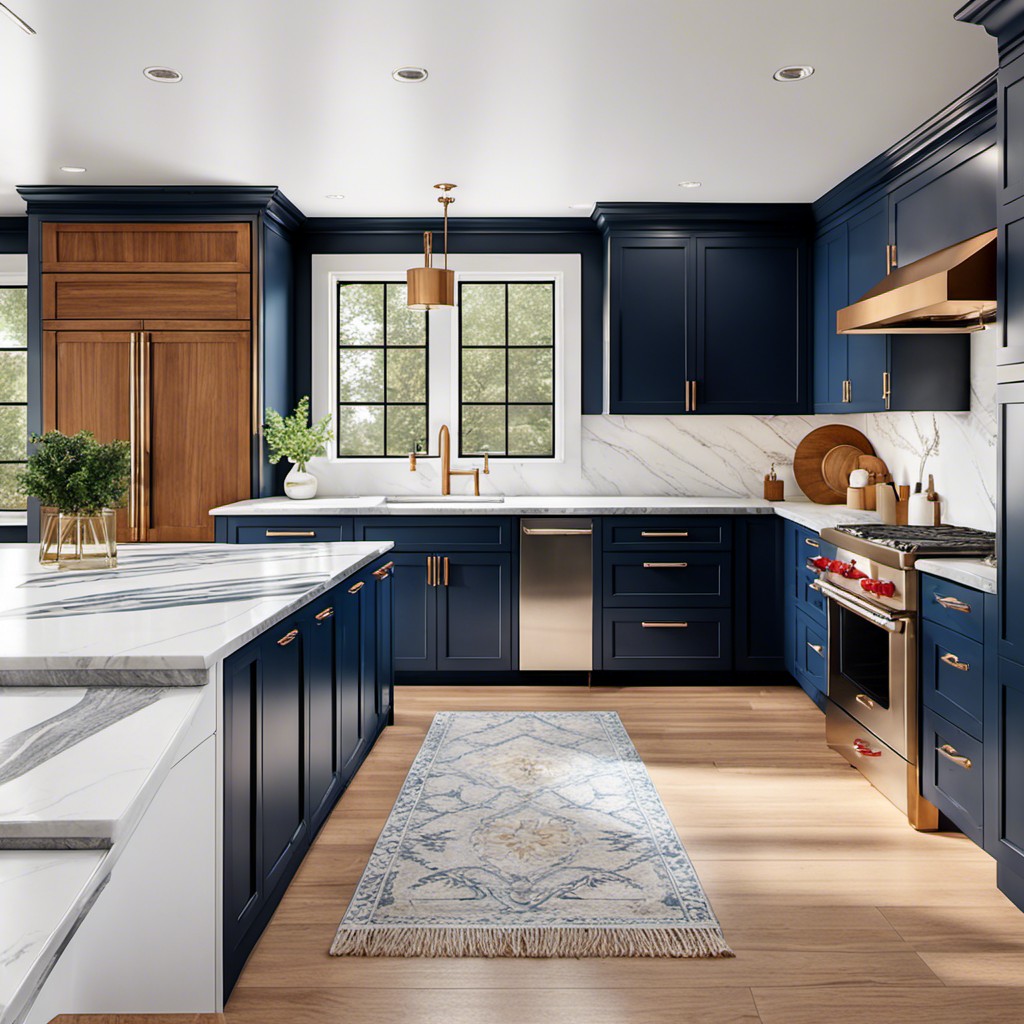 Striking a perfect balance between the cool navy and warm wood tones, this option creates a sophisticated kitchen environment. The richness and depth of navy blue cabinets make them the perfect base. When paired with natural wood, it adds a touch of earthiness, while the marble boosts that feeling of elegance. The unique juxtaposition of raw wood and refined marble can create a delightful visual interest, adding depth and texture to the space.
Here are a few ideas to incorporate this design:
The veining of the marble can mimic the grain of the wood, seamlessly uniting the two elements.
Use a lightly colored marble to prevent an overly busy visual.
The wood section of the countertop could serve as a built-in cutting board or breakfast bar.
Experiment with mixing types of woods to match your type of marble.
Use the marble as a centerpiece on the island and surround it with the wood on perimeter counters.
Polished marble and satin or matte cabinet finishing create an appealing contrast.
While navy blue units stand strong, marble and wood soften the look, adding a welcoming charm.
Modern Flat-paneled Navy Blue Cabinets With a Dark-stained Maple Countertop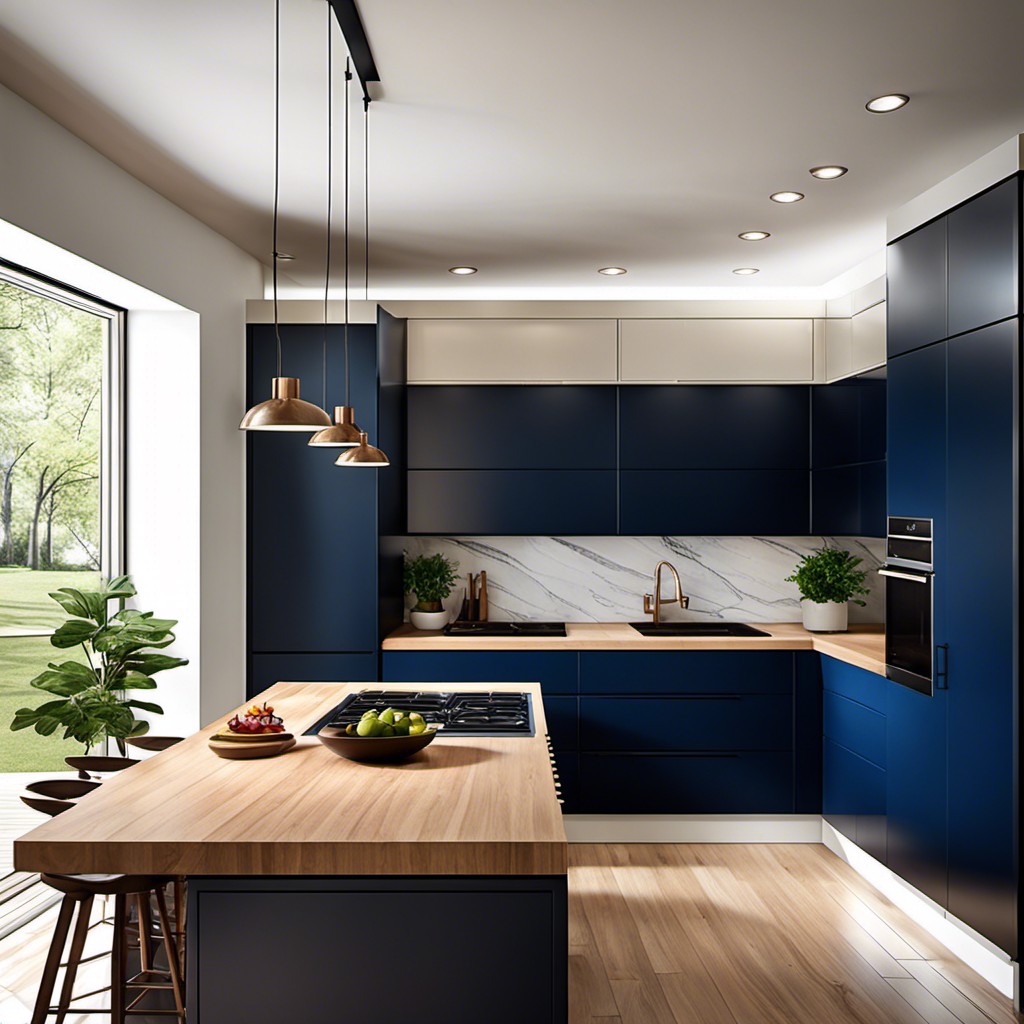 This design is a testament to the seamless blend of contemporary and classic aesthetics. The dark-stained maple countertop bestows an earthy, warm accent against the smooth navy blue cabinets. These flat-paneled cabinets are notable for their clean lines and minimalist approach, upping the sophistication quotient. The rich stain of the maple elevates the look further, creating a marked contrast, yet with a harmonious blend.
Choosing hardware like nickel or chrome will add a modern touch, while brass or gold fittings can steer the look towards a more classic or eclectic style. For backing, a simple white subway tile or marble can keep the focus on the cabinetry and countertop. Furthermore, this pairing is also highly functional – maple's durability ensure a countertop that can withstand daily usage, while the easy-to-clean feature of flat-paneled cabinets makes it a favored choice for many.
Ultimately, this duo creates a visually appealing kitchen where modern design principles meet timeless color contrasts.
Navy Blue Louvered Cabinets With a Varnished Birch Countertop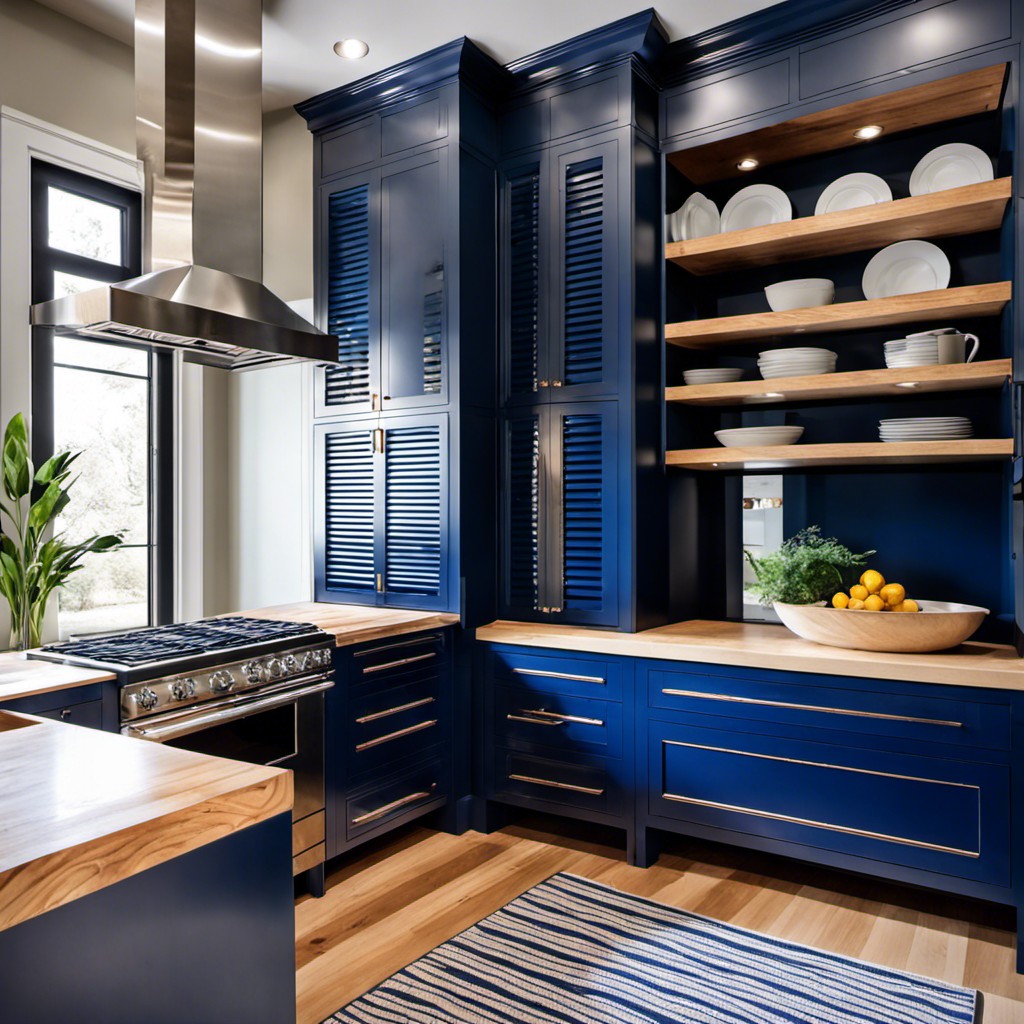 Combining the distinguished aesthetics of louvered doors with the distinctive hue of navy blue can result in an unparalleled sense of style and refinement. The horizontal slat design of the cabinetry aids in ventilation, offering a practical addition to its intrinsic charm.
Paired with this, a countertop in varnished birch exudes warmth and comfort, subtly softening the bold navy blue. The light-catching varnish acts as a protective layer, enhancing the natural patterns and grain of the birch. This combination effortlessly marries functionality with aesthetics.
Emphasizing the design potential, consider these suggestions:
Silver, bronze, or brass knobs and handles will highlight the louvered design of the cabinets.
Birch countertops pair beautifully with light-colored tile backsplashes.
The inclusion of white accessories can create a modern coastal aesthetic.
Lighting ensconced over the countertop will highlight the Birch's natural grain.
Subtle incorporation of navy-blue accents around the kitchen can create a sense of unity.
Combining these key elements can result in a harmonious balance between bold color choice, natural warmth, and engaging cabinetry design.
French Navy Blue Cabinets With a Two-toned Striped Wood Countertop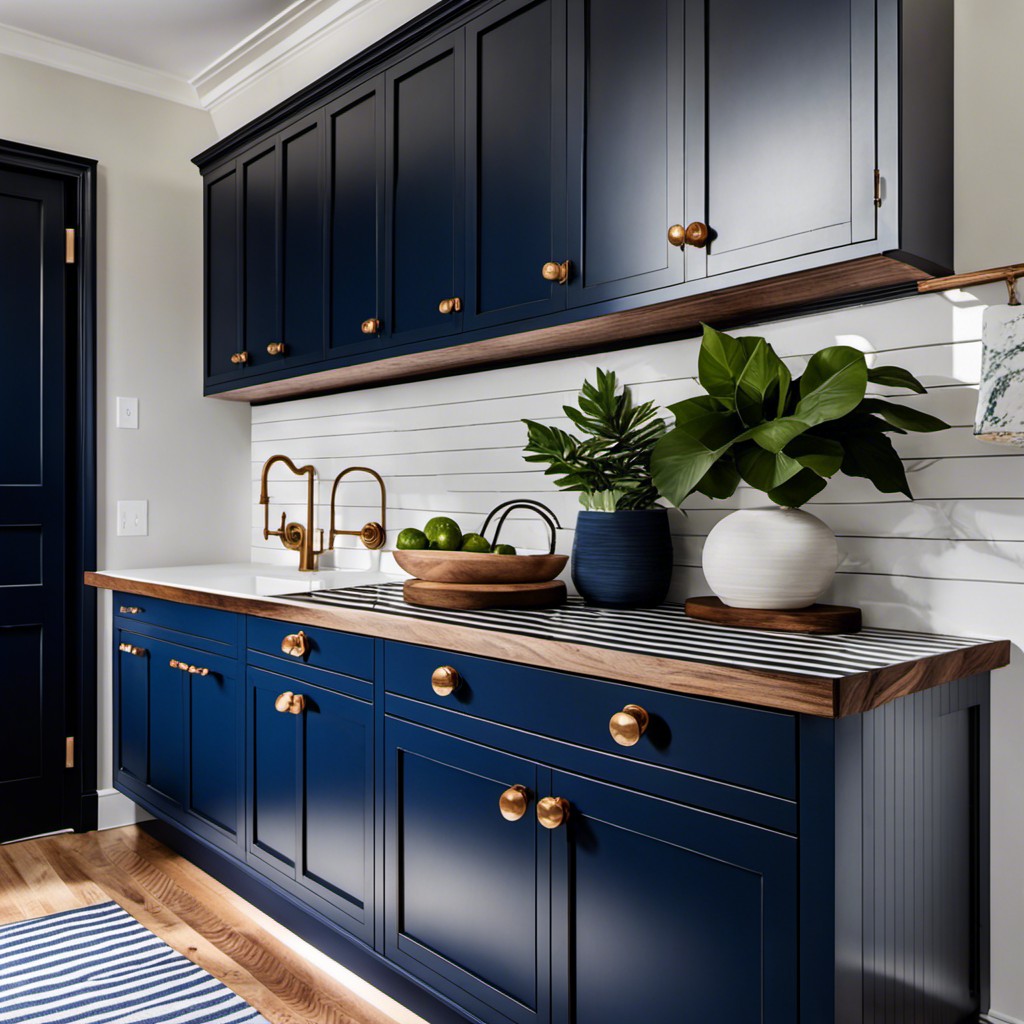 The two-toned striped wood countertop is an ideal addition to the rich depth and elegance of the French navy blue cabinets. It brings a dynamic twist, infusing the space with a bold and unique flair.
For a balanced appeal, consider pairing this duo with subtle hues for the backsplash and wall colors. Neutral tones, preferably off-whites or light greys, will ensure that the contrasting countertops and cabinets remain the room's centerpiece.
Add a sophisticated touch with metal hardware. Gold or brass offers a warm contrast to the cool navy tone. For a sleek modern look, consider using stainless steel or brushed nickel. The key is in maintaining a harmony of all elements.
Furthermore, symmetrical patterns on the countertop can realign the focus in the room and bring a sense of visual continuity. It's vital to seal the wood well to preserve its beauty and ensure its longevity. Take advantage of this combination's versatility and experiment with different kinds of lighting, from pendant lights to under-cupboard illumination, for an added ambient effect.
Remember, natural lighting works best with this pairing, accentuating the tonal variations in the wood and the depth of the navy blue, making the space look airy and more inviting. Consider window treatments that do not obstruct sunlight, such as sheer curtains or roller blinds.
Navy Blue Country-style Cabinets With a Distressed Alder Countertop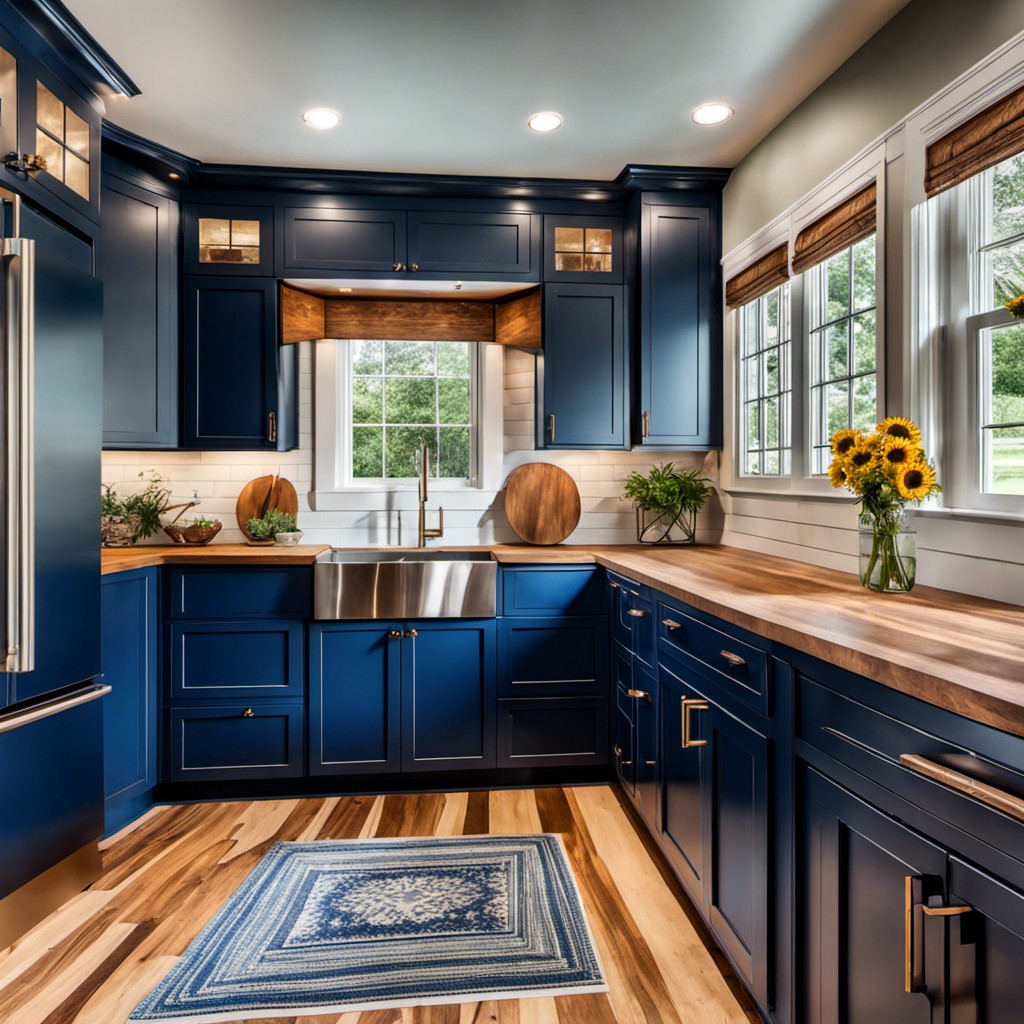 Take the rustic charm up a notch with distressed alder countertops; the unique grain patterns and knot details make each piece one-of-a-kind. Coupled with the robust depth of navy blue, they infuse character into any country-inspired kitchen.
1. Durability: Alder is durable and resistant to wear, making it ideal for heavy kitchen use.
2. Warmer Tones: Distressed alder provides a rich, warm contrast to the cool navy blue, creating a balanced aesthetics.
3. Texture: Distressed finishes highlight the underlying texture of the alder wood, enhancing the rustic country feel.
4. Versatility: The navy-blue color allows for adaptability with different accents, backsplashes and appliances.
5. Room Amplifier: Navy blue cabinets help in making the space look larger and the distressed alder countertop adds to the organic and spacious feel of your kitchen.
6. Timeless: This combination is a classic choice that won't go out of style, ensuring your kitchen remains contemporary and inviting for years to come.
Continue reading: