Last updated on August 13, 2023
If you've been on the fence wondering if you should get a ceiling fan, check out our guide below today to see if it's the right option for you.
In the dog days of summer or the cold nights of winter, sometimes having a little bit more air circulation can be the greatest thing and sliced bread. Air circulation, whether it's circulating heated or cooled air, can be a boon during times of extreme weather.
Heating ventilation and air conditioning (HVAC) and/or central heating or air conditioning are great during these times. But those have a high energy cost in environmental impact.
Wouldn't it be great if there was a better way? A way where you could save energy and money but also stay warm or cool? Well, there is. Ceiling fans are the ideal appliance for accomplishing this task.
What's Inside
Better Circulation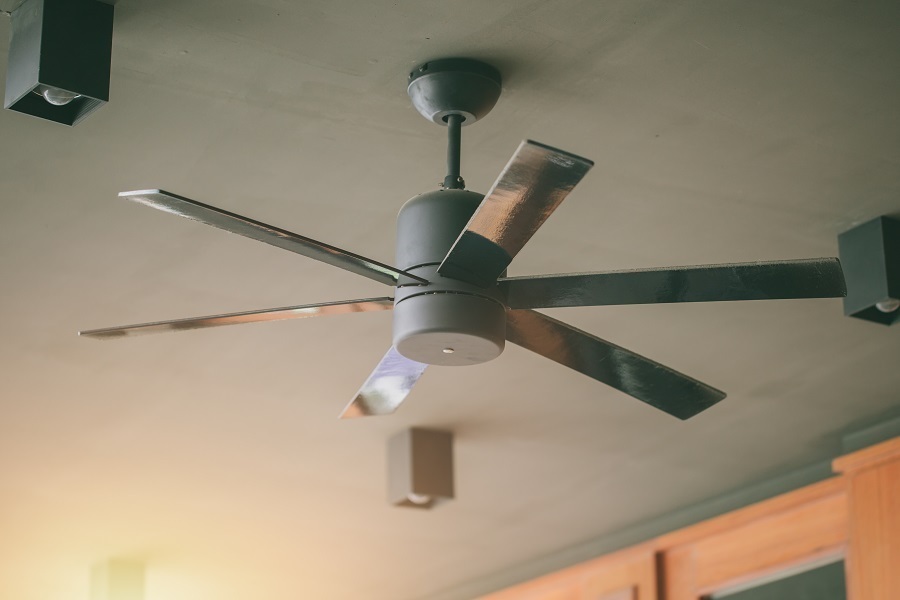 One of the great things about a ceiling fan is that it provides some circulation to the room. Ceiling fans don't generate hot or cool air on their own. Instead, a ceiling fan works by circulating the air that's already in the room. If it's going in one direction, it will create a downdraft that imitates a cooling effect when it interacts with your skin. It'll evaporate the sweat that's on your skin which is why it seems like it cools things down.
Remember that ceiling fans only move air around; they do not generate it. The same principle applies in the wintertime when it's cold outside. When the fan creates an updraft, it pulls any warm air that's accumulating at the top of the ceiling down circulates it around the house. This is ideal if central heating is not an option or if your radiator is on the fritz. Either way, you can circulate some more air to make your room more comfortable.
Fits Any Size Room
Ceiling fans are also versatile and easily adaptable to different rooms. In fact, there's a different size fan that can fit pretty much any room. Fan diameters range in size. 29 – 36  inch fans are perfect for small spaces, 37 – 49 for midsize rooms, and 50 – 75 inches for large spaces. To measure for a ceiling fan, you'll need a few important tools.
First off, a tape measure. You'll also need a ladder. Be sure to follow proper ladder safety. Measure the length and width of your room with the tape measure. Write down those results. Afterward, multiply the length by the width. That figure is your room's area. Now you can use that total to determine your fan size.
Most online retailers have a chart telling you which fan to get corresponding to the size of your room. Using the above figures as a guideline, you can quickly and easily choose the fan that's right for you. You'll also want to measure the ceiling height so you can ensure you're getting the proper downrod size or mount for your fan. Once you figure all that out, you're ready to enjoy the fan in any room of your choice for a long time to come.
Unique Style
Ceiling fans come in a variety of styles, blade configurations, and different accessories. Ideally, you want to snag a ceiling fan that's going to fit your personal aesthetics and interior designing needs. So consider what kind of environment you were looking to create. Are you looking toward a more hardwood floor-oriented, wooden featured type room? Then you want to get a rustic or a farmhouse fan. If you're exploring deeper themes than that, a transitional fan such as a nautical fan might work.
For those of us looking to inspire and create modern designs with a modern design aesthetic, you can't go wrong with elegant modern ceiling fans. These fans offer a sleek, elegant design that transitions with every other piece of decor in your modern themed home. Installing a modern ceiling fan is like making a bold artistic statement that will make a lasting impression on your family, your friends, and any guests you may bring into your home.
Easy Installation
If you were previously on the fence about getting a ceiling fan because you were worried about installation, don't fret. Installation is one of the easiest and smoothest parts of getting the ceiling fan. You could hire somebody to install it, but it's just as easy to do it yourself. There are a few things you should follow if you're going to go that route, however.
To begin with, make sure that you have the proper tools for the job. Secondly use proper personal protective equipment and pay attention to your work. Turn off breakers before wiring up the electricity and if you're ever in doubt, get help. An easy DIY fan installation can be a fun afternoon project but always keep in mind safety first.
Extra Lighting
Another great perk of installing a ceiling fan is the ability to add some additional lighting to your home. Lighting adds atmosphere. It gives you something by which to read or do some of your hobbies. Ultimately, having a little bit of extra lighting is a great thing.
Sometimes, you can accomplish this with sconce lights or lamps. Maybe you want to install an additional ceiling light. But why not have a best-of-both-worlds approach and get something that can circulate air while providing some of that precious light? They come in so many different styles, it might seem daunting to choose. But just find something that works with your interior design sensibilities and you'll be just fine.
Lighting can be controlled remotely, can be dimmable, and can come in the form of an LED light or an Edison Style bulb. Either way, getting a little bit of extra lighting is a good thing for your space and will really do a lot to brighten it up.
Continue reading: