Last updated on December 7, 2023
The Little Cottage Company is a renowned brand known for its exquisite playhouses that have captured the hearts of children and parents alike. Among their many offerings, the Grand Portico Mansion Playhouse has garnered much attention for its grandeur and versatility. With its charming design and spacious interior, it's the perfect outdoor play space for children of all ages and genders.
What's Inside
Gender-neutral Design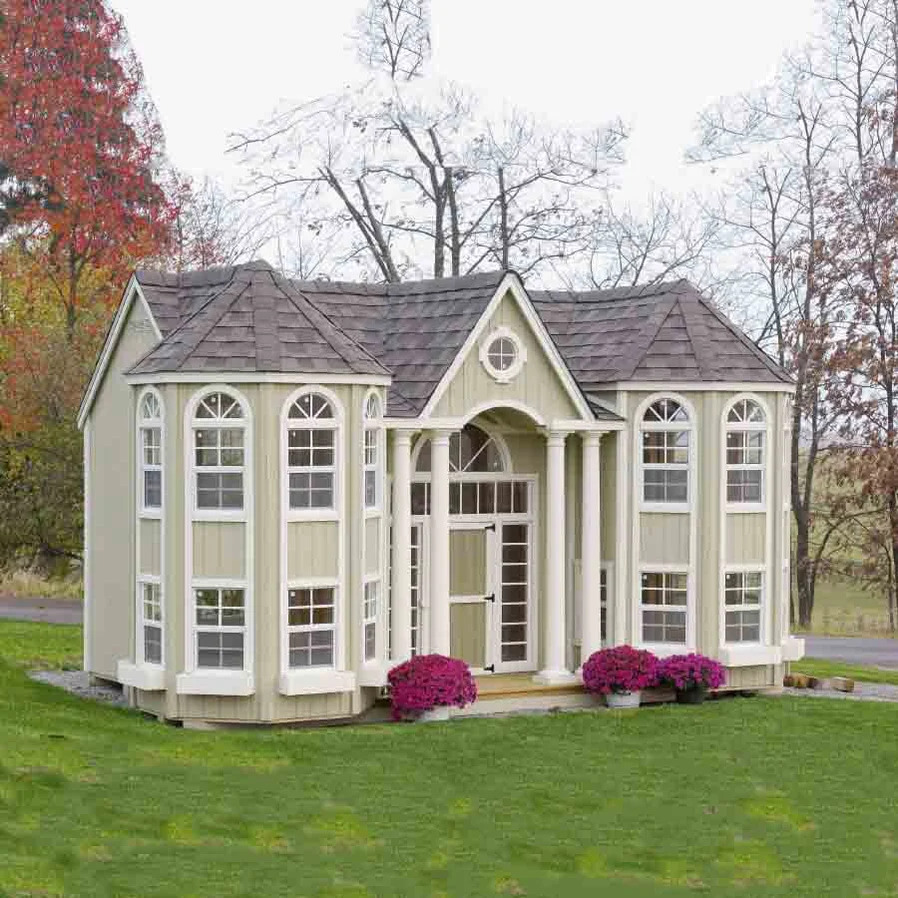 As parents, we often struggle to find toys and play spaces that cater to both our daughters and sons. However, the Grand Portico Mansion Playhouse is a refreshing change with its gender-neutral design.
The classic white exterior and neutral color scheme make it appealing to both boys and girls. This eliminates the need for separate play spaces for siblings or friends of different genders, making it a practical and inclusive choice.
Spacious Interior
The playhouse features a generous 6′ x 8′ interior that can comfortably accommodate multiple children at once. Its high ceilings and large windows create an open and airy space, allowing for natural light to flow in.
The interior is also customizable, allowing you to add furniture and decor according to your child's preferences and interests. This not only promotes imaginative play but also encourages children to take ownership of their space.
Quality Construction
The Grand Portico Mansion Playhouse is made with high-quality materials, ensuring its durability and longevity. It is constructed using LP SmartSide panels, which are known for their strength and resistance to damage from weather and insects.
The playhouse also features a sturdy wooden floor and a shingled roof, adding to its overall sturdiness. This means that your children can enjoy years of fun and play in their very own special space.
Versatility
The Grand Portico Mansion Playhouse is more than just a play space; it can also double as a storage or hobby shed for adults. Its spacious interior and sturdy construction make it suitable for various purposes, making it a wise investment for families.
You can use it to store outdoor toys and equipment or even convert it into a mini art studio or reading nook. This versatility makes the playhouse a valuable addition to any backyard.
Easy Assembly
The playhouse comes with pre-cut and pre-assembled panels, making it easy to assemble. The instructions are clear and straightforward, and the only tools required for assembly are a drill and hammer. This means that you can have your children playing in their new playhouse in no time.
Customizable Options
One of the unique features of the Little Cottage Company is its customizable options. You can choose from a variety of windows, doors, and color schemes to create a playhouse that fits your child's personality and your backyard's aesthetic. You can also add features such as flower boxes or even a deck to enhance the playhouse's charm.
The Takeaway
The little cottage company grand portico mansion playhouse is not just any ordinary playhouse; it's a gender-neutral, spacious, and versatile outdoor play space that promotes creativity, imagination, and inclusivity.
Its quality construction and customizable options make it a one-of-a-kind investment that your children will enjoy for years to come. So why wait? Give your children the ultimate outdoor play experience with the Grand Portico Mansion Playhouse today! Overall, the Grand Portico Mansion Playhouse is a must-have for any family looking to create a special and inclusive outdoor play space for their children.
With its quality construction, spacious interior, and customizable options, it's a practical and versatile investment that will bring joy to both children and adults. So why wait? Give your children the gift of endless fun and imagination with the Little Cottage Company Grand Portico Mansion Playhouse today!
So, if you're looking for the perfect outdoor play space that will cater to all your children's needs and interests, look no further than the Little Cottage Company Grand Portico Mansion Playhouse. It's not just a playhouse; it's a magical world waiting to be explored and cherished by your little ones.
Continue reading: