Last updated on December 2, 2023
Explore modern kitchen aesthetics with vertical subway tiles backsplash ideas because these simple changes drastically transform your cooking space's look and feel.
I'm proud to have crafted these 20 budget-friendly vertical subway tiles backsplash ideas for your kitchen and I genuinely hope they inspire you as much as they excited me in the process of their creation.
Vertical subway tiles can instantly elevate the look of your kitchen or bathroom backsplash. This popular design trend, known for its versatility, can be styled in various ways to suit different tastes.
Whether you're going for a classic, modern, or eclectic look, vertical subway tiles can provide a unique, eye-catching aesthetic.
This article will explore a myriad of design ideas, ranging from different tile colors and finishes to varying grout hues and installation patterns.
As you delve further, you'll discover how to make the most of this design trend, ensuring your backsplash becomes a standout feature in your space.
What's Inside
White Subway Tiles With Black Grout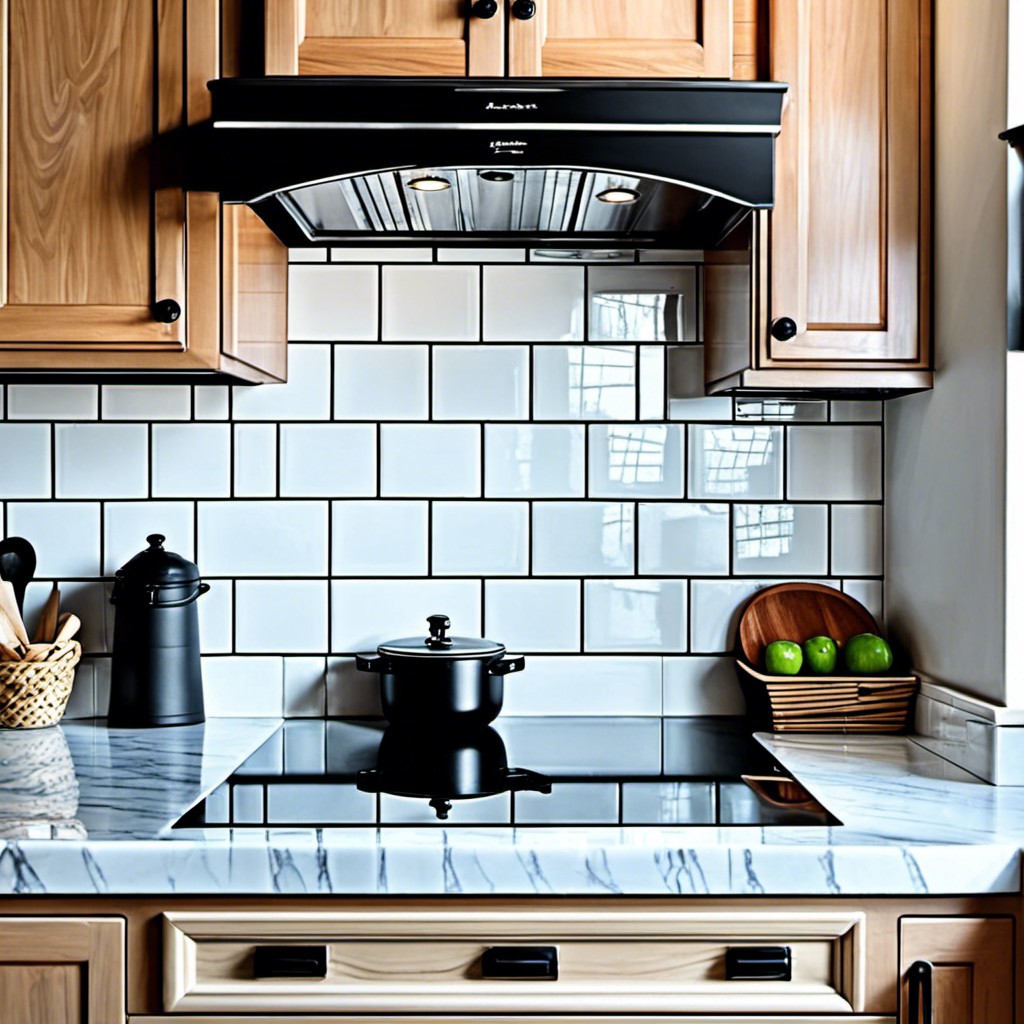 With a commitment to timeless aesthetics, these tiles sport a glossy, pristine appearance juxtaposed with striking black grout lines. The contrast adds definition and depth, making the backsplash an attention-grabbing focal point.
A marriage of two classic colors, this choice infuses your kitchen with a modern, yet enduring appeal. Best suited for high-contrast, monochromatic, or minimalist interiors, this design visually anchors your space while providing a clean-looking background for kitchenware highlights.
Mercy to occasional splashes, these tiles are simple to maintain, going beyond aesthetics to serve practical necessity. Thanks to their high gloss finish, they reflect light generously, giving a spacious feel to the surroundings. Furthermore, the vertical alignment elongates the wall appearance, making low-ceiling kitchens seem taller.
Dual-tone Vertical Subway Tiles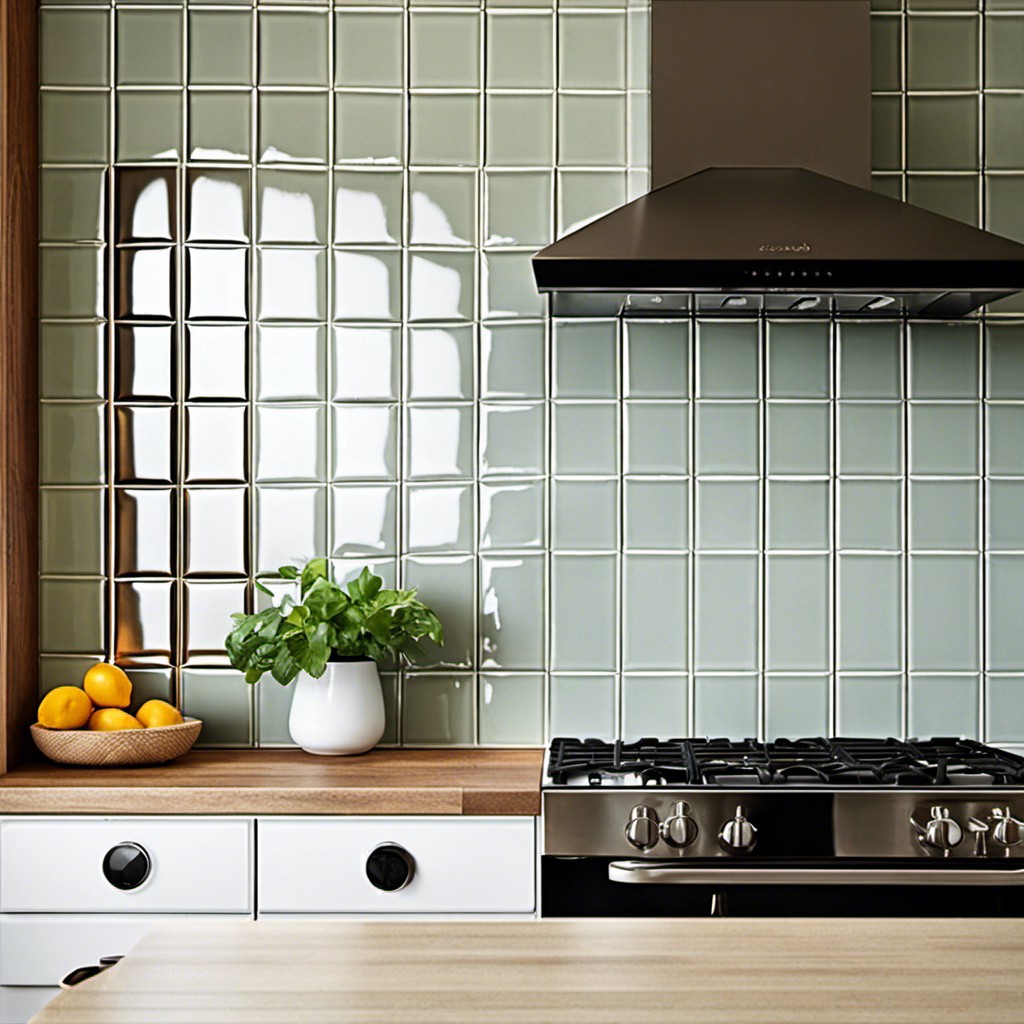 Utilizing two distinct colors, dual-tone vertical subway tiles can create a striking contrast that truly stands out. One common design involves alternating between lighter and darker shades, which can add depth and visual interest to a room. Another option is to use complementary colors for a more vibrant effect.
There are several placement strategies to take into consideration when working with two-toned tiles. These include the checkerboard style, striped layout, or the alternating row pattern. Each of these designs can serve to accentuate the height of the room, or to draw the eye towards a particular area such as the stove or sink. The final look achieved is heavily dependent on the chosen colors.
The grout color can also play a significant role in the overall look of the backsplash. While matching the grout to one of the tile colors results in a smooth finish, choosing a contrasting grout color can emphasize the dual-tone effect.
Lastly, remember that the finish of the tiles can impact the room's ambiance. Glossy tiles will reflect more light and create a brighter space, while matte tiles give a more understated, modern appeal.
Herringbone Pattern With Neutral Colors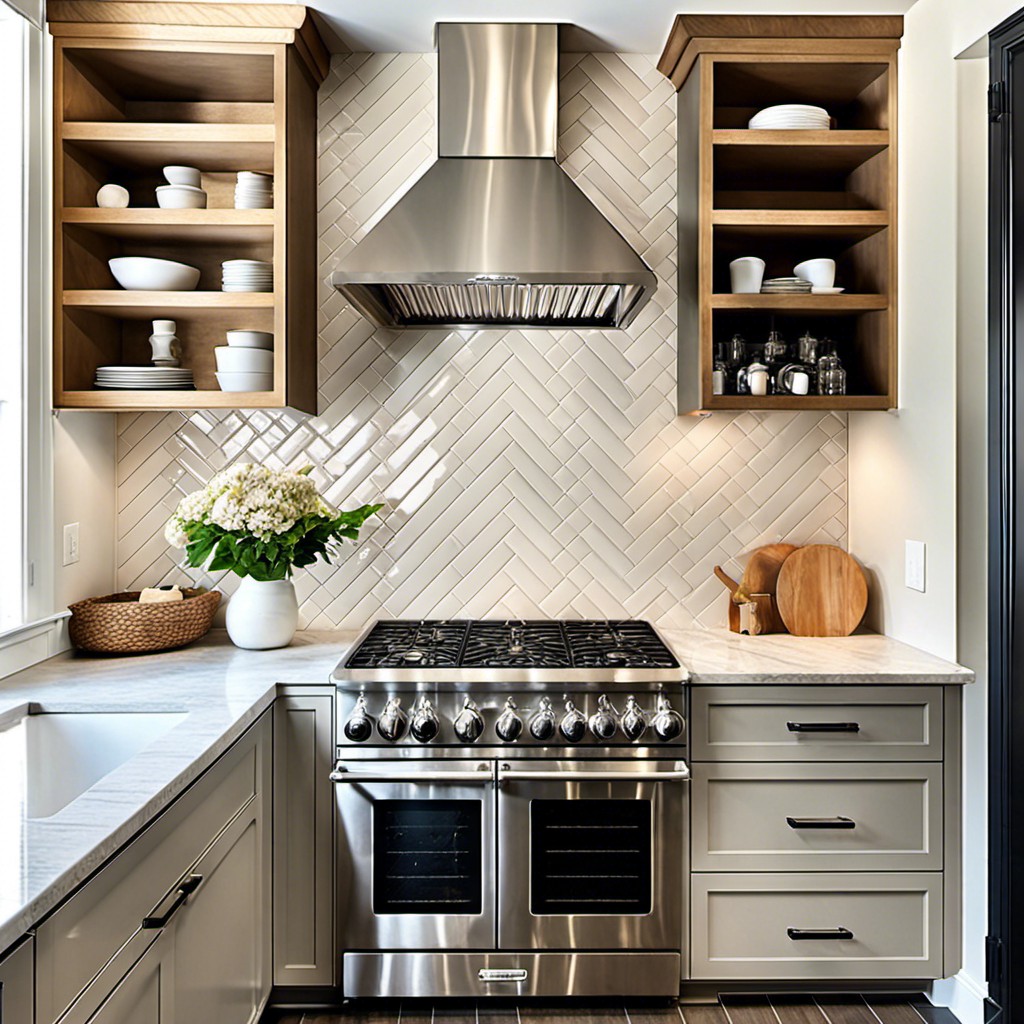 Exhibiting a twist to the conventional vertical setup, the Herringbone design creates a 'V' shape by arranging tiles at a 45-degree angle, offering your kitchen a dynamic and modern vibe. Neutral colors like whites, grays, or subtle browns tone down the complexity of the pattern, keeping it sophisticated yet minimal.
1. Layout Impact: The attention-grabbing Herringbone pattern adds depth and interest to your backsplash.
2. Color Consistency: The use of neutral colors provides a balanced look, allowing other elements in your kitchen to shine.
3. Versatility: This pattern easily blends with various kitchen styles, from rustic country to sleek contemporary designs.
4. Space Enhancement: It creates an illusion of space due to the diagonal lines and can make your kitchen visually larger.
5. Maintenance: Despite the intricate look, the pattern is easy to clean, an essential factor for areas in constant contact with oils and sauces.
Remember, lighting plays a significant role in catching the pattern's true beauty. Use under-cabinet lights to cast a soft luminescence that highlights the pattern's depth.
Color-contrasting Grout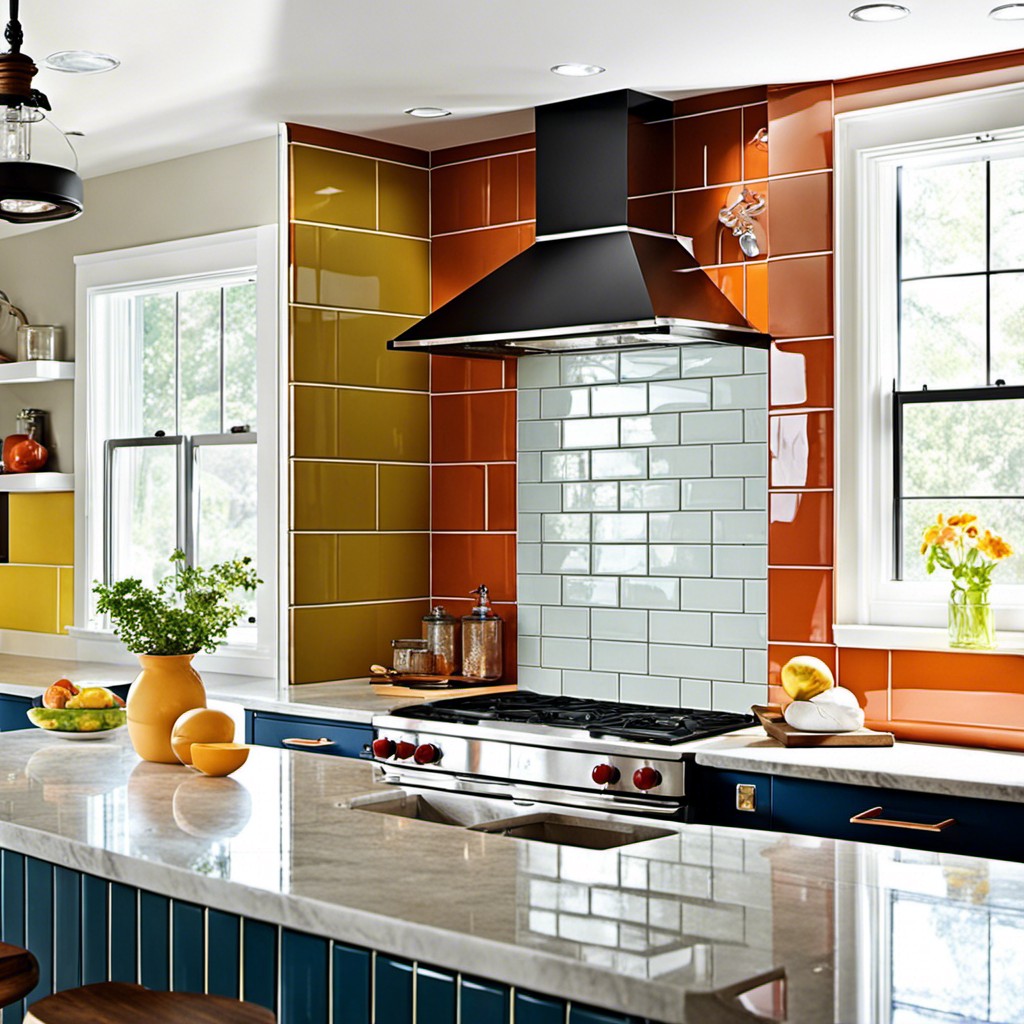 Emphasizing the tile layout can be as simple as selecting a contrasting grout color. This choice makes each tile stand out, highlighting the vertical design. It's especially effective when using a dark grout with light tiles, or vice versa. The result is a striking backsplash that truly pops.
Consider the overall aesthetic of your kitchen while choosing the grout color. Dark grout tends to give a rustic or industrial vibe and requires less maintenance compared to light shades. On the other hand, a light-colored grout contributes to a clean, minimalist look.
The grout line width also plays a vital role in this style. Wider grout lines will be more noticeable, enhancing the color contrast. Ensure that your grout is sealed properly to prevent discoloration and prolong its quality. It's a simple trick with a significant impact, effortlessly elevating the overall look of your kitchen.
Matte Black Subway Tiles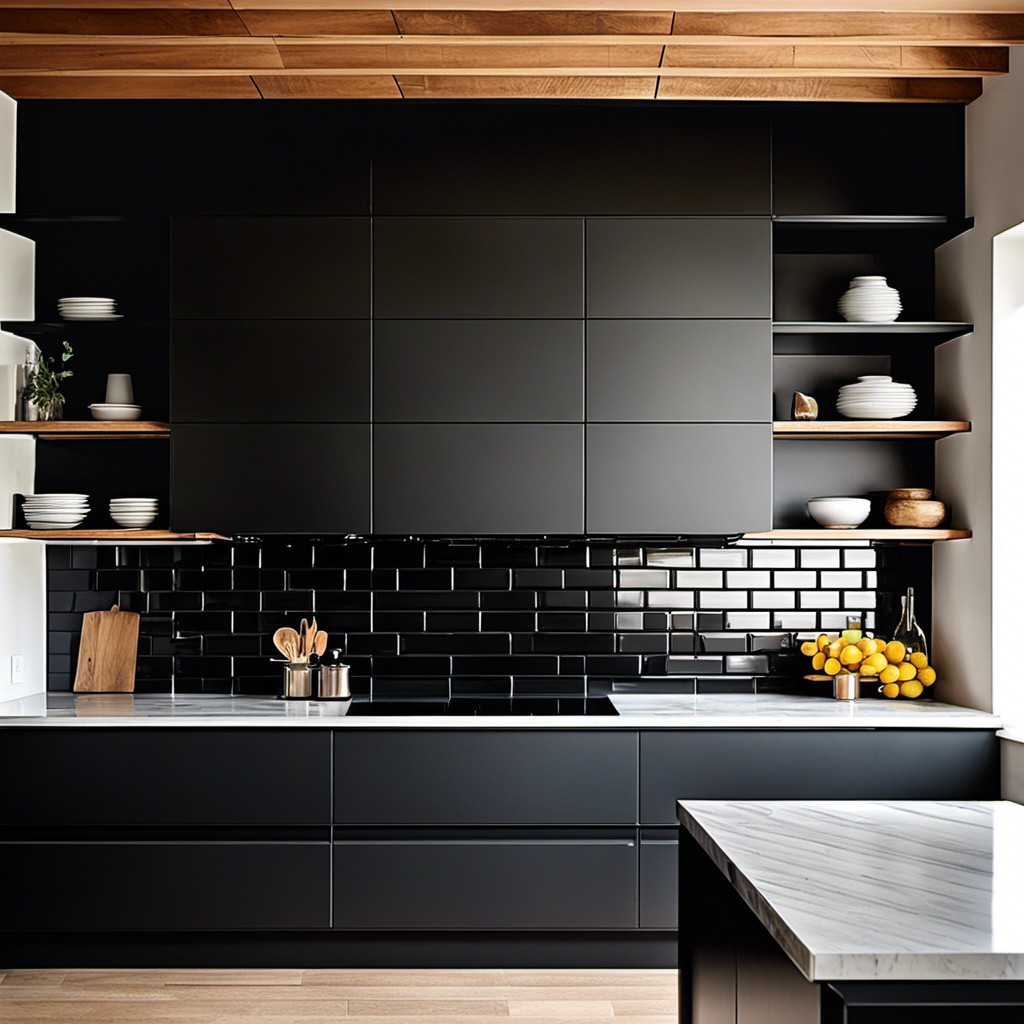 Sleek and stylish, matte black is a daring yet classy choice. The absence of shine allows for subtle elegance, while the black color makes a bold statement. It's a great option for modern minimalist kitchens, pairing beautifully with white or brightly colored cabinetry.
Here are some points to consider:
Contrast: The dark hue offers a gorgeous contrast against lighter shades in your kitchen, making it a focal point.
Concealment: Unlike glossy tiles, Matte black tiles do not reflect light, effectively concealing smudges, fingerprints, or water spots.
Versatile: These tiles can effortlessly blend with various design styles, from industrial to ultra-modern.
Highlight Features: Paired with strategic lighting, they can highlight certain features in your kitchen, creating depth and interest.
Remember, while they are trend-setting and refined, the boldness of matte black tiles may not suit everyone's taste. This adventurous choice is for those unafraid to take their kitchen décor up a notch!
Gradient Colored Subway Tiles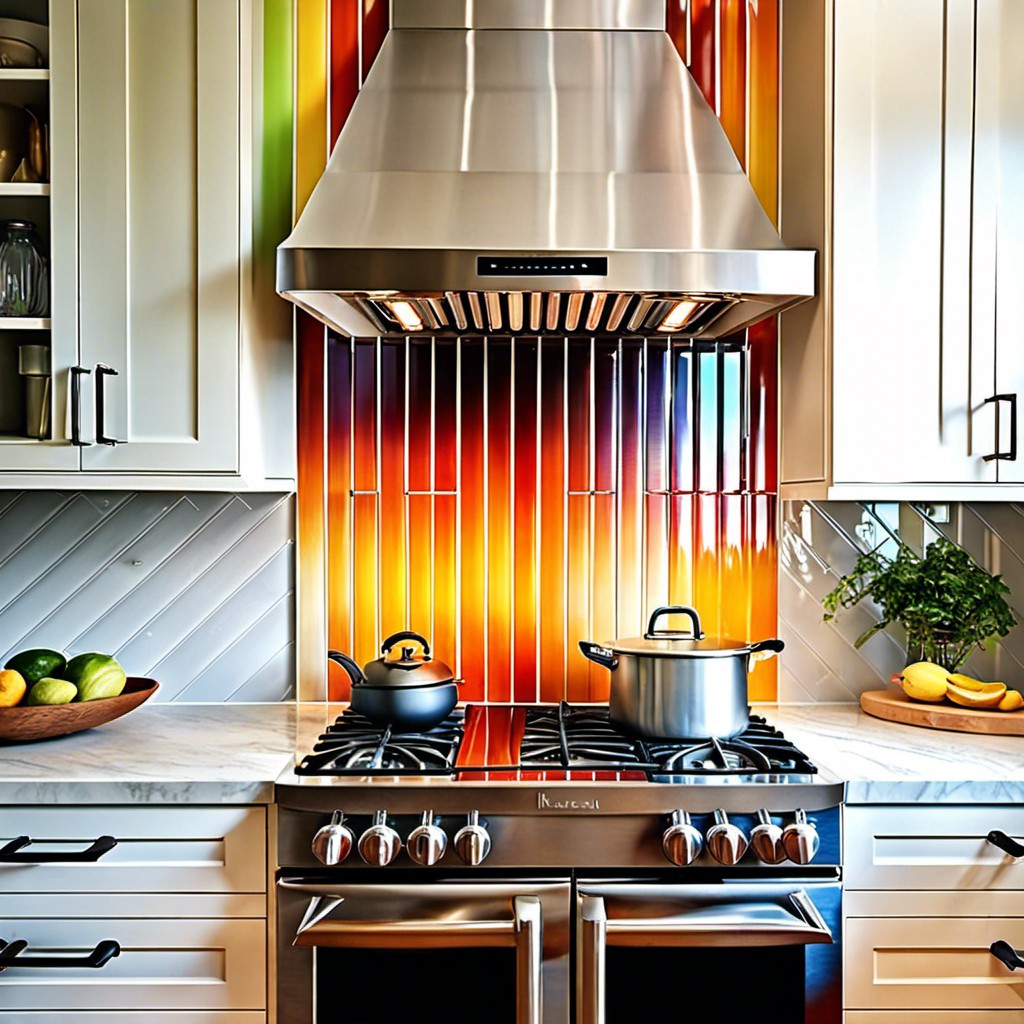 A palette of gradient shades can provide an aesthetically pleasing shift from light to dark or one color to another. Choose tiles that are lighter at the top and get progressively darker, or tiles that seamlessly blend from one hue to another for a smooth transition.
This technique adds a visual intrigue to any kitchen or bathroom. Subtle tone gradients work excellently for a minimalist aesthetic, while bold, vibrant gradients can make a unique statement in your contemporary space.
Always remember, grout selection can significantly influence how noticeable the gradient effect is – complimenting tones can subtly enhance the blending process.
Glass Subway Tiles for Reflective Effect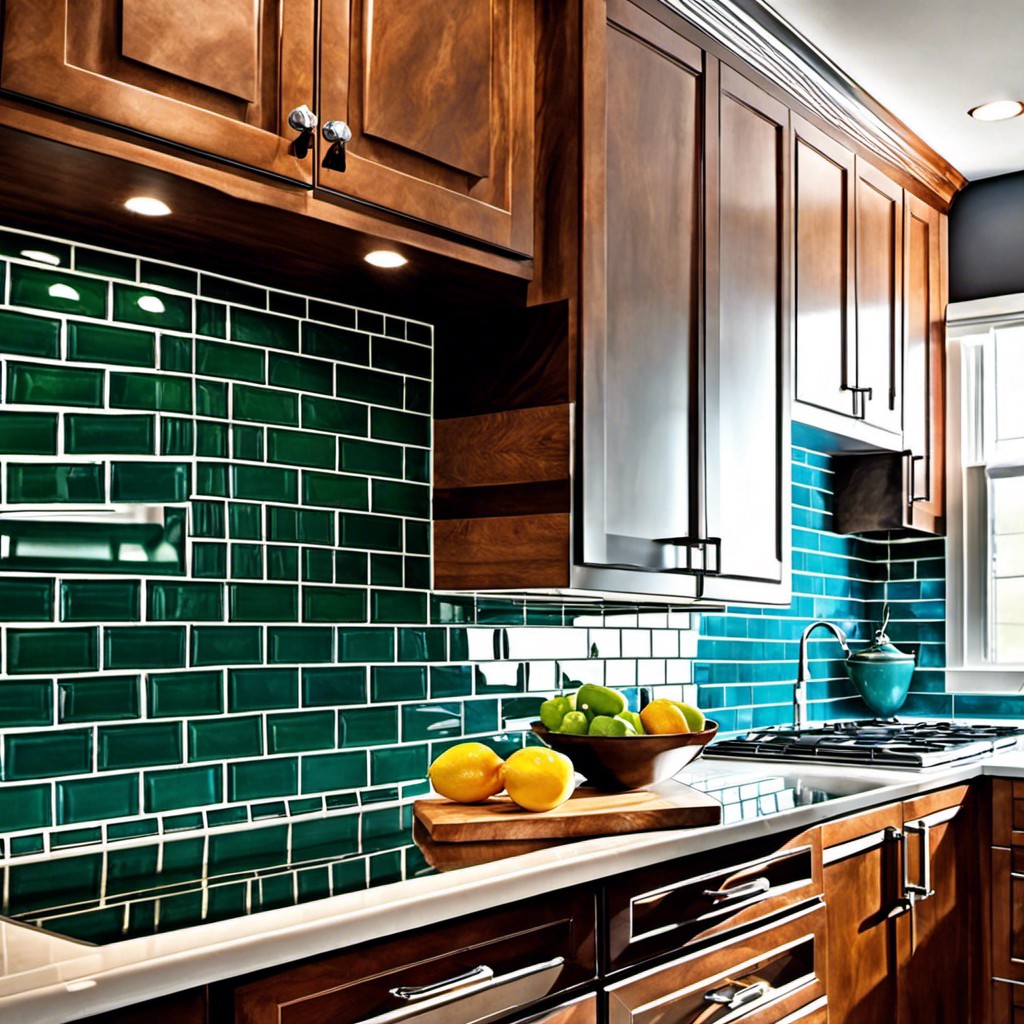 Achieving an illuminated aesthetic in your kitchen is effortlessly done with glass subway tiles. The surface properties of glass make these tiles astonishingly reflective. They bounce light around the room, creating a brighter and more open feel. Further enhancing this effect with under-cabinet lighting can create striking contrasts and a splendid depth of shine.
An additional advantage of glass tiles lies in their straightforward cleaning process. They're resistant to stains, mold, and mildew, making them a practical choice for the backsplash area.
Implementing these reflective beauties can be done in various colors and finishes. They're versatile, coming in countless translucent or opaque color options. Depending on the chosen color and the light conditions, different looks can be achieved throughout the day, never failing to elicit an artistic aura.
Indeed, glass subway tiles provide a unique opportunity for homeowners to fuse functionality with aesthetic brilliance. Their reflective quality enhances the design factor, making them an exciting and pragmatic choice in the realm of kitchen backsplashes.
Vertical Subway Tiles With Metallic Accents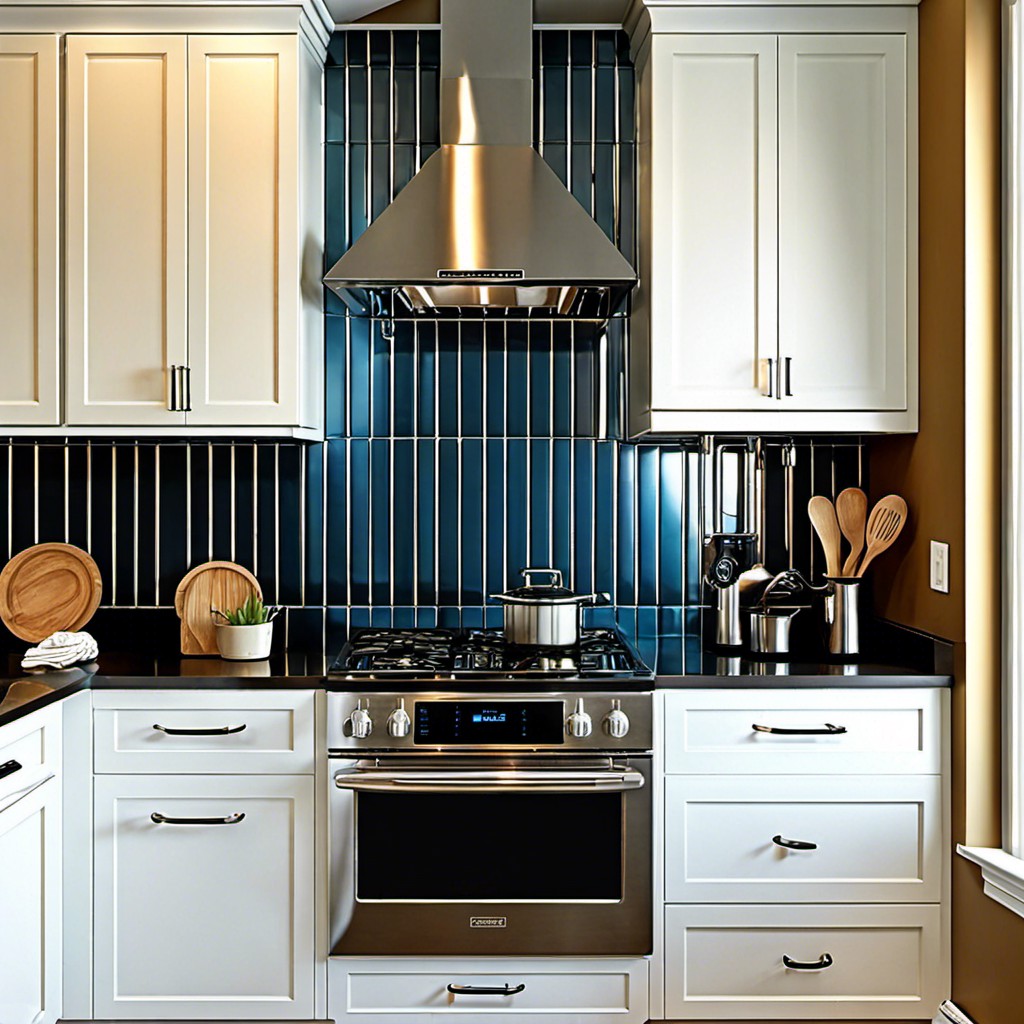 Following the traditional subway tile layout, a unique twist is added with the gleam of metallic accents. This mix of classic and modern strikes a balance between trendy and timeless.
1. Shine and Reflect: A metallic finish offers a reflective property enhancing light, making your space look larger and brighter.
2. Variation: Variety of metals like silver, gold, bronze, or copper can be matched to your fixtures or hardware for a cohesive look.
3. Texture: The shiny texture of metal complements matte finish tiles creating engaging contrasts.
4. Versatility: Suitable for any style, from minimalist to industrial, metallic accents can adapt to the desired aesthetic.
5. Visual Interest: Even a subtle touch of metal enriches the overall visual appeal as it captures and reflects light differently throughout the day.
Remember to clean and maintain these tiles properly to retain their shine over time. Use a soft cloth and mild cleaning agent to avoid scratches and dullness.
Marble Subway Tiles Backsplash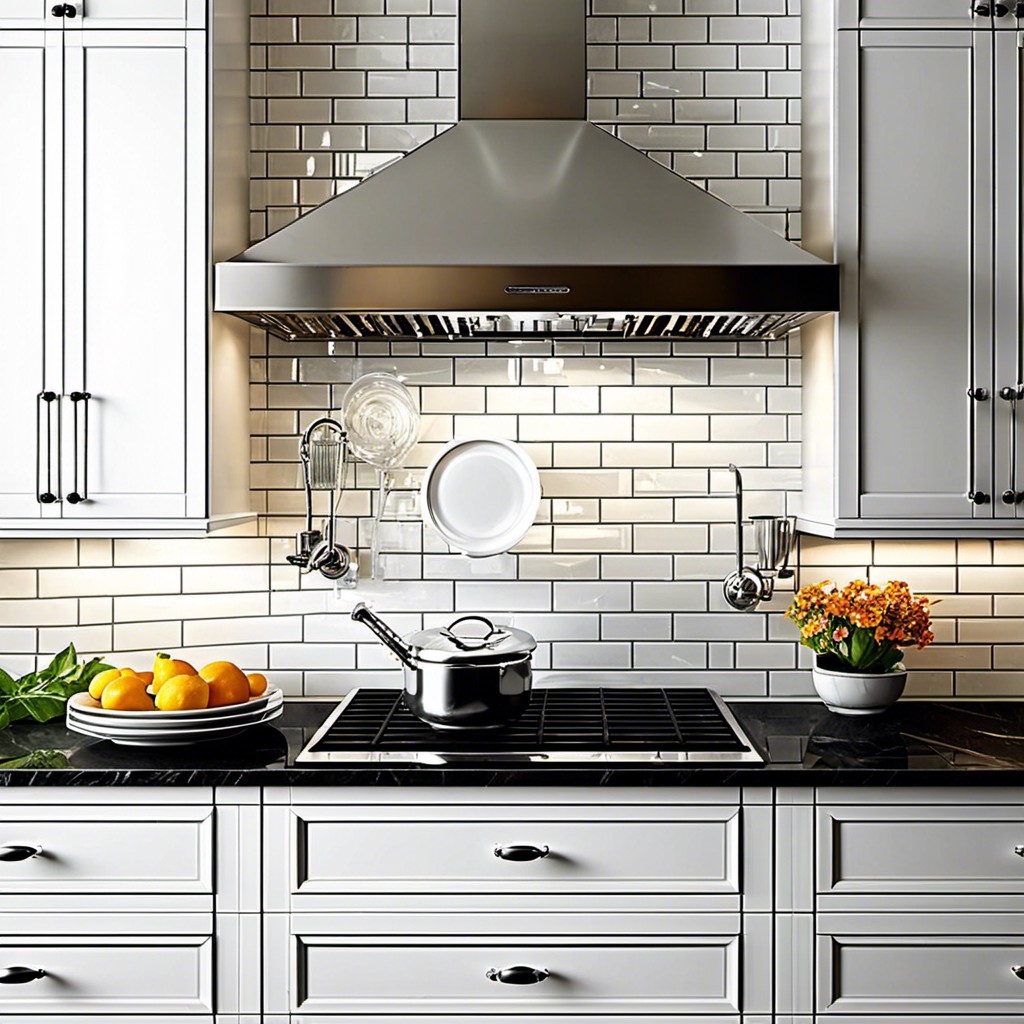 Epitomizing elegance, marble subway tiles offer an intriguing blend of classic beauty and modern sophistication. Each tile comes with unique veins and swirls, lending a bespoke, organic touch to your backsplash. When grouted with a color that matches the veins, satin or glossy, the results are simply extraordinary.
1. For a laid-back, seamless look, consider using calacatta or carrera marble. The distinct gray veins on a white background establish a refined aura that easily pairs with various color schemes.
2. For spaces with dark cabinetry, choose darker marble like nero marquina. The contrast creates a bold statement without overwhelming the senses.
3. Greater layout variations can be achieved using marble subway tiles, like the herringbone pattern. This opens up the field for more dynamic and appealing backsplash designs.
4. If working with a petite space, vertically arranged marble tiles enhance a sense of height, making your kitchen appear taller and roomier.
Remember, marble requires regular sealing to keep it looking its best. It's a part of the ownership experience – a small effort for the beauty and charm it contributes to your kitchen.
Subway Tiles in a Vertical Zigzag Pattern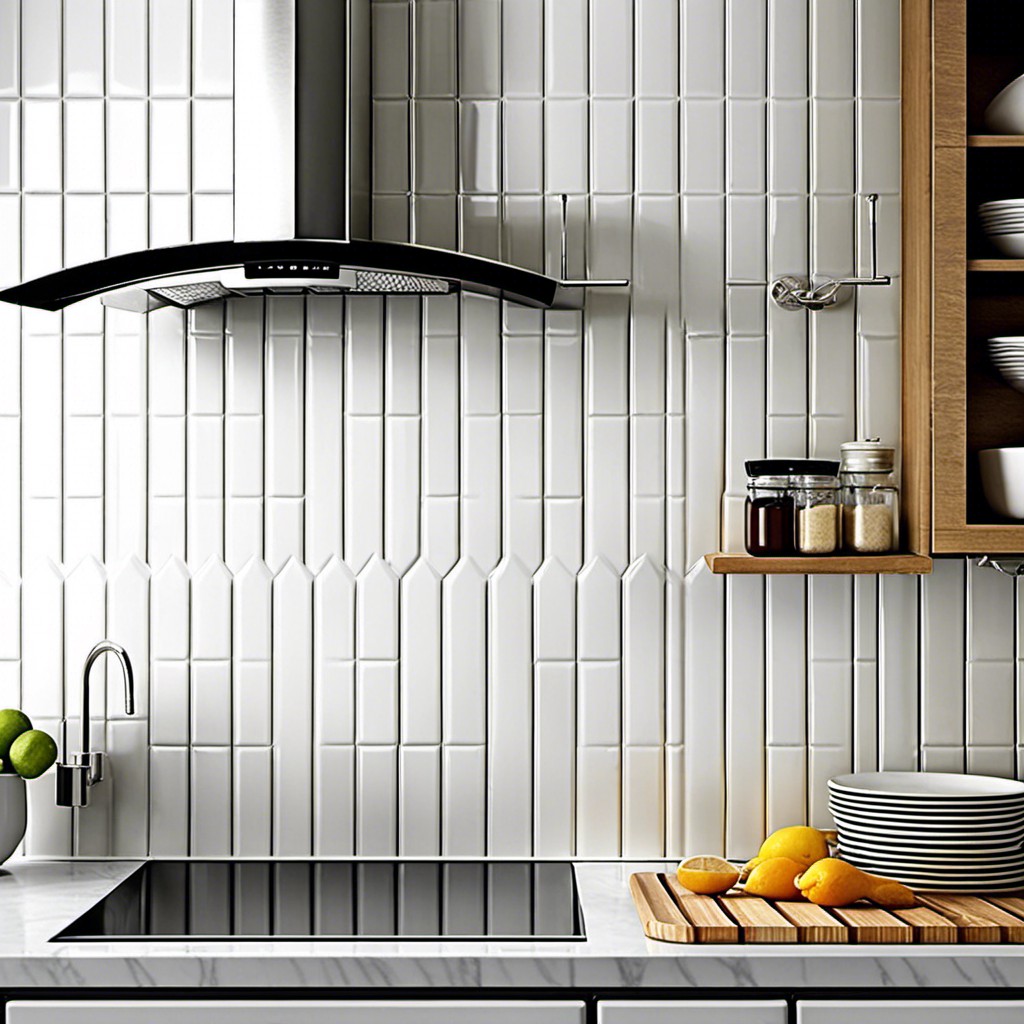 A zigzag pattern offers an extra dose of creativity while maintaining a sophisticated aesthetic. It instantly adds an engaging design element to any kitchen or bathroom space.
Here are a few points to understand the concept of this interesting choice:
Creates visual interest: This unique pattern creates a captivating zigzag effect that draws the eye and makes a distinct style statement.
Versatile: Despite the playful design, it fits into a variety of decor styles – from modern to traditional.
Use of contrast: For an enhanced effect, contrast light-colored tiles with dark grout or vice versa.
Setting: Installing tiles at a 45-degree angle helps create the zigzag pattern.
Size matters: Larger tiles may simplify installation but smaller tiles can result in a more intricate design.
Remember to check if this fits with the overall room design to avoid any clashing aesthetics. This format is a striking way to elevate your backsplash from simply functional to a stylish feature that grabs attention.
Two-color Stripe Pattern Using Subway Tiles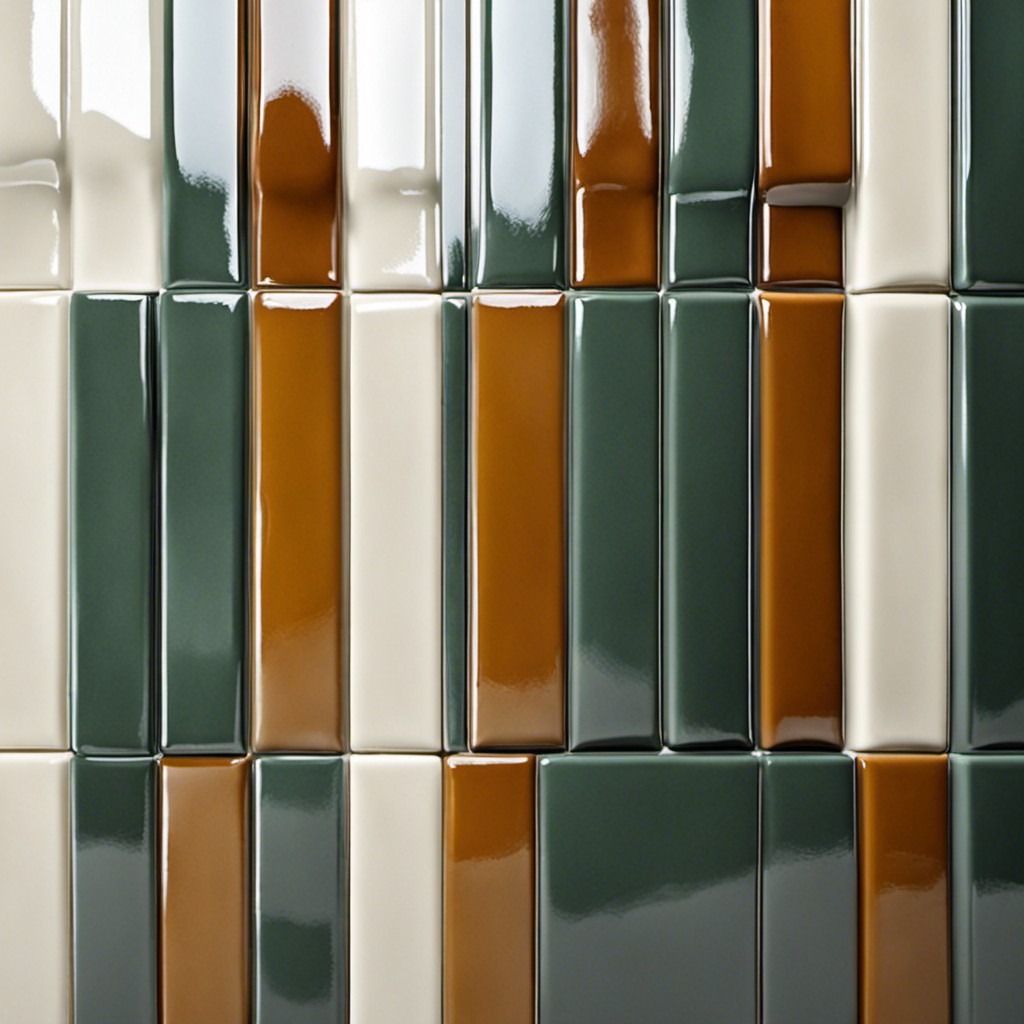 With this unique design, your backsplash transforms into a dynamic work of art. Select two contrasting colors to achieve the stripe effect; for instance, pair a bold blue with a neutral grey. The contrasting colors provide a striking visual effect while the vertical alignment of tiles enhances the perception of height in your kitchen.
Consider the following points while executing this idea:
Choose colors that complement your kitchen's color scheme. If your kitchen has a modern design, opt for bold and vibrant colors. For a classic look, blacks, whites, and grays always work well.
To emphasize the verticality, keep the tile stripes narrow. This draws the eye upwards, adding a sense of depth and space.
You can alternate between matte and glossy finishes for the two colors, creating an engaging interplay of texture and light.
Always remember to use a good quality grout that matches with your tile colors. It not only secures the tiles but also can be a significant part of the sightline.
With careful choice and precise placement of tiles, the two-color stripe pattern elevates the classic subway tiles into a captivating visual treat without overwhelming the space.
Pale Pastel Colored Subway Tiles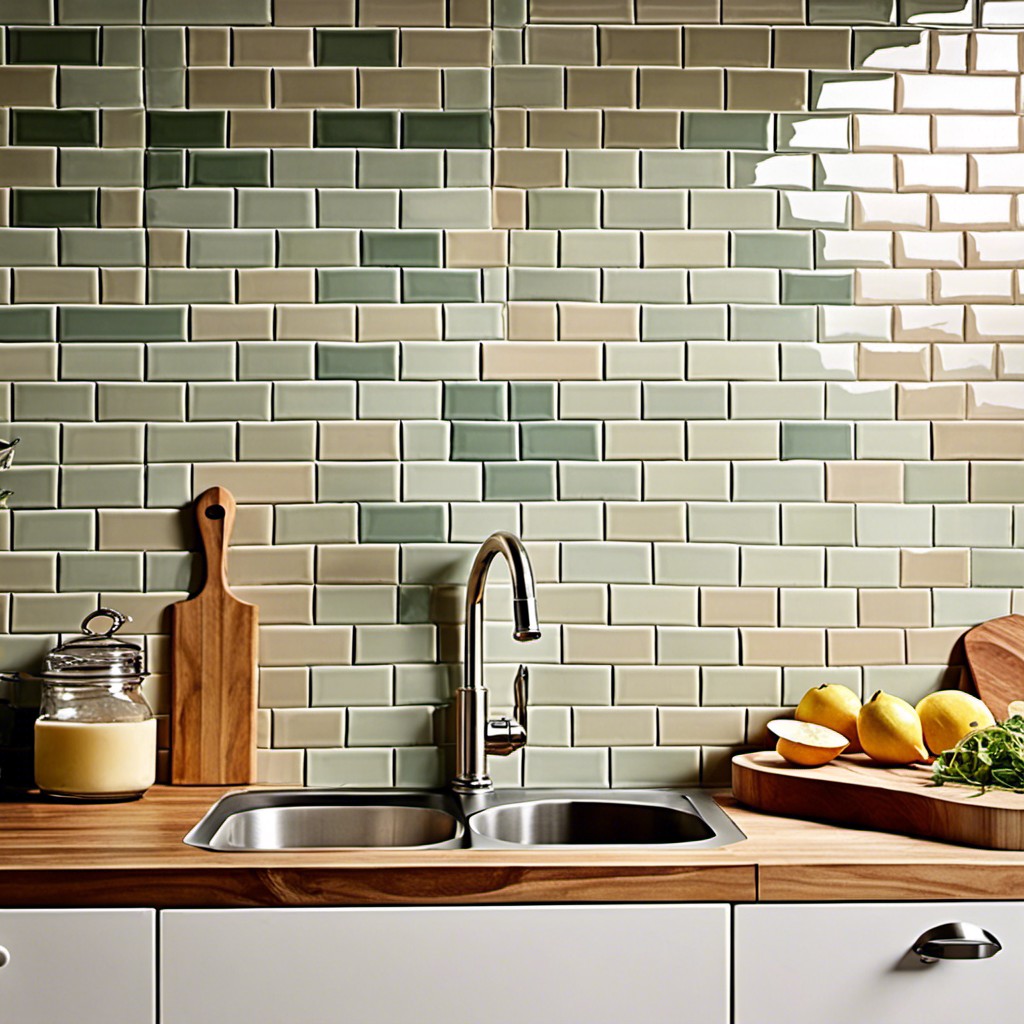 Sporting colors like soothing mint, baby blue, or blush pink, these tiles serve their purpose well while giving off a soft, calming ambiance. The subtle hues offer a refreshing twist on the classic white, effortlessly brightening up your space.
Here are some unique concepts entwined with this style:
1. Team it with brass fixtures to attain an antique yet modern look.
2. Contrasting dark grout lines can help the pastel tiles pop out visually.
3. With lighter wooden cabinetry, these tiles can help achieve a minimalistic and modest kitchen design.
4. Use it in a bathroom to replicate a tranquil spa-like atmosphere, thereby enhancing the relaxing vibe.
5. Place them vertically to give an illusion of a high ceiling, making your space seem larger.
Remember, a pastel backsplash can never go wrong as it marries the classic subway tile layout with contemporary color schemes. It's a trendy yet timeless choice for your home.
Subway Tiled Wall With Floating Shelves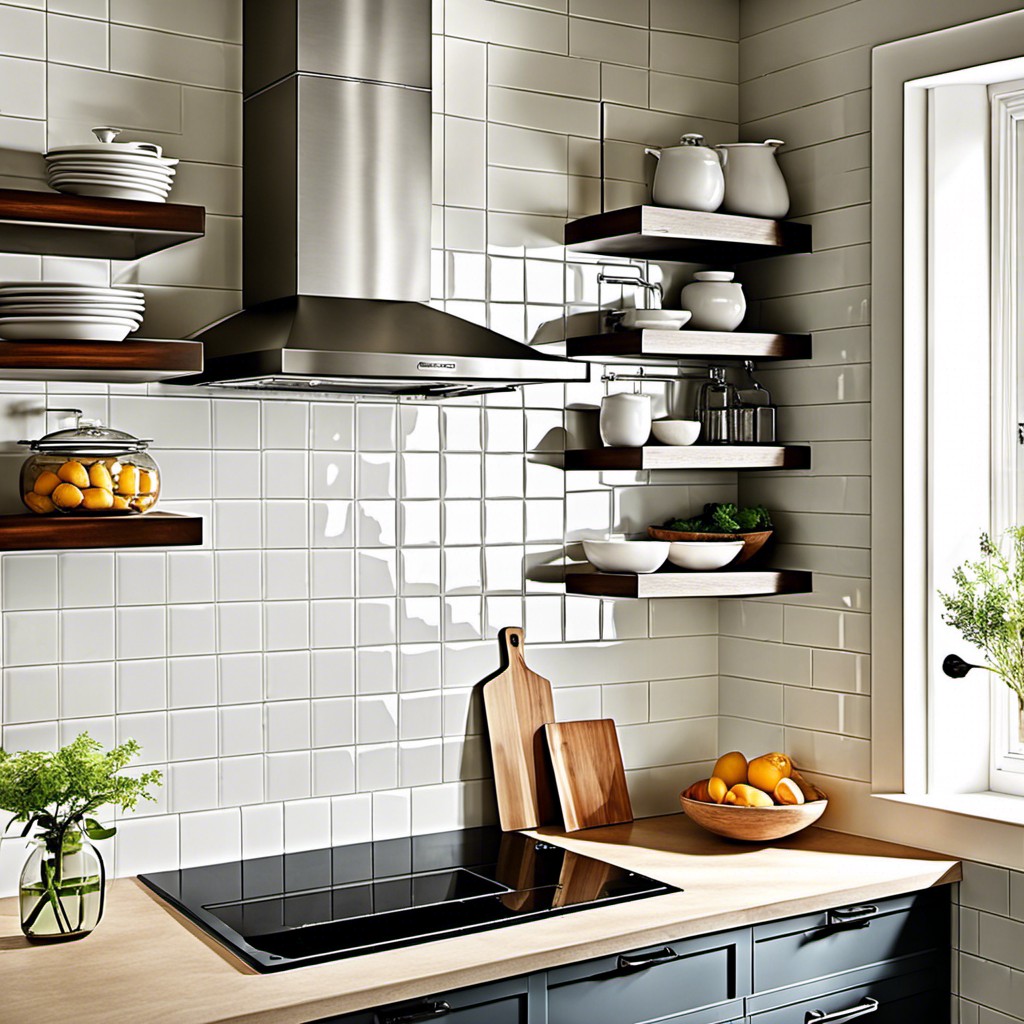 Implementing floating shelves gives a dual purpose to your backsplash. It's not just functional as a stain repellent, but also serves as a display area. Light-toned wooden shelves complement subway tiles best.
Arrange items you often use for easy accessibility and a few accessories for a homely feel. Minimalism is essential; overcrowding shelves can make the area look cluttered against the neatness of the tiles.
A tip to keep the look cohesive is to pick items that match the color scheme of your kitchen.
Mix and Match With Different Tile Shapes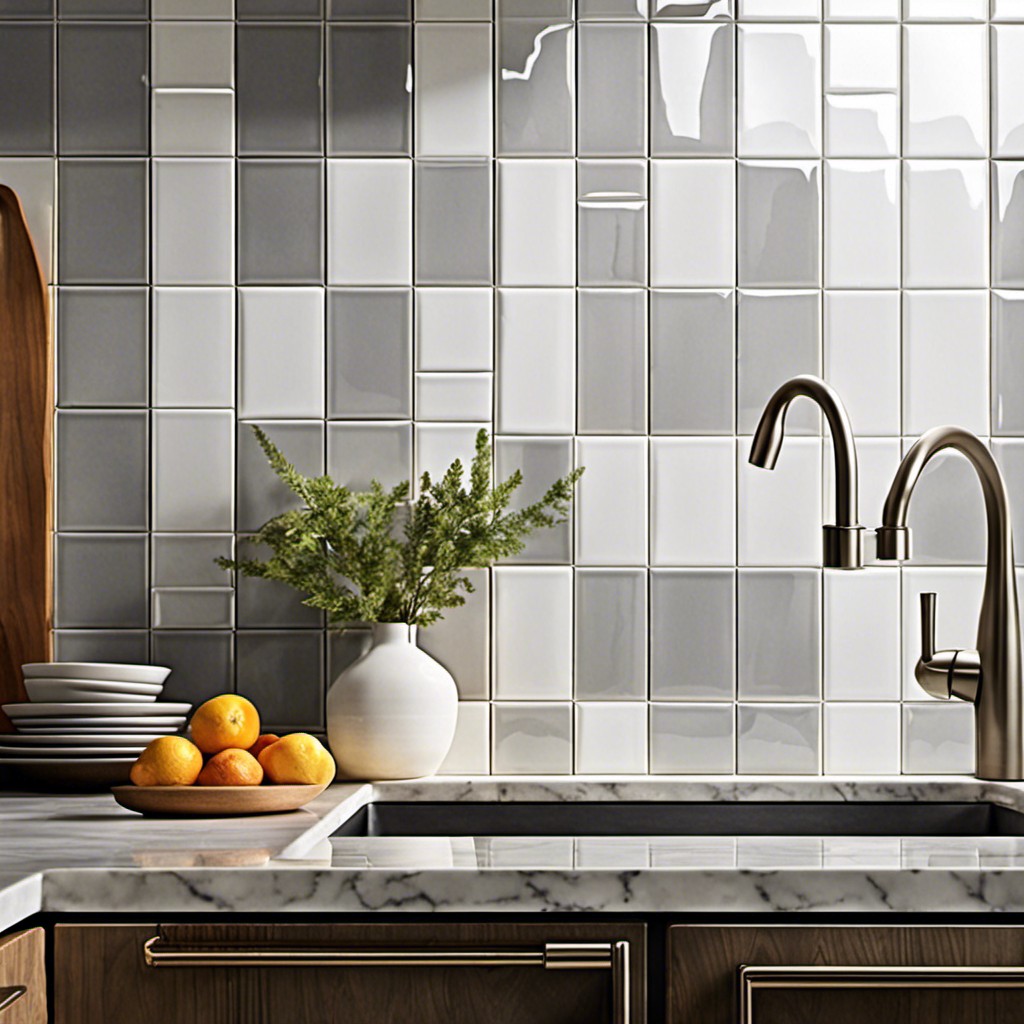 Taking inspiration from different shapes can breathe new life into your subway tile backsplash. Consider pairing traditional rectangular tiles with hexagonal ones for an interesting interplay of lines and angles. It's all about creating a visual journey, encouraging eyes to travel across the rich tapestry of forms.
Another innovative idea is to experiment with varying sizes of the same shape. This brings depth and dimension, and can create delightful contrasts in certain lighting conditions. Such engagements spark interest and conversation.
Bear in mind that your grout color will play a significant role in distinguishing between the shapes, so choose a shade that complements or accentuates your tile selection. Also, it's vital to ensure the shapes coalesce rather than clash, maintaining harmony in the aesthetics.
Lastly, using different types of tiles, such as glass with ceramic, can impart an exciting textural element to your subway backsplash. This transforms your kitchen or bathroom into a tactile wonderland.
Remember, you're not just decorating a space, you are telling a story through the language of design.
Subway Tiles With a Vertical Mosaic Centerpiece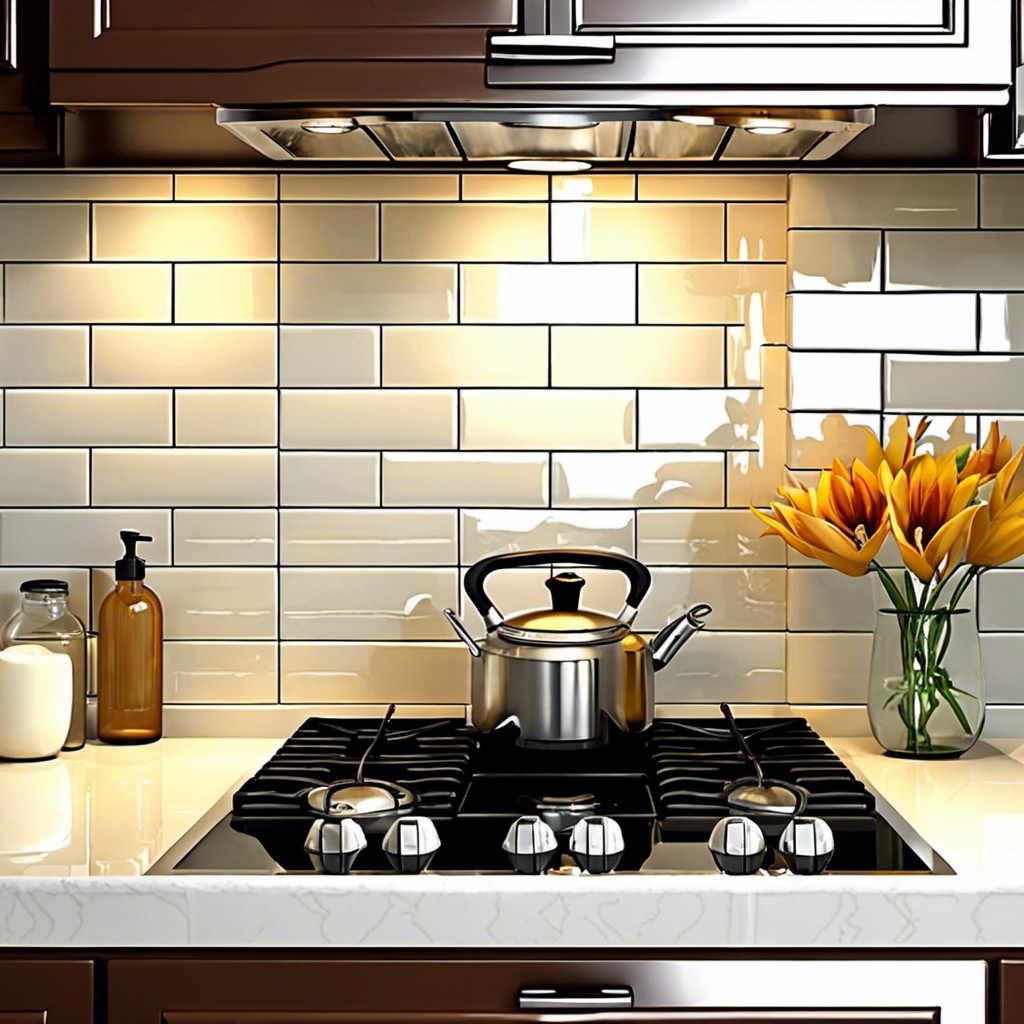 Adopting a vertical mosaic centerpiece brings captivating depth and creativity to your backsplash design. Sleek subway tiles aid in pronouncing the visual appeal of the mosaic.
Let's delve into some key considerations:
Harmony in Colors: Ensure the tile colors blend well. Stark contrasts can undermine the mosaic centerpiece.
Consistent Tile Size: To maximize the mosaic's impact, maintain identical subway tiles sizes throughout.
Focal Point Definition: Direct focus to the mosaic by aligning it with a significant architectural element such as the stovetop or sink.
Grout Color: Optimization of grout color can enhance your design. Consider a color that complements both the subway tiles and the mosaic.
Lighting: Natural or artificial spotlighting helps further emphasize the mosaic centerpiece and its intricate details.
Bear in mind, it's all about creating an enchanting aesthetic. A vertical mosaic centerpiece can spice up even the most simplistic subway tile layout.
Brick Style Charcoal Grey Subway Tiles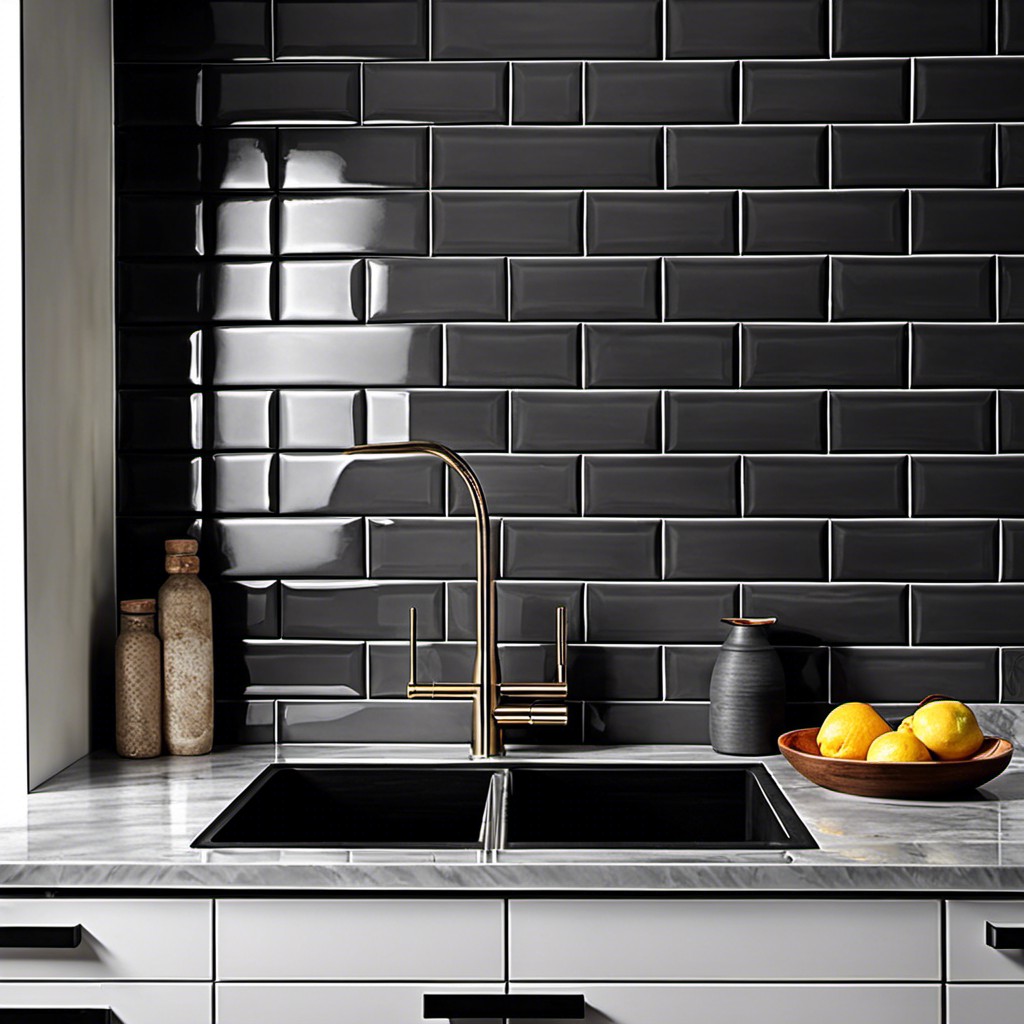 Harnessing the robust tone of charcoal grey, these tiles offer an unparalleled sophistication to any kitchen.
Its brick style arrangement, reminiscent of traditional design, expertly brings character to modern aesthetics.
As a darker hue, charcoal grey effectively hides splatters or smudges, making it an excellent choice for cooking zones that are bustling with activity.
The compact, rectangular size inherent to subway tiles also contributes to a seamless alignment, regardless of your wall's dimensions.
Paired with lighter cabinetry or countertops, the addressed design lends a striking contrast, transforming the backsplash into an eye-catching feature of the room.
Consider incorporating touches of metallic, perhaps in the form of cookware or lighting fixtures, to complement the lustrous finish of the tiles and add depth to your decor.
Opting for these tiles does not just provide practical benefits, it also ushers in a compelling blend of the classic and the contemporary.
Vibrantly Colored Subway Tiles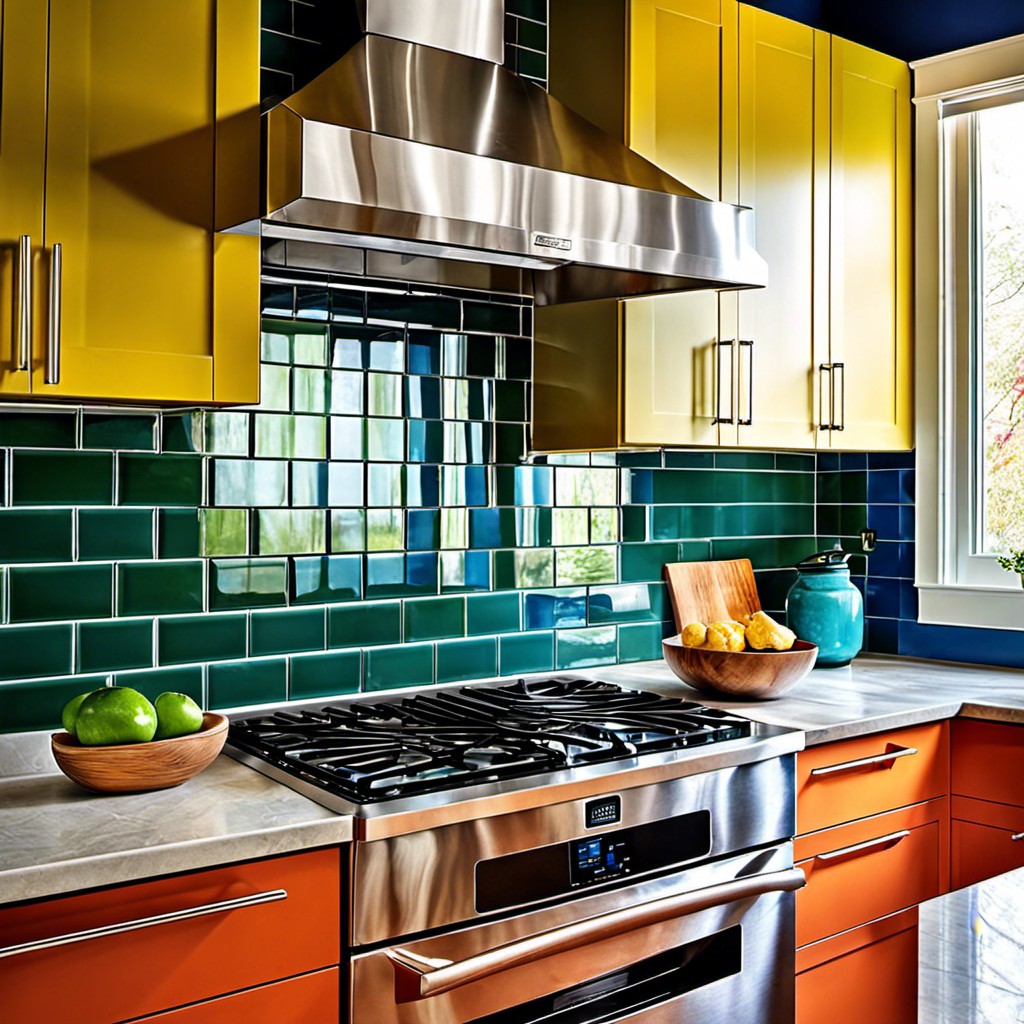 Injecting color into your kitchen or bathroom can be as simple as choosing the right backsplash. Vibrantly colored subway tiles turn an ordinary wall into a statement piece. Whether you prefer a splash of sunny yellow, bold red, or tranquil turquoise, there's a hue to suit every taste.
Consider these points when choosing your vibrant tiles:
Balance: Ensure the color doesn't overpower the rest of the decor. Vibrant doesn't always mean neon; rich, saturated colors can make a powerful impact without being too loud.
Lighting: Bright colors reflect light, helping to make smaller spaces appear larger. In naturally darker rooms, opt for more vivid color options.
Material: glazed ceramic tiles reflect more light and appear more vibrant, while matte finishes give a more subdued look.
Complementary Colors: Pair your vibrant tiles with neutral colored cabinetry to allow the backsplash to take center stage, or with an equally as vibrant countertop for a bold, lively look.
Remember, your backsplash is an extension of your personality, so let it shine. Whether you lean towards a classic blue or perhaps a daring emerald green, these tiles can make your design pop.
Cream Subway Tiles With Gold Accents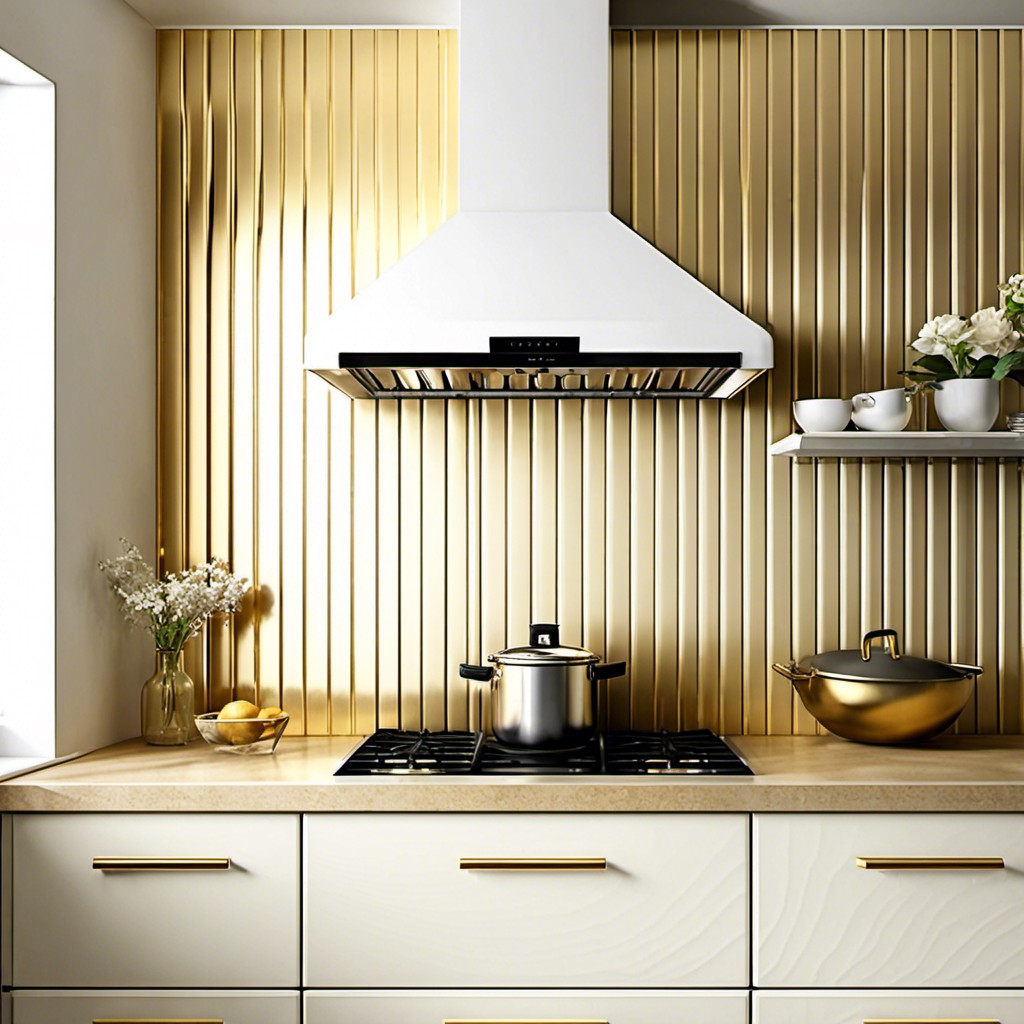 With this winning combo, expect an understated elegance that exudes comfort and luxury. The light cream color infuses a soothing backdrop for your kitchen, while the gold accents add a dash of opulence.
Remember to evenly space your gold accented tiles to avoid an overbearing look. You may also opt for gold grout, a trendy way to elevate any tile design.
Soft under-cabinet lighting can accentuate the glimmer, adding to the overall ambience. This styles pairs well with both white or brown cabinetry and complements stainless steel appliances perfectly.
For an extra flair, try using inset lighting to make those gold accents truly shine!
Rustic Brown Subway Tiles for a Warm Effect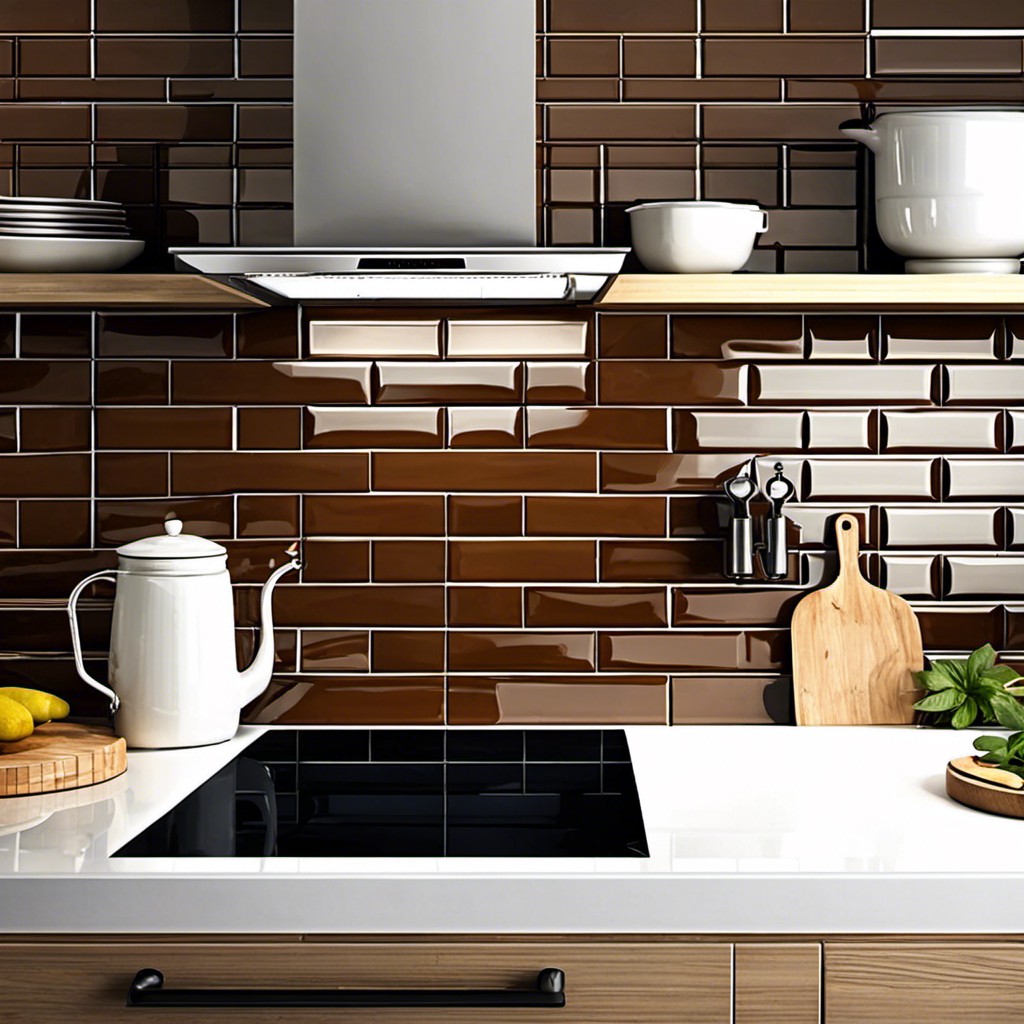 Featuring unique textures and a rich, earthy color palette, rustic brown subway tiles offer a comforting and inviting warmth to any kitchen setting. The beauty of these tiles lies in their versatility. They can complement a variety of design aesthetics, from traditional to modern.
Here are some quick tips to keep in mind:
Pairing: Consider white or cream-colored cabinetry for a striking contrast against your rustic brown tiles, which creates a visually balanced space.
Grout Color: Matching the grout color with the tiles can give the backsplash a seamless, sophisticated look. Using a lighter grout color will make the tiles pop, accentuating the vertical installation and adding depth to the space.
Lighting: Augment the warm effect of your rustic tiles with soft, ambient lighting or under-cabinet lights for a cozy, welcoming kitchen atmosphere.
Accessories: Enhance the warmth by using wooden and copper kitchen accessories that pair well with the brown tones.
Remember to keep the natural color variations of rustic tiles into account while planning your kitchen space. Every tile is unique, making your backsplash a one-of-a-kind piece of art.
Bold Geometric Centerpiece With Monochrome Subway Tiles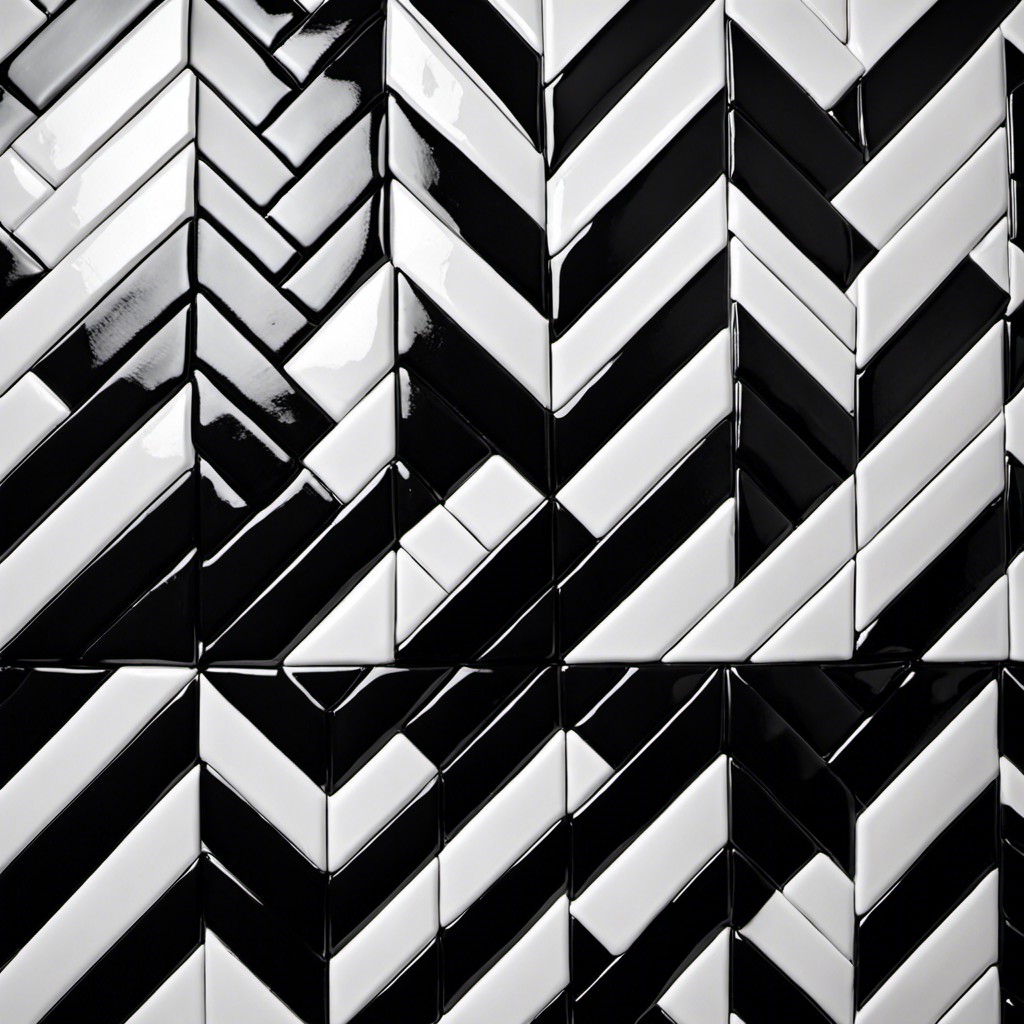 With the unique blend of uniform subway tiles and a stunning geometric centerpiece, this design concept offers an enchanting twist to traditional backsplash styles. The monochrome scheme grants a clean, minimal feel. Serving as the backdrop, it effortlessly draws attention to your centerpiece, allowing it to truly pop.
Here are a few points to consider for this design:
1. Choose a contrasting shade for your geometric centerpiece – either darker or lighter depending on your monochrome tiles.
2. Consider an eye-catching geometric pattern that corresponds with the overall aesthetic of your kitchen.
3. The simplicity of the subway tiles should enhance, not compete with the complexity of the geometric pattern.
4. Ensure the grout color for the subway tiles blends with the tile color to maintain a smooth, uninterrupted canvas.
5. Experiment with different tiles' finishes – a glossy finish for the centerpiece while sporting a matte finish for the subway tiles can establish a striking visual dynamic.
6. Aim for a balanced look – the geometric centerpiece should be the star, but it shouldn't overwhelm the space.
Remember, it's all about creating an intriguing blend of a plain layout with a creative twist. Generate contrast, radiate elegance and produce a focal point that amplifies your kitchen's personality.
Continue reading: