Last updated on October 31, 2023
Discover why wood backsplash kitchen ideas are causing a stir in home decor because they effortlessly combine charm, durability, and sophistication.
I'm proud to present my unique article on 21 Trending Wood Backsplash Kitchen Ideas for Your Home, complete with designs crafted by me, and I genuinely hope they inspire you and bring you as much joy in discovery as they did me in creation.
Wood backsplashes can add a warm, rustic charm to any kitchen, blending functionality with aesthetic appeal. This article delves into a variety of wood backsplash ideas, from reclaimed wood to sleek bamboo panels.
Whether you're seeking a traditional look or a modern twist, there's a wooden backsplash to suit your style. Explore the benefits and considerations of each type, installation tips, and how to care for your wood backsplash to ensure its longevity.
This comprehensive guide will provide you with all the necessary details to make an informed decision and transform your kitchen space.
What's Inside
Rustic Reclaimed Wood Backsplash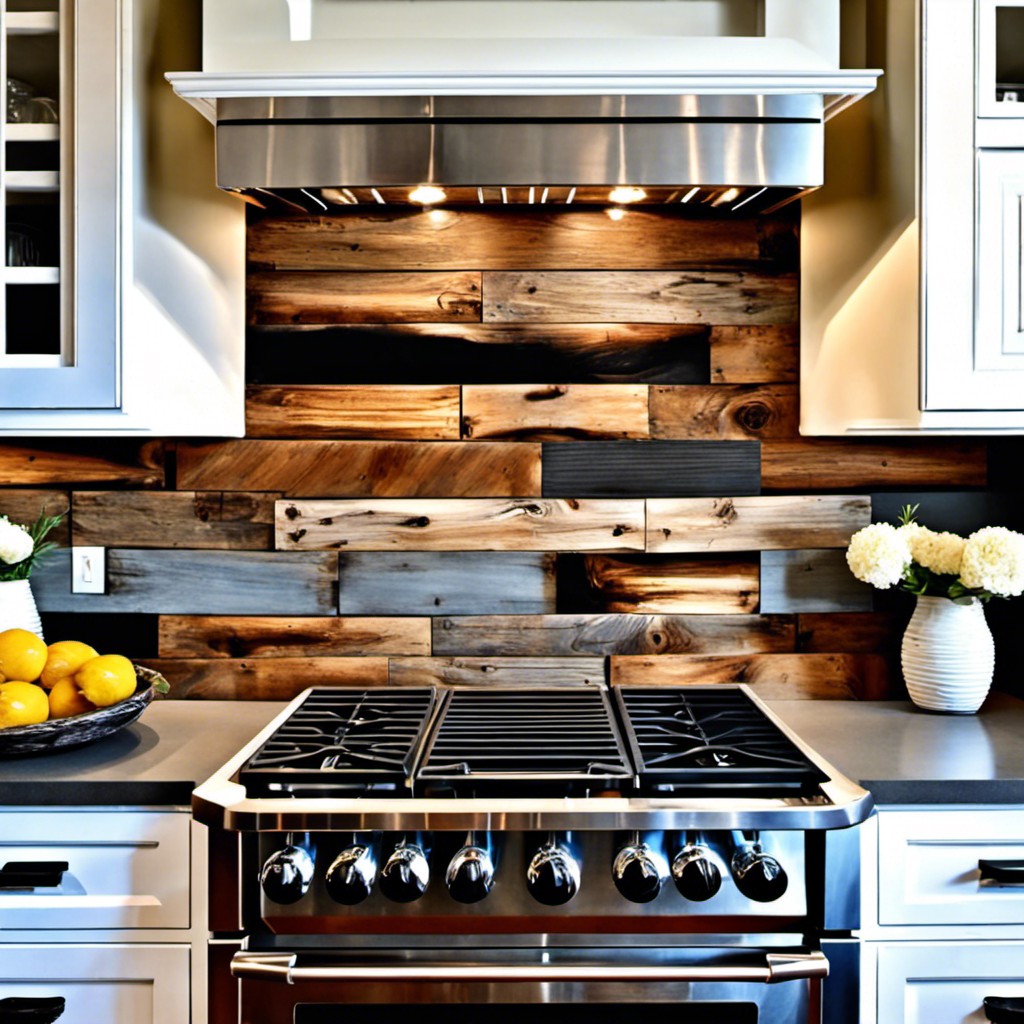 A rustic reclaimed wood backsplash brings history and charm to a kitchen. The beauty of this choice lies in its versatility and the unique character of each piece of wood. You can never have two identical backdrops, as the wood's years of experience result in diverse grain patterns and hues.
Here is what makes this backsplash style an interesting choice:
Authenticity: Reclaimed wood carries genuineness and warmth, enhancing the overall appeal of your kitchen.
Sustainability: Using reclaimed wood reduces the demand for cutting down new trees, making this option environmentally friendly.
Variety: This material comes from various sources like barns, old buildings, or even wine barrels, meaning there's a wide range of shades and textures available.
Durability: Reclaimed wood often comes from old-growth trees, therefore it tends to be more durable and harder than new wood.
Easy maintenance: A suitable sealant can protect your backsplash from moisture and stains, making it easy to clean and maintain over time.
Remember, while reclaimed wood backsplash imparts an alluring appeal, make sure your kitchen has a proper ventilation system to prevent any potential damage from heat or humidity.
Pallet Wood Subway Tiles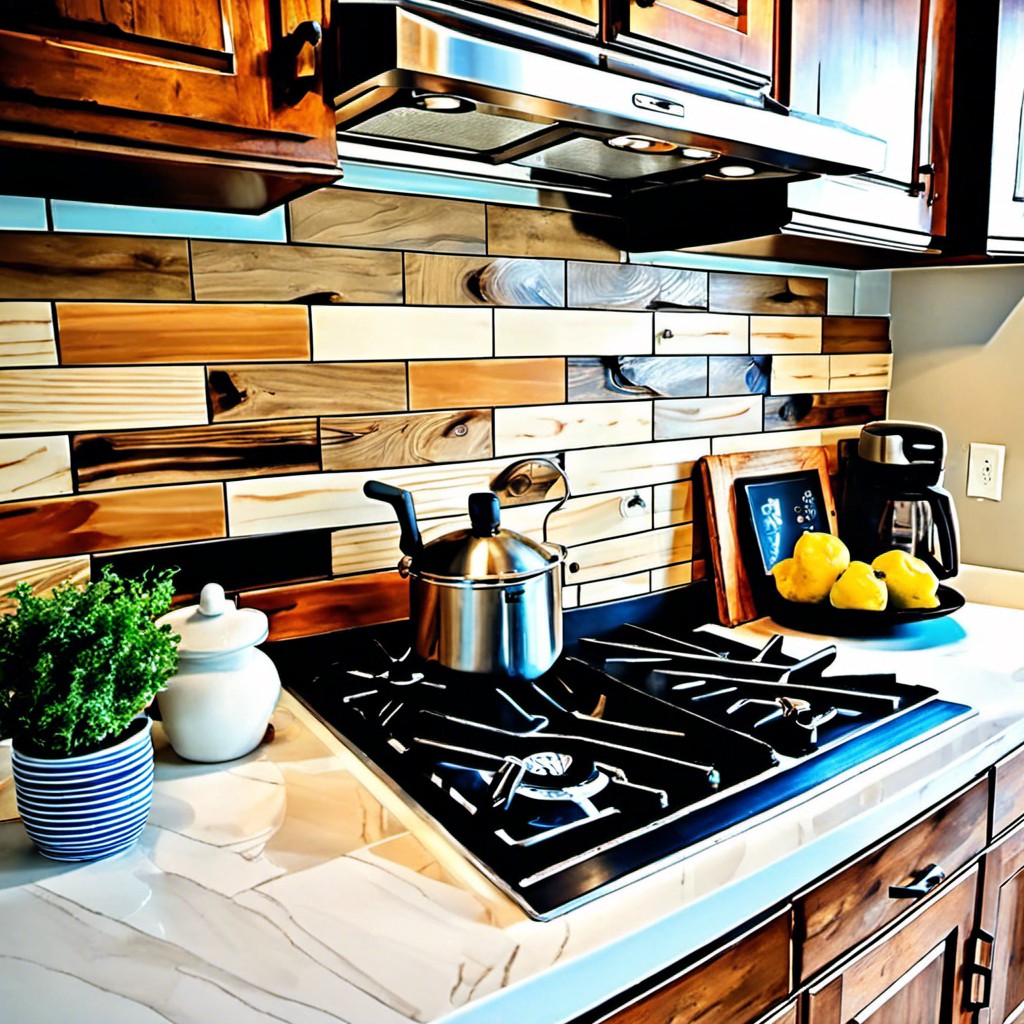 Harnessing the humble nature and inherent beauty of pallet wood, subway tiles offer a creatively repurposed design solution. When white Subway tiles feel too sterile or modern glass variations seem too glossy, pallet wood becomes a fantastic, earthy alternative.
Here are some points to consider regarding the usage of pallet wood subway tiles:
They offer an economical solution as pallets are often discarded by businesses.
With their irregular grain and varied hues, these tiles provide an aesthetic appeal.
Sanded and sealed properly, the tiles are easy to clean and durable.
These backsplashes work well with rustic, farmhouse, or industrial style kitchens.
For more appeal, mix and match different pallet woods together.
Reference images of kitchens with pallet wood subway tiles can help visualize the potential results. Stripping pallets and turning them into subway tiles may require effort but the distinctive look will be worth it.
Barnwood Backsplash With Open Shelving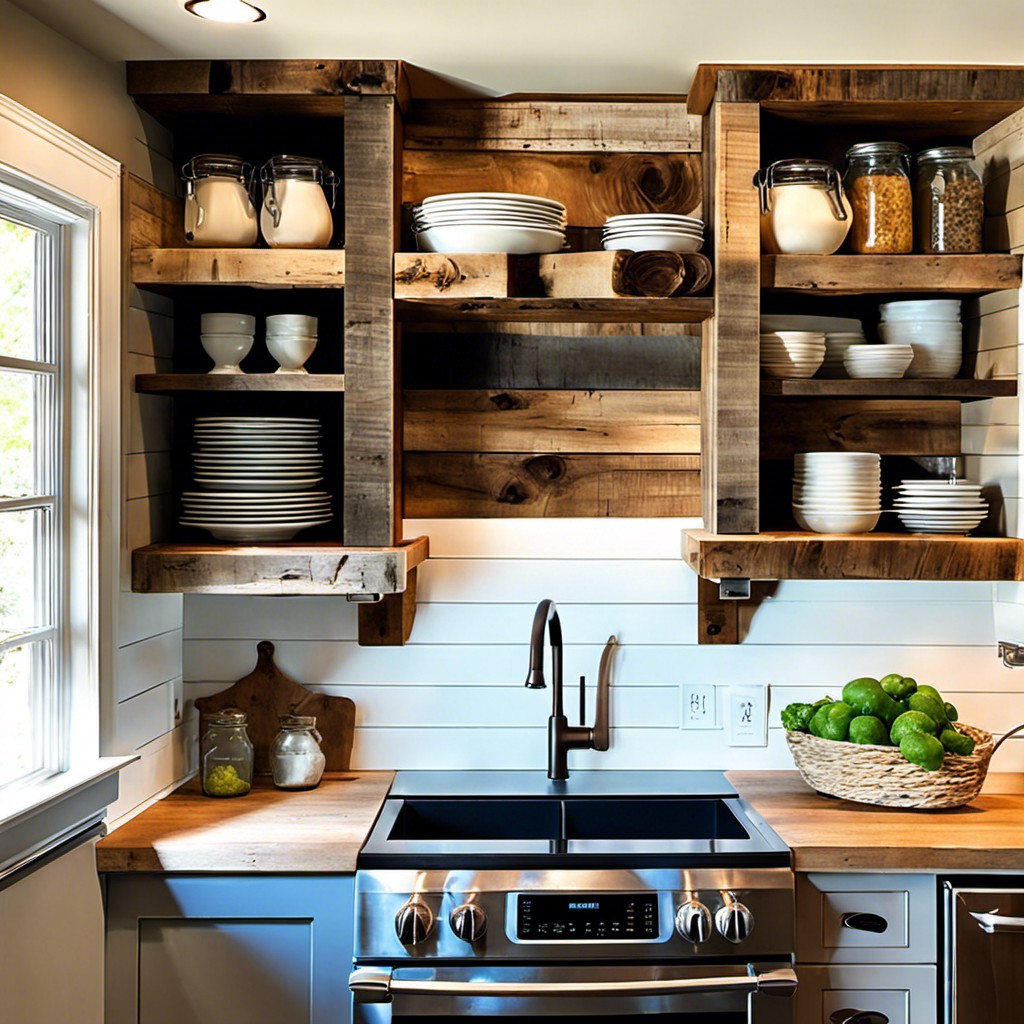 A rustic aesthetic comes to life with barnwood, offering an appealing vintage vibe. When used as a backsplash, it brings in warmth and texture. The irregular color tones and grains of barnwood add depth to your kitchen.
Now, pair this with open shelving, and you've got yourself a practical yet stylish setup. Open shelving offers easy access to your dining ware. Choose shelves built from the same material to keep a consistent rustic aesthetic. Complement the combo with industrial-style metallic accents or warm, earth-toned accessories for a cozy effect.
Keep in mind, barnwood requires a sealant to protect it from damage due to steam or grease splatters. Proper care ensures longevity.
Ultimately, the marriage of barnwood and open shelving is a combination that brings together functionality and farmhouse aesthetic, a perfect fit for those who appreciate a rustic kitchen design.
Driftwood Backsplash for Coastal Theme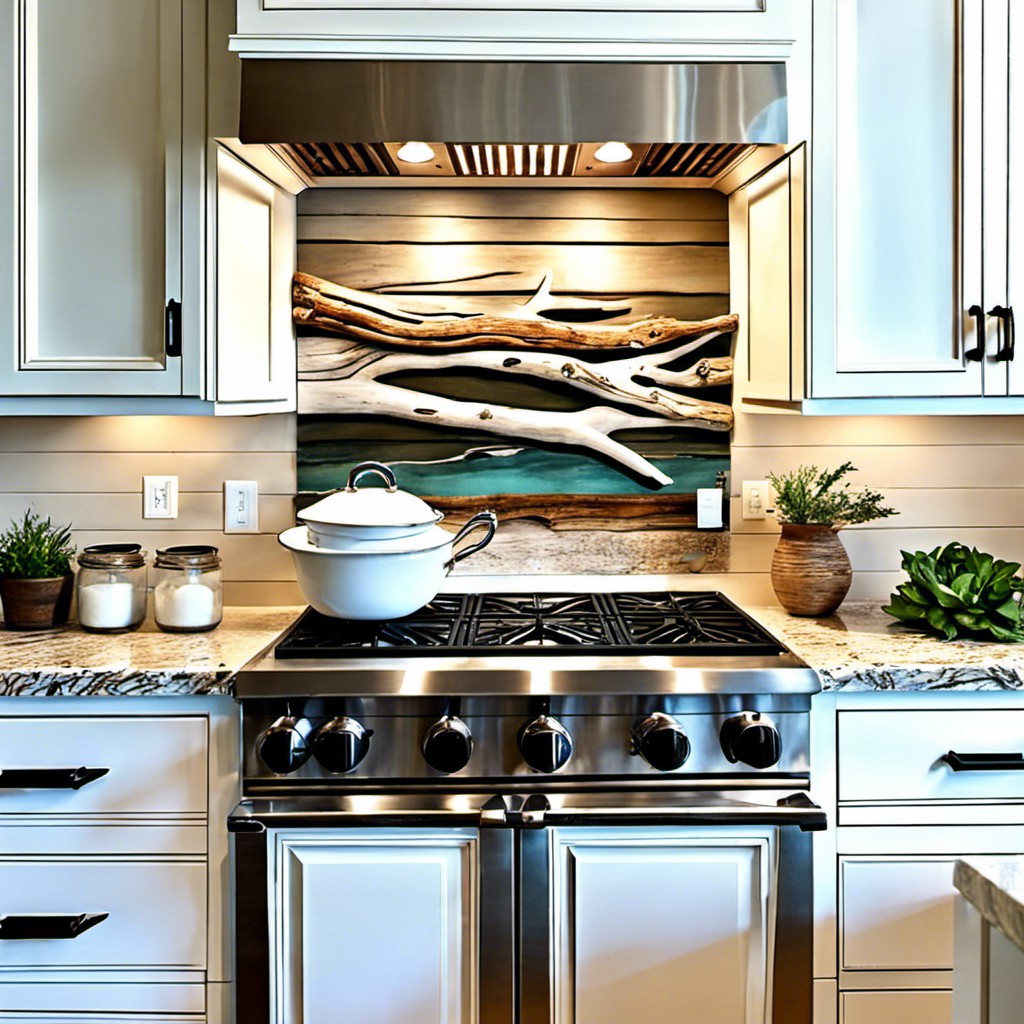 Incorporating driftwood into your backsplash design immediately evokes visions of the seaside, providing a subtle nod to coastal living. The unique, weather-beaten appearance of driftwood can enhance your kitchen's ambiance, creating a relaxed, beachy vibe.
1. Texture and Tonal Variation: Driftwood often sports a naturally distressed, worn appearance. Its varied tones can range anywhere from a pale gray to a soft brown, adding depth and interest to your kitchen.
2. Sustainability: Using driftwood can be a sustainable choice. Often gathered from shorelines, it's recycled into something both functional and aesthetically pleasing.
3. Versatility: While perfect for homes with an ocean or nautical theme, the driftwood backsplash isn't limited to one design scheme. It can complement rustic, farmhouse, and even modern kitchens.
4. Pairing with Other Elements: To complement the driftwood backsplash, consider adding sea-glass accents, nautical lighting fixtures, and soft, cool color palettes. These elements can reinforce the coastal theme.
5. Maintenance: Though charming, driftwood can require a bit more care. Ensure it is properly sealed to protect against kitchen spills and stains.
Finally, remember that every piece of driftwood is unique, making your backsplash a one-of-a-kind feature in your kitchen.
Teak Wood Tile Backsplash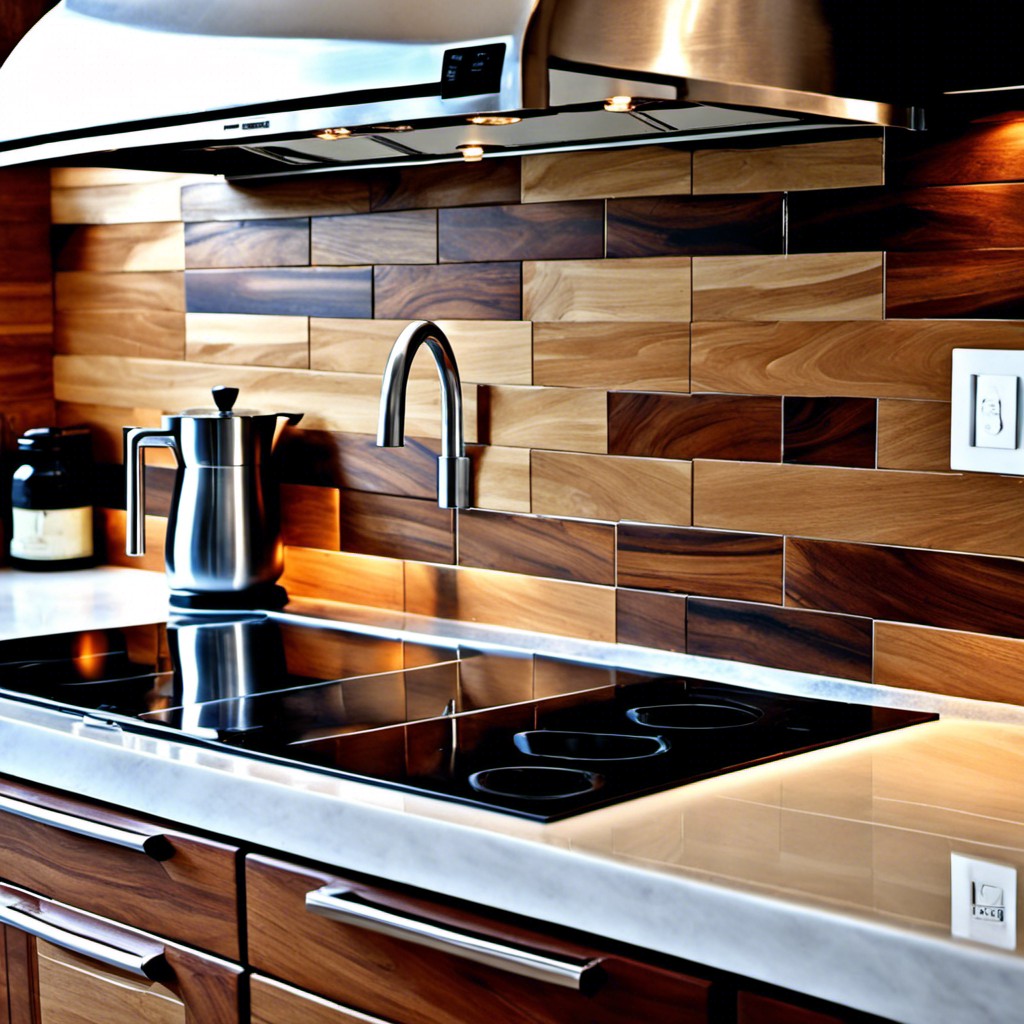 Rich in natural oils, teak not only renders a warm, tropical feel to your kitchen space but is also highly resistant to moisture and humidity, making it an ideal choice for backsplashes. This hardy wood is known for its longevity, performance, and the beautiful golden-brown hue it imparts.
Offered in both smooth and textured variations, teak tile backsplashes make for an endearing add-on in both contemporary and rustic kitchen decor styles. With proper sealing and occasional maintenance, these tiles continue to enhance the aesthetic appeal of your space.
Flexible to customization, you can choose from different shapes – rectangular, square, or hexagonal, to add a touch of uniqueness. Depending on your preference, you can either let the natural grain of the teak show through or opt for stained versions to match the overall color scheme of your kitchen. Pairs perfectly with stone countertops or stainless steel appliances, teak wood backsplashes are a timeless way to insert a dose of personality into your cooking space.
Backsplash With Wooden Slats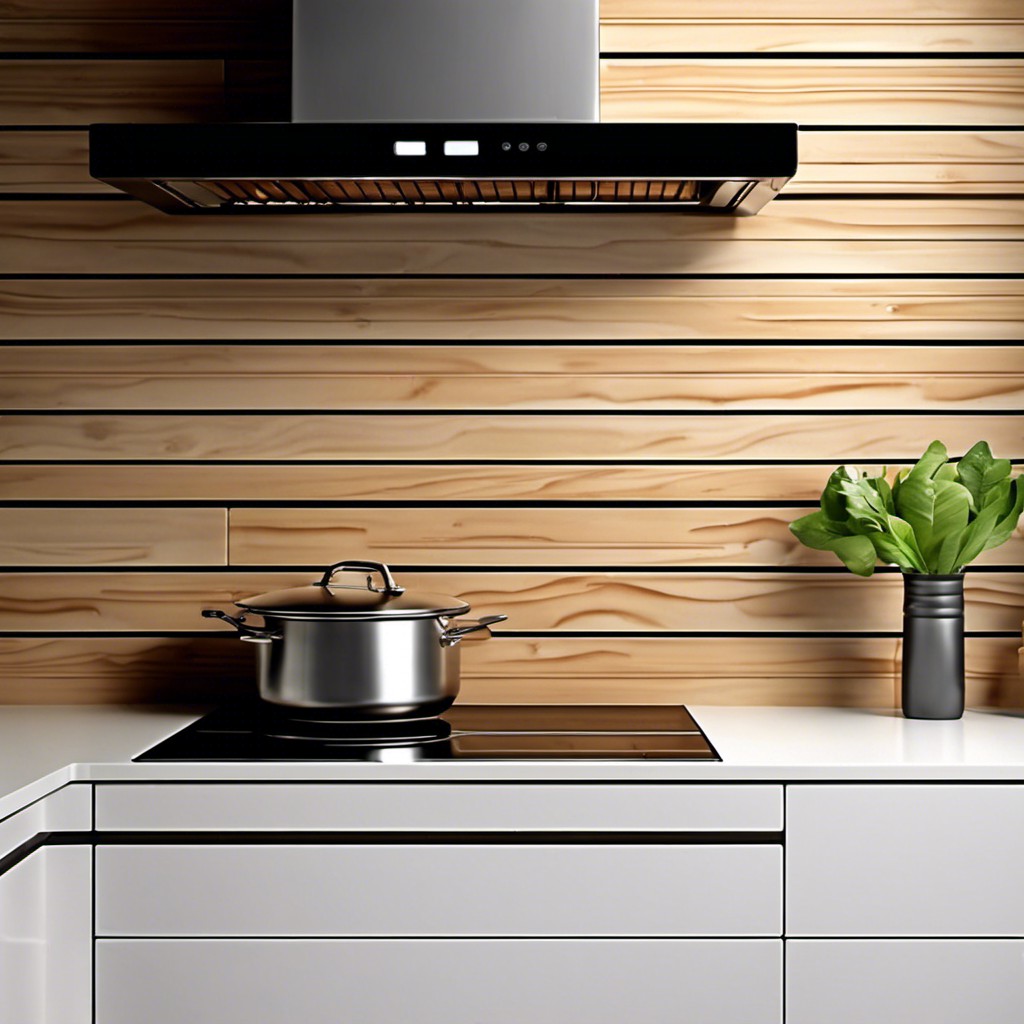 The use of wooden slats immediately offers an authentic and warm atmosphere to any kitchen. Their earthy tones bring in an inviting homespun feel. To ensure a perfect fit for the kitchen, choose slats that complement the cabinetry and other elements.
Variety: Numerous types of woods and stains are available to match your kitchen's color scheme. Oak, cherry, and pine are popular options.
Layout: Wooden slats can be laid horizontally, vertically, or in a herringbone pattern for added intrigue. Coordinate the layout with your cabinetry for a cohesive look.
Finish: Opt for a glossy finish to bring out the wood's natural beauty and ensure it's easier to clean and maintain. Alternatively, a weathered finish can add more rustic charm.
Maintenance: Despite being versatile and aesthetic, wooden slats would need sealing to protect against moisture and food splatters. Regular cleaning also helps maintain its beauty over time.
Lighting: To accentuate the texture and tones of the slatted backdrop, ensure that under-cabinet or spot lighting is included.
Cost: It can be a budget-friendly option if the right type of wood is chosen, but prices may vary depending on the wood's rarity, grade, and finish.
Wood Veneer Backsplash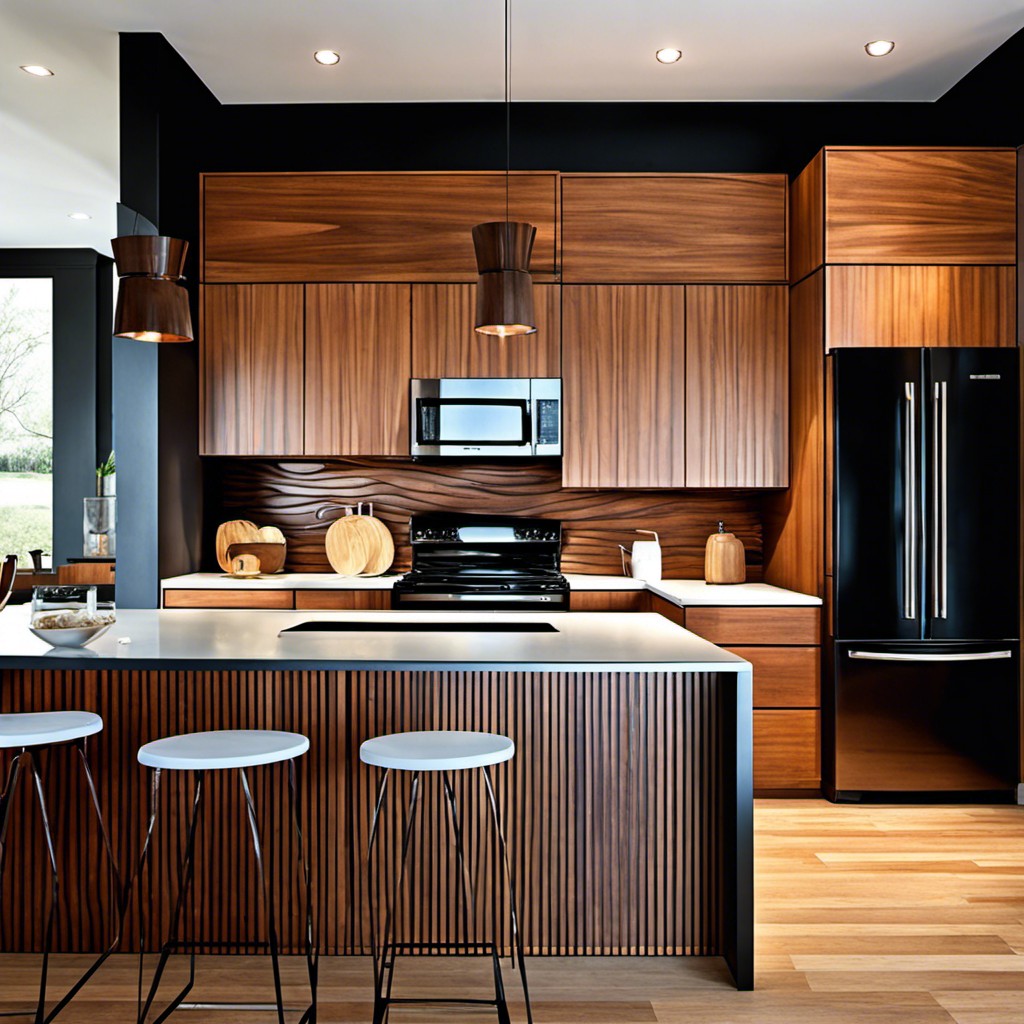 Chosen for its versatility, Wood veneer provides both aesthetic appeal and durability in a kitchen backsplash. Though thinner than solid wood, veneer is bonded to a sturdy substrate which adds to its resilience.
The significant advantage lies in its customizable appearance. You can choose from cherry, oak, or even exotic wood types, to perfectly match kitchen decor. The veneer can also be stained to amplify its natural patterns.
Cost-effectiveness is another crucial factor, as it replicates the look of solid wood but at a fraction of the price. For maintenance, it only requires wiping with a damp cloth to remain in top condition.
Torched Wood Backsplash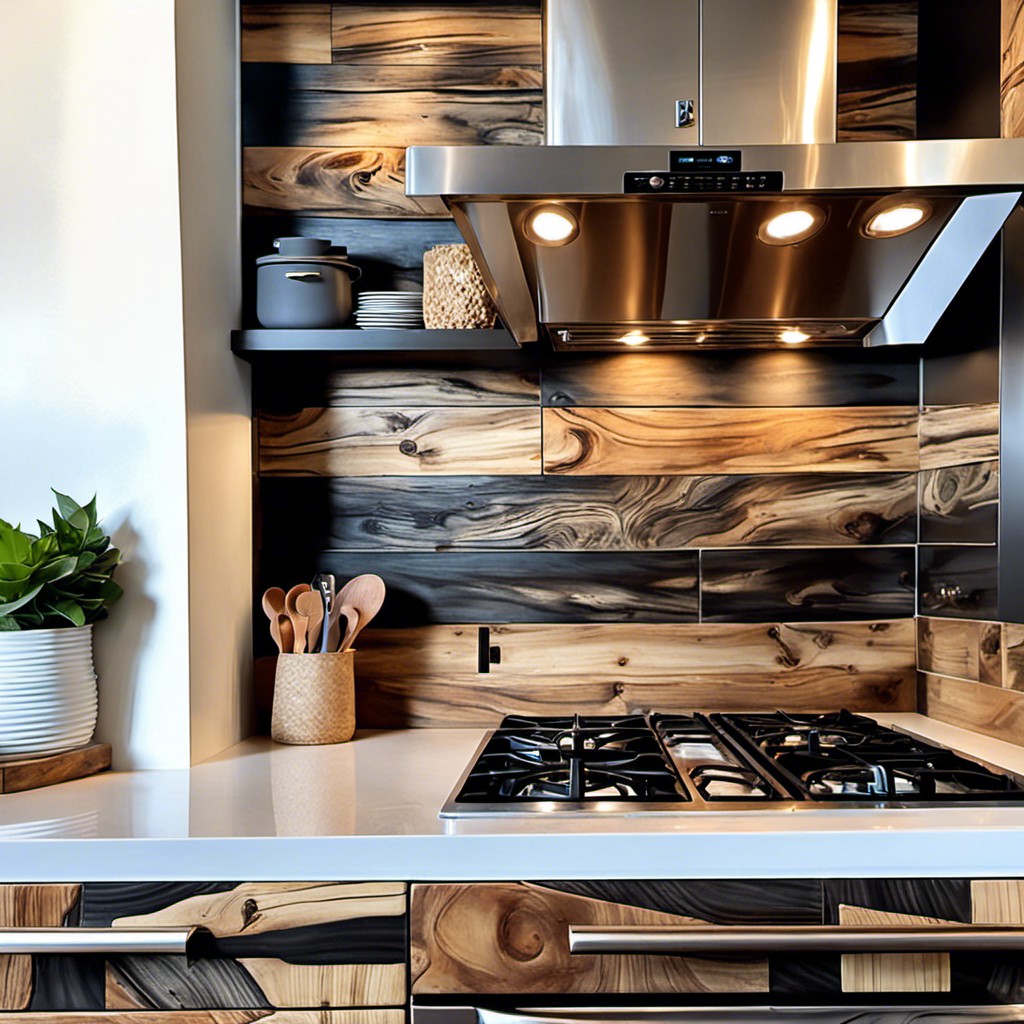 Torched, or 'Shou Sugi Ban' as it's traditionally known in Japan, uses fire to carefully blacken the surface of the wood. In the world of kitchen backsplashes, it represents a uniquely tactile, and visually stunning option. The torching process not only enhances the natural patterns and grains but also makes the wood more resistant to moisture—a critical factor in a kitchen environment.
Consider the following points:
When choosing the type of wood, cedar is a popular choice for its natural resilience. Other options with noticeable grain patterns like pine or oak can also make striking choices.
The intensity of torching can be adjusted to achieve various shades, from a light singe to deep black.
Ensure the surface is properly sealed after torching to maintain longevity.
Though a DIY endeavor is possible, professional installation is recommended for safety reasons and to achieve a polished end result.
Incredible in aesthetic appeal and functionality, the torched wood backsplash offers an essence of antiquity, while being a practical fit for the kitchen.
Painted Wood Backsplash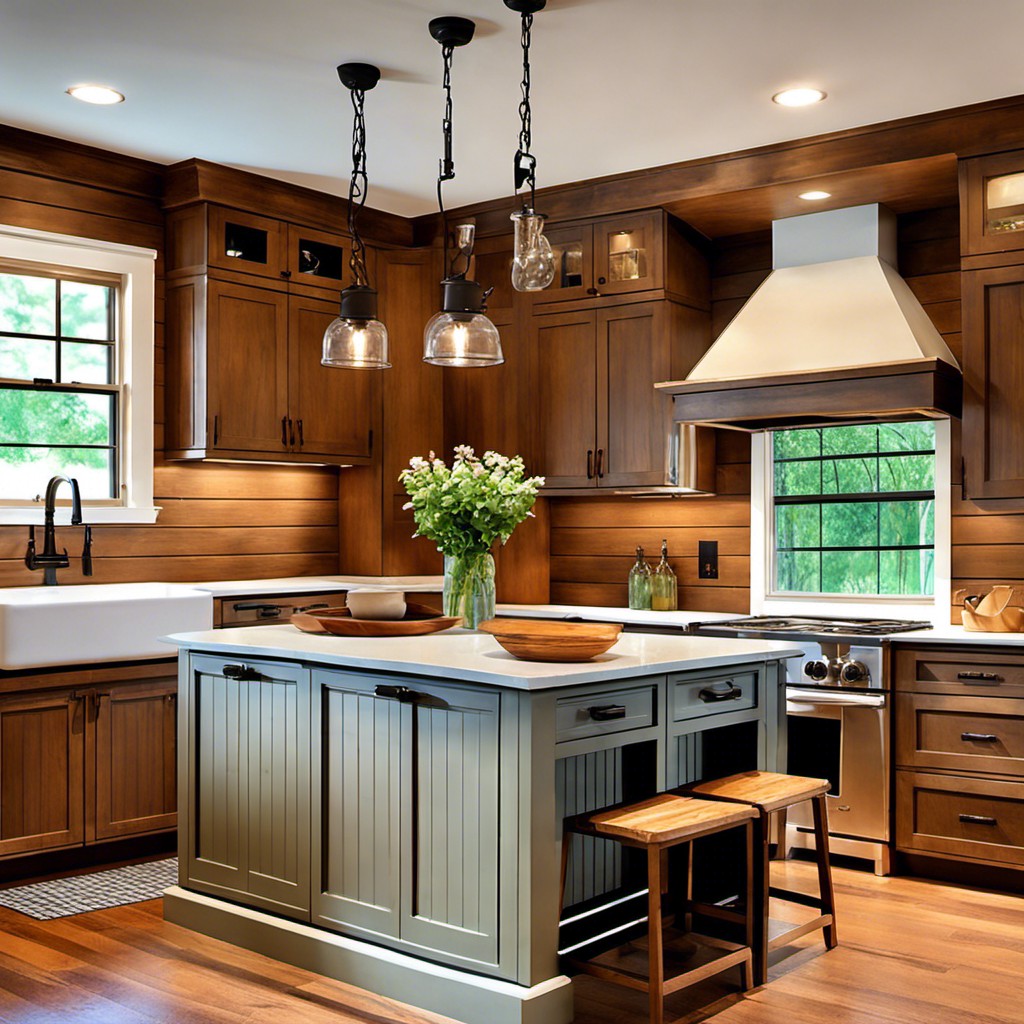 Transforming raw wood into a stunning piece of kitchen artistry can be easily achieved with a coat of paint. There are endless options of color palettes, always choose one that complements your kitchen decor, for a harmonious look.
Keep few crucial aspects in mind:
Type of wood: Always opt for smooth and knotless wood for a cleaner finish.
Prep work: Sand the surface properly, failing which can result in bumps and blotches.
Quality of paint: Kitchen backsplash needs to withstand water, steam, and spills. Go for a moisture and heat resistant paint. A semi-gloss or high-gloss finish is advisable.
Combination: If overwhelmed, try classic combinations like white paint on pine wood or bold ones like turquoise on birch.
Remember, painted wood is easily customizable, a change in color can entirely transform your kitchen's look and feel.
Walnut Wood Backsplash for a Rich Look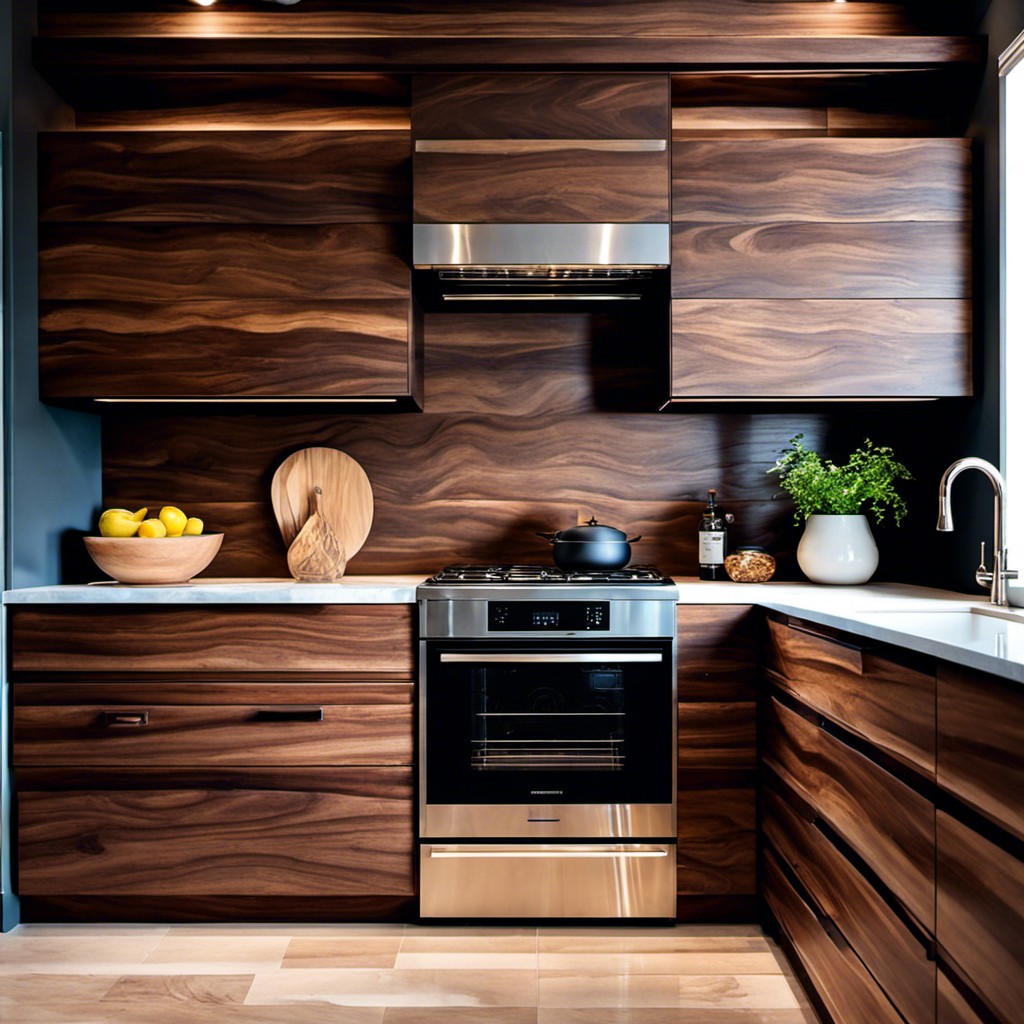 Selecting walnut for your kitchen backsplash guarantees sophistication and a certain depth to your design. Its dark tones bring an element of richness and luxury to your kitchen.
The charming swirls and grains of walnut wood offer a visual appeal that is both elegant and warm.
One key recommendation is to pair your walnut backsplash with lighter tones in your kitchen. This contrast can help the darker wood stand out more and create a balanced visual aesthetic. Complement it with stainless steel appliances or brass fittings to evoke a timeless, chic look.
Remember, though, that walnut wood needs proper sealant to protect it from moisture, grease, and heat. Therefore, it is crucial to ensure appropriate sealing and regular maintenance to sustain its rich allure for years.
Depending upon the look you desire, you can choose from satin, semi-gloss, or high-gloss finish, each lending its unique charm to the backsplash.
This way, you not only achieve a remarkable aesthetic but also ensure a durable, long-lasting feature for your kitchen.
Shiplap Wood Backsplash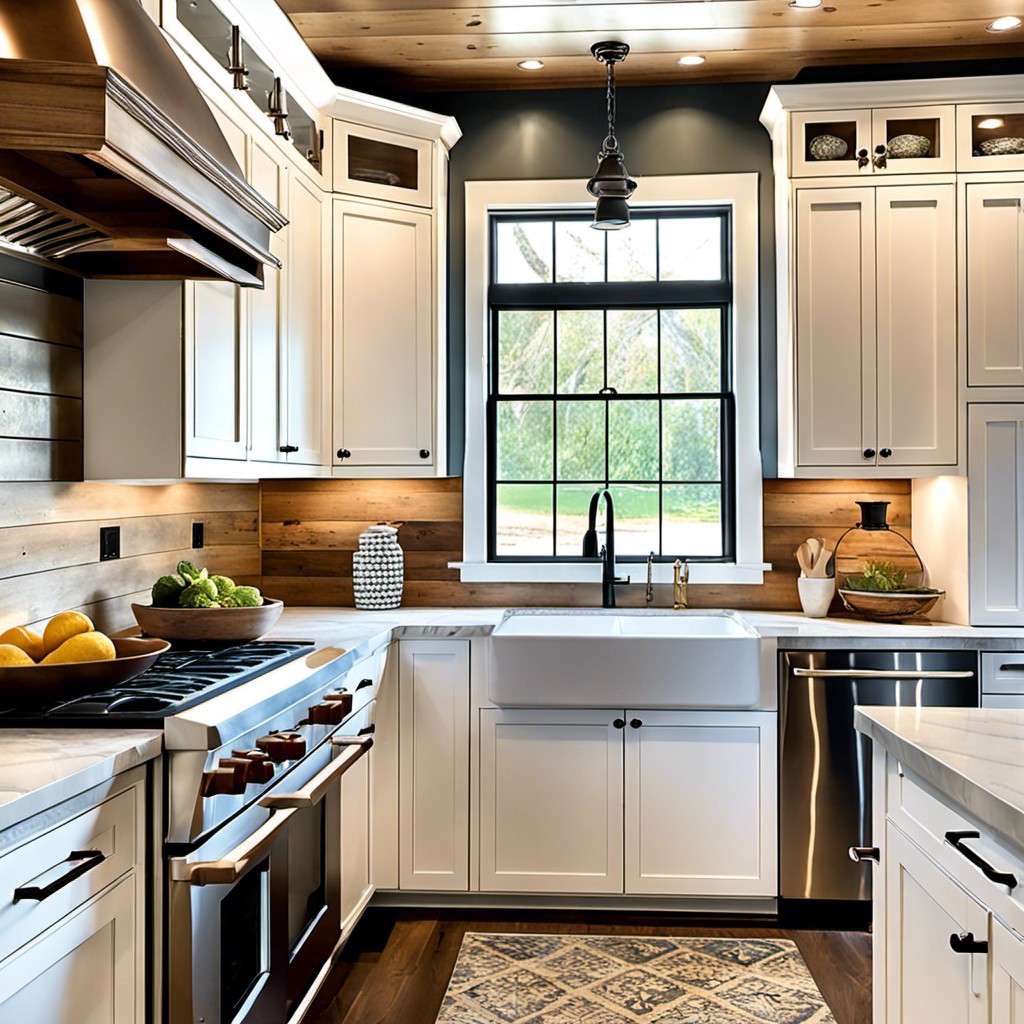 Characterized by horizontal panels, shiplap brings a clean and classic charm to your kitchen. The style is versatile, fitting various décor styles ranging from rustic to contemporary.
Advantages of shiplap include:
Durability: Made from high-quality wood, it can withstand heat and moisture, ideal for an active kitchen space.
Easy Installation: Shiplap panels interlock with each other, making them relatively easy to install, perfect for DIY enthusiasts.
Versatility: Shiplap can be painted to match your kitchen color scheme. It can either be left natural, stained, or painted in bold colors for a more personalized look.
Texture: Even with a coat of paint, the grooves in the shiplap add an intriguing touch of texture to kitchen walls.
Bear in mind the correct way to install shiplap for a backsplash is by starting from the bottom and working your way up. It's essential to seal the wood with a finish that's suitable for kitchens to protect it from moisture damage.
Grainy Wood Backsplash for Texture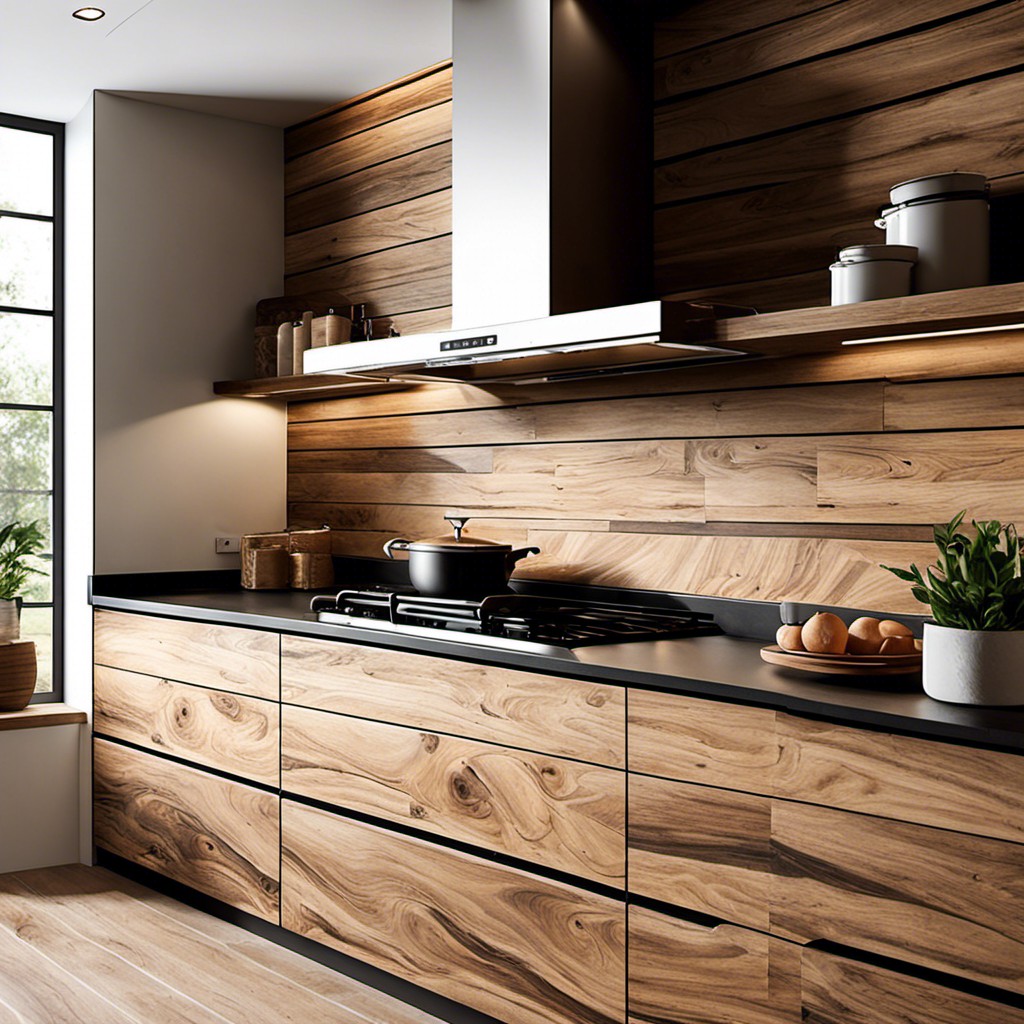 Grainy wood is a spectacular choice for those seeking to create an inviting, textured backsplash. Its distinctive wood grain markings add visual interest and depth to any kitchen. This kind of backsplash suits both modern and traditional decors due to its refined natural look.
To take advantage of grainy wood:
Choose a finish that pulls out the grains or a stain that emphasizes them.
Consider different layout styles including horizontal, vertical, or herringbone for varied effects.
Light, medium, and rich tones offer diverse aesthetics, so select one that complements the kitchen's color scheme.
To highlight the grainy texture, use kitchen lighting strategically.
Combine it with sleek, contemporary kitchen elements for a balanced style contrast.
With suitable care, a grainy wood backsplash can be a durable and striking choice, providing texture and warmth to the kitchen design.
Wood and Copper Combination Backsplash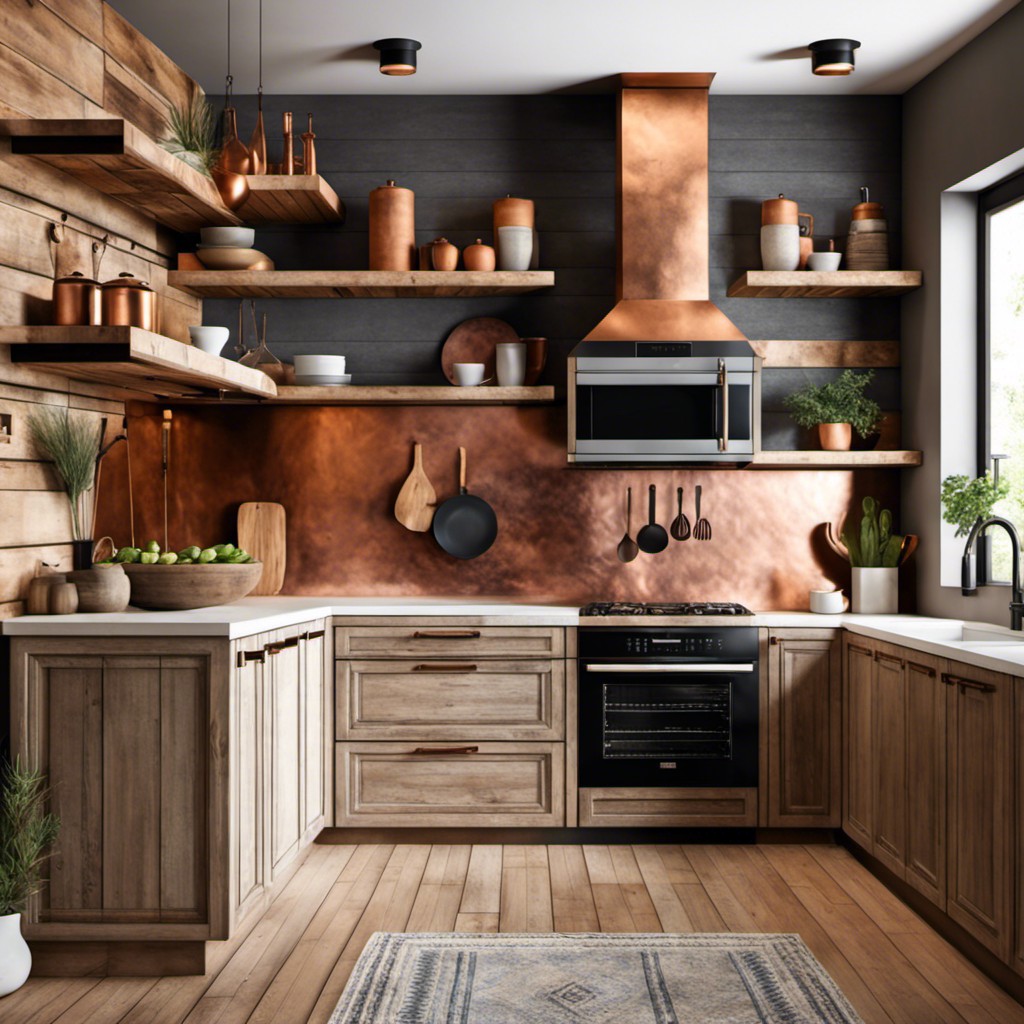 Combining copper with wood has the potential to create a unique and appealing aesthetic. This fusion captures the natural appeal of wood, coupled with the shine of copper, providing an alluring warmth to your kitchen.
Balance the Exhibit: To prevent an overpowering effect, use copper accents sparingly with a majority wood backsplash.
Warmth and Light: Copper detailing reflects light, making your kitchen feel brighter and more spacious.
Textured Combination: Use textured wood for more character. This can complement the smooth shine of copper superbly.
Easy to Clean: Copper's easy-to-clean nature is a bonus, given its positioning near a cooking area.
Antique Appeal: Consider using aged copper, which has a green patina that can add an antique charm.
Durable and Resilient: The two materials, being natural, are resilient against the routine wear and tear of a kitchen.
This sort of combined backsplash encourages a vintage yet sophisticated look, as copper and wood naturally age gracefully over time. The seasoned look of both materials over time can also add to the charm and uniqueness of your kitchen.
Oakwood Backsplash With White Cabinets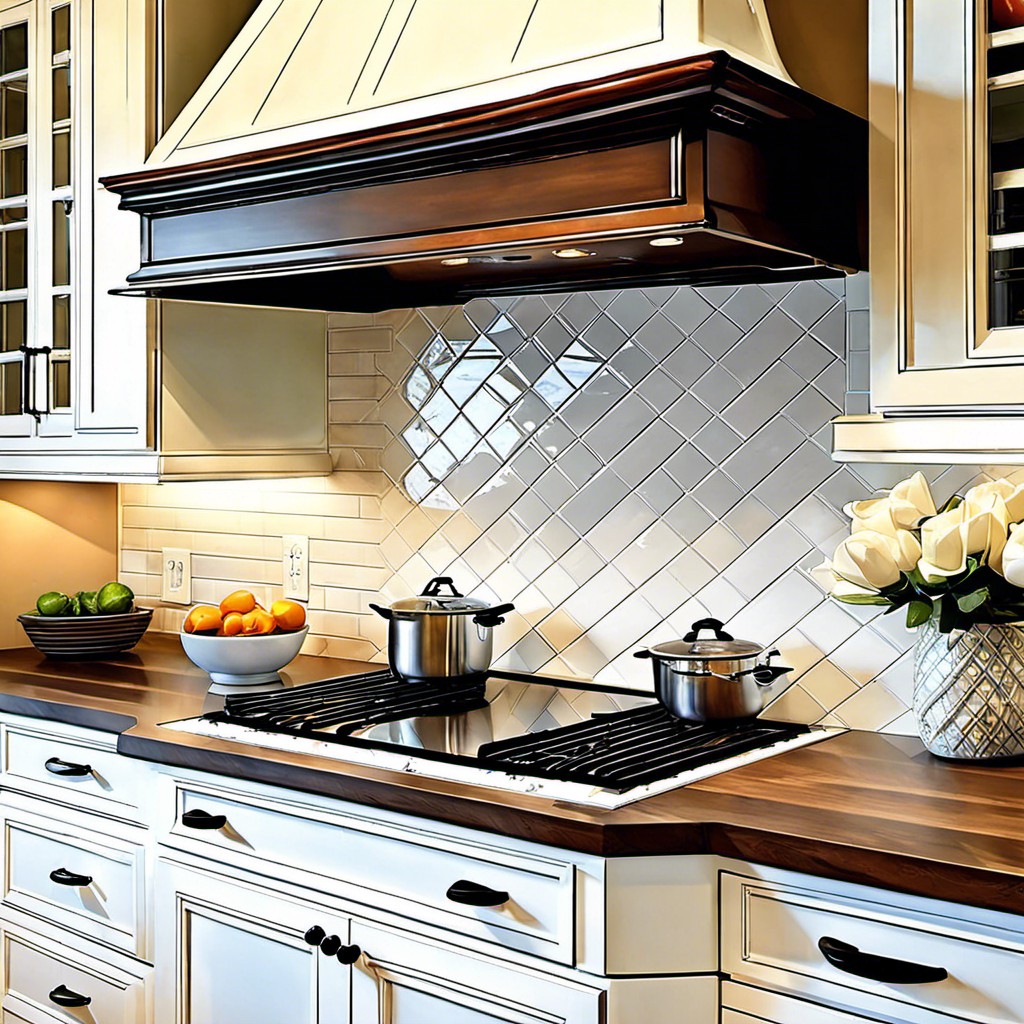 Pairing an oak wood backsplash with white cabinets offers a vibrant equilibrium of warmth and brightness. This desirable fusion grants a distinct aesthetic edge to your kitchen.
1. Natural Appeal: Oak's intricate grain pattern makes each piece unique, bolstering the backsplash's visual appeal. Its versatility effortlessly complements both modern and traditional designs.
2. Warm Color: The natural, warm hue of oak wood pairs well with the clean, minimalistic aura of white cabinets, adding depth and character to the kitchen.
3. Durability: Oak, being a hard and sturdy wood, resists damage. It's not easily dented or scratched, ensuring a long-lasting backsplash.
4. Maintenance: It is easy to clean and maintain, adding to its practical advantages.
To achieve the best result, consider matching the tone of the oak with other elements in your kitchen, for example, the flooring or countertop. This blend will turn the oak backsplash into a stunning statement piece within your space.
Cherry Wood Herringbone Backsplash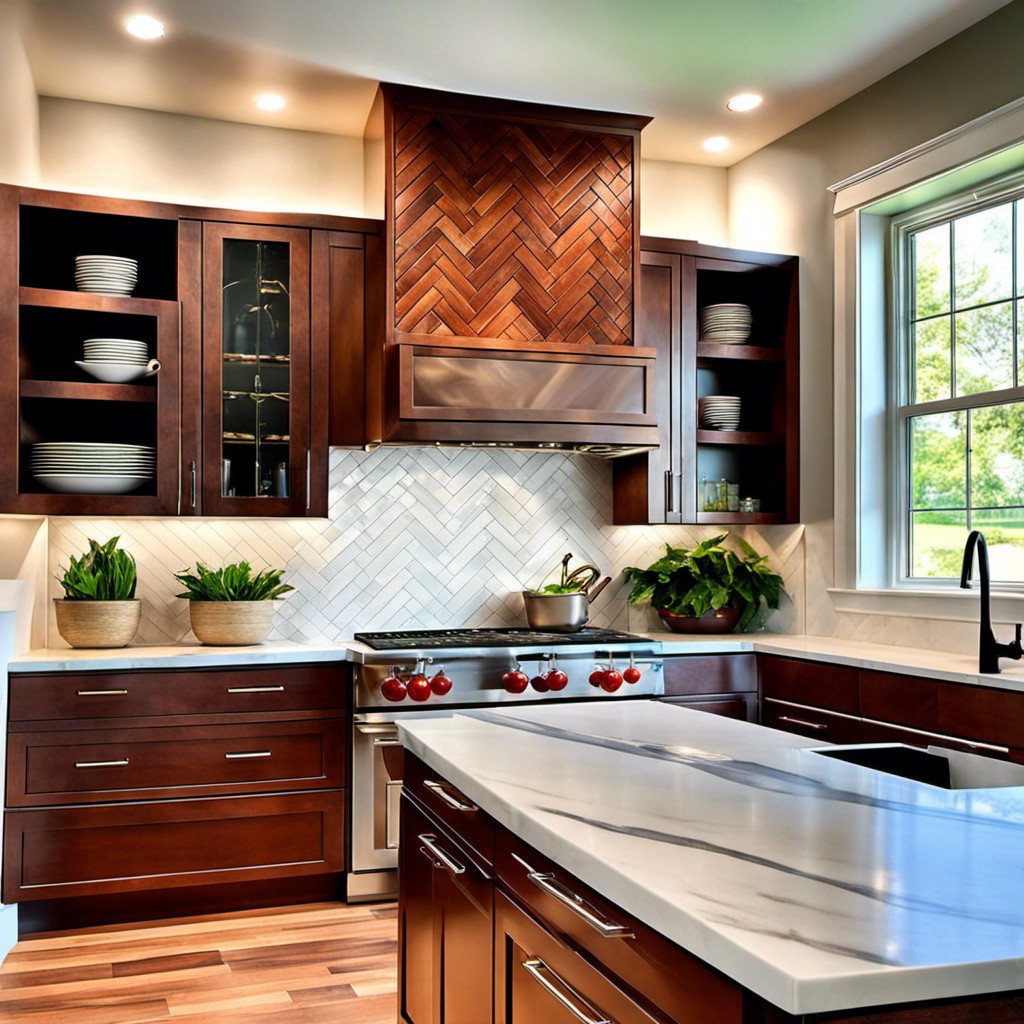 An excellent choice for a more traditional kitchen design, cherry wood executed in a herringbone pattern adds a layer of sophistication and warmth. The dark, warm tones of cherry wood provide a beautiful contrast to lighter countertops or cabinets. When arranged in a herringbone pattern, it creates an attention-grabbing, geometric design that feels upscale and stylish.
1. Pattern: The visual interest of the herringbone pattern gives the kitchen a rich sense of depth and movement.
2. Warm Tones: Cherries' sumptuous reddish-brown tones offer a stark contrast to lighter kitchen elements, ensuring your backsplash is a noticeable feature.
3. Refinement: The herringbone pattern paired with high-quality cherry emphasizes sophistication, giving your kitchen a refined appeal.
4. Durability: Highly resistant to dents and scratches, cherry is an exceptional choice for an area exposed to frequent use.
5. Resale Value: Cherry wood, being a premium material, can significantly boost a home's resale value when utilized in kitchen designs.
Remember that cherry wood requires regular sealing to maintain its vibrant color and to protect it from moisture – an important consideration for any kitchen backsplash project.
Carved Wood Backsplash for a Unique Look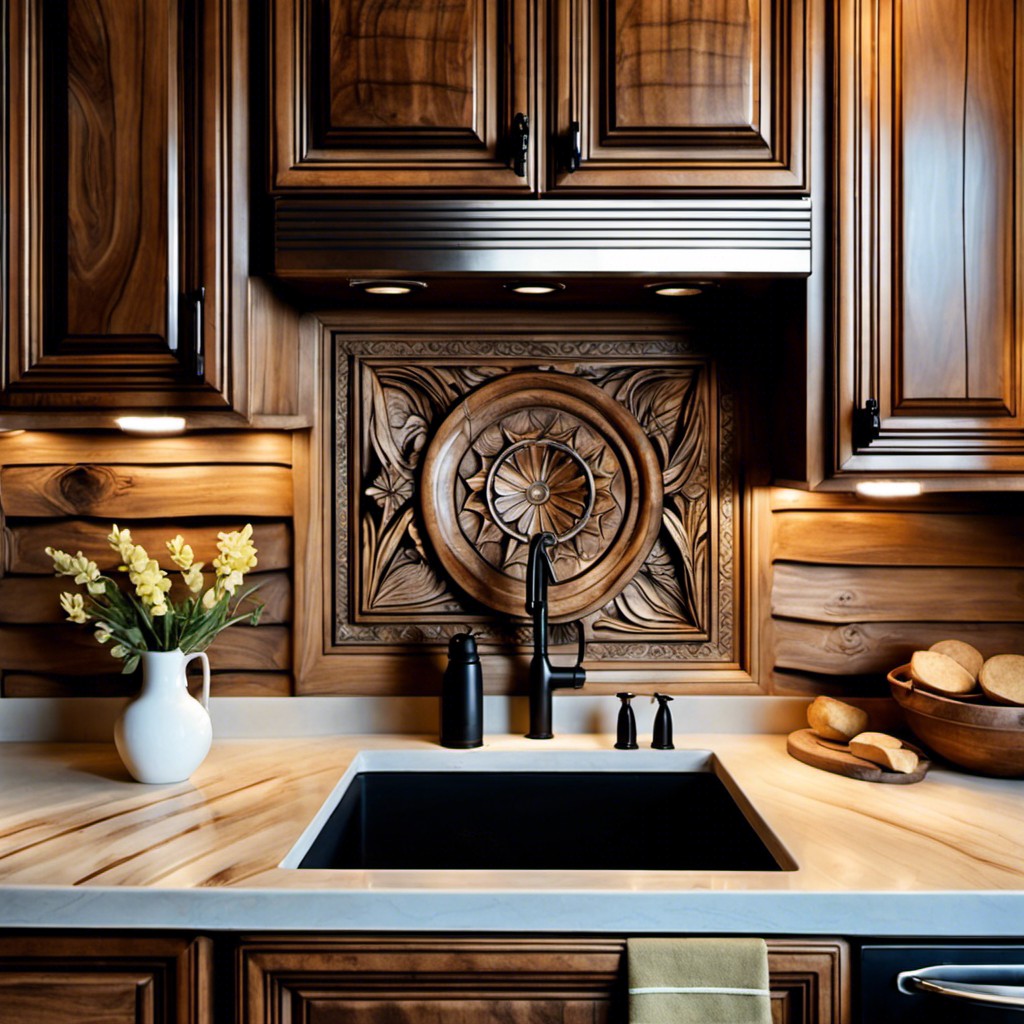 Creating an eye-catching focal point, carved wood backsplashes take appeal to the next level. Patterns range from intricate mandalas to more subtle, minimalistic designs, satisfying a broad spectrum of taste. Zebrawood, Rosewood or Bamboo, the choice of wood type also enhances impact.
This backsplash style requires rigorous care, considering the detailed nooks and crannies of the carving. Regular cleaning using a soft brush prevents dirt accumulation. Additionally, sealing these carvings with an easy-to-clean, water-resistant finish protects against damage while maintaining the wood's natural beauty.
Contrasting the carved wood with simple countertops and appliances emphasizes the work of art on the wall. For example, pairing vibrant carvings against monochromatic kitchen elements yields a dramatic result.
Always consider professional installation, as this is not typically a DIY project. A skilled craftsman can deliver precision and ensure durability, making this unique backsplash a timeless addition to your kitchen.
Backsplash With a Wood Mosaic Tile Pattern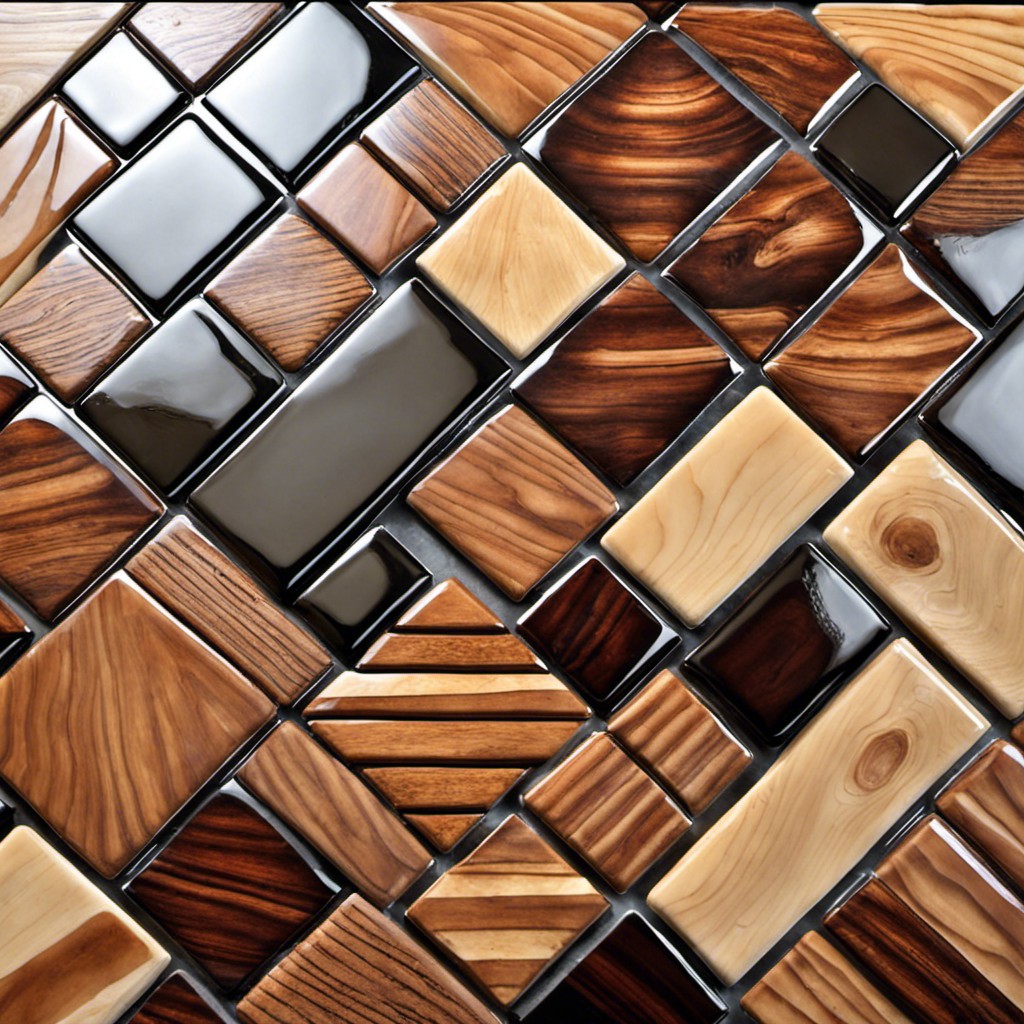 Creating this backsplash design involves intricate placement of various miniature wood tiles to form an engaging pattern. Natural or stained finishes add distinct character.
Easy to implement, it serves as a focal point, adding dynamism to a rather simple kitchen layout. Maintenance is simple – regular dusting and occasional polish keep the pattern lively and fresh.
Unique and sophisticated, this pattern is perfect for homeowners desiring a gorgeous yet easy-to-manage backsplash.
Key points: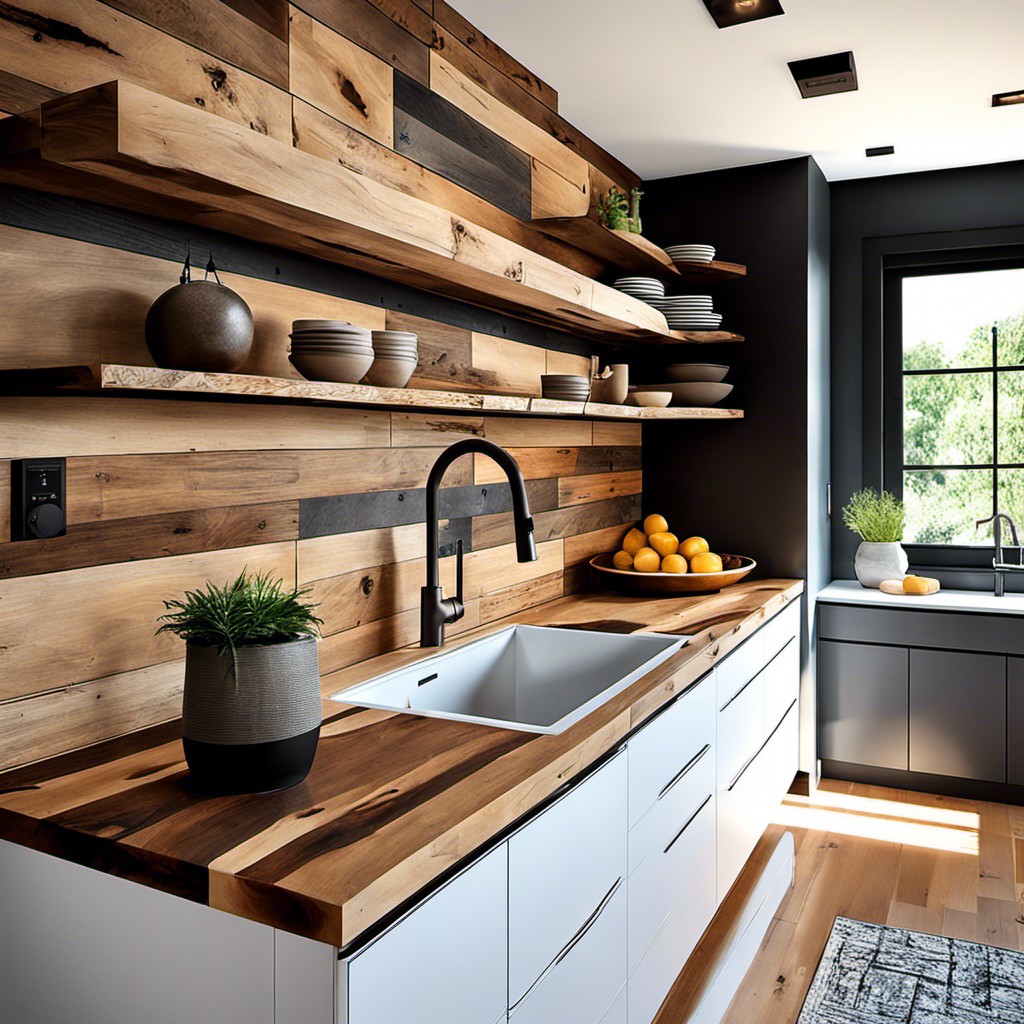 Involve various wood tile sizes and colors for texture and interest.
Opt for natural or stained finishes for a rustic feel.
Simple maintenance – regular dusting, occasional polish.
Ideal for home decorators seeking a standout pattern that's effortlessly chic.
Distressed Wood Backsplash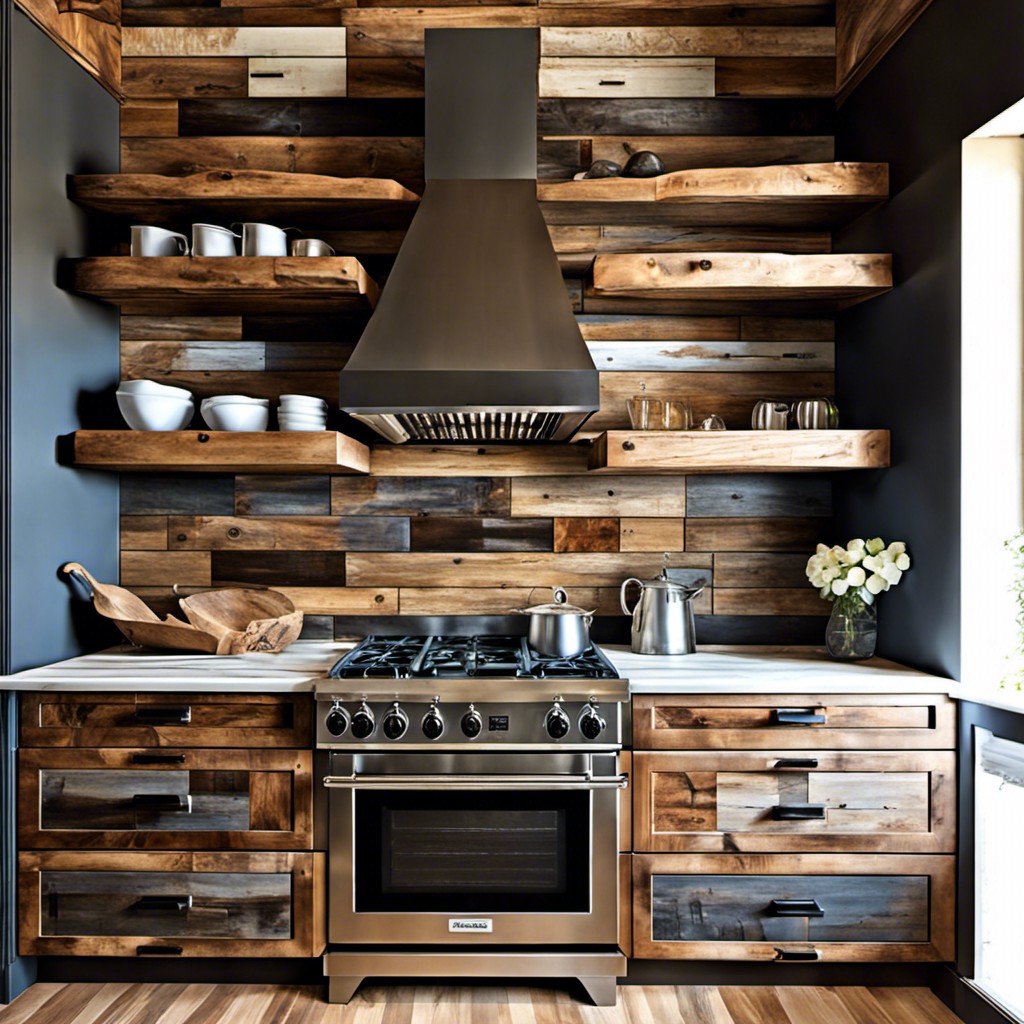 This type of backsplash adds a shabby chic atmosphere to the kitchen. Due to the weathered and worn appearance, distressed wood creates a surprisingly warm and welcoming aesthetic. This material is easier than ever to incorporate thanks to new treatments and sealants that protect it from water and grease.
Pair it with vintage or antique kitchen appliances.
Use a mix of lighter and darker woods for a unique pattern.
Complement the look with farmhouse-style open shelves.
Enhance the vintage mood with wrought iron fixtures.
Consider pairing distressed wood with cream or pastel walls and cabinets.
A variety of textures can bring out its true character, so don't be afraid to incorporate fabrics and other materials.
Secure each plank with glue and nails for a sturdy design.
Remember, the beauty of distressed wood lies in its imperfections, so it's okay if the pieces are not uniform. This style of backsplash offers a perfect blend of old and new, giving your kitchen an elegant rustic charm.
Birchwood Backsplash for Lighter Tone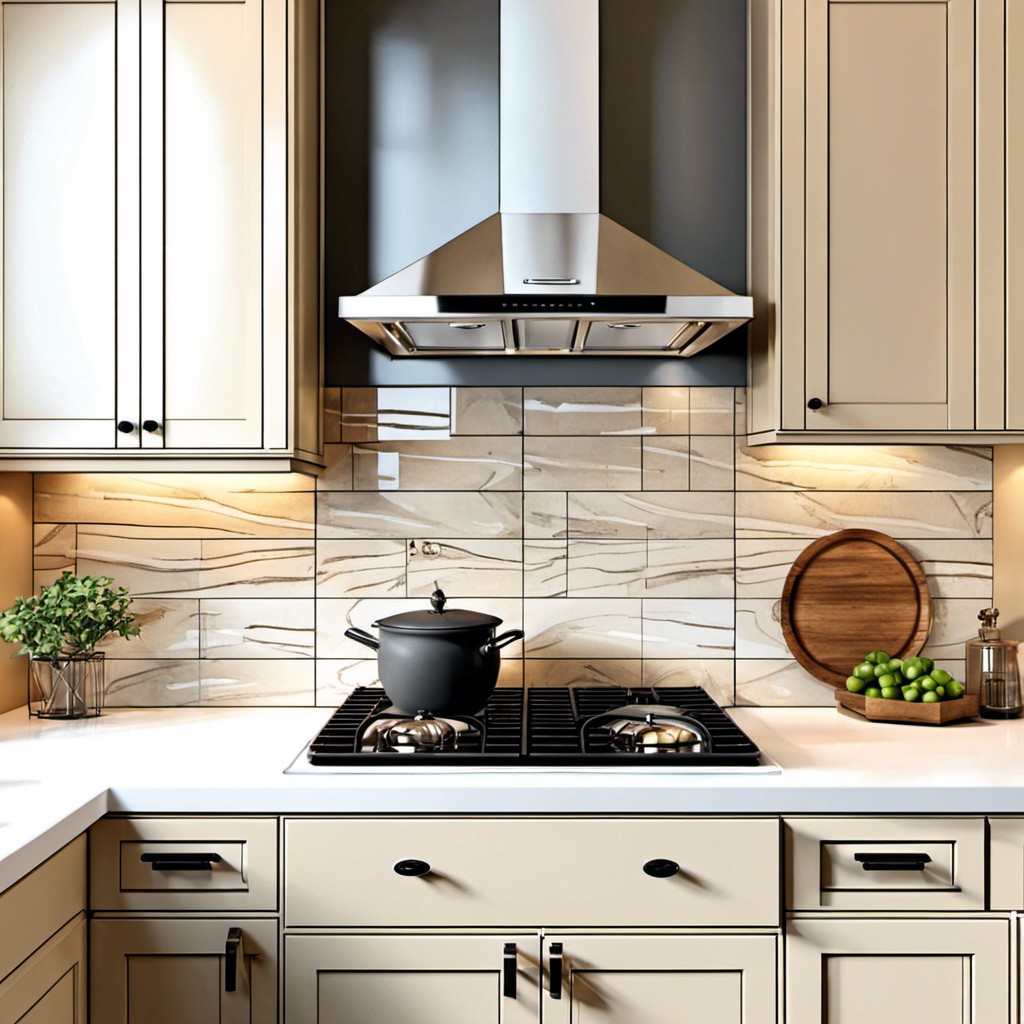 Delicate and versatile, birchwood lends a refreshing touch to any kitchen space. Its light-tone grains subtly enhance the backdrop without overpowering the overall design.
Here are some points to consider:
Its neutral hue creates a warm, inviting feel without being too distracting.
Birchwood seamlessly melds with various color schemes, working especially well with pastels and earth tones, providing a sense of harmony.
Also, its lighter shade makes it an excellent choice for smaller kitchens since it reflects light thereby visually expanding the space.
Its unique grain patterns add an organic texture to the backsplash, giving your kitchen a blend of contemporary style and natural chic.
Durability is another advantage, as birchwood resists scratches and staining, making it an excellent long-term investment for your kitchen.
Bear in mind, to maintain its pristine condition, regular maintenance with a mild soap solution and a soft cloth will be needed. This ensures the wood maintains its luster over time, significantly improving the longevity and aesthetics of your backsplash.
Vertical Wood Plank Backsplash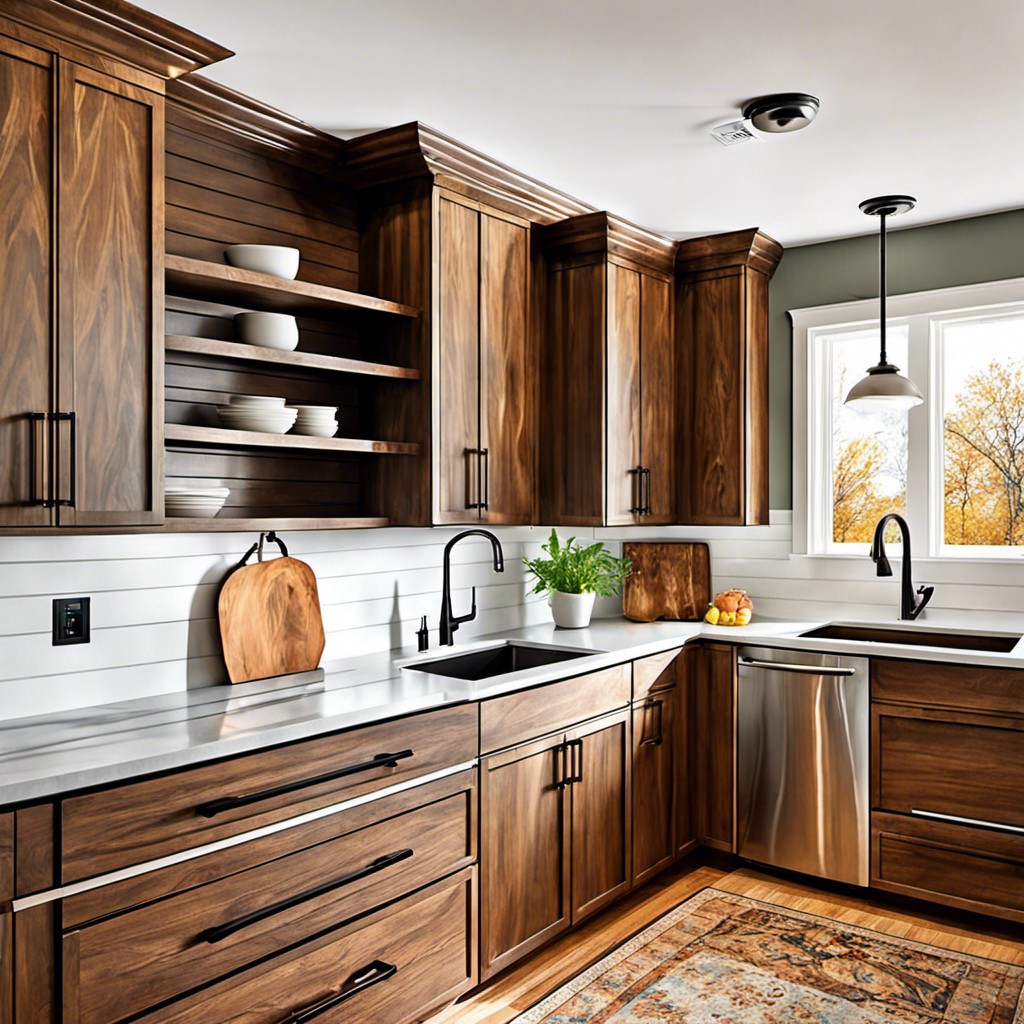 Installing a vertical wood plank backsplash gives your kitchen a fresh and unique appeal. It brings not only texture but also depth to your kitchen decor. Woodgrain patterns draw the eye upward, enhancing the perception of space in smaller kitchens.
Here are some key points to consider:
Selection of Wood: Choose durable types like oak or maple, these are able to withstand the potential kitchen stains and heat.
Wood Treatment: Essential to prevent wood warping and damage caused by moisture. Apply a high-quality sealant.
Versatility: Complements various designs, from rustic to modern. It depends on the finishing color and wood type you opt for.
Maintenance: Despite the sealant, regular cleaning is advised to keep the backsplash looking its best.
Installation: Vertical planks can be installed alongside other materials like a granite countertop, creating a stunning contrast.
A vertical wood plank backsplash can act as a bold statement in your kitchen or subtly blend into the overall design, depending on your preference. It's a conversation starter that combines style and functionality.
Continue reading: