Upcycling is the process of reusing old things that you'd throw away to create useful and beautiful accessories. Usually this gives a rustic style to home decor but it can be functional too. You will not use many upcycled things in your interior design (unless you're going for all rustic style) but some accessories or a piece of furniture can make a great accent.
The ideas are really limitless as to what you can do with old crates, window shutters, bottles, reclaimed wood and so on. You can really use your imagination and make whatever you like. And here are several ideas to get you on the track.
What's Inside
Upcycled Kitchen Decor
An old rake head used as a utensil holder in the kitchen.
Old Window Frames
You can find many uses for old window frames, such as a coat rack or wall art.
Old Bread Boxes
Did you know that old bread boxes make great little cabinets?
Bottle Chandelier
Create a DIY chandelier out of old bottles. Color them for extra variety.
Old Doors
You can upcycle old doors to furniture, such as this shelf rack.
Reusing Bottles
Spray painted bottles, wrapped in yarn and twine make great decorations or vases for flowers.
Another way to upcycle an old bottle to a flower vase.
Old Cabinet Doors
An old cabinet door used as a coat rack. And it's not even rustic due to the black paint job.
Old Shutters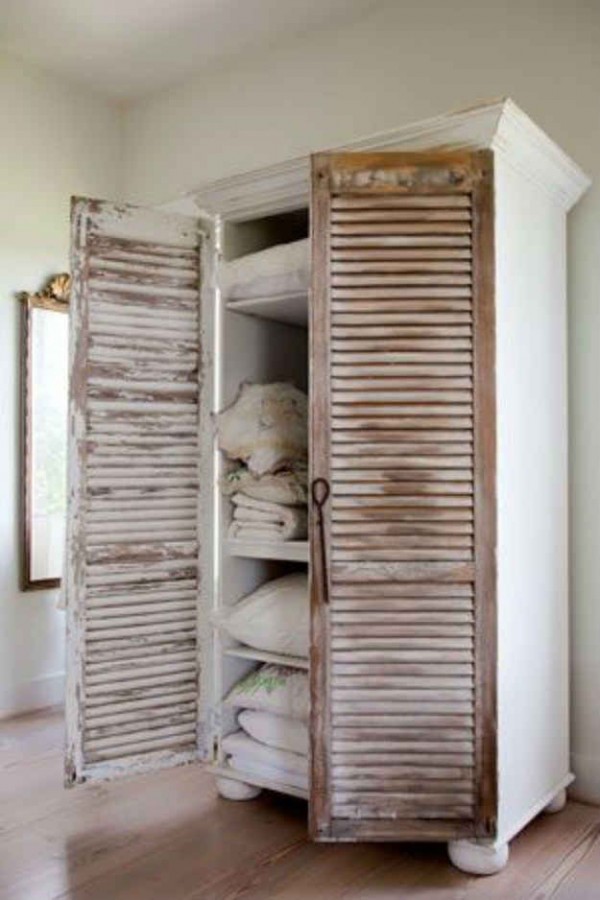 Old window shutters can be used for many things too, such as cabinet doors or furniture.
Make Use of Pennies
Have you accrued a huge amount of spare pennies? We've seen entire floors being tiled with coins, but you can go simpler such as this wonderful vase.
Old Crates
Upcycled crates make great furniture.
License Plate Decor
License plate decor is very chic, so you can upcycle them to a coat hanger, for example.
Old Clothes
The fabrics of old clothes can be upcycled to a striking rug.
Old Suitcases
Old suitcases make great nightstands.
Upcycling Tires
The shape of a tire is perfect for a coffee table.
Old Books
Old books can be used in many places, one of the more impressive is a table made of old books.
An Old Bicycle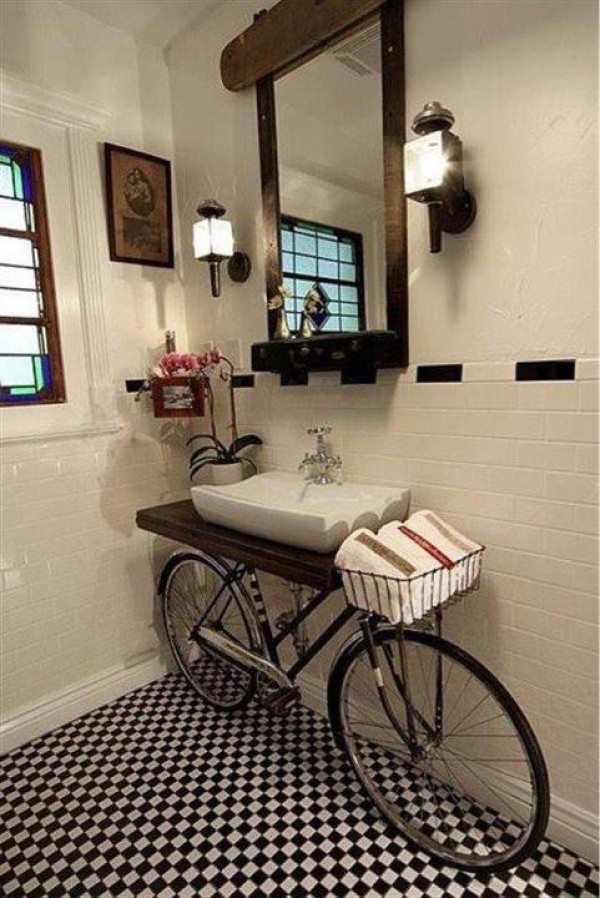 Have an old bike lying around that you're not riding anymore? You can upcycle it to bathroom furniture for a bohemian accent.
Old Ladders
The shape of an old ladder makes a great shelf rack.
Old Utensils
You can find many uses for old kitchen utensils, such as these light fixtures.
Continue reading: