Last updated on April 3, 2021
Organize your kitchen countertop with the best kitchen utensil holders. These are stylish and durable — just what you need. Read on!
In a hurry? Here's our top pick: Utopia Utensil Holder.
A kitchen with no way to organize utensils on the countertop is a messy kitchen. I'm sorry, but that's true. There's no way you can use utensils, wash them, and then dry them while keeping them organized in the drawer at the same time. Having a utensil holder not only makes sense, but it's also a stylish kitchen decor accent.
How to choose one?
Pick something simple but functional and durable.
Make sure it has water drip drainage.
It should be easy to clean.
Rust-proof stainless steel is the material of choice.
It would help if it had rubber feet (or a fork pad) to prevent slipping on the countertop.
These features make a very nice and useful utensil holder for your kitchen. Most importantly, it doesn't have to be expensive. We actually prefer a simple design over a rotating organizer because the latter tends to be hard to clean.
These are our top picks. You will find the links that earn us a commission but at no expense to you.
What's Inside
Utopia Kitchen Stainless Steel Cooking Utensil Holder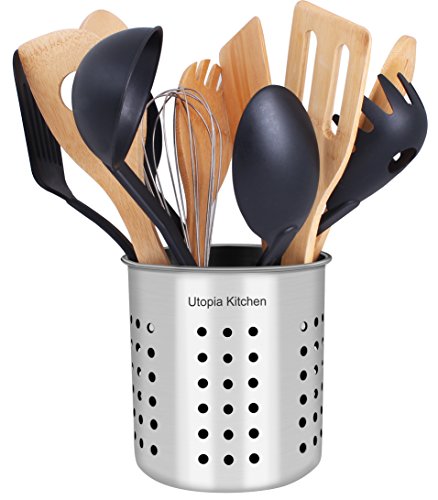 This is our editor's choice.
We think that this 5″ x5.3 " Stainless Steel Utensil Holder is very nice to keep all your kitchen utensils on the counter clean and in an organized style. It has a large capacity to hold over 15 cooking tools, including spoons, tongs, and more. It has elegant cut-out circles on the front and back for water drainage when drying food items. This utensil holder is also dishwasher safe. This would make a great addition to any happy kitchen.
Quick facts:
Made of stainless steel.
Capacity for 15 items.
Water drainage design.
Rustic Kitchen Utensils Holder with 3 Sections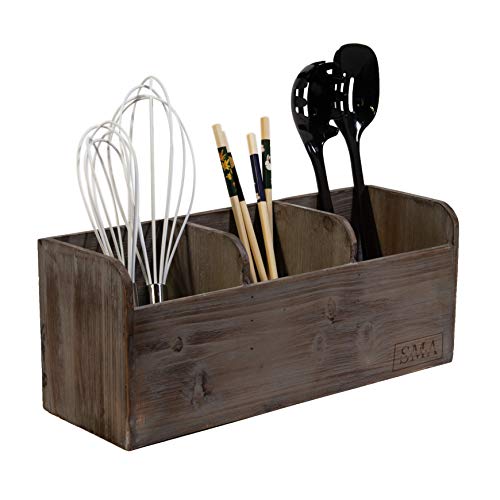 The modern-styled kitchen utensil holder has a rustic finish and is made of high-quality maple wood with the best features that a wooden 6.5″x 14.8″x 5 portable holder placed on your countertop or table. It has a 3 section storage capacity for 13-16 of your cutlery, including spoons, forks, knives, and trays to fit all types of utensils.
It has an enlarged front to keep room to set a dish containing wet cutlery. The material is breathable, providing air circulation preventing odor growth that can occur with large, tightly sealed drawers. Wood is lightweight but sturdy for your countertops.
Quick facts:
Made of maple wood.
3 storage sections.
Dowan Kitchen Utensil Holder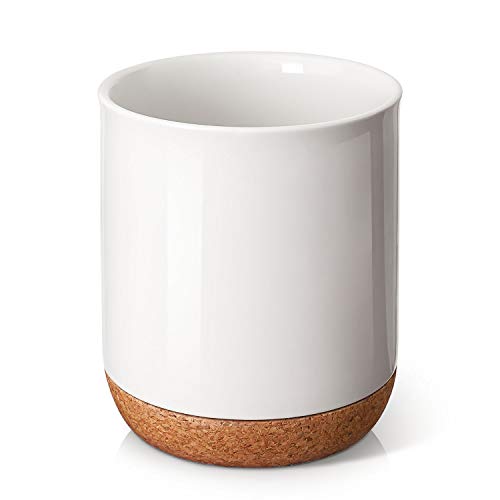 This kitchen utensil holder caught our eye for several reasons. It is made from porcelain stone, so it is practically indestructible and won't break if dropped (the outer edge is backed with a rubber-like non-slip material). Easy to clean, and the smooth texture prevents scratches. Plus ceramic drain water completely and can be put in the dishwasher!
This utensil holder is durable thanks to its ceramic material. It can store large and longer cooking utensils, so there is less clutter in your kitchen's drawer or on your countertop. The size of this holder is 7.2 inches with a diameter of 6.2 inches. It can withstand spills and falls thanks to its anti-slip practices with a cork mat at the bottom.
Quick facts:
Made of ceramic.
Anti-slip cork pad.
Stainless Steel Kitchen Utensil Holder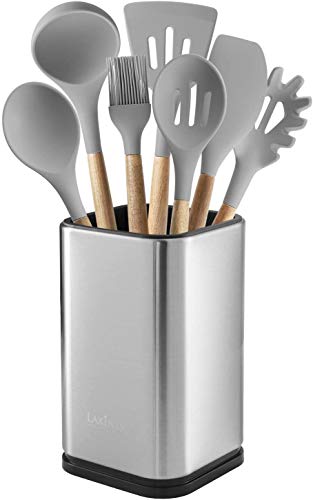 This product is a stainless steel stand made for holding eight utensils. It has a black plastic insert to handle the bottom's weight, which keeps it from falling over when in use. Most importantly, it is dishwasher safe. Dishwasher safe: no scrubbing or wiping up. Stainless steel material: sturdy and solid; durable to keep its finish polished. Size and style: its horizontal shape ensures counter space preservation.
This utensil holder houses many different kitchenware utensils such as tongs, whisks, knives, or spoons. This is the kind of place where you put all your kitchen essentials so that working in the kitchen is easier. It holds six large or eight small objects and stands on a weighted board to keep it stable. The exterior is sturdy and sleek and will be at home in any modern kitchen offset with black trim contrasts on a silver aluminum body.
Durability is in question with this utensil holder because of its hollow base. The storage size can max at 8 total utensils. Being made of stainless steel makes it lightweight for heavy cooks that are constantly on the go. The style and shape looks great if you reside in a modern or simple household, but most customers would prefer to use more of a basic design for their kitchen.
Quick facts:
Made of stainless steel and plastic insert.
Capacity for 8 large utensils.
Idesign Austin Wire Countertop Utensil Holder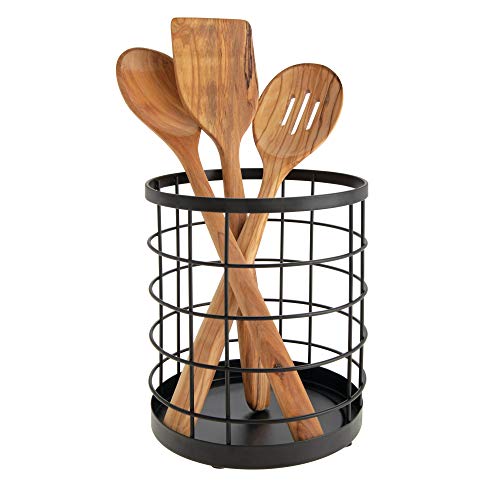 The utensil holder in black is for all stainless steel cooking utensils to secure on the kitchen countertop. The open-top design allows you to see everything without the hassle, and the shiny smudge-proof matt finish looks good in any surroundings.
It dries up quickly and durable for daily use! Measures 6 inches wide by 6 inches deep by 7 inches high. Has space to spare in any kitchen countertop or cabinet as a convenience for most kitchens, and stands rust-resistant against everyday wear and tear.
The kitchen utensil holder is excellent because it has convenient storage and access to all kinds of cooking utensils. It also has an open top design which helps you find what you need quickly. This holder can also be used for cutlery, flatware, and more through versatile use of the materials.
Quick facts:
Made of steel in matte black finish.
Sized 6x6x7 inches.
Nieifi Extra Large Stainless Steel Kitchen Utensil Organizer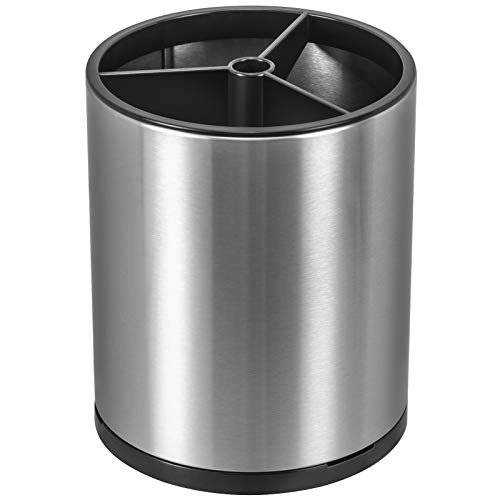 This kitchen utensil holder is perfect for people who cook often. The split design makes it clear to see the product which prevents any accidents of reaching in and grabbing an unwanted one, making it easier for you to choose what you want. This stainless steel provides the holder with a stylish look that will always leave your guests wondering where you got such a cool crock from. Both the top and base are detachable which makes cleaning a breeze to do.
This metal kitchen utensil holder has a 360 rotary base for easy access. The metal body features two drainage holes on the side of the base – easy to clean. Utensils are stored at a height that's adjustable which makes it optimal if you want your large or small utensils on top or inside respectively.
Quick facts:
Made of stainless steel.
360 degree turning design.
Sweese Kitchen Utensil Holder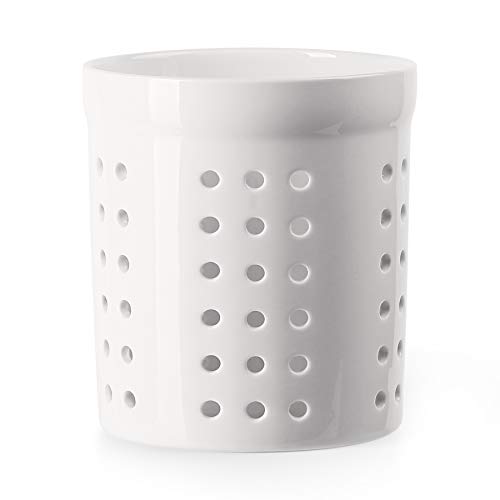 The Kitchen Utensil Holder is made of free-standing porcelain, which is dishwasher-safe. It can hold up to 20 utensils, such as a masher, whisks, spatulas, and tongs. The size is 7 inches high, which minimizes water dripping on your counter. Offering a cylindrical design which provides easy storage by organizing all your cooking item within reach without taking up additional space.
This kitchen utensil holder is perfect for any household. Made from durable material, your workspace will always be tidy when this dishwasher save utensil crock is placed in it. It's dishwasher safe and spreads out wide as opposed to narrow up top which is a tedious task of trying to find exactly what you need such as cooking spatulas, egg masher, and whisks. Each area has designated areas.
It adds color and style to any kitchen. It is big enough so even long cooking utensils stay put and at a high height to not knock the holder over when they're removed. However, this can also be a con because smaller hands may have difficulty in grabbing them back out sometimes, so if one has a small kitchen.
Quick facts:
Made of porcelain.
Holds up to 20 utensils.
Totally Bamboo Lattice Kitchen Utensil Holder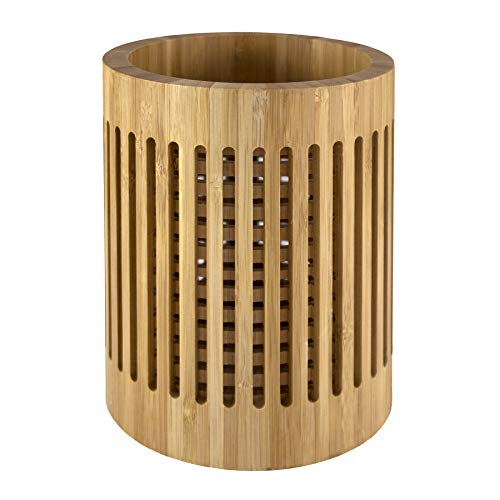 This bamboo utensil holder does not store as many utensils at once as other kitchen implements do, but this does not make any less attractive of a piece of kitchen decor. This lighthearted-looking holder is crafted from organic, environmentally friendly materials that have been scientifically proven to last longer and reduce their impact on the planet. Measures 7 inches with a diameter of 5 inches, it is elegantly constructed with the natural warp pattern.
Everything is visible and it can handle not just conventional-sized utensils but also the larger sizes as well. This sturdy bamboo design handles large capacity with no bending, warping, or rocking. Plus the beautiful latticed look makes it an eye-catching solution for every inch of the counter! This looks to be high-quality and durable.
This is a perfect contraption for people who just love cooking and want to give up on digging through the junk drawers to find the most appropriate utensils.
Quick facts:
Made of bamboo.
Lattice design.
Bamboo Rotating Utensil Holder
This rotating bamboo kitchen utensil holder has 8 compartments. Its natural color looks very sleek. It can hold forks, spoons, and knives, the most common utensils found in any kitchen. The space between each compartment is enough to place something flat instead of curved things like spatulas or spoon handles.
Quick facts:
Made of bamboo.
Rotating design.
Utensil Holder in Rustic Wood for Farmhouse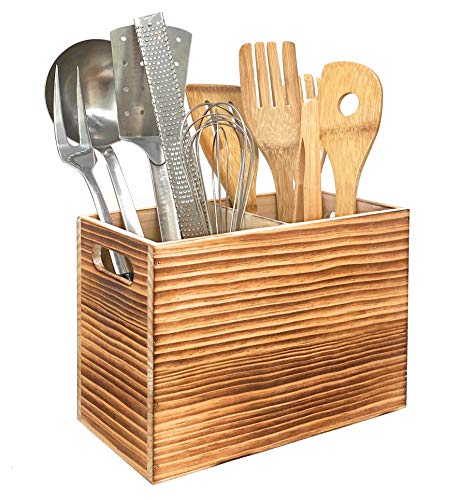 One great feature of this kitchen utensil crock is that it is made of the highest quality pine superbly finished with a rich torched color. The design is sleek and simple accenting your home decor in any room. Equipped with compact organization inserted into 2 open compartments, all are securely and reliably organized to eliminate messy kitchen countertops during cooking or preparation time.
This holder is both decorative and functional with its two compartments which keeps the items nicely in place. Interestingly, this double kitchen utensil holder measures 6.5″ x 9″ x 4.5" — perfect for storing knives, spatulas, tongs, whisks and more!
This kitchen utensil holder is made from high-quality, durable pine, and its finish has a polished natural style. Made to withstand everyday use, this crock's built-in storage compartments can hold anything from silverware to wooden utensils. Slim enough to fit nicely on any countertop or sideboard, it is part of a perfect style trend for all Farmhouse kitchens.
Quick facts:
Made of pine wood.
Torched wood finish in Farmhouse style.
2 compartments.
Continue reading:
Disclosure: As an Amazon Associate we earn from qualifying purchases.