Last updated on June 25, 2020
Looking to make a unique Easter centerpiece to decorate your festive dinner party? Here are 30 beautiful ideas for your inspiration.
When it comes to hosting Easter dinner, don't forget the all-important Easter centerpiece. DIY centerpieces brighten and spruce up a table while setting the tone for the celebration taking place. Whether it is sophistication, whimsy, or charm you are after, numerous Easter-themed items will deliver just what you are looking for. While there is always a place for floral centerpieces, times have changed to include multiple centerpiece ideas to suit all table and Easter decor styles.
From spring items like moss, eggs, bulbs, and bunnies, to pastel colors in every hue, your perfect table centerpiece is merely a click away. Enjoy perusing through these 30 Easter centerpiece ideas to help get you inspired and set the tone for your Easter dinner.
What's Inside
Three-tier Centerpiece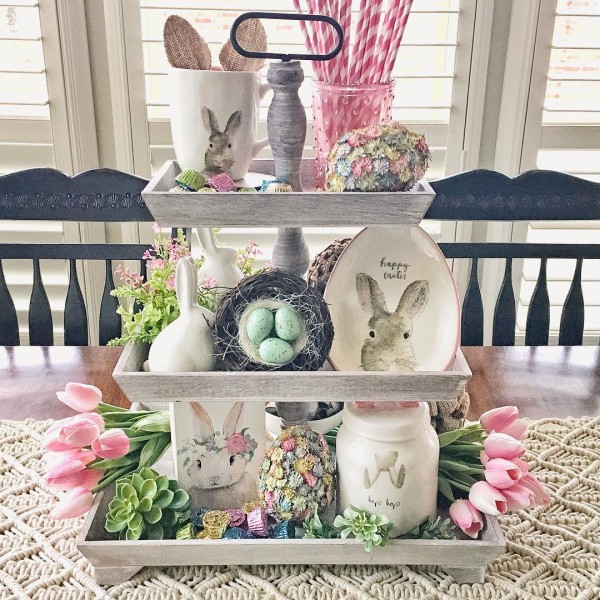 Three-tier centerpieces are ideal for displaying some Easter-themed items. From bunny plates to nests and floral sprigs, the cascading effect of a three-tier stand is visually striking. These are ideal for creating a visual story.
Carrots and Daisies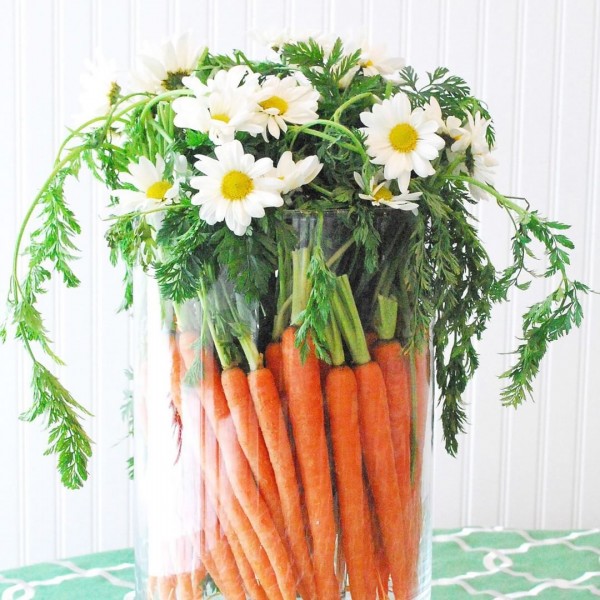 For a touch of whimsy this Easter, bypass the traditional vase of flowers and opt for a carrot and daisy bouquet instead! The simplicity of daisies are unrivaled, and when paired with the somewhat less-expected choice of carrots, the pairing is quite pleasing.
Floral Bowl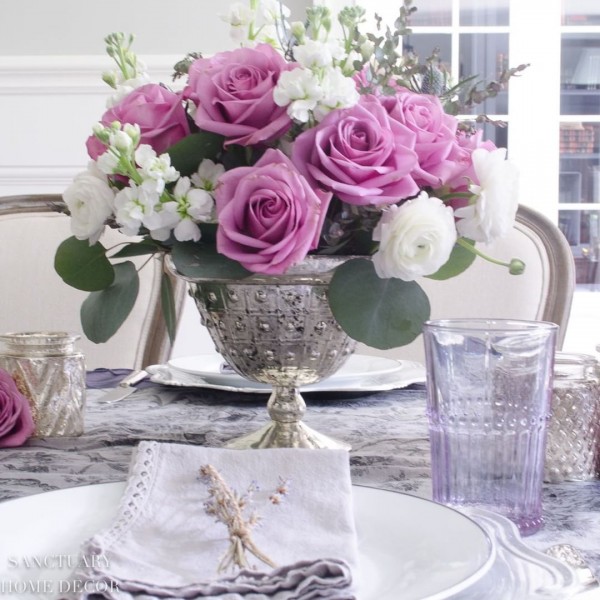 A footed bowl makes the perfect table centerpiece as it is low and does not interfere with sight lines across the table. A delicate and sophisticated blend of mauve roses and spring sprigs will appeal to the senses of sight and smell throughout the meal.
Wild Flower Arrangement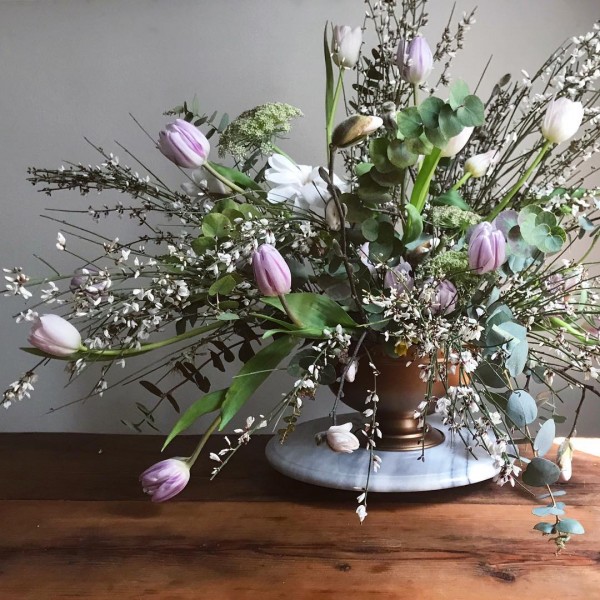 A wild flower-style arrangement with dangling tulips and eucalyptus makes a unique statement that would liven up any table.
Bright Spring Colors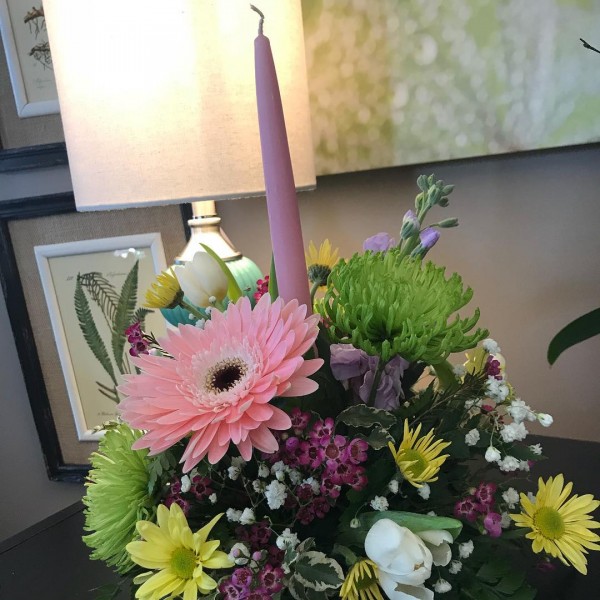 A tight floral arrangement with a candle and bright spring-colors will add just the right amount of liveliness to your Easter table. The candle will provide a warm glow to enhance the table throughout the meal.
Cracked Egg Pot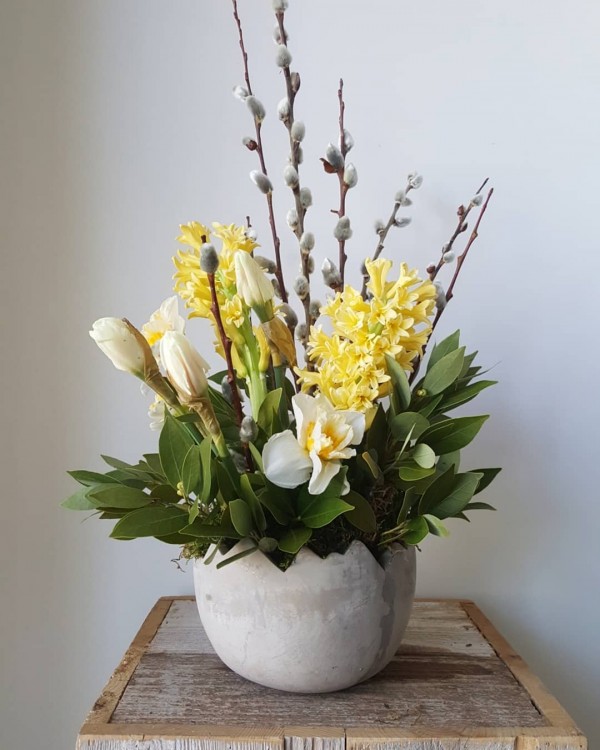 A lovely arrangement featuring pussy willows paired with yellow and white flowers springing forth from a cracked egg pot will be a conversation starter around the table.
Golden Bunny Centerpiece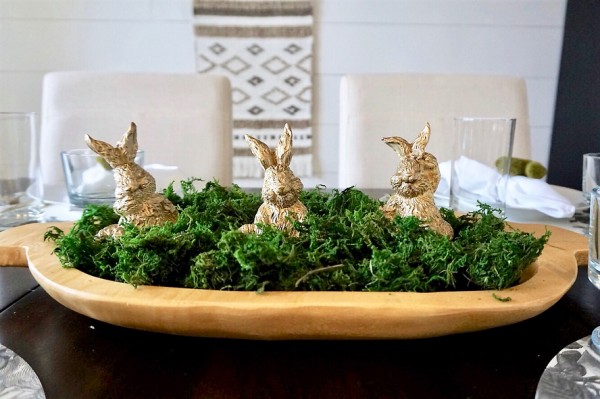 Three golden bunnies nestled in a tray with green moss makes the ideal Easter centerpiece as it is sweet, festive, unique, and charming.
White, Cream, and Green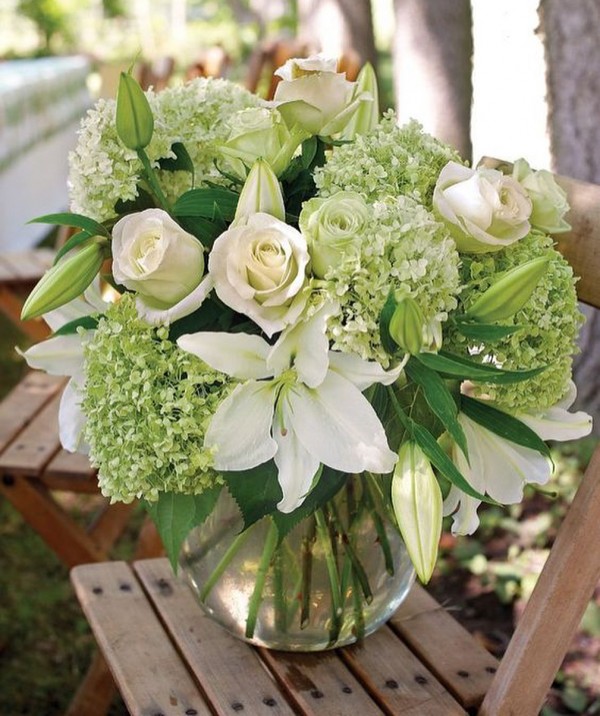 Floral arrangements made with white, cream, and green are ideal for Easter as they speak to the simplicity and purity of the occasion.
Wooden Two-Tier Centerpiece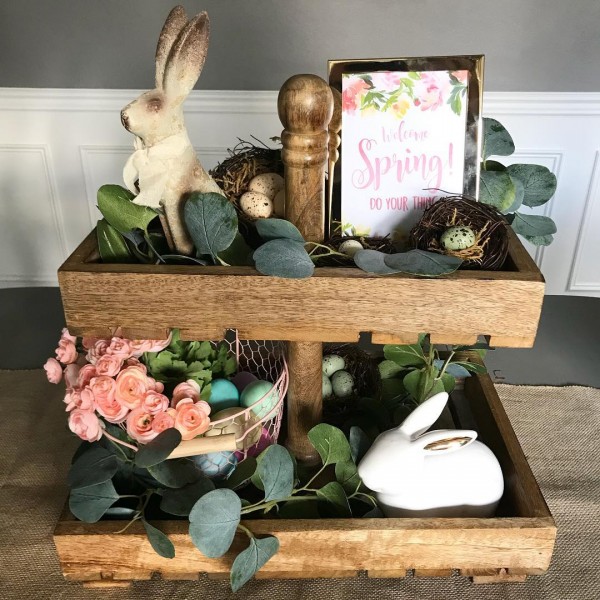 A two-tier tray makes the perfect stage upon which to set the ideal Easter scene, featuring greenery, bunnies, and eggs.
Baking Centerpiece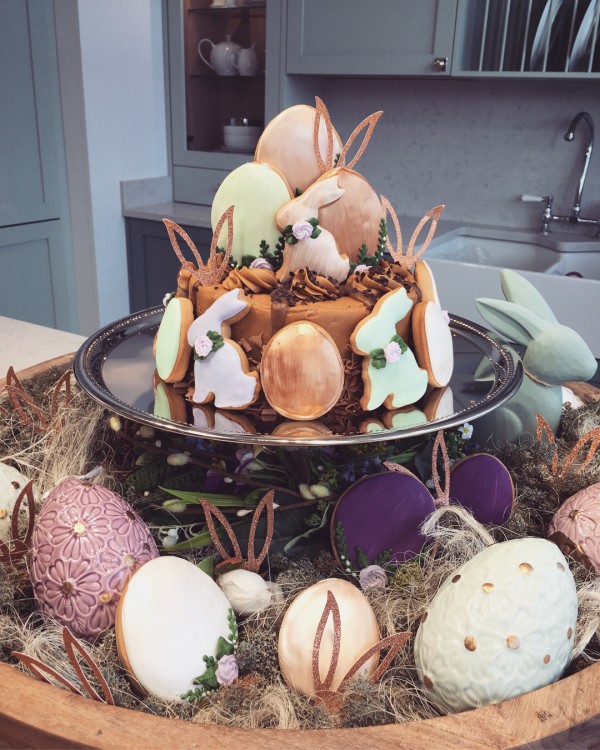 Creating a centerpiece out of Easter cake and cookies is as festive as it is mouthwatering.
Basket Centerpiece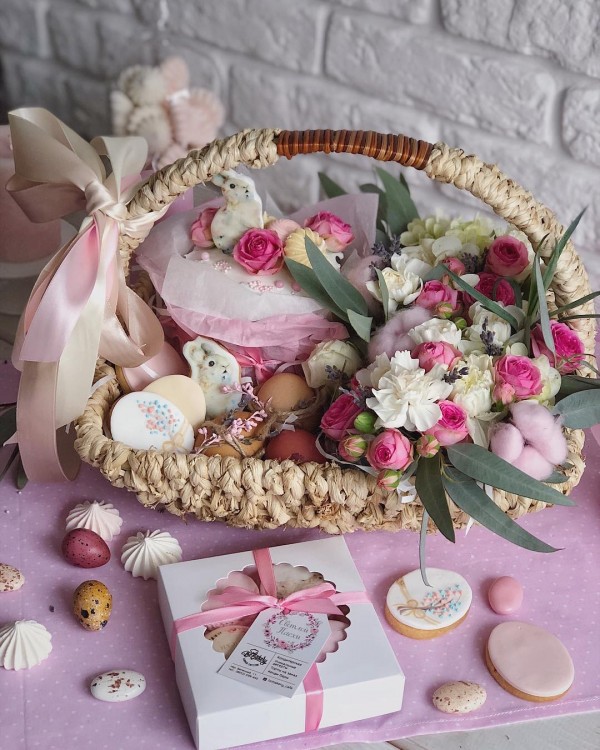 A delicate basket filled with floral sprigs, eggs, and cute bunnies make an ideal centerpiece.
Grass-Filled Eggs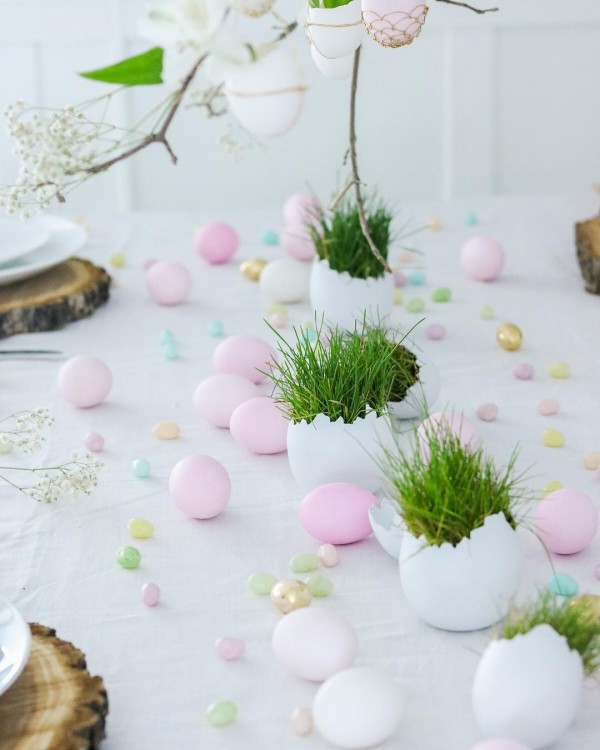 Centerpieces don't have to be a single item. Cracked grass-filled eggs and pastel eggs or various sizes spread down the center line of a table do the trick quite nicely. This style of the centerpiece is also ideal for large tables as all the guests can enjoy it.
Veggies and Flowers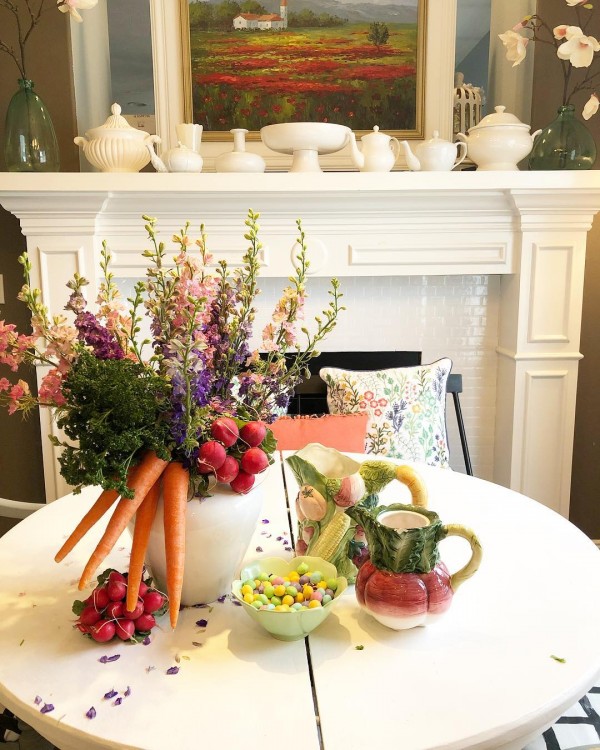 A veggie and floral arrangement in a vase evokes images of hungry grazing bunnies and whimsical spring gardens.
Daisies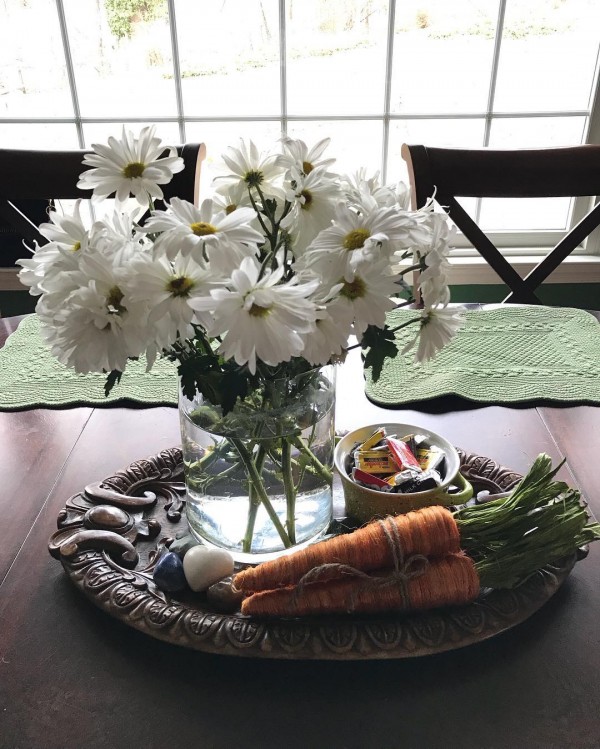 The simplicity of daisies in a vase never disappoints. When paired with a bunch of carrots nestled beside the vase, a simple and understated centerpiece awaits.
Tray Centerpiece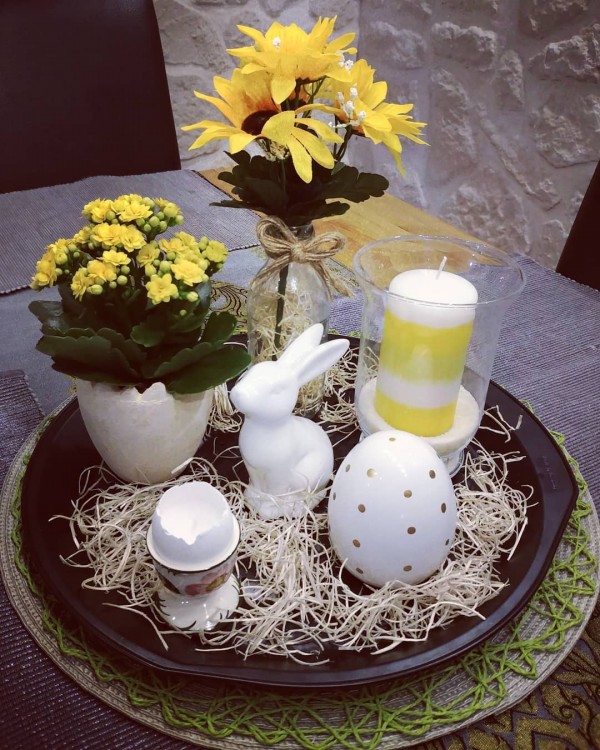 Having a tray in the center of a table adorned with Easter items in natural shades of white and yellow like eggs, a bunny, flowers, and candles makes a lovely spot for the eyes to rest.
Easter Tree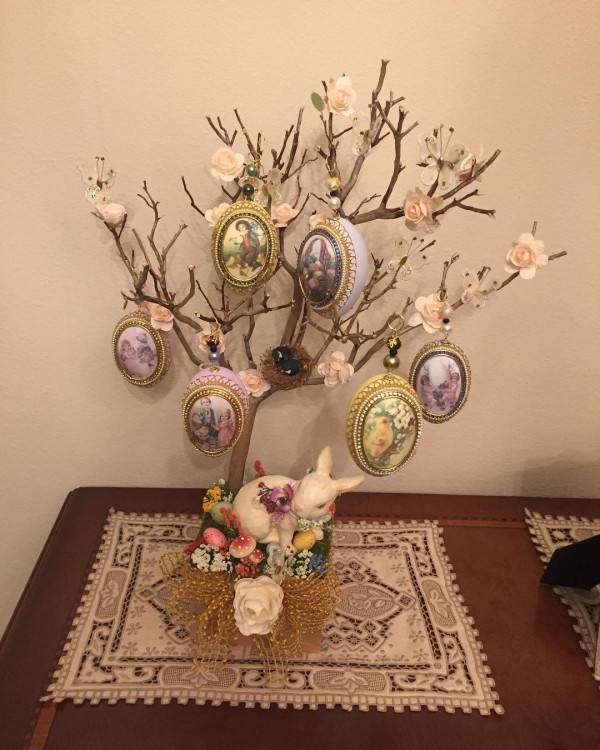 Making Easter trees are all the rage as they are simple to make, lovely to behold, and ideal as table centerpieces.
Tulips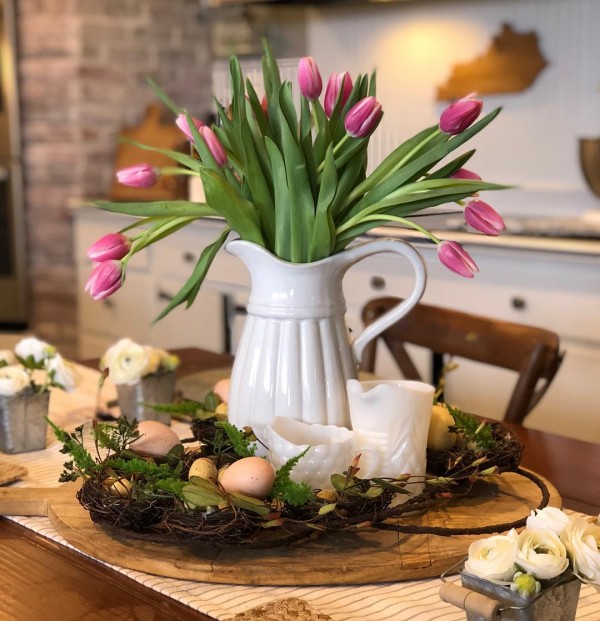 Few things are as inherently Spring as the crisp contrast of bright-colored tulips in a fresh white vase.
Edible Arrangement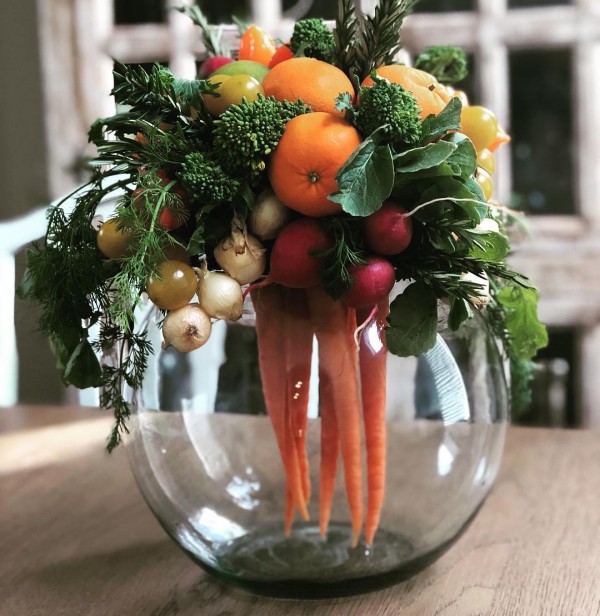 An edible veggie arrangement in a fishbowl adds a touch of humor and charm to any table setting.
Eggs and Spring Bulbs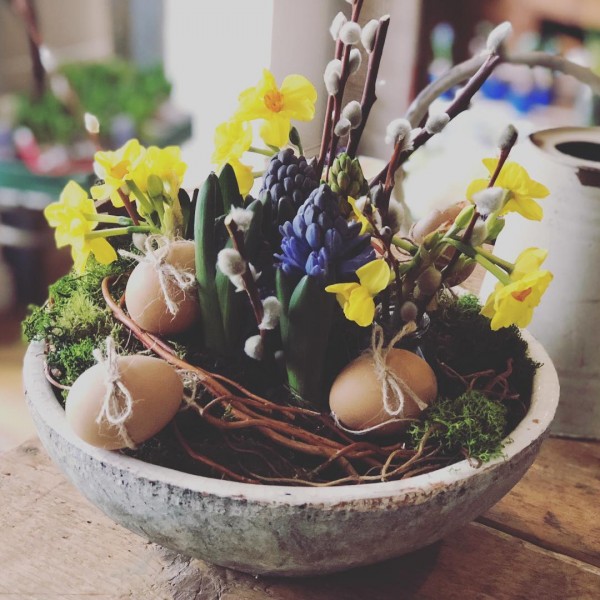 A low arrangement featuring brown eggs wrapped in twine and bulbs like hyacinths bursting forth call to mind all the wonder of the season and what happens below the soil.
Planter Box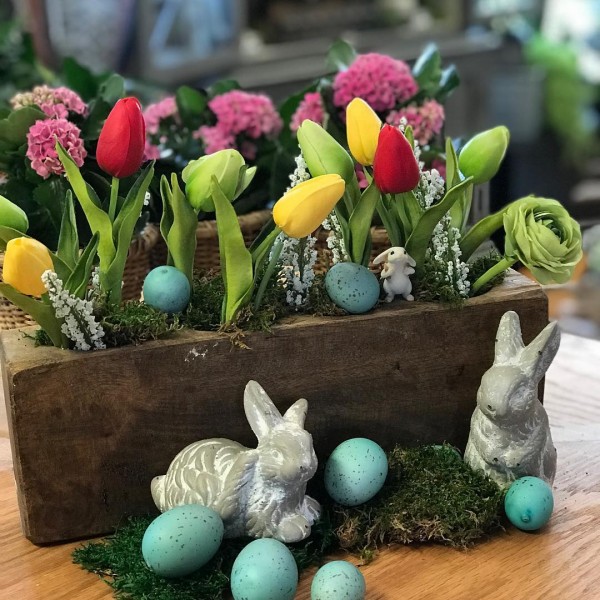 Tulips, eggs, and bunnies in a planter box make an ideal Easter centerpiece to breathe the spirit of rebirth and rejuvenation into its surroundings.
Felt Arrangement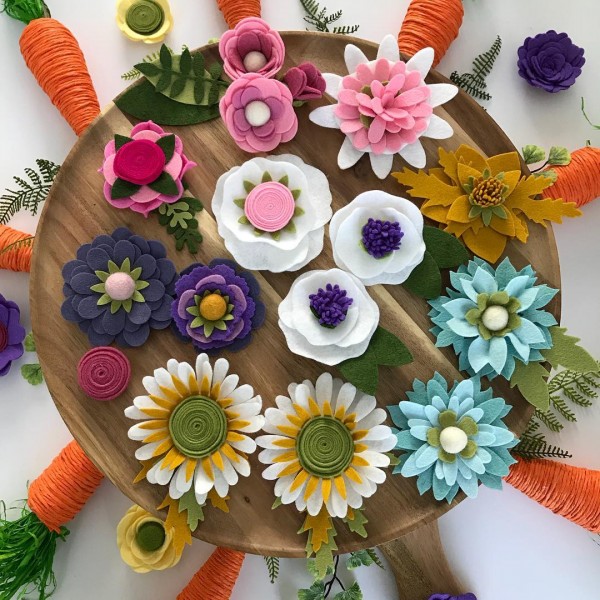 A tray of Spring flowers made from felt is a unique alternative to traditional floral arrangements. Whimsical and light-hearted, felt flowers adorning a tray bring color and charm to a table.
Bunny in a Pot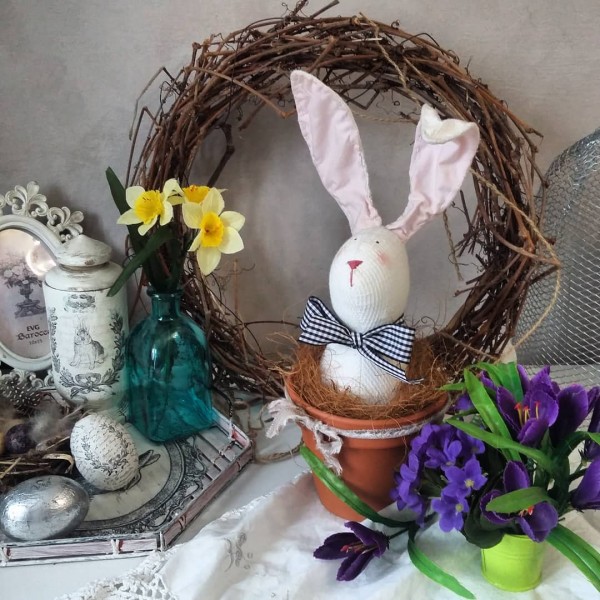 A bunny playfully peeking out of a clay pot brings just the right amount of Spring-time frivolity to liven up an Easter dinner.
Cracked Egg and Chicks Centerpiece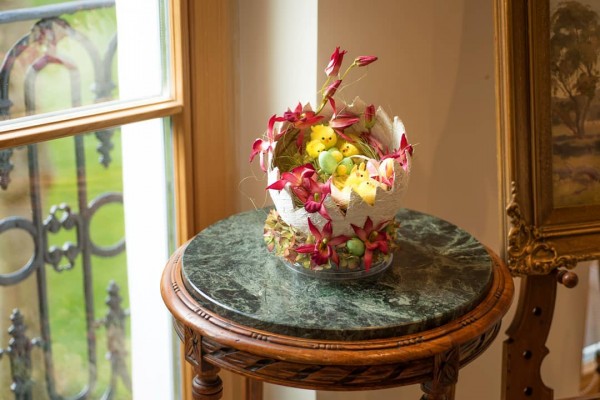 A cracked egg and chicks centerpiece is playfully adorable while calling to mind the new life that punctuates the season.
Peeps and Jelly Beans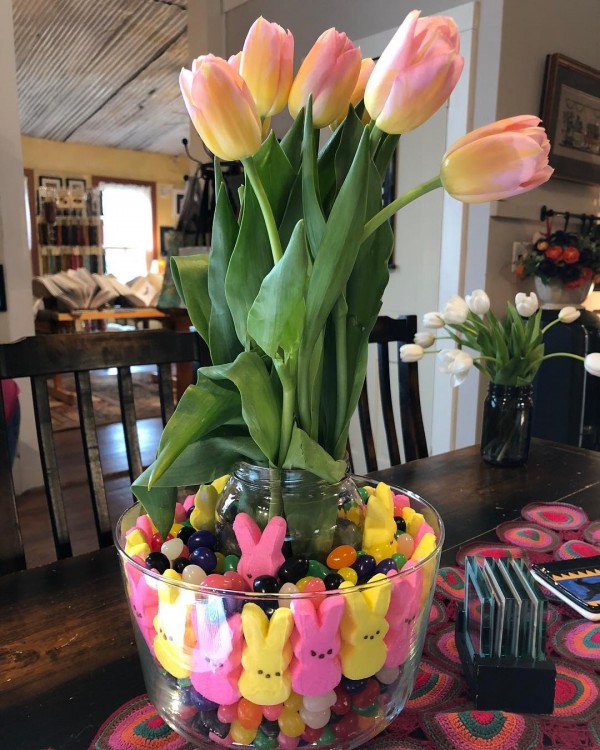 Especially to children, the magic of Easter often resides in those sweet treats left behind by the Easter bunny. Tulips displayed in a peep-lined and jelly bean-filled vase is sure to please the tiniest of guests.
Beverage Centerpiece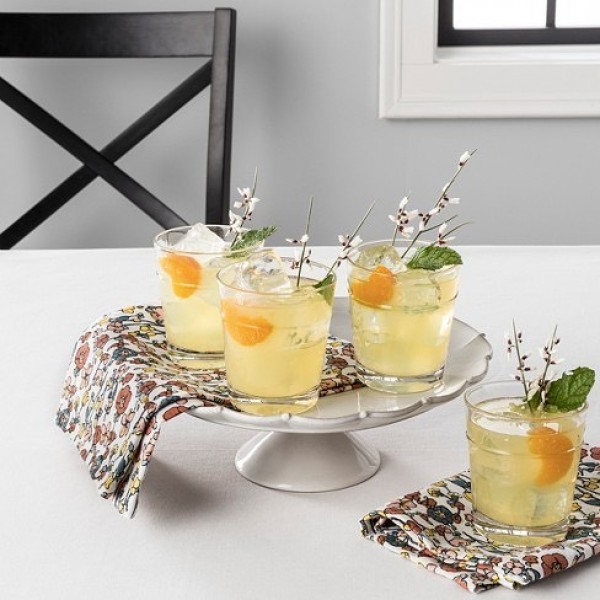 A few festive beverages displayed on a colorful textile with Spring sprigs make a one-of-a-kind centerpiece that can complement the simplest of décor styles.
Mason Jar Arrangements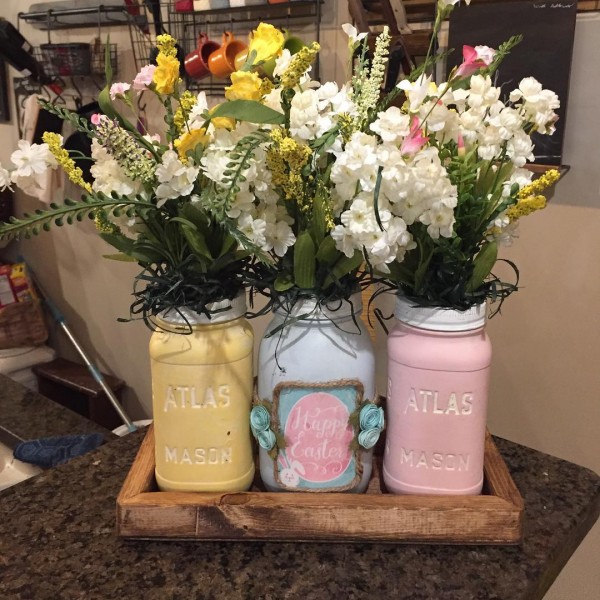 The glass jar is the go-to item of many a crafter. As a centerpiece, they make ideal vessels for displaying festive floral arrangements. Even better if you spray paint your mason jars for this purpose.
Mirrored Tray Arrangement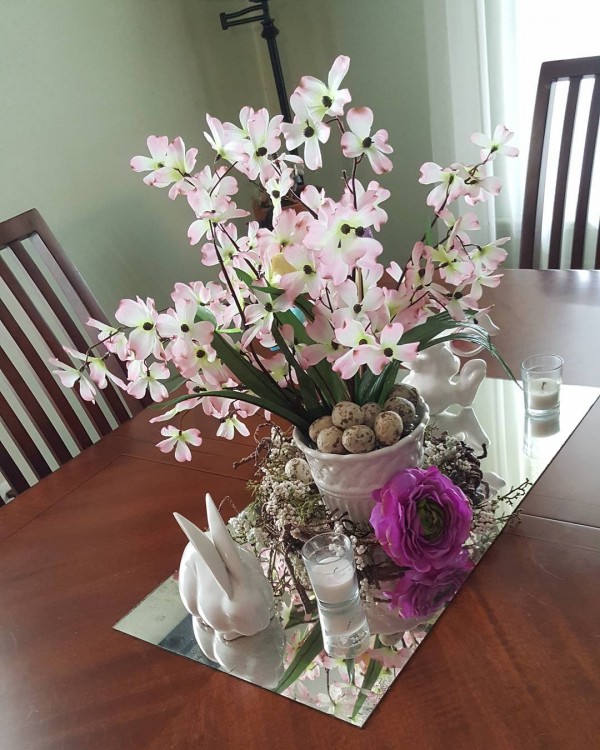 Placing a floral arrangement with some seasonal items on a mirrored tray provides depth and visual interest while forming the perfect framework for creating an Easter-themed vignette.
Ukrainian Easter Eggs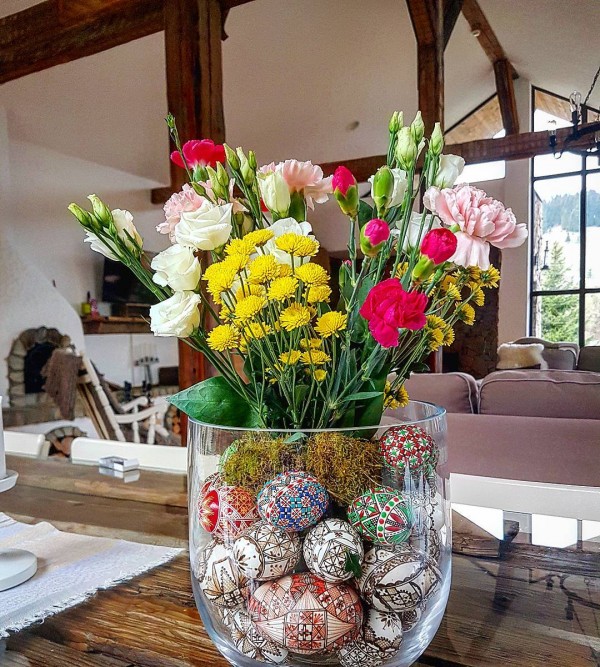 A vase filled with flowers and Ukrainian Easter eggs brings color, story, and art to an Easter table.
Tulips, Peeps, and Beans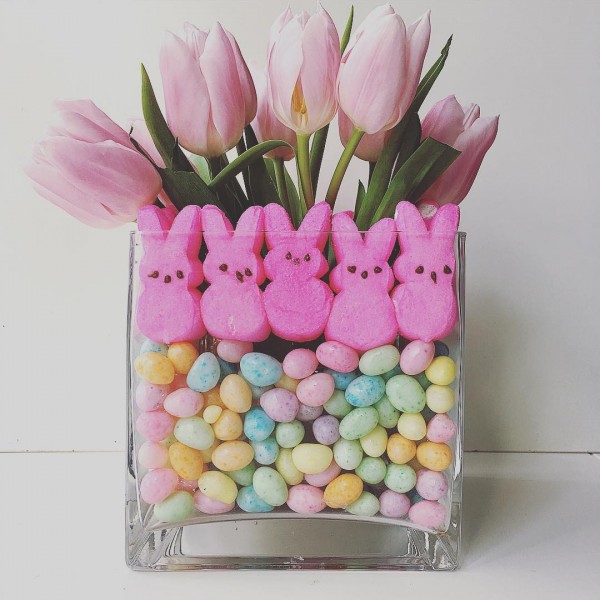 Rectangular glass vases are perfect for centerpieces as they are as lovely to behold from all angles. Some colorful peeps, tulips, and jelly beans instantly add color, fun, and youthful zest to any table it graces.
Yellow Flowers and Chocolate Bunnies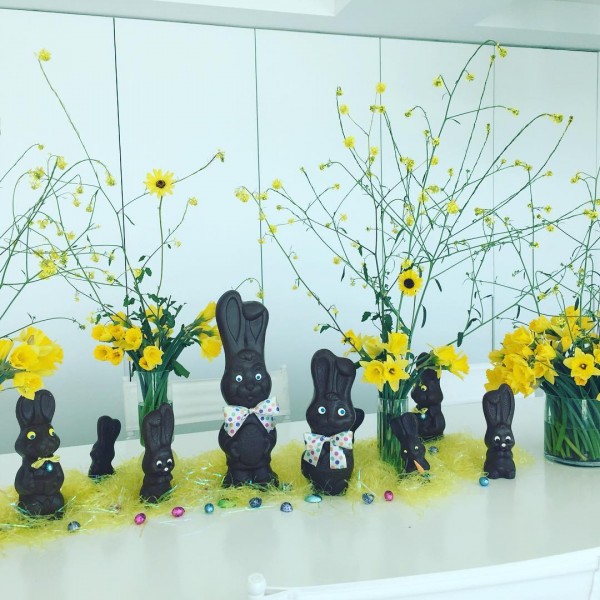 Yellow spring flowers like daffodils are as lovely in appearance as they are fragrant. Having chocolate bunnies nestled among the yellow floral arrangements tell a festive Spring tale.
Continue reading: