Last updated on January 13, 2022
Looking for the best soda maker for your home and kitchen? Here are the top 10 picks and the #1 soda maker of choice. Read on!
We're bad at keeping the suspense, so here's the #1 pick right away: SodaStream Jet Sparkling Water Maker.
If you've heard about adding bubbles to your water at home, you might have heard the name of SodaStream. It's been the leader among soda makers for a long time. And it's still great. But there are as many fans of other brands. So we've gone ahead to explore them all.
What we have here is a top list of all of the best soda makers for the home. Most models are based on CO2 cylinders or chargers (cartridges) and use them to infuse beverages with fizzy bubbles (carbonate). They don't use electricity nor batteries to do it. But this feature is not exclusive, and you can find electric models that use a special carbonator instead.
We're all crazy about design so getting a shiny new modern gadget is always a great way to decorate your kitchen countertops. This impresses people. And they can marvel at your decor while sipping the bubbly seltzer water.
Finally, if you're someone who spends a ton of money on bottled soda every month, getting a soda maker not only pays off but helps you minimize your environmental footprint.
Here are all of our favorite soda makers. The shopping links may earn us a commission at no expense to you. Enjoy!
What's Inside
SodaStream Jet Sparkling Water Maker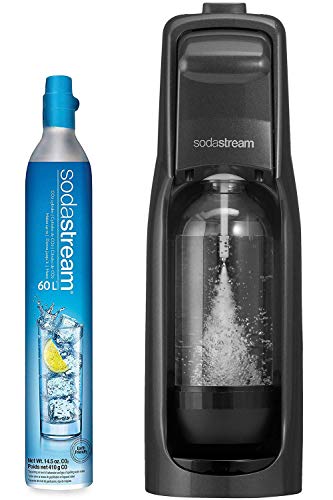 This product is our editor's #1 choice.
Push a button for fresh sparkling water! The SodaStream carbonator is perfect for at-home use. It uses CO2 cylinders to carbonate 60 liters of water, and it's compatible with all flavors from SodaStream. It also works with SodaStream's Classic 1L carbonation bottles, BPA-free and better for the planet.
It's not an electric device as it runs purely on the CO2 gas cylinder. You can get different levels of carbonation depending on how hard you push the button and how many times. Just make sure you screw the bottle on the nozzle to ensure it works properly.
Quick facts:
No electricity required.
Uses CO2 cylinders good for 60 liters of water.
Can be used on kitchen coutertops.
Drinkmate Sparkling Water Maker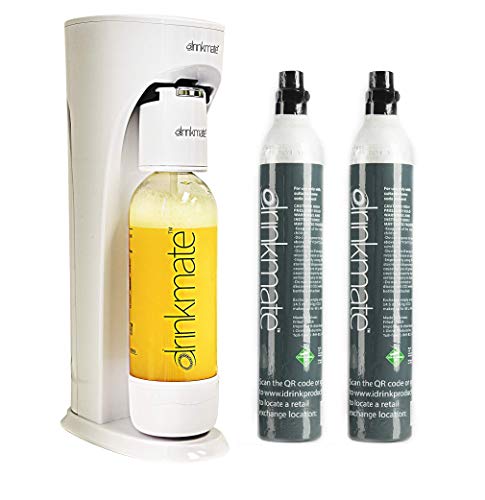 Add bubbles to any drink you like. The Drinkmate carbonates beverages of all kinds, including juices, cocktails, wine, beer, etc. You control the carbonation with the push of a button. Even the most messy kids can safely use this soda maker. Just wash the parts by hand. One push of a button emits CO2 without electricity or batteries required.
If you don't get enough carbonation in one go, try doing it twice. Just keep it in the fridge for half an hour between the infusions.
Quick facts:
CO2 operated — no electricity or batteries needed.
Comes with two cylinders good for 60 liters of liquid each.
Elegant design for kitchen decor, available in 3 colors.
Aarke Sparkling and Seltzer Water Maker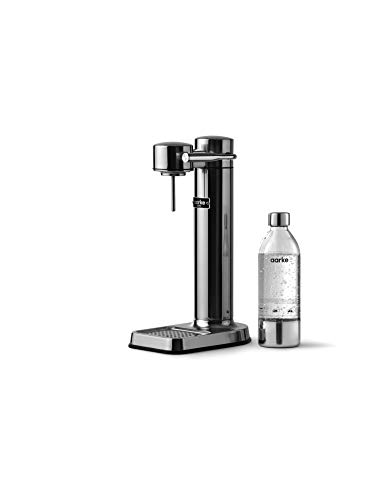 This stainless steel soda maker is compact in size but big on style. Sleek and sophisticated finishes allow customers to integrate it into any kitchen countertop decor effortlessly. Not to mention it's designed to be compatible with SodaStream CO2 gas and bottles (smart move of the company). The water is perfectly carbonated in as many lever pushes as you want. This allows you to save money while reducing the amount of regular waste created every year from disposable bottles.
Quick facts:
Made of stainless steel.
Elegant design.
Doesn't include the CO2 cylinders.
Ellemate Dynamic Cordless Carbonation Machine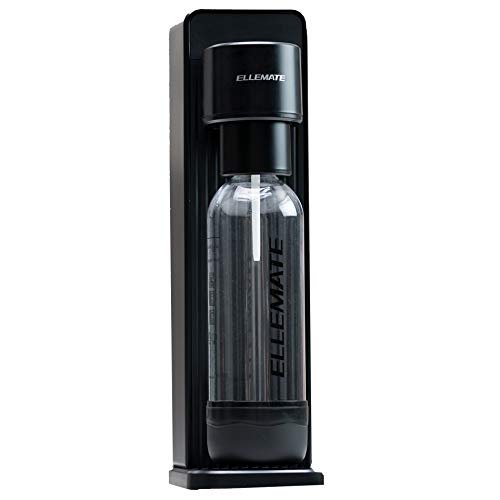 Carbonate water quickly and easily with only one push of a button with the Ellemate Dynamic soda maker. Featuring adjustable carbon levels and backflow protection, this affordable machine will make great tasting soft drinks, juices, and alcoholic beverages. With a small footprint, the gadget can be stored in a cupboard or on your kitchen countertop, so it's always on hand when you need it. You can also use it to add flavor enhancers, colorings, and more to various bottled and sparkling drinks.
Quick facts:
Cordless (no electricity needed.)
Carbonates any liquid.
Backflow protection prevents bad taste.
Perlage Perlini Cocktail Carbonator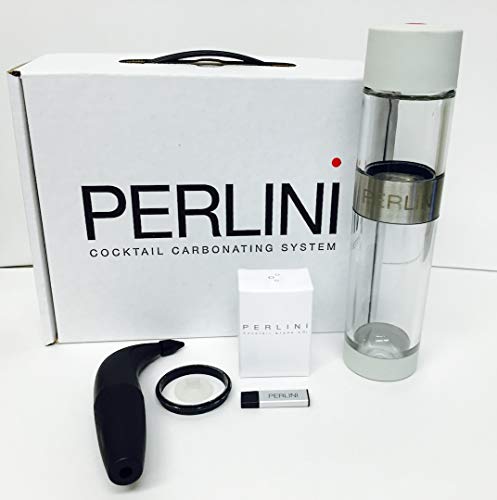 Not all cocktail mixes are created equal. Professional bartenders, who know a thing or two about mixology, have designed the Perlini Cocktail carbonator specifically for heavy-duty restaurant and bar use. The same product is now available for home use, with convenient CO2 cartridges. The Perlini Carbonating Cocktail System is the same as in the restaurant version. Its BPA-free shaker is easy to clean and perfect for any home bar. You might use it as a cocktail maker alternative.
Quick facts:
Handheld carbonator.
Uses 16g beverage-grade CO2 cartridges.
You can take it with you anywhere.
Low level of carbonation.
15.5 oz.
Drinkmate InstaFizz Portable Sparkling Soda Maker Bottle
Are you looking to take your beverages on the go, but hate all of the single-use plastic bottles and cans? The instaFizz sparkling water bottle is here to make your life easier. It can easily carbonate drinks up to 15.5 ounces. With this product, you have control over the amount of fizz with a simple twist. Importantly, it is also made from stainless steel, which makes a conscious reduction in single use plastic.
Quick facts:
Portable soda maker.
Carbonates any liquid.
Uses 8g beverage CO2 chargers.
15.5 oz.
SodaStream Aqua Fizz Sparkling Water Machine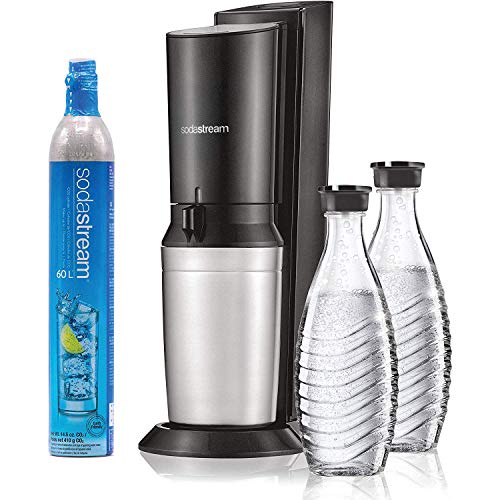 Your next dinner party just got so much more interesting. You can serve sparkling water with ease using a stylish glass carafe that is both elegant and dishwasher-safe. Your table will be dressed up with luxury. This set comes with the aqua fizz maker, a CO2 cylinder, and two carafes — everything required to begin making sparkling water today.
Quick facts:
Makes a nice gift.
Stylish design.
Uses CO2 cylinders.
Multiple pushes for adjusted carbonation.
Drinkworks Home Bar by Keurig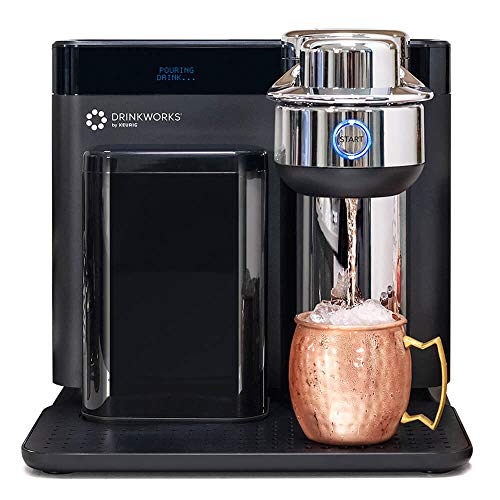 If you need more than a simple soda maker, this is it. This device is a real home bar cocktail maker machine that will make you a wide range of pre-programmed cocktails. Only pods are needed. Sparkling, refreshing cocktails are now in your hands. A single-serve premium cocktail maker is easy to use and fully prepares cocktails with a push of a button. In only seconds, you are drinking a perfectly carbonated drink.
Quick facts:
Complete cocktail maker.
Carbonation using CO2 cartridges.
Internal cooling that makes ice optional.
iSi Classic MeshSodamaker

This classic-style soda siphon will allow you to truly share your elegance and sophistication. It is a tried-and-true product, updated for today's consumer. The siphon allows you to make sparkling soda, wine spritzers, sparkling juice, or cocktails.
The spout and the lever are all stainless steel, and the tube is permanently affixed to the rubber gasket, so you don't need to worry about it detaching when shaking. It is a mold casting that mimics the look of woven aluminum braiding or stainless steel links of a classic soda siphon (these were used to control the pressure and keep the container from bursting).
Quick facts:
Uses CO2 chargers.
Plastic in stainless steel mesh.
It can be a gift.
Spärkel Sparkling Water and Soda Maker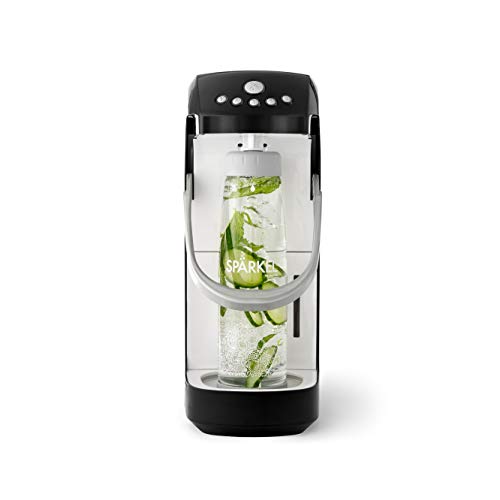 Spärkel soda maker lets you sparkle any liquid, from water to juice. It doesn't require a CO2 cylinder, and it includes 5 levels of carbonation, so you can choose how much fizz you want in your drink. Spärkel uses special carbonators that are faster acting and more environmentally friendly than traditional CO2 cylinders. The gadget is powered by electricity, so you never have to worry about being without bubbles again. A nice small detail — it lights up when the water is being carbonated.
Quick facts:
It needs to be plugged in.
It uses special carbonators that need to be purchased to refill.
Easily adjusted carbonation level.
FAQ
Are soda makers worth it?
If you drink a lot of soda, getting a soda maker will pay off in the long run. You must also think about your environmental footprint that you leave by recycling plastic bottles.
Can I make soda water at home?
You need a soda maker to carbonate water at home. The device is easy to use and usually works by injecting CO2 gas from a cylinder. A typical cylinder is enough to carbonate 60 liters of water.
How much does a soda maker cost?
A decent soda maker costs under $100. You also have to factor in the cost of the CO2 cylinders or cartridges that run out as you use them.
Is SodaStream as good as Perrier?
Most people will tell you that the taste of homemade soda and Perrier is pretty much the same. The real difference is in brand awareness. You buy SodaStream to save, and you choose Perrier because it's part of your lifestyle, much like choosing designer clothing vs. no-brand clothes.
Continue reading:
Disclosure: As an Amazon Associate we earn from qualifying purchases.