Last updated on May 17, 2022
Looking for a cocktail maker to make your favorite drinks at home? Choose one of the best cocktail maker machines here.
What's our #1 choice? The Bartesian Premium Cocktail and Margarita Machine.
You'll notice this right away. There are two categories of home cocktail maker machines. One uses capsule pods with pre-made ingredients to mix your drinks. The second is a glorified slushie maker. Both have their pros, but our opinion is that it pays off to get a capsule machine and an ice maker separately. It's much cheaper that way.
But still, any of these cocktail makers are a valid option (you can settle for cheaper cocktail maker alternatives). It comes down to personal preferences and what kind of drinks you fancy. After all, if you're going to be drinking margaritas and daiquiris all day, you might as well get a machine that makes its ice.
What's interesting is that there's a whole debate of Drinkworks vs. Bartesian among the home "bartenders." Both machines have their capsules, but Bartesian also takes a supply of bottled alcohol (enables you to choose drink strength). It can't produce carbonated drinks, though. Unfortunately, Keurig's Drinkworks has been discontinued in late 2021, so Bartesian has no competition left, at least for now.
We have some other great options on the list, so check it out. There are only 10, and they are all of high quality.
The shopping links in this article make us a commission. It costs nothing extra to you.
Let's make some cocktails and mocktails!
What's Inside
Bartesian Premium Cocktail and Margarita Machine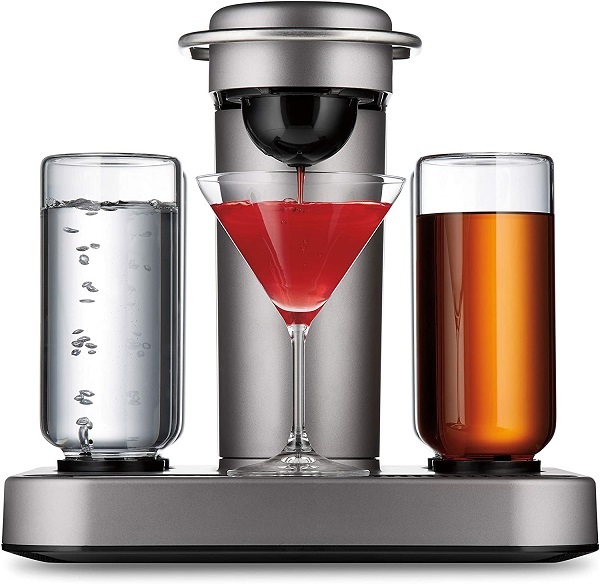 This is our editor's top choice.
Create cocktails at home in seconds. You won't need to measure or pour anything. Just keep the water tank full, insert one of the many cocktail capsules for your favorite spirits into your Bartesian drink mixer machine, select your preferred strength, and press mix. The system draws the spirits from the corresponding bottle and mixes your cocktail instantly. Award-winning mixologists created Bartesian cocktail machine capsules.
Quick facts:
Uses capsules to mix drinks.
Connects 4 bottles of alcoholic beverages for mixing.
Fully automated.
Recipes by professional mixologists.
Waring Professional Electric Martini Maker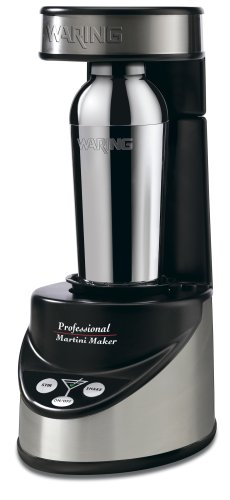 The electric martini cocktail shaker with a built-in strainer will help you make the perfect martini at home. The device comes in polished stainless steel and has a touchpad operation panel. Shake or stir options are available. They'll turn on an LED light to indicate when your drink is ready. For extra flavor, add some olives, which can be put into the 1-ounce ingredient cap. Your cocktail will then have the right amount of everything you need. You can use it to make other cocktails besides martinis (such as manhattans).
Quick facts:
Designed for ideal martinis.
Stainless steel gadget.
You can use it for some other cocktails too.
Margaritaville Key West Frozen Cocktail Maker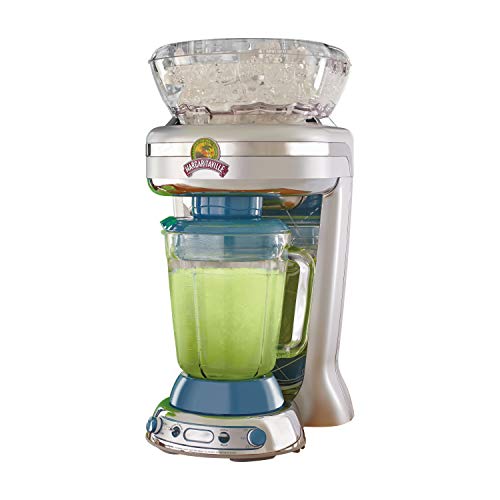 Not only margaritas, but this cocktail maker can also whip up 2.5 pitchers of frozen cocktails in a large reservoir (36 ounces). It crushes whole ice rather than using the crushed blender ice. This guarantees smoothly delicious frozen concoctions. The cocktail maker is fully equipped for great results with four pre-programmed drink settings and automatic shave and blend cycles. Besides, it features a manual blend only/shave only cycle for guests who wish to mix drinks themselves.
Quick facts:
Shaves ice cubes for frozen cocktails.
2.5 pitcher performance.
Manual and automatic modes.
Perfect for margaritas and great for other frozen cocktails.
Nostalgia Margarita and Slush Machine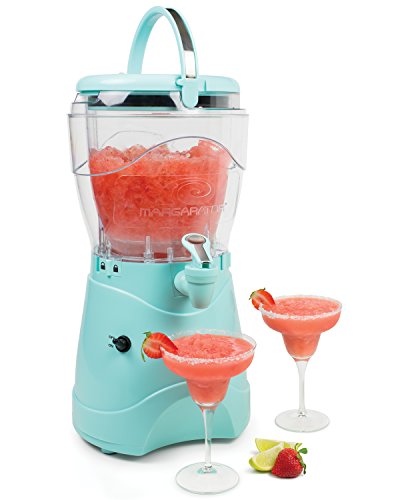 It looks great and works even better. We love the trendy retro design. This cocktail maker makes up to one gallon of your favorite slush drinks and margaritas, perfect for parties and gatherings. Its patented stainless steel shaving-blending cage finely shaves beverage into a delicious slurry. The chamber is clear from all views so that you can watch the slush pile up from any angle. The clear top lid removes to add ice easily.
Quick facts:
1 gallon mixer.
Stylish design.
Makes margaritas, slushies, and other frozen drinks.
Margaritaville Tahiti Frozen Cocktail Maker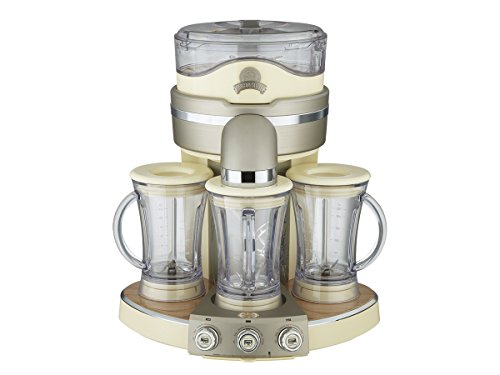 With its three 24-ounce blending jars, this cocktail maker creates a spectacle of 6 different frozen drinks (margarita, daiquiri, colada, mudslide, mojito, smoothie). Its rotating ice chute gives this product an extra element of appeal. It's constructed from premium bamboo wood and brushed aluminum finishes and features polished stainless steel accents and heavy-duty die-cast components.
Quick facts:
Makes 3 drinks per cycle.
6 types of frozen drinks.
The rotating ice chute looks nice.
Rabbit Freezable Cocktail Maker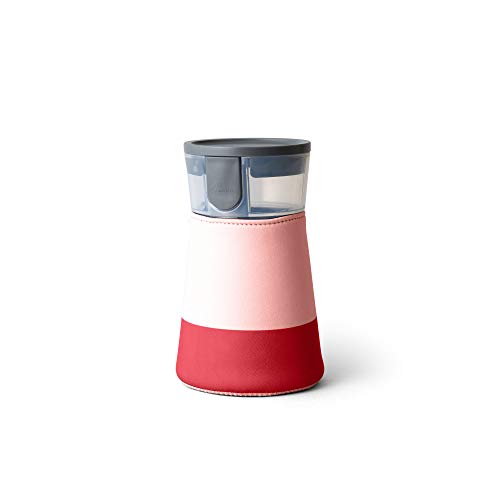 Freezable Cocktail Maker is a frosty and tasty addition to any entertaining occasion. This versatile tool comes with a freezer-safe container, neoprene sleeves, recipe guide, and a stirring stick. Its top-notch insulation will keep your icy cocktail party favorite cold for hours. This cocktail maker is the perfect solution, whether you are making frozen margaritas, piña coladas, or even frosé.
Quick facts:
Manual frozen cocktail mixer.
Portable.
Makes one drink only.
Elite Gourmet Electric Countertop Frozen Drink Maker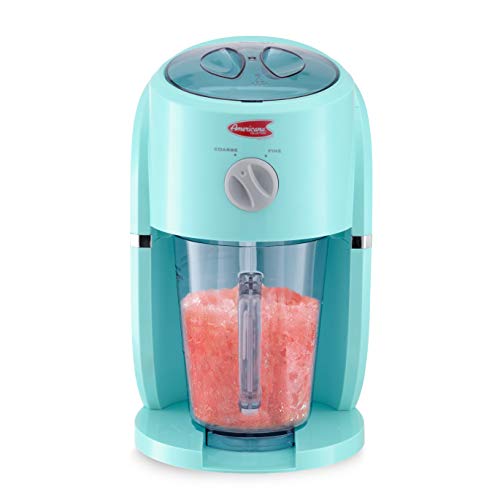 This device lets the whole family enjoy an ice-cold drink together. Kids will love making their snow cones, and you will love your margaritas and daiquiris. A 32-ounce pitcher is included in this set and comes with a stirring paddle. The 45 Watt motor shaves ice pretty fast.
Quick facts:
Makes all kinds of frozen drinks, alcoholic and non-alcoholic.
32 oz pitcher.
Two ice shaving modes — snowy and slushie.
Margaritaville Bali Frozen Concoction Maker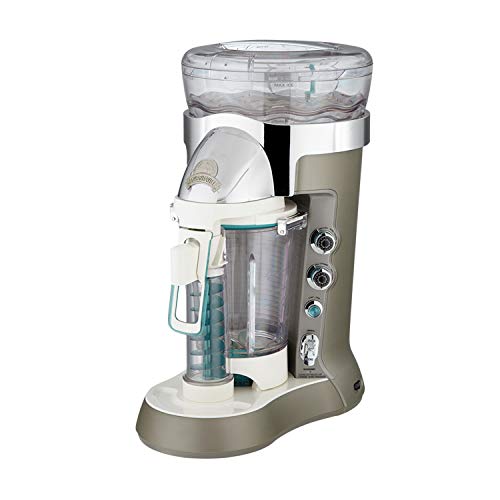 60 oz. cocktail maker with four drink modes — margaritas, daiquiris, Coladas, and smoothies. Has settings for half or full-chamber batches. The manual shave and blend feature let you customize the consistency and blending for whatever kind of cocktail you like to drink. You'll love the way your drinks turn out in this brushed metallic gadget with polished stainless steel accents.
Quick facts:
Programmed for 4 types of cocktails: margaritas, daiquiris, coladas, and smoothies.
Two modes of ice shaving.
60 oz jar.
VBENLEM Slushy Machine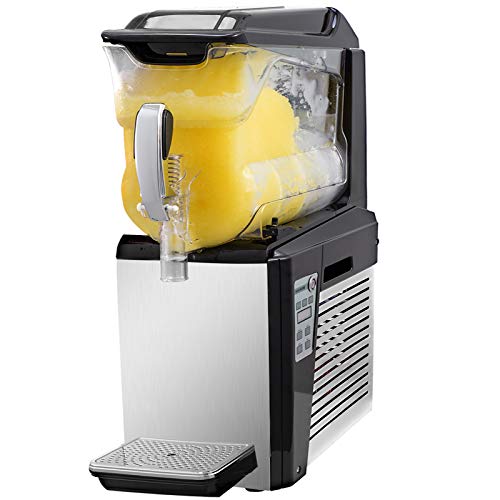 This commercial-grade machine is for those who are serious about their frozen concoctions. With a capacity of 2.6 US gallons, this machine can make 10 liters (2.6 gals) of slushie in as little as 30 minutes. The main tank is electroplated with silver so that it doesn't rust, and the faucet has a large diameter for quick dispensing. These features are great for drinks, including frozen cocktails, fruit juices, Slurpees, iced tea and coffee, and more.
Quick facts:
Commercial-grade high-capacity frozen drink maker.
2.6 gallon jar.
Wide range of cocktails and drinks.
Nostalgia Slush Drink Maker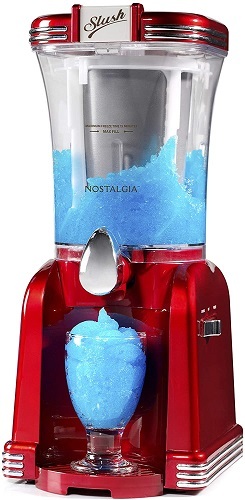 This slush drink mixer can hold up to 32 ounces of your favorite slushy drinks, making it perfect for parties or large gatherings. You can use crushed ice and salt to cool down your favorite sugar-based beverages. Then let the blender and non-stick canisters work together to create consistently smooth frozen beverages. It has two separate openings so that you can add ice, salts, and beverages when needed. It's made from durable, see-through plastics.
Quick facts:
Easy 3-way switch control.
Clear plastic tank.
32-ounce jar.
Continue reading:
Disclosure: As an Amazon Associate we earn from qualifying purchases.