Last updated on February 8, 2021
Looking for the best trash can for your kitchen? There are several things to consider and some great options to choose from. Here are our picks!
It rarely seems that choosing such a thing as a trash can for the kitchen needs much thought. Most of the time you just need a container with enough capacity that can be hidden away in a cabinet. But when you start thinking about functionality and a possibility to leave it out in the open, things get more complicated.
Indeed, when you look at the options available on the market, the modern trash cans are quite the gadgets for the kitchen. You have automated lids that open from the motion sensor, odor filters, sleek stainless steel designs, and of course, the conventional features like dual containers, manual pedals, and so on. How do you choose from all of this?
How to choose the right trash can for the kitchen?
Consider this:
Are you going to hide it in the cabinet or leave it in the open?
How accessible will it be?
Do you need a pull-out or tilt cabinet function?
Are you recycling?
Are garbage odors a problem?
Do you have pets at home?
Do you need an automated option or a manual pedal is enough?
These questions will easily narrow down the vast majority of trash can choices. From there you can simply choose one of our top picks below that already meet your criteria. There's no coincidence that we've picked the best options based on the above criteria. We use an extensive research method and experience, we know the interest of our readers (you). Finally, do note that we get compensated for qualifying purchases on Amazon (which is indicated by #ad) at no expense to you. This doesn't influence our picks and only help us do our job.
So, which one is going to your kitchen?
What's Inside
Simplehuman Trash Can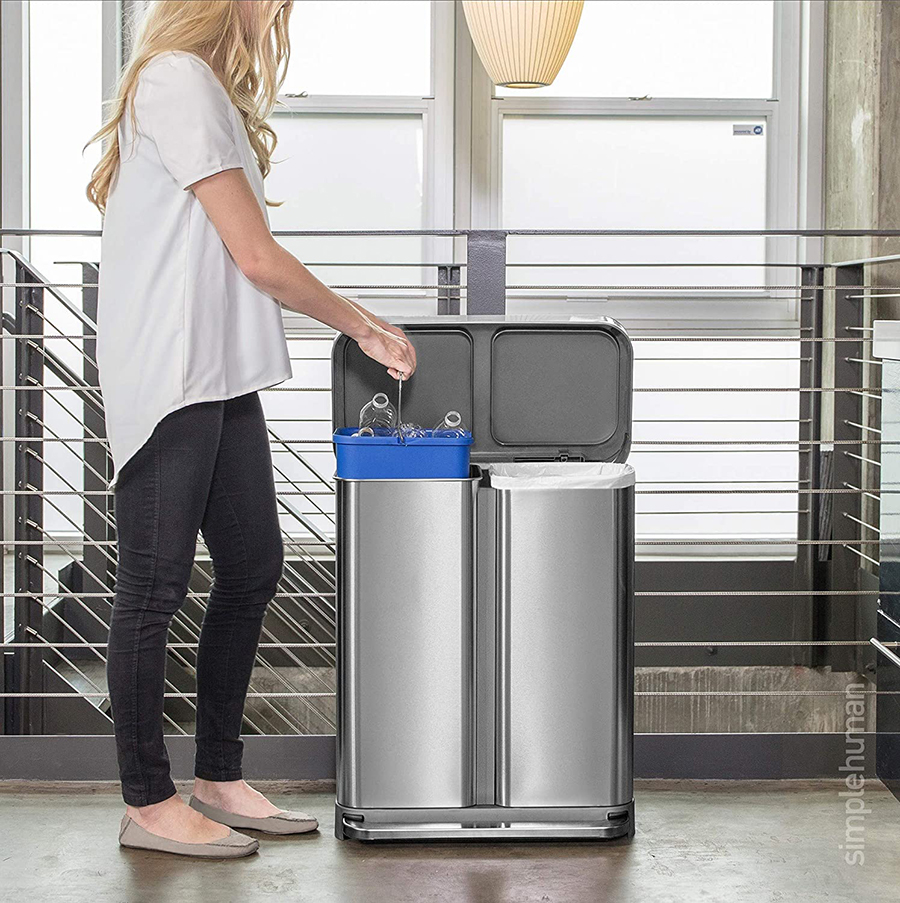 A dual compartment recycling trash can from a popular brand superhuman. It's big and stylish that will fit any mid to large-sized kitchen.
Pros: it has a dual compartment that makes recycling easy; nano-silver fingerprint-proof coating; silent close lid; strong stainless steel step pedal; worth every penny because of its durability, easy to use and attractive design.
Cons: extra strength to push the pedal to open the lid; receptacles are not that large.
13 Gallon Trash Can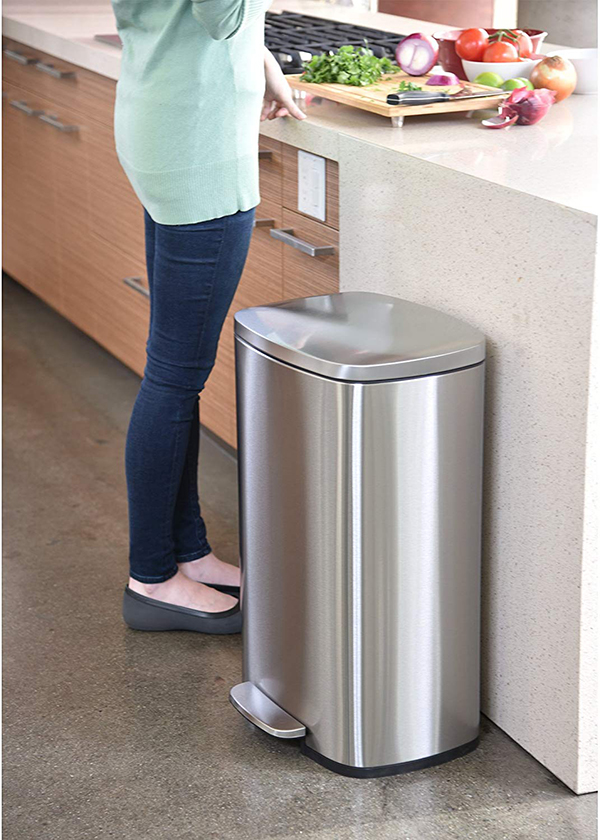 A convenient and good-looking trash can that can be placed near the countertop or sink in the kitchen. It has a decent capacity too.
Pros: it has a stay-open lid feature; fingerprint-proof; has a smudge-resistant surface which is very easy to clean; minimal force to operate the step pedal; easy to removable inner buckets.
Cons: odor control function does not work after a few months; easily dented.
Stainless Steel Trash Can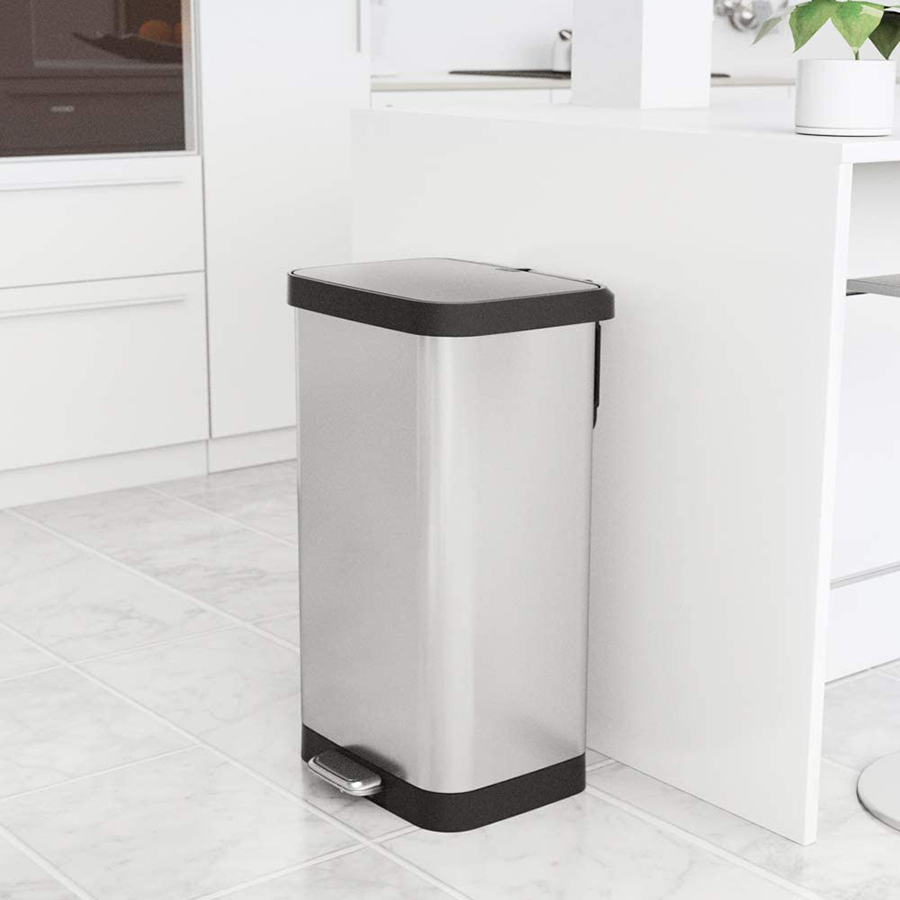 Stainless steel won't hurt your modern kitchen design or decor. This trash can may be left in the open without having to worry about it becoming a decor eyesore. The extra capacity is useful too.
Pros: large capacity up to 20 gallons; it has antimicrobial protection of the lid and lid frame; has quiet step operation with a controlled gentle closure; an easy step-on pedal.
Cons: lid does not open completely when removing the bag.
Dog-proof Trash Can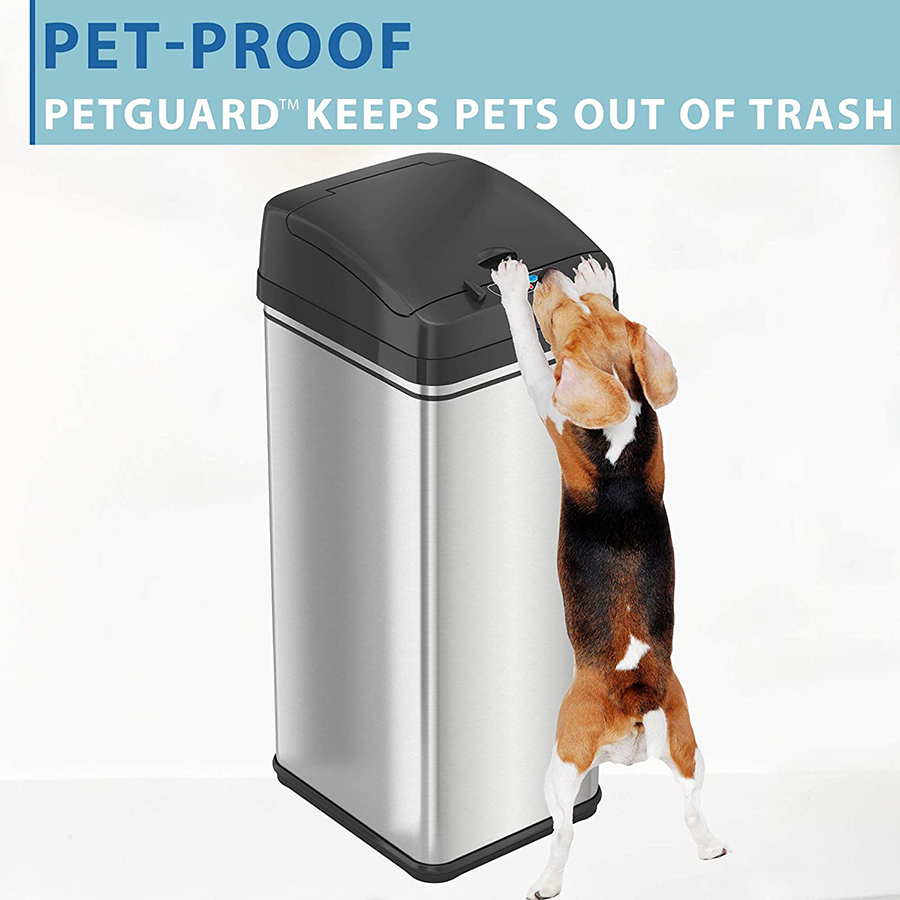 Do you have a dog (or other pets) in your home? You know how important it is to protect the trash from their reach. They won't figure this trash can out.
Pros: very hygienic and convenient because of its motion detection feature; space-saving design; has an odor control with activated carbon; has a large opening; has 2 power source options (powered by batteries or AC adapter).
Cons: does not eliminate that much odor; the lid will stay open for about 5 seconds.
Trash Can Cabinet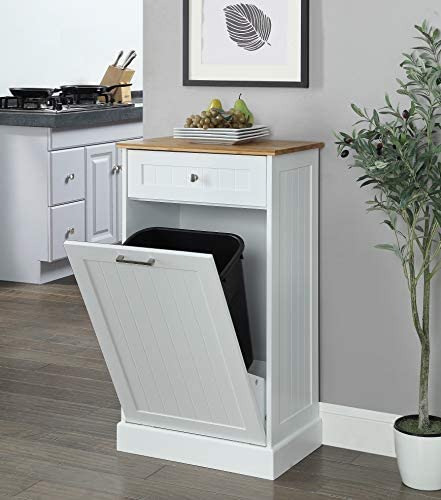 Let's hide that trash can anyway. This tilt-out cabinet is a fully functional piece of furniture for the kitchen. The top surface will work as extra countertop space.
Pros: hides the trash can and provides extra counter space; convenient space-saving cabinet; easy to clean; rust-resistant hinges and drawer pulls; stylish and has a modern look design.
Cons: the garbage bin not included; not very sturdy.
Metal Trash Can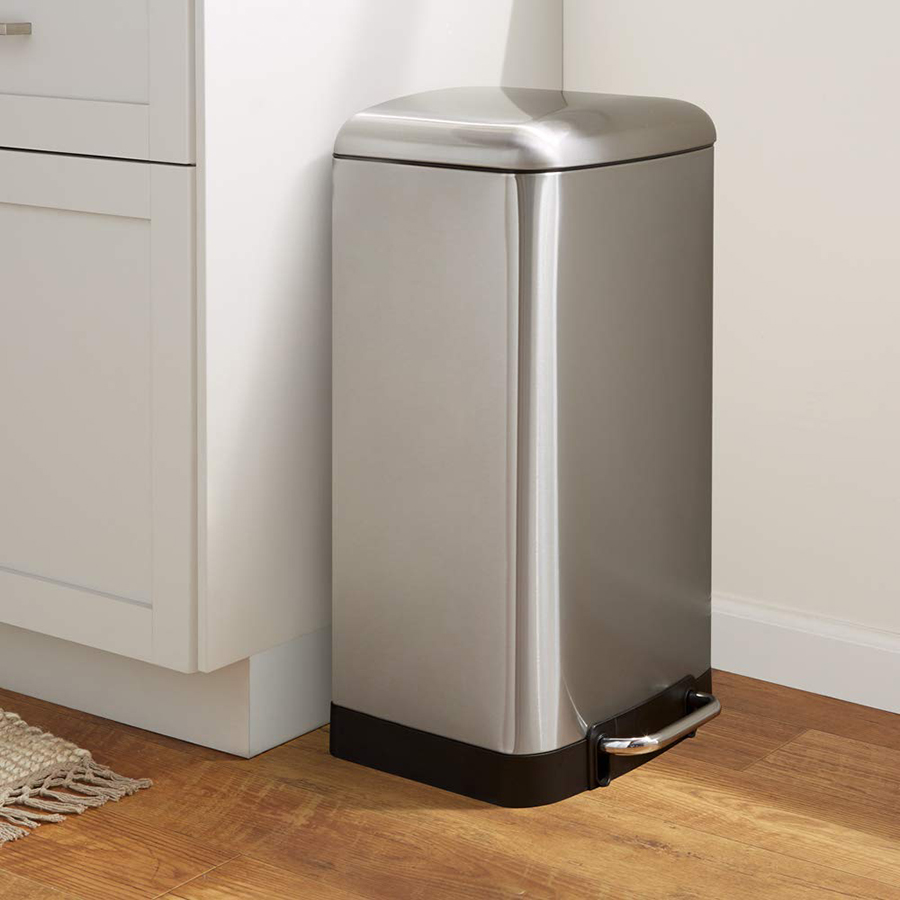 The metal design of this can makes it an actual appliance that doesn't need to be hidden away. So it's easy to use and accessible.
Pros: durable stainless steel exterior; soft-close lid functions well; fingerprint proof to keep it clean; strong steel step pedal; a removable inner bucket.
Cons: slides around every time the foot pedal is activated; this bin is not that large.
Pull Out Trash Can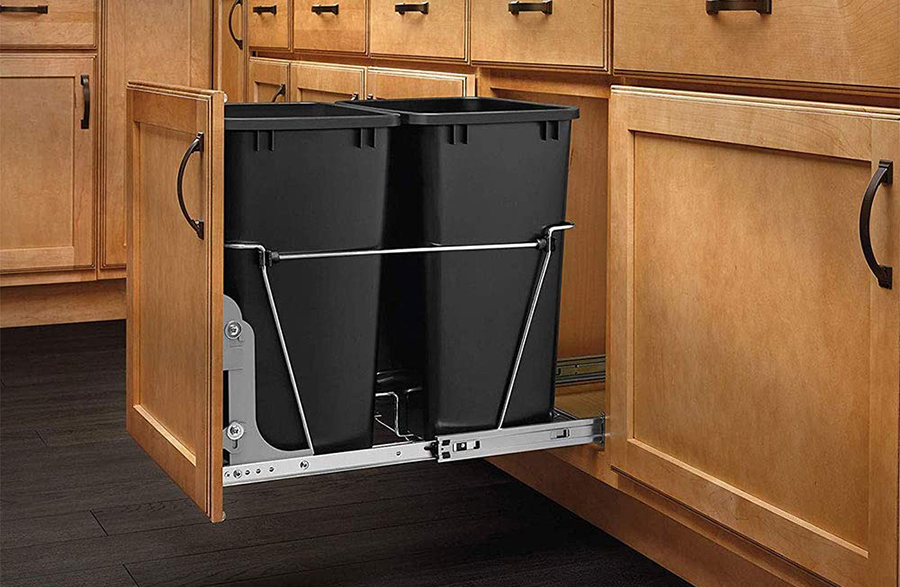 Another option to keep those bins hidden is the pull-out cabinet construction. You can build that into any lower kitchen cabinets.
Pros: made with high-quality slides; it has durable wire construction; simple installation; includes double black 35-quart containers for trash storage with a removable handle; great quality for its price.
Cons: it does not include lids that are sold separately.
IKEA Trash Can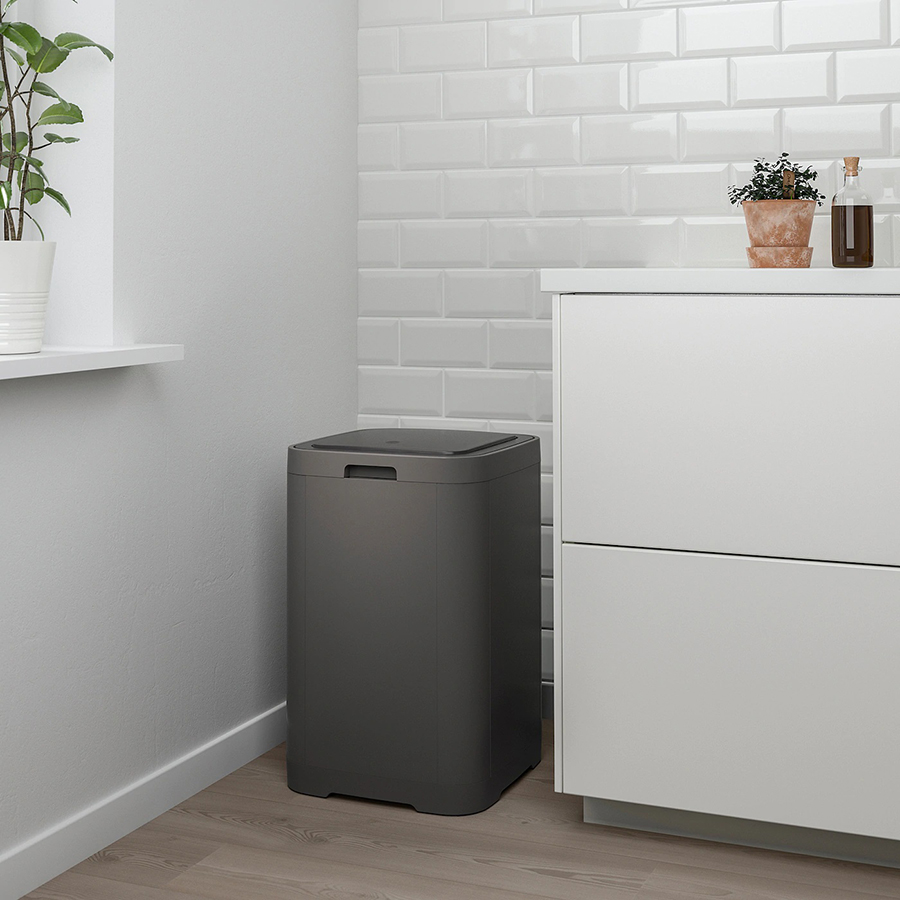 IKEA does it right again. The GIGANTISK trash can model is ideal for any kitchen.
Pros: it has a sleek and modern design; made from durable materials; the lid is touch up and it opens smoothly; the lid closes securely.
Cons: doesn't fit standard size trash bags; putting the bag is a bit complicated.
Dual Trash Can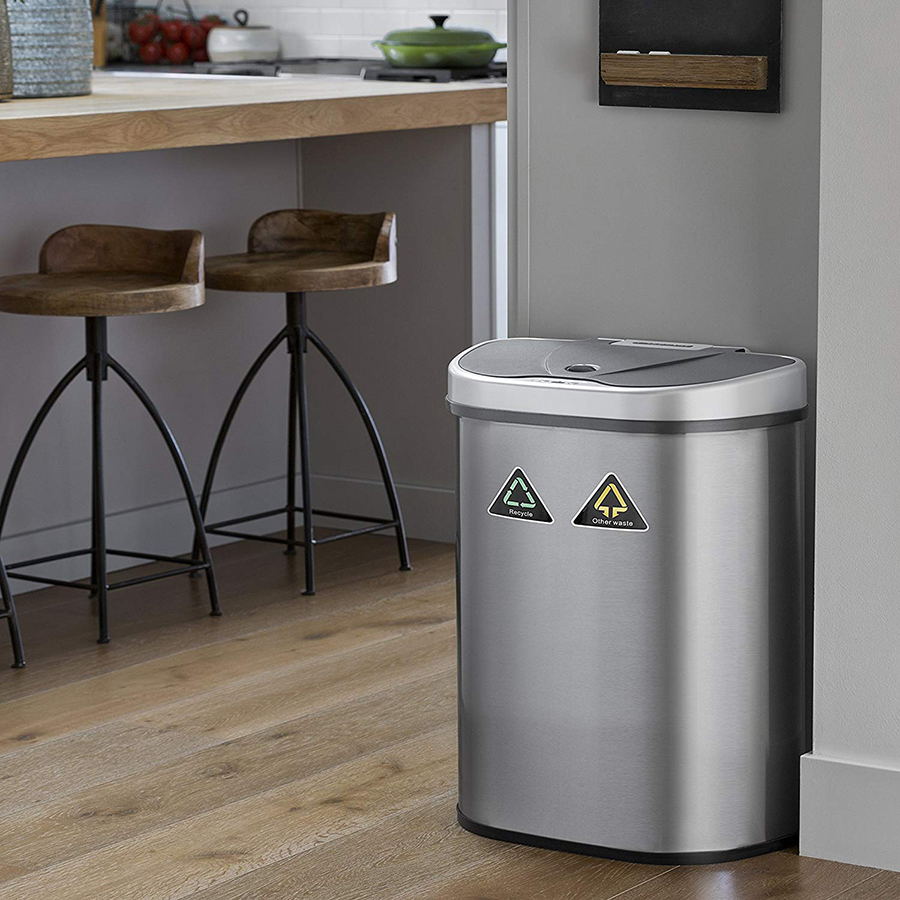 If you're serious about recycling you need at least one dual trash can. This model will help you greatly with your deed.
Pros: it has a water-resistant infrared motion sensor that prevents moisture or spills; finger-print resistant stainless steel base; removable ring liner; easy and convenient to use.
Cons: narrow allowance per compartment; auto lid is a bit sensitive.
Automatic Trash Can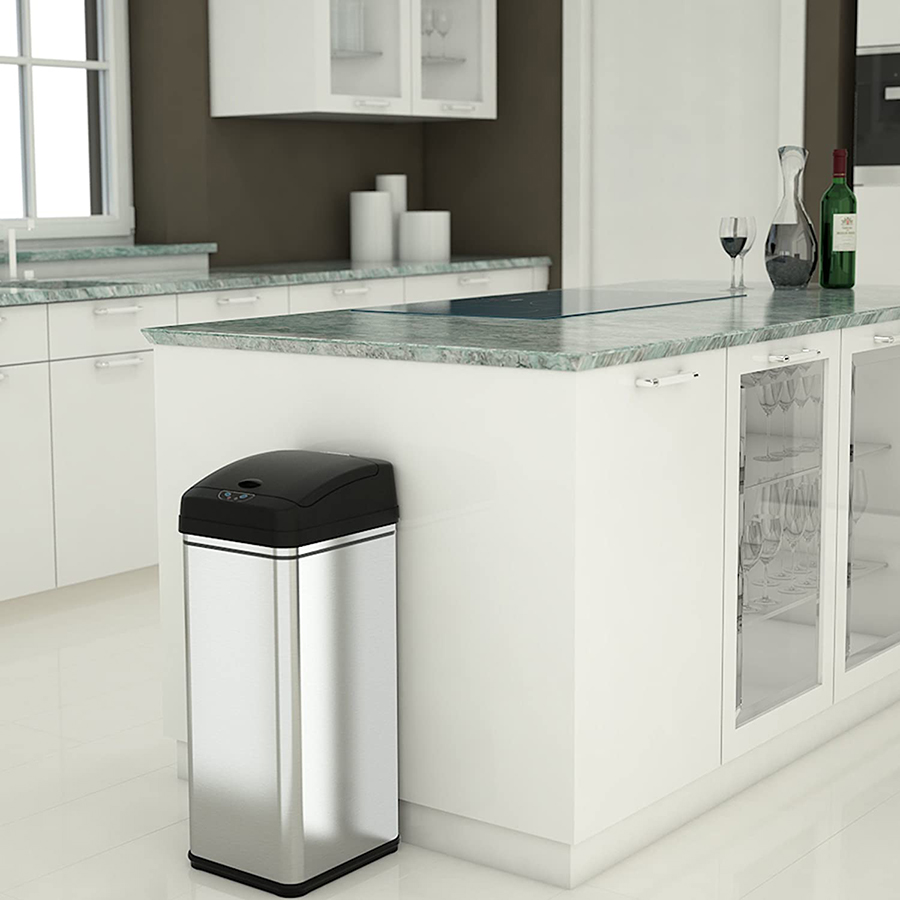 Many modern trash cans include automation (motion sensor-enabled) in opening them hands-free. This model also has some neat additional features which make it quite a kitchen gadget.
Pros: it has a carbon odor filter that is included to absorb and neutralize trash odor; modern design and very easy to clean because of its fingerprint-proof surface; very efficient and compact.
Cons: the sensor is quite sensitive; does not include a plug adapter.
Continue reading:
Disclosure: As an Amazon Associate we earn from qualifying purchases.