Last updated on November 19, 2023
Because a well-finished, nicely designed black and white kitchen floor can create an attractive setting, this article shares different ideas to inspire your kitchen decor project.
Black and white kitchen floors are a classic choice that never goes out of style. Whether you're aiming for a chic, modern look or a homely, vintage vibe, the stark contrast between black and white can create an aesthetically pleasing and impactful design.
This article will provide a variety of ideas to inspire your black and white kitchen floor project, from bold, geometric patterns to subtle, marble effects. It will also offer practical advice on materials and maintenance to ensure your kitchen floor is not only beautiful but also durable and easy to care for.
So, get ready to dive into a world of design possibilities that will transform your kitchen into a space of elegance and sophistication.
What's Inside
Classic Checkerboard Patterned Tiles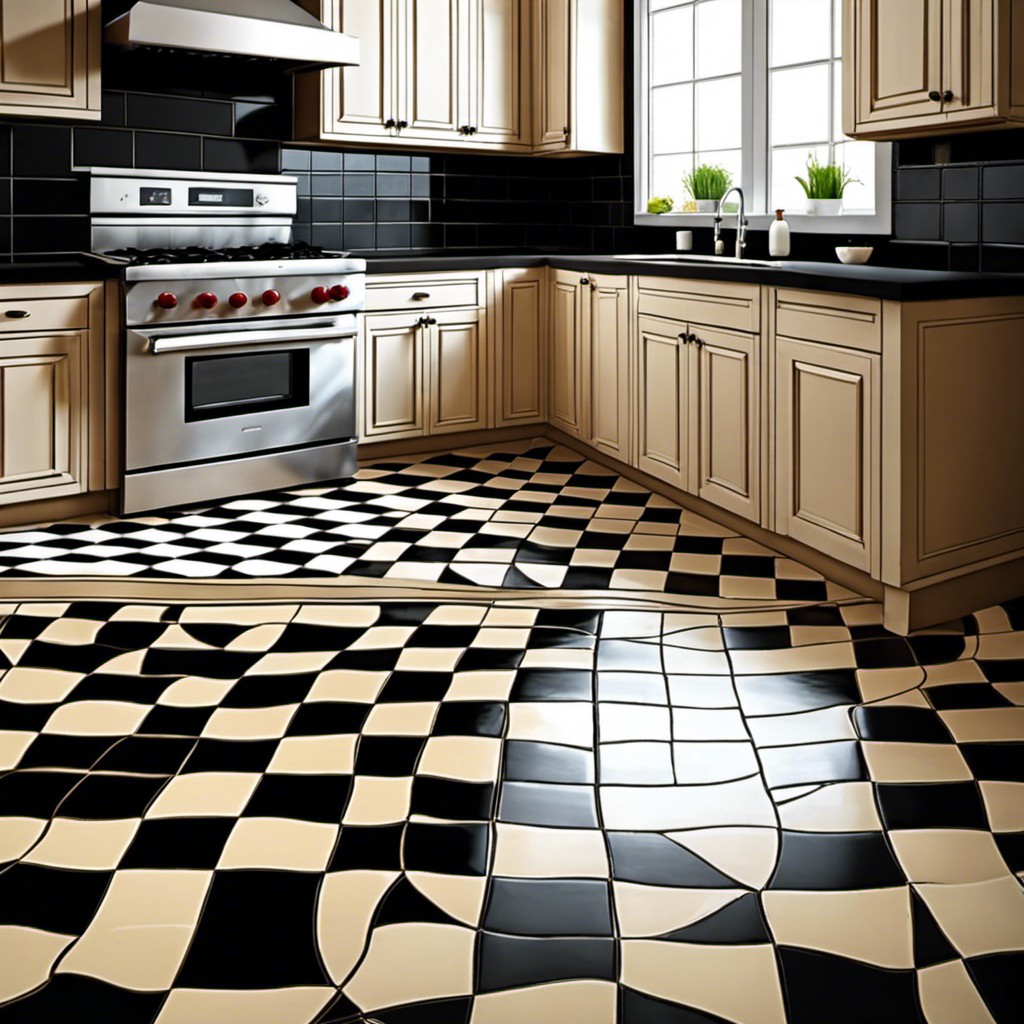 Excitingly, the timeless pattern allows for easy pairing with various kitchen styles, from vintage to contemporary. It can create a striking visual impact, especially when it's laid diagonally.
The best part? Maintenance is a breeze. It's composed of alternating white and black tiles, making any dirt less visible. Moreover, when gloss finish is used, it actually reflects more light, leading to a brighter kitchen environment.
Feel free to experiment with tile size and material to really make the design your own. Whether it's marble for a touch of luxury, or vinyl for a budget-friendly option, the checkerboard pattern remains effective.
Remember, the key here is balance – keep the rest of the kitchen elements simple to prevent visual overload.
Modern Black and White Hexagonal Tiles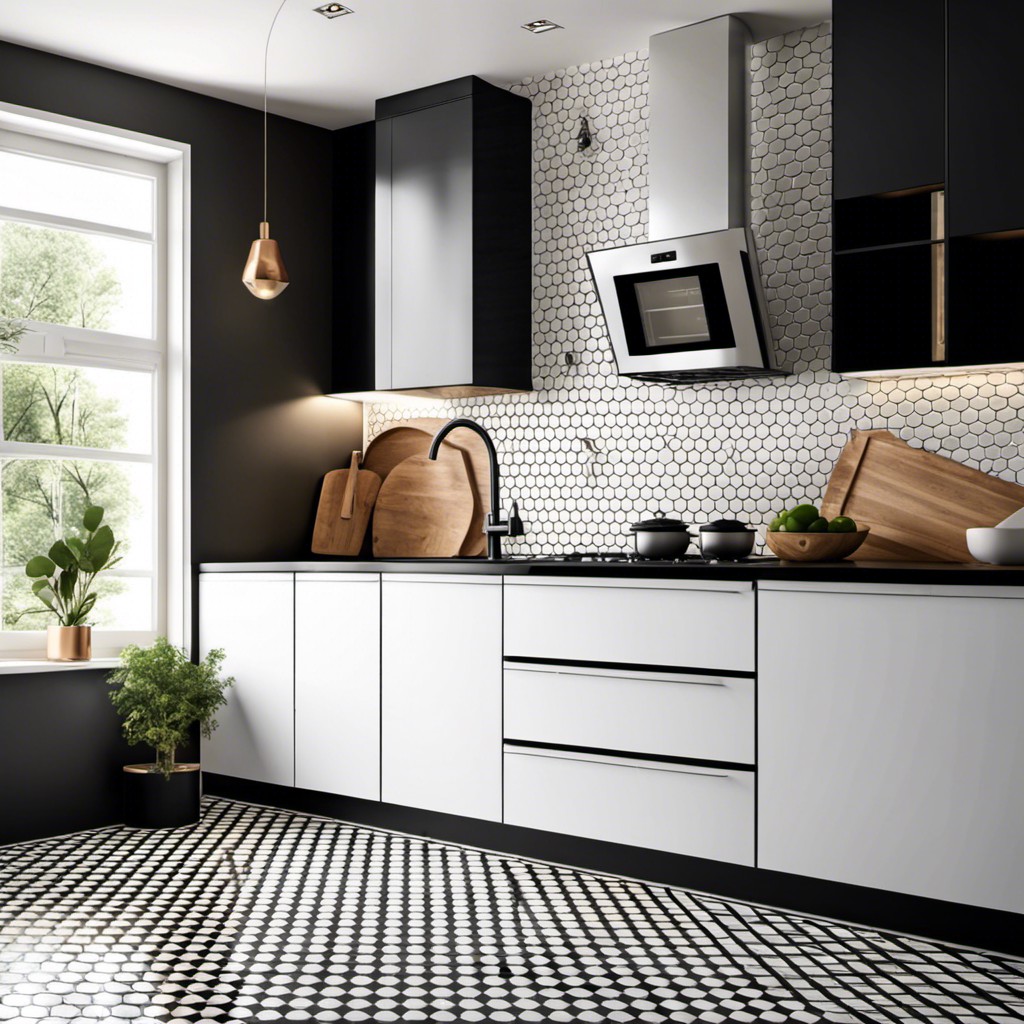 Opting for these tiles can instantly elevate the chic quotient of your kitchen. With their unique six-sided design, they offer a refreshing break from the conventional square and rectangle tiles. Versatility is another feather in their cap, enabling them to blend seamlessly with various decors and styles.
Whether you prefer a honeycomb design or go for alternate single-color tiles, they create a stunning visual impact. From matte to glossy finishes, the range is impressive. Larger tiles can make a small kitchen appear bigger while smaller ones add detailed intricacy. Pair them with either black or white cabinets depending on the prominence you wish to achieve.
For enhanced uniformity, match the grout with the lighter tile color. Remember, proper sealing ensures longevity, preventing any damage from kitchen spills and stains. In terms of installation, the complex pattern might require professional help, but the end result is worth every penny.
Black Slate Floor With White Grout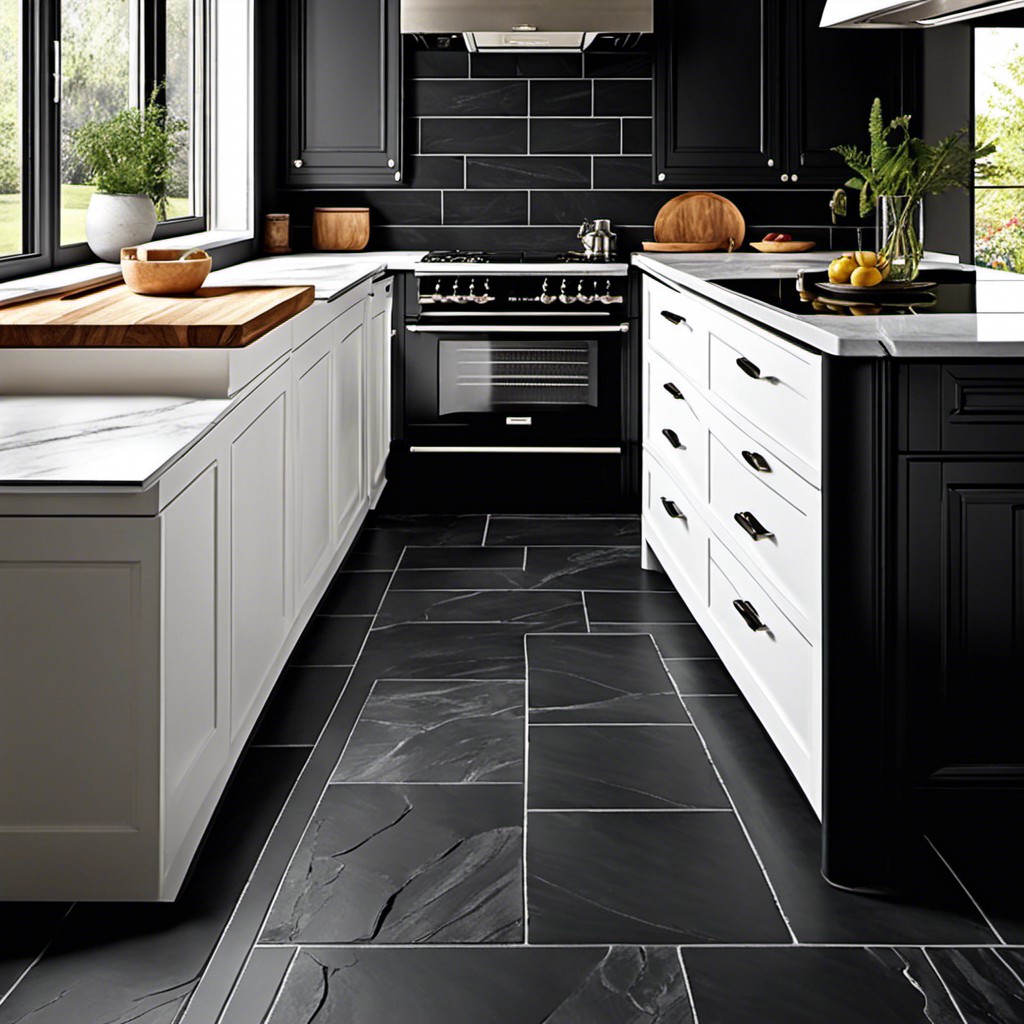 Making a daring statement in kitchen design, black slate floors contrasted with white grout deliver a sophisticated and bold look.
1. Uniqueness: Each piece of slate holds a one-of-a-kind, organic pattern, adding depth to the floor design.
2. Durability: Slate is known for its longevity, withstanding an array of kitchen mishaps from spillages to high foot traffic.
3. Non-Slip: This flooring option offers a degree of natural slip-resistance – an essential feature for any kitchen.
4. Easy Maintenance: The white grout might sound challenging to maintain but sealing it properly during installation lessens staining and discolouration.
Remember, the choice is not just about aesthetics, but also about practicality. With proper care, this style can maintain its striking appearance for many years.
White Marble Floor With Black Veins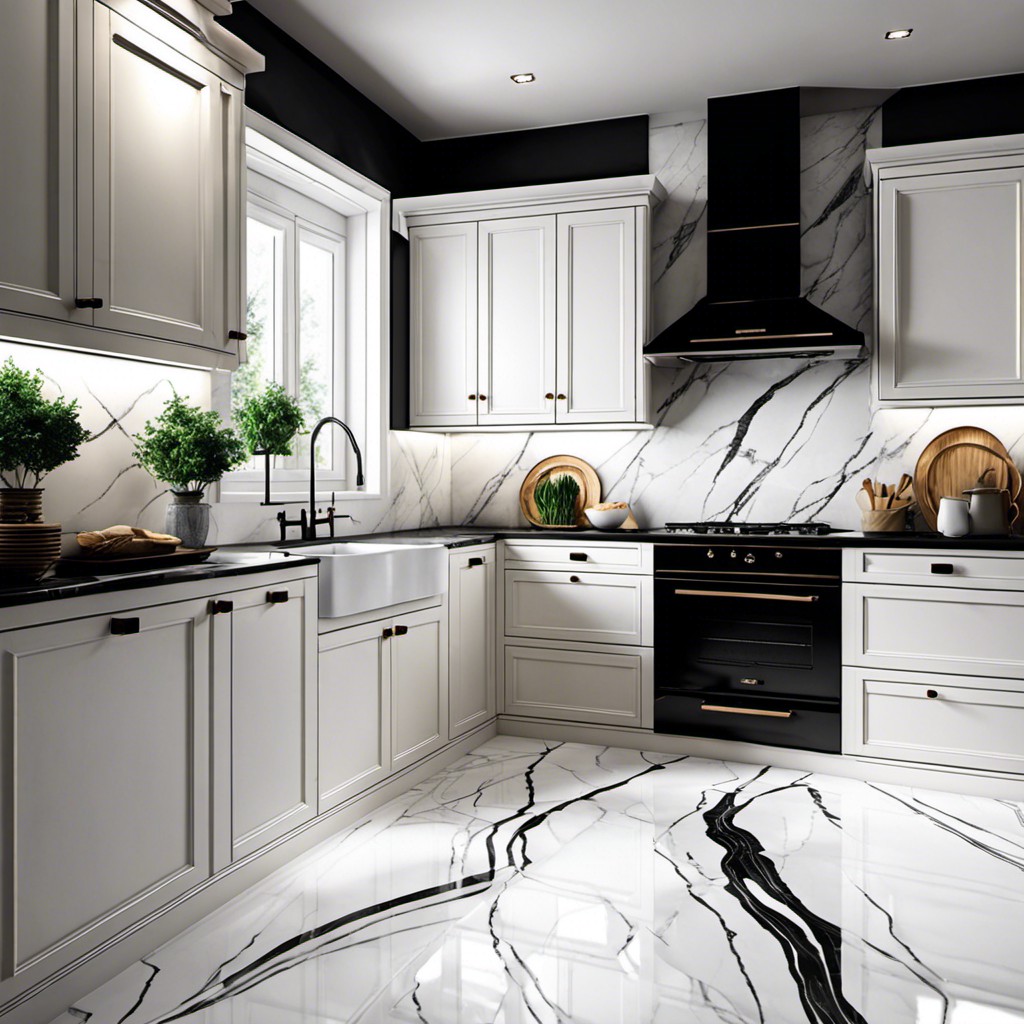 Incorporating this elegant floor style into your kitchen transforms the entire ambiance. Each slab comes with unique veining, ensuring an exclusive, high-end look. Known for its durability, it's resistant to cracking and chipping if properly sealed and maintained.
The natural, light-reflecting properties of marble can also brighten your kitchen. Paired with black furniture or accents, the dark veins become highlighted, thereby creating a harmonious balance. However, considering its relatively high cost, a smart move is to introduce it in small areas if you're on a budget.
Lastly, maintain its shine and avoid stains by regular cleaning using gentle, non-acidic products.
Monochrome Mosaic Tiled Floor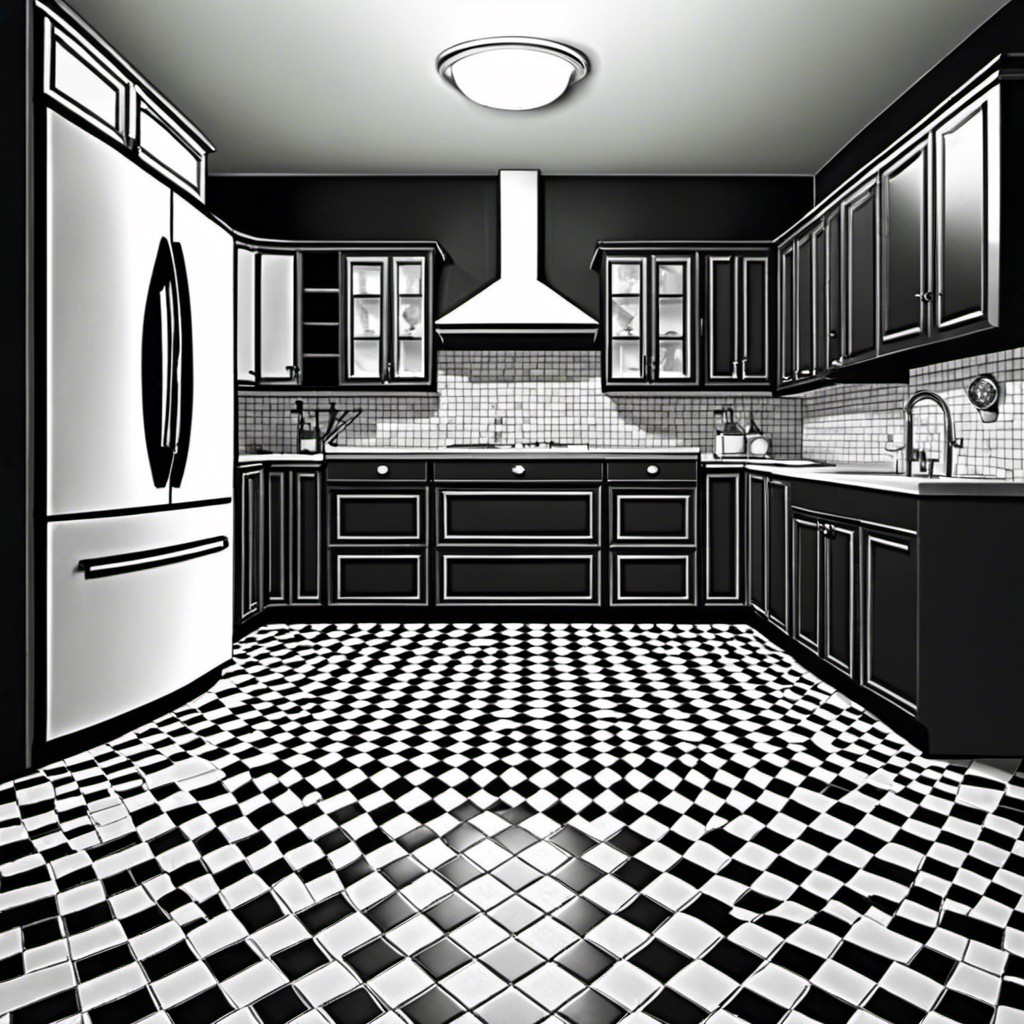 Diving into this option, its appeal lies in the fusion of traditional charm and modern elegance. Mosaic flooring, originating from Ancient Rome and Greece, gives a timeless appeal to any kitchen. For those who appreciate minutiae, each small tile placed meticulously next to the other helps create an elaborate overall effect.
Leveraging black and white, it adds contrast and depth which enhances the visual interest of your kitchen floor. It also affords ample room to get creative. Interchange between black and white tiles to create intricate patterns, or perhaps a striking focal point.
As multipurpose as it gets, this style is equally suitable for a retro, modern, or traditional kitchen design. Plus, mosaic tiles are durable and easy to clean, making them not only an aesthetically pleasing but practical choice. Lastly, pair your new floor masterpiece with simplistic furnishings and decor to let it take center stage as is deserved.
Black Vinyl Flooring With White Rugs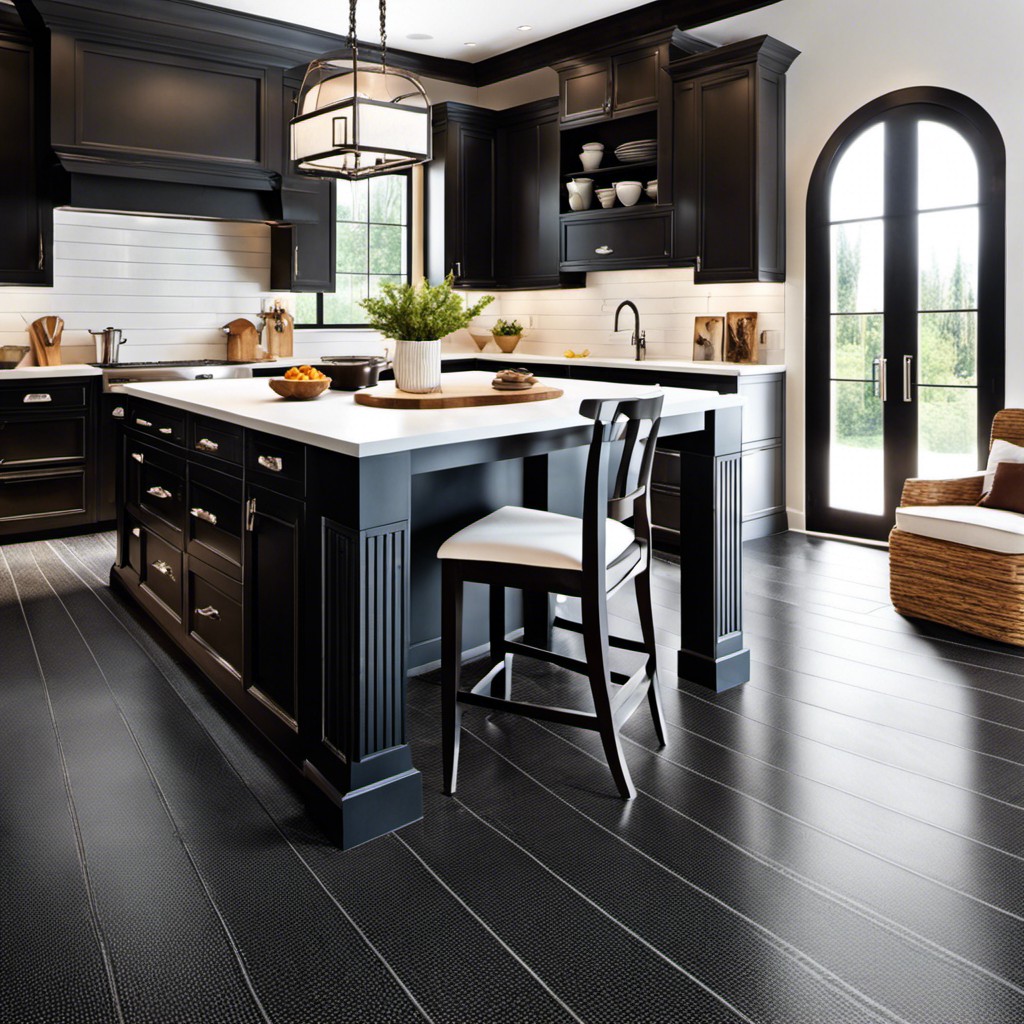 Incorporating this style not only boosts your kitchen's charm but also ensures maintenance is a breeze. Black vinyl flooring is an economical choice that brings in the chic factor, while being incredibly easy to clean.
White rugs thrown sporadically lighten the deep hue of the floor, providing a lovely contrast. Opt for rugs with interesting textures or simple, artistic designs to make them stand out. They will serve in preserving the vinyl underneath, thereby increasing its lifespan.
Moreover, rugs can become focal points and divide your kitchen into different zones. Consider a plush rug in the dining area or a sturdy runner near the countertop or sink. Always ensure that the rugs have a non-slip backing for safety, especially in the kitchen where spills are commonplace.
Not only does this combination make a bold statement, but it also strikes the right balance between modern and cozy. Plus, the white rugs give the room a touch of warmth, making your kitchen feel more inviting.
Sleek Black Porcelain Tiles With White Borders
These tiles present a high-shine, precise option underfoot. They are ideal for modern kitchens due to their lustrous finish and clean lines. When paired with white borders, the contrast further accentuates and frames the floor, creating a defined and sharp appearance.
1. High Durability: Their inherent strength makes them resistant to stains, scratches, and water, ideal for areas with heavy foot traffic.
2. Ease of Cleaning: With their non-porous and smooth surface, a simple sweep and mop routine keeps them spotless.
3. Flexibility: Available in a variety of sizes and shapes, they can be customized to fit any kitchen layout.
4. Reflective Quality: Their glossy finish helps to reflect natural light, thereby brightening up the room.
5. Pairings: They work well with minimalist, contemporary environments, including stainless steel appliances and white countertops.
Black and White Striped Linoleum Floor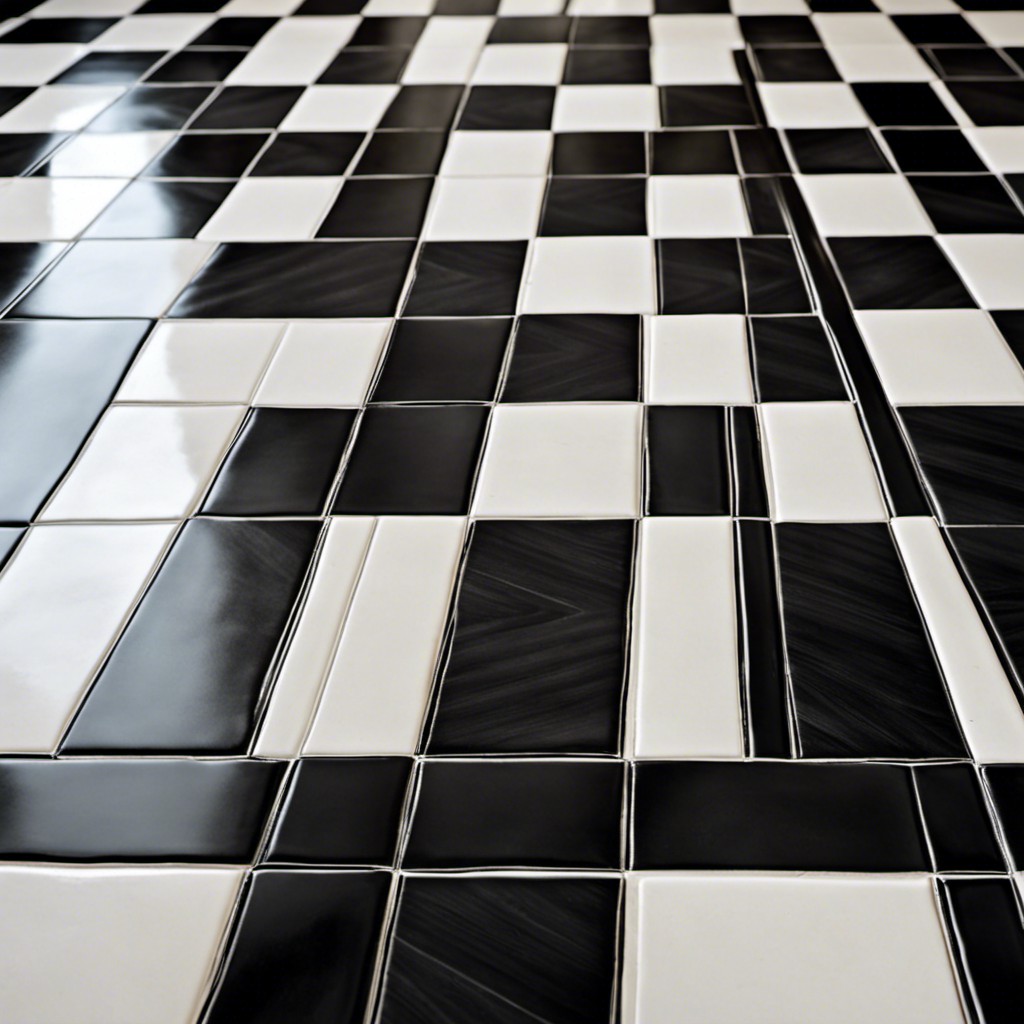 Embracing a modern, edgy appeal, this flooring type adds a noticeable level of character to any kitchen. Its bold horizontal or vertical lines offer an illusion of extended space, ideal for smaller kitchen layouts.
Moreover, linoleum is a highly durable material, resisting scratches and marks from heavy foot traffic, demanding pets, or frequent drops. The material is also eco-friendly, boasting biodegradable properties.
When it comes to upkeep, linoleum is low-maintenance; regular sweeping and damp mopping keep it pristine. In terms of design, pair this dynamic floor with minimalist kitchen furniture for a balanced aesthetic.
A tip to consider – keep your stripes consistent with your kitchen's dimension: horizontal stripes for a wider appearance, and vertical for a taller illusion. With its dramatic flair and practical benefits, this unique flooring option is sure to make a statement.
Whitewashed Wooden Floor With Black Kitchen Island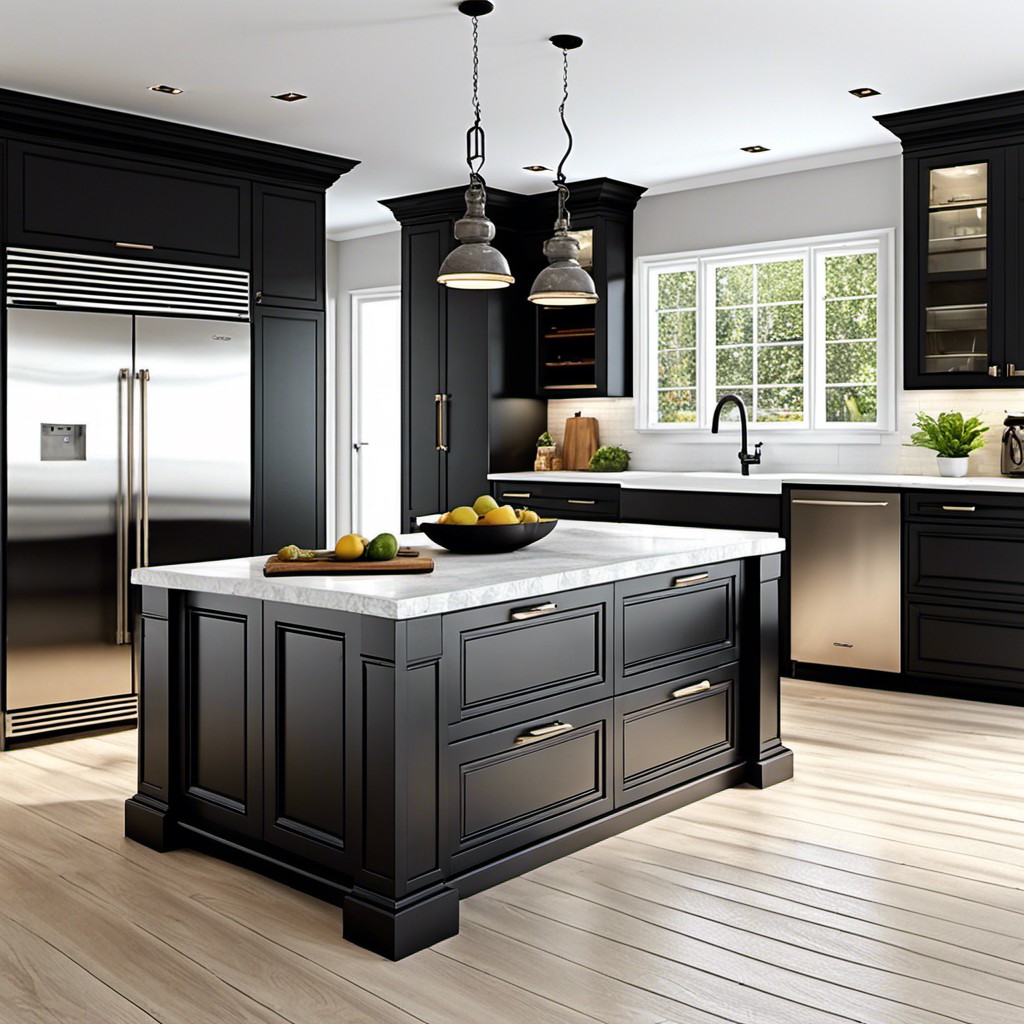 Starting with a subtly whitewashed wooden floor can be the perfect canvas to set off a black kitchen island. The contrast creates a stylish balance that evokes a classic yet contemporary feel.
Here are some important points to consider:
Size of the Island: Ensure the kitchen island is substantial enough to hold its own against the expanse of white flooring.
Black Island Features: Opting for glossy finishes can add a touch of sophistication, while a matte finish might bring in a more modern aesthetic.
Texture of the Floor: Though a smooth finish is more traditional for whitewashed floors, considering a textured finish could add an interesting element and break up the uniformity.
Lighting: Enhance this contrast further with strategic lighting—try focusing warm glows on the island, while keeping the flooring in softer, ambient lighting.
Integration with the Rest of the Kitchen: Incorporating some black elements in other parts of the kitchen—like a black-framed window or black chairs—can help tie the entire design together.
Textured White Tiles With Black Cabinets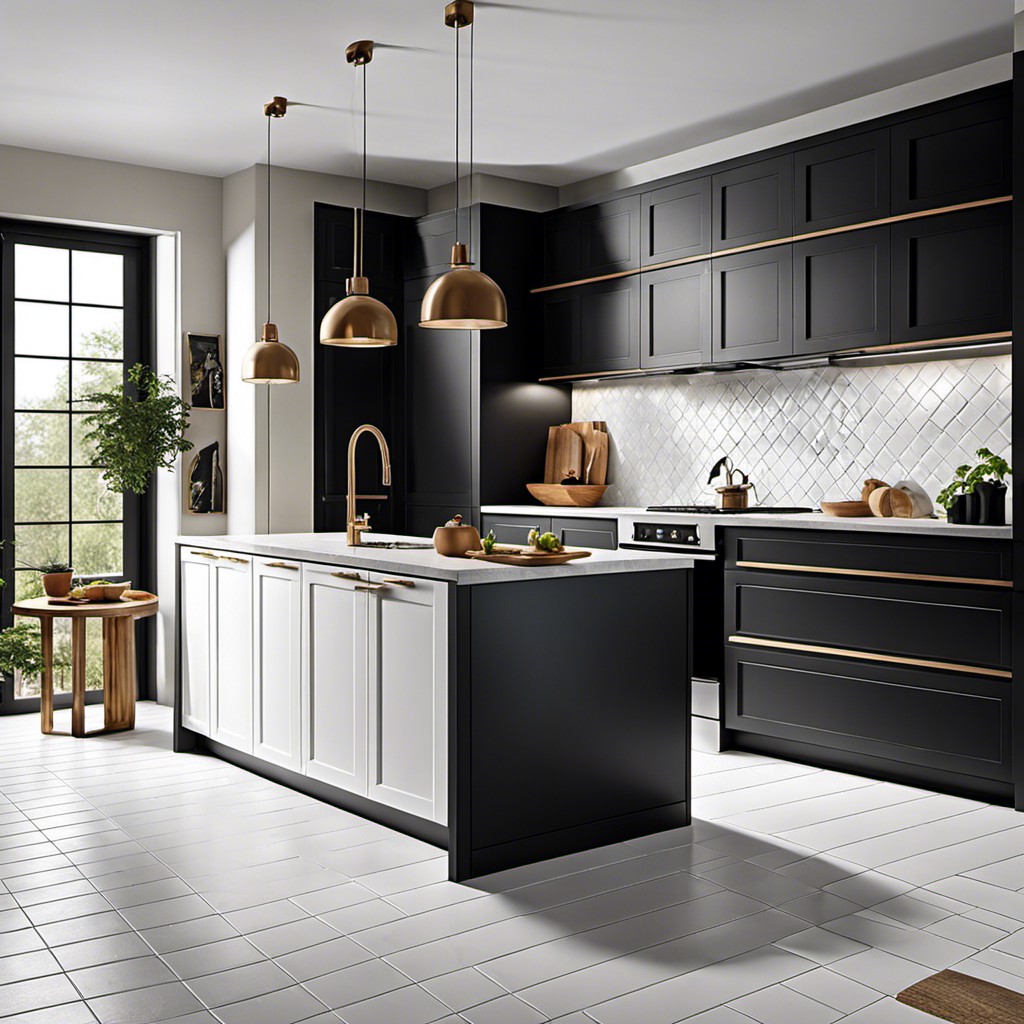 Textured tiles form a perfect visual counterpoint to sleek black cabinets. With subtle raised patterns, they provide the intrigue of dimension without compromising on the clean aesthetic. They enhance light reflection, allowing your kitchen to feel open and airy. Plus, they are more forgiving to grime and water marks, a great advantage for kitchens.
Selection is easy with an array of designs and patterns, from delicate floral motifs to geometric patterns, offering endless possibilities to cater each individual's tastes. They also vary in finishes–glossy for an elegant shine, or matte for a more rustic and gritty appeal.
As for the black cabinets, they spell sophistication. They add a luxurious look, bringing gravity and depth to the kitchen space. They pair especially well with brass or gold hardware, providing a classic, contemporary cousin to the traditional white kitchen.
Using this combination is all about balance. Consider the overall color scheme of your space to ensure a balanced visual weight distribution and take into account the light exposition to avoid a too dark result. With just the right mix, you're leaving guests with an unforgettable impression.
Black and White Geometric Laminate Flooring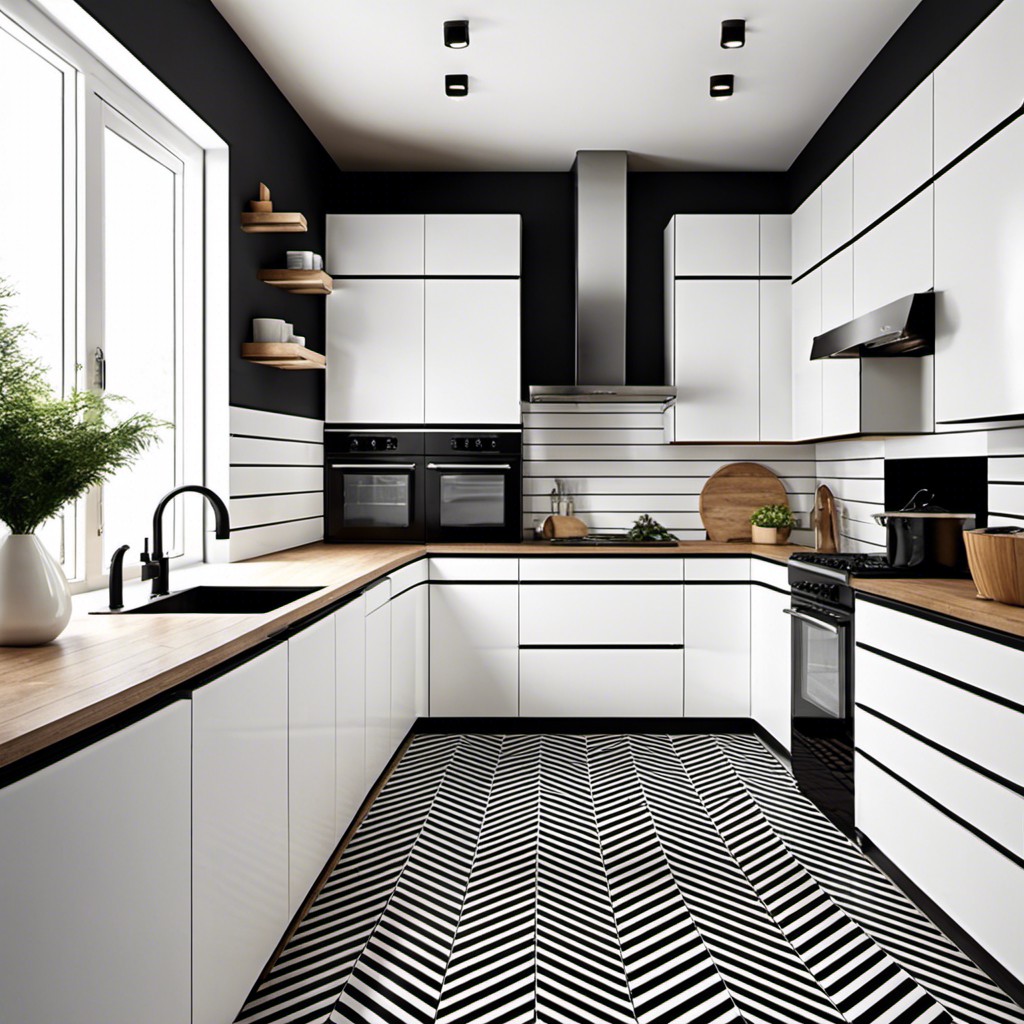 Taking on a geometric pattern with your laminate flooring introduces a dynamic visual element to your kitchen space. This unique design effortlessly bridges the gap between vintage charm and modern minimalism.
You can choose from a variety of patterns- from intricate tessellations to bold, oversized diamonds. The sheer versatility of geometric patterns ensures there's a design for every taste.
The resilience of laminate flooring makes it an excellent choice for the kitchen, an area that often experiences heavy foot traffic, spills, and drops. It's water-resistant, easy to clean, and requires minimal maintenance, solving practicality issues.
The black and white color combination brings a timeless quality to the design, creating a strong contrast and balance in your kitchen's aesthetic. The color scheme also provides a versatile backdrop for other elements in your kitchen, allowing other colors and textures to shine.
Remember, though the pattern might be bold, you can soften the overall effect by choosing decor with curved lines or pastel colors. Also, a matte finish on your laminate can contribute to a more understated look. Experimenting with the size and orientation of your pattern can further influence the energy and perception of space in your kitchen.
Black Floor With White Polka Dots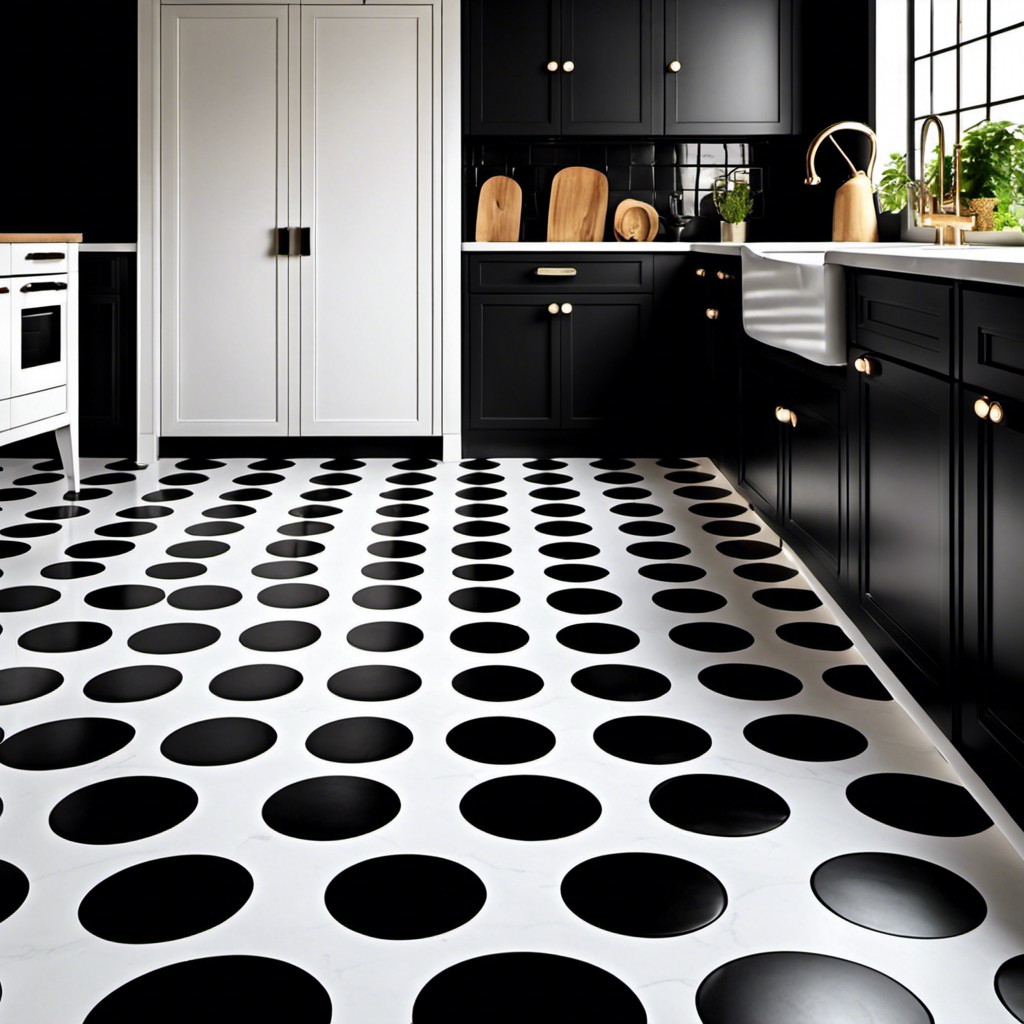 Daring yet whimsical, this design choice takes a basic color scheme and infuses it with a playful charm. Opt for large, bold white dots against a dark background for a more striking contrast primed to make a memorable impression.
Smaller, subtler dots imbue the space with a whimsical feel without being overly bold. With porcelain or ceramic tiles, achieving this look is feasible.
Another alternative is vinyl flooring, which comes in a wide array of designs and is easy to install and maintain. Aesthetically, this design pairs well with minimalist, modern decors or retro-inspired kitchens.
Remember to harmonize with a simple, sleek cabinet design and solid color countertops. When correctly executed, this floor transforms an ordinary kitchen into a captivating culinary space.
Bold Black and White Zigzag Pattern Tiles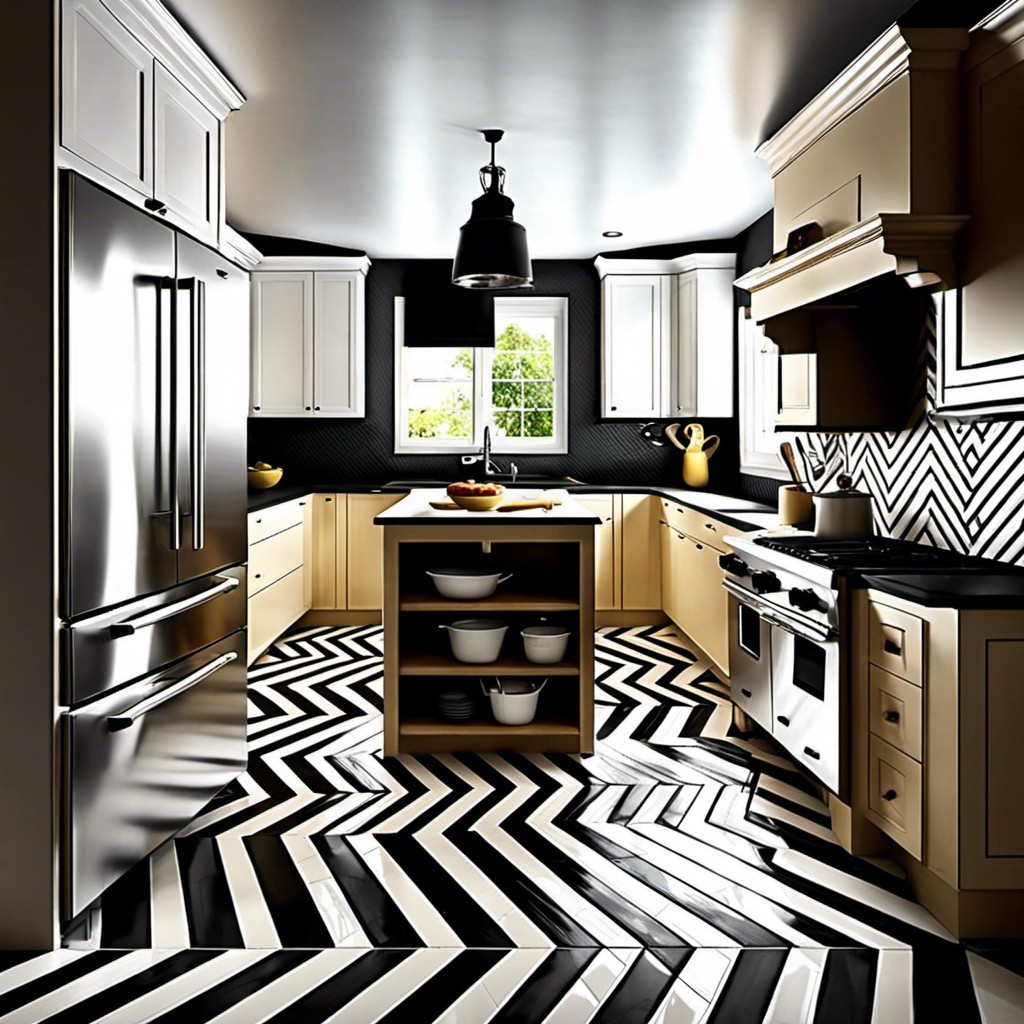 These uniquely patterned tiles can bring energy and movement into your kitchen design. Perfect for those seeking to make a bold style statement, their design captures attention and becomes the primary focal point of the space.
Keep in mind, with such a striking floor, minimalism in countertops, cabinetry and walls will enhance the appeal. These tiles pair beautifully with modern, contemporary, or even vintage-inspired interior decors.
While choosing your tiles, taking due consideration of their durability and maintenance should also be factored into your design decision.
Finally, lighting plays a crucial role in accentuating the zigzag pattern, so a great source of natural light or well-placed artificial lighting would work in favor.
Matte Black Floor With Glossy White Cabinets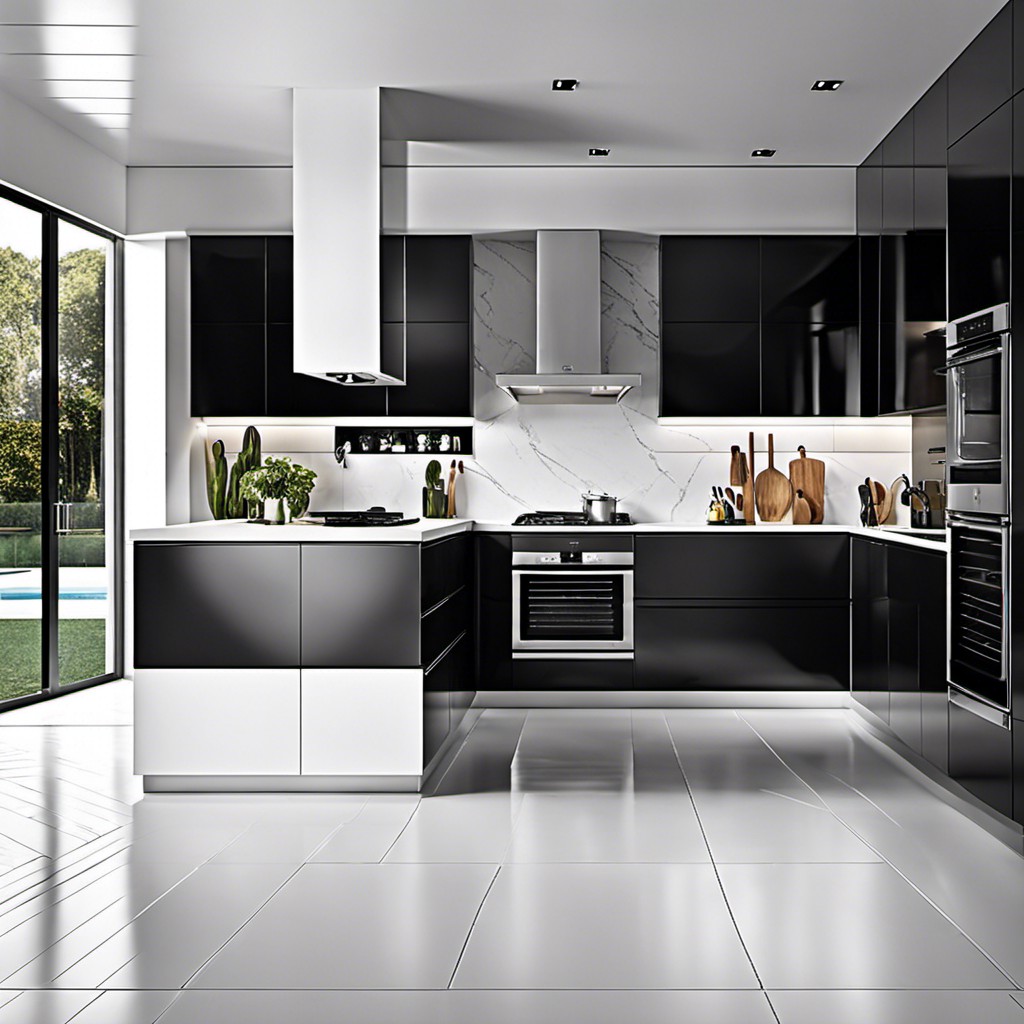 While paying homage to modern aesthetics, this combination brings an elegant contrast that's visually appealing. The matte finish of the floor diffuses the light and reduces glare, creating a softened, contemporary look. Meanwhile, the glossy white cabinets bounce light back into the room, offering a clean, radiant ambiance.
Here are some key factors of this design concept:
1. Visual Contrast: This duo plays well with light, creating an attractive visual dichotomy.
2. Durability: Matte black floors are known for their durability. They cleverly mask scratches or dents that are often more visible on glossy surfaces.
3. Cleanliness: Glossy white cabinets reflect light effectively, giving an airy, hygienic look to your kitchen.
4. Versatility: This combination suits a variety of kitchen styles, from uber-modern to retro-inspired spaces.
5. Elegance: The matte-glossy duo lends a sophisticated flair, creating a kitchen that leaves a lasting impression.
White Terrazzo Floor With Black Specks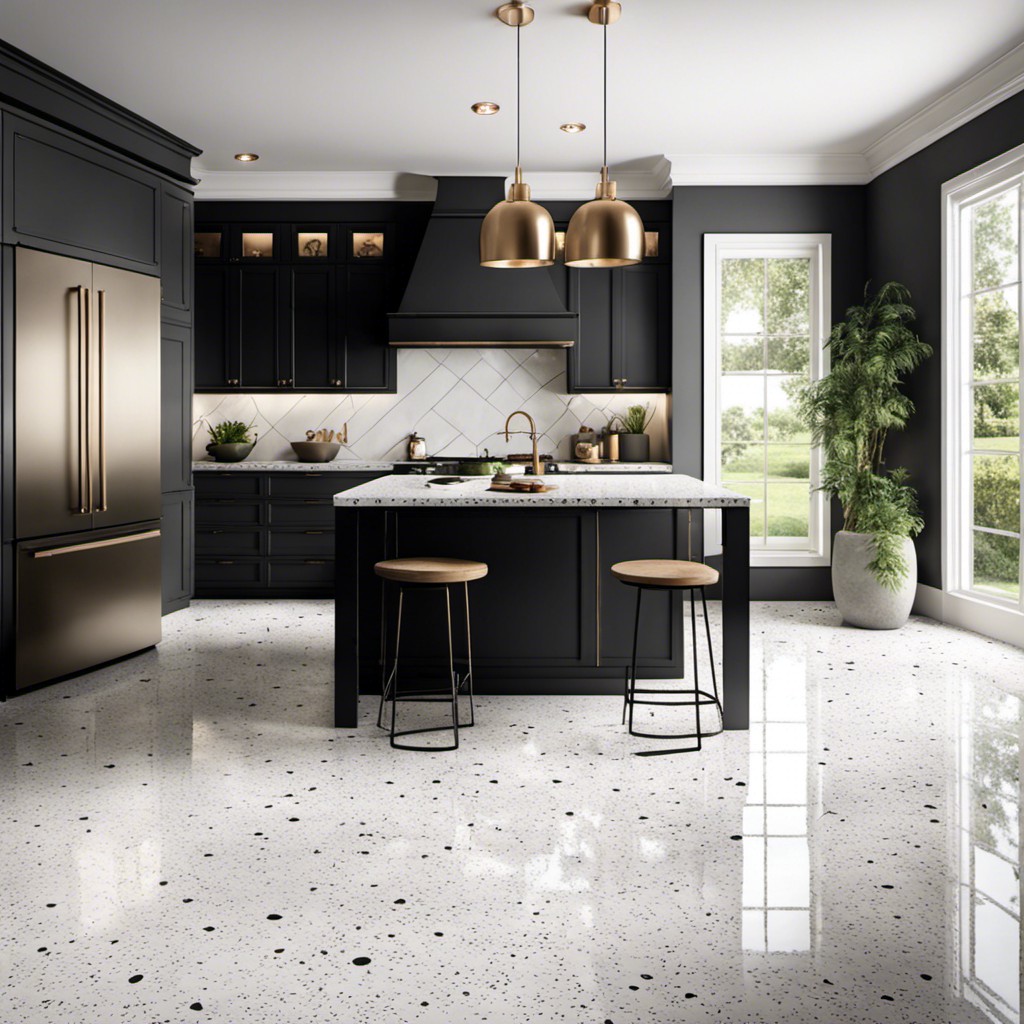 Terrazzo flooring brings a mix of elegance and durability to your kitchen. Formed from marble chips set in concrete, then polished to a high sheen, these white floors with subtle black specks offer a luminous, clean, and bright look.
The contrasting specks serve dual purposes: they add depth to the decor while also hiding dirt and stains. The smooth, glossy surface cleans easily, making it a practical choice for a high-traffic room such as the kitchen.
Despite its sleek appearance, the surface is non-slip — an essential criterion for a bustling kitchen environment. The combination of white and black ensures flexibility in pairing with different kitchen styles and colors: from black cabinetry for a stark contrast to multicolored accents for an eclectic mix.
Opting for a terrazzo floor with black specks guarantees a superb fusion of aesthetics, function, and durability. A buffet for the eyes, this floor type offers an enduring piece of art under your feet!
Herringbone-patterned Black and White Tiles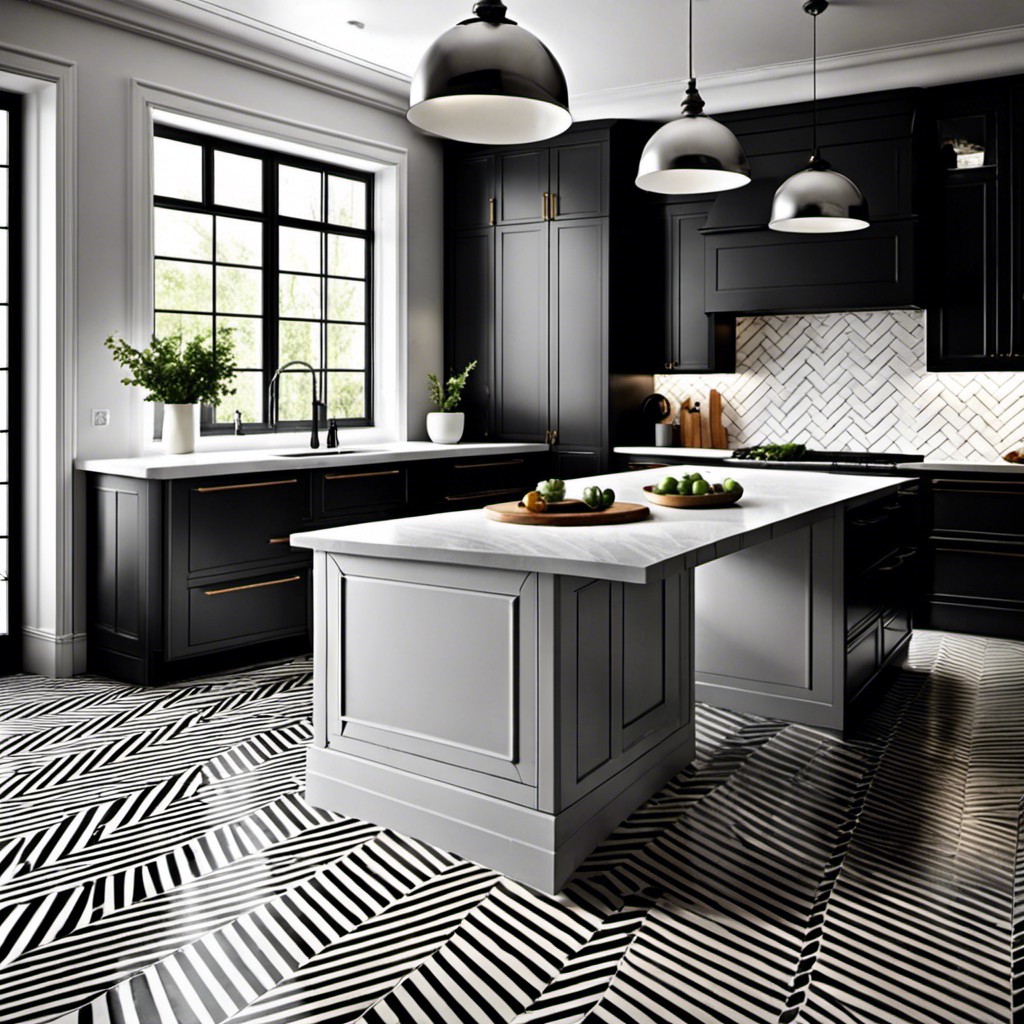 Incorporating a herringbone design can elevate any kitchen's aesthetic with its intriguing visual pattern. It's particularly stunning when displayed in black and white. This zig-zag style enhances the two-tone color scheme while adding a dynamic edge.
Exceptionally versatile, this pattern can easily fit both modern and traditional kitchen decors.
Creating this pattern involves laying rectangular tiles in a staggered arrangement, resembling a twilled fabric. With one white serial tile followed by a black one, or vice versa, the bold contrast is attention-grabbing and often serves as a focal point.
The usage of high-contrast colors in conjunction with the distinctive herringbone layout keeps the space from feeling too mundane, bringing personality and character. Being water, stain, and wear-resistant, these tiles are a practical choice offering durability along with style, a factor that often becomes a deciding point for high-traffic areas like the kitchen.
Remember to consider the herringbone pattern's alignment with walls and cabinets—it could run parallel or perpendicular, each lending a different perception to the room's size. Also, it's worth noting the tile size, as smaller tiles result in a more intricate design, while larger ones evoke more of a dramatic effect.
Black and White Penny Round Tiled Floor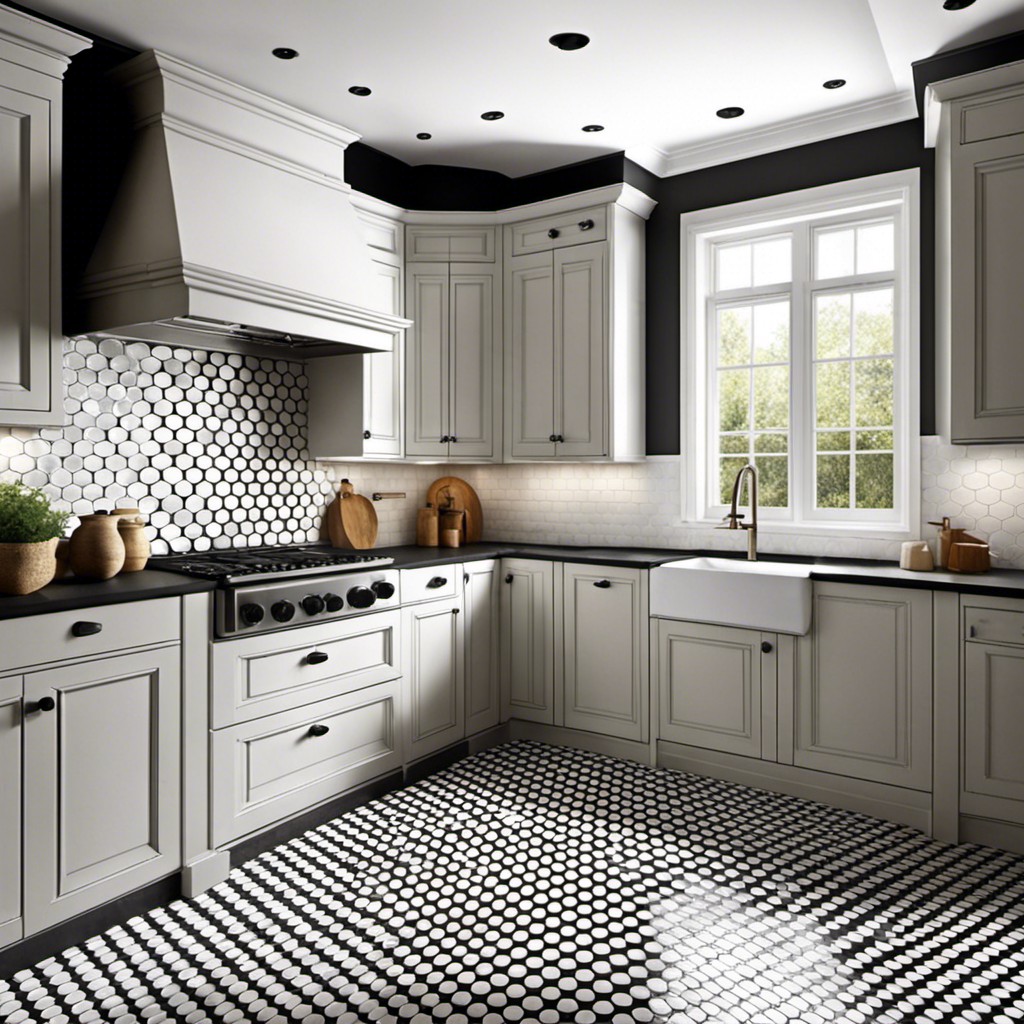 For a distinctive yet timeless look, penny round tiles provide an excellent choice. The black and white color scheme delivers a blend of retro and modern aesthetics. Since these tiles are small, their installation might require some precision. However, the effort will pay off, radiating an elegant charm anywhere they're used.
Using white penny round tiles as the primary base can brighten the kitchen, giving it an airy and spacious feel. Sprinkle in some black tiles in an organized or random pattern to enhance contrast and visual interest. The tiny round shape of these tiles also allows for a tactile element that is not possible with larger tiles. Their surface, although smooth to touch, creates a unique texture that feels delightful under bare feet.
For maintenance, these tiles have it easy. Regular sweeping and mopping will keep them looking as good as new. In the event of a spill, their glossy finish repels stains, making clean-up a breeze. Their long lifespan is an added bonus, withstanding heavy foot traffic while maintaining beauty and functionality.
Distressed Black Wood Flooring With White Countertops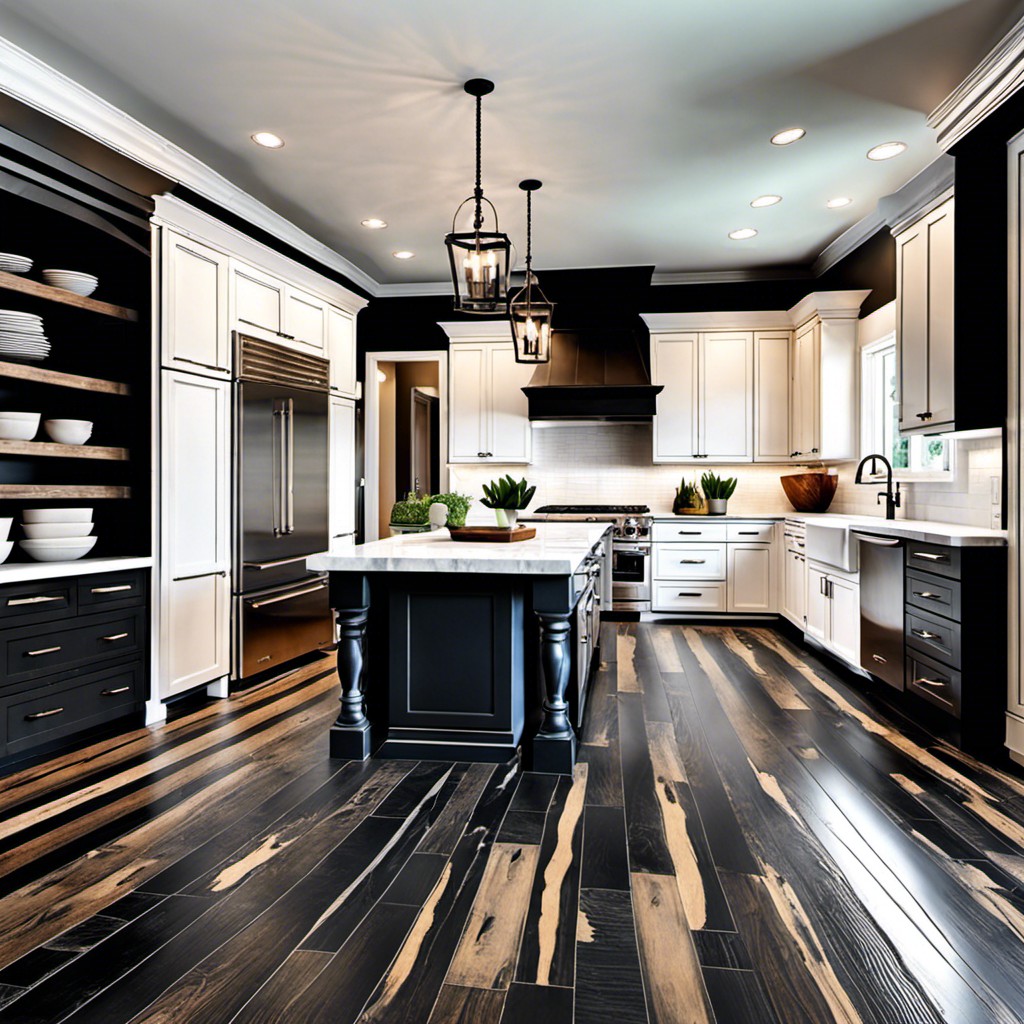 This floor style boasts rustic charm that melds beautifully with the pristine nature of white countertops. Its unique appeal comes from the aged appearance that gives your kitchen a warm, vintage feel.
1. Distressed Finish: The black wood is carefully treated to look worn and vintage. This characterful appearance adds depth and richness to the floors.
2. White Countertops: These act as a fresh, bright contrast to the darker floor. The clean look can balance and soften the rustic feel of the black wood.
3. Harmony: The combination creates a striking balance of light and dark, old and new. It brings a timelessness that is both chic and inviting.
4. Versatility: This style can seamlessly integrate with a variety of décor themes, from farmhouse to contemporary. Different countertop materials like quartz, marble, or solid surface can be employed to match your preferences.
5. Easy Maintenance: Black wood hides dirt or stains well, while the white countertops are easy to clean and maintain.
Black Quartz Flooring With Sparkling White Cabinetry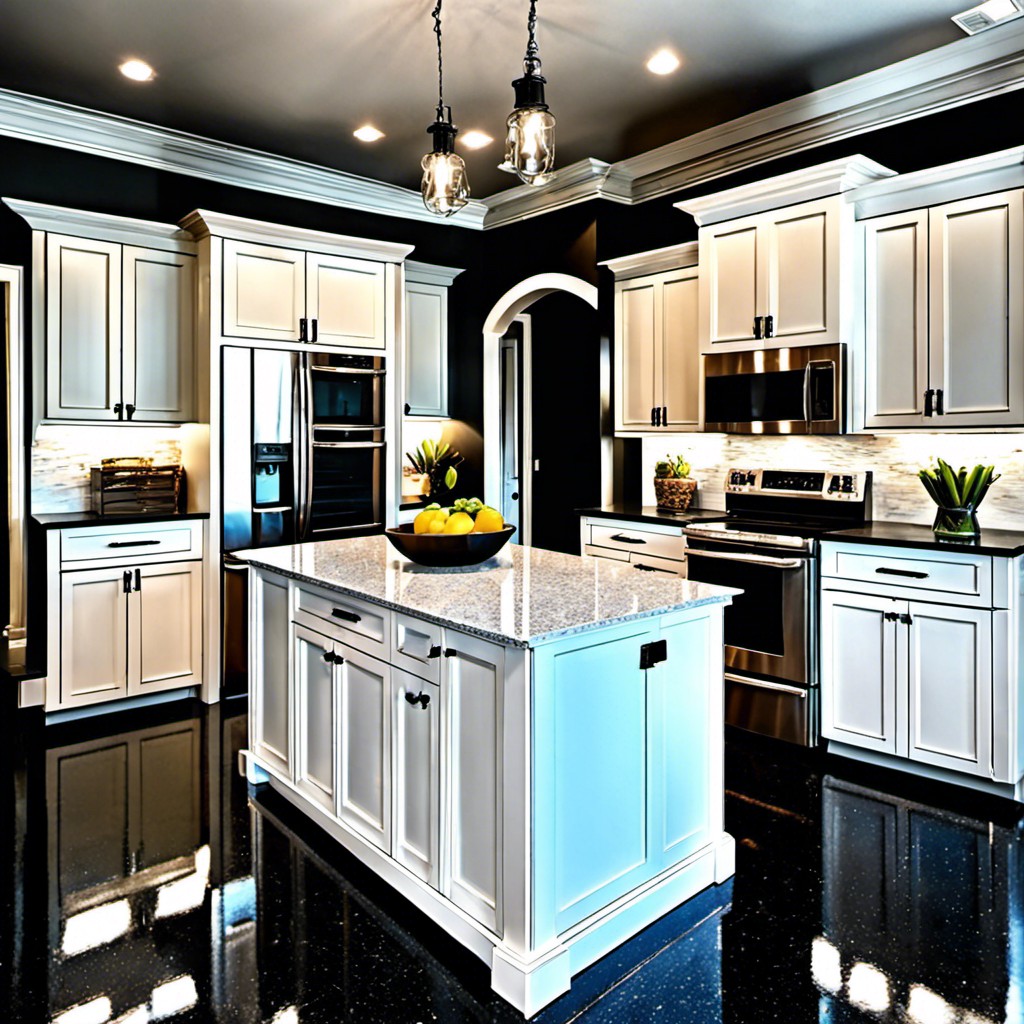 Black quartz is admired for its lustrous shine and durability, making it a standout choice for floors. Pairing it with sparkling white cabinetry creates an exquisite contrast, instilling a touch of luxury and sophistication to your kitchen setting.
It's crucial to consider several key factors when opting for this design:
Quartz is a non-porous material, featuring an ability to resist staining. This makes it ideal for heavy traffic areas like kitchens.
The reflective surface of black quartz can brighten up the kitchen area by bouncing off natural light.
Suitable for all kitchen styles, quartz flooring offers countless design possibilities.
White cabinetry not only illuminates the area but also provides a clean, fresh feel. It enhances the elegant vibe imparted by the dark quartz.
Both black quartz and white cabinets are timeless, providing longevity in your kitchen decor.
Maintaining this design combo is relatively straightforward. An occasional wipe with a damp cloth is often all the care your quartz floor will need, and the white cabinetry can be easily cleaned with warm soapy water.
Remember, while beauty and aesthetics are important, your kitchen floor and cabinets should also be practical, durable, and easy to maintain.
Faux White Tile Floor With Black Stenciled Motifs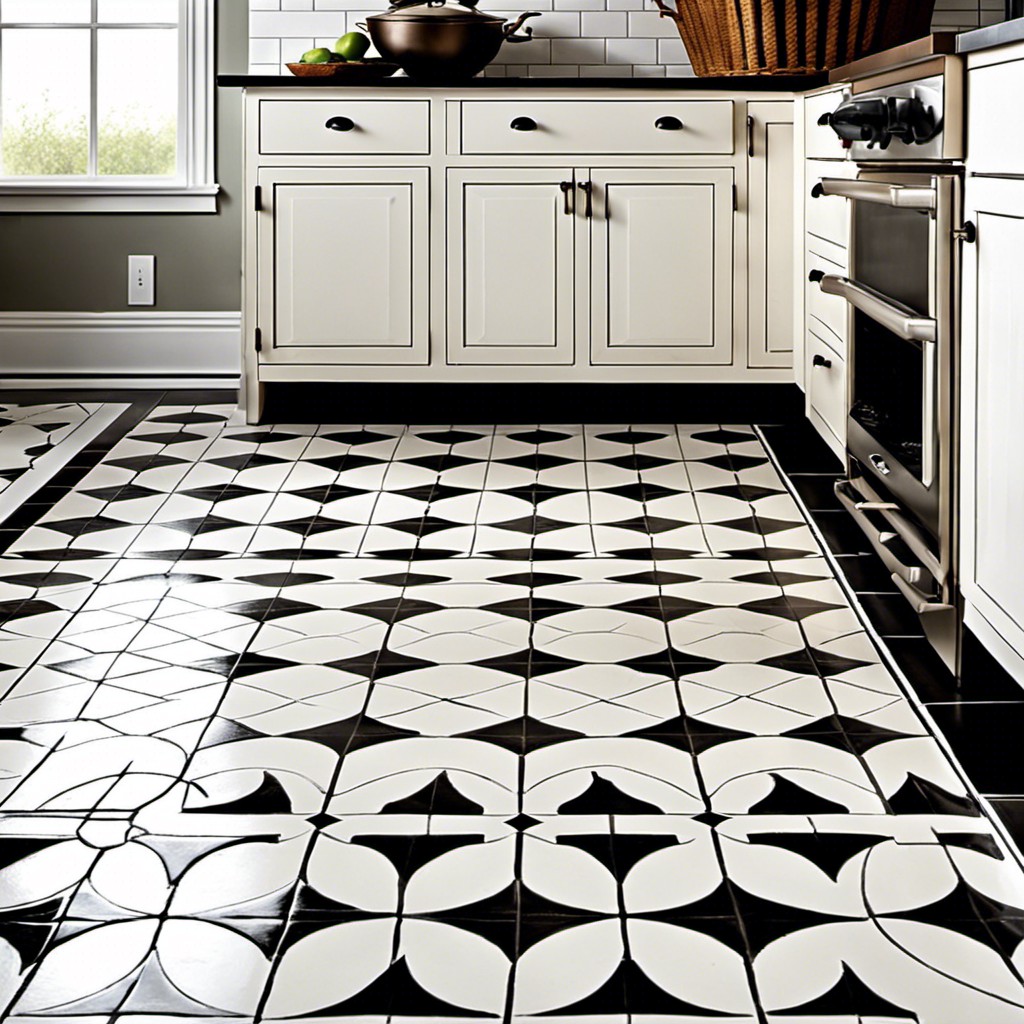 Harnessing the simplicity of white tiles, this choice offers a blank canvas for creativity. The black stenciled motifs are an opportunity to impart a personal touch, offering both sophistication and intrigue.
1. Versatility: This style allows for a versatile range of designs, from intricate floral patterns to modern geometric shapes.
2. Customizability: Depending on personal preference, the motifs can be densely spaced for a dramatic effect, or sparsely placed for a more subtle aesthetic.
3. Durability: Despite the refined look, this is a sturdy flooring option. The tiles are faux, meaning they can withstand high traffic without showing signs of wear.
4. Maintenance: These floors are easy to clean and maintain. The white base does not show grime easily, and the black motifs can hide minor dents and scuffs.
5. Affordability: This style offers the luxurious look of expensive tile work at a more budget-friendly price point. The stencils can also be updated over time, changing the look without a complete floor renovation.
Continue reading: