Last updated on November 24, 2023
Revamp your cooking space because these black kitchen island ideas will create a dramatic and elegant focal point in your home.
I am thrilled to share this article and the unique kitchen island designs I've created, hoping you'll find them as inspiring and fun as I did crafting them.
Black kitchen islands are a stylish and modern addition to any home, offering a bold statement piece that also serves a functional purpose.
From sleek and minimalist to rustic and traditional, black kitchen islands come in a variety of designs to suit every taste.
They provide a focal point in the kitchen, creating contrast and depth while also offering additional workspace and storage.
This article delves into various black kitchen island ideas, exploring different styles, materials, and layouts to inspire your next kitchen upgrade.
Whether you're looking for a simple standalone island or a grand centerpiece with built-in appliances, this comprehensive guide has got you covered.
What's Inside
Matte Black Island With Wooden Countertop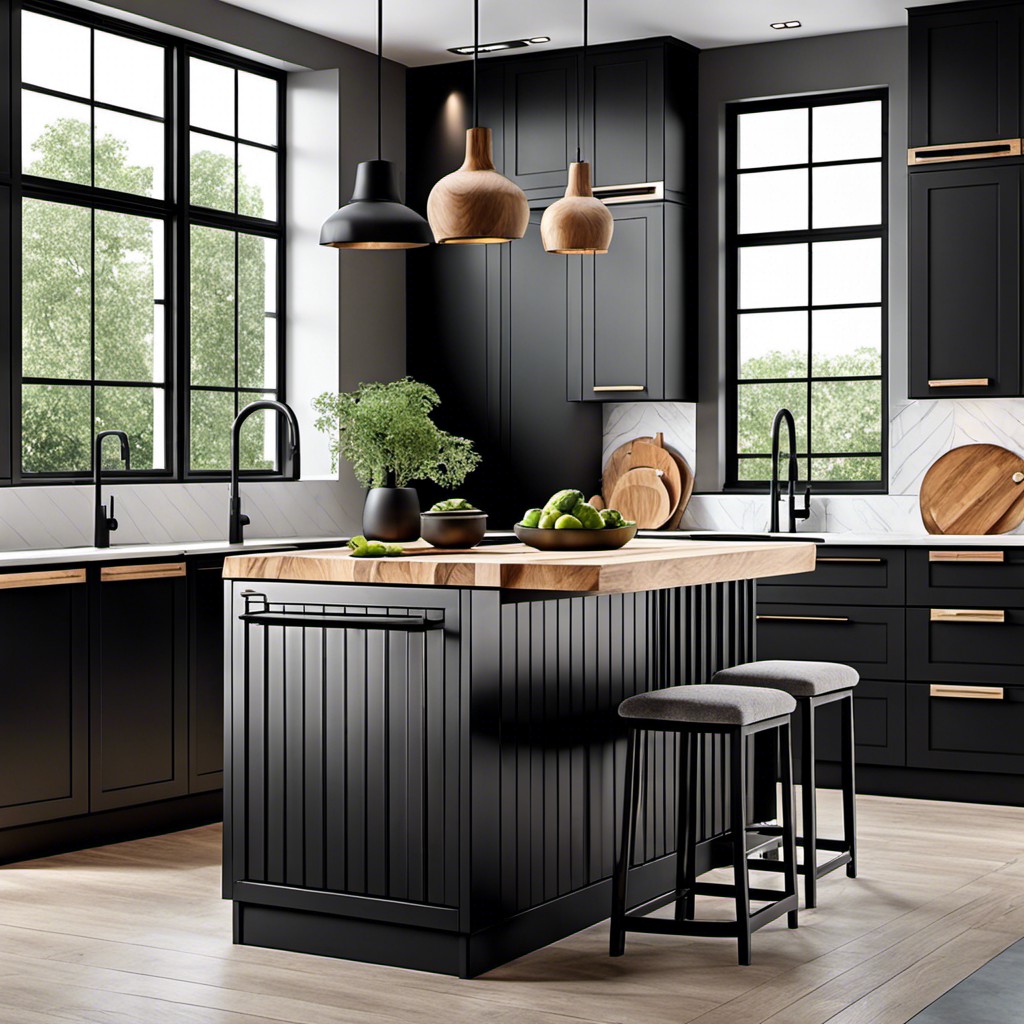 Combining the sleekness of matte black with the warmth of a wooden countertop creates an attractive contrast. The matte finish hides minute scratches, fingerprints, and smudges, ensuring your kitchen island maintains a neat and elegant appearance.
First, selecting a dense, hardwood like cherry or oak for the countertop will ensure durability and ease of maintenance. Moreover, these woods provide a vibrant contrast against the matte black, enhancing your kitchen's aesthetic.
Next, consider adding bar stools that feature wooden elements. This helps to tie the look together, creating a seamless blend of the kitchen island and seating area.
Finally, introduce copper or brass fixtures such as a sink faucet or cabinet handles. These metallic accents can add a touch of luxury and further complement the warmth of the wood.
Black Island With Built-in Wine Rack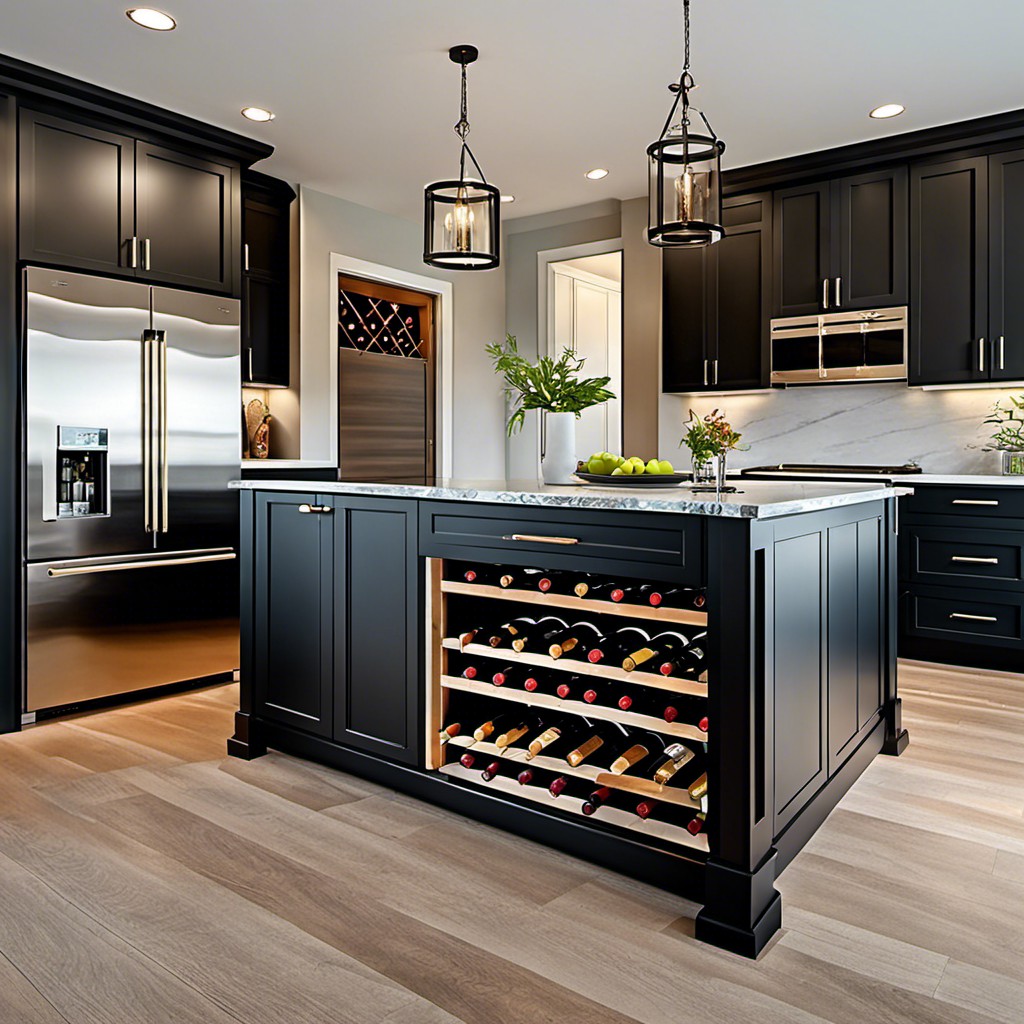 The addition of a built-in wine rack to a black kitchen island is a perfect blend of practicality and sophistication. Not only does it provide an organized space for wine storage, but it also adds an instant aesthetic appeal, giving your kitchen a refined feel.
Moreover, having a wine rack within arm's reach allows for easy access during dinner parties or gatherings.
A few things to keep in mind include the optimal size and proper placement. If you're an avid wine collector or host frequently, consider a larger rack. For a clean look, mount it on the side or integrate it into the cabinetry. For minimalists, a smaller, under-counter rack might be the perfect choice.
Remember, complement the overall design of the kitchen. A metal rack can add a modern contrast to the dark hues, while a wooden rack can enhance a rustic or traditional kitchen design.
Lastly, ensure the bottles are stored horizontally to keep the corks moist and the wine fresh. The black island's cooler temperature is great for wine storage, as it helps to maintain the optimal taste of your favorite vintages.
Island With Black Antimicrobial Granite Countertop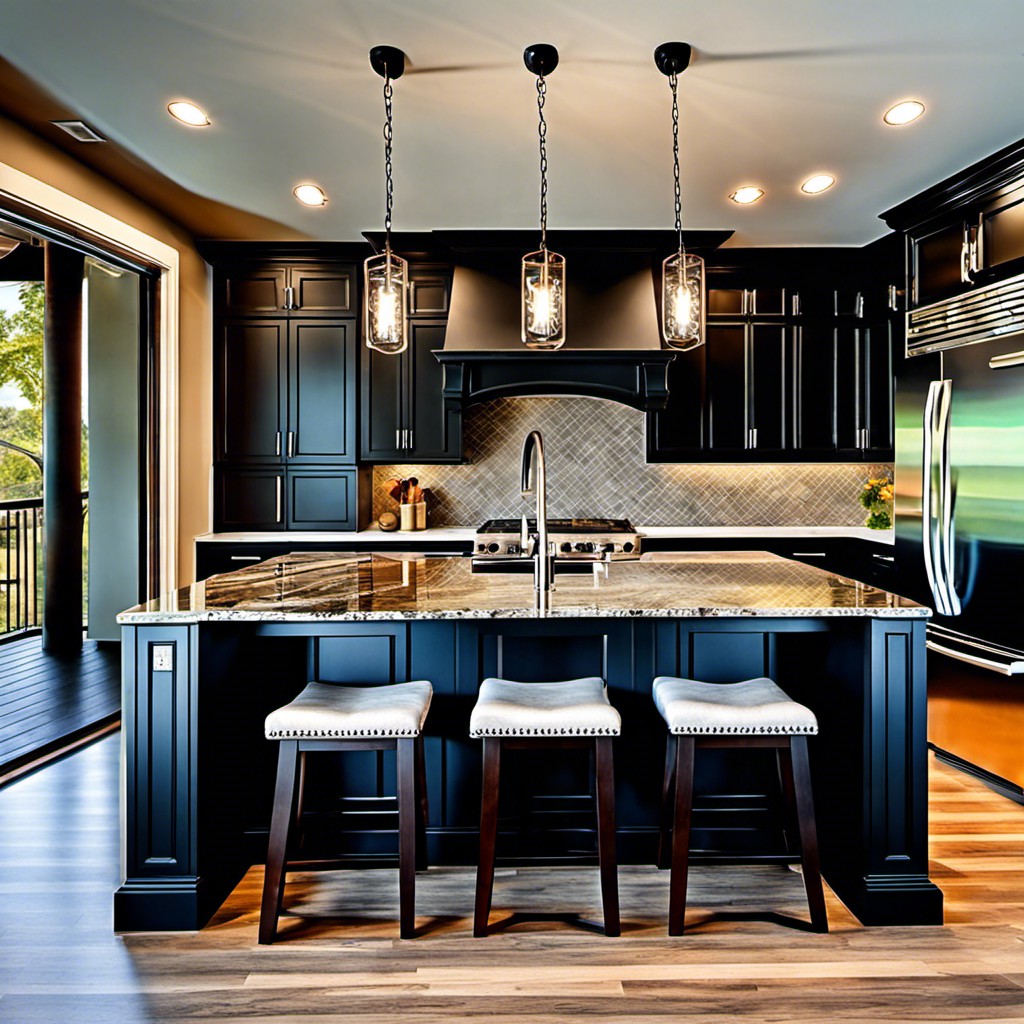 Granite countertops are prized for their durability and aesthetic appeal. When black antimicrobial granite is chosen for a kitchen island, it not only enhances the visual interest of the space but also offers substantial health benefits. This unique type of stone has been treated to impede bacterial growth, making it an excellent choice for cooking and food preparation areas.
Consider the following pointers when selecting this kind of countertop for your island:
Compatibility: Ensure that the black hue of the granite matches with your kitchen's color scheme. It usually pairs well with white or light-colored cabinets for a striking contrast.
Maintenance: While antimicrobial granite is resistant to bacteria, it still requires proper care. Regularly clean it with a mild soap and lukewarm water to maintain its shine and effectiveness.
Lighting: As black countertops absorb light, balance it with appropriate lighting. Recessed lights or pendant lights over the island can offset the darkness.
Complementing elements: To enhance the countertop, opt for stainless steel appliances or silver hardware. These elements will beautifully compliment the dark surface while adding a modern touch.
Remember to consult with a professional fabricator to properly install your black antimicrobial granite countertop, ensuring the perfect fit for your kitchen island.
Glossy Black Island With Chrome Fixtures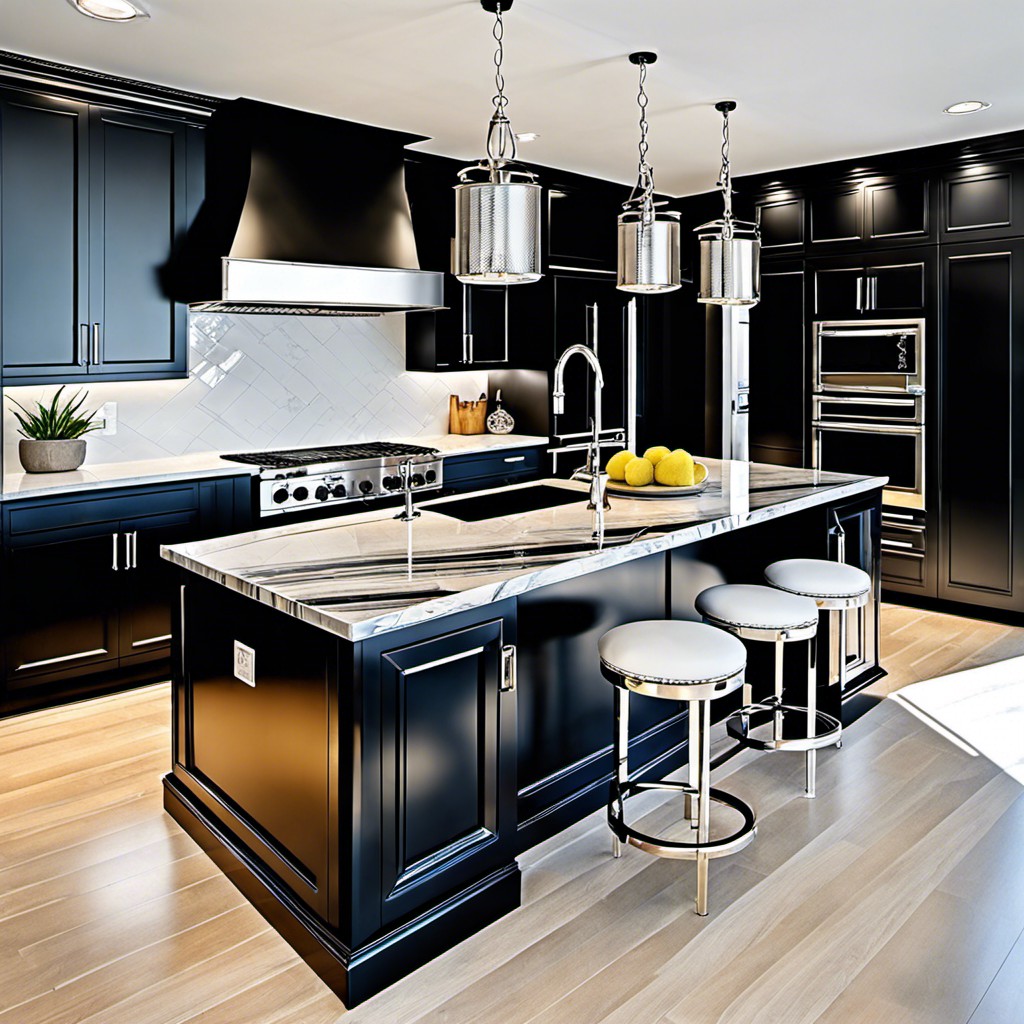 This style exudes elegance and sophistication; the high-gloss finish creates a polished, sleek look that reflects light, making the kitchen appear larger and brighter. Using chrome fixtures adds a contemporary, industrial feel. It's important to maintain balance so the finish and fixtures aren't overwhelming — one way to do this is by incorporating neutral elements such as gray or white walls and natural materials like wood or stone for flooring.
A few key points about this style:
1. Glossiness Scale: The lacquer's glossiness can be customized, from high-gloss to semi-gloss, based on personal preferences and practicality.
2. Fixture Selection: Use chrome bar stools, cabinet handles, faucets, or pendant lights to carry this style throughout the kitchen.
3. Maintenance: This type of finish requires regular cleaning to keep its shine, as it can show fingerprints easily.
4. Balance: Complement the gloss and chrome elements with softer, matte finishes to prevent a cold, overly shiny feel.
Black Distressed-finish Kitchen Island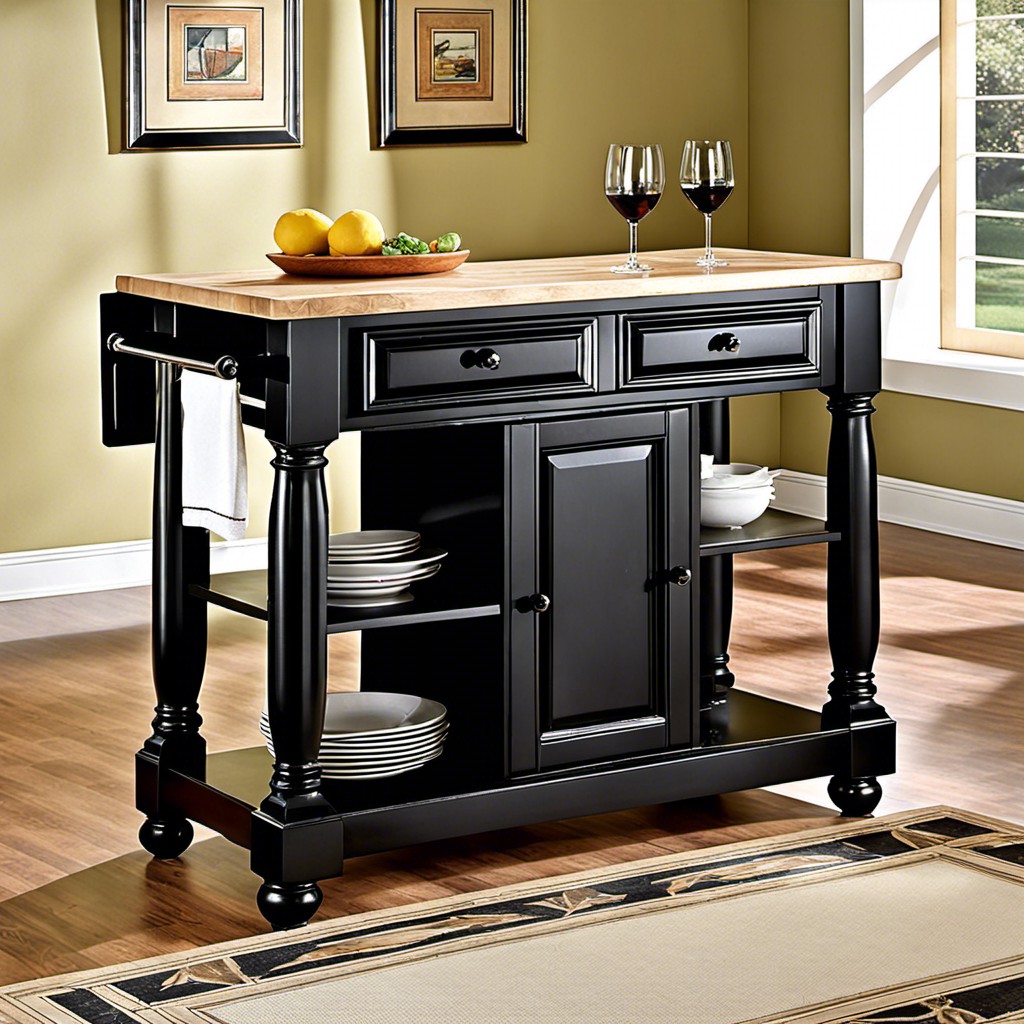 Darkest hues paired with a worn-out finish result in a unique rustic charm. Embracing imperfections, distressed-finish bridges the old and new, making your kitchen island the perfect blend of timeless and trendy.
Key points that make it stand out:
1. The worn-out look contributes to an intriguing visual detailing, carving an authentic personality.
2. Contrasting bright kitchenware or vibrant flowers can add a beautiful pop to this subdued backdrop.
3. The distressed finish is forgiving. Everyday wear and tear is less noticeable.
4. Complement with distressed bar stools for a coordinated look.
5. Balance it with modern appliances or sleek countertops for an interesting juxtaposition of styles.
The distressed black kitchen island adapts well to changes and can carry the weight of your evolving kitchen style effortlessly.
Black Island With an Extended Bar Counter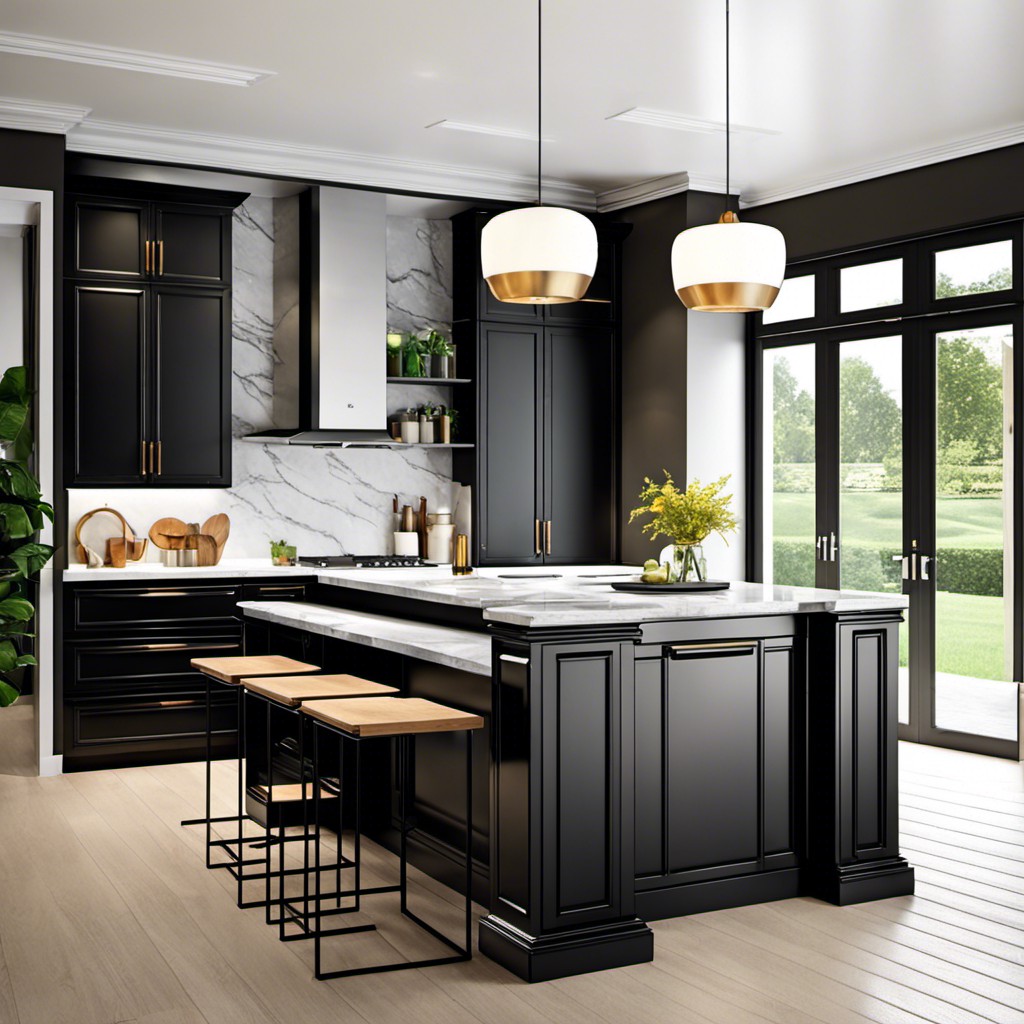 Perfect for individuals who love to entertain, this design combines function and style seamlessly. The extended counter provides ample space for meal prep and can easily morph into additional dining or entertaining space when required.
It embodies a sense of spaciousness and ease, given its convenient overhang where stools can be tucked away when not in use. Opting for a contrasting countertop can visually distinguish the bar area from the rest of the workspace.
Furthermore, open shelving or cabinets below the extended counter can offer extra storage for your barware and accessories. This style is ideal for open-plan homes where the kitchen often doubles as a social hub.
Black Lacquer Finish Island With Brass Accents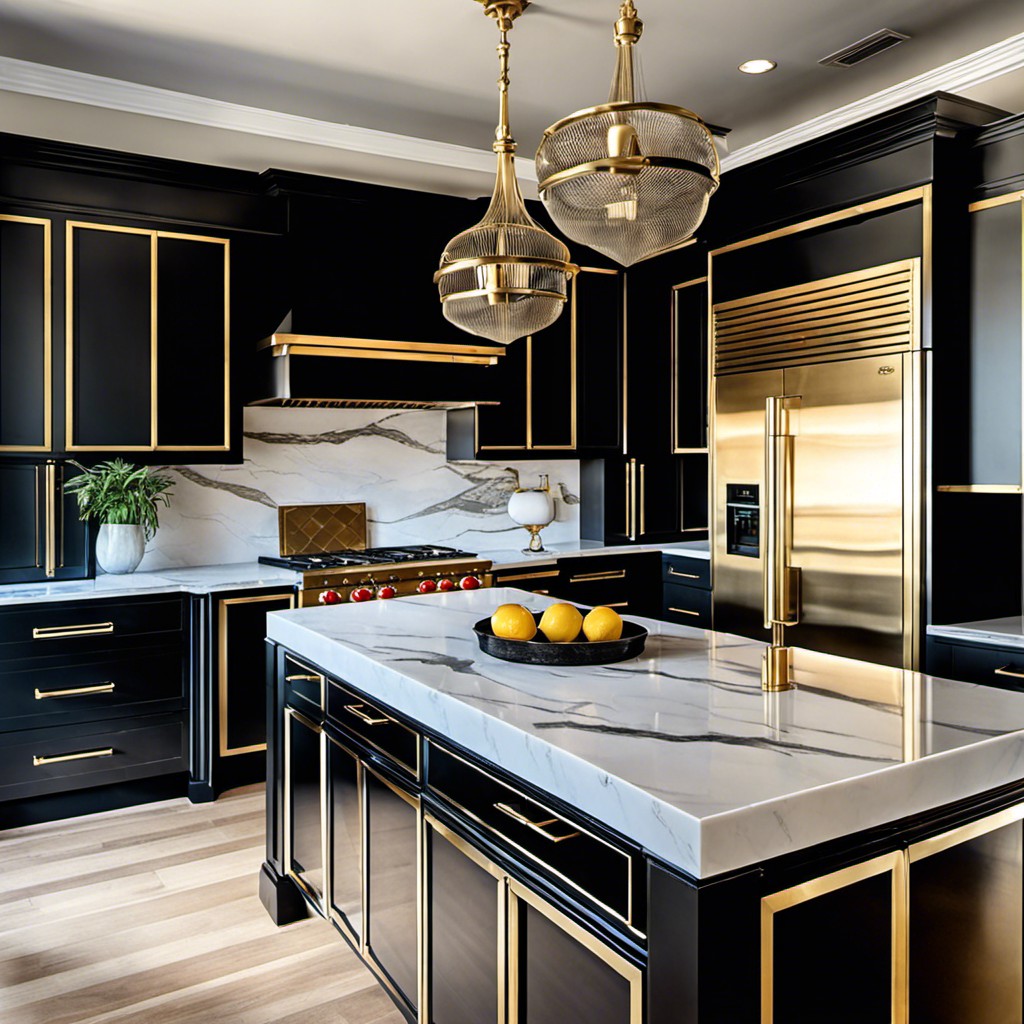 Incorporating brass accents is a chic and timeless way to off-set the sleekness of the black lacquer. The brass hardware – knobs, handles, or taps – serves as the perfect warm contrast to the glossy, deep black finish. It provides a hint of vintage allure while maintaining a modern edge.
This style is incredibly versatile. For a more traditional look, go for ornate, antique brass fixtures. To keep things contemporary, opt for streamlined, minimalistic elements. Pair with similarly-toned accents around the kitchen, like light fixtures or bar stools, to tie the space together.
Equally important is maintenance. Though the lacquer finish is durable, it is prone to fingerprints and smudges. Regular cleaning with a soft cloth and mild cleaner will keep the island looking its best. The stunning brilliance of brass may fade over time due to oxidation. However, occasional polishing will help sustain its gleaming appeal.
Island With Contrasting Black Base and White Top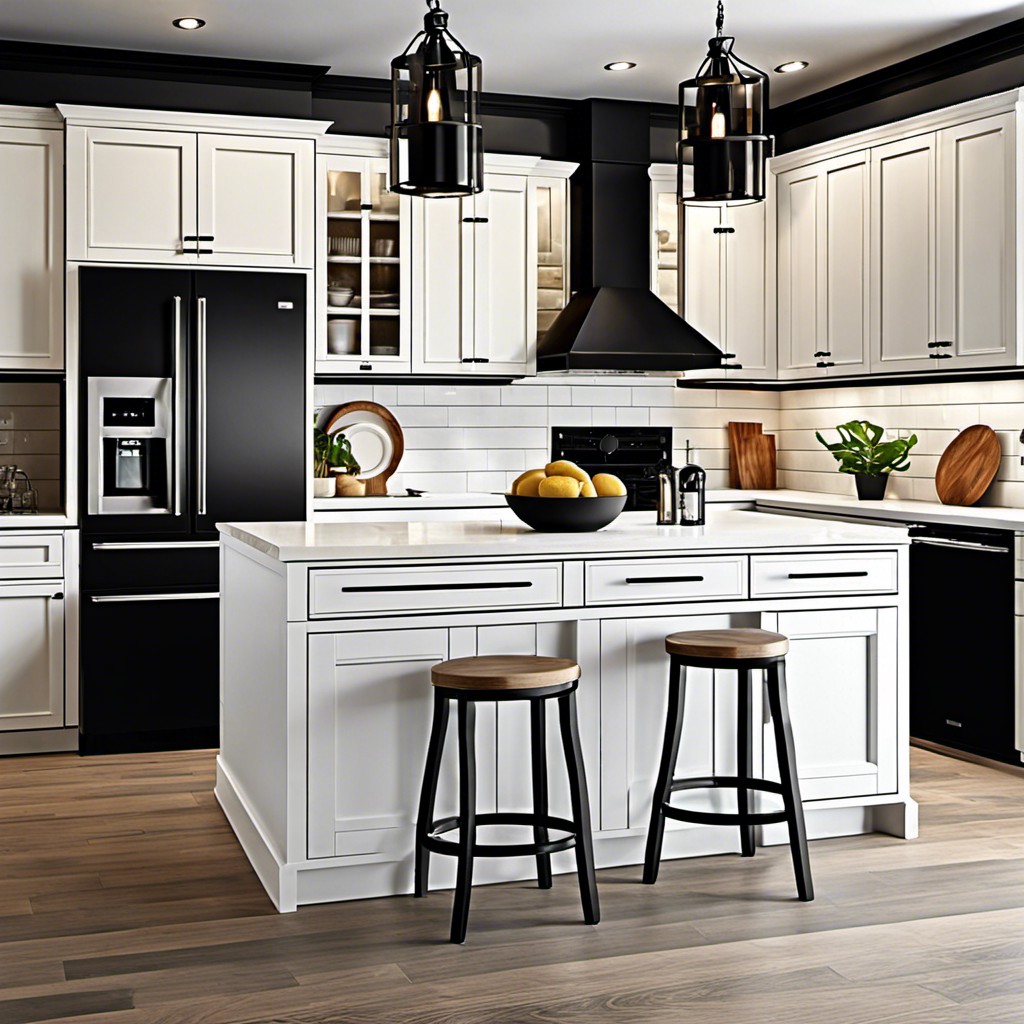 Creating a contrast between the base and top of the island has several aesthetic benefits. It strikes the perfect balance to create harmony in your kitchen. The dark base can absorb the traces of day-to-day use, while the bright top reflects light and makes the surface appear more spacious, especially beneficial for smaller kitchens.
White countertops typically include materials such as quartz, marble, or even concrete coated with white resin. Quartz can resist stains, scratches, and chip better than marble but lacks the unique veins and patterns each marble piece provides. White concrete, on the other hand, offers a more rustic appeal.
All these white materials contrast well with their dark base, helping you to make a stunning color statement in your kitchen. Inserts of chrome or brass on the black base can further tie into kitchen appliances or hardware.
Black Island With Under-counter Storage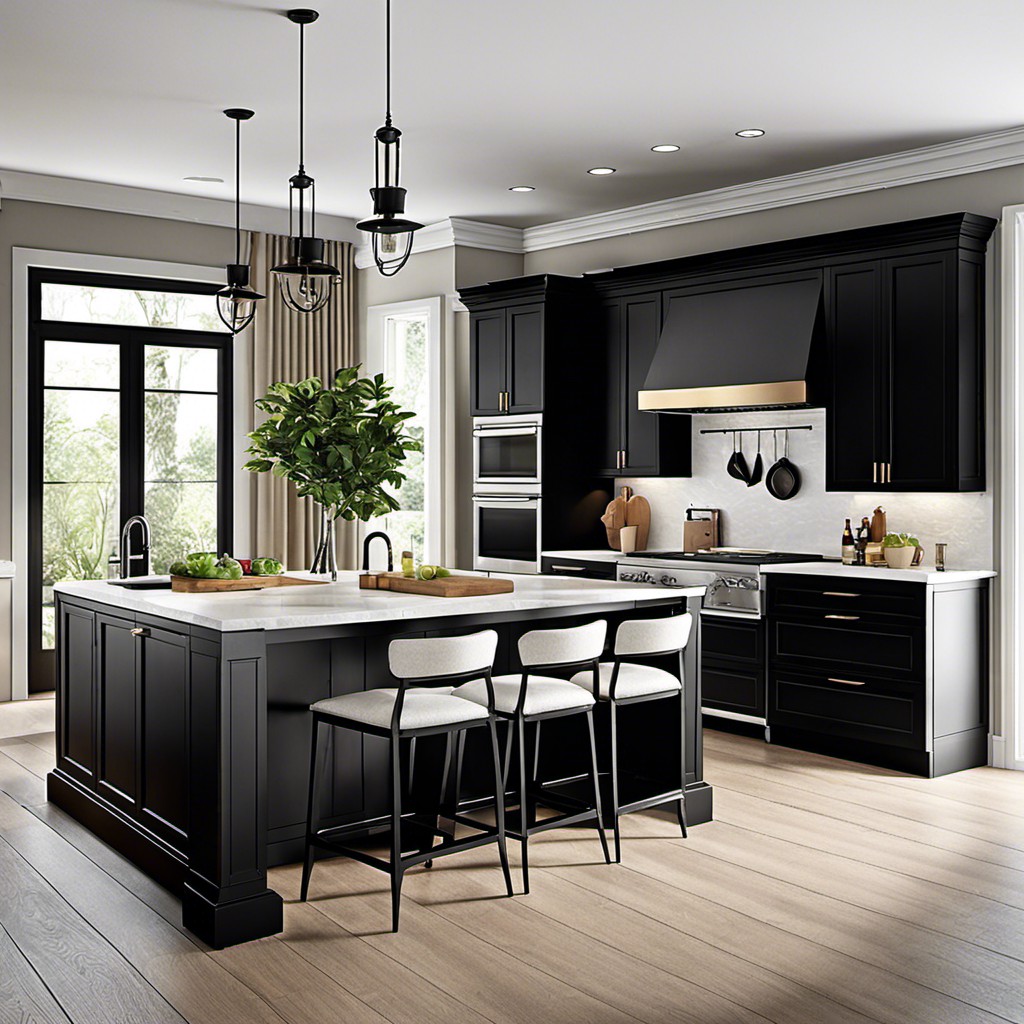 Choosing this style maximizes the use of space while maintaining a sleek look. The under-counter storage enables intimacy with the essentials – pots, pans, utensil, or even your favorite recipe books are stowed away, yet within reach. This concept promotes organization and cleanliness around the kitchen.
A range of drawer and cabinet options are available. Large, deep drawers are excellent for storing larger items like pots and pans, while smaller drawers are suitable for utensils and cutlery. You may opt for cabinets with or without doors, depending on personal preference.
To lighten the overall look, consider using wire baskets or transparent storage containers. These help to visually break up the black exterior while aiding in quick identification of stored items.
The material used for the storage areas is important. Wood seems more natural and warm, while metal, particularly stainless steel, delivers a more modern and industrial vibe. Finally, consider the handles for the drawers and cabinets. They should not only make access easy but also complement the overall style of the island.
Black and Stainless Steel Combination Island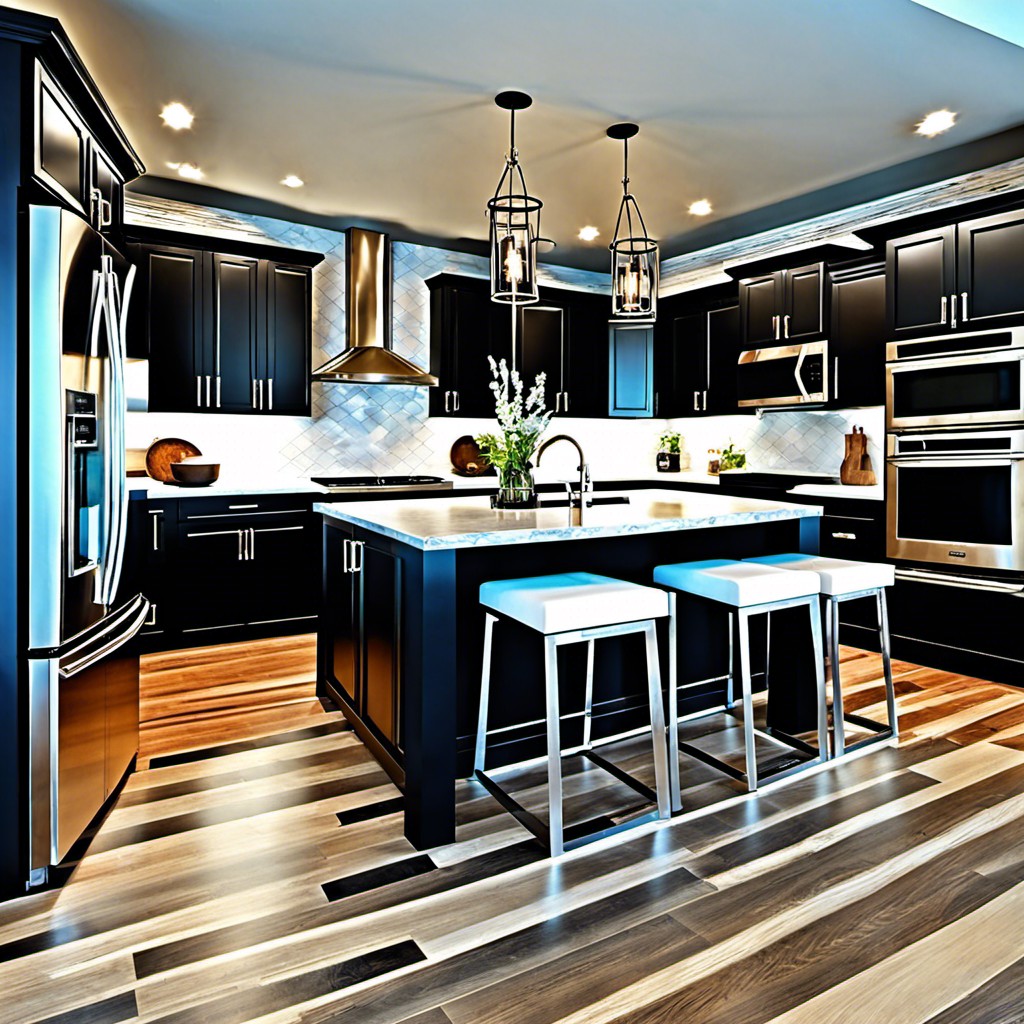 Meshing the intense depth of black with the lustrous polish of stainless steel creates a standout feature in any kitchen. While the black component conveys sophistication and elegance, the stainless steel imbues a sense of modernism and cleanliness.
1. Blend of Elegance and Functionality: The island's stainless steel countertop is not only sleek and modern but also extremely practical. It's robust, doesn't absorb odors or stains and is easy to clean.
2. High Contrast: The black base against the shiny stainless steel countertop offers a visual contrast, creating an eye-catching piece in your kitchen. This combo amplifies both elements' appeal, making the island more dramatic and appealing.
3. Flexibility: This blend of materials complements a variety of kitchen decor styles, from ultra-modern to industrial setups. It seamlessly fits into any color palette, adding depth and interest.
4. Versatility: The stainless steel countertop can double as a prep space for cooking or baking, while the black cabinets underneath provide ample storage.
Remember, opting for a black and stainless steel combination island offers more than just aesthetics. It's a harmony of elegance, practicality, and versatility rendered in timeless design.
Black Kitchen Island With Prep Sink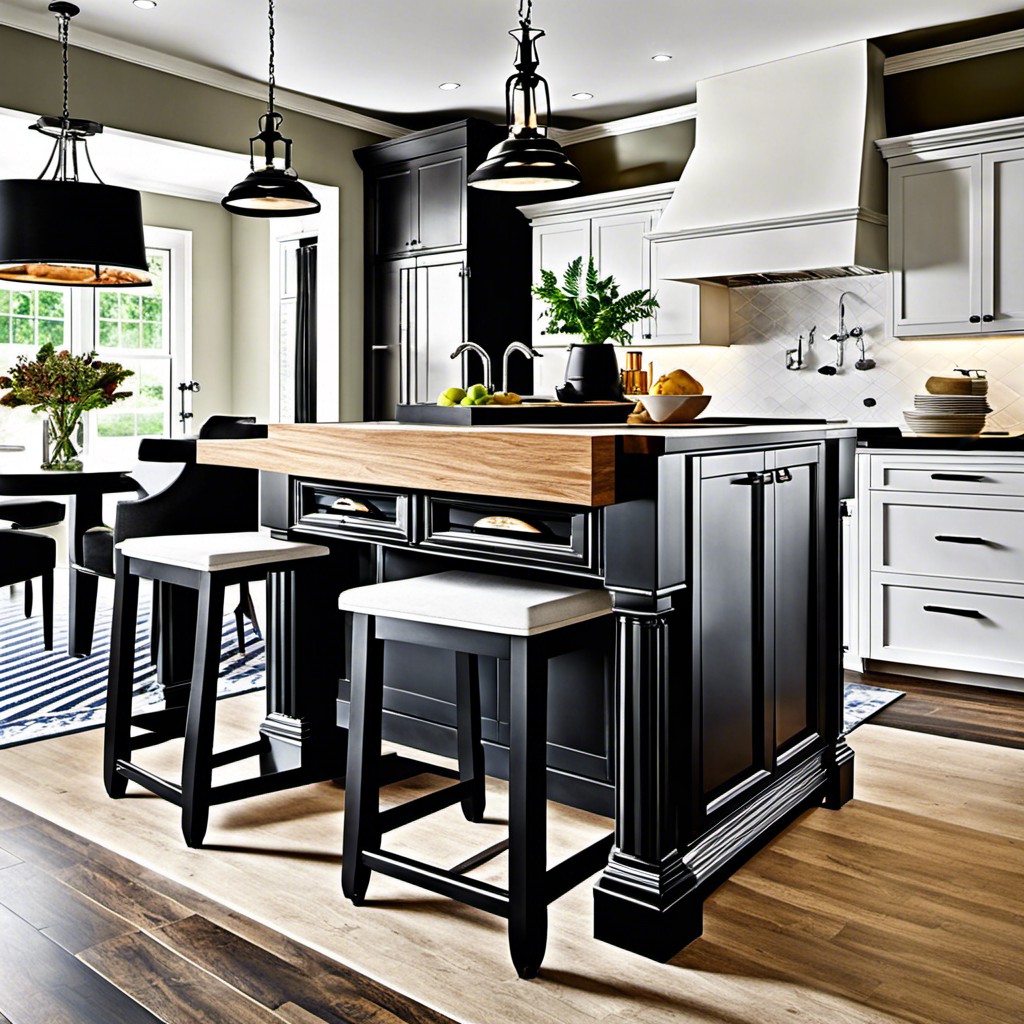 A prep sink offers a secondary station for washing hands, rinsing vegetables, or filling pots, making it a valuable addition to any kitchen island. More than just practical, when integrated into a stunning black kitchen island, its visual appeal is second to none.
Here are a few key points to consider:
Size and placement: Opt for a small to medium-sized prep sink. It doesn't require much space and is typically positioned in one corner of the island.
Matching black sink: Choosing a sink of the same color as the island can provide a seamless aesthetic. Materials like black granite or composite are popular choices.
Addition of accessories: Sink accessories like cutting boards or colanders add utility and can be customized to fit the prep sink.
Faucet type: Prep sinks usually come with a smaller, proportionate faucet. It can swing around to make room when you need more space.
Pair with storage: Incorporating storage around the prep sink area can be practical. It can house frequently used utensils, kitchen towels, or cleaning supplies.
Carefully planned, a prep sink in a black kitchen island can enhance the island's functionality without disrupting its elegant aesthetic.
Island With Black Cabinets and Glass Top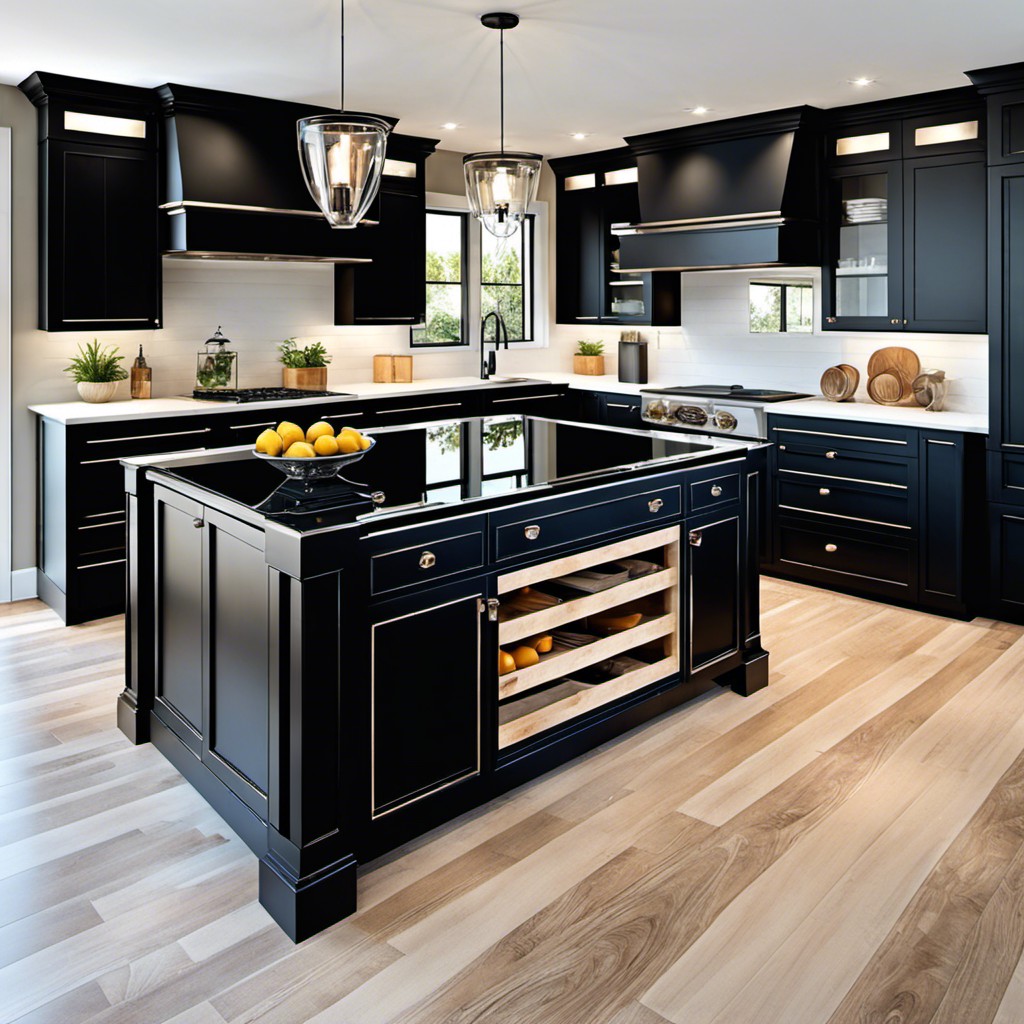 This style marries functionality and beauty, providing ample storage while offering a gleaming surface. The black cabinets underneath add depth and sophistication, making the kitchen look streamlined and modern. The glass top, on the other hand, adds a luxurious, high-end feel.
1. Storage: Black cabinets have enough space to neatly stash away different items, from pans to small appliances, out of sight.
2. Sophisticated look: The deep, dark tone of the cabinets offers an elegant, sleek appearance that's perfect for any contemporary kitchen.
3. Easy maintenance: Thanks to the glass top's smooth surface, cleaning becomes effortless – thanks to its stain-resistant properties.
4. Display: The glass top allows one to flaunt their beautifully plated dishes or vibrant fruit bowl clearly.
5. Durability: Both components are known for their durability. Toughened glass tops resist scratches and heat, while black cabinets don't show stains or dents easily.
6. Versatility: This combo, although modern, fits well into almost any existing kitchen decor, from minimalist to rustic. Its neutrality allows for easy pairing with different color palettes.
This configuration provides more than just a stylish focal point in the kitchen; it's a sturdy, functional centerpiece built for daily use.
Oversized Black Island With Integrated Seating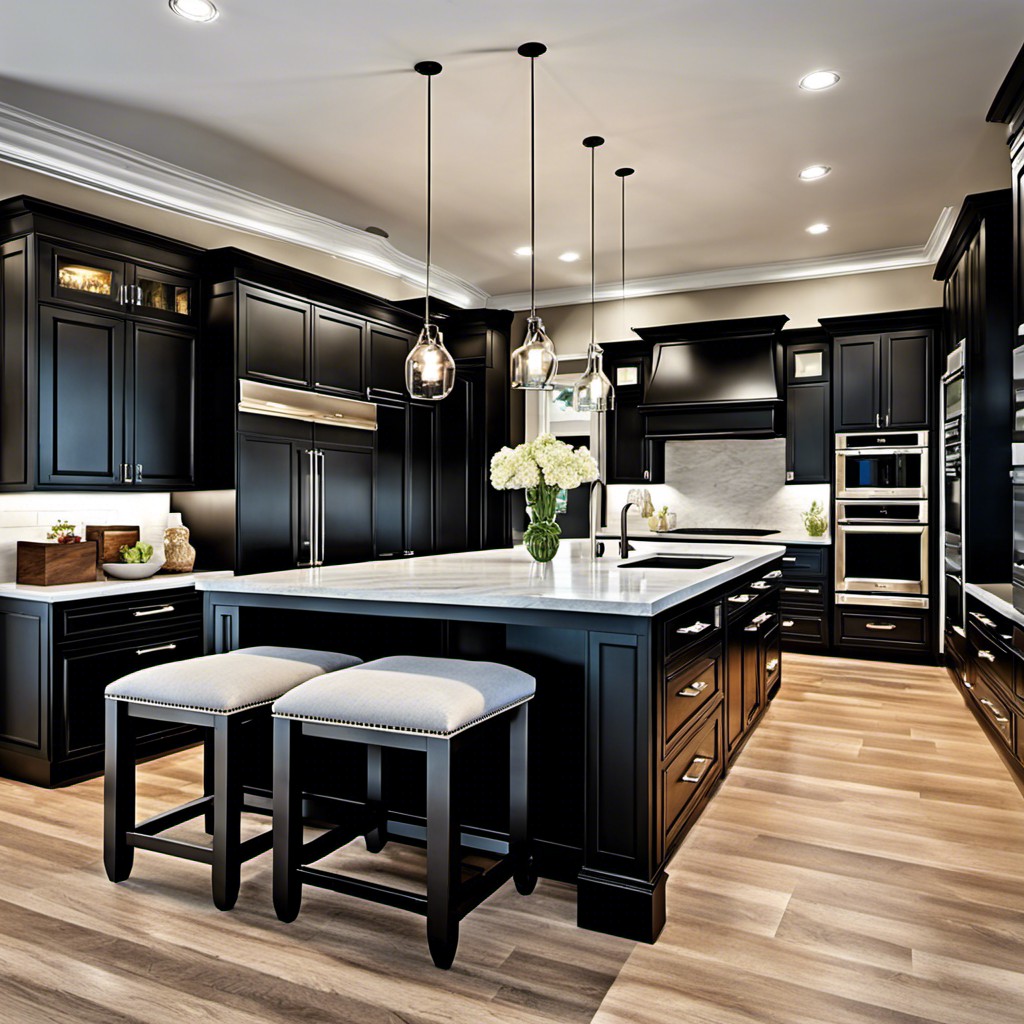 As the heart of many homes, the kitchen island serves multiple functions. The oversized design provides ample workspace for preparing meals, while the integrated seating offers a cozy spot for family members to gather round.
Capitalizing on its size, the ebony hued fixture can comfortably accommodate bar stools or high chairs, transforming it into an informal dining spot, a breakfast nook, or a communal point for socializing while cooking. The black finish imparts an air of sophistication, dramatic flair, and an anchor in the lighter colored kitchen.
The strong, striking silhouette in combination with the smart functionality imbues the space with a unique blend of style and practicality.
Black Kitchen Island On Wheels for Flexibility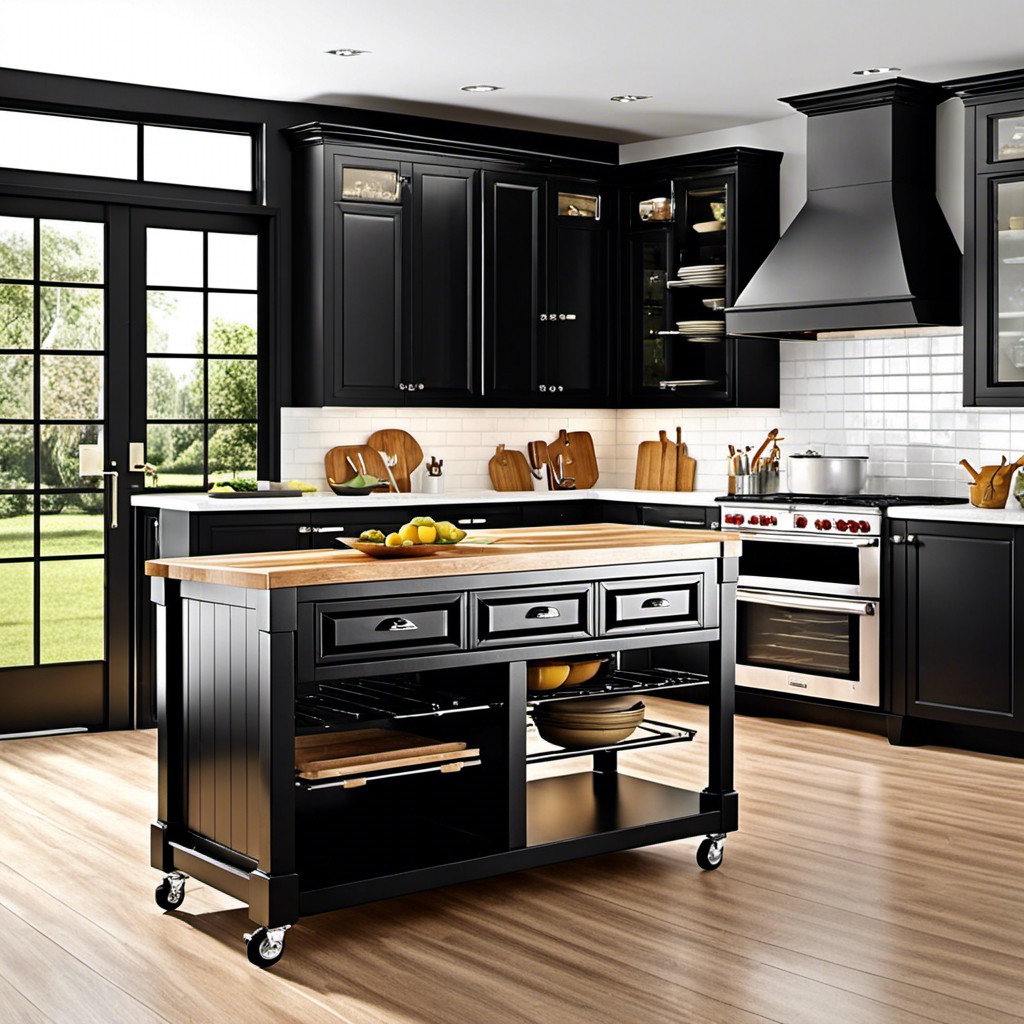 With the rise of multipurpose living spaces, a movable feature in the kitchen offers a versatility that homeowners appreciate. A wheeled kitchen island fits right into this trend. The color black not only adds a touch of elegance and sophistication but is also excellent at hiding scratches and smudges, maintaining a neat appearance despite frequent repositioning.
Key points:
Versatility: A kitchen island on wheels can serve as an additional preparation area, storage, or even a temporary bar for entertaining guests.
Space Efficiency: When not in use, easily relocate it to a corner or against a wall to free up space.
Different material options: The black color theme allows you to play with various materials like wood, granite, or steel without disrupting the overall design.
Customization: Design elements such as height and size can be adjusted to suit your specific needs.
Convenience: The mobility makes cleaning around it significantly easier. The island can simply be moved to clean the hard-to-reach areas.
A black kitchen island on wheels effortlessly mixes functionality with style – a must-have for modern, flexible, and bustling kitchen environments.
Two-tier Black Island With Raised Eating Area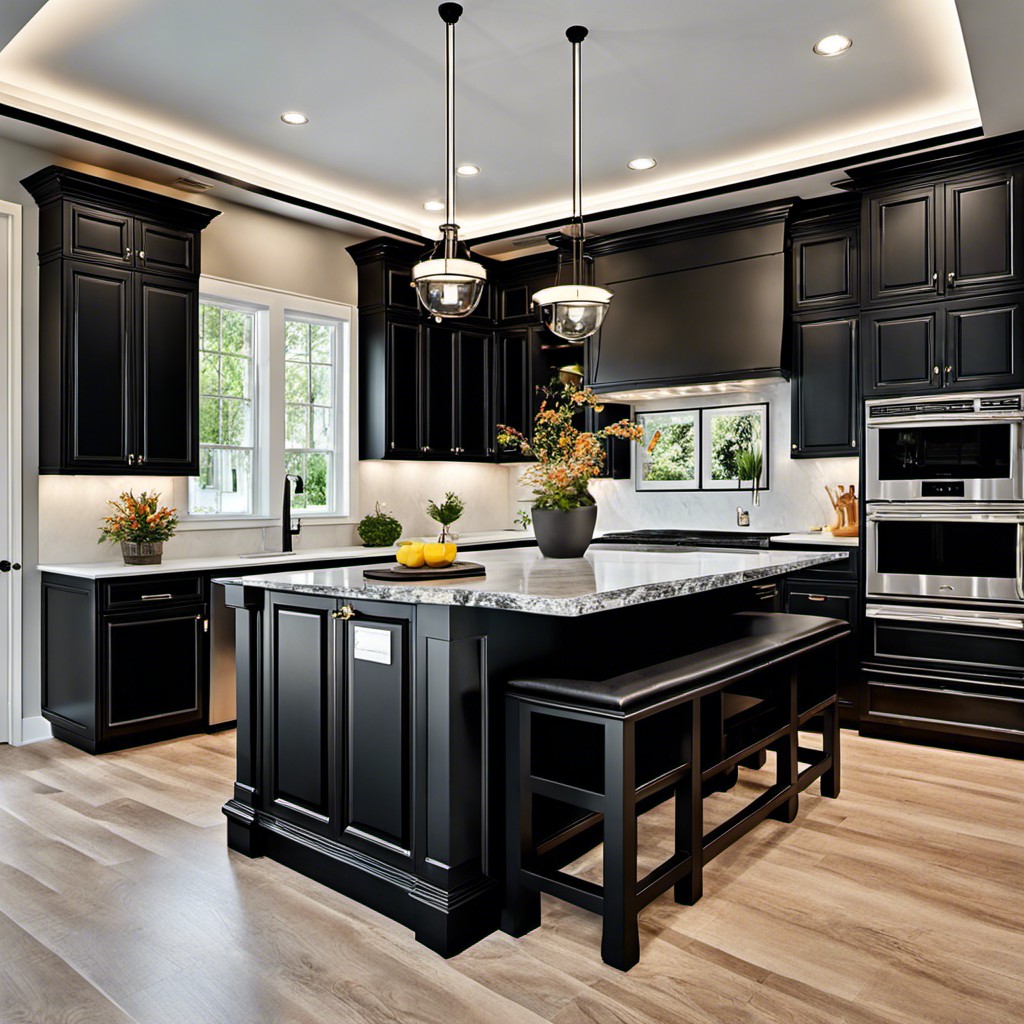 Designed for maximum utility, this model neatly partitions food preparation from dining. The lower tier serves as a dedicated space for chopping, kneading, and seasoning, while the elevated level becomes an informal dining table. This layout keeps meals away from the action during cooking.
Additionally, a raised eating zone adds depth and structure to the kitchen landscape. Breakfasts can now be casual sit-down affairs right amidst the tantalizing smells of cooking – a truly immersive experience for the family.
Don't forget about the extra storage potential. Several models incorporate shelves or drawers below the dining area, making it a great spot to stash less frequently used dishes or special occasion stemware. Furthermore, varying the countertop materials between the two levels can create a striking design contrast. It's all about merging utility with style.
Vintage Black Kitchen Island With Rustic Details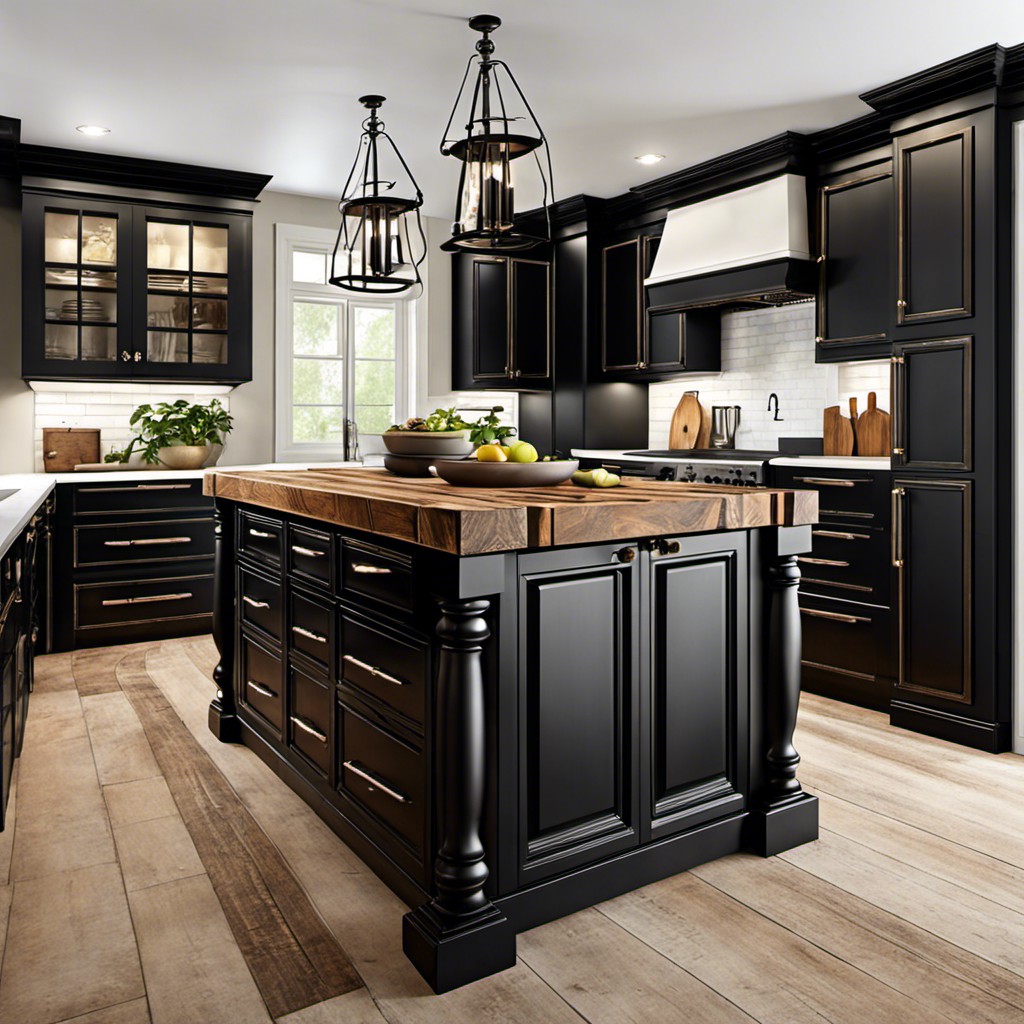 Incorporating a touch of yesteryears, this design integrates worn, rustic details that transport you back in time. The deep black base portrays an elegant contrast to the chipped wood, common in vintage design, creating a striking visual element to your kitchen.
Here's why this design stands out:
1. A Sense of History: The rustic elements bring about a warmth and rich history into a modern kitchen setting, creating an inviting atmosphere.
2. Distinctive Contrast: The stark black set against the antique finishes offer an appealing compromise between modern and traditional.
3. Versatility: This style can blend seamlessly with brick walls, wooden beams, or antique metallic fixtures.
4. Strong and Durable: Despite the worn look, these vintage islands are sturdy, designed to withstand frequent use.
Remember to suitably outfit your vintage island with antiqued metal fixtures for an authentic touch, or contrast it with modern chrome or stainless steel for an eclectic look.
Black Kitchen Island With Integrated Cooktop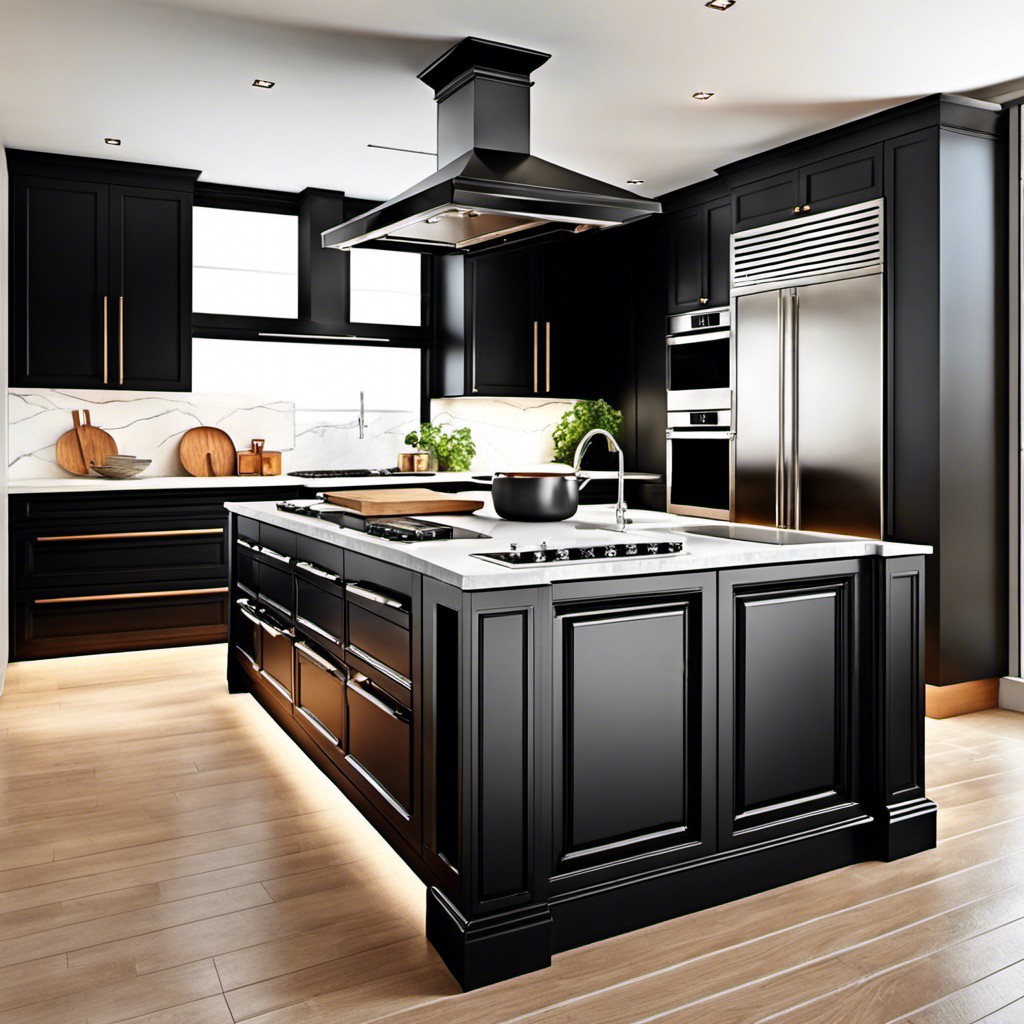 The integrated cooktop brings functionality directly to your island, making it the hub of your kitchen. The sleek design saves space and ensures a smooth workflow.
1. Space-Saving: Eliminating the need for a separate stovetop, it conserves crucial counter space.
2. Improved Workflow: With the cooktop in the island, your preparation, cooking, and plating can seamlessly happen in one place.
3. Enhances Social Interaction: As the cook faces the room rather than the wall, it enables better interaction with family and friends during meal prep.
4. Customization Opportunities: Options for gas, electric, or induction cooktops tailor to personal cooking preferences.
5. Added Value: Such a practical and stylish feature can increase the home's market value.
Remember, thoughtful placement and professional installation ensure safety and optimal use of the integrated cooktop.
Sleek, Modern Black Kitchen Island With Waterfall Edge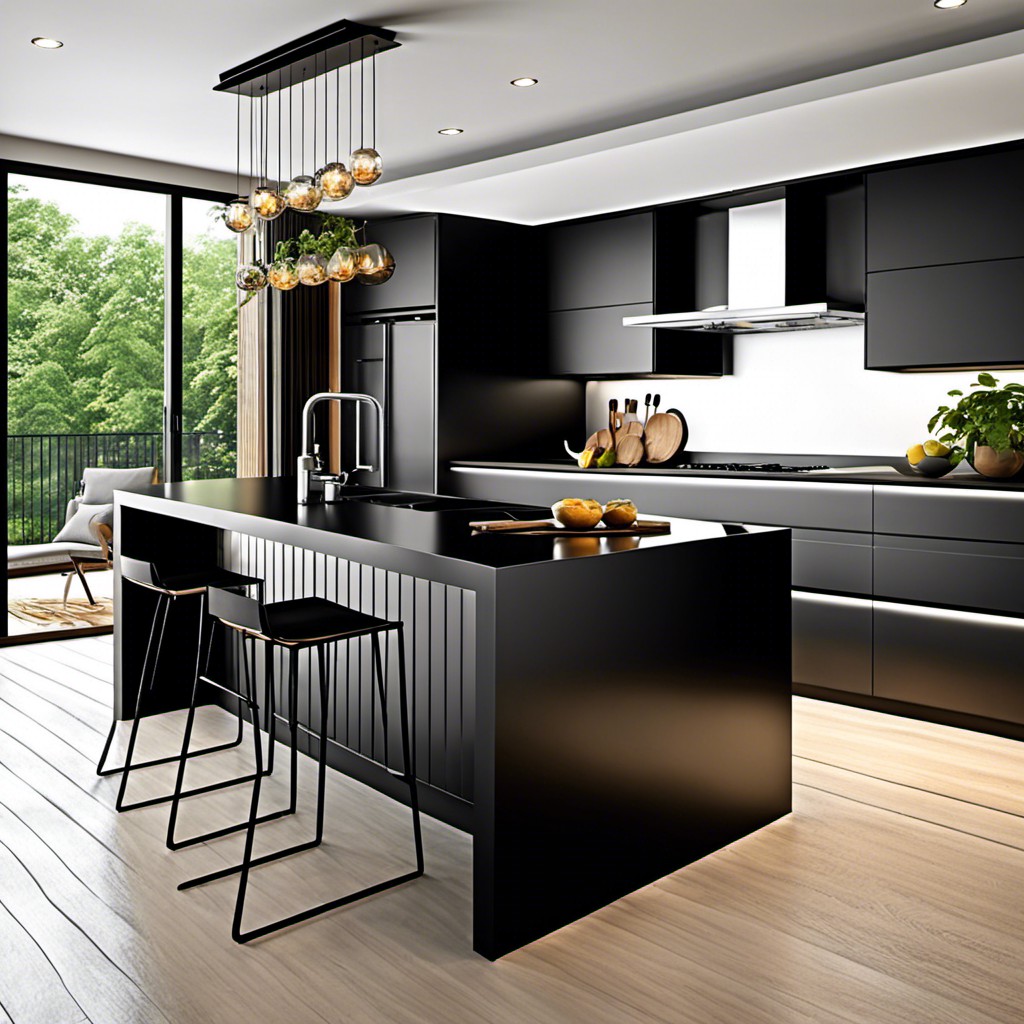 A waterfall edge gives your kitchen island a contemporary, streamlined look. In this design, the countertop material continues down the sides of the island, creating a seamless flow from top to bottom. The look is often achieved using materials like quartz or marble, adding a luxurious touch.
Here are a few things to note:
Sweeping Effect: The flowing down surface forms an illusion of a continuous surface, hence the term 'waterfall'.
Hides Appliances: This structure can cleverly conceal appliances or storage spaces positioned under the countertop.
Versatile: This trend suits minimalistic, modern kitchens but can also blend into transitional or traditional styles, depending on the countertop material used.
Maintenance: The waterfall design is quite practical, offering easy-to-clean nooks.
Remember to choose a quality material for your countertop that is both durable and chic to maintain the sleek aesthetic.
Black Kitchen Island With Open Shelving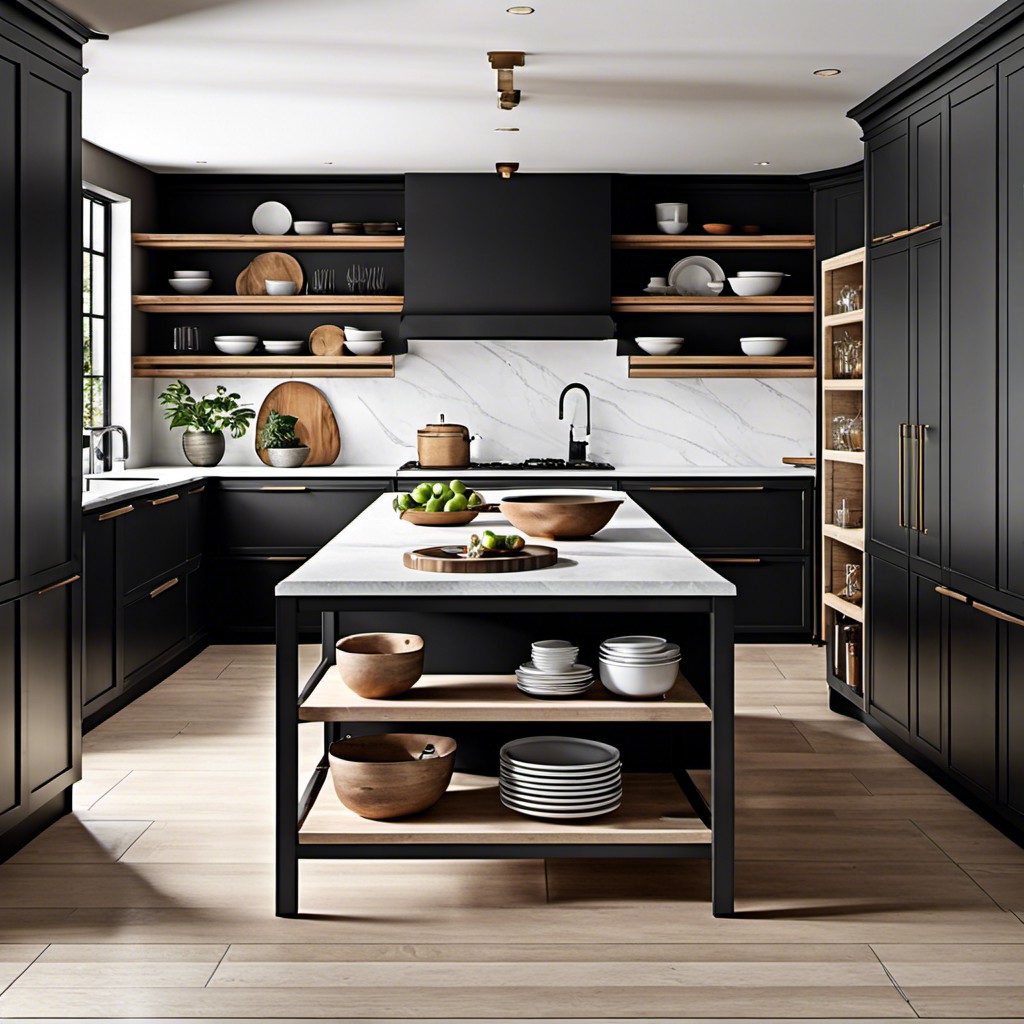 Ideal for those who want to exhibit their prized dishware or stylish storage bins, open shelving is a practical and fashionable feature. Its inclusivity creates a visually pleasing flow throughout the kitchen space, adding to the overall aesthetics of the decor.
For a tidy appearance, items arranged on the shelves should follow a color scheme or theme. If you're a culinary enthusiast, organize your cookbooks or essential spices and ingredients here for easy access while cooking.
For flexibility, consider adjustable shelves to accommodate items of different heights. Proper lighting, like under-shelf LEDs, can highlight the displays while adding functionality to your black kitchen island.
Remember to avoid clutter and regularly maintain these spaces for the best impression.
Black Kitchen Island With Butcher Block Top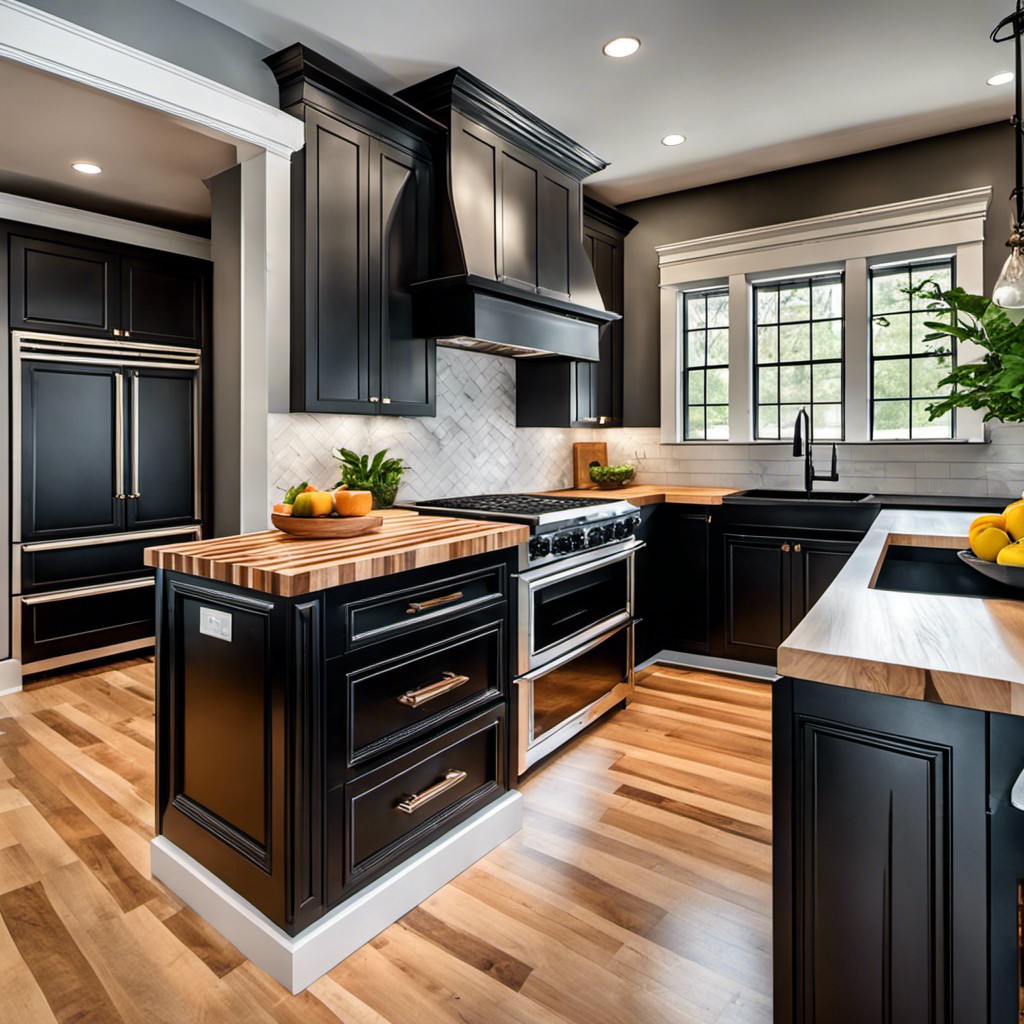 Butcher block tops offer a practical and visually appealing contrast to the dark shades of the base. Best in functionality, they provide you a built-in space for chopping and preparing meals. Their rustic, textured appeal adds warmth to the otherwise sleek black island, creating a pleasing equilibrium in your kitchen.
Here are some aspects to consider when going for this choice:
Choose Hardwood: Opt for hardwoods like maple, oak, or cherry for their durability, natural beauty, and maintenance ease.
Sealing: Ensure to seal the wood to keep it safe from stains and scratches, while maintaining its integrity against heat and moisture.
Regular Cleaning: A mixture of mild dish soap and warm water works great for a daily clean. Use vinegar or a special wood cleaner for deeper cleaning tasks.
Periodic Maintenance: Re-oiling every 6-12 months helps in preserving the wood's beauty and longevity.
Remember, this natural element against the sharp black finish gives your kitchen a balanced, contemporary look.
Continue reading: