Last updated on November 14, 2023
Explore the transformative potential of copper kitchen faucets because, besides their functionality, they offer a touch of elegance and durability that can take your kitchen design to new heights.
I, as the author and designer, take immense pride in this article on 20 Stylish Copper Kitchen Faucet Ideas and Trends for Modern Homes, and genuinely hope you find the same inspiration and enjoyment browsing through it as I had creating it.
Copper kitchen faucets are a stunning addition to any kitchen, adding a unique charm and warmth that other materials simply can't match.
This article provides an array of copper kitchen faucet ideas, from traditional to modern designs, that can elevate your kitchen's aesthetic.
Whether you're renovating your entire kitchen or simply looking to add a hint of copper's rustic elegance, this guide offers detailed insights into different styles, installation tips, and maintenance practices for copper faucets.
Stay tuned to explore how to make the most of this timeless kitchen fixture.
What's Inside
Copper Farmhouse-style Faucet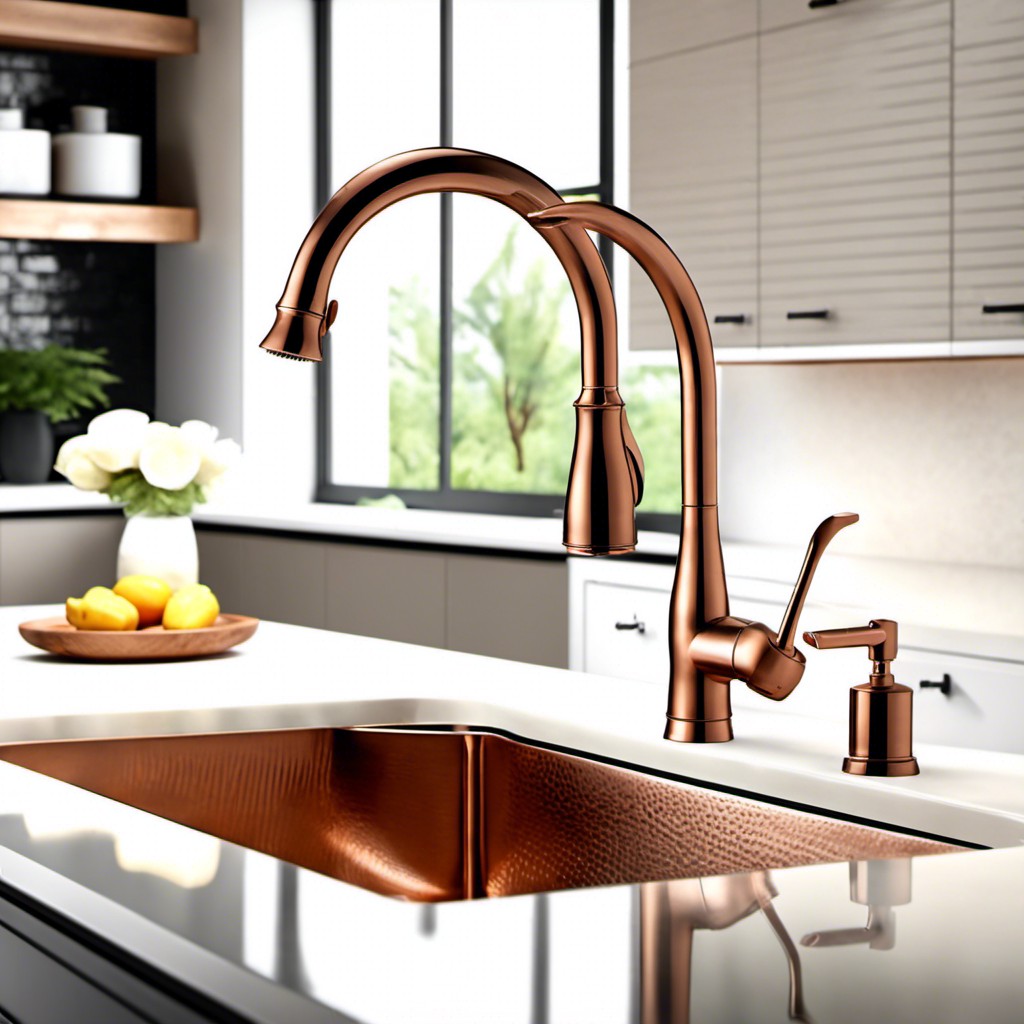 With a unique charm that harks back to simpler times, this type of faucet is notable for its robust design. The wide design and dramatic curve of the spout offer a practical advantage by providing plenty of clearance for large pots and pans, making it a favorite among those who do a lot of cooking.
Farmhouse-style faucets often feature a single lever for combined temperature and flow control, though dual-handle models are also available. The handles are typically cross-shaped or lever-style, with detailed etchings for a vintage appeal.
Opting for a copper finish can further enhance the antiquated aesthetic of a farmhouse faucet, creating an engaging focal point in the kitchen. Copper also offers natural antibacterial properties, an added bonus when considering hygiene in the kitchen space.
Tall Spout Copper Faucet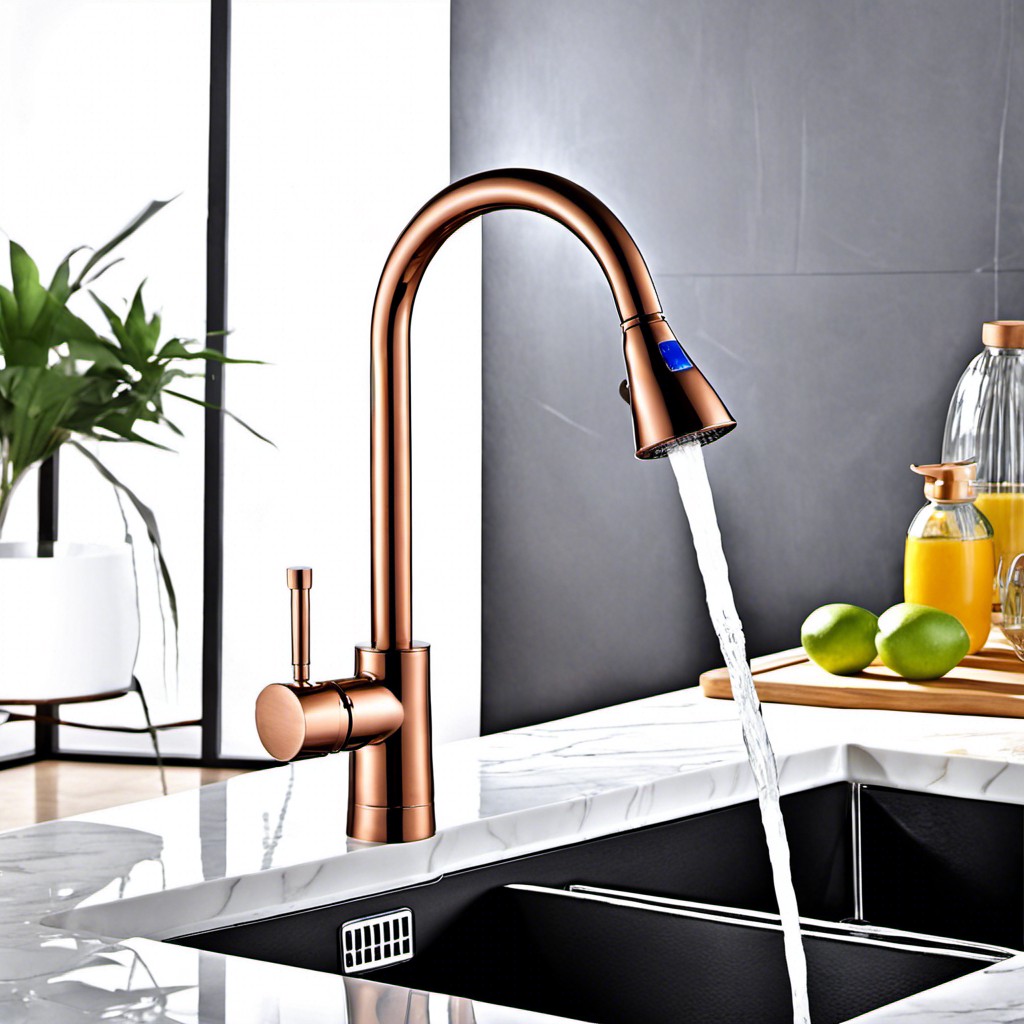 Featuring an elevated design that adds elegance and style, this faucet style ensures a more powerful stream of water and simplifies filling large pots. It offers a modern yet classic aesthetic, often paired with ceramic or stone sinks.
1. Practicality: With a tall structure, it accommodates large containers and pans with ease, eliminating awkward angling or splashing.
2. Style: It has a distinctive shape that lends a touch of sophistication. Its visually striking, sleek appearance often serves as a focal point in kitchen design.
3. Versatility: It fits well into most kitchen layouts, from rustic to modern. Moreover, it can complement kitchen features like pendant lighting or copper hardware.
4. Durability: Made of copper, it boasts robustness and resists corrosion. Copper's natural antimicrobial properties are a bonus, particularly useful in busy kitchens.
5. Installation: It requires sink clearance but is overall easy to install, typically featuring a single lever for water control and temperature adjustment.
Copper Pull-down Spray Faucet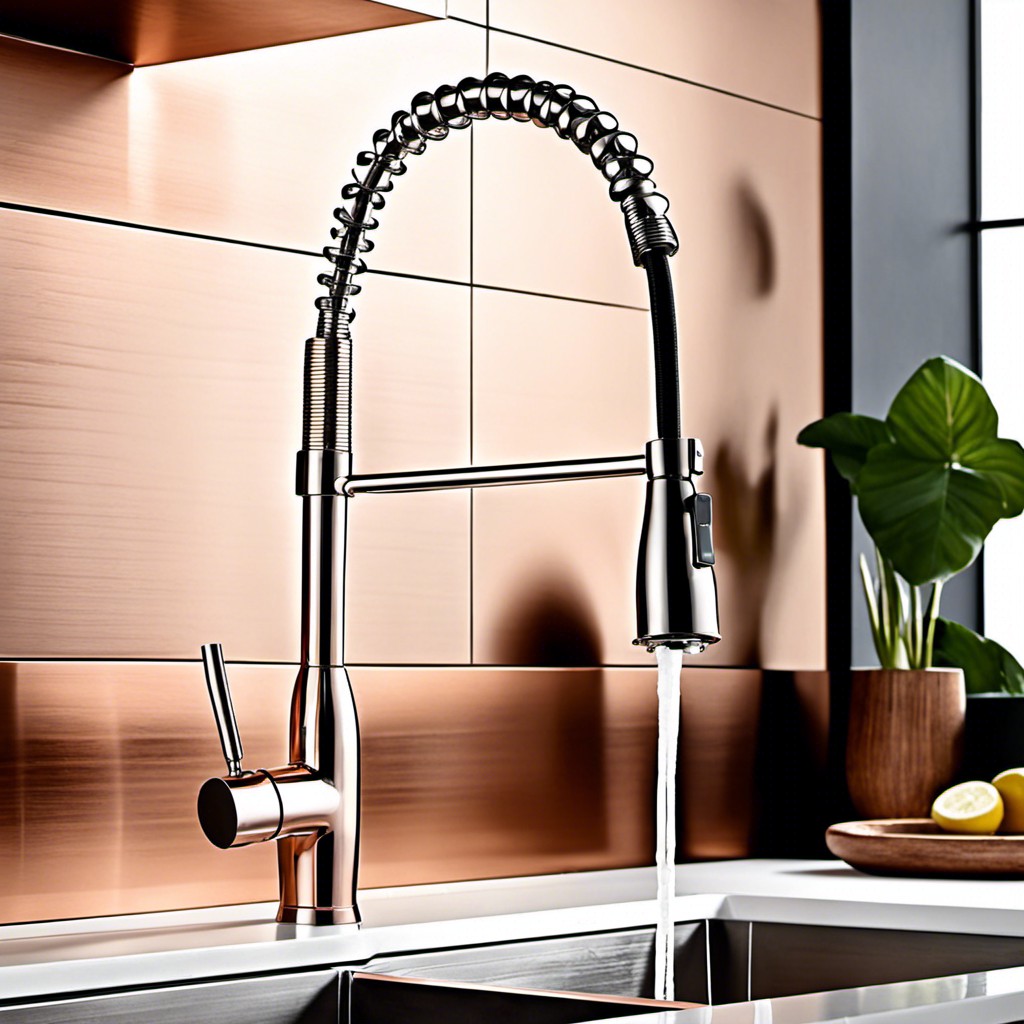 Ensuring functionality and style, these faucets are perfect for anyone who appreciates a streamlined and practical approach. The pull-down spray nozzle is an inbuilt feature that enhances convenience. It helps in making washing dishes or rinsing the sink after cleaning less of a chore.
Their design allows them to fit into any kitchen configuration. Whether you have a deep or shallow sink, its user-friendly feature sends a targeted water stream to any part of the sink. Plus, by opting for this design, you'll be adding a sleek and modern aesthetic to your kitchen.
Not to overlook the long-lasting quality of copper. Aside from its visual appeal, copper is known for its antimicrobial properties and durability. This means the pull-down spray faucet won't just stand the test of time but will also stand up to bacteria and germs.
Consider pairing these faucets with a modern, minimalist, or industrial-themed kitchen to achieve a harmonious blend of aesthetics and functionality. With a range of models available in the market, you can certainly find one that aligns with your personal style and needs.
Overall, the pull-down spray copper faucet combines utility and elegance, adding character to your kitchen while ensuring practical day-to-day use.
Antique Finish Copper Faucet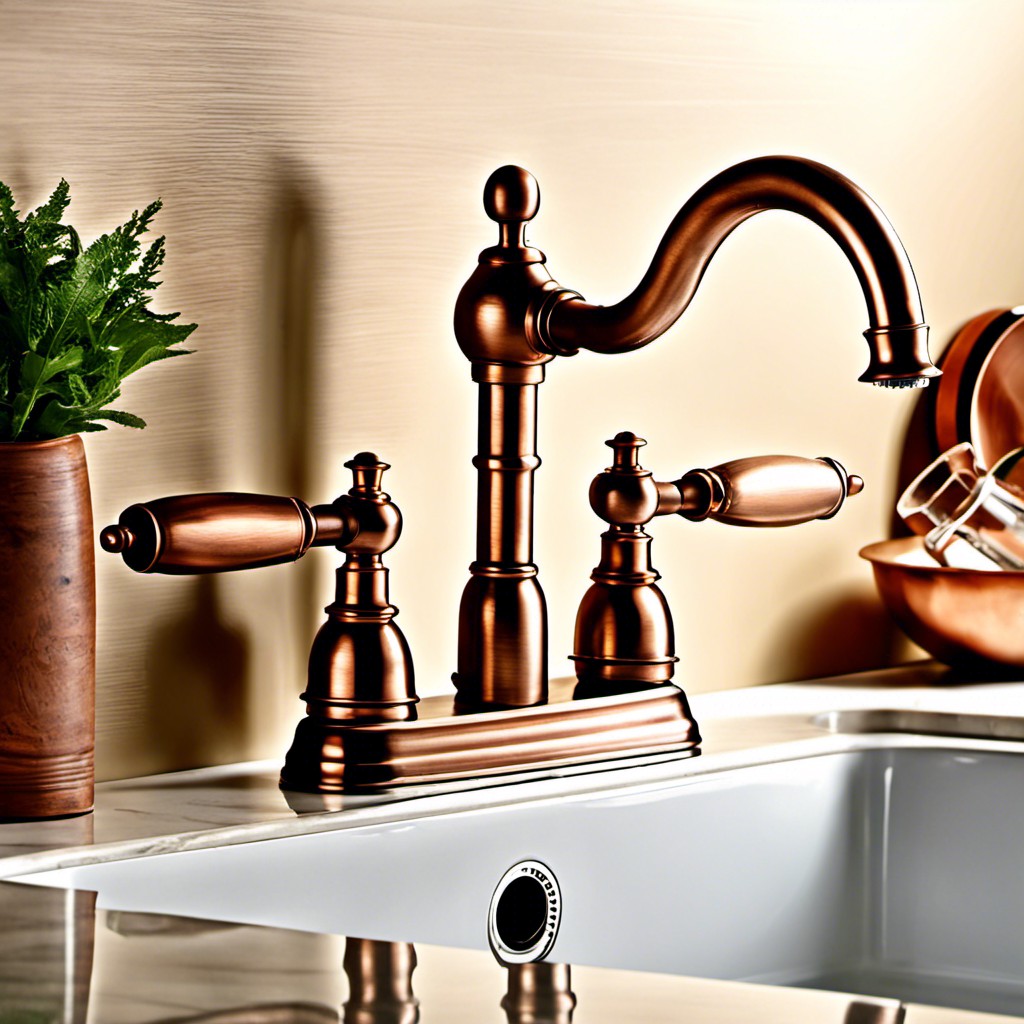 A worthy appreciation of timeless elegance is embodied in antique finish copper faucets. They channel a warm, vintage aesthetic, reminiscent of another era, yet carrying certain modern features for functionality.
The patina process is a significant part of this design. A reaction with the copper surface creates a worn, aged look that enriches the overall appearance. This makes each piece uniquely distinct with individual marking and coloring.
Notably, they are corrosion-resistant, an invaluable quality for kitchen fixtures. Despite their classic appearance, these faucets usually come equipped with ceramic disc cartridges, ensuring durability and preventing leaks.
Mixing and matching this type of faucet with different kitchen styles can potentially enhance the visual appeal. It can seamlessly blend with a rustic kitchen design or serve as a statement piece in a minimalist modern kitchen.
While it exudes an historic charm, an antique finish copper faucet requires regular maintenance to keep its attractive appearance. Polishing to prevent tarnish and cleaning with specific copper-friendly solutions is essential. This way, its vintage charm could be preserved for a significant period.
Copper Wall-mount Pot Filler Faucet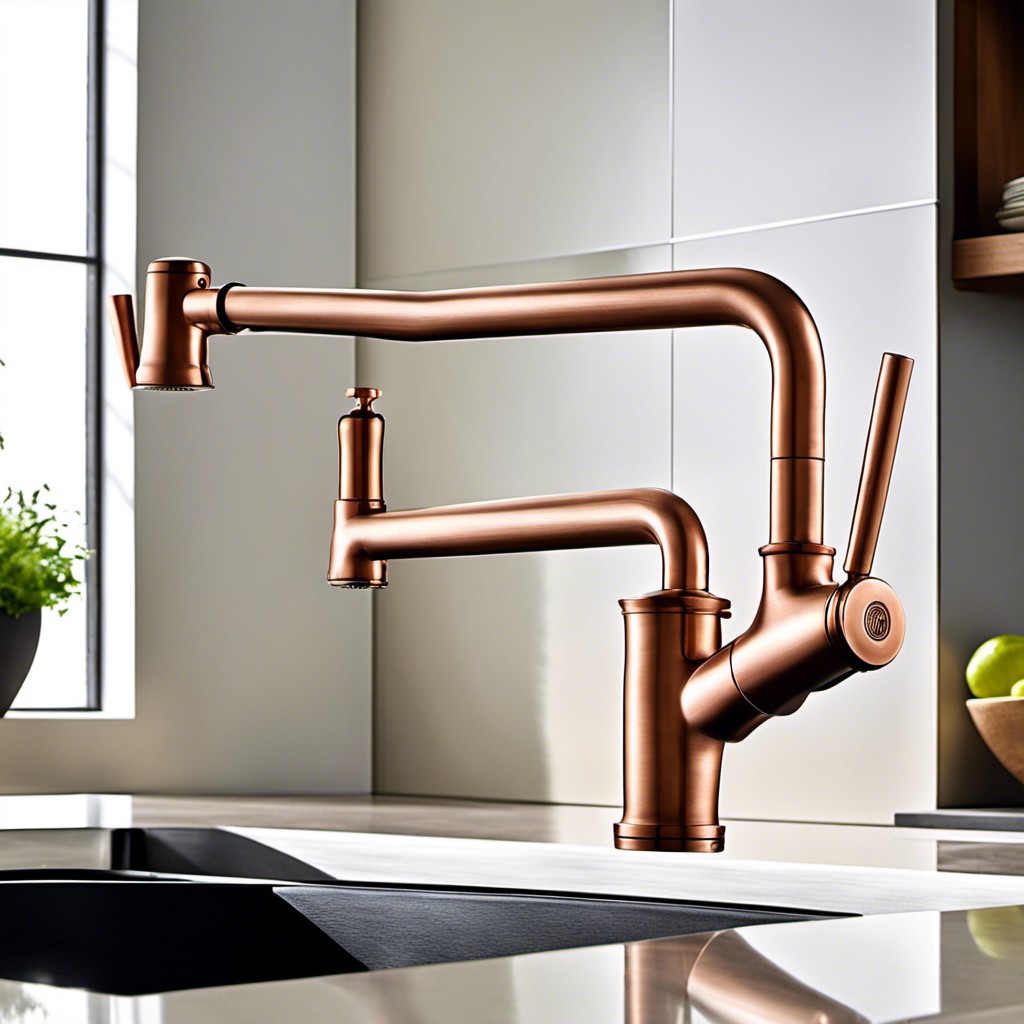 Mounted conveniently above your stove, this faucet type makes filling large pots easier and faster. Its classic appearance, coupled with the charm of old-world style, will undoubtedly catch the eye.
When not in use, it folds back against the wall, saving valuable counter space. The added functionality and convenience, combined with the following points, make this an excellent choice:
1. Space Saver: By mounting the faucet on the wall, you free up counter space for other tasks or appliances.
2. Easy to Use: A swivel arm allows you to fill pots directly on the stove, saving you from carrying heavy pots full of water.
3. Perfect for Large Pots: Its high water flow rate makes it efficient for filling large pots in less time.
4. Decorative Appeal: The exposed wall-mounted installation adds a unique, vintage vibe to the kitchen, enhancing its overall design.
5. Temperature Control: Dual handles make it easy to adjust the temperature to your exact preference.
6. Durability: Made from copper, it is robust and resistant to corrosion, promising longevity.
Copper Faucet With Separate Spray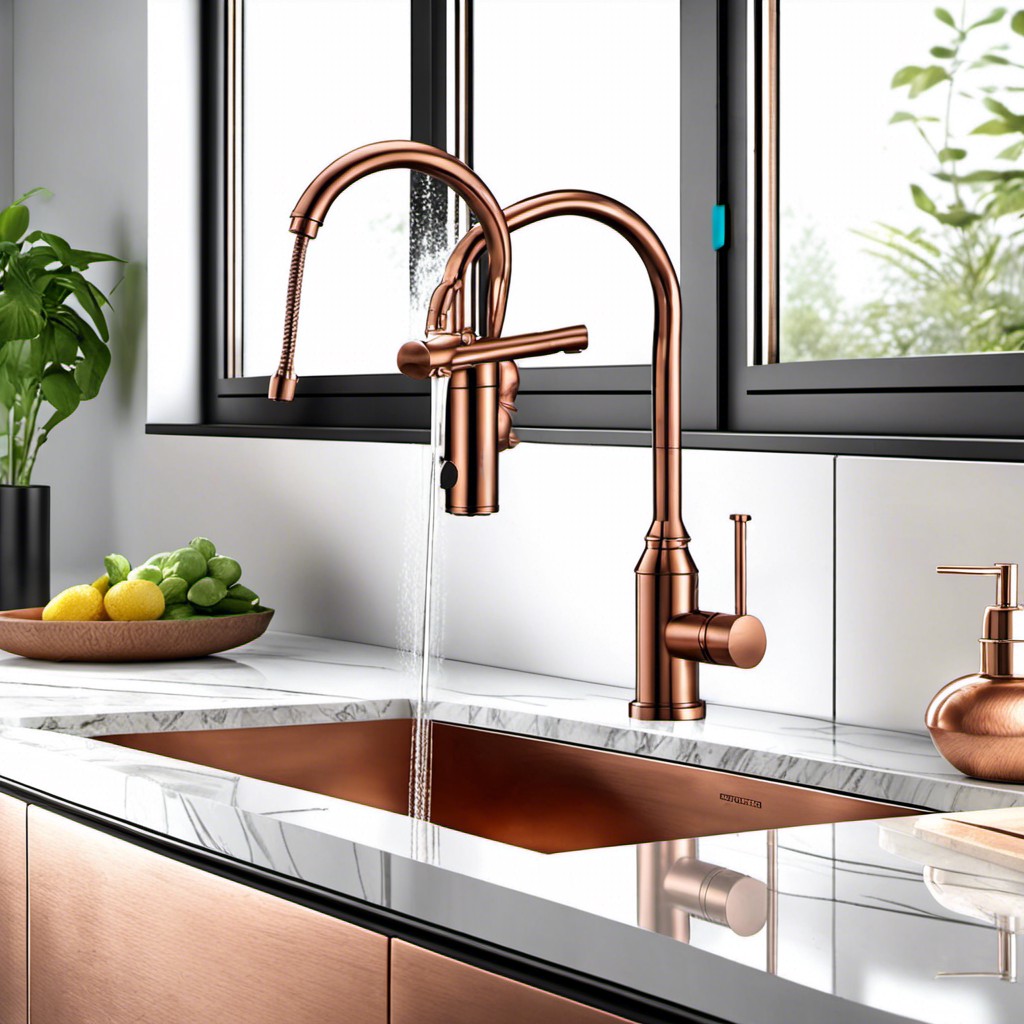 This design provides a dynamic duo combination. First, the main faucet, characterized by its distinct copper sheen, serves the regular functions from washing dishes to rinsing vegetables. Its high-arc design allows ample space for various kitchen tasks.
On the other hand, the separate spray is particularly helpful for harder-to-reach areas or rinsing larger items. This feature often comes with a high-pressure mode, perfect for removing stubborn grime. Together, they expand the range and efficiency of kitchen tasks.
This setup not only offers practical benefits but aesthetic ones too, adding a stylish touch and functionality to any kitchen.
Rustic Copper Bridge Faucet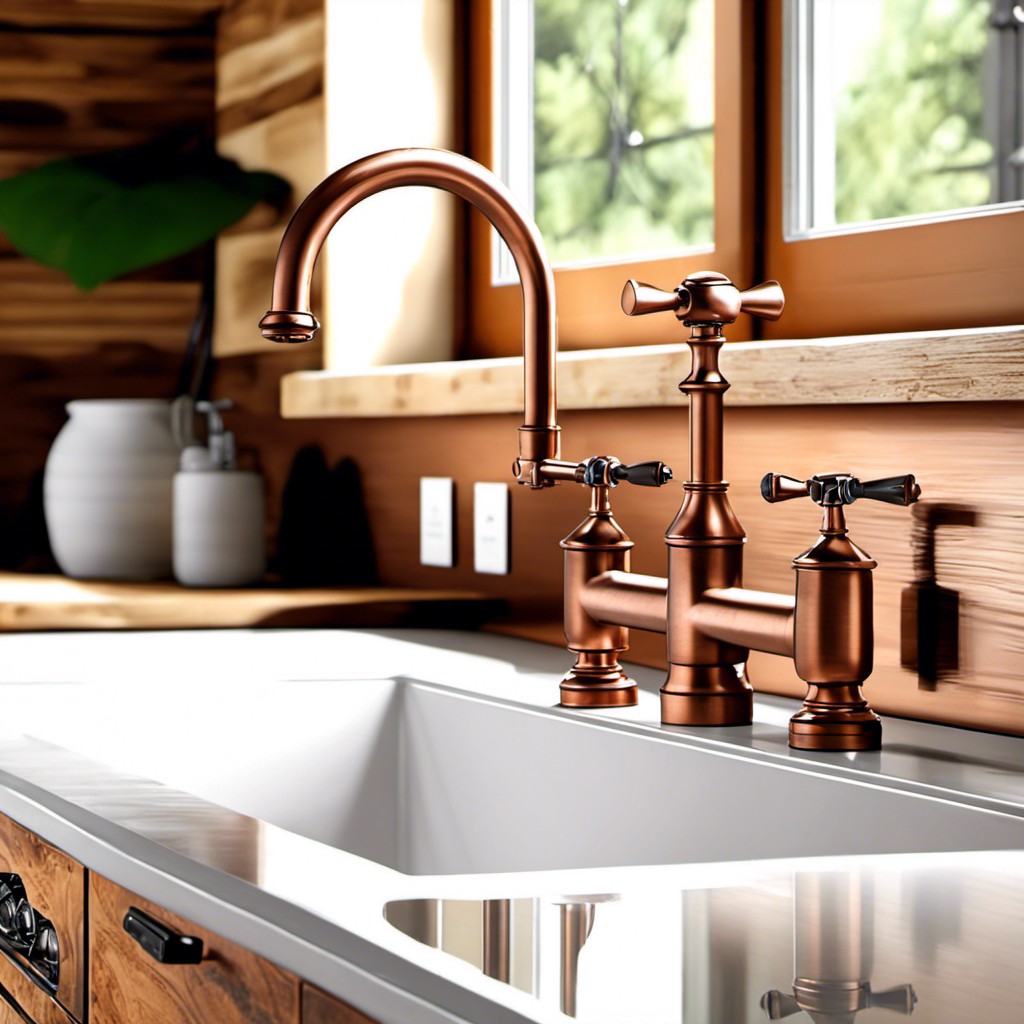 If you're looking to infuse an old-world charm into your kitchen decor, this might just be the choice for you. The handy, double-handle design gives you precise control over water temperature, while the high-arc spout provides plenty of space for your pots and pans.
Plus, the artistry that goes into creating the patina on these faucets evokes a sense of nostalgia, making it a perfect fit for country or farmhouse-style kitchens. Its distinct bridge design, where hot and cold handles are connected above the sink, not only adds a unique aesthetic but also simplifies installation.
Moreover, with their durability and easy maintenance, these faucets prove to be as practical as they are beautiful. So, when it comes to blending functionality with timeless appeal, you can't go wrong with a piece like this in your kitchen.
Copper Gooseneck-style Faucet
A favorite among many home-owners, this style is noted for its high, arching fixture which mimics the curving neck of a goose. It adds an elegant aesthetic while ensuring practical use. The high arc is not just for show; it permits large pots and pans to easily fit under the tap.
This design works perfectly with a large, deep sink; you'll have no problem filling or washing oversized kitchen items. Gooseneck faucets often come with extra features such as pull-down sprays and swival spouts, adding to their functional appeal.
Due to its prominent structure, it can act as a kitchen centerpiece, catching the eye even from a distance. The warm copper finish brings a sense of sophistication, which makes the kitchen space feel refined and stylish.
These faucets often require minimal effort to keep clean. Their smooth surface makes it harder for dust, dirt, or grime to stick. Simply wiping them regularly with a soft cotton cloth will retain their shine and luster. Choose this design if you are seeking functionality dressed up in an elegant, eye-catching creation.
Modern Square Copper Faucet
Effortlessly combining ergonomics and aesthetics, this faucet design brings a touch of sleek minimalism to any kitchen. Its defining features include sharp lines and angles that contrast with the warm allure of the copper material. Function is not undermined by form; the square body houses a robust ceramic cartridge for outstanding durability and leak-proof performance.
Its single-handle design offers efficient flow and temperature control.
In terms of compatibility, these faucets work well with granite, marble, or quartz countertops. Pairing a white or gray countertop with a modern square copper faucet can create a striking balance between classic and contemporary elements.
Lastly, remember that maintenance for these types of faucets is relatively low-key. A simple wipe down with a soft cloth can keep them shining and lustrous, ensuring a long-lasting allure in your kitchen space.
Swivel Spout Copper Faucet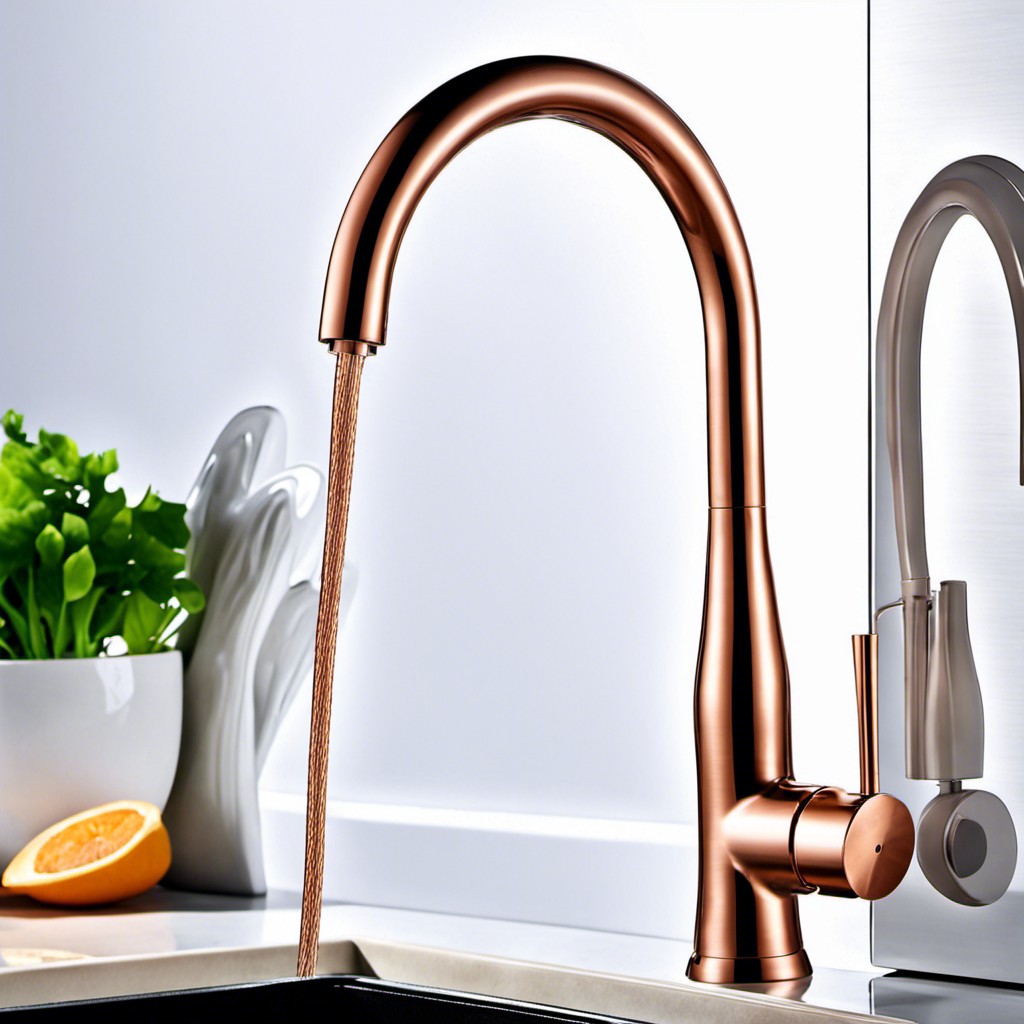 The functionality of this type of faucet is exceptional. Its design, a swivel spout, allows you to easily maneuver large pots and pans under the stream, making meal preparation and dishwashing simpler.
It doesn't stop there; the copper provides an alluring aesthetic, immediately enhancing the kitchen's overall decor.
It not only serves as a tool with ease in functionality but also as a striking element of design. Its warm tone injects a rustic charm, even within modern designs.
Coming in a variety of finishes – from polished copper mimicking rose gold's luxury to weathered copper for an antique touch – the selection caters to a wide range of style preferences.
Maintenance is a breeze; copper faucets resist corrosion and tarnishing, promising years of use. They also boast antibacterial properties, an essential factor in a kitchen setting.
Upgrading to a swivel spout copper faucet not only amplifies your kitchen's aesthetics but also its versatility and convenience.
Freestanding Copper Kitchen Faucet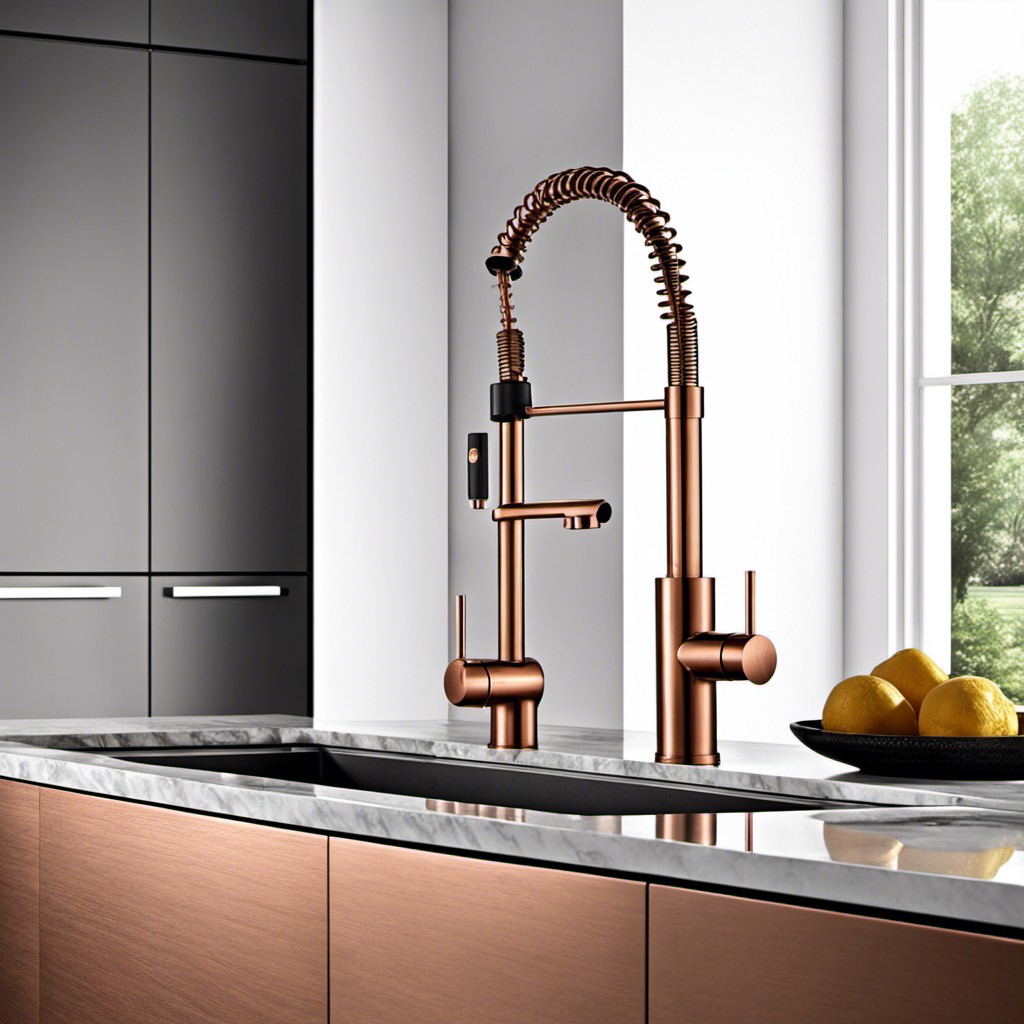 Standing elegantly over the kitchen sink, this faucet style carries a certain charisma. Without the need for wall or sink attachment, its installation requires floor mounting, providing a distinct allure within the kitchen layout.
1. Bold Statement: Its standalone feature acts as a focal point, adding character to minimalist or traditional kitchen designs alike.
2. Versatility: Freestanding faucets perfectly accommodate large pots or over-sized dishes owing to their height and swivel features – a practical addition to your kitchen.
3. Material Benefits: Copper naturally inhibits bacteria growth, making it an ideal faucet material for hygiene-focused households.
4. Value-Adding: A copper freestanding faucet could potentially increase property value thanks to its luxurious and unique appeal.
5. Ease of Maintenance: Despite its sophisticated look, copper requires minimal care. Regular cleaning with mild soap and water keeps it shiny.
Take note: To further enhance the aesthetic, consider pairing this faucet style with other copper accents in your kitchen.
Copper Faucet With Double Handle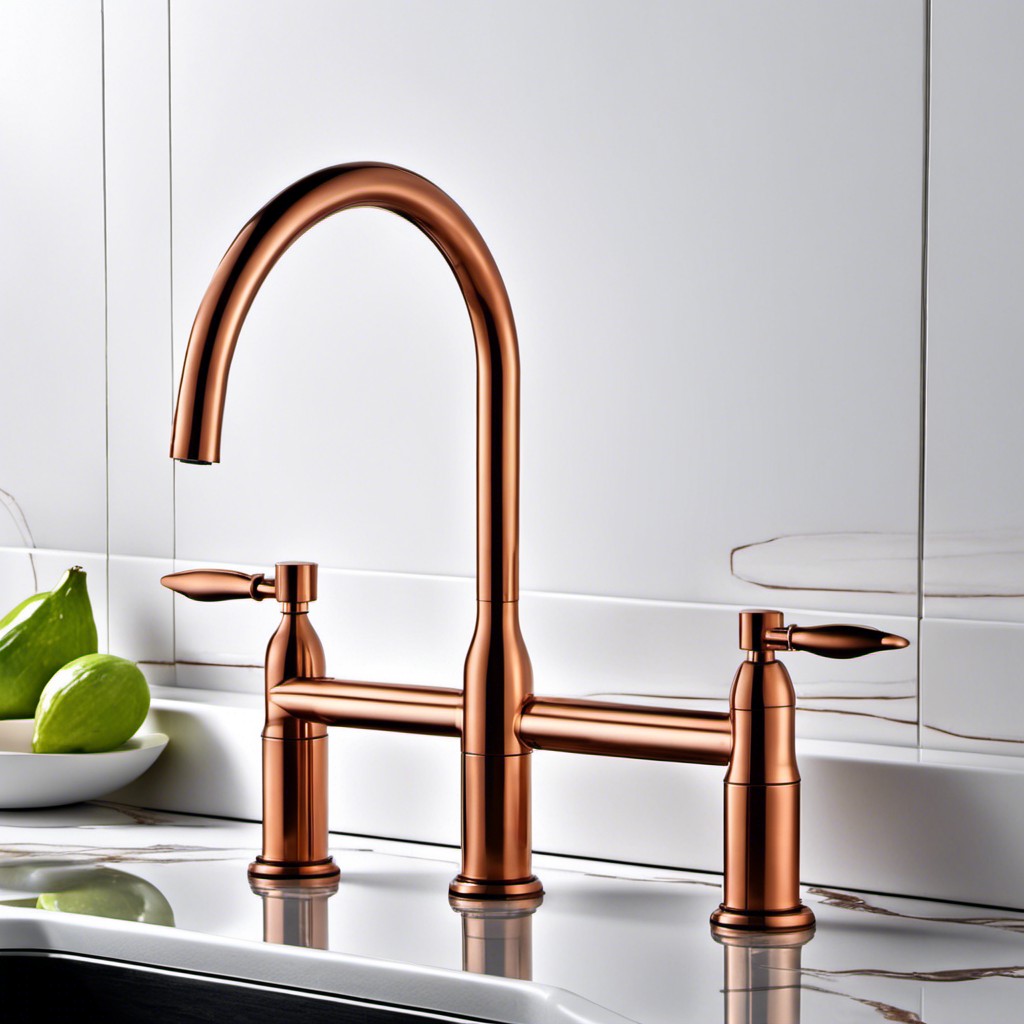 Boasting an unparalleled aesthetic appeal, this variety stands out with its dual handles. The design offers not just a vintage charm but improved control over water temperature and flow.
These handle pairs can be rotary knobs, levers, or cross handles, adding to the customization possibilities. Furthermore, this style is quite versatile and can complement a myriad of kitchen layouts and themes.
From a farmhouse kitchen with its rustic touches to a sleek modern setting, the double-handled copper faucet punctuates the décor stunningly. Besides being visually pleasing, it is built for durability, resisting rust and corrosion.
Last but not least, meticulous care in its design ensures easy installability for convenience.
Copper Bar Sink Faucet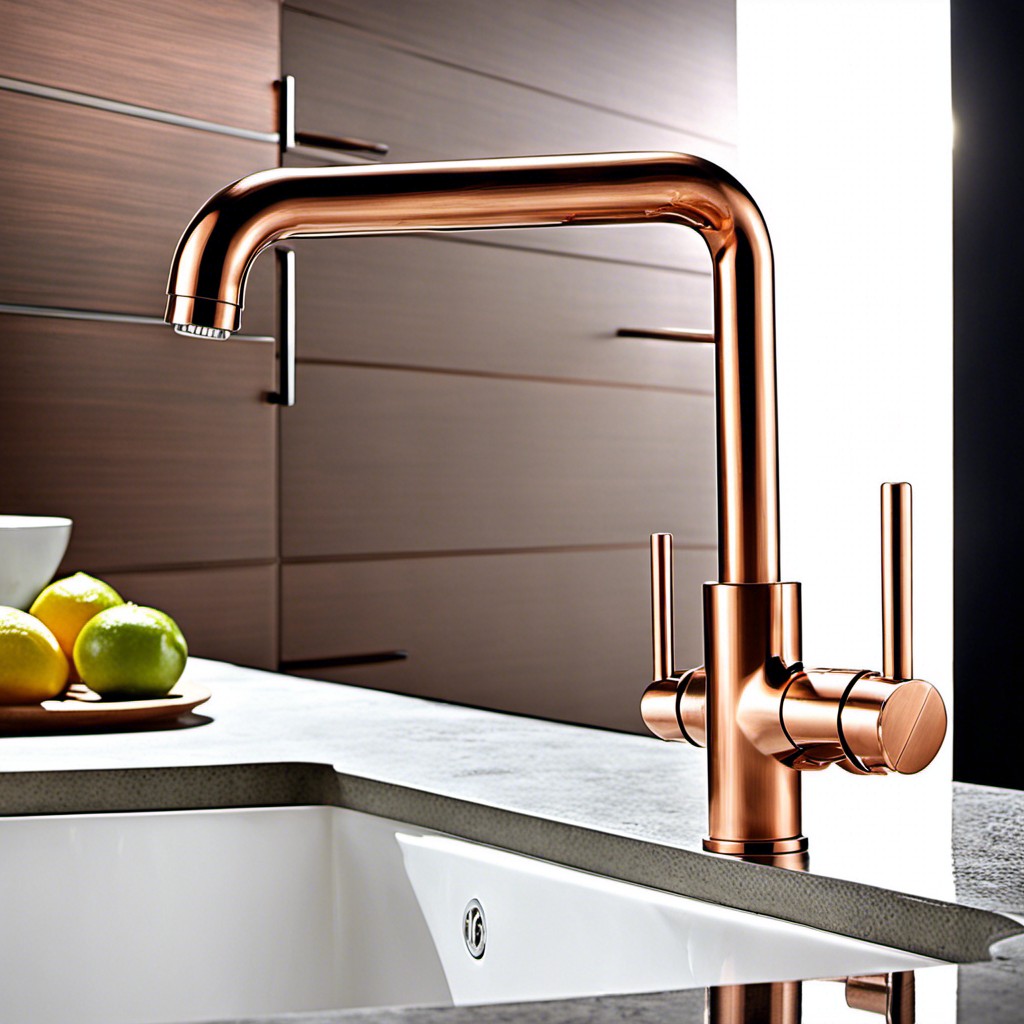 Known for its petite dimensions, this style is the perfect option for smaller spaces or secondary sinks. Handcrafted from pure, durable copper, a bar sink faucet is inherently resistant to microbes, adding an extra level of hygiene to your kitchen.
Sophisticated aesthetics pair well with this practicality; the enhanced patina of the copper developing over time only adds to the charm. From sleek, modern designs to intricate, traditional styles, the wide variety available caters to varied decor preferences.
Most come equipped with a high-arc spout and a 360-degree swivel feature for increased convenience and functionality. Some models may even incorporate eco-friendly elements like water-saving aerators. A copper bar sink faucet is more than just a faucet – it's a unique statement piece and an investment in long-lasting quality.
Copper Touchless Faucet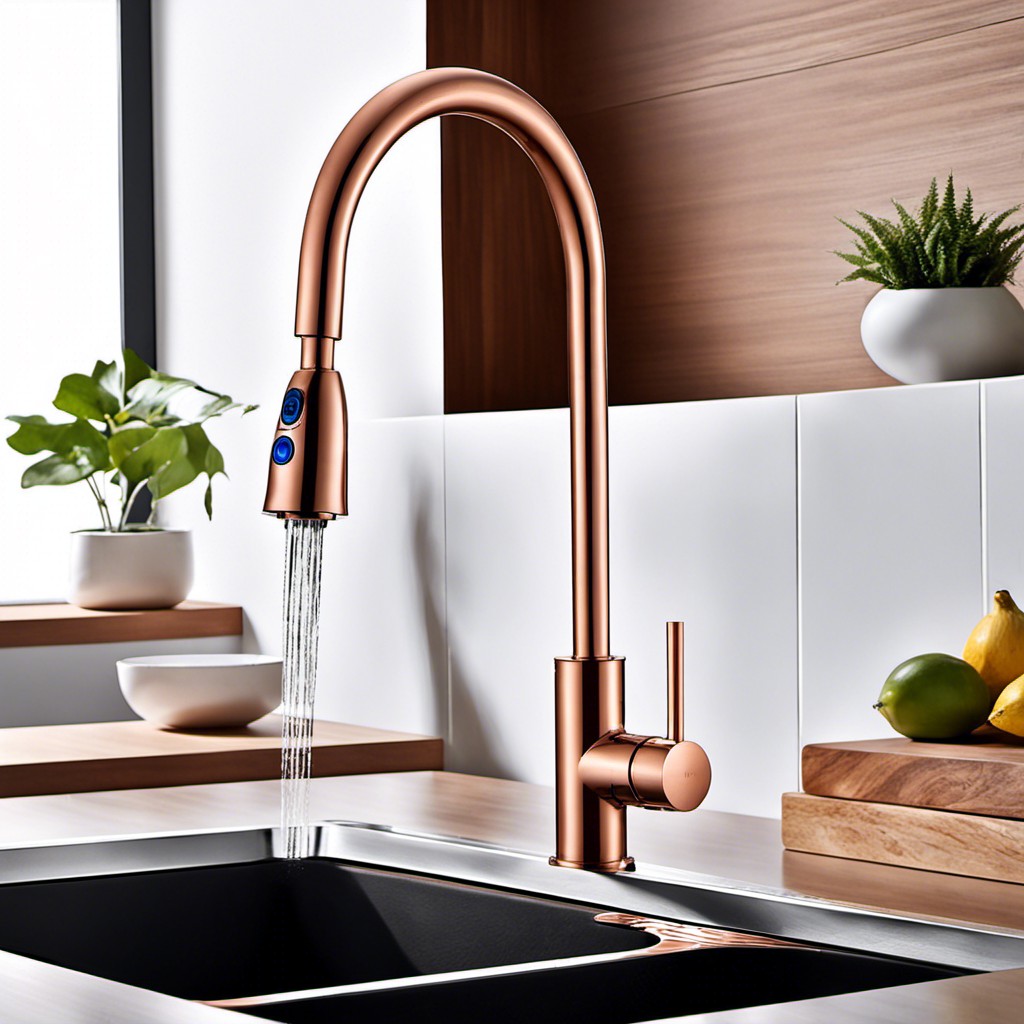 Equipped with the latest technology, this type of faucet streamlines the kitchen experience, providing both convenience and chic style. The touchless design allows for less contact with surfaces, aiding in the prevention of germ transmission. It operates through motion sensors or by a slight touch, ensuring ease of use especially when hands are dirty or full.
Aesthetic-wise, copper provides a warm, rustic charm while the touchless feature gives a modern touch. Durable and corrosion resistant, it requires less maintenance making it a practical choice. One can also find them with optional features like LED temperature indicators and an extendable hose, making kitchen activities more efficient.
However, it requires professional installation and regular check-ups of batteries or electrical connections to ensure optimal function, adding to its initial cost. Balance between cost, function, and aesthetics is important while considering this faucet. It can truly bring about a fantastic blend of innovation and elegance, if selected thoughtfully.
Vintage Style Copper Faucet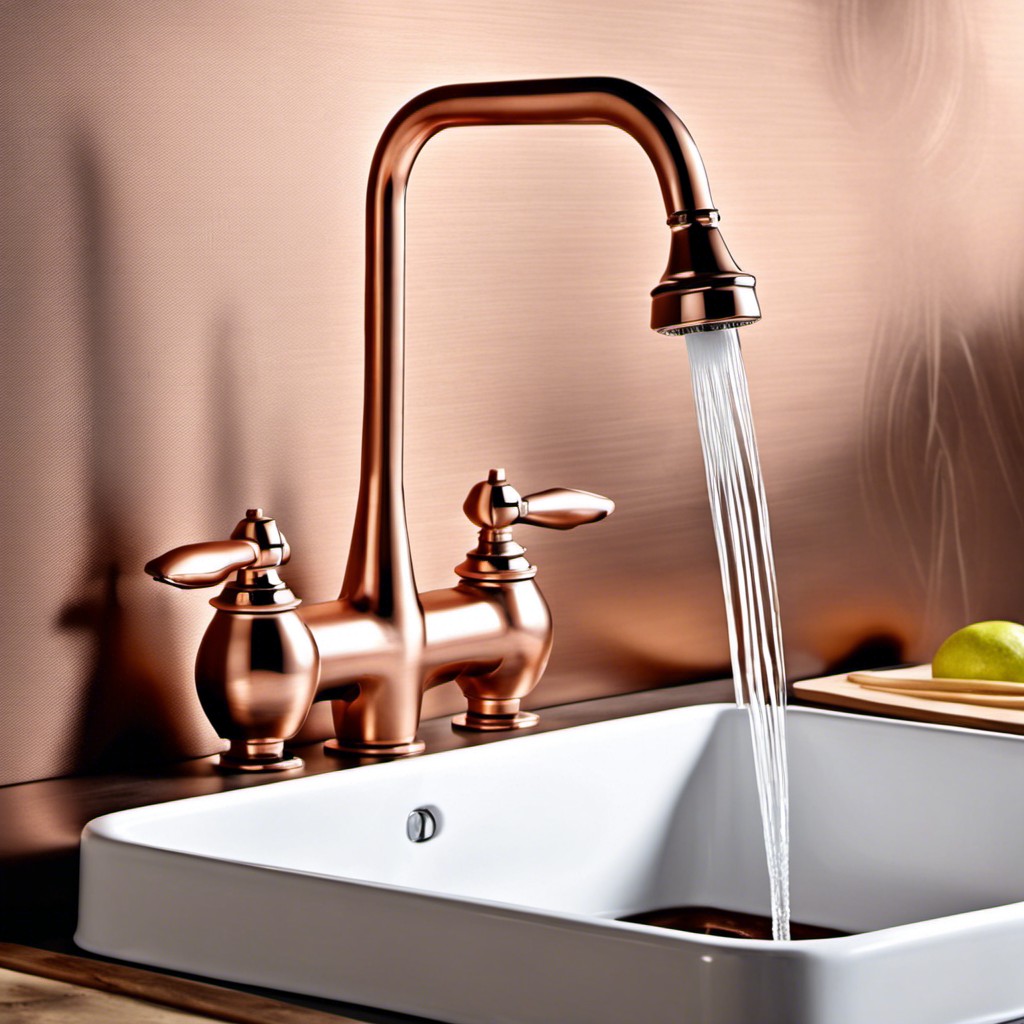 Exuding timeless charm, these faucets impart nostalgic flair to any kitchen space. Distinct features include intricate detailing, ornate handles, and often, a weathered finish. Unmatched in their sophistication, they go splendidly along with kitchens designed with a classical or rustic appeal, complementing the overall vintage theme spectacularly.
Key to the style are the following elements:
Detailing: More than just a faucet, the ornamental elements turn it into a piece of statement jewelry for your kitchen.
Patina: The age-worn appearance of the copper adds to its authenticity, creating a striking balance of old-world charm and modern functionality.
Handles: Think ornate, lever-style handles rather than sleek, modern ones. They don't just facilitate operation but also serve as a design element. The handles are often ceramic or have a ceramic inlay to augment the antiquated feel.
Remember, the goal is to harmoniously blend turn-of-the-century charm with today's contemporary conveniences to enjoy the best of both worlds.
Cone-shaped Copper Pullout Faucet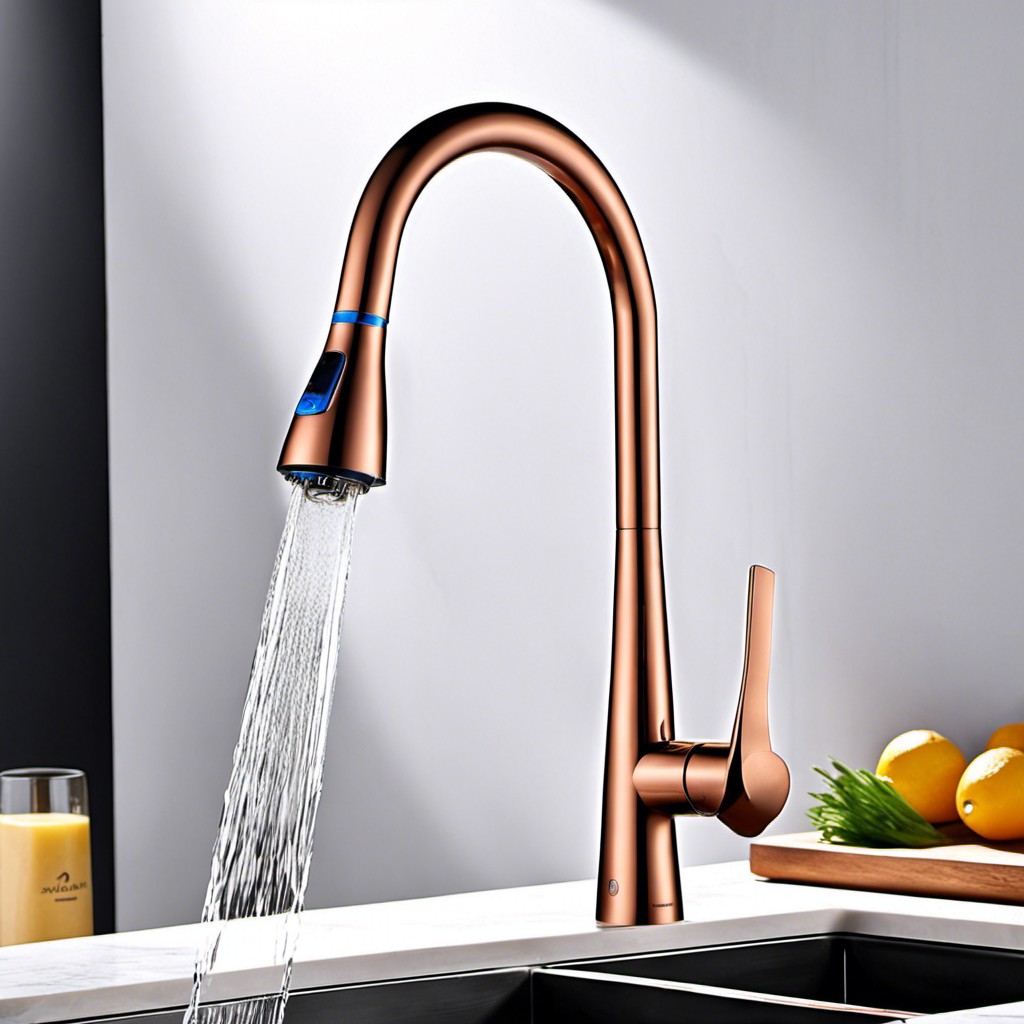 Innovative and sleek, this kitchen enhancement allows for easy control of water flow and temperature. A boon for those who frequently multitask, the pullout feature ensures the water reaches every corner of your larger pots and pans.
1. Chic Design: The cone shape offers a unique visual element, making your kitchen stand out.
2. Functionality: The pullout feature extends the faucet's range, making dish-washing tasks more manageable.
3. Durability: Its resilient copper crafting promises longevity and resistance to corrosion.
4. Efficient Usage: Precise temperature control reduces water and energy wastage.
5. Simple to Clean: The smooth surface is easy to keep shiny and free from water spots.
This style not only brings functionality but adds aesthetic charm to your kitchen.
Industrial Style Copper Faucet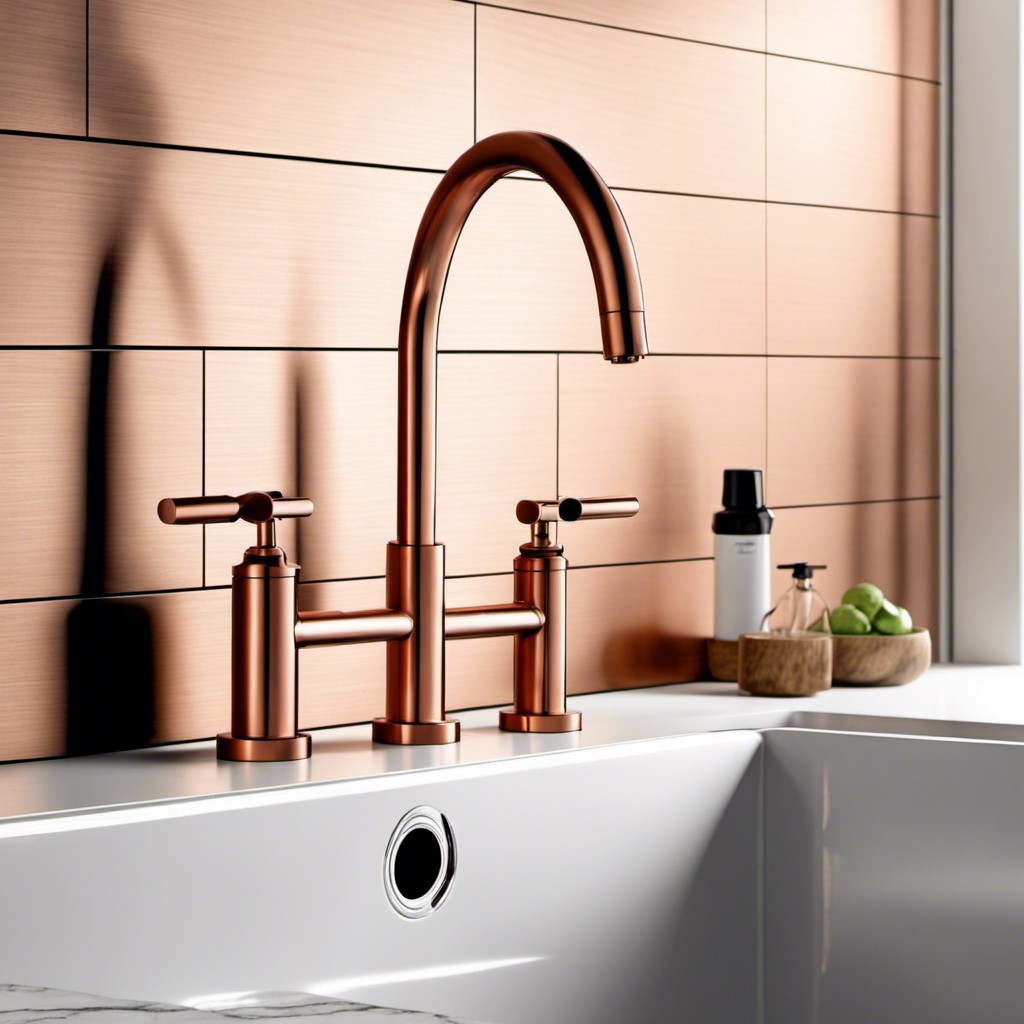 Exuding rawness and simplicity, the industrial style copper faucet pays homage to the unpretentious aesthetics of warehouses and factories. Its characteristic features include the exposed plumbing look, rugged functionality and weathered copper finish.
1. The exposed piping design: This breaks away from the traditional concealed plumbing norms and adds a bold look to any kitchen, instantly catching one's eye.
2. Robust functionality: Thanks to their roots in industrial setups, these faucets are designed to withstand heavy-duty usage, often featuring sturdy valves and durable spouts.
3. Weathered finish: Unlike polished or brushed surfaces, the industrial faucets typically showcase a weathered or tarnished finish, enhancing the rustic appeal and authenticity.
4. Detailed craftsmanship: The dedication to mimic true industrial equipment extends to the design specifics like bolted joints and utility style handles.
5. Versatile: This style of faucet blends well with a variety of kitchen themes, like rustic, eclectic, or even modern, given its neutral copper tone and uniquely raw design approach.
Whether you have a penchant for avant-garde designs or a love for the vintage, the industrial style copper faucet serves as an impressive statement piece, merging the past and present seamlessly.
Copper Faucet and Matching Sink Set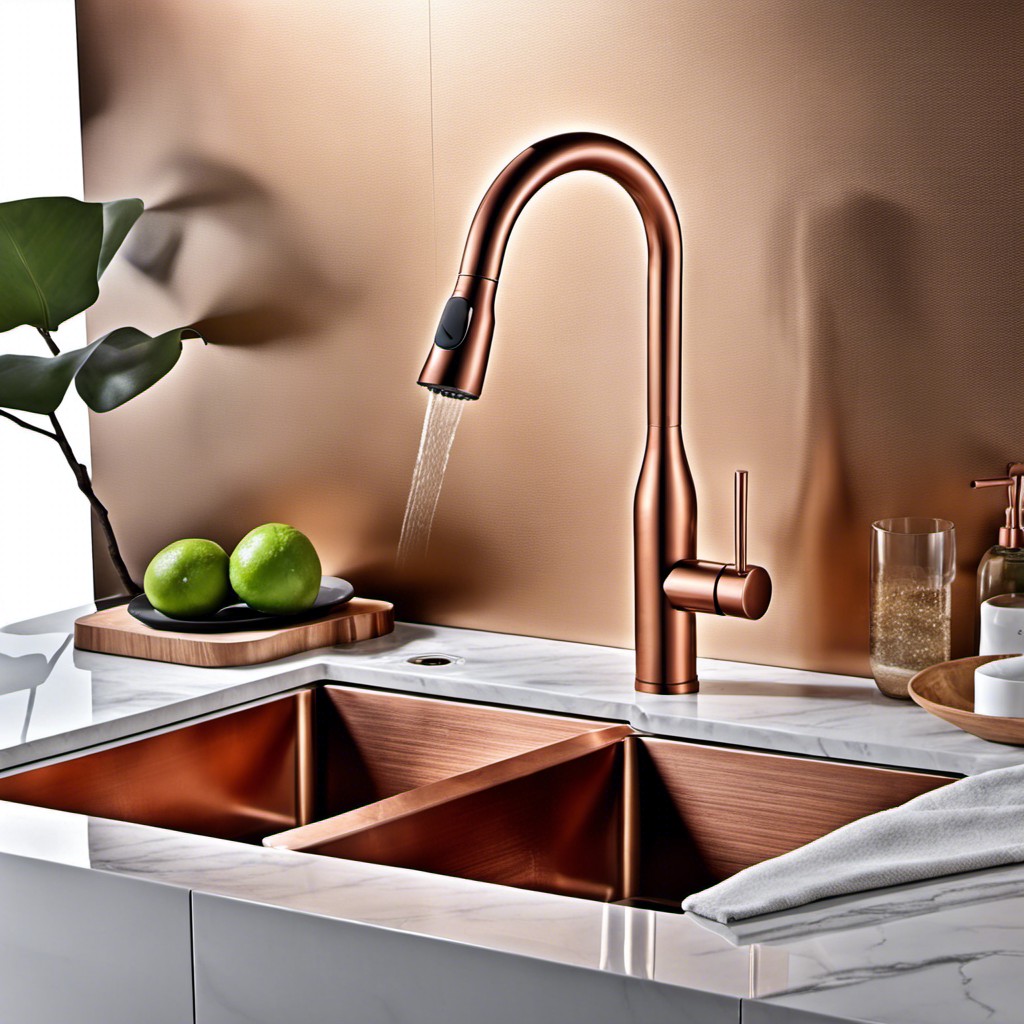 Pairing a copper faucet with a matching sink creates a harmonious and striking setting in any kitchen. Their consistency in material and patina affords an elegant, cohesive look, enhancing the overall aesthetics.
Furthermore, it provides practical advantages too:
Durability: Like its faucet counterpart, a copper sink guarantees longevity with its robust nature. Both can endure heavy usage without losing their allure.
Easy Maintenance: Both copper sinks and faucets are easy to clean and generally require low upkeep. Their surface attributes an innate ability to fight off harmful microbes, keeping your kitchen hygienic.
Gradual Patina: With time, copper develops a stunning, unique patina. Since the sink and faucet material align, their aging cycles will coincide, maintaining visual appeal.
Customization: Copper sink and faucet sets often offer personalization, with options in finishing touches, sizes, and embellishment details, making your kitchen truly your own.
Remember, while this option may cost more upfront, it's a worthy investment for its endurance, beauty, and functionality.
Copper and Brass Dual-tone Faucet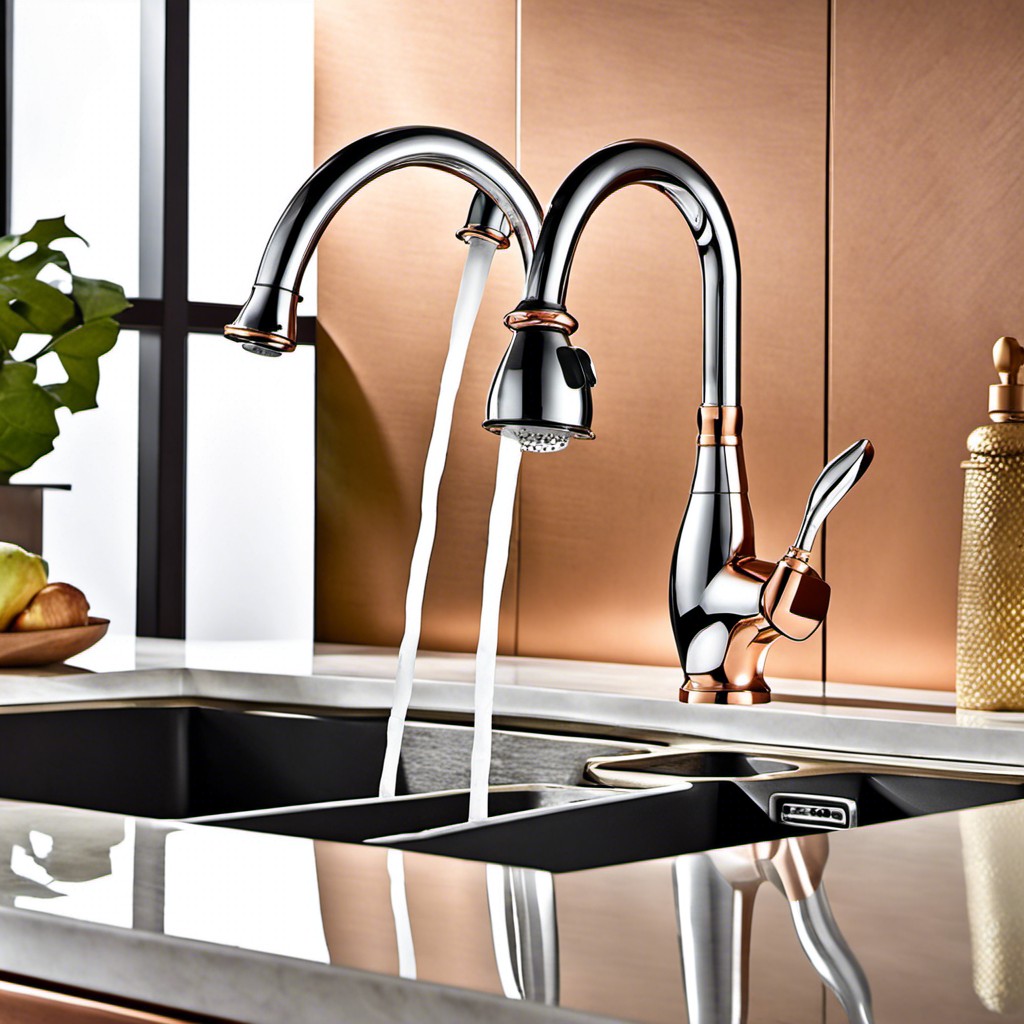 Applying a dual-tone strategy creates a stunning aesthetic that boosts the appeal of any kitchen décor. These faucets showcase a perfect blend of copper and brass, bringing forth a striking contrast in metallic hues. The robustness and durability of copper converge with the softer luminosity of brass to create a unique and mesmerizing look.
These faucets are perfect for homeowners who want to steer away from traditional single-tone fixtures. The brass complements the copper, highlighting and intensifying its warm, earthy tones. The result is an appliance that truly stands out, a centerpiece, tying the kitchen design together.
Moreover, the dual-tone doesn't just serve the purpose of beauty. It also makes the faucets resistant to rust and tarnish, ensuring they maintain their look for years. This design is a splendid choice for those who prioritize both style and functionality in their kitchen décor.
Copper Monoblock Faucet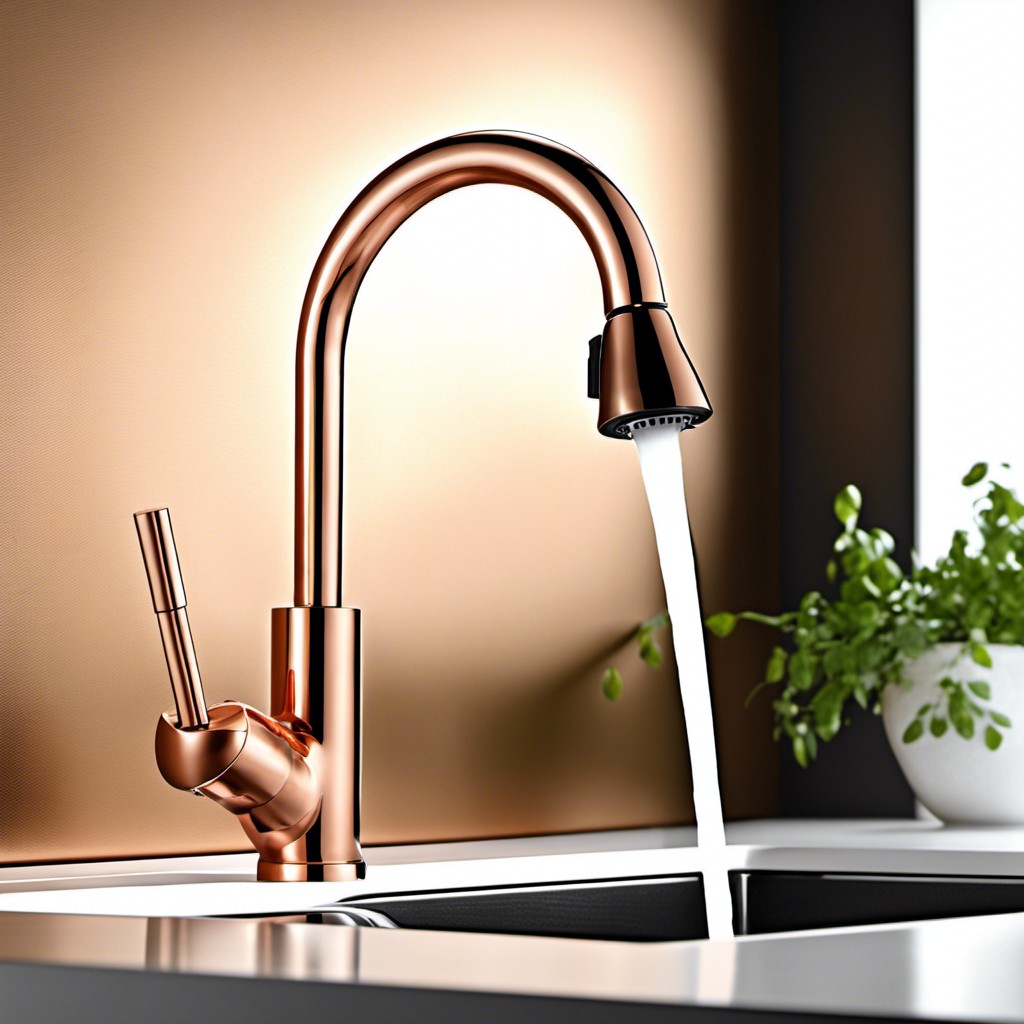 Boasting minimalistic design often associated with modern kitchens, the monoblock style combines hot and cold water controls into one unit. Stylistically versatile, these faucets strike a balance between form and function– an ideal statement piece.
Four major points of consideration with this type:
Flow Rate: Due to the single unit design, expect a higher water flow rate as compared to separate hot and cold faucets.
Installation Requirements: Fitting of this type usually requires one hole in the worktop or sink.
Maintenance: These faucets feature fewer joints and connections, which simplifies cleaning and reduces the risk of leaks.
Variety: Available in a range of styles, it's easy to find one that complements your decor, whether it's a high-arch, pull-out, or pull-down model.
Remember, its copper finish will develop a natural patina over time, bringing an added sense of character to your kitchen.
Continue reading: