Last updated on November 22, 2023
Black stainless sinks are surging in popularity because they effortlessly merge sophistication and functionality into any kitchen design.
I am proud to have written and illustrated this article on 20 innovative black stainless sink ideas for modern kitchen designs, and I hope you find it as inspiring and fun to read as I did creating it.
Black stainless steel sinks are a modern, sleek choice for any kitchen or bathroom, offering a sophisticated alternative to traditional options. Their unique color and finish can transform an ordinary space into a contemporary masterpiece.
This article will delve into various black stainless sink ideas, discussing different designs, styles, and ways to incorporate them into your space. Whether you're looking for a minimalist design or a bold statement piece, you'll find all the inspiration and information you need right here.
Let's explore the world of black stainless sinks and how they can redefine your home aesthetics.
What's Inside
Undermount Black Stainless Sink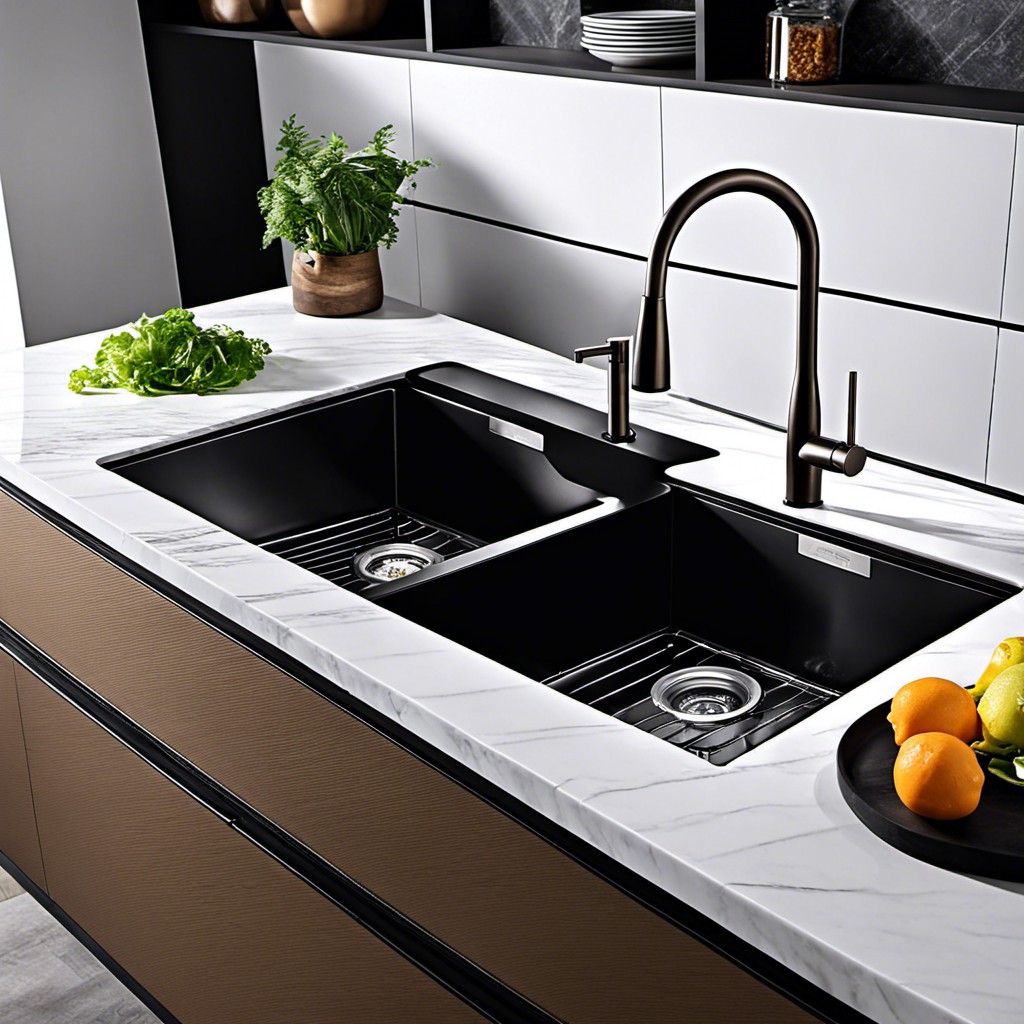 Slipping seamlessly under the countertop, this sink option boasts contemporary aesthetics and excellent practicality. Sizable dishes and pots can be easily handled due to the flat bottom design.
The stylish and sleek look, achieved by hiding the rim, allows for easy cleanup, as crumbs can be swiped directly into the sink. Moreover, the dark hue of the stainless metal imbues the kitchen with a touch of class and luxury. Known for durability, it's resistant to scratches or stains and makes for an ideal long-term choice.
The undermount installation also makes for more usable counter space, beneficial for smaller kitchens. Pairing this sink with light countertops creates a dramatic, eye-catching contrast that's sure to impress visitors.
Farmhouse Style Black Stainless Sink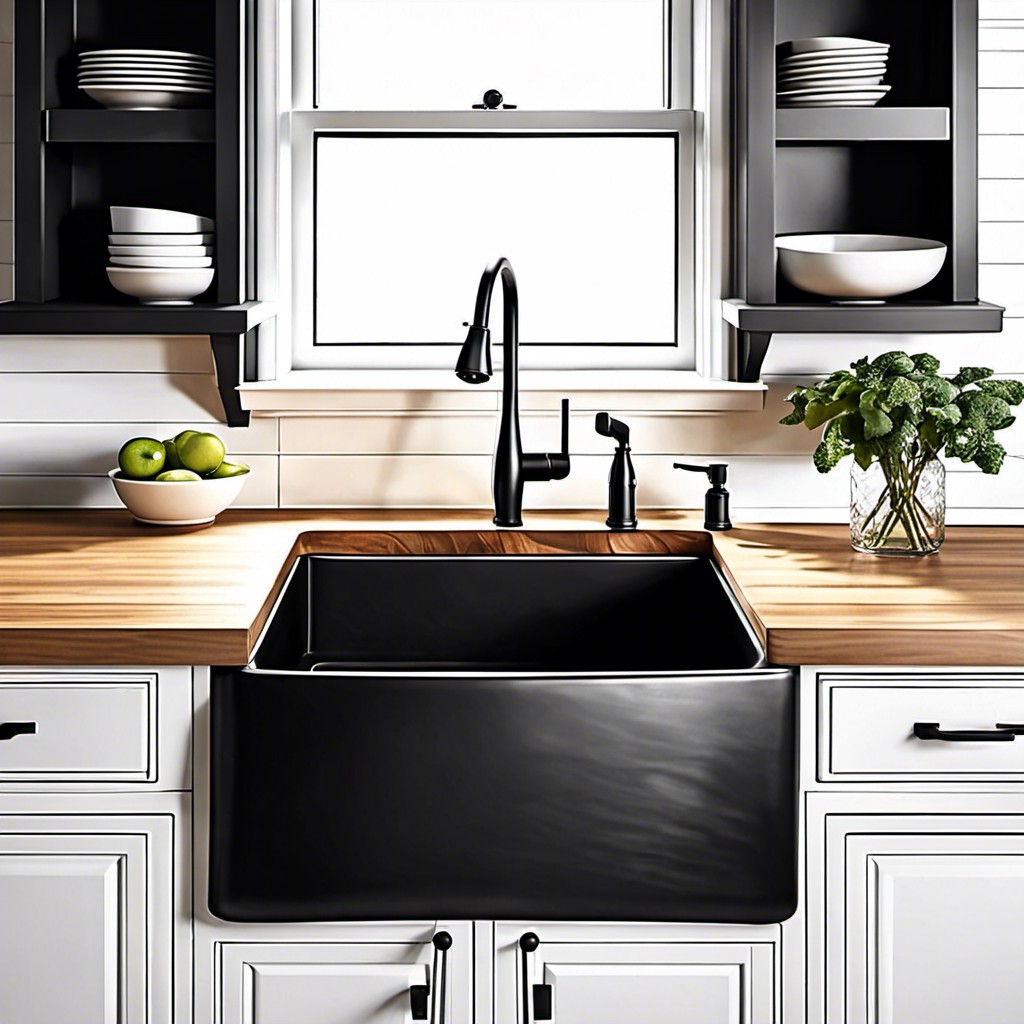 This specific design adds a touch of rustic charm to a modern kitchen, exuding an elegant yet practical appeal.
Created from solid, durable material, the smooth, matte black finish promises to hold up under everyday use, resisting water spots and fingerprints in the process.
The depth of these sinks, often deeper than standard designs, makes them perfect for washing large pots and pans.
Meanwhile, the front apron design not only highlights the sink as a focal point, but also provides for an easier reach and less strain on your back.
Combined with matching black stainless appliances, it contributes towards creating a cohesive, bold aesthetic in your kitchen.
Whether you have a traditional or contemporary design, this sink style can seamlessly blend, offering a stunning contrast or harmonious alignment.
Double Bowl Black Stainless Sink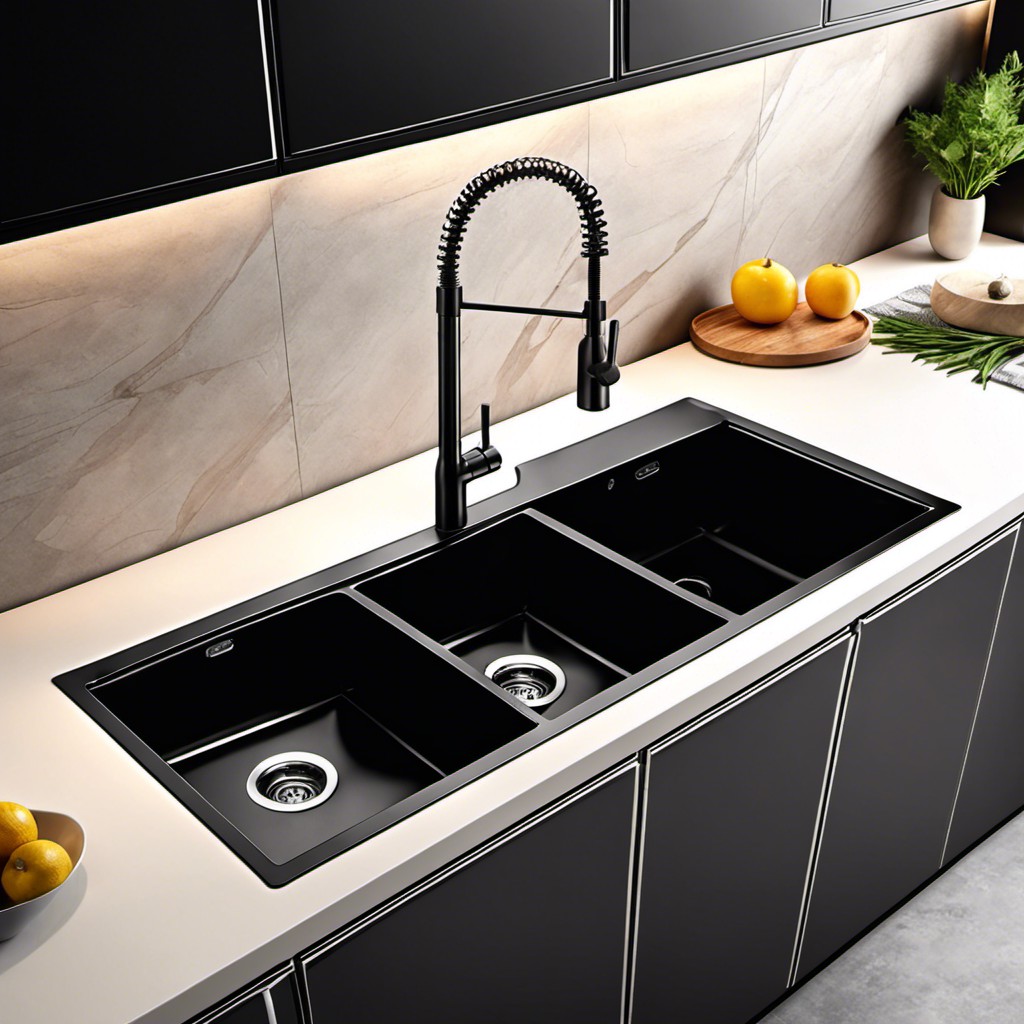 A double bowl layout excels in flexibility and functionality, making it ideal for your kitchen chores. This design features two basins, either of the equal or differing sizes, which can serve various purposes simultaneously. You can use one bowl for washing dishes, while the other can be used for food preparation or rinsing.
With a black stainless finish, this type of sink becomes a striking addition to your kitchen decor. The black hue is not only stylish and modern but also disguises water spots and fingerprints better than lighter colored materials.
Stainless steel ensures durability and resistance against heat, stains, and rust, which is vital for a constantly utilized kitchen tool. The easy-to-clean nature of stainless steel helps maintain the shine and sleekness of the black finish over time.
Remember to consider your kitchen size, needs, and habits while deciding the sizes of the bowls. Some might prefer two equally large bowls, while others might need one larger bowl for cleaning large cookware and a smaller one for other tasks. Either way, a double bowl black stainless sink can elevate your kitchen's style while offering practical and efficient service.
Black Stainless Sink With Gold Faucet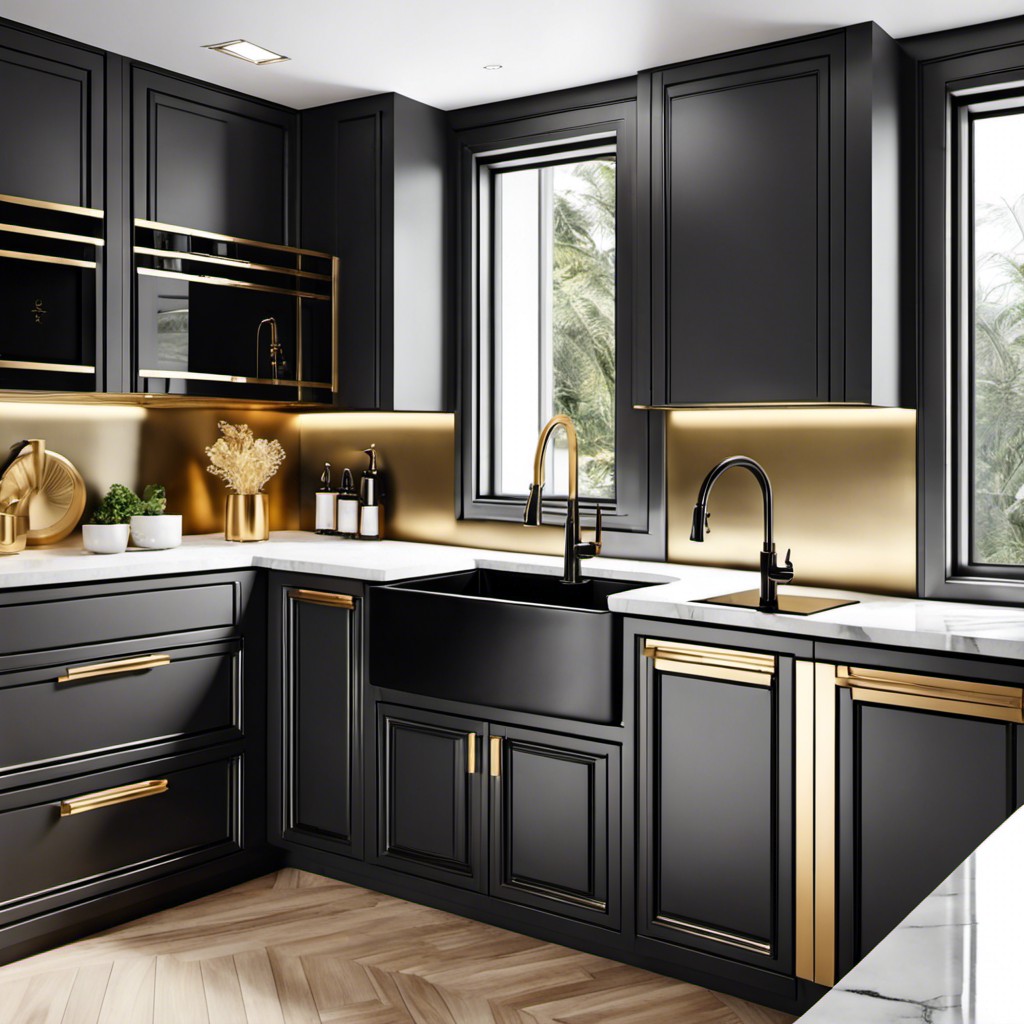 A striking contrast, yet a harmonious blend, best describes the aesthetics of coupling a gold faucet with a black stainless sink. This pairing marries the stark intensity of black with the warmth and opulence of gold, radiating the allure of undiluted sophistication.
1. Bold Contrast: Gold against black allows for an eye-catching element in your kitchen or bathroom, defying the usual monotone fittings.
2. Luxurious Appeal: The gold faucet amplifies the luxury factor, making your sink an attraction on its own.
3. Versatility: This combination fits well in many decor themes, be it contemporary, farmhouse, or industrial.
4. Maintenance: A black stainless sink hides water spots and scratches well, while a gold faucet resists tarnish, prolonging aesthetics and service life.
Remember, choices in faucet style – pull-down, pull-out, or fixed – as well as design – modern, vintage, or industrial – can further customize the look to match your overall decor theme. Excellence lies in the details!
Compact Black Stainless Sink for Small Kitchens
Ideal for small kitchens, these sinks save space without compromising on style and functionality. They usually have dimensions around 15 to 20 inches lengthwise and can fit comfortably even in tight quarters.
Despite their compact size, they come with features like a smooth surface that's easy to clean and doesn't show fingerprints or water spots. You can pair them with single-handle, pull-out faucets to save on the horizontal space. Their dark, glossy finish creates a dramatic contrast in light-colored kitchens.
You'll be surprised at how this small change can make your kitchen look chic and modern. Additionally, these sinks are corrosion and stain-resistant, making them perfect for heavy-duty use. That's why homeowners and designers have lately been gravitating towards these small-sized kitchen features.
Black Stainless Sink in Island Countertop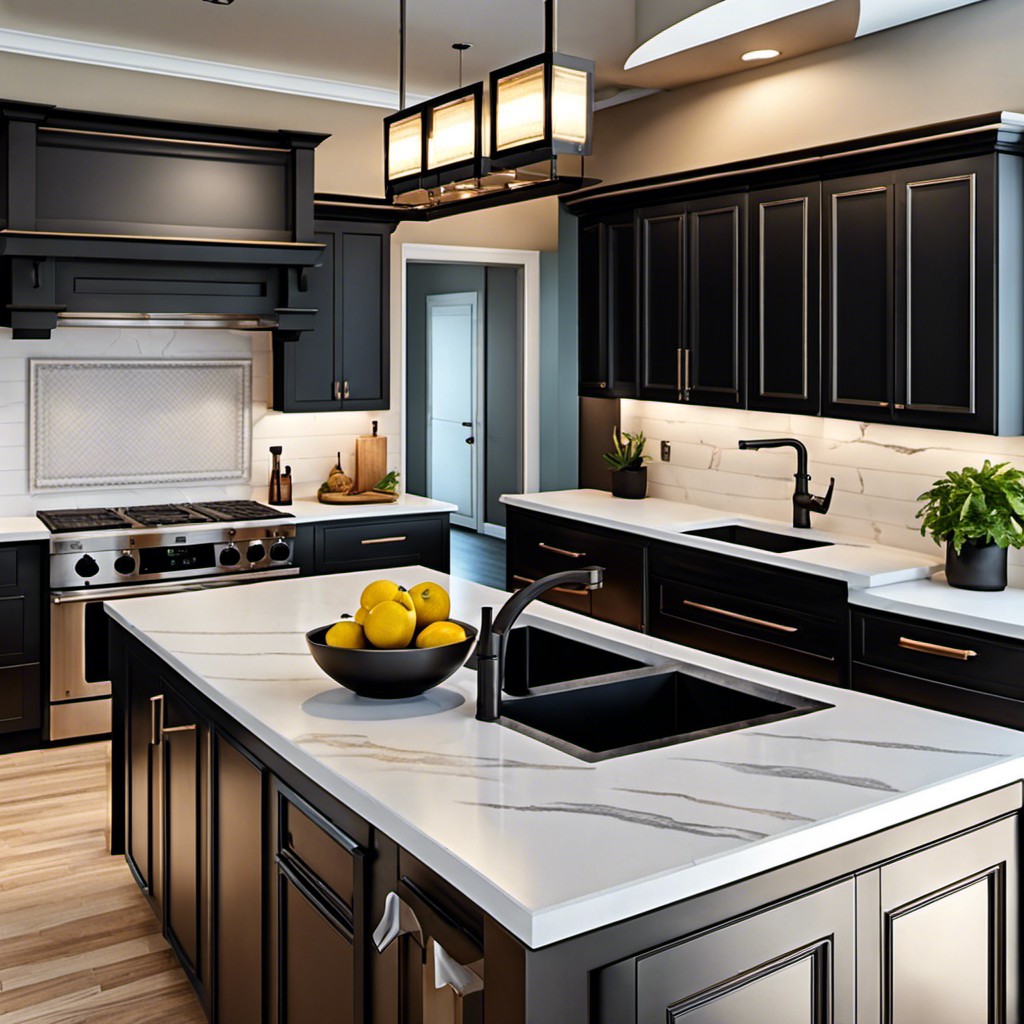 Situated in the heart of your kitchen, island countertop sinks are both a practical and visual focal point. Choosing a black stainless sink here not only adds a contemporary touch but also offers practical benefits.
Firstly, the black stainless steel provides a stark contrast to the generally lighter-colored island countertops, creating an eye-catching centerpiece. This could be an ideal approach to add character and drama to an otherwise beige or plain kitchen.
Secondly, black stainless steel is known for being able to disguise water spots and fingerprints better than traditional silver stainless steel. This helps keep your kitchen island looking neat and clean, even after heavy use.
Lastly, black stainless sinks tend to blend seamlessly with a range of countertop materials such as marble, granite or quartz. This flexibility allows them to complement any kitchen style, from modern to rustic country.
Bear in mind the positioning and size of your island when installing a black stainless sink. You want to ensure there is ample space for prep work, cooking, and perhaps seating areas, without the sink dominating the island.
Remember, aesthetics should go hand-in-hand with functionality. Hence, apart from the style, consider the sink's durability, ease of maintenance, and how well it can handle your kitchen needs.
Black Stainless Sink With Drainer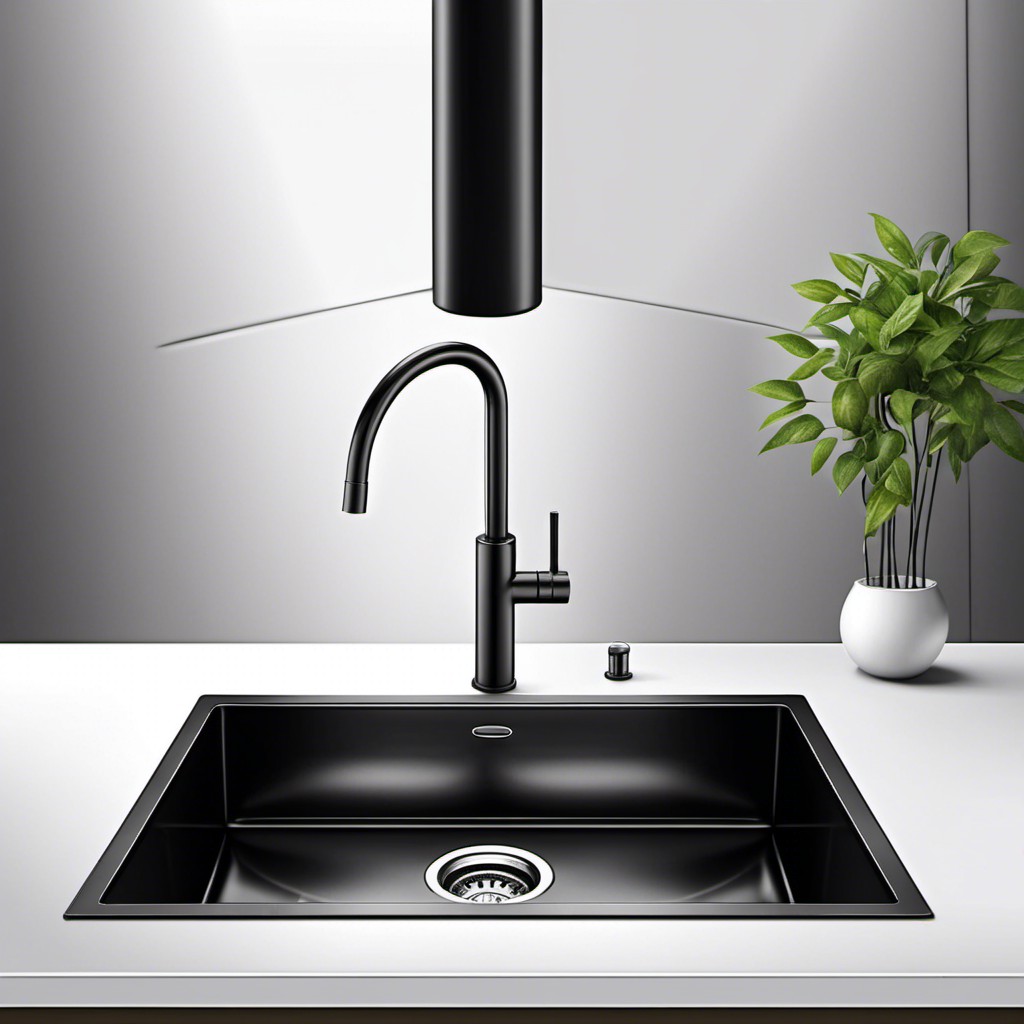 Choosing a sink style with an integrated drainer offers added functionality and convenience. The drainer is specifically designed to hold dishes as they dry, providing an organized and tidy workspace.
This style of sink is particularly beneficial when there's limited counter space available. Its sleek black stainless steel finish ensures it adds style as well as substance to your kitchen. It's long-lasting, resistant to scratching, and easy to clean, making it ideal for busy households.
Highlighting the sink area with matching black stainless steel fixtures can create a uniform look that is both stylish and functional. When considering this option, think about the workflow of your kitchen and how a built-in drainer will streamline that process.
Coordinate the sink with other elements of your kitchen's design such as hardware and appliances for a cohesive look.
Black Stainless Sink With Cutting Board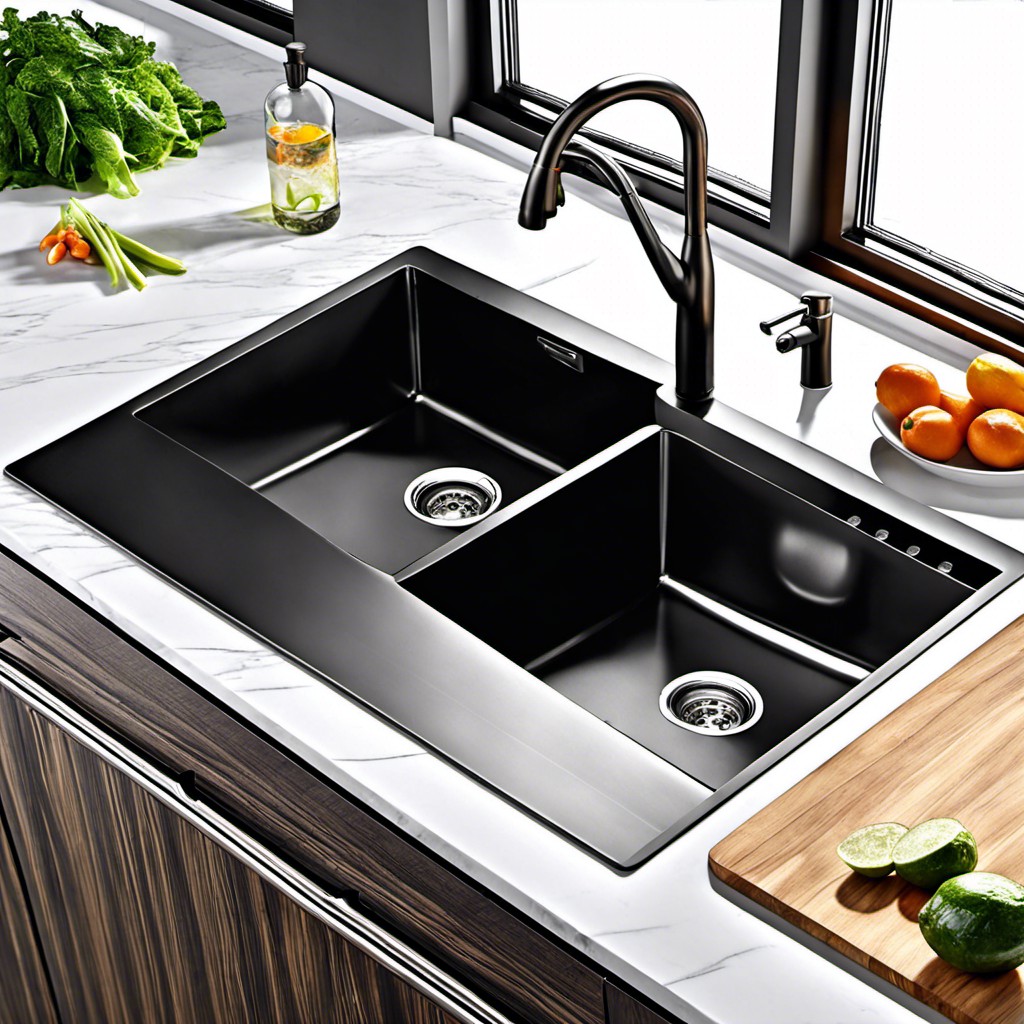 Efficiency meets style with the addition of a cutting board designed to fit perfectly over your sink. This design feature increases kitchen functionality by providing additional counter space right where you need it – on top of your black stainless sink. You can chop vegetables, fruits, and more directly over the sink, easing prep work and cleaning tasks.
The built-in cutting board is a significant advantage for small kitchens, balancing the excess water from rinsed or thawed foods while offering a stable surface for food preparation. The cutting board can be crafted from bamboo, plastic, or other durable materials to suit your kitchen's aesthetic.
Another advantage is the cohesive look it gives your kitchen, tucking away the sink when not in use for a seamless countertop view. This functional feature paired with the stylish black stainless finish creates a sleek, modern aesthetic that any home decorator would relish.
Finally, it's worth noting that the cutting board feature isn't exclusive to any particular sink style. Whether you prefer a single bowl, double bowl, undermount, or farmhouse sink, there's an option out there for you.
Glossy Finish Black Stainless Sink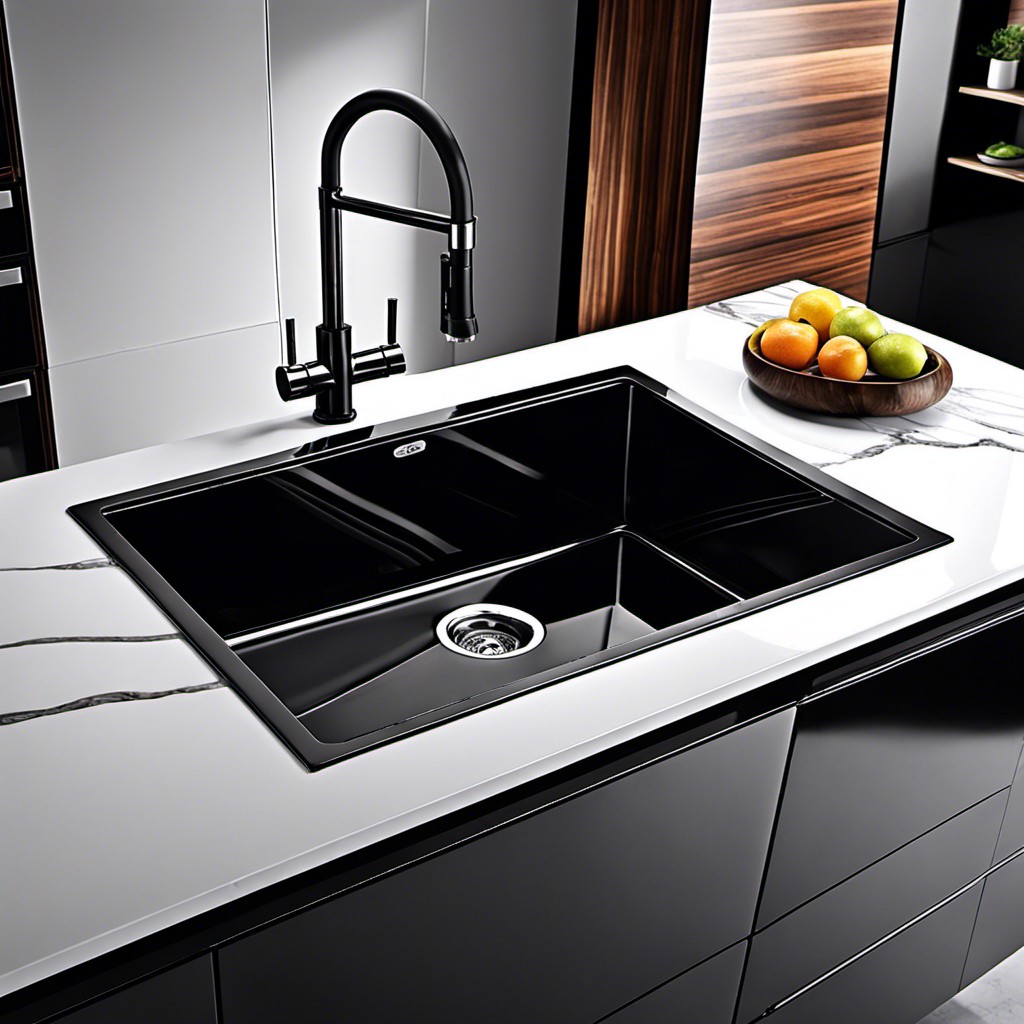 A polished look can be achieved with a glossy finish. This treatment enables the sink to gleam, adding a luxurious touch to the kitchen aesthetic.
Here are some points to consider:
1. Reflective Surface: This finish reflects light wonderfully, instantly brightening up the kitchen area.
2. Easy Cleaning: The sleek nature of a glossy finish implies simple cleaning and maintenance. Wiping with a damp cloth is enough to keep it shining.
3. Enhances Color: The gloss intensifies the rich black color, rendering it sophisticated and striking.
4. Scratch Visibility: It's key to know that scratches might be more visible on this shiny finish. Special care or specific cleaning tools may be needed to maintain its pristine appearance.
5. Versatility: It suits various kitchen styles, from modern to traditional decor, making it an excellent choice for many homeowners.
6. Price: Although slightly expensive, it offers the added value of being highly durable and long-lasting.
So, a glossy finish, despite needing a little extra care, can add a dash of refined elegance to black stainless sinks.
Black Stainless Sink With Soap Dispenser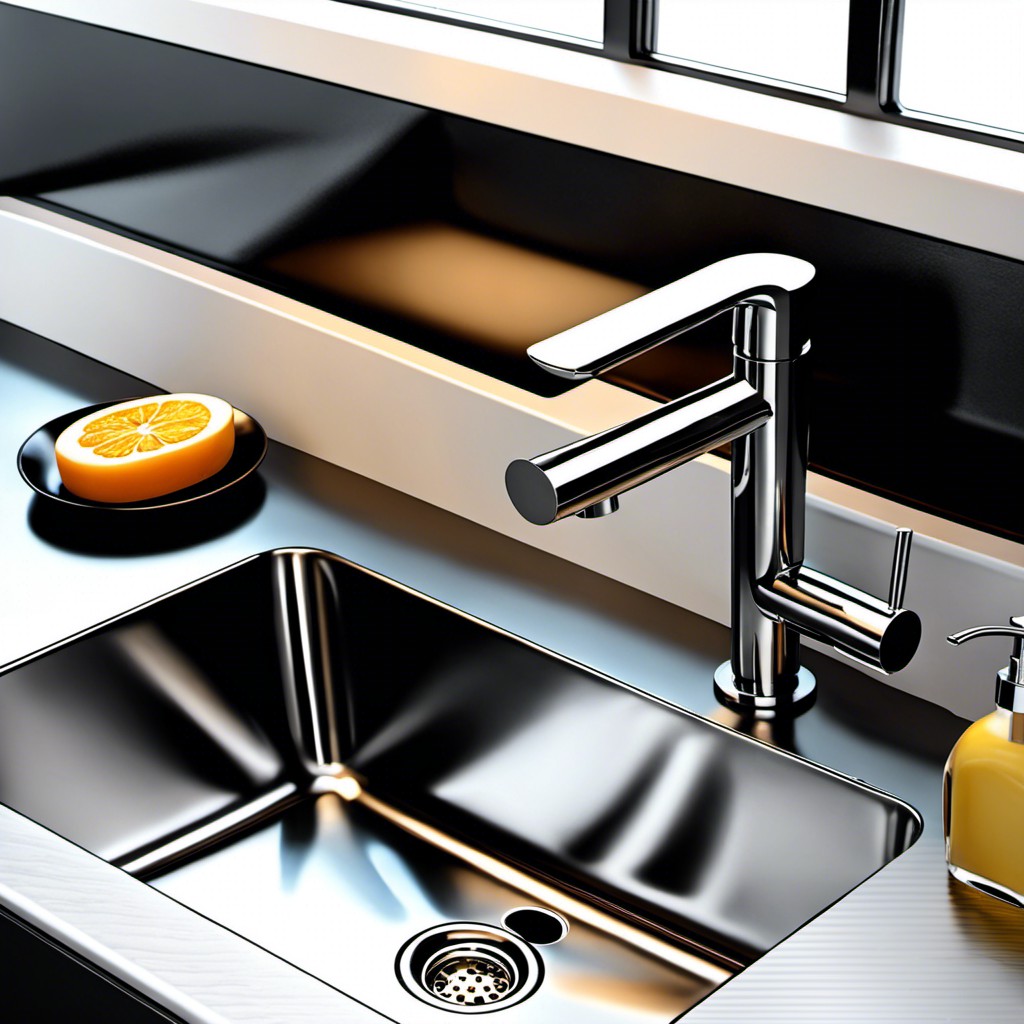 Incorporating a soap dispenser into your black stainless sink design provides an unbeatable combination of style and functionality. It creates a sleek, streamlined look that keeps your counter uncluttered.
1. Convenience – It offers easy access to dish soap or hand soap, improving the cleanliness and hygiene in your kitchen.
2. Consistency – Matching the soap dispenser with the sink creates a seamless, coordinated aesthetic.
3. Space Saver – It frees up precious counter space, especially in smaller kitchens.
4. Easy Install – It's generally simple to install, often requiring just a hole in the sink or countertop.
Remember, the soap dispenser can either be built-in or purchased separately to match your sink. Regardless of your choice, it is a feature that adds ease to your daily routine while enhancing the overall design.
Black Stainless Bar Sink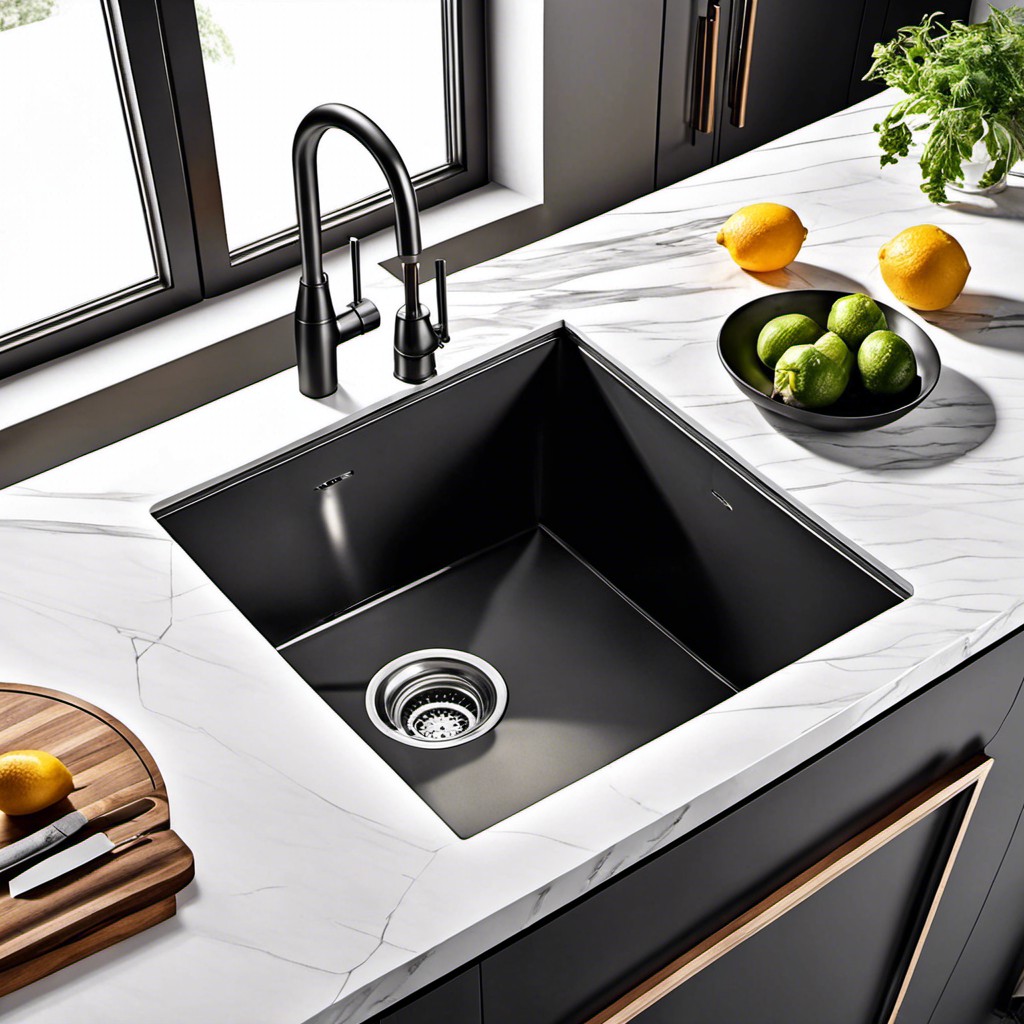 Designed to fit much smaller spaces than a conventional sink, an option for this style is perfect for home bars or kitchenettes. The smaller size doesn't compromise on style and functionality. With its eye-catching hue, it provides a striking contrast – especially against lighter cabinets or countertops. From chill wine bottles to wash glassware, the practicalities are abundant.
Key points to note include:
Space-saving: It fits seamlessly even in confined spaces.
Stylish: Despite its size, it's a focal point in any setting.
Practical: Ideal for washing hands, rinsing fruits, or cleaning barware.
Versatile: It fits perfectly not just in bars but also in kitchens or outdoor grilling areas.
Durable: Made of black stainless steel, it is resistant to chipping and staining.
Black Stainless Sink With Pull-Down Faucet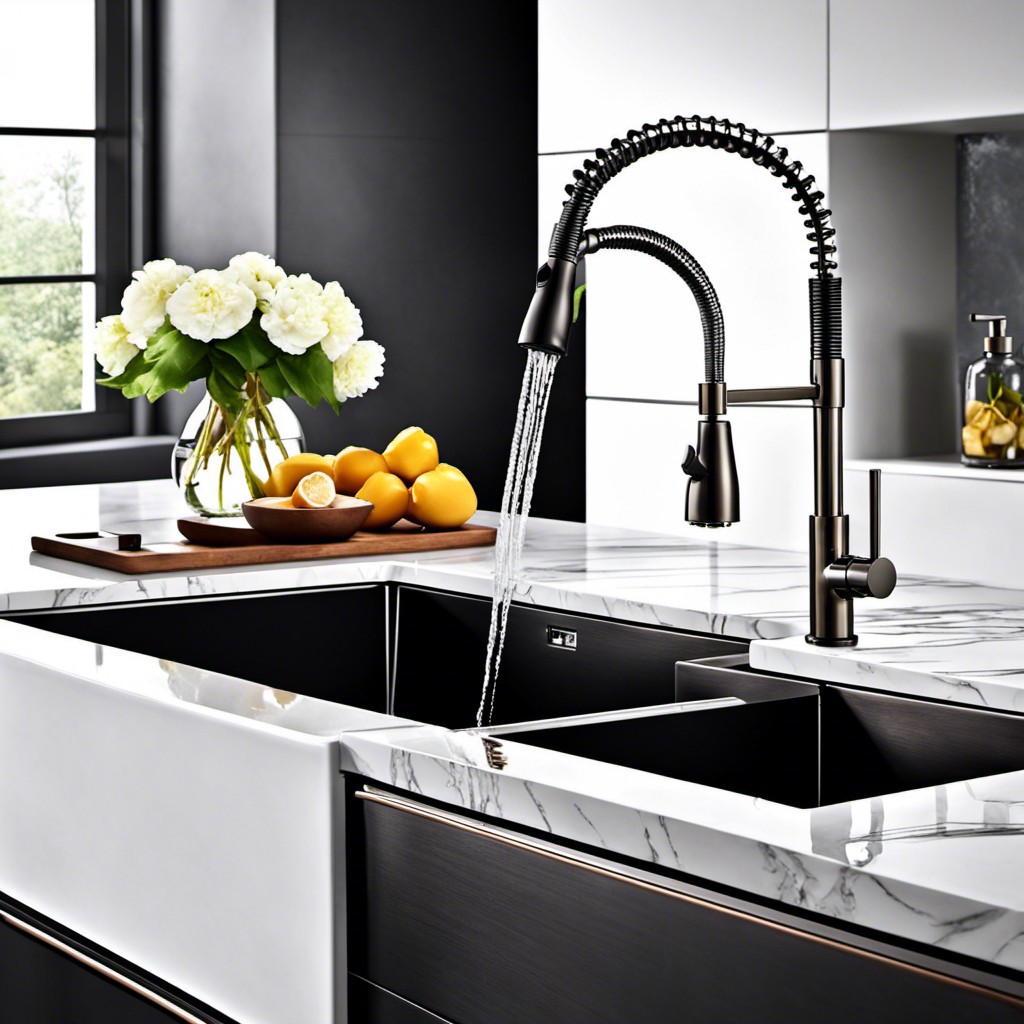 A Pull-Down Faucet extends the functionality of a black stainless sink. Its retractable feature allows easy access to all corners of the sink, necessary for tasks such as rinsing vegetables, washing dishes, or filling pots. This type of faucet reduces splashing, making cleanup easier and maintaining the sink's appearance.
Opting for a faucet in a contrasting color like bronze, gold, or even silver could elevate the aesthetic of the sink, adding a sense of luxury and distinction. A sleek, modern design faucet complements the dark sink, creating an eye-catching, stylish contrast. For maintaining consistency throughout the kitchen, match the faucet's finish with other hardware like knobs, pulls, lighting fixtures, etc.
Consider the height and reach of the faucet to ensure it fits your space and meets your needs. This could involve taking measurements and noting the size and number of items generally washed in your sink. Also, note that pull-down models typically have higher arcs, providing ample clearance for large pots or tall vases.
Lastly, keep in mind the extra features like a spray and stream switch, a pause function, or a 360-degree swivel technology that also adds to the convenience of using pull-down faucets with black stainless sinks.
Rounded Corner Black Stainless Sink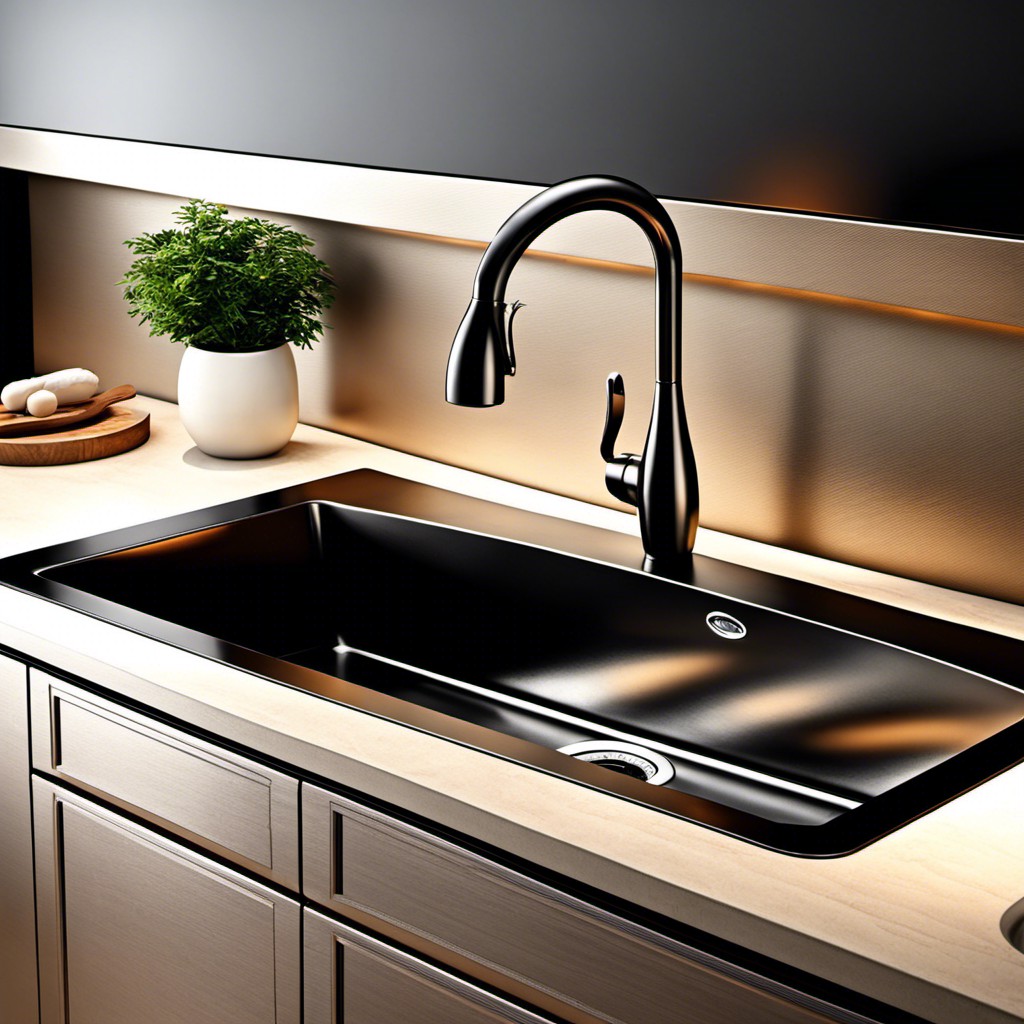 Easing into broader perspectives of customization, let's take a dive into the aesthetics and practicality of this unique design choice. The rounded corner aspect of black stainless sinks not only prioritizes neatness but also functionality.
The corners' soft curves accentuate the visual appeal while offering an effortless cleaning experience, ensuring no hard-to-reach areas or tough stains that undermine the overall look. Furthermore, this design choice reduces the risk of injuries from sharp edges.
A black sink with rounded corners also gives an illusion of more space, making it an excellent option for smaller kitchens or for those wanting a sleek, modern appeal.
Apron Front Black Stainless Sink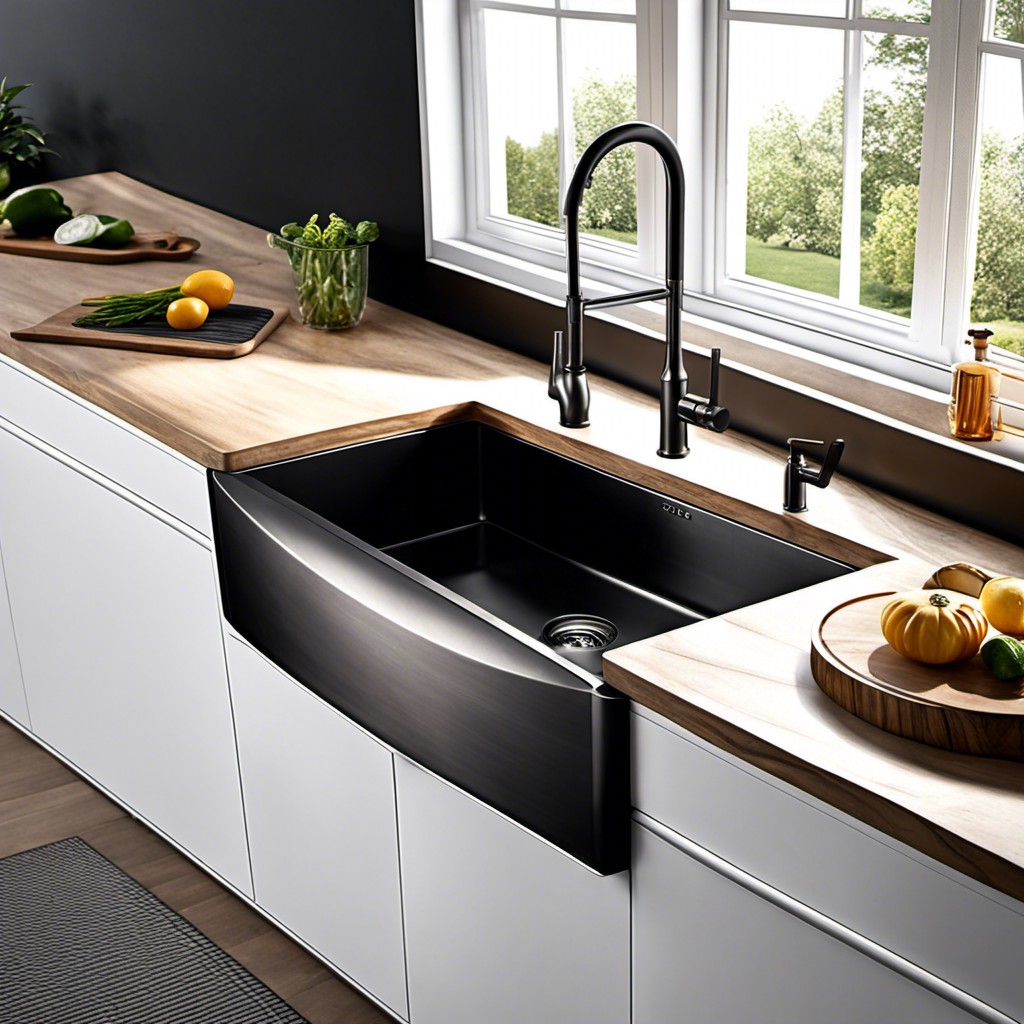 Impressively, these sinks combine fashion and functionality with their stylish design, usually extending down to the edge of the countertops – a feature that lends an incredibly chic, yet rustic element to your kitchen décor.
As well as adding elegance, their utilitarian aspect, thanks to the front panel (also known as the 'apron') presents the user with closer access to the bowl, cutting down any potential water splashes and spills onto the floor.
Here are a few points to consider:
Design versatility: They can fit into both modern and traditional kitchen styles, making them adaptable to various décors.
Spacious Configuration: The apron sinks are typically broader and deeper than standard sinks, accommodating larger dishes and pots with ease.
Added Protection: Since apron sinks cover a part of the cabinetry, they provide an extra layer of shielding against water damage to your cabinets.
Comfort: The forward-oriented design reduces the strain on your back, as it reduces the need for leaning over the sink.
Durability: The black stainless steel used offers resistance to heat, rust, and denting, ensuring a longer lifespan for your sink.
Remember, while they exude an undeniable charm, apron sinks might require custom installation due to their unique structure. It's advisable to consult with a professional during the installation process.
Industrial Style Black Stainless Sink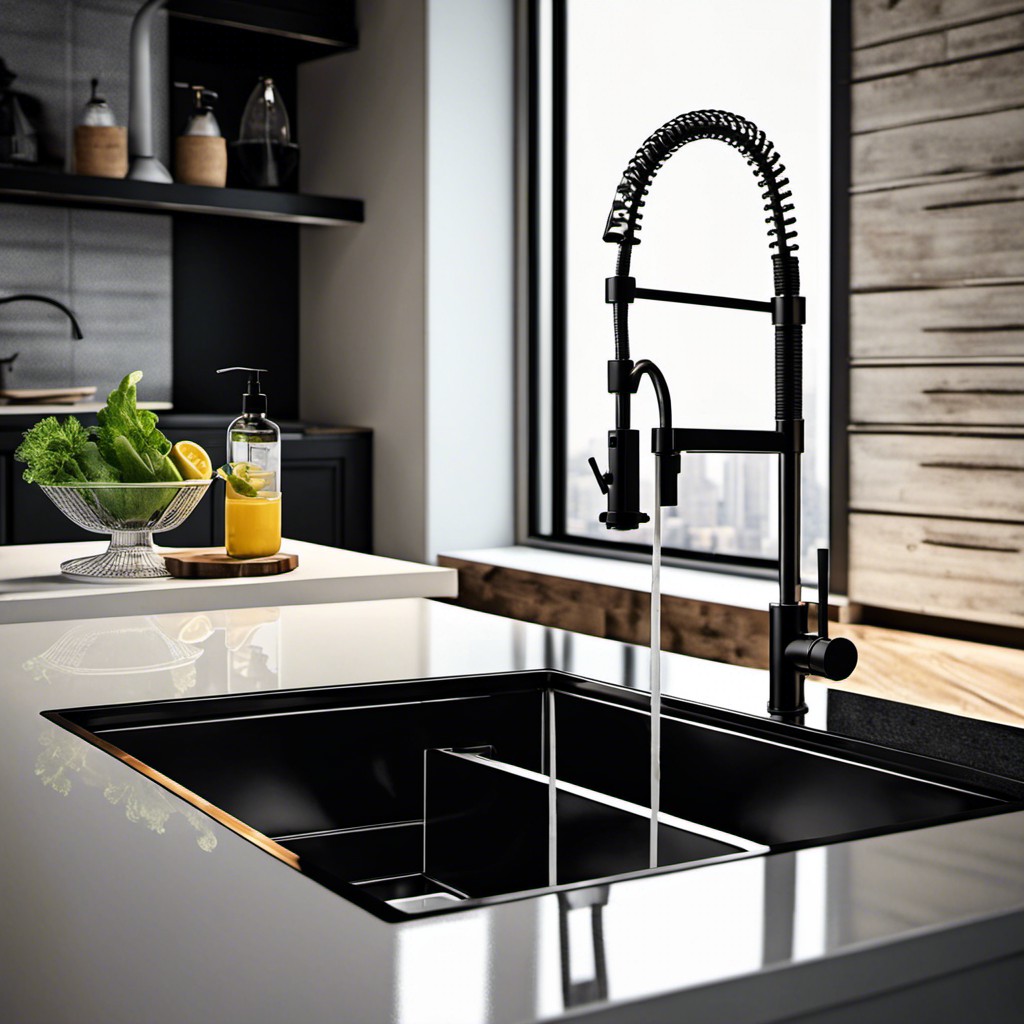 This design choice draws inspiration from the loft-style, raw aesthetics infusing elements of iron, stainless steel, and wood. Heightening the meaning of form following function, in this set up, the sink is less of a feature and more of an operational essential.
Key points about this style:
1. The sinks are often deep and wide, designed for heavy usage.
2. Industrial-style faucets, with characteristic high arc spouts and pull-out spray heads, accompany these sinks.
3. Since the kitchen is viewed as a working area in this style, accessories such as integrated racks, soap dispensers, and cutting boards are common features.
4. The trend also favors raw, unpolished surfaces, adding to the rustic feel. A brushed or matte finish for the black stainless sink fits right in.
5. Positioning plays a significant role – these sinks are frequently the central element of a kitchen island. It's all about accessibility and convenience.
Black Stainless Sink With Integrated Backsplash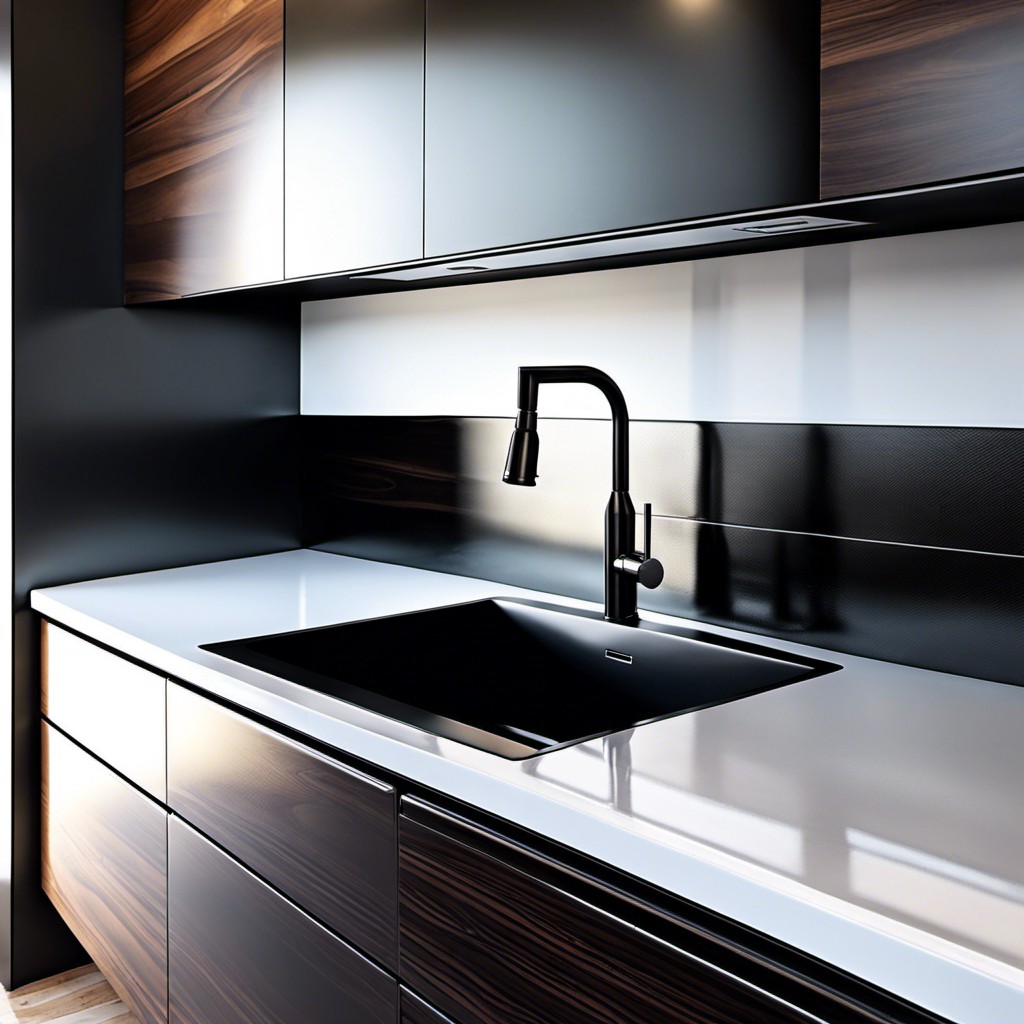 An integrated backsplash can add a streamlined, modern aesthetic to your kitchen. This built-in feature not only enhances the sink's visual appeal but also provides a practical function. The sleek, unbroken line between sink and wall protects the wall from undesired splashes and stains, making cleaning a breeze.
1. Protective: With the shielding presence of a backsplash, worry less about water damage and stubborn stains.
2. Cohesive Design: This sink style presents a seamless transition from sink to wall, delivering an elegant, modern look.
3. Easy Cleaning: Having no grout lines or gaps, cleaning is easy and mold is kept at bay.
4. Space Saver: An integrated backsplash may also function as a holder for your sink necessities, freeing up counter space.
5. Inimitable Style: It often adds dramatic flair to the kitchen, particularly when contrasted with lighter-colored cabinetry.
Consider this option if functionality and aesthetics are of equal importance in your kitchen's design.
Contrasting Black Stainless Sink in White Kitchen
Spotlighting the depth and sophistication of a white kitchen, the black stainless steel sink serves as an eye-catching contrast amidst the pristine surfaces. It commands attention and brings a unique aesthetic appeal to the kitchen.
Here are a few reasons why this style is an outstanding choice:
Statement Piece: The distinct color creates a bold statement, making it the prime focus of your kitchen.
Visual Harmony: It bridges the gap between white countertops and dark appliances, maintaining a balanced look.
Durability: Black stainless steel resists smudges, fingerprints, and water spots better, ensuring a cleaner appearance.
Versatility: It smoothly melds with various design themes, be it minimalistic, contemporary, or industrial.
Timeless Touch: The black and white duo is a classic combination, and thus, it will never go out of style.
Embracing a black stainless steel sink in a white kitchen is not just about making a design statement but also enhancing practicality and usability.
Black Stainless Sink With Cover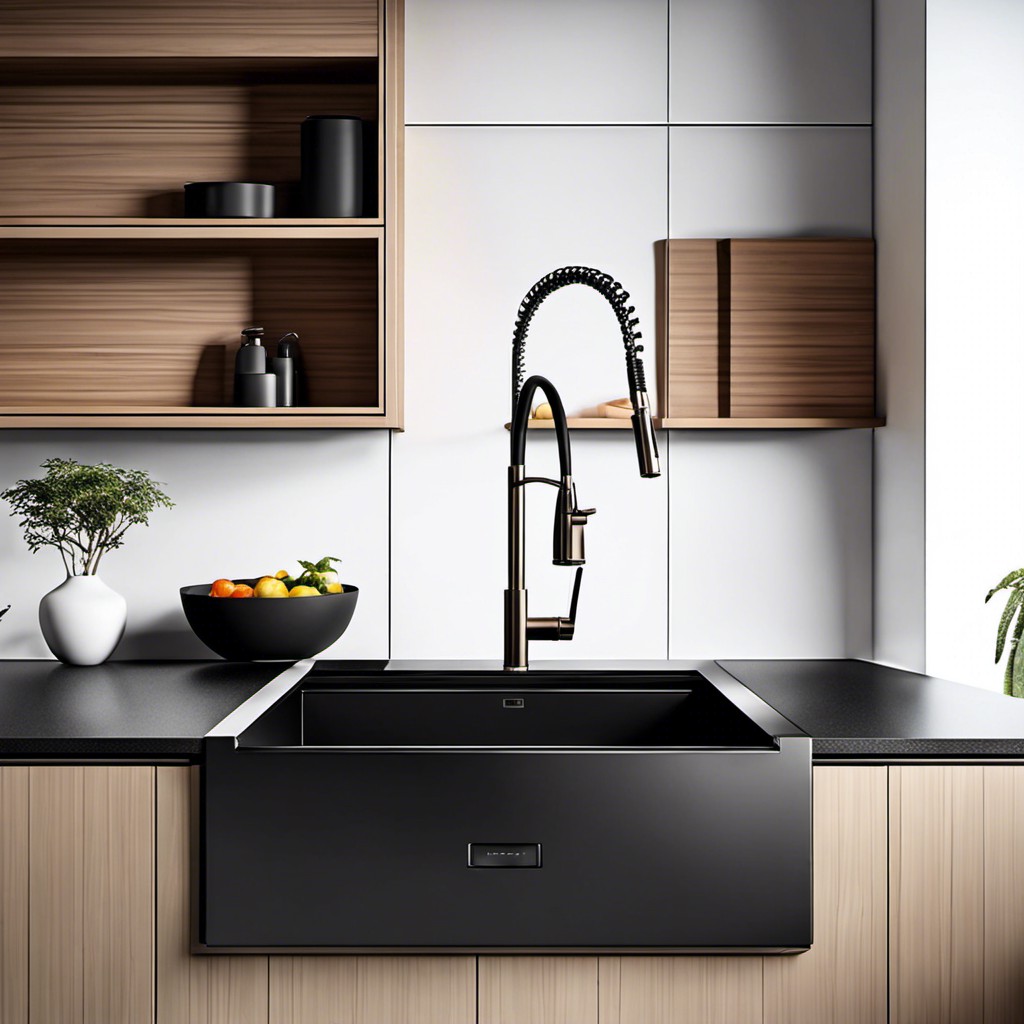 A sink cover isn't just functional but can significantly enhance aesthetics too. The cover offers extra countertop space in your kitchen when the sink is not in use, perfect for compact kitchens.
Made from the same sturdy, corrosion-resistant black stainless steel, the cover can withstand the weight of kitchen essentials that you may want to place over it. Besides, not to forget, it effectively conceals unwashed dishes, making your kitchen appear tidy even on a busy day.
Use it as a cutting board for chopping fruits and vegetables. Simply remove the cover when you're ready for clean-up. Therefore, a sink with a cover promotes multi-functionality and boosts utility.
Black Stainless Sink With Grid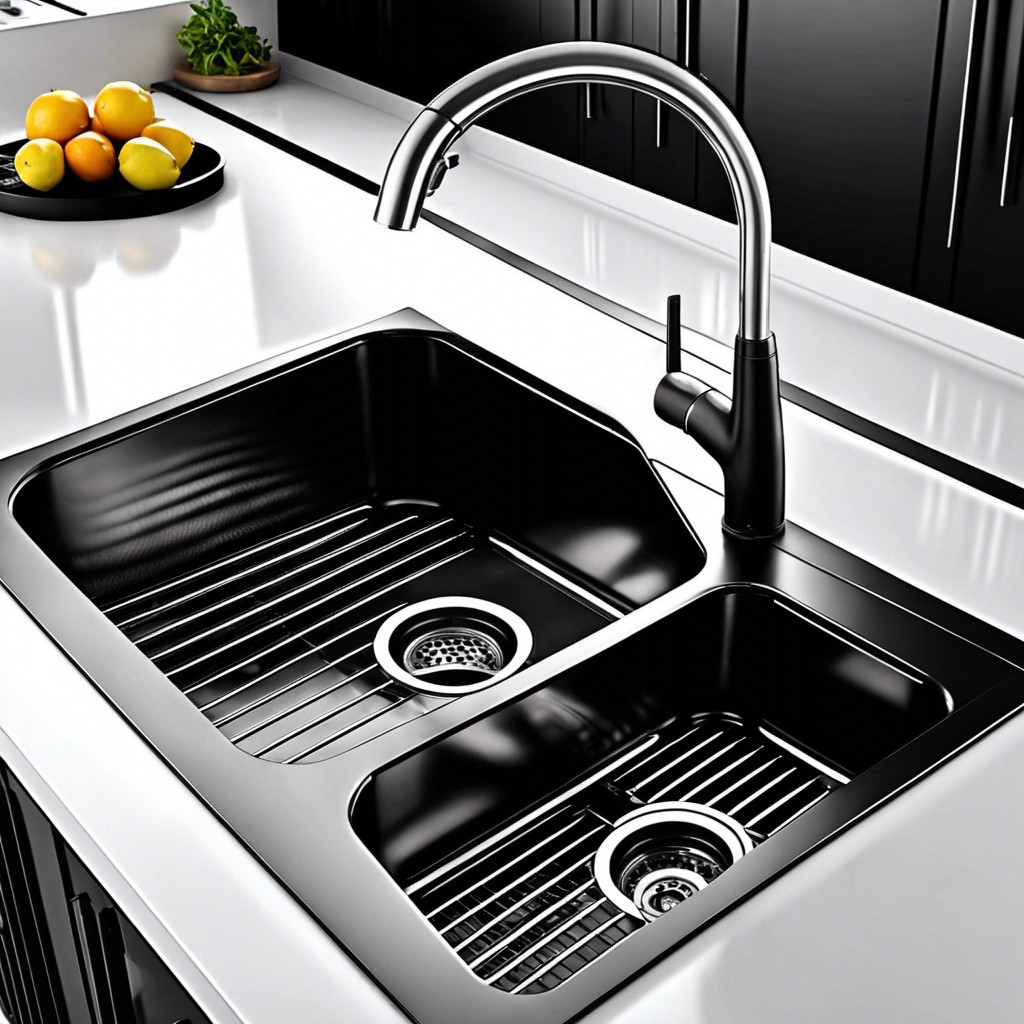 Transitioning to the practicality of design in kitchen sinks, the integration of a grid into black stainless sink has gained popularity. Renowned for its multi-functional utilities, this design element serves as protection against scratching of the sink surface ensuring longevity. It further doubles as a secondary surface for drying dishes.
Durable construction: These grids are often constructed from stainless steel, enduring constant use without the risk of rust or corrosion.
Facilitates cleaning: The grid is generally removable, allowing easy cleanup of any food debris at the bottom of the sink.
Sound dampening: With a grid, the noise made by dishes hitting the base of the sink is significantly reduced, making for a peaceful kitchen environment.
Varying designs available: Whether your sink is rectangular, square, or rounded, there is a grid designed to fit. Custom grid options are also available in the market.
These features elevate the performance of a black stainless sink, making it more than just a visually striking centerpiece for the kitchen.
Black Stainless Sink in Outdoor Kitchen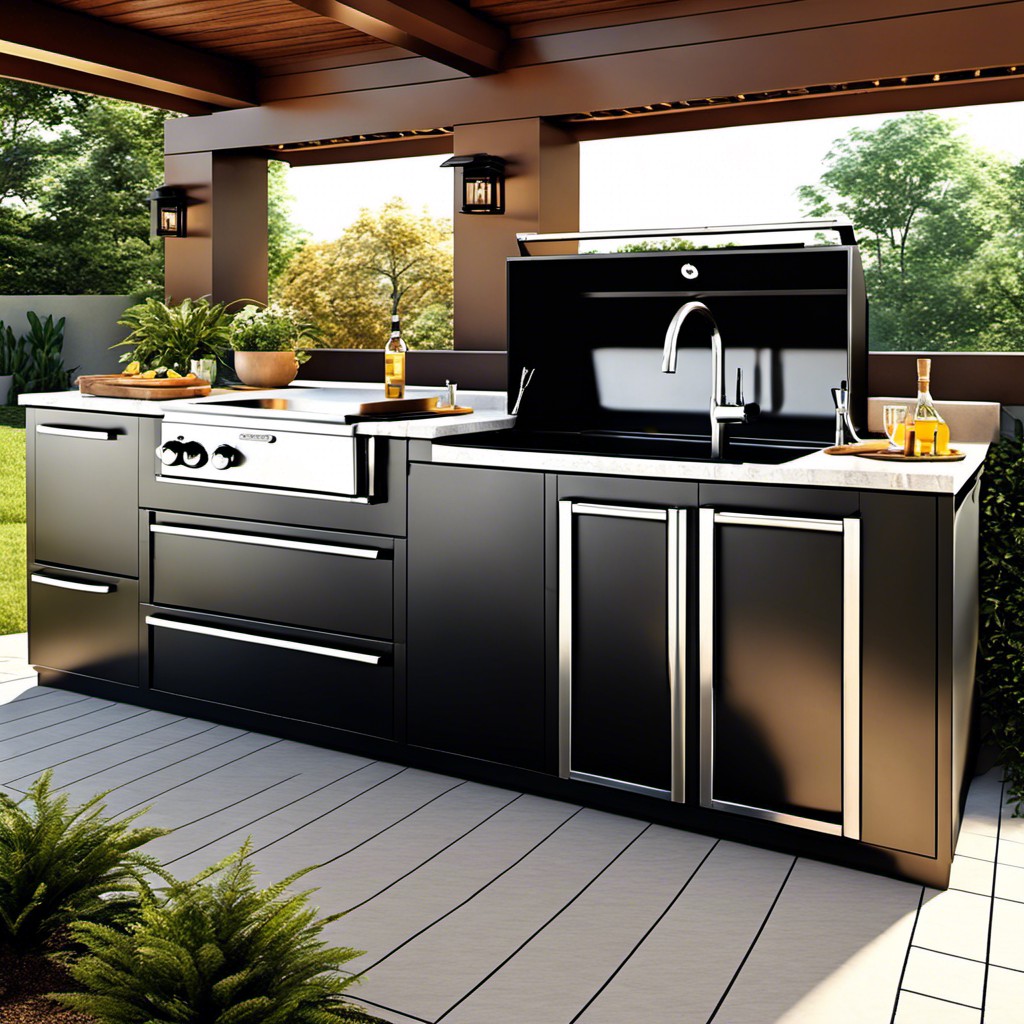 Often an overlooked aspect of outdoor kitchens, the choice of a sink is just as significant as the cooking equipment. A black stainless steel sink serves as the ideal asset for many reasons.
Firstly, it's highly durable and corrosion-resistant, effectively standing up against outdoor elements. Weather changes and fluctuating temperatures would have less impact on this sink compared to other materials.
Secondly, the dark shade naturally camouflages dirt and grime that can easily accumulate in an outdoor setting. This cuts down the need for frequent deep cleaning, letting you enjoy your outdoor cooking sessions without worry.
Furthermore, its sleek and modern appearance can heighten the aesthetic appeal of your outdoor kitchen. Pair it with a stainless steel grill and matching cabinetry to create a cohesive, high-end look. The rich black hue offers a striking contrast against natural outdoor elements, making it an eye-catching centerpiece.
Continue reading: