Last updated on November 30, 2023
Explore decorative window molding ideas because they can spectacularly transform ordinary windows into defining elements of your home's unique style.
These are my unique design concepts made using design tools. I hope you find them inspiring!
Window molding can transform your home's aesthetic, giving it a classic charm or a modern edge. This article aims to explore unique, creative ways to use decorative window molding, branching out from the usual, well-tread solutions. Not that the traditional ideas are to be discarded; you'll find a comprehensive list of these time-honored tactics at the article's close. But here, we want to push the boundaries and offer uncharted, inspiring ideas for window molding decoration. Let's cultivate a fresh perspective together to bring your windows from overlooked to unforgettable.
What's Inside
Modern Window Seat Trim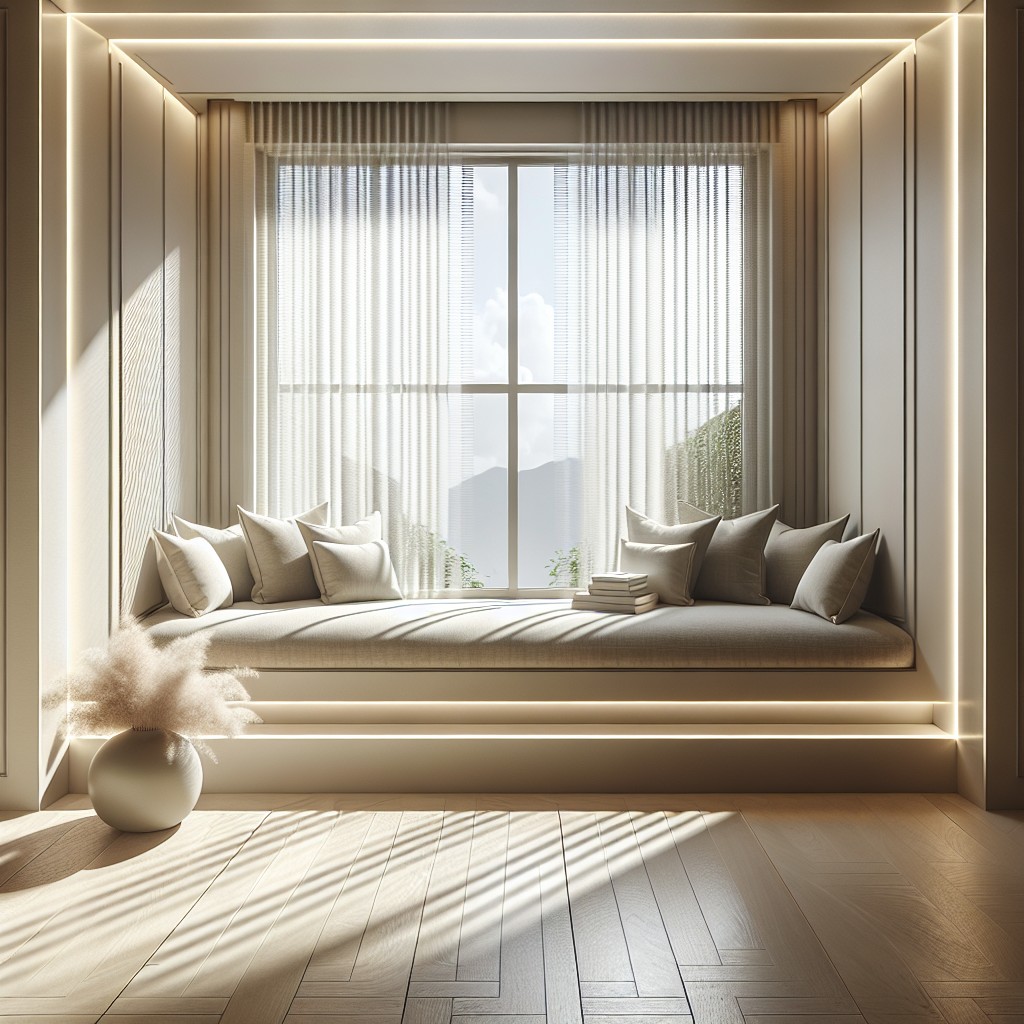 Exploring a fresh, contemporary approach, this style of window trim adds a level of elegance and practicality. The seating space, fashioned from the same material as the trim, creates a harmony of style and function. It's especially fitting for larger windows that span most of the wall surface.
Features to take note of:
Seamless blend of seat with trim for the illusion of continuity.
Typically painted in a light color to enhance the modern appeal.
May include storage solutions designed understatedly to uphold the minimalist aesthetic.
Much favored in spacious living areas and bedrooms, spotlighting the window as a key decor element.
Material options:
Hemlock
Oak
Pine
Poplar
PVC
Polyurethane
are popular choices for their sturdiness and things like resistance to warping or likelihood to showcase smooth paint finishes. Light and neutral paint colors are especially effective in bringing out this trim's modern appeal.
Installation tips:
Mitred corners, a meticulous sanding job, and high-quality primer and paint will all contribute to a sleek, flawless finish. Remember though, this window trim style requires a bit more carpentry skill due to the additional window seat construction.
Arched Window Trim Styles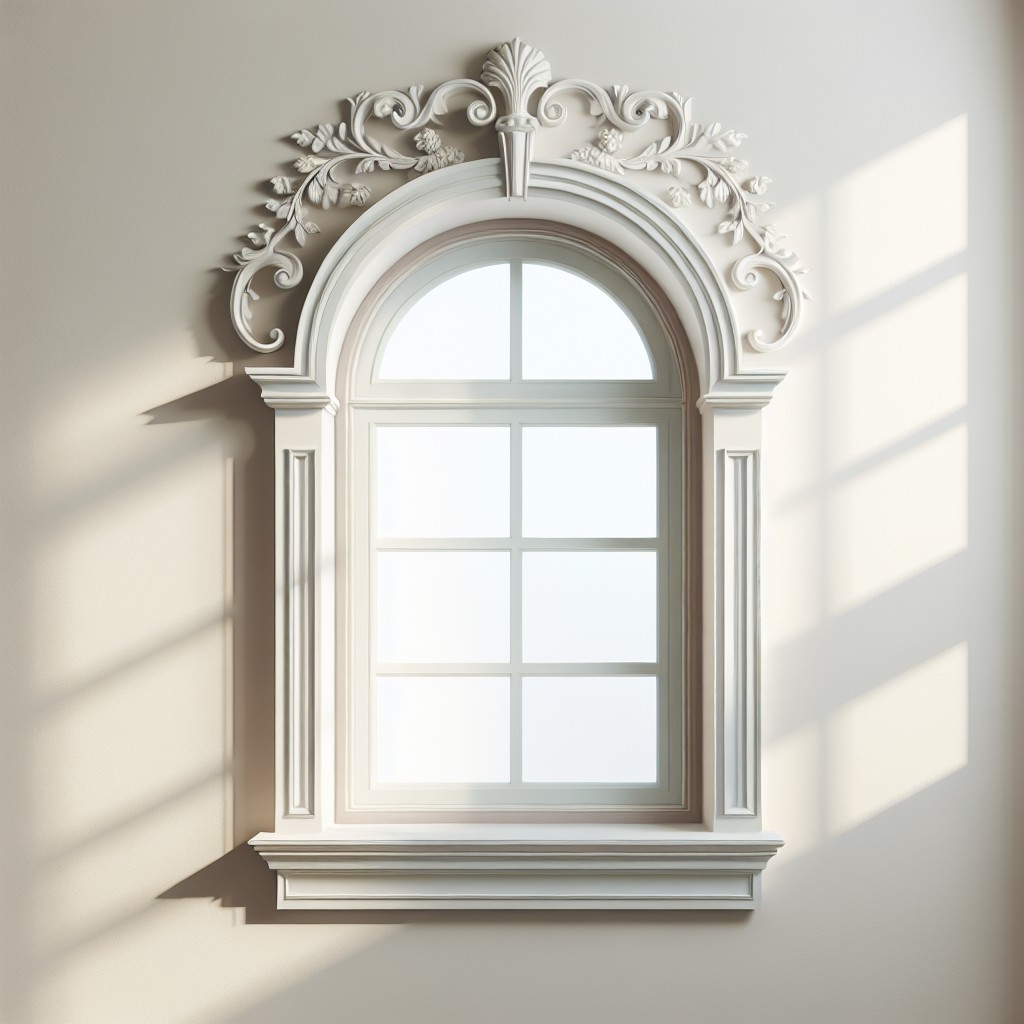 Arched window trim styles offer an exquisite divergence from the typical rectangular designs, bringing a feel of historic architecture into your space. Some concepts behind this impressive style include:
Gothic Arch: Radiating a medieval aura, the Gothic arch window trim displays pointed arches and intricate tracery work, mimicking designs found in ancient cathedrals.
Roman Arch: With a semi-circular arch, Roman-styled trims can imbue any room with a feeling of majesty and nobility reminiscent of grand columns and arenas.
Tudor Style: Characterized by frames with narrow vertical panels and a wide, arched top, Tudor style arch trim adds a classic English touch to any house.
Palladian Style: This style refers to a large, central arched window flanked by two smaller rectangular windows, borrowing aesthetics from the Italian Renaissance period.
Elliptical Arch: Comprised of a smooth, elongated curve, an elliptical window trim creates an intriguing visual interest, seamlessly marrying modern style and tradition.
Modern Abstract: This genre defies traditional arch type, opting instead for unique, individualistic designs that can be customized to reflect personal style and taste.
Remember, the best approach is to consider the overarching design theme of your space before settling on a particular arch trim style. Balancing old world charm with modern design sensibilities can lead to exciting and unique home aesthetics.
Stained Glass Window With Wooden Trim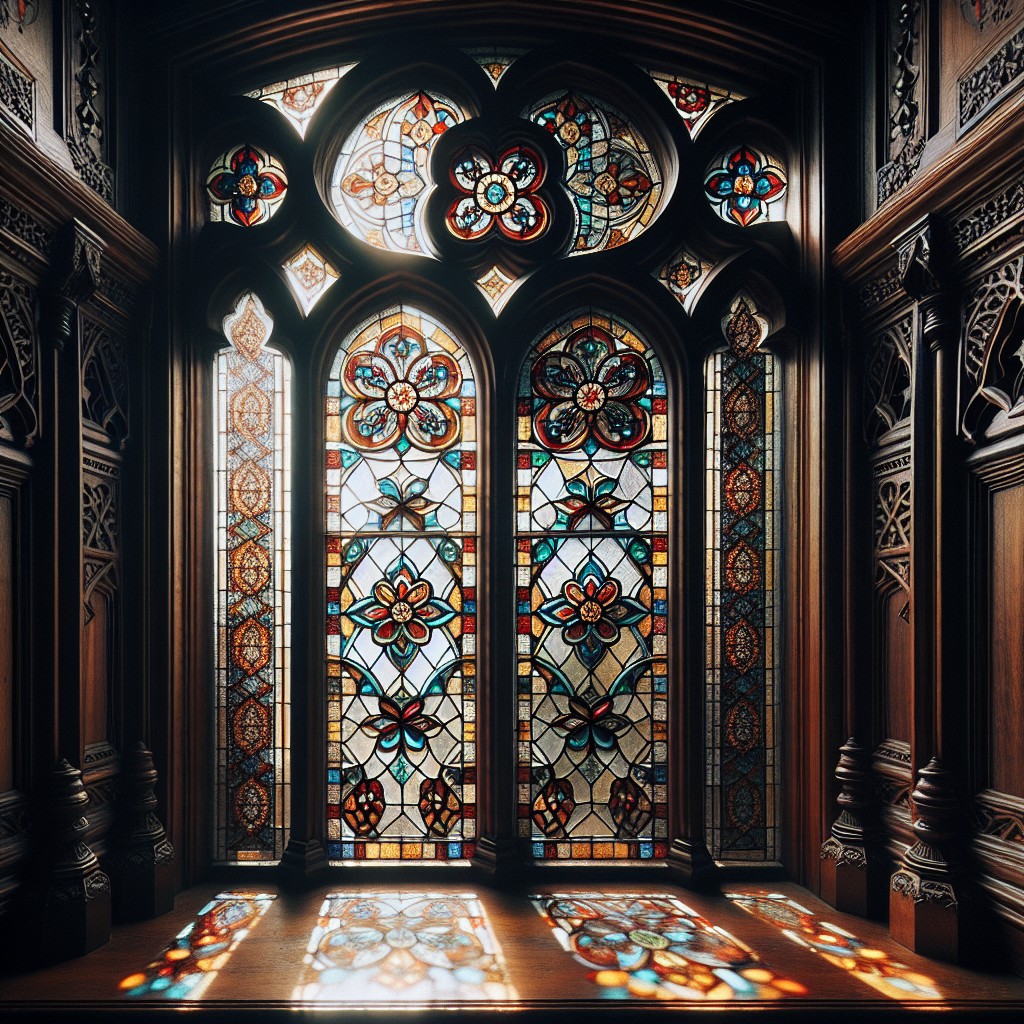 Delving into the appeal of stained glass, beauty merges with functionality. Its colorful aura lends an atmospheric charm to a space, complementing the warm, natural tones of a wooden trim. The blend of two timeless elements creates a striking balance.
Light filtering through the multihued glass panels casts captivating patterns that are ever-changing with the day's progression.
When selecting your wooden trim, consider the walnut for a rich, dark accessorial contrast, or an oak for a lighter, more understated approach. Implement geometrically arranged stained glass for a modern vibe, or, for a classical appeal, opt for floral and nature-themed designs.
However, ensure that the level of detailing in the stained glass does not overwhelm the room's overall design. Subtleness can birth elegance.
Finally, care for your stained glass with regular cleaning and inspections to retain its vibrant luster over time.
Vintage Rustic Green Trim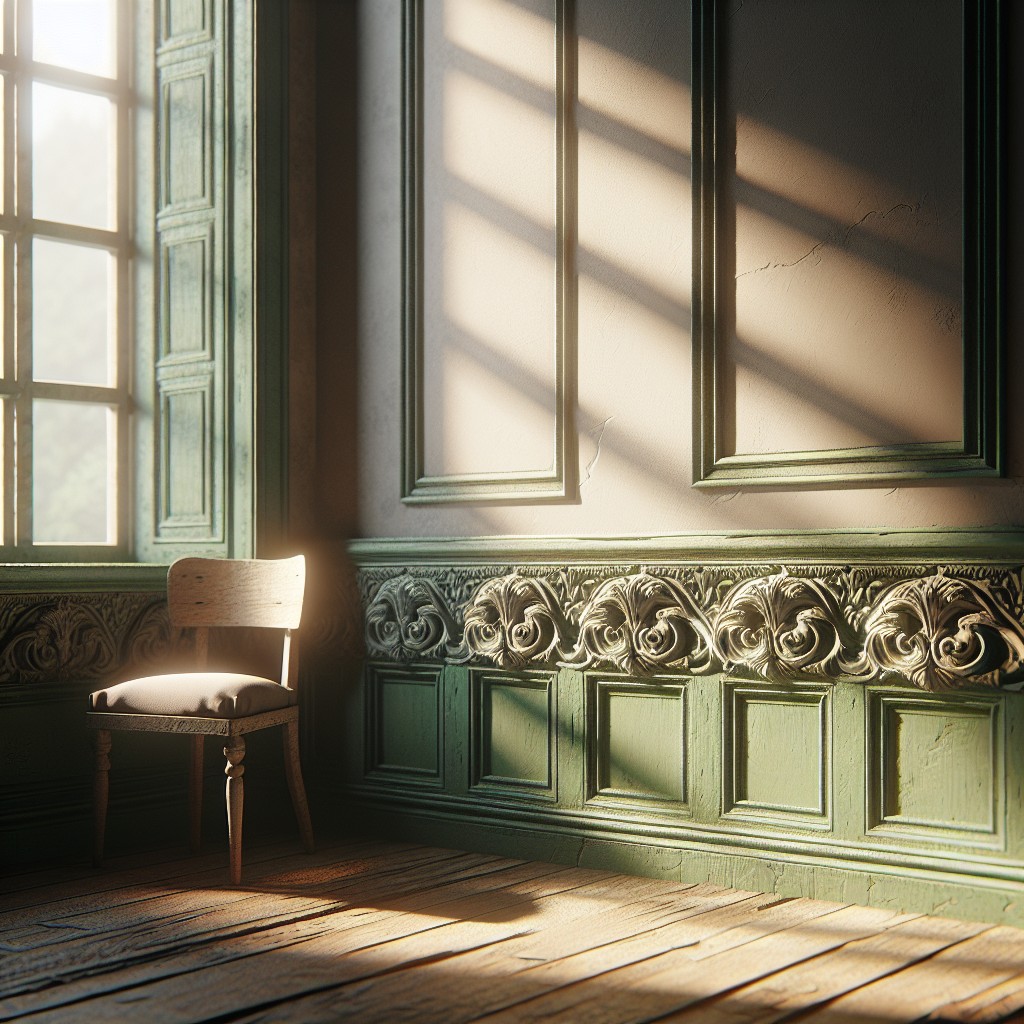 Designed to create a unique vintage look, this type of molding boasts a rugged charm that mimics the passage of time. The secret lies in the green, worn-out finish that resembles old wooden pieces that have weathered over the years.
There are few key elements in this approach:
Selecting Durable Wood: Choose a wood type that suits the rustic theme, such as pine, cedar, or reclaimed wood.
Distressed Painting Process: This involves applying a series of paint layers and then randomly sanding them off to create a well-worn look. The base layer is usually white or cream, then a green top layer is added.
Incorporating Antique Hardware: To add authenticity to the finish, consider using old-fashioned, rustic hardware such as wrought iron nails or vintage latches to secure the molding.
Matching with Décor: To maintain a cohesive theme, match your window trim with other rustic décor elements in the room. Think barn-style doors, repurposed wooden furniture, or even exposed wooden beams.
Incorporating these points in your molding project can bring out the character and vintage feel you aim to achieve with a rustic green trim design.
Shutter Style Window Trim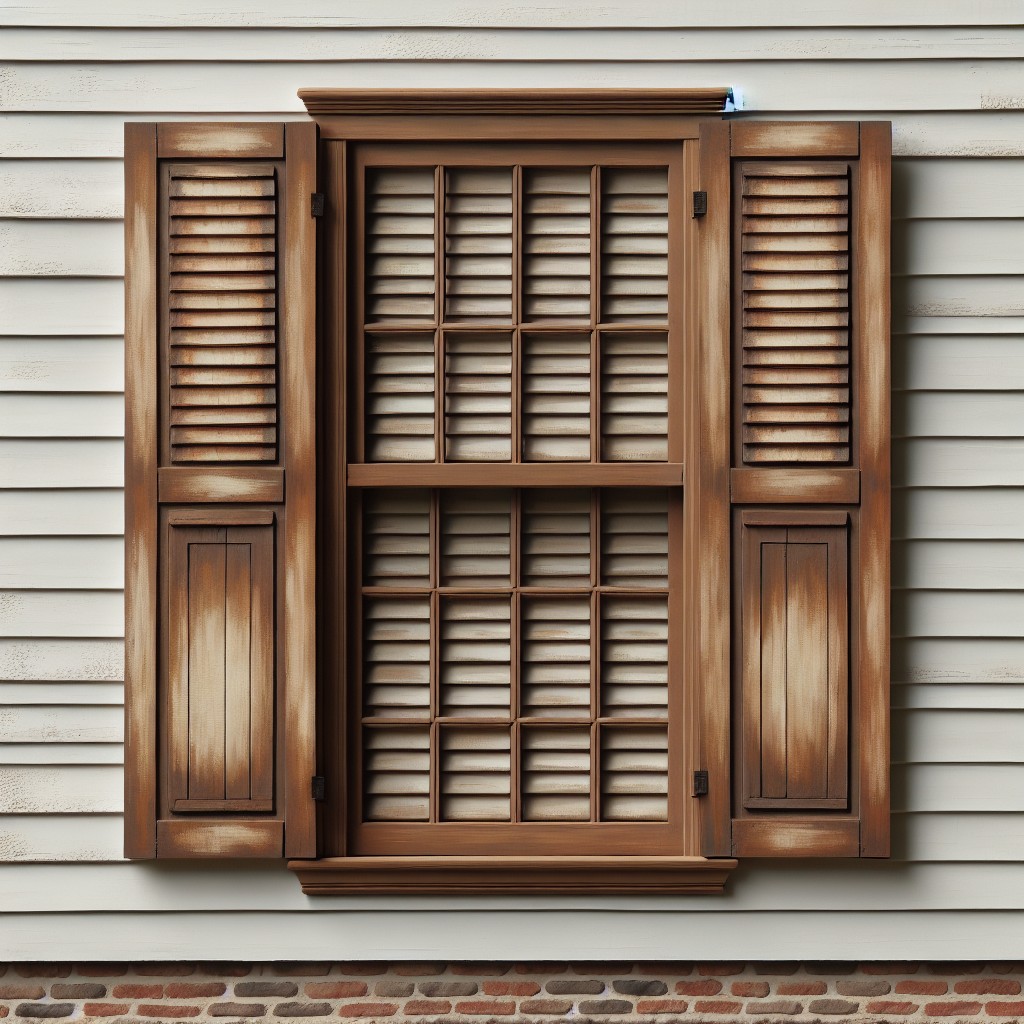 Shutter style window trims add a classic touch to exteriors, particularly enhancing colonial or cottage style homes. Emulating a pair of shutters, this trim variation features vertical side trims wider than the standard, often paired with a wide horizontal trim atop, bringing a hint of the past to your view outside.
One principal advantage of this style is its innate flexibility. Paint them in a bold color to bring out a unique contrast against the facade or maintain a muted palette for a subtle accent. They seamlessly lend themselves to customization, and you can experiment with varying widths and finishes, playing with weathered textures for a vintage look or sticking to sleek lines for a more modern appeal.
Additionally, combining this trim variant with functional hardware like hinges or shutter dogs can elevate the overall aesthetic, providing an illusion of operational shutters while increasing curb appeal.
Gray and White Combo Trim
While a popular choice for contemporary style homes, this trim style compliments a variety of architectural designs. The aim of this option is to create a sophisticated yet understated look. The gray trim can be darker or lighter, making it versatile for varying color schemes.
Some key points to consider:
1. Gray adds a modern, yet timeless touch to your home's appearance. Lighter shades yield a softer, airy feel, while darker shades convey a more formal and elegant atmosphere.
2. The duo tone of gray and white maintains a balance, with the white brightening and contrasting the gray. This combo breaks monotony without being too stark.
3. Different shades of gray can be played around with, depending on the color scheme of the respective room. Cooler grays for a fresh, invigorating look or warmer grays for a cozy, comforting feel.
4. The white can be used on the inside of the trim, playing the role of a subtle frame around the window, creating a visual interest.
5. Pairing these colors with a similar color scheme in the room can ensure a harmonious look throughout. Matching the trim with a gray or white room color scheme creates an elegant flow from walls to windows.
Remember, it's not just about aesthetics, the right trim color can create the illusion of larger windows, and hence, a larger space.
Natural Pine Window Trim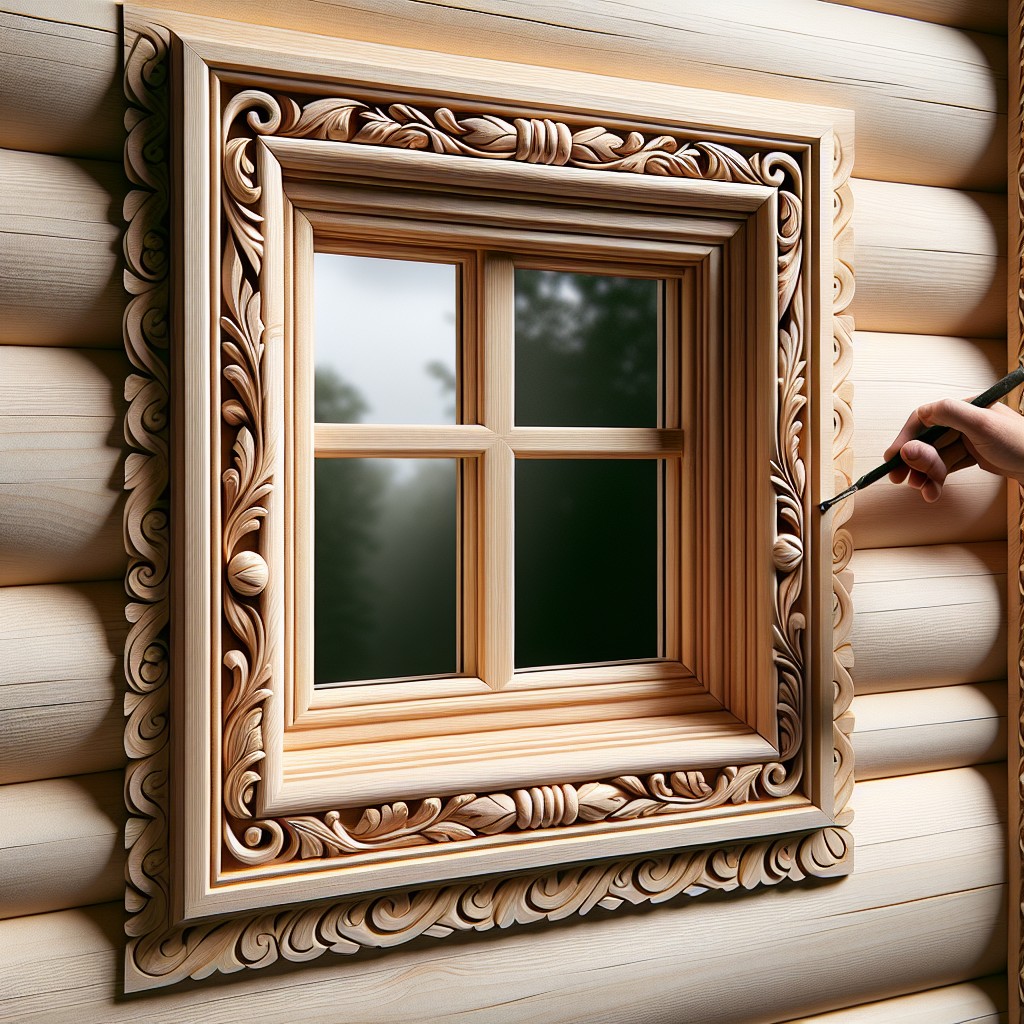 Pine wood, known for its versatility, lightweight nature, and rich texture, adds a warm rustic element to spaces when used as window trim. Utilizing it in its natural unfinished form allows the unique grain patterns to standout, fostering a sense of connection to the outdoors.
1. Wood Type: Pine is a soft wood, easy to cut and assemble. It's popular among decorators for its unique grain texture and knots.
2. Finishing: Leaving it in its natural state, without paint or varnish, allows the knots and swirls of the wood to shine as part of your design, emphasizing its rustic appeal.
3. Compatibility: Pine is versatile and pairs well with many interior styles, especially if your home already has other wooden elements.
4. Maintenance: Natural pine requires regular dusting and a yearly coat of wood conditioner to prevent dryness and cracking, an essential consideration to keep the desired aesthetic intact over time.
Overall, this unique approach to window trim design offers an inviting coziness, fostering a connection with the natural world within your home's interior.
White Crown Molding Window Trim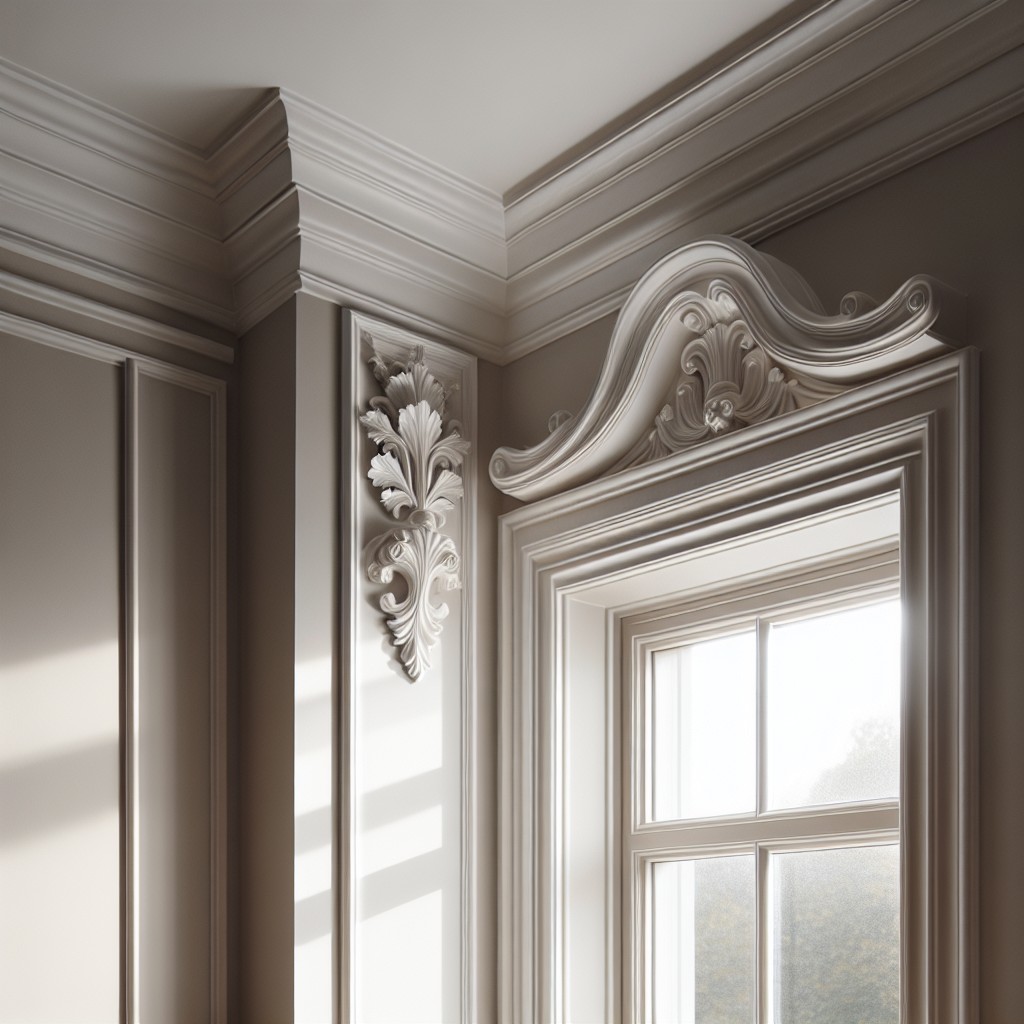 Distinguished by its curved design, this trim type adds a classic design element to a modern setting. The style complements any interior, making a subtle but significant mark on the room's overall feel.
Here's more about these dramatic yet timeless accents:
Aesthetic Appeal: With a smooth and elegant design, it subtly elevates the aesthetic charm of your room.
Versatility: Suitable for any room, it adds charm to kitchens and elegance to living areas.
Color Options: Though typically white, it can be painted in a variety of shades to match the room's color scheme.
Material Choices: Available in wood, plaster or polyurethane, offering options for every budget and preference.
Remember, before installing, you should measure your windows carefully to ensure the moldings fit properly.
Minimalist Picture Frame Window Trim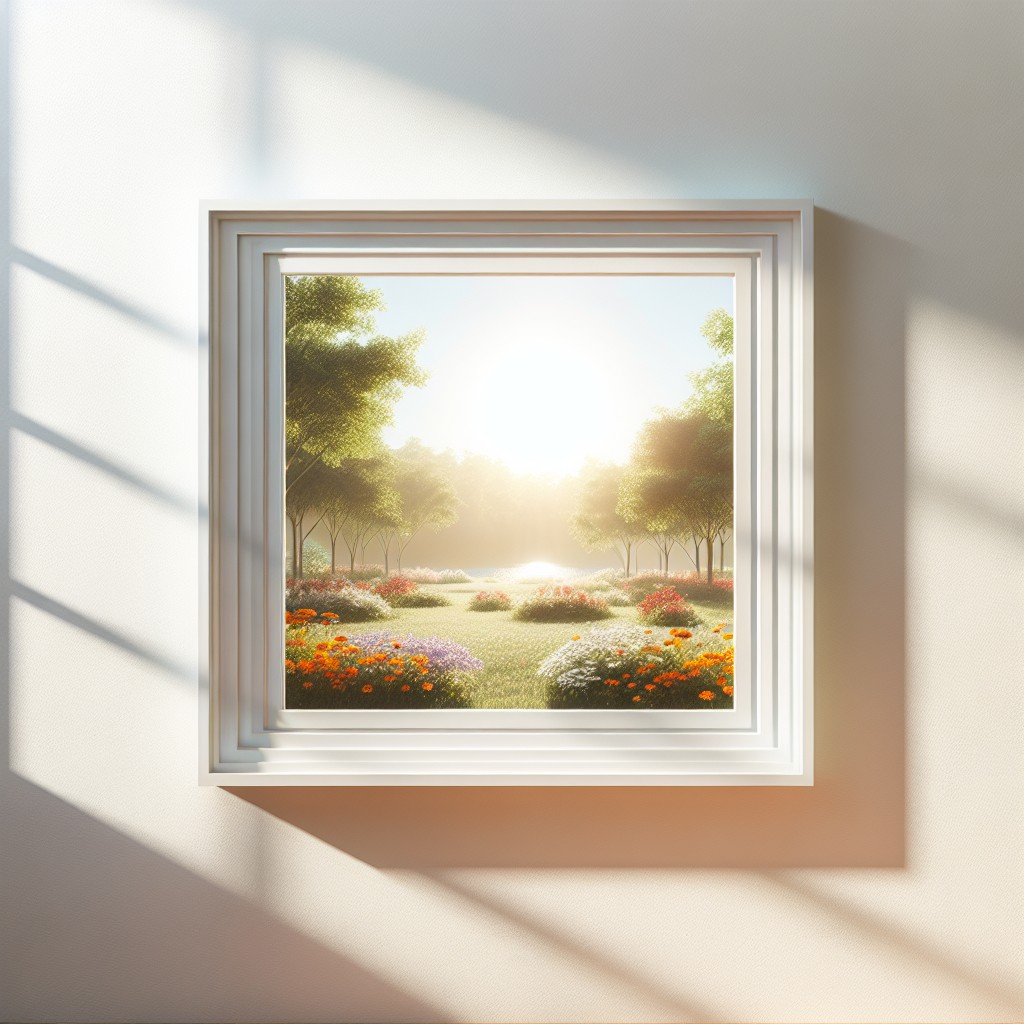 Keeping the aesthetic clean and simple, this window trim style rests on the principle of "less is more". Reserved and elegant, it lends a crisp finish to your window without drawing attention away from the views outside.
Here are a few key aspects to remember about this design:
It's typically finished in neutral colors like white or black, accentuating the clean, straight lines.
The moulding around the window mirrors the look of a picture frame, hence the name.
Despite its simplicity, it goes with any interior style—from Scandinavian to contemporary.
Installation is generally straightforward given the simplicity in design.
It's versatile enough to work well with various window shapes and sizes.
To embark on a DIY project or hire a professional is up to you—both are plausible options depending on your comfort level with home improvement tasks. Minimalist picture frame window trim is certainly a budget-friendly choice that brings a modern edge to your space.
Victorian Era Inspired Window Molding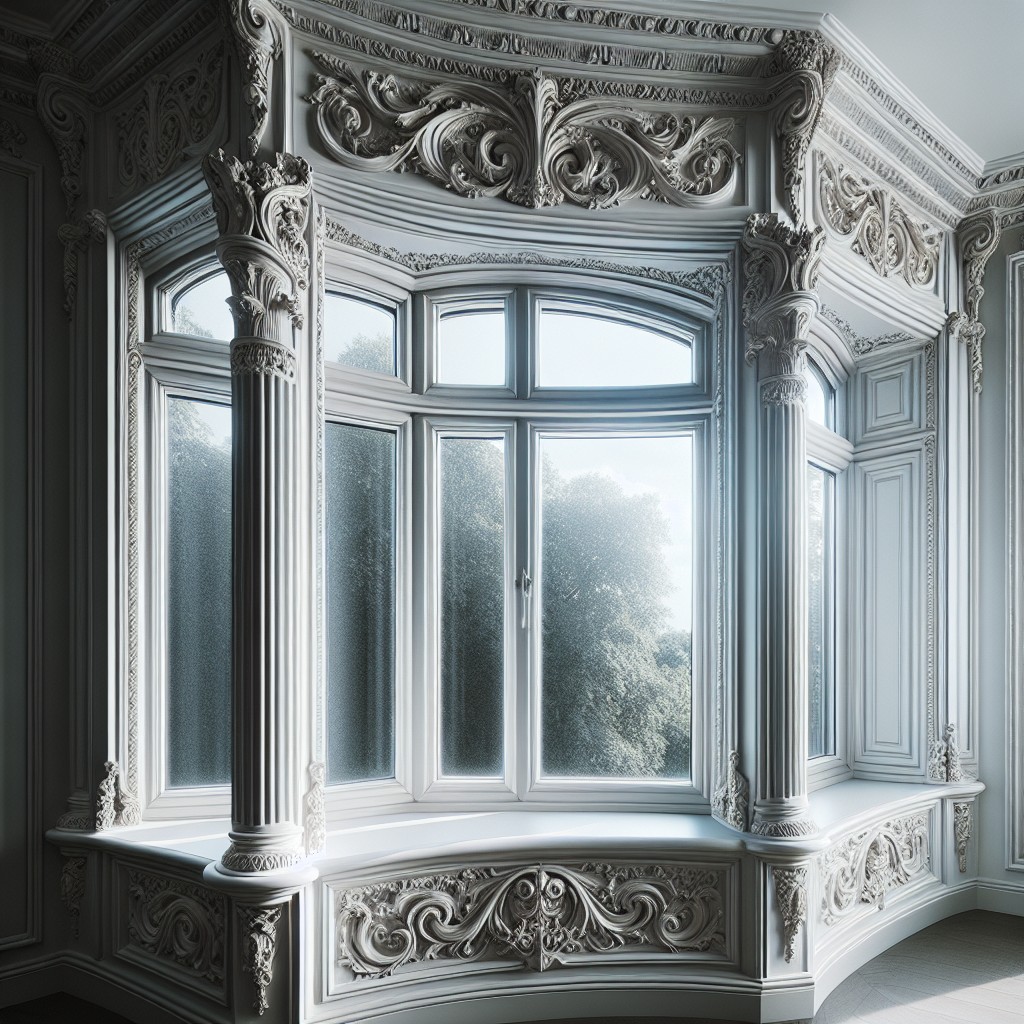 Steeped in elegance, this ornate style became a symbol of grandeur in the 19th-century English homes. The complex designs, intricate patterns, and high-quality materials defined this era.
For the true lover of authenticity, hardwood with a dark-stain adds the perfect touch of drama and sophistication. For a more balanced look, try pairing it with pastel or white walls.
The decorative patterns can be enhanced with gold leaf or a touch of paint to highlight the details. Remember, it's all about creating an elaborate look – the more detail, the higher the impression of luxury.
Reproduction patterns that match the period are readily available for those who are eager to recreate this ornate aesthetic. The charm of the Victorian window trim lies in the attention to detail – aiming for less would ultimately mean compromising the essence of the period.
Two-Tone Window Trim Styles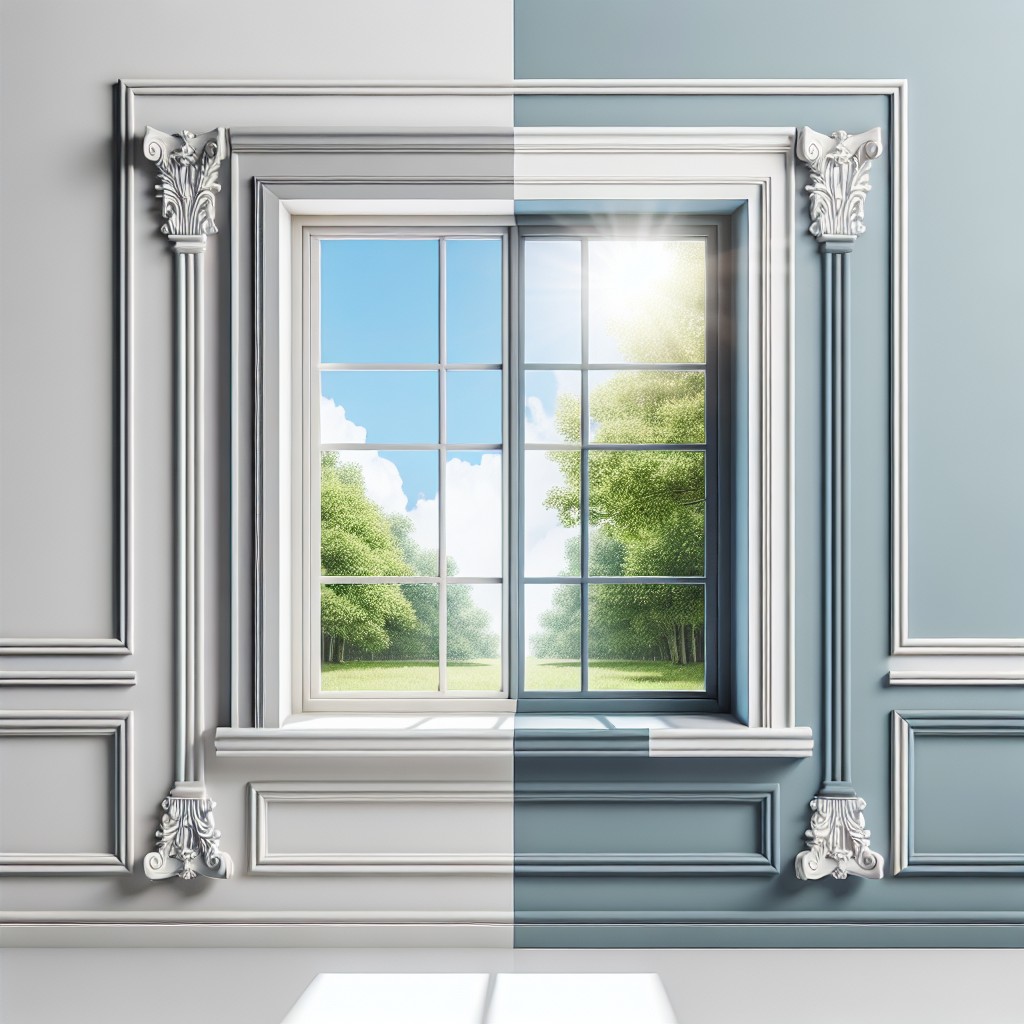 Two-tone window trim instantly brings a touch of style and sophistication to any room. By utilizing two contrasting colors, you can create a depth and visual interest that single tone trims often lack.
1. Contrast and Balance: In two-tone trims, one color is typically dominant, used on the main body, while the second color is applied to the details. This strategy establishes a visual contrast, giving a fresh and modern look.
2. Flexibility: Versatility is key with two-tone window trims. It's possible to marry any pair of colors. A classic black and white duo gives a timeless elegance, whereas unusual combinations such as teal and beige can make a bold statement.
3. Continuity: This style can establish continuity in home decoration. If you've two predominant colors in your furniture or accessories, they can be integrated into the window trim, tying the room together seamlessly.
4. Area Highlighter: Finally, the two-tone window trim can cleverly highlight certain areas, subtly drawing eyes to windows and thus to the exterior views, making them an artwork in their own right.
Remember, while choosing colors, stick with those that complement each other and your space's overall decor theme, for achieving the best aesthetic outcome.
Bold Blue Window Trim
Embrace boldness in aesthetics through the vibrancy of blue trim in home decor. This design concept works wonders in spaces desiring an enhancement in depth and character. Here are some key factors to consider:
1. Color Selection: The shade of blue plays a vital role in setting the room's mood. Darker hues exude elegance and sophistication, while lighter, brighter blues add a refreshing pop of color.
2. Coordinate with Decor: Ensure the blue trim complements the room's existing color scheme. If your room features cool tones, pick a blue with similar undertones.
3. Room Illumination: Pay attention to the room's light sources, natural or artificial. Blue trim can cast different shades depending on lighting, affecting the overall ambiance.
4. Wall Finishes: The blue trim should harmonize with the wall finish. Glossy finishes create a lively contrast with a matte blue trim.
5. Pair with Whites: Blue trim contrasts beautifully against white walls or furniture, creating a classic, nautical appeal.
Never shy away from experimenting and making a bold, blue statement. Remember, it is your space to express yourself and create a home that reflects your exquisite taste.
Decorative Corner Block Window Trim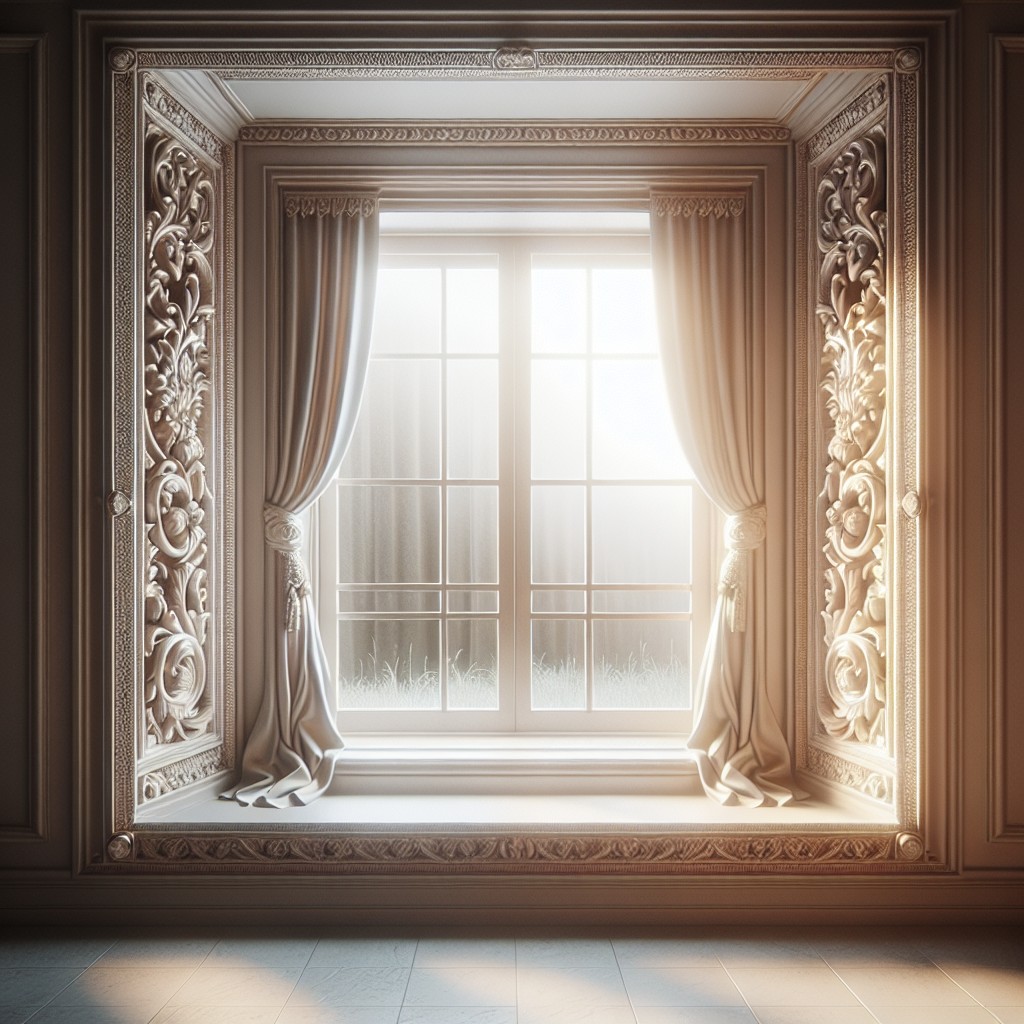 Delving into the unique charm of decorative corner block window trim, there are a few key features to notice. Utilizing separate blocks at the corners, this type eliminates miter cuts, which can be a relief if you're doing a DIY project. Instead, each trim piece ends in a neat, squared-off edge, meeting the elegant corner block to create a rectangular or square form around the window.
This style truly shines when you match it with a Victorian, Georgian, or other historical-inspired interiors. Yet, its versatility knows no boundaries. Incorporating these decorative blocks can also add a flair to a modern or minimalistic design scheme. For a more personalized touch, consider bold prints or whimsical designs on your corner blocks. Finally, materials matter too. Choose from a range of options – from traditional wood to contemporary synthetic materials depending on your decor theme.
Traditional Craftsman Window Trim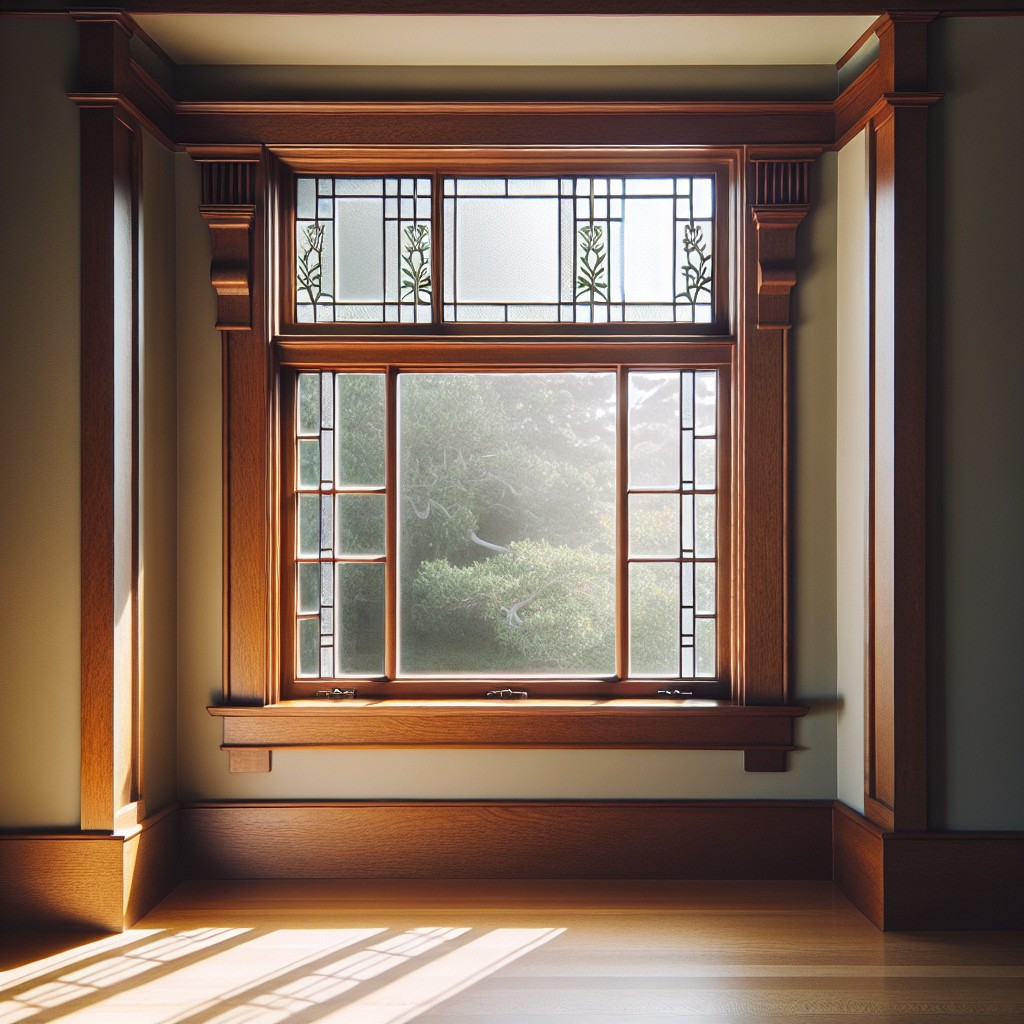 This particular style represents a timeless classic in the world of interior design. Its simplicity and straightforward aesthetics add a distinguished look to any home, making it an excellent choice for those who value functionality and aesthetics equally.
1. Characterized by its thick, flat molding and an unpretentious design, it embodies the quintessential Craftsman style.
Easy to install, maintaining a clean and sharp design due to the absence of ornate details.
2. Works excellently in homes with a more traditional interior décor and complements wooden furniture perfectly.
It adds a sense of handcrafted detail to your windows, heightening their appeal.
3. Often executed in natural wood color or white, it allows for flexibility when matching with your existing color scheme.
Remember to consider the overall design and aesthetic of your room before making a decision. The Traditional Craftsman Window Trim is versatile, lending itself well to both classic and contemporary decors.
Barn Wood Rustic Window Trim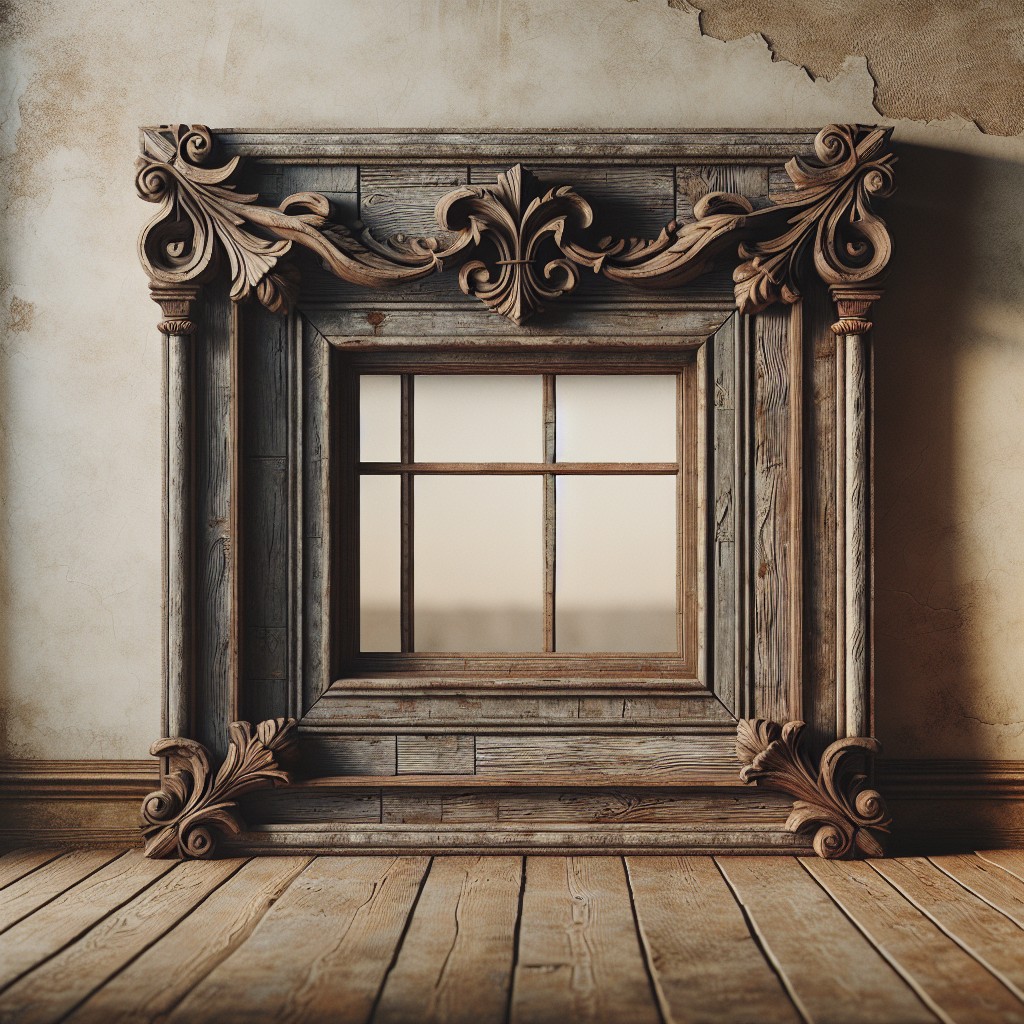 Invigorating a room with a touch of rural charm is achievable with the implementation of barn wood rustic window trim. It brings in elements of weathered aesthetics but remains pleasantly inviting and warming. The presence of natural knots and grains in the wood, discoloration and all, breathes life into the decor, infusing it with bespoke character that comes with reclaimed materials.
1. Can be employed perfectly in farmhouse or cabin style homes or to add contrast to modern decors.
2. Simple and relatively inexpensive to install while giving a unique antique feel.
3. Eco-friendly, as this style typically uses reclaimed or upcycled wood.
4. Can be paired with complementing rustic furniture and decor accessories for consistency.
5. The natural tones and untreated finish of the wood offers a warm, earthy aura.
6. Requires minimal maintenance, with the wood's weathering adding to its charm over time.
Remember, each piece of barn wood will have its own individual story to tell, enriching your decor with historical charm.
Glossy White Interior Window Trim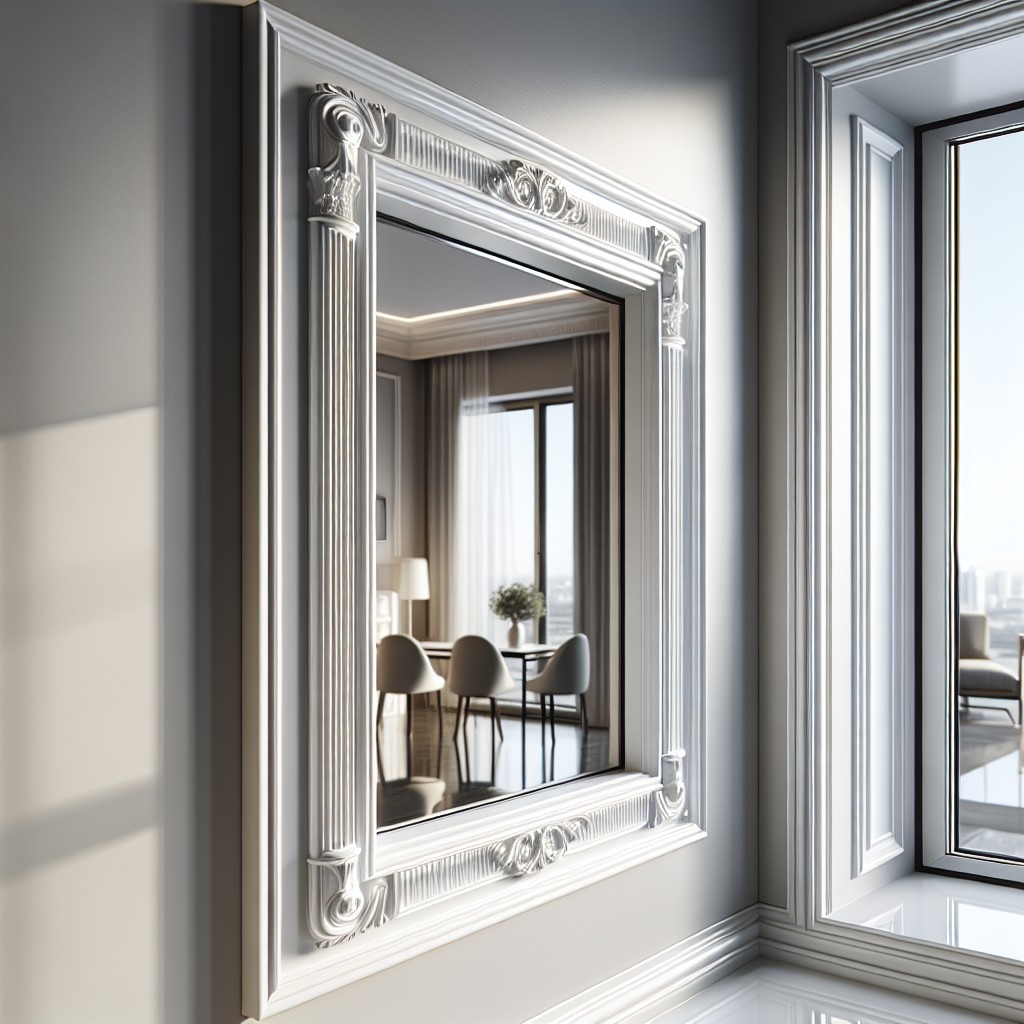 Glossy white trim offers a clean, fresh look that brightens any room, especially those with limited natural light. Its high-shine finish creates a stark contrast with many color schemes and it's versatile, complimenting both modern and traditional decor styles.
Consider these points when choosing glossy white window trim:
Materials: Durable materials like wood or fiberboard are ideal for maintaining the sheen and longevity of this style.
Paint Selection: High-gloss paint is recommended for achieving this look. It not only reflects light beautifully, but also proves easy to clean, making it practical.
Design: Opt for a simple, streamlined design for a modern aesthetic, or ornate profiles for a more classic look.
Maintenance: Given its shine, smudges or dirt will show easily. Regular cleaning will keep the trim looking vibrant.
Room Tone: This trim style works best with softer wall colors, allowing the glossy white to truly pop. Consider pastels or neutral shades.
Remember, the ultimate aim is to enhance your window and by extension, your room's mood and aesthetic.
Honey Oak Stained Window Trim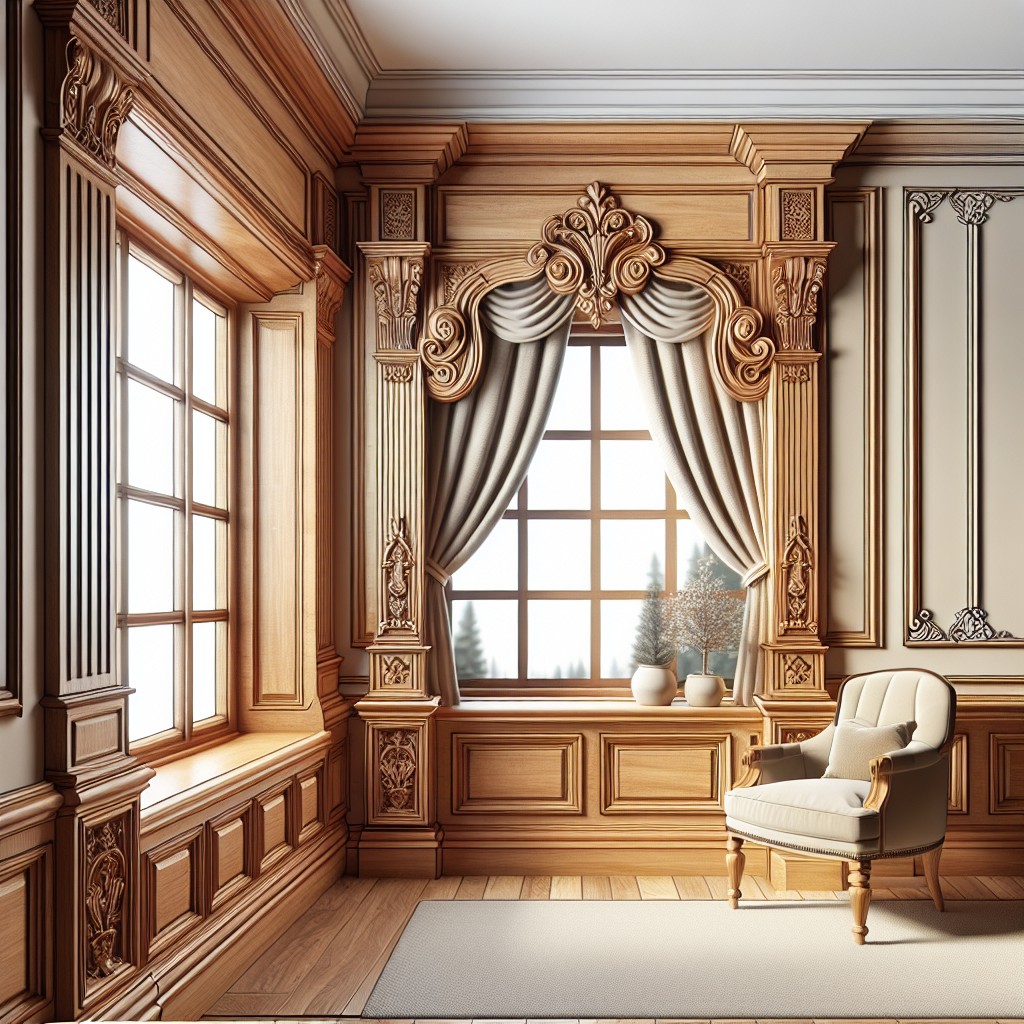 This trim style truly celebrates the beauty of nature by using the rich, warm hues of honey oak stain, bringing a natural, rustic charm to the room. It typically pairs well with earth tone colors, giving it a traditional, comfortable appeal that can really make a space feel like home.
1. Material: Generally, honey oak includes a yellow-orange undertone. Choose an oak wood trim, as this wood type reveals a beautiful grain pattern when stained.
2. Finish: Opt for satin or semi-gloss finish to maintain the natural wooden look while providing adequate protection for the wood. The finish enhances the grain of the oak, transforming it into a work of art.
3. Pairing: Honey oak pairs wonderfully with both cool and warm colors. For a natural look, consider pairing with olive green, or for a vibrant contrast, a deep blue can be striking.
4. Maintenance: Regular dusting and occasional wood conditioning help the trim retain its glow, preserving its natural look for years.
Whether you're looking to create a rustic countryside aesthetic or just wanting to introduce some warmth into your decor, honey oak stained window trim offers versatility and timelessly classic appeal.
Tartan Pattern Painted Trim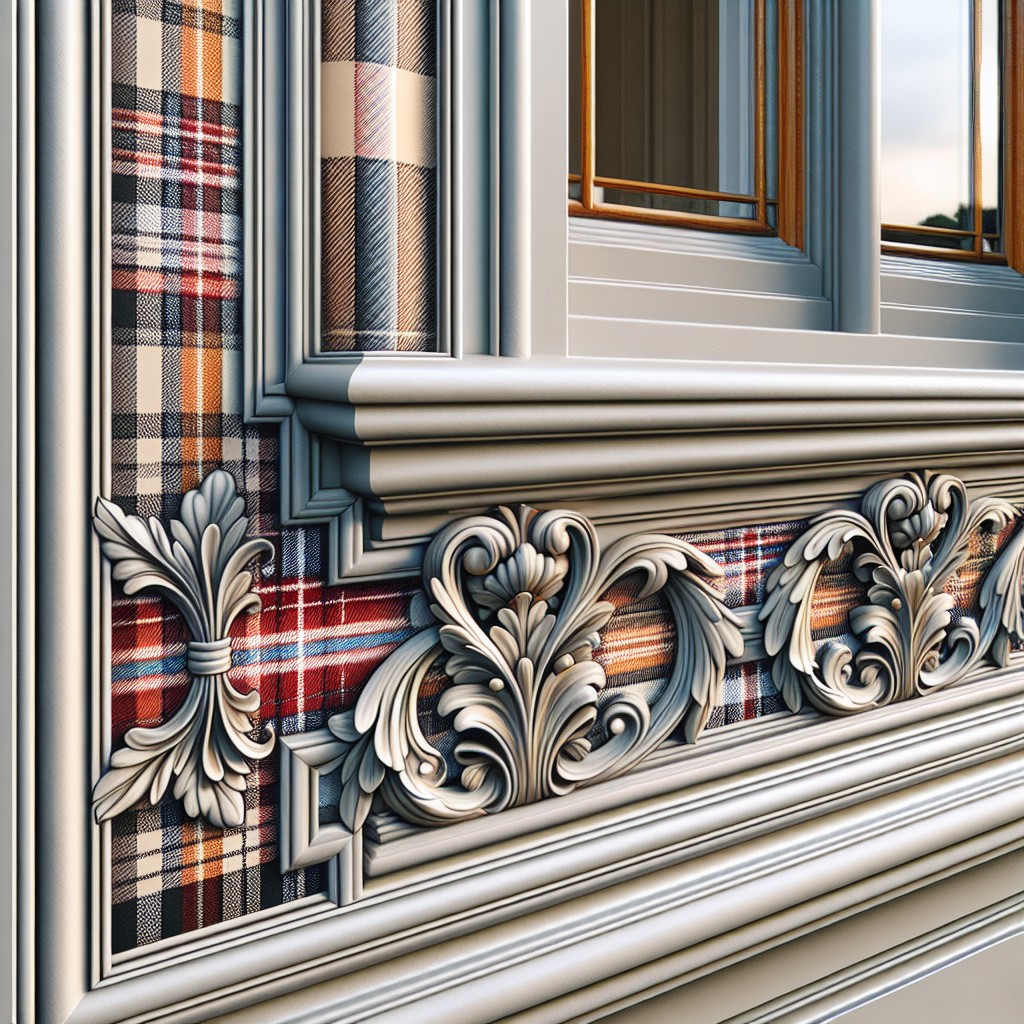 A tartan pattern painted trim injects a wave of creativity and color to traditional window moldings. Dominated by tartan's characteristic criss-crossed lines in varying colors and widths, it becomes a beautiful accent to minimalist or contemporary interiors.
A few points to note when applying a tartan pattern to window trim:
1. The focus should be on bold, contrasting colors. It is important to stick to three or four shades that align with your room decor, too many colors can create visual chaos.
2. Precision is key. The beauty of tartan comes from its clean lines, precise intersections, and uniform repetition. Professional help or a painting guide is recommended to help in crafting perfect patterns.
3. The paint type matters. Use either semi-gloss or gloss paint for your tartan pattern to give a rich, eye-catching finish.
Incorporating this unique trim brings in warmth and personality to your window, making it a statement element in your space. It could also serve as an interesting talking point during those living room conversations. Experiment with its design to showcase your individual style and uniqueness.
Medieval Inspired Stone Window Trim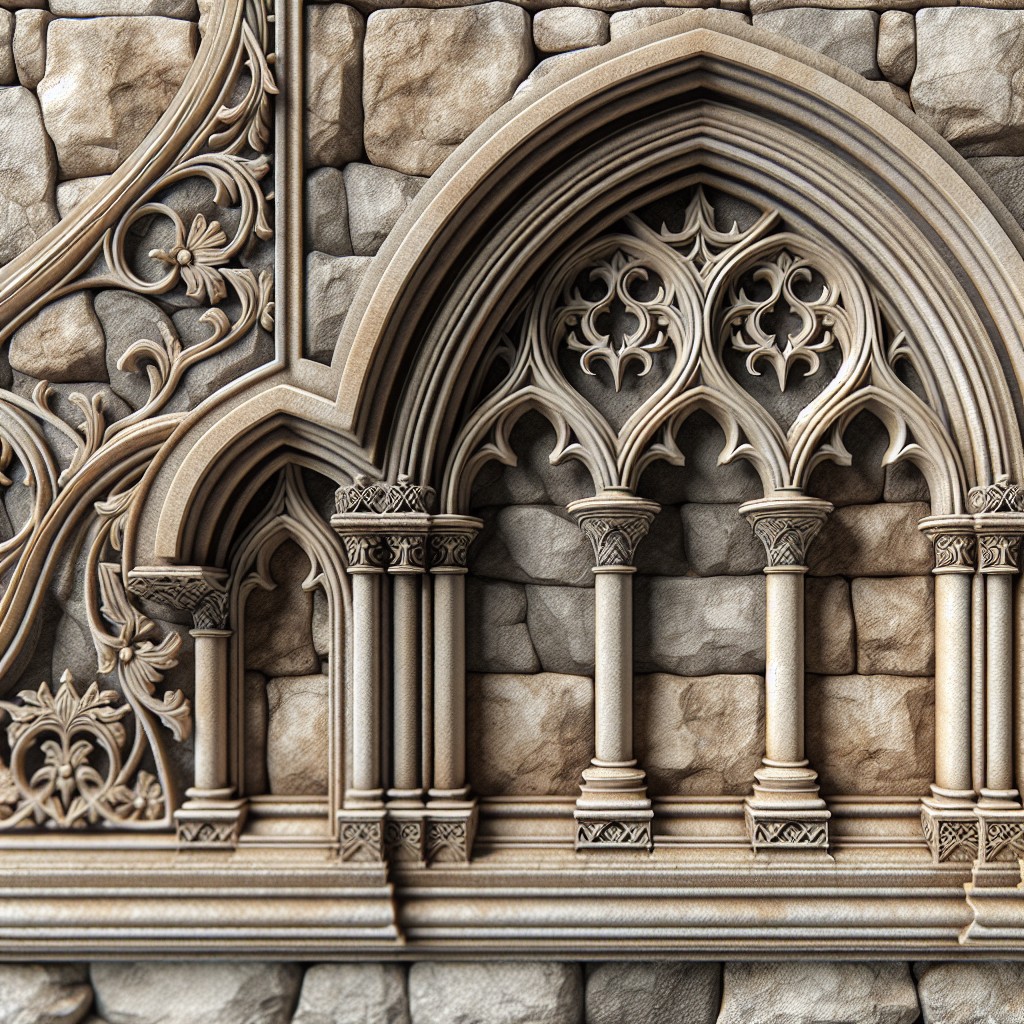 Adorned with elegance and a charm reminiscent of days of yore, this style lends a dramatic appeal to your window. Harboring a bit of the ancient ambiance in your modern dwelling can be achieved by incorporating this design.
Here's how:
1. Materials: Choose natural stone materials or faux stone elements. Natural stones such as limestone or basalt are traditionally used in medieval architecture, but modern faux stone can imitate the look offering a more economical and convenient installation.
2. Design: For an authentic touch, incorporate arched tops, which were prevalent in those times. Apart from arches, look at mullioned windows that have non-structural vertical bars dividing the window into several parts.
3. Texture: Emphasize the rough uneven stone texture, characteristic of the medieval era, to add to the rustic appeal.
4. Mix & Match: Consider combining the stone window trim with wooden elements to juxtapose durability with warmth and soften the stony expression.
5. Color: Gray or off-white can be perfect choices to achieve an antique vibe.
Remember, the key is to balance modern and historic aspects to yield a space that feels both comfortable and character-filled.
Geometry Inspired Window Trim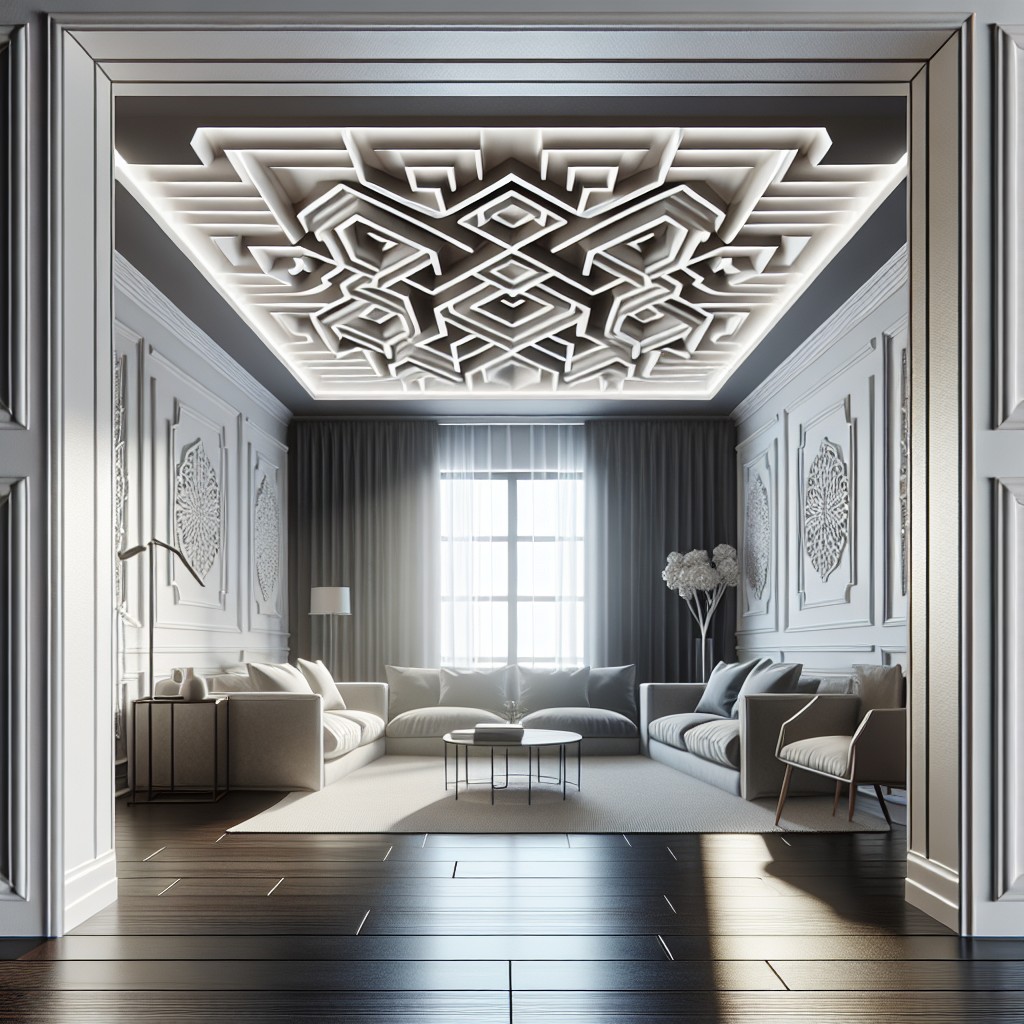 Geometric designs add a visually stunning element to your rooms. They encompass an array of patterns from simple shapes such as squares and circles to complex polygons. When applying this approach to window trims, endless creative possibilities manifest.
Choose a unique pattern that suits your interior style. For instance, honeycomb patterns for a contemporary room, or herringbone for a classic aesthetic.
Prioritize simplicity so as not to compromise natural light. Ideally, stick to one or two shapes in your design. Too many shapes can become overwhelming.
Choose colors thoughtfully. While bold colors add drama, they can also overpower space. Neutral colors tend to blend easily with most décor themes.
Lastly, consider the type of material for your trim. Wood is a common choice due to its versatility in being cut into different shapes, but others like acrylic or PVC can work just as well.
Keep in mind, geometry-inspired window trim requires precision in execution to ensure patterns look aligned and neat. If in doubt, enlisting a professional carpenter can be beneficial.
Ideas Elsewhere
Continue reading: