Last updated on November 23, 2023
Dive into the world of L-shaped rugs because this unique decor piece has the power to transform any space with its versatile designs and aesthetic appeal.
I'm proud to have authored this article and designed unique L-shaped rugs myself, hoping you'll be as inspired and enjoy them as much as I enjoyed creating these innovative designs.
L-shaped rugs are a versatile and stylish solution for a variety of spaces, from kitchens to hallways. They're particularly effective in defining areas within open-plan living spaces or adding comfort to hard-floored areas.
Whether you're looking for a rug to complement your existing décor or to act as a statement piece, there are a multitude of design options available. This article will provide a wealth of ideas for choosing and styling your L-shaped rug, covering everything from material and size selection, to color coordination and placement tips.
So, whether you're a seasoned decorator or a beginner, you're sure to find the perfect rug inspiration here.
What's Inside
Chevron-Patterned L-Shaped Rug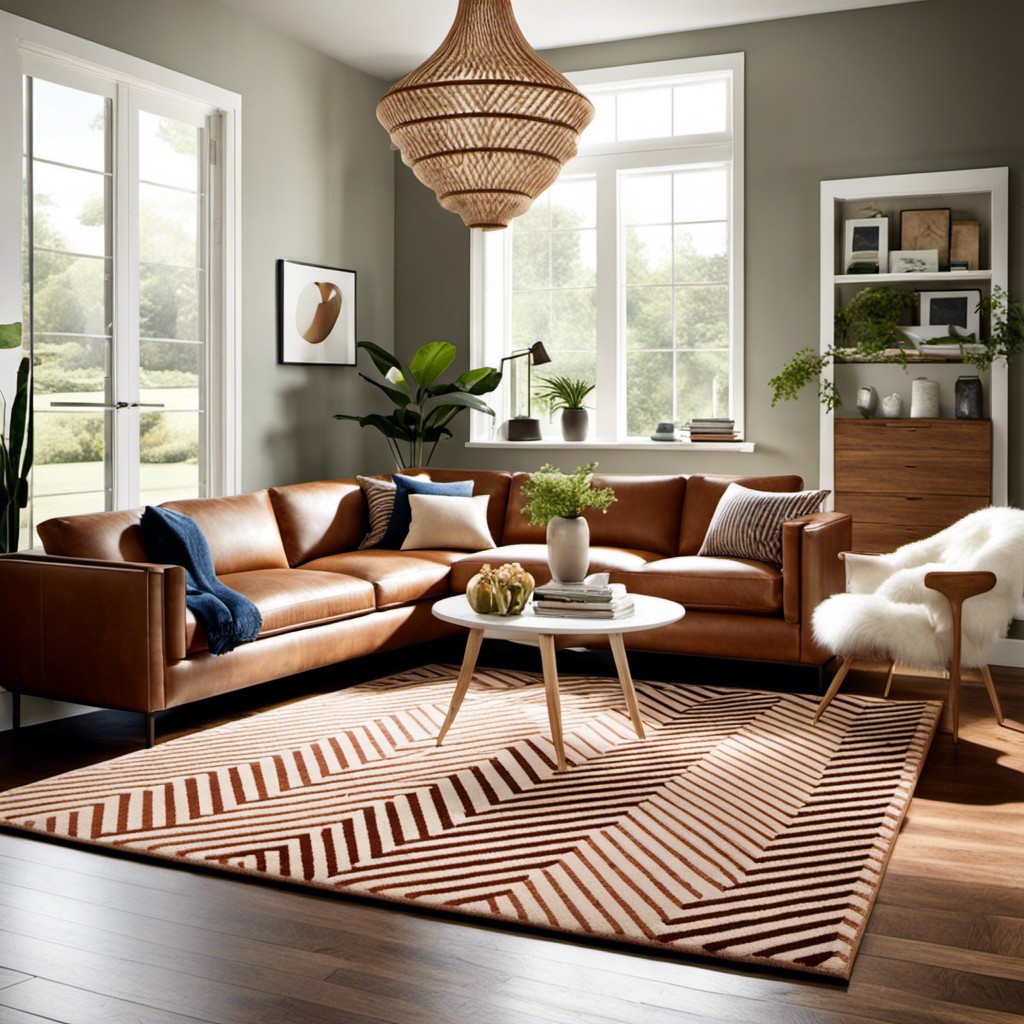 Featuring distinctive V-shapes aligned in a zigzag pattern, Chevron-styled rugs bring a playful yet sophisticated element to any interior. They are unique visual dynamo suitable for a variety of décor styles ranging from ultra-modern to coastal chic.
Their diagonal design aids in creating an illusion of space, making small areas seem more expansive. Experimenting with colors can upscale the aesthetics – choose light hues for a subtle effect or bold tones for an energetic splash.
Extremely versatile, these rugs can be paired with both neutral and vibrant home décor. But remember, simplicity is key with a chevron-patterned L-shaped rug; let it be the star and maintain other elements in the room minimalistic and neutral.
While they can fit in any room, placing them in high traffic areas such as the kitchen or hallway could capitalize on their pattern, drawing the eye and making a stylish statement.
Lastly, opting for a rug with larger zigzag patterns could present a more modern feel, while smaller, tighter patterns exude a traditional vibe. Adjust this according to the overall theme of your space.
Dual-Tone L-Shaped Rug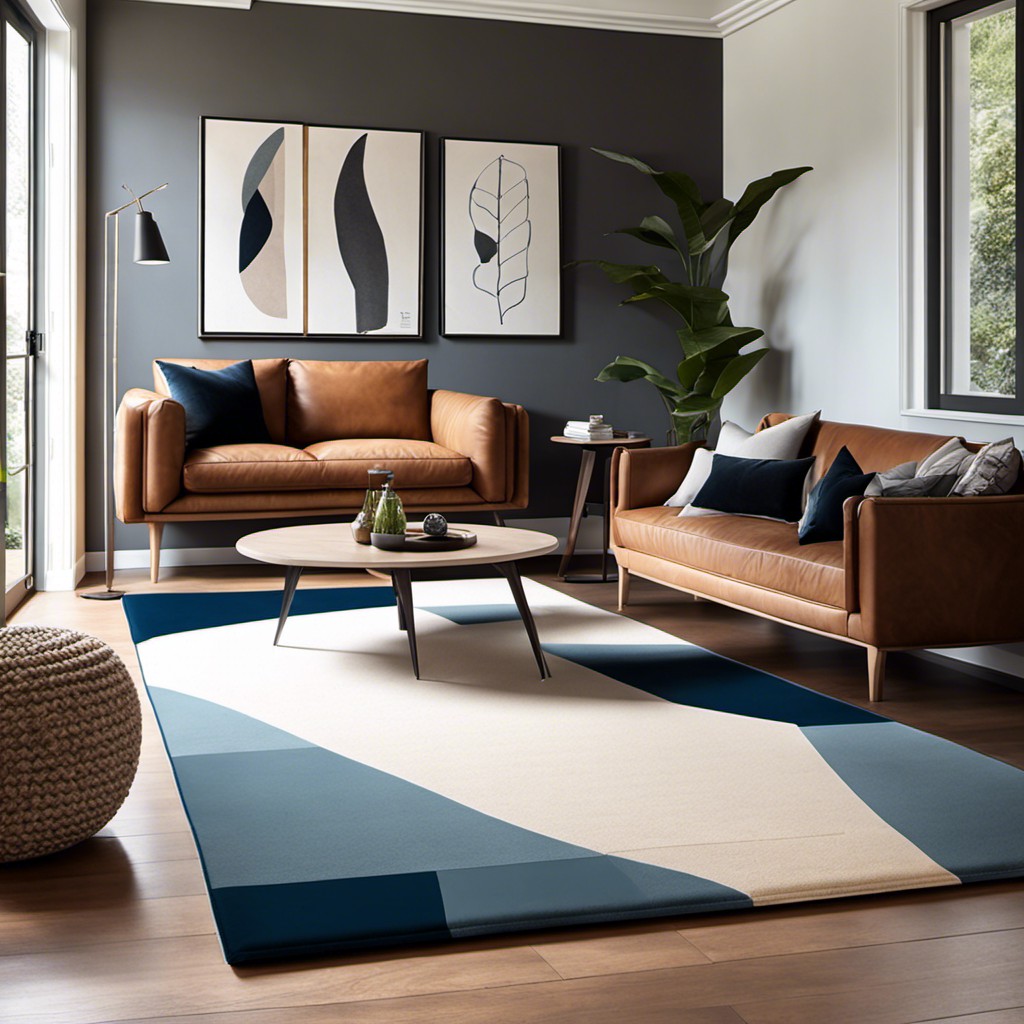 Incorporating a Dual-Tone rug can infuse an exciting visual dynamic into any space. These rugs feature two contrasting colors or shades, acting as an eye-catching floor accessory.
1. Harmonizes Space: Pairing two complementing colors adds balance and harmony, enhancing room aesthetics.
2. Versatility: The dual-tone design works well with various decor styles, from minimalist to industrial.
3. Focal Point: A well-placed dual-tone rug instantly attracts attention, serving as a focal point of the room.
4. Room Illusion: Light versus dark tones can create a sense of spaciousness or coziness.
Remember, while selecting a dual-tone rug, maintain a balance between the two colors to prevent one from overpowering the other.
Floral-Print L-Shaped Rug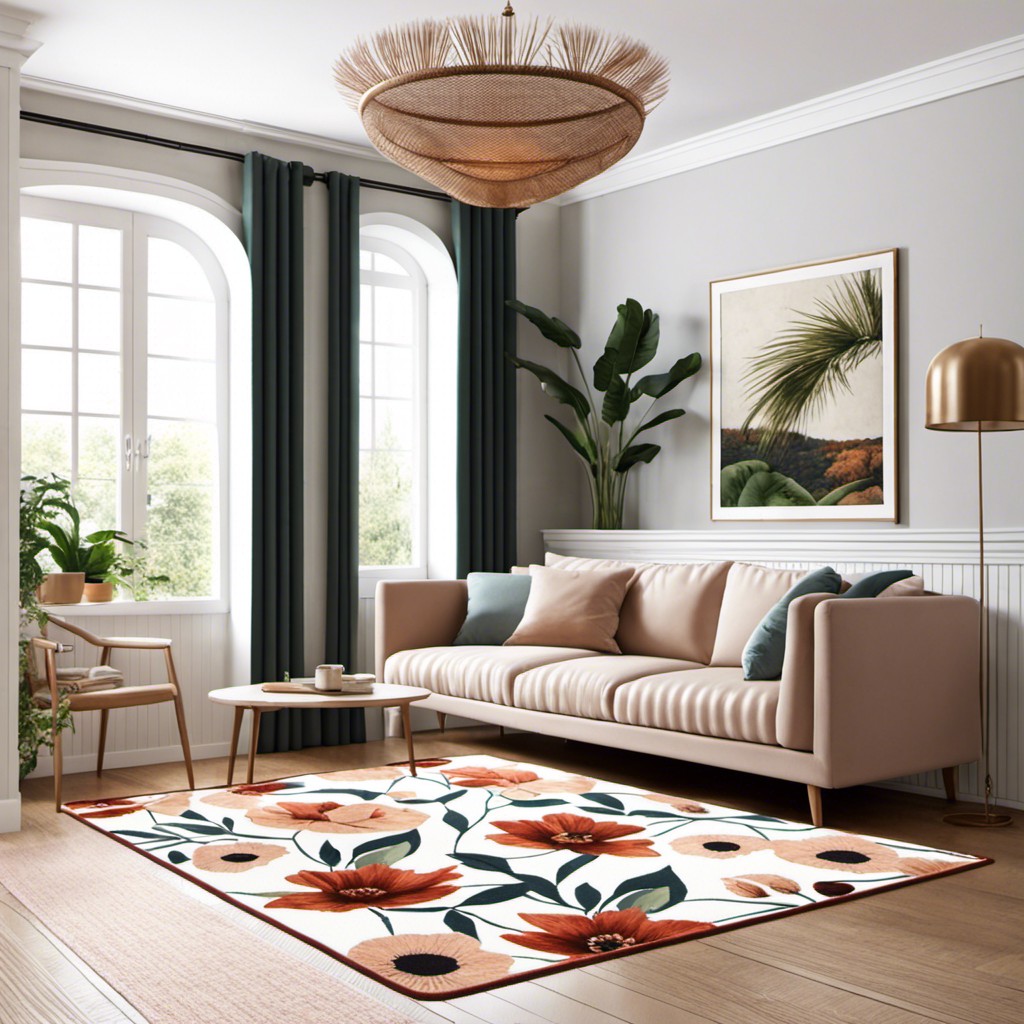 Incorporating the beauty of nature into indoor spaces, floral-print L-shaped rugs can add a burst of color and cheer to any room. They offer versatility, fitting beautifully into various decor styles, from traditional to contemporary.
1. Mix of Colorful Blooms: A rug featuring various vibrant flowers can act as a lively focal point in a room.
2. Single Floral Pattern: Choosing a rug with a single type of flower can provide a subtle and elegant touch.
3. Scale: Larger scale flowers can make a dramatic statement, while smaller, dense patterns create a vintage feel.
4. Colors: Opt for colors which complement the color scheme of the room to create harmony.
5. Material Matters: Synthetic materials are often most durable, while wool provides a more luxurious feel.
Remember, placement is key. Align the rug in a way that it visually connects the furniture and lends coherence to the room's layout. Beyond beauty, it also serves a practical purpose, protecting the floor in high-traffic areas like the corner of a kitchen or at the entryways.
Rustic Braided L-Shaped Rug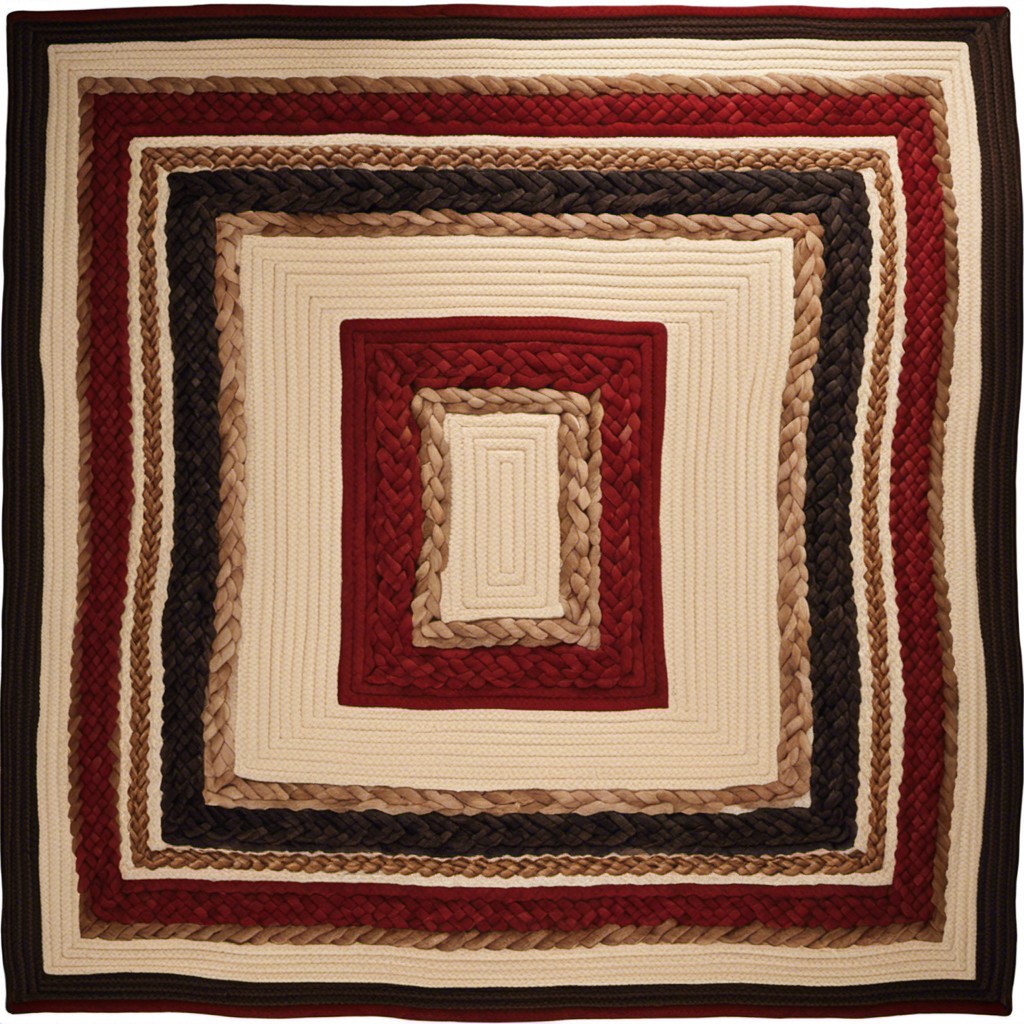 Adding to the charm of any room, rustic braided rugs come with a traditional touch. They are woven closely and intricately using high-quality fibers, ensuring their durability. This strong construction prevents them from quickly unraveling or fraying, making them a reliable choice for high-traffic areas of your home.
The earthy tones, such as deep reds, warm browns, and forest greens, make these rugs versatile enough to blend seamlessly with different interiors. From country style, farmhouse, to an old-world theme, they instantly add a sense of comfort.
The beauty of these rugs lies in their timeless appeal. Each piece represents hours of craftsmanship, exhibiting a unique, handmade appeal that modern production techniques often lack.
It's worth mentioning that the maintenance of such rugs is a breeze. Simple vacuuming on a regular basis can keep their attractive appearance intact.
Remember, their L shape fits snugly into corners, making efficient use of space. It's certainly an eye-catching addition that adds a rustic and cozy element to any interior design.
An added benefit is their ability to cushion sound. They buffer noise, ensuring your home remains peaceful and quiet. They come in different sizes, badges, and patterns, allowing you to choose what fits your space and taste.
Considered a classic staple in home decor, a rustic braided L-shaped rug could be the quintessential element your space might be missing.
Soft Plush L-Shaped Rug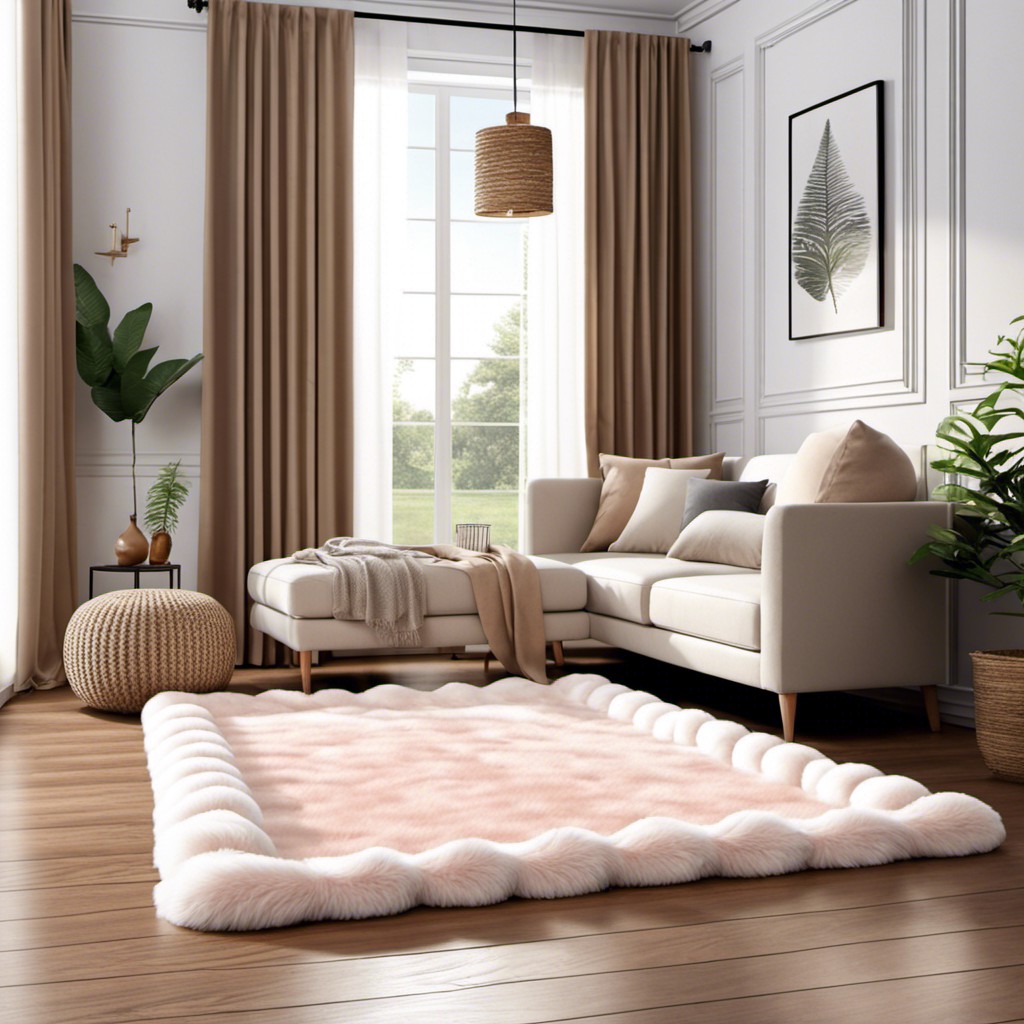 This variety of rug, with its cozy texture, lends a luxurious touch to any interior. Typically made from high-quality materials, it provides exceptional comfort underfoot. It's particularly useful in bedrooms or living rooms, offering a soft, warm place to step out of bed or to rest your feet whilst lounging on the sofa. Moreover, it readily complements existing furniture and accessories, making it a versatile option.
Crafted in a broad spectrum of colors and sizes, it allows flexibility as you integrate it into your decor. Despite its plushness, maintenance is relatively easy, requiring regular vacuuming to keep it dust-free and occasional spot cleaning for spills. Also, rotating it periodically helps reduce wear on frequently used parts, ensuring it remains attractive.
As a strategic accent piece, it can define or segregate areas in open floor plans, creating distinct spaces without disrupting the overall flow. Lastly, due to its L-shape, it caters to unique architectural features, fitting snugly into corners or wrapping around furniture, effectively enhancing such areas.
Geometric-Design L-Shaped Rug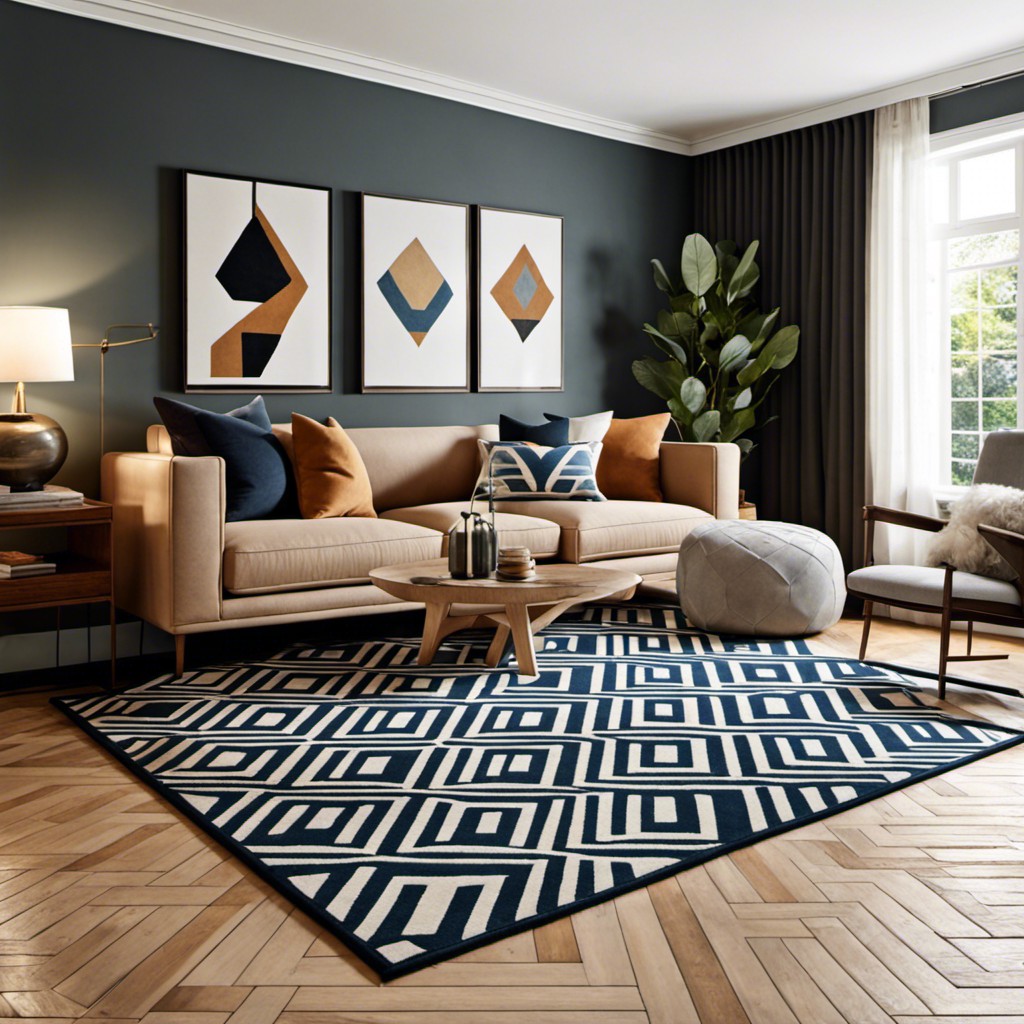 Dive right into the drama and attention-grabbing aesthetic of the geometric pattern. This style amplifies the visual interest in any space, playing a crucial role in better defining areas in an open-concept room.
It can function as a fantastic focal point, introducing an element of fun and creativity. Imagine bold shapes and lines set against a contrasting background – triangles, diamonds, hexagons, or even complex fractal patterns.
The key is choosing a color scheme that complements the rest of the room. Darks with lights, warm with cool, or monochrome with a pop of color can all work marvelously.
Always remember, embracing complexity in design doesn't necessarily mean inviting chaos, it means you're bold enough to redefine convention. No rule says you can't have a piece of striking modern art on your floor!
L-Shaped Shaggy Rug
Moving ahead with an interesting take, let's delve into the cosiness and aesthetic appeal of shaggy rugs. Shaggy rugs add a plush feel, making them perfect for creating a warm, inviting ambience in an otherwise cold corner.
With shaggy rugs, the degree of comfort is taken up to a whole new level. Its fluffy texture offers a cushiony feel underfoot, giving your tired feet a delightful treat. Pair that with an L-shaped rug style, and your living space instantly transforms into heaven on Earth. It's remarkable for adding comfort to your living room set, especially around L-shaped couches.
Match the rug color with your decor theme to create a seamless look. Dark shades like black or brown provide a classy appearance, while lighter hues such as beige or cream offer a more spacious illusion. From enjoying a book to creating a cosy play area for children, a shaggy L-shaped rug works wonders in making the area welcoming and appealing. Remember, regular vacuuming is key to maintaining its vibrant, shaggy appeal over time.
Traditional Persian L-Shaped Rug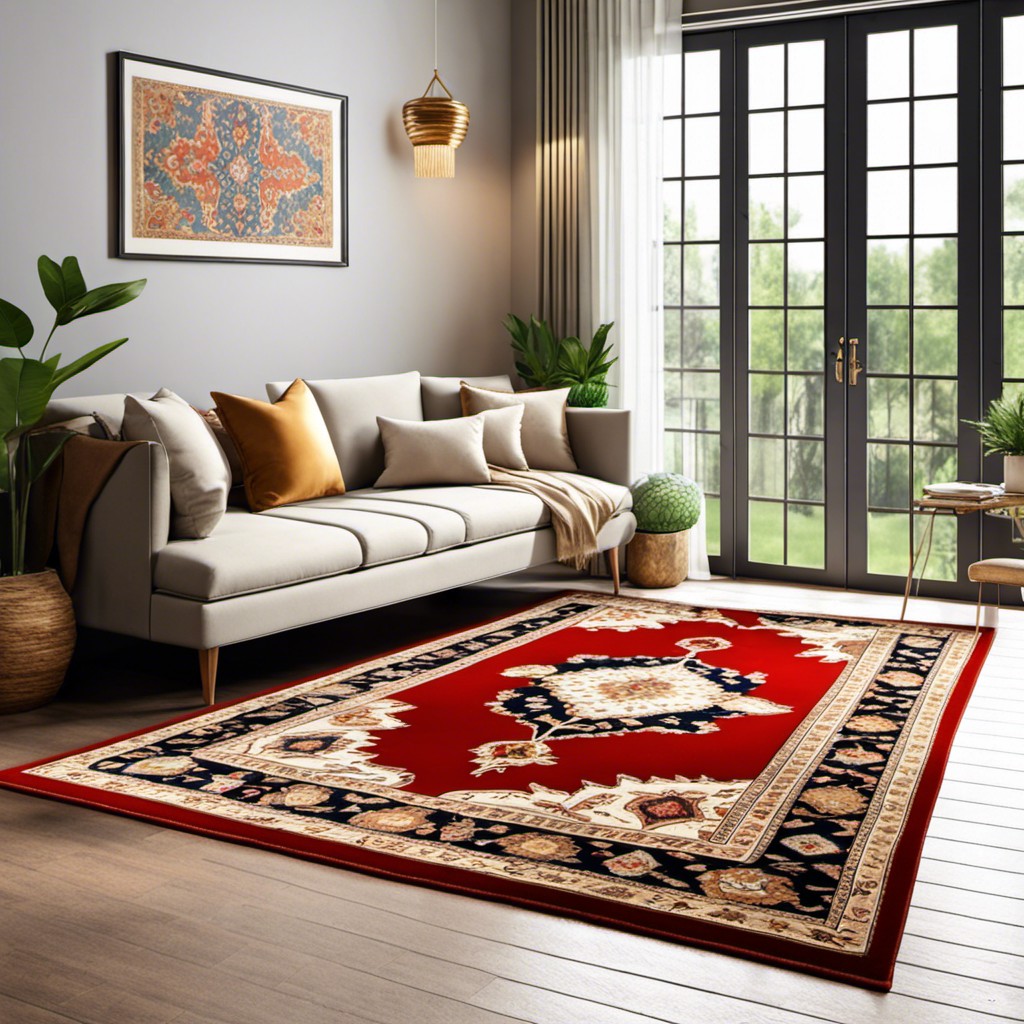 Radiating timeless elegance, these rugs boast intricate designs and rich color palettes characteristic of traditional Persian arts. The unique L-shape can perfectly contour your interior corners, adding warmth and luxury to any space.
Here are a few considerations:
1. Material: Often crafted from silk, wool, or a mix, presenting impeccable durability and comfort.
2. Design: Featuring intricate motifs and designs inspired by nature, mythology, and history blending seamlessly into your living space.
3. Color: Typically comprises deep reds, blues, and gold hues adding richness to the room.
4. Size: Ensure to choose the correct size to fit your corner and harmoniously match your furniture layout.
5. Care: Regularly vacuum and professional cleaning once a year make these rugs last a lifetime.
Hence, for a grand, classic feel that beautifully complements a myriad of interiors, this rug selection could be unparalleled. Do remember, they are generally higher on the price scale owing to complexity and effort in design execution.
Contemporary L-Shaped Runner Rug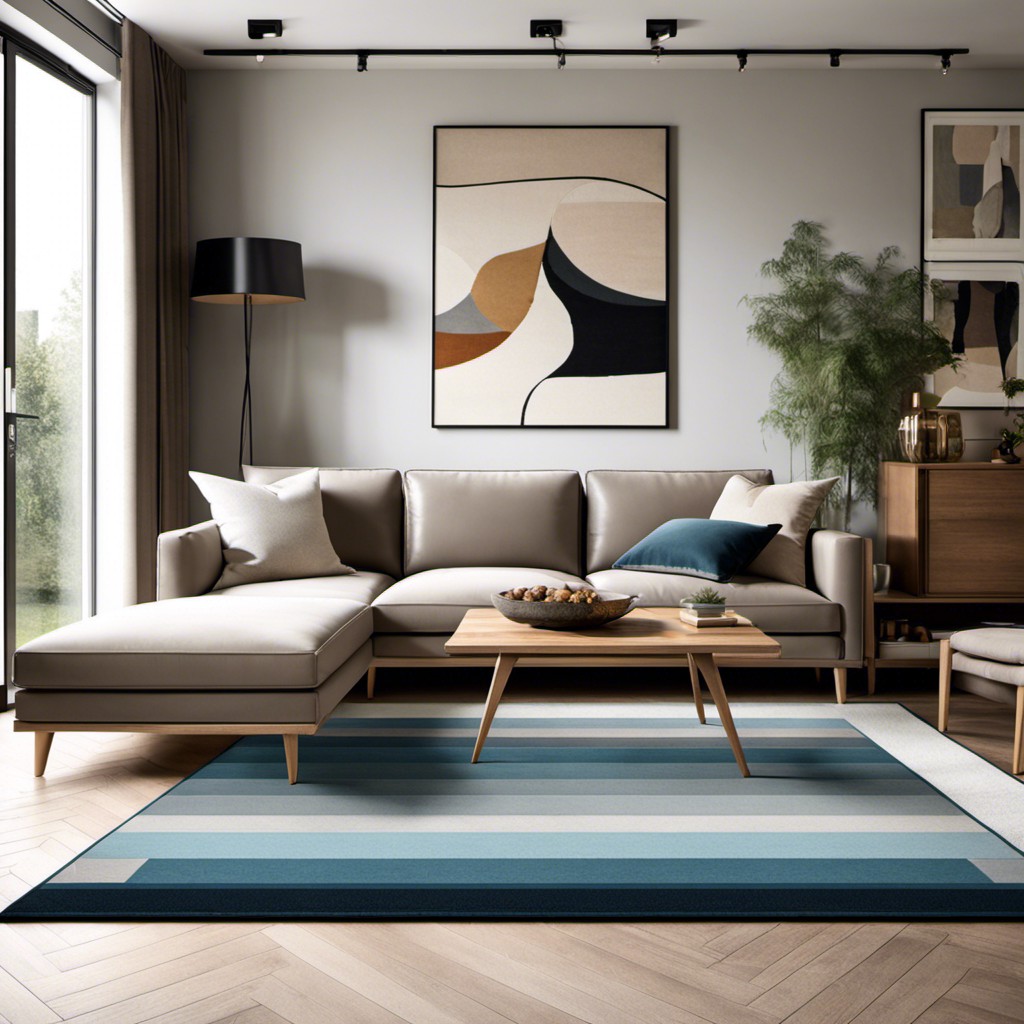 Running from one room to another, these unique rugs have a modern, sleek look while providing practical benefits. They often feature striking patterns, from abstract splashes to geometric shapes, perfectly complimenting minimalist interiors.
1. Space defining: Perfect for breaking up open-plan areas, they help distinguish between various sections in the room.
2. Accentuating features: Can liven up neutral-toned flooring and draw attention to aspects of the room.
3. Comfort and protection: Not just eye-catching, they also provide a comfortable underfoot surface while protecting your floor.
4. Versatility: Offer flexibility in styling this rug – place it along the hallway, under a sofa, or even in a kitchen.
Incorporating a rug of this kind adds a touch of contemporary charm and sophistication to space. Its stylish design along with its functionality makes it an ideal pick for today's homes.
L-Shaped Rug for Corner Sofas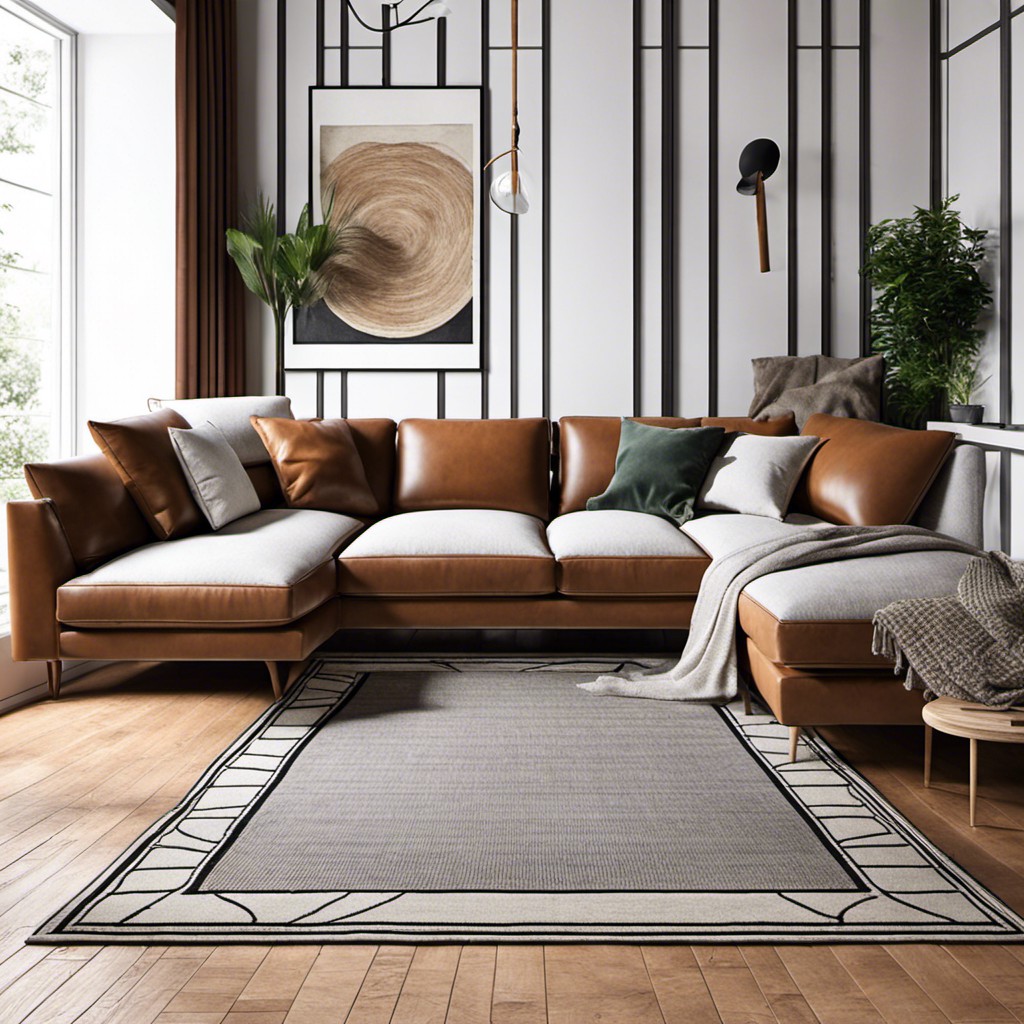 When working with corner sofas, strategic rug placement enhances the cozy lounge feel. Size is key: ensure the rug fits within the seating zone, with the sofa and adjacent furniture directly on it.
A harmonious color scheme linking the sofa and rug can unify the space. For instance, a neutral toned sofa pairs well with an earthy, warm-hued rug. Alternatively, go bold with contrasting colors for a striking aesthetic.
Texture can also impact ambience. Soft, plush rugs can inject a dose of luxury while flat-weave rugs offer a relaxed, casual feel.
Nautical Striped L-Shaped Rug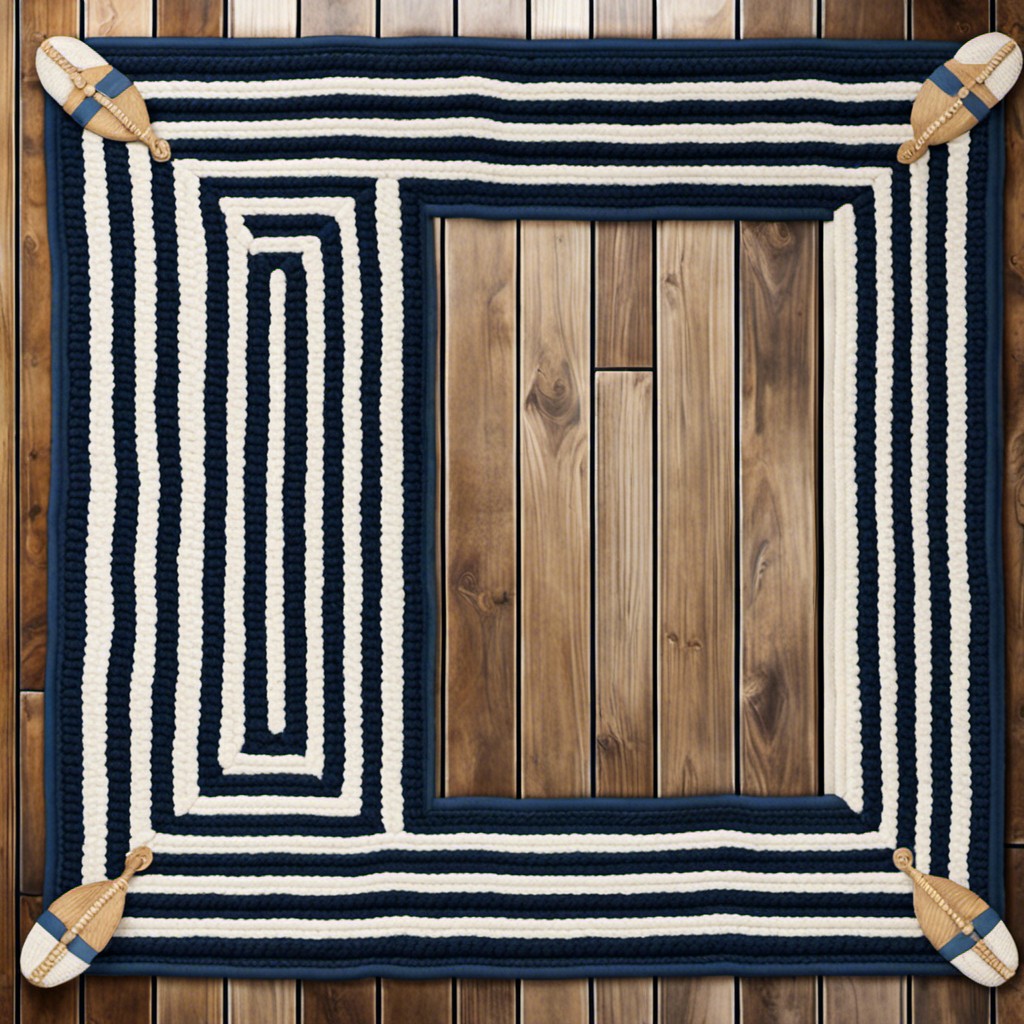 The nautical theme is synonymous with a feeling of relaxation and tranquility – the ideal mood to evoke in a living space. Incorporating stripes brings an added layer of visual interest and can contribute to the overall aesthetic. There are several key points to bear in mind with this rug design:
1. Pattern: Usually, these rugs come in wide, alternating bands of white and navy blue, reminiscent of the maritime world.
2. Materials: Given the nautical theme, natural materials such as jute and cotton perfectly complement the look.
3. Placement: Ideal in a marine-themed room, this rug adds a charming touch when placed in a kitchen or reading nook.
4. Size: Ensure the rug fits the area accurately. It should cover the entire L-shape without overwhelming the space.
5. Care: Machine-washable types are perfect for high traffic areas. For others, spot cleaning may be required.
Remember, while the nautical striped rug is a statement piece, balancing it with complementary décor helps bring out its real charm.
L-Shaped Outdoor Patio Rug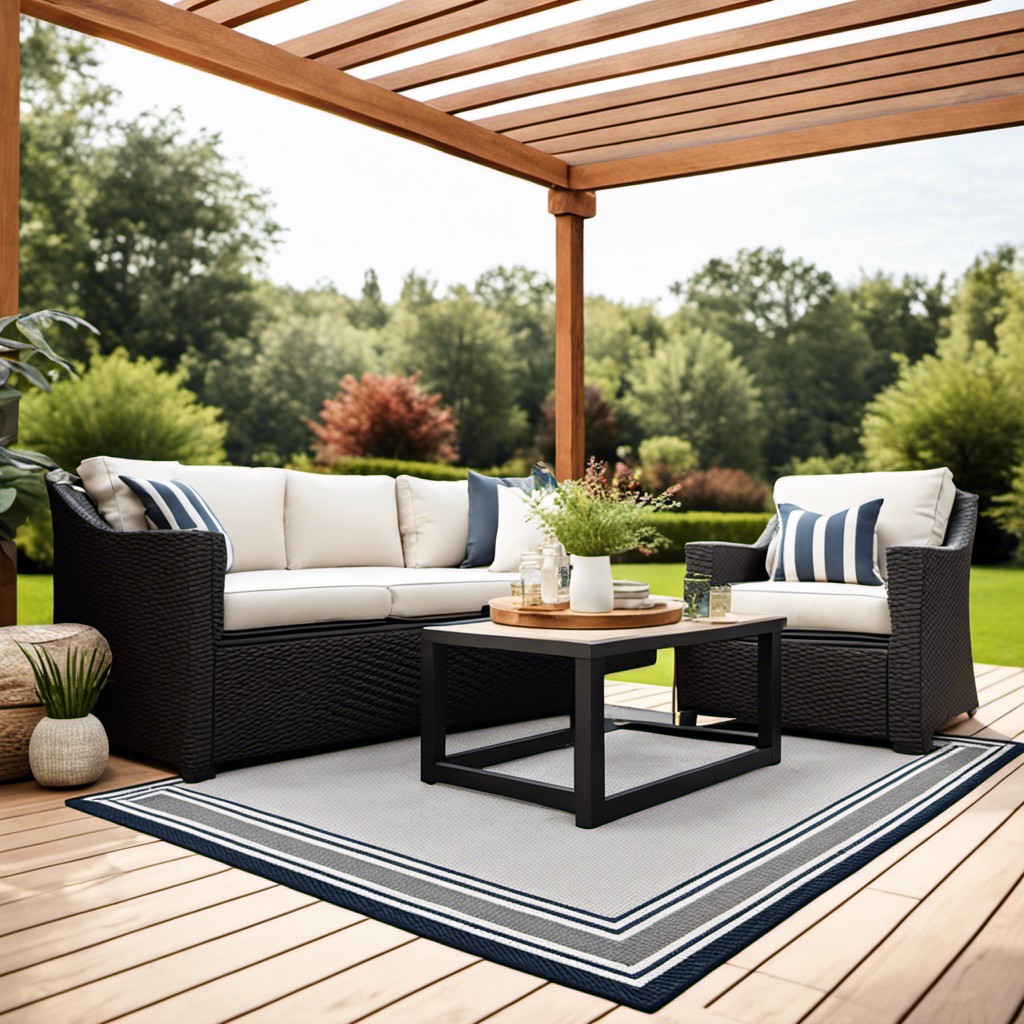 For an exterior space, picking this specific design can give a touch of personality and comfort. Consider the outdoor elements, go for highly durable materials-resistant to sun exposure, rain, and general wear. Polypropylene is one ideal choice. It's resilient, colorfast, and easy to clean.
To maintain a harmonized outdoor decor, match the rug with patio furniture colors or outdoor upholstery. Select breathable designs or tightly woven styles for easy water drain-off after rain. For visual appeal, play with patterns, and designs – stripes, botanical themes, or abstract prints can impressively enhance your patio ambiance. But, bear in mind, it's not merely an aesthetic feature, it also works to define your patio space, especially in larger, undefined outdoor areas.
Monochrome L-Shaped Rug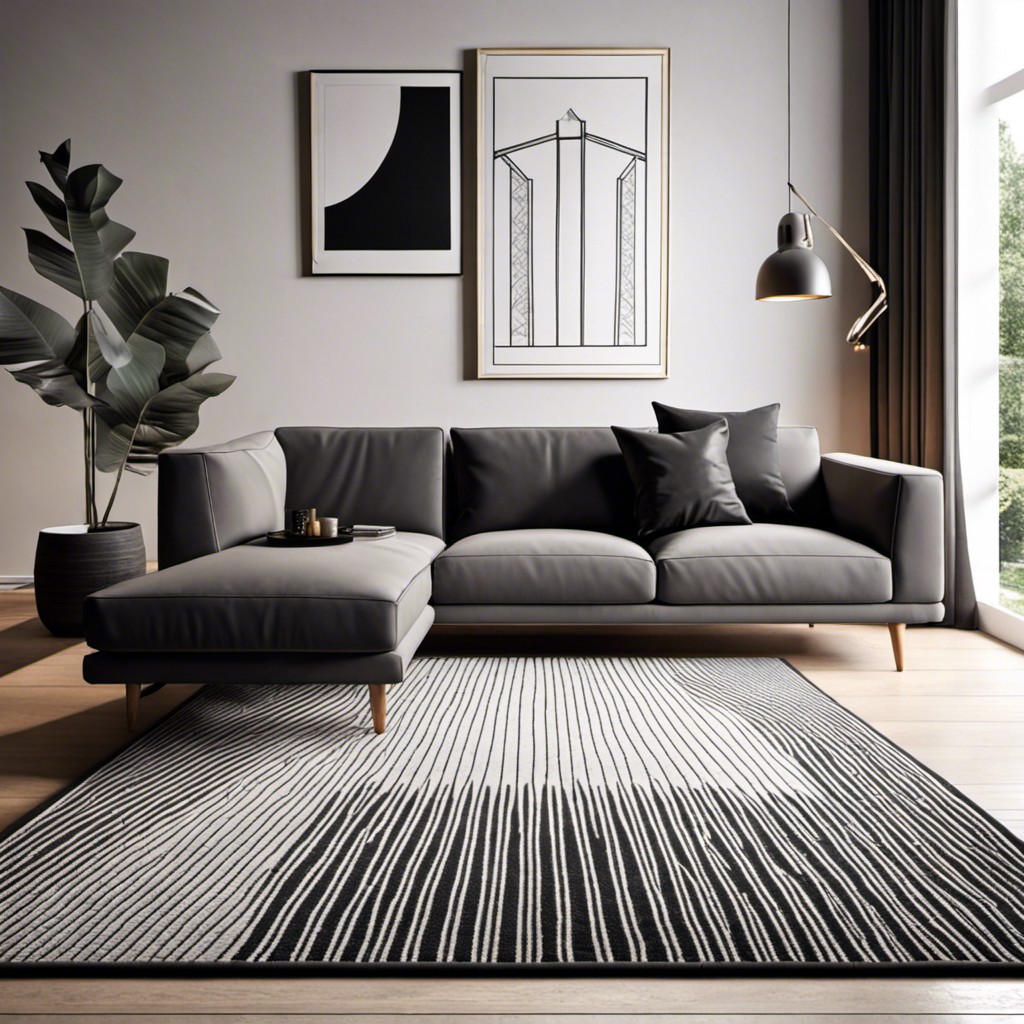 Monochrome designs offer a twisted take on the classic with a smart and poised appearance. They underscore a chic contrast that works well in a variety of spaces, from a traditional setting to a modern loft. Their timeless appeal adds a layer of luxury, without overpowering the surrounding decor.
When placed in a high-visibility area such as the entranceway, these rugs create a dynamic first impression. In the living room, their bold aesthetic serves as a conversation starter, while in an office, they can add a touch of sophistication.
Furthermore, the beauty of the monochrome theme lies in its flexibility. You can play around with patterns and textures within the black-and-white spectrum – go for a striped or herringbone pattern for a minimalist look, or pick a rug with a damask or floral motif for a touch of classic elegance.
Finally, opting for different materials, such as a plush fabric for warmth in the living room or a flatweave for easier cleaning in the kitchen, allows you to perfectly tailor your monochrome L-shaped rug to your needs and preferences.
L-Shaped Rug With Ethnic Motifs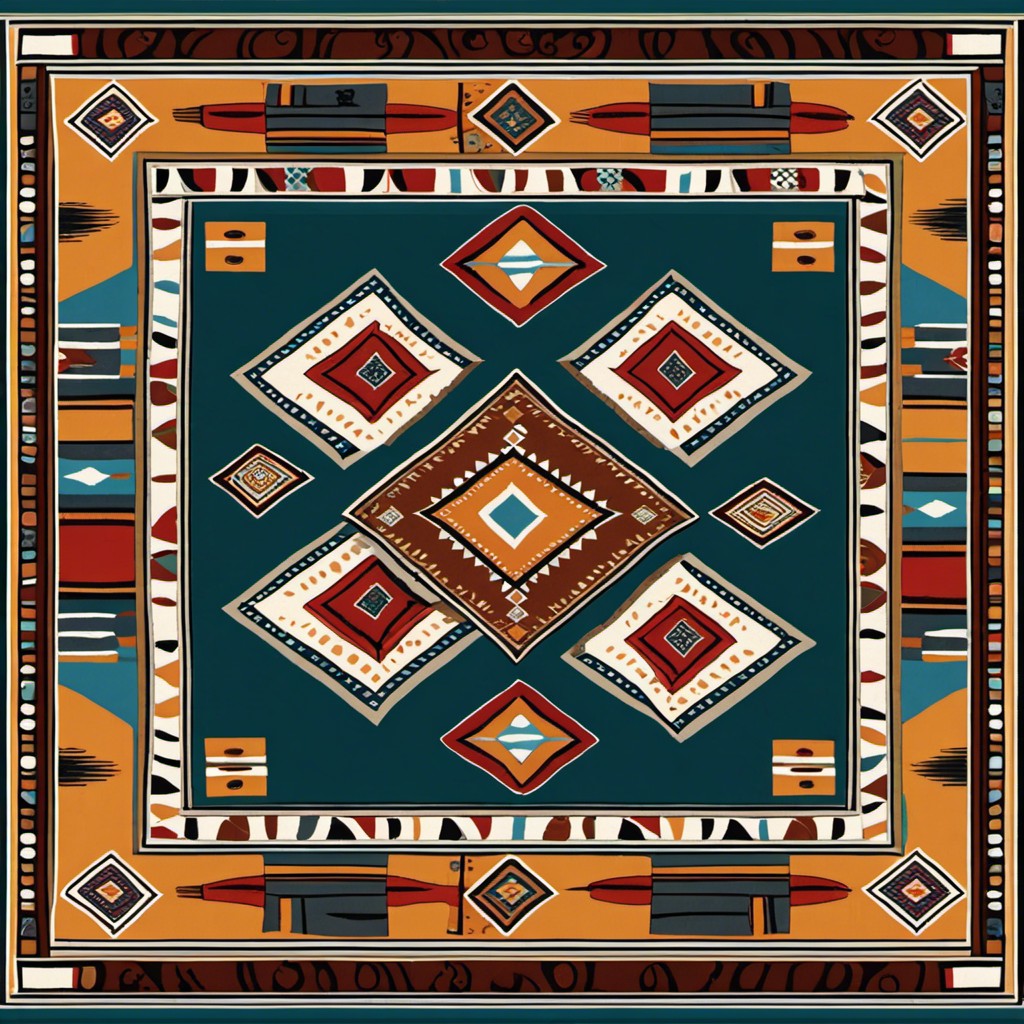 Depicting cultural art and traditional symbols, rugs with ethnic motifs infuse a touch of heritage and history into any interior design, particularly suitable for creating a global, eclectic aesthetic. To incorporate this style in an L-shaped rug, consider the following tips:
Patterns: Tribal, Moroccan, or Mediterranean motifs are common choices, each lending a unique character to your space.
Colors: Muted earth tones or vibrant hues can set the tone, depending on the rest of your decor.
Material: Wool, often used in traditional rug-weaving, is durable and cozy, but modern materials like polyester can mimic traditional styles at a fraction of the cost.
Placement: Ideal for high-traffic areas, these rugs withstand wear and tear while adding charm. Consider placing one in hallways, the corner of your kitchen, or under your dining table.
Pairing: Coordinate with other decor elements like cushions or wall art reflecting similar motifs to create a harmonious scheme.
Remember, an ethnic motif rug is not just a decorative item but also a celebration of cultural artistry right under your feet.
L-Shaped Rug With Abstract Design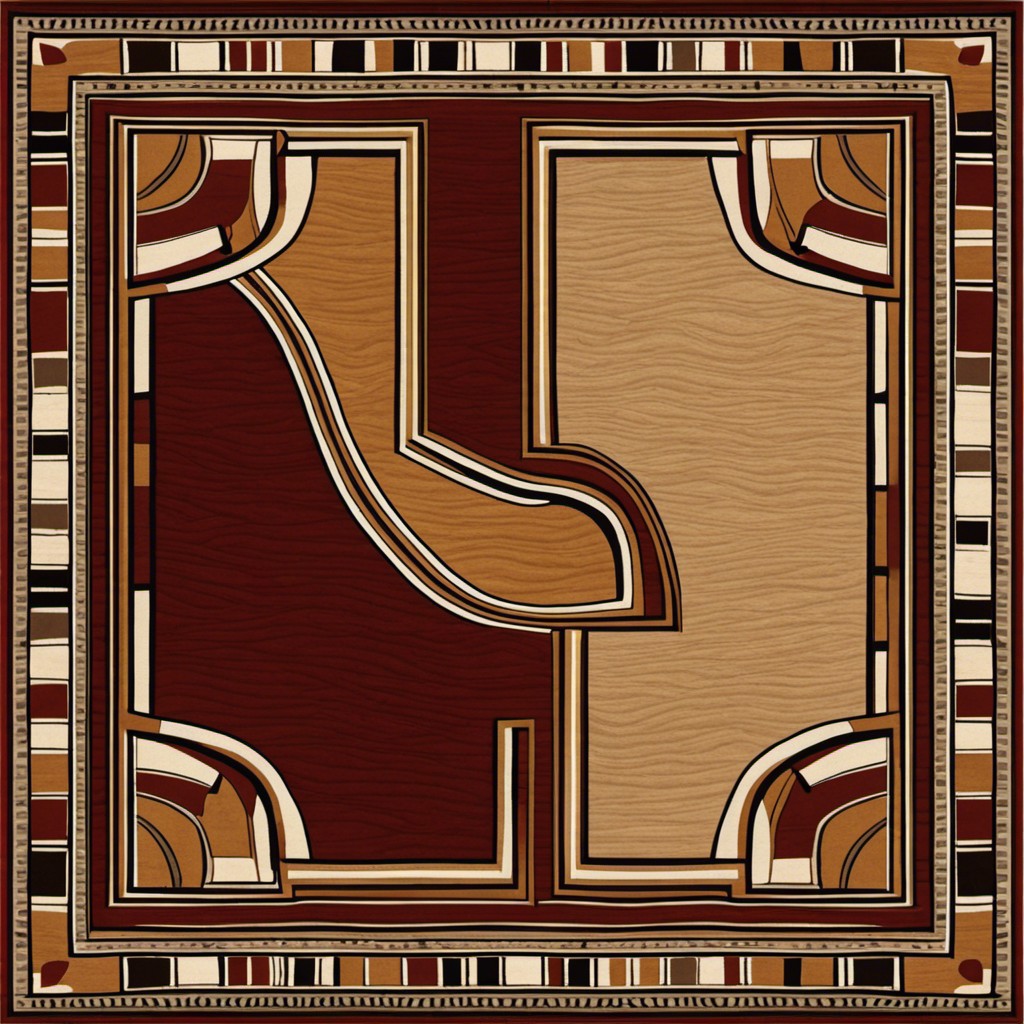 Exploring the abstract design option provides a multitude of creative possibilities for your home décor. Its asymmetrical forms and non-representational shapes offer a visually interesting aesthetic that can act as both a focal point and a piece to tie the overall room design together.
1. Versatility: These rugs can effortlessly blend with various interior styles, from modern minimalist to boho-chic settings.
2. Expressive: They reflect an imaginative approach, infusing your space with personality and artistic taste.
3. Unique Styling: Unlike regular patterns or themes, each abstract design rug is a distinct piece of art, thus ensuring your home design stands out.
4. Enhances Space: Abstract designs can play with perception, making your space seem bigger or more filled depending on the pattern and colour used.
5. Easy Pairing: The unique yet visual forms and color palette can seamlessly integrate and elevate your existing furniture and wall colors without clashing or feeling overbearing.
Remember, the key to selecting the perfect abstract L-shaped rug comes down to your personal preference and the overall aesthetic of your room.
L-Shaped Rug for Kitchen Corners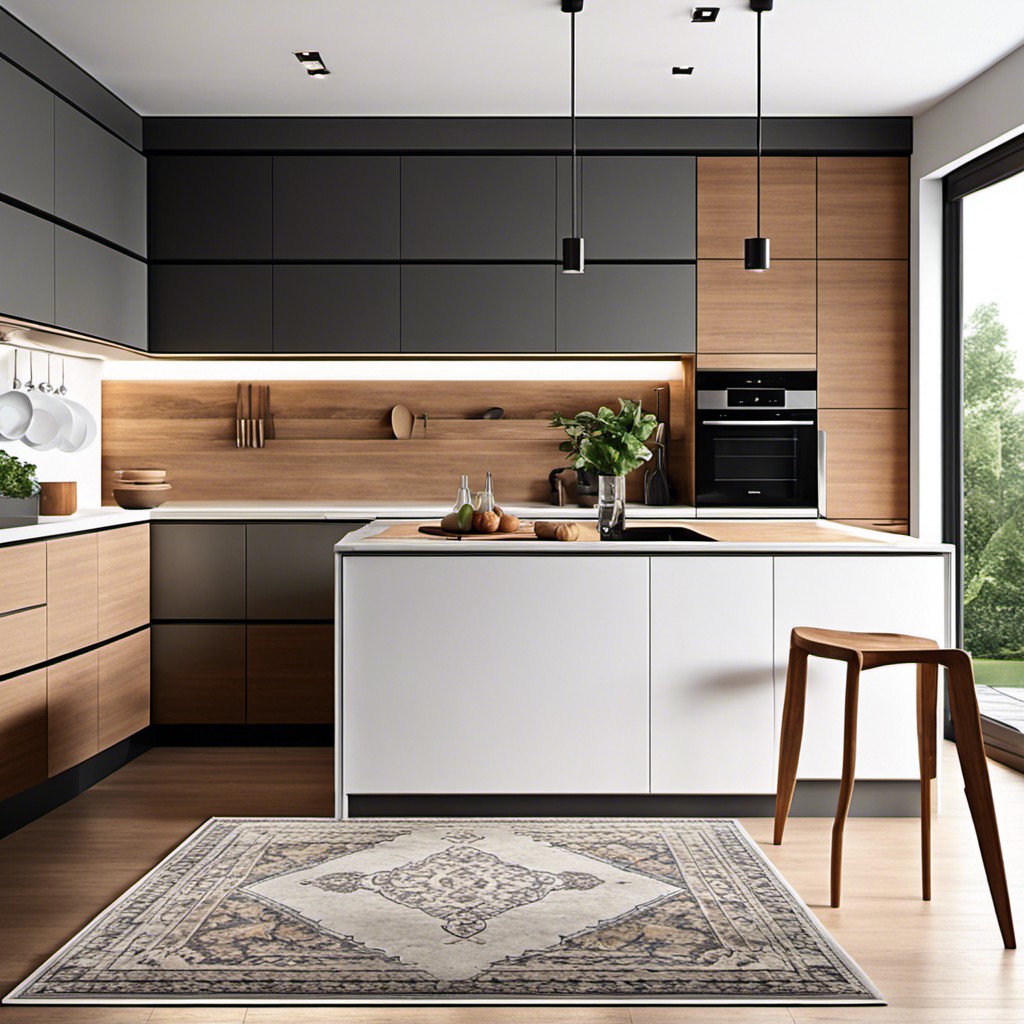 Utilizing an L-shaped rug in kitchen corners can provide a smart sound insulation and protective solution while enhancing the aesthetics of the space.
Keep these points in mind:
Choose a rug with non-slip features to ensure safety in the kitchen.
Opt for materials that are easy to clean. Kitchen rugs often have to withstand spills and stains.
Select a design that complements the kitchen décor. Incorporate pops of color or keep it neutral, depending on your aesthetic preference.
Consider the size of the rug. It should comfortably fit the space without obstructing kitchen cabinets or appliances.
Pay attention to the thickness. A thicker rug might provide more comfort but could be a tripping hazard.
For an open-plan kitchen, make sure the rug also complements the rest of your living space.
Finally, be daring and use the L-shape rug to define or separate different areas within your kitchen, if necessary.
Multicolored L-Shaped Rug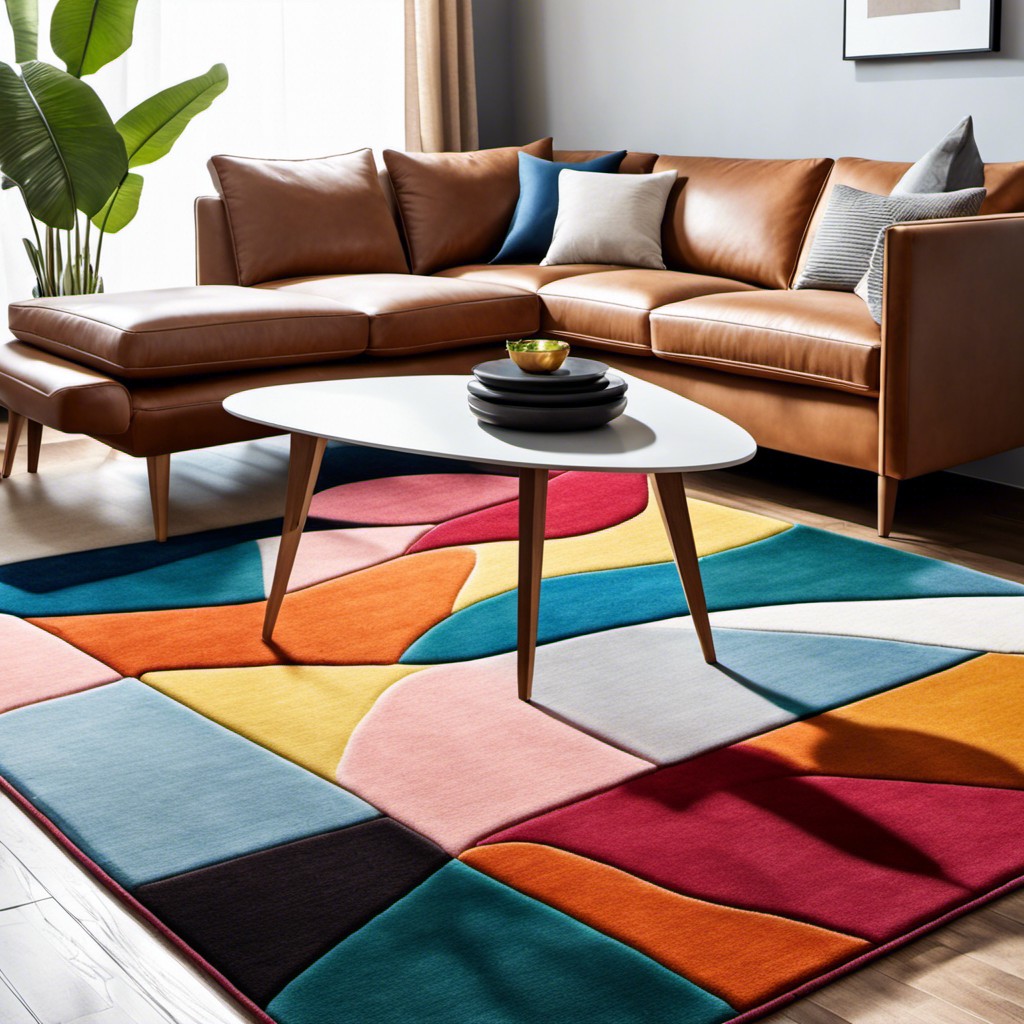 A favorite among bold and eclectic interior style enthusiasts, a multicolored L-shaped rug adds liveliness to any space.
The array of colors offers endless pairing possibilities with various types of furniture and decor items, allowing for both planned color matching or impromptu mix and matches.
With these rugs, it is essential to consider factors like the color balance in the room, room size, and the amount of natural light, each of which can enhance the vivid pattern.
When placed strategically, this rug type can act as an anchor, tying together different elements of the room.
These rugs also work wonderfully in children's play areas due to their playful, vibrant nature.
Cleaning them can be relatively stress-free, as most stains and spillages blend into the colorful pattern.
However, it is still advisable to opt for quality materials that withstand regular cleaning without fading.
Choices range from wool, cotton to even synthetic fibers depending on personal preferences and the rug's intended wear and tear.
L-Shaped Rug for Bathroom Vanity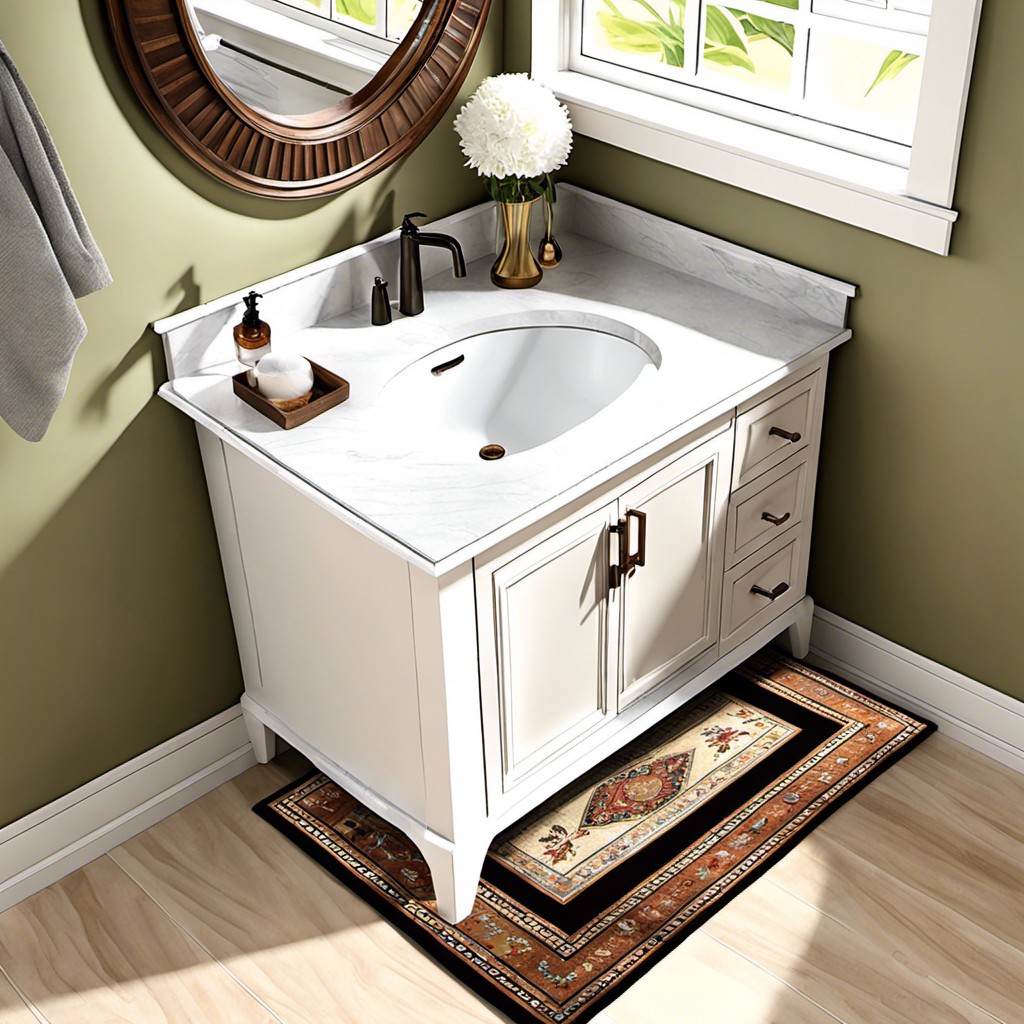 Incorporating this particular rug style into your bathroom design can enhance the aesthetic appeal remarkably. The key criteria to remember when selecting such a rug include:
Ensuring the rug is water-resistant and has non-slip properties. Due to the bathroom's wet environment, these features are crucial for longevity and safety respectively.
Select a rug material that can withstand frequent cleaning. Due to the bathroom's high humidity level, the rug should be made from mold-resistant fabric.
Opting for soothing or neutral colors matching your vanity unit and overall bathroom color scheme. This will present a coordinated look and create a serene atmosphere.
Focusing on a rug size that fits perfectly in the vanity area, neither too big to overwhelm the space, nor too small to remain unnoticed.
Incorporating this thoughtful addition can add an element of surprise and sophistication in your bathroom, enhancing both its functionality and visual appeal.
Jute L-Shaped Rug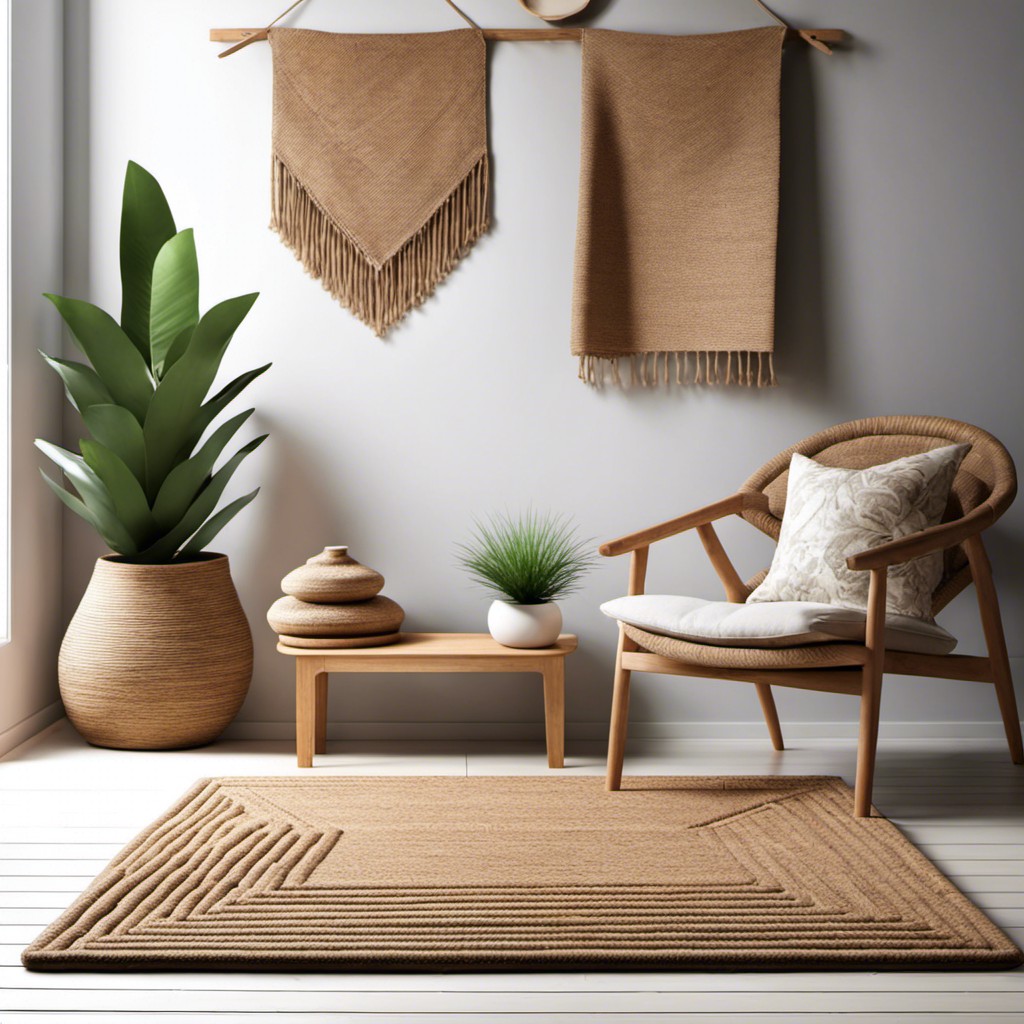 This hardy yet stylish material lends an earthy, organic feel to any space. Noted for its durability, jute is perfect for high-traffic areas, making an L-shaped jute rug ideal for placement in hallways or under kitchen islands.
Here are some key considerations:
1. Due to jute's thick weave, it provides excellent cushioning and prevents slippages, making it ideal for homes with children or older adults.
2. Style-wise, a jute rug can complement both rustic and minimalist décor due to its natural texture and neutral color palette. It blends seamlessly with wooden furniture and earth-toned accessories.
3. Be mindful that jute tends to absorb moisture and may not be well-suited for damp areas or spaces prone to spills. Instead, place your jute rug in dry areas to enhance its longevity.
4. While jute is known to be durable, regular vacuuming and prompt treatment of stains will aid in maintaining its beauty over time.
5. Most importantly, an L-shaped jute rug's form fits effortlessly into corners or around furniture, effectively defining the space and imparting a cozy, warm feel.
Remember, an L-shaped rug isn't just a floor covering – it's a strategic piece that can shape your area's overall ambiance.
L-Shaped Rug With Animal Print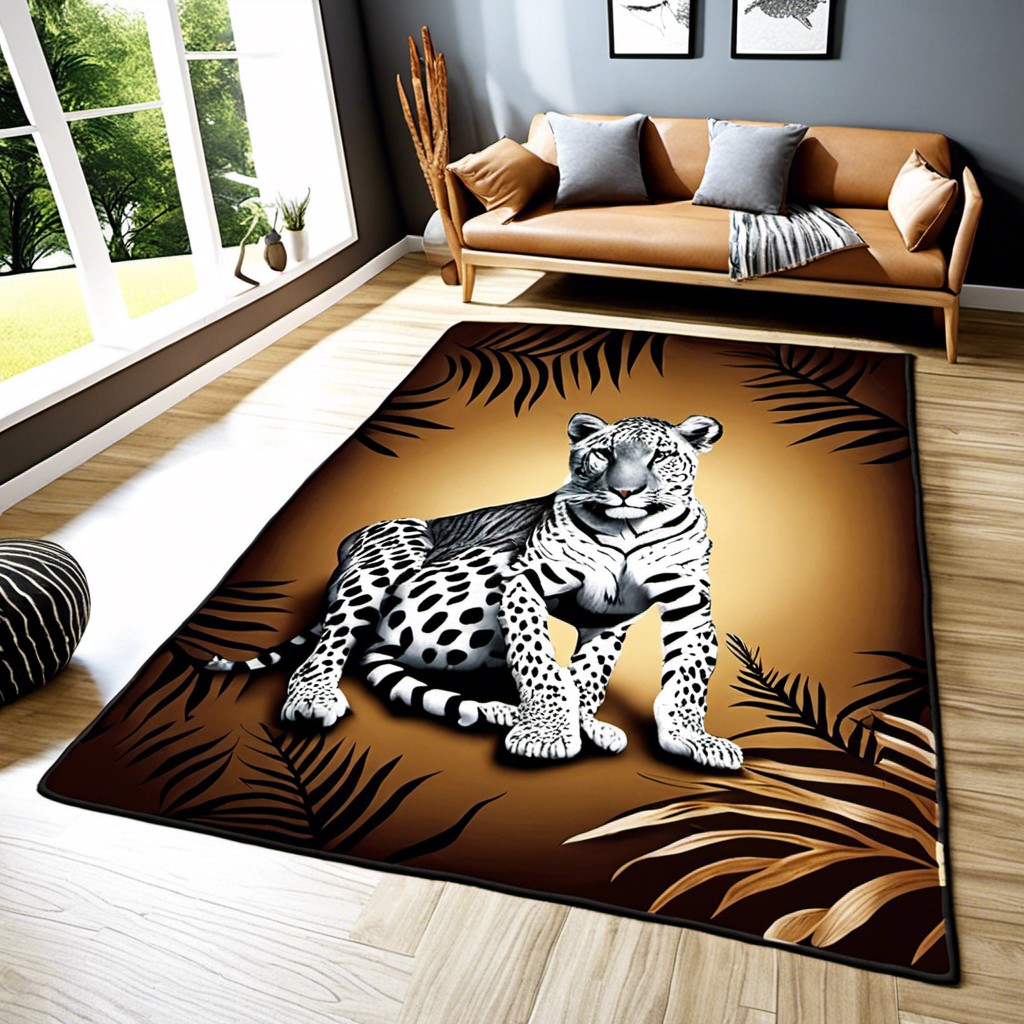 For an adventurous yet sophisticated touch, animal prints offer an edge to any room. Your visions of an elegant savannah can become reality with a zebra or leopard print L-shaped rug, which strikes a balance between wild flair and classic styling.
Consider a faux fur finish for added texture and coziness. As an unconventional option, this design requires careful coordination with the rest of the room's decor to avoid any clash or overwhelm. Pair it with neutral colors and minimalistic furniture for maximum impact.
Remember, in small doses, animal prints can be a fantastic way to elevate your interior design game, but moderation is key.
Continue reading: