Last updated on April 5, 2022
The dining room is one part of a home that brings people together. Aside from keeping it clean and tidy, improving some details can significantly enhance the ambiance and function of the room.
Spicing up your dining room can be done with some creativity and effort. There are small details you can change and add to uplift the atmosphere, making it more inviting. You can even do it even with a limited budget and time.
That said, here are seven easy steps to transforming your dining room.
What's Inside
Refurbish or Replace Old Furniture
The star of the dining room is the table and chairs. These furniture pieces can deteriorate over time depending on the materials used and proper care.
Wooden tables are some of the furniture pieces that are hard to keep in their best condition. It can be stained over time since it's exposed to heat and prone to spillage. If you're not planning to replace it with a new one, you can refurbish it by sanding and applying a coat of clear epoxy resin.
Next to the dining table are the chairs. If one chair gets damaged and cannot be repaired, you have the option to buy the same design or replace the whole set. In buying new dining chairs, it's best to consider durability and comfort on top of good design to make sure they last.
Repaint the Walls
Another easy way to renew your dining room is to repaint the walls. Choosing the appropriate paint color is a must since it serves as the backdrop for all the other elements within the space.
Some popular paint choices are neutral colors like white, beige, gray, and greige. These are classic colors you can see in most modern interiors. However, you can still choose vibrant colors like mustard yellow, pale peach, orange peach, and mint green.
The best technique to choose the right color is to consider your home's overall interior design theme. Doing so will maintain unity and balance within the space.
Create a Feature Wall
If painting all the walls seems too extensive, creating a feature wall is the next great option. It can quickly transform a dull room into an artsy one.
The easiest and cheapest way to create a feature wall is to put wallpaper. Pick a design that stands out but still harmonizes with the other details in your dining room.
One more tip is to paint one wall darker or more vibrant than the rest of the walls. Then, you may hang one large painting or tapestry or create a collage of framed photos to add more color.
Place Some Classic Furniture Pieces
The dining room is complete with a table and chairs. However, the space can still feel empty without placing other functional and decorative furniture pieces.
A console table is a classic piece of furniture that completes the dining room. You may use it to display some artsy teapot sets and antique plates and platters. It's also the perfect space for wine and a couple of glasses. However, you can also use this table for decorative elements like a lamp, scented candle, picture frame, and even a small sculpture.
Furthermore, you may also add some floating shelves. Aside from providing an extra surface for display and storage, these can also add depth to a plain wall.
Add Some Light Fixtures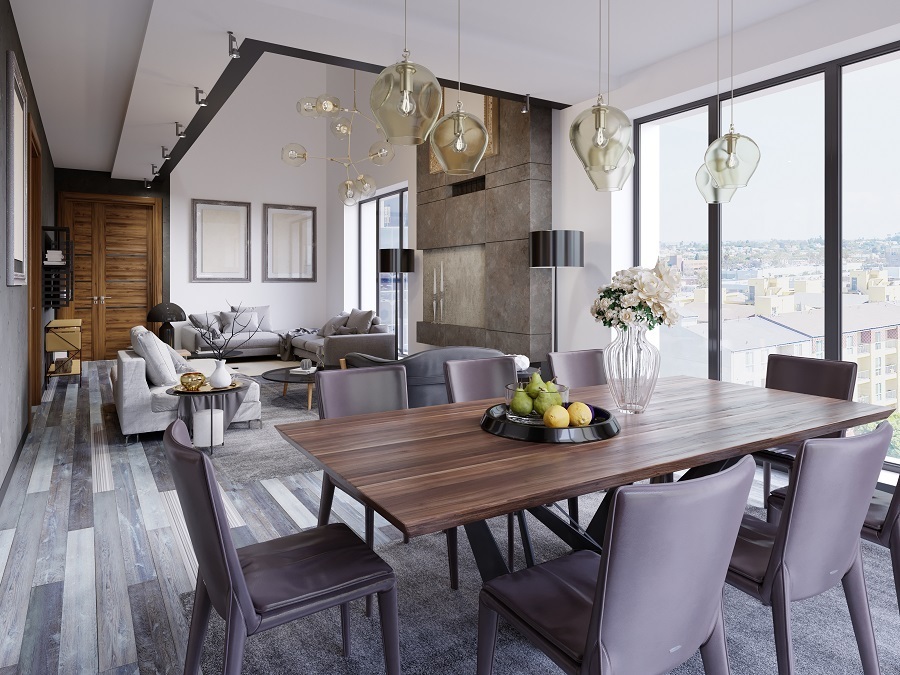 A well-lit dining room is vibrant and welcoming. The space should be filled with natural light during bright sunny days and some artificial lights during gloomy days and nights.
Two of the most popular light fixtures for the dining room are pendant lights and chandeliers. Pendant lights are more on the sleek and straightforward design, while chandeliers are more on the elegant and expensive look.
If your dining room is small or lacks windows, you may also add some mirrors to reflect light. This trick can brighten up the space even more. Keeping the area to eat and drink well-lit is essential for safety.
Incorporate Some Texture and Color
A plain room can make you feel calm. However, in some cases, it can make you feel uneasy. The room may feel too empty without adding more texture and color.
Some flaw of some modern minimalist interiors is the lack of decorations in the desire to make the space clutter-free. If your dining room looks too dull, but you don't want to repaint the walls or replace furniture pieces, you can beautify it by adding some decorations.
Adding a runner cloth to the table is one way to add texture. You may also put some placemats, candles, and vases. Some wall decorations like paintings and photos can also add some splash of color.
Bring in Some Natural Elements
Assuming you already have some wooden tables and chairs, you can add plants to complete the space. Since plants can be hard to maintain, you may use fake plants instead. Low-maintenance plants like cacti and succulents are also a good option.
On the other hand, you can place a new flower arrangement every five to seven days. To make it look fresh longer, avoid direct sunlight and replace the water every two days.
Bringing in some natural elements is an organic way to transform your dining room. You can effortlessly make the space full of life.
The Takeaway
Transforming your dining room into a vibrant and lively space doesn't have to involve renovation. Often, tweaking the existing elements and adding in some new details are all it takes to make your dining room look brand new.
Continue reading: