Last updated on November 7, 2023
Explore these intriguing faucet with separate handle ideas because transforming a mundane bathroom or kitchen into a stylish and functional space hinges on the details.
These are my unique design concepts made using design tools. I hope you find them inspiring!
Embrace the design revolution that delights in every detail, right down to your fixtures, by exploring these unique faucet with separate handle ideas.
Today's article is a treasure trove of innovative concepts, steering away from the well-trodden paths and diving into a plethora of fascinating new angles.
While paying homage to the best of existing designs – with resources available at the end of the article – our aim is to inspire your creativity with a fresh and distinctive roster.
Get ready to discover a captivating array of handle ideas that could redefine your water fixture aesthetics.
Let this invigorating journey commence.
What's Inside
Vintage-inspired Faucet With Separate Handle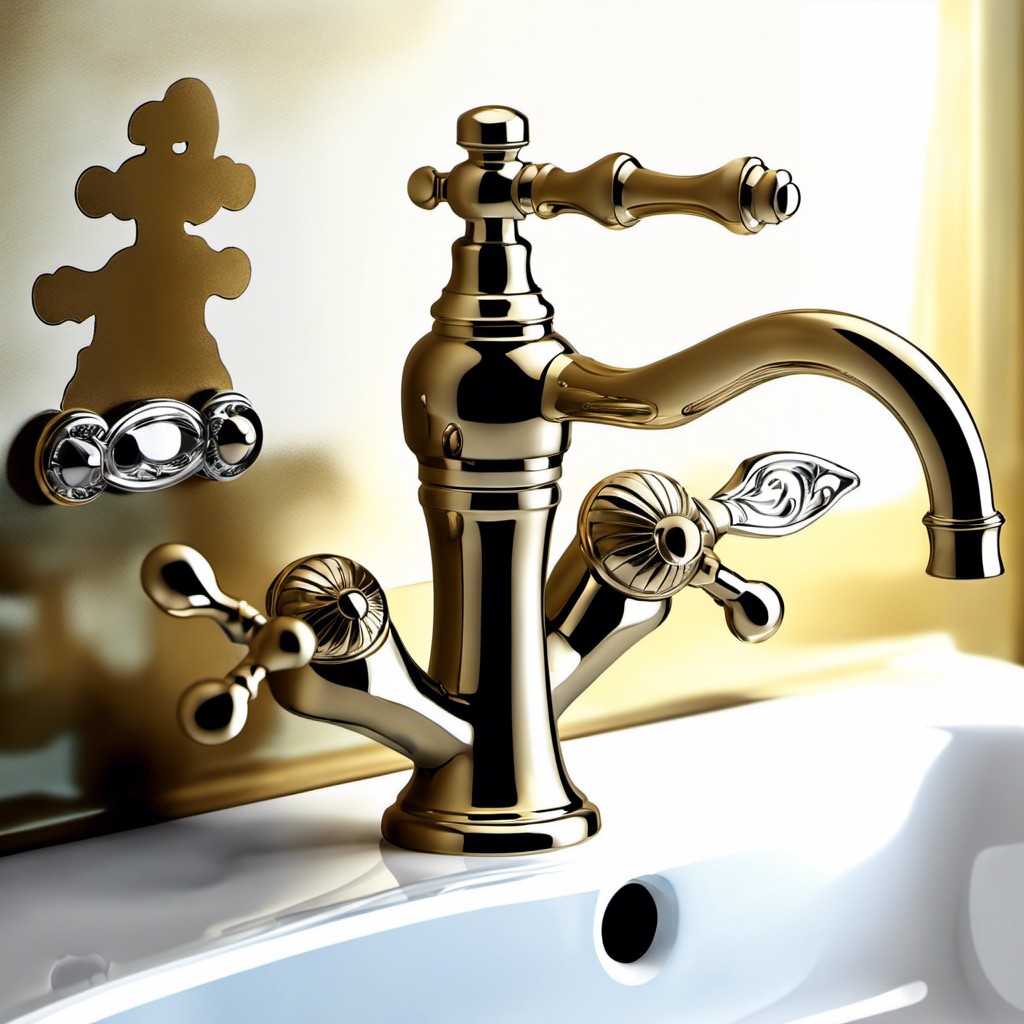 Incorporating vintage elements to modern bathrooms oozes elegance, and faucets play an integral part. The warm hues of brass or bronze finishes illuminate the space classically, an attribute found in these age-old designs.
With distinct handles, they ensure precise control over temperature and water flow, delivering both practicality and period charm. Their intricate detailing becomes a focal point; be it a crosshead, lever style, or porcelain insets inspired by Victorian or Georgian era, you're spoilt for choice. Consider the resilience and easy maintenance, these faucets often have ceramic disk valves increasing durability.
Remember to uphold unity of design. When paired with a console sink or a clawfoot tub, the room's entire look can be steeped in vintage charm.
Whether favouring a wall-mounted or deck-mounted option largely depends on preference and plumbing structure. It's crucial to ensure it complements other fixtures like showerheads or towel rails. Modify the tarnishing process for a fuller vintage feel. A patina can cultivate an antiquated aesthetic over time, adding to the authenticity.
Dual-handle, Waterfall Style Faucets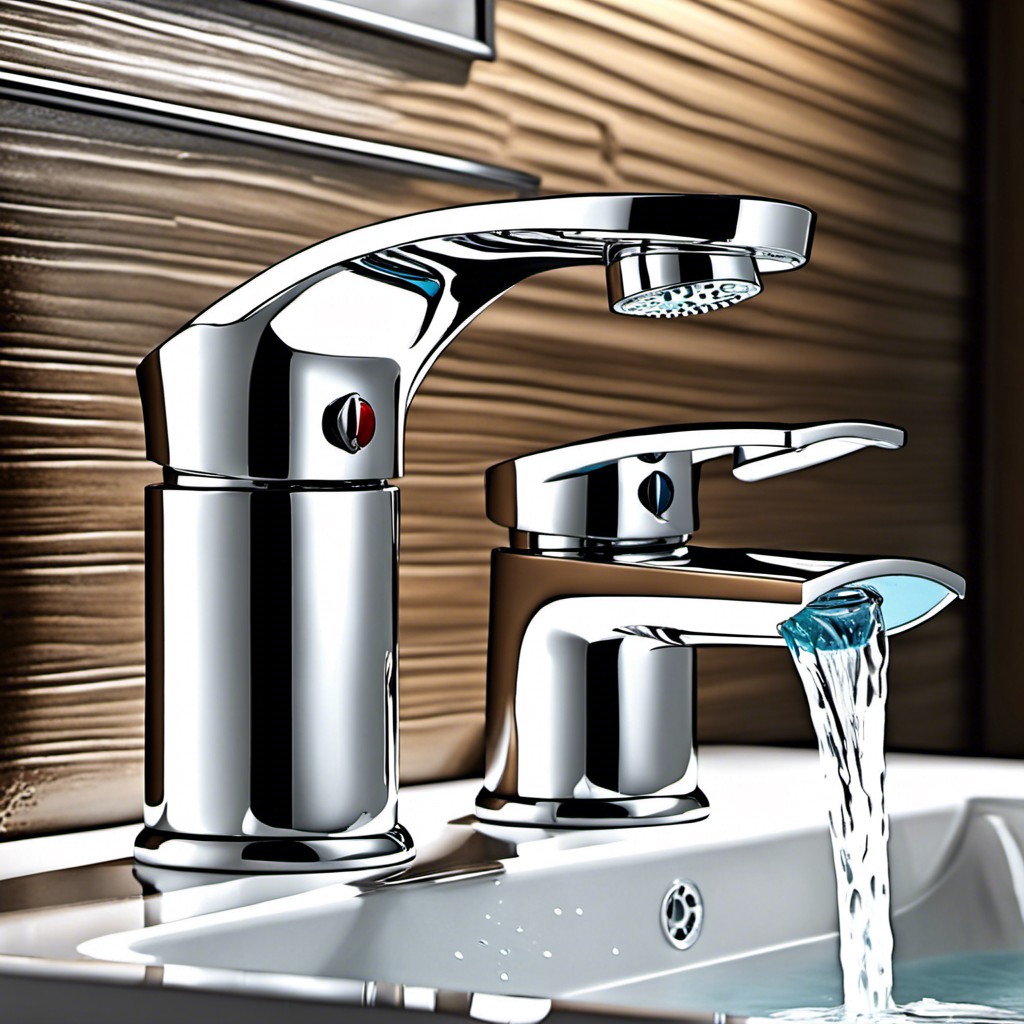 With their robust design, these variants are a true showstopper in any bathroom. Fusing aesthetics with practicality, they give the user the joy of visually appealing water flow, similar to a cascading waterfall, transforming everyday hand washing into an experience.
Key aspects include:
Twin Handles: Precision control of water temperature is now at your fingertips. This design encourages balanced water use, helping to conserve energy.
Broad Spout: This feature fosters the waterfall effect, not just serving a practical purpose but also bringing a sense of tranquility to your space.
Versatile Design: Traditional or modern, these faucets effortlessly blend into any bathroom décor. They can serve as the focal design feature or subtly enhance the existing aesthetic.
Durability: Made to handle everyday use, these faucets are designed to be robust, offering longevity along with style.
Remember, installation may require professional guidance due to the unique water flow mechanism. Choose this style and let the gentle cascade of water elevate your overall bathroom experience!
Eco-friendly Faucets With Separate Handles to Control Water Flow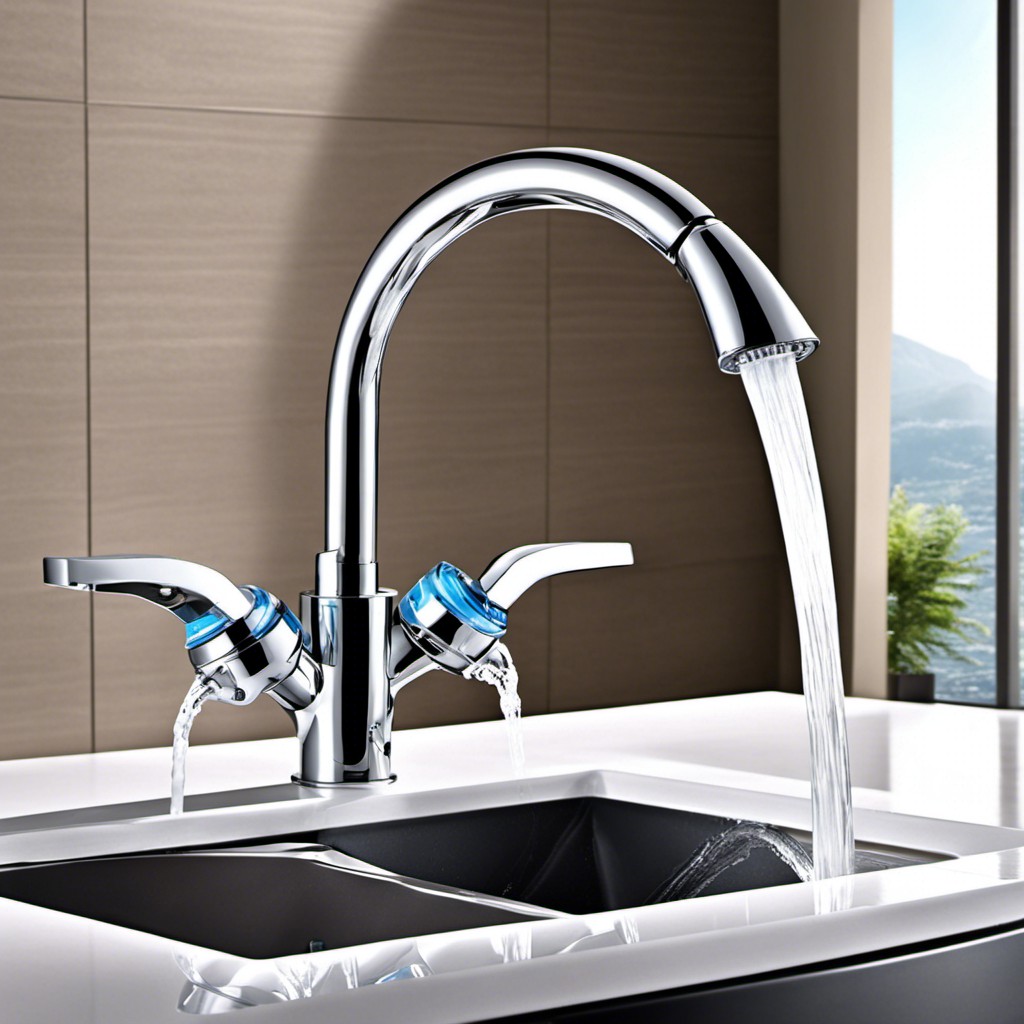 The control over water flow provided by separate handles greatly enhances the eco-friendliness of these faucets. Reducing unnecessary water usage becomes simple when you have the ability to manage both temperature and pressure individually, literally at your fingertips.
It not only saves precious water but also decreases energy consumption with less requirement for water heating.
There are a number of designs available in the market that achieve this, promising efficiency and elegance. Models with aerators have gained popularity recently; they mix air into the water flow to maintain pressure while significantly reducing actual water usage.
Precision handles, another clever innovation, allow accurate control over flow rate and temperature. Veering from the traditional turn handles, these lever-type controllers allow for one-handed operation, facilitating precise settings.
Finally, check for models carrying environmental certifications. These meet strict ecological standards, ensuring they excel in water and energy conservation. By choosing these, you contribute towards a responsible and sustainable future.
Remember, these forms of faucets don't just benefit the environment, they are friendly on your utility bills too. Consider one for your next bathroom makeover. Tap into conservation with style; our Earth thanks you for it.
Minimalist Faucet and Separate Handle Design for Small Bathrooms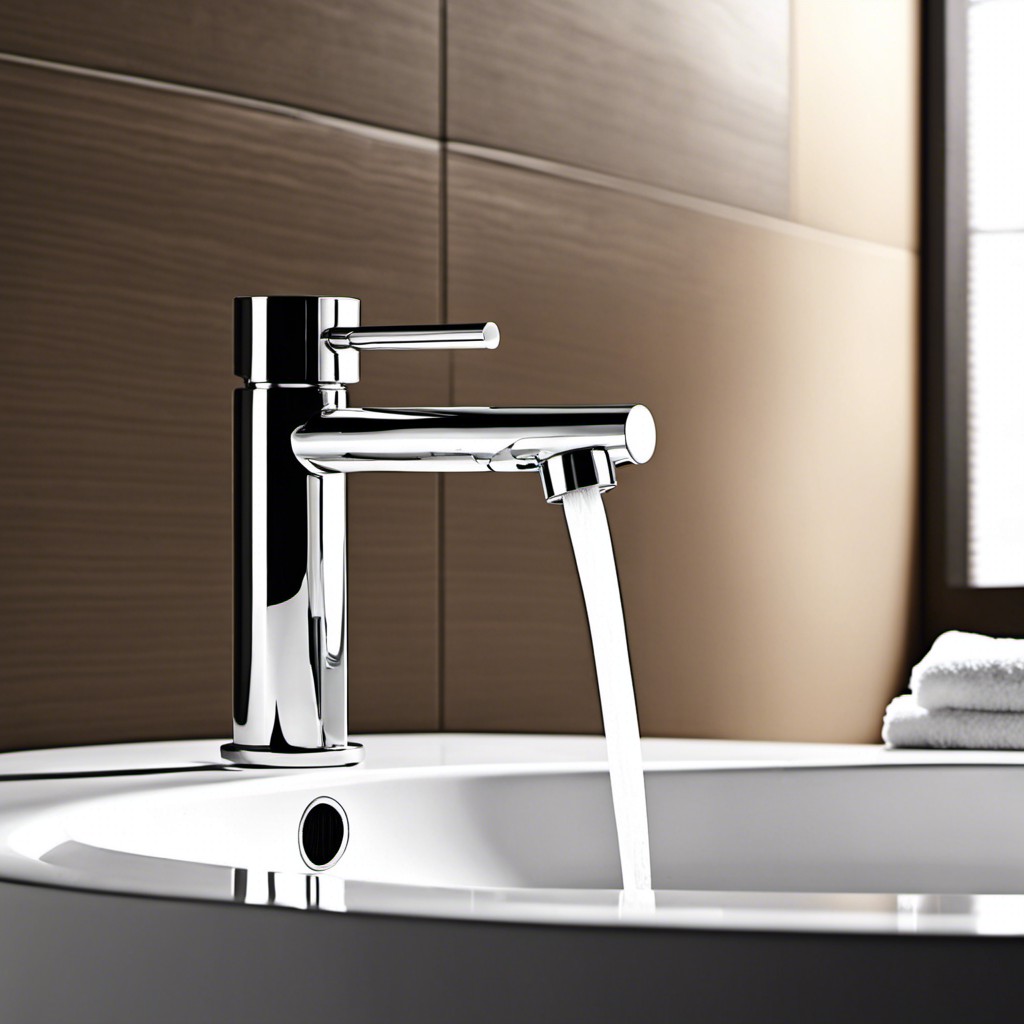 Streamlining the décor in a tiny bathroom can indeed be a challenge. However, opting for a minimalist faucet with a separate handle can make all the difference. This idea harbors aesthetics, functionality and space saving in one package.
A slim, sleek faucet doesn't impede on space visually or physically, making the area look more spacious. The separate handle, while adding to the minimalist look, offers perfect water flow control. This setup works best with clean lines and neutral colors.
To further capitalize on space, consider a wall-mounted set. A floating faucet and handle leave more room on the sink and create an uncluttered look. Combining this with backlit mirrors or under cabinet lighting can enhance the minimalist vibe.
Remember, functionality shouldn't be compromised for style. So, ensure the set is easy to use, practical and can withstand heavy use. Resilient materials like stainless steel or brass with a matte finish can be great options. Also, a well-placed handle allows for seamless access and operation.
Avoid overly complicated shapes and designs. Instead, place emphasis on simplicity and utility. Following these guidelines, your tight bathroom space will appear more extensive and less cluttered while maintaining its aesthetic appeal.
Industrial Style Faucet With Separate Handle for Rustic Kitchens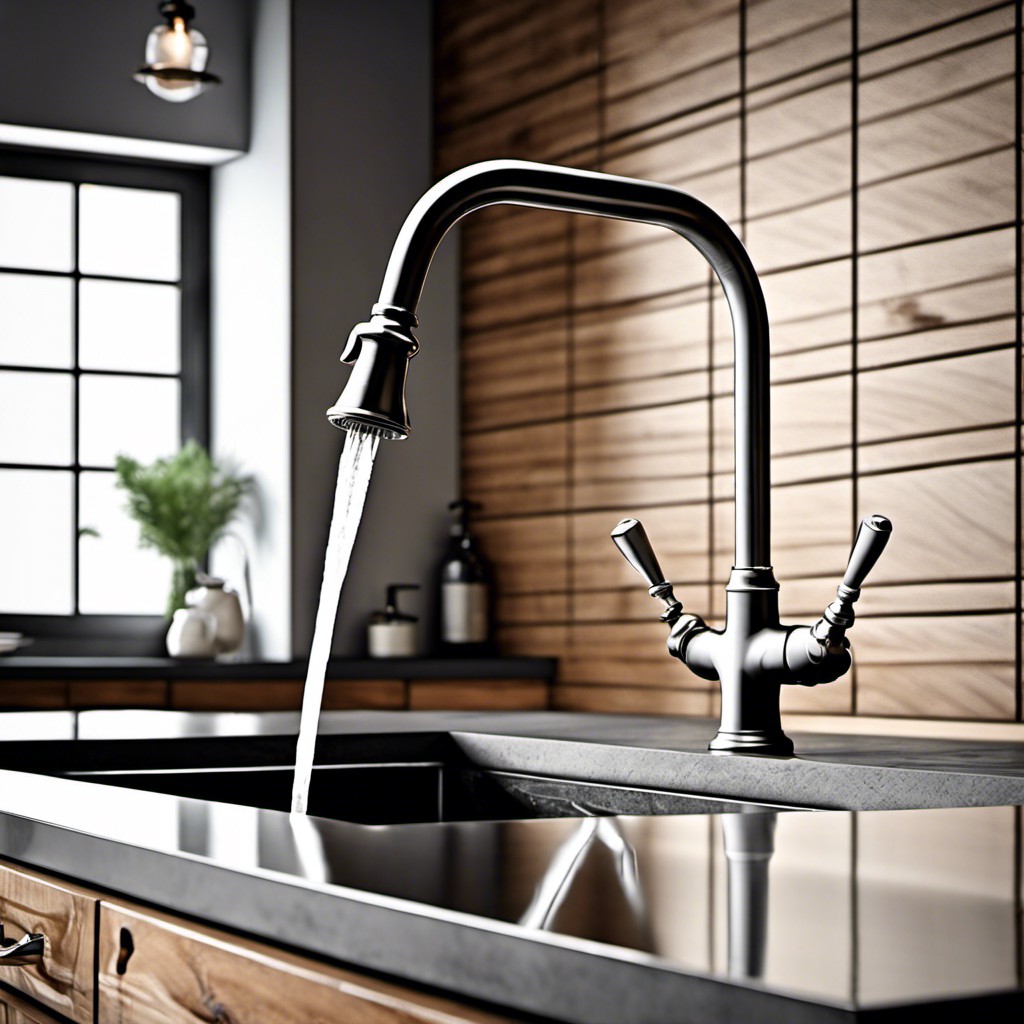 Incorporating an industrial style faucet into a rustic kitchen scheme can curate a unique blend of old and new. Synonymous with durability and reliability, these encompass simple form with robust materials.
1. Materials: Typically, stainless steel or brushed nickel are used for their hard-wearing attributes and industrial aesthetic.
2. Design: Focuses on utilitarian efficiency, these faucets often represent features of professional kitchen equipment.
3. Separate Handle: This attribute not only gives control over water temperature but also adds a vintage vibe, something inherent in rustic design.
4. Pairing: This faucet style looks great with exposed brick walls, reclaimed wood countertops and vintage appliances to enhance the rustic theme.
5. Spout Type: Choices include a swiveling spout for convenience and pull-down sprout for flexibility. Both options contribute to the overall functionality of the industrial style.
This harmonization of industrial fixtures with rustic elements creates a warm, homely atmosphere with the added bonus of durability.
Colorful Faucets With Separate Handles for Playful Bathroom Design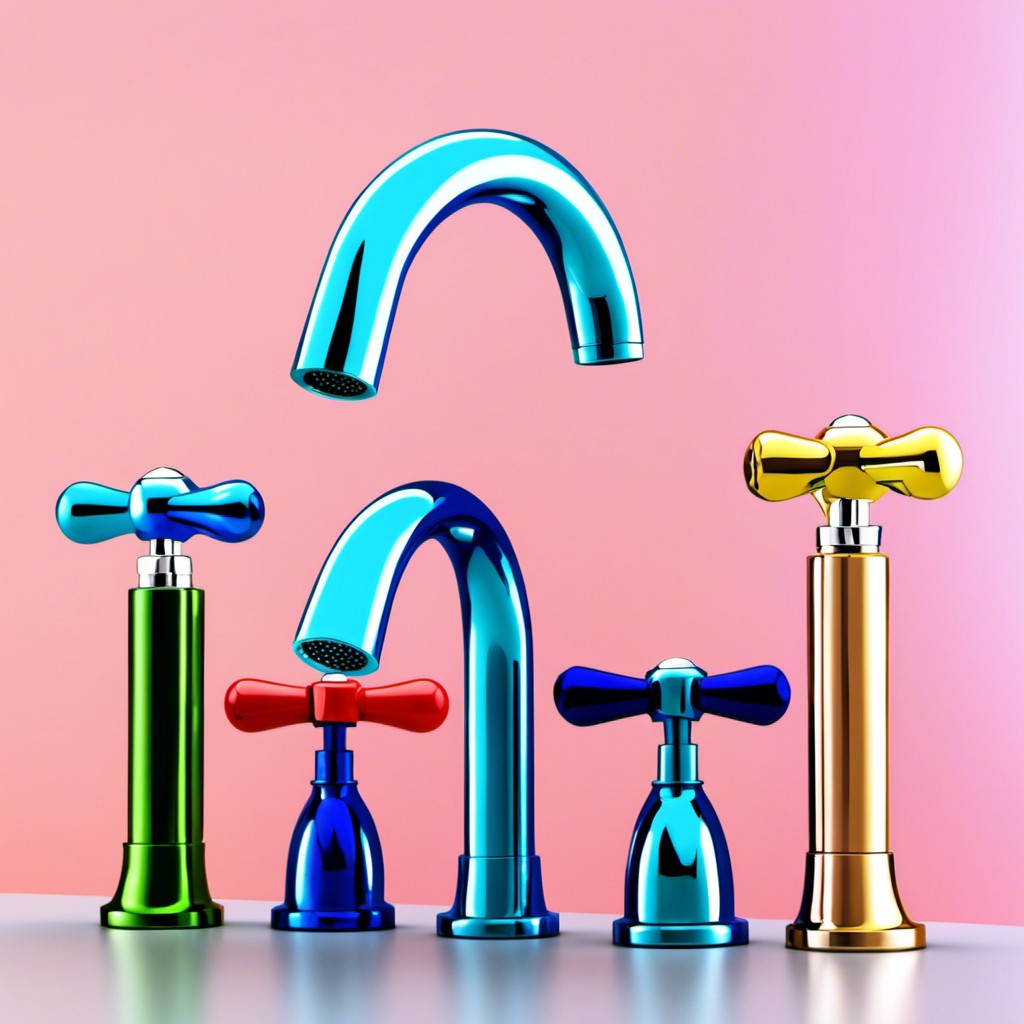 Bringing vibrancy to a bathroom space can be achieved through the utilization of colorful faucets with detached handles.
An emerald green choice contributes to a nature-related theme, while a bright blue one can accentuate a nautical vibe. For a fun twist, consider options in stark contrast to the overall color scheme, creating a popping feature.
The possibility of having different colors for the faucet and handles provides a unique opportunity for customization. This does not only add character but also makes identifying hot and cold controls easier for kids or guests.
Swathes of colors in high-gloss or matte finishes are available, aligning to both contemporary and traditional design aesthetics. Remember, the coating should be resistant to avoid color fading over usage time.
Incorporating colorful fixtures can indeed turn a regular bathroom into an inviting, personalized space. Infusing life through colors can, pleasantly, make a usual routine like hand washing rather amusing.
Luxury Gold Faucet With Separate Handle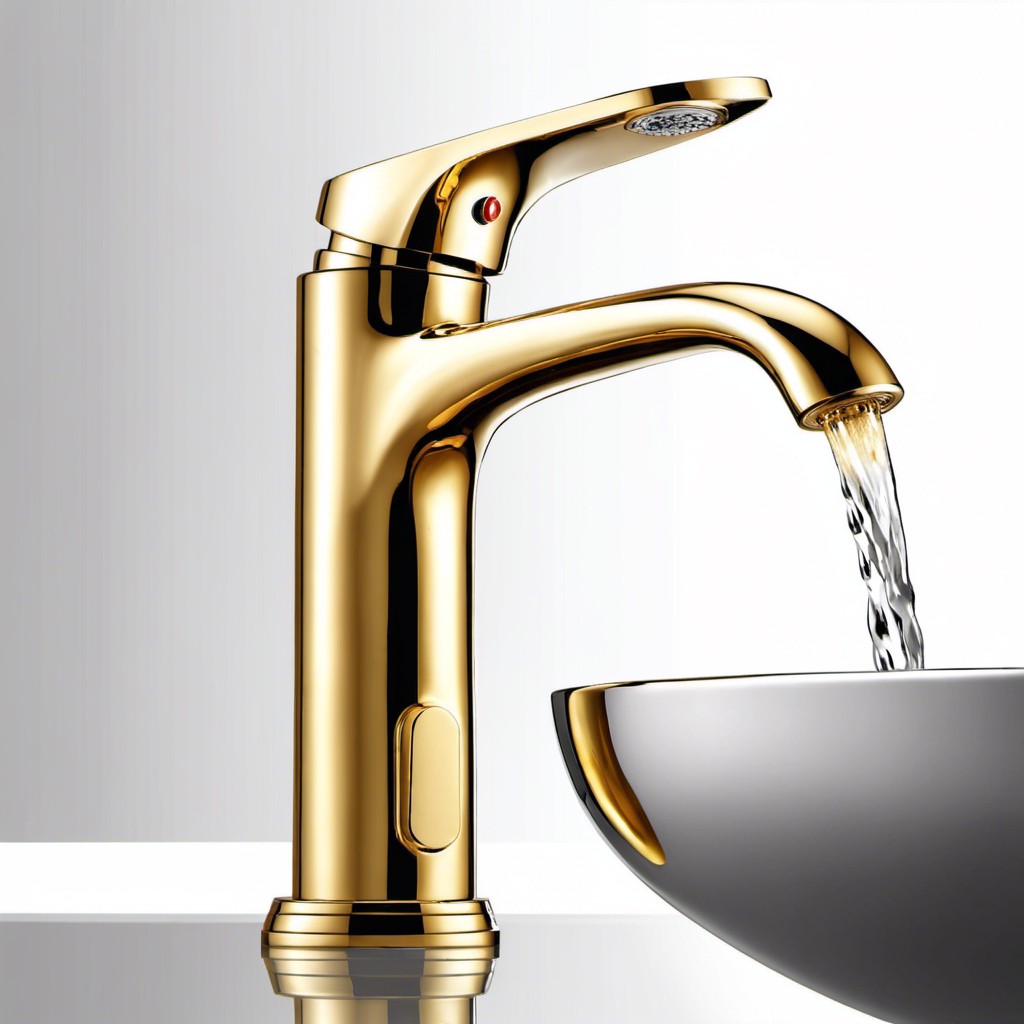 Immersing your bathroom in the warmth of gold adds an instant touch of opulence. The gleam of gold represents glamour and prestige, ideal for those craving an aesthetic lift. When it comes to faucets, the purpose is more than functionality; it's about style as well.
A dual handle design does wonders here. It brings precision control of water flow and temperature, ideal for meeting specific personal needs. The two-handle setup also contributes to cleaner lines and less clutter around the sink area, providing an overall sleeker look.
Moreover, there is a plethora of designs to explore. Go for an ornate sculpted design for a regal effect or pick a minimalist design with smooth lines for a modern approach — your choice.
While you may think that maintaining going fixtures could be a challenge, that's not necessarily the case. Most gold faucets are in fact gold-plated, which means cleaning is usually as simple as light dusting and wiping with a damp cloth.
In the end, gold faucets with separate handles not only animate luxury but also offer practical benefits, making them a worthwhile investment for a sophisticated bathroom.
Separate Handle Faucet With LED Light Features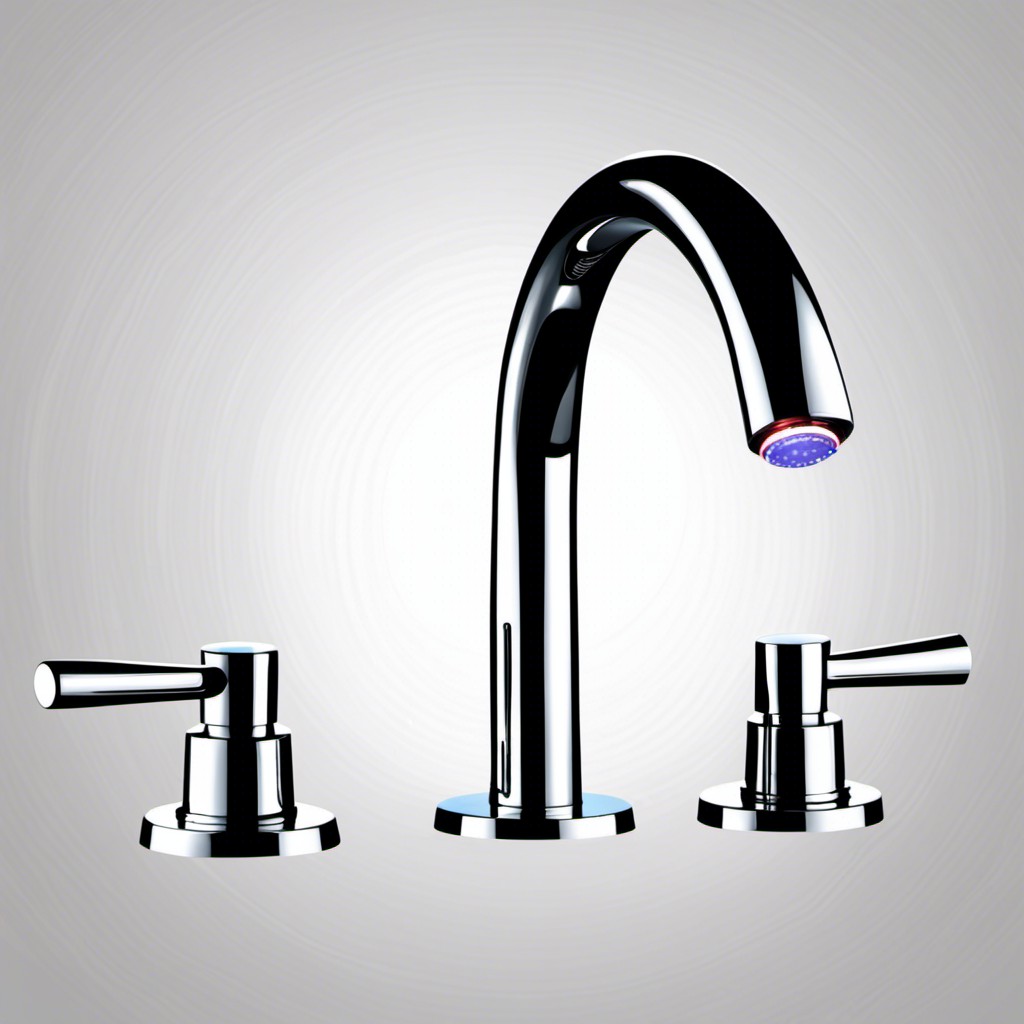 Harnessing the latest in technology, this type of faucet brings functionality and style together. The embedded LED lights react to different water temperatures. Cool water triggers a calming blue light, while hot water prompts a vivid red. This not only creates a fascinating visual effect but also enhances safety, indicating when water might be scaldingly hot.
Many trendy designs feature a gentle glow on the handle as well, providing statesque illumination in dimly lit settings. These LED elements are energy-efficient, making them a great choice for those who appreciate a blend of cutting edge design and mindful resource usage. Plus, they add an unexpected light source, transforming mundane daily tasks into a unique spectacle. Thereby, your faucet becomes more than a functional piece, it becomes an interactive feature in your bathroom design.
Consider variations such as 'falling water' LEDs for a touch of whimsy, or sleek rounded designs for a modern, tech-forward look. The choices are plentiful, inviting you to tailor the faucet to your unique preferences.
Touch-sensitive Faucet With Separate Manual Handle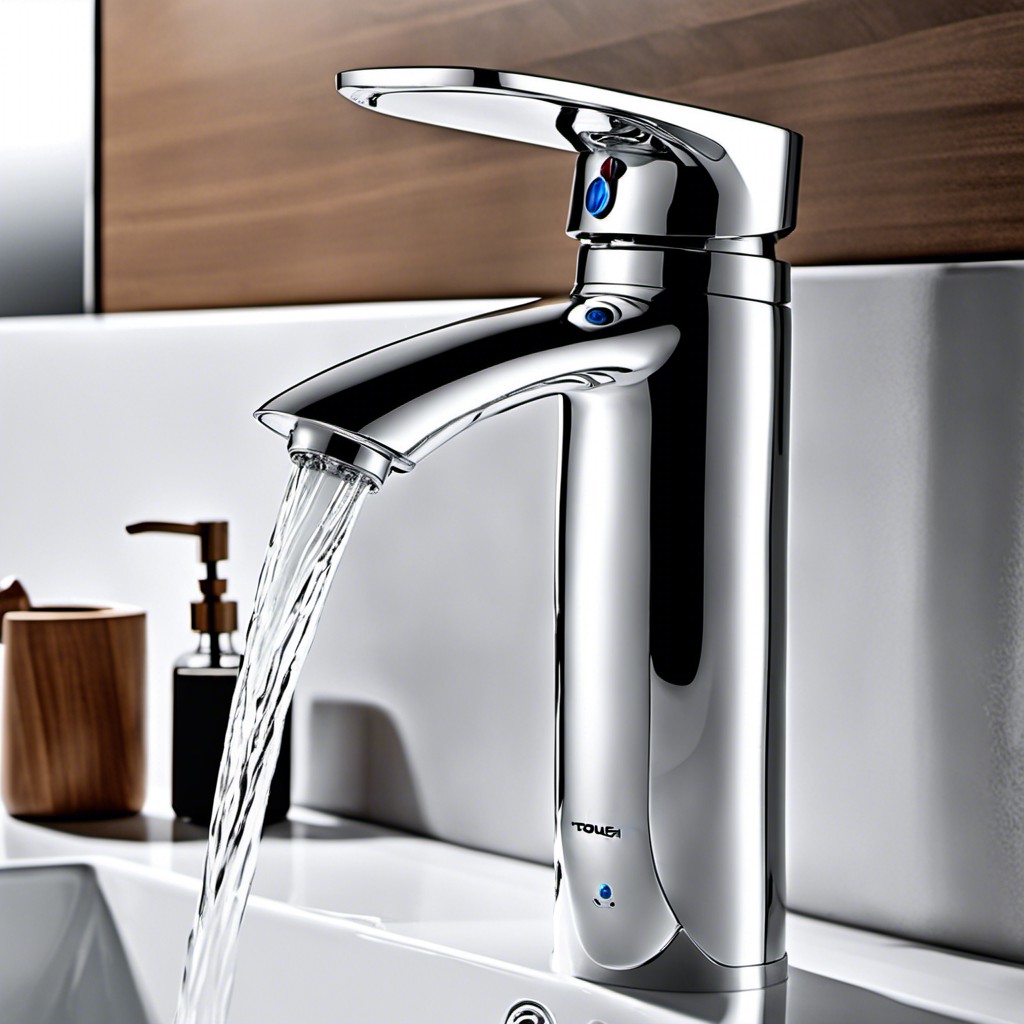 Is a regular faucet too dull for your liking? Consider the unique blend of technology and tradition that offers convenience and reliability. This design offers the best of both worlds – the futuristic touch-sensitivity and a trusty manual handle.
Here are a few key points to understand this concept better:
1. The touch-sensitive aspect allows an easy and clean water flow manipulation. A simple tap anywhere on the fixture activates the water, reducing the spread of germs.
2. A separate manual handle provides additional control. This feature comes in handy during power outages, or for those who prefer the tactile nature of manual operation.
3. The handle also acts as a temperature regulator, avoiding the need to wait for the right temperature when using the touch function.
4. Installation involves electrical components due to touch technology. While it's more complex than traditional faucets, the result offers an intuitive and user-friendly experience.
5. This style is available in an array of finishes and designs, catering to a myriad of aesthetic preferences.
Embracing both technology and tradition in your bathroom design adds a personal touch to your space. So, why keep waiting? Explore the market to find your perfect fit.
Faucet With Separate Hot and Cold Water Handles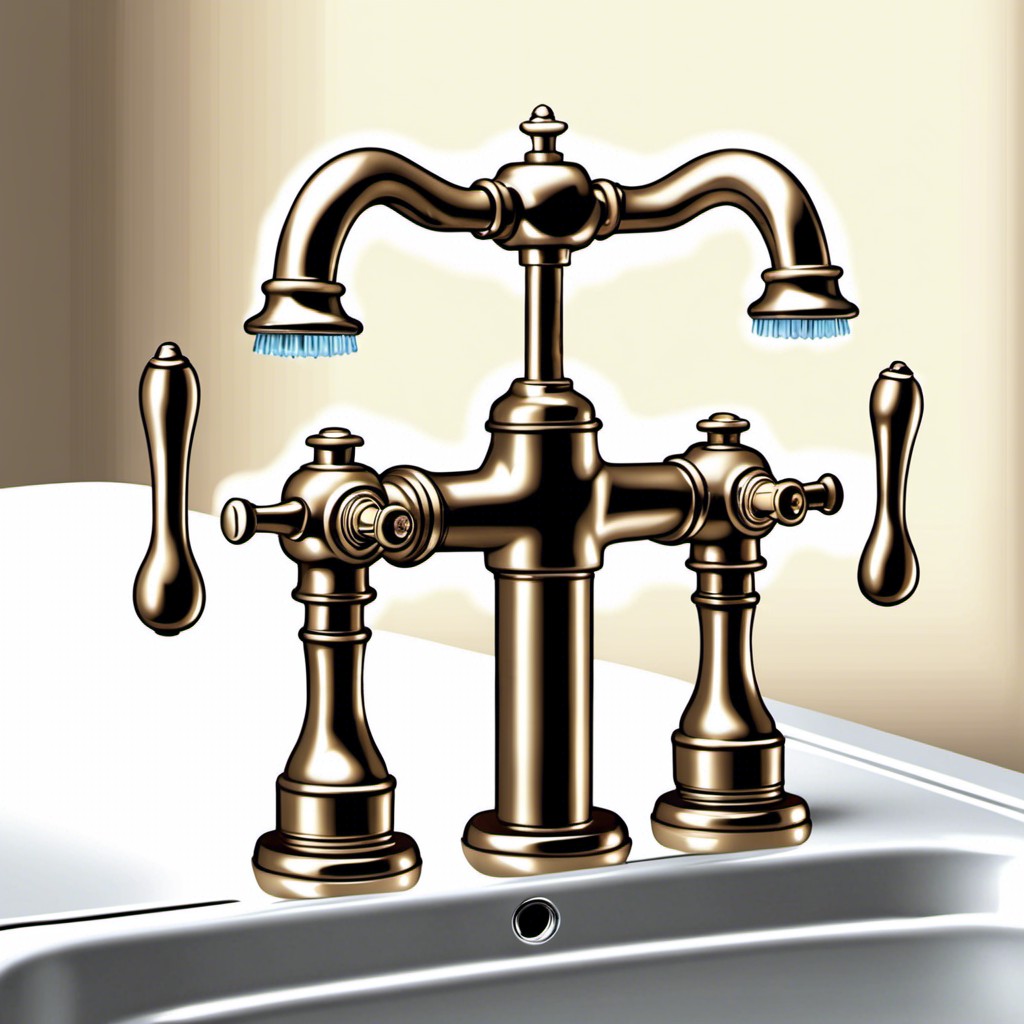 Having separate hot and cold water handles provides numerous advantages. Specifically, it enhances water temperature precision. You can adjust the warm water exactly to your liking by controlling the two handles individually. This feature is particularly beneficial for baths and showers, ensuring that the water temperature is always just right.
In terms of aesthetics, separate hot and cold water handles can add symmetry and balance to your bathroom or kitchen decor. This design option suits a wide range of styles, from traditional to contemporary, depending on the model you opt for.
Durability is another essential consideration. With separate handles, if one side malfunctions, the other remains functional. This means you won't be deprived of water while waiting for a repair.
Many may fact-check the belief that separate hot and cold water handles are more challenging to install; that is a myth. They can be as easy to install as single-handle faucets. With a professional or a DIY guide, you can have them running in no time.
Embrace the precise control, aesthetic balance, and proven resilience gained when choosing a faucet with separate hot and cold water handles. And remember, don't be daunted by installation concerns.
Reinventing the Classic Farmhouse Faucet With Separate Handle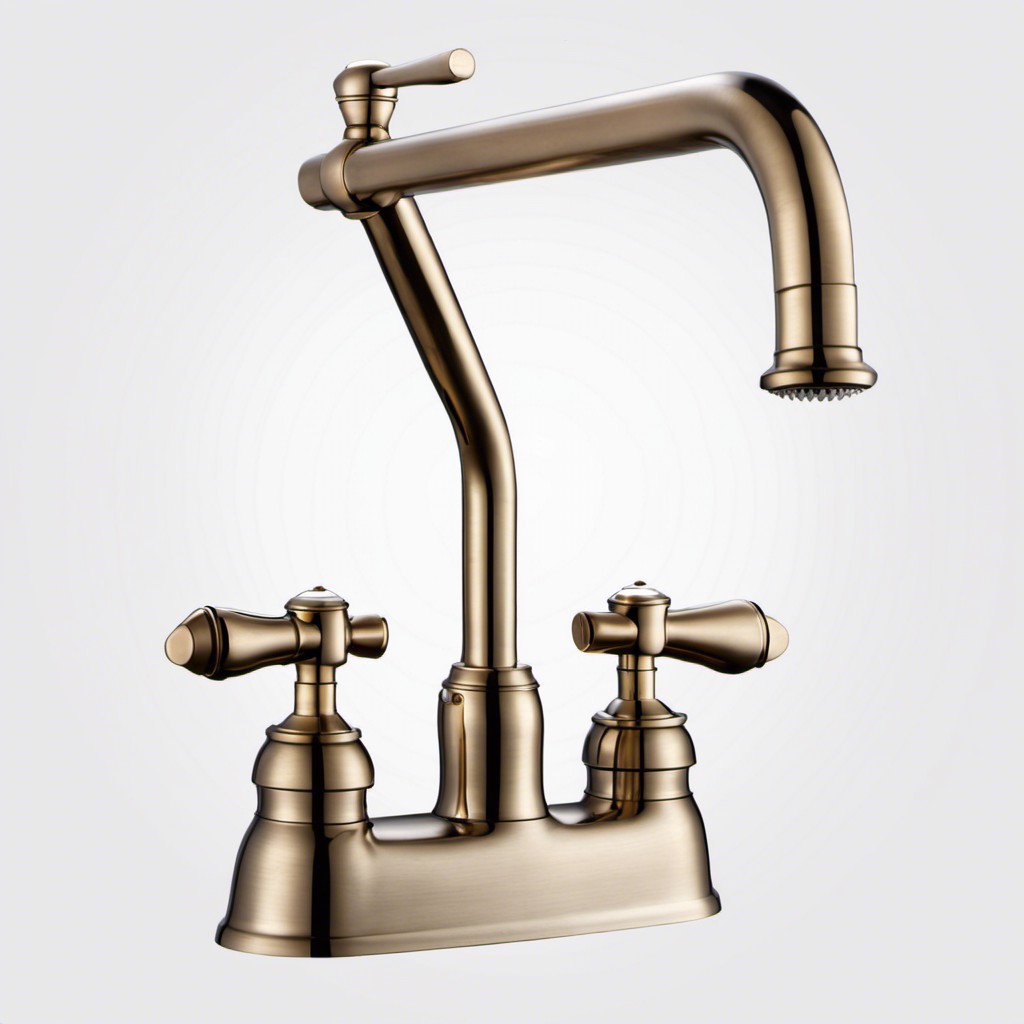 A fresh take on the traditional farmhouse style harnesses the charm of the past with the functionality of the present. This approach introduces unexpected twists to mundane tasks and offers an aesthetic uplift. The separate handle, often characterized by a vintage flair, adds an extra dash of elegance and improved water control.
For instance, experimenting with materials allows for many fresh interpretations. Think of a brushed nickel handle against a crisp white sink, or a mesmerizing combination of black matte handle with a copper sink. Such variations underline the farmhouse vibe while aiding you to better coordinate with your bathroom or kitchen decor.
Next, consider integrating advanced technologies. Combining vintage style with modern functionalities such as water-saving mechanisms, anti-scald technology or touchless operation only enhances practicality and convenience.
Finally, positioning also plays an important role. This largely depends on your preference and space constraints. Usually, the handle is installed right next to the faucet, although, setting it to the side of the sink or on the wall are also viable options.
By seeking the feel of yesteryears and pairing it with today's advancements, you're creating a fresh look that fuses the best of both worlds. Remember, the possibilities are truly endless when you let your creativity flow.
Faucet With Temperature-sensitive Handle for Safety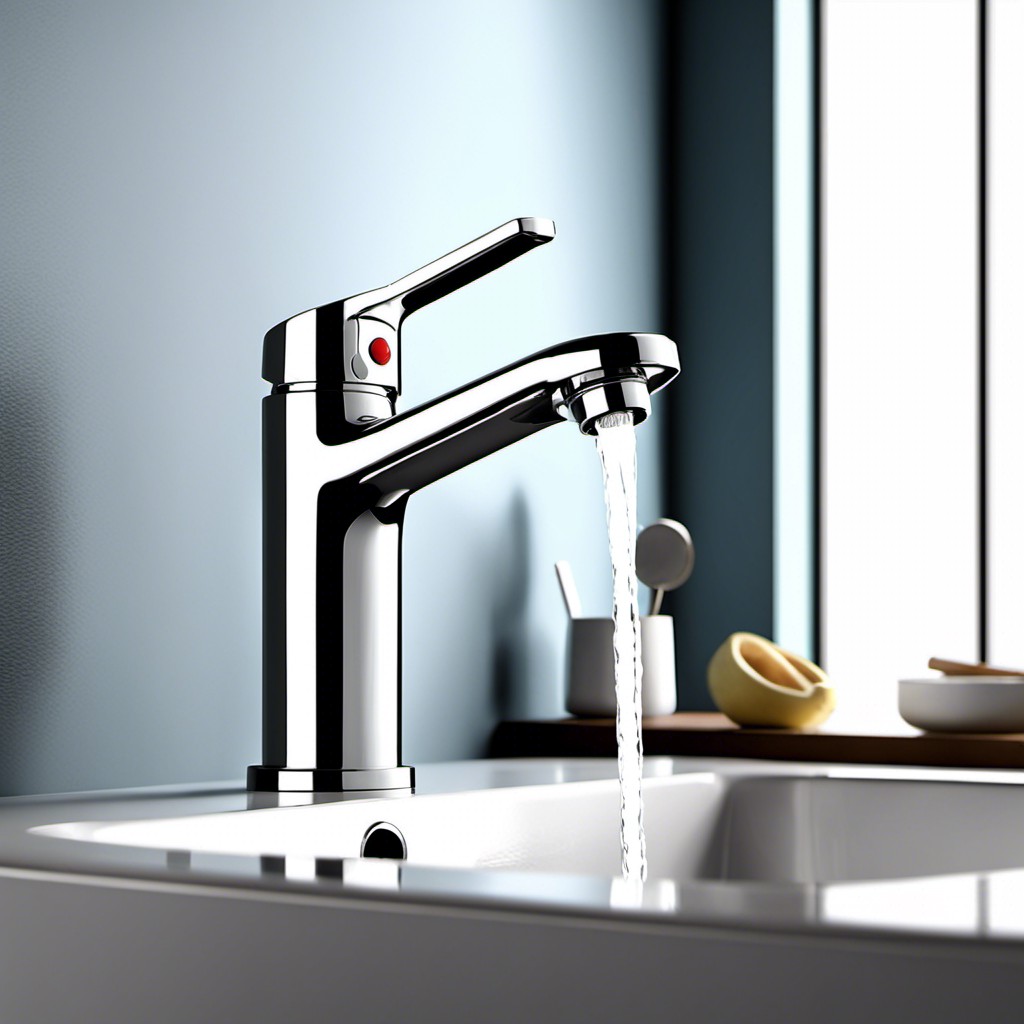 Known for their unique feature that enhances safety, these kinds of fixtures use cutting-edge technology. They change color depending on the temperature of the water passing through them.
1. Prevents Scalding: This type of faucet drastically reduces the chances of burns by alerting users of overly hot water with a red light.
2. User-friendly: Even children can operate these faucets safely, enabling them freedom to use the washroom independently.
3. Easy Installation: Despite their complex appearance, the installation process is uncomplicated and similar to traditional faucets.
4. Energy Efficient: Some models can save energy by delivering cold water when set to neutral, rather than having a lukewarm default setting.
In summary, the integration of technology into bathroom fixtures not only enhances aesthetics but also prioritizes your family's wellbeing.
Separate Handle Faucet Integrated Into Bathroom Mirror Design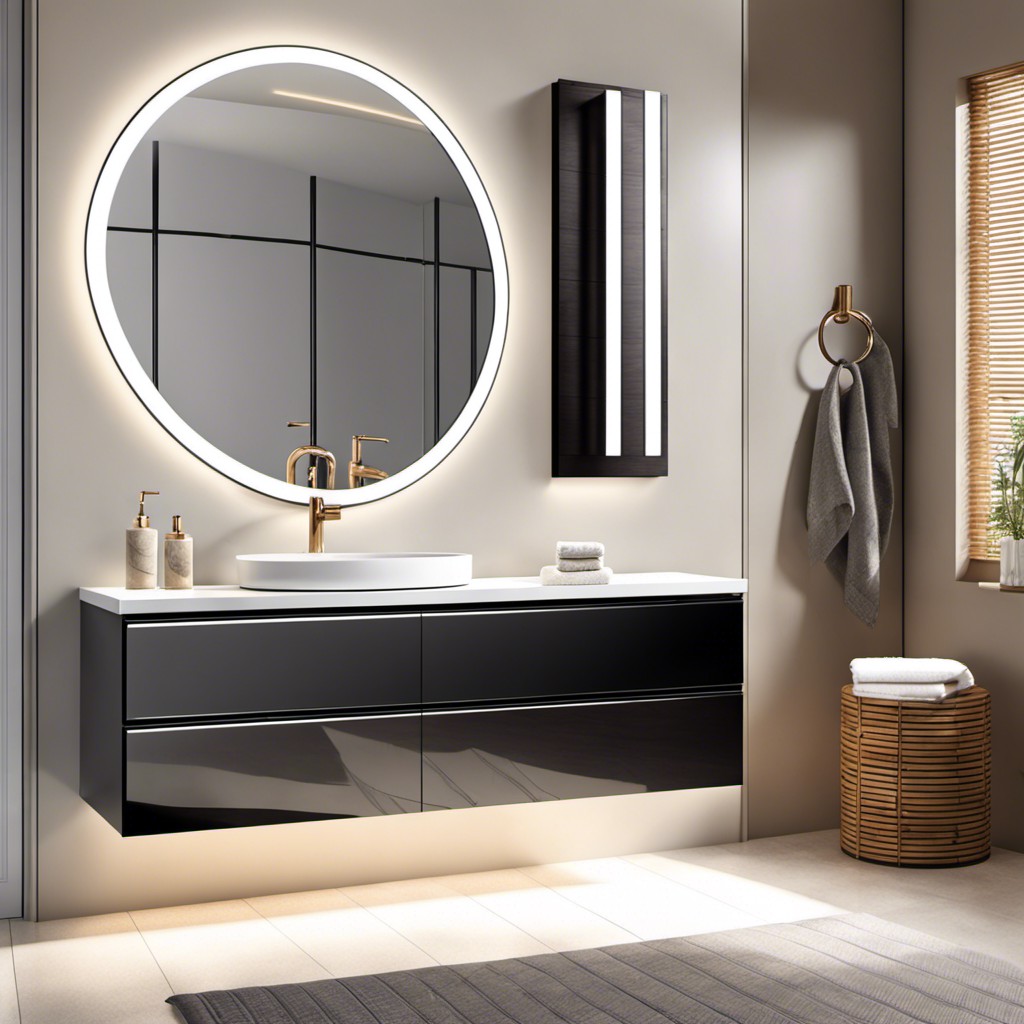 This innovative concept blends functionality with trendsetting style. The integration into the mirror not only provides a sleek, seamless look but also optimizes space usage, perfect for compact bathrooms.
Here are some key points to consider:
Design: Opt for designs that align with the bathroom's overall aesthetic. Whether contemporary or traditional, the options are countless.
Placement: The faucet should be centrally positioned for easier access, with the controls installed on either side or beneath the mirror.
Installation: Professional installation is recommended as this setup requires precision and technical knowledge.
Maintenance: Since it's combined with a mirror, cleanliness is vital for maintaining shine and preventing water spots.
Functionality: Ensure the mirror is still functional, not overly dominated by the faucet.
Remember, the elegance of your bathroom can be elevated with this unique approach, offering a design feature that's as practical as it is visually appealing.
Faucet With Separate Handle At Comfortable Height for Kids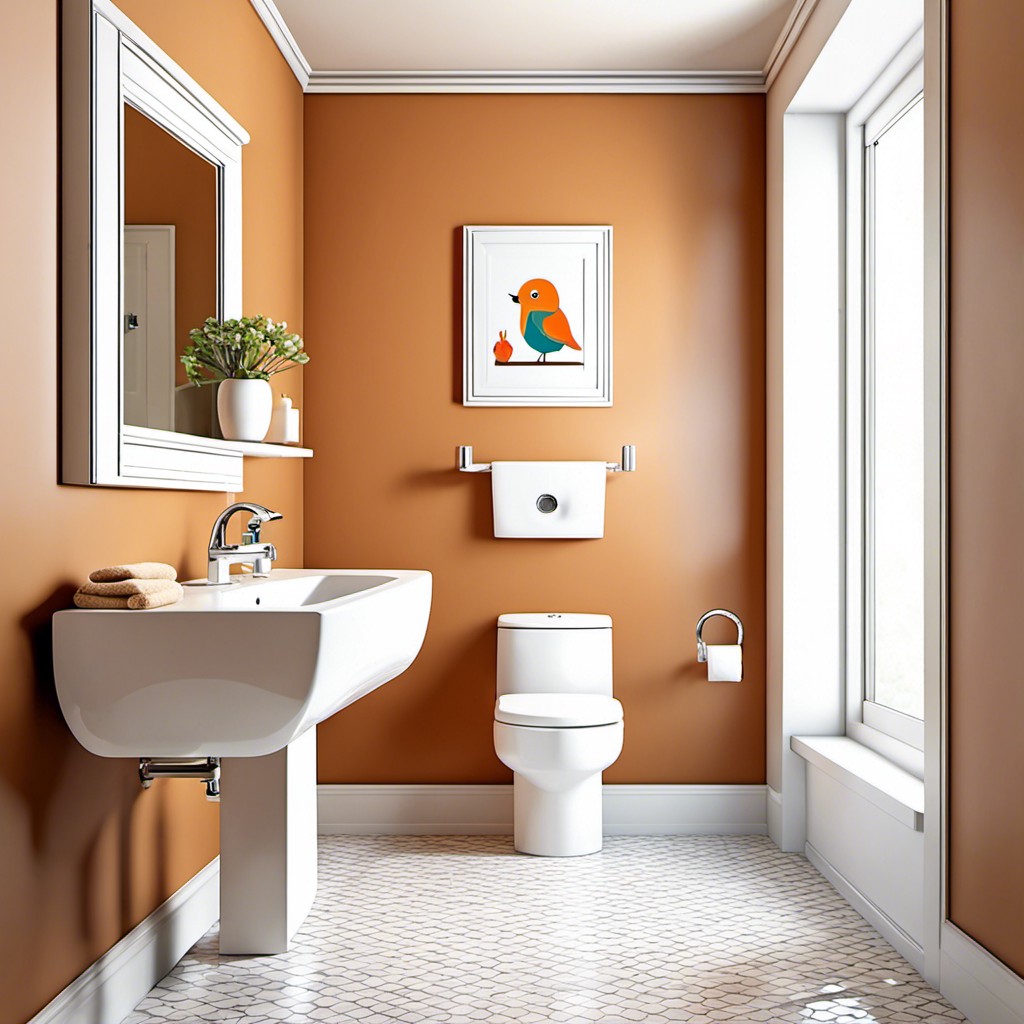 Ensuring that faucets are easily reachable by children is not only helpful to them but also enhances their learning and independence. A lower installation height makes the entire washing procedure hassle-free. The separate handles encourage kids to play an active role, manipulating the flow and temperature of the water. It's a user-friendly feature letting them understand the functioning at an early age, thus fostering autonomy.
For the installation, consider a height of about 20 to 25 inches from the floor, appropriate for average height children. However, it is certainly vital to tailor this to suit the specific needs of your kids. It may cause a little inconvenience for adults, but introducing a small stool can readily fix this.
Remember, adding playful, colorful themes such as animal shaped handles can make the activity more appealing to the little ones. These faucets can also be paired with matching accessories to create an overall harmonious bathroom theme. Include child-safe features like anti-scalding mechanisms to ensure the highest safety while offering a fun, reachable faucet.
So, it's all about blending practicality with creativity – it won't only serve utility but also enhance the aesthetics of the kid's bathroom.
Self-cleaning Faucet With Separate Handle for Hygiene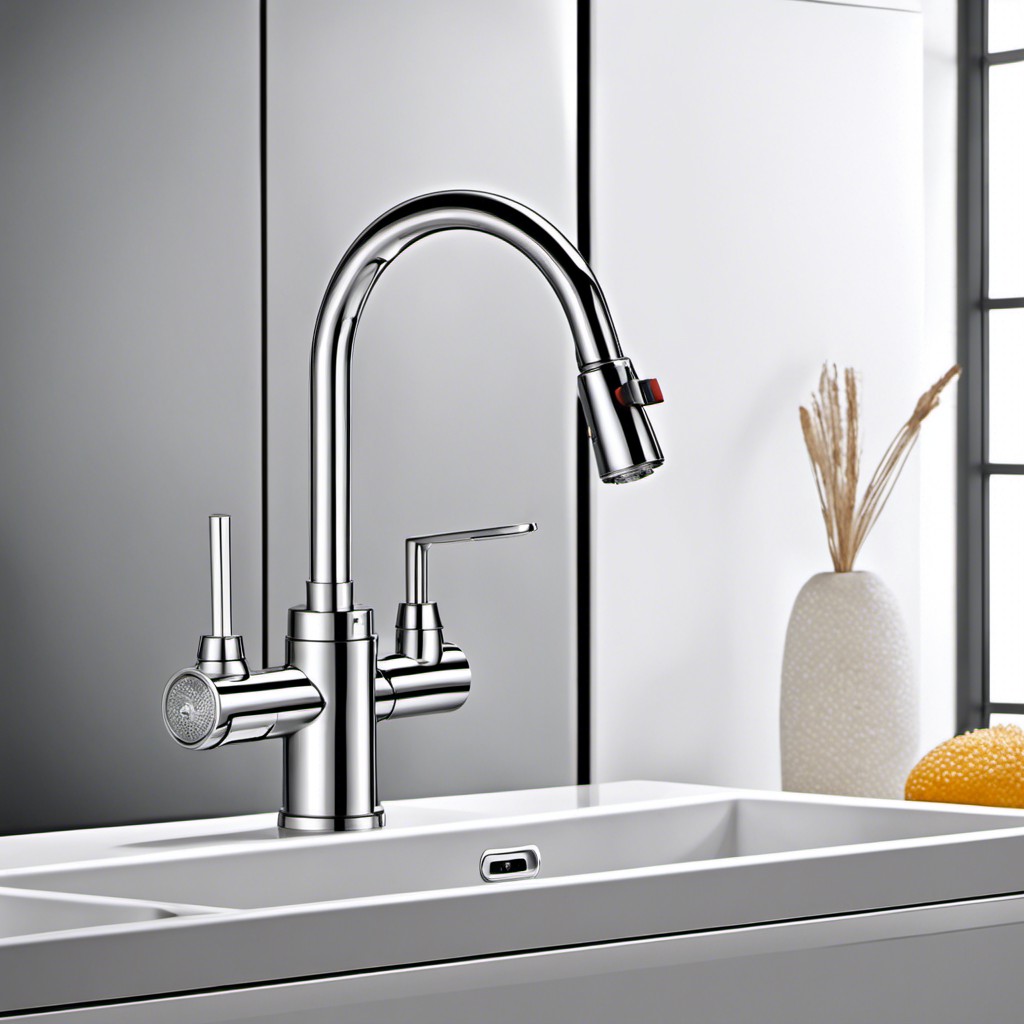 Advancements in technology have brought faucets to an entirely new level, serving not just purpose but promoting cleanliness as well.
1. Automated Cleansing: With innovative automatic features, these faucets self-sanitize on a regular basis without the need for human intervention, thus ensuring complete hygiene.
2. Preventing Bacterial Growth: The self-cleaning properties prevent bacterial and fungal growth, a common issue in damp areas like bathrooms and kitchens.
3. Water Efficiency: While they clean themselves, these faucets are designed to be water efficient, therefore, saving water despite frequent use.
4. Smart Timer: They often come with a smart timer that schedules cleaning at non-peak hours, minimizing inconvenience.
5. Easy Maintenance: They require less manual cleaning, reducing maintenance effort and time.
There's no denying that self-cleaning faucets with separate handles take the hassle out of routine clean-ups, while ensuring a germ-free home environment.
A Faucet With a Separate Handle Designed for People With Arthritis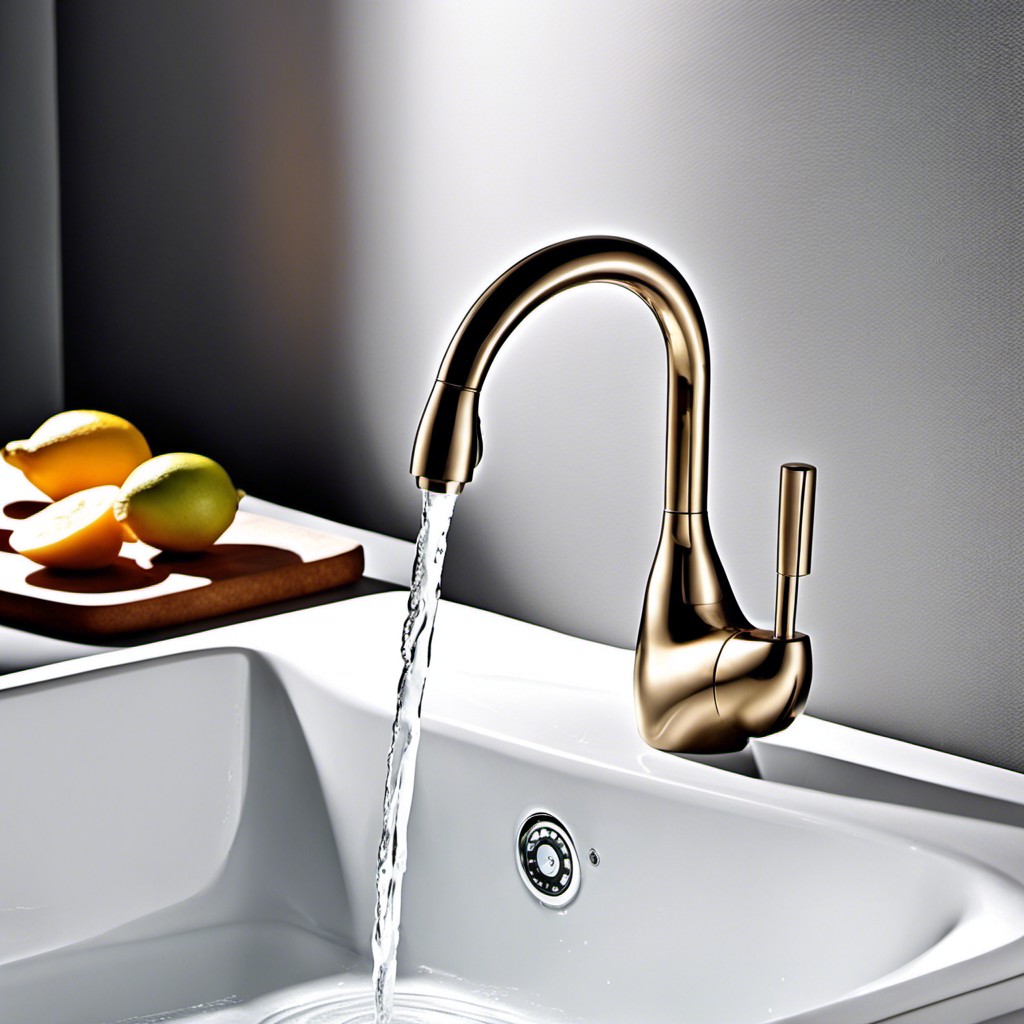 With adjustable grip and easy-turn features, these faucets prioritize comfort and ease of use. Lever handles are known for their user-friendly nature, requiring a simple push or pull rather than grasp-and-twist action.
Some models are even equipped with touch or sensor technology to eliminate the need for physical turning altogether. Material choice is also crucial. Faucets with rubber elements ensure a secure, non-slip grip, ideal for diminished hand strength.
Given the varying needs of individuals with arthritis, consider consulting with an occupational therapist or a plumbing expert to find the best fit for your specific requirements.
Sensor-based Faucets With Optional Separate Handle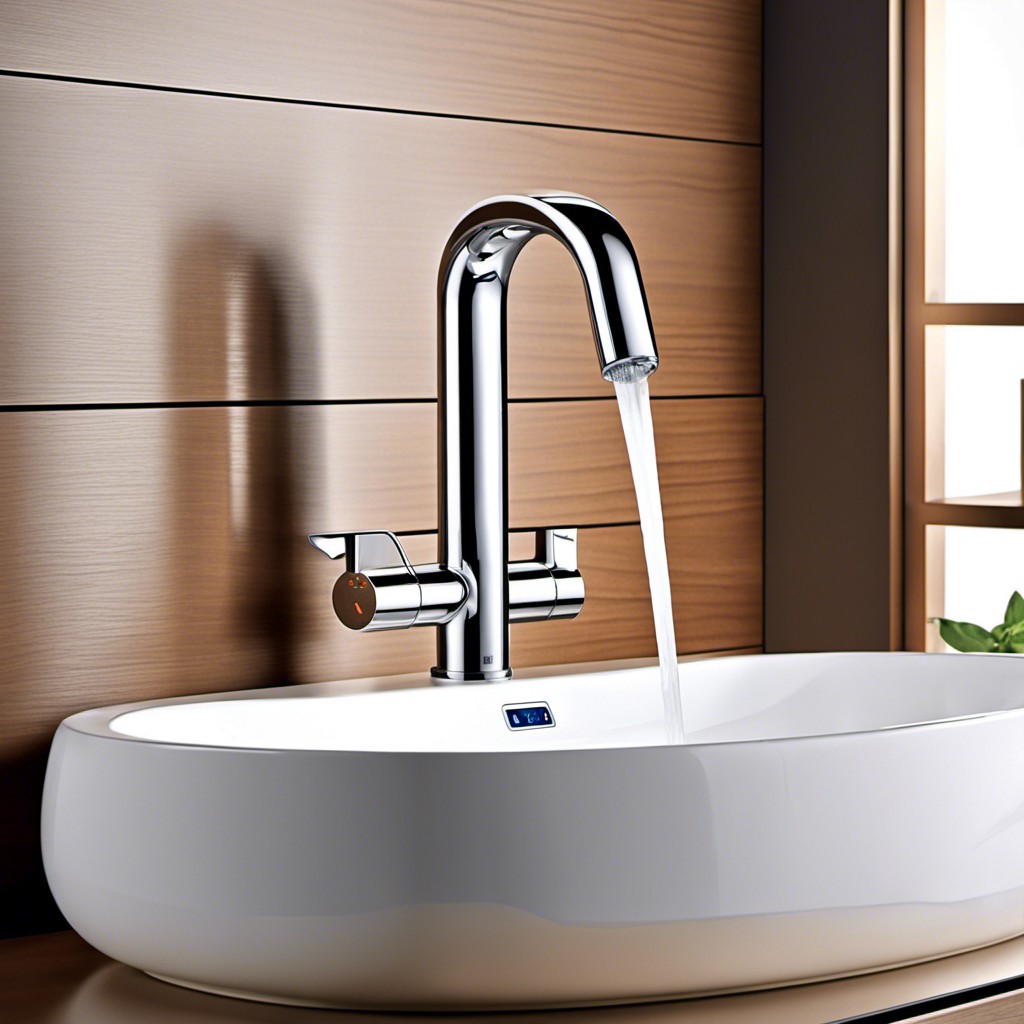 Advancements in technology haven't skipped the bathroom decor scene. Sensor-based faucets are a testament to this progress, offering both convenience and water-saving capabilities. The automatic function triggered by a nearby motion means no need to touch the faucet, reducing germ transmission and keeping your sink area clean.
Adding an optional separate handle to this sophisticated fixture allows for more control. You're not always dependent on the sensor, especially during those times when precision water temperature and flow is needed.
But what about installation, you might ask? Most models are designed for easy installation, no need for an advanced plumbing course. Moreover, they work with most sink types and designs, offering both modern luxury and practical benefits.
A catchy feature of sensor-based faucets with optional separate handles is energy efficiency. Most models operate on battery or electricity, with an automatic switch-off function after a period of no activity. Not only does this save water, it reduces your energy usage too.
Finally, they are available in various designs and finishes – from chrome to brushed nickel. So, no compromise on the aesthetic part.
Remember to always check compatibility with your sink design and plumbing system before making a purchase.
Faucets With Separate Handle for Outdoor Use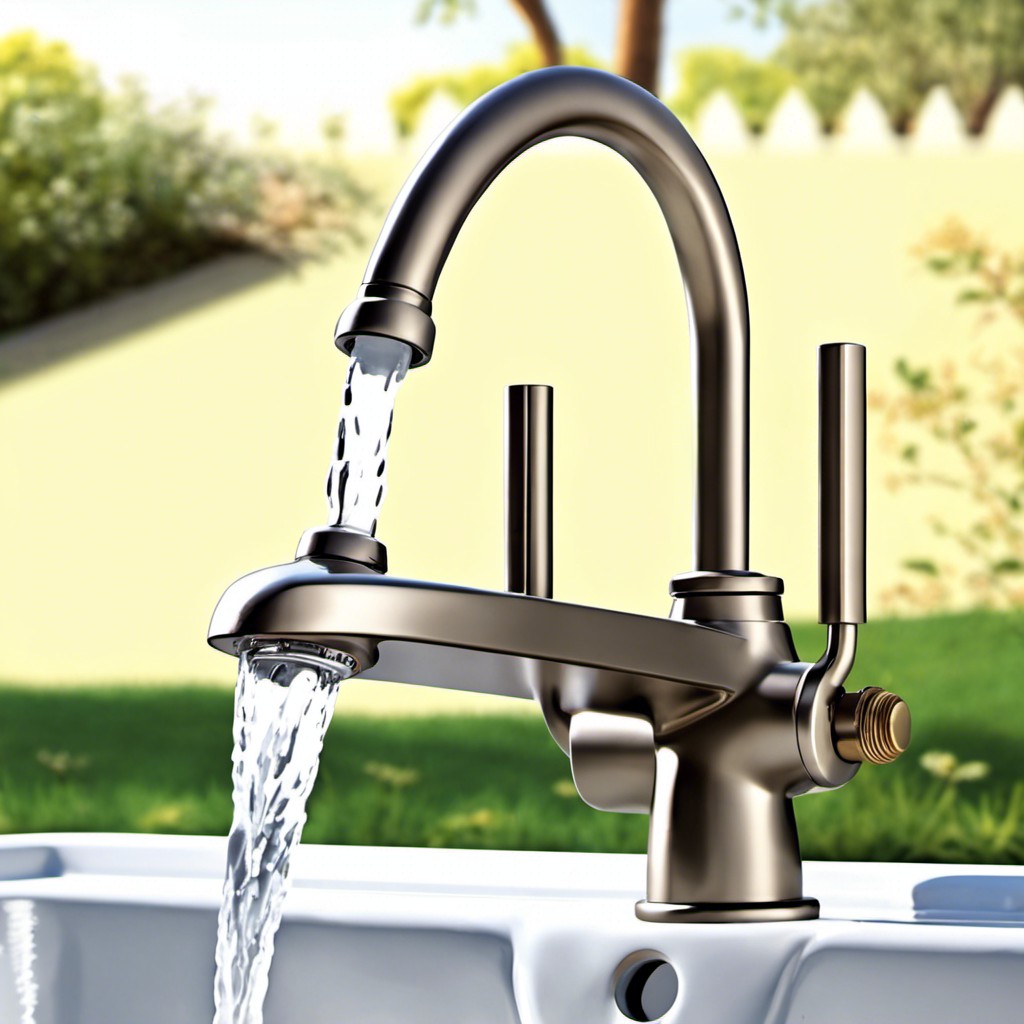 When setting up an outdoor sink or wet bar, the choice of a faucet can make a significant difference. An outdoor faucet with a separate handle offers versatility and efficiency. There are a few key considerations in selecting this type of fixture:
Material: Opt for durable materials such as stainless steel or brass that can withstand the elements. They resist corrosion and retain their aesthetic over time.
Size: Ensure the faucet is scaled appropriately to the sink and available space. A separate handle means additional space requirement.
Installation: Most of these faucets are wall-mounted, considering outdoor spaces often lack standard countertops.
Insulation: Outdoor faucets should be insulated to prevent freezing in cold weather, choose models designed for outdoor use to avoid complications.
Plumbing: Proximity to water source and drainage significantly impacts the feasibility of installation. Planning ahead can save time and resources.
Faucet With Separate Handle That Doubles As a Soap Dispenser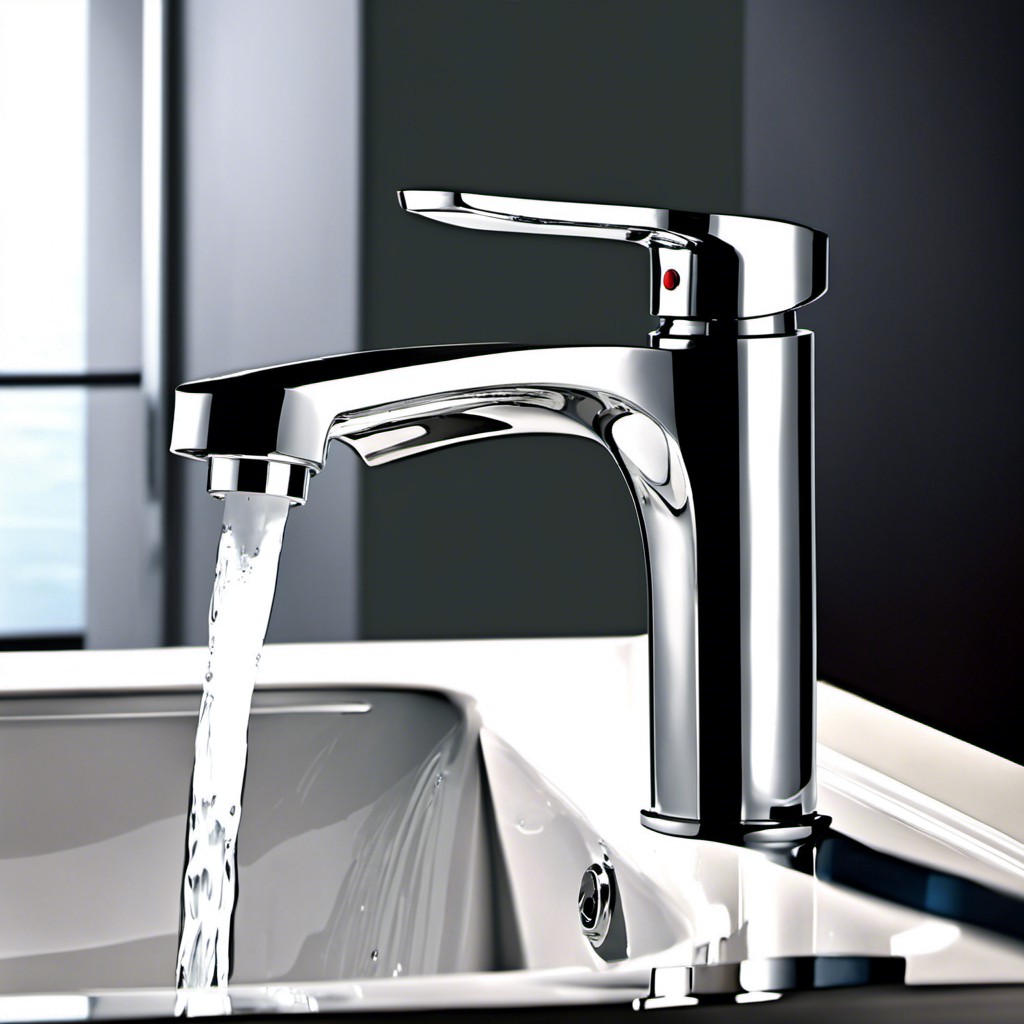 Having a multi-functional feature, this clever design merges the traditional handle with the convenience of a built-in soap dispenser.
1. Economizes Space: Particularly beneficial in compact kitchens or bathrooms, where countertop space may be at a premium.
2. Streamlines Routine: The arrangement simplifies the hand-washing process, offering soap dispensing and water flow in one unit.
3. Easy Refilling: Rather than fumbling beneath the sink to refill soap dispensers, this setup allows for top-loading, making the refill process quicker and cleaner.
4. Customizable Options: Available in various styles, finishes to match your existing decor. Choose brushed nickel for a contemporary room or antique bronze for a more rustic look.
5. Hygienic Solution: It can help reduce the spread of bacteria, as individuals touch fewer surfaces when washing their hands.
Remember, while choosing such a faucet, ensure the unit compliments the overall aesthetics of your space. It should also offer easy installation and maintenance for long-term convenience.
Wall Mounted Faucet With Separate Handle for Modern Design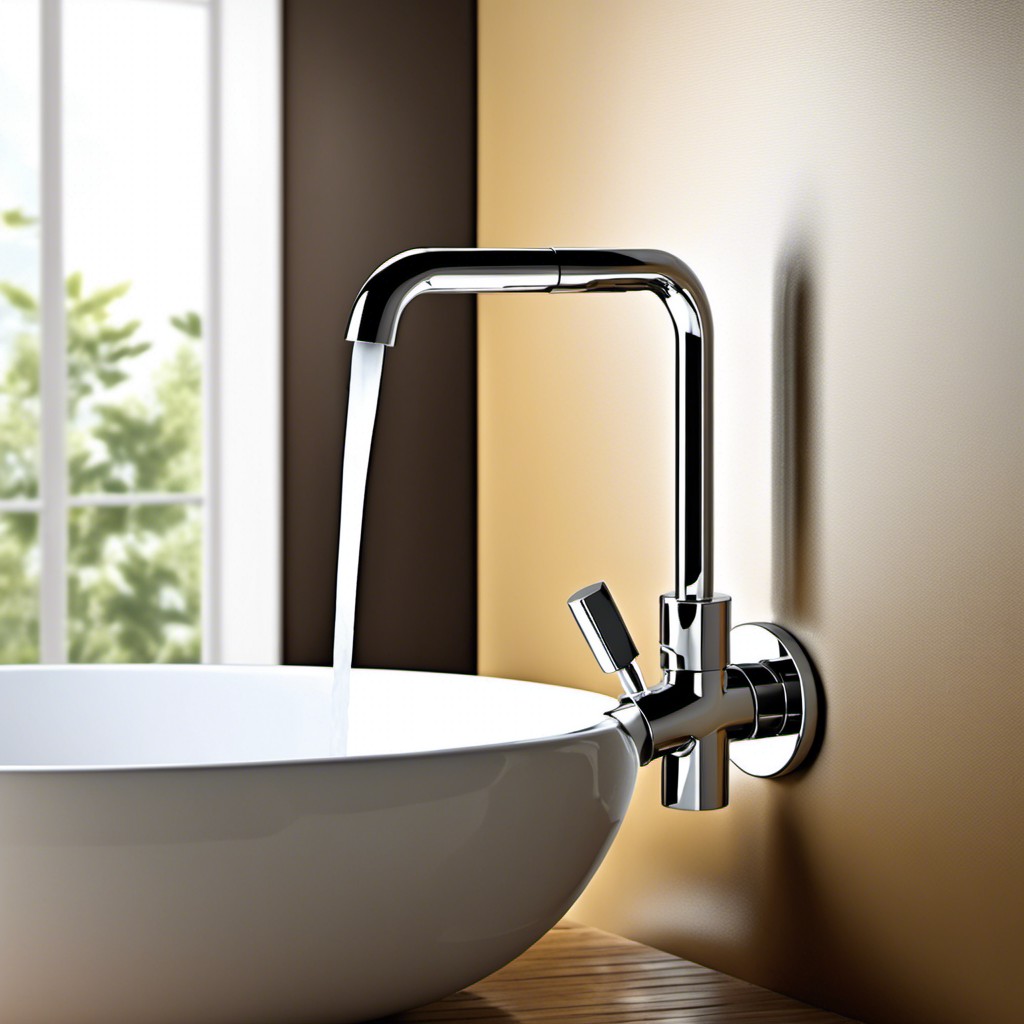 Primarily used in kitchens for their sleek look and easy clean lines, wall mounted faucets with separate handles are becoming increasingly popular in modern bathrooms. These fixtures exude an air of sophistication, perfect for creating that minimalist aesthetic.
There are practical advantages too. Lifting the hardware off the sink deck gives you more space for grooming and less clutter to interfere with cleaning. The separate handles allow precise control over temperature and flow, adding to the faucet's practicality.
Considering your décor style, you can choose from a myriad designs ranging from streamlined to geometric, and a multitude of finishes – matte black, chrome, brushed nickel, to name a few.
However, installation can be tricky as it involves in-wall plumbing. It's a job best left to professionals. Plus, the location of the faucet and handles should be carefully planned for both aesthetic symmetry and functional ease. Install at a comfortable height to avoid splashes and ensure smooth operation.
Once installed, these faucets, with their immediate visual impact, can elevate a simple bathroom into a spa-like retreat.
Ideas Elsewhere
Continue reading: