Last updated on November 23, 2023
Explore the transformative power of gray bathroom cabinets because they offer an array of modern and chic design possibilities.
I'm thrilled to share with you this article and unique designs I've created on 20 Unique Gray Bathroom Cabinets Ideas, and I sincerely hope it inspires you, offering as much enjoyment in your exploration as I had in creating them.
Gray bathroom cabinets are a versatile and stylish choice that can transform any bathroom into a sleek, contemporary space. This article will provide a plethora of ideas for incorporating gray cabinets into your bathroom design, from choosing the right shade of gray to pairing it with complementary colors and fixtures.
Whether you're aiming for a minimalist, modern aesthetic or a more traditional, vintage look, gray cabinets can be a stunning addition to your bathroom. Keep reading to explore various design concepts, material options, and styling tips to make the most out of your gray bathroom cabinets.
What's Inside
Matte Gray Shaker-style Cabinets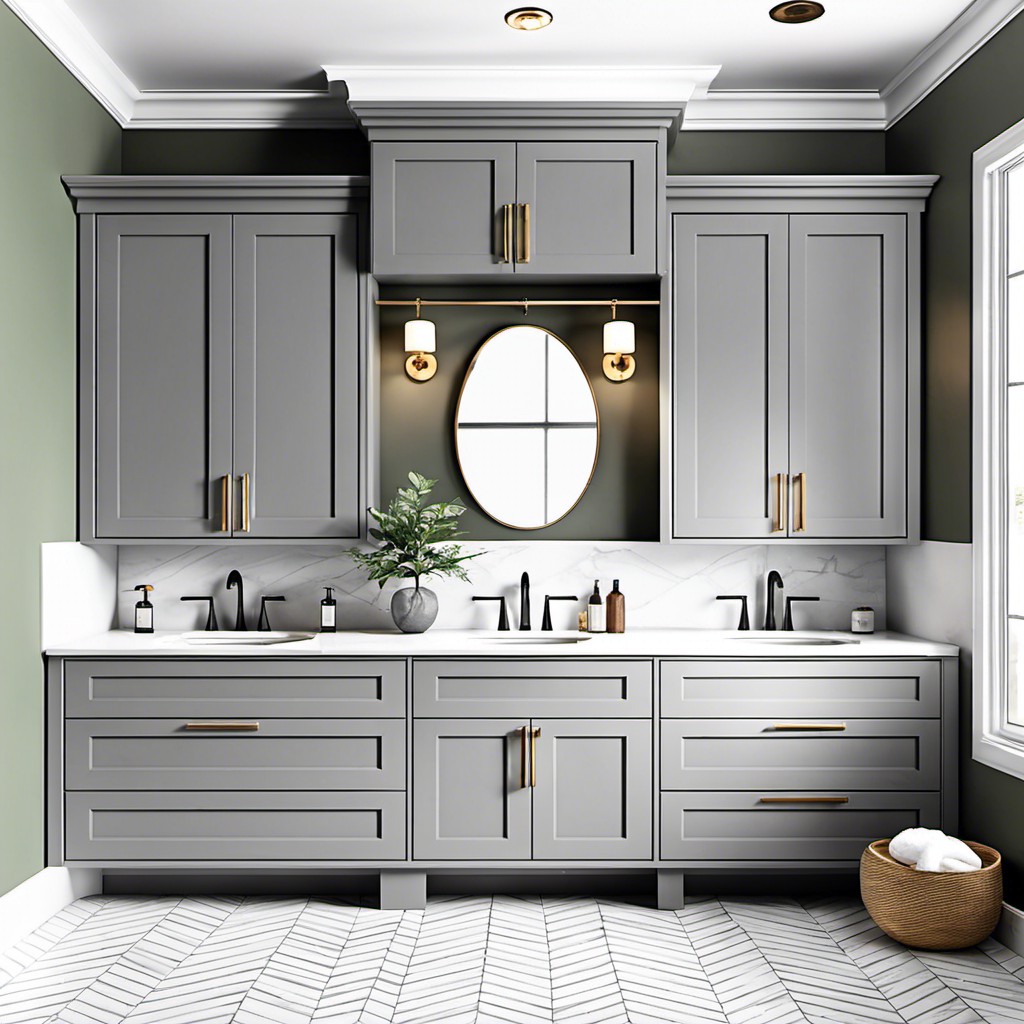 Matte gray, most certainly, is a versatile hue that effortlessly blends into the bathroom aesthetic, enhancing its style quotient. When combined with the timeless design of shaker cabinets, it exudes a fine blend of contemporary and traditional appeal. This design features a five-piece door with a recessed center panel, showcasing a simplistic yet sophisticated line structure.
Beneficial aspects to note include:
The matte finish absorbs light rather than reflecting it, making it an excellent choice for tone-down, calm bathrooms.
Shaker-style cabinets are known for their sturdy build, offering ample storage to store toiletries and other bathroom essentials.
The understated texture aligns well with various countertop materials, from rustic wood to smooth marble.
It can be beautifully accentuated with hardware choices like brass pulls for a warm contrast or stainless steel for a cooler, more modern look.
A harmonious palette can be achieved by pairing these cabinets with light-colored walls and flooring.
In essence, the matte gray shaker-style cabinet can amplify the elegance of your bathroom with its subtle charm and durability.
Dark Charcoal Gray Cabinets With Gold Hardware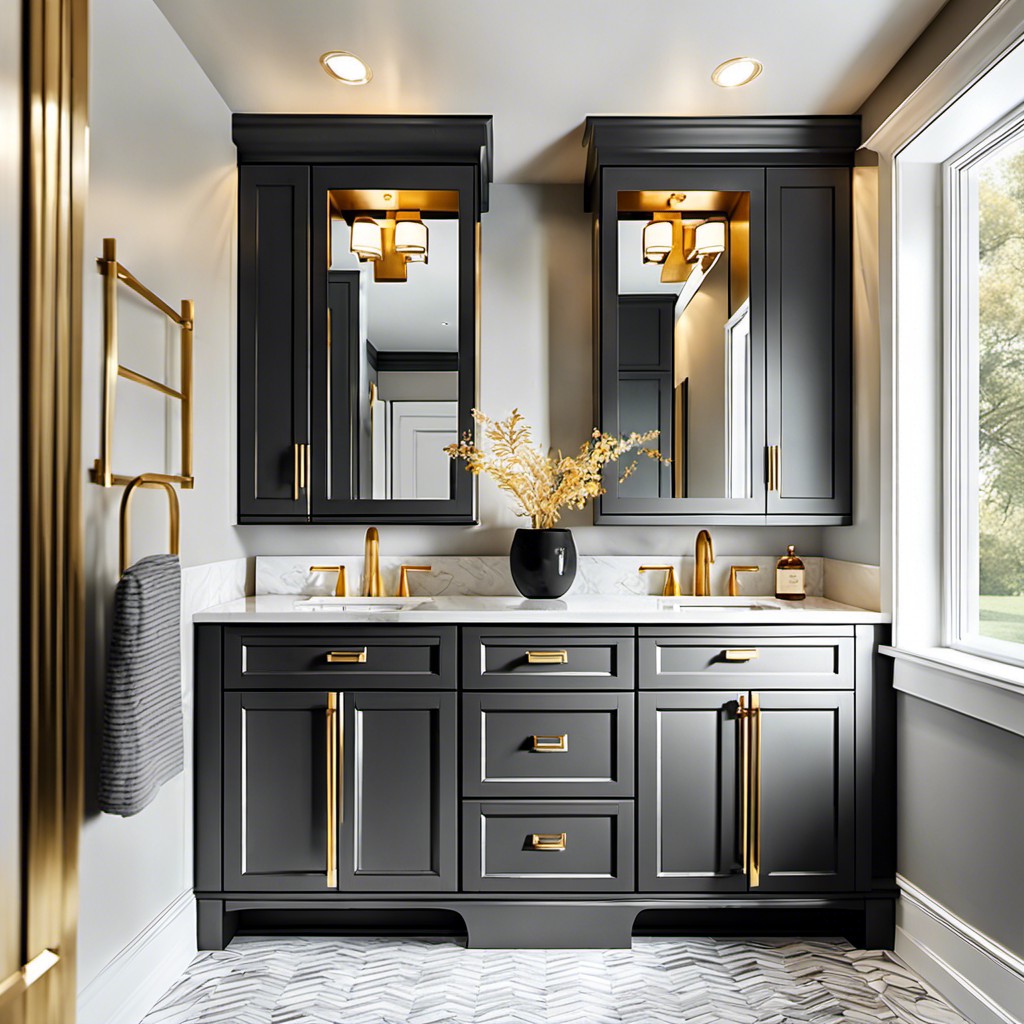 Balancing the depth of dark charcoal gray with the brightness of gold hardware creates an undeniably stylish contrast. This almost avant-garde combination carves out niches of visual interest in your bathroom.
1. Dark charcoal creates an element of sophistication and richness. Its cool undertones work well in a bathroom setting, providing a calming and relaxing ambiance.
2. Gold hardware acts as an elegant and decadent contrast to the charcoal gray. This pairing exudes a luxurious vibe that's a joy to get ready in every day.
3. The combination communicates a modern, chic aesthetic. It hints at a tasteful blending of trendy and classic, subtly elevating the style quotient of your bathroom.
4. Golden drawer pulls, door handles, and even the sink's fixtures would help carry through this stunning color scheme offering visual consistency.
5. Incorporating lighting against the charcoal gray cabinets, particularly warm yellow or gold-toned lights, would complement the gold hardware and create a welcoming atmosphere. Remember, lighting is a key component in setting the mood of a space.
Combination of Gray Lower Cabinets and White Upper Cabinets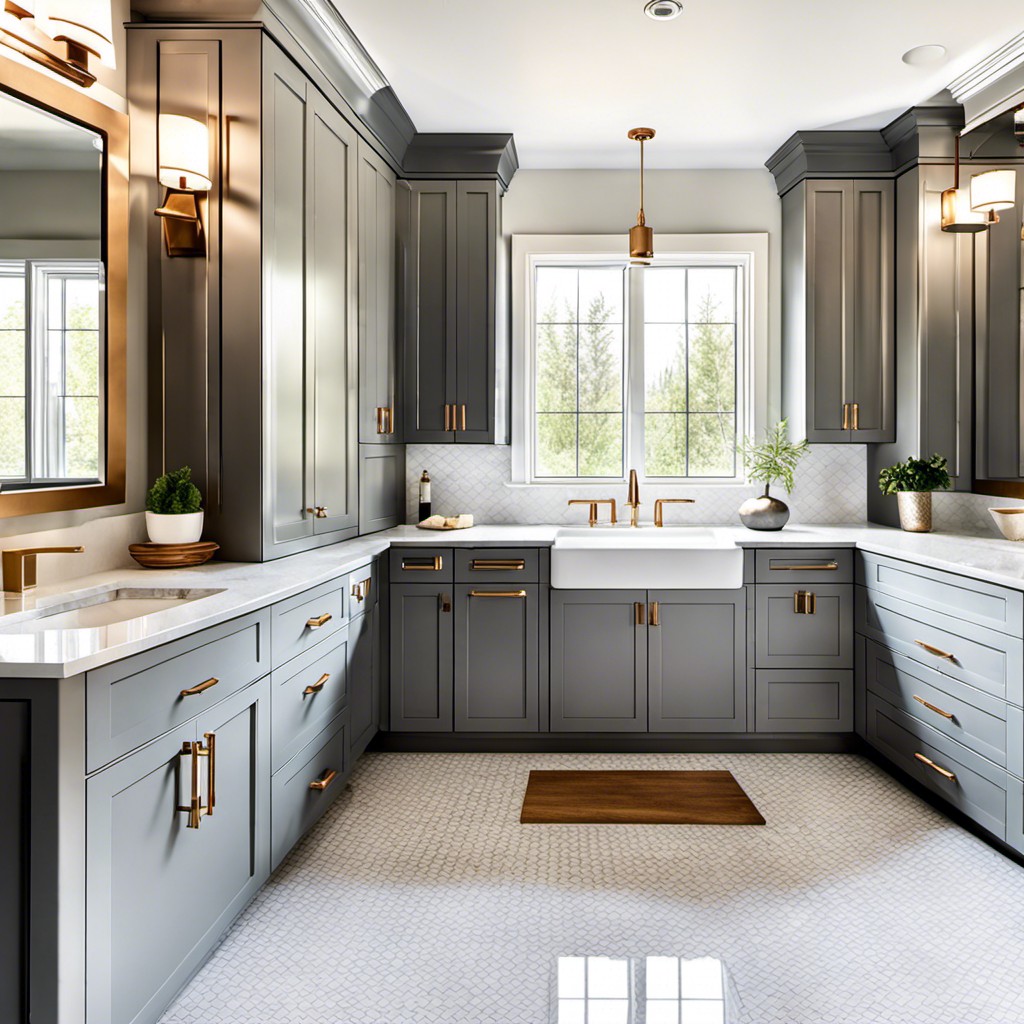 Choosing both gray and white for the bathroom cabinetry introduces versatility and visual interest. Lower units in muted gray provide a solid, grounding effect, ideal for counteracting the lightness of white upper cabinets. Visual balance is key in this design.
Complement the cabinetry with a neutral backsplash or wall color to allow both colors to stand out. Using hardware in metals like bronze, nickel, or stainless steel can add warmth and texture, while also creating a link between the two cabinet colors.
One of the advantages of this design is the illusion of a larger bathroom. Lighter colors on top help draw the eye upwards, emphasizing vertical space and height. Similarly, the darker gray grounds the design, adding a dash of sophistication.
Remember to match the undertones of the gray and white, making sure they're either both on the cool or warm side. This ensures a harmonious color palette throughout the bathroom. For a dash of vibrancy, consider including a single accent color, used sparingly, to punctuate the neutral scheme.
Ensure proper lighting to avoid casting unwanted shadows from the upper cabinets onto the lower ones. Correct lighting implementation can better showcase this charming color combination.
Sleek, Modern Gray Cabinetry With Integrated Sinks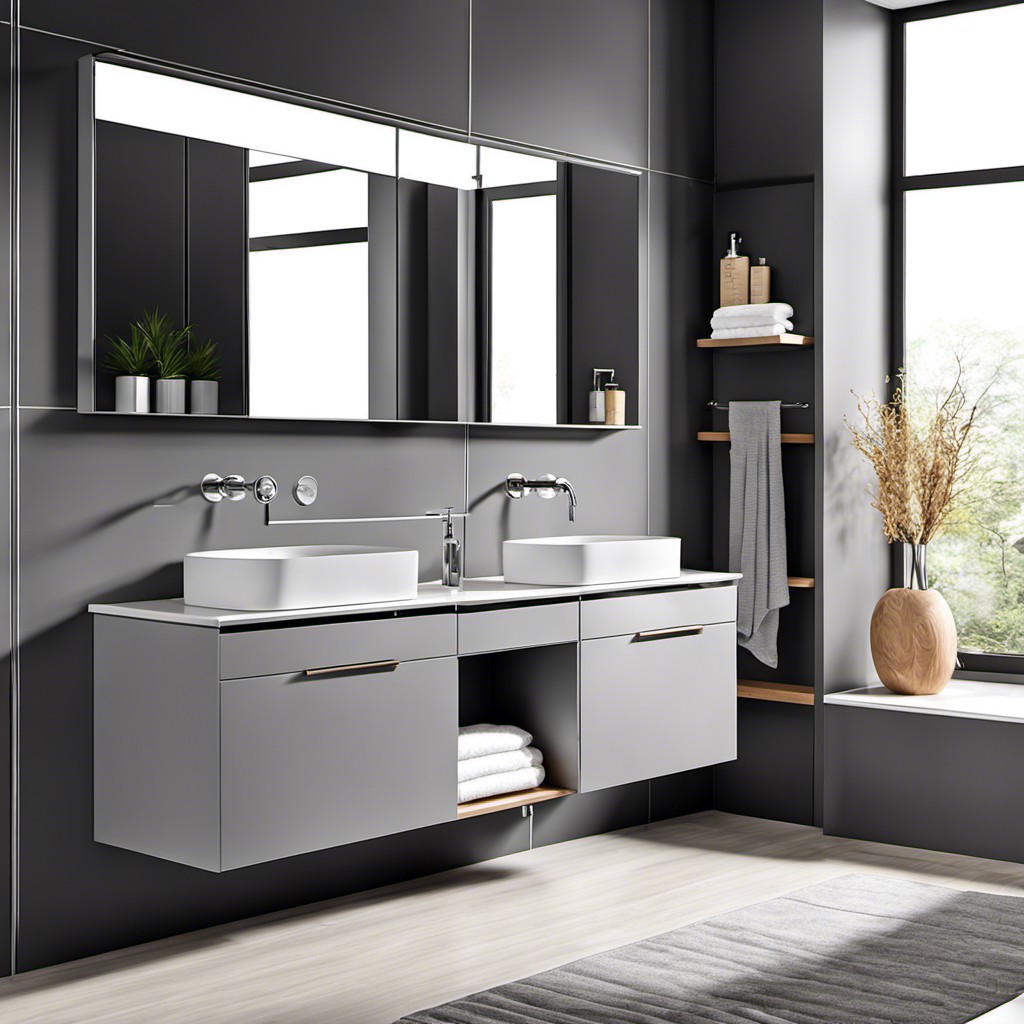 Introducing the integrated sinks in the cabinetry beautifully combines style and functionality. Their sleek aesthetic weaves a thread of modernity throughout the bathroom, giving it a clean and streamlined look.
Firstly, the uniform gray shade of the cabinet and sink ensures a harmonious blend with other bathroom elements. Use of a singular color and material creates a visually unified space, enhancing the perception of roominess.
The integrated sink not only allows for smooth, almost seamless transitions between the cabinet and the basin, but it also simplifies cleaning. This innovative design results in fewer crevices where dust and grime can accumulate.
Adding a splash of metallic sheen with tapware in brushed brass or polished silver can lift the sophisticated hue of the gray. Complementing the modern motif, metallic accents can bring a sense of luxury and depth.
Ultimately, the integration is a space-saving technique that imparts a simplistic yet opulent aesthetic, perfect for achieving a contemporary bathroom design. Its adaptability stretches to cater to various size requirements, scaling from opulent master baths to compact powder rooms.
Rustic Gray Wooden Cabinets for a Vintage Touch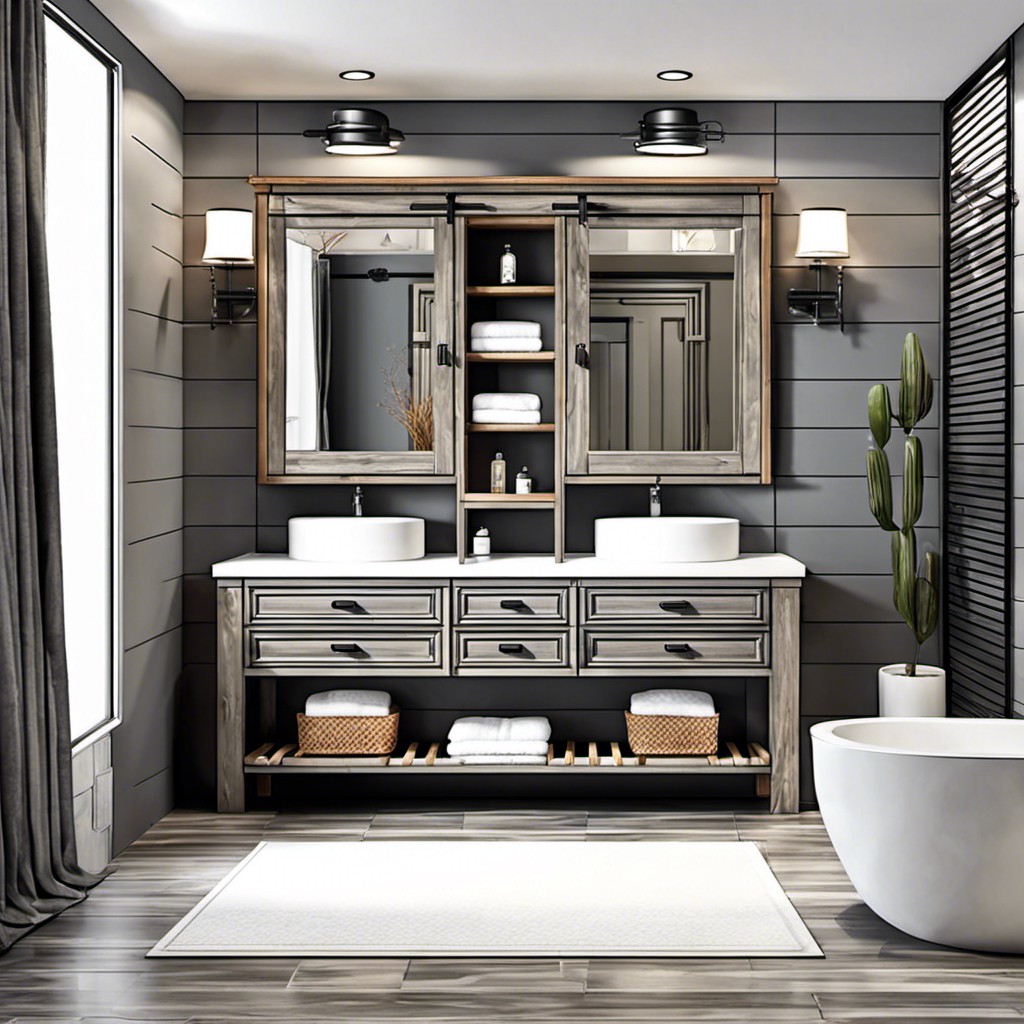 Harnessing the charm of weathered wood, rustic gray cabinets effortlessly breathe life into any bathroom, giving it a vintage feel. Their versatility allows them to blend in various design themes – from country to coastal, to industrial.
1. Using reclaimed wood or a weathered paint finish can enhance the rustic look.
2. Adding antique metal hardware, like bronze or wrought iron, elevates the old-world charm.
3. Pairing these cabinets with a quartz or natural stone countertop adds a touch of elegance.
4. Combining them with a vintage-style mirror or a clawfoot bathtub can accentuate the retro atmosphere.
5. Despite their rough-hewn appearance, these units provide modern functionality, offering adequate storage for bathroom essentials while conserving space.
Remember, it's the small details that can make these cabinets truly stand out.
Gray Cabinets With Marble Countertops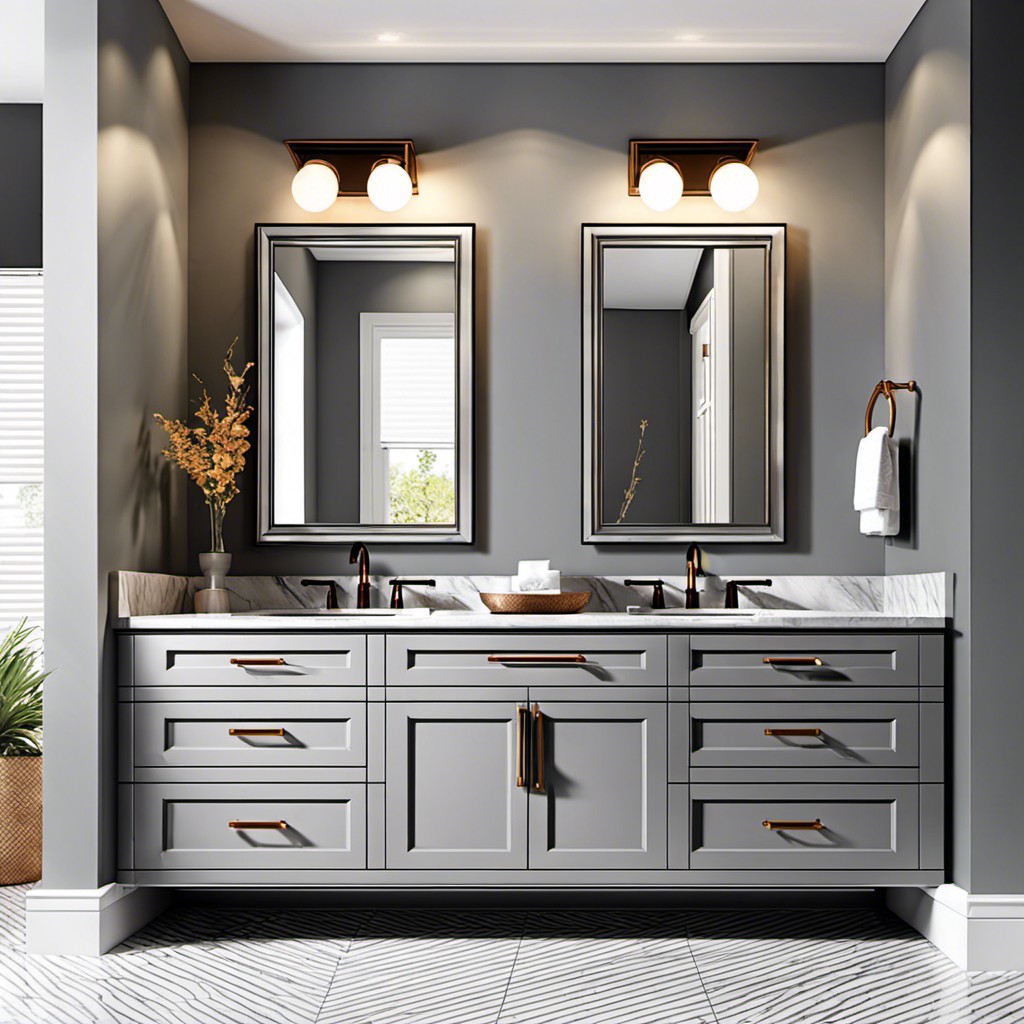 Pairing gray cabinetry with marble countertops provides a timeless yet modern touch. The natural marbling, often a blend of cream, white, and light gray, subtly ties in with the gray cabinets. It creates an aesthetically pleasing flow and contrast simultaneously.
1. Choose Your Gray Tone: Consider the shade of gray for your cabinets. Darker tones create a striking contrast with white marble, while lighter grays offer a softer aesthetic.
2. Determine Marble Type: Decide on the type of marble. Carrara marble, known for its light gray veining, is a popular choice.
3. Consider Finishes: For an additional visual treat, you might opt for high-gloss gray cabinets to reflect the light, enhancing the sparkle of your marble.
4. Complementary Hardware: Silver, gold, or black handles and knobs can further elevate the sophistication evoked by the gray and marble combination.
5. Lighting: Include under-cabinet lighting to highlight the beautiful marble and make the gray cabinets pop.
Remember, gray cabinets with marble countertops is a choice that exudes elegance and versatility, and certainly adds value to your bathroom.
Distressed Gray Cabinets for a Farmhouse-style Bathroom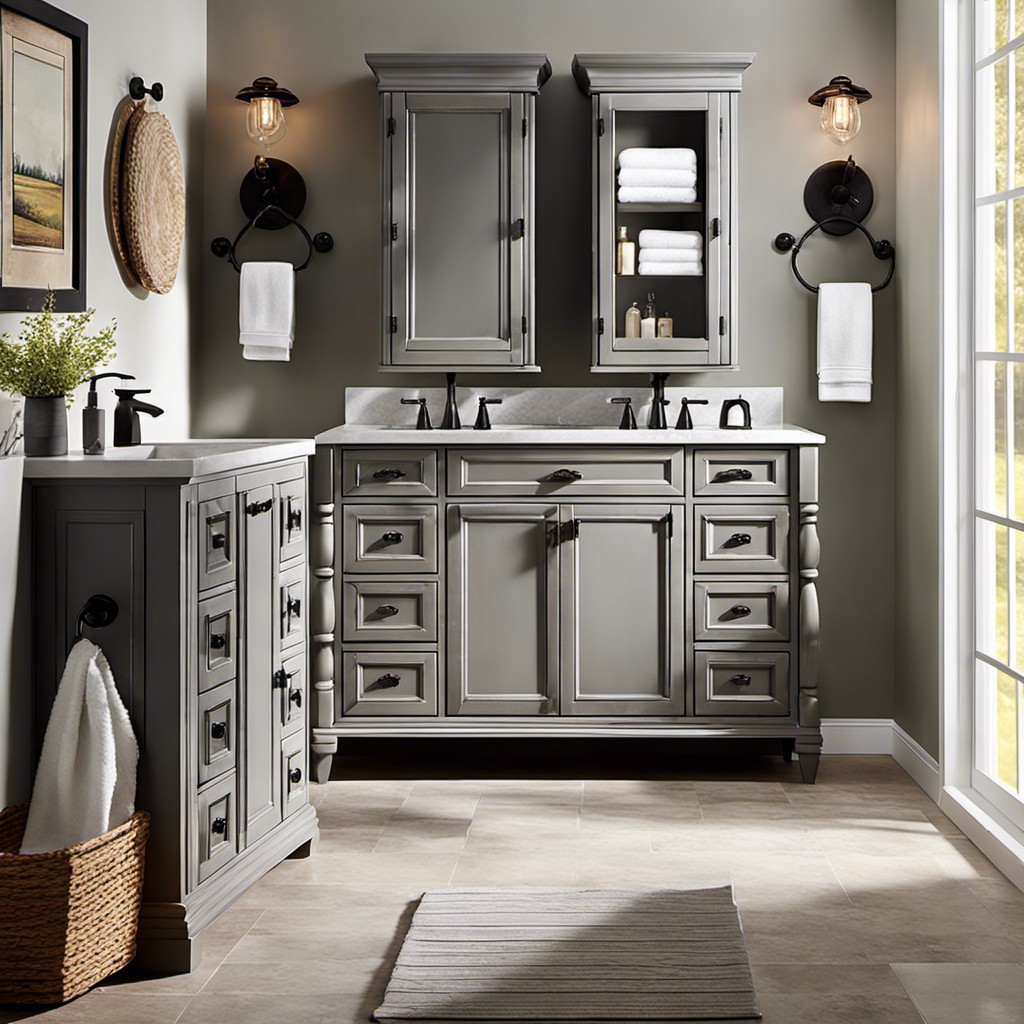 Embracing distressed gray cabinets can infuse a touch of rustic charm into your bathing space, reinforcing a farmhouse-style aesthetic. Their well-worn, weathered appearance, often achieved through various distressing techniques, imparts an effortless, lived-in feel that promotes relaxation and tranquility.
1. Weathered Touch: The worn-out texture of these cabinets, imparting an aged look, can complement the cozy, comforting feel typical of a farmhouse-style bathroom.
2. Neutral Tone: The gray hue, versatile in nature, can seamlessly integrate with a variety of color palettes, wall treatments, and decoration styles prevalent in a farmhouse setting.
3. Complementary Hardware: Opt for vintage or antique-inspired hardware to enhance the rustic appeal of these cabinets. Bronze or brass can add a warm contrast to the cool gray.
4. Texture Play: Either pair your distressed gray cabinets with smooth, white subway tiles for a delightful contrast, or opt for something more rustic, like shiplap or beadboard, to continue the farmhouse theme.
5. Flexibility: These cabinets can suit a range of bathroom dimensions, providing functional storage, and enhancing the room's character, regardless of its size.
Remember, distressed cabinets are designed to be perfectly imperfect, their blemishes and signs of wear contributing to their charm.
Gray Bathroom Cabinets With Glass Doors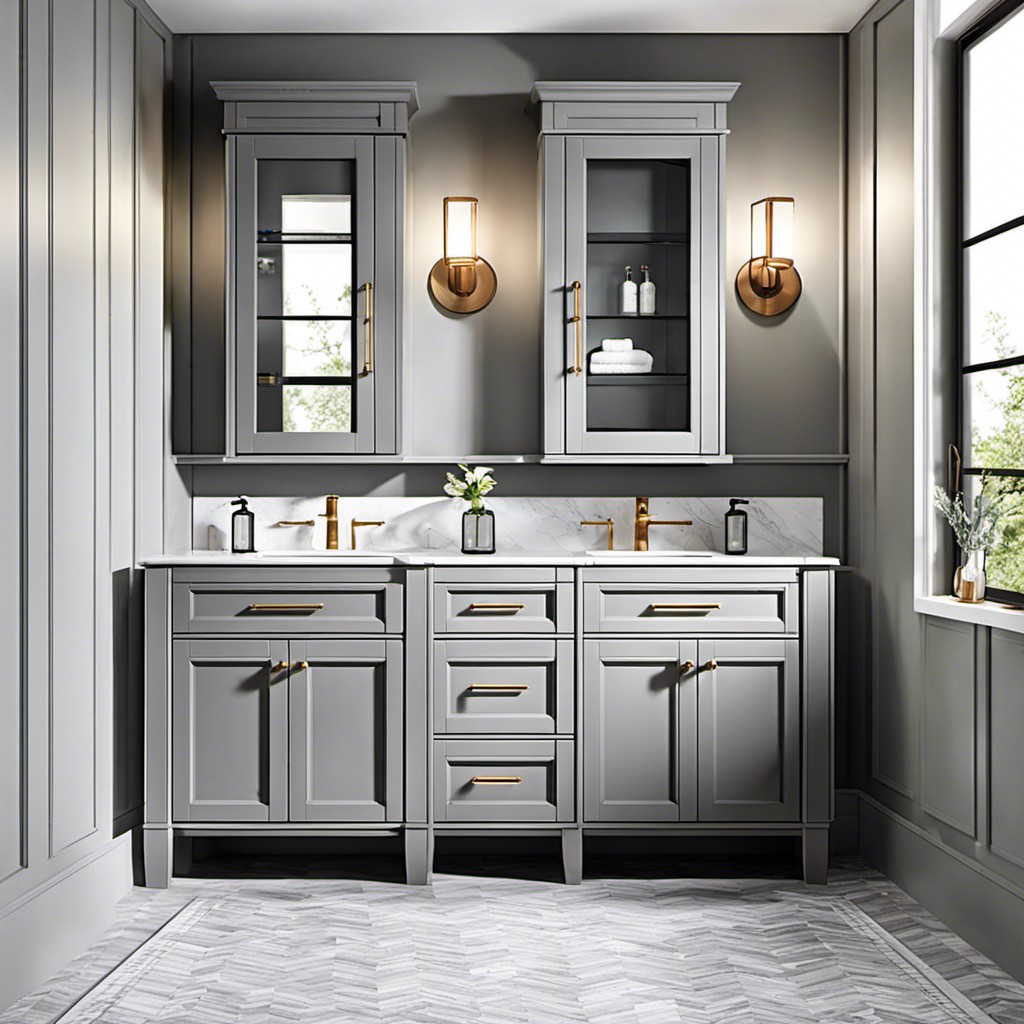 These elegant fixtures lend an air of sophistication while ensuring functionality is not compromised. The visibility provided by the glass doors places emphasis on inside cabinet organization, urging you to showcase visually pleasing linen or bathroom products. Additionally, they provide a visual break from the consistency of solid doors, adding to the overall aesthetic.
Lighting is essential when considering glass cabinet doors. Interior cabinet lighting can illuminate the beauty of the glass while drawing attention to the contents inside. Subtle LED strips or spotlights are perfect choices for this purpose.
Regarding glass types, you can opt for clear, frosted, or patterned glass, depending on your privacy requirements and aesthetic preference. Frosted glass offers a blurred view, ideal for maintaining an uncluttered appearance. Patterned glass adds an interesting design element, transforming your cabinets into an art piece.
Lastly, remember the hardware—pulls, knobs, handles—in design congruent with your bathroom style. Brushed nickel or brass hardware pairs exceptionally well with gray, accentuating the contemporary appeal.
Industrial-style Gray Metal Cabinets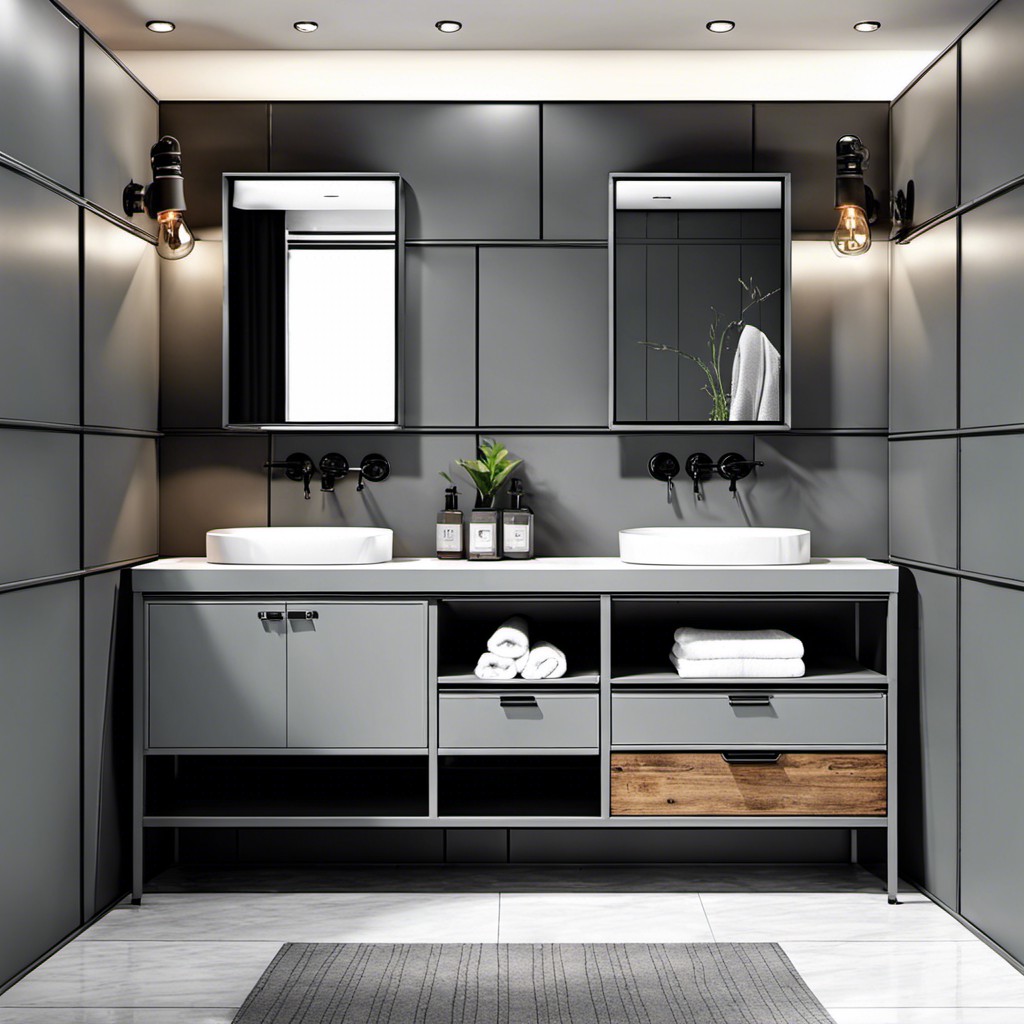 Forging a raw and edgy statement in your bathroom, this style can introduce a contemporary edge. While still offering functional benefits, the metallic hue often gives off a cool, modern aesthetic.
To enhance the appeal:
Pair them with exposed brick walls or concrete floors to complete the industrial look.
Use reclaimed wood as open shelves or countertops to add warmth and balance the coolness of the metal.
Include mixed metal accents like bronze or brass for faucets and fixtures to tie the room together.
Select cabinetry with simplified design lines, e.g., flat front doors, to stay true to the industrial theme.
Utilize vintage or Edison bulb lighting fixtures to complement the style further.
Such decisions can make this unique option not just functional but visually striking, leading to a bathroom design that stands out.
Monochrome Bathroom With Gray Cabinets and Walls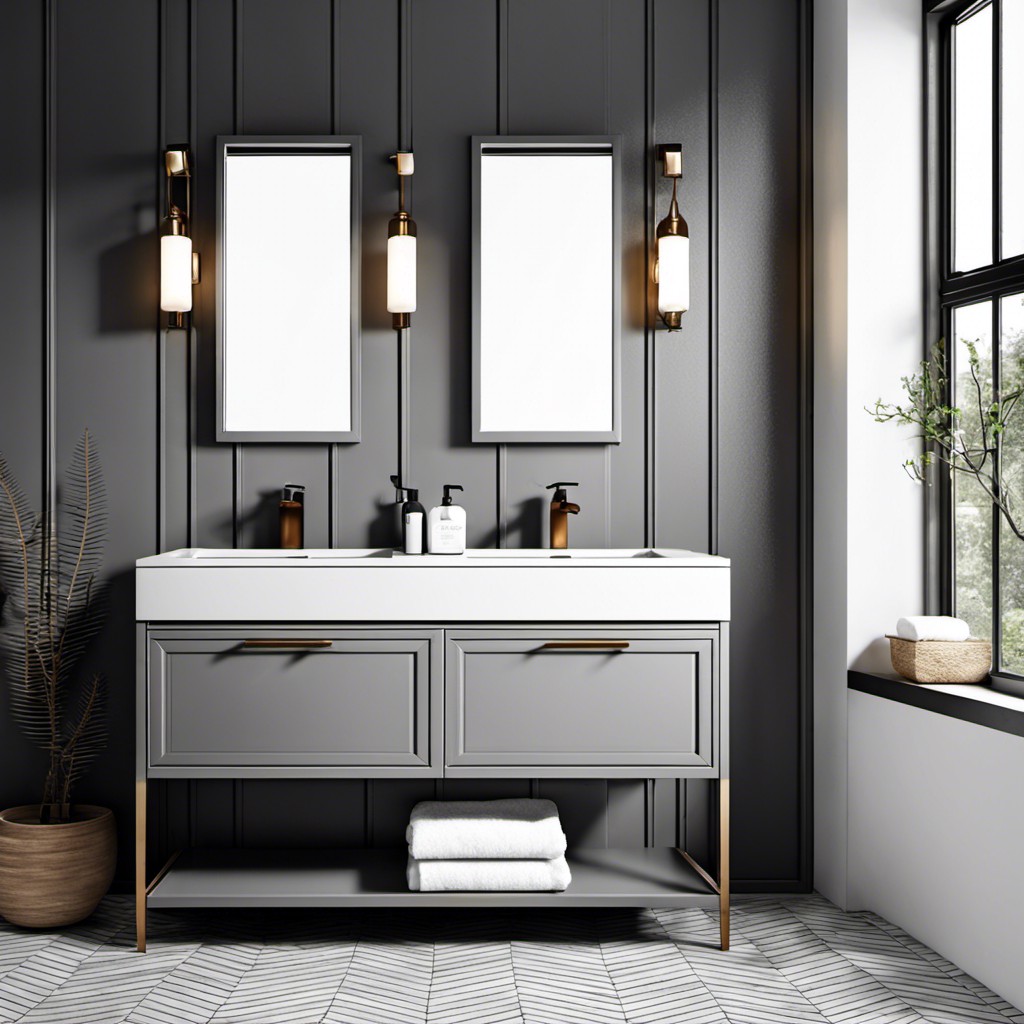 Adopting this style brings out sophistication and enhances the visual appeal of your bathroom. A few critical points to consider while implementing this design are:
1. Ensure the shades of gray complement each other. You may choose lighter shades for the walls and darker hues for the cabinets, or vice-versa.
2. Use accents like mirrors and metallic hardware to break monotony, adding depth to the setup.
3. Thoughtful lighting plays a crucial role in emphasizing the depth and texture of gray – opt for warm, diffused lights for a cozy effect.
4. For the floor, choose a color that is within the gray palette but distinct from the walls and cabinets, to avoid a washed-out look.
5. Incorporate subtle pops of color, perhaps through towels or a rug, fostering visual interest and contrast.
6. Consider sleek, minimalist designs for fixtures and fittings, maintaining the modern aesthetic of a monochrome bathroom.
7. Gray goes well with natural elements. Introduce an indoor plant or two, or a wooden stool, to provide a refreshing contrast.
8. Use texture wisely. For instance, a textured shower wall or a tile backsplash in a gloss finish can add dimension.
Through these points, create a serene yet sophisticated bathroom that is far from boring.
Gray Cabinets With Black Granite Countertops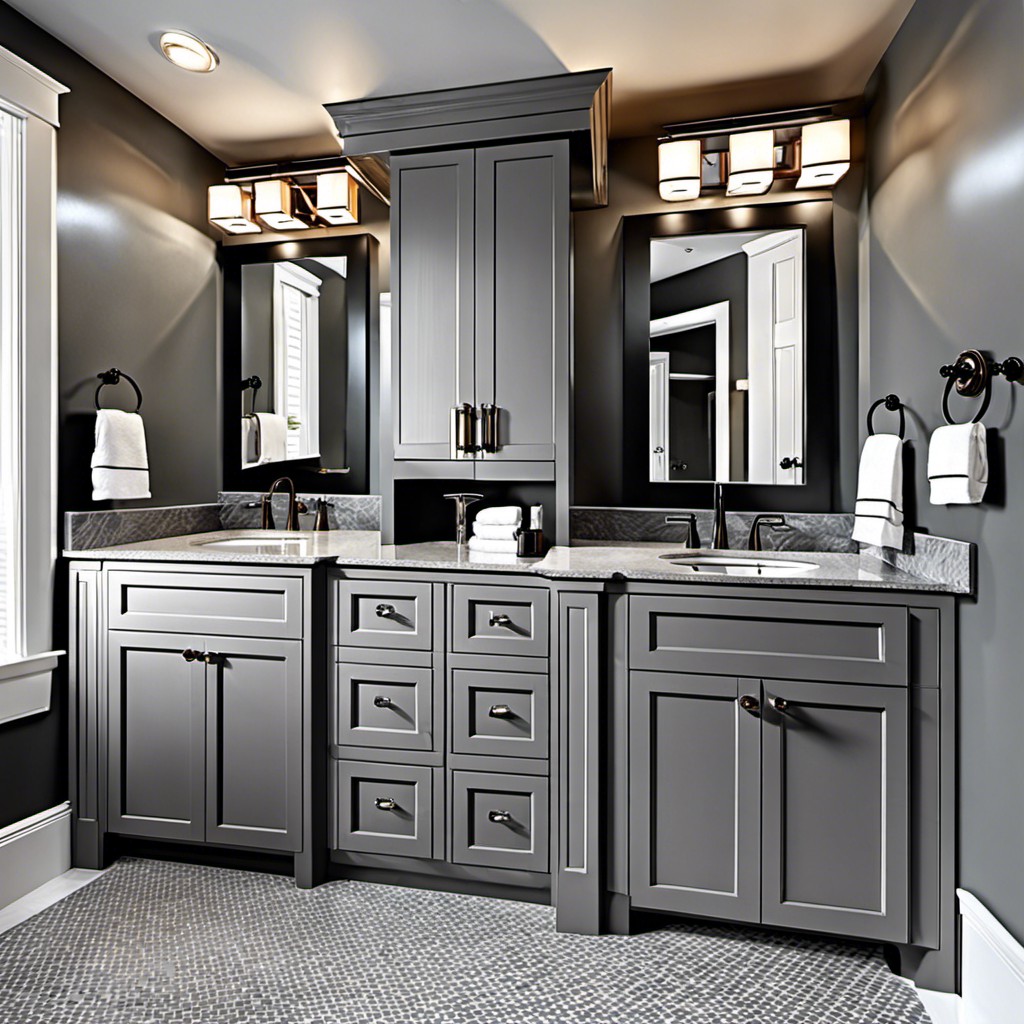 Pairing gray cabinetry with black granite countertops presents an elegantly stark yet warm contrast. For a modern aesthetic, incorporate a high-gloss finish on the cabinets, taking advantage of their reflective surface to brighten the room. For a more traditional look, select a matte finish, which leans into the sophistication and depth of the color scheme.
Black granite countertops are not only aesthetically pleasing but also sophisticated, durable, and heat-resistant. It's a practical choice for high-traffic bathrooms. The dark stone can hide stains and scratches, an added bonus for busy households.
To soften the overall look, opt for silver or brushed nickel hardware. These tones tie in nicely with the gray cabinetry and provide a welcomed sparkly against the black granite. Recessed or pendant lighting help bring out the natural speckles and swirls in the granite, drawing the eye and creating a visually appealing focal point.
Finally, consider incorporating some natural elements. A potted plant or flowers, fluffy towels, and small, carefully chosen wooden accents can bring a hint of warmth and life, balancing the cool gray and black tones.
Light Gray Cabinets With Brushed Nickel Hardware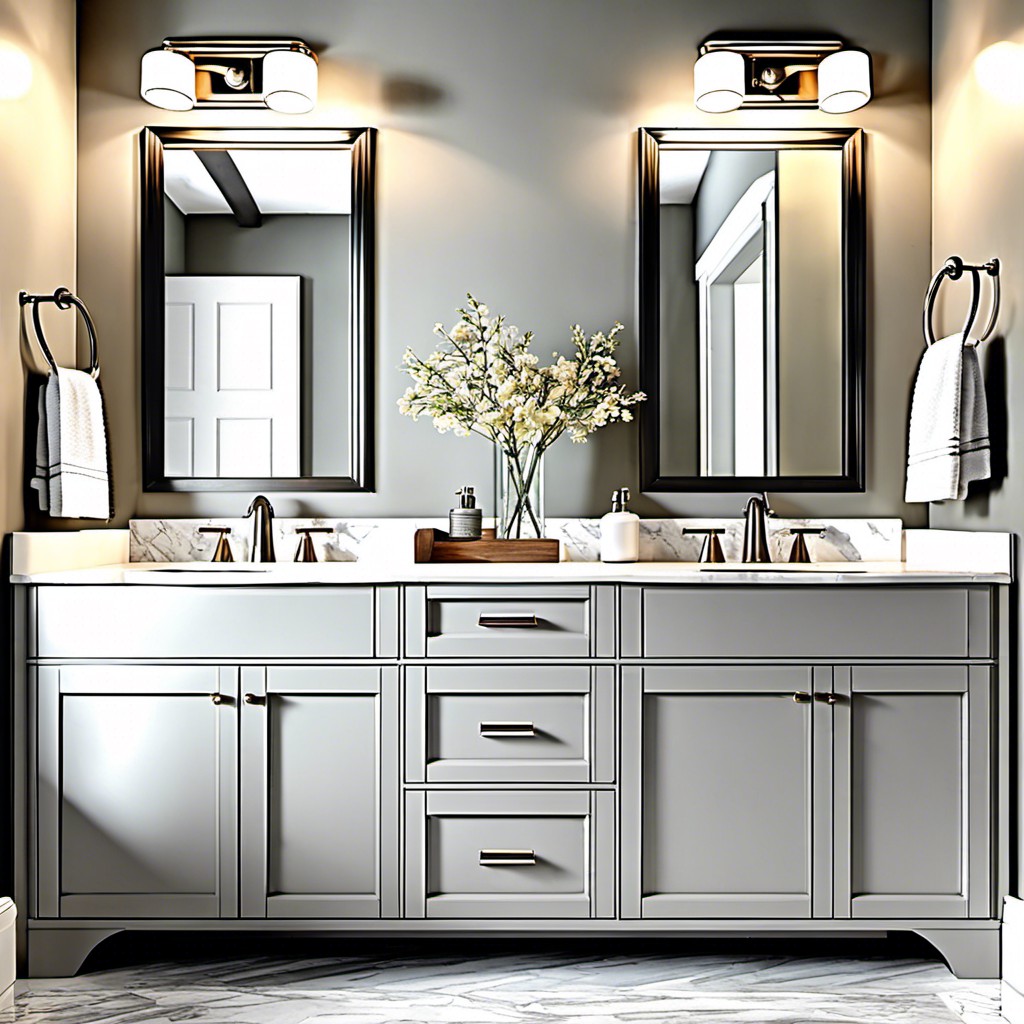 Opting for light gray cabinets can illuminate your bathroom space, offering a soothing and modern atmosphere. Pairing them with brushed nickel hardware boosts the sophisticated aesthetic, adding a touch of elegance. Here's how this combination works:
Light Reflectance: Light gray cabinets reflect more light, making your bathroom appear spacious and airy. Adding brushed nickel hardware enhances the effect, as the finish is known for its light-reflecting quality.
Contemporary Vibe: The combination of light gray and brushed nickel achieves a sophisticated, contemporary look. It's perfect if you're aiming for an updated bathroom with a clean-line design.
Versatility: The neutral hue of light gray is highly versatile. It complements various wall colors, countertops, and flooring options. Paired with the subtle shine of brushed nickel, it can pull together a harmonized look.
Easy Maintenance: Light gray cabinets, especially when finished with a glossy or semi-gloss paint, are easy to clean. Brushed nickel hardware is also valued for its durability and resistance to scratching or tarnishing.
Remember, choosing the right cabinet color and hardware can significantly impact the overall look and feel of your bathroom. This duo is both stylish and practical, offering a timeless choice for any bathroom decor.
Floating Gray Cabinets for a Minimalist Bathroom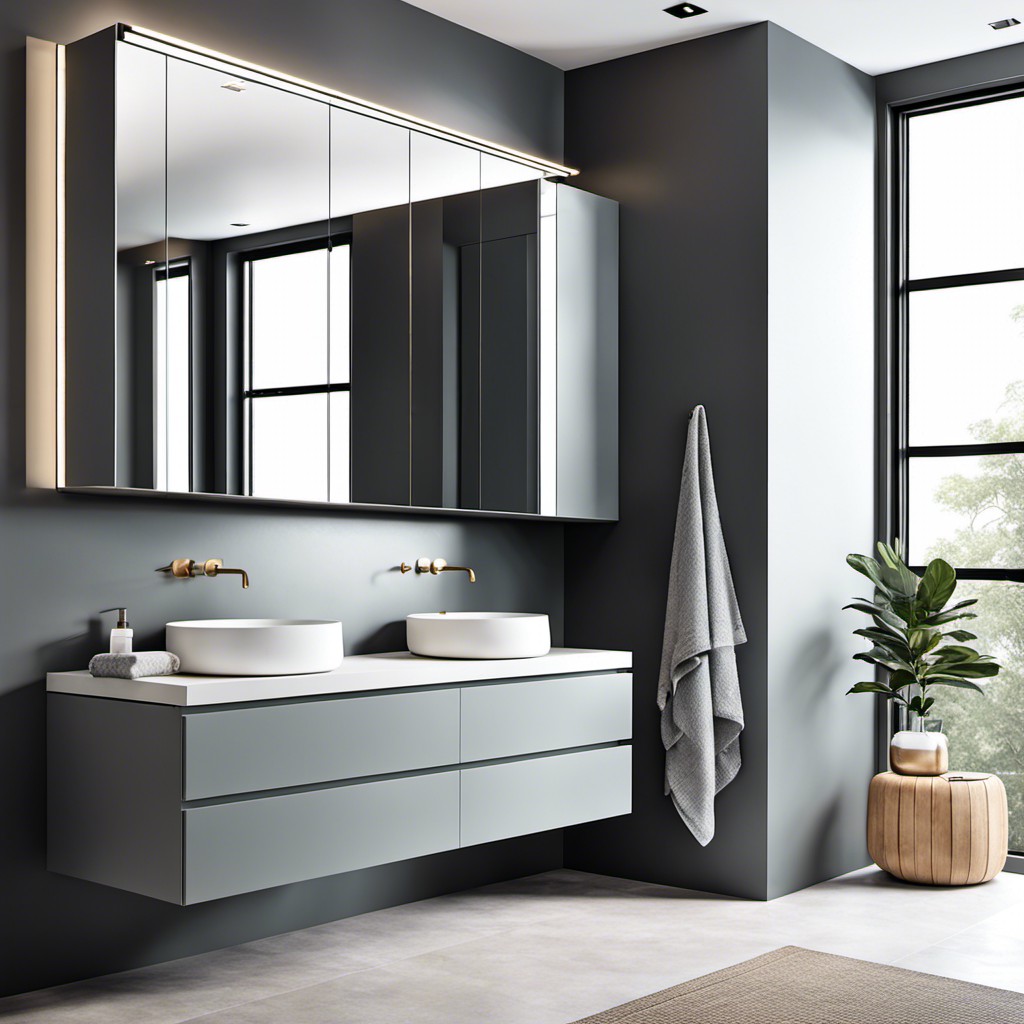 Elevating bathroom aesthetics becomes hassle-free when installing floating cabinets. Ideal for those seeking a minimalist approach, these cabinets provide a touch of modernity and spaciousness.
Here's how:
1. Space-Saver: These cabinets give an illusion of extra space by revealing more floor area. Ideal for small to medium-sized bathrooms, their efficient design brings about a lighter atmosphere.
2. Simplistic Design: The sleek, streamlined appearance of floating cabinets aligns perfectly with the minimalist style. Their uncomplicated design serves to accentuate your bathroom's essential elements.
3. Practicality: Despite their compact design, they offer ample storage space. Keep your toiletries hidden and maintain a tidy appearance.
4. Versatility: A gray palette gives room for creativity. Pair it with vibrant bathroom accents or maintain a monochromatic scheme for an elegant look.
Remember, the right hardware can indeed enhance their appeal further. Try brushed nickel or chrome for a touch of sophistication. With floating gray cabinets, less is certainly more.
Gray Cabinets With Built-in Mirrors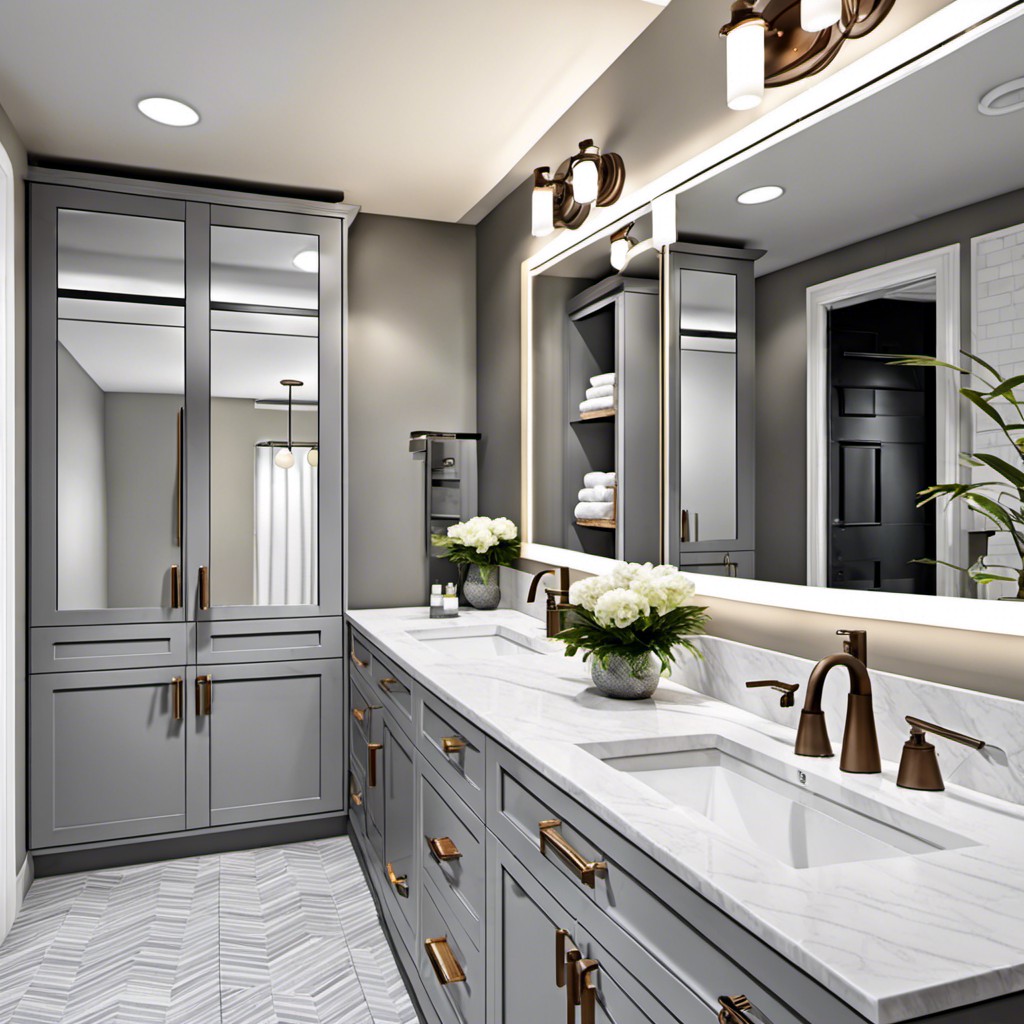 Incorporating mirrors into the gray cabinetry design serves several functional and aesthetic purposes. First, mirrors visually expand a small bathroom space. The reflection creates an illusion of a larger, more airy room, which is particularly beneficial in diminutive bathrooms.
Next, mirrors reduce the amount of additional furnishings required, presenting a streamlined appearance. You don't need to clutter your walls with separate mirrored fixtures; the cabinet does double-duty, simplifying your overall design.
Built-in mirror cabinets also increase storage space. Many mirrored cabinet designs are recessed, offering additional shelving behind the mirrored surface. This hidden storage is perfect for housing toiletries, medicines, and other bathroom essentials.
Lastly, gray cabinets with built-in mirrors are versatile, fitting into virtually any bathroom theme, from modern and minimalist to traditional or vintage-inspired spaces. It's a smart, stylish choice that combines practical utility with understated elegance.
Gray Cabinets With Open Shelving for Storage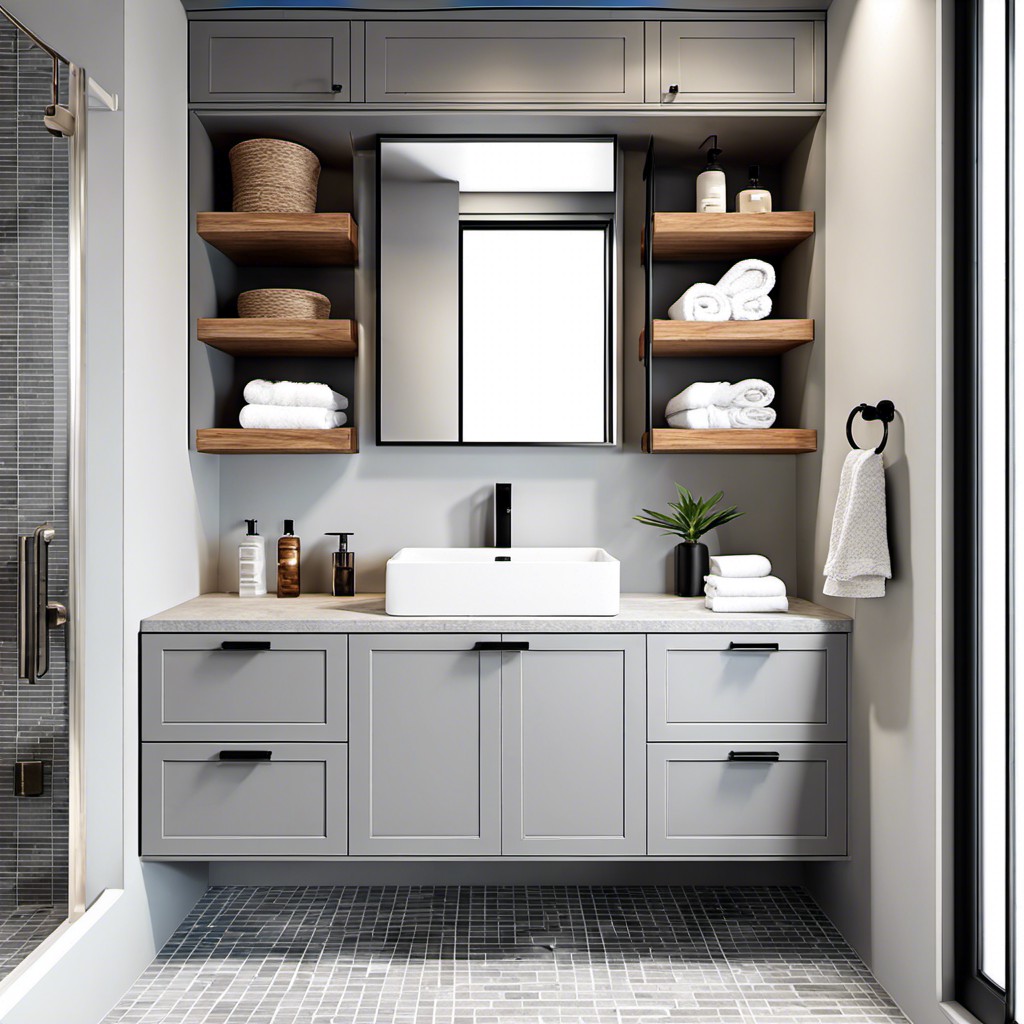 Open shelving promotes an airy atmosphere, making the bathroom feel less cramped. In strategic combination with gray cabinets, it offers practical and stylish storage solutions. Here are a few concepts behind it:
1. Mix and Match: Gray cabinets ground the design while open shelving above adds depth and displays decorative items or necessities neatly.
2. Efficient Use of Space: It allows easy access to daily essentials like towels and toiletries.
3. Personalization: Arranging items on open shelves can reflect personal taste and bathroom's overall aesthetic.
4. Light and Spacious: Open shelves keep the decor light, especially in smaller bathrooms, hinting at a larger space.
5. Flexibility: Create dynamic displays that can be altered as per seasonal trends or personal preferences.
This idea is particularly well-suited to bathrooms where storage needs and style need to go hand in hand.
Tall Gray Linen Cabinet for Extra Storage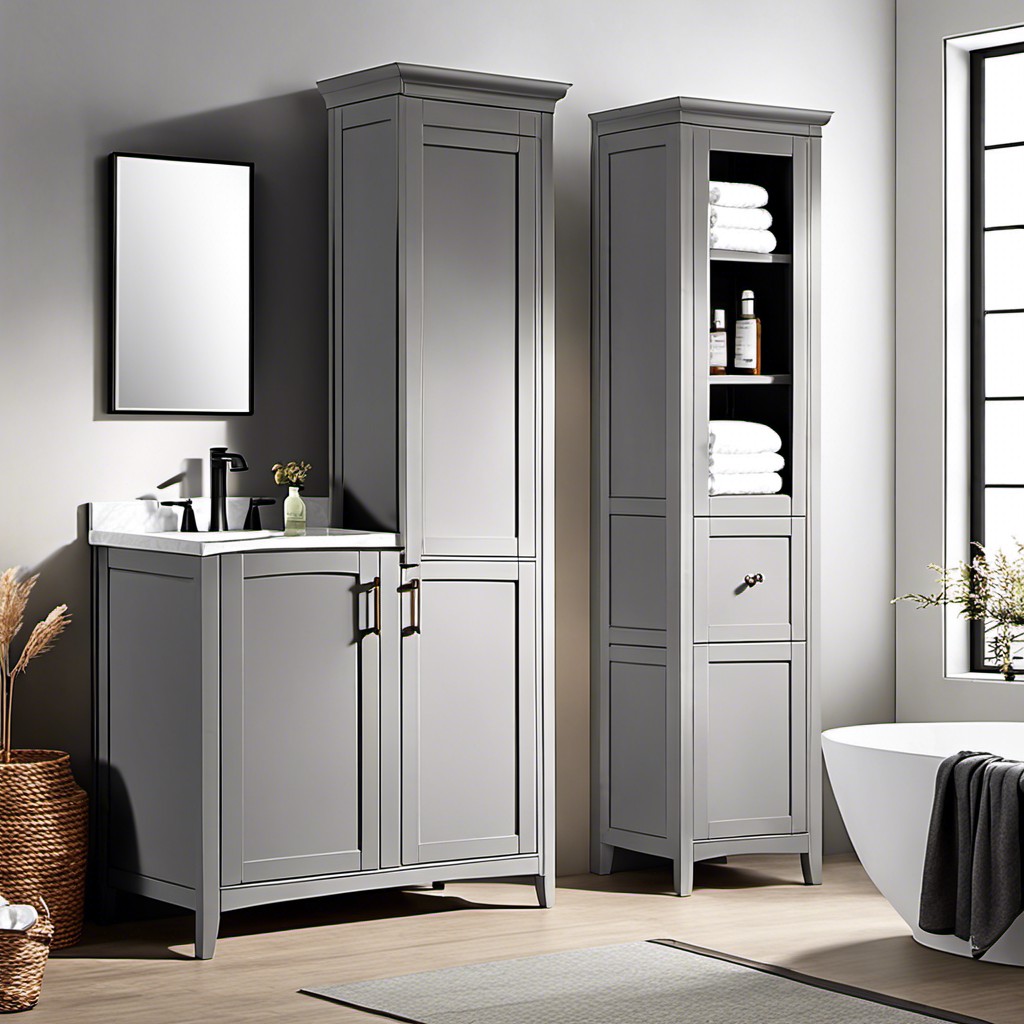 Adding a tall gray linen cabinet to your bathroom presents the perfect blend of aesthetics and function. Despite its slim profile, this cabinet type offers an abundance of storage. With multiple shelves, it can efficiently house all your towels, bathrobes, linens, and toiletries.
The gray color lends an elegant charm and can harmonize with a variety of color schemes. Accentuate the gray finish with stylish hardware such as silver knobs, to maximize the contemporary appeal. Moreover, you can pick models featuring glass panels, aiding in the effortless visual identification of your stored items.
This cabinet style can even prove beneficial for bathrooms with limited floor space, as it embraces vertical storage. Whether flaunting a glossy or matte gray finish, a tall linen cabinet can easily become a stylish and functional focal point of your bathroom.
French Gray Cabinets With Antique Finish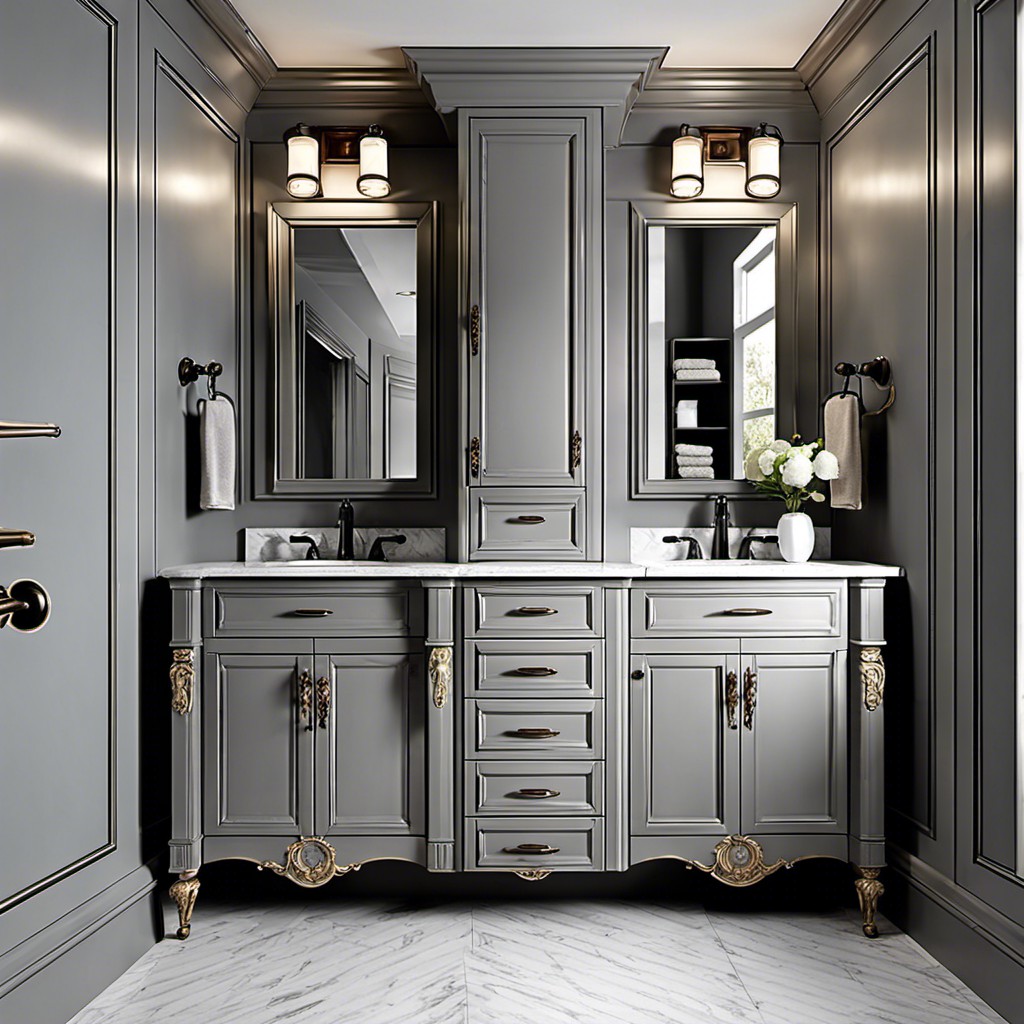 A key advantage of an antique finish is that it offers a sense of authenticity and classic beauty. Emulating this look with French gray cabinets adds a perfect centerpiece to your bathroom. Its subtle sophistication and timeless allure can never be overstated.
The color scheme is quite versatile; blending in seamlessly with neutral-toned bathrooms, as well as offering a soothing contrast to more colorful fixtures. The hue of French gray is soft and tranquil, working harmoniously with bold and soft tones.
Think elaborate detailing when considering the hardware. Brass handles or knobs can add an opulent overtone, while iron counterparts offer a simplistic approach. Keeping a balance between intricate details and minimal aesthetics is pivotal in achieving that classic antique finish.
Worn-out edges or slightly faded spots are trademarks of the antique finish, so don't be afraid of a bit of imperfection. Imperfections can achieve a more authentic and classic aesthetic, giving the cabinet a distinctive character.
Lastly, complement your cabinets with a Carrara marble countertop or a vintage mirror to enhance the overall antique aesthetic.
Gray Cabinets With Contrasting White Vessel Sinks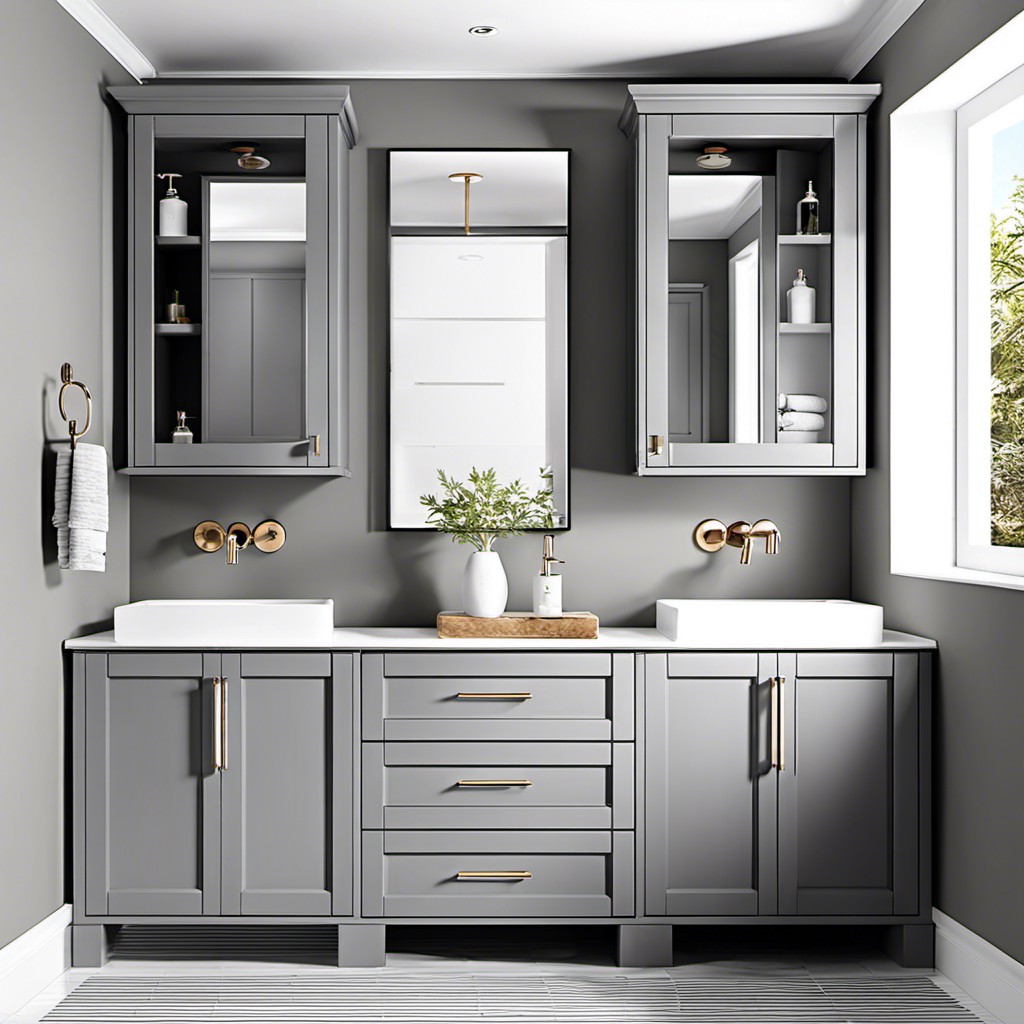 White vessel sinks are a refreshing contrast to gray cabinets. They create a clean, modern look and act as vibrant focal points in the bathroom.
Here are a few facets that make this combination a standout:
Color Balance: The lightness of white and the neutrality of gray balance each other perfectly, preventing any color overkill.
Modern Aesthetic: The sleek design of vessel sinks serves a dual purpose. Besides their functionality, they add a contemporary touch to your bathroom.
Versatility: You have flexibility with this setup. Add drama with darker grays or keep it subtle with light shades.
Ease of Maintenance: Darker cabinets show less dirt and grime, while white sinks are easy to clean, ensuring your bathroom always looks immaculate.
This style is perfect for those who favor understated elegance in their bathroom décor.
Dove Gray Vanity Cabinets With Double Sinks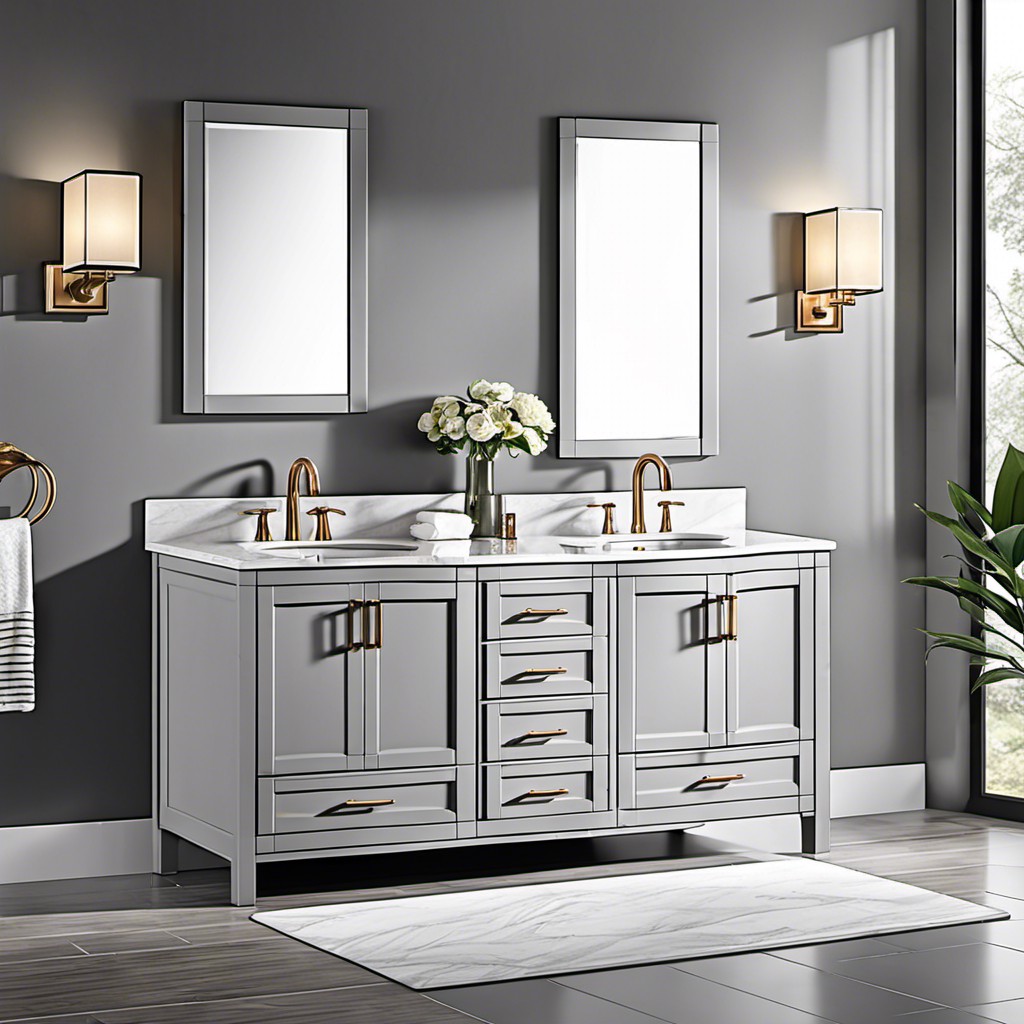 Offering both aesthetic appeal and practicality, this option harmonizes the tranquil hues of dove gray with the convenience of double sinks. Here's why this trend is worth considering:
1. Space Efficiency: Accommodating two sinks in one vanity saves on valuable bathroom space, making morning routines easier especially for shared bathrooms.
2. Color: Dove gray exudes a serene simplicity, making it a versatile choice that suits a plethora of color schemes. It works well with both bright, bold colors and other subtle neutrals.
3. Style Flexibility: This shade pairs beautifully with different styles of sinks and hardware, providing you with an array of customization options.
4. Easy Transition: Given its timeless appeal, a dove gray vanity can effortlessly blend with changing trends, eliminating the need for frequent updates.
Gray Corner Cabinets for Small Bathrooms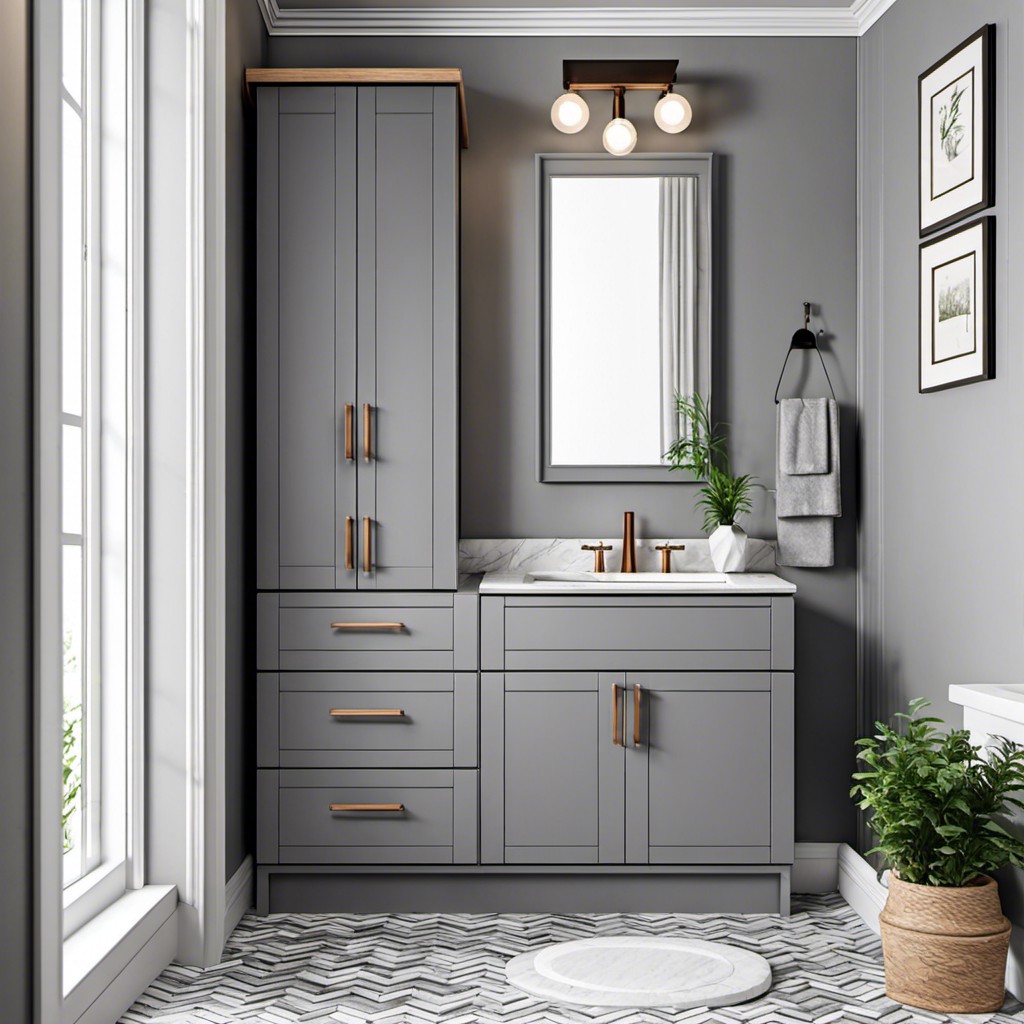 A corner cabinet offers a customizable design that makes a significant impact in compact spaces. Purposely designed to fit neatly into a corner, it leverages the unused area, freeing up the rest of the bathroom for other elements.
When painted a shade of gray, it aligns any stylistic intent – from modern to rustic – and the neutral tone enables the easy integration of colors from flooring and walls.
The choice of gray, light or dark, can set the mood of the bathroom. Lighter shades can enhance the feeling of space, making a small room feel larger and more airy. Conversely, darker grays can insert a note of sophistication and an unexpected depth in design. Glossy finishes serve an additional purpose, reflecting light and contributing to a brightened feel.
The interior design of the corner cabinet could also play a versatile role in the bathroom experience. Adding a built-in mirror or interior lighting would enhance the functionality, while a mix of open shelving and closed storage affords the choice of what to display and what to hide away.
Remember, combining form and function can be the key to a bathroom you'll love, even when space is scarce. Opt for a gray corner cabinet and pair it with your favorite bathroom elements. It not only solves the spatial challenge but also adds a stylish note and ample storage to the small yet important space.
Continue reading: