Last updated on November 23, 2023
Are you tired of the scorching sun making it impossible to enjoy your backyard during the summer months? Do you dream of creating a cool and shady oasis for relaxation and entertaining guests?
If you do this, you won't need to worry about harmful UV rays, or the sun fading your outdoor furniture. In this article, we share expert tips on how to fit artificial shade in your backyard.
What's Inside
Assess the Space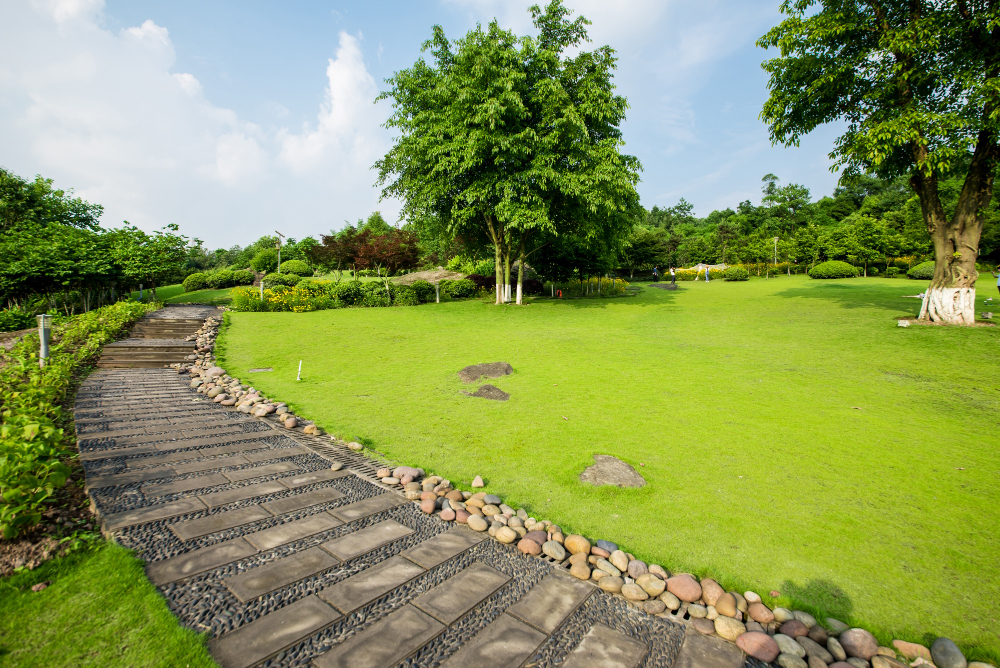 Look at the size and shape of the area where you want to create some shade and consider how much sunlight it receives throughout the day. Discover any specific spots that could benefit from some extra protection.
Additionally, think about any obstacles or constraints that might affect your options. For example, there may be existing structures like trees or fences nearby. If so, you'll need to take them into account when choosing the type and location of your shade solution. 
Also consider any potential safety hazards in the area, such as overhead electrical wires or low-hanging branches. Additionally, decide how you envision using that shaded area.
Are you planning on hosting social events or do you want a cozy spot for chilling out? This can guide your decisions and help you find the most suitable option.
Gazebos and Pergolas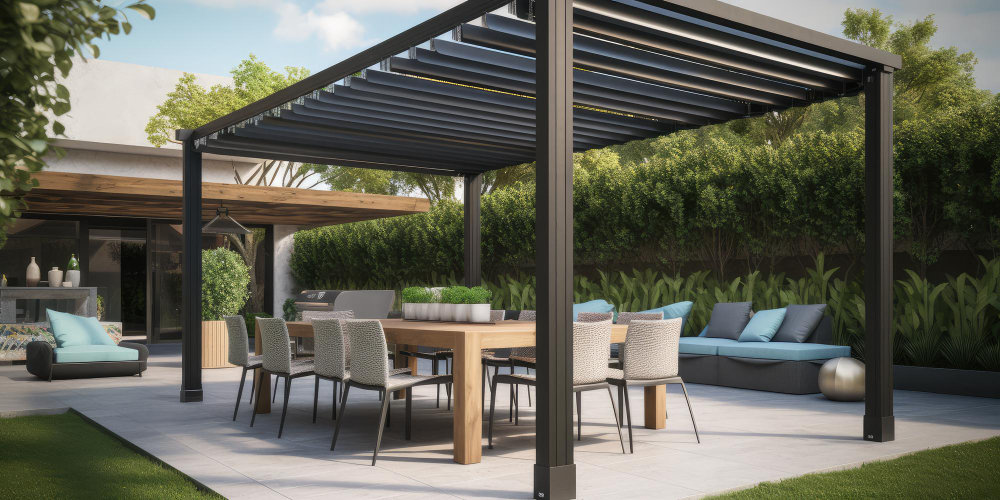 A gazebo is a freestanding structure that usually has a solid roof and open sides. On the other hand, a pergola typically consists of vertical posts supporting an open lattice roof. This allows vines or climbing plants to grow and create natural shade.
Gazebos are perfect for creating a cozy retreat where you can enjoy meals or entertain guests in style. Their enclosed nature also makes them great for blocking out noise from neighbors or nearby streets.
If you have green thumbs and love gardening, pergolas might be the ideal choice for you. Their open design allows sunlight to filter through while providing some protection from direct heat. Plus, you could enjoy vibrant vines growing over the lattice roof.
If you're considering an aluminum pergola you can find online buyer's guides discussing the best ones of 2023. You can view photos, read reviews, and learn about their pros and cons.
Awnings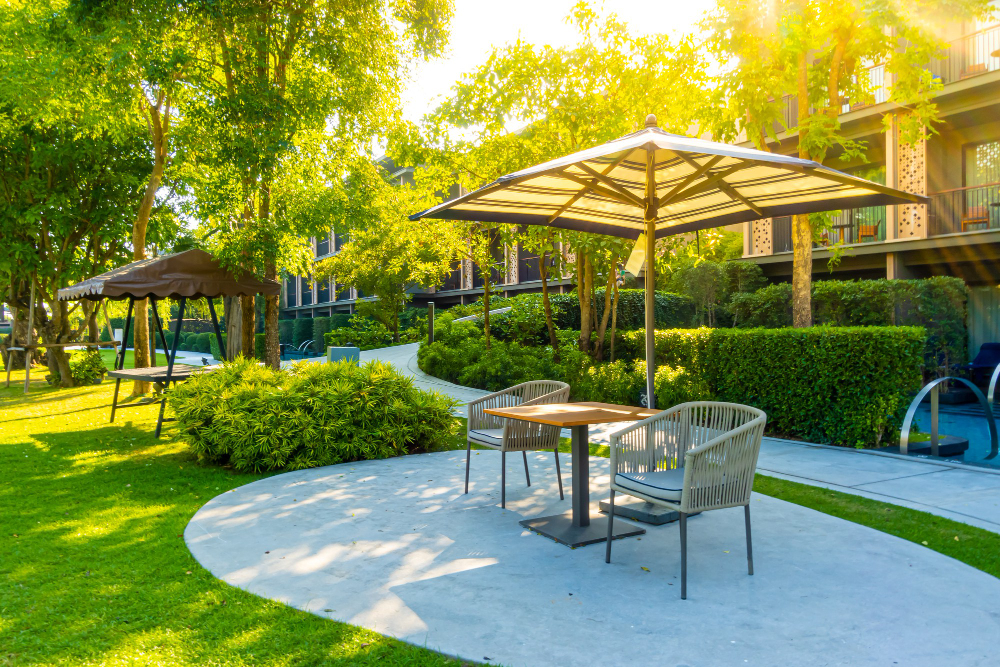 There are various styles, colors, and materials available, so you can easily find one that complements your backyard. Unlike permanent structures, awnings can be adjusted and retracted to suit different weather conditions. You may want full shade during hot summer days, or prefer to let in some sunlight during mild spring mornings.
Awnings offer privacy in your outdoor space while still allowing fresh air circulation. They act as a barrier against nosy neighbors or busy streets, without completely blocking your view. You'll feel protected and secluded, yet connected to nature.
Pavilions and Marquees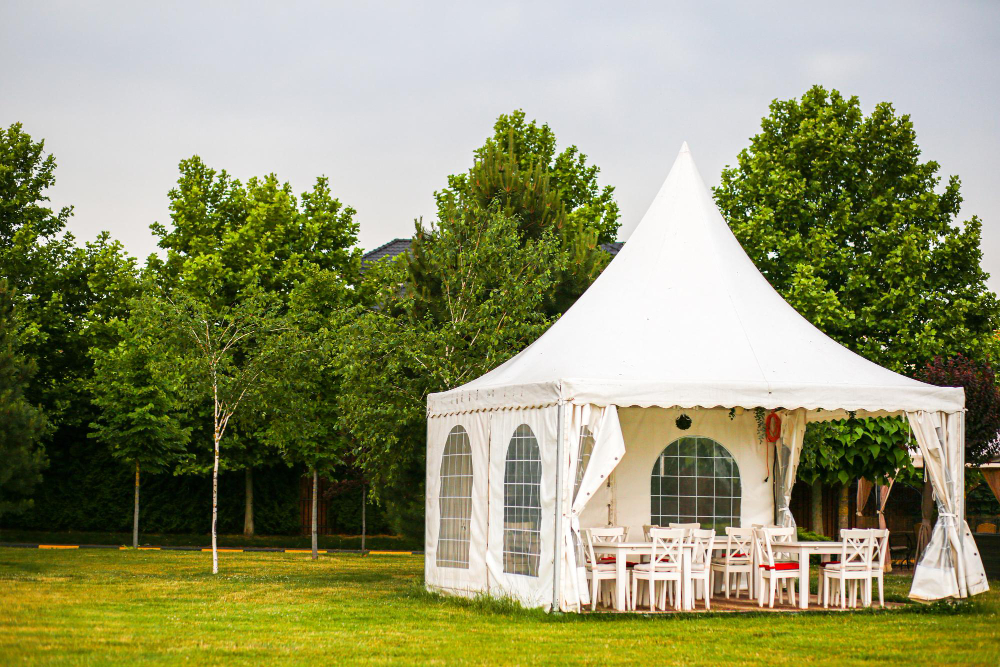 Pavilions are often seen as more substantial and permanent fixtures in the backyard. They have sturdy construction and solid roofs, offering unmatched durability and protection. They can be designed to seamlessly blend into your existing landscape, or stand out as a statement piece.
On the other hand, marquees bring a touch of elegance to any occasion or gathering. They're known for their open-sided design and iconic pointed tops.
In turn, they exude an atmosphere of festive celebration that's perfect for hosting parties or weddings. In terms of possibilities, you could opt for the classic charm of a pavilion or the whimsical allure of a marquee.
Planting Trees and Shrubs
If you don't have naturally growing trees and shrubs in your outdoor space, why not plant some? They can provide much-needed shade on hot summer days. They'll add visual appeal and also create a sense of privacy. Before you start digging holes and planting, however, there are a few things to consider.
Firstly, think about the size and growth rate of the trees or shrubs you choose. It may be tempting to opt for fast-growing varieties for instant gratification. However, keep in mind that they might require more maintenance in the long run. Slower-growing varieties tend to have stronger root systems and are generally more resilient.
Secondly, consider the location. Take note of where the sun hits your yard at different times of the day. This will help you determine where to place your new plants for maximum shade coverage. Also, keep an eye on any existing structures or underground pipes that could hinder plant growth.
Finally, don't forget about diversity. Planting a variety of trees and shrubs adds visual interest and also creates healthier ecosystems. It achieves this by attracting diverse wildlife such as birds and butterflies.
Patio Curtains and Shade Sails
Patio curtains are also known as outdoor drapes. They're versatile and can be customized to fit any patio or deck area. They come in various colors, patterns, materials, and styles.
On the other hand, shade sails offer a more modern and sleek aesthetic to your backyard. These triangular or rectangular fabric structures are suspended between anchor points, to create a wide shaded area.
Shade sails can add an architectural element to your outdoor space, thanks to their unique shapes and angles. Furthermore, they provide invaluable flexibility. They can be easily adjusted or removed, depending on the weather conditions.
Patio Umbrellas and Pop-up Canopies
No matter the size, color, and style you need – there'll be a patio umbrella that's perfect for you. This applies whether you have a small patio or a large backyard. Plus, many patio umbrellas are adjustable, allowing you to tilt the canopy to block out the sun at any angle.
Pop-up canopies offer a versatile option for creating temporary shade in your backyard. These portable shelters are lightweight and easy to assemble.
This makes them ideal for picnics, barbecues, or other outdoor gatherings. They have sturdy frames and durable fabrics. In turn, they can withstand all kinds of weather conditions and provide ample protection from the sun.
Incorporating artificial shade into your backyard can greatly enhance the area's comfort and usability. Carefully select the right type of shade structure, and consider factors such as size, materials, and placement. Then you can create a cool and inviting area for both resting and having fun with others.
Continue reading: