Last updated on November 2, 2023
I'm proud to have written and illustrated this article on essential patio decorations for your next big event and sincerely hope it brings you as much inspiration and enjoyment as I had creating it.
Are you gearing up to host the next big event on your patio? Whether it's a birthday celebration, a family reunion, or an outdoor dinner party, a well-decorated patio can set the stage for a memorable gathering.
Your outdoor space can be transformed into a stylish and inviting oasis with a little creativity and some strategic planning. Follow these tips, and you'll have a picture-perfect outdoor space for your next big event.
What's Inside
Seating and Comfort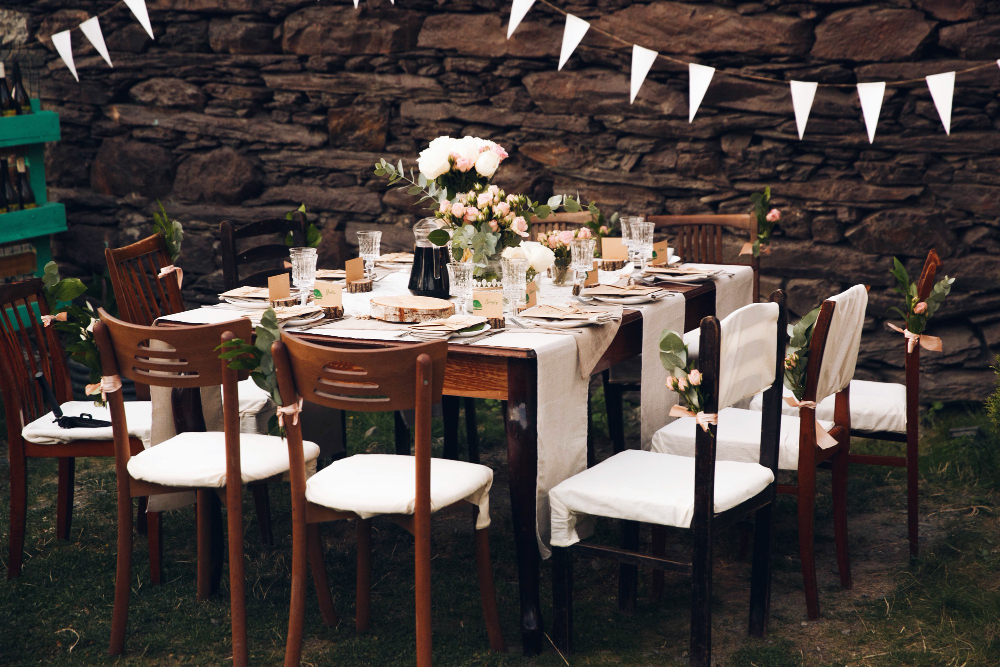 Comfortable seating is paramount for any patio event. Provide enough seating for your guests, whether it's with outdoor sofas, benches, or even a mix of cozy floor cushions and blankets. If you don't have enough seating, white bentwood chair hire can offer a quick way to add more seating for your guests.
Consider the weather and provide shade or protection from rain, such as umbrellas or a covered pergola. Accessorize with outdoor pillows and cushions that match your chosen theme and color scheme. Creating comfortable seating arrangements ensures your guests can relax and enjoy the event.
Choose a Theme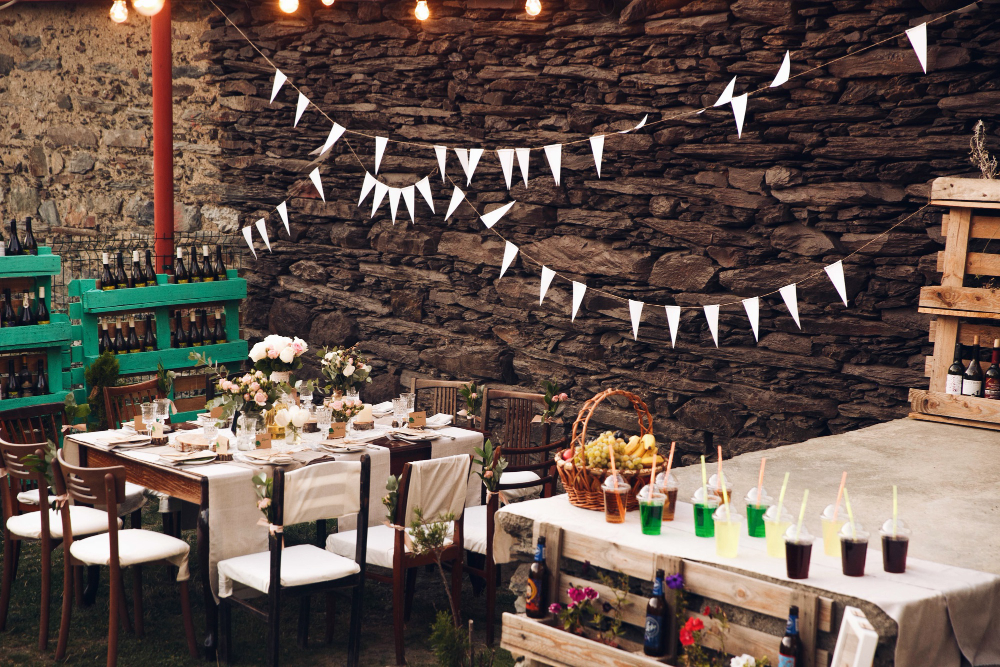 A theme sets the tone and helps you make cohesive design decisions. For example, a tropical luau theme might include tiki torches, leis, and vibrant, exotic colors. A rustic theme could feature wooden furniture, mason jar lanterns, and earthy tones. The key is to select a theme that resonates with the purpose of your event and the preferences of your guests.
Color Palette: Your chosen theme often dictates the color palette you'll use. For a beach-themed event, you might opt for cool blues and sandy beige, while a romantic garden party could be centered around soft pastels. Coordinating your color choices with the theme enhances the visual appeal of your patio decor.
Consistency in Decor: Once you've decided on a theme and color palette, maintain consistency throughout your decorations. From table settings to lighting and even the choice of florals, ensure that every element on your patio contributes to the overall theme, creating a harmonious and well-thought-out atmosphere.
Lighting Matters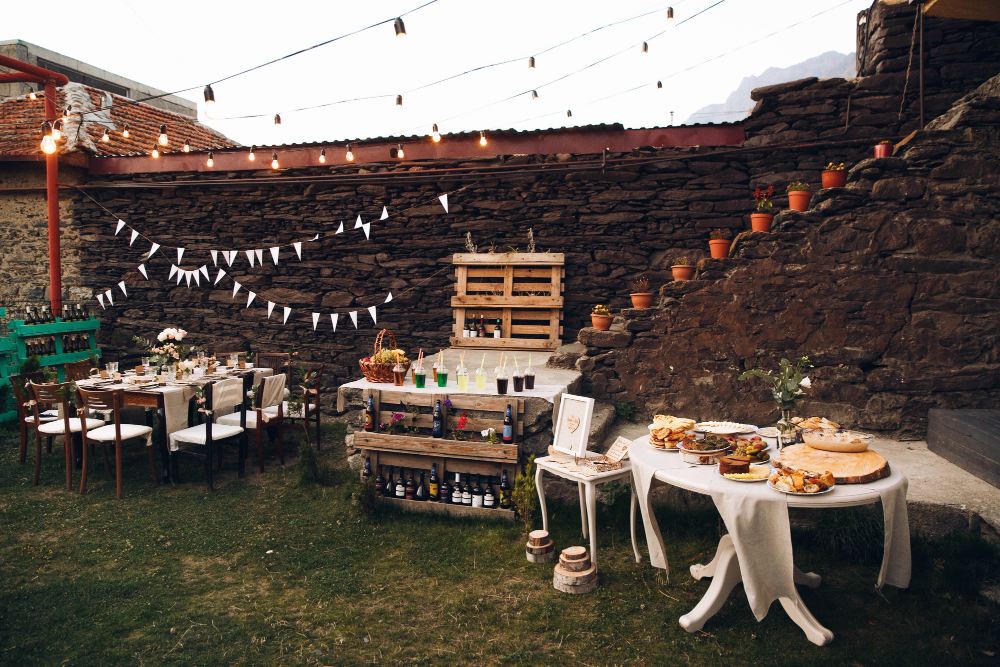 Good lighting can make or break the ambiance of your patio event. The right lighting sets a cozy and welcoming atmosphere, especially when the sun goes down. You can choose from various options, such as string lights, lanterns, candles, or LED light installations.
Hang string lights overhead to create a magical canopy effect, scatter candlelit lanterns around for a warm and inviting glow, and consider LED light strips under furniture or along pathways for a modern touch. Lighting adds charm and functionality, ensuring your event continues long after the sun has set.
Decorate with Greenery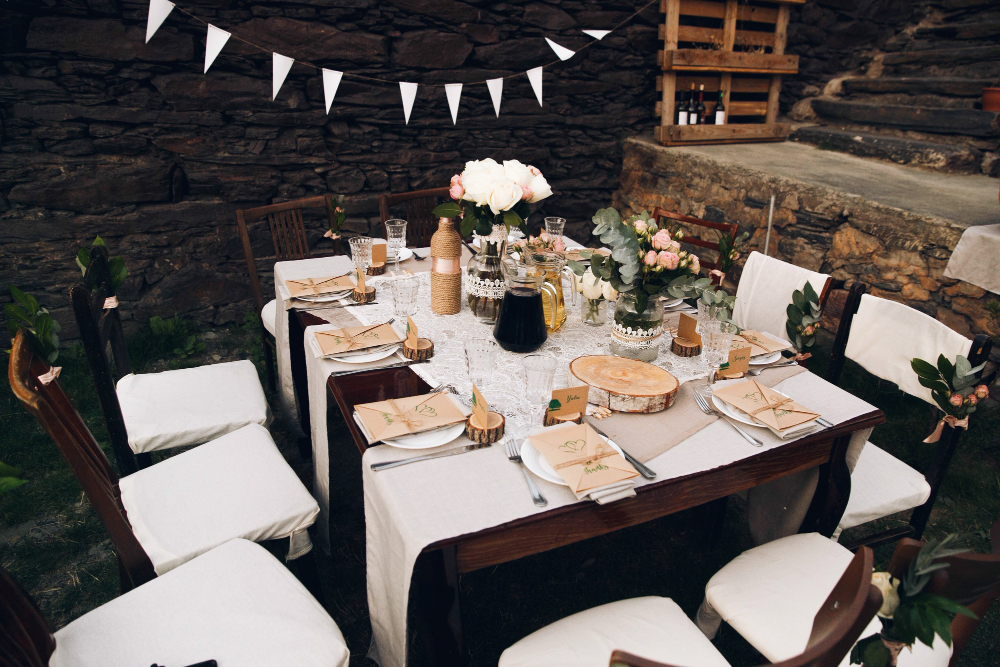 Plants and greenery can breathe life into your patio space. You can add potted plants, hanging baskets, or even a vertical garden to create a lush and inviting atmosphere. Incorporating greenery not only adds beauty but also helps to purify the air and create a refreshing ambiance.
You can select plants that thrive in your climate and require minimal maintenance. Don't forget to arrange them strategically to complement your theme and make the space feel fresh and inviting.
Add Personal Touches
To make your patio decor truly special, add some personal touches that reflect your personality and the occasion. Incorporate custom-made decorations, monogrammed items, or DIY crafts that showcase your creativity.
Personalized centerpieces, custom signage, or even photo displays can add a unique and meaningful touch to your event's ambiance. These details not only make your patio feel more intimate but also show your thoughtfulness and attention to detail.
Create an Entertainment Zone
A successful event often includes entertainment, and your patio can be the perfect stage for it. Consider adding elements like a Bluetooth speaker for music, a projector for outdoor movie nights, or even a small dance floor.
Tailor the entertainment to your event's theme and the preferences of your guests. Having entertainment options can keep the atmosphere lively and ensure that everyone has a great time.
Pay Attention to Table Settings
The dining area on your patio is where your guests will gather, so pay extra attention to table settings. Use tablecloths, runners, and placemats that match your theme, and choose dishware and cutlery that coordinate with the overall aesthetic.
Don't forget to create a beautiful centerpiece using flowers, candles, or other decor items. Properly set tables not only make your patio look stunning but also enhance the dining experience for your guests.
Decorating your patio for the next big event is all about creating a comfortable, visually appealing, and memorable atmosphere for your guests.
By choosing a theme, perfecting the lighting, providing comfortable seating, incorporating greenery, adding personal touches, creating an entertainment zone, and paying attention to table settings, you'll be well-prepared to host an event that will leave a lasting impression.
Your patio can be transformed into the ultimate backdrop for unforgettable gatherings, allowing you to host in style and make cherished memories with your friends and family.
Continue reading: