Last updated on November 13, 2023
In today's fast-paced world, creating a warm and inviting atmosphere in your family home is more important than ever. One fantastic way to achieve this is by incorporating plants into your decor. Not only do they add a touch of nature's beauty, but they also promote a healthy environment.
In this blog post, we'll delve into the art of using plants to decorate a family house, exploring different styles, tips, and benefits to help you transform your space into a lush oasis.
What's Inside
Selecting the Right Plants for Your Space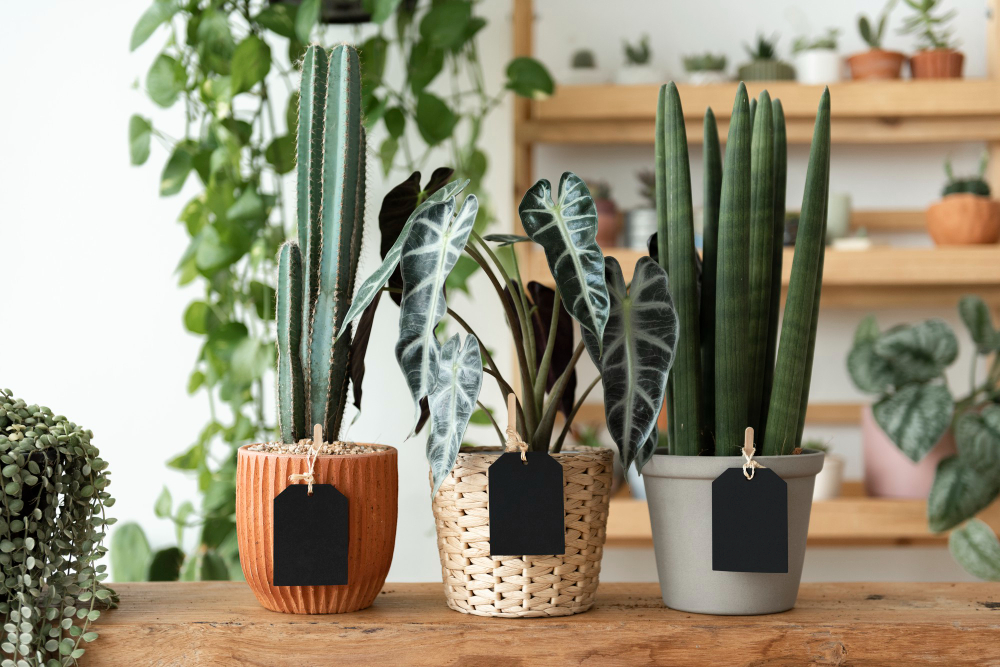 Before diving into the world of plant decor, it's crucial to choose the right plants for your family house. Different plants have varying care requirements, so it's essential to consider your lifestyle and the amount of natural light your home receives.
Low-maintenance options like snake plants, pothos, and succulents are perfect for busy families. If you have ample sunlight, consider vibrant ferns, peace lilies, or colorful orchids. Tailor your choices to suit your space and needs.
Creating Green Corners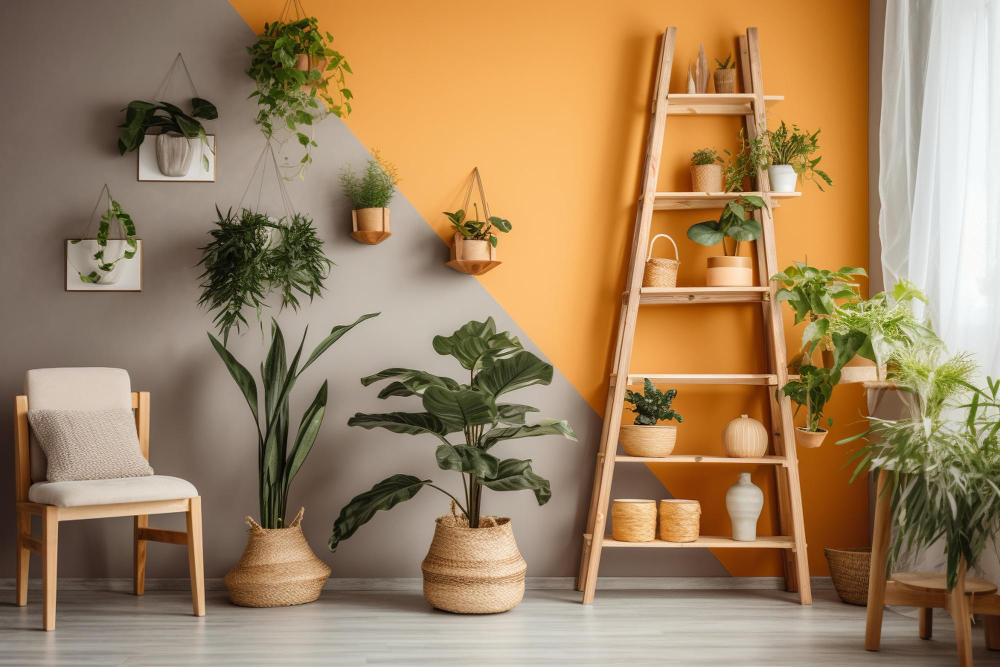 Once you've selected your plants, it's time to strategically place them around your house. One of the most effective ways to do this is by creating green corners in various rooms. These green corners can include shelves, window sills, or designated plant stands.
By grouping plants together, you create a visually appealing focal point while maximizing their impact. Don't be afraid to mix and match plant sizes and shapes for an eclectic look that's uniquely yours.
Using Plants as Natural Dividers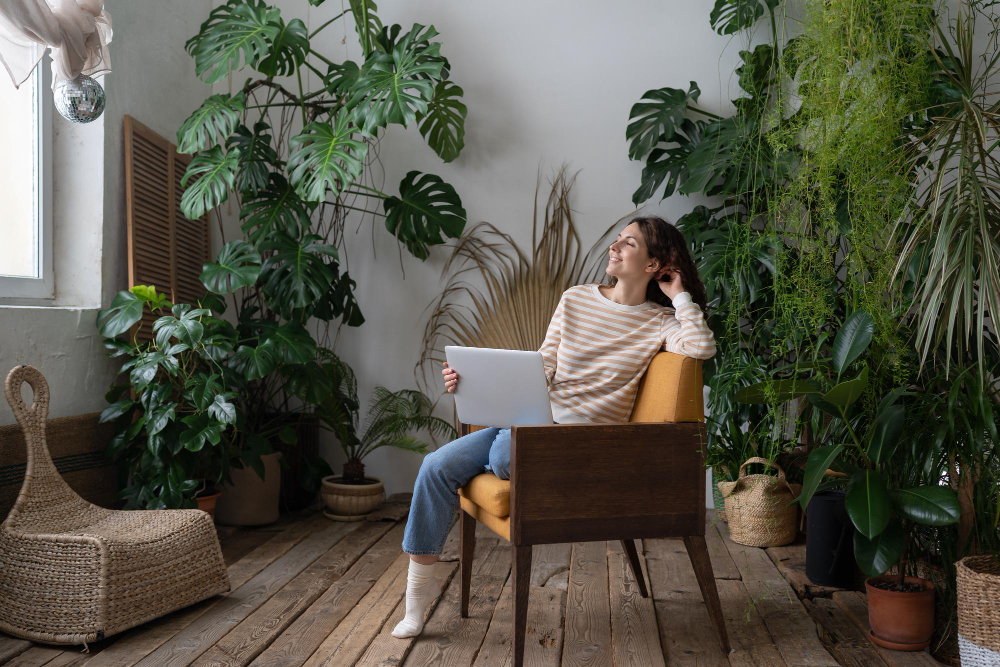 In an open-concept family house, the strategic placement of plants can work wonders as natural dividers, skillfully defining distinct living spaces without the need for physical walls. Imagine the elegance and functionality of tall, leafy plants such as the majestic fiddle leaf fig or the graceful bamboo palm.
These green guardians can effortlessly demarcate your living room from the adjacent dining area or carve out an intimate and inviting reading nook amidst the spaciousness. The beauty of this technique lies in its ability to infuse character into your home while preserving that coveted open and airy ambiance—an ideal backdrop for family gatherings and everyday life.
By seamlessly incorporating plants into your interior design, you create visual interest, add a touch of tranquility, and subtly guide the flow of your living space.
Hanging Gardens: Incorporating Greenery from Above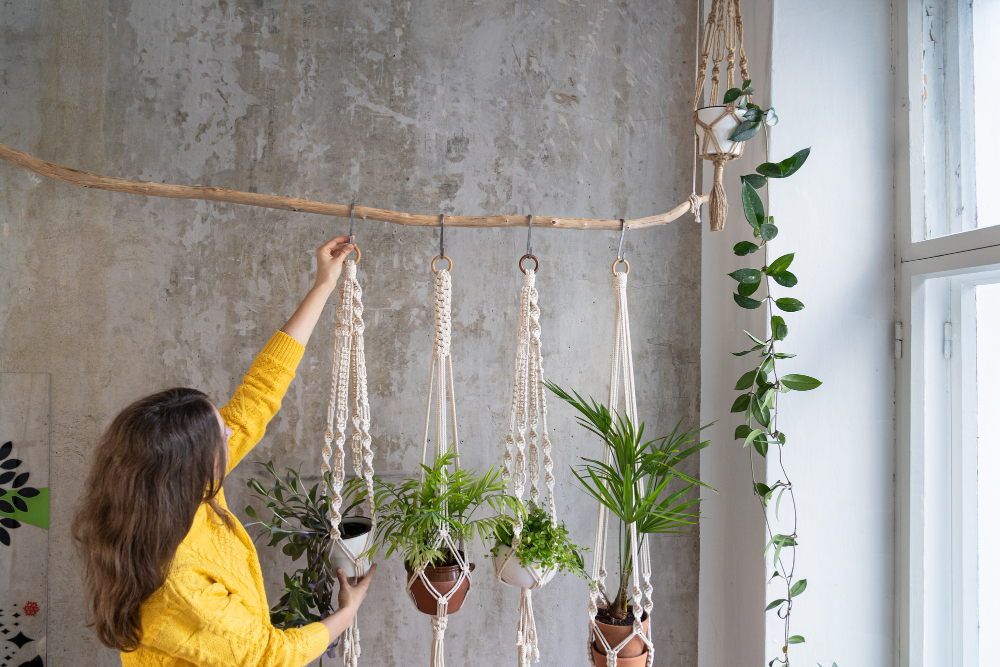 If you find yourself grappling with limited floor space or harboring a desire to explore the world of vertical decor, then it's high time you delve into the enchanting realm of hanging gardens. This innovative approach to plant decor allows you to make the most of your vertical real estate, transforming your family house into a captivating oasis of greenery.
To embark on this botanical adventure, all you need are a few ceiling hooks or wall-mounted planters, which will serve as the canvas for your verdant masterpiece. By suspending trailing plants like ivy, pothos, or the delicate tendrils of spider plants, you not only utilize the often-overlooked space above but also introduce a delightful touch of whimsy into your family home. 
Customizing Planters and Pots
Elevating the visual appeal of your plant decor is a delightful journey of creativity and personalization. One splendid way to embark on this design adventure is by customizing your planters and pots.
As seen at JBDConcepts.com, these seemingly humble vessels can be transformed into captivating works of art that harmonize seamlessly with your interior design. A superb way to begin this customization journey is by selecting paint colors that harmonize and complement your existing decor.
Consider choosing hues that evoke a sense of serenity, such as soft pastels for a tranquil ambiance or vibrant jewel tones for a dash of energy and vibrancy. By thoughtfully painting your planters, you create a harmonious visual connection between your plants and the surrounding decor, resulting in a unified and polished look.
Plant Care: Nurturing Your Green Companions
Finally, don't forget that proper care is essential to keep your plant decor thriving. Regularly water and fertilize your plants, and ensure they receive the right amount of sunlight.
Create a watering schedule that aligns with your family's routine, and involve your kids in plant care, teaching them about responsibility and the beauty of nature. Healthy plants not only beautify your home but also contribute to improved air quality and overall well-being.
The Takeaway
Incorporating plants into your family house decor is a wonderful way to infuse life, color, and vitality into your living space. Plants not only serve as beautiful decor elements but also promote a serene and healthy atmosphere for your loved ones.
By carefully selecting plants, strategically placing them, and customizing your planters, you can transform your family home into a lush and inviting haven that reflects your unique style and nurturing spirit. So, go ahead, embrace the power of plants, and watch your home come to life in a green and vibrant way!
Continue reading: