Last updated on November 14, 2020
Looking for ways to add new window treatments in your kitchen? Here are the best ideas for your inspiration.
When it comes to the kitchen, window treatments have a lot more options than in any other room of the house. You can use virtually any type of treatments from except maybe for drapes and curtains.
The most commonly used treatments in kitchen design are blinds, shades, shutters, film, and many variations of them. Below is a list of the best and most popular ideas that you can use in just about any kitchen style. So check them out for your inspiration.
What's Inside
Window Trim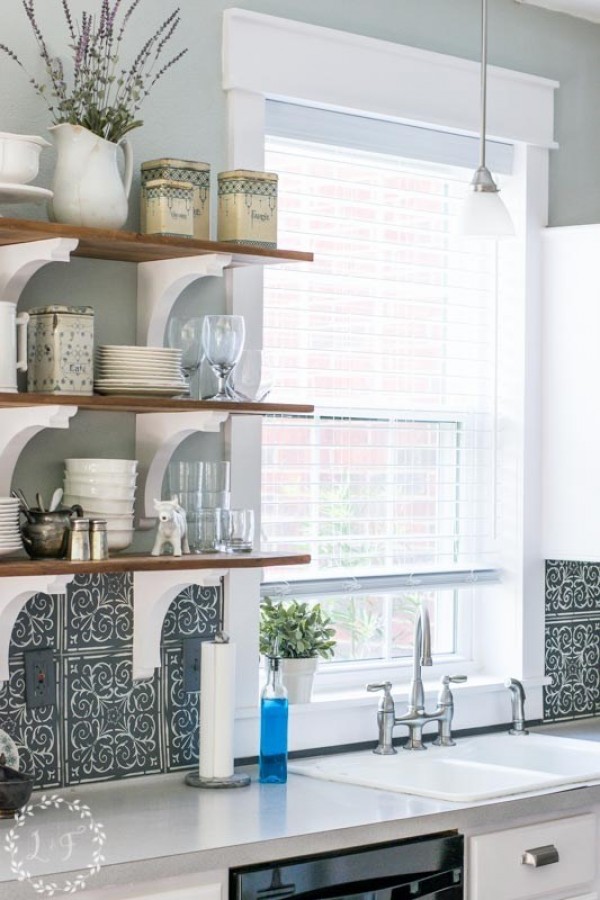 The window trim is more than window treatment. It adds architectural interest to the kitchen and tons of decor value. It also makes a small window look more prominent. The best part is that we've found this website where the blogger has made their own DIY window trim, and you can do it too. Check it out for inspiration.
Roman Shades and Window Shadings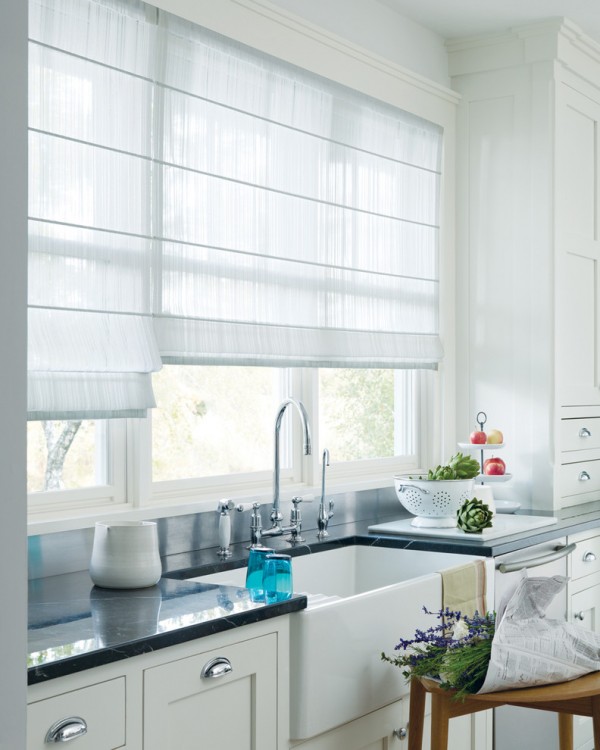 Roman shades offer more than privacy and natural lighting control. They add tremendous decorative value to the kitchen. And while the above example shows white seethrough Roman shades, they do come in a wide variety in fabric styles and patterns. It's a great option to consider.
(Faux) Wood Blinds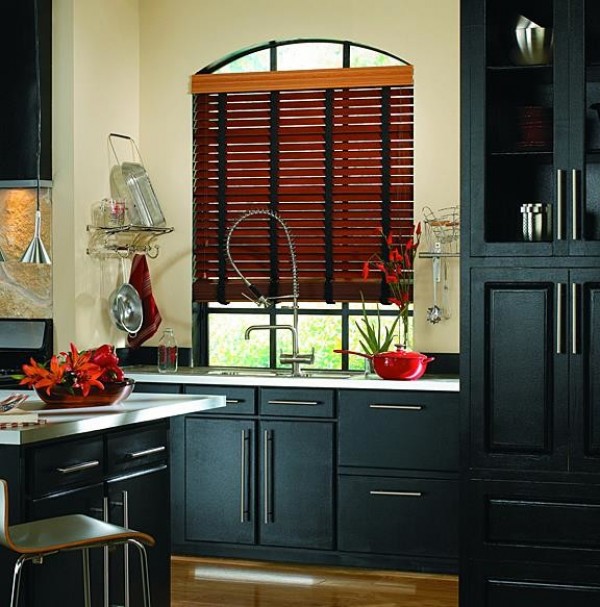 Wood blinds can be made of real wood, or they can be faux. The latter is gaining in popularity as opposed to the natural wood. But in any case, they offer the classy look that you may want to consider. Need more alternatives? Paint the wood white and you a have stunning farmhouse decor accent.
Cafe Curtains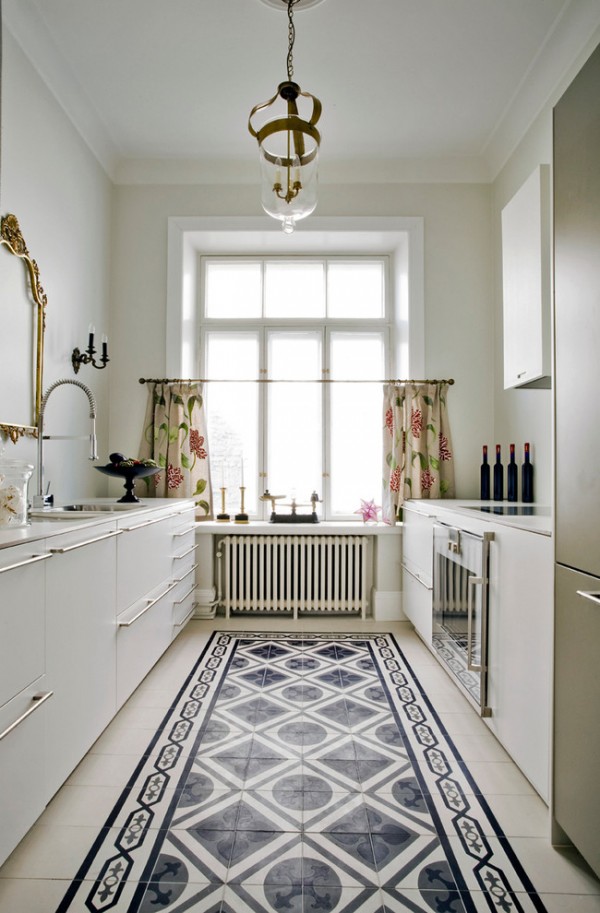 Cafe curtains are the most underrated kitchen window treatments. They offer the best of two worlds, privacy below the eye level and they let the natural light in through the upper part of the window. You can also get them in many different styles, which opens up a whole world of options for you.
Plantation Shutters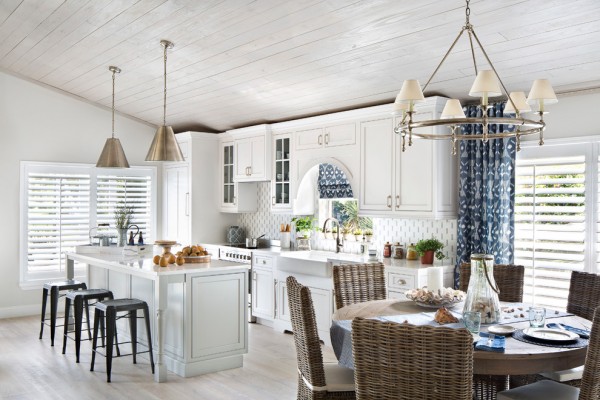 Plantation shutters make a great functional addition to kitchen windows not so much a decorative accent. They do the job well, but you may need extra curtains on them if you want to make the windows look pretty.
Seethrough Shades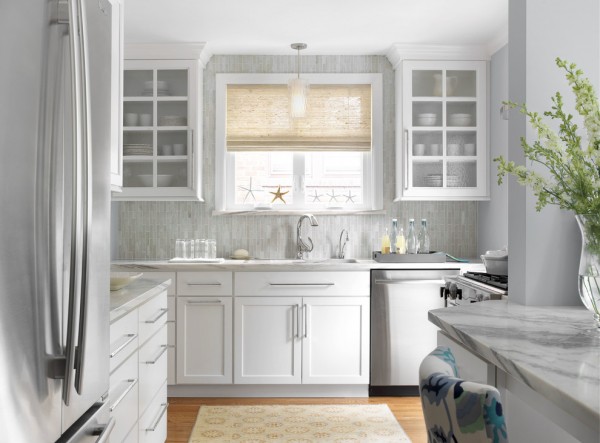 The see-through material offers the best combination of privacy, lighting, and aesthetic value. They are one of the cheapest options too. So if you're looking for something that does the job, looks good, and isn't expensive, this type of window treatment may be the best choice.
Kitchen Valances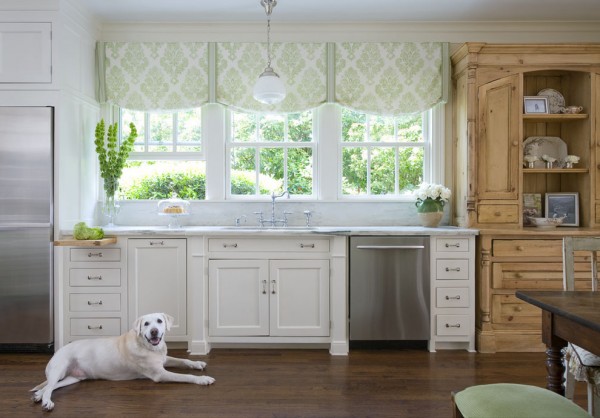 Kitchen valances must be one of the most impressive window treatments that can change the room's look completely. Not to mention the variety of options you have of choosing the design of valances themselves.
Window Shelves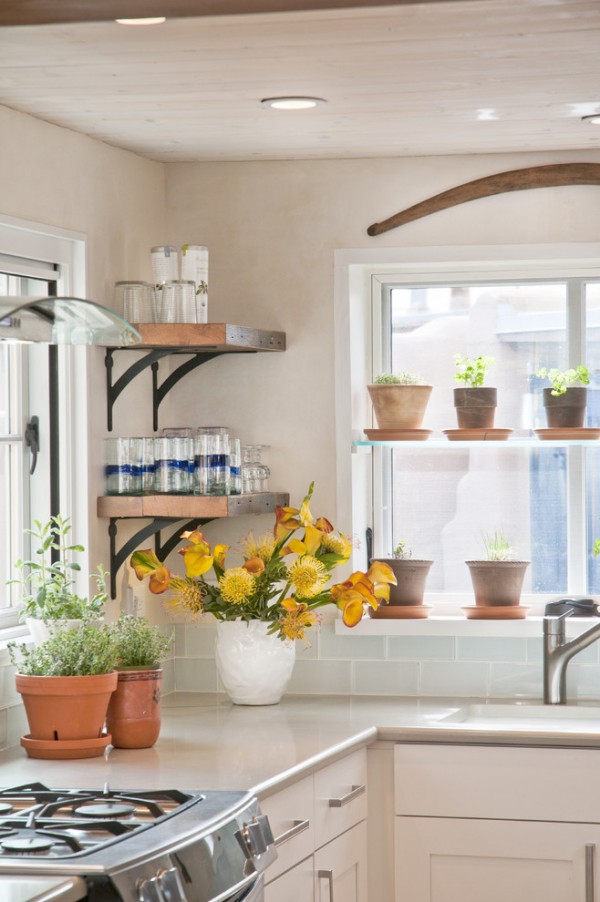 Yes, you can have window shelves as a kitchen window treatment. They can provide style and decor value depending on how you use them. And they offer extra storage space for small kitchens. You have to use glass shelves for this to obstruct minimal light.
Bamboo Shades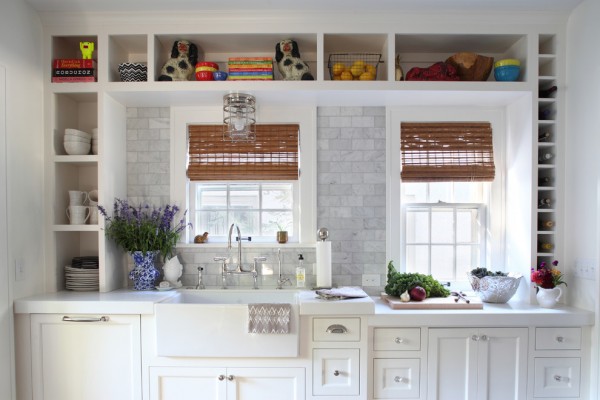 Bamboo shades are all about natural and sustainable design. They offer the natural wood look and fit many different design styles. As you can see in the picture above, bamboo makes a nice contrast in an all-white classic kitchen.
Window Film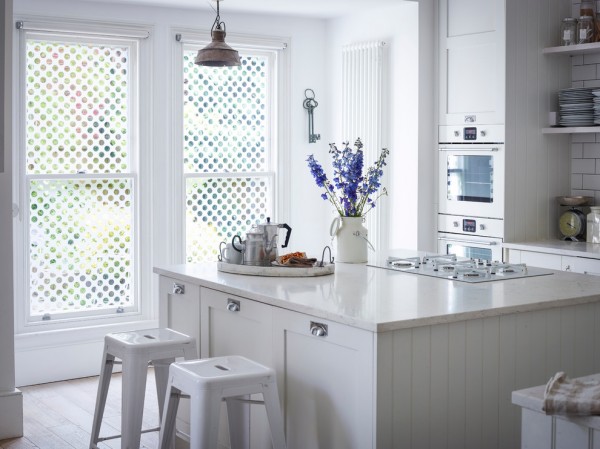 A window film is a treatment option that saves space. You don't need fixtures nor window space to add film. On the downside, it cannot roll up and always obstructs natural light. The upside is that you can choose any pattern and color you like, thus creating an accent akin to stained glass.
Venetian Blinds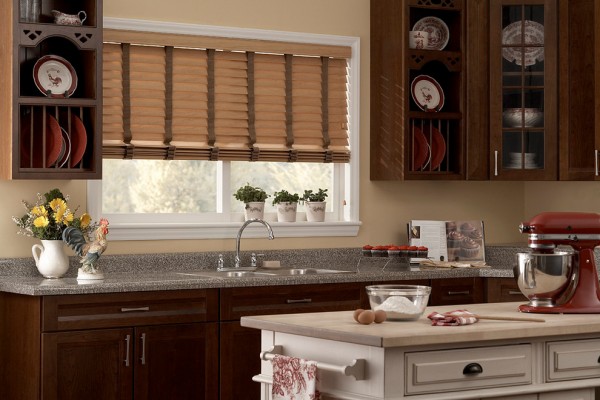 Venetian blinds are another classy option that can either add a luxe accent or a vintage one. It's up to you which style you choose. They aren't cheap and can pose to be tricky to operate sometimes. But we can all sacrifice that for so much decor value.
Window Shutters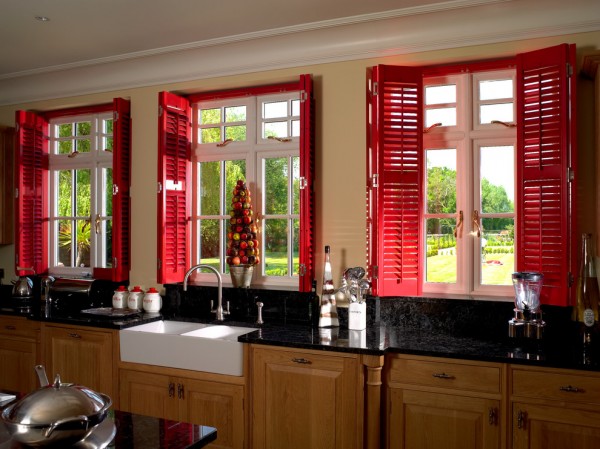 Window shutters aren't widely used anymore. But that's also the reason they give the kitchen so much character. Shutters may be irreplaceable when trying to create the farmhouse look too. One thing is for sure; you will need an exceptional kitchen to use them.
Roller Shades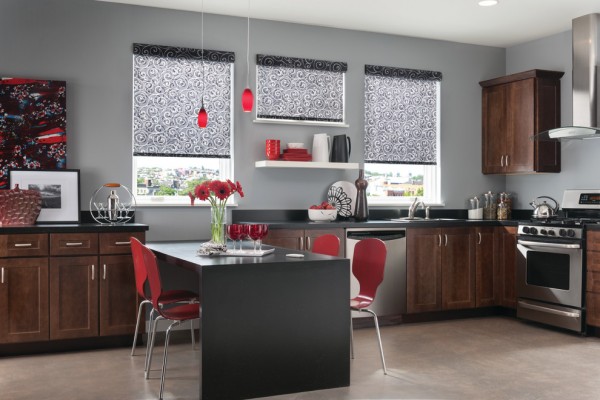 Roller shades are all modern. They are inexpensive, functional, and stylish. What more do you need? This may be the go-to option unless you're looking for something more unique.
Continue reading: