Last updated on November 23, 2023
Explore innovative man cave wet bar ideas because they can significantly elevate your unique entertainment space, making it the envy of your buddies.
These are my unique design concepts made using design tools. I hope you find them inspiring!
Dive into a treasure trove of fresh and unique man cave wet bar ideas, curated with an eye for the extraordinary. While classics have their charm, the goal here is to rethink and redesign the concept of man cave wet bars from novel perspectives.
To further fuel your inspiration, resources to the best of existing ideas will be available at the end. Buckle up to explore this inventive list designed to ignite your imagination and revolutionize your man cave.
Let the journey begin!
What's Inside
Prohibition Era Inspired Hidden Bar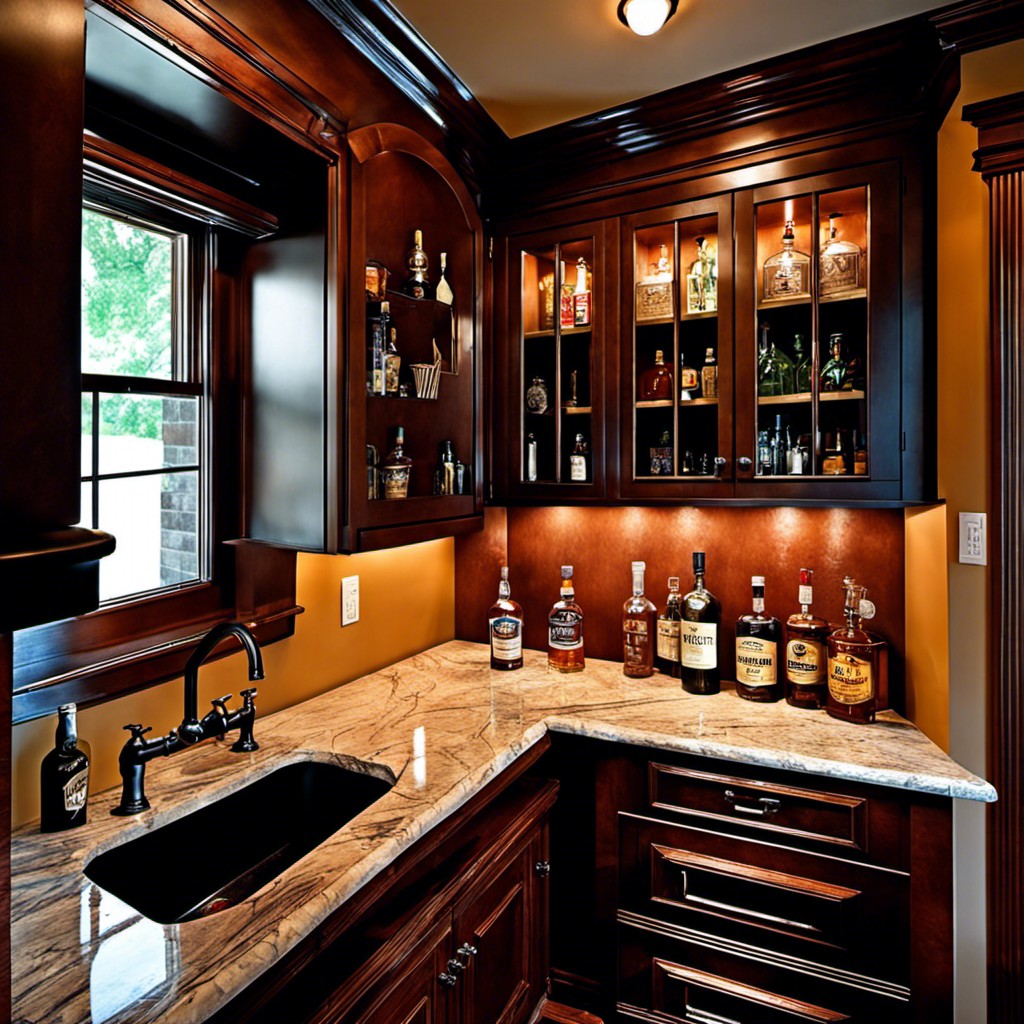 As a nod to speakeasies of the 1920s, this style focuses on intrigue and novelty, adding an unexpected twist to your man cave. Key features include hidden entrances or compartments, such as bookcase doors or pull-out drawers, adding a touch of mystery to your wet bar.
A mix of dark-stained wood, upholstered leather, and vintage art pieces, can set the desired tone. Enhance the overall aesthetic with vintage bottles and antique bar tools.
Lighting plays a crucial role. Opt for low, warm lights with dimmers to allow adaptability. Vintage table lamps or chandeliers can give the perfect authentic feel.
Utilize vintage antiques like gramophones, rotary dial phones or a jukebox to complete the look.
Moreover, don't forget the classic 1920's staples such as oversized ice buckets, heavy-bottomed crystal glassware, and an old-fashioned cocktail shaker.
All these details provide not only a functional wet bar but a secretive hideaway that will transport you back in time.
Luxurious Liquor Display Cases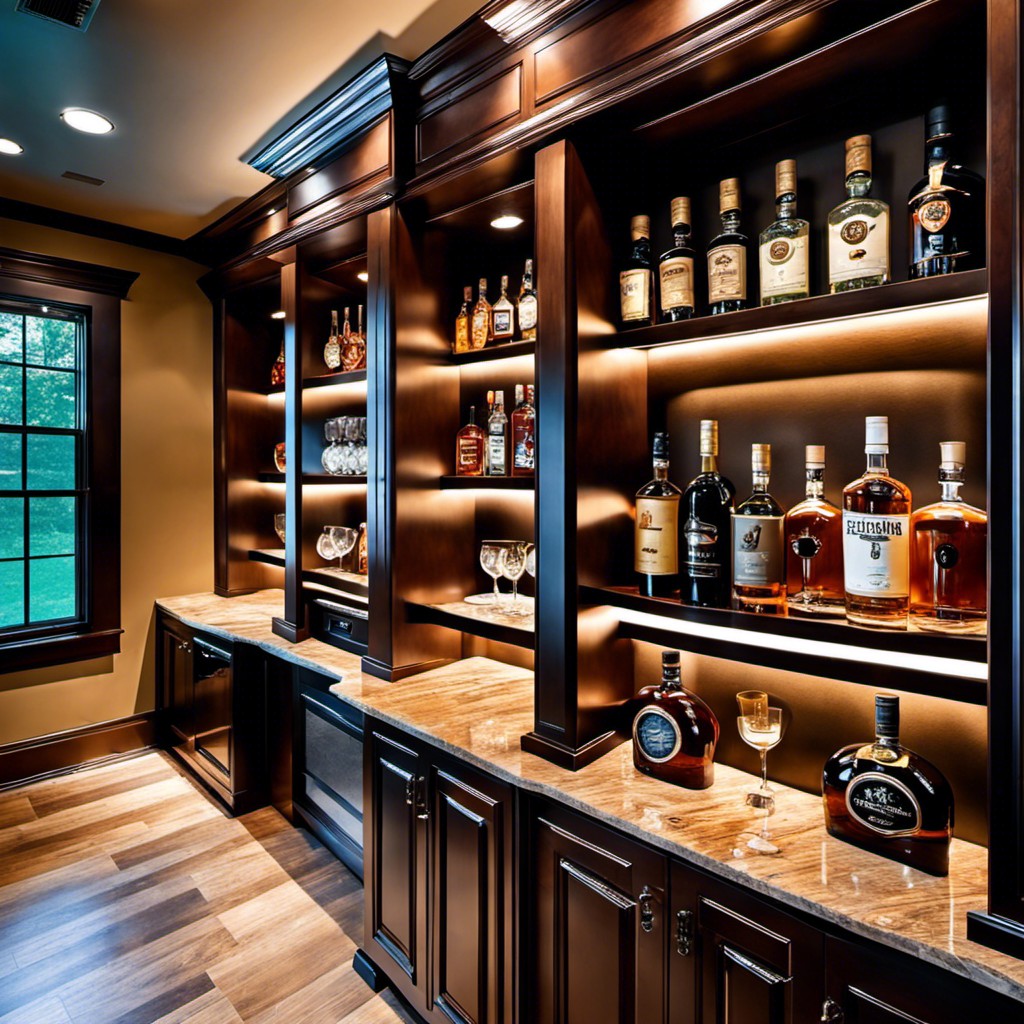 A high-end approach to showcasing your liquor selection is all about the right display case. Consider incorporating glass-fronted cabinets, enhancing both accessibility and aesthetics.
LED lights can be used to highlight individual bottles, providing a glamorous spotlight effect.
Incorporating crystal decanters and various glassware types into the display will add a touch of sophistication.
A wine rack or a cooled cabinet for your white wines and champagnes is another luxe addition.
Accentuate the area with a mirrored back wall for depth and additional brightness.
Customized drawers for mixers and bar tools keep all essentials within reach yet out of sight.
The idea is to find a balance between lavish visuals and practical utility.
Low-Key Outdoor Tiki Theme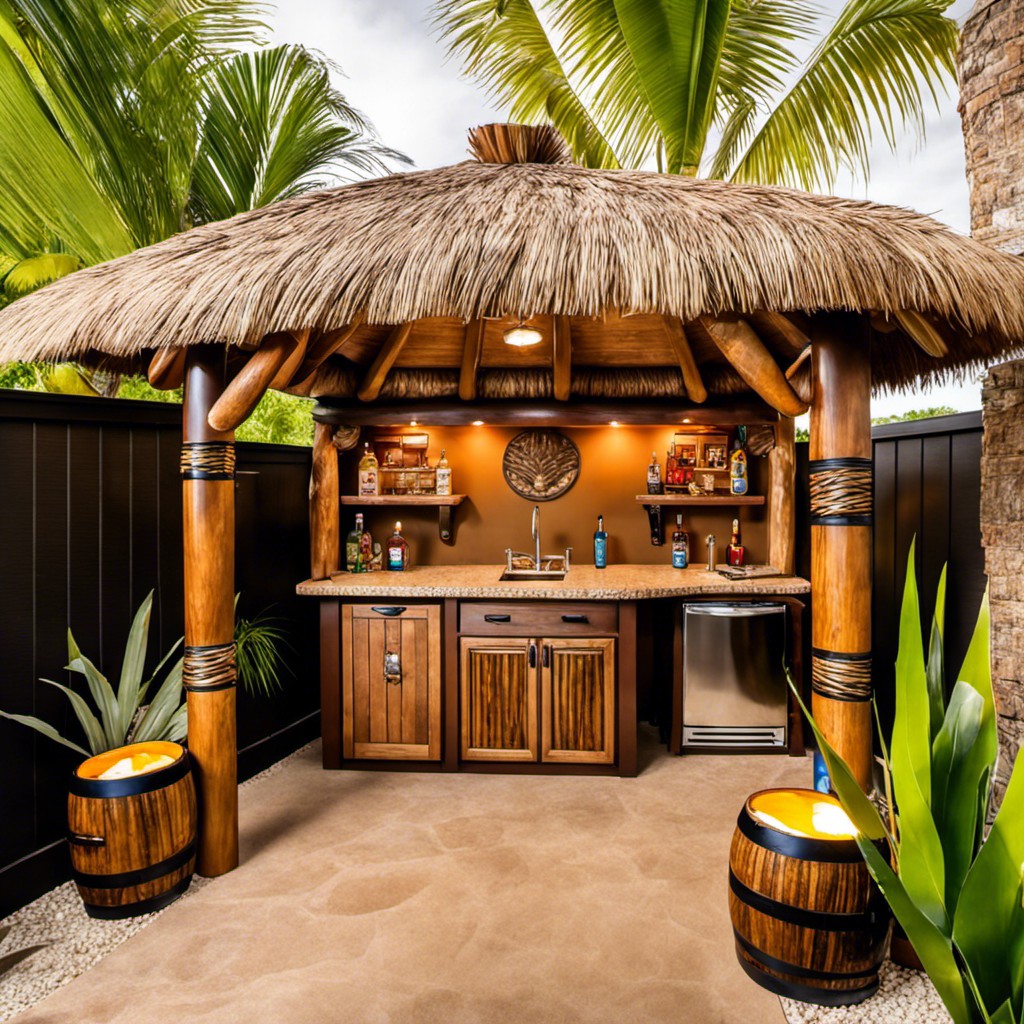 Carrying an essence of the exotic, this concept caters to the fans of tropical aesthetics. Here, bamboo plays a starring role – think bamboo bar stools and a matching counter, tied together with natural fiber ropes for a truly rustic look. Thatch roofing, a common feature in Tiki culture, is a must to impart an authentic South Pacific vibe.
Incorporating elements like tribal masks and torches as part of the décor further elevates the Tiki ambiance. You could even go a step further, adding a mini waterfall or a bamboo fountain for a soothing auditory experience. For the final touch, consider upholstering the bar stools with printed fabric featuring Polynesian motifs or tropical flora and fauna.
Of course, serving tropical cocktails such as Mai Tais, Piña Coladas, and Singapore Slings is key to living up the Tiki bar fantasy. Stock up on vibrant umbrellas, twisted paper straws and colorful glassware to add a playful punch to your drinks.
Gaming Arcade Meets Pub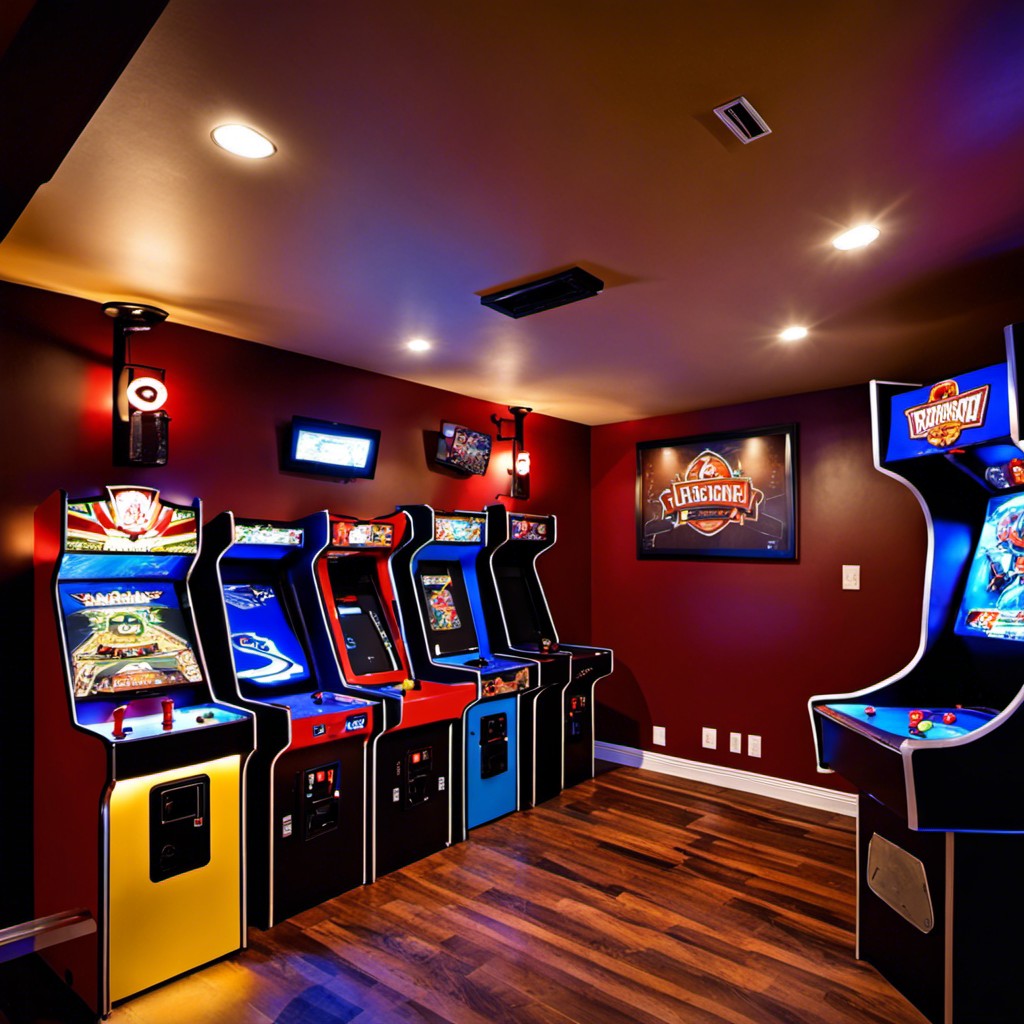 To bring this concept to life, start with a pool table or a vintage pinball machine as a centerpiece surrounded by arcade games. You could add an area with a setup for console gaming too.
A bar counter with tall bar stools provides the perfect spot for players to refuel between games. Make use of low hanging lights to create a cozy pub-like atmosphere.
To add the final touches, display vintage game posters and memorabilia. Don't forget a jukebox or integrated sound system for the indispensable background music.
After all, the best part about this setup is the inviting blend of playfulness and relaxation.
Barrel Themed Pub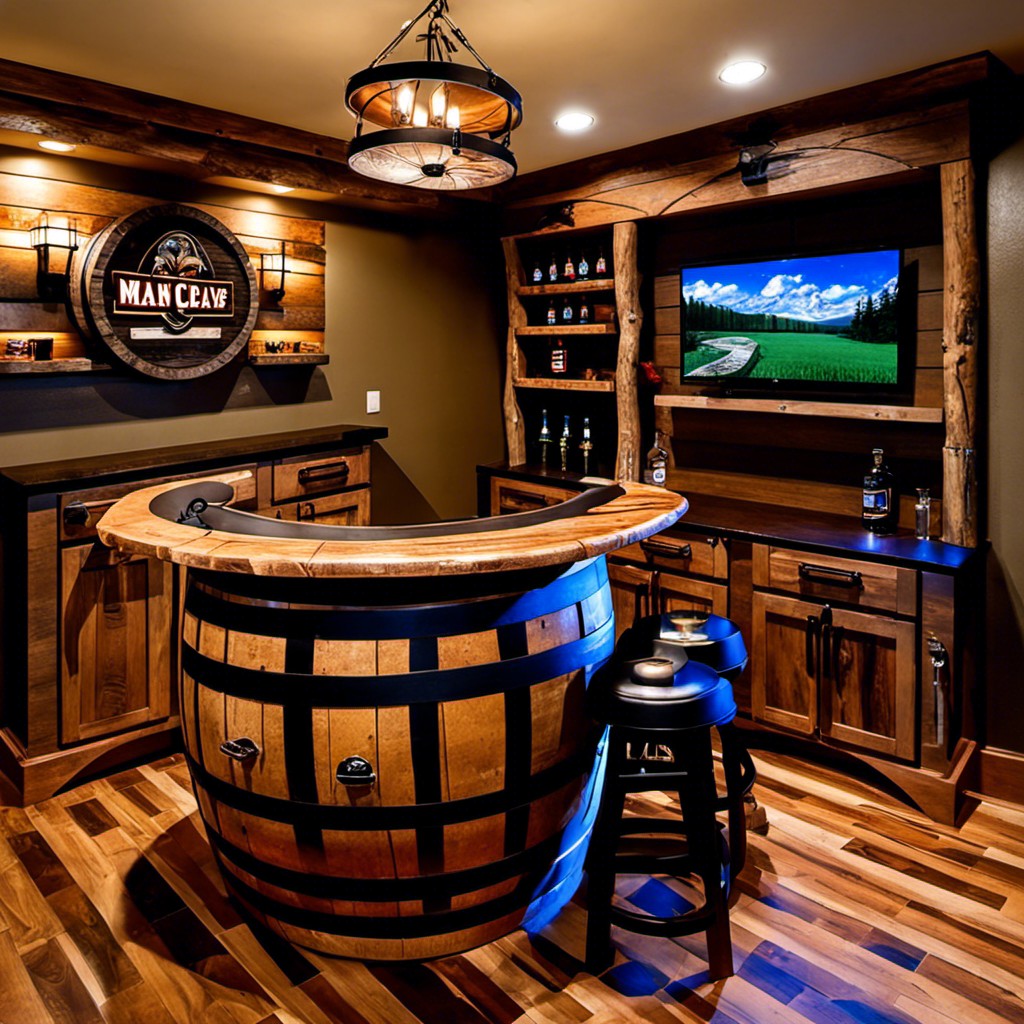 Delving into the charms of a Barrel-Themed Pub makes the space nostalgic, and entwines a rustic aura guaranteed to leave a strong impression on visitors.
Essential elements for this extravagant touch would include:
Oak Barrel Furniture: Re-purposed barrels can serve as innovative alternatives for traditional bar stools and tables, carrying the theme in a unique, stylish manner.
Barrel Sink: Why let the fun stop at furniture? Install a sink made from a half-barrel, maintaining consistency within the decor in a functional way.
Vintage Barrel Bar Counter: Create a remarkable centerpiece for your man cave by constructing your bar counter out of old whiskey or wine barrels.
Barrels as Storage: Another great addition would be using barrels as cabinets. They're visually appealing, maintaining your theme while offering practical storage.
Mural or Wallpaper: Consider installing a mural or wallpaper depicting a scenic vineyard or brewery to round out the theme.
Consider lighting to accentuate the ambiance – warm-hued bulbs yielding gentle, atmospheric lighting. With these components, your man cave will mirror the alluring interiors of an authentic pub.
Optical Illusion Mirror Bar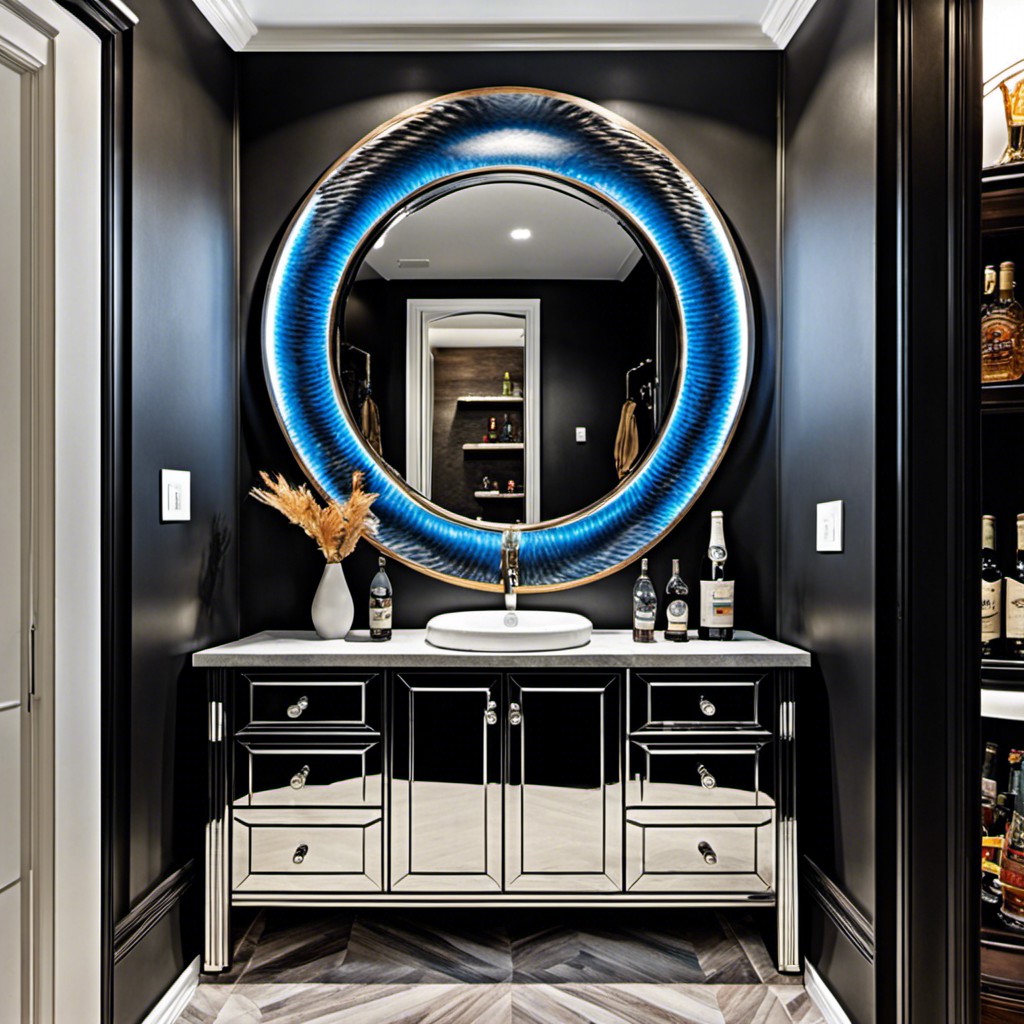 Mirrors create the sense of a bigger, more spacious room. Use this trick to your advantage, install mirrors on the back wall of the bar to create an illusion of depth.
On top, bottle racks can show off your liquor collection, adding to the effect. Round-off the visual illusion with mirrored barware, further enhancing the dramatic appeal. Add a few strategically placed lights to bounce reflections, and you have a mesmerizing display that's both visually striking and conversation-sparking.
Selecting the right style of mirrors can also contribute to the overall theme. An ornate, classical mirror can add a dash of grandeur, while a sleek, modern mirror conveys minimalist elegance.
Aesthetically pleasing and functional, the optical illusion mirror bar turns a small space into a seemingly expansive, spectacular spirits station. Remember to clean your mirrors regularly to keep them smudge-free and reflective.
Stone-textured Bar Counter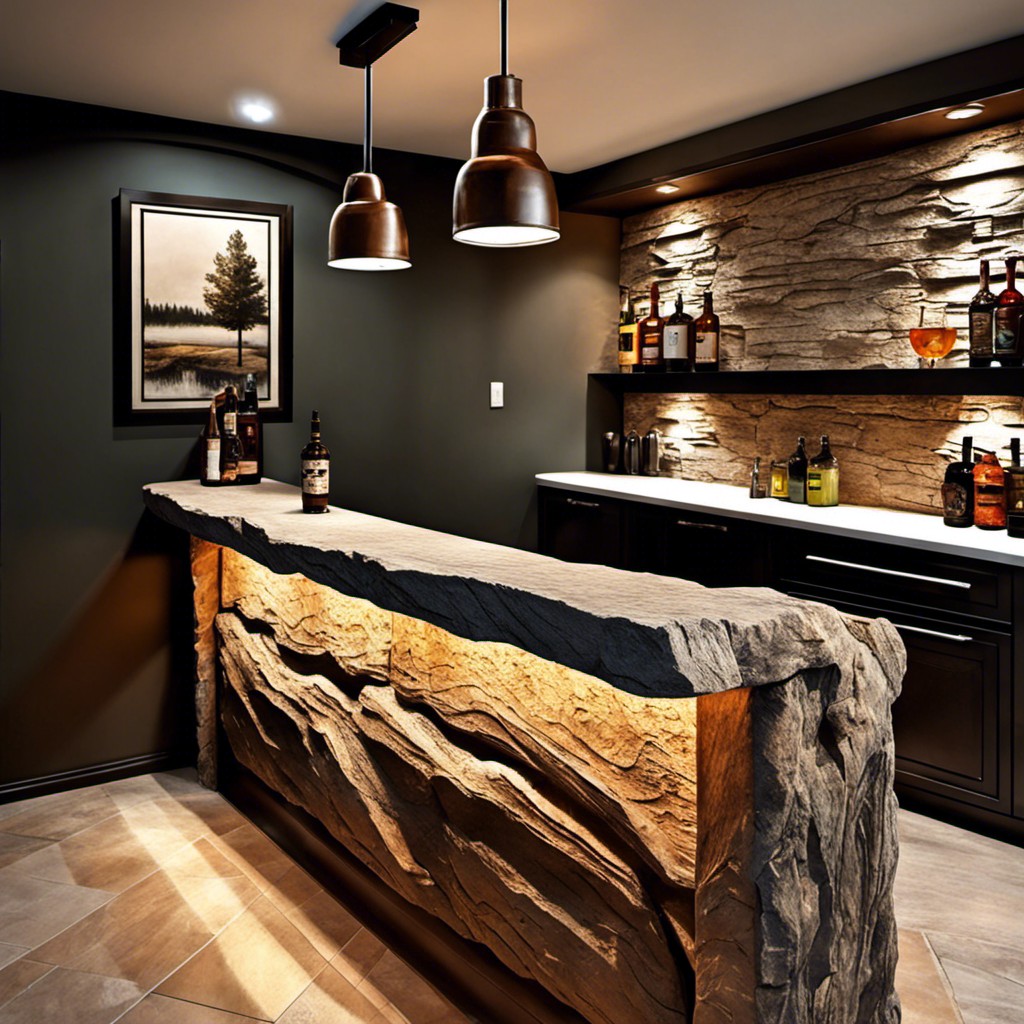 To begin, imagine an unrefined yet sophisticated look to mirror the robust spirit often found in a glass of the best single malt. Think about incorporating natural elements like stone or rock in your design as they promise both a tactile and visual treat.
The textures that a stone-inspired bar provides are unique, offering the perfect balance of rustic allure and elegance. You can consider a blend of granite, slate, or even artificial stone counters to introduce a commanding presence in your man cave.
Natural tones of stone blend effortlessly with practically any color scheme you choose, creating a harmonious atmosphere. Furthermore, it allows for a diverse range of bar stool designs, from wooden stools for a more rustic feel or plush leather ones for a luxurious touch.
Next, while stone countertops might steal the show, don't overlook the bar front. Stone-veneer is an excellent choice for the front of your bar, further solidifying the rustic theme.
Lighting also plays a significant role in enhancing the stone texture. Use under-counter lighting for a warm, welcoming glow, accentuating the unique patterns and veins inherent to the stone.
Moreover, stone-textured bars are incredibly durable and low maintenance, perfect for entertaining with a hint of rugged charm. Cleaning is straightforward, a simple wipe down does the trick.
Customizable, versatile, and exuding timeless appeal, a stone-textured bar delineates a definitive man-cave pub and provides a grand yet relaxed setting for those memorable evenings.
Vibrant Neon Lit Bar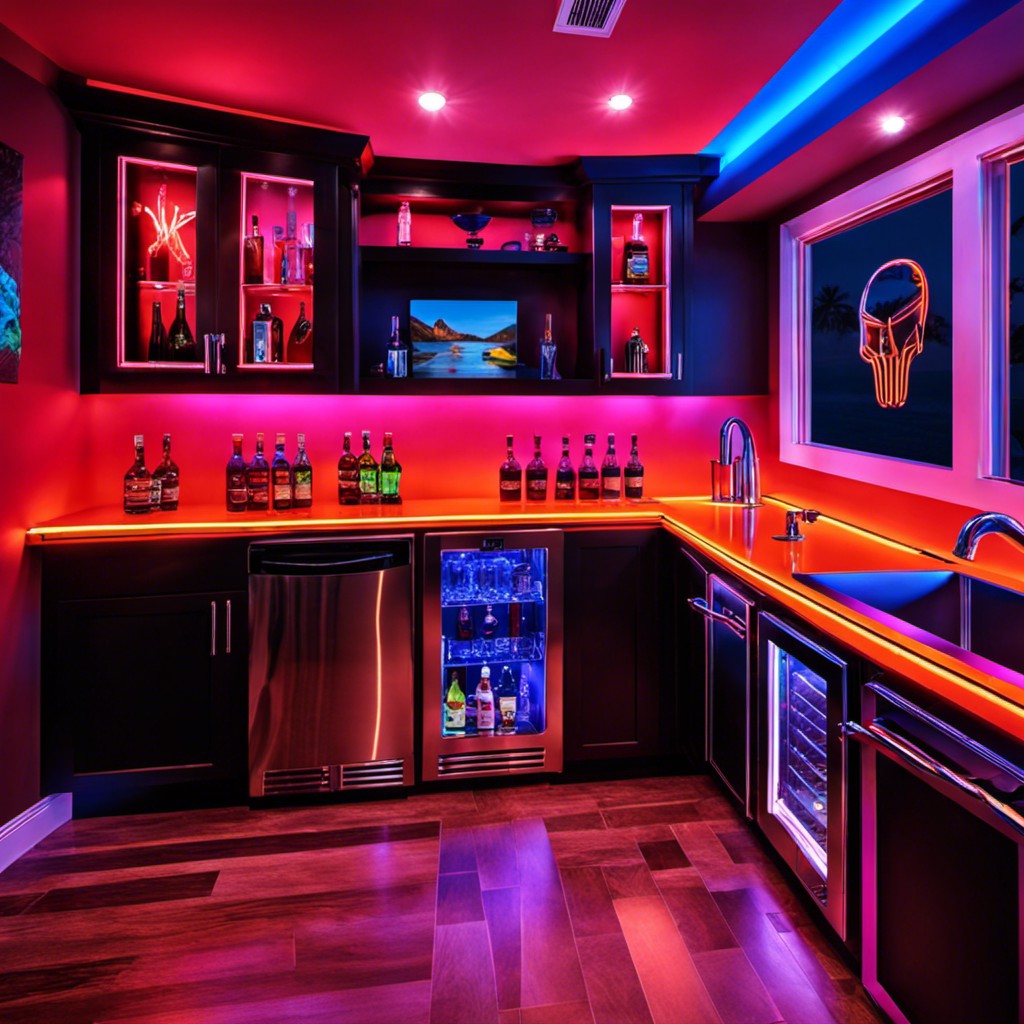 Embracing bright, eye-catching hues delivers a vivacious atmosphere. Capitalize on the visually striking prowess of neon to add an exciting pop of color and a pulsating life source to your man cave.
Be selective with lighting. Strategically install neon strips along the edges and corners of your bar. Backlighting shelves with neon not only showcases your liquor collection but also contributes to the overall color scheme. Remember, neon comes in a spectrum of color options, so there's always a choice to match your personality or theme.
For an added wow factor, opt for custom neon signage. Whether it's your name, favorite sports team, or a cheeky phrase, it brings personalization to a whole new level.
Always remember to balance your neon. While it's a powerful tool, too much can overwhelm the space and dilute your desired effect. Complement your neon with subdued, softer lighting fixtures to maintain a comfortable ambiance.
Lastly, the material palette matters. Metals, mirrored surfaces, and lustrous materials complement neon lights well. By reflecting the light, they amplify the glow, creating an immersive neon-lit experience that's sure to impress.
Retro 50's Soda Shop Theme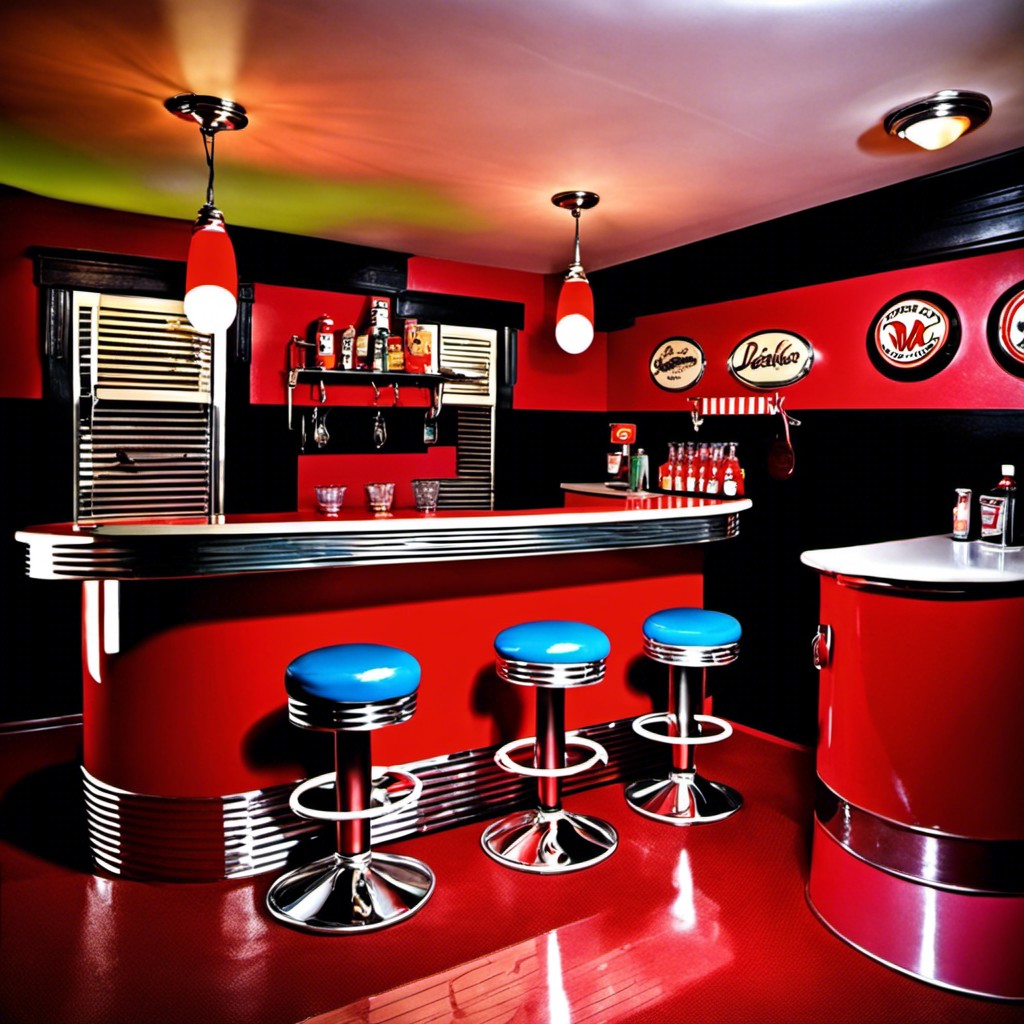 Incorporating elements such as red, black, and white colour schemes, diner-style furniture, and vintage decoration pieces will be key in capturing this theme.
Chrome barstools can be chosen for seating, while checkered floor tiles will enhance the nostalgic effect.
Consider installing a vintage jukebox for both form and function, providing authentic 50's music and acting as an impressive statement piece.
Use neon signs and vintage posters as wall decoration, and to complete the look, add a popcorn machine or an old-school coke dispenser.
By focusing on these details, you can easily transport anyone who enters your man cave straight back to the glory days of the 1950s soda shop.
Classic Irish Pub Interiors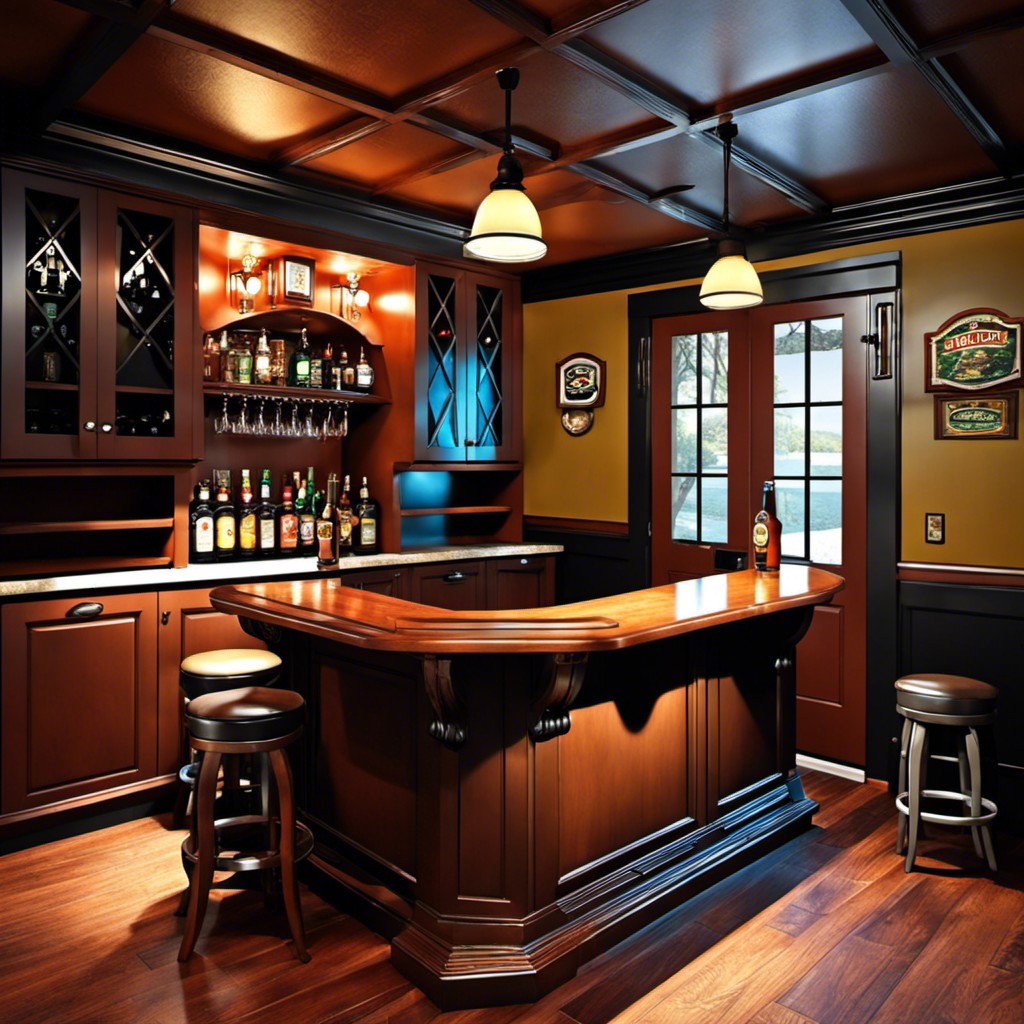 In embracing the Irish charm, dark wood paneling goes a long way in giving that timeless aura. To achieve this traditional atmosphere, consider decorative crown molding and sturdy shelf units for showcasing a variety of liquor bottles. Adding brass accents on taps, light fittings, and bar trimmings can create an attractive contrast with the dark wood.
Choose comfortable swivel barstools and upholstered tavern seats for an authentic feel. Classic stained glass windows or panels contribute to the cozy and warm illumination, while vintage Irish posters, brewery mirrors and green accents can enhance the overall pub vibe.
Don't forget to add the quintessential dartboard or a pool table for the Irish pub gaming tradition. Infuse an authentic touch by introducing characteristic elements such as Guinness merchandise or traditional pipe displays.
Irish pubs are all about community and camaraderie. A round, centrally placed bar allows for easy conversation-driven social interaction. When executed with finesse, your man cave will not just be a bar, but an excursion to the warm, chatty pubs in the heart of Dublin!
Whiskey Distillery Inspired Design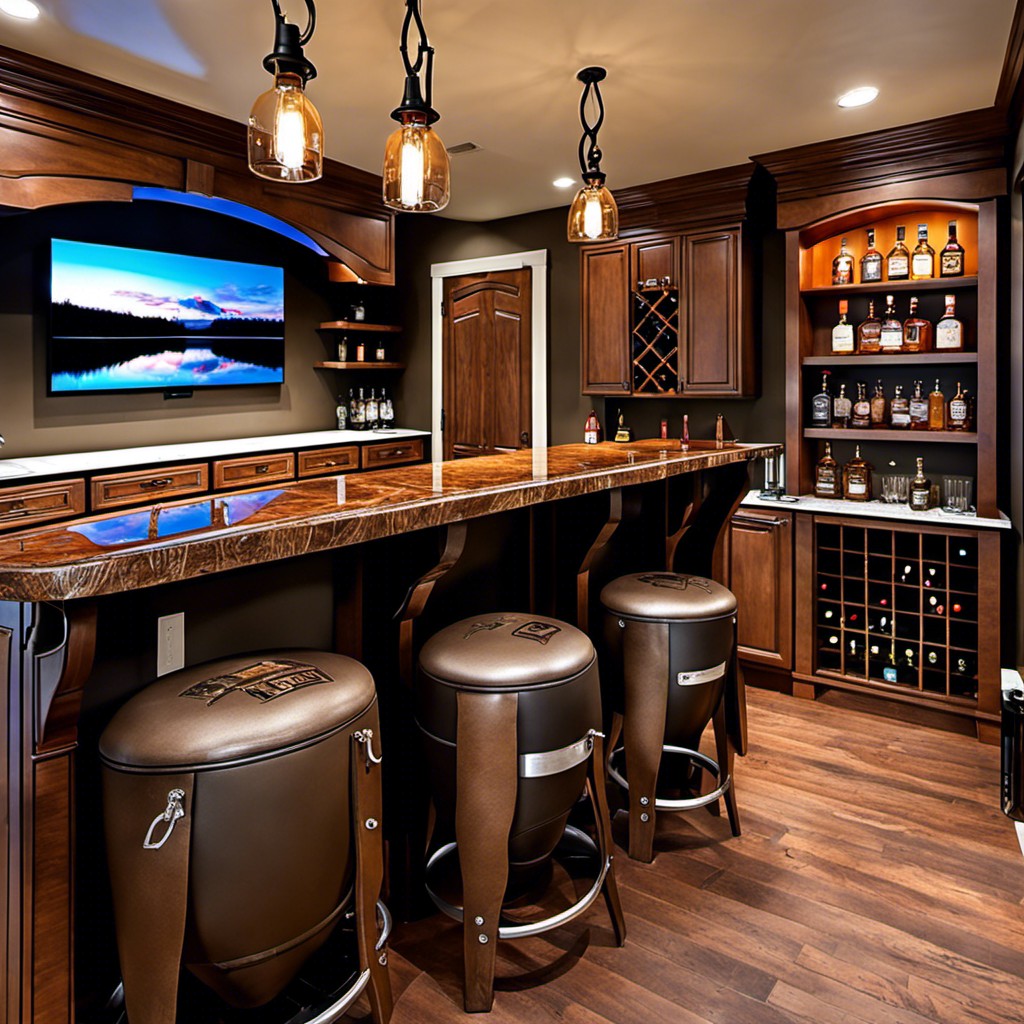 To pull off this unique design, take inspiration from the inside of a traditional distillery. Start by incorporating elements such as reclaimed wood for the bar counter and shelving. This material not only creates an authentic, rustic feel but is also a nod to the barrels used in whiskey aging.
Exposed brick walls can enhance the industrial, rugged charm typical of distilleries. Opt for copper pendant lighting, reminiscent of the copper stills seen in a distillery. A chalkboard bar menu adds a touch of whimsy while providing a practical way to list spirits on offer.
In lieu of bar stools, choose leather club chairs for a sophisticated touch. For decor, think about showcasing vintage whiskey bottles or prints showcasing the whiskey-making process. All this contributes to crafting a cozy yet masculine space, where one would feel as though they've stepped straight into a distillery.
Auto Fanatic's Garage Styled Bar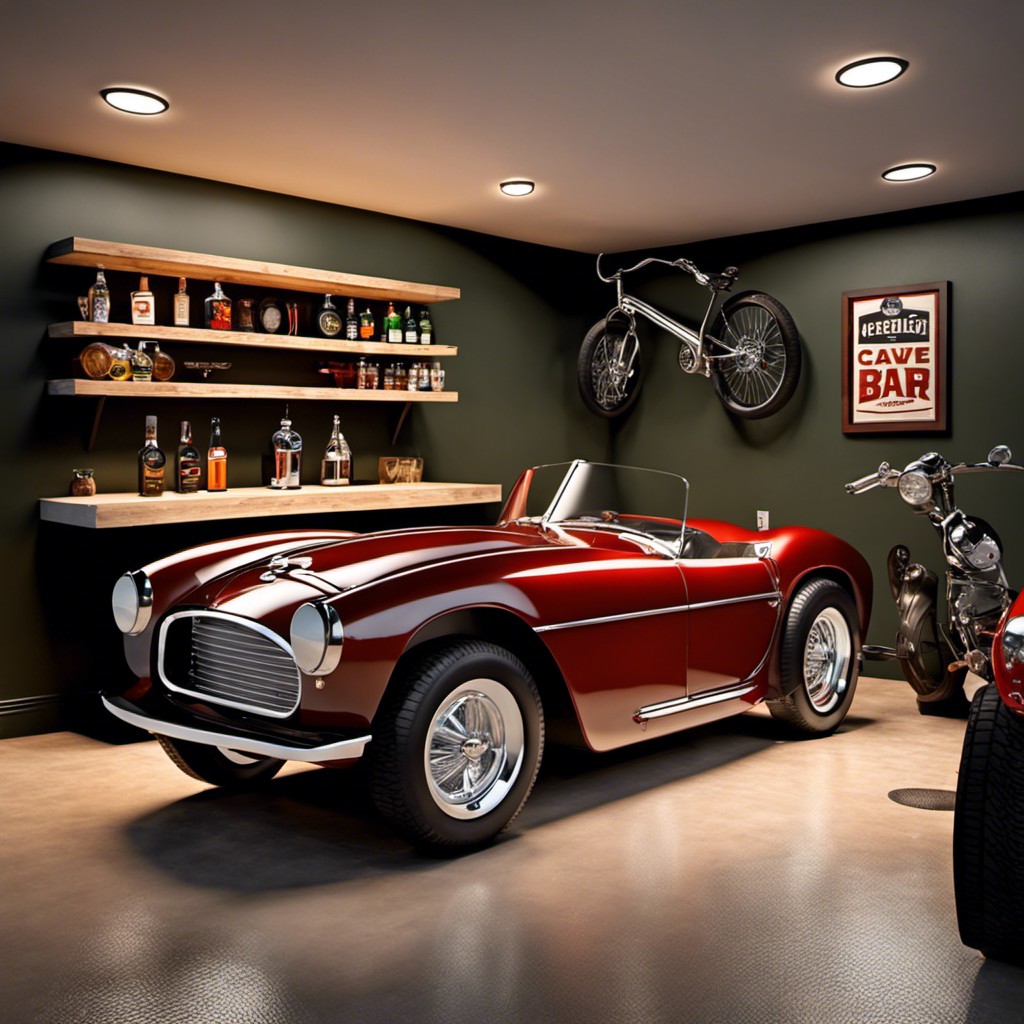 Embracing the grit and character of a classic car garage, this bar design style reverberates with the charm of raw materials and retro memorabilia.
Key elements include:
Using metal bar stools and industrial-style fixtures to impart an authentic garage atmosphere.
Rustic wooden countertops paired with gear-shaped stools capture the mechanic's workspace.
Decanters and drink glasses displayed in vintage toolboxes, a perfect nod to the garage essence.
Exposed brick walls or wall murals featuring vintage cars, racing flags, or old gas station signs amplify the theme.
Repurpose actual vehicle parts such as grilles, car doors, or tire rims for unique decor pieces, or even as a conversation-starting bar top.
Neon signs or gasoline pump liquor dispensers add that perfect finishing touch.
Illuminated Onyx Countertop Bar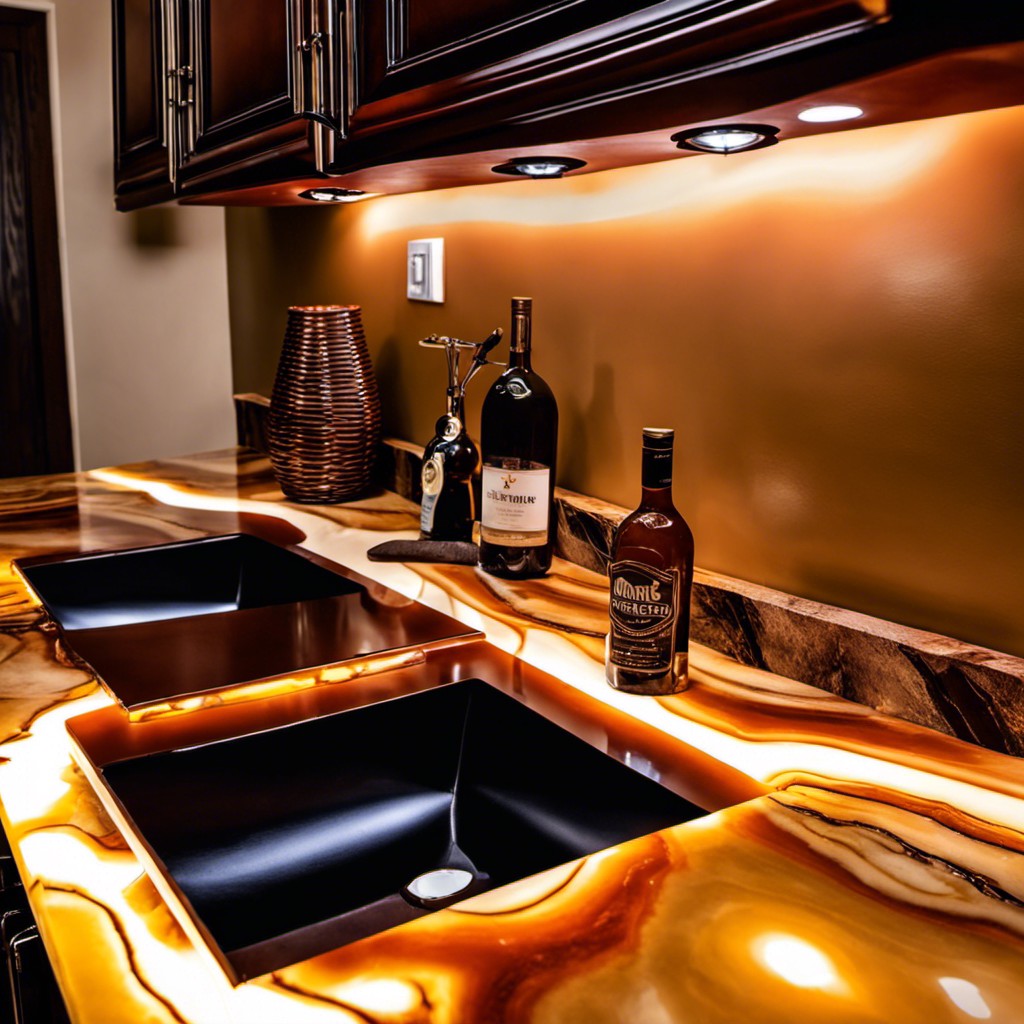 Accentuating the aesthetics of your man cave, consider a gleaming onyx countertop bar. This trendy design offers a unique combination of sophistication and drama to your space. Imagine a sleek surface of onyx paired with ambient backlight; this duo forms a visually appealing focal point with a high-end feel.
When planning, ensure to select the right onyx slab, one that enhances your man cave's decor scheme. Variations in color and pattern can significantly influence the overall ambiance. Choose patterns that align with your aesthetic preferences, enabling you to create a captivating bar area.
Lighting plays a critical role in showcasing the innate beauty of the onyx. Opt for LED lighting solutions configured to your bar's design. White and warm yellow lights emphasize the stone's intricate details, highlighting its unique patterns while creating an intimate lounging space. LEDs could be placed beneath or behind the onyx to provide the illusion of a glowing, ethereal surface.
Consider pairing the illuminated onyx countertop with contrasting bar stool colors and finishes for a balanced aesthetic. Black upholstered stools or polished metallic finishes work excellently against the luminous backdrop.
Finally, ensure your illuminated bar has suitable storage for glassware and beverages, keeping functionality in mind alongside glamour. Customized cabinets or open shelving tinted in dark shades can add an additional level of sophistication, making the onyx glow more pronounced while enabling easy access to bar essentials.
Cinema-Style Bar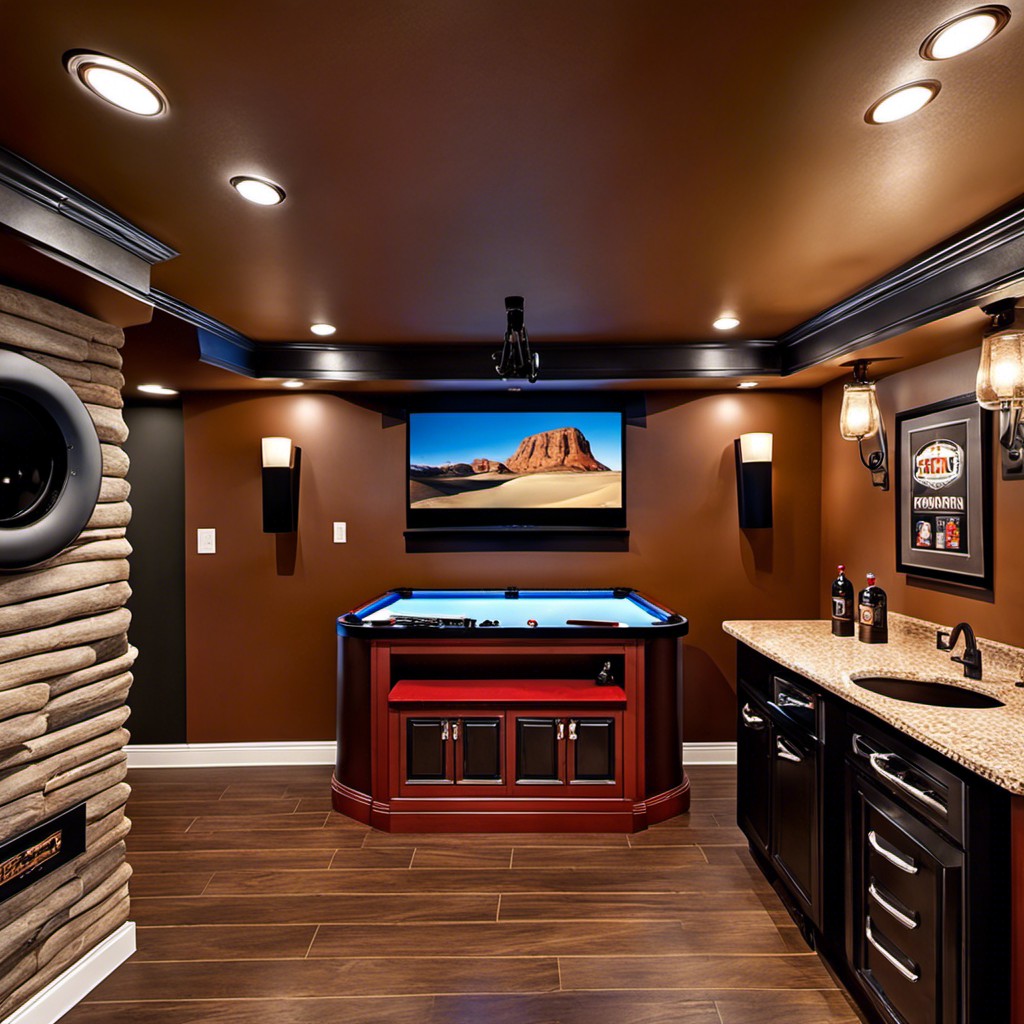 Transform your space by using vintage film posters and old school movie reels to accentuate the walls. Prop up a classic popcorn machine on a counter and ensure to have overhang lights dim enough to mimic a theatre's warm ambiance.
Opt for a counter modelled like an old-timey concession stand. Marquee letter lights spelling out "BAR" are perfect to give an extra cinematic punch.
For the perfect seating arrangement, consider incorporating director's chairs or even luxe theatre seats.
From carbonated sodas to buttered popcorn, reflect nostalgia of the golden era of cinema in your snacks and drinks menu. The equipment should cater to all classic cocktail requirements, for which you could include a retro soda dispenser.
Keep in mind, the key is to keep it classy yet fun. As the curtain falls, the design should lend itself to churning out stories, much like the cinema, with a cocktail twist.
Maritime-inspired Sailor's Tavern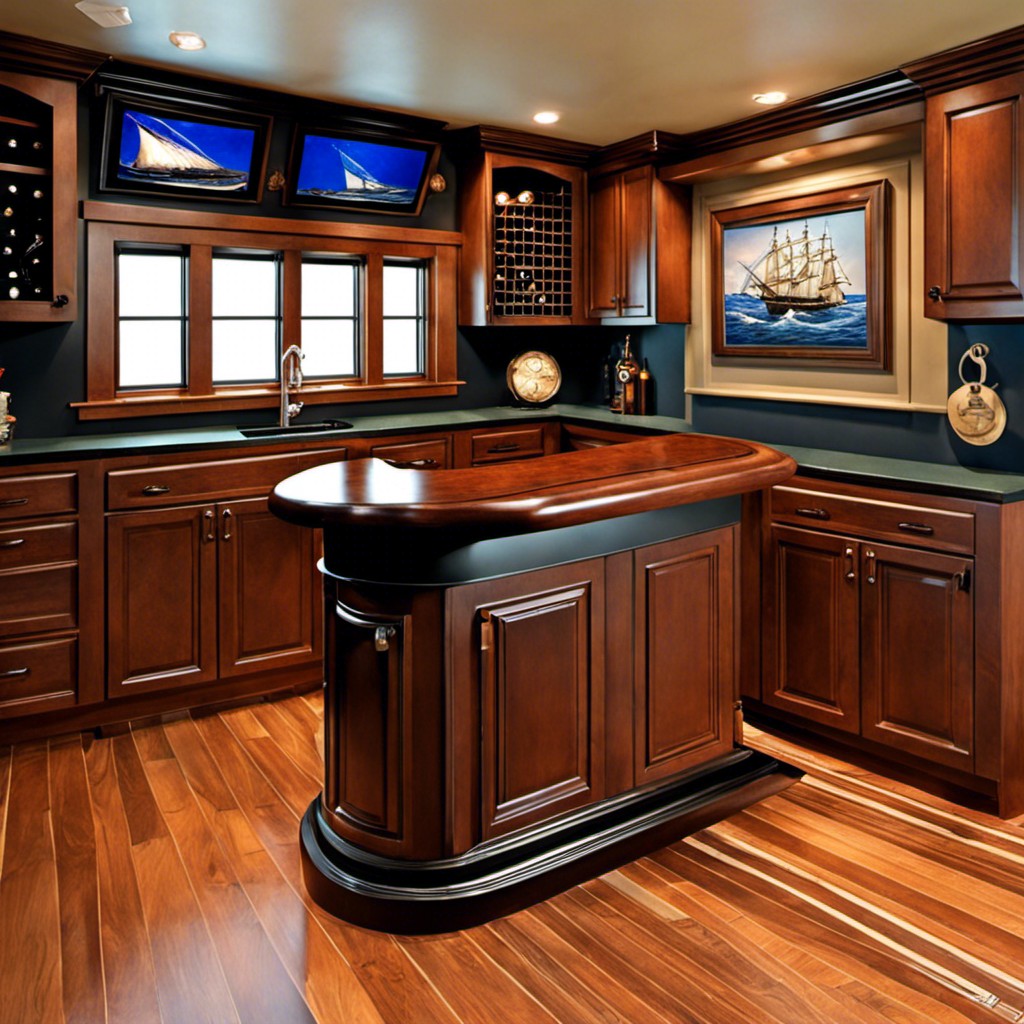 Bringing elements of the sea to the interior design, this concept relies heavily on nautical decor. To capture the essence of a maritime tavern, the bar counter could be crafted from timeworn wood resembling a ship's deck. Marine hues of navy, turquoise, and sea green can accent monochrome or neutral backgrounds, creating an authentic sea-themed color palette.
Artifacts like vintage ship's wheel, lifesaver, porthole mirrors, or sailor maps complement the overall setup. Traditional marine lighting, say, pendant lights crafted from sea glass or metal ship lanterns can offer a warm and rustic ambience. Using round stools and bar tables made of reclaimed wood enhances the rugged sailor feel. Brass fixtures and fittings, a small anchor or two, nautical ropes and fishing nets add finishing touches that transport you right into the belly of a pirate ship or a humble fisherman's dockside tavern.
BBQ and Brew Pub Style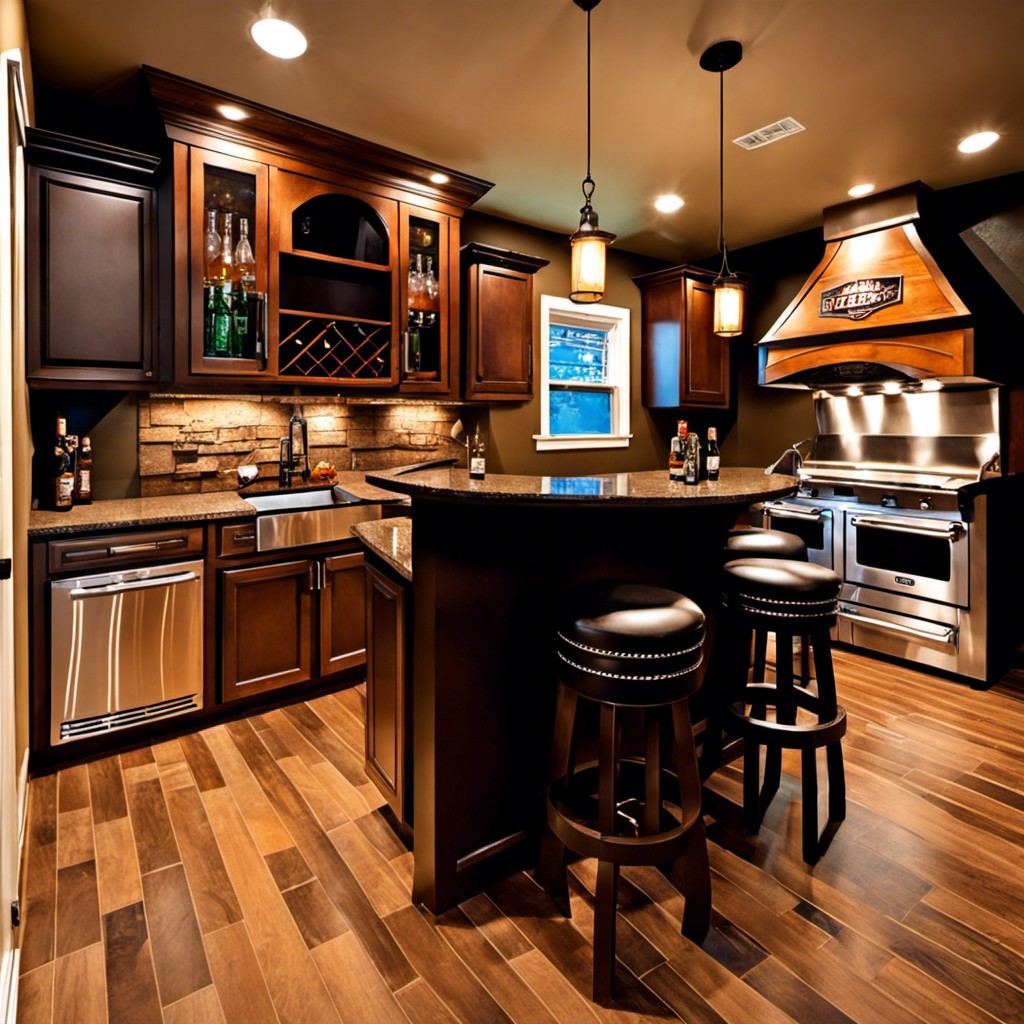 Recreating the atmosphere of a neighborhood BBQ joint and brew pub at home will effortlessly achieve a casual and comfortable ambiance.
1. Grill Area: Dedicate a section of the bar to grilling. An indoor electric smoker or grill would be perfect for whipping up favorite BBQ dishes.
2. Drinks On Tap: Install a beer tap system, an essential brew pub feature. Couple this with a selection of draft beers, giving options for unique tasting experiences.
3. Distressed Wood: Adopt rustic aesthetics using distressed wood elements for the bar counter, stools, and shelves.
4. Industrial Style Seating: Use industrial-style bar stools to maintain the relaxed brew pub vibe, ensuring the seating is comfortable.
5. Lighting: Hang Edison bulb lights for warm, inviting lighting that enhances the overall ambiance.
6. Décor: Opt for brew pub-style wall art, such as vintage beer ads or metal signs of popular drink brands, to evoke a welcoming, casual atmosphere.
7. Barware: Invest in basic pub glassware – pilsner glasses, stout glasses, and nonic pint glasses. For the BBQ feel, include a set of heavy-duty barbecue tools.
Remember, the BBQ and Brew Pub Style is all about the essence of good BBQ, craft beer, and a relaxed setting. It's about creating a space that feels like your favorite weekend hangout right in your own home.
Futuristic Compact Bar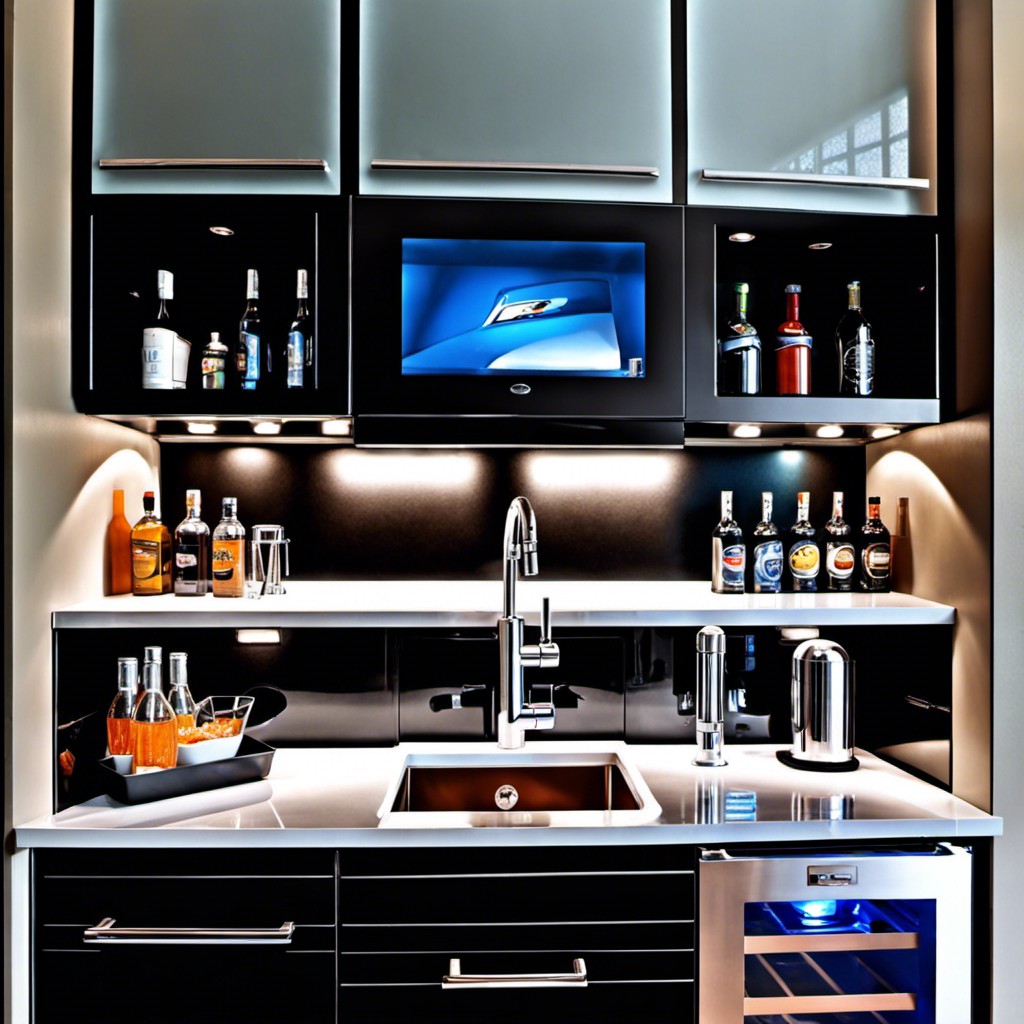 To create a sleek and modern atmosphere, opt for high-tech additions such as touch-activated taps, smart LED lighting, and a built-in cooler integrated into an ultra-modern design.
1. Smart LED lighting: These can set the mood and offer vivid color combinations to match any occasion or movie theme.
2. Touch-activated taps: This adds a professional feel and convenience, especially in compact spaces.
3. Integrated cooler: It can be fitted within the bar arrangement, keeping drinks chilled and within reach, promoting space efficiency.
4. Seamless finishes: Consider glossy surfaces, sharp lines, and concealed storage to emphasize the 'future' part of the theme.
Also, note that utilizing chrome, glass, or stainless steel can further enhance the sleek aesthetic that typifies futuristic designs. Each of these elements contributes to the look of a bar set in a modern, sci-fi-inspired environment.
Wall-Mounted Fold-Out Bar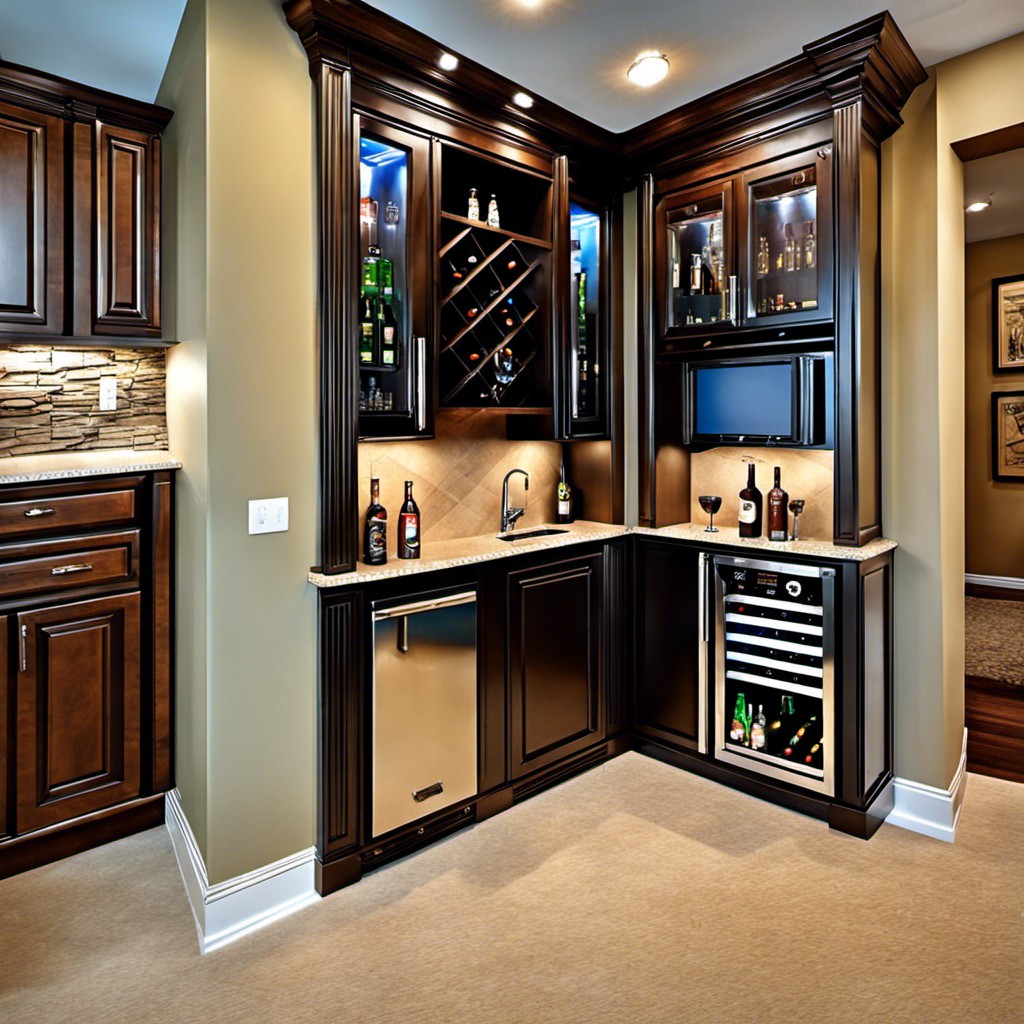 With space being at a premium in most man caves, efficiency is key. Using a wall-mounted fold-out bar can save precious room and still serve its purpose effectively. This ingenious solution blends with the wall when not in use, and when needed, it unfolds into a functional serving area.
Consider these aspects while planning:
Material Choices: Opt for sturdy materials like hardwood or metal for durability.
Installation: Ensure it's properly anchored to support the weight of bottles and glasses.
Space Management: Plan compartments meticulously for storing essentials like glasses, coasters, and gadgets.
Style: Match the aesthetics of the rest of your man cave – retro, modern, rustic etc.
Lighting: Incorporate under-bar LED lights for a cozy pub vibe.
A well-designed fold-out unit offers the perfect balance between practicality and style.
Authentic Oktoberfest Beer Hall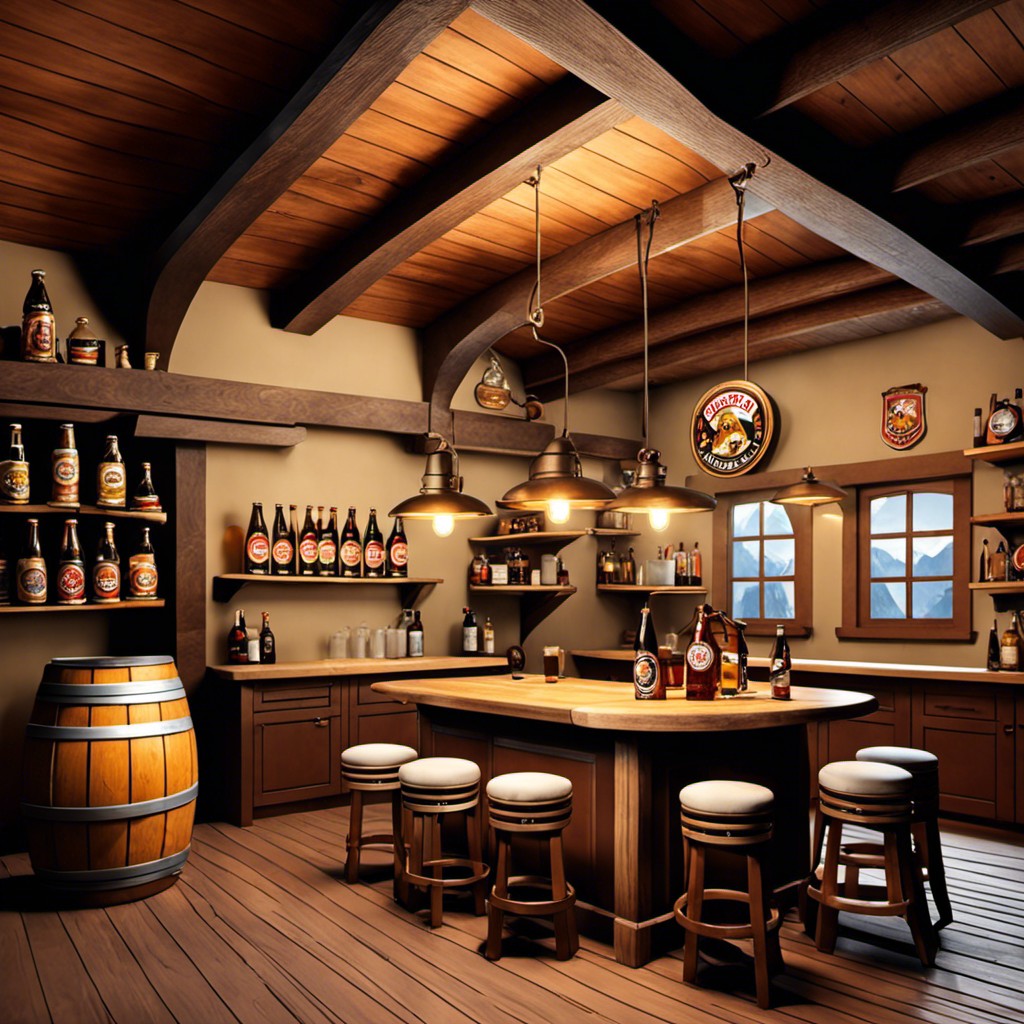 Embrace the Bavarian tradition by drawing inspiration from the communal festivity of Oktoberfest! This approach is all about large, communal tables and benches, fostering a jovial, shared experience. The palette tends to warm, earthy colors; think of rich woods and soft lighting from traditional German lanterns.
1. Ample Seating: Long wooden tables with paired benches are central to such Beer Halls.
2. Warm & Rustic Decor: Employ extensive use of wood and vintage posters as well as cultural elements such as lederhosen, pretzels, or traditional German hats for authenticity.
3. Keg or Barrel Storage: Display beer kegs or barrels prominently for added aesthetic appeal.
4. Reinforce German Theme: Use beer steins instead of regular glasses for the drinks.
5. Traditional Lighting: Hanging lantern-style lights can add to the authentic, warm, welcoming ambiance.
6. Built-in Taps: A beer tap system can be an excellent functional addition, allowing you to serve a variety of your favorite beverages.
Navigating through cultural history while designing a bar offers not only an engaging decor experience but also a rich narrative that visitors can relish.
Sports Arena Concession Bar Theme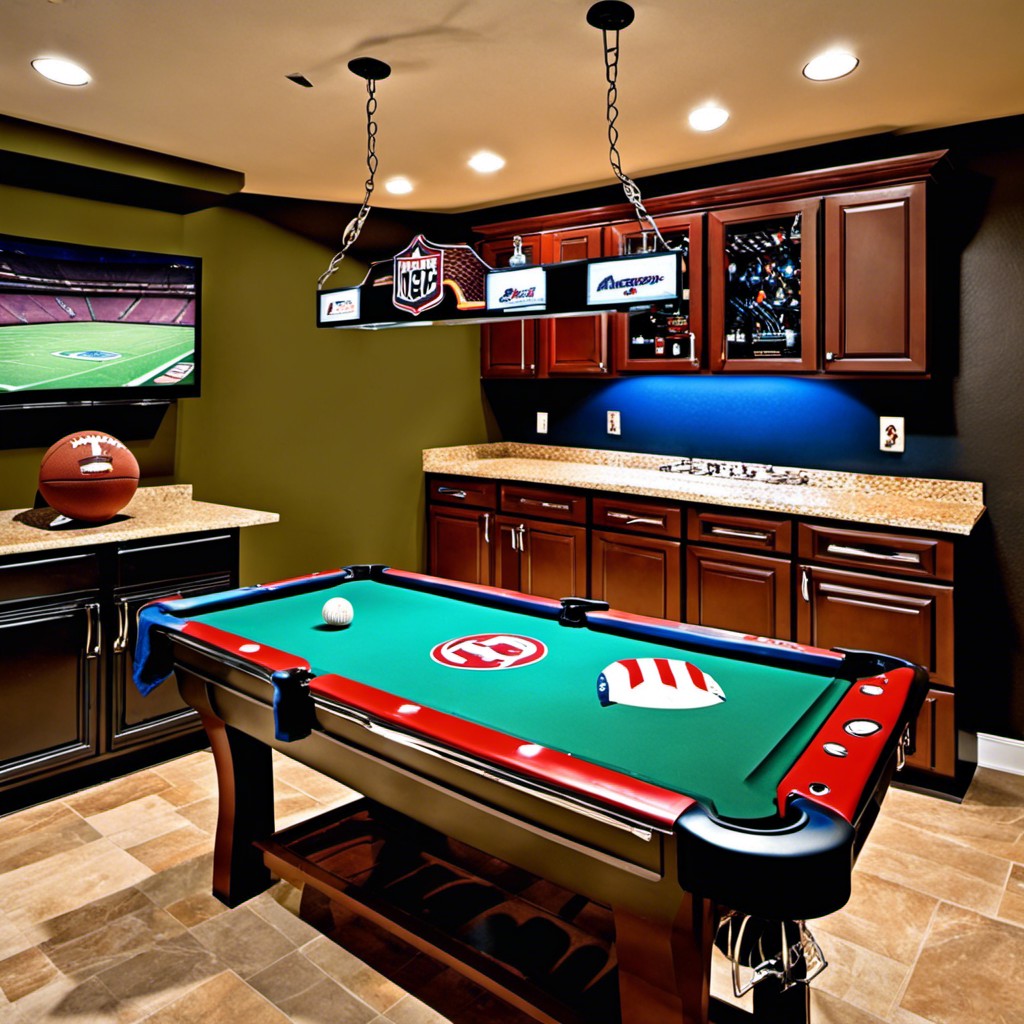 Having jerseys and memorabilia on display is just the start for bringing the excitement of the stadium into your man cave. Think about how much fun a concession stand is at a game, and imagine bringing that ambiance into your home.
1. Neon Signs: Use neon signage that replicates classic sports venues, illuminating your bar area with a glow that feels straight out of the big leagues.
2. High Bar Stools and Counters: Implement high countertop bar spaces and stools just like at the game. It provides ample seating and creates a true-to-life experience.
3. Sports Drinks and Snacks: Stock it with beverages and snacks associated with sports events. Opt for sports-themed cups and plates to boost the theme.
4. Commemorative Cups and Coasters: Souvenir cups from games attended and coasters featuring team logos can add a personal touch.
5. TV Screens: Consider multiple TV screens to show different games simultaneously. More screens equal less likelihood of missing that crucial play!
6. Pennant flags: Hang pennant flags of the favorite teams to boost the aesthetic and create an authentic vibe.
Remember, the Sports Arena Concession themed Bar is all about delivering the real game-day experience right to your man cave, complete with the thrill of the match and the unique atmosphere that sports arenas offer.
Ideas Elsewhere
Continue reading: