Last updated on December 2, 2023
Browse through these rustic stone backsplash ideas because they hold the transformative power to turn any ordinary kitchen into a warm and inviting cooking space.
I am proud to have written and illustrated the article on 20 Rustic Stone Backsplash Ideas, and I sincerely hope you gain as much inspiration and enjoyment from it as I did in creating it.
Rustic stone backsplashes can infuse your kitchen with a timeless and natural charm. These designs offer a unique blend of earthy colors, rugged textures, and organic patterns, creating a warm, inviting atmosphere in any home.
This article will provide you with a plethora of rustic stone backsplash ideas, covering a wide range of styles, materials, and installation techniques. Whether you're renovating your entire kitchen or just looking to update your backsplash, we've got you covered.
We'll delve into everything from traditional stacked stone designs to innovative pebble mosaics, ensuring you find the perfect fit for your kitchen's aesthetic. Stay tuned for an in-depth exploration of this enduring design trend.
What's Inside
River Rock Stone Backsplash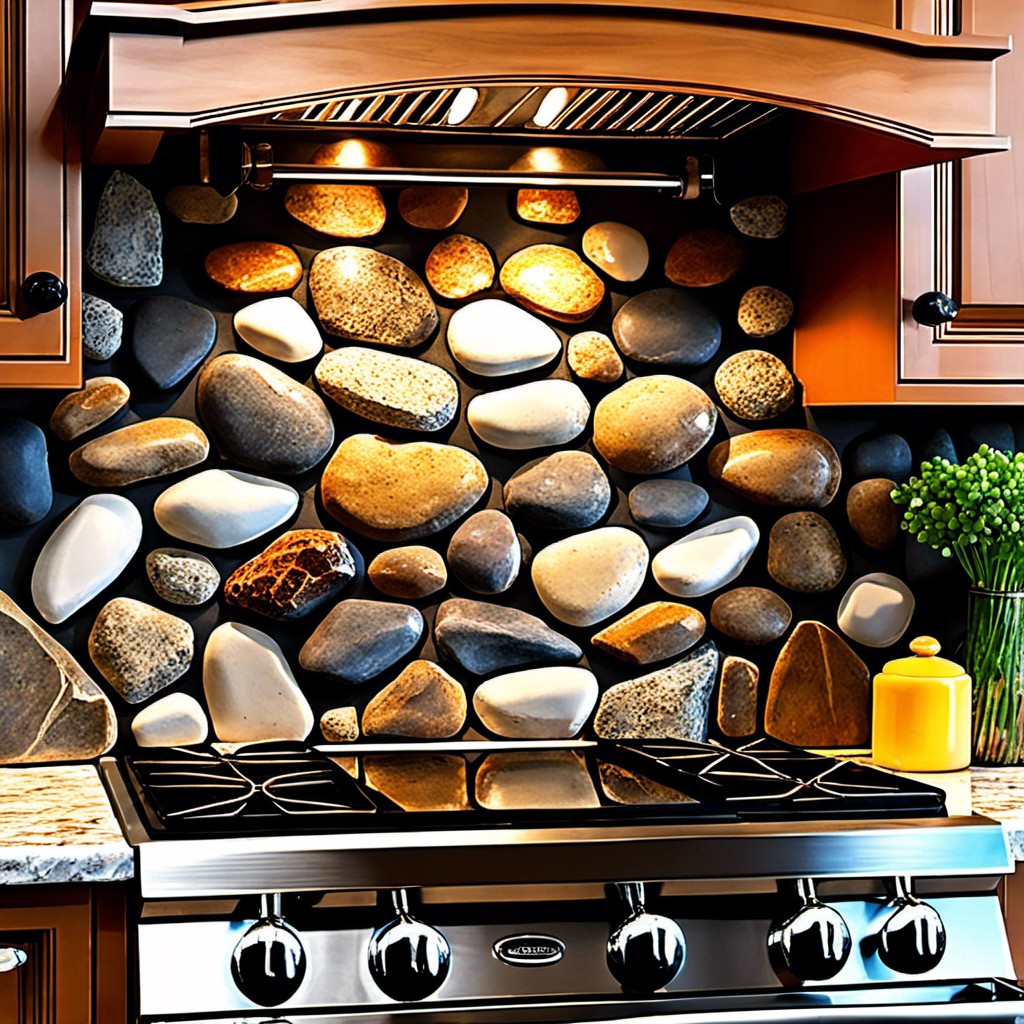 True to its namesake, this type of backsplash utilizes the naturally smooth, round stones that are often found in rivers or riverbeds. Due to the unique shapes of these rocks, each installation is a bespoke masterpiece showcasing individual, earthy tones.
They offer an organic appeal, adding texture and depth to any kitchen. Deciding on river rock backsplash means creating a cozy and inviting atmosphere while ensuring durability and easy maintenance.
Here are a few quick takeaways:
Stylish yet rugged appeal that marries well with a variety of decor styles
Highly durable and stands up to much wear and tear, ideal for busy kitchens
Easy to clean & maintain; simply wipe down with mild soap and water
Provides unique textural contrast, especially against stainless steel appliances or flat-front cabinetry
Ideal for homeowners seeking to bring a slice of the natural world indoors
Slate Tile Backsplash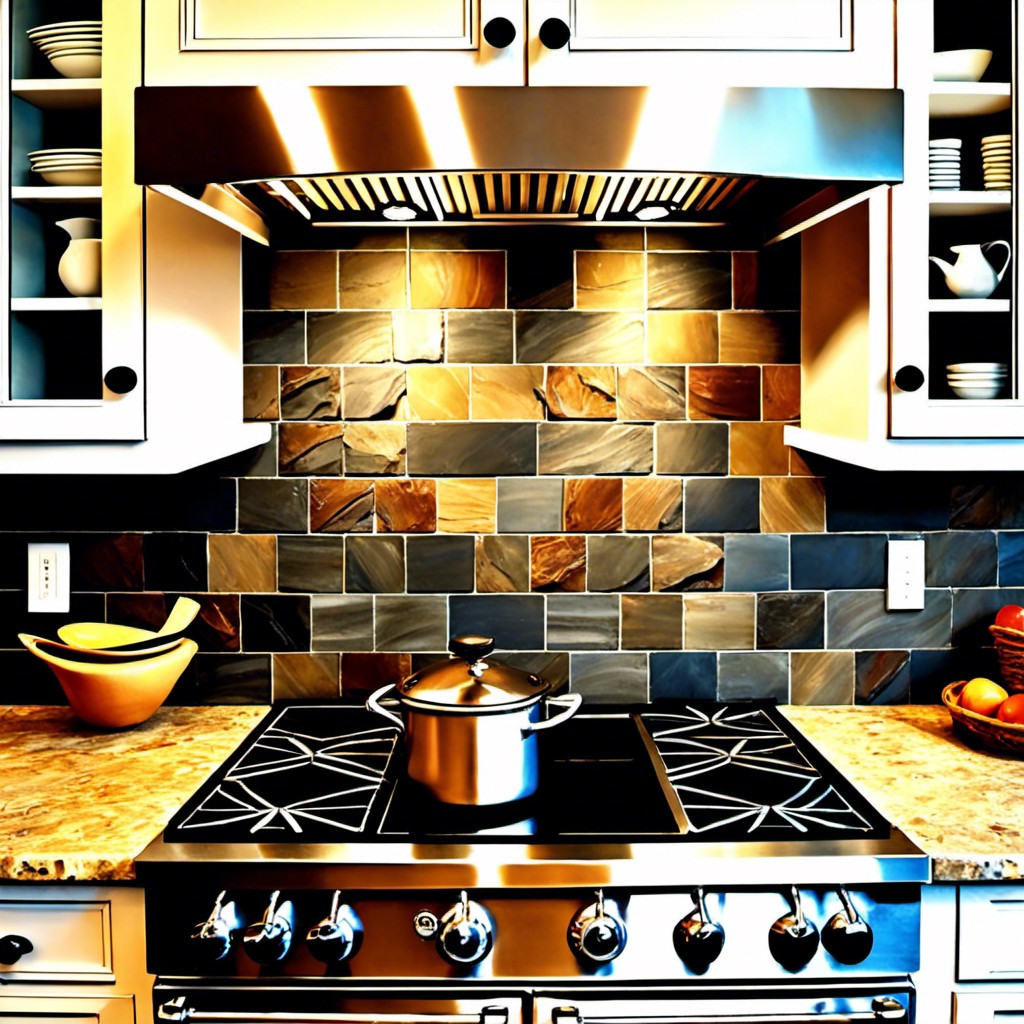 Slate tiles offer an earthy appeal unmatched by any other material. Each tile is unique, flaunting distinct hues and textures produced naturally over thousands of years. Its durability makes it a first-rate choice for high-traffic areas such as the kitchen.
Given below are some reasons why slate tile backsplash could be the right choice for your rustic kitchen revamp.
Variety: Whether you want grays, coppers, dark blues, or greens, slate has a vast spectrum of colors to go with any kitchen decor.
Resistivity: Resilient against heat, stains, and water, slate tile backsplashes make for worry-free cleaning.
Texture: The rough natural texture gives it a one-of-a-kind rustic aura with a hint of sophisticated elegance.
Customizable: Slate tiles come in myriad sizes and shapes, offering a chance to personalize your kitchen space.
Longevity: Being a stone product, slate tiles are durable and withstand the test of time if well-maintained.
A blend of style and practicality, slate tiles can revolutionize the look and efficacy of your kitchen area.
Rough-cut Limestone Backsplash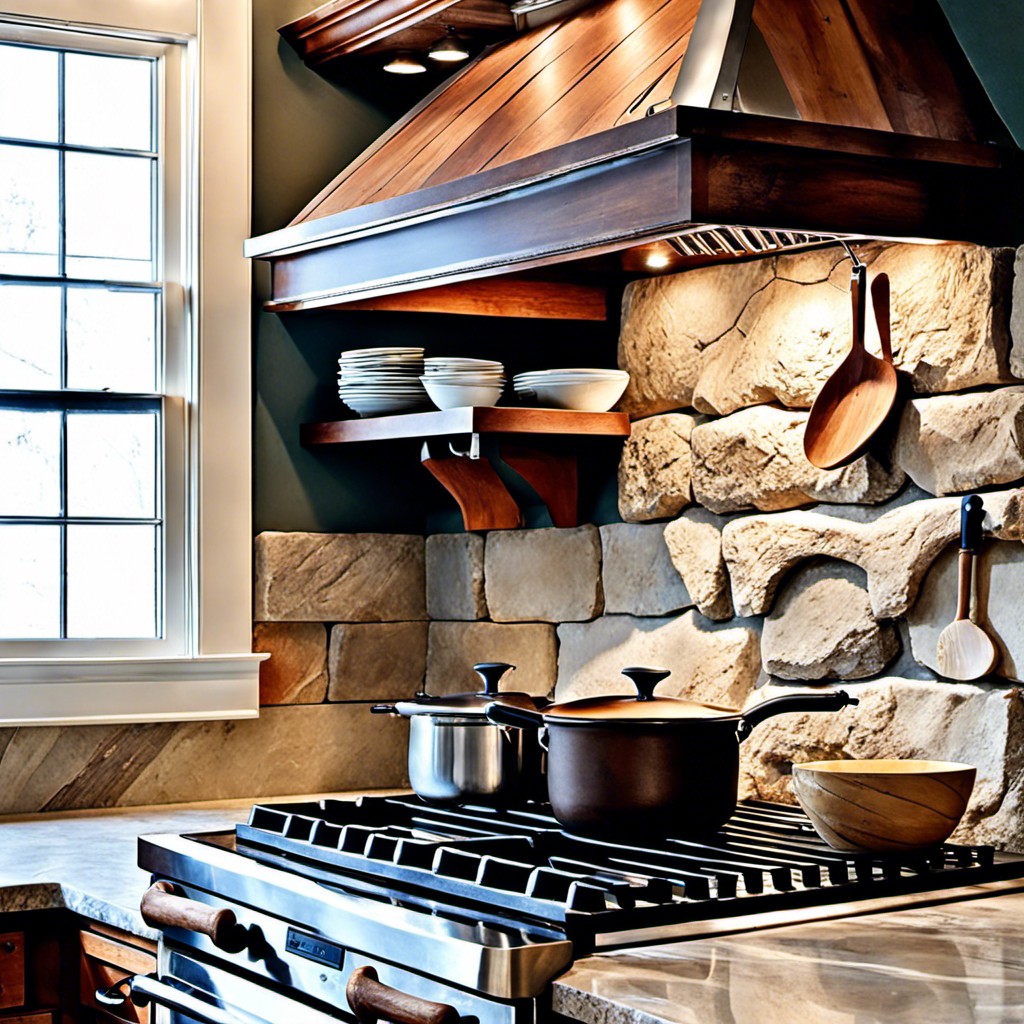 With its raw, craggy texture, this type of backsplash brings a touch of the natural world indoors. This rustic choice showcases nature's artwork with a wide variety of minerals, fossils, and subtle color layers, creating a unique visual appeal in any kitchen.
1. Aesthetic Appeal: Pulls in the charm of the countryside while offering a distinctive, natural pattern that can stand on its own or harmoniously blend with other kitchen elements.
2. Versatility: Complements a wide range of palette choices, varying from cool to warm tones, matching perfectly with wooden appliances or countertops.
3. Durability: Withstands time, resists chips and scratches. Importantly, it is easy to clean and maintain, providing a practical solution for busy areas.
4. Uniqueness: No two pieces of limestone are the same, making your backsplash a one-of-a-kind focal point in your kitchen.
5. Installation: Ideal for homeowners who appreciate DIY projects. However, requesting professional assistance can ensure an impeccably precise fit.
By embracing the distinctive beauty of rough-cut limestone, you are bringing a piece of nature into your cooking space, ensuring a welcoming environment.
Weathered Bluestone Backsplash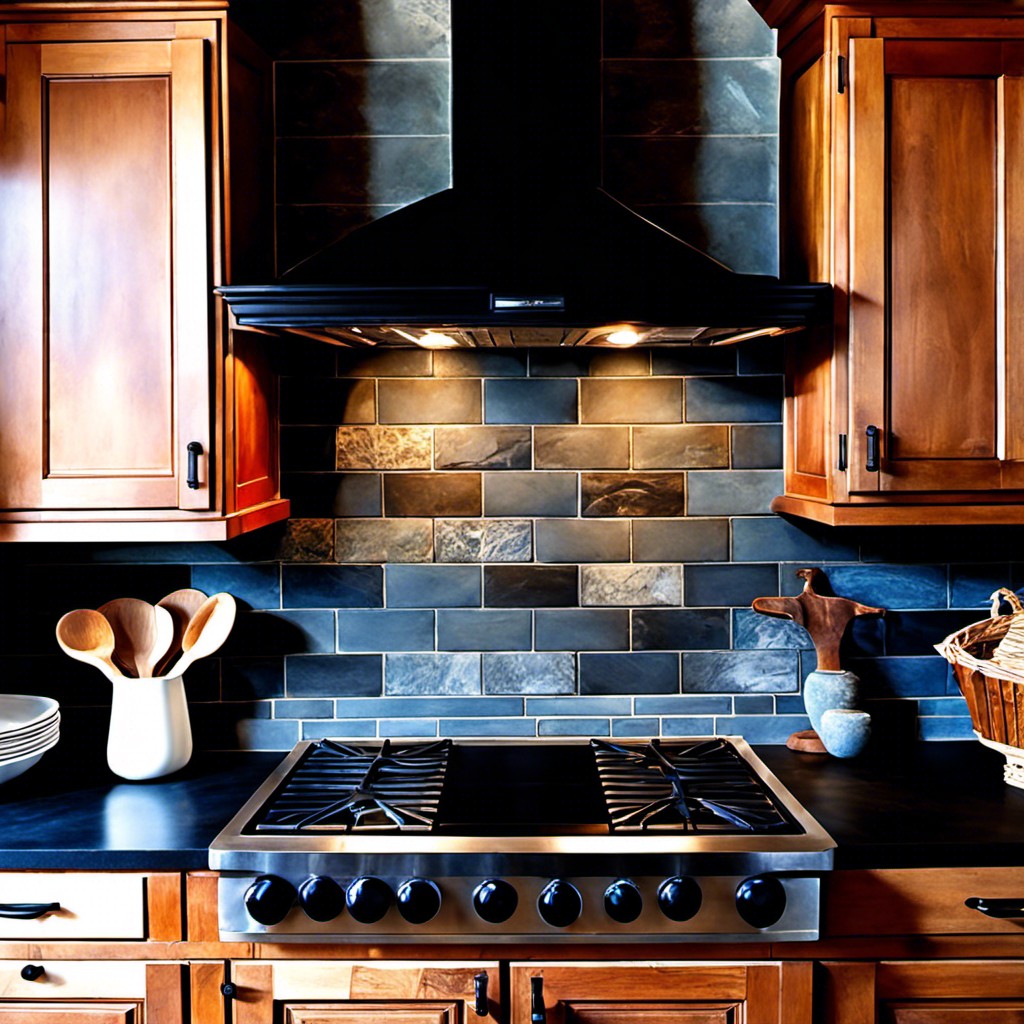 Apt for various room styles – from rustic to contemporary – The weathered bluestone offers a timeless appeal. Its natural color variations, ranging from sandy taupe to muted blues, lend a unique aesthetic to your backsplash.
Known for durability, this stone withstands heat and resists staining, making it an excellent choice for kitchens. Its irregular surface adds textural interest, providing depth and dimension to your space. Plus, it serves a practical purpose: minor splashes or spills are less noticeable.
Consider pairing it with classic white cabinetry for a striking contrast or opt for dark wooden cabinets to enhance its rustic charm. Whatever your preference, weathered bluestone can transform your kitchen into a space full of character and allure.
Remember to seal it yearly for maintenance, ensuring its lasting beauty. The subtle elegance and functional benefits of weathered bluestone make it a worthy contender when considering a stone backsplash.
Stone Mosaic Backsplash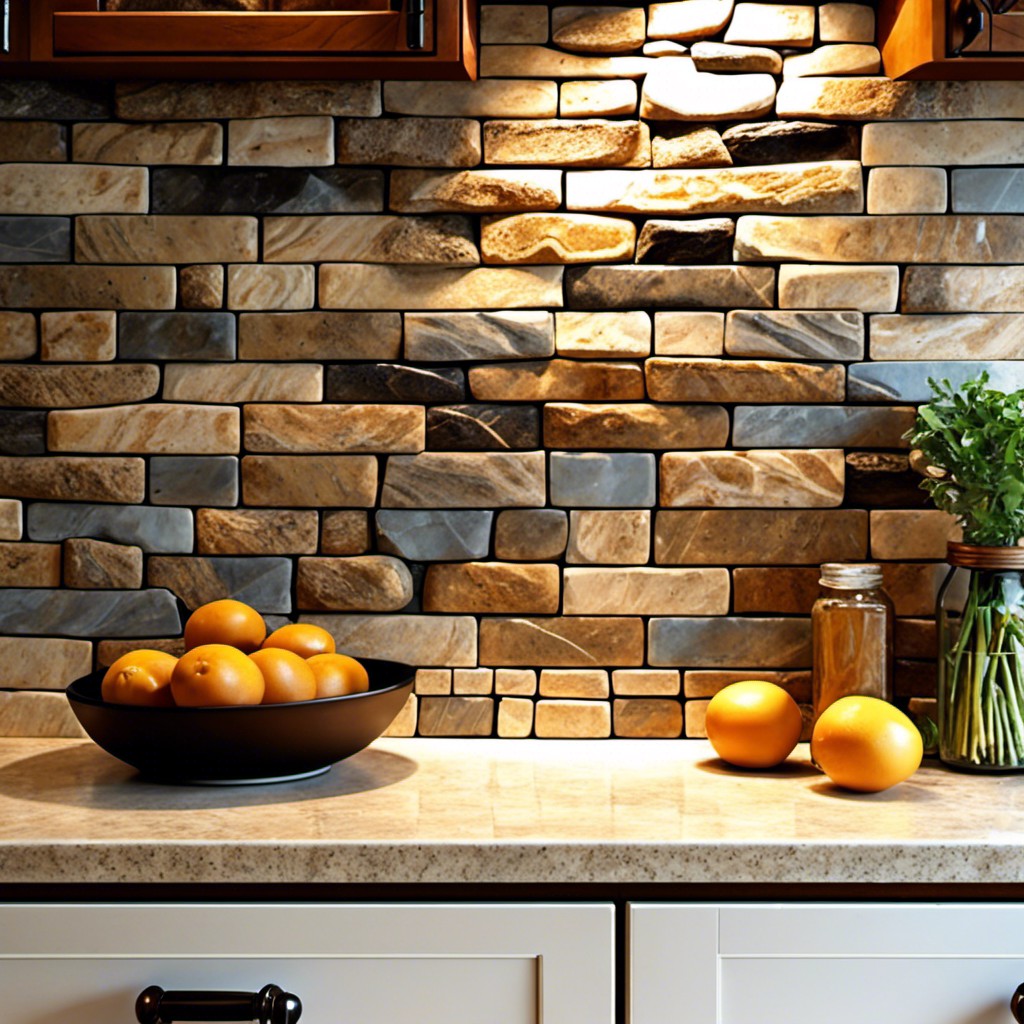 Classic yet refreshingly unique, the mosaic approach offers abundant room for creativity. It involves piecing together small fragments or tiles of stone in a visually pleasing pattern. Various shapes of stones are used – square, round, or irregular, contributing to a compelling visual effect.
What sets this style apart is the nuanced variation in texture and tone infused in your backsplash, thanks to the diverse collection of stones used. The hues tend to range from soft beige and earthen browns to the dynamic greys, reflecting nature's splendid palette.
Additionally, it's quite versatile, complementing myriad kitchen styles, from modern industrial to rustic farmhouse. Finally, although mosaics are typically known for their intricate patterns, a more subtle design can be equally striking for those who favor minimalist aesthetics. It's a way to invite a piece of nature, with a touch of artistry, into the heart of your home – the kitchen.
Despite the visual complexity, stone mosaic backslashes are often sold in mesh-backed sheets, making the installation process more manageable than perceived. It's an investment that yields attractive, long-lasting results.
Herringbone Stone Tile Backsplash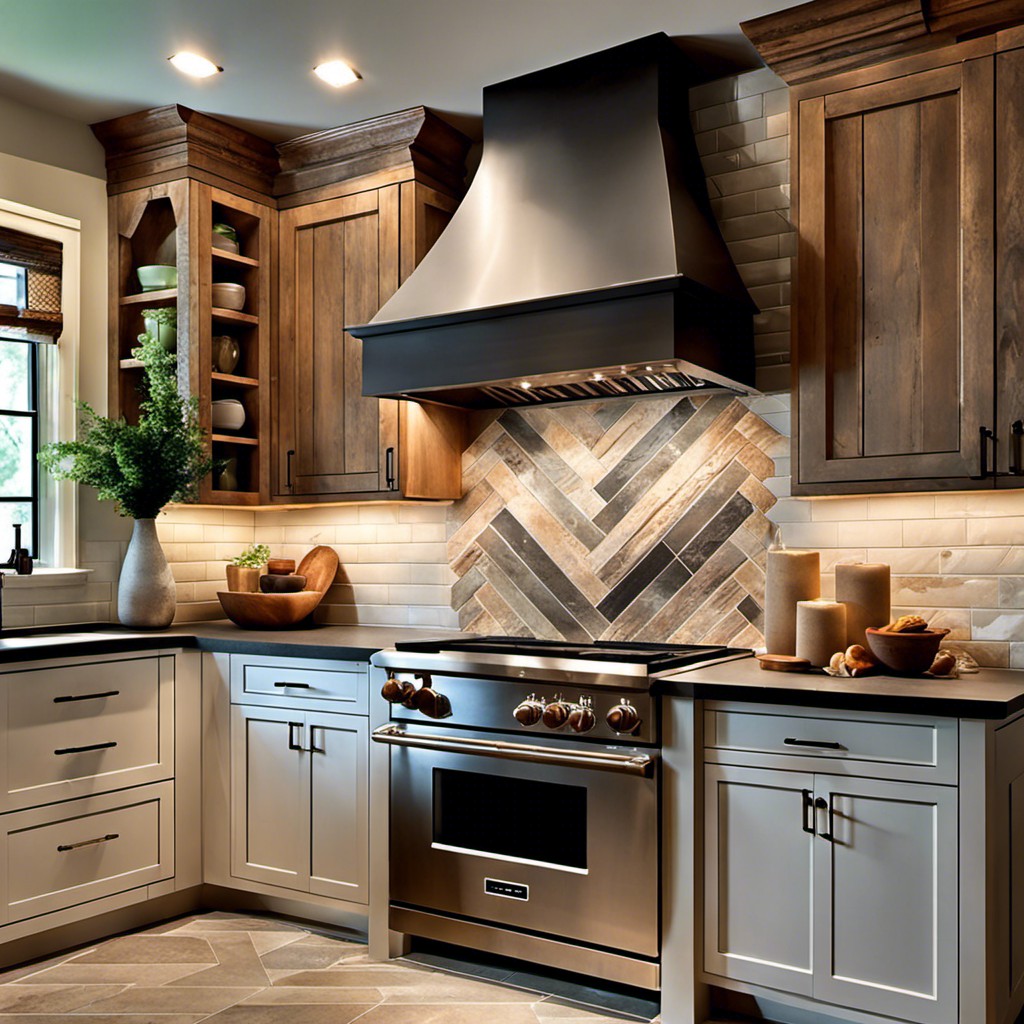 Creating a visually captivating centrepiece in the kitchen comes to life with the herringbone stone tile backsplash. Its zigzag pattern, resembling the bones of a fish such as a herring, brings a sophisticated touch to your space.
What makes this style more intriguing is its highly customizable nature. The color, size, and stone type of the tiles can be chosen to match the overall décor of your kitchen.
This style is especially suitable for adding depth and dimension to smaller kitchens. When installed properly, the eye-catching pattern leads the eye around the room, making it seem larger than it actually is.
From granite and slate to marble, almost any type of stone can be used to create this distinctive look. However, it does require precision and skilled workmanship to get the pattern right, so professionals are usually recommended for installation.
Overall, this backsplash option brings a combination of sophistication and rustic charm that can elevate any kitchen design.
Stacked Irregular Stone Backsplash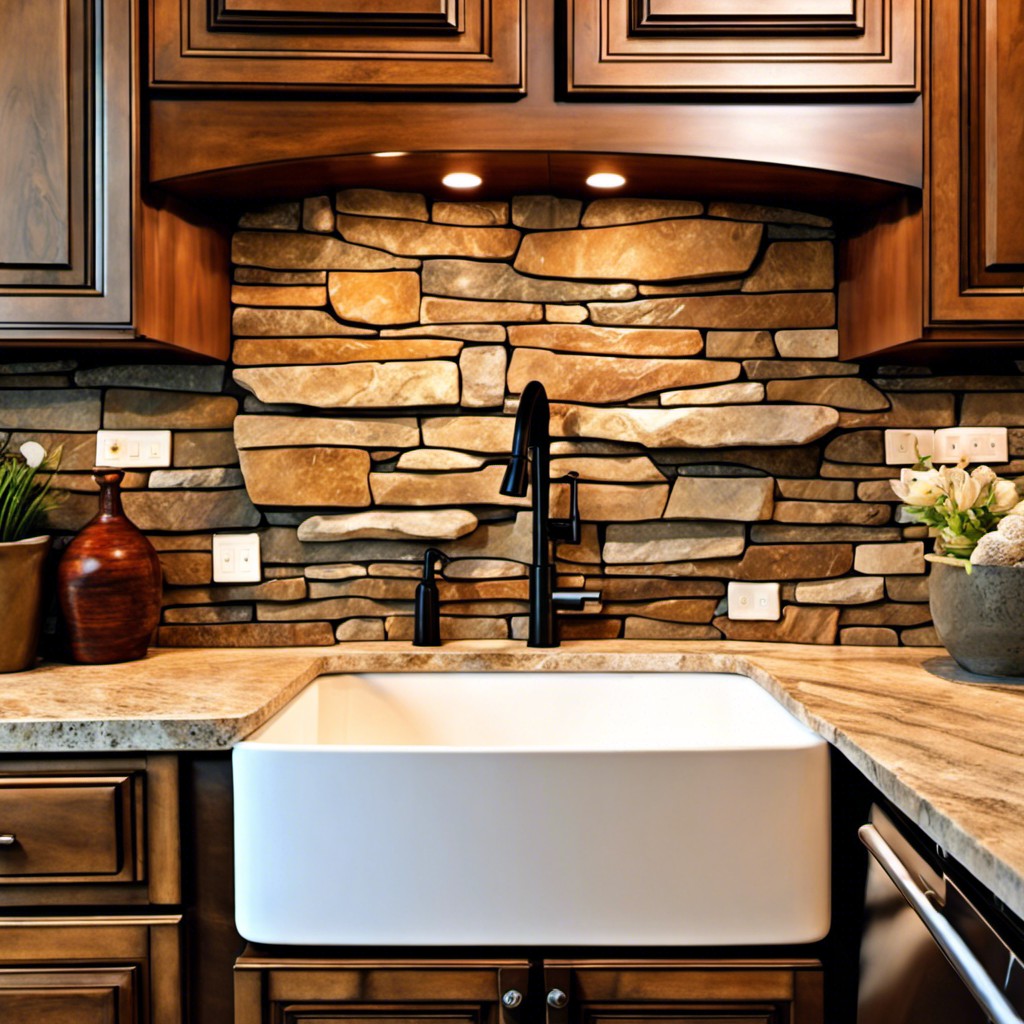 This unique style boasts an inherent natural appeal due to its random shapes and sizes. The irregularity of stones creates a focal point in the kitchen that draws attention.
The rock's uneven surface gives depth and texture and is perfect for highlighting unique architecture or design elements in the room.
To ensure flexibility and consistency, choose a stone color that complements your kitchen palette.
Coupled with the correct grout color, it can bring together an aesthetic balance that is both beautiful and functional.
Remember, this style requires some skill to install, so consider employing a professional to achieve the best outcome.
Use a sealant for easier cleaning and maintenance, allowing your backsplash to retain its rustic charm over time.
Tuscan-style Tumbled Stone Backsplash
Tuscan-style tumbled stone provides a distinctive old-world charm that breathes warmth and character into your kitchen. Here are a few noteworthy points:
1. Its unique texture: Not as smooth as traditional tile, this tumbled stone offers a softer, rounded aesthetic, perfect for creating that cozy, rustic ambiance.
2. Diverse color range: From lighter cream hues to rich browns, there's a broad spectrum to choose from to match or contrast your kitchen's palette.
3. Versatility: Whether covering the whole wall or just a portion, it is versatile enough to blend with different styles – from entirely rustic to modern with a vintage twist.
4. Durability: Being a natural stone, it withstands wear and tear well, making it a smart investment for a high-traffic area like the kitchen.
5. Maintenance: Consider sealing it periodically to keep stains and dampness at bay, ensuring its longevity.
So, if you're seeking a backsplash option that is rustic, has character, and compliments your Tuscan kitchen aesthetics, a tumbled stone certainly merits your consideration.
Distressed Sandstone Backsplash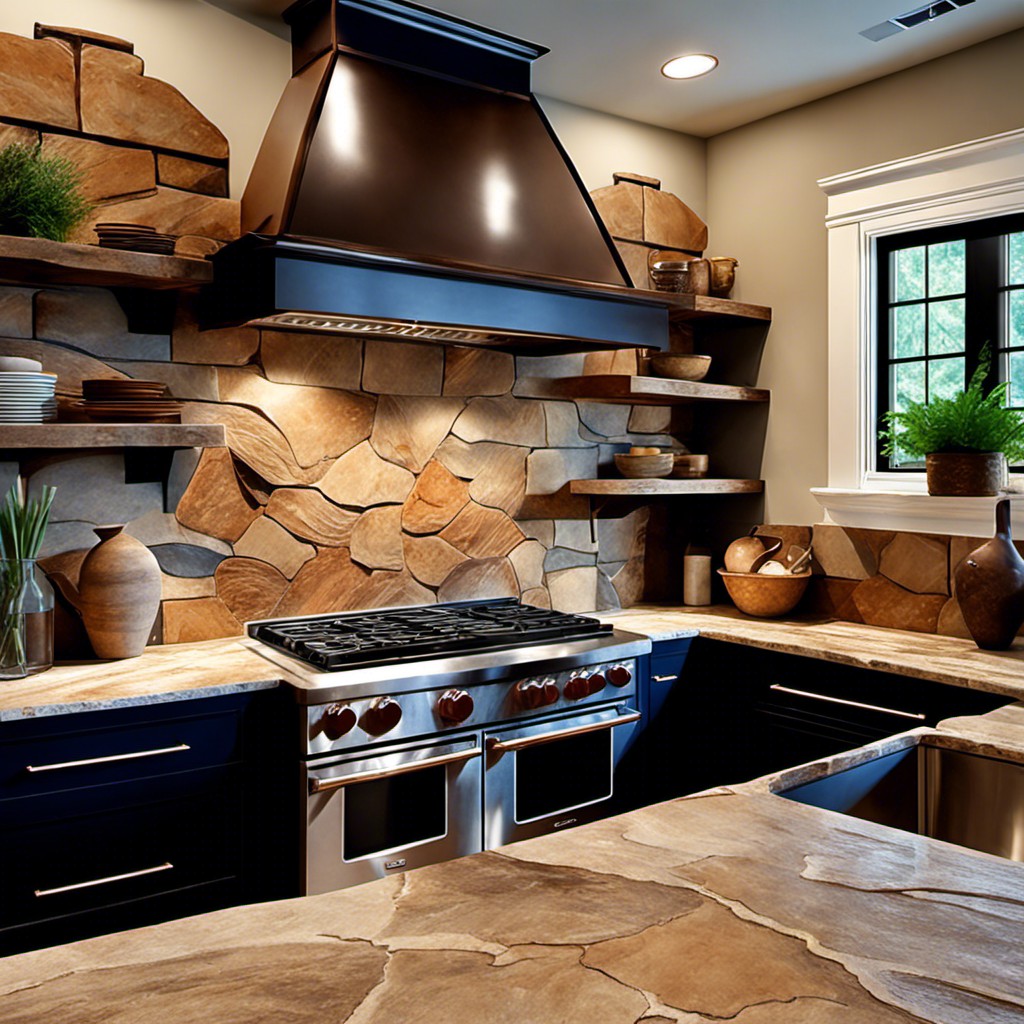 One beautiful aspect of utilizing distressed sandstone in your backsplash design is its inherent warm, earthy tones that create a cozy atmosphere in any kitchen. Its distinctive texture is obtained through a processing technique that involves sanding the stone's surface to achieve an antiqued look.
Here are some points to help you appreciate the unique qualities of this material:
Aesthetic Appeal: The subtle shade variations in sandstone give it a uniquely natural look that beautifully complements rustic decors.
Texture: Distressed sandstone has a distinctive rough texture that adds depth and visual interest to your backsplash.
Durability: Sandstone is a type of sedimentary rock, highly durable and able to withstand heavy kitchen use.
Easy Cleaning: Despite its textured surface, distressed sandstone is relatively easy to clean with just a damp cloth and mild soap.
Versatility: It pairs well with a variety of countertop materials like wood, concrete, or quartz, allowing you greater flexibility in your kitchen design.
Utilizing distressed sandstone for your backsplash not only gives your kitchen a rustic charm but also ensures it stands the test of time.
Stone and Copper Mix Backsplash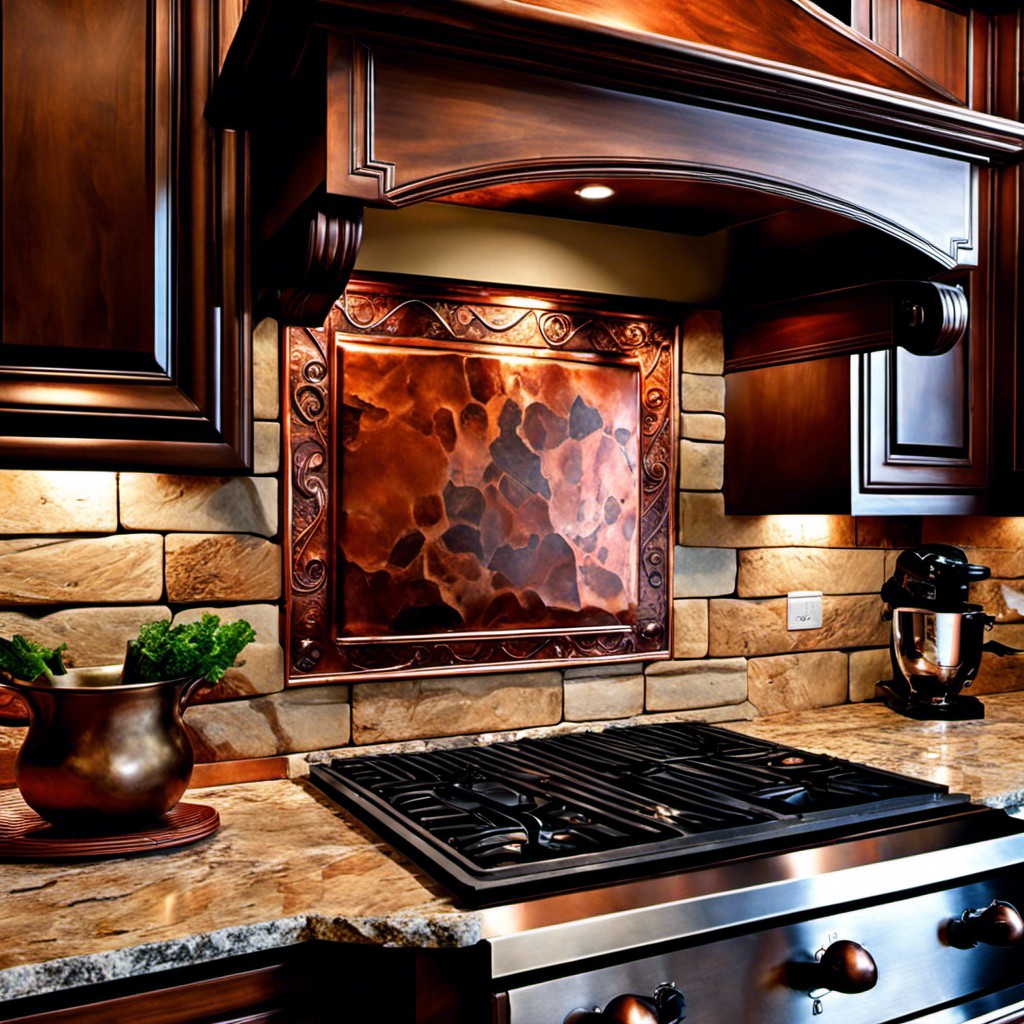 A fusion of stone's raw charm with copper's warm gleam creates an enchanting effect. It's the ideal blend for those seeking a rustic yet sophisticated aesthetic.
1. Depth and Warmth: Copper adds a comforting warmth and intriguing depth to the cool, natural textures of stone. The interplay between these elements results in a dynamic and visually engaging backsplash.
2. Versatility: Designs can vary from a mosaic of copper pieces interspersed with stone, to large copper panels surrounded by a stone border. The choices enable customization to suit any style preference.
3. Durability: Both materials are sturdy and withstand common kitchen hazards, making for a durable, long-lasting backsplash.
4. Easy Maintenance: Despite its posh look, a stone and copper mix backsplash requires minimal upkeep. Regular cleaning ensures it retains its lustrous look.
Remember, proper installation is key to showcasing the intricate blend of these materials. The result is a breathtaking focal point that imbues your kitchen with rustic elegance.
Uneven Slate Tile Backsplash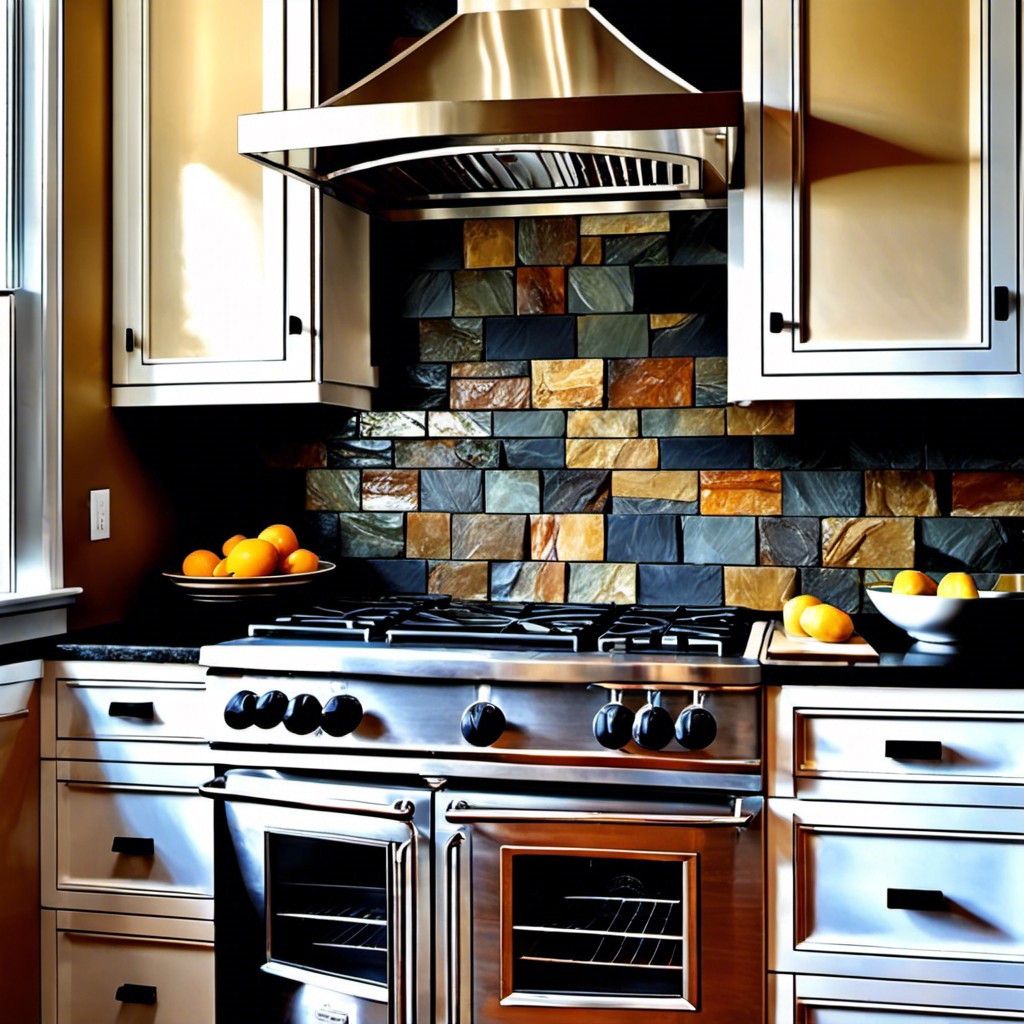 When striving for a unique twist on the classic rustic aesthetic, an uneven slate tile backsplash is an excellent choice. The rough, jagged edges of each tile introduce a wild and natural element into the design. As slate is available in a variety of shades such as green, gray, and black, you can adjust the color to match the overall color scheme of your interiors.
The thickness of uneven slate tiles varies from one to another, offering depth and dimensional diversity to the setting. By draping them horizontally or vertically, you can opt to make your backsplash appear wider or taller respectively.
Sealing the slate tiles provides an added layer of protection against stains, making them easier to clean, while enhancing the vibrant color of the stone. Despite the rough appearance, with the right care, your backsplash can remain a timeless element of your kitchen for years.
Uneven slate tile backsplash is a unique way to blend the outdoors with your interior design, lending a piece of nature and an artistic touch to your home decor.
Stone Veneer Backsplash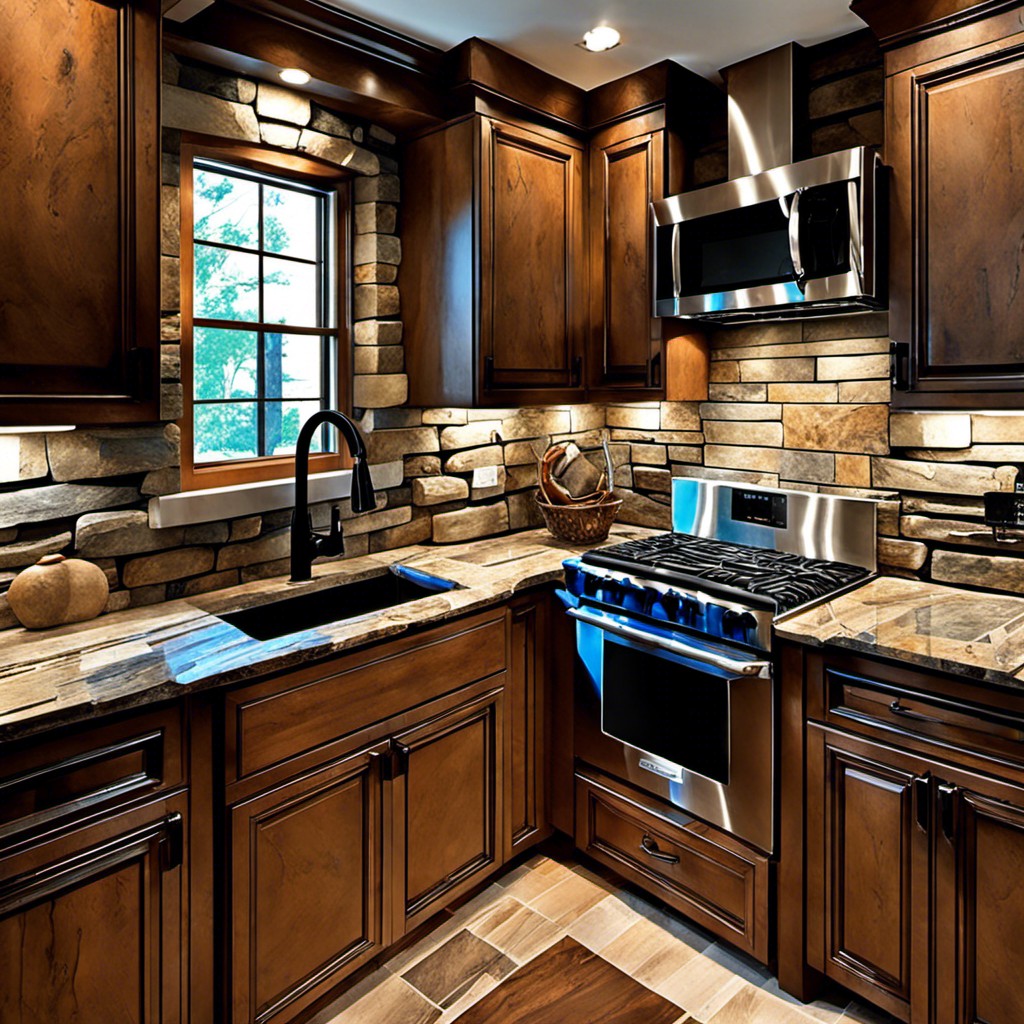 Stone veneer presents an excellent choice for those wanting to infuse a strong rustic vibe into their kitchen. Lightweight and versatile, this option conveniently installs on numerous surfaces. Stone veneer comes in a vast assortment of styles and colors such as sandy taupe, smoky gray, or dusky charcoal.
1. DIY-friendly: Stone veneer's lightweight nature allows for simple and straightforward installation, making it a great DIY project.
2. Cost-effective: It typically costs less than natural stone while still achieving a similar aesthetic, providing an economical choice for homeowners.
3. Wide variety: Regardless of your color scheme, you'll find a stone veneer to match. Its wide color variability can enhance a variety of kitchen designs.
4. Durability: Despite being lightweight, stone veneer is impressively robust and highly resistant to chips and cracks.
5. Maintenance: It's easy to clean. A wash with warm soapy water keeps the surface brilliant and free from grime or grease.
With these attributes, stone veneer serves as a practical yet stylish backsplash choice for a rustic-themed kitchen.
Reclaimed Brick and Stone Backsplash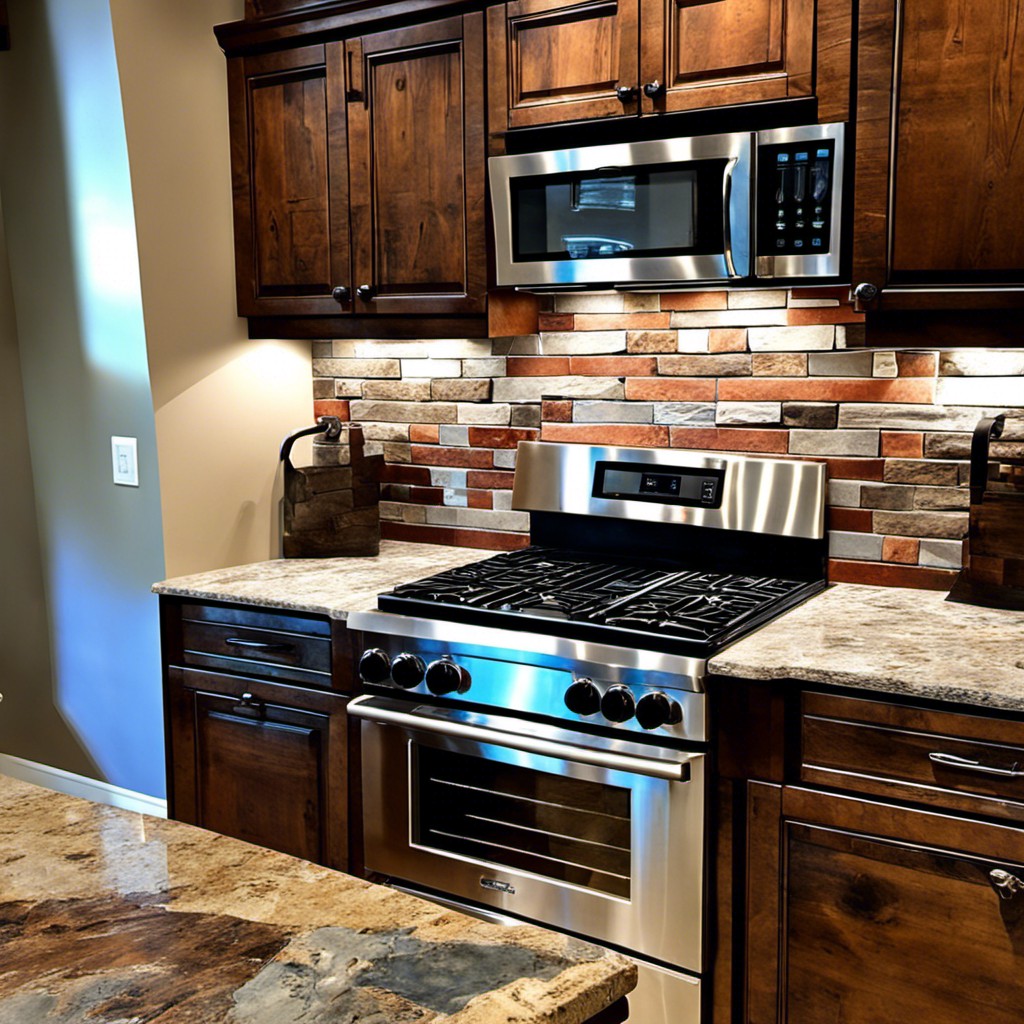 Blending the old with the new offers an exceptional charm that's hard to beat. Reclaimed brick and stone, with their weather-beaten appearance and earth tones, transmit a raw yet warm aesthetic. Gathered from old buildings and streets, these materials frequently bear unique size and shape variations indicative of historical masonry techniques.
1. Tradition Meets Modern Comfort: Despite their age, reclaimed bricks and stones provide similar benefits to newer materials, including heat resistance and durability.
2. Endless Style Options: Due to their irregular shapes, colors range from burnt orange to faded beige, enabling endless style combinations.
3. Eco-Friendly: This choice reduces waste and prevents unnecessary quarrying, making it an environmentally friendly option.
4. Easy Maintenance: Sealing these backsplashes can minimize stains and ease cleaning.
5. Increasing Property Value: Antique materials are valuable, and their historical charm could boost your home's overall appeal.
Incorporating a reclaimed brick and stone backsplash can instill a sense of history and timelessness in a kitchen, ensuring a visually arresting backdrop that speaks of comfort and versatility.
Split-face Travertine Stone Backsplash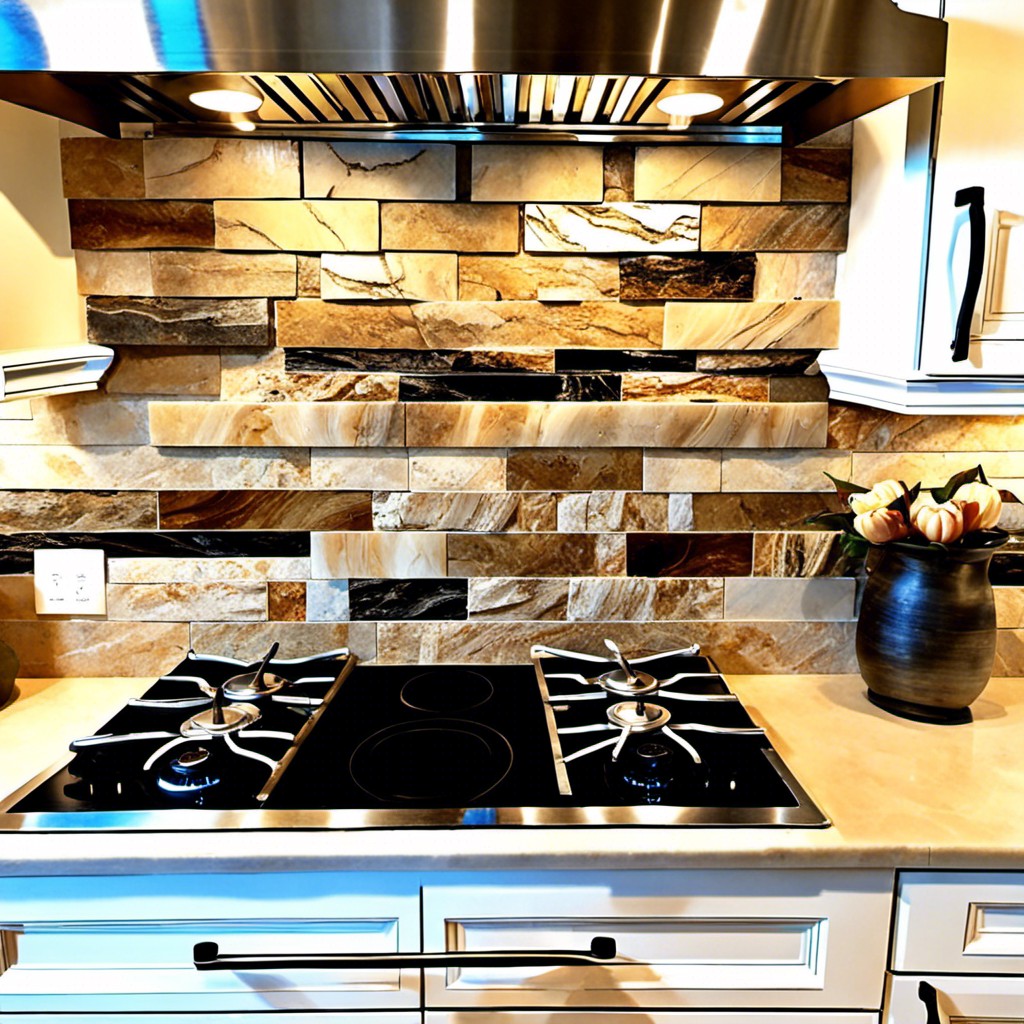 Embodying both elegance and timelessness, this variety of travertine offers an initiating three-dimensional texture to kitchen spaces. Distinctive for its uneven surface, split-face travertine is ideal for homeowners yearning a dynamic, eye-catching effect.
What makes this type of backsplash so alluring is its unique treatment process. The split-face technique involves mechanically splitting the stone, thus revealing its inner layers. The result is a visibly rugged, yet beautifully raw charm.
Due to its natural origin, split-face travertine provides variations in color and pattern, ensuring no two installations are identical. This makes it particularly appealing for those seeking a custom, one-of-a-kind look.
This type of backsplash also proves incredibly functional, providing robust durability. The backsplash is resistant to heat, splashes, and daily wear, perfect for busy kitchens. Keep in mind, an application of sealant can enhance its longevity and resist staining.
In terms of fitting it into your broader kitchen design, this backsplash pairs ideally with rugged wood cabinetry or sleek modern designs, providing a captivating contrast. With proper lighting, the uneven surface creates appealing shadows that further emphasize its unique texture. Despite its robust look, a careful selection of kitchen accessories and appliances can soften its overall feel.
Whether your style leans rustic, traditional, or modern, split-face travertine can lend a sophisticated layer of depth and texture to your backsplash design.
Terracotta Stone Tile Backsplash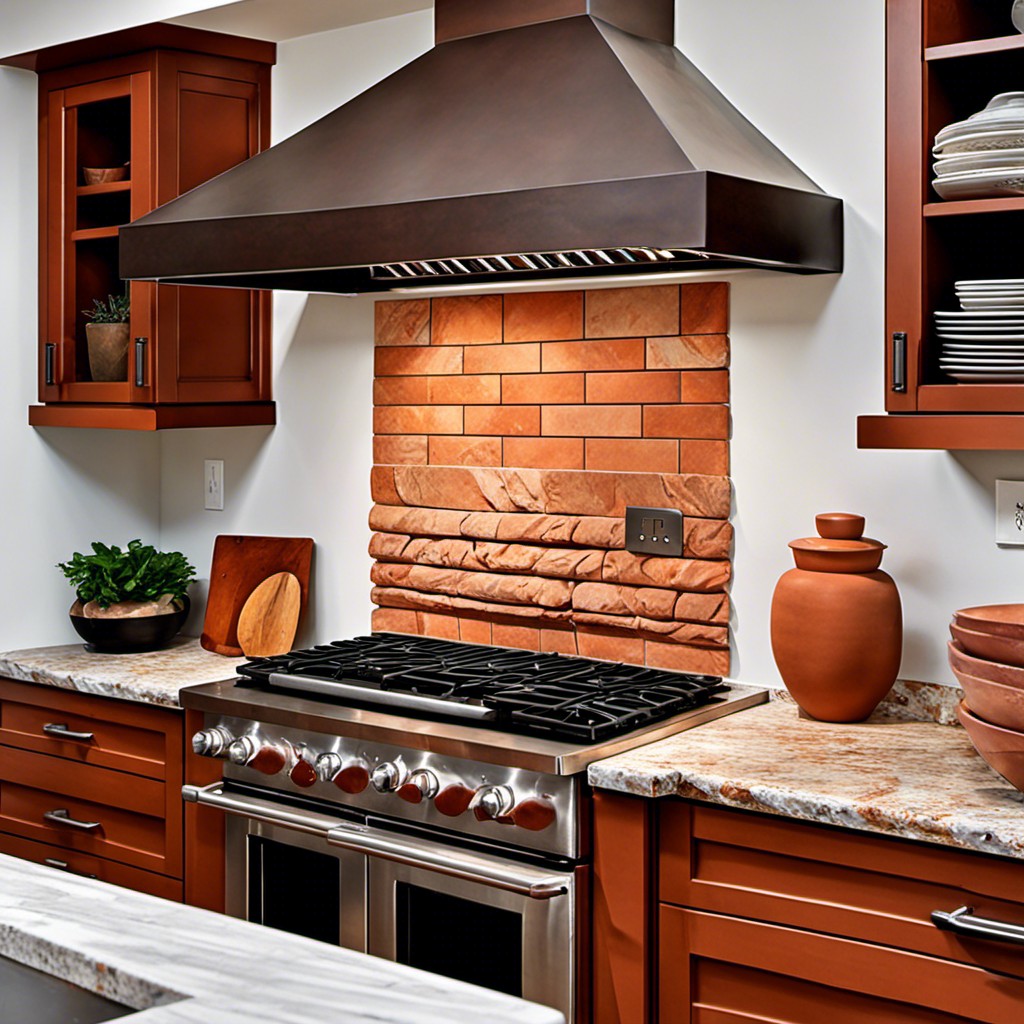 Offering a stylish and earthy appeal, terracotta tiles are a timeless choice for a rustic kitchen. They are made from clay, which gives them a unique, reddish-brown hue that can vary slightly from tile to tile, contributing to the overall rustic charm.
With terracotta tiles, you can choose between glazed and unglazed versions. Glazed terracotta offers a sheen, adding a delicate touch of sophistication while the unglazed variant delivers a pure, natural earthy look. Moreover, terracotta is known for its durability and resistance to water, making it a practical choice for busy kitchens.
You can enhance the rustic aesthetic further by opting for handcrafted terracotta tiles. Their slightly imperfect designs and forms can significantly contribute to an authentic rustic appearance. Eventually, the variations in color and texture will only enhance the overall look of your backsplash. Finally, terracotta tiles are easy to maintain and clean, adding to their appeal.
Do note, terracotta can be a bit pricier than some other materials due to its handmade nature. However, the cost is worth it, given the longevity and unique style they offer.
Rugged Quartzite Backsplash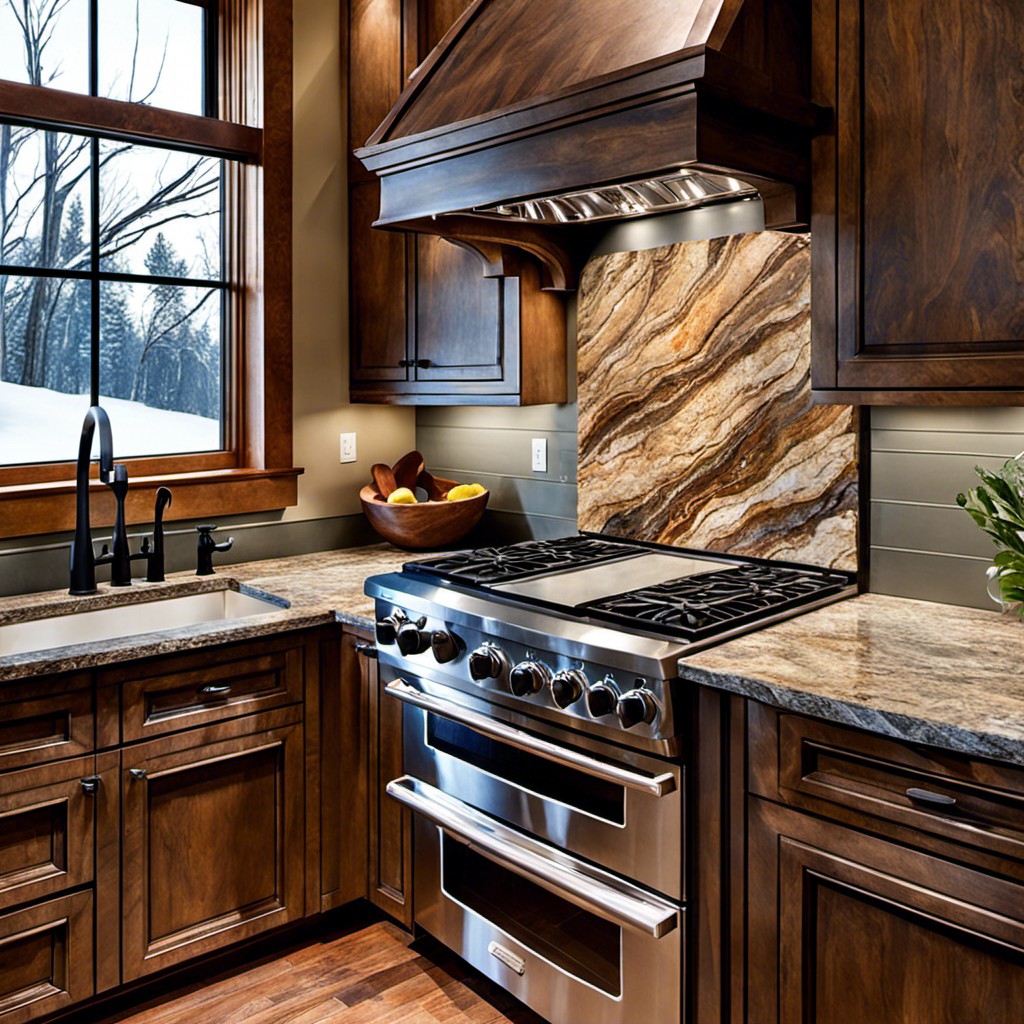 Unearthing an exceptional look, a rugged quartzite backsplash provides visual depth and texture to a rustic kitchen. It's characterised by its weathered, rough-hewn features which greatly appeal to lovers of raw natural beauty.
Known for its high durability, it effectively stands up against heat, scratches, and stains, making it a practical choice for busy cooking areas. Installation is fairly straight-forward and the end result is always unique due to the variation in colour and pattern inherent to the stone.
Maintenance is also manageable. Regular sealing is recommended to prevent moisture absorption and to retain its longevity. To clean, simply use a soft cloth and gentle, non-abrasive cleaner to avoid damaging the stone's natural texture.
Hence, if you're in search for a sturdy, eye-catching, and practical backsplash, the rugged quartzite doesn't disappoint. Its enduring, natural charm will enhance your rustic kitchen aesthetics.
Faux Stone Panel Backsplash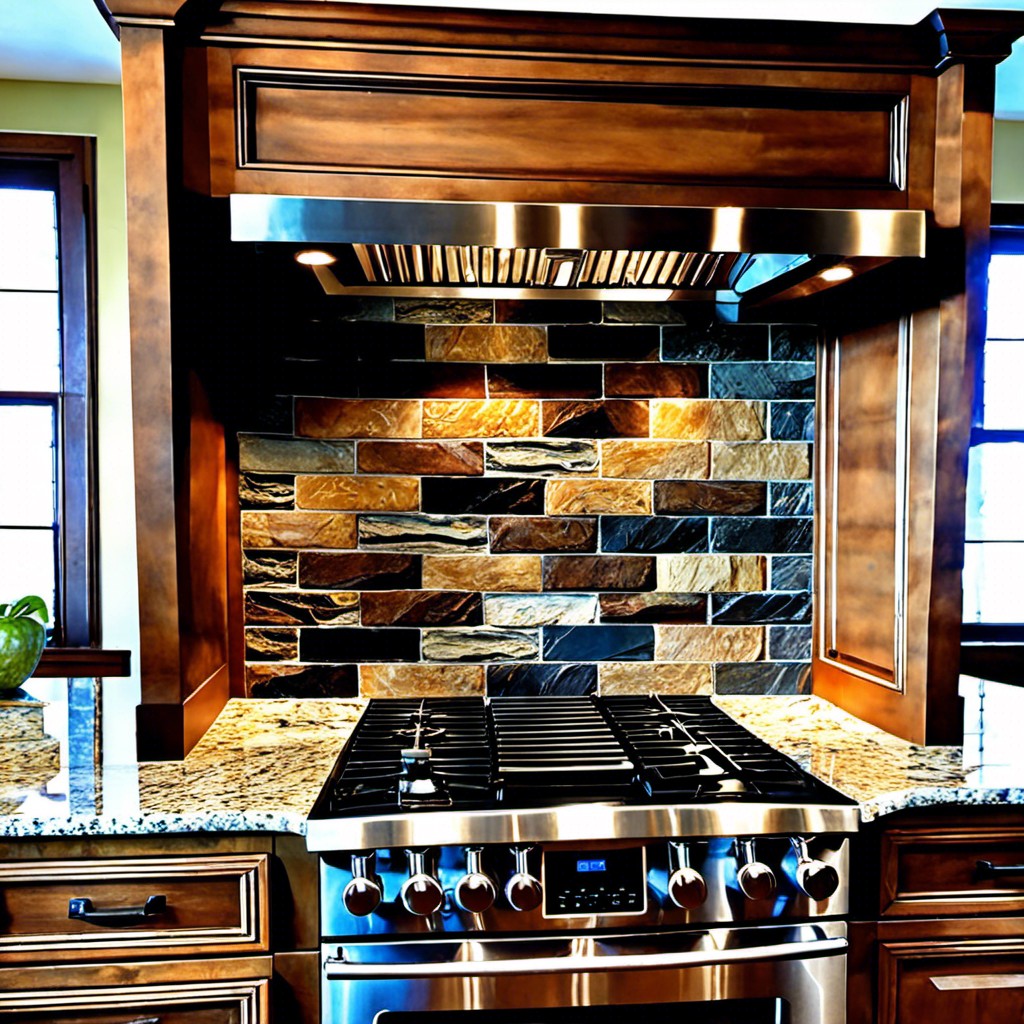 Offering a blend of aesthetics and ease, faux stone panels are a popular choice. They imitate natural stone but are lightweight and easier to install, making them an attractive alternative for those looking to undertake a DIY project.
Without compromising on the rustic appeal, they efficiently manage costs and installation time. The panels come in various colors and patterns, which allow you to customize the look to complement your kitchen. Furthermore, they are easy to clean and require minimal maintenance, qualities that are highly beneficial in a kitchen environment.
Be advised that despite their authentic look, they may not add as much value to your home as real stone will. Lastly, while they resist heat fairly well, precaution should still be taken when installing near stoves or ovens.
Multi-color Ledger Stone Backsplash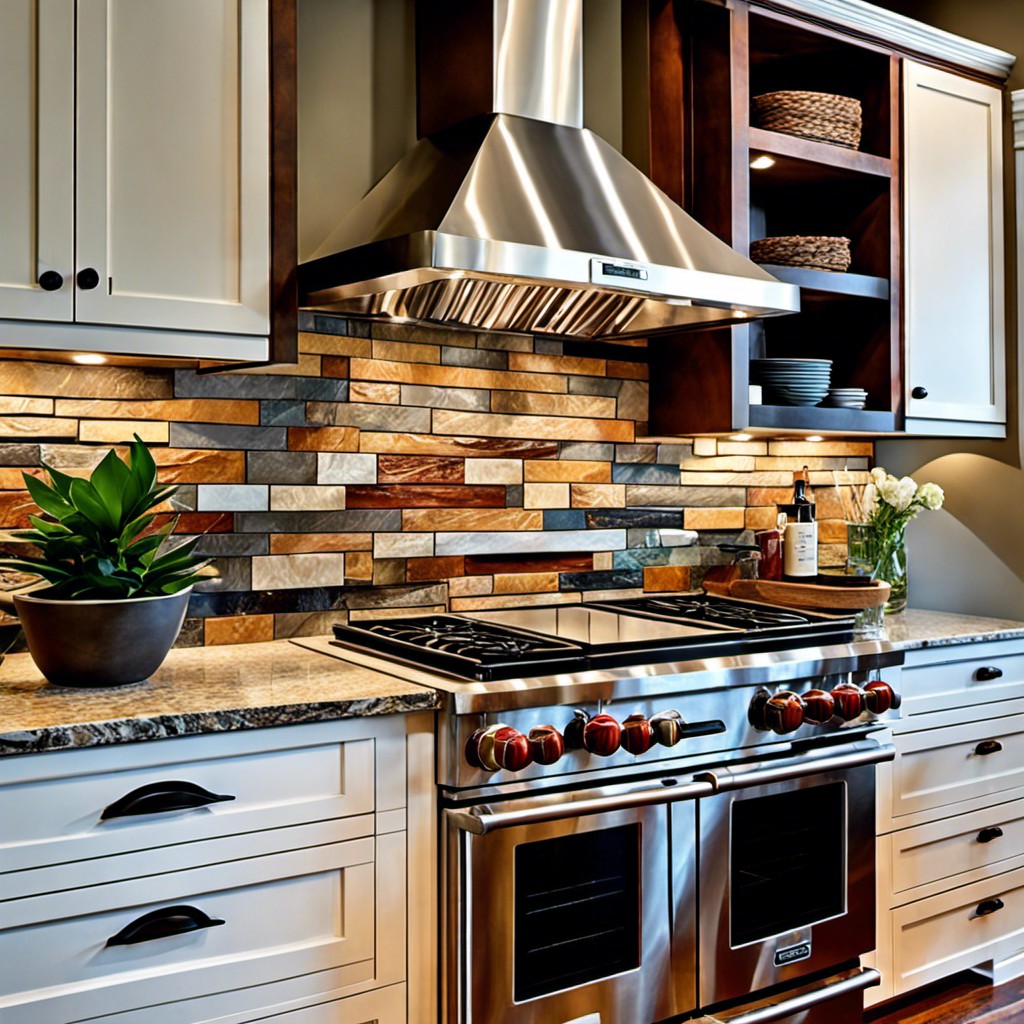 A versatile centerpiece in the world of rustic stone backsplashes, multi-color ledger stone offers an eclectic and energized appeal. Its multiple hues appear naturally due to variations in mineral contents of different rocks. This makes each piece unique, creating an intricate tapestry with earthy tones that's anything but monotonous.
Benefits include:
Transforms the space: Infuses character, warmth, and a richly textured look into the kitchen.
Strength and durability: Withstands high temperatures and abrasion.
Easy maintenance: Natural stone is effortless to clean.
Variety: Comes in different color ranges, from fiery reds and cool blues to neutral grays and tans.
Adaptability: Pairs well with a myriad of kitchen styles, from rustic to modern.
Considerations:
Installation: More complex due to the irregular shape of stones.
Sealing: Requires regular sealing to prevent stains and moisture seepage.
Cost: Might be pricier than standard backsplash options.
Remember to choose a blend of colors that complements your cabinets, countertops, and fixtures when taking the plunge with this stunning choice.
Natural Pebble Stone Backsplash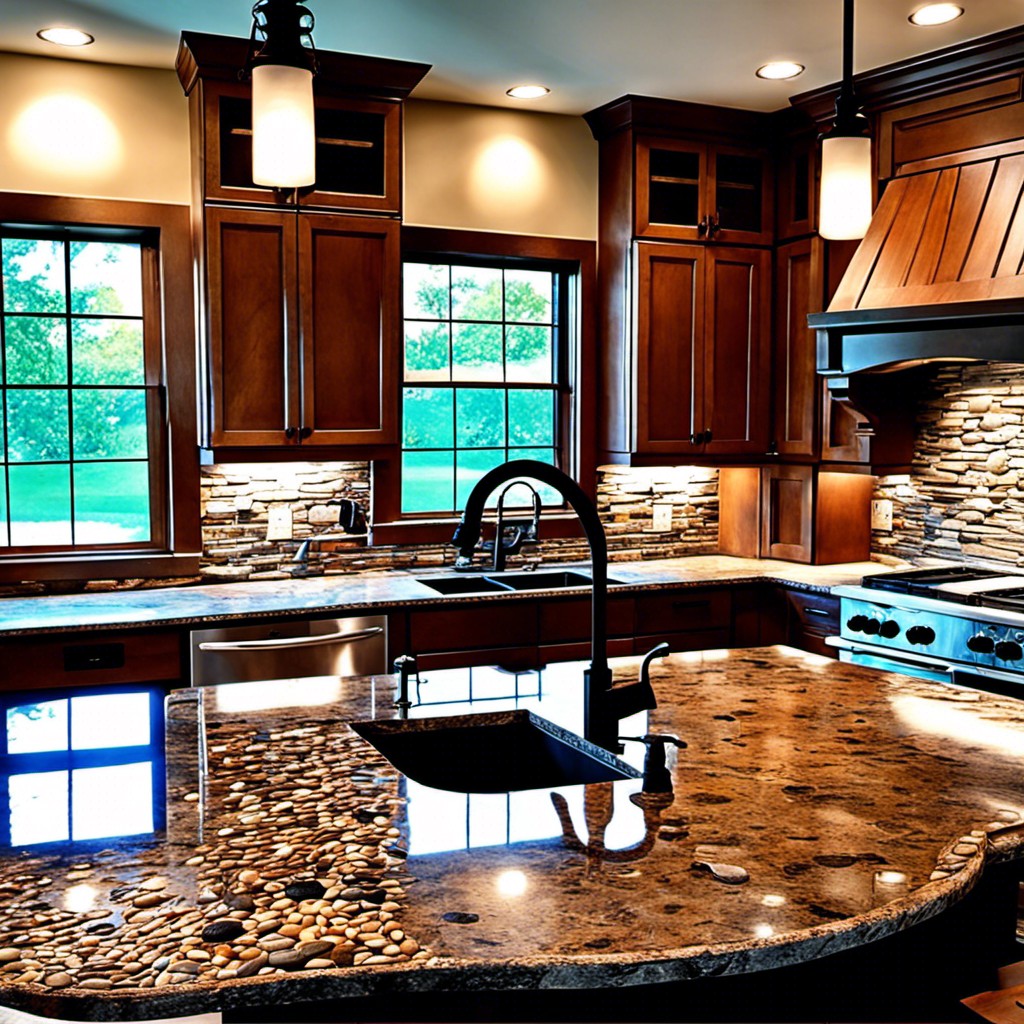 For a unique and tactile texture, consider natural pebble stone. This material, often in mesh-backed sheets, allows for an easy application on backsplash areas.
Unpolished, smooth pebbles provide a natural, outdoorsy look that's sure to capture attention.
The variety in pebble sizes and colors adds depth, character, and one-of-a-kind appeal.
This type of stone is easy to clean despite its textured surface; grime easily wipes off.
Natural pebble stone is highly durable, capable of withstanding water and heat exposure from cooking.
Its versatility makes it a great choice for various kitchen styles, be it modern, traditional, coastal, or country.
Remember to seal your pebble stone backsplash to ensure longevity and maintain its natural color.
Rustic Fieldstone Backsplash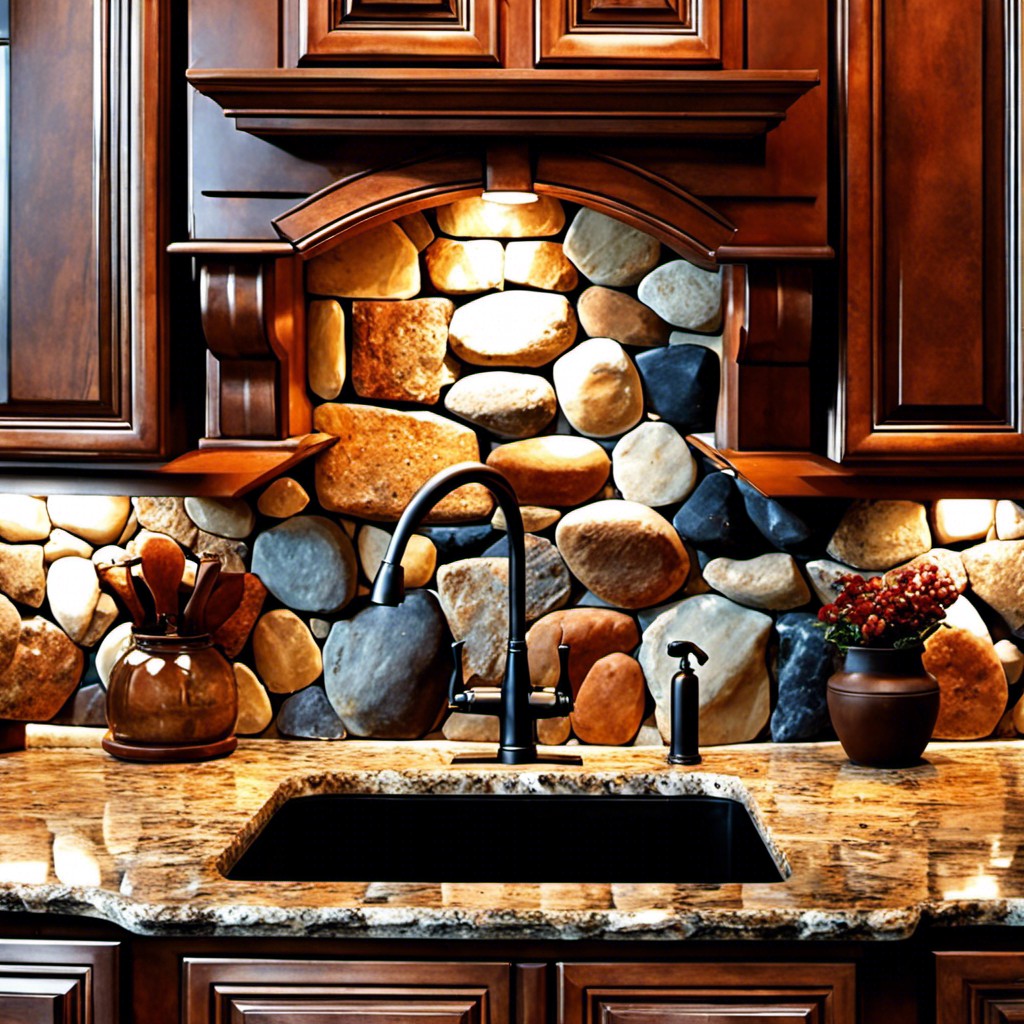 Fieldstone, with its rough texture and earthy hues, can add an authentic rustic charm to the kitchen. The stones are found naturally, meaning each piece has a unique shape and color, thereby ensuring a one-of-a-kind backsplash.
Installation is accomplished by arranging the stones in a pleasing, visually balanced manner, and adhering them to the wall with a suitable adhesive. The gaps between stones are usually filled with grout for a finished, polished look.
The fieldstone backsplash requires minimal maintenance. A simple wipe down with a cloth is all that's needed to keep it clean. However, it can be sealed to safeguard it from potential spills and stains.
Utilizing various lighting options, from under cabinet to mood lighting, one can further enhance the fieldstone backsplash's textures and colors, adding a warm glow to the kitchen.
It should be noted that fieldstone is durable and resistant to heat, a convenient feature for bustling kitchens. Moreover, its longevity makes it a cost-effective choice for a rustic kitchen backsplash, striking a balance between style and functionality.
Remember to consider the overall design and color scheme of the kitchen when choosing fieldstone for the backsplash. It should complement other elements, creating a harmonious, inviting rustic kitchen space.
Continue reading: