Last updated on November 23, 2023
You'll find illuminating possibilities in small island pendant lights because they can transform a quaint kitchenette into a stunning and luxurious cooking space.
These are my unique design concepts made using design tools. I hope you find them inspiring!
Navigating the world of home decor, particularly small island pendant lighting, can be overwhelming with all the choices available. Yet, while there are numerous ideas out there, this article is committed to shedding light on some fresh, unique, and underexplored angles in pendant lighting designs.
Our mission is to provide you with a distinctive list you won't find elsewhere, sparking newfound inspiration for your spaces. Rest assured, we'll be providing resources for the best of the existing ideas towards the end to ensure you're fully covered, but our goal is to inject a dose of novelty into your decor playbook.
What's Inside
Vintage Edison-Inspired Pendants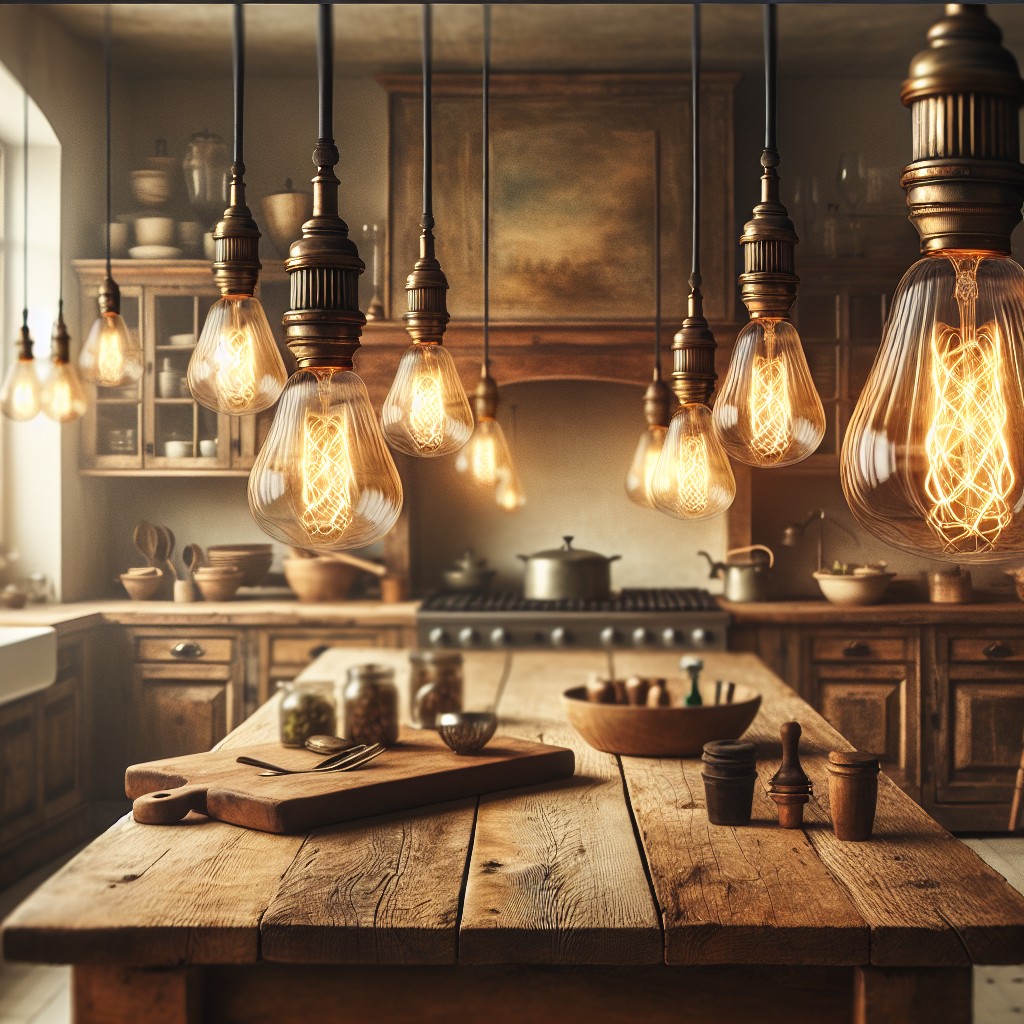 With their classic, throwback appeal, these pendants harken back to the age of Thomas Edison, achieving a perfect blend of antique and industrial styles. They are distinct, typically featuring a clear glass shade allowing the vintage-style bulb to be visible – this is key to their charm.
Bronze or brass finishes on the fixture offer a warm, inviting glow. Their versatility allows them to suit a variety of decors, from rustic to contemporary. The adjustable cables offer flexibility with height, helpful for tailoring the light to your island. Choosing an LED Edison bulb will help on the energy efficiency front without sacrificing style.
Stainless Steel Cylinder Lights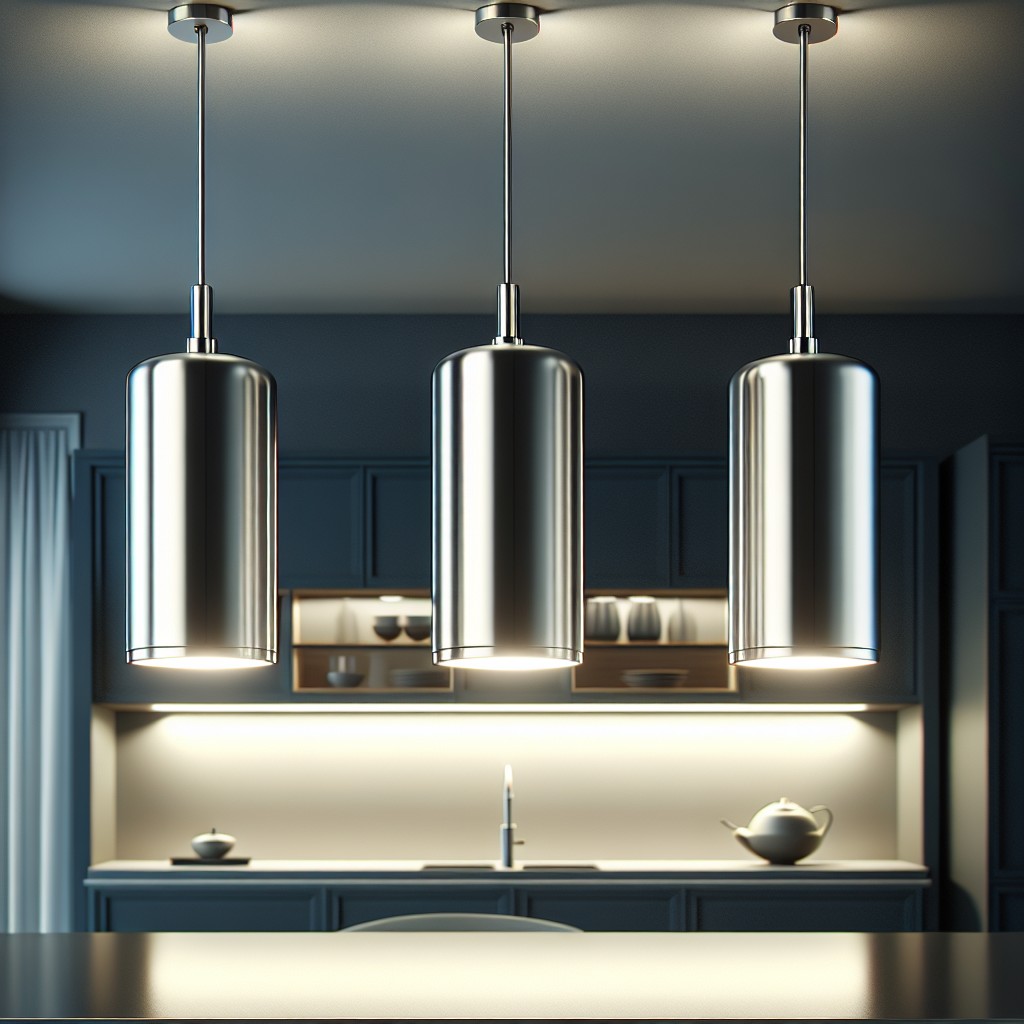 With their signature sleek design, these lighting fixtures add a touch of modern elegance to any space.
The high-reflective surface amplifies the light, adding brightness even to the smallest islands.
Easy maintenance is another advantage, as fingerprints and smudges are scarcely visible, making them a perfect choice for busy kitchens.
To change the mood, consider using dimmable bulbs.
Combining these pendants in a trio or in pairs can add symmetry and balance.
Silver-toned lighting also enhances cool color schemes and contributes to a clean-lined, contemporary aesthetic.
Furthermore, these lights offer durability and longevity, ensuring they remain a centerpiece of your kitchen décor for years to come.
Wooden Barrel Pendants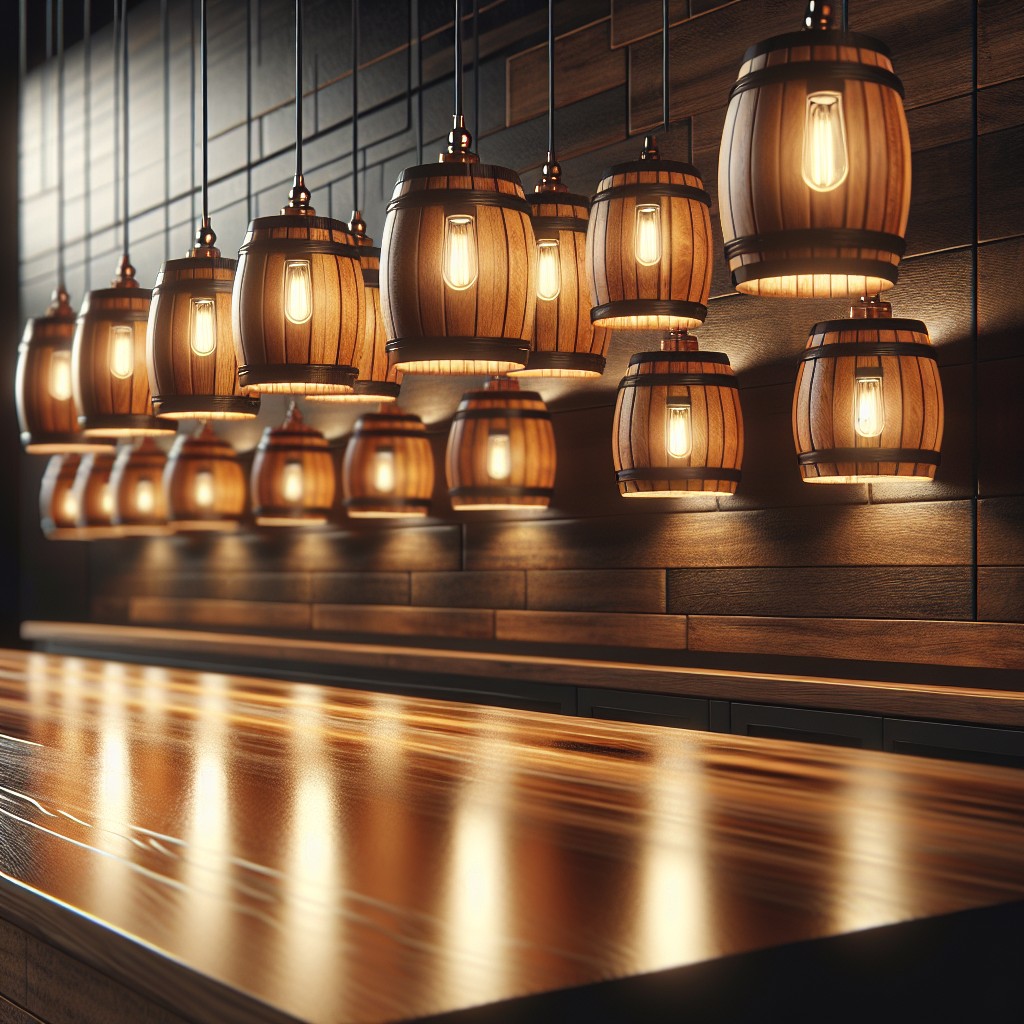 For lovers of the rustic aesthetic, these lights are an excellent option. Crafted from repurposed wood barrels, these pendants have a weathered look that can anchor your island with a touch of warm, organic material.
They can be found in many shapes and sizes to suit your kitchen dimension. Some offer open-bottomed designs that direct light downwards, ideal for food preparation and cooking tasks, while those with an enclosed design create more generalized lighting.
They often feature metal accents, providing a charming vintage industrial vibe. Consider pairing wooden barrel pendants with other natural materials in your kitchen, such as stone countertops or a tile backsplash, for a cohesive look.
Abstract Geometric Pendant Lights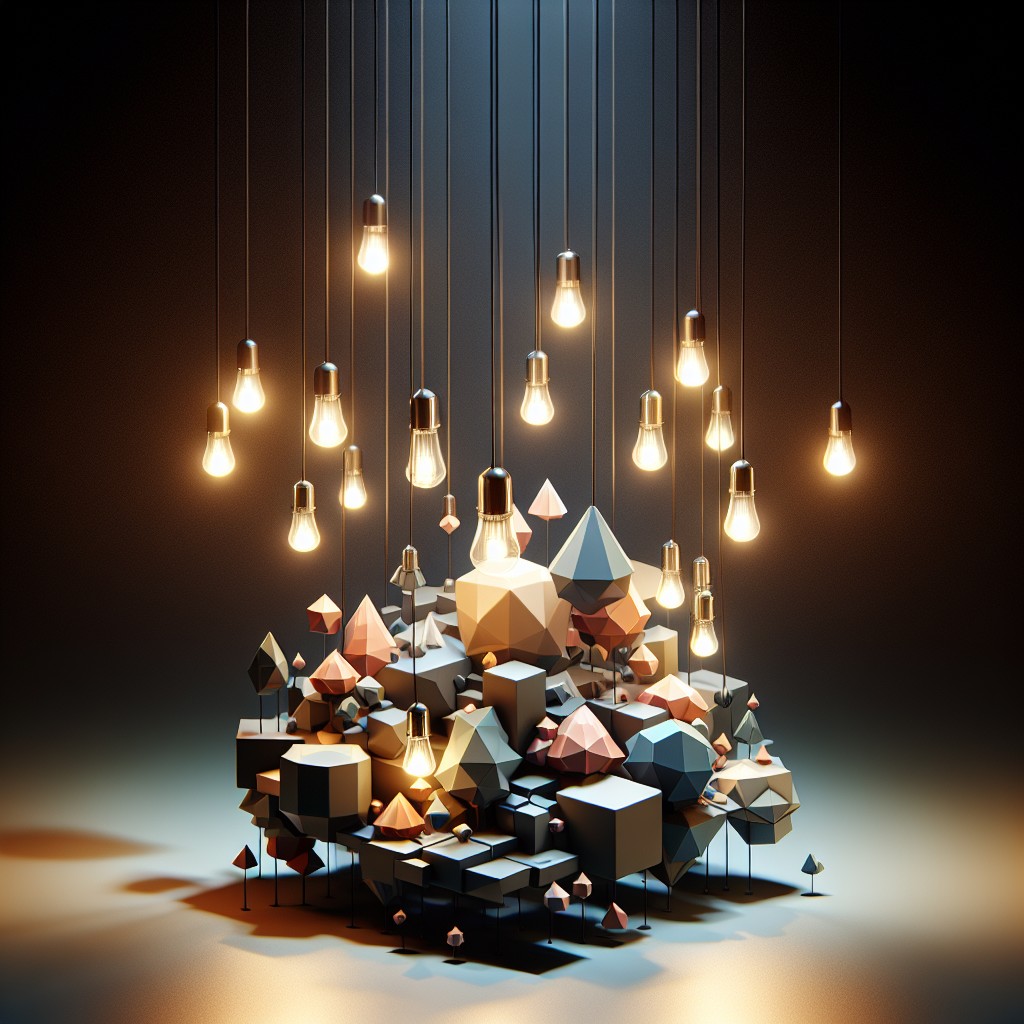 These lighting options are a true reflection of modernity and uniqueness. Featuring stunning designs with lines and shapes, they are sure to be a conversation starter.
Being versatile, they complement minimalistic to maximalistic interiors effortlessly, exuding aesthetic vibes.
Their striking silhouettes can become the focal point of your kitchen island. Available in a range of materials, including metal, wood, and glass, they offer a play of shadows and lights creating a dynamic ambience.
You can opt for a single impactful piece or several lights clustered at different heights to create a visual spectacle. To maximize the effect, ensure correct placement above the island which is typically 30-36 inches above the countertop for an average ceiling height.
This lighting solution not only effectively illuminates the work area but brings a sculptural element to your kitchen. So, why not use them to make your space feel uniquely you? With these lights, functionality, beauty, and art merge to elevate your kitchen's appeal.
Whiskey Bottle Pendant Lights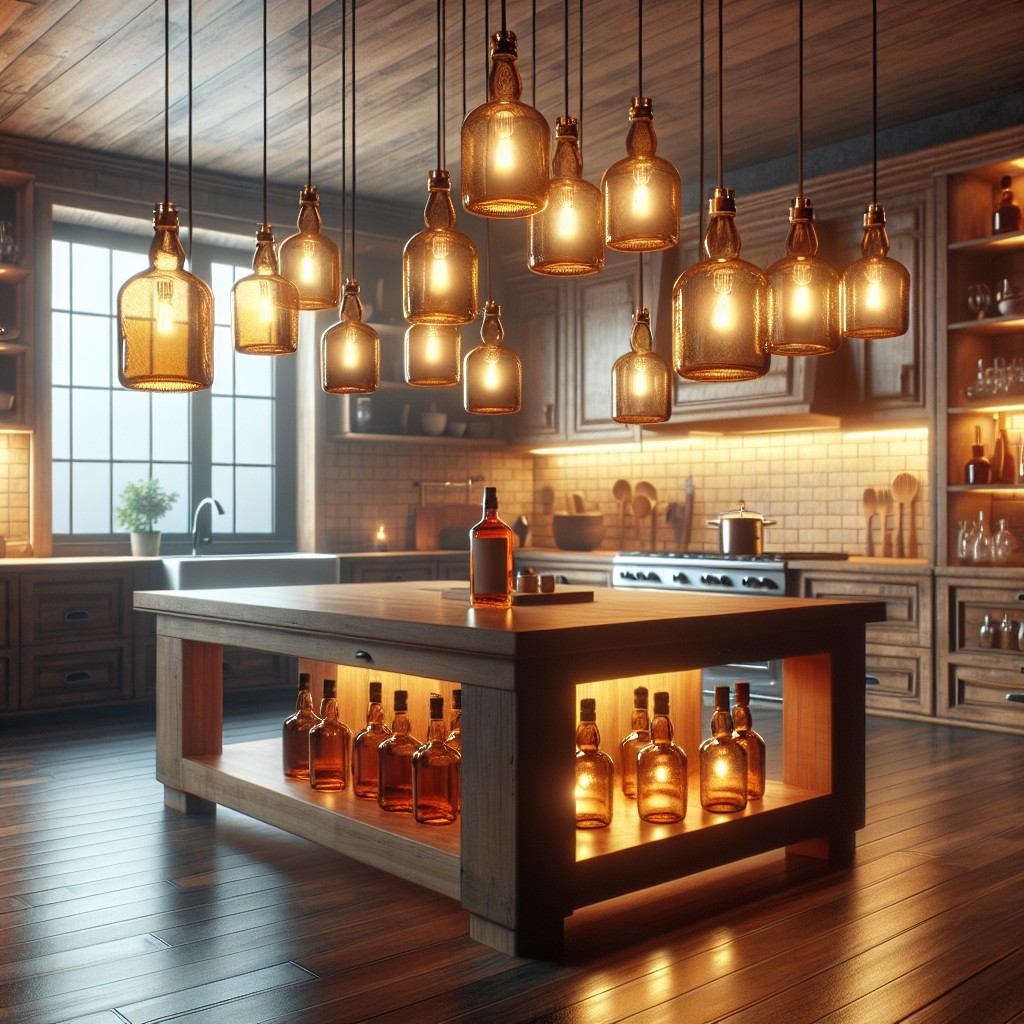 Incorporating this unique style into your kitchen decor can transform the ambiance and add a touch of vintage charm. Ideal for whiskey enthusiasts, these pendants often use actual emptied and sanitized whiskey bottles which lends an air of authenticity. The amber hues of the bottles filter the light, casting a warm, inviting glow over your island.
Additionally, they can serve as conversation starters, spark interest, and work particularly well in industrial-style or rustic kitchens. Plus, as reclaimed items, they're an excellent choice if you're looking for ways to include sustainable pieces in your home. Remember, while whiskey bottle pendants are intriguing, they're best introduced into spaces that already feature similar or complementary elements to create a harmonious look.
Rustic Lantern Pendants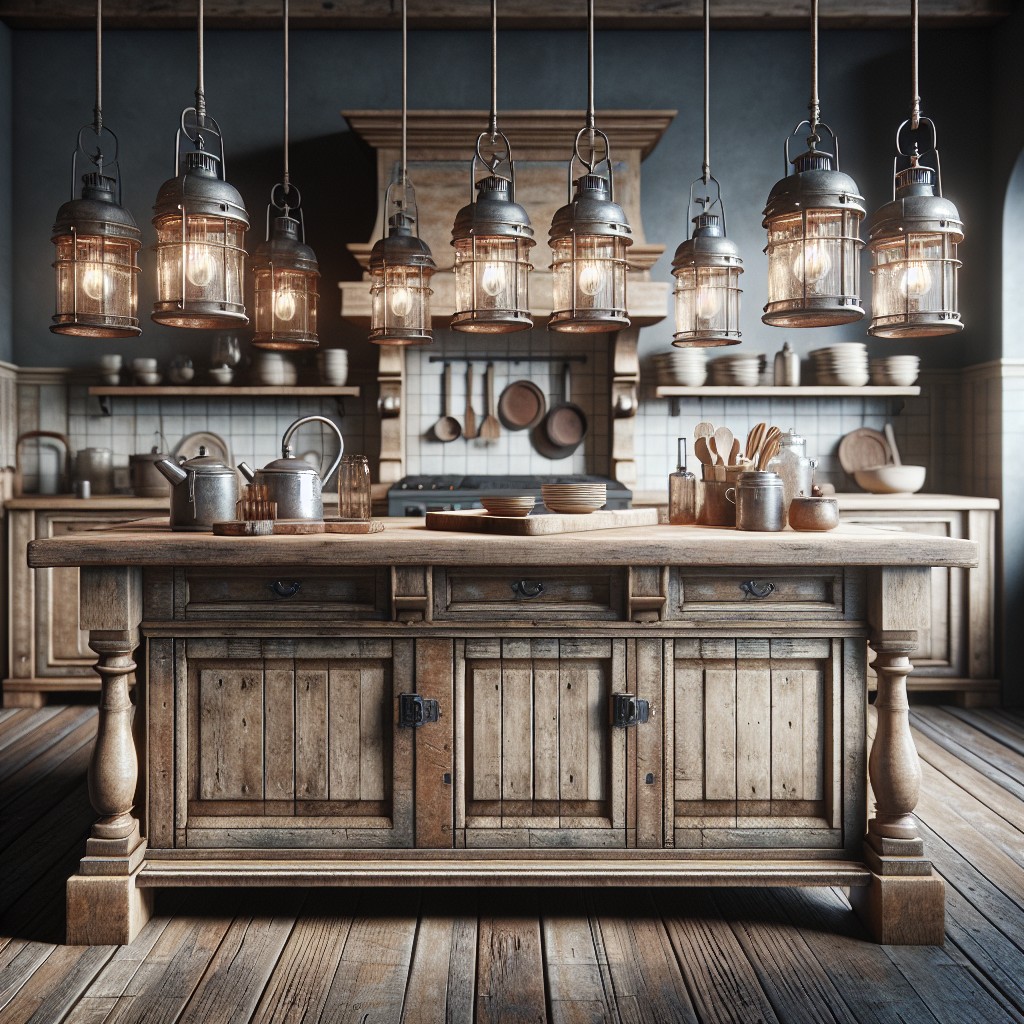 Known for their old-world charm, these light fixtures add depth and character to any space. Drawing inspiration from traditional oil lanterns, they bring a warm, cozy feel to a room.
Typically crafted from metal with glass panes, these pendants beautifully illuminate the space with a soft, diffused light. Ideal for homes channeling a rustic or a farmhouse style, they elevate the aesthetics while ensuring practicality.
Their versatility spans across styles ranging from antique black to distressed white metal finishes. Hanging above the island, they not only light up culinary pursuits but also act as intriguing visual elements.
Make sure to consider the size and shape of the lantern in relation to the island to maintain balance and symmetry.
Colorful Ceramic Dome Lights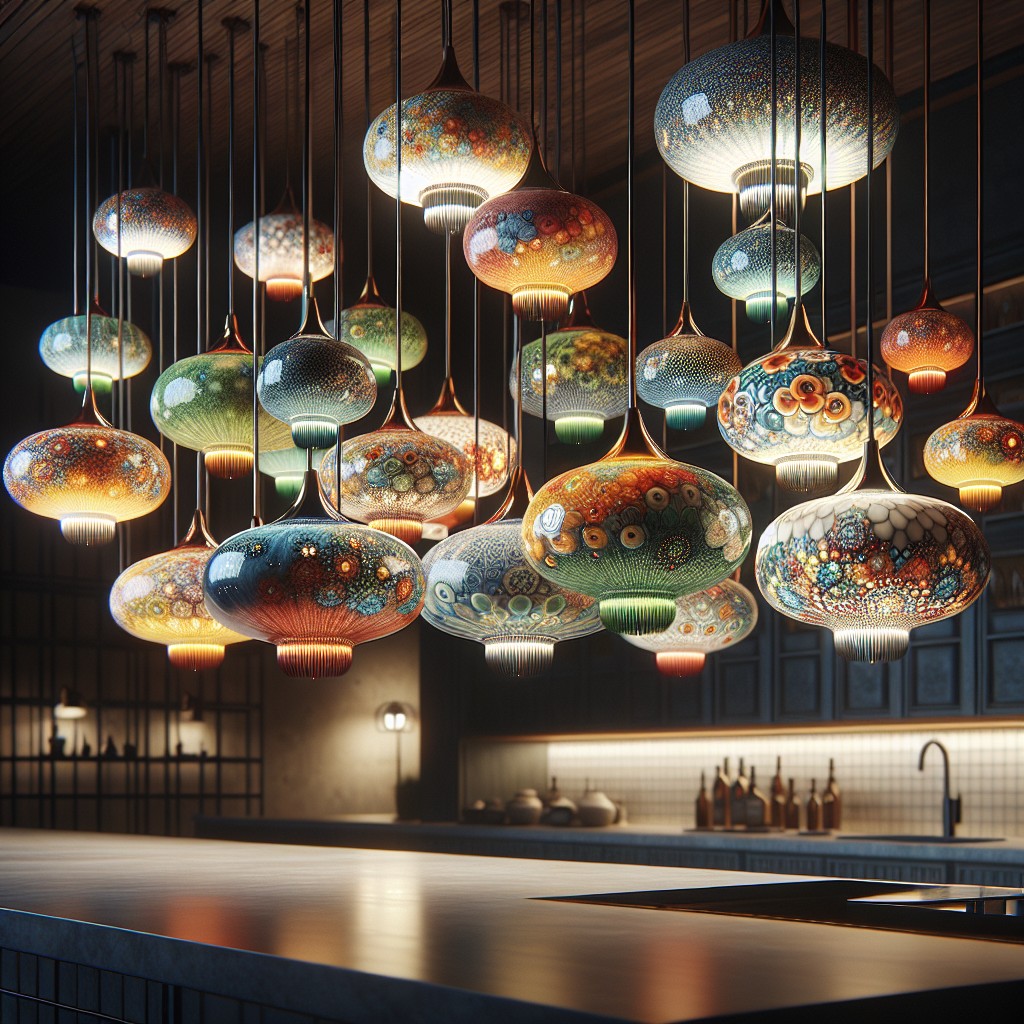 Dipped in hues that add a pop of color, these ceramic lights bring a vibrant edge to any kitchen island. The domed shape ensures a soft and direct light focus on the island area, while their ceramic build adds a smooth glossy finish. They take you to the Mediterranean without leaving your home.
Some points to consider,
1. The color and design of ceramic pendant lights can match any theme, from rustic and contemporary to boho chic.
2. The dome shape provides directed illumination, perfect for task lighting.
3. Ceramic constructs withstand heat and resist fading- ideal for long-term use.
4. You can adjust their height to create layered lighting.
5. Pair them with white or neutral tones for a color pop, or go monochrome for a subtle look.
Nautical Rope Pendant Lights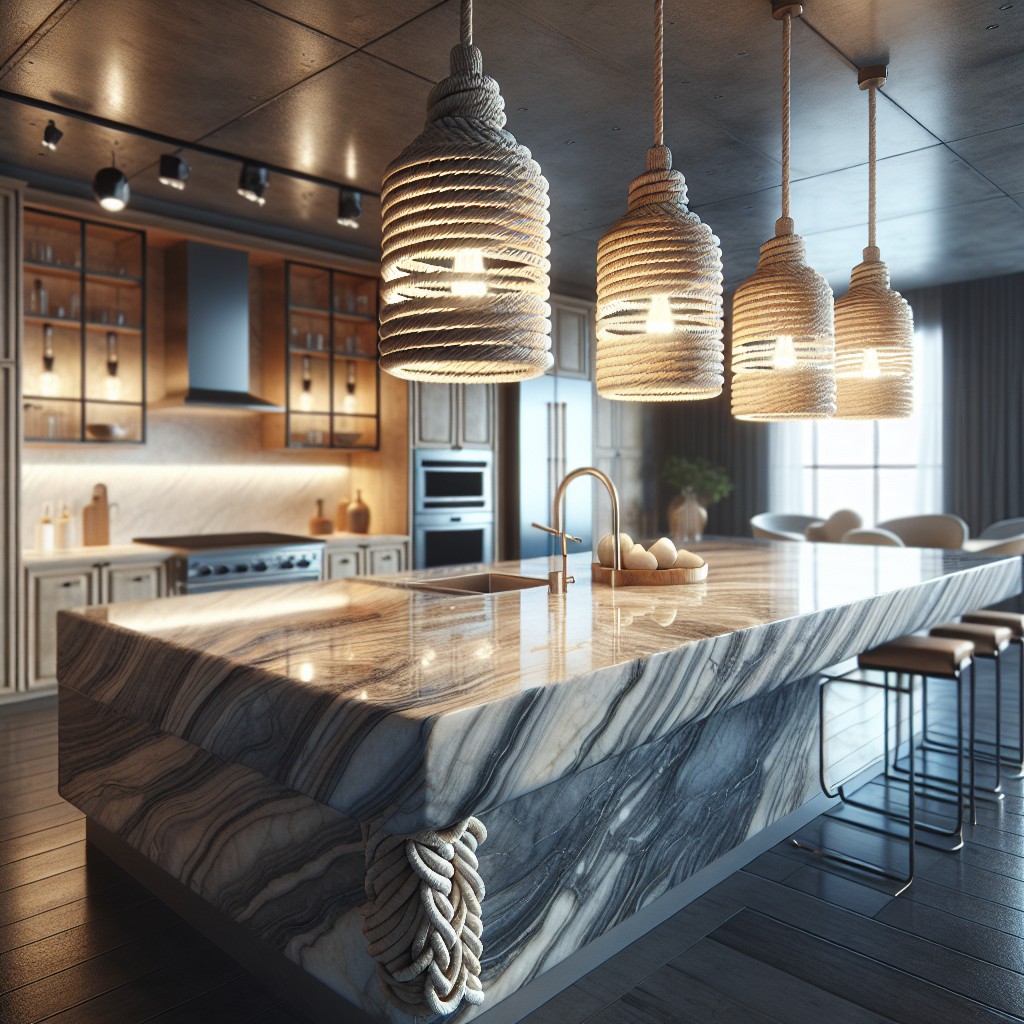 In giving your home a sea-side cottage feel, these lights truly shine. They may feature impressive details such as nankeen rope wrapped bulbs or complex knots encasing a clear bulb. The material's textural quality adds depth to kitchen decor while the natural hue keeps the palette grounded.
Not only reserved for beach homes, these are versatile, fitting neatly into rustic or industrial styled spaces. Consider a pulley-style pendant for a more dramatic touch, or a simple rope-wrapped bell shape for minimalistic interiors. Pair with a white-washed island countertop for a harmonious look or with a dark wooden countertop to make the pendant pop.
Maintenance is straightforward – an occasional dusting will keep the ropes looking rustic yet clean. This design style is an easy way to incorporate a touch of marine vibe to your island space. Don't limit your creativity – explore the variety of options and give your kitchen island a lively nautical flair!
Moroccan-Inspired Pendants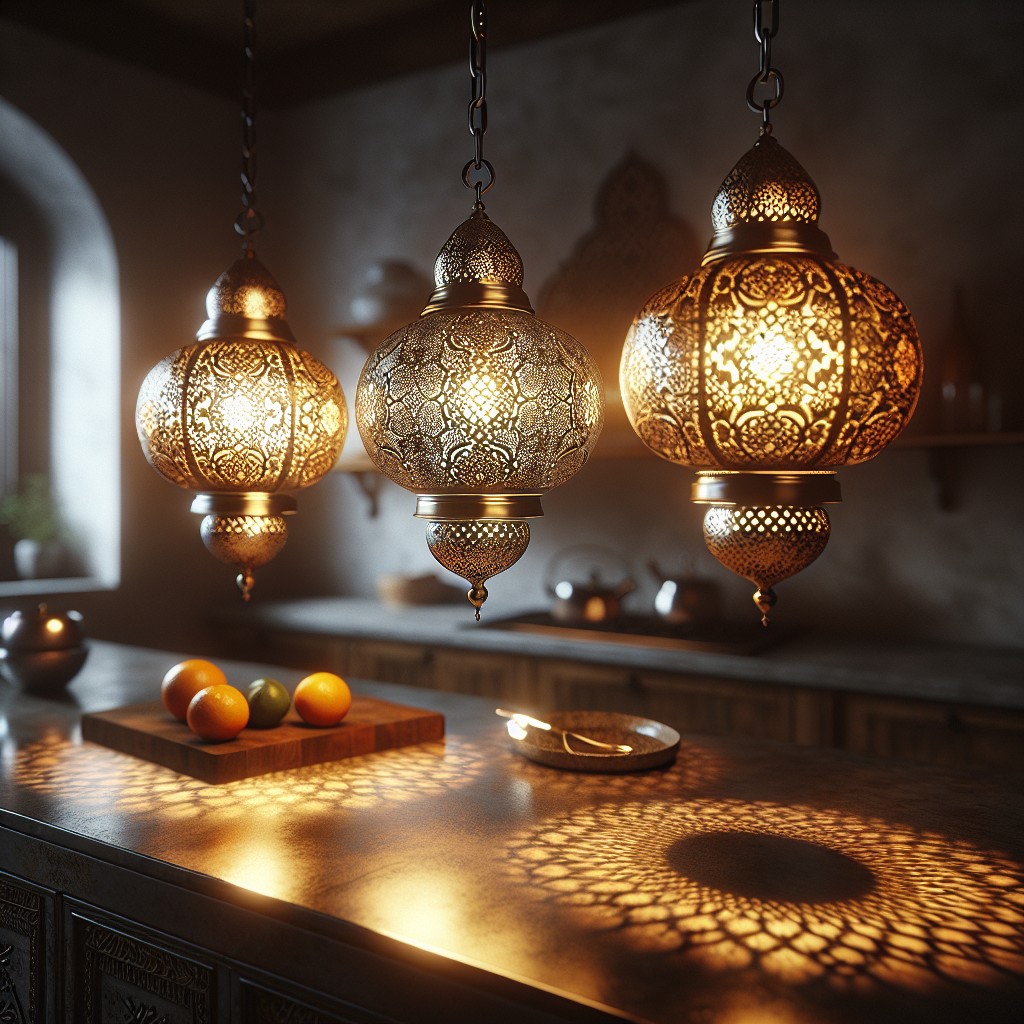 Stunningly ornate and enchantingly exotic, these lighting fixtures are an easy way to add a unique touch to any island. The intricate designs often found on these pendants embody traditional Arabesque patterns, which boasts of a distinct historical artistry. The detailed piercing within the metal framework allows light to filter through delicately, casting beautifully-patterned shadows around the room.
A variety in metals used, from brass to copper, offers a range of color tones for every preference. Some even feature colored glass inserts, providing a further burst of warmth and richness. These pendants are versatile, fitting well within various styles, from bohemian to traditional, enhancing the aesthetic quality.
Remember, while these lights contribute significantly to the ambiance, they aren't typically the main source of illumination due to their decorative design. Pair them with recessed ceiling lights for a balanced lighting setup.
Recycled Glass Encased Lights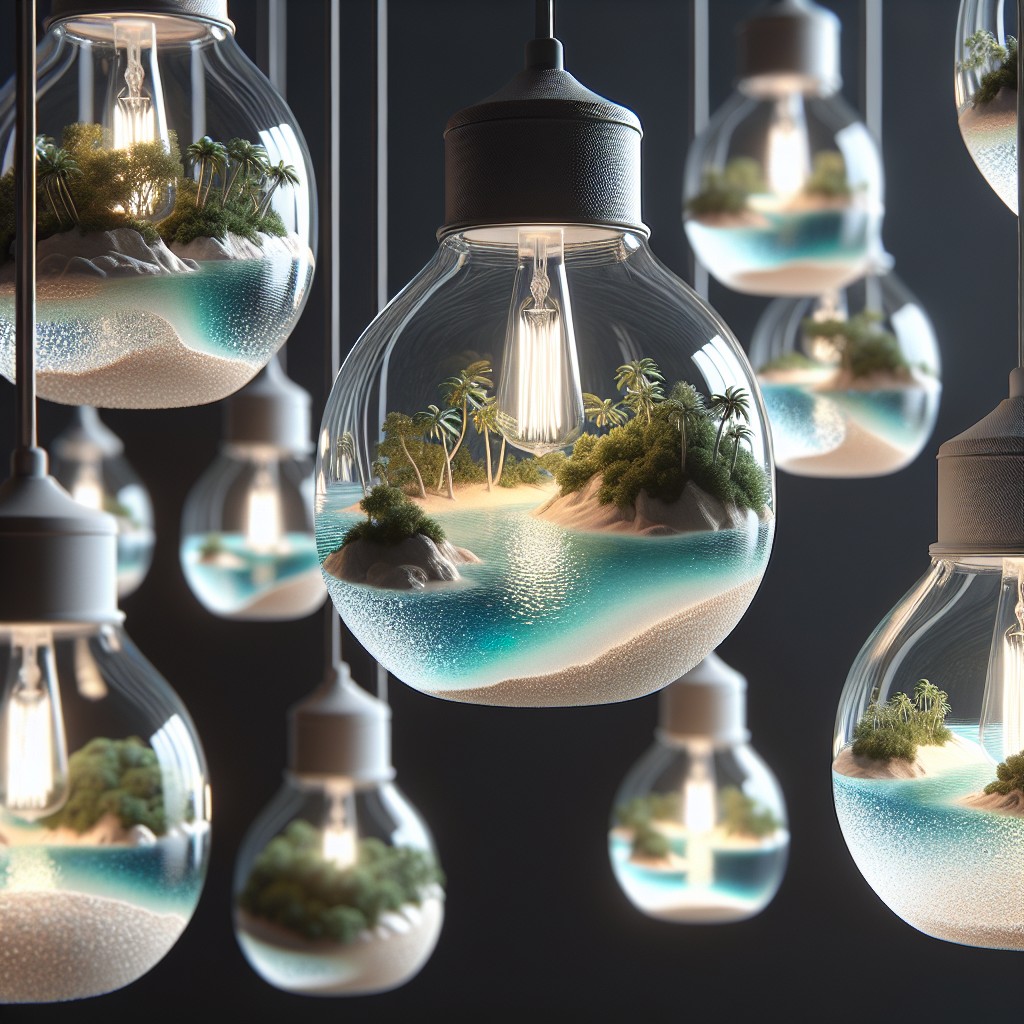 Harnessing eco-friendly practices, these lighting fixtures uniquely integrate discarded glass fragments, bringing them back to life. Their ability to reflect light, combined with a colorful tint, makes each piece truly distinct.
The glass exterior often surrounds the bulb, resulting in a glorious array of light. Color variations can match numerous themes, allowing a perfect blend with any island design. These lights emphasize sustainability without compromising style, leading to a visually appealing, guilt-free kitchen lighting solution.
They indeed showcase a clever way to reduce, reuse, and upcycle, all while providing that gorgeous illumination your kitchen island needs.
Wine Barrel Ring Pendants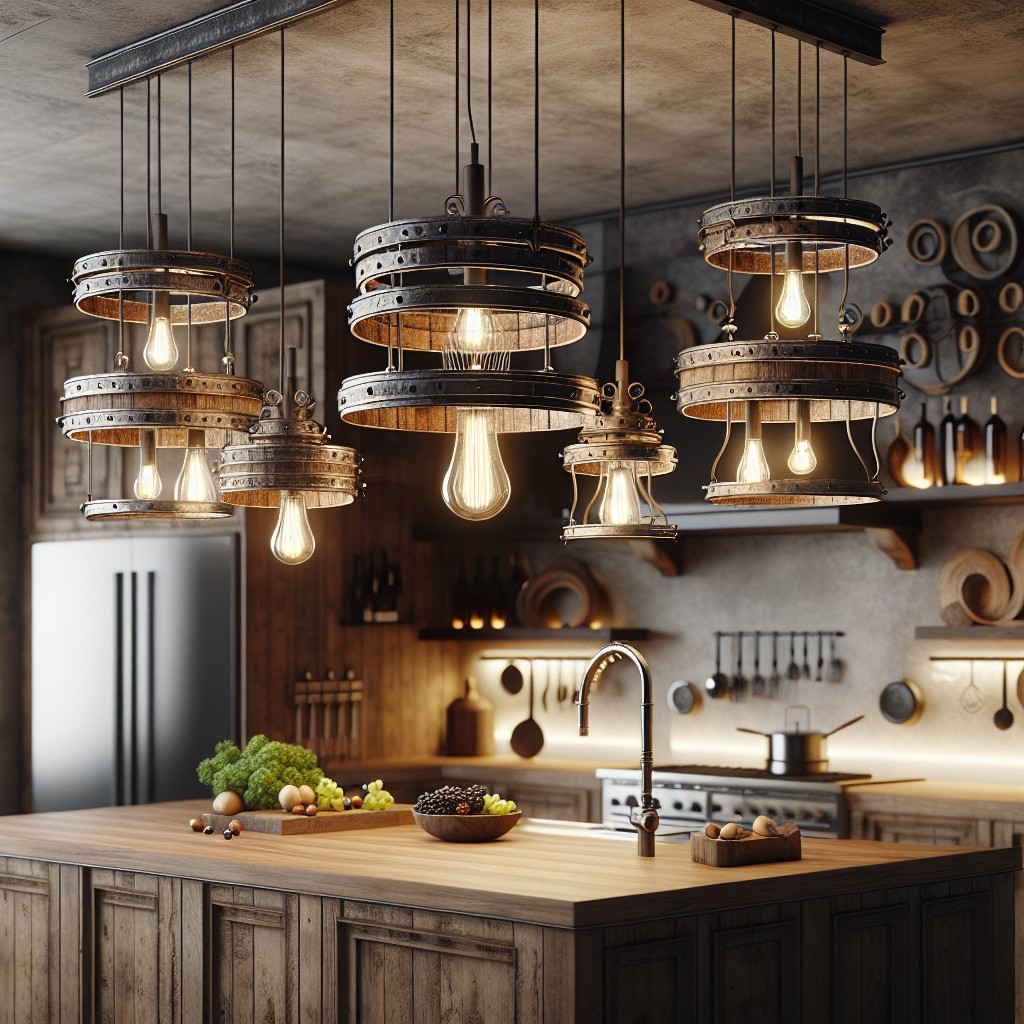 Created from authentic wine barrel rings, these distinctive pendants imbue your island with charm and character. The iron rings, re-purposed from retired wine barrels, create a circular casing for bulbs, casting warm, unique shadows throughout the space.
They offer a distinctive appeal that is both rustic and modern due to the blend of recycled material and their circular design. Whether you opt for a single fixture or cluster multiple together for an illuminating feature, they are bound to make a bold statement.
Ideal for giving a nod to traditional design while keeping a contemporary flair, these pendants work well in both casual or a high-end kitchen. They also mesh nicely with various color schemes and provide a remarkable addition to any kitchen island's ambiance.
To care for these lights, simply dust regularly, ensuring prolonged life and maintained aesthetics. For installation, consider employing licensed professional to ensure safety and maintain the light's structural integrity.
Remember, lighting can shape the perception of your space. Thoughtfully chosen fixtures, such as wine barrel ring pendants, can transform an ordinary kitchen island into an exclusive design focal point, radiating charm and warmth.
Multiple Tiny Bulbs Pendant Chandelier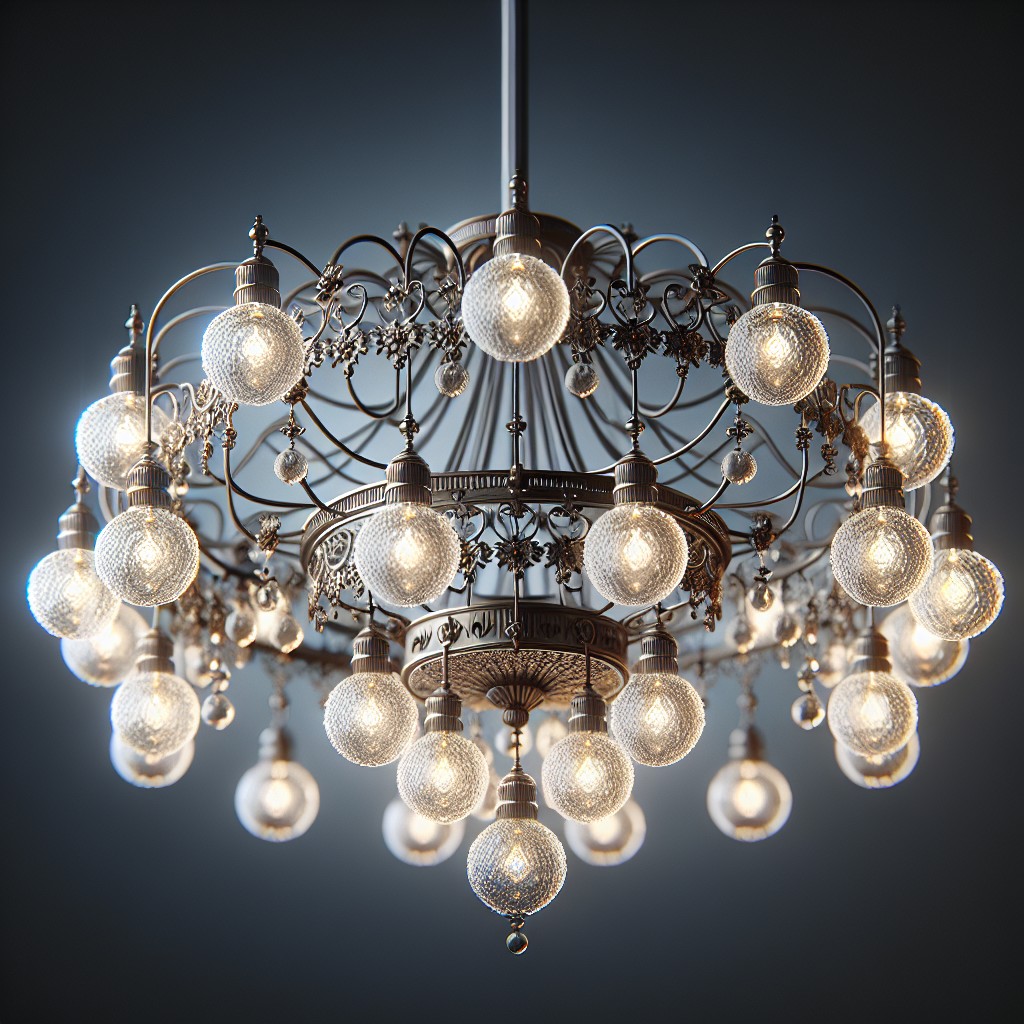 Opting for a cascade of twinkling tiny light bulbs can turn your island into a jaw-dropping focal point. A cluster of minute bulbs hanging at different heights presents a radiant chandelier effect that's dazzling yet warm, especially in a darkened room.
This is a fabulous touch in modern and minimalist decors as it introduces an element of quirky charm without overpowering an understated design aesthetic.
While choosing this design, remember:
Make sure the lengths vary to avoid a mundane, uniform look.
Use LED lights for energy efficiency.
Balance the size of your island with the scale of the chandelier.
If possible, install a dimmer switch for adaptive illumination.
This style requires high ceilings for the best visual effect.
Teardrop Crystal Pendant Lights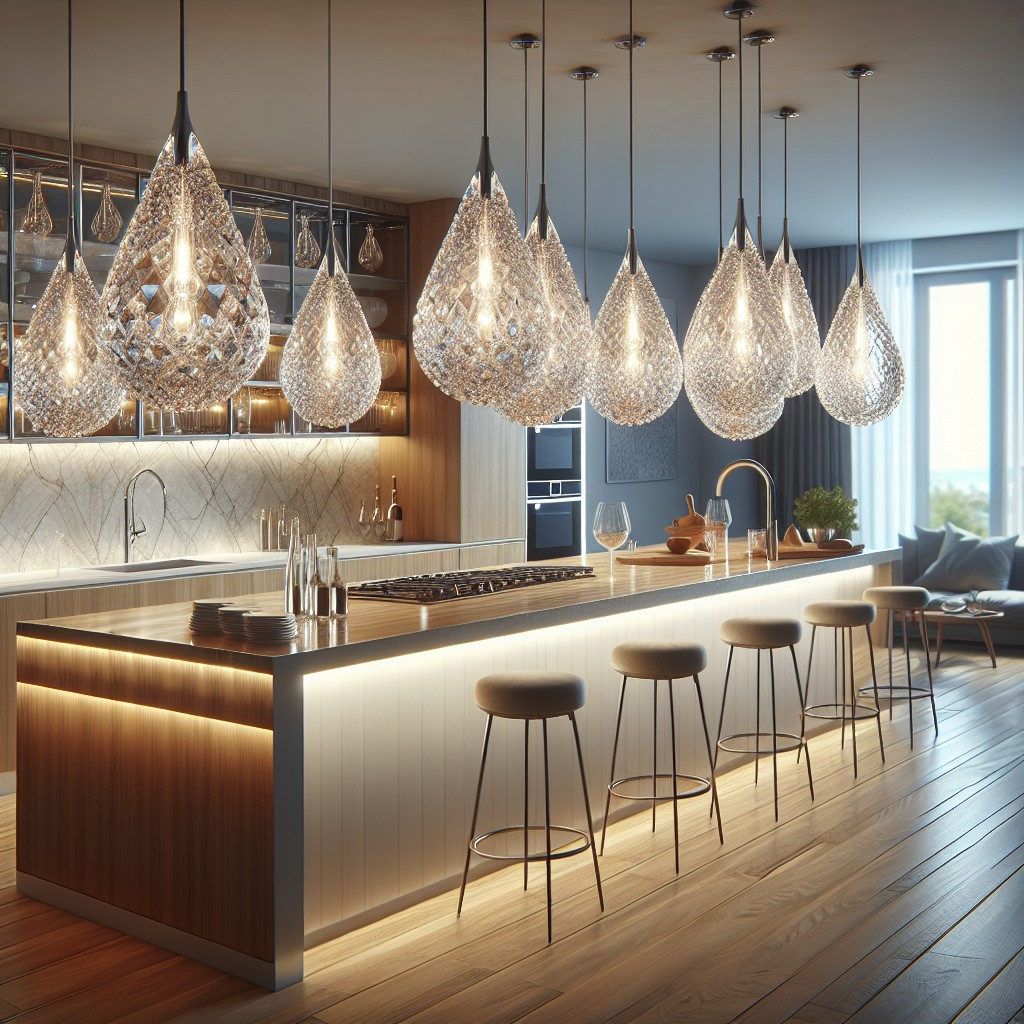 Teardrop crystal pendant lights are a unique choice offering an elegant glow to your kitchen. Suspended above the kitchen island, these can make meal prep a luxurious experience.
They're available in several designs, from single larger teardrops to clusters of smaller ones. The refracted light passing through the crystals broadens the light spectrum, creating a glamorous atmosphere.
For a more contemporary look, you could opt for designs in colored glass. Remember, proper positioning height is vital, ideally around 30 to 36 inches above the countertop to ensure perfect illumination without obstructing your view.
Always match the light's size to the counter's length to maintain balance. A dimmer switch can provide control over the ambiance, allowing you to switch from functional lighting to a more subtle, dining-friendly glow.
Hand-Blown Glass Fish Pendants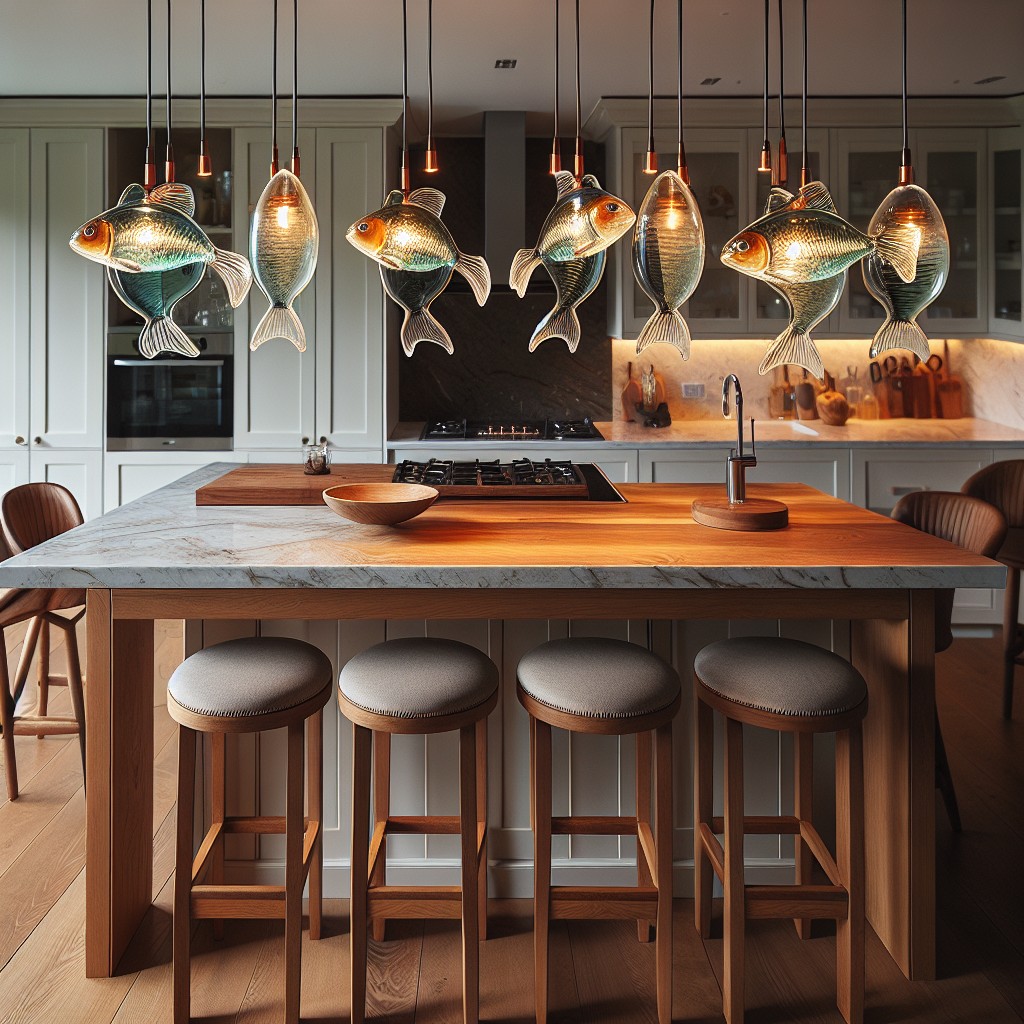 These unique fixtures create an ethereal under-the-sea ambience. The pendants are individually created, with each piece reflecting skilled craftsmanship and attention to detail that ensures authentic fish shapes, complete with fins and scales.
Different hues like sea blues, greens, and teals depict varying depths of ocean water. The result? A mesmerizing light display that animates your kitchen.
Opt for a pendant cluster for an entrancing visual display or a single light for a subtle touch of marine magic. Additionally, the light refracting through the colored glass provides a dreamy diffusion, bathing your island in a soft, aquatic glow.
It's a bold choice that adds personality to your space while guaranteeing you a unique decor piece!
Mosaic Glass Pendant Lights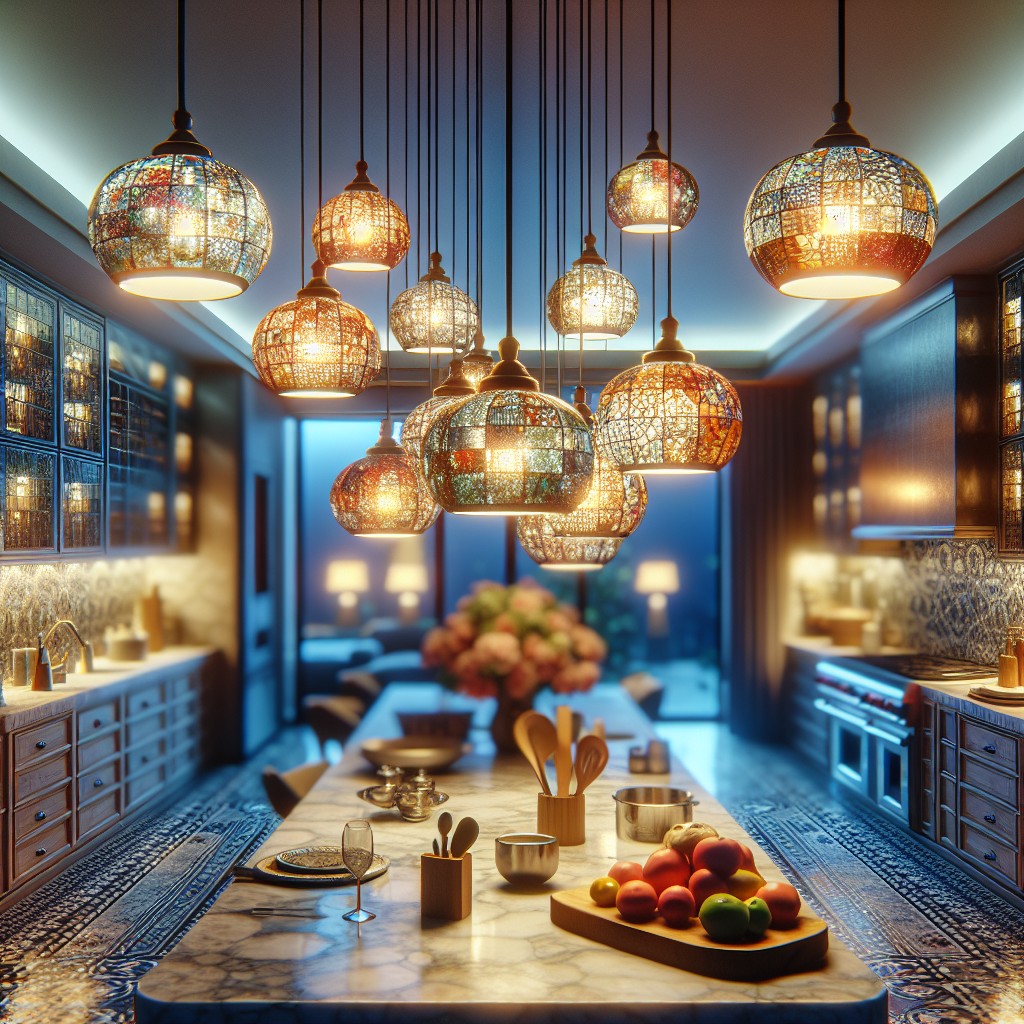 With a vibrant array of colors and patterns, these lights are true show stoppers. Each piece of glass is meticulously placed to create a stunning design, radiating a warm, ambient glow.
1. Variety: From abstract patterns to intricate floral designs, there's a vast selection to choose from.
2. Customizability: Most artisans take requests, so creating a unique piece that complements your space is an option.
3. Ambience: The kaleidoscope-like effect projects an artful display of lights and shadows, adding drama to the space.
4. Easy Maintenance: A simple wipe down with a soft, dry cloth can keep these lights clean and shimmering.
5. Versatile: Suits any decor style, be it modern, rustic, eclectic, or traditional.
Remember, choosing the right light depends hugely on the existing decor style. So, carefully select your pendant to avoid a disjointed look.
Bamboo Basket Pendant Lights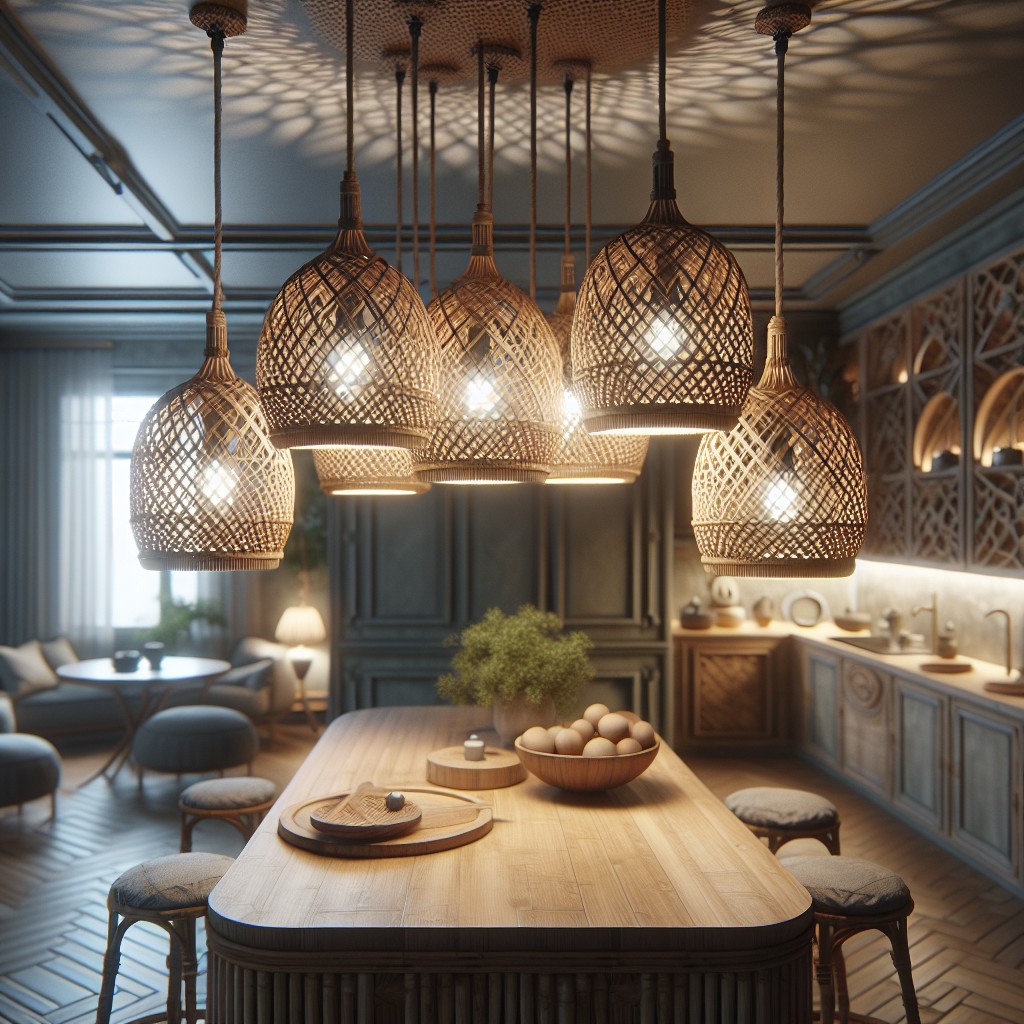 Crafted from natural bamboo, these pendant lights exude an organic charm that can create a relaxing and peaceful ambiance in your kitchen. The tightly interlaced bamboo strips form a sturdy basket case around the light bulb, presenting an artistic play of light and shadow when switched on.
Aesthetically skillful, they loosely allow light to seep through, casting an intricate web-like pattern that mesmerizes and illuminates simultaneously. These lights also provide a nice contrast to stainless steel appliances, compliment wooden countertops, and blend seamlessly into a more boho-inspired decor. They are an excellent choice for nature lovers wanting to bring a touch of the outdoors inside.
The bamboo basket pendant lights are relatively lightweight, making installation a breeze. Options to bear in mind include the natural or tinted bamboo finish and sizes, which range from small & cozier lights to larger statement pieces. Pairing them with warm white LED bulbs will enhance the calming, earthy aesthetics. Simply put, these pendants are a statement of sustainable living and laid back elegance.
Iron Cage Pendants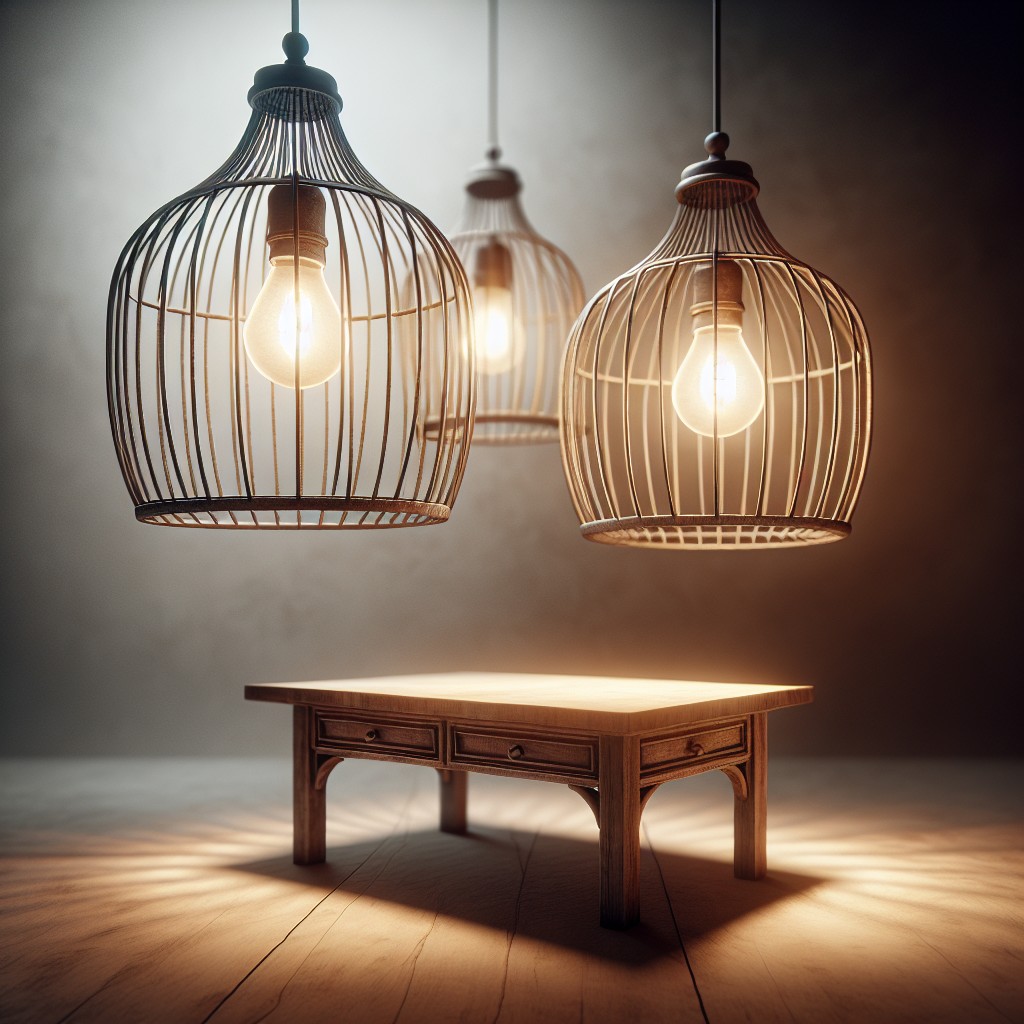 A raw yet refined choice for any modern or industrial themed kitchen. Their robust skeletal structure provides a striking visual impact, whether lit or not. They allow the bulb to be exposed, creating bright illumination.
These come in many forms, from complex geometric designs to simple rectangular or cylindrical shapes. For a dramatic effect, use Edison-style bulbs. They often feature an adjustable chain or cord, offering versatility in terms of height positioning.
Generally, you'll find them in various finishes such as black, brown or antique bronze. Offering robust illumination, they complement other iron elements in the space. Their easy maintenance is another added benefit, simply dust off with a soft dry cloth.
Concrete Orb Pendants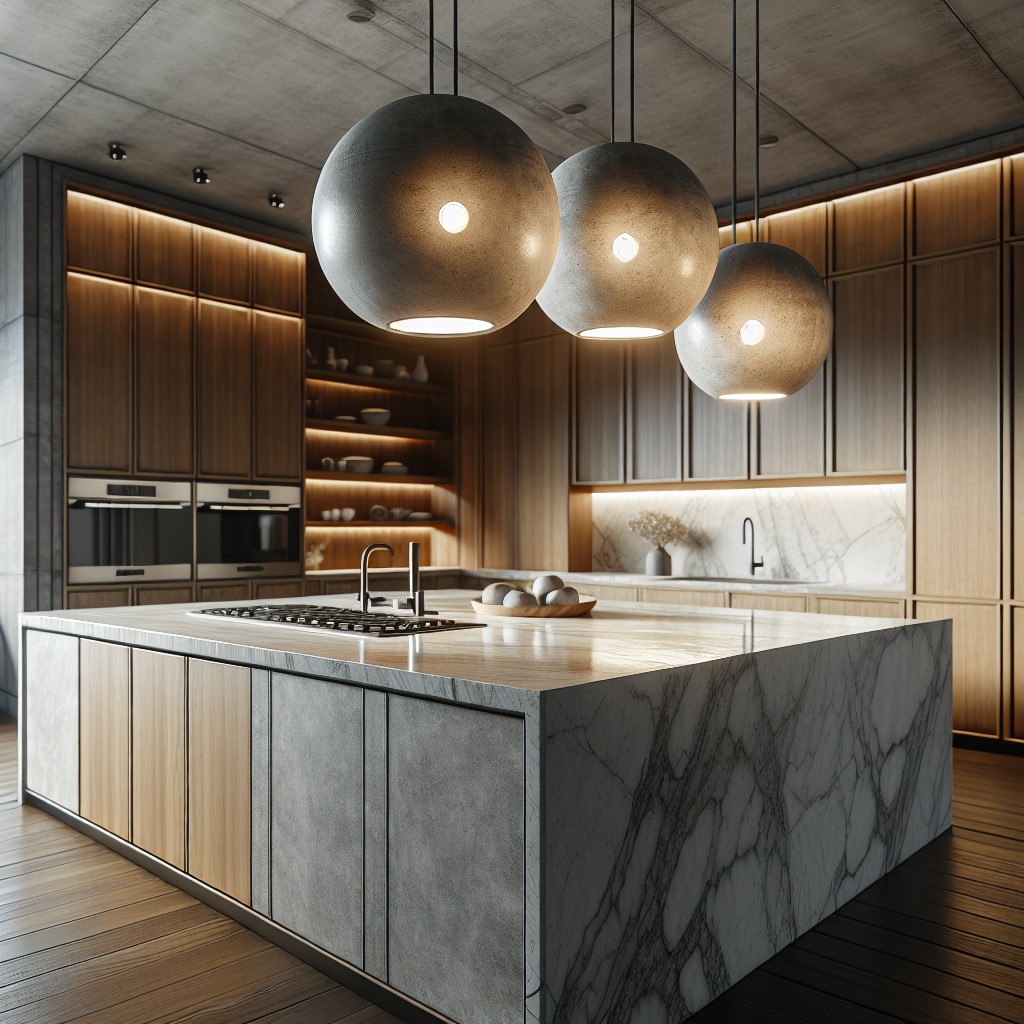 Adding an industrial flair to your island space, these pendants bring a modern and rough-hewn charm. Formed from artisan-crafted concrete, each orb is unique, embodying a delightful blend of simplicity and style.
Offering a subtle texture, the surface patterns introduce intriguing shadow play when illuminated. The imperfect surface presents an exquisite earthy appeal reminiscent of wabi-sabi, the appreciation of beauty in imperfection.
Despite their substantial visual weight, a clever choice of thin cable suspension creates an illusion of floating. Their neutral color palette easily blends with any interior, making them incredibly versatile.
Combine with warm LED lights to soften the coolness of the concrete, creating a cozy, welcoming glow. Pair with minimalist decor or metals for a luxe, industrial look. Consider cluster arrangements for a dramatic effect.
They perform wonderfully in high-ceiling spaces due to their solid structure. Keep in mind, concrete works best in dry areas as humidity can cause it to weather and crack.
Spherical Rattan Pendant Lights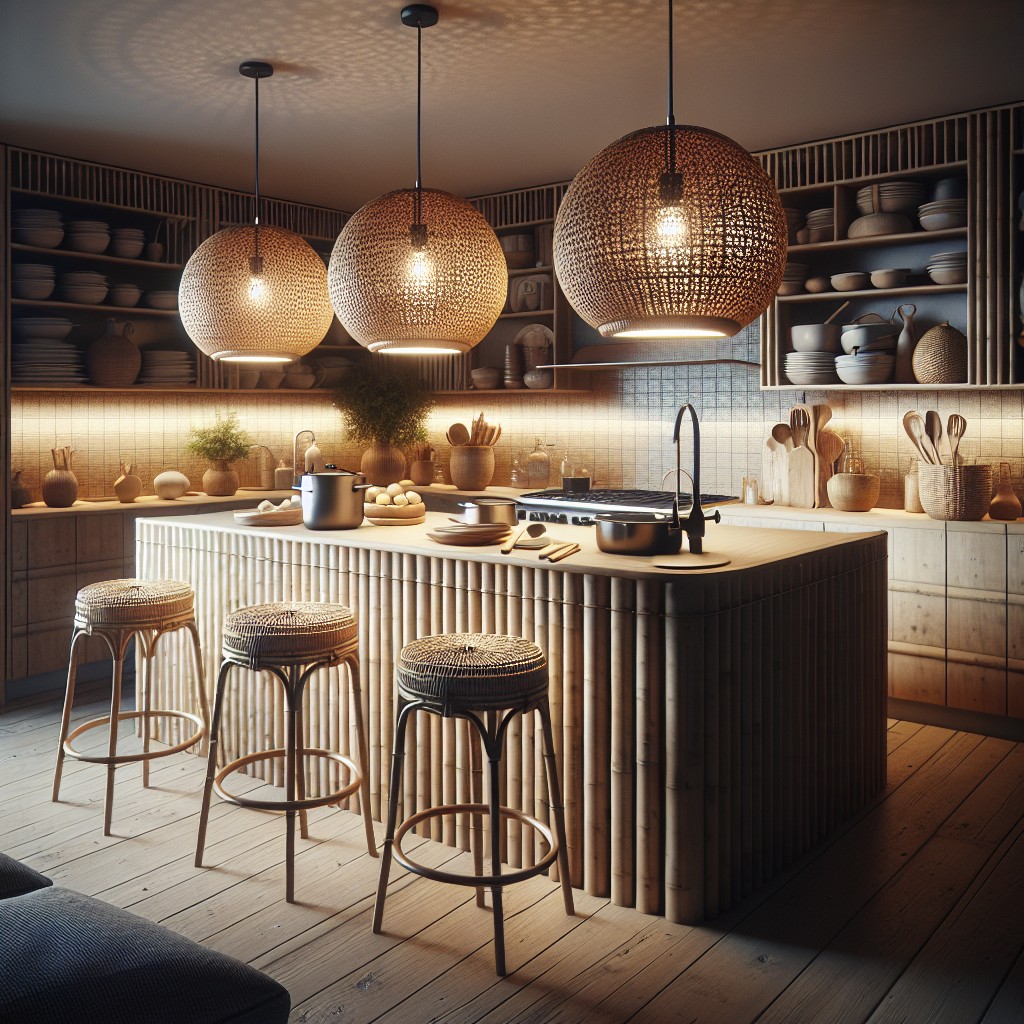 Spherical rattan lights bring an air of natural, relaxed elegance. Their unique, organic texture makes them a visually interesting addition. Warm tones of the rattan give off a soft, inviting light that sets an earthy, calming atmosphere.
Their neutral hue also makes them highly versatile, fitting seamlessly into different design aesthetics. While they carry a coastal, bohemian vibe, they can also suit minimalistic, Scandinavian themes.
They come in various sizes, suitable for kitchen islands of different lengths. Larger spheres work for expansive spaces while a series of smaller pieces are ideal for narrow, elongated islands.
Furthermore, they are eco-friendly, offering a sustainable lighting choice for the environmentally conscious decorator. Their construction is typically hand-woven, adding a touch of artisanal craftsmanship to your kitchen decor.
To keep them looking pristine, their care involves gentle dusting and occasional vacuuming using a brush attachment. In terms of installation, they are lightweight, making them safer and easier to hang compared to heavier materials.
They are also cost-effective, proving that style does not always need to come with a hefty price tag. Therefore, these pendant lights work as an aesthetically pleasing, practical, and sustainable option.
Geometric Wire Frame Pendants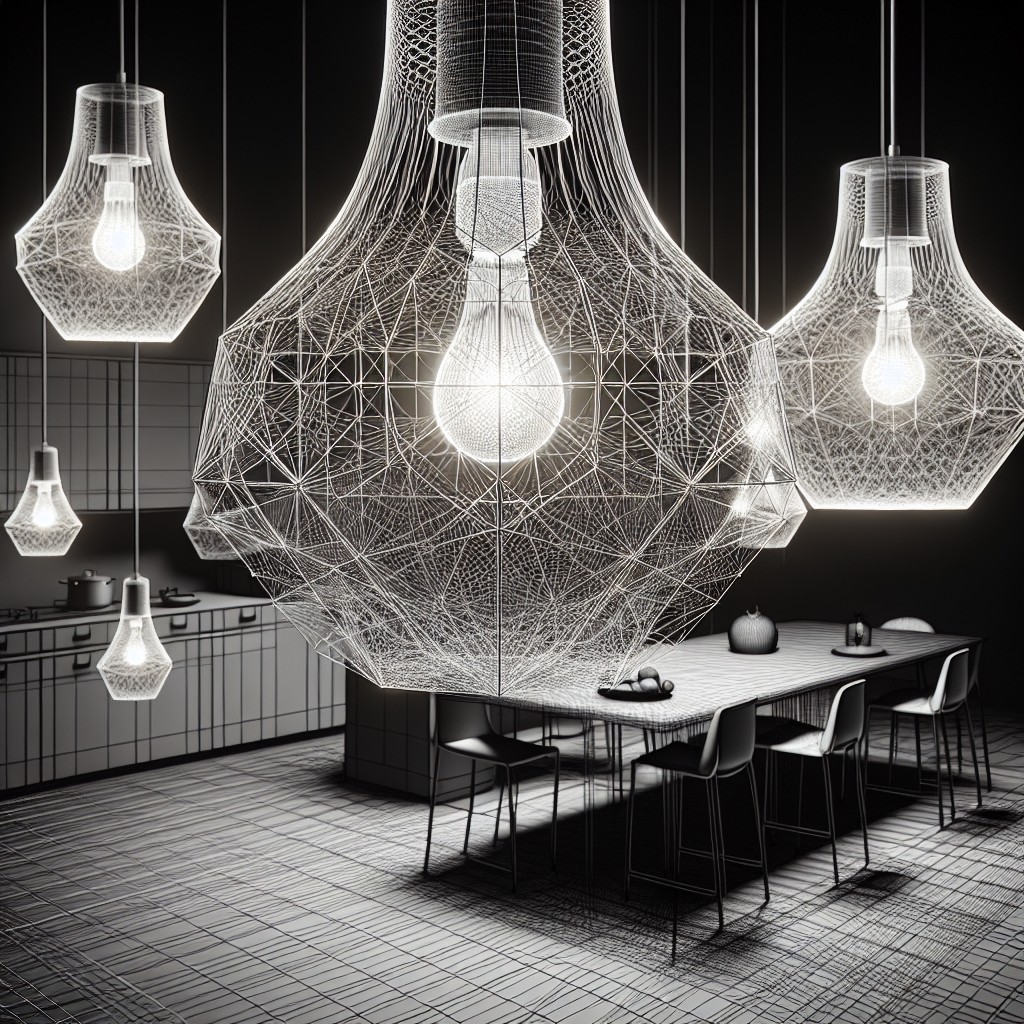 Wire frame pendants are a true melding of form and function, providing both ample illumination and a flourish of visual interest. These fixtures flaunt their geometric charm, which can be in the shape of spheres, diamonds, cubes, or even deconstructed designs for a more modern and edgy appeal.
They're ideal for modern kitchens with sleek lines and a minimalist vibe. Usually crafted from black, white, or metallic wire, they add a sculptural component giving your island a unique focal point.
What's more, these pendants can house any type of bulb, though Edison-style ones often add an extra layer of sophistication. However, remember to strike a balance between the light's size, number, and the size of the island. Larger islands may require more or bigger pendants while smaller ones might only need a single statement piece.
Likewise, it's important to maintain 30 to 36 inches clearance from the bottom of the light to the countertop. Proper positioning ensures the perfect lighting while preventing the fixtures from obstructing the view.
Remember, these lighting choices don't have to break the bank, they come in a range of prices making them accessible for any budget. With their modern allure and geometric splendor, wire frame pendants sure add a dash of architectural beauty to your kitchen island.
Ideas Elsewhere
Continue reading: