Last updated on September 5, 2021
Use these walk-in closet ideas to design and build out an ideal dressing space. The same principles apply for storage closets as well. Read on!
A walk-in closet is a brilliant feature to have in a home. It gives you ample space to keep your clothes tidy, and more importantly, it is stashed away from the rest of the decor. That is not to say, that you should keep secrets in your closet.
Just like any other space in your home, the closet needs to be organized, and if it's big enough, decorated as well. These two tasks are so important we are going to tackle them here in this article.
We'll start by getting to know what is a walk-in closet and what it consists of. Then we will move on to more advanced ideas, finally finishing with the bells and whistles like the lighting.
If we can learn anything from our favorite top designers, it's that a big closet needs to be functional, modern, but have its style. It needs to have those unexpected elements that can surprise as well. (Emily Henderson)
Others will tell you that you need to categorize it and create systems as much as possible. So even a small closet can look attractively spacious with a plethora of handsome baskets. (Coco Kelley)
Let's find out even more ideas!
What's Inside
What is a Walk-in Closet?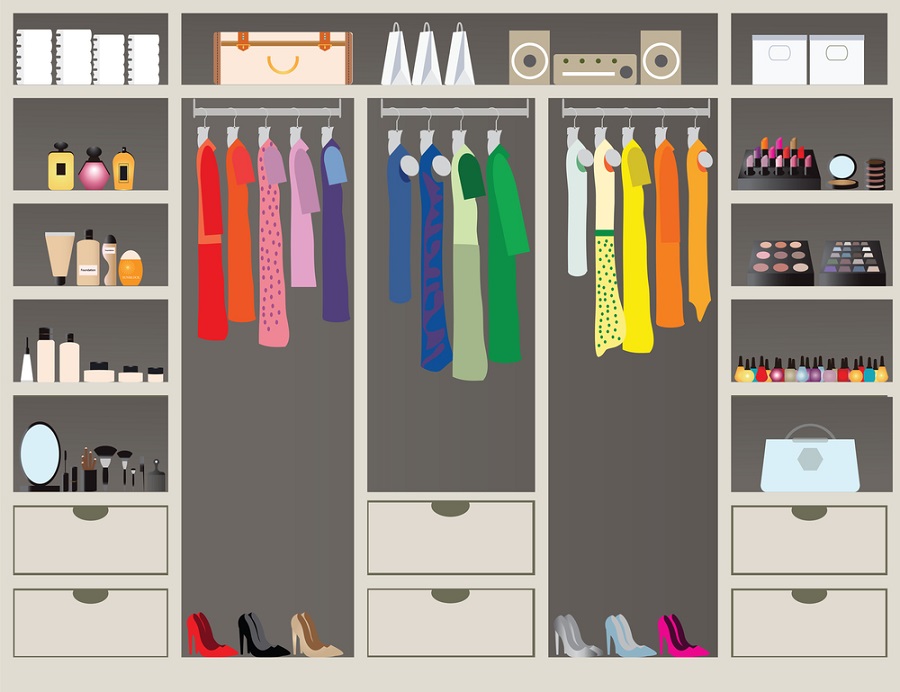 A walk-in closet is basically a storage room for clothes, shoes, and accessories that has sufficient space for someone to stand and walk around in while accessing the previously-mentioned items. This type of closet allows individuals to enjoy the experience of picking out the perfect outfit of the day. The design of a walk-in closet is not limited to era and time because each one has its own distinctive qualities that can be made to suit your preference.
Generally speaking, a bigger space is needed to create a walk-in closet. This space will allow you to install the closet on both sidewalls in the space or only to the back wall.
There is a wall available for either a mirror or a closet, based on preference.
Another walk-in closet style is using a small room almost half of the size of the bedroom. This type is commonly used in bedroom suites as a larger space is needed than that of a simple walk-in closet. That is because of the number of storage options available for this closet type.
Closet Rod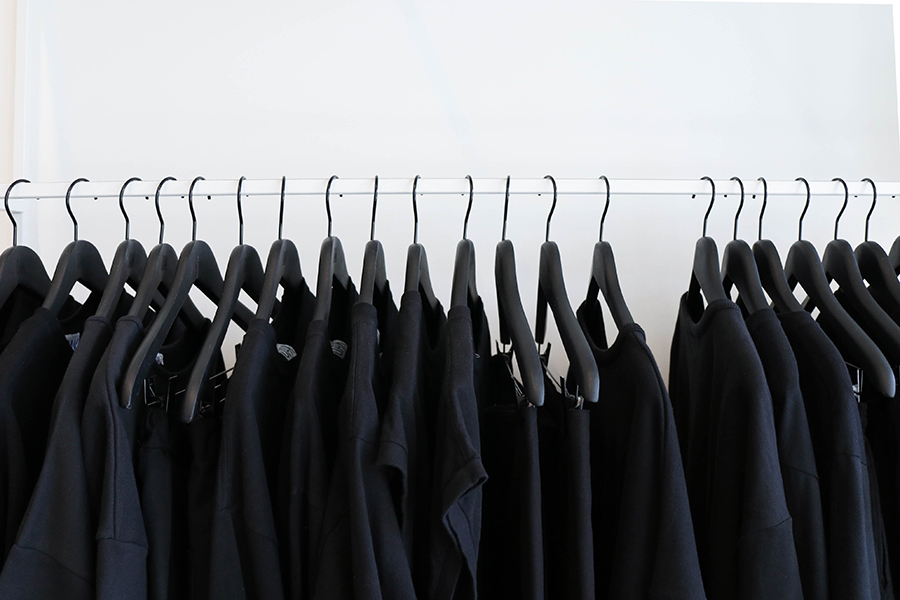 The dowel of a closet rod is typically between 1¼ inches and 1 3/8 inches in diameter. This makes allowance for remarkable hanging strength. It is resistant to breakage and when properly supported, it will not bend.
Closet Drawers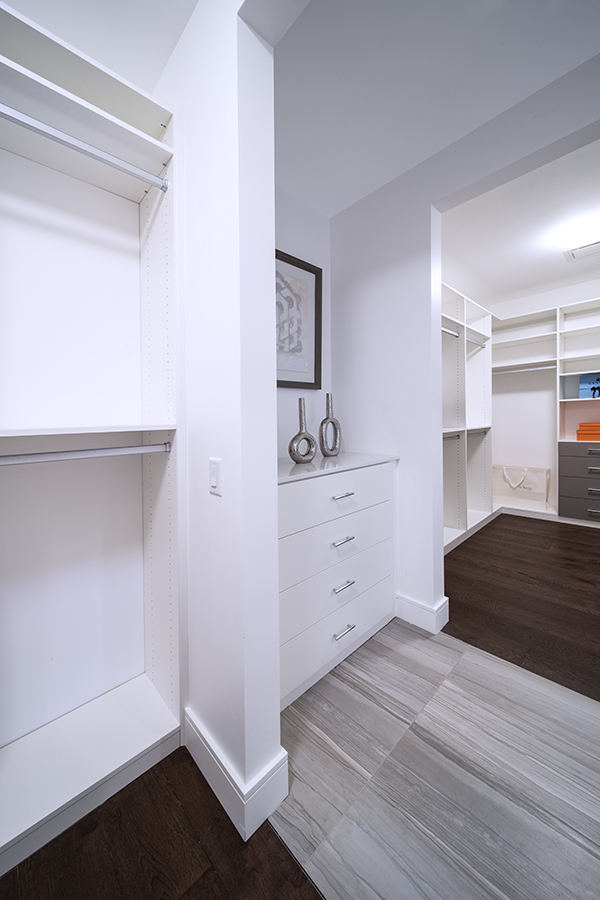 There are different varieties of closet drawers. They include freestanding pre-made drawer units, made-to-order built-in drawers created specifically for your closet and basket-like drawers that are finished with fabric exterior.
Closet Organizer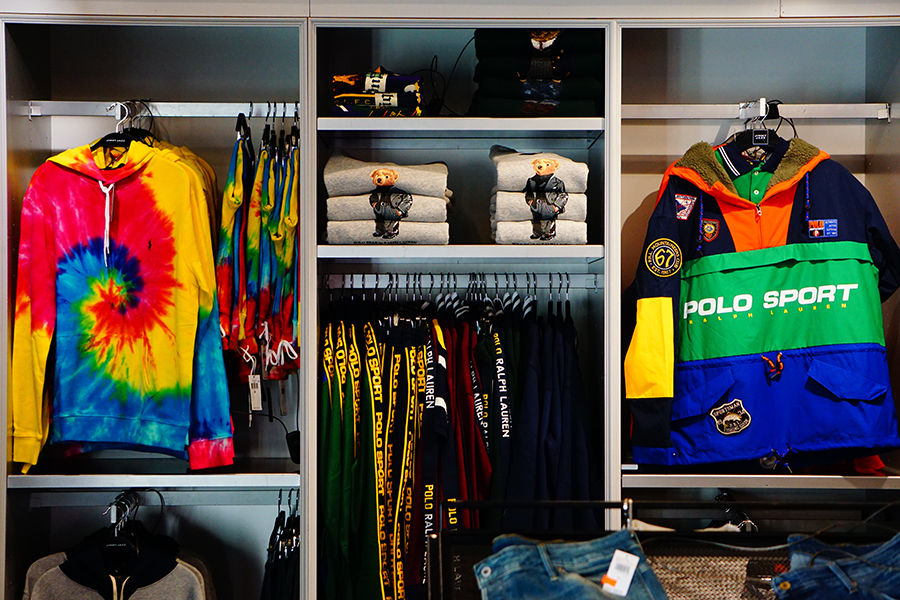 Your closet organizer can be customized to fit your particular closet needs. They can be designed to ensure everything has its own space.
Closet Systems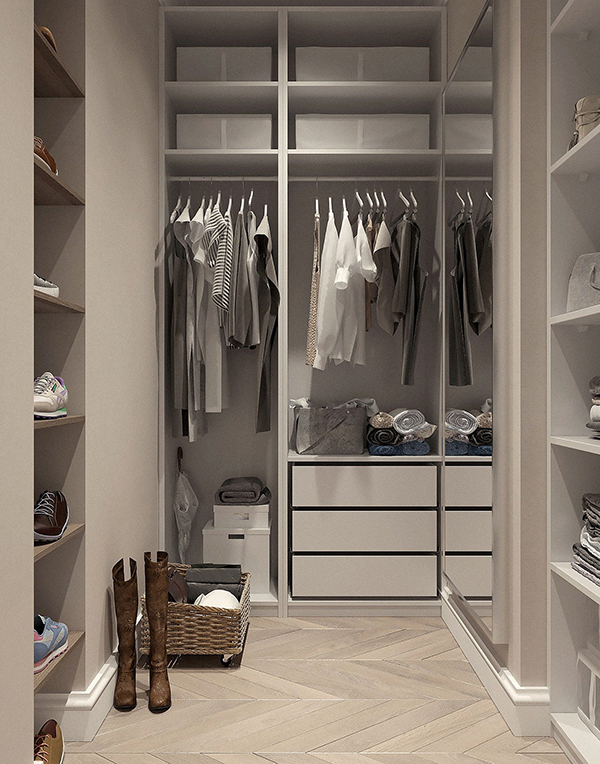 Closet systems typically include organizing elements like shelving units, hanging bags, valet rods, shoe boxes, and plastic storage bins.
Custom Closet Systems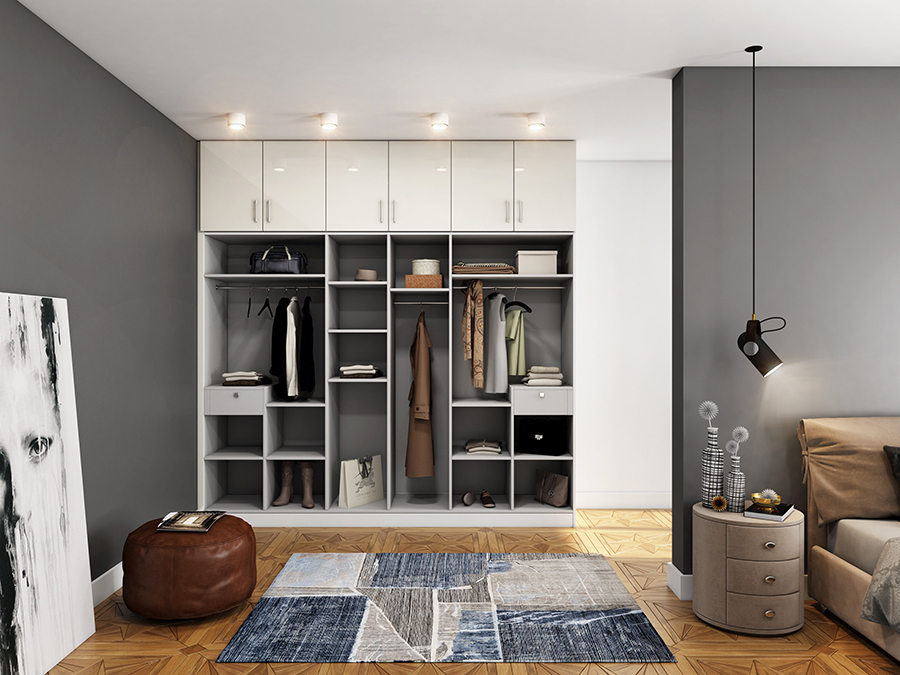 A number of companies provide you with the option of designing your customized closet organizer online. The design is then reviewed by expert designers, then constructed and shipped to you.
Hanging Shoe Organizer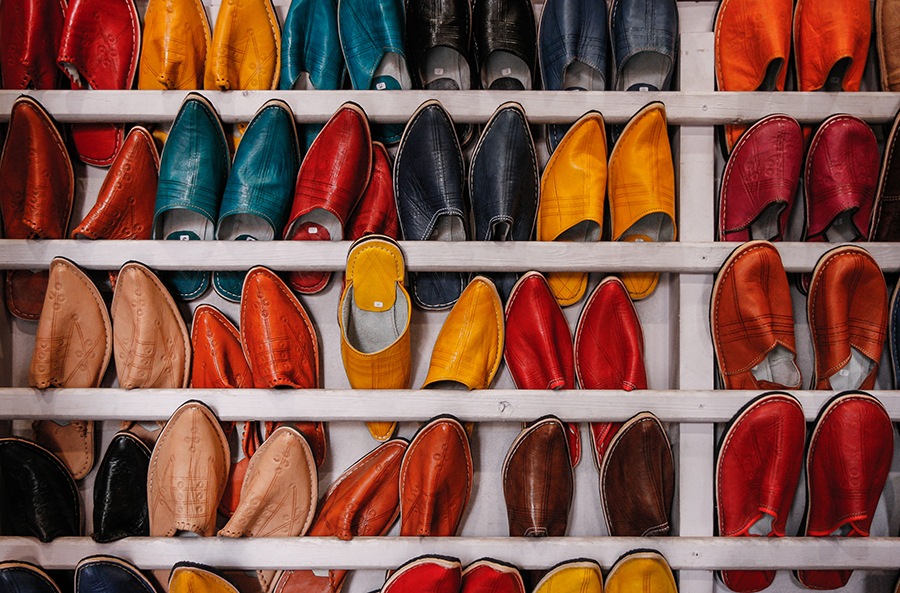 A hanging shoe organizer helps with organizing and protecting your shoes. The shelves keep shoes and other accessories clean, dust-free and visible. Hanging organizers are typically designed to accommodate a different number of shoes.
Closet Cabinets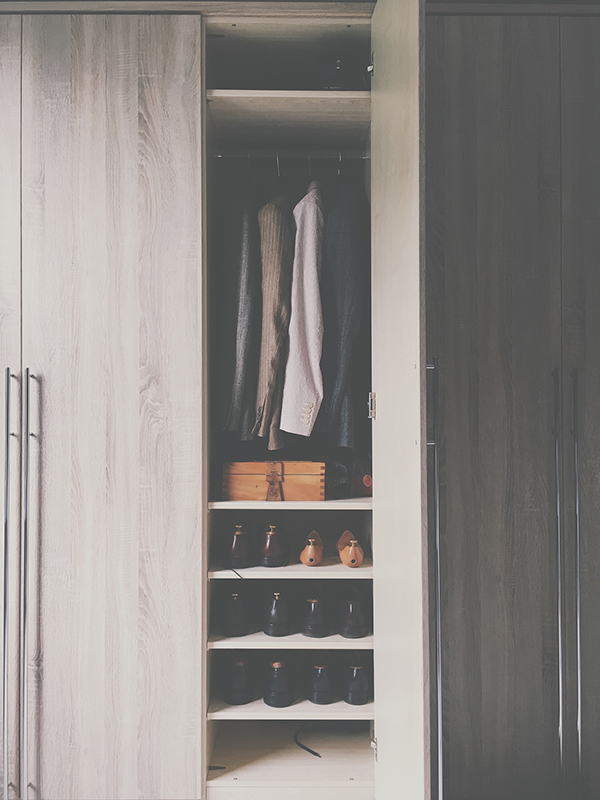 These cabinets are great to lock away items you might not necessarily want to be on display in your closet.
Crystal Display Shelf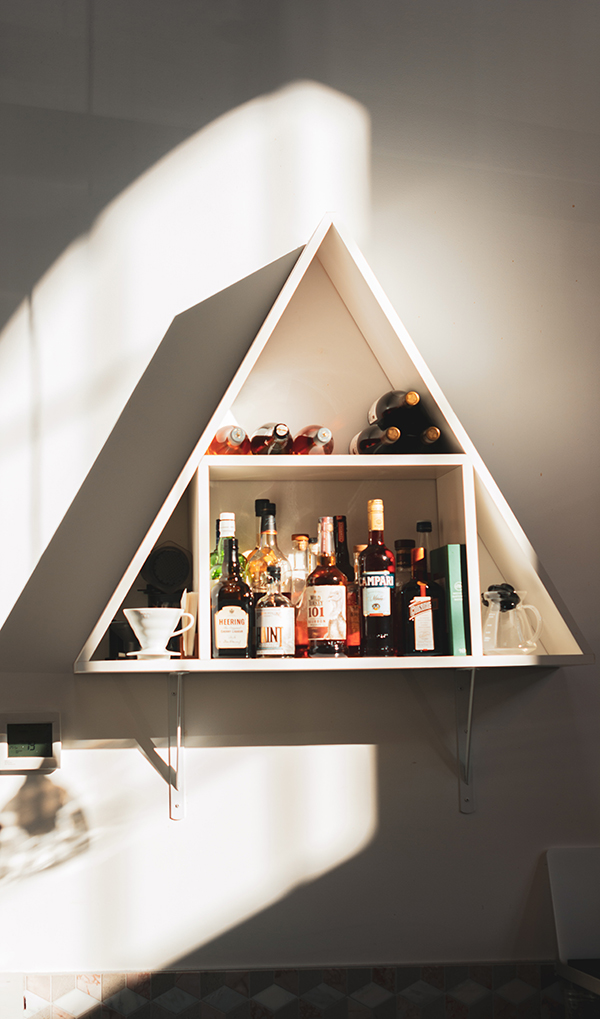 These shelves can typically be hung on the wall or used as standalone shelves on flat surfaces. They are remarkable for your showcasing your collection and protecting your valuables or favorite items.
Full-Length Mirror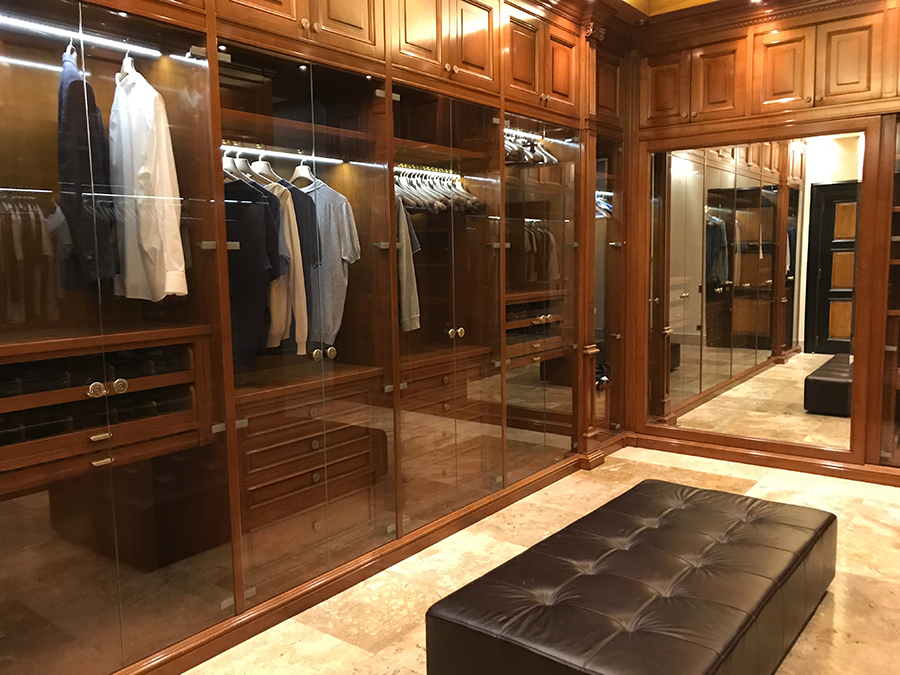 Placing a full-length mirror in your walk-in closet is an amazing way to make sure your appearance is great from head to toe. There are different shapes and sizes in which these mirrors are available.
Closet Shelving Ideas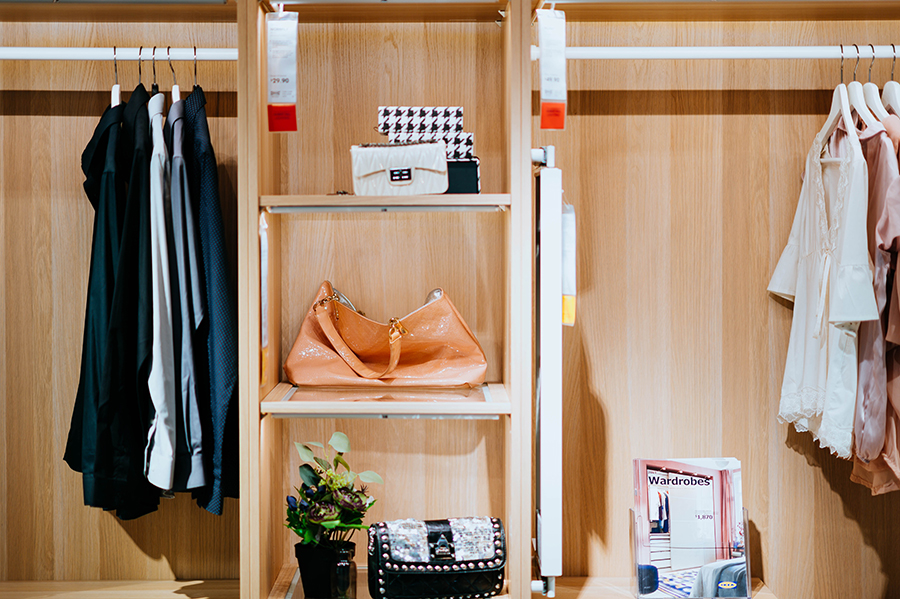 Closet shelving is great for individuals who have the bad habit of cramming items onto hanger bars or tossing them on the floor. They assist you in designating specific areas for different items.
Hanging Shelf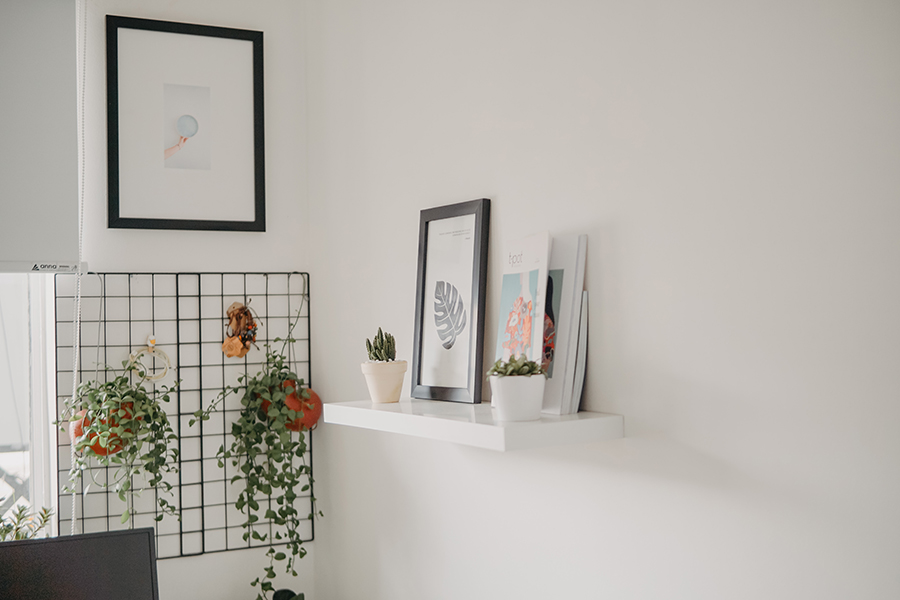 Whether your closet is large or small, you will be able to benefit from a hanging shelf system. They provide organized space to hang items and keep them off the floor.
Closet Island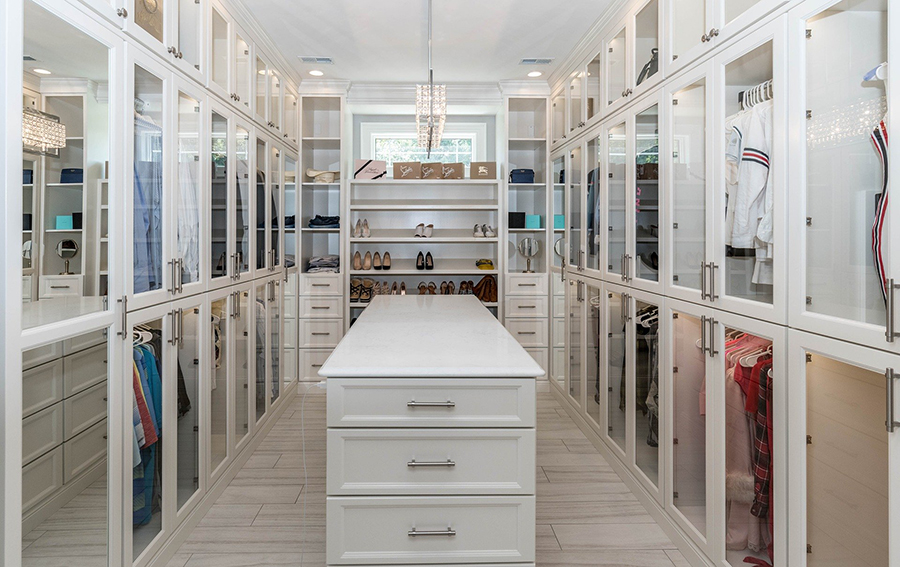 These provide additional workspace and they can act as remarkable additions to the surface area of your closet. They also tend to add a hint of luxury and drama to the closet.
Pull Out Cabinet Organizer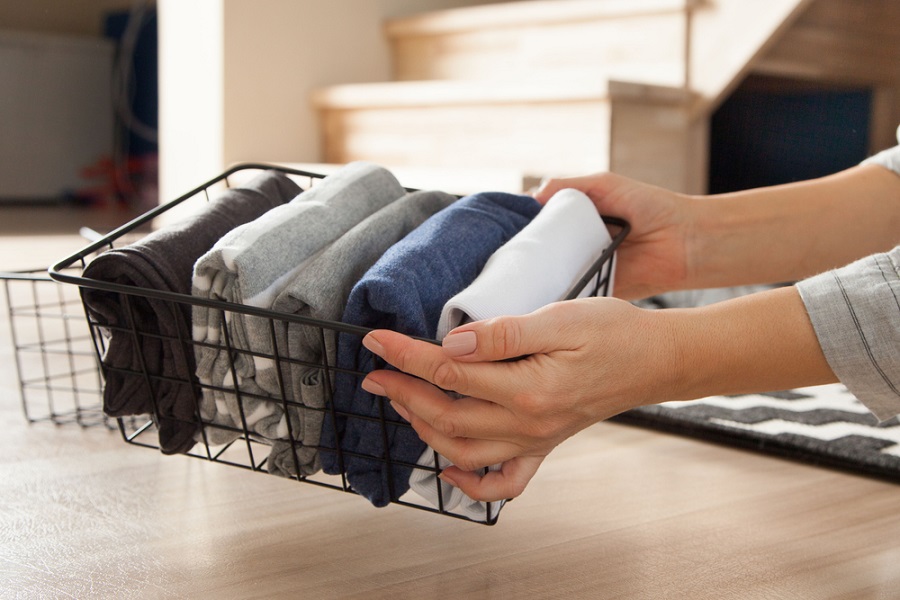 This type of organizer is essentially a combination of a drawer and a shelf. It works on a sliding mechanism that enables you to pull and push it back and forth whenever necessary. This creates more access to the corners and the back portion of the space to maximize storage.
Modular Closet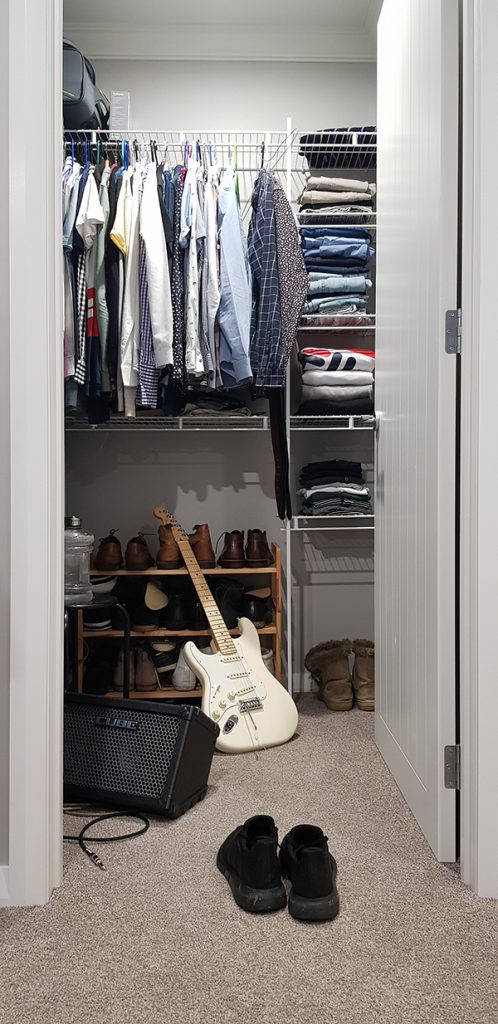 Modular furniture makes the task of organizing the bedroom a lot easier and they can dramatically alter the look of the space. These closets are quite flexible and provide a great solution for increasing storage capacity.
Tilt Out Hamper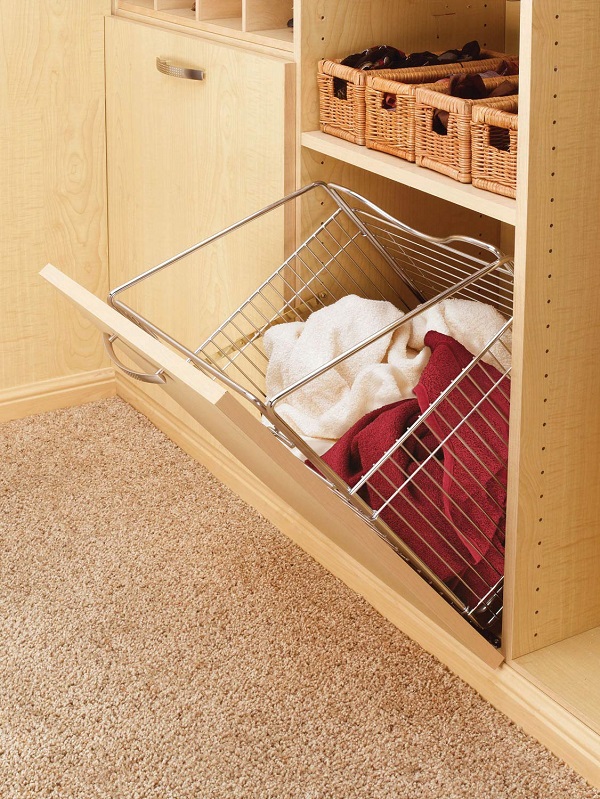 A tilt-out hamper is a remarkable option as it appears as an assuming furniture piece but the front can be opened to reveal bins that can be tilted for easy unloading. You can line the inner bin with a bag to make the task of transporting garments to the laundry room much easier.
Corner Closet Shelves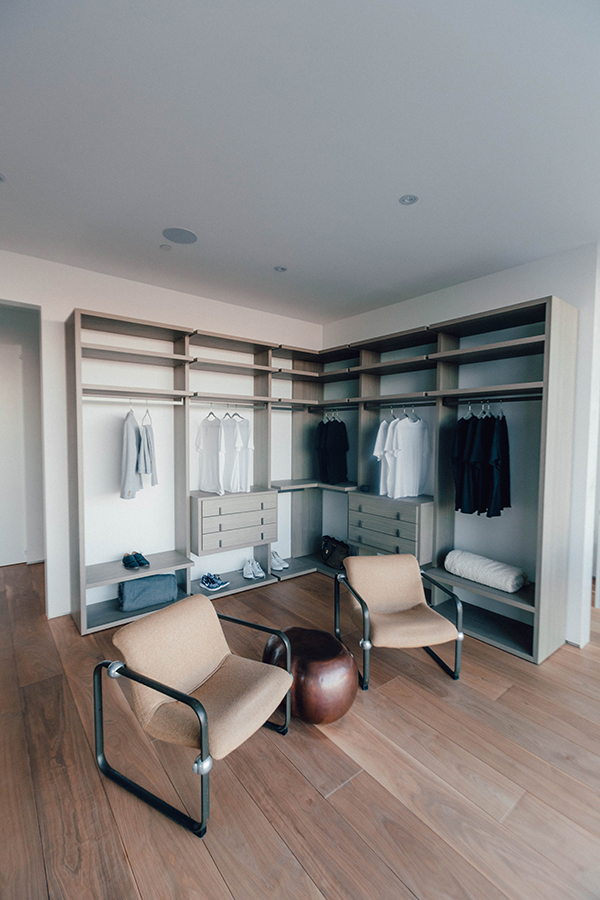 These corner shelves can be used to eliminate dead spaces and capitalize on storage in closet corners and difficult wall junctions. They do this while increasing accessibility and ease of use.
Drawer Fronts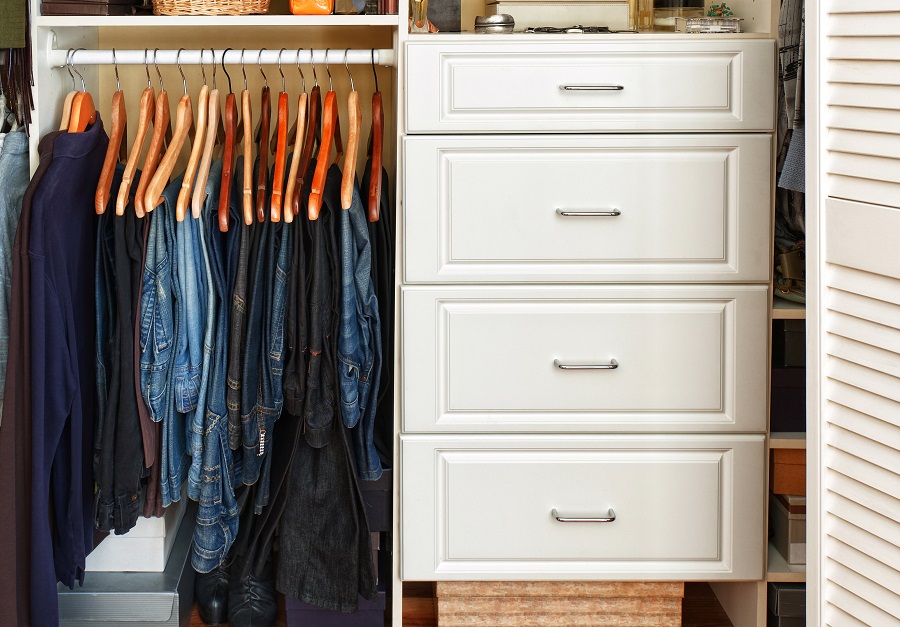 There is a wide range of drawer fronts available. They include raised panel, slab, molding, recessed panel and shaker.
Crystal Drawer Pulls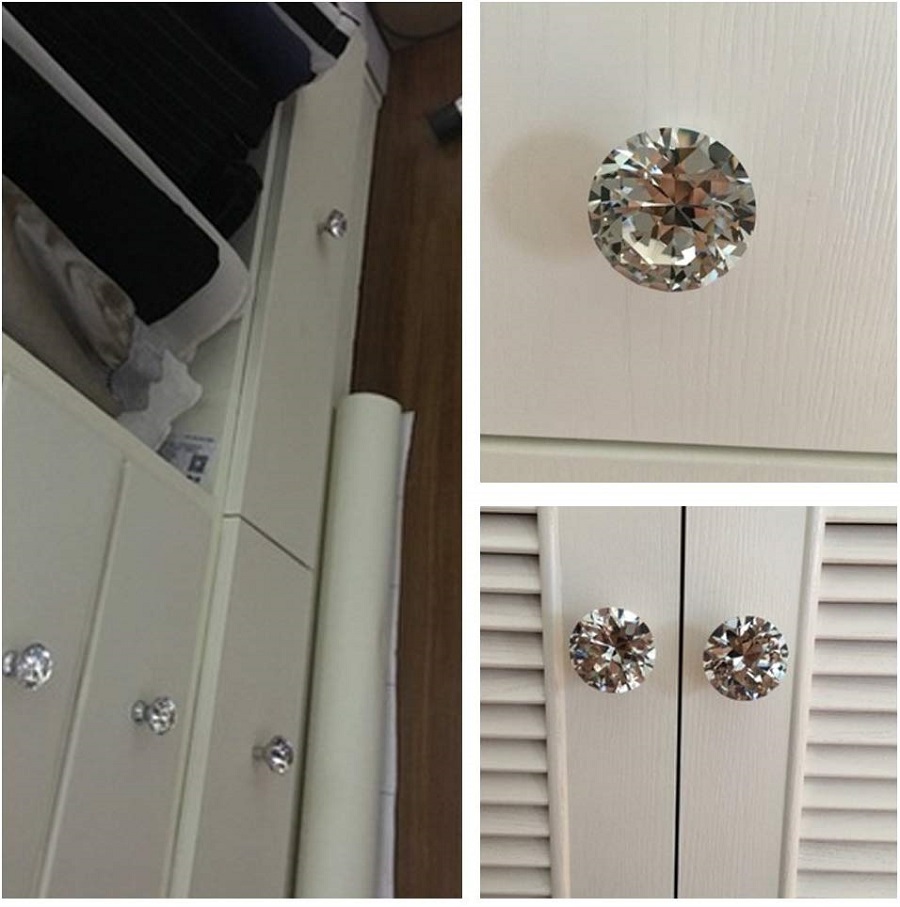 These types of drawer pulls are available in a wide array of shapes, sizes, and colors. You can also get clear or frosted styles to suit your preference.
Display Cabinet with Glass Doors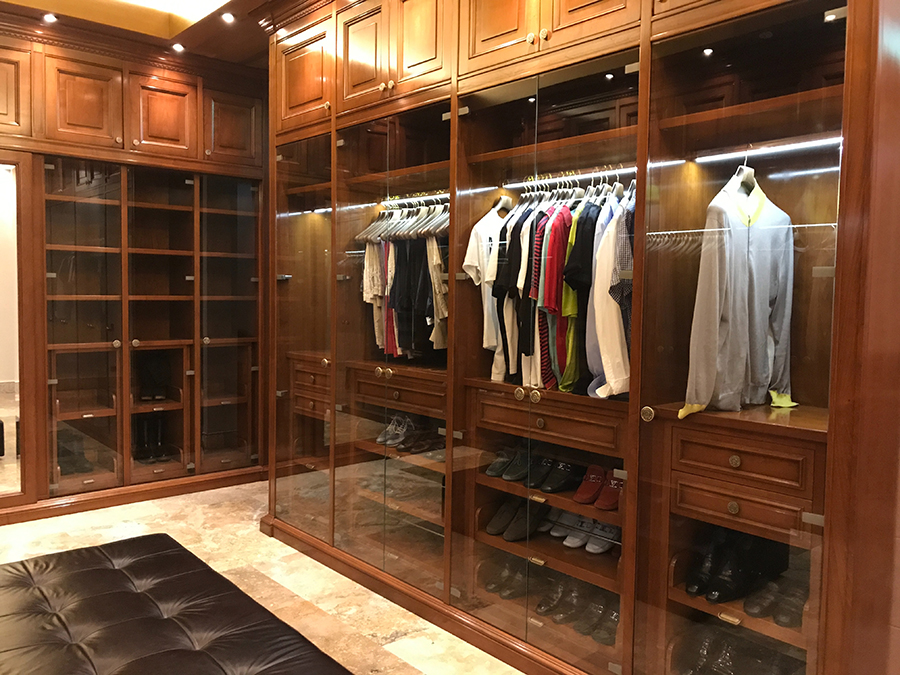 The main benefit of these types of cabinets is the fact that they create more dimension and space by creating an illusion of a bigger closet. They also help in optimizing on minimal space
Closet Lighting Ideas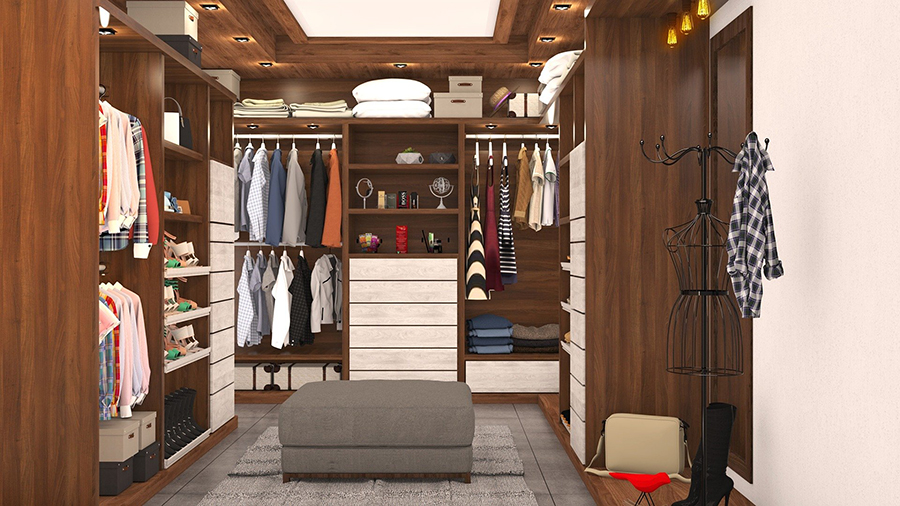 One idea is to use LEDs as these are very versatile and efficient. For example, LED rope lights can be used to wrap around the hanging rack of the closet or connected to the underside of the closet rods.
Walk-in Closet Dimensions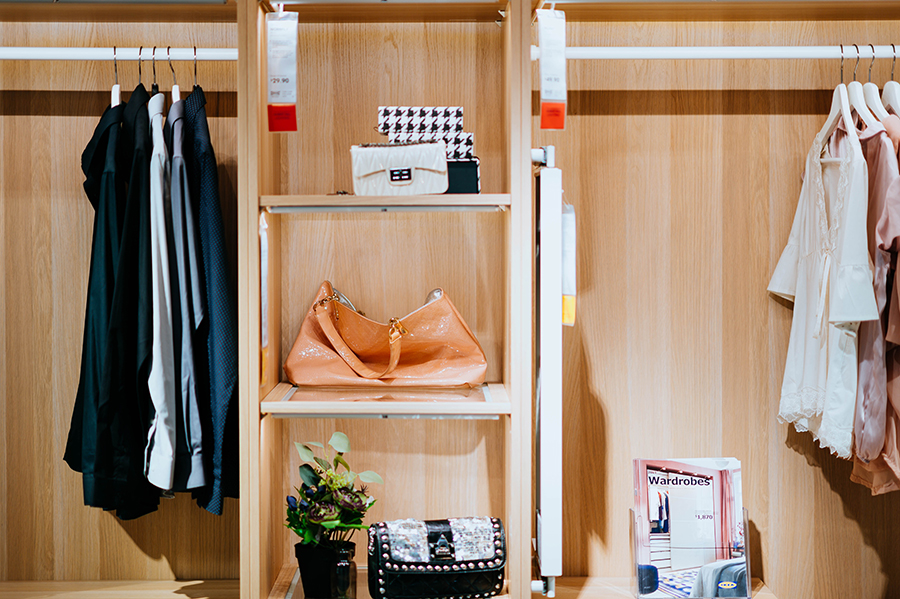 Walk-in closets should have a minimum dimension of 4 feet deep by 4 feet wide. With these dimensions, it will be able to accommodate hanging space and shelves on one sidewall and also on the rear wall.
How to Build a Closet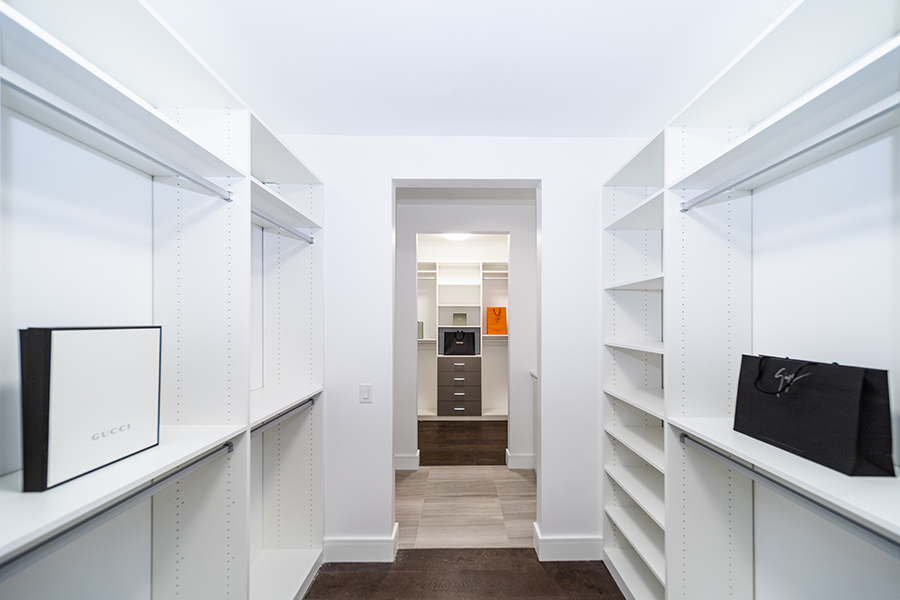 Here is a good video tutorial on how to build a closet.
To build a closet, start by measuring the closet space by measuring the two side walls and the back wall of the closet. This will provide you with the length of the shelf supports you will need.
Next, you should measure the pieces that will be used for the closet organizer.
Go on to cutting the shelf supports and then cut the shelves.
Move on to attaching the shelf supports to the wall.
Put together the central unit and place it in the closet.
Then install the long shelves.
Continue reading: