Last updated on November 29, 2023
Explore unique bathroom cabinet pulls and knobs ideas because they can dramatically transform the look and functionality of your space.
As the author and designer of these unique 20 bathroom cabinet pulls and knobs ideas, I sincerely hope you find my work inspiring and enjoy exploring them as much as I loved creating them.
Choosing the right cabinet pulls and knobs can completely transform your bathroom's aesthetic. From modern chrome finishes to vintage glass knobs, the options are endless.
This article will guide you through various bathroom cabinet pulls and knobs ideas, providing insights on how to match them with your decor, where to find unique pieces, and how to install them easily.
Whether you're going for a minimalist look or a lavish style, you'll discover a wealth of ideas here to inspire your bathroom makeover.
So, let's dive into the world of cabinet hardware and find the perfect pieces to enhance your space.
What's Inside
Crystal Knobs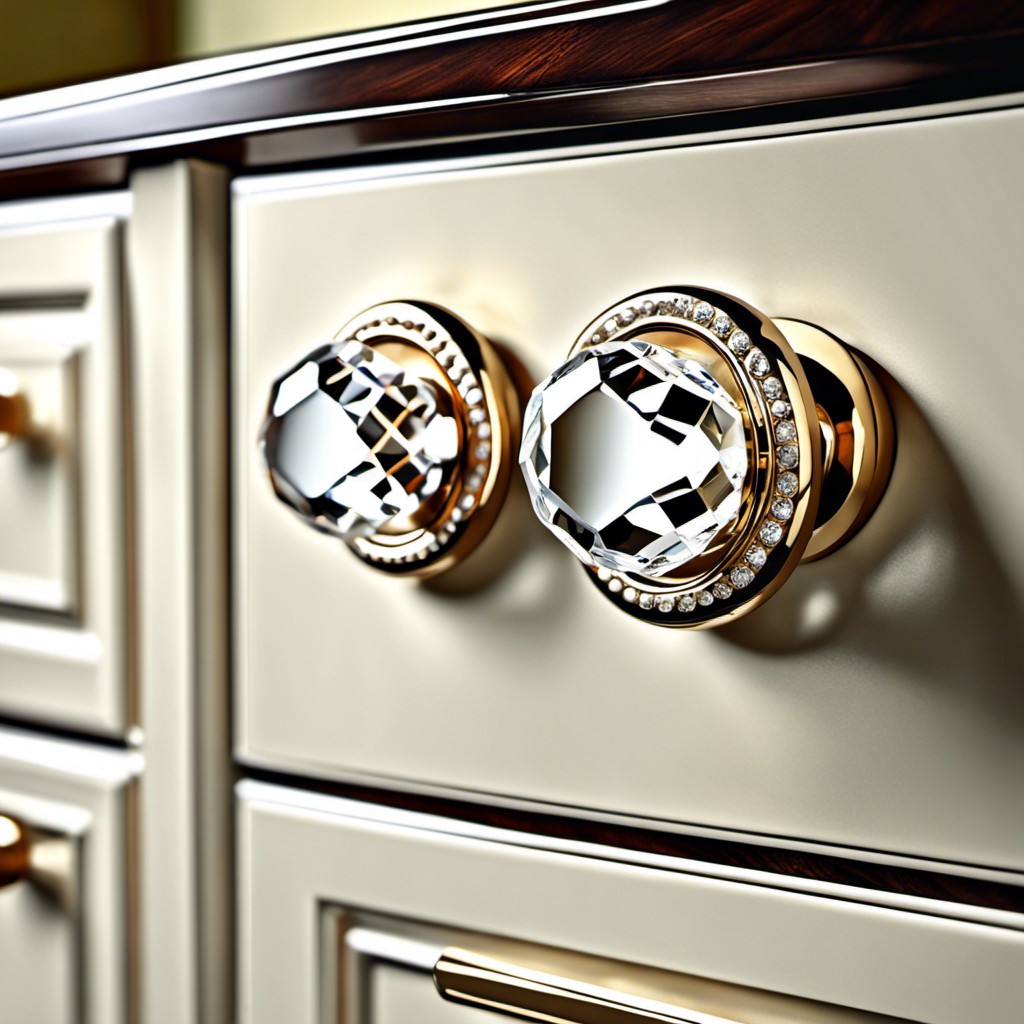 Offering an elegant and luxurious appeal, these striking additions instantly elevate the look of any bathroom. Their transparency allows them to blend impeccably with any color scheme, ensuring a cohesive interior design.
Moreover, they reflect light beautifully, creating a dazzling effect that illuminates the room. Despite their delicate look, they are robust and durable.
Perfect for both traditional and modern styles, crystal knobs are a timeless choice that brings a touch of refined sophistication to bathroom cabinetry.
Vintage Brass Pulls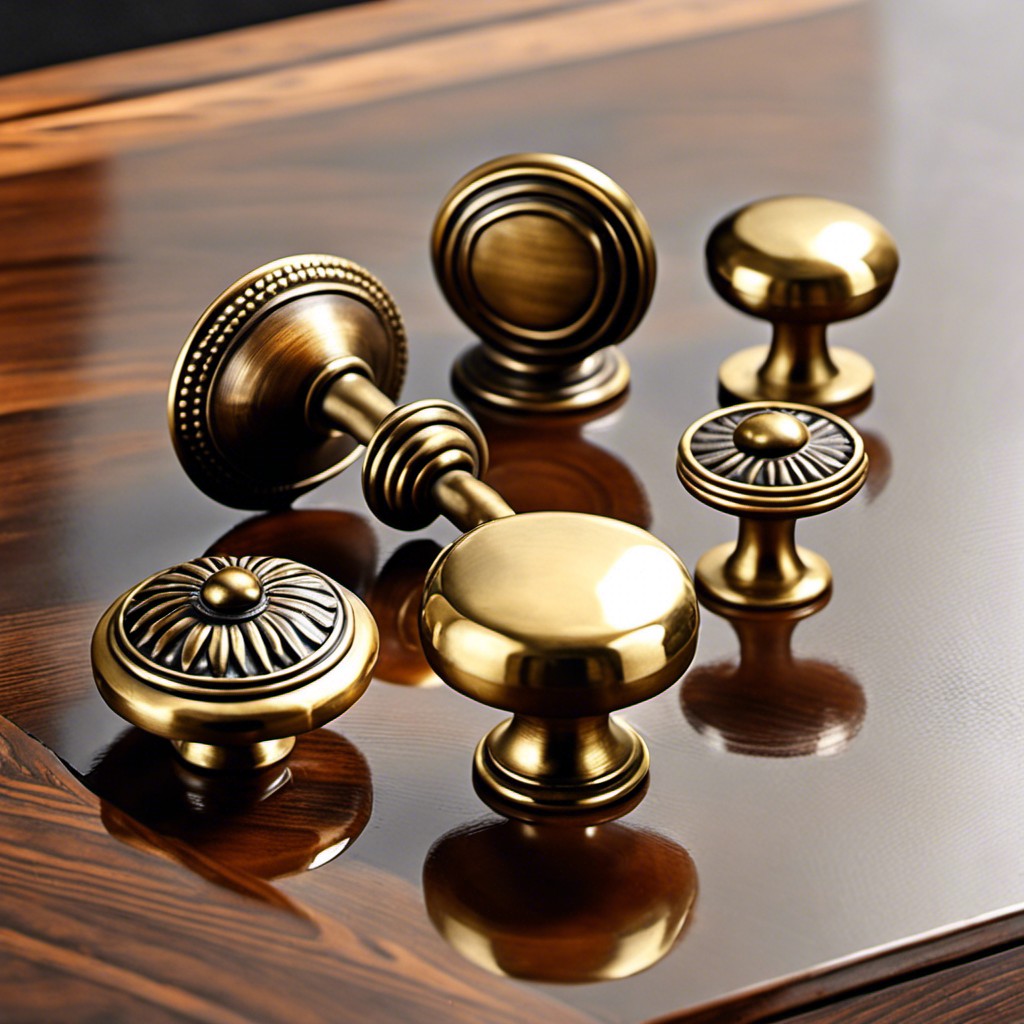 Capsulizing a timeless aesthetic, these fixtures can add a touch of elegance to any bathroom. Their warm undertones complement a variety of color schemes, from crisp whites to rich blues and beyond.
As they age gracefully, they develop a unique patina that amplifies their classic beauty. Their sturdy construction ensures durability, adding value to your home.
Given their wide range of designs, from ornate to simple, there are options for every style. Mostly, they offer an affordable way to transform the look of your cabinets, thus making them a prudent choice for those seeking a quick bathroom update without a complete renovation.
Rustic Wooden Knobs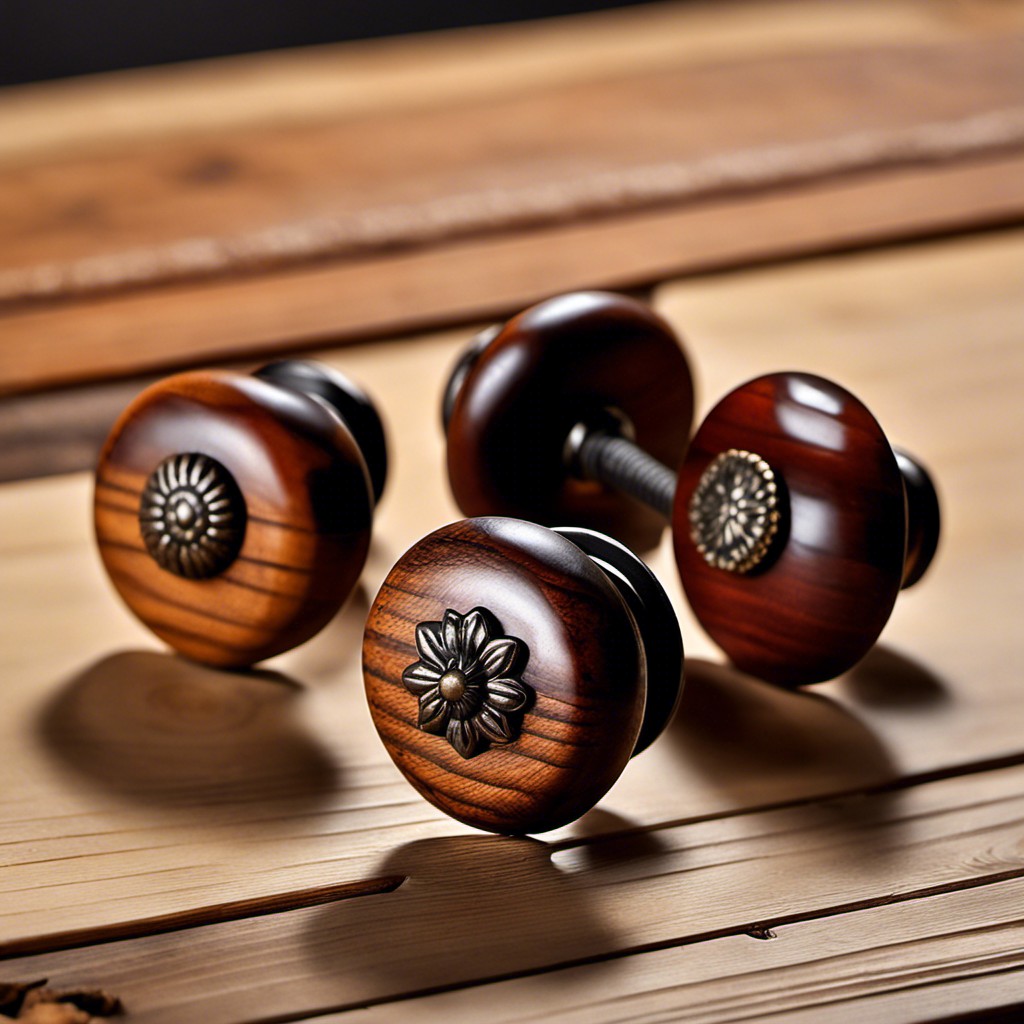 Embracing the charm of raw materials, rustic wooden knobs often incorporate unaltered pieces of wood, invoking a cabin-like feel in your bathroom. Perfectly suited for farmhouse style decors, they infuse a hint of nature that's hard to resist.
For a more polished look, you might choose knobs crafted from reclaimed or aged wood. These offer the unique combination of a rugged exterior with refined craftmanship, producing a timeless aesthetic.
For those seeking a more unusual design, there are options made from driftwood, branches, or logs. Not only do these types of knobs provide a warm, organic flair to your bathroom cabinets, but they are often an eco-friendly choice, repurposing naturally sourced material.
In terms of color, light and medium-toned wood knobs introduce a sense of freshness into a room, while the darker tones give a profound, bourgeois aura. Remember to match your bathroom's general style and color scheme in order to achieve the enchanting effect that rustic wooden knobs can offer.
Nautical-themed Pulls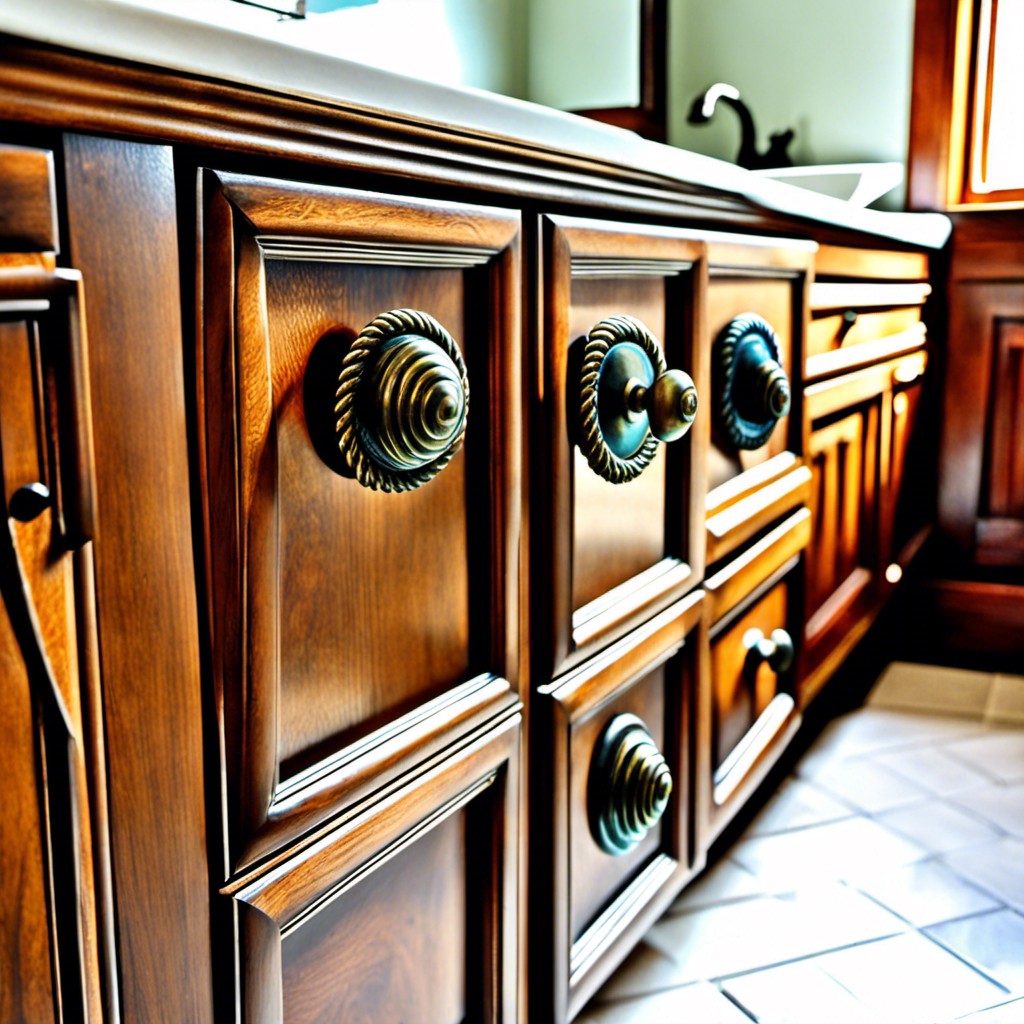 Imbuing a sense of coastal charm to your bathroom, these pulls are perfect for enlivening a serene, beach-inspired look. They often feature designs incorporating anchors, sea creatures, ropes, or ship wheels. Made from various materials including brass, chrome, or painted wood, these details are paramount to achieving the theme.
Besides aesthetics, consider size and ergonomics – they should not only match the scheme but be comfortable to use. Careful placement is also crucial; not too high for children or too low for adults. Once installed, these subtle marine accents can make you feel closer to the ocean each time you reach for a towel or toiletries.
Comfort, placement, and thematic consistency are key to making nautical-themed pulls an eye-catching feature of your bathroom decor.
Minimalist Black Pulls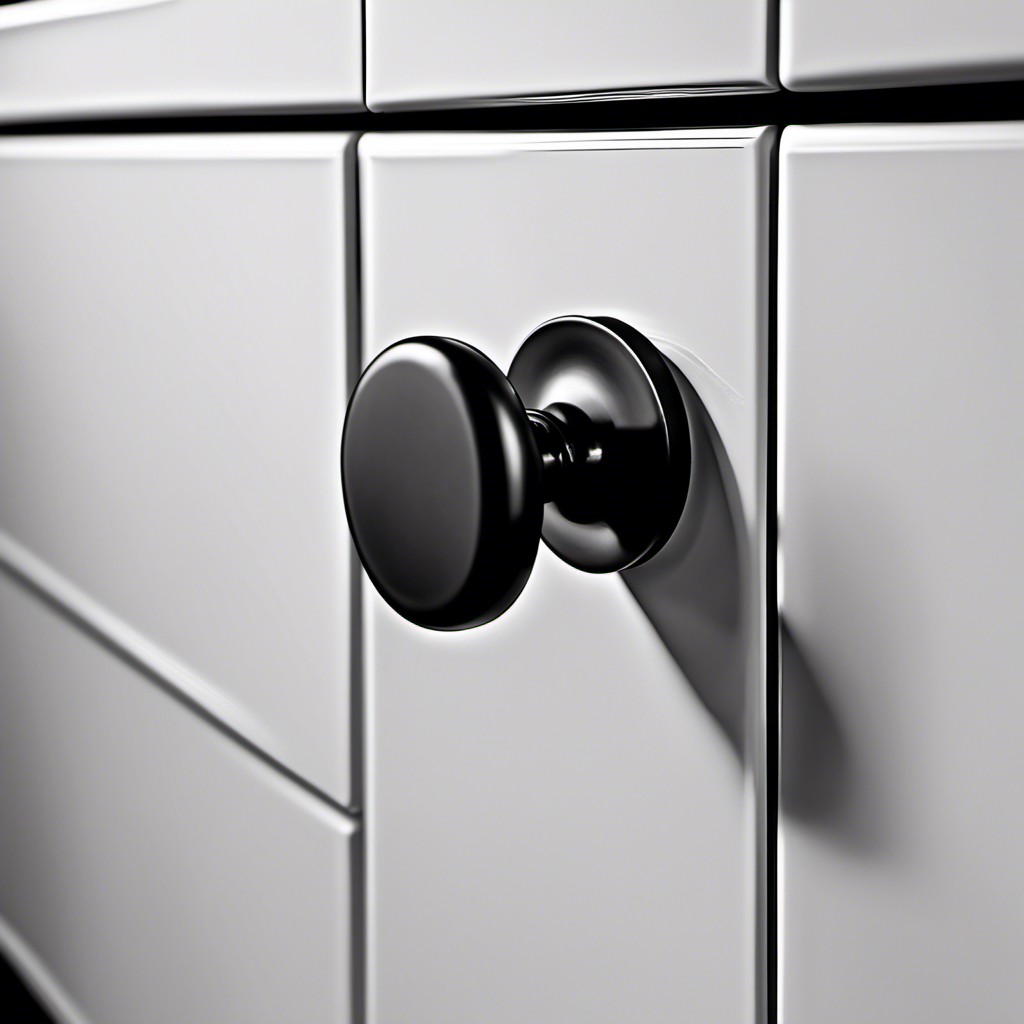 Adopting a sleek design, these fittings offer a clean and unobtrusive presence, blending seamlessly with any modern bathroom décor. Their slim silhouette and uniform all-black colour not only evoke a sense of understated elegance, but also contribute to creating a soothing, uncluttered environment.
Given their neutrality, they pair perfectly with both light and dark cabinets, offering versatility and ease in styling. Their smooth surface and edges also ensure practical usability, enhancing your daily bathroom experience.
The enduring popularity of the minimalist aesthetic means that these pulls are widely available in various sizes and shapes, enabling you to find just the right fit for your space. They also tend to be cost-effective, proving that style and economy can indeed go hand-in-hand.
Ceramic Floral Knobs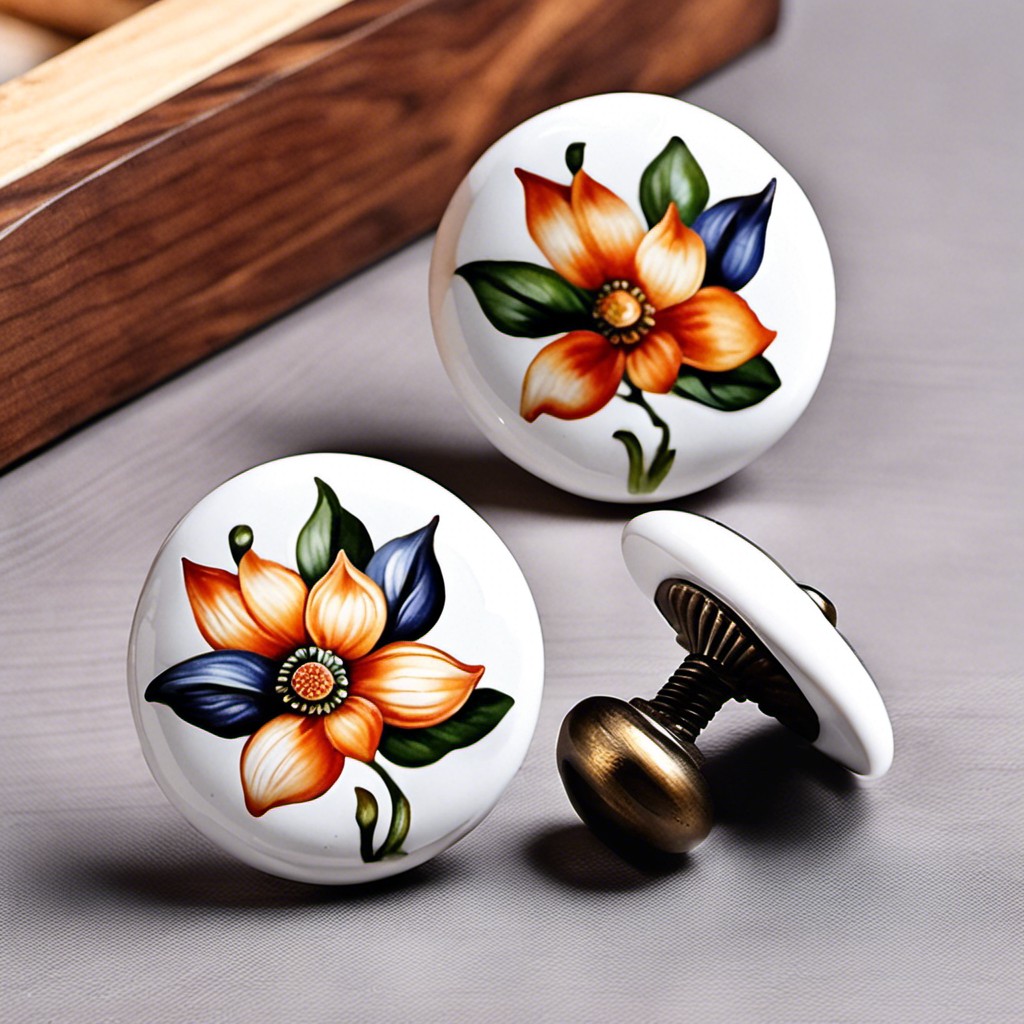 Offering a cottage core aesthetic with an added dash of elegance, these beautifully detailed pieces breathe life into any bathroom design. The inherent warmth they bring, paired with their tactile nature, makes them a favorite choice.
1. Aesthetic Appeal: They inject an artistic fervor into your bathroom space with their intricate design and vivid colors.
2. Versatility: Their wide range allows pairing with any bathroom style – from vintage to modern.
3. Easy Maintenance: The glazed finish protects design and color, requiring just a wipe for cleaning.
4. Sturdy: Ceramic is highly durable, promising to uphold user experience for years.
Incorporating these knobs could effortlessly augment the bathroom's overall visual charm while proving functionally sound. However, the choice of color and design needs careful consideration to match the existing aesthetics seamlessly.
Antique Bronze Pulls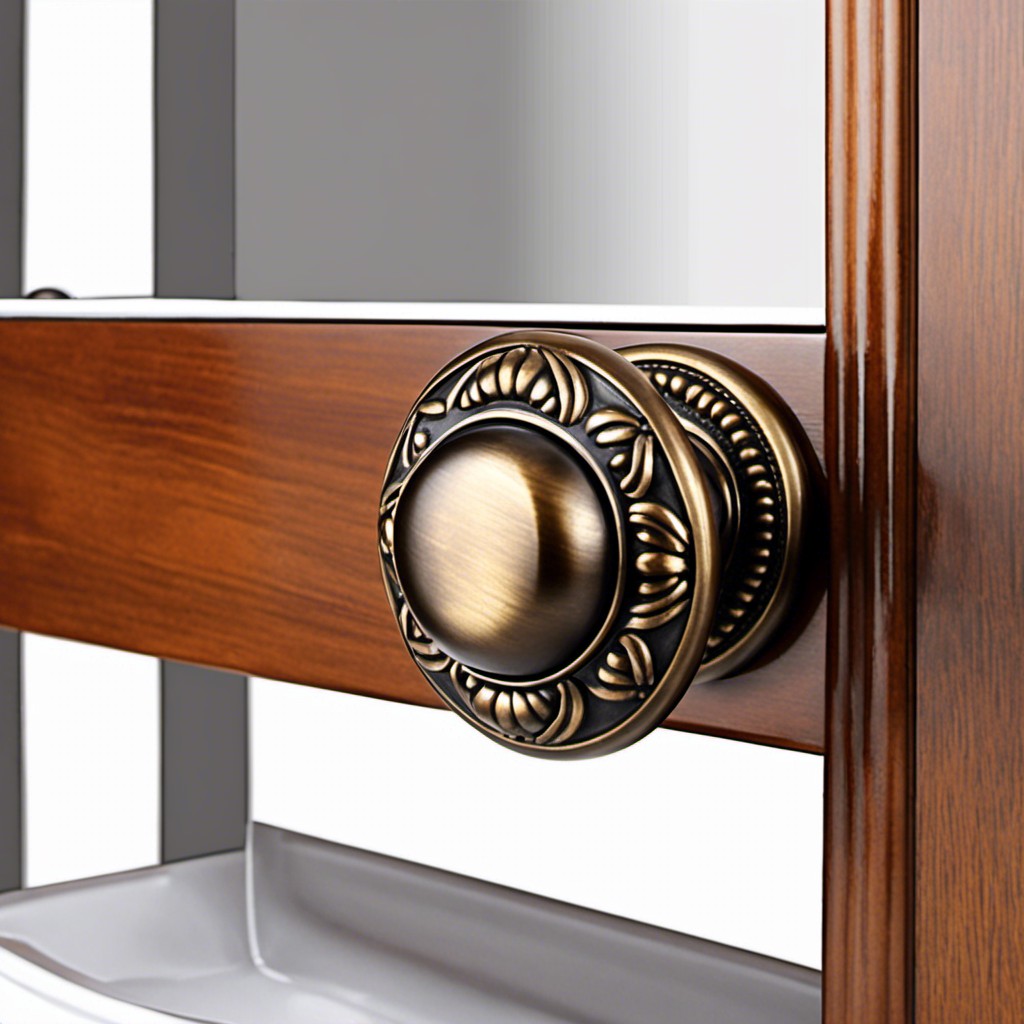 Antique bronze pulls offer a classic touch that effortlessly merges the old with the new. Their warm, deep hues, balanced by a subtle shine, can be a perfect addition to bathrooms that aim for a rustic or vintage aesthetic.
Here are some points to consider:
Durability: A prime choice for well-used rooms like the bathroom, resisting wear-and-tear with consistent performance.
Versatility: Blend seamlessly with various color palettes, particularly those that incorporate earth tones or metallics.
Design Flexibility: Available in a surplus of designs, from simple, sleek lines to intricate, ornate patterns inspired by different historical periods.
Easy to Clean: Surface doesn't show fingerprints or water spots easily, cutting down on cleaning time.
Remember, antique bronze pulls can serve as miniature pieces of art, contributing to, yet not overpowering the overall design. Their timeless appeal may be just what's needed to pull together your bathroom's look.
Marble Handle Knobs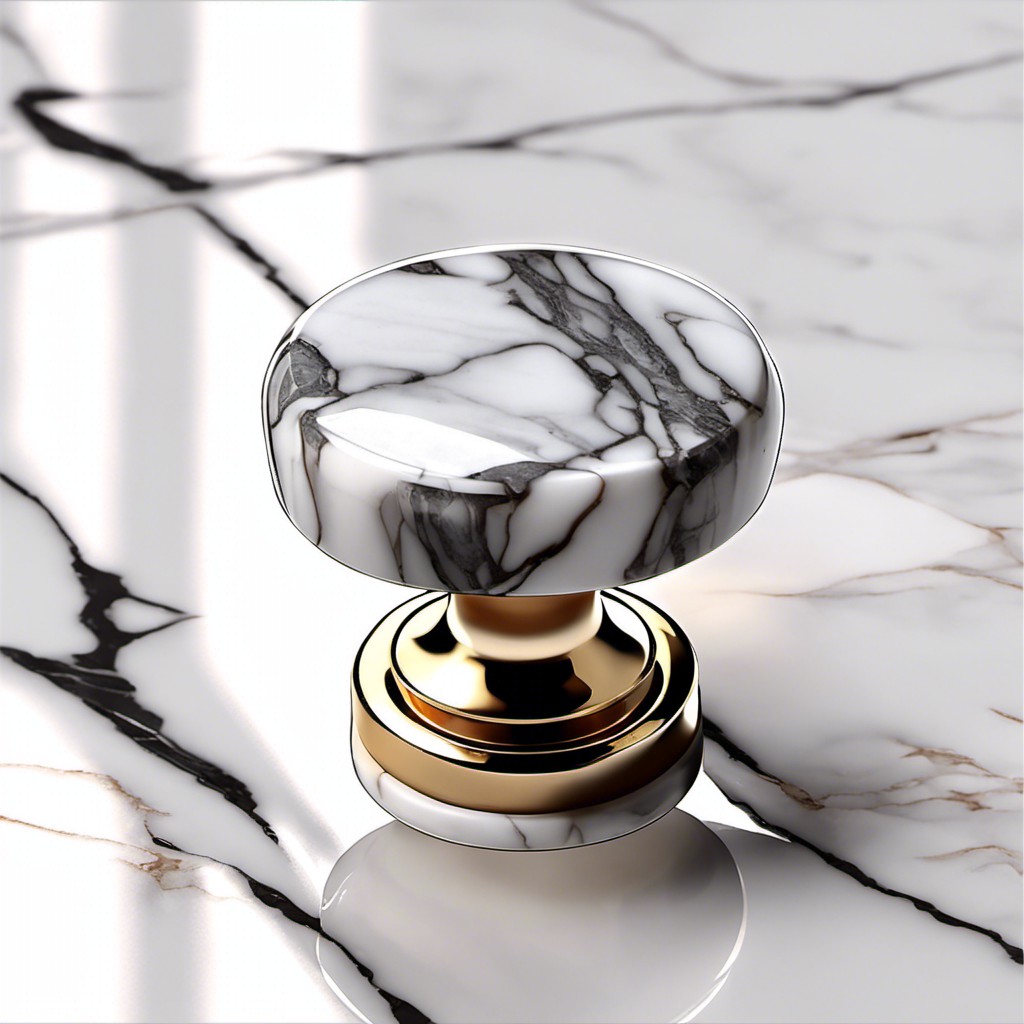 Popular for their luxurious appeal, marble handle knobs can create an instant upscale ambiance in your bathroom. They are perfect for a minimalist or high-end design, due to their understated elegance. These knobs bring the beauty of natural stone right into your space, often featuring unique veining patterns that make each piece special.
While marble handle knobs can be pricier than their plastic counterparts, their high quality and aesthetics justify the expense. White, black, and green marbles are most common, but there are other color options available as well.
Moisture and soap residue can take a toll on marble, so cleaning and sealing them periodically is recommended. Despite requiring some maintenance, these knobs can transform your cabinets and your bathroom's overall look, making them a popular choice.
Pair these knobs with marble countertops for a cohesive look, or use them as a standalone highlight in your bathroom. Either way, these knobs are sure to add a touch of luxury to your design.
Industrial Iron Pulls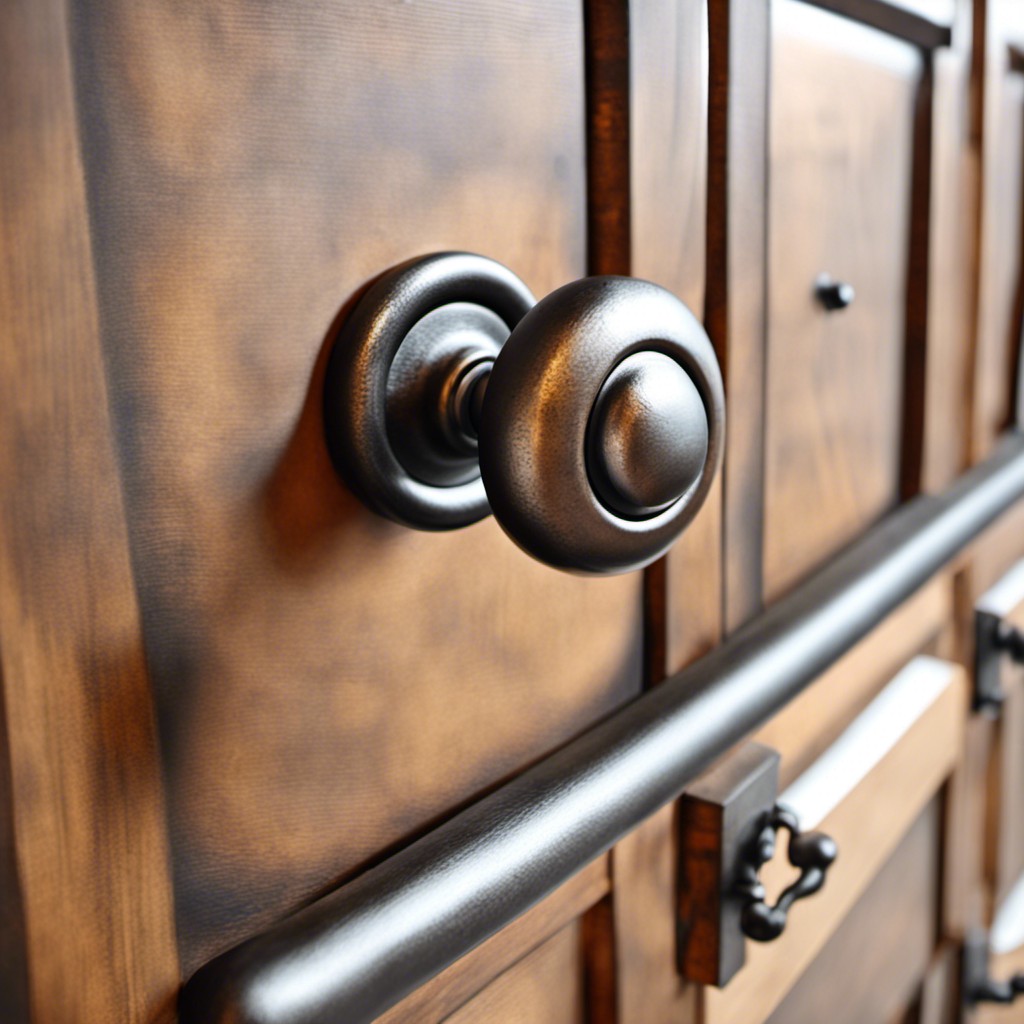 Embracing the rugged aesthetic of the industrial style, iron pulls can significantly amplify the appeal of a bathroom cabinet. These pulls are known for their sturdy construction and raw, unfinished appeal, making them a perfect contrast in the sleek space of a bathroom.
1. Durability and Strength – Being made from iron, these pulls promise an extended lifespan, able to endure even the most strenuous usage.
2. Versatility – While they complement an industrial-themed interior best, iron pulls also introduce a textural contrast in minimalist or modern decors.
3. Aesthetic Appeal – Typically featuring a dark, patinated finish, they can offer a visually grounding effect in a lightly colored interior.
4. Variety – Choices range from simple, straight pulls to intricate, hand-forged designs, catering to diverse taste profiles.
5. Easy Maintenance – Iron pulls require little upkeep; occasional dusting can keep them looking fresh and new. A protective clear coat can also help prevent rust formation.
Remember, the choice of pulls can go a long way in tying together the overall design scheme; industrial iron pulls bring in a hint of rustic charm to any bathroom ambience.
Contemporary Chrome Knobs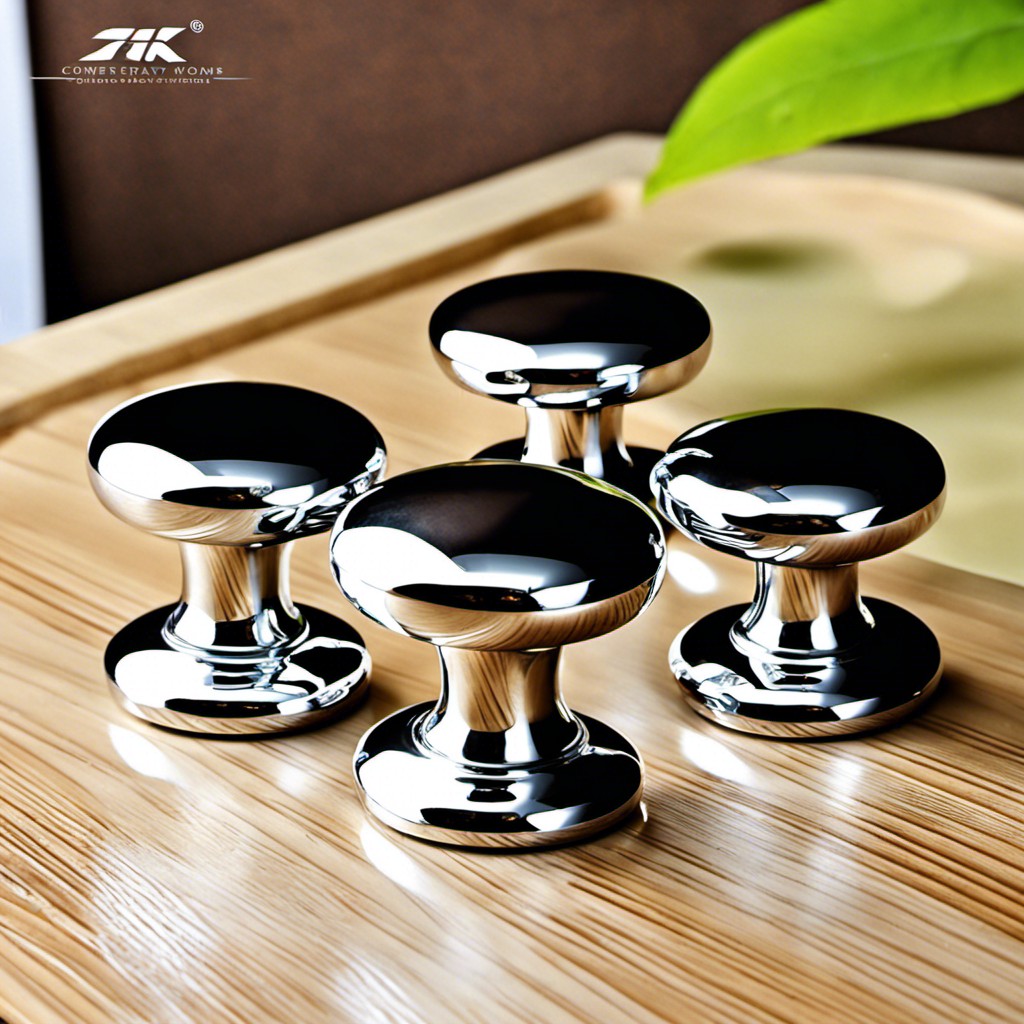 Reflecting elegance and a modern appeal, these unique handles provide a sleek touch to any bathroom decor. Their high shine finish works harmoniously alongside fixtures of similar shades, creating a cohesive, polished look.
This option is versatile, pairing well with dark or light cabinetry. They're essentially maintenance-free and long-lasting, making them a practical choice. Additionally, their streamlined design is easy to grip and use, an essential feature considering the frequency of use.
Overall, a perfect blend of aesthetics and functionality.
Leather Strap Pulls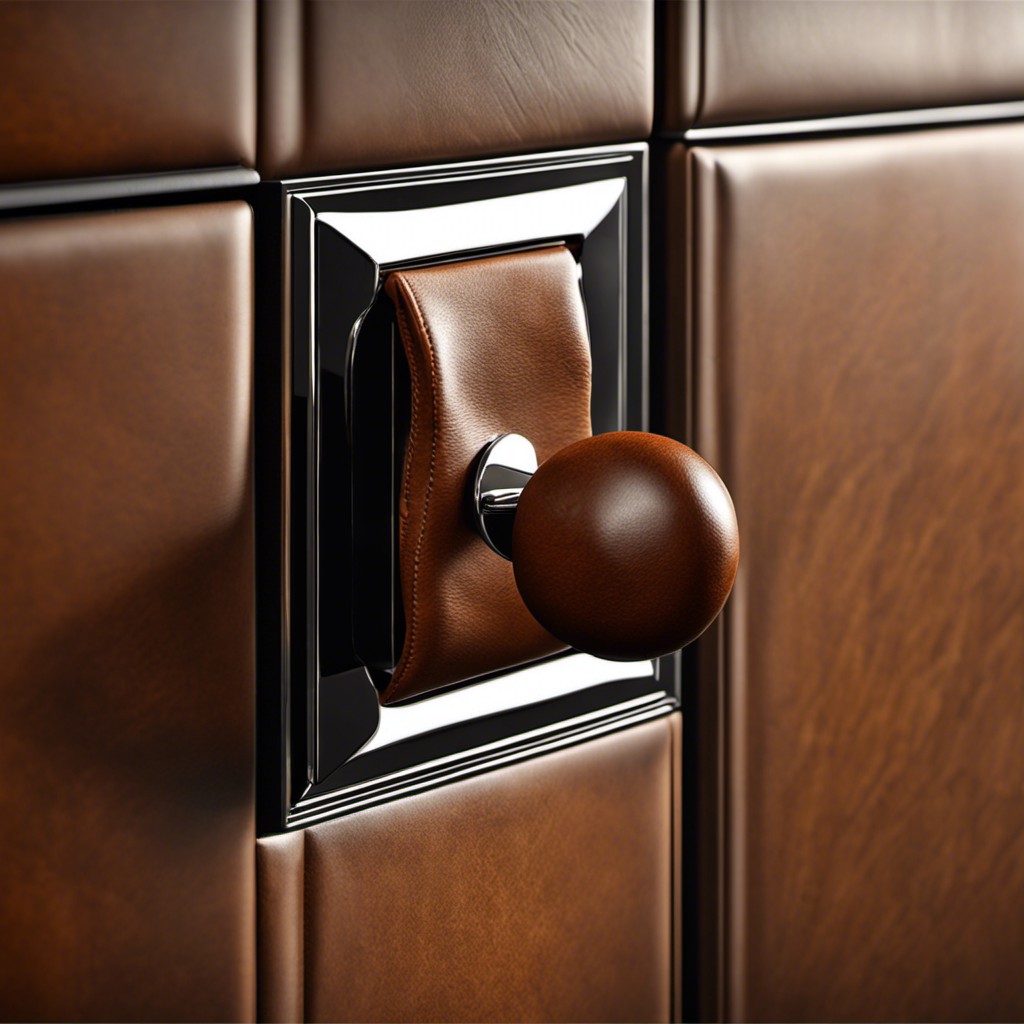 Bringing a unique aesthetic into the bathroom setting, these items offer both function and style. Ideal for a modern, minimalist, or industrial theme, their intrinsic appeal lies in the pairing of toughness and elegance. Constructed from high-quality, durable material, they add a human touch to cabinetry which is often appreciated in otherwise hard and glossy bathroom interiors.
Choosing the right leather hue can make a significant difference in the overall look. While brown and tan offer a more rustic vibe, black and white straps are great for a sleek, modern appearance. Durability isn't a concern as most leather pulls are treated to withstand moisture, making them perfect for bathrooms.
Additionally, they come in a variety of sizes, making them versatile for different cabinet types. Shorter pulls work exceptionally well with small drawers or medicine cabinets. In contrast, longer ones can add a dramatic touch to larger cabinet doors. Lastly, they're relatively easy to install and change, allowing you to update your bathroom's look without major renovations.
Copper Tube Pulls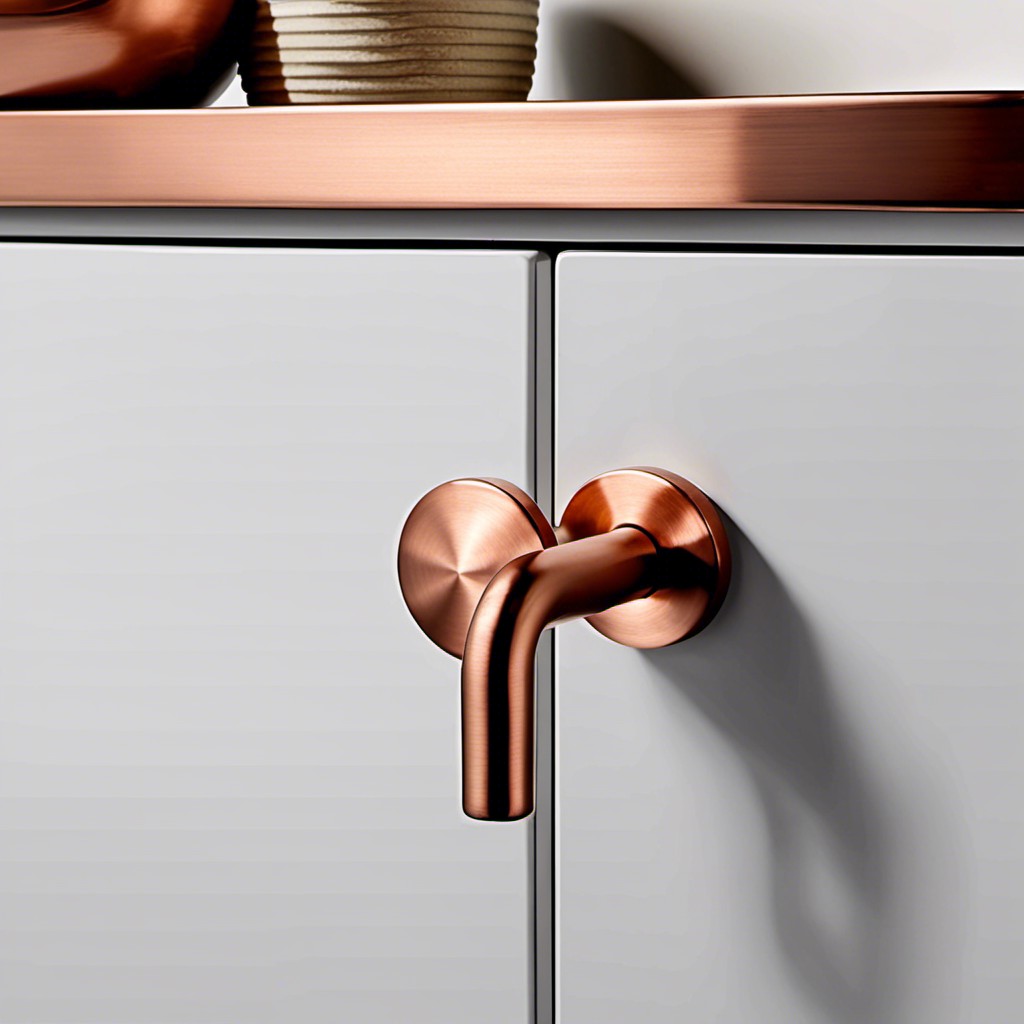 Boasting a warm, industrial vibe, copper tube pulls shine in many interior designs from modern to rustic. Here's why:
1. Unique Aesthetics: Their tubular design adds a unique touch to any bathroom cabinet, offering a fresh, sleek look.
2. Versatility: They blend well with a variety of color palettes, pleasantly contrasting lighter hues, and harmonizing with darker ones.
3. Durability: Copper is known for its strength, ensuring these pulls will withstand prolonged usage.
4. Easy Maintenance: A simple wipe down with a soft cloth helps retain their luster, making them low maintenance.
5. Warm Ambiance: The warm tones of copper enhance the aesthetics, adding a cozy atmosphere to the room.
6. Customizability: Available in various lengths and finishes, these pulls can fit diverse cabinet sizes and styles.
7. Eco-friendly: Often made from upcycled materials, these pulls contribute to eco-friendly home arrangements.
Remember, pulling your design together is all about harmony and balance, and these copper tube pulls can be just the detail your bathroom needs.
Glass Bubble Knobs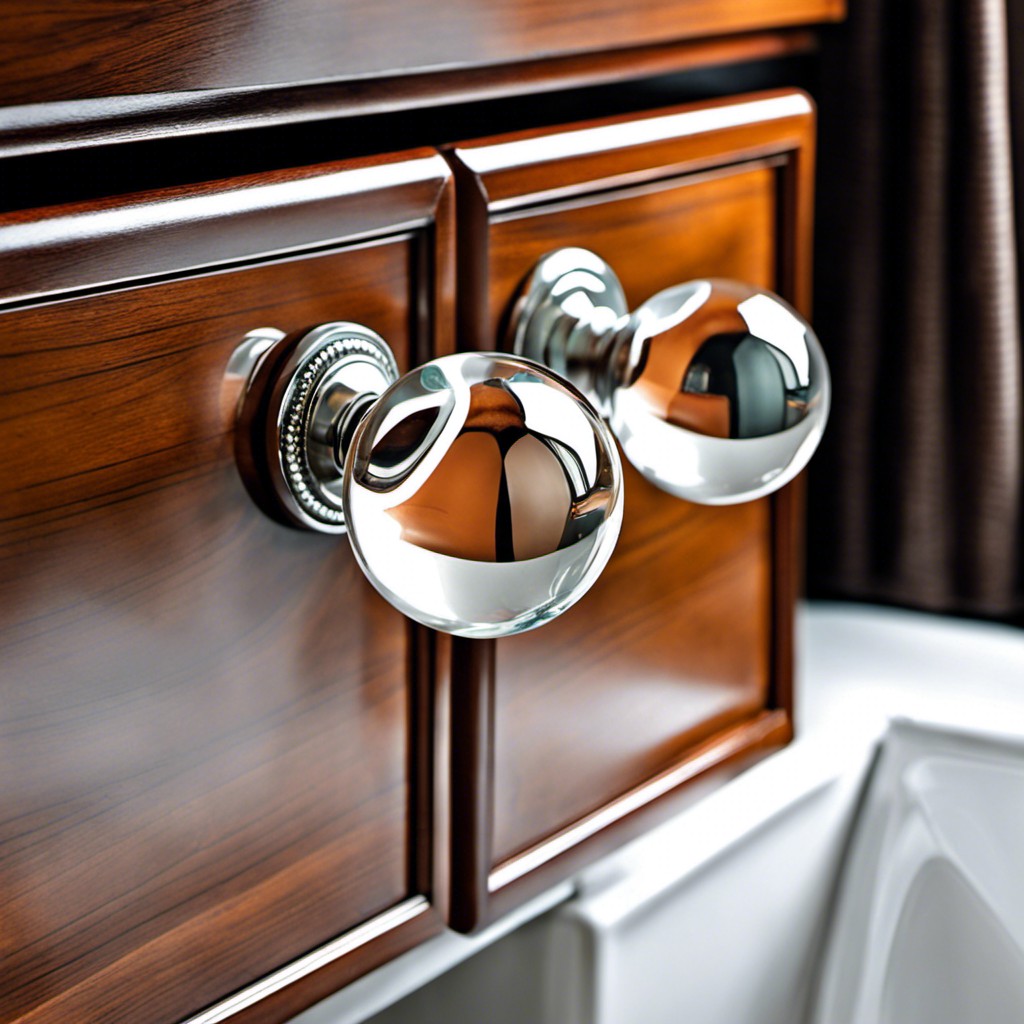 Adding a whimsical touch to your bathroom, these knobs introduce an element of playfulness without compromising on elegance. Their transparency coheres with diverse color schemes and styles, thus making them accessible for multiple bathroom designs.
Typically made from hardened glass infused with air pockets, they create a captivating visual effect, reminiscent of effervescent champagne bubbles. This characteristic renders them a unique tactile experience for users, adding an additional layer of engagement.
Moreover, they are available in a range of sizes and shapes enabling them to accommodate various cabinet designs and preferences. These knobs not only fuse functionality and aesthetics, they also assure durability, given the hard-wearing nature of their glass construction.
Lizard-shaped Pulls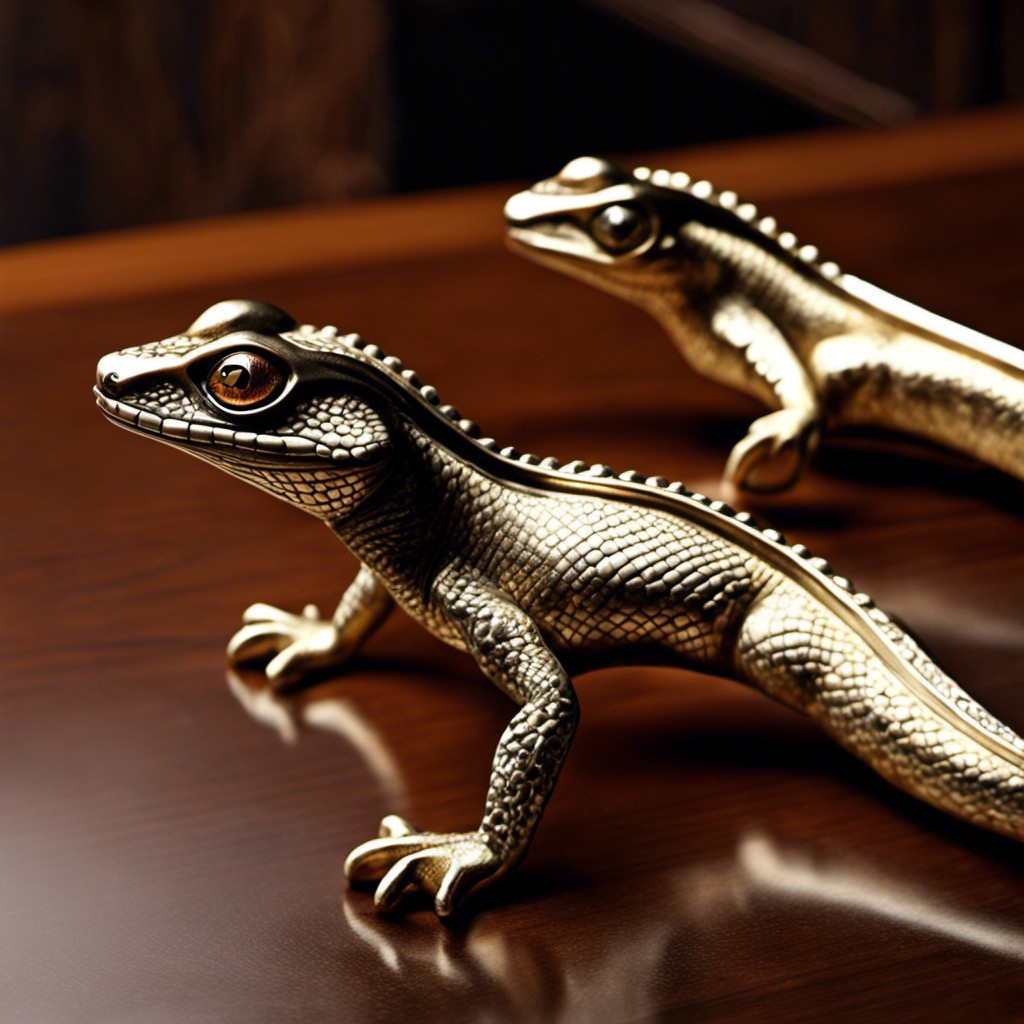 For a dash of whimsy and eccentricity, there's nothing like these unique bathroom accessories. These pulls inject a sense of fun into the bathroom decor and become a focal point, especially when implemented on a neutral backdrop.
They come in a rich selection of finishes – matte black, polished bronze, or even vibrantly colored enamel, to best match your style.
Perfect for the adventurous or the wildlife enthusiast, these pulls truly turn cabinets into functional art pieces.
With durability in mind too, most manufacturers use high-quality metal to craft these intricate figures, ensuring not just aesthetics, but also long-lasting hardware.
Geometric Brass Knobs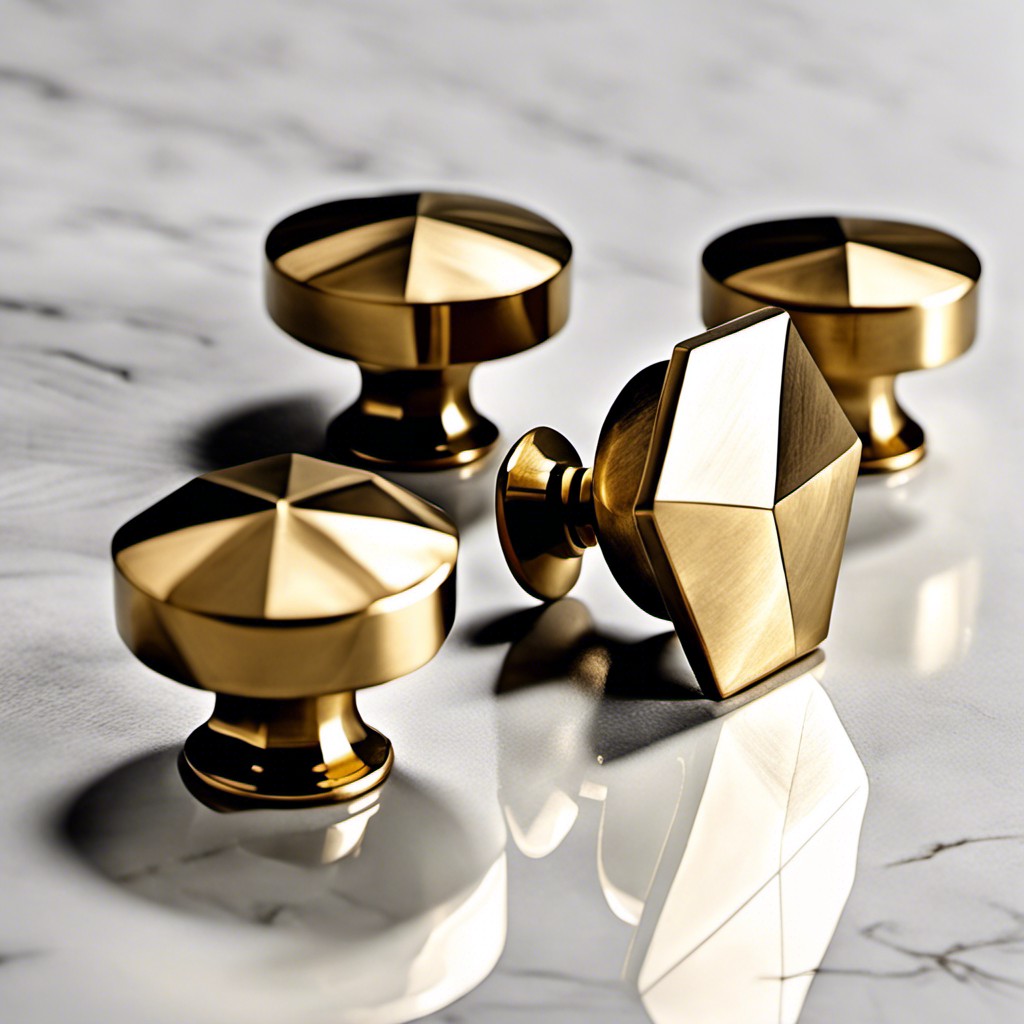 With an edge of modernity, these pieces add a dynamic dimension to bathroom aesthetics. Essentially, they incorporate angular designs or shapes such as rectangles, squares, and hexagons, creating a unique touch to your cabinetry.
Shared below are key points to explore:
Variety: These come in different styles including the classic hexagonal, interestingly shaped polygons and even more complex forms – all delivering a varied refined, modern look.
Brass Quality: The material used, often solid brass, promises longevity along with an exquisite, shiny finish.
Versatility: These knobs can easily blend with diverse cabinet finishes, whether it's contrasting richly hued wood or harmonizing with lighter tones.
Easy Installation: Most of these knobs come with screws for effortless assembling, making your decor redesign a simple task.
Size Options: Some designs offer various sizes eg. large for drawers and small for cabinets, allowing for a cohesive look across all bathroom storage.
Natural Stone Pulls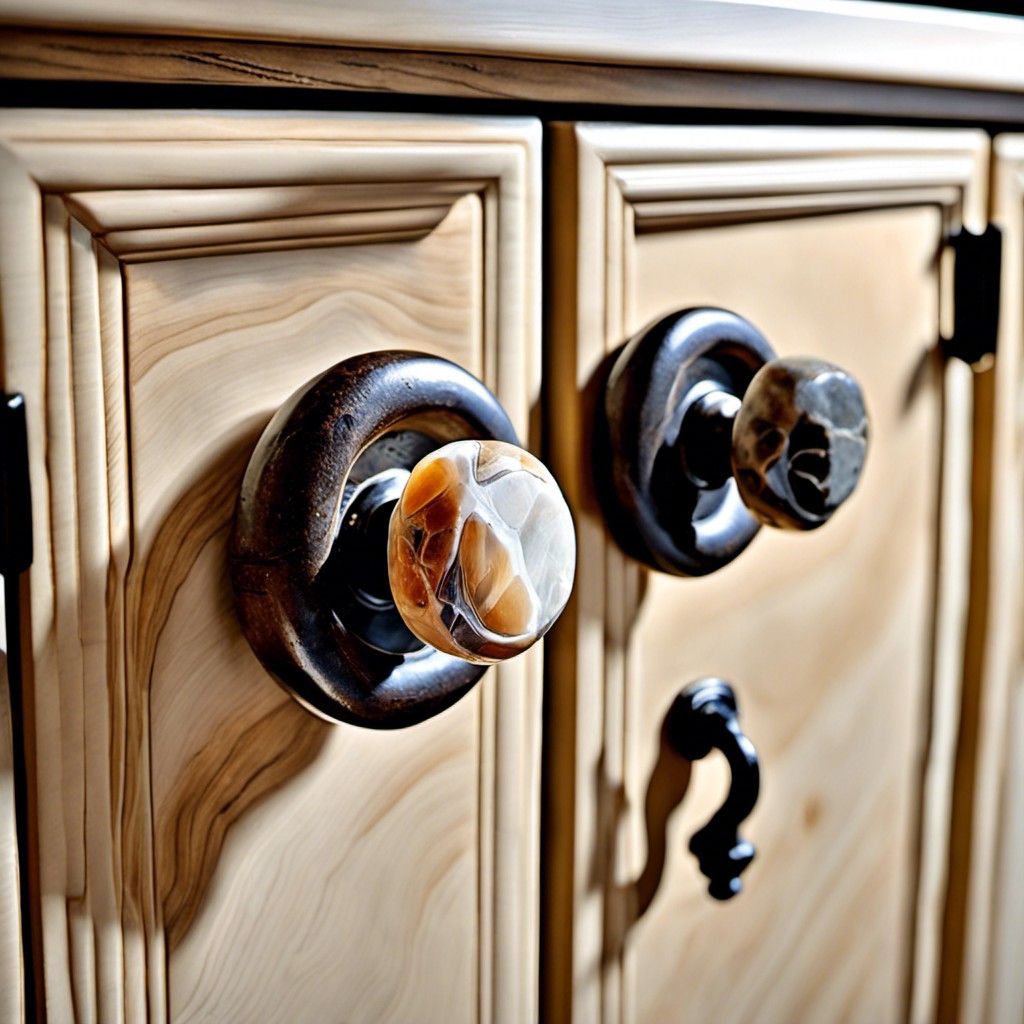 Harnessing the beauty of natural materials, these pulls offer a unique touch to bathroom cabinets. Sourced from the earth, each piece boasts a distinctive pattern or color, providing a visually striking spectrum from granite greys and quartz whites to jade greens and obsidian blacks.
Their formation under extreme pressures lends to their robustness, ensuring durability despite frequent use. Not only are they aesthetically magnetic, but they also possess tactile appeal, with surfaces polished to create a smooth glide under fingertips.
Natural stone pulls are truly a splendid way to infuse a touch of nature's grandeur into your daily routine.
Enamel Color Block Knobs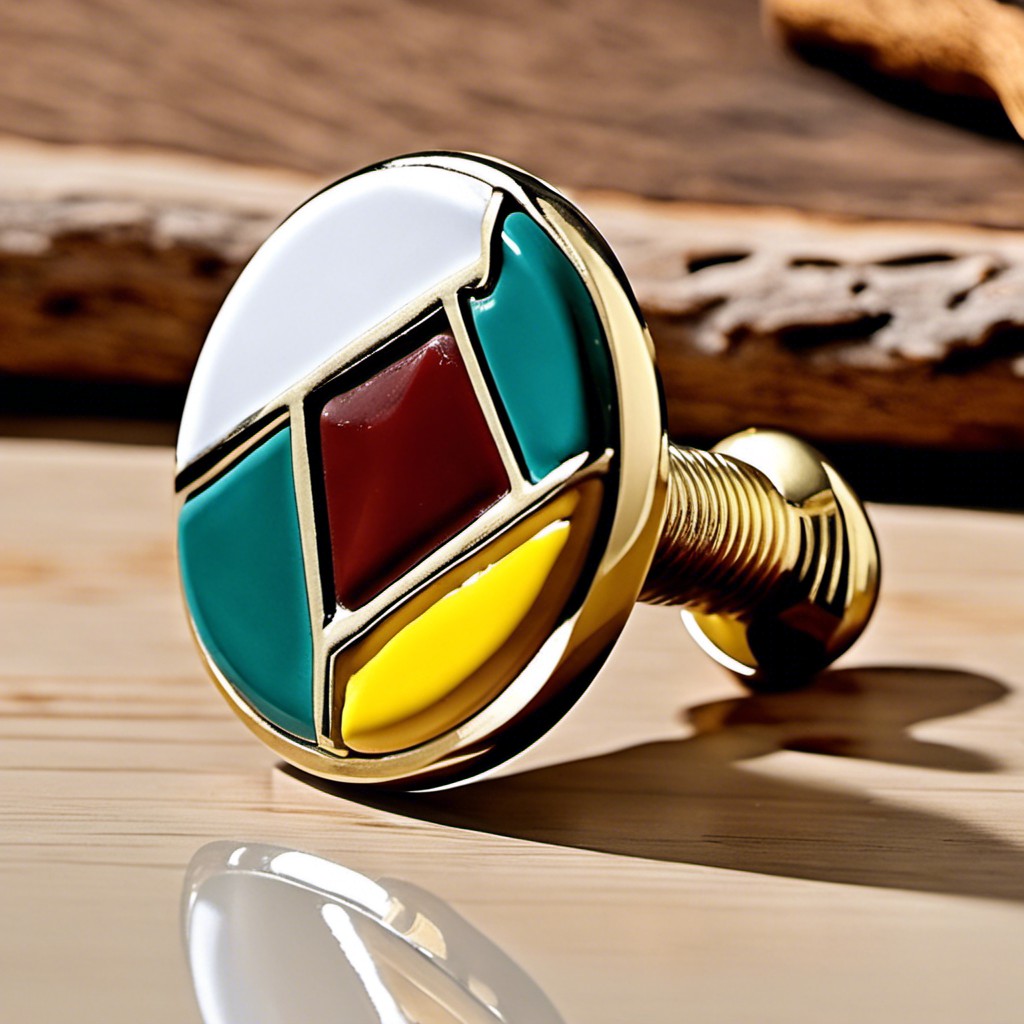 Aesthetically pleasing and versatile, these knobs bring a pop of color to any bathroom cabinet. Coming in a variety of shapes and sizes, the color blocking technique allows for a mix-and-match approach. The enamel's glossy finish is not only visually appealing but also easy to clean, a key factor when considering bathroom accessories.
Some key points to bear in mind include:
Mix & Match Philosophy: With a myriad of colors available, homeowners can customise based on their existing decor, personal taste or mood.
Quality & Durability: Made from enamel, these knobs are sturdy, reliable and designed to withstand the daily rigors of a high-traffic area like the bathroom.
Easy Maintenance: Their glossy finish withstands exposure to moisture, making them a practical yet chic choice for bathroom cabinets.
Versatility: Whether for a kid's bathroom with vibrant tones or a master suite with a more sophisticated palette, these knobs can be tailored accordingly.
Remember, while choosing bathroom cabinet pulls and knobs, think beyond just utility. Your choice can drastically alter the overall look and feel of the room.
Diamond-cut Glass Pulls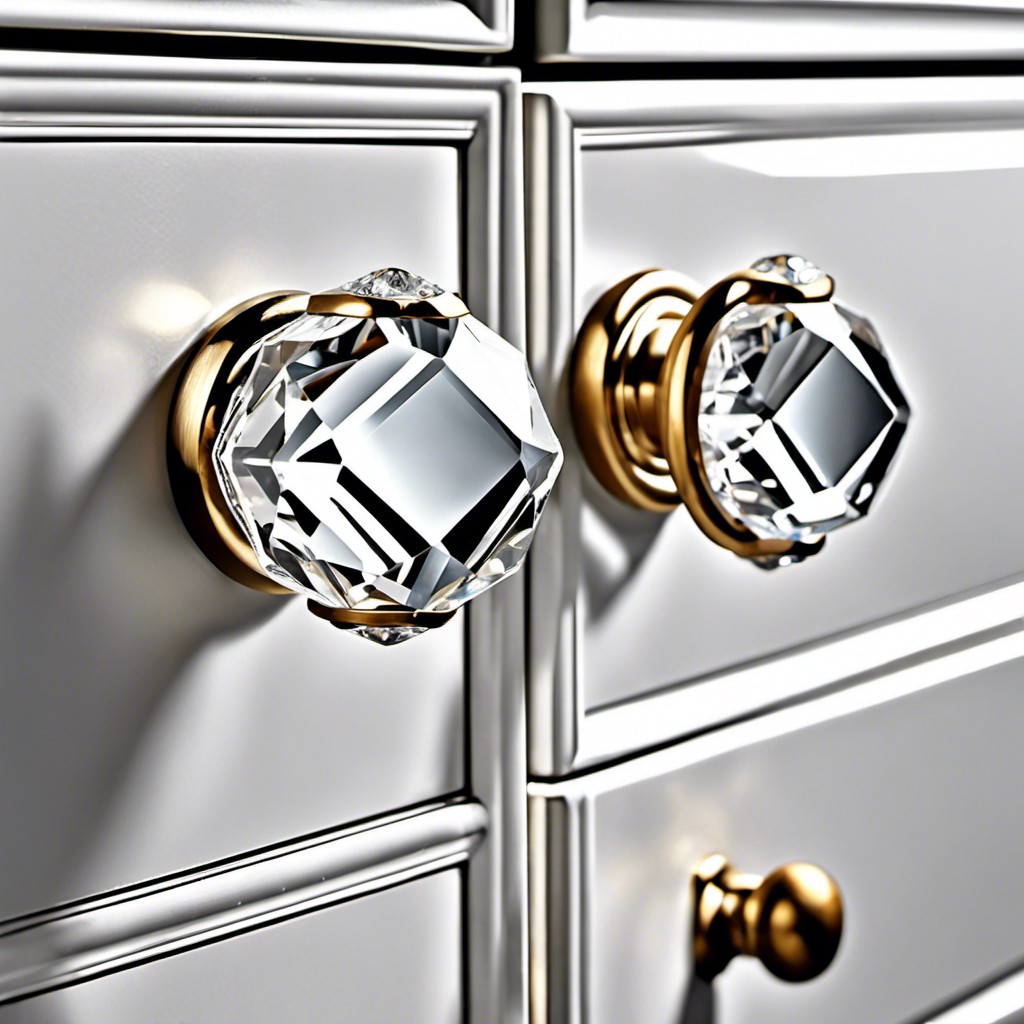 Incorporating these pieces into your design proves to be an effective way of bringing a dose of glam to your bathroom. Named for their resemblance to the multifaceted cuts of a diamond, they refract light to emit a sparkle similar to their namesake gem.
This creates unsurpassed brilliance and adds a touch of class, catching the eye of anyone who enters the room. Their clear glass nature makes them a versatile choice, seamlessly blending with multiple color schemes. They work well with both contemporary and vintage settings.
In terms of care, they're low maintenance. A quick dusting or wipe with a damp cloth is often enough to keep them clean and shining. Selecting the perfect size is essential; too small, and they can look out of place; too big, and they can overwhelm the space.
Use them on tall, slimline cabinets for a delicate finishing touch or pair them with chunky, wooden drawers to create an interesting contrast. Despite being stylish, they're durable, ensuring longevity even in high-traffic bathrooms.
Retro Art Deco Knobs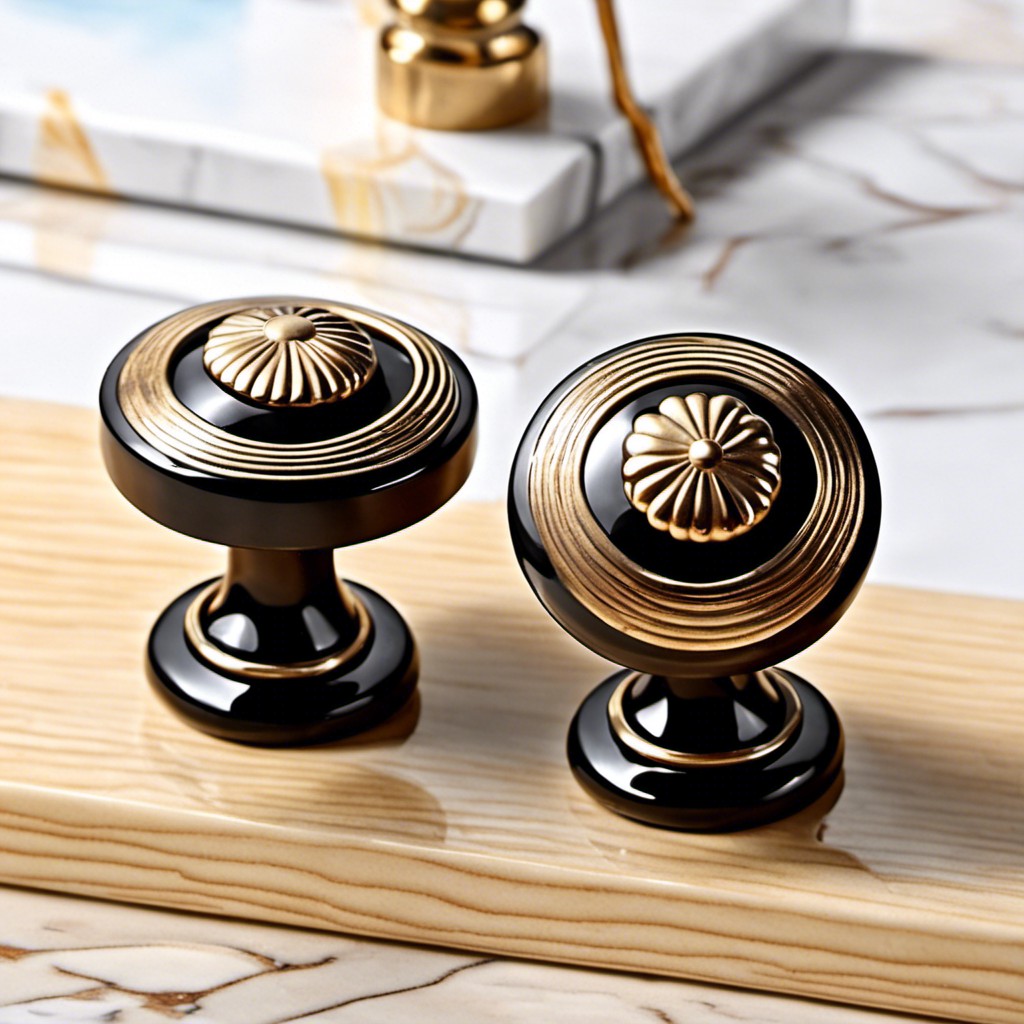 Cheerful and artistic, these knobs bring a nostalgic charm that's hard to resist. Their geometrical designs and vibrant colors make them standout elements in any bathroom.
They complement well with bathrooms sporting solid backgrounds, subtle textures, or monochrome colors. The art deco period was known for its bold shapes and designs, and these knobs certainly encapsulate that spirit.
Choose these to add a touch of vintage glamour and whimsy to your cabinetry. Note however, while they are statement pieces, ensure they blend with the overall decor theme to avoid a disjointed appearance.
Rattan Woven Pulls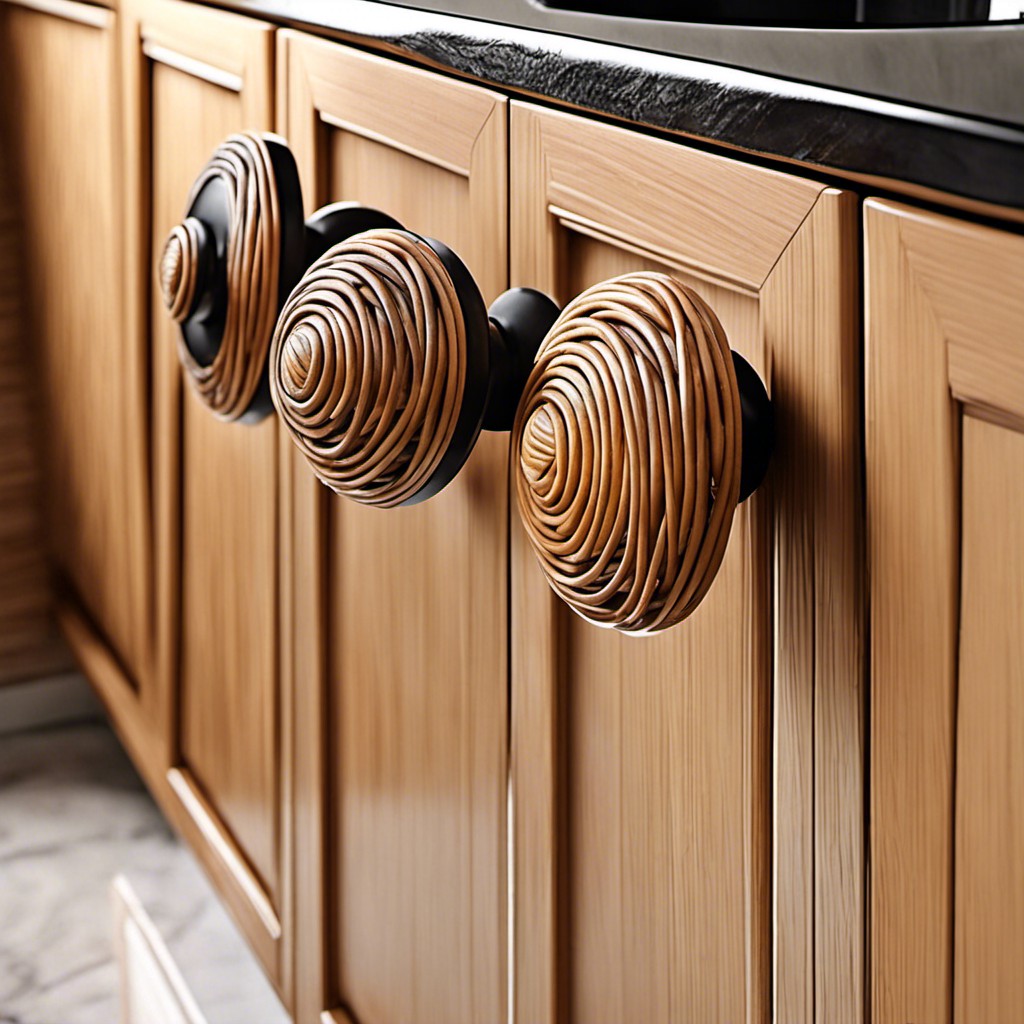 Offering an earthy, natural vibe, rattan pulls typically make a compelling choice for bathroom cabinetry. The handcrafted nature of these pulls brings warmth and texture, injecting subtle character into the space. They harmonize particularly well with various interiors, whether it's a coastal vibe with light hues, a bohemian feel with eclectic touches, or a rustic style with a woodsy ambiance.
Moreover, the inherent durability and flexibility of this eco-friendly material withstand high humidity, making them suitable for bathroom settings. And with the rise of the sustainability trend in home decor, choosing rattan woven pulls can be an excellent way to incorporate a touch of mindful design into your bathroom.
Close attention should be paid to the installation, as rattan pulls require careful mounting to prevent damage. Over time, they might need occasional dusting to maintain their neat appearance, but no polishing or special cleaners are necessary. Available in various dimensions and weave patterns, these unique and practical pulls truly offer a remarkable aesthetic appeal.
Continue reading: