Last updated on November 29, 2023
Dive into the world of interior design with blue bathroom cabinets because they offer a unique yet elegant twist to your conventional bathroom aesthetics.
These are my unique design concepts made using design tools. I hope you find them inspiring!
Blue is an appealing color that can introduce tranquility and sophistication to your bathroom space.
With stylish and colorful cabinetry becoming a trend in interior design, why not explore the palette of blues?
While many recognized ideas are readily available online, this article aims to add some fresh, unique perspectives on blue bathroom cabinets.
You'll find handpicked resources to the best of existing ideas at the end for additional inspiration.
Brace yourself to dive into unique concepts and angles to add that desired charm to your washroom with blue cabinetry.
Let's uncover these fresh and exciting ideas together!
What's Inside
Complementing Blue Cabinets With Gold Fixtures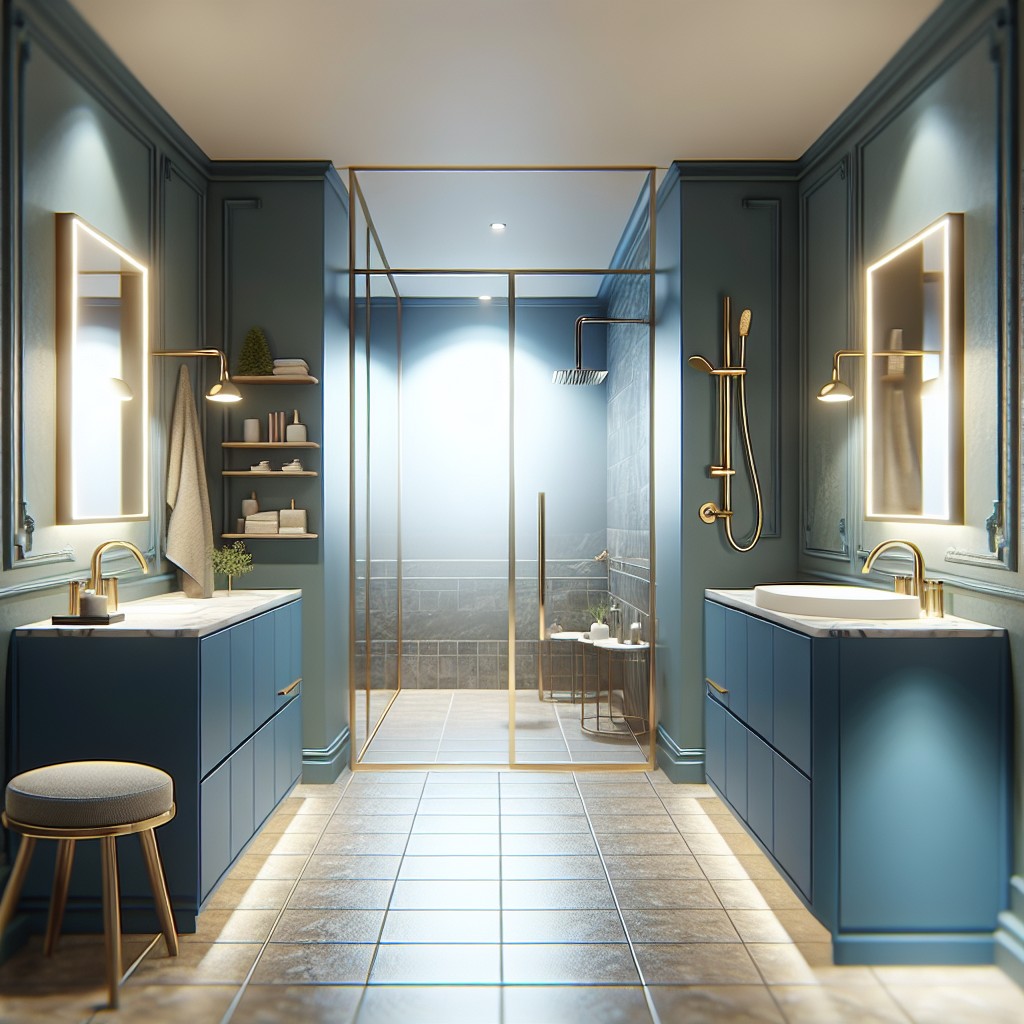 As a classic, rich combo, golden fixtures draw out the beauty of your blue cabinets seamlessly. They create an elegant contrast and add a dash of sparkle, adding a glamorous touch to your bathroom spaces.
Here are some key points to consider:
Choose varied fixtures: Faucets, handles, showerheads, and light fixtures are all opportunities to incorporate gold accents. Each fixture does not need to match perfectly, but creating cohesion in style gives the bathroom a more unified look.
Balance your use of gold: Too much gold does not automatically mean more glamour. Instead, use gold accents sparingly to maintain a balance between elegance and opulence.
Complement with Lighting: Warm lighting tends to accentuate gold fixtures better by making them shimmer and shine. Consider using LED lights for a more energy-efficient solution.
In your selection process, remember — quality matters. Choose high-quality gold fixtures that will retain their shine and finish for a long time, adding long-term value to your bathroom décor.
Blending Blue Cabinets With Pastel Tiles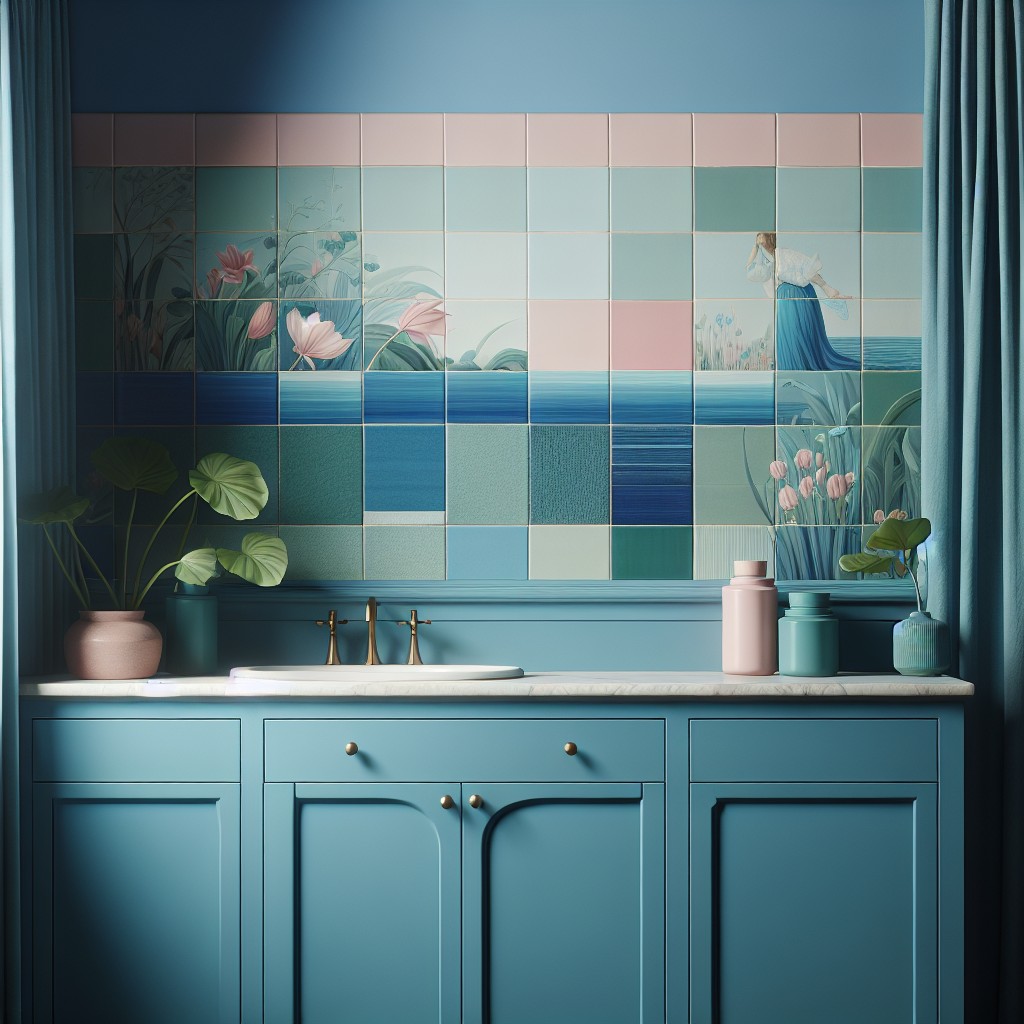 Expanding the serene ambiance of blue cabinets can be achieved by opting for pastel tiles. Here are a few pointers to consider in order to augment the calming nature of this color scheme:
1. Opt for Soft-Edged Pastel Tiles: Soft edges attract light and soften the overall look, providing a beautiful contrast to the boldness of your blue cabinets.
2. Employ Subtle Patterns: Muted patterns on pastel tiles break monotony while allowing the blue cabinets to take the limelight.
3. Dabble in Texture: Textured pastel tiles add visual interest without overwhelming the deep blue of the cabinets.
4. Connect with Cohesive Accessories: Incorporate accessories in the same pastel shade to create a pleasingly warm, cohesive design statement.
5. Light Reflection: High-gloss pastel tiles can make your bathroom seem larger and more luminous, providing a beautiful backdrop to your blue cabinets.
Navy Blue Cabinets With Black Granite Countertops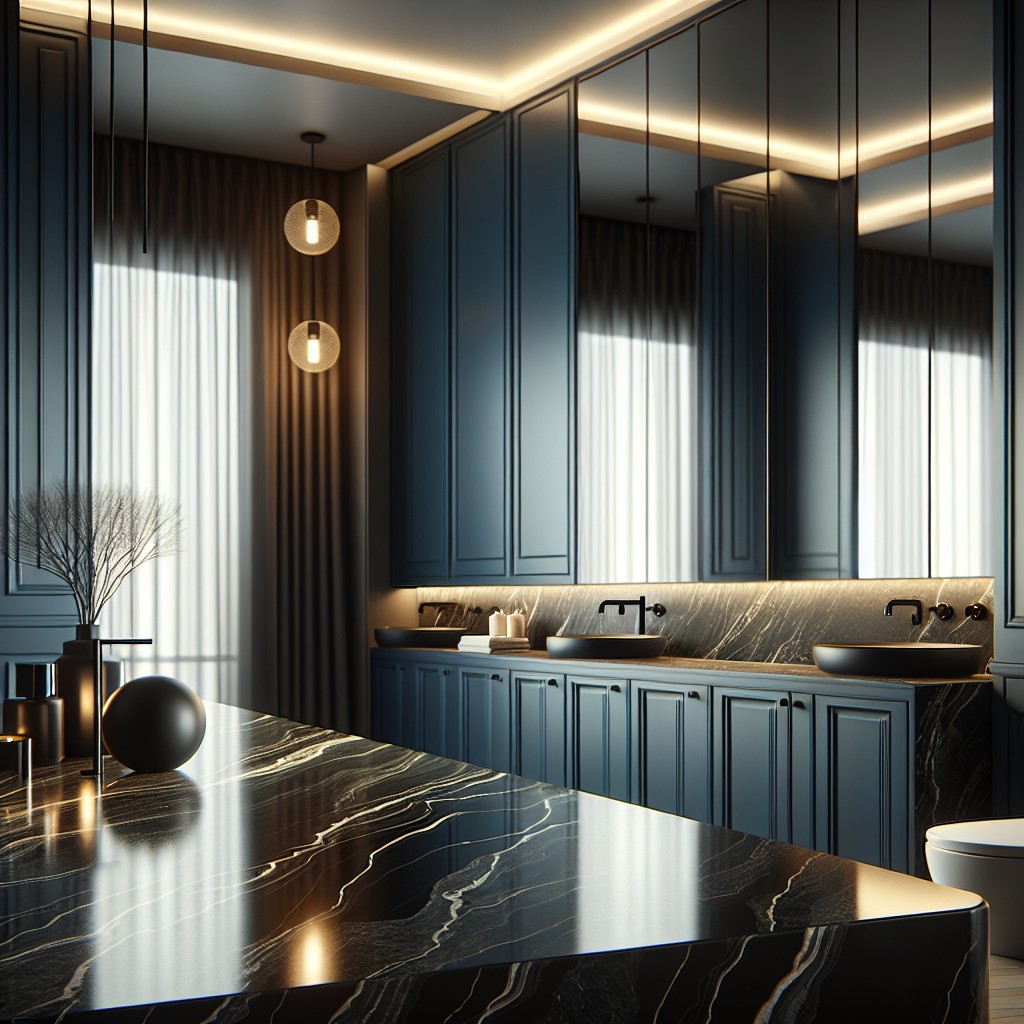 Pairing navy blue cabinets with black granite countertops creates a striking balance of colors that exude both luxury and timelessness. This bold contrast adds depth to the bathroom, providing a remarkable visual impact.
When utilizing this design, here are some vital tips.
1. Finish Matters: Choose a high-gloss finish for the cabinets for an added layer of brightness to counterbalance the deep blue and black tones.
2. Lighting: Illuminate the room well. Recessed lighting or tasteful pendant lights can do wonders in bringing out the depth of the navy blue.
3. Accessories: Stick to silver or chrome for cabinet handles and faucets — they provide a stunning offset to the dark colors.
4. Backsplash: Consider white subway tiles or marble for a clean look.
5. Space Consideration: This duo is better suited for bigger bathrooms as the heavy color scheme can make smaller spaces look congested.
6. Complementing Decor: For added elegance, consider a mirror with a sleek silver frame, or toweling in soft pastels. These elements can soften the overall aesthetic.
Remember, the objective is balance — the dramatic duo of navy blue and black granite shouldn't overshadow the tranquility that a bathroom should provide.
Dark Blue Cabinets Against White Subway Tile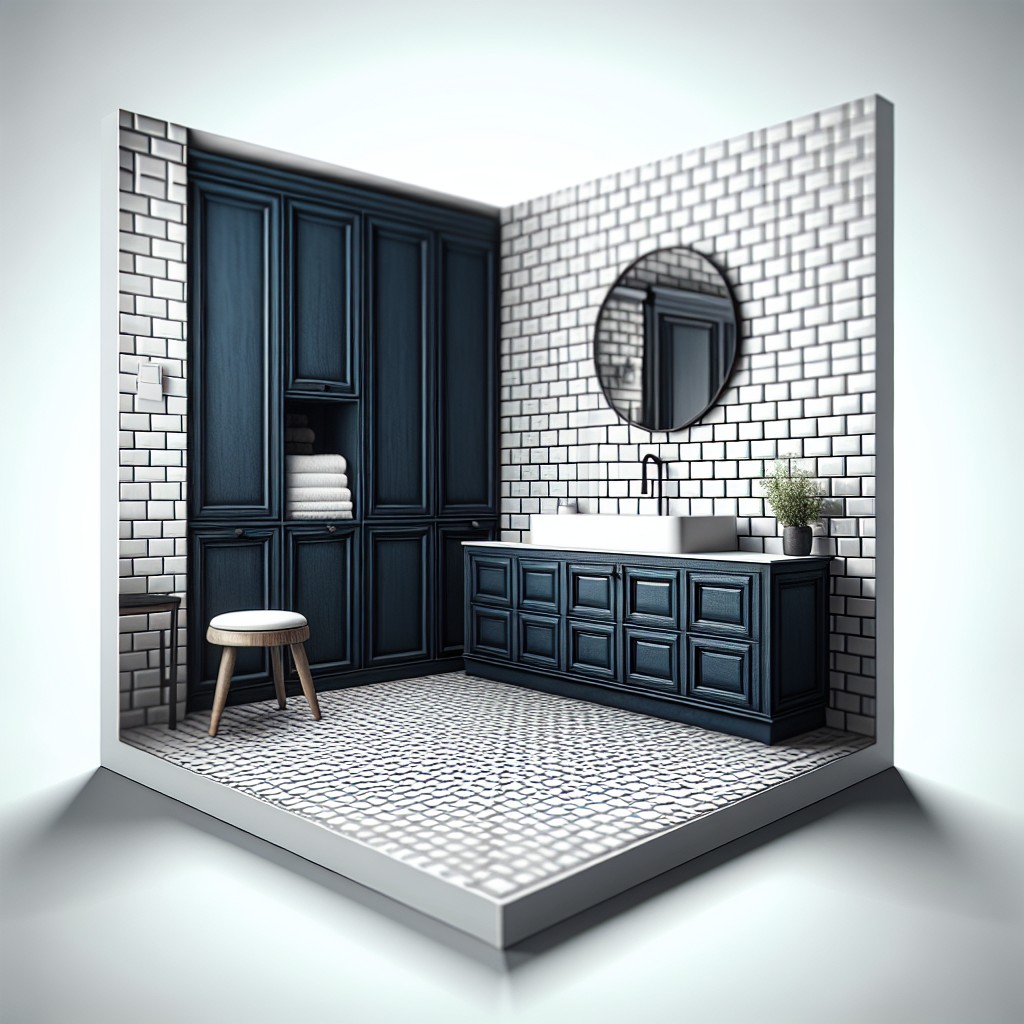 This combination creates a strong, contrasting look that's appealing in modern bathroom aesthetics. Not only do white subway tiles provide a clean canvas, but they help enhance the depth of dark blue cabinets. Plus, they are easy to clean and maintain, making this combo practical as well.
1. Versatility: White subway tiles work well with various shades of deep blue, from navy to midnight blue. Therefore, it allows for flexibility when choosing the cabinet's exact hue.
2. Accentuation: Since white reflects light, it accentuates the details and richness of the dark blue cabinets.
3. Size: This combo also aids in visually enlarging the bathroom space. Light-colored walls make a room seem larger, while the dark cabinets create a grounding effect.
Remember, it's all about balancing the two. The cabinets should be the focal point while the white subway tiles serve as a visually soothing backdrop.
The Luxury of Velvet Blue Cabinets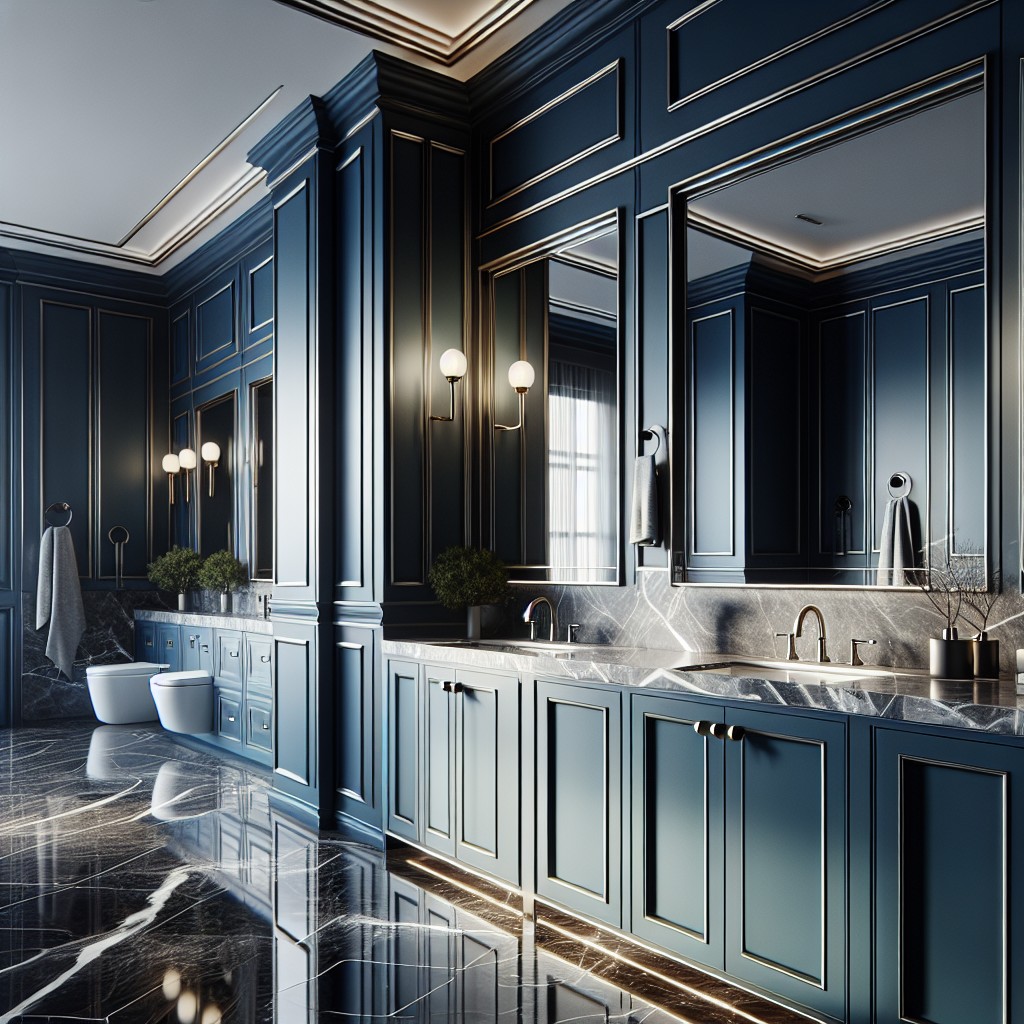 Pairing the rich and deep hue of velvet blue with bathroom cabinets provides an unrivaled luxurious feel. Here are some key considerations to achieve that elegant look:
1. Material: Opt for glossy finishes like lacquer, which reflect light and enhance the vibrancy of the color.
2. Lighting: Incorporate warm, soft lighting to maintain the velvet-like feel and give the room a cozy ambiance.
3. Accents: Consider pairing the cabinets with gold or silver hardware for a truly opulent aesthetic.
4. Complementary Colors: Velvet blue cabinets pair well with white or lightly-tinted marble surfaces to maintain a balanced contrast.
5. Layering: To create depth, use different shades of blue in elements such as towels and rugs. This technique can add an interesting dynamic to the room.
6. Accessorizing: Finally, don't forget to add luxury accessories like ornate mirrors or high-end bathroom fittings that align with the overall luxe theme.
These are essential elements to consider when aiming for the luxury of velvet blue cabinets. With these ideas, the bathroom will certainly exude elegance and sophistication.
Custom Blue Bathroom Cabinets Design Ideas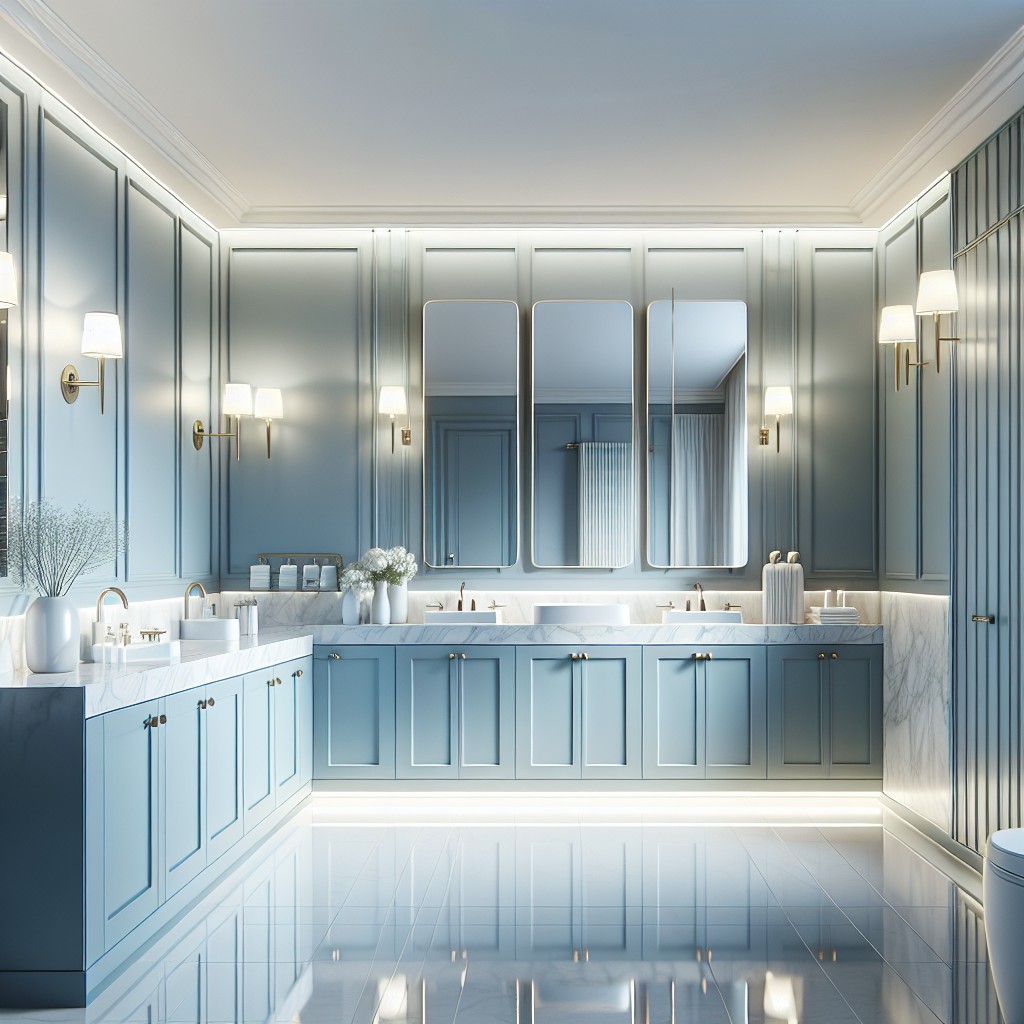 Delving into the world of custom-made solutions allows for distinct personalization— in hues and styles you love.
A turquoise finish might draw out retro vibes, while sapphire can add a touch of elegance.
As per size and storage needs, opt for a floating design to maximize floor space or deep drawers for clutter-free surfaces.
For unique finishes, consider shaker style doors or beadboard designs that imbue texture.
A built-in vanity paired with statement mirrors can transform the cabinet into a stylish focal point.
Moreover, a custom design can be configured for dual sinks— an excellent choice for shared bathrooms.
Opting for a versatile color like blue and pairing it with the flexibility of custom design results in a winning combination for any bathroom.
Dual-Tone Bathrooms: Blue Cabinets and Dark Hardwood Floors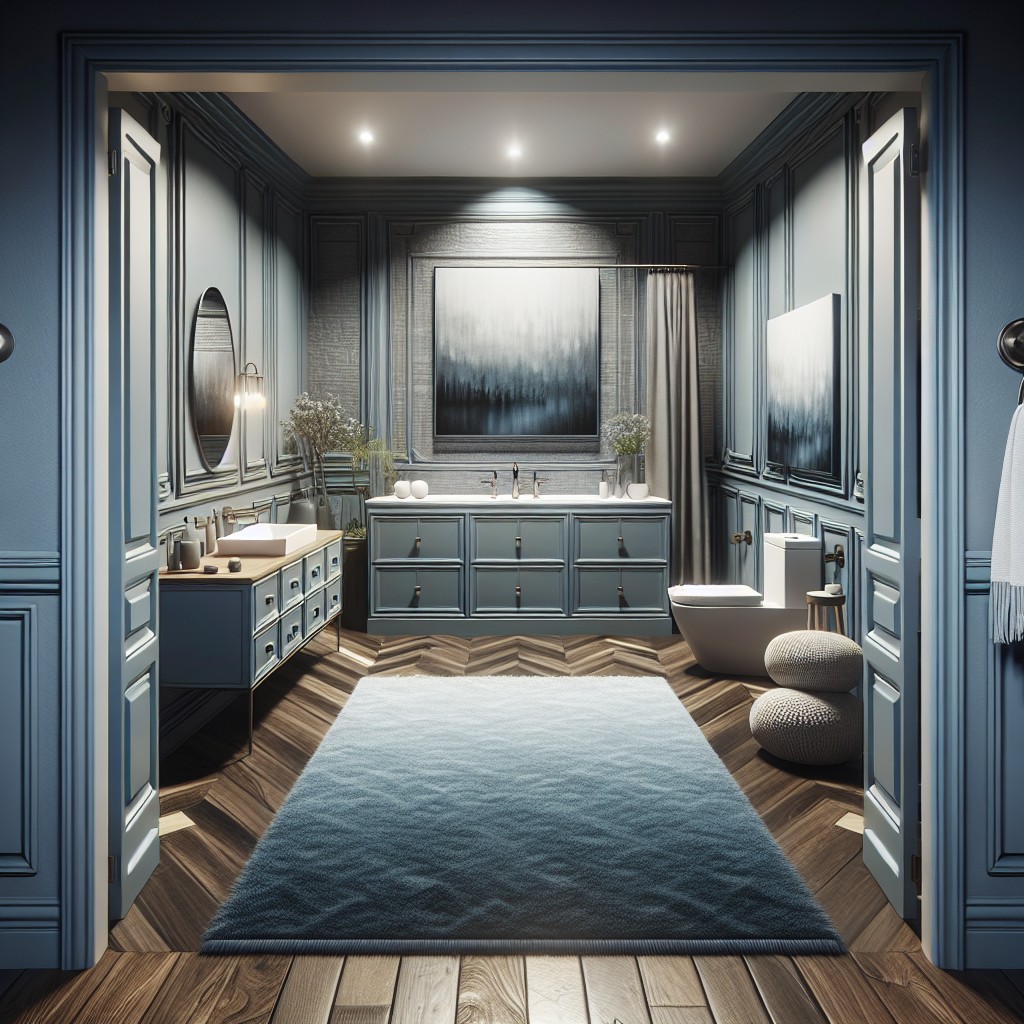 Balancing the cool undertones of blue cabinetry with the warm hues of dark hardwood flooring can yield an extraordinary aesthetic appeal. The richness and depth of dark hardwood counteract the chill of blue, creating an inviting ambiance.
1. Floor Selection: Opt for darker tones like espresso or walnut for a sophisticated contrast to blue cabinets. These woods are also known for their durability, perfect for a busy bathroom.
2. Blue Cabinetry: Choices span from sky-blue to navy. Subtler blues work for serene, spa-like spaces, while bold blues cater to vibrant, dynamic bathrooms.
3. Coordinating Elements: Complement with white or neutral-colored walls to balance the darker floor and blue cabinetry. Make your bathroom feel cohesive by matching the cabinet handles with the lighting fixtures.
By carefully choosing your blues, hardwood color, and complements, you can create a dual-tone bathroom that's both warm and cool – a tranquil space brimming with character.
Industrial Style- Distinct Blue Cabinets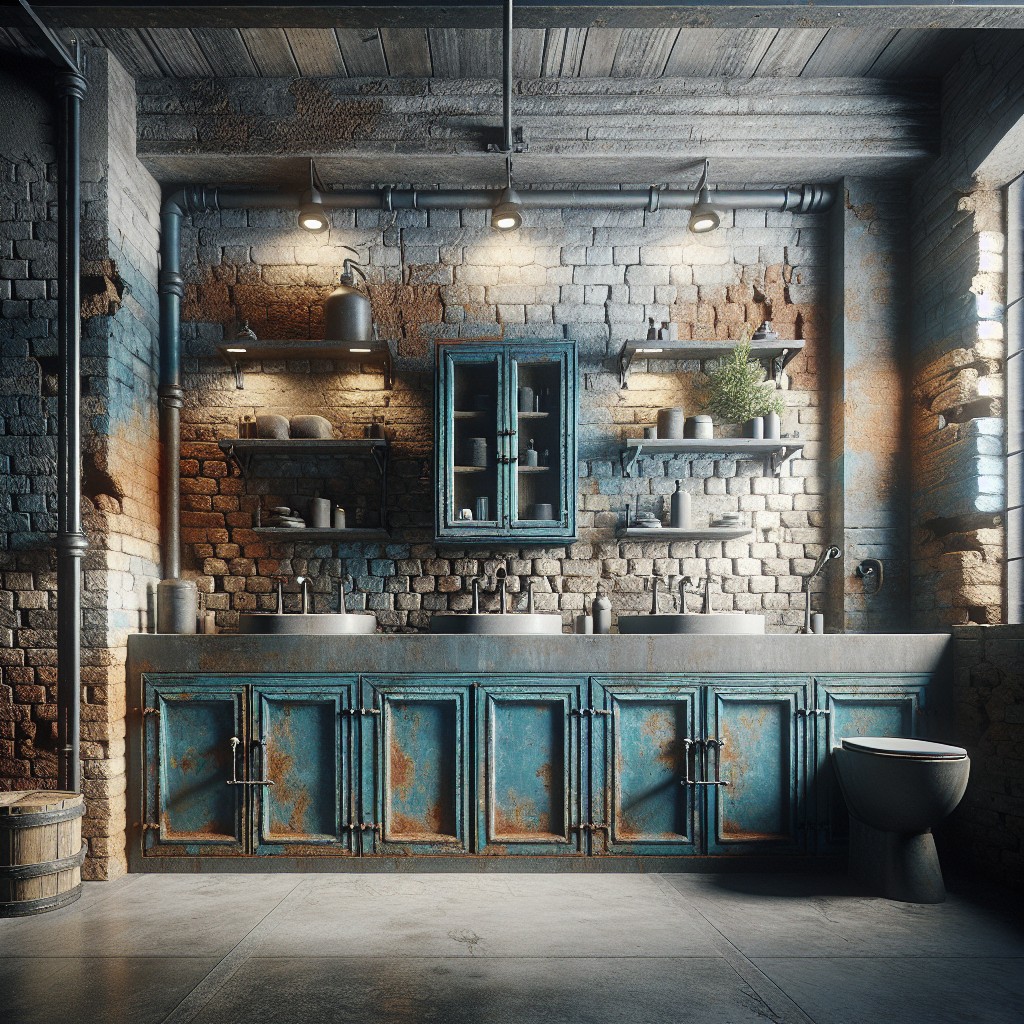 Achieving an industrial aesthetic with distinctive blue cabinets requires the right combination of elements. Choose darker shades of blue, like indigo, to create depth and drama. Pair the cabinets with other hallmark features of the industrial style such as exposed brick or metallic accents for a visual twist. Matte finishes are also recommended to stay true to the raw, unpretentious vibe of this aesthetic.
It's key to balance the weight of the darker cabinets with lighter elements. Concrete or natural wood countertops can offer an appealing contrast. Alternately, consider a white or beige backsplash.
Remember, hardware also plays a significant role. Opt for drawer pulls, cabinet handles, or fixtures in brass or stainless steel to enhance that industrial look.
Lastly, open shelving can add functionality and display opportunities, giving you room to incorporate personal touches. This can give the bathroom a lived-in and inviting feel, instead of seeming overly sterile or utilitarian.
Mixing Blue Cabinets With Terrazzo Surfaces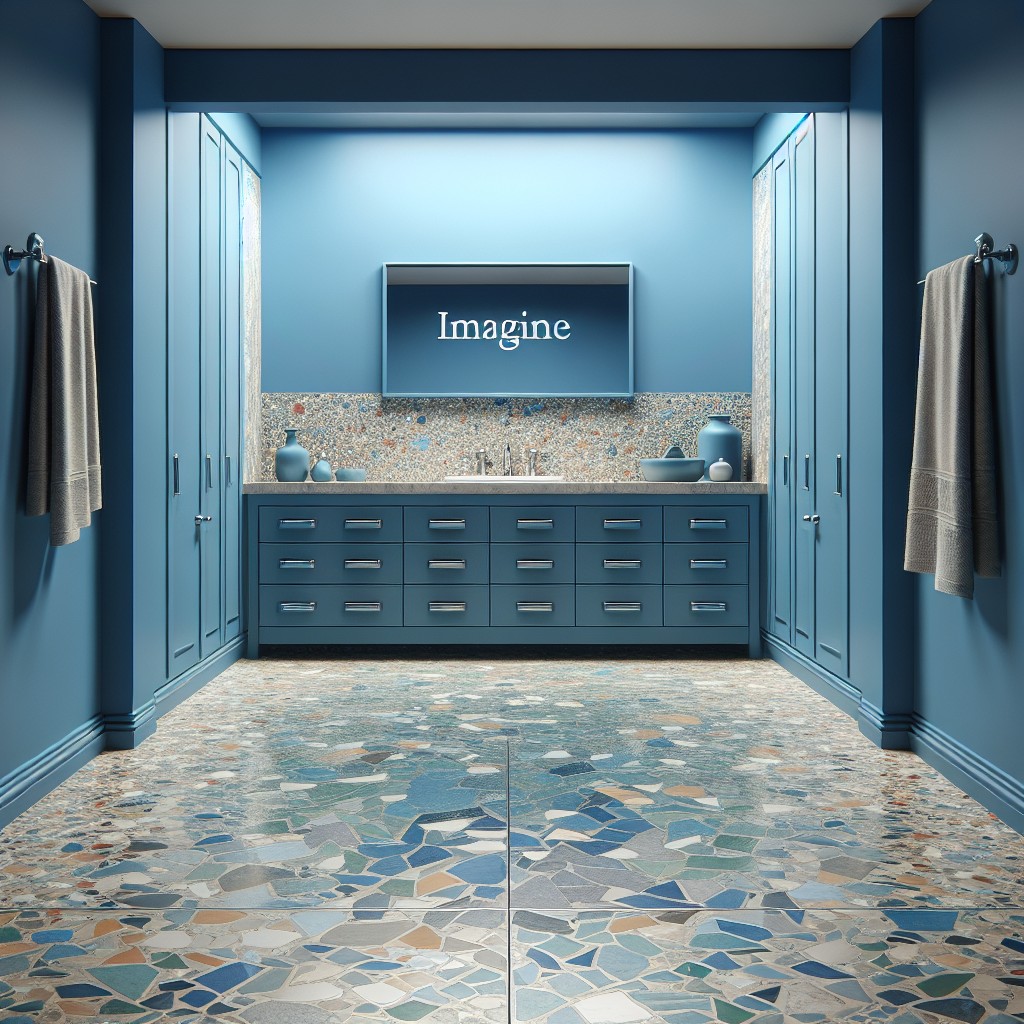 Terrazzo surfaces, with specks of marble, quartz, granite or glass, transport any bathroom to a new level of luxe. These surfaces work harmoniously with blue cabinets, delivering a unique blend of modernity and tradition.
Here are a few concepts to get you started:
1. Speckled Appeal: Choose terrazzo with blue specks matching the cabinet shade. It creates a cohesive look and makes the bathroom visually appealing.
2. Cooler Aesthetics: Opt for cool-toned terrazzo such as grey or white, blending perfectly with the cool undertones often found in blue.
3. Accentuate with Accessories: Enhance the look with rose gold or brass fixtures, they contrast beautifully against both terrazzo and blue cabinetry.
4. Floor Focus: Use terrazzo flooring. It adds a wow-factor and complements the calming effect of blue cabinets.
Remember, the aim is to craft a visually balanced ambience while keeping functionality at the forefront. Give your bathroom a sophisticated, timeless makeover with this combo.
Cottage Style Bathroom With Light Blue Cabinets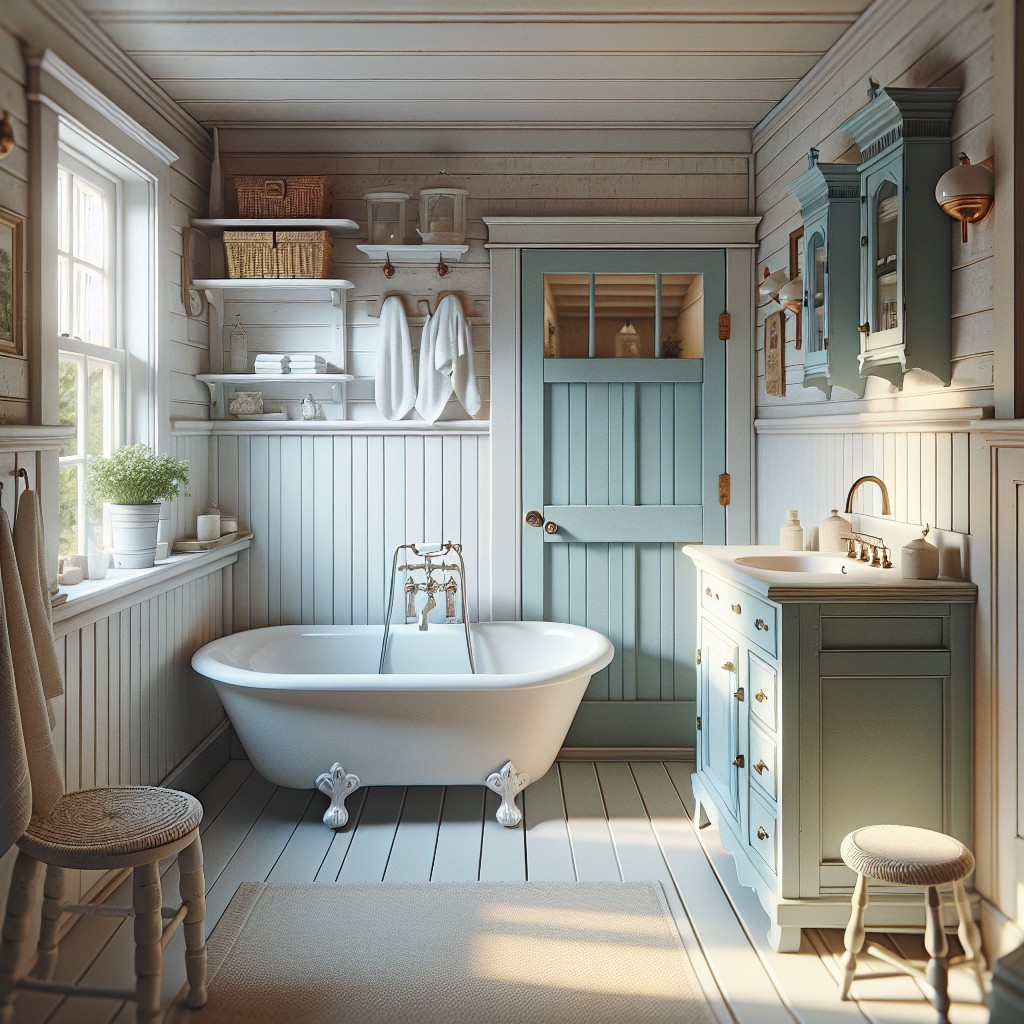 Light blue cabinets are an excellent choice for a cottage style bathroom, adding an airy and inviting feel. Consider pairing these cabinets with softer elements to maintain the relaxing and serene atmosphere that this style is known for.
Using elements such as vintage bathtubs and pedestal sinks can emphasize the traditional charm. Use an antique mirror to add a touch of character and old-world charm, enhancing the cottage aesthetic.
For the walls, use a mix of beadboard or shiplap painted white, augmenting the light and fresh feeling of the space. The light color palette helps in creating the illusion of spaciousness and tranquility.
Woven baskets and wood surfaces add texture and warmth, while patterned tiles on the floor, possibly in floral or geometric designs, can bring in a dash of playfulness.
Last but not least, remember about natural light, its influx is vital in creating a cozy and welcoming atmosphere characteristic to a cottage-style bathroom.
Mid-Century Style Bathroom: Cobalt Blue Cabinets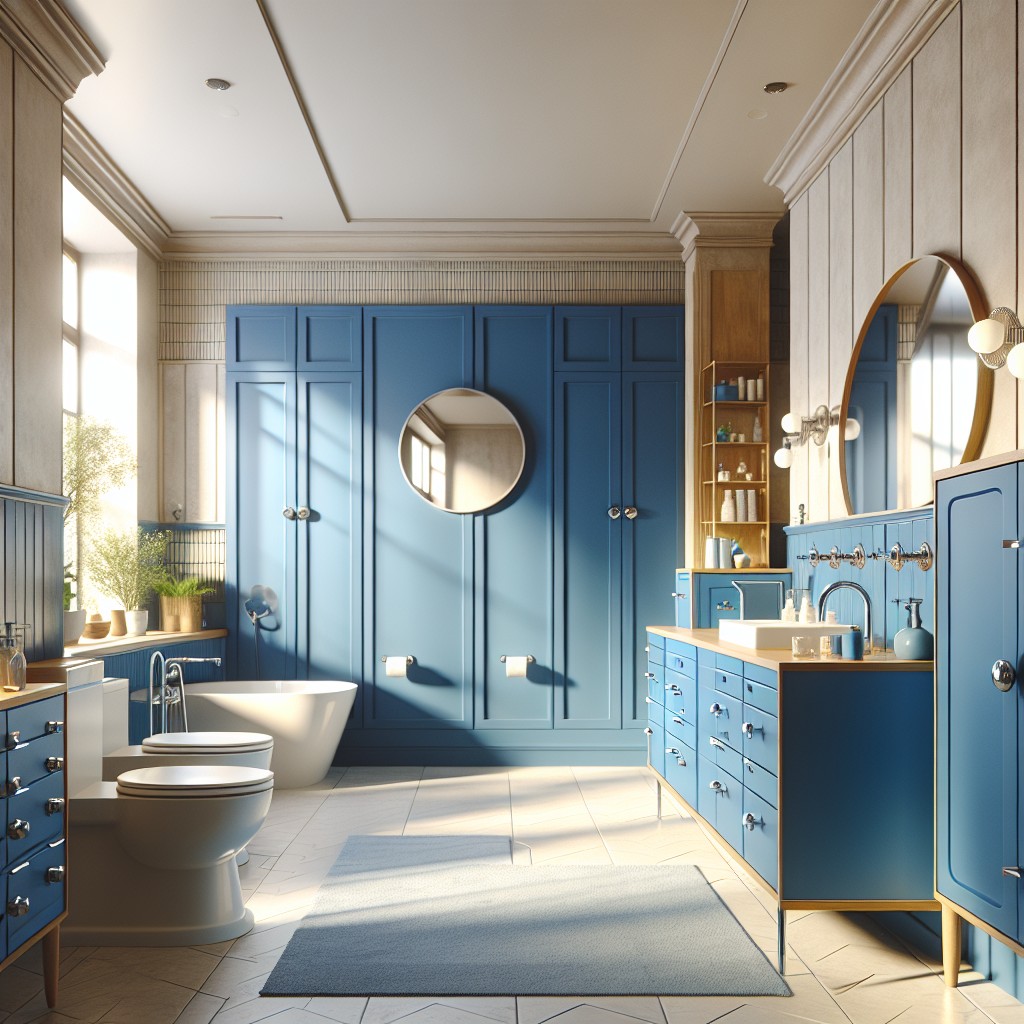 Exploring the realm of mid-century design aesthetics is exhilarating. Cobalt, a vibrant shade of blue, adds an unexpected pop of color while remaining sophisticated. It combines well with iconic mid-century materials, maintaining a balance between bold and refined.
1. Ceramics are a mid-century staple. Consider white ceramic fixtures, like bathtubs and sinks, to contrast beautifully with cobalt cabinets.
2. Combine with geometric patterns. Mid-century design is known for its love of geometric patterns. Subway tiles in neutral colors provide textural contrast to the sleek cabinets.
3. Wooden accents. Natural hardwood, especially teak or walnut, lends warmth and authenticity to the mid-century style bathroom. A wooden mirror frame or shelving can effectively break up the boldness of the cobalt.
4. Chrome fixtures. Chrome taps, handles, and showerheads provide a modern touch that aligns well with the mid-century style.
5. Mid-century furniture. If space allows, place a mid-century modern stool or chair near the vanity. Upholster in vibrant colors or patterns for added character.
With these tips, cobalt blue cabinets become a natural part of the mid-century style bathroom, adding a touch of elegance to the space.
Blue Cabinets and Frameless Glass Shower Screens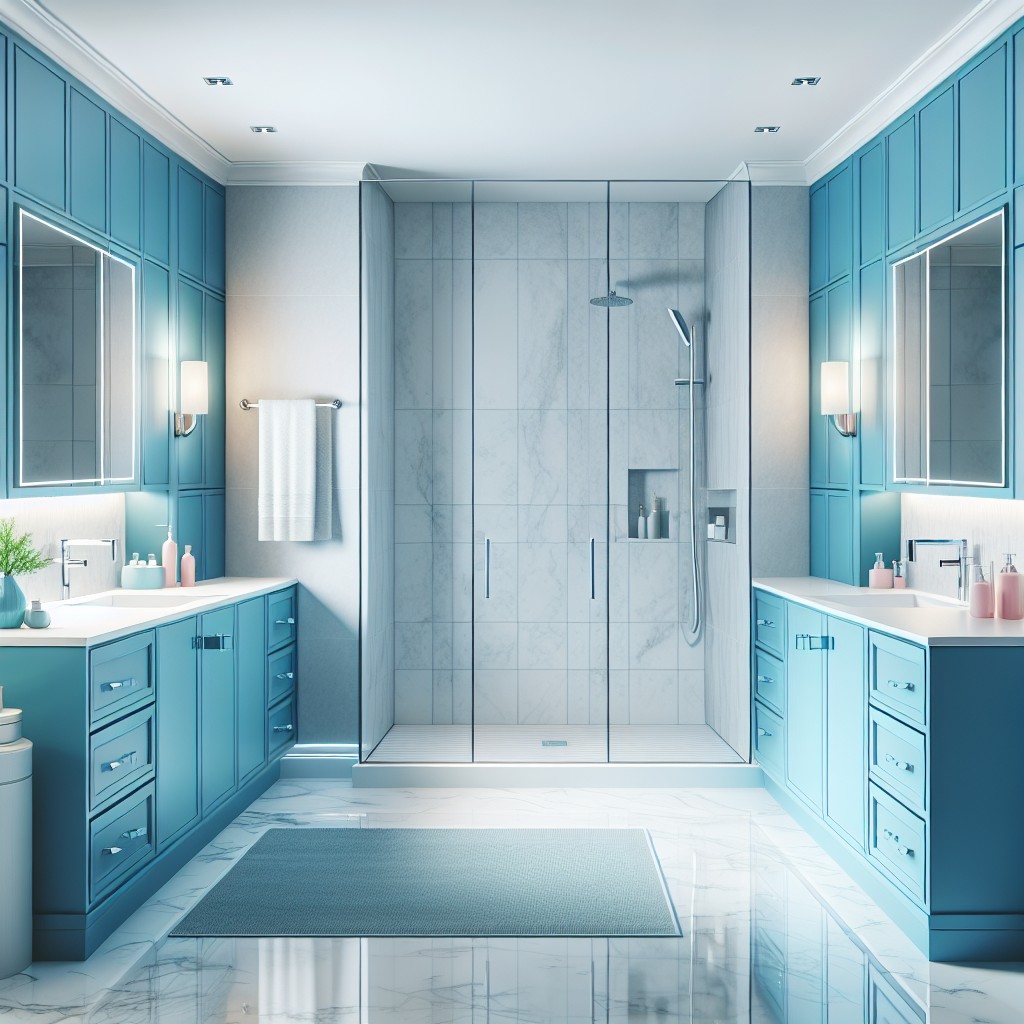 The simplicity and transparency of a frameless glass shower screen often acts as the perfect complement to blue cabinets by not disrupting visual flow. This combination gives your bathroom balance while retaining a focus on your blue cabinetry.
Here are a few points to guide you:
The clear nature of the glass keeps focus on the cabinets and provides the illusion of space, beneficial in smaller bathrooms.
Depending upon the shade of blue used in the cabinetry, the reflective surfaces of the glass can accentuate different tones, delivering an unexpectedly dynamic aesthetic.
For a harmonious design, keep hardware such as handles on the cabinets and shower screen in sync, whether choosing brushed gold for an upscale look or stainless steel for modern minimalism.
The frameless glass shower screen allows natural light to engulf the space and highlight the vibrant nature of blue cabinets. Lighting can be further played up to enhance this effect.
The use of simple, neutral wall and floor tiles will enhance the stand-out nature of the blue cabinets without competing for attention with the shower screen.
Bold Blue Cabinets With Floral Wallpaper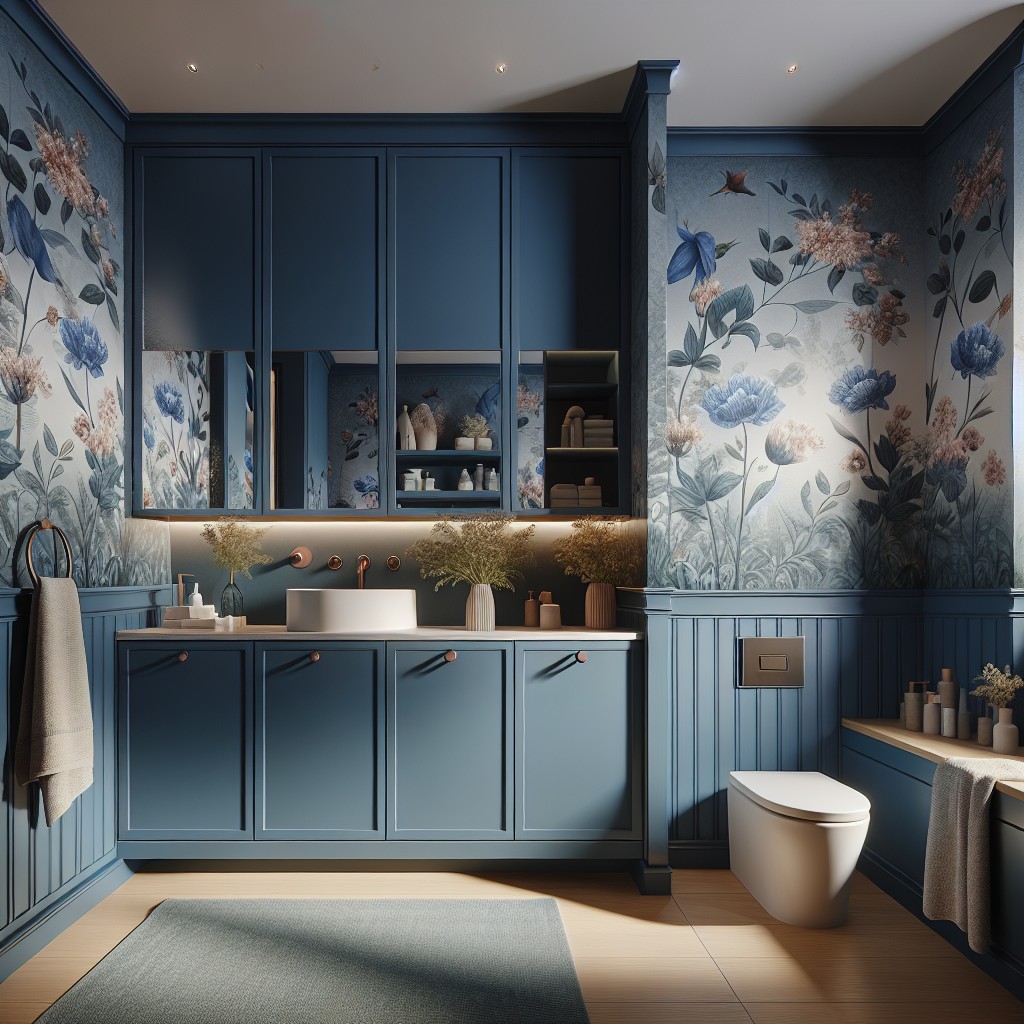 Venturing into the world of bold aesthetics, one may marry the vivacious charisma of bright blue cabinets with the whimsy of floral wallpaper patterns. The result is an ambience that resonates with vitality.
The key is to find a balance between the bold blue of the cabinets and the intricate design of your chosen floral wallpaper. Opt for patterns that incorporate a similar shade of blue, creating unity within the design scheme.
Bear in mind the scale of the pattern. Smaller prints can serve to enhance the character of the bold blue without overwhelming the space, while larger motifs add a sense of drama.
Continue this balance through to your choice of accents. Neutral-toned fixtures strike the right balance, allowing the eye-catching cabinets and wallpaper to take center stage without causing visual clutter. Alternatively, brass or gold-tone fixtures can add an extra level of sophistication.
Lastly, consider the lighting. Natural light will highlight the composition, while well-placed artificial sources can emphasize the striking blue cabinets and accentuate the wallpaper. It's a careful interplay of elements that results in a bathroom space that's equally refreshing and invigorating.
Incorporating Blue Cabinets in Art Deco Bathrooms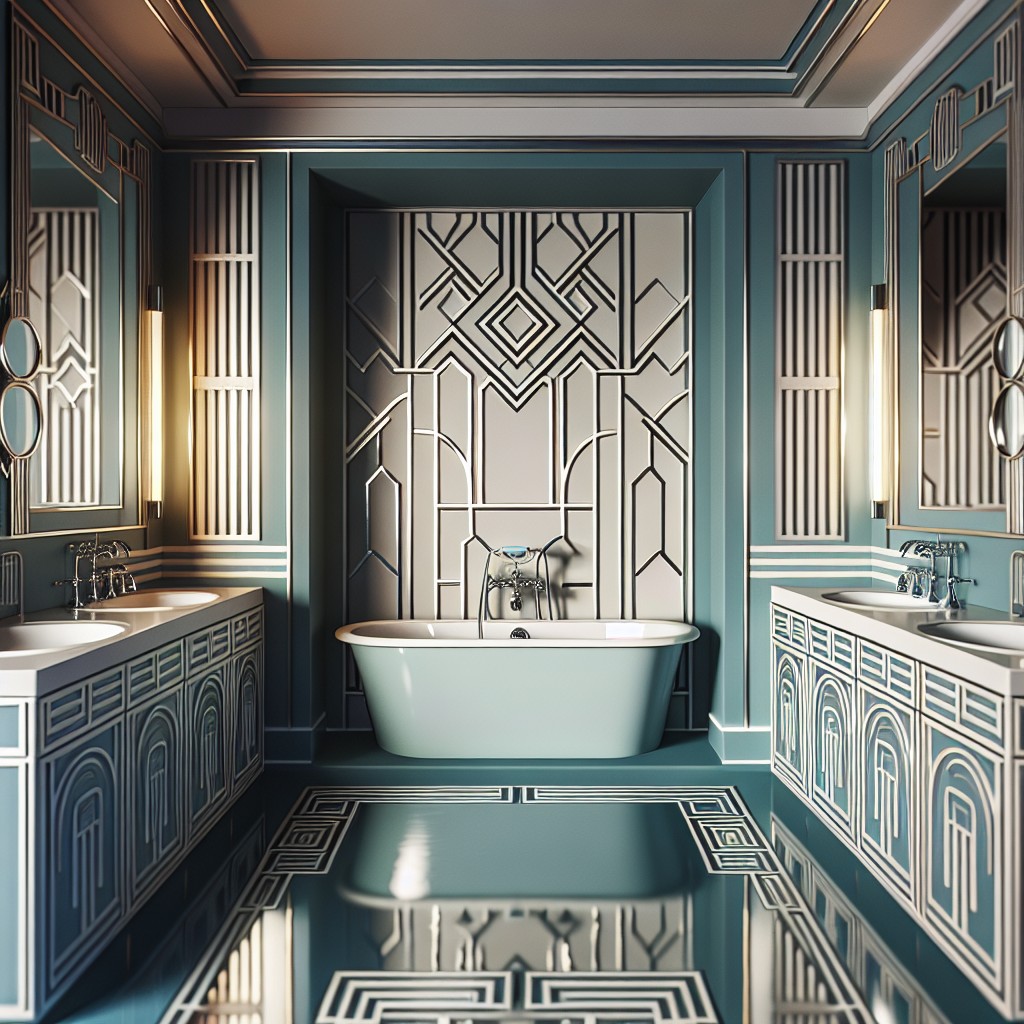 Art Deco designs are characterized by bold geometrical patterns, rich colors, and lavish ornamentation. To integrate these attributes, start by choosing a statement-making azure or royal blue for your cabinetry. The strong color harmoniously combines with the sleek chrome or bronze fixtures often found in this style.
For a clear contrast, utilize white as a prominent secondary color on bathtub, sink, and Art Deco-patterned tiles. Mirrored accents, commonly paired with blue in Art Deco designs, also add an air of sophistication and sparkle, further enhancing the luxurious feel.
Try adding unique stylistic touches, like decorative knobs and drawer pulls, possibly with sculptural or geometric designs, typical of the period.
To unify the look, consider an Art Deco-inspired wallpaper with blue undertones echoing the cabinet color. This, together with strategic lighting that highlights the best features, successfully anchors the Art Deco theme in a tastefully done blue bathroom.
Harmonizing Blue Cabinets With Brass Accents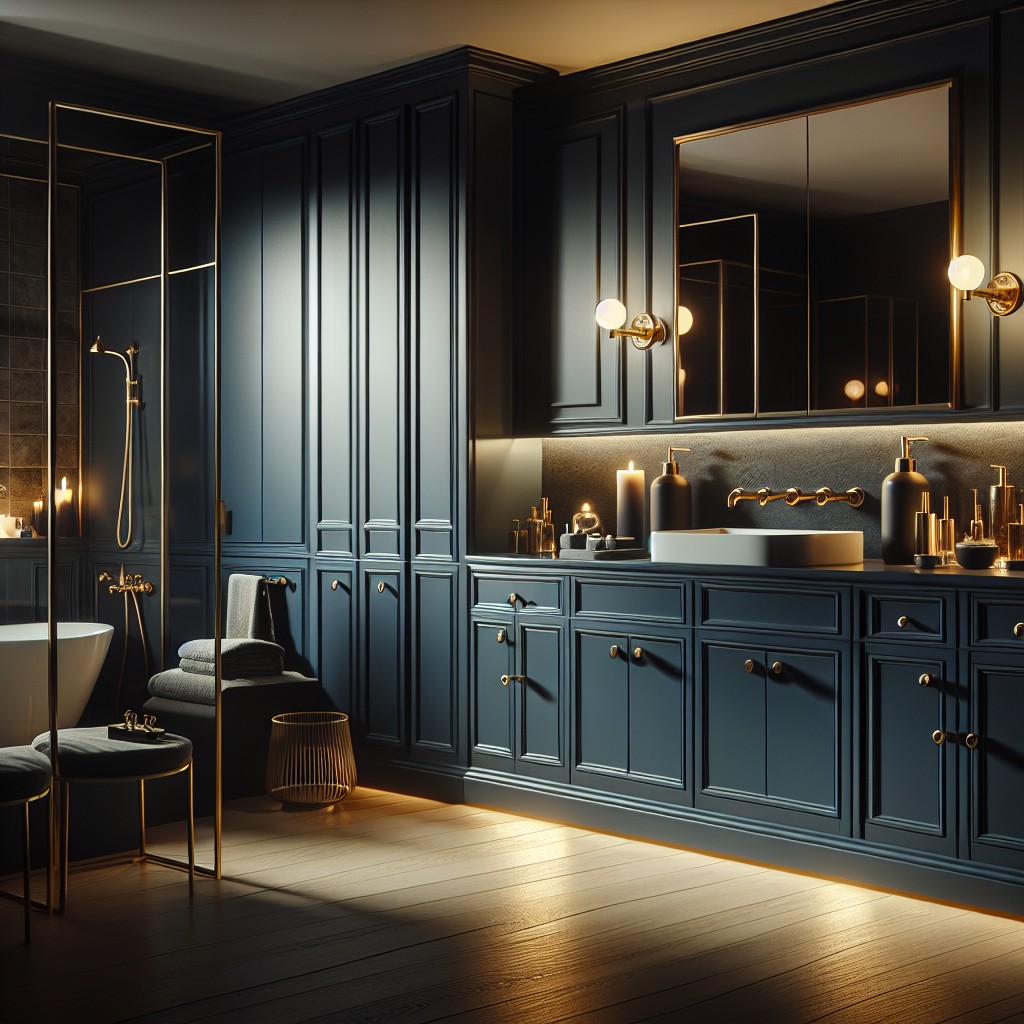 Bold brass fixtures and accents are a stunning choice to pair with blue cabinets. The contrast creates a fascinating amalgamation of style that is both timeless and elegant.
Consider the following to achieve this captivating vibe:
Opt for brass faucets, handles, or towel rods. Their warm tones help create a rich, cozy atmosphere against the coolness of blue cabinets.
A brass mirror frame can act as a striking centerpiece, further emphasizing the beautiful clash of colors.
Add a touch of class with brass lighting fixtures. Whether it's a chandelier or wall sconces, lighting in brass can exquisitely illuminate and complement the blue cabinetry.
Use brass artisan accessories or decorative pieces for additional detail.
Do not be afraid of experimenting. Mixing different shades of blue and varying types of brass accents can help create a unique space that perfectly fits your style.
Remember, the aim is to create a harmonious balance between the two elements. Overdoing it could take away the charm, so invest time in careful planning.
Classic Blue: Pantone Color of the Year for Cabinets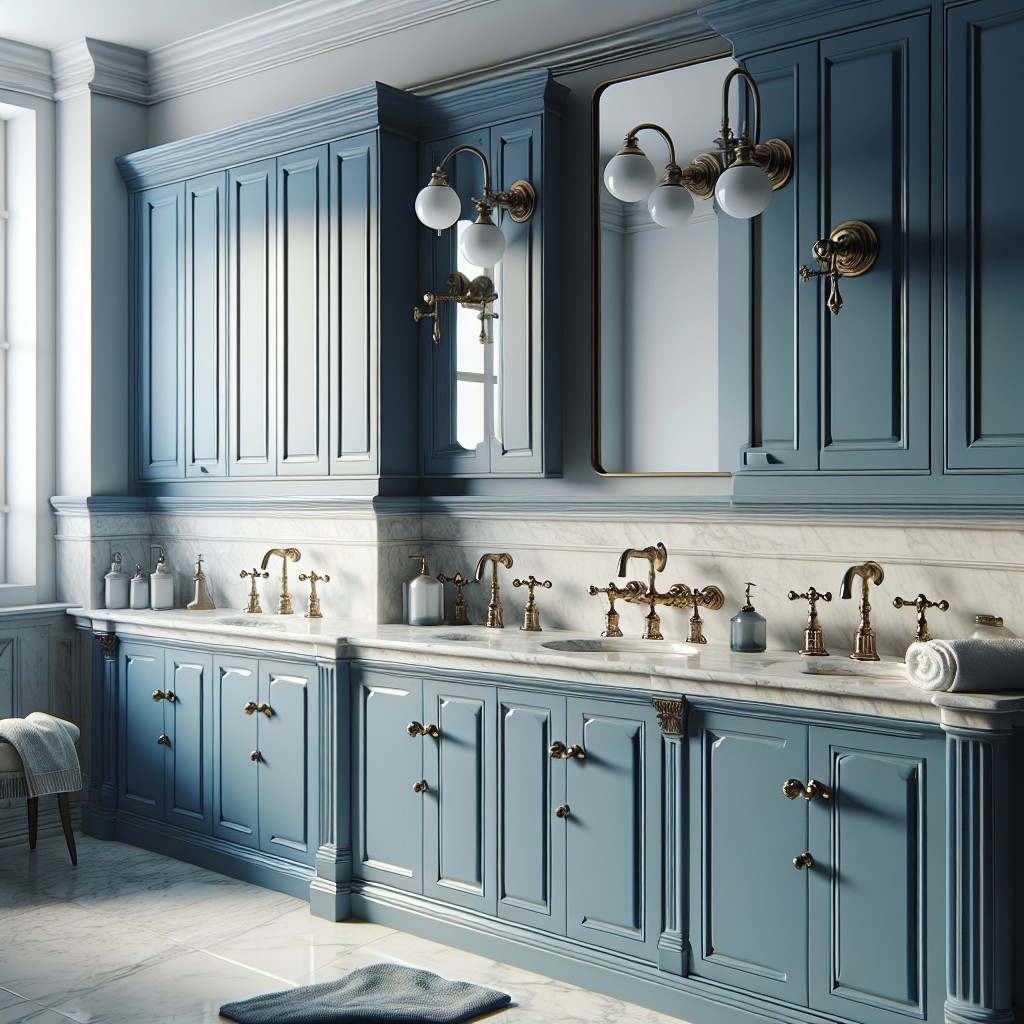 Diving into this royal shade, you might feel a surprising calming effect. This is no coincidence, as Classic Blue was chosen for its soothing properties, a serene anchor in a rapidly changing world.
Firstly, this color pairs wonderfully with both light and dark themes due to its deep, yet not overpowering hue. To create a dramatic contrast, try matching Classic Blue cabinets with crisp white tiles or countertops. Simultaneously, it blends beautifully with darker tones, adding a touch of sophistication without overwhelming the room.
Secondly, this elegant shade is versatile and timeless. Whether the overall style of your bathroom leans toward modern minimalism, rustic charm, or traditional chic, Classic Blue can surely find its place. It's a fail-safe choice, especially if your aim is transitioning this frequently used space into a tranquil sanctuary.
Plus, Classic Blue is perfect for experimenting with different textures. For instance, high-gloss finishes will give your cabinets a sleek and premium feel, while a matte finish imparts a sense of softness and depth.
Lastly, don't underestimate the power of well-chosen accessories. Brass or gold hardware, for example, can turn Classic Blue cabinets into a stunning focal point, balancing out its cool undertones with a warm and inviting shimmer.
Remember, your goal is to create a space that relaxes and rejuvenates, and this beautiful shade of blue might be the perfect tool to achieve that.
Blue Cabinets With Carrara Marble Countertops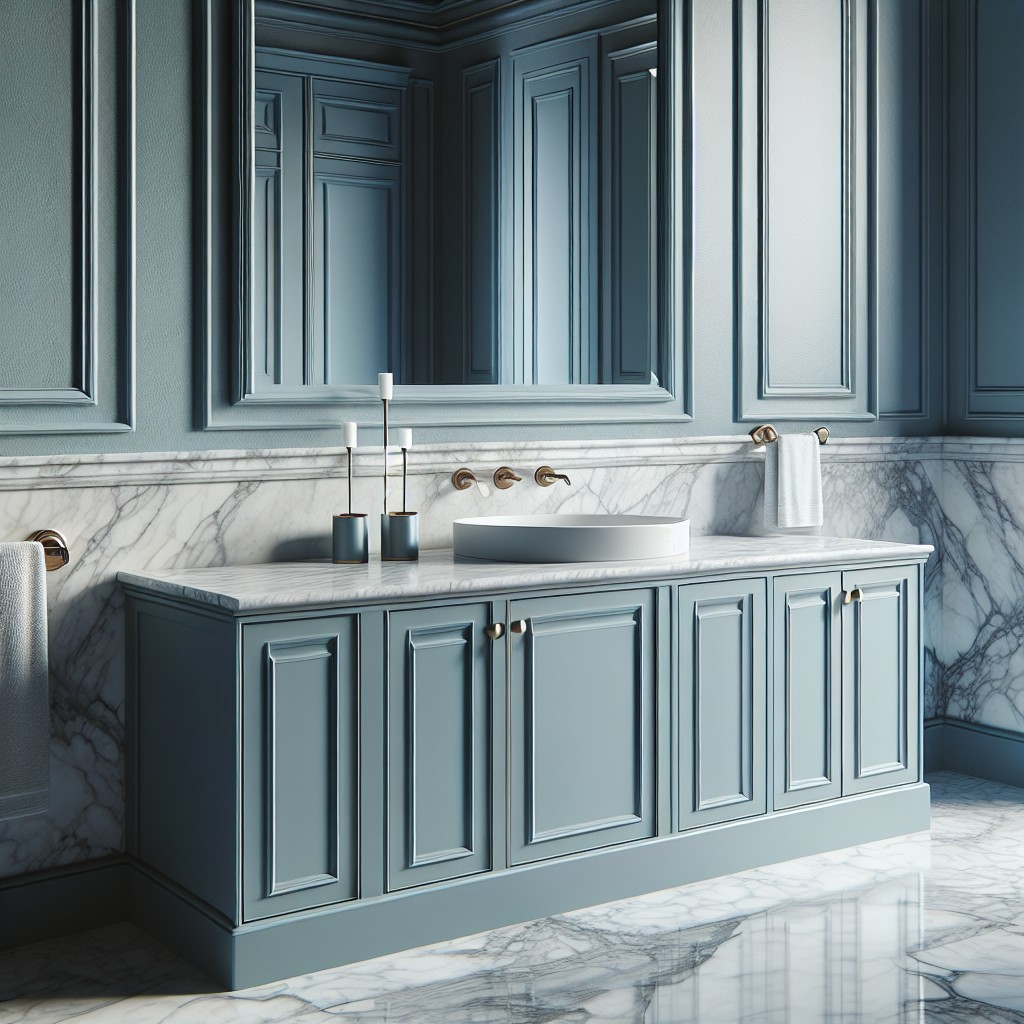 Choosing Carrara marble countertops can transform your bathroom into a sophisticated space that speaks timeless elegance. This high-quality Italian marble, renowned for its white-blueish veining, pairs wonderfully well with blue cabinets.
Here's why:
Color Contrast: Carrara marble's white surface forms an attractive contrast with blue, creating a crisp and clean look.
Texture: The unique veining of this marble adds texture that harmonizes with the overall design scheme.
Opulence: Carrara marble embodies luxury, elevating your bathroom aesthetics instantly.
Versatility: It's versatile enough to match different shades of blue, be it navy, cornflower, or sky blue.
Light Reflection: Carrara marble reflects light, enhancing the depth of blue cabinets.
Maintenance-wise, sealing is crucial to avoid stains and etches. Consider matte finish for less maintenance or polished finish for more shine. This splendid combination of blue cabinets and Carrara marble countertops is sure to leave a lasting impression.
Achieving a Rustic Look With Distressed Blue Cabinets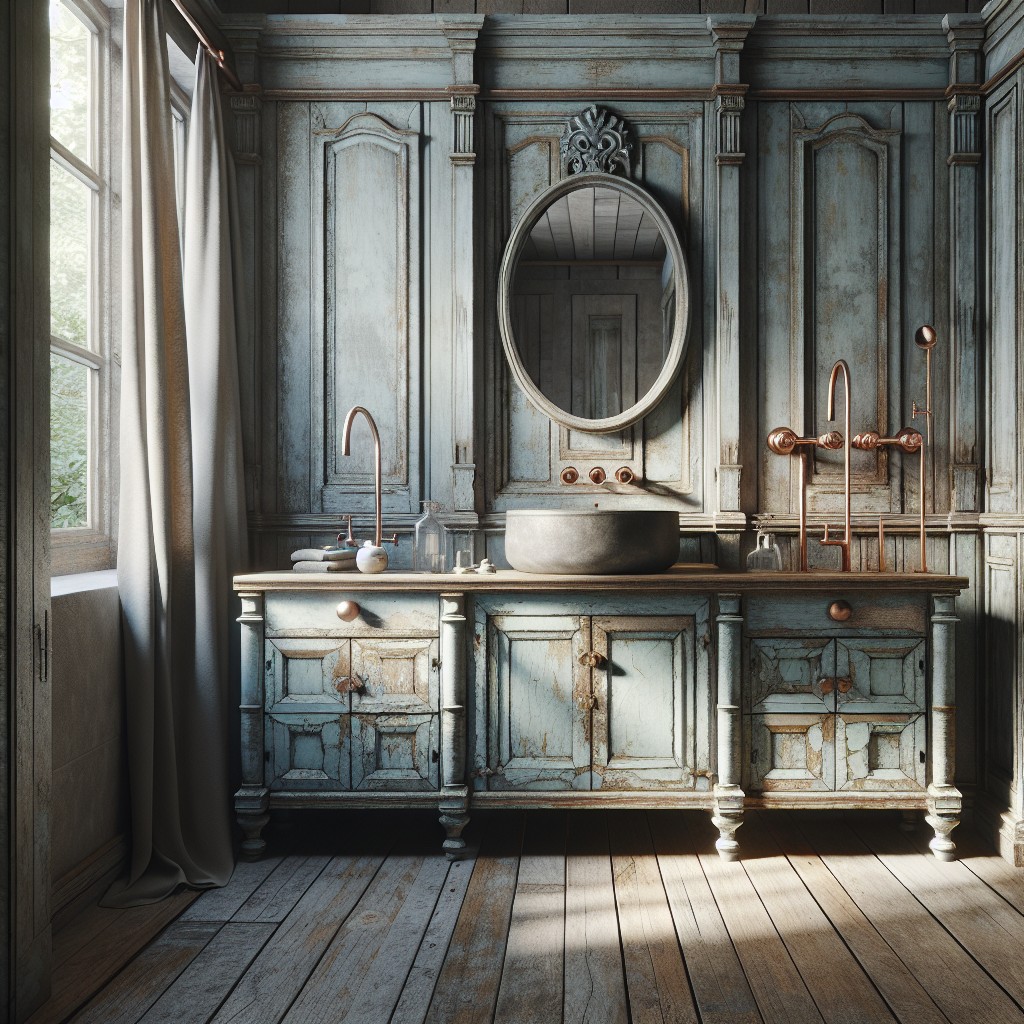 To achieve a rustic bathroom look, distressed blue cabinets are a fantastic choice. Their worn-out facade instantly provides an old-world charm.
Start by choosing a shade of blue that complements other elements in your bathroom. A deep navy or muted teal are great options, offering a vintage feel while still providing a pop of color.
Incorporating natural materials, like a wood countertop or stone sink, amplifies the rustic aesthetic. These earthy elements create a warm contrast against the cool blue.
Next, consider the cabinet hardware. Bronze or tarnished silver knobs lend themselves perfectly for this theme. Their antique finish aligns with the cabinet's distressed facade, enhancing the rustic look.
Lastly, pair these cabinets with terracotta or pebble tiles. These choices not only blend seamlessly with the overall theme, but they also make the distressed blue cabinets stand out as a focal point in the bathroom design.
By following these points, you'll be on your way to creating a beautifully rustic bathroom with distressed blue cabinets.
Light Blue Cabinets for Small Bathrooms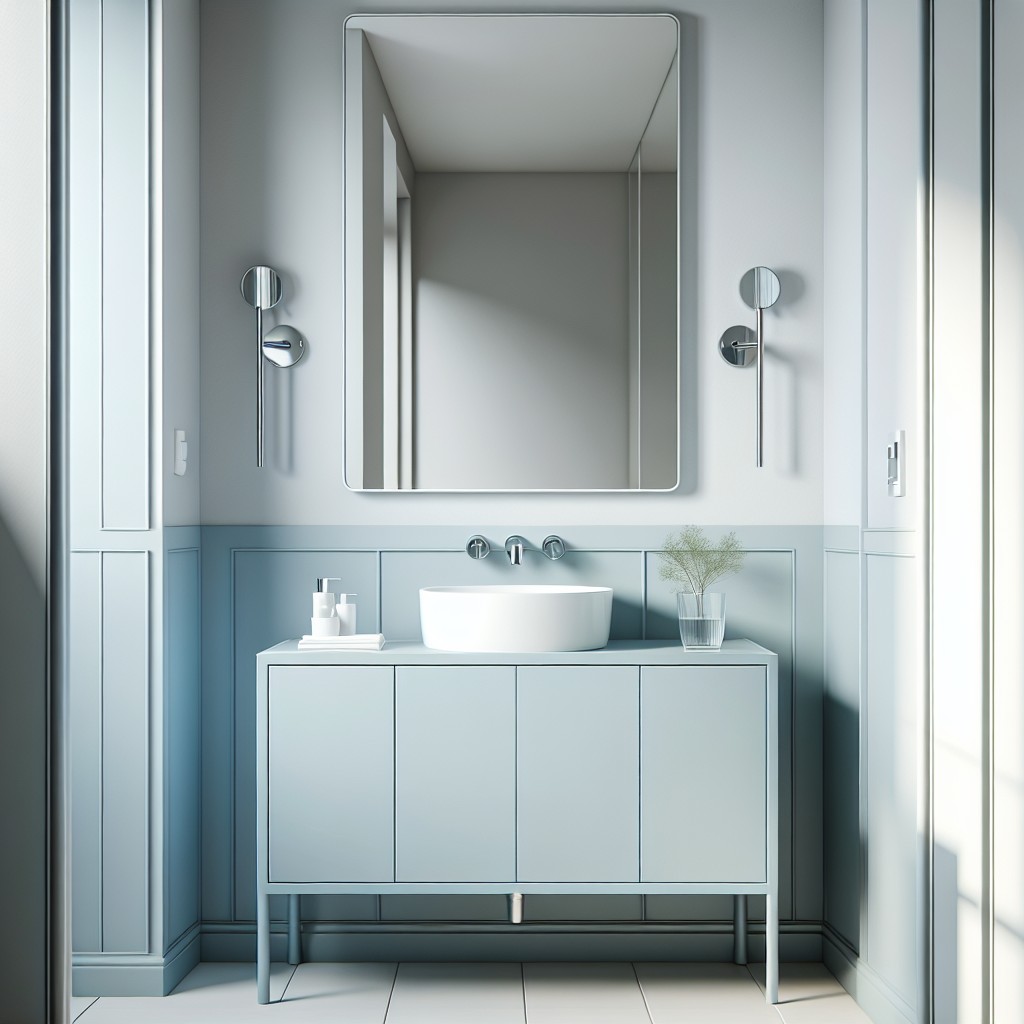 Maximizing the sense of space in a tight bathroom is made simple with light blue cabinetry. The airy feel of this hue enhances the perceived size of the area, keeping it bright and inviting.
1. Pair light blue cabinets with pale neutral shades on the walls and floor. A white, beige, or grey palette can subtlety reflect light, creating an illusion of a larger room.
2. Use mirrors strategically. Installing a large mirror above the vanity can work in synergy with the calming light blue to provide a more expansive feel.
3. Consider open shelving or see-through cabinet doors. This design element keeps the eye moving, avoiding a boxed-in feel.
4. Streamlined hardware in silver or pale gold maintains the light aesthetic without adding visual clutter.
5. Utilize under-cabinet lighting. It's not just functional; it also adds layered lighting, enhancing the spacious ambiance.
Remember, it's all about creating harmony with color, light, and functional elements to maintain a spacious, airy feel in your small bathroom.
Blue Cabinets With White Porcelain Tile Floors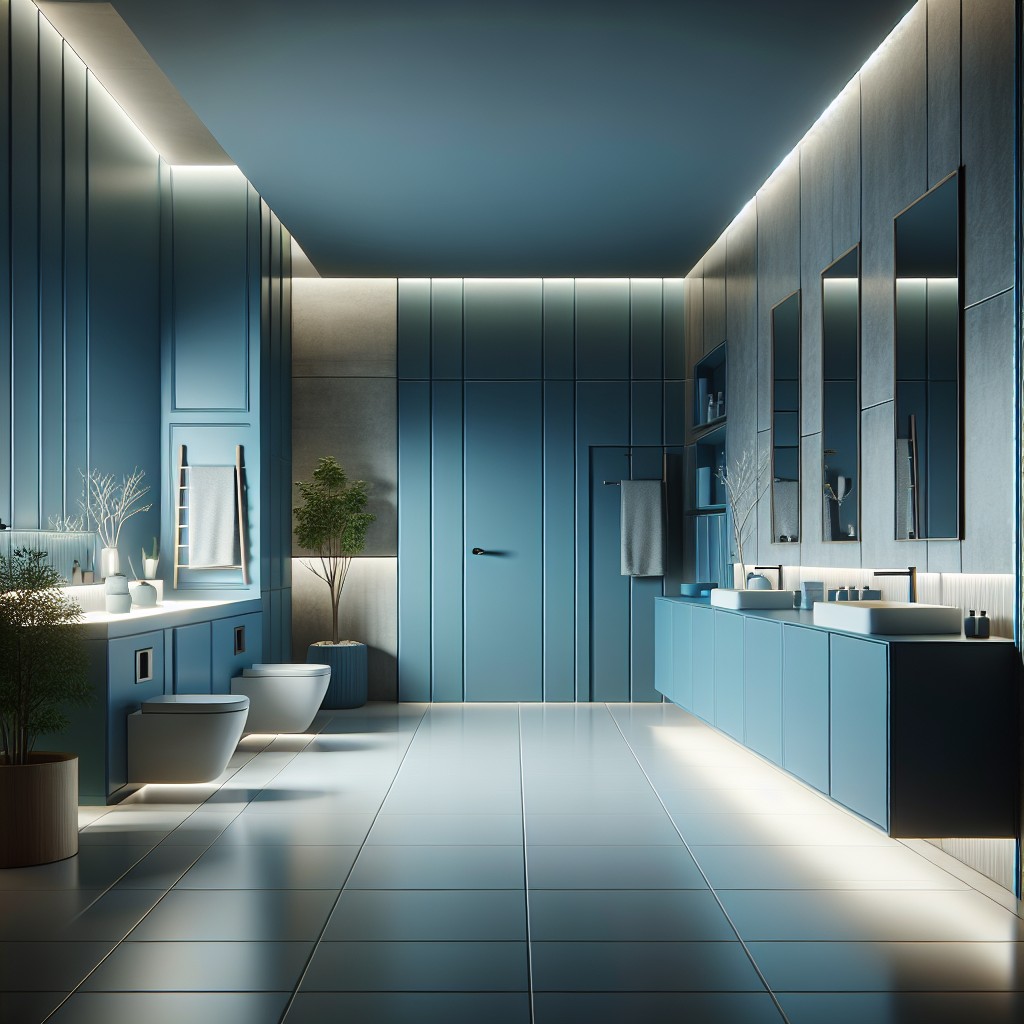 White porcelain tiles bring a sense of elegance and brightness, providing the perfect base to showcase blue cabinets. This combination has the potential to create a fresh, clean look, imbuing the bathroom with a peaceful, spa-like ambiance.
To maximize this visual impact, consider the following:
Shade selection: Choose a shade of blue that contrasts well with white to create a striking visual appeal. Soft blues or deep navy can both work beautifully.
Finish of cabinets: Glossy finishes reflect light, making the bathroom feel larger and brighter. A matte finish, on the other hand, provides a sophisticated, understated aesthetic.
Grout color: White grout might seem an obvious choice, but medium to darker grays can add definition to the tiles and add an extra layer of depth.
Lighting: Position lights to bounce off the porcelain and enhance the shine, creating a sparkling effect that further highlights the blue cabinets.
Accessorizing: Accentuate the blue and white theme with matching towels, soap dispensers, and even art pieces for a cohesive look.
Ideas Elsewhere
Continue reading: