Last updated on March 9, 2021
So you're finally considering an anti-fatigue mat for your kitchen. Great idea! Here are the best options for you if you spend hours in the kitchen (or wish to.)
► Our top pick: This cushioned anti-fatigue mat.
Before I got myself a cushioned anti-fatigue mat for the kitchen, I didn't even realize I needed one. Having a hard tile floor makes the difference even more obvious. Now, I don't have a condition but let me tell you; once you step on the mat you don't want to step away.
It really does feel like walking on clouds. If you're a runner like I am, you can say the difference is very similar to that between running shoes and regular ones. Your feet keep thanking you all day long!
So if you're spending hours a day in the kitchen (or if you want to), an anti-fatigue mat is a must-have. It's not limited to standing workspaces anymore (the kitchen is one, as a matter of fact.) But which one?
Here's what the ideal kitchen mat should be:
It has to be waterproof and easy to clean.
It should not be slipping around the floor.
It needs to have beveled edges so it doesn't curl up and post a tripping risk.
It has to look stylish.
And of course, it needs to be comfortable for your feet.
Here's the rundown of the best kitchen mats out there. We've picked the popular and best-rated options.
As always, we have included shopping links that provide us with a commission as well. It doesn't cost you anything extra.
Which one is going to be your personal cloud?
What's Inside
Cushioned Anit-fatigue Mat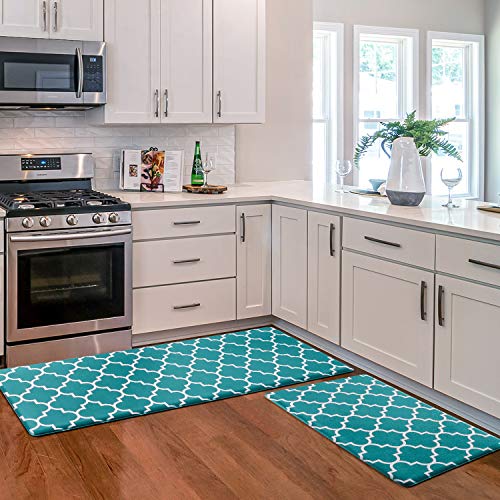 This is our top pick for the best kitchen mat. The first thing to say about these mats is that they are lightweight. You can kick them out if you don't stand on them (typically on vinyl flooring). But while you are on them, they don't slide around.
The mat arrives rolled together, and you can quickly unwind it and lie flat on the floor. There's a smell of plastic, but it goes away. They are pretty easy to scrub. The pair of mats include the long one (it suits perfectly in front of a sink), and the shorter one (that can sit at the side counter.)
The mats look like they're thin, but they don't sink when you stand on them. The style is lovely too. The paint is a soft gray or teal with a pleasant pattern that suits almost every decor. The consistency seems to stand up to everyday use.
Kitchen Standing Mat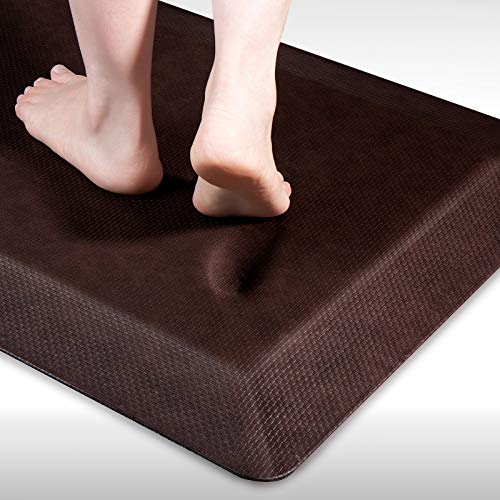 The mat is so good to have when you're cooking for longer periods of time. If you are cooking, it's much better without ever having to take a break from what you're working on. Our only wish is if it came in a few more colors. It's easy to clean (even if your dog takes a leak on it.)
If your kitchen floor is covered in hardwood, rugs may be only a temporary solution that doesn't work well because they are hard to clean. The majority of anti-fatigue mats are made for home offices that suit a regular desk, and you need a long mat in the kitchen, where you cook and make dishes.
This mat is stylish to fit on your floor and can be washed super easily regularly. It is well protected by rubber, which grips the floor very well to be safe in the kitchen. It's also really thick to support even high arch feet as you stand for a long period of time. It's so comfortable that you will find your dog lying on the mat when you don't use it.
GelPro Non-Slip Kitchen Mat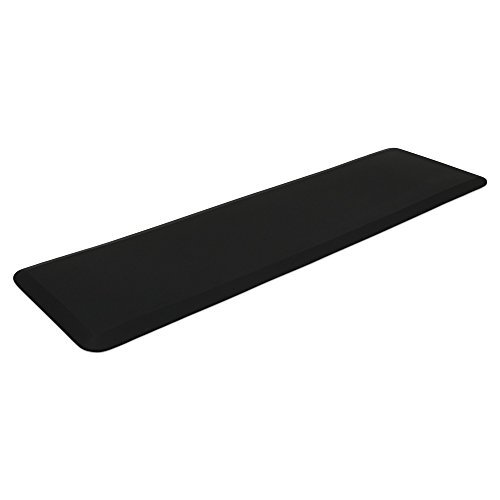 If you spend a lot of time in the kitchen on your feet, the mat will be a lifesaver. The cushion given with this mat helps to be on your feet for a long time without your feet feeling sore. Another benefit is that cleaning is quick. And it looks amazing esthetically. If you have decorative mats but nothing on which you could stand comfortably, this will be a welcome addition. It helps that it's a non-slip rug with padding.
If you are relieved when you are on your feet for a long time in my kitchen, it's worth the price. It's a high quality product.
Waterproof Kitchen Mat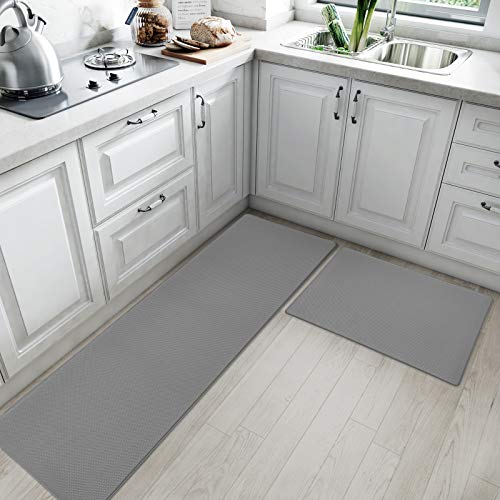 This product is very robust, very comfortable, and easy to clean. It would make a difference when standing at the kitchen sink for long periods, even if your feet and back didn't trouble you too much when you hadn't had the mats.
It is nothing like the industrial mats in the restaurant kitchens. It looks pretty in the house, captures objects that fall, and is very squishy. As other mats do, you won't have trouble with it sliding around.
Sky Solutions Anti-fatigue Mat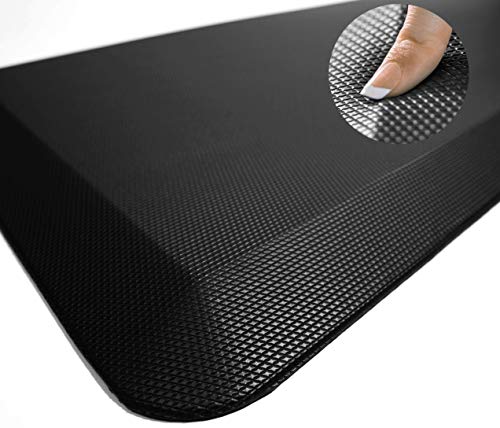 If you have hard tile flooring your feet will be hurting for hours after standing and cooking (especially if you often entertain and cook large meals). You will get a second one instantly for your counter's sink side within 5 minutes of trying it out. The mat looks very strong and dense. These mats are way beyond comfort and robustness.
The mats are much thicker, and you will love the tapered edge. The edges on the floor will be flush, so these mats won't slip around. They're much thicker and have more coats, but they remain easy to walk on. Clean up is also simple.
Designer Kitchen Mat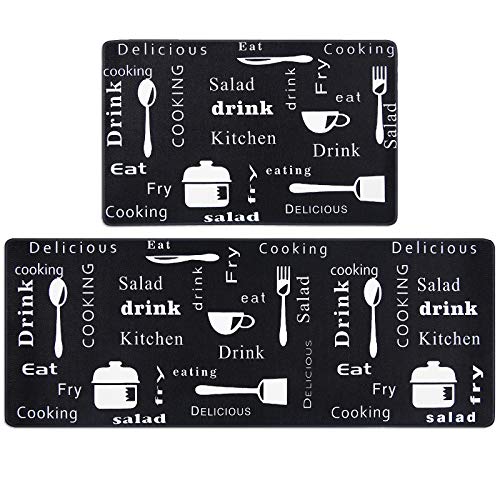 These are not only very pretty but also functional for kitchen mats. They are easy to scrub. If you spill milk, water, or soda, it cleans away and doesn't harm the surface. So the floor is dry, and the rugs are dry. It's also a beautiful kitchen style.
If you spend a lot of time in the kitchen, the mats will feel fantastic on your feet for a long time. They are also an outstanding conversation starter for your guests. They are the right size, convenient, and easy to clean.
Comfilife Floor Mat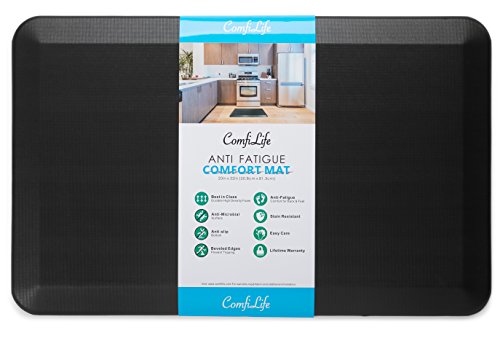 If your cooktop is in the kitchen island, you will have to stand a little. This non-sliding mat is very good fit for it. The price is affordable and the quality is great (it feels like gel). It does not slide on laminate floor.
Royal Anti-fatigue Workstation Mat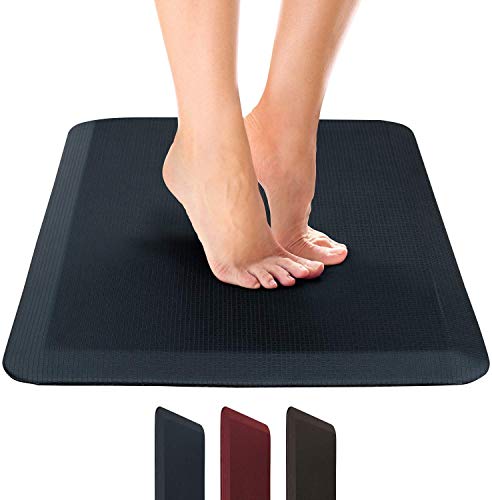 Although a little expensive, this mat is worth every penny. It will help you keep relaxed in the kitchen for long periods of time. A big advantage is that the mat never moves. It's good to stay in place. If there's a lot of traffic in your kitchen every day it might go a little but not too far. The bottom of the mat has a good grip.
These mats are also very simple to clean and easy to wipe. They should stay high quality for a long time.
Butterfly Mat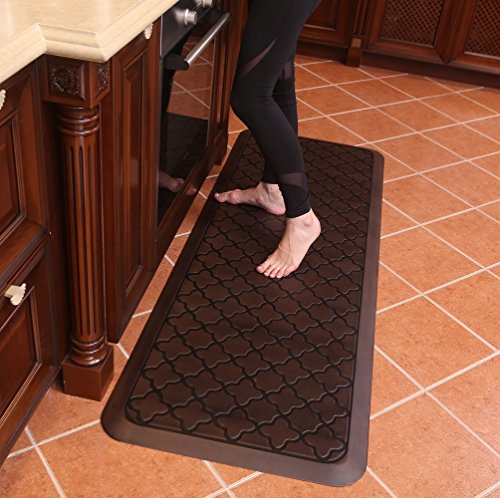 It's lovely on the floor, and It feels fantastic — not too gentle or too firm to stand on. Simple to scrub. It has less bristle, so things wipe out right away. It doesn't feel cheap, so the top won't start peeling. The mat has a beautiful style, not too distractive, and emphasizes the kitchen design.
It does slide somewhat around, even as wide as it is (on a smooth wood floor). They come in a few sizes and dimensions, so if you are happy with one, you can get it in a few variations for different kitchen areas.
Kitchen Mat with Beveled Edges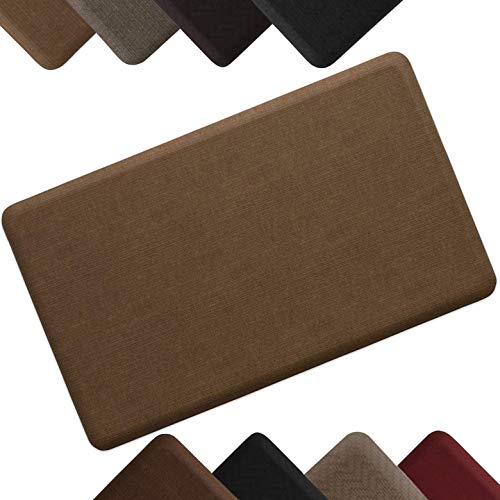 Apart from the price, we like the appearance and the beveled edges of this mat. Mats that don't have beveled edges may get you tripped over, so this is important. This one has the twisted edges and is much safer. It slips on a laminate floor, but you can get gripping padding for it.
FAQ
Do anti-fatigue mats really work?
Reportedly, yes, they do work to alleviate some (or a lot) of fatigue of the feet. The way they work is that a cushioned surface absorbs some of the shock of the feet hitting the ground or standing for prolonged periods of time. Users report that they feel relief while using anti-fatigue mats.
How thick should an anti-fatigue mat be?
This is a personal experience. You should try a few variations. Usually, the thickness of the mats vary from 1/4 to 1 inch.
How long do anti-fatigue mats last?
A quality mat can last from months to a few years depending on how often you're using it.
How do you keep anti-fatigue mats from sliding?
If your mat doesn't have rubber padding, you can get a mat gripper to place underneath it.
Why do anti-fatigue mats have beveled edges?
Beveled edges prevent the mat's edges from curling and provide a more flush positioning on the floor. This prevents you from tripping on it, and it's generally safer.
Continue reading:
Disclosure: As an Amazon Associate we earn from qualifying purchases.