Last updated on July 27, 2022
Looking for the best small TV for your kitchen? We've picked the top-rated units that will fit very diverse needs. Read on!
TV in the kitchen – do you have it? Do you actually need it? Well, you're here so you're considering, but let's face it – it's not a common setup. Indeed, a TV unit might have been popular in the past when the kitchen used to be a separate room in a home. But nowadays with open plan kitchens, you get the distraction from across the living area of the space anyway.
With that said, a TV in the kitchen can have its use other than being distractive. For instant, you may want to see your favorite cooking show and follow along. Or you can hook it up to the internet and display your recipes. Whatever the case, in the space that has a different purpose it has to be as compact as possible.
So how do you choose a small TV for the kitchen?
Here are the important questions to ask:
Are you going to mount it on the wall, under the cabinets, or place it on the countertop?
What size of the unit can your kitchen accommodate?
From how afar are you going to watch it?
Do you need HDTV and smart TV functionality?
Answering these questions will help you narrow down your choices of good TVs for your kitchen. Do you know what else can help you narrow it down even further? Our top list that comes next.
As usual, we've used our magic crystal ball (a.k.a. our website usage stats and research data from 3rd party providers) to find out what types of TVs are people actually interested in. Then we've used our experience, testing, and humble opinion to make the top list. We do get paid by Amazon for qualifying purchases (tagged #ad) but that comes at no expense to you. You need not worry – it actually helps us do a better job.
Which of the following is your pick?
What's Inside
Under the Cabinet TV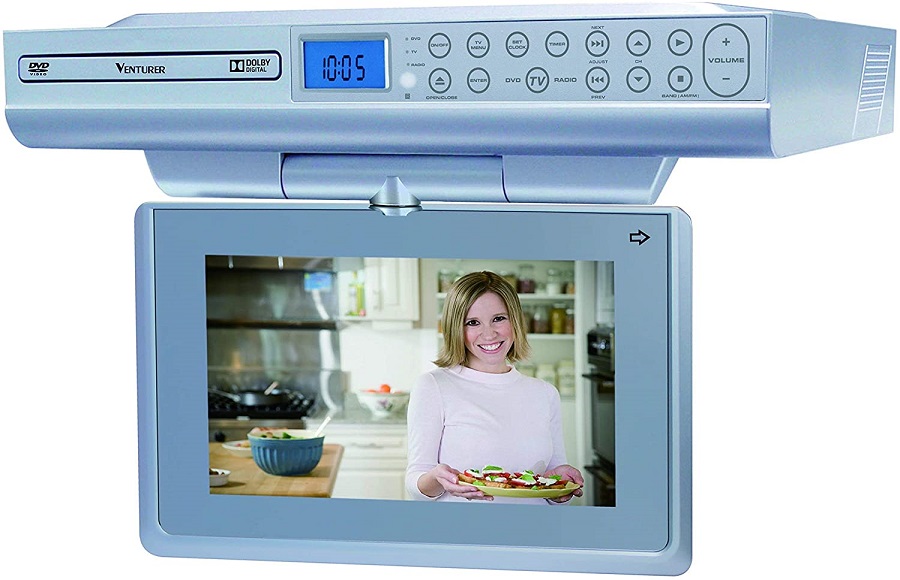 There might not be a more functional and efficient way for a small TV in the kitchen than under the cabinet. This TV unit might not have the most features, but it sure is compact and space-saving.
Pros: slim design, the screen flips up for protection and saving space, magnetic, easy to install, good sound quality.
Cons: lack of sharpness and brilliance in color (not HDTV), angle viewing is not good.
13-inch TV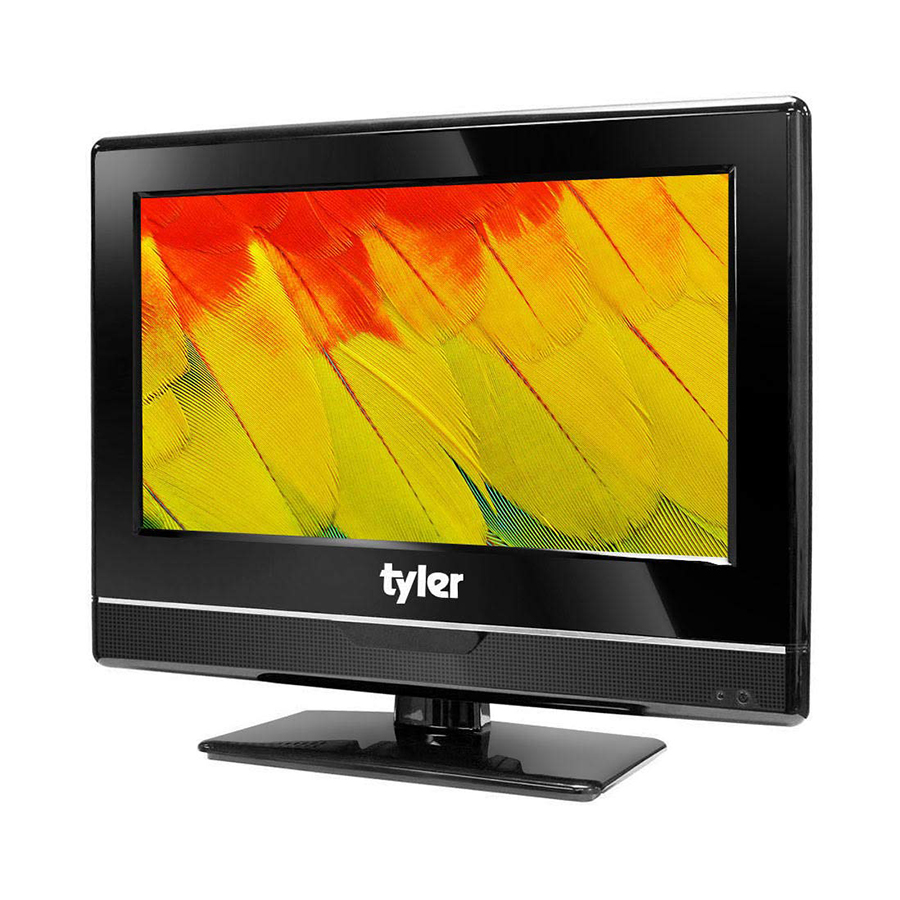 A very small screen that still pulls off HDTV. It's a great option for confined spaces and short-distance viewing.
Pros: high resolution, lightweight and portable, it has a V-chip that allows blocking of programs based on their rating category (parental control), good picture quality.
Cons: hard time accessing digital channels, USB port is for photos only, the sound is not ideal.
15-inch TV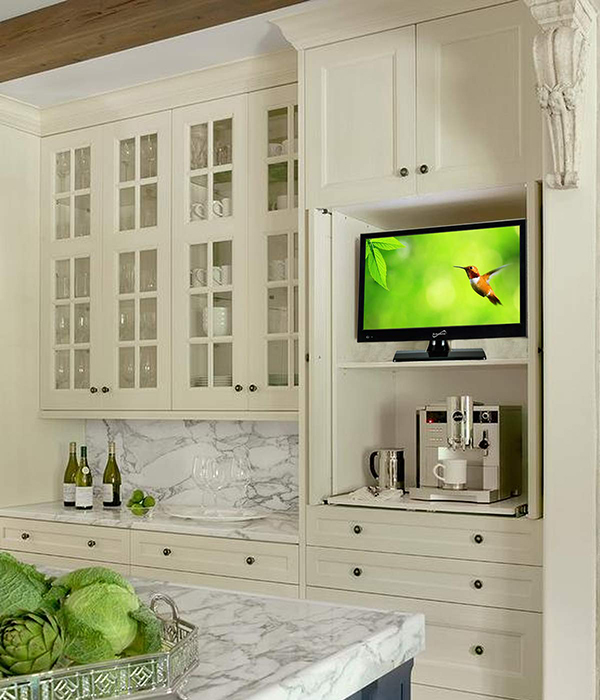 A 15" display is bigger but it's small enough to fit on a medium-size open shelf over your countertop.
Pros: Has a vibrant color, it has a built-in DVD player, it also contains HDMI/USB/AC/DC ports, can be used as a computer monitor, easy to setup.
Cons viewing angle is limited, sound quality is poor, DVD is not working well.
19-inch Smart TV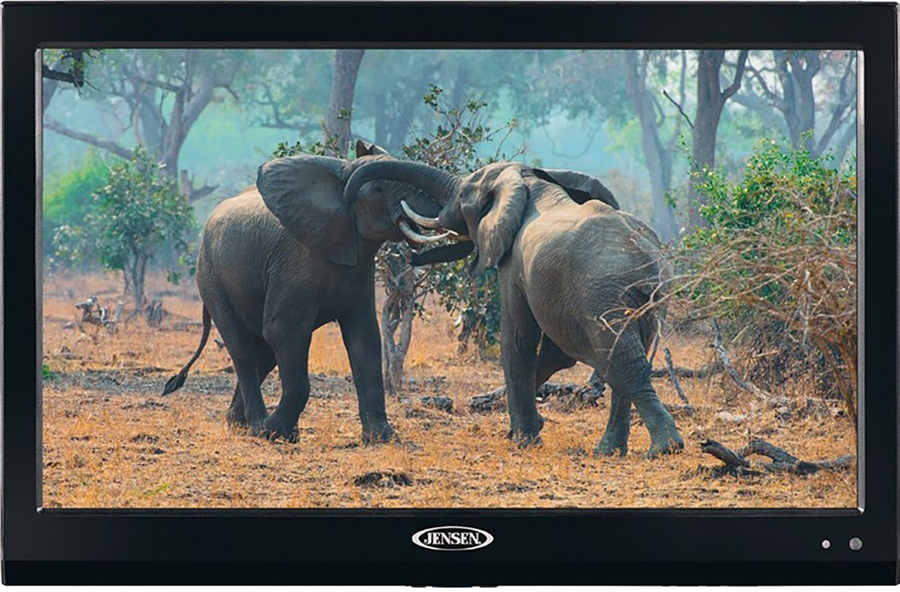 Moving on to the 19" display if you have a bit more room for it. It can still fit on a larger shelf and you don't need to put it on the counter.
Pros: perfect angle viewing, can be easily set up, good picture quality, good sound quality, easy to use; it does not take too much space.
Cons: it does not have a built-in DVD player, no TV base stand, USB port is for photos and music only.
22-inch TV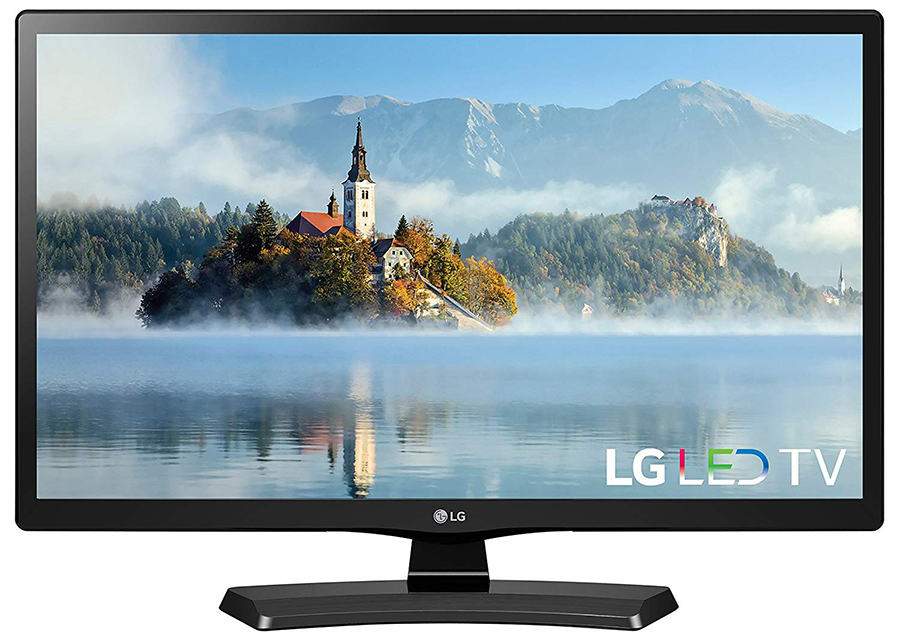 A 22" TV will have to be placed on the countertop in the kitchen. Alternatively, you can mount it on the wall.
Pros: great picture quality, it provides convenient Full HD viewing versatility; HDMI input, the remote makes it easy to change.
Cons: the volume control is poor; no audio out or headphone jack; no tilt adjustment.
24-inch Smart TV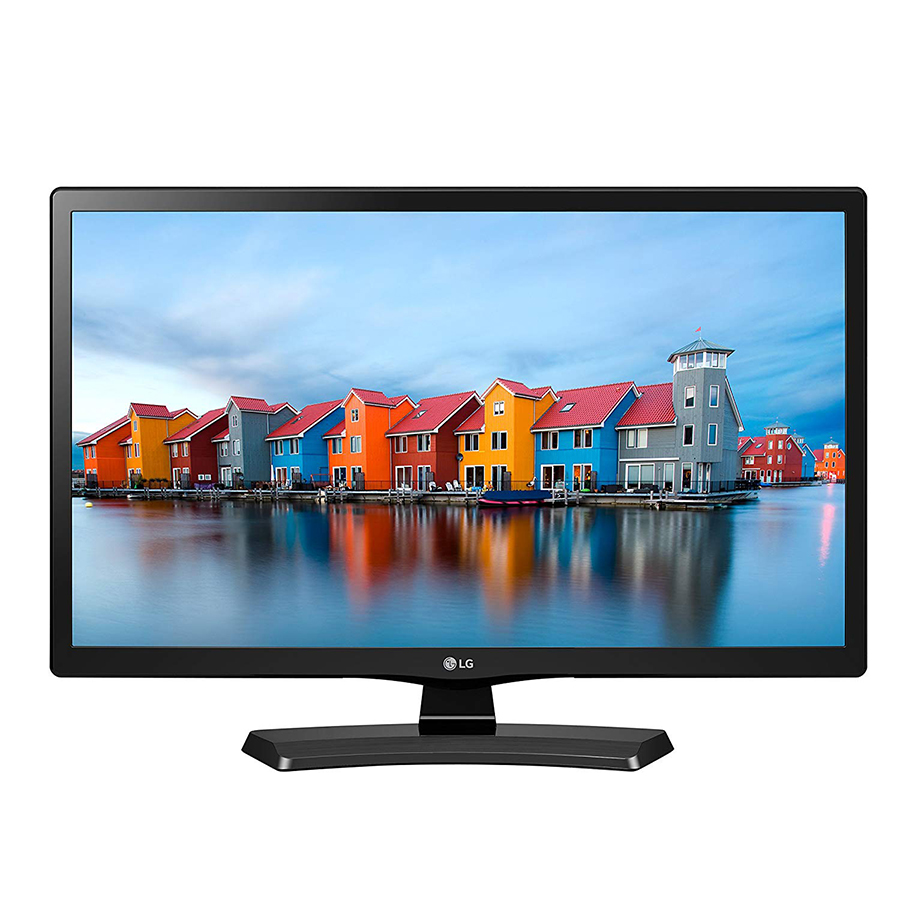 A 24" display takes quite a bit space so it's only good for larger kitchens. The ideal place for it would be mounted on the wall as it takes too much space on the counter.
Pros: can screen share via Miracast and WiDi; Wi-Fi Direct TV; wide viewing angle screen; easy to set up; picture quality is excellent.
Cons: it does not come with the special Digital Audio Out cable; the quality of the sound suffers at louder volumes.
27-inch TV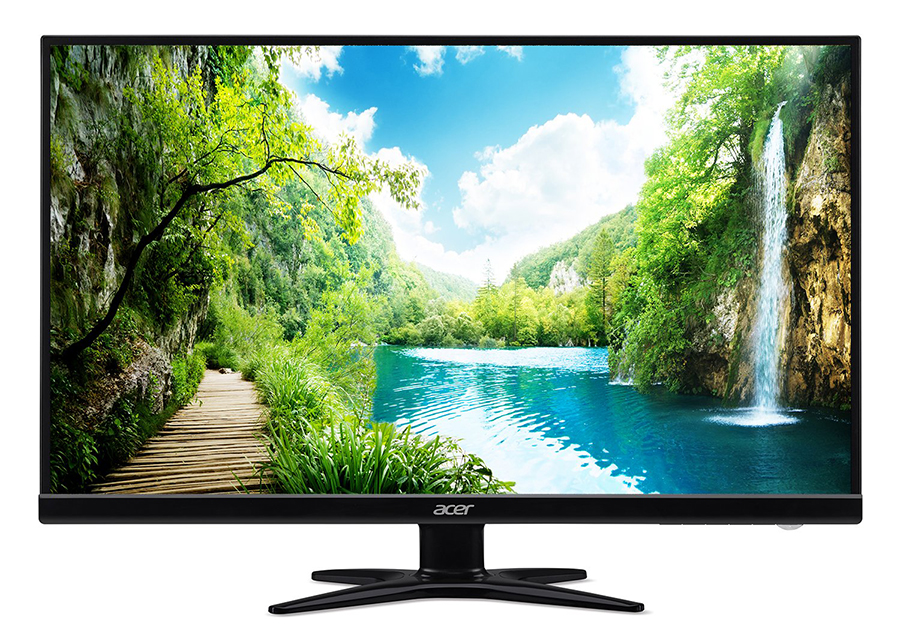 One of the biggest models on the list that can be considered relatively small. You can mount it on the wall in the kitchen if there's enough distance to watch it.
Pros: perfect for widescreen HD multimedia; has a crystal clear viewing; it also supports VGA/HDMI input; great for dual monitor setup; does not use a lot of power.
Cons: screen doesn't tilt (fixed to its stand); lack of color consistency; washed-out colors.
28-inch TV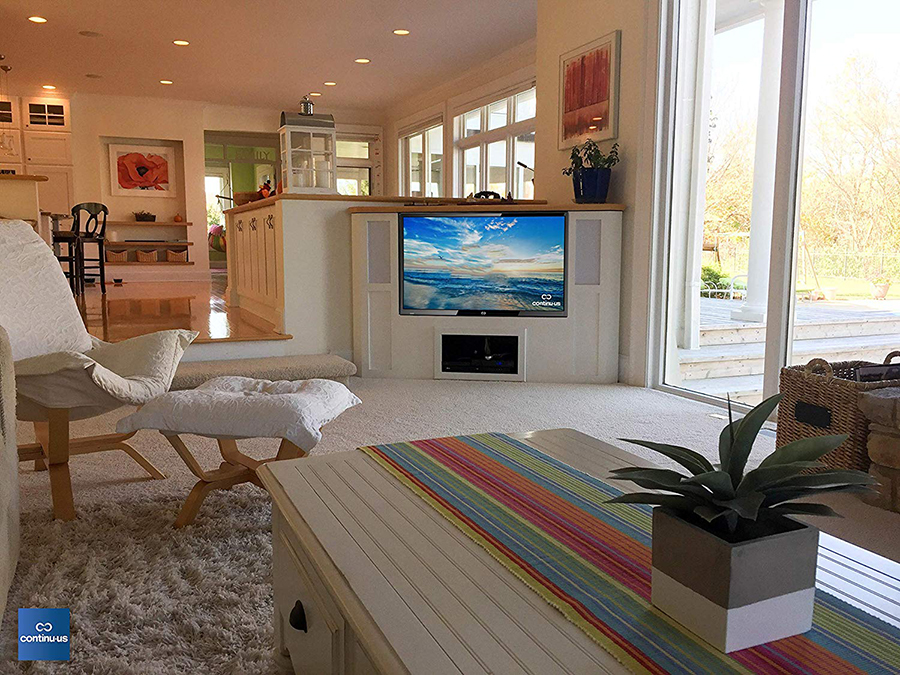 This model can actually share the space with the living area as it's a decent size TV. It's still considered small in relative terms.
Pros: TV stand included; easy connectivity with 3 HDMI ports; crystal clear picture and has good sound quality.
Cons: it has a short cord; the sound quality lacks bass.
32-inch Smart TV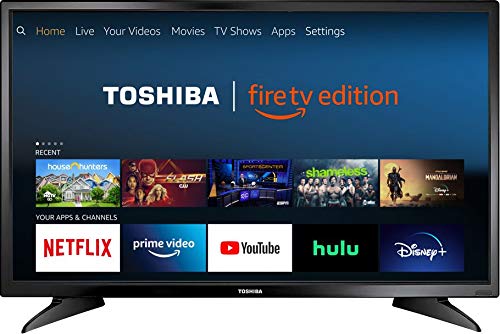 You need a big kitchen for this TV. Or vise versa. In any case, it's one of the biggest units that you can still place in the kitchen.
Pros: voice remote using Alexa, Fire TV Edition that brings live over the air TV; navigates the menu easily; high-quality Smart TV.
Cons: viewing angle is not that good; no bass for the sound.
The Smallest 4k TV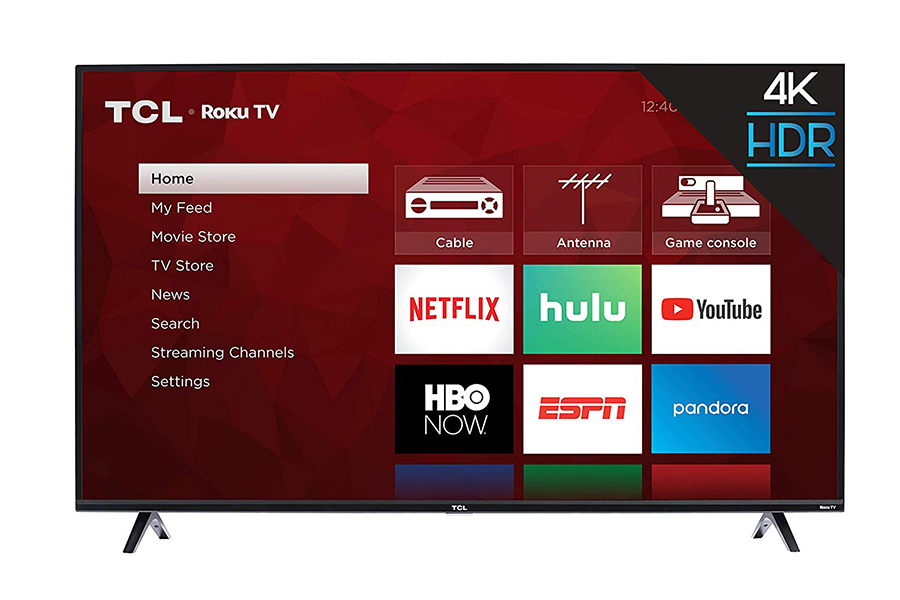 Want 4k in the kitchen? You better have the room for it because this baby comes in at 43 inches and it's the smallest display that can still pull off a high resolution.
Pros: it is compatible with Alexa and Google Assistant; it has a ROKU interface; picture quality is sharp.
Cons: WiFi receiver is weak; TV light is too bright under the TCL logo; it has some technical issues.
Continue reading:
Disclosure: As an Amazon Associate we earn from qualifying purchases.