Last updated on November 4, 2023
These kitchen pantry ideas will help you create a storage solution that is functional and stylish. Read on!
The pantry as a room to store non-perishable food dates back as early as the Middle Ages. It has been used and evolved throughout history in different eras of home design, but its purpose has remained more or less the same. There was always the need to store food separately from where it was cooked.
Nowadays, the use of a modern pantry is more aesthetic and nostalgic than it is functional. Nevertheless, the extra storage room it provides is always useful. The term has also evolved to be much looser, and it can describe any small storeroom used to store and organize foods and kitchen items.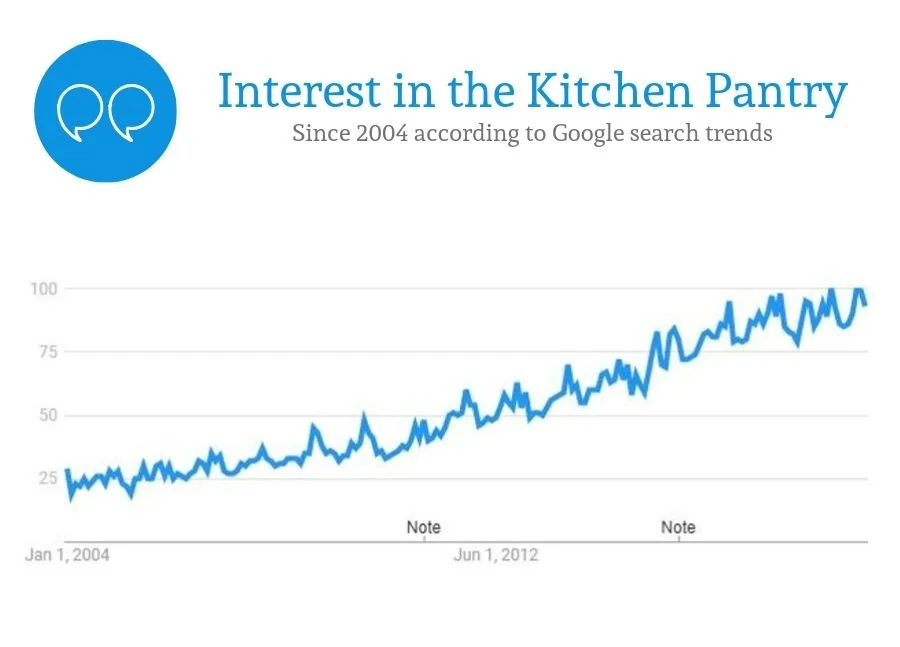 A pantry is one of the top most desirable features among American house buyers. The interest in this feature has grown over the recent years significantly – it has as much as doubled since 2013. So let's explore the idea of it further.
What's Inside
How to Build a Pantry
In a nutshell, here's what you need to know:
A pantry can be as small as you need, so you can build it even in a tiny kitchen.
You can build your own DIY shelves.
Choose the space that's readily available in the kitchen or near it. This includes corners and spaces behind doors.
Decide on the type of pantry you will build – a rack, cabinet, walk-in, or butler pantry.
Measure the depth and height of the shelves you will need.
Decide whether you'll need to add doors.
Use all the space you have available, including the doors (over the door racks are available.)
Use wood and wire shelves for versatility.
Install optional lighting.
How deep should pantry shelves be?
Normally the depth varies from 9 to 16 inches (deeper requires pull-out shelves for easy access). It can be more and it can be less depending on your needs and space you have available. Keeping them within this rage is a good start.
What is a good height for pantry shelves?
From 6 to 18 inches is a good range and it depends on what items you will store on any particular shelf. You will use smaller shelves for cans, and higher ones for storage containers. The shelves should be adjustable in 1-2 inch increments so you can easily change their height when needed.
DIY Pantry Organization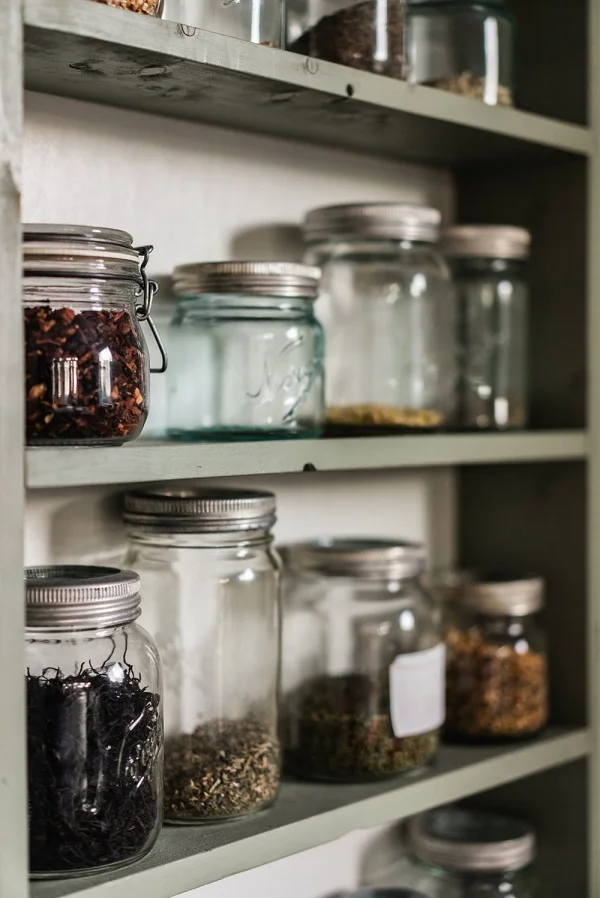 Here are some ideas on how to organize your pantry:
Use the correct height of the shelves. Decide on what you are going to store on each shelf and adjust the height accordingly. Space is wasted if, for example, you are storing jars on a shelf twice their height.
Label everything (use the best labeling tool for kitchen organization). This will help you keep organized, especially if you have designated space for every type of item.
Use bins. Decorate them too. You can always add more storage space with their help, and they will look good.
Use the doors to hang racks, install narrow shelves.
Make use of pull out shelves and lazy Susans.
Install lighting.
Pantry Design
We want you to start thinking about the pantry as a subject for decor, not just a solution to store food and other things. You can just put everything away in cabinets in closets, but that's not what creating a pantry is all about.
Here are just a few ways how you can instantly design it:
Order items in color
Add cook books (also ordered in color)
Get handsome jars and boxes
Organize shelves by container type (bottles, cans, jars, bags)
Embellish and decorate doors
Add interesting accent knobs
Walk-in Pantry
This is a whole category of kitchen pantry solutions. It does take a relatively large house to accommodate one too, and you do need to have it planned from the beginning (or use a very small room adjacent to the kitchen). Indeed, some of these walk-in ideas even have a small window to boot.
Speaking of the types of closets you can create, it all depends on the size and area available to your project. You can put in several shelving and organization solutions, or just use a pantry rack. This is one of those cases where using open shelves to store food makes sense. You need to give it a good thought to design the prefect walk-in pantry.
Butler Pantry
What is the difference between a walk-in and butler pantry? The answer is in their use and where they are situated:
A walk-in pantry is just a closet in the kitchen where you store food.
A butler pantry is an intermediate area between the kitchen and the dining area. It used to be a popular feature in old houses and manors, and know it's coming back as a trendy new idea.
Even if you don't have an area large enough to create it, you can still add cabinet in the hallway adjacent to the kitchen. You may use it to serve drinks, and to easier serve food to your guests.
Free Standing Kitchen Pantry
The free standing option has many benefits in kitchens where you don't want to or cannot make architectural changes. And we mean that in a wide sense. If you don't want built-in shelves, overuse of kitchen cabinets, or dedicate a small room for a walk-in pantry, a standalone cabinet is the ideal solution.
Think about the decor value and space saving too. An average cabinet won't take up much space (you only need an empty wall and free access to it). You can choose unit in any style that fits your interior, even make an accent of it. This is one of the most simple yet very powerful solutions.
IKEA Pantry Hack
Here it comes – another IKEA hack. While they have several options to build a kitchen pantry, we don't take it easily (it costs more too). Instead, why not hack the Swedes again, and create a storage unit from the Billy bookcases.
Slap on some doors and you have just saved yourself a few hundred dollars in furniture expenses.
Pantry Shelving Units
When it comes to using cabinet space efficiently and improving organization as much as possible, shelving units are a great help. There's no doubt you will use these, especially in a small kitchen.
Use this option to increase your storage space to the maximum. Make sure you use that dead space on the inside of the doors too.
Food Pantry Cabinet
Storing food in the kitchen pantry takes several considerations. First of all, it has to be a closed cabinet, or a walk-in closet. Most of the food you store needs a dark cool place. You need to avoid direct sunlight and heat that may come from the stove. That's why open shelves are rarely a good option to store food.
A well organized food pantry may have baskets, dedicated shelves, and labels for all the types of food and other products.
Open Pantry
As mentioned previously, open shelving is a limited option, although it's trendy and may be stylish. If you're going for this solution, make sure not to keep any perishables or spices near the windows or the counters. Open shelves are best used to store utensils and kitchenware.
Canned Food Organizer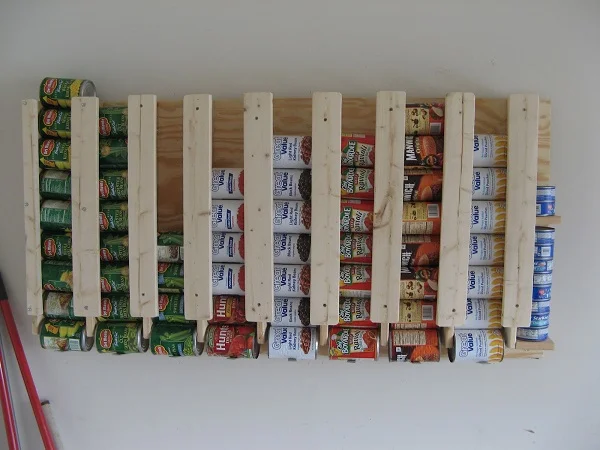 As you are organizing and sorting items, some kids of them may have their own racks. Food cans are among those things that can be easily stacked up for easy access. How? This is one of those great functional ideas that will do wonders to your pantry storage.
Large Pantry Cabinets
A large cabinet will store everything you need and then some. This idea is most popular in fairly large kitchens. It usually comes in built-in cabinets, and functional shelving (including pull out shelves).
Pictured above: a lovely large pantry cabinet in a washed out navy coat of paint that allures to modern farmhouse style. The pull out shelves feature natural wood in a rustic stain. A ladder comes as a functional accent that not only helps to reach the top shelves but adds an interesting decor element.
Wire Pantry Shelving
Wire shelving adds more storage space where it is much needed. No matter how small a cabinet or walk-in, you will always make it work with more wire shelves. They are cheap and easy to add, which makes them wildly popular.
Pantry Storage Bins
Where there's storage, there are bins, boxes, and crates. It's another addition to your kitchen storage, and you can make it really stand out. This makes a brilliant DIY project too.
Think about painting and labeling your bins for lots of added handsome storage to the pantry (even in tiny spaces). If you are working in a limited space, consider that making the bins look appealing you can leave them on the view, and even add to decor.
Pantry Rack
A rack can be used to store jars, cans, spices, bottles, and more. Very often it is used to keep spices. This is where your imagination can thrive. Chalk spice labels? You bet! You can add such a rack as a decor accent to your kitchen pantry no matter how small or big.
Pantry Lighting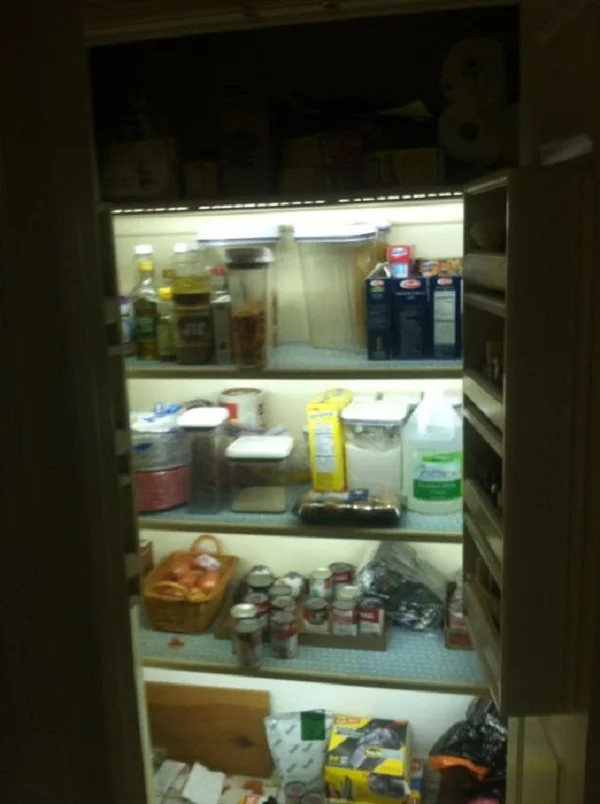 Our guess is that you haven't even thought about lighting your pantry. Indeed, it's almost always an afterthought, if that. But in those times when you have to access storage at night, simple lighting can be a great feature. We suggest installing LED strips as a simple solution.
DIY Pantry Cabinet
We love DIY projects so much. It's a great way to say a ton of money and have fun while doing it. So this woodworking idea will make you a cabinet to solve your food storage in the kitchen. It's handsome too!
DIY Pantry Shelves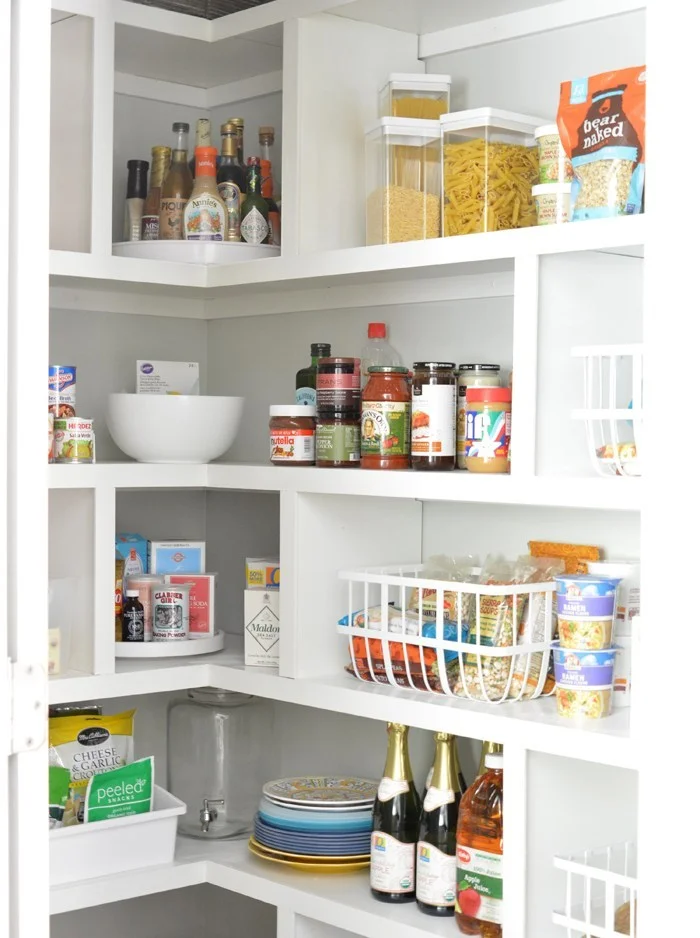 The great things about building custom shelves is that you can use any configuration you like. This means you can design your own thing. Make as many compartments as you need, in any height and depth.
Pantry Shelf Organizer
Shelf organization is crucial in making the ideal pantry. It's especially true in small spaces. You need to use as much of space available to you as possible, and do it in a way that keep things clutter-free. These organization tips by Domestic Imperfection capture the essence of what we mean.
Wooden Pantry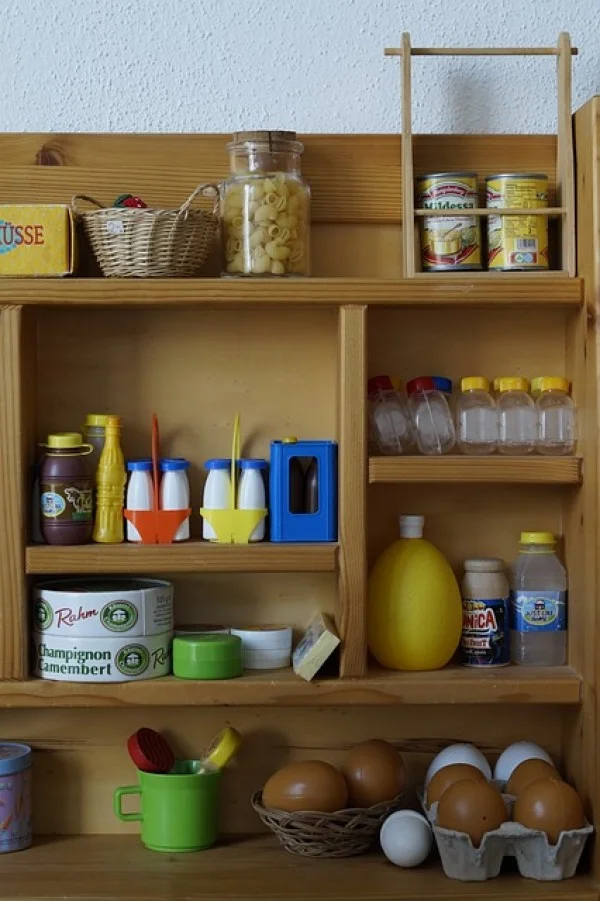 Wood is the top material used in creating a pantry cabinets (the second close are the wire shelves). Especially if you're doing a DIY project. And we love it for it. More natural materials in kitchen design makes it even more appealing.
Pictured above: a wooden rack shelf with multiple compartments to store small items (spices, cans, jars).
Rustic Pantry
Rustic style gives your pantry a cellar-like look which is a flashback of the old days where pantries were, indeed, dark and cold spaces needed to keep perishables fresh as long as possible. This is especially true with walk-in pantries in this style.
Over the Door Pantry Organizer
If there's the most functional item for small spaces, it's the over the door rack. It's the most useful solution you can install over your kitchen doors.
Shallow Pantry Cabinets
Shallow cabinets work great in narrow spaces. You can add them to hallways, entryways, and anywhere you have an empty wall in your house. It lacks depth but it's just enough to store food containers, jars, and spices.
Small Pantry Cabinets
A small cabinet can be the most versatile piece of storage furniture you have in your house. Its size enables you to create a pantry in just about any place, including those awkward spaces under the stairs.
Narrow Pantry Cabinets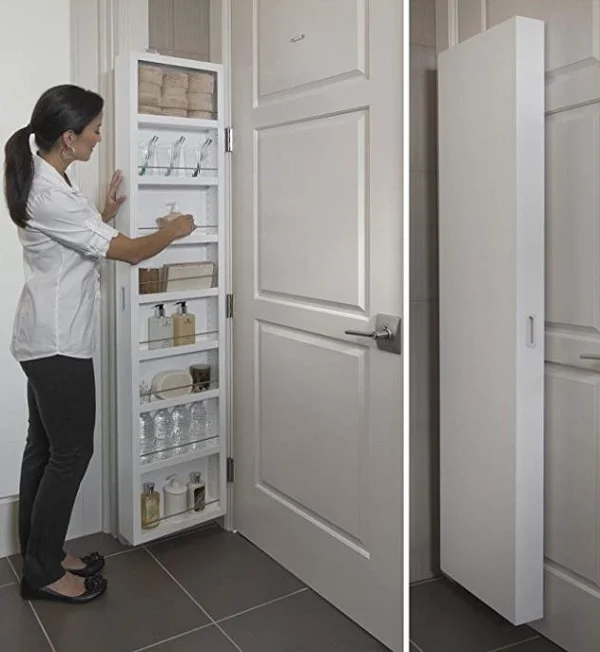 A narrow cabinet is ideal to make use of the dead space all around the house. This includes the kitchen where you can create pantry storage space in areas such as behind the doors.
Hidden Pantry Cabinets
A hidden pantry is one of those nifty small space solutions that get all the likes on social networks. It's brilliant, indeed. Why not use all that space between cabinets and appliances for something useful?
Corner Pantry Shelves
Corners are usually the space that's hard to use for a good purpose. Many times you are bound to pull the plug and leave there unused. Or in the best case scenario, add something decorative (like a plant) to make it seem less useless. But this idea really makes a difference. This is a video you will want to watch.
DIY Spice Rack for Pantry Door
We always aim to keep things functional around the house. If you're creating a pantry, you will want to make sure you use the door too. This is a great rack that can be installed on the door to keep spices.
Pantry Door Shelves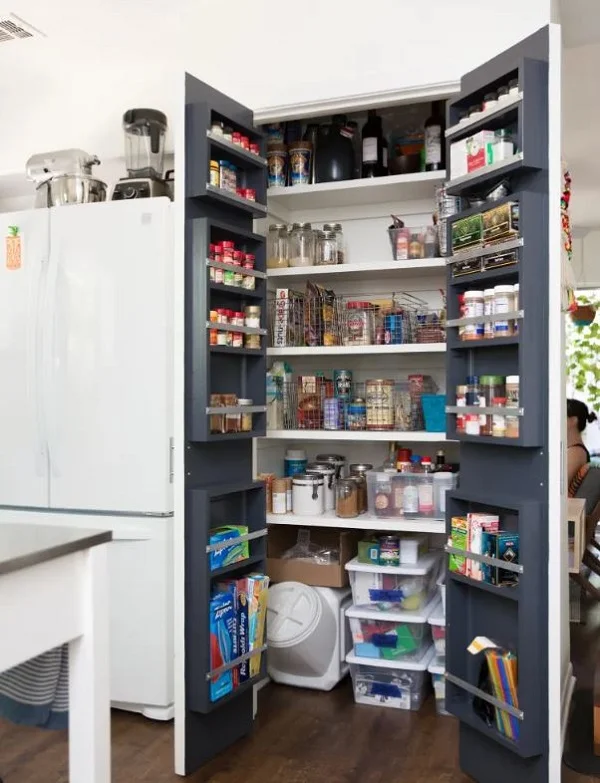 Similarly to a rack, you can actually install full shelves on the inside of cabinet doors. These shelves are shallow but just enough to store small jars and other small items from around the kitchen.
DIY Pull Out Pantry
The pull-out pantry is the ultimate DIY project for kitchen storage. Everyone has space for it. And it's a quick, cheap, and rather easy way to use that space for more storage.
Pantry Doors
With all the ideas on how to build and organize pantry, the cabinets, and shelves, we must not forget the decorative appeal too. The door is a great place to start. So think about how you can embellish it and add more visual interest. Such as adding a sign, installing a vintage door, painting it in accent color (or chalk), and so on.
Double Pantry Doors
Double doors will help your storage space more accessible and useful. Take your chance to create a statement with this project, such as making rustic barn doors.
Chalkboard Pantry Door
A little chalkboard paint can turn the door into a useful message board as well as a decor accent. You can use it for purely decorative purposes, or to keep track of the items in stock.
Continue reading: