Last updated on July 27, 2022
Looking for the best under cabinet radio to entertain you while being busy in the kitchen? Here is a list of the best radios out there. Read on!
Radio has long ago become a part of our daily lives. Music, news, sports, weather, you name it, and radio can tune in to them. And now that technology has taken over our lives too, combining it with radio makes our lives better or sometimes worse depending on how you look at it.
An under the cabinet radio is a gadget that is super useful in the kitchen. If anything, it's a multi-functional clock that comes with a few neat features. But it will also keep you entertained while cooking and eating. Some models with TV displays will show your favorite recipes too.
But before you go out looking for the best under cabinet radio here are the key things to look forward to:
Quality of sound is the most important feature because you don't want a radio that doesn't serve its purpose.
Multifunctionality because not only can they tune in to radio stations, some speakers have Bluetooth, CD players, and even TV monitors.
Stations to tune in because some can only tune in to FM stations.
Presets because some radio has less than others.
Easy to install as some take just a few minutes away.
And here are also some of the common negatives to think about:
Reception because there are radios who have very poor reception even if the area is good.
Remote control as some radios don't have it and others have limited function.
Changeable presets as some radios give you presets though you can't change them.
So here are our picks for the best under cabinet ratios. To be fair and transparent, we do get paid for some purchases from our partners (links are tagged #ad) at no extra cost to you.
Which one of these will keep you entertained in the kitchen?
What's Inside
iLive Under Cabinet Radio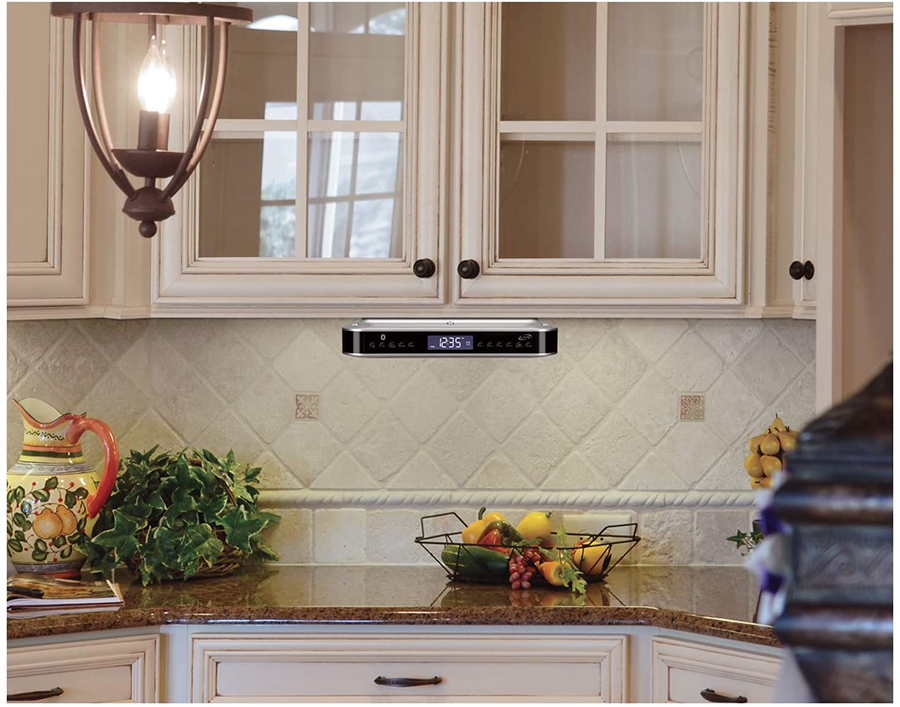 This under cabinet radio is affordable but doesn't have the best sound and the Bluetooth has a weak signal. However, it is easy to install and has a lot of functionalities like dimmer control, volume control timer, digital clock, alarm, and LED lighting.
Pros: Back up battery for the clock; multifunctional; magnetic remote; LCD display; affordable; easy to install.
Cons: Weak Bluetooth signal; not the best sound; can't override presets.
Under Cabinet Radio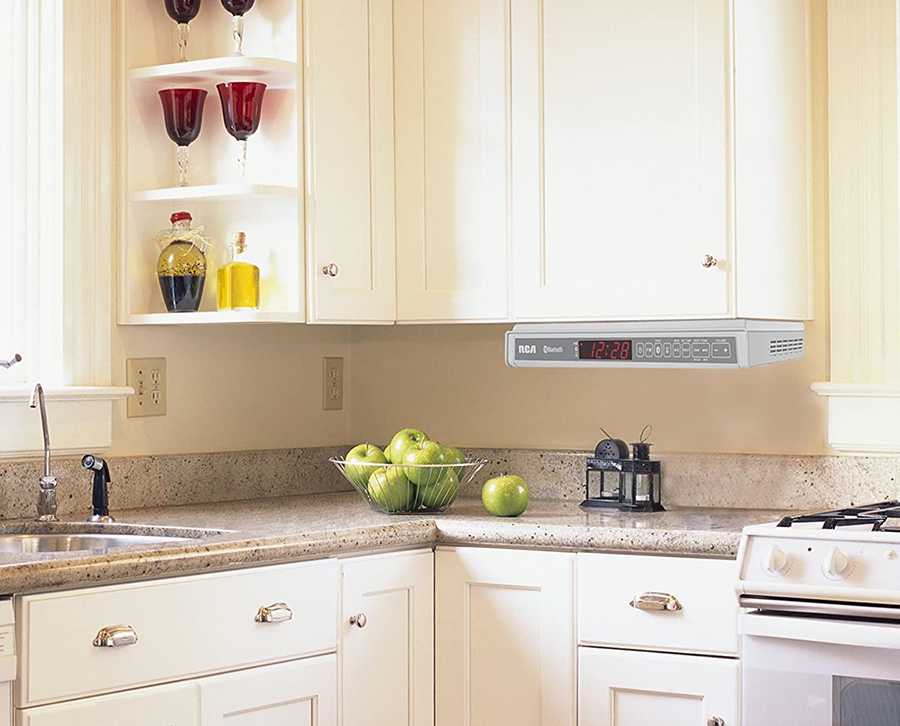 It may take a little longer than usual to install but this radio has real good sounds and it's very simple to use that it doesn't need a remote. Also, Bluetooth has a good signal to play your favorite music.
Pros: Quality sound; simple to use; time stays on even if the radio is in use; quality Bluetooth.
Cons: Takes time to install; can't choose a preference for presets; no remote.
Sylvania Under Cabinet Radio

The radio signal of this unit is relatively weak and the buttons are small that may annoy some people. Nevertheless, it has a remote control that can do all its functionalities and it produces loud, crisp music. It also has a backup battery too in case of power interruption.
Pros: battery back-up in case of blackout; remote control; latest Bluetooth version; switch stations quickly; loud, clear sound.
Cons: No AM feature; the display is dim; weak radio signal; small buttons.
Under Cabinet CD Player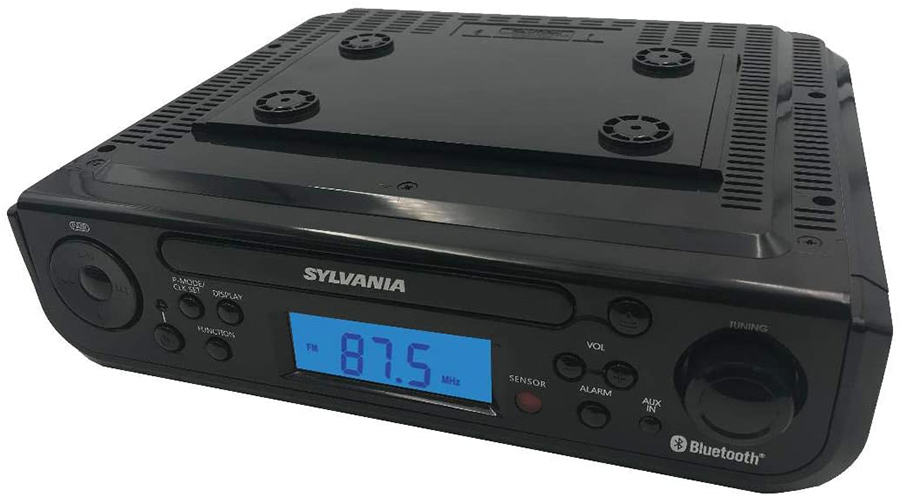 You get what you pay for in this very affordable radio. The sound is kind of poor and has no presets but it's easy to connect to your Bluetooth gadgets and it includes a remote control plus battery back up in case of power failure.
Pros: Battery back-Up; remote control; 1 button connect Bluetooth; affordable.
Cons: Hard to mount; poor sound quality; no presets.
Under Counter DVD Radio Player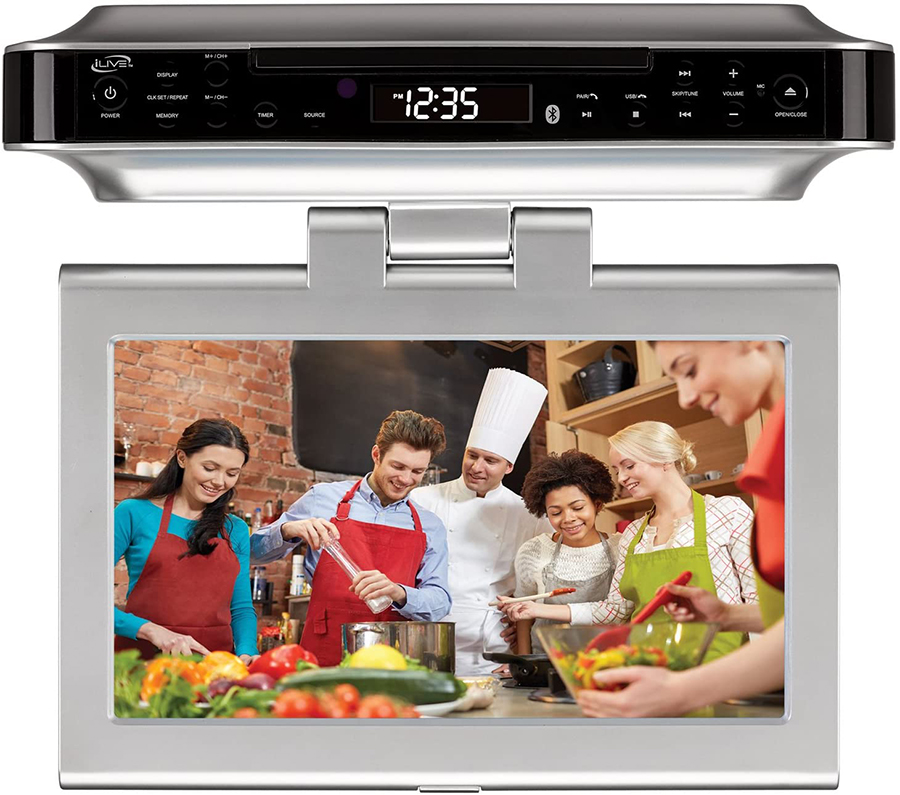 This sophisticated under the cabinet radio is a bit expensive and is a bit hard to use from changing radio stations to the remote. But it can do many things like play TV/DVD/CD and the monitor is clear and sharp while the Bluetooth has an excellent range. It also has hands free speakerphone and built-in microphone among others.
Pros: Can watch TV/DVD; long-range Bluetooth; hands-free speakerphone; presets; built-in microphone; remote control; battery back up.
Cons: Pricey; slow response upon changing radio stations; no direct input from the remote; can't change presets.
Under The Counter Radio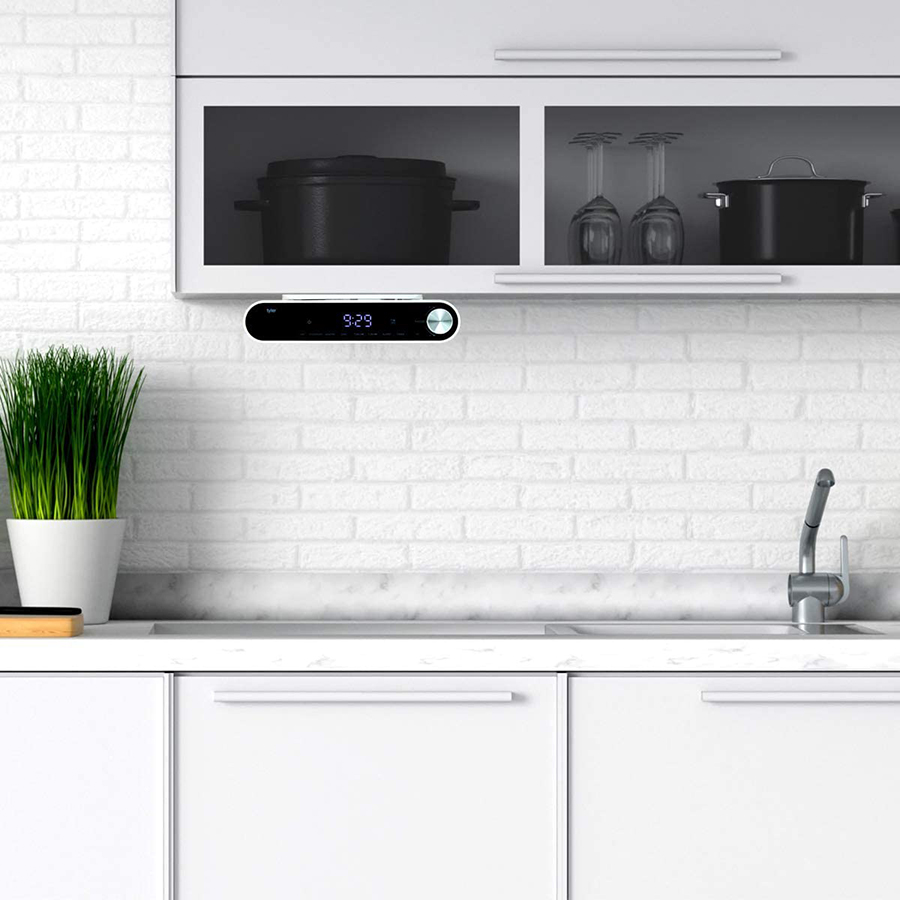 This unit is easy to clean and has hands free functionality with a built-in microphone so you can answer incoming calls via Bluetooth. It doesn't have AM though and it has a complex touch screen that you might find annoying.
Pros: Dual alarm; sleep timer; snooze function; touch screen; easy cleaning; hands-free function.
Cons: Complex controls; hard to see the button panel; no AM; low sound quality.
Under Counter Radio CD Player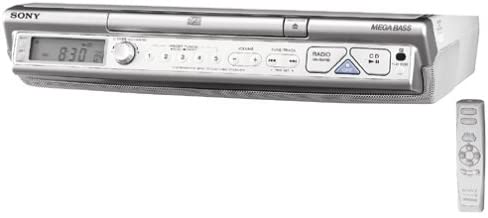 Although it sometimes has poor reception, this radio can tune in to many different stations including weather and TV. It provides high-quality sound and is quick to install, remote control is included too.
Pros: Remote control with a magnet; easy kitchen timer; has AM, FM, Weather and TV stations; great sound; easy to install.
Cons: Hard to move antenna; hard to clean; poor reception.
GE Under Counter Radio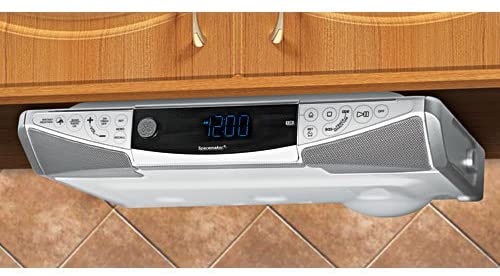 You might need extra time finding stations due to its weak antenna however this radio can tune in many stations including weather and TV. The radio station presets can be modified and it has a counter light plus a magnetic remote for the none techy.
Pros: AM, FM, Weather and TV stations; programmable radio stations; 3-position counter light; easy to use magnetic remote; easy to operate.
Cons: Weak sound; takes time to find stations; weak antenna.
Bose Under Cabinet Radio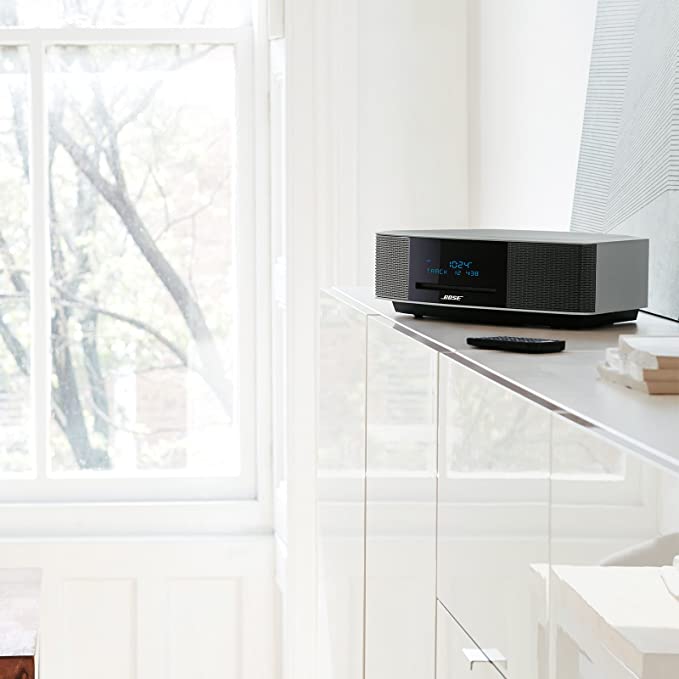 This unit has real issues with the CD player despite the fact that it's expensive. It is modern-looking though and can tune in to AM stations too. It comes with a slim remote control and its best feature is the quality of the sound which is really great.
Pros: Modern looking; Slim remote control; AM/FM tuner; CD and MP3 player; text display of songs; superb quality sound.
Cons: Problematic CD player; expensive; a low number of presets.
Sony Under Cabinet Radio

This radio has no battery back up in case of a power failure and has poor reception to radio stations. It can, however, accommodate 3 CDs and can tune in to AM stations. The sound is really wonderful and it has a remote control.
Pros: 3-disc CD changer; AM/FM digital tuner; presets; remote control; clear and loud.
Cons: Hard to install; static; hard to clean; no battery backup.
Continue reading:
Disclosure: As an Amazon Associate we earn from qualifying purchases.