Last updated on September 9, 2022
Here's an A-Z list of every major interior design and decor style you can use in your home. Read on!
There are so many distinctive interior decorating styles, and unless you go to school for interior design, you might not intuitively know them all. To help you describe your aesthetic using established styles, here is a comprehensive list of every decorating style that exists:
What's Inside
Abstract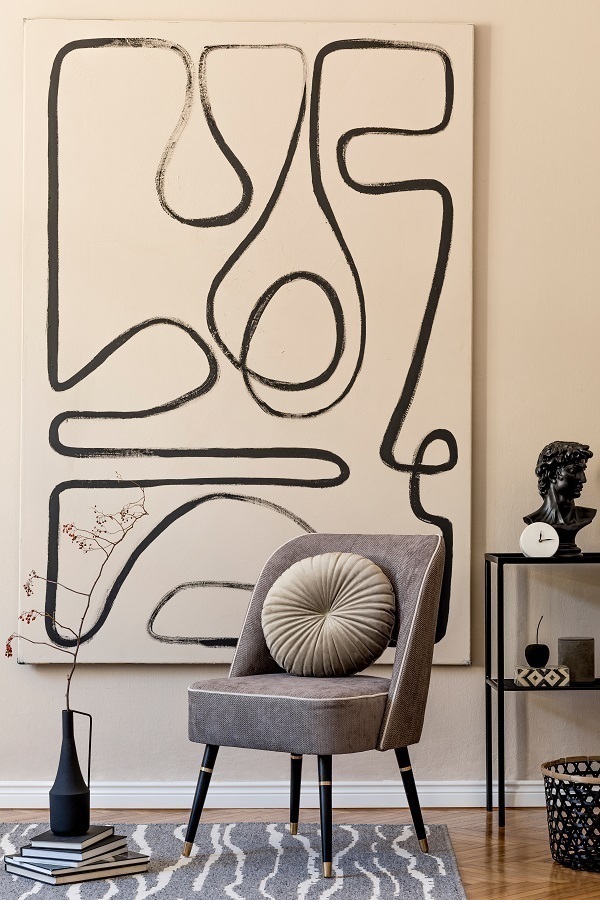 Like abstract art, abstract interior design makes use of unique and unexpected structures, furnishings, and décor. Abstract interiors tend to utilize bold colors and asymmetry to create spaces that are distinctive and memorable.
American Colonial
Often referred to as some variation on "traditional," American Colonial draws on interior design trends from the 17th to 19th centuries, including vintage fabrics and wallpaper, handmade furniture, and antique finishes. The result is a home that mimics Mount Vernon or Monticello in style.
Art Deco
Rising in popularity, Art Deco highlights the ornamental potential of geometric shapes. By combining busy graphic prints with sleek metallic finishes, Art Deco feels like an elegant imagining of the future that is stuck in the past, which makes it so unique in interior design.
Arts & Crafts
Arts & Crafts homes became popular amidst the rise of mass production when homeowners longed for the human touch provided by craftspeople. These interiors make liberal use of handcrafted furniture and décor, and as a result, they tend to be filled with warm natural materials like wood.
Bauhaus
A precursor to modern design, Bauhaus arose from a philosophy that strove to achieve balance among aesthetics, function, and ecology. Bauhaus furnishings and décor tend to be made from exceedingly durable materials, and they combine to create a sleek, simple interior that satisfies human needs.
Beach House
The Beach House interior aesthetic strives to capture the feeling of sinking your toes in the sand as the waves crash up ahead. You are likely to see plenty of decorative items that evoke the beach, like sea glass and weathered wood, as well as nautical- or tropical-inspired décor.
Bohemian
Contrary to popular belief, Bohemian homes are not all beige and natural materials. In fact, traditional Bohemian design liberally mixes colors, patterns, and textures to create a welcoming space filled with life and movement.
Contemporary
Often conflated with modern design, contemporary interiors prioritize simple and sleek furniture and a reduction of clutter in décor. Contemporary design can include some ornamentation in the form of moldings around ceilings and windows, but modern ceiling fans and other fixtures will look appropriate in these spaces.
Cottage
Another interior style that is becoming a larger trend, the Cottage aesthetic strives to recreate the feeling of living in cozy forest home. Using lightweight textiles, distressed paints, rock and stone materials, and plenty of other rustic touches, the Cottage style is the pinnacle of coziness.
Country
Often confused with farmhouse, Country interiors tend to mix vintage and antique décor with rustic design. The result is a warm and busy space that is packed with visual interest yet incredibly welcoming and homely.
Eclectic
One of the more difficult interior styles to achieve, Eclectic embraces a number of other interior aesthetics — modern, vintage, Bohemian, and more — and rejects the core tenets of minimalism. Yet, despite being filled with décor, Eclectic spaces do not feel chaotic or crowded.
English Country
With spaces that feel pulled from a Jane Austen novel, English Country is characterized by soft and plentiful textiles, rich pastel colors, and carved wooden furniture. This aesthetic is a more formal take on the Cottage style.
Farmhouse
A cleaned-up version of the Country style, Farmhouse uses a color palette of various shades of white to simplify the interior space. The occasional use of vintage country furniture and the reliance on rustic touches, like Mason jars, drives the concept of country living in a high-end home.
Gothic
Decidedly not procured from your local Hot Topic, Gothic interior design takes inspiration from Medieval art and architecture — with a darkly opulent twist. The pointed arch is the defining figure of the Gothic aesthetic, but you will also find stained glass, box chairs, and a rich, dark color palette in Gothic homes.
Industrial
The Industrial style repurposes the structural elements of a space and incorporates them into the interior design. Industrial spaces tend to be open and feature elements like exposed pipes and ducts, wooden framing, bare brick, and concrete flooring.
Mediterranean
Immensely popular at the beginning of the 21st century, the Mediterranean style combines influences from Italy, Greece, and Spain. Mosaic tile, wrought-iron banisters, light-colored sandstone, and rich brown leathers are common components of this style, which evokes an old-world rustic home.
Midcentury Modern
A twist on modern interior design, Midcentury Modern arose from the inspired creations of prominent architects of the 20th century. Sleek geometric shapes with simple patterns and funky colors characterize this interior style.
Minimalist
Equal parts austere and comforting, Minimalism as an interior aesthetic strives to put function over form. All ornamentation is eliminated in service to improving the functionality of interior spaces, providing greater mental clarity and confidence in daily tasks.
Organic
As the name suggests, Organic interiors celebrate the natural environment by utilizing natural materials, like stone and timber, and decorating with simple and beautiful natural décor, like living plants.
Retro
Retro design tends to draw inspiration from interior trends from the 1950s, '60s, and '70s. Making liberal use of vintage furniture and décor from this era, Retro interiors tend to be funky and fun due to their unconventionality.
Scandinavian
Scandi interior design goes beyond the pieces you can find at IKEA. This aesthetic is led by the concept of hygge, or coziness, which both eliminates unnecessary clutter and elevates warm, natural materials and plush textiles.
Transitional
The Transitional style strives to find a neutral balance amongst almost all interior design aesthetics. Equal parts masculine and feminine, modern and traditional, rounded and straight, Transitional is a safe interior style in most homes.
Vintage
Though often conflated with Retro, Vintage takes inspiration from older interior design — from the turn of the 20th century to about the 1940s. Vintage interiors can be heavily ornate, with gilded mirrors and cornice moldings, but feature more contemporary structural design.
Zen
Zen-style interiors are prominent in Japanese design thanks to the heavy influence of Buddhism across East Asia. The goal of Zen design is to emphasize tranquility and harmony, and thus, Zen spaces are filled with earthy colors, natural textures, and low, accent lighting.
Continue reading: